How many road trip bags do you need? You might think you can get away with one duffel bag in the trunk of your car, but if you want to stay organized on the road while maximizing what you can bring with, you might want to think about investing in a few more essential road trip bags.
When packing for a road trip, it's important to keep in mind how and when you will use each item you bring and then divide accordingly. You don't want to end up realizing that your atlas is locked in your trunk while you're in the middle of a highway, or with a backseat full of suitcases when you won't need your pajamas until you get to the hotel.
When hitting the road for an adventure, you'll definitely want three or four essential road trip bags to keep all your stuff in the right places, your car organized, and your travels smooth.
Here are our recommendations for four essential road trip bags every traveler should have in their car. Here's what they are, ideas for what to put in them, and tips on where to keep them while you're driving. These bags are road trip packing essentials for anyone planning a road trip, whether driving cross country with kids or family or spending a weekend in the next city over as a couple.
Four Essential Road Trip Bags to Keep in Your Car: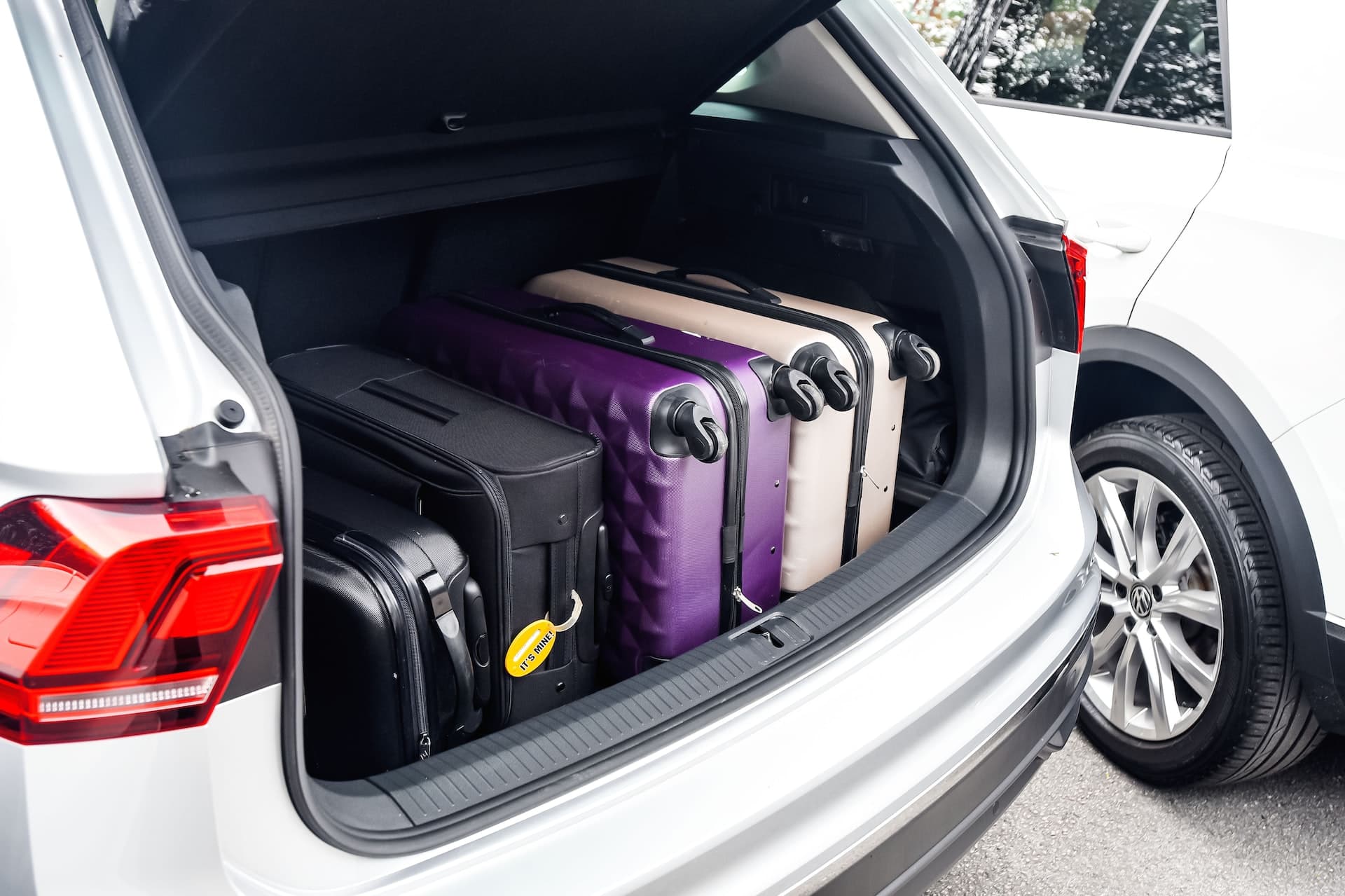 Road Trip Luggage
Your road trip luggage can be as big or small as you want. It really depends on the climate you're driving in, where you're going, what you plan to do, and how long you're going for
If your destination is somewhere colder, you might need to bring heavier sweaters or a winter jacket. If you plan to hit the town in big cities you might need a couple of dresses and some heels. If you're taking a weekend trip you might not need to pack that much. If you're spending a month road tripping Route 66, you might need a few extra pairs of underwear.
Wherever you're going and however long you're going for, you're going to need to bring the essentials: clothes and toiletries. And you're going to need some road trip luggage to put them in.
What type of luggage should you bring on a road trip? There are many options when choosing the best luggage for car travel. Hard sided suitcases are durable and have wheels that make getting from your Honda to your hotel a breeze. Backpacks are the best option if you're planning to spend your days hiking the national parks. And duffel bags are roomy and flexible, perfect for fitting into that awkward space between the cooler and the spare tire.
Most of the time, you'll only need to access what you pack in your roadtrip luggage when you get to your hotel. So this suitcase should be reserved for things you won't need the rest of the day such as your pajamas, your clothes, your bathing suit, and toothbrush. Because of that you can keep your luggage in the trunk, out of reach, and out of mind, while you're driving.
Recommended Road Trip Luggage
Hard-Sided Luggage
Example: AmazonBasics Hardside Spinner Luggage
Hardsided luggage is durable and easy to transport between your car and destination. Available in a variety of sizes you can always find hard-sided road trip luggage to fit your needs and your trunk.
Rolling Duffel Bag
Example: Olympia 8 Pocket Rolling Duffel Bag
A rolling duffel bag allows the ultimate flexibility with necessary function. The soft design allows you to pack in oddly shaped items and cram that one last beach towel in before zipping up. The wheels allow ease when moving the duffel bag between locations.
Road Trip Backpack
Example: Osprey Packs Atmos Backpacking Backpack
Backpacks are the perfect option to use as road trip luggage, especially if you're planning on hiking. Even if not, they make transporting your stuff a breeze!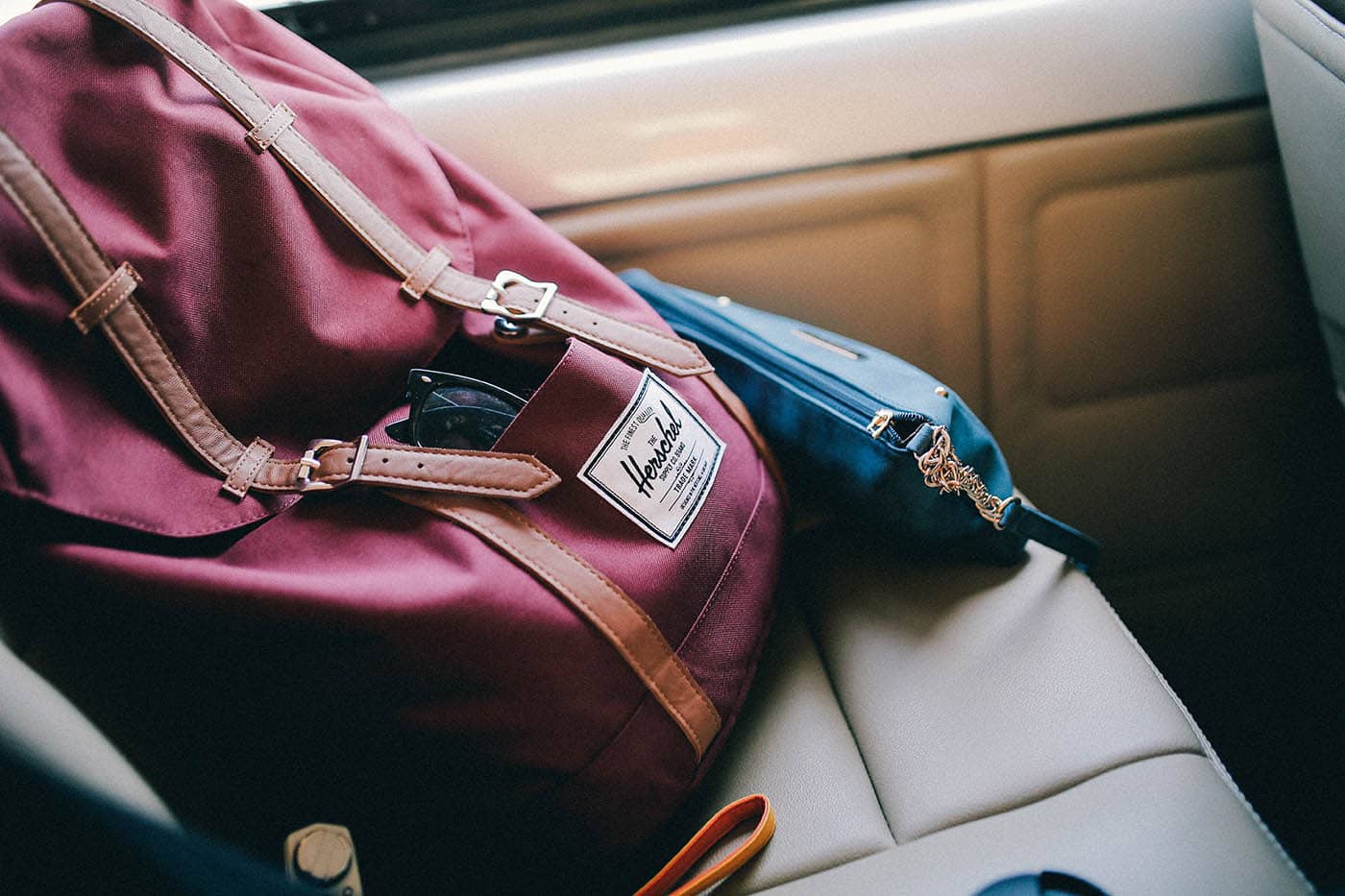 Small Car Bag to Keep in Your Car
Since your clothes and toiletries are locked away in the trunk, it's a good idea to have a smaller bag in your car for things you might need during the day. This is where you'd keep your atlas, snacks, sunscreen, road trip games, and anything else you'd want to keep in easy reach.
A small duffel bag or backpack works great for this purpose and helps you avoid having things strewn all over the car. You, your kids, or your travel companions know exactly where to grab something from and where to put it back in.
Your small car bag rarely, if ever, leaves the car and should be kept somewhere convenient, but out of the way, like on an empty seat or under the passenger's seat.
Recommended Small Car Bags
Small Duffel Bag
Example: Plambag Canvas Duffle Bag
A small duffel bag with lots of pockets will help keep everything you need in your car organized.
Small Road Trip Backpack
Example: Amazonbasics Classic School Backpack
A simple backpack might be all you need to keep all the clutter in your car in one convenient place.
Foldable Duffle Bag
Example: WANDF Foldable Duffle Bag
A foldable duffel bag makes a great option for storing things in the car, while tucking away small if not needed.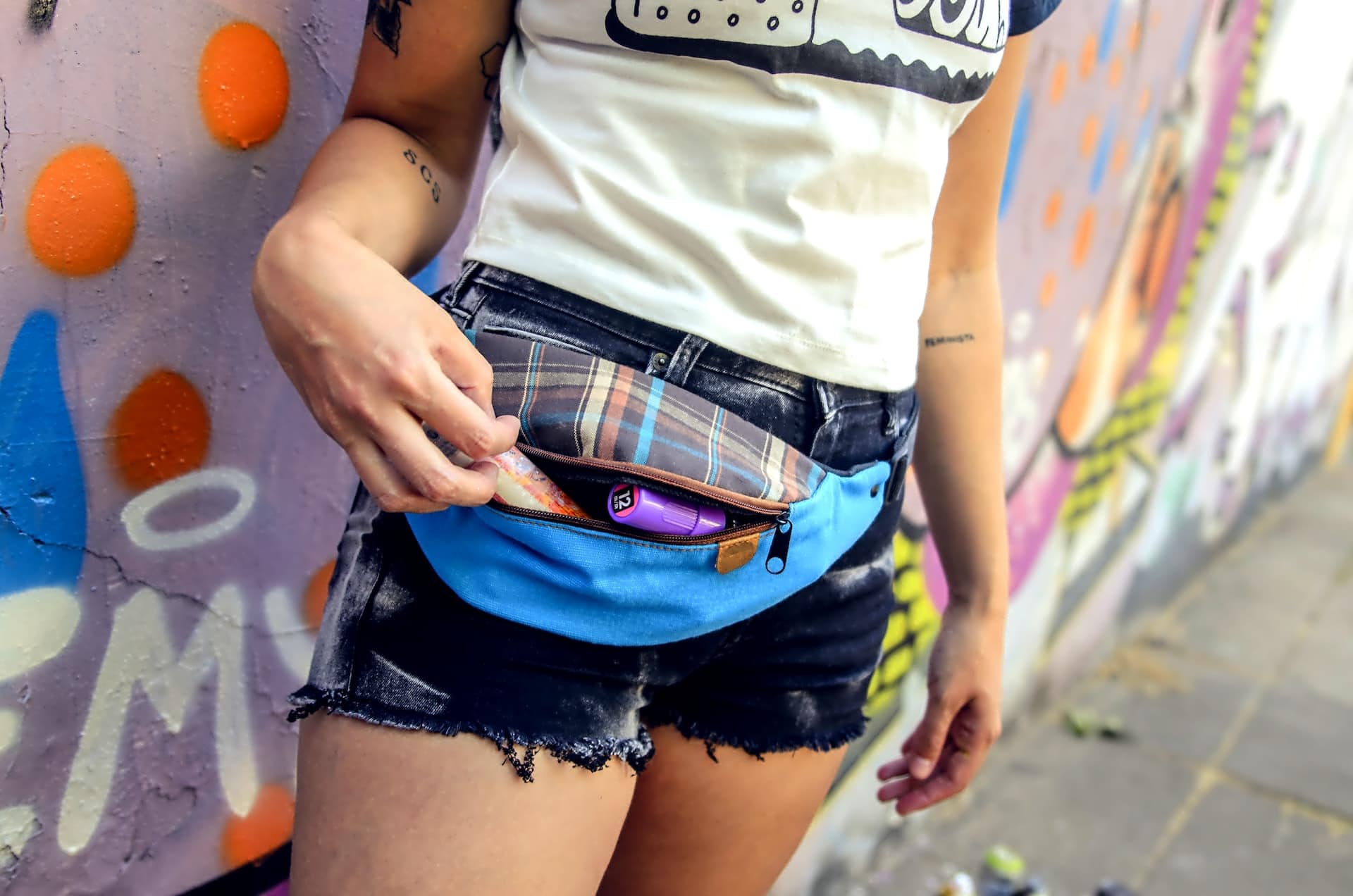 Road Trip Purse, Daypack, or Fanny Pack
Your purse, daypack, or fanny pack will be where you store things you need to take with you whenever you leave the car. It's where you'll keep your wallet, credit cards, phone, drivers license, and keys when you get out to get gas, to have lunch, or to marvel at the world's largest bull.
You shouldn't need anything big. And definitely nothing fancy. A small purse, drawstring bag, backpack, or fanny pack will do. This is just where you'll keep the things you need to bring with you or don't want to leave alone in the car. You'll always want this road trip bag close at hand.
Recommended Road Trip Purses, Daypacks, and Fanny Packs
Road Trip Purse
Example: Travelon Anti-Theft Heritage Hobo Bag
A roomy bag that offers extra protection against theft makes a perfect purse for a road trip.
Road Trip Daypack
Example: Osprey Packs Daylite Daypack
A small hiking backpacks doubles as the perfect place to store your essentials on a road trip.
Fanny Packs
Herschel Supply Co. Seventeen Hip Pack
Fanny packs are back. And they make excellent road trip bags because they keep your hands free and your essentials at hip's length.
Road Trip Camera Bag
You don't need a camera bag for a road trip. If you're strictly an iPhoneographer, your purse or daypack will do. But if you are into photography and have anything more than a phone, a camera bag is a road trip must-have.
If you have lots of equipment such as a DSLR with multiple lenses and a tripod or multiple cameras like a GoPro and a Drone, a camera bag is essential to keeping them safe, secure, and in order.
Even if you have just one small extra camera, like a mirrorless digital camera or a GoPro, having a separate camera bag will help keep it safe and padded from bumpy terrains. (Need a road trip camera? Check out my recommendations here.)
Recommended Road Trip Camera Bags
Camera Backpack
Case Logic SLR Camera Backpack
A big padded backpack is a great way to store DSLR cameras, lenses, and accessories while on a road trip.
GoPro Carrying Case
AmazonBasics Large Carrying Case for GoPro and Accessories
If you do GoPro photography on a road trip, this case will keep all your cameras and accessories organized.
Messenger Bag
Example: ONA – The Bowery – Camera Messenger Bag
A stylish messenger bag will keep your camera and a few accessories at arm's reach.
Save this for later! Pin this post on Essential Road Trip Bags now.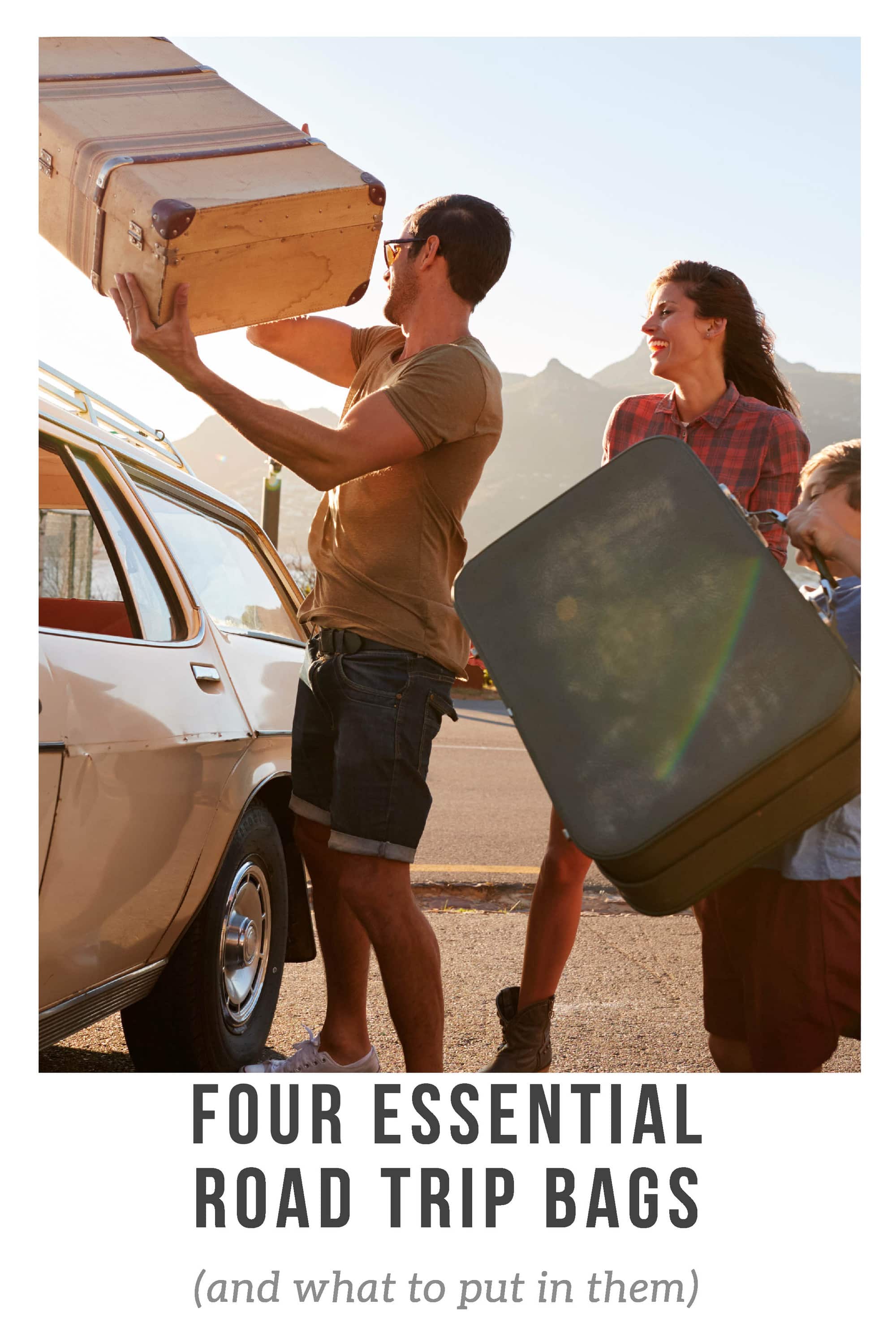 ---
Photos by PHUOC LE on Unsplash, Swansway Motor Group on Unsplash, Jose Luis Espindola on Unsplash, Skye Studios on Unsplash