Road trip sandwiches make for quick and easy lunches for car trips, near or far. Packing your own meals will save you the time and money that comes with stopping at a roadside diner or for fast food on the way to your destination. But what should you pack? And how should you pack it? Read on for some of our favorite recipes for road trip sandwiches and tips on how to pack your meals to go.
Road trip sandwich FAQ
How do you pack a sandwich for a road trip?
Whenever you make ahead meals for road trip travel, you want to make sure that they will hold up. It's so easy for a sandwich to get squished at the bottom of a cooler! The best way to pack sandwiches for a road trip is to use a hard plastic sandwich container that will provide a barrier between the bread and anything outside of the bread.
If you're packing a non-sandwich-bread sandwich, like one using a hoagie roll, a french bread loaf, ciabatta bun, or tortilla, a sandwich container won't really work. In that case you can store it in a plastic sandwich bag or reusable sandwich bag or wrap it in parchment paper tied up in string.
Reusable Plastic Sandwich Storage Containers
Pack sandwiches for a road trip in a reusable plastic sandwich container so they don't get squished in the cooler.
Reusable Silicone Food Storage Bag
Reusable sandwich bags are a more Eco-friendly alternative to regular plastic storage bags.
How do you keep sandwiches from getting soggy?
No one likes a soggy sandwich and even the best sandwiches for road trips aren't immune to getting soggy! Here are some tips for keeping your road trip food as fresh as possible:
Choose your bread wisely. If you're assembling your sandwich ahead of time avoid thin, soft breads that can easily get too soft and wet. Go for a heartier baguette, ciabatta, crusty rolls, tortillas, or sandwich wraps instead.
Get toasty! No matter what bread you choose, toasting it ahead of time will dry the bread out and help it repel moisture.
Just spread it! You might think that that layer of mayonnaise is going to sog up your bread. But the opposite is actually true! Condiments actually serve as a barrier between the bread and the toppings and help keep the bread in one piece. So don't be shy: layer on that mayo, mustard, or hummus!
Keep your cool. Layering on hot or warm toppings in a no no. If you're assembling sandwiches to go make sure that all of your toppings are cool before you put them together.
Pack your ingredients separately. The best way to ensure a non-soggy sandwich is to pack everything separately. Keep the bread separate from the meat separate from the vegetables separate from the condiments. When it's time to eat: assemble! This method has the added benefit that everyone can make the sandwiches to their tastes, with their preferred ratios (and choices) of meats, cheeses, and toppings!
If you want to pack the ingredients to assemble on the go, use reusable snack bags or hard plastic storage containers to keep everything separate!
Leak Proof Plastic Food Containers
A set of multi-size leak-proof plastic food containers are the perfect way to pack food on the go. Keep your meats, cheeses, and toppings separate and assemble your picnic when you're ready to eat!
Plastic Bread Storage Keeper
A portable bread box is a must if you're going to pack a loaf of bread on your road trip. It keeps the bread fresh and prevents it from getting squished between your luggage in the trunk.
Can I make sandwiches the day before?
The best road trip sandwiches are ones that travel well. And sandwiches that travel well can be made ahead of time. If you use all the tricks above for preventing your sandwiches from getting soggy, you'll have better luck making them in advance. For any sandwich made ahead of time it's best to wrap them tightly in plastic wrap, store them in the refrigerator until you're ready to go, then pack them in a cooler when you hit the road.
Portable Cooler
Keep your sandwiches fresh in your trunk while road tripping with a heavy duty cooler that will keep ice cold for days.
Picnic Backpack Set for 4
A picnic backpack complete with plates and silverware for 4 is a great road trip essential for eating your picnic sandwiches on the go.
Recipes for Road Trip Sandwiches
The sky is the limit when it comes to what food to pack for a road trip. Tuna salad, egg salad, ham and Swiss, cheddar and apple, smoked salmon on a bagel — the possibilities for road trip recipes are endless! Whether you're looking for vegetarian sandwiches for road trips, something with deli meat, or something kid friendly, here are some of my favorite road trip sandwich ideas.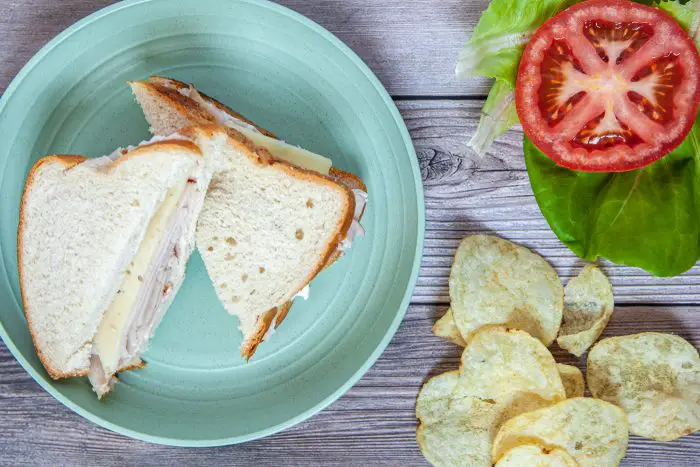 Print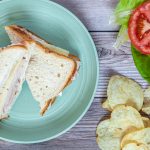 Turkey and Swiss Sandwich
---
Author:

Total Time:

5 minutes

Yield:

1

sandwich

1

x
Description
A deli turkey and Swiss sandwich is a crowd-pleaser and an easy sandwich to pack for a road trip. For this basic meat and cheese sandwich recipe I used slices of smoked turkey and Swiss cheese on white bread, but you can mix it up with any combo of deli meats, cheeses, breads, or condiments (you might even want the world's largest amount of ketchup)! Try roast beef, chicken, ham, cheddar, provolone, wheat bread, mustard – whatever combo you desire!
---
2 slices white bread
2 slices of deli turkey
1 slice of Swiss cheese
1 Tbsp. mayonnaise
1–2 slices tomato
1–2 pieces of iceberg, Boston, or other green leaf lettuce
---
Instructions
Lay out one slice of bread on a cutting board or plate.
Spread mayonnaise over one side of the slice of bread.
Top bread with lettuce, tomato, turkey, and cheese.
Lay the remaining slice of bread over top and cut the sandwich in half.
Prep Time:

5 minutes

Category:

sandwich, lunch
Keywords: sandwich, lunch, road trip, turkey, Swiss cheese
Recipe Card powered by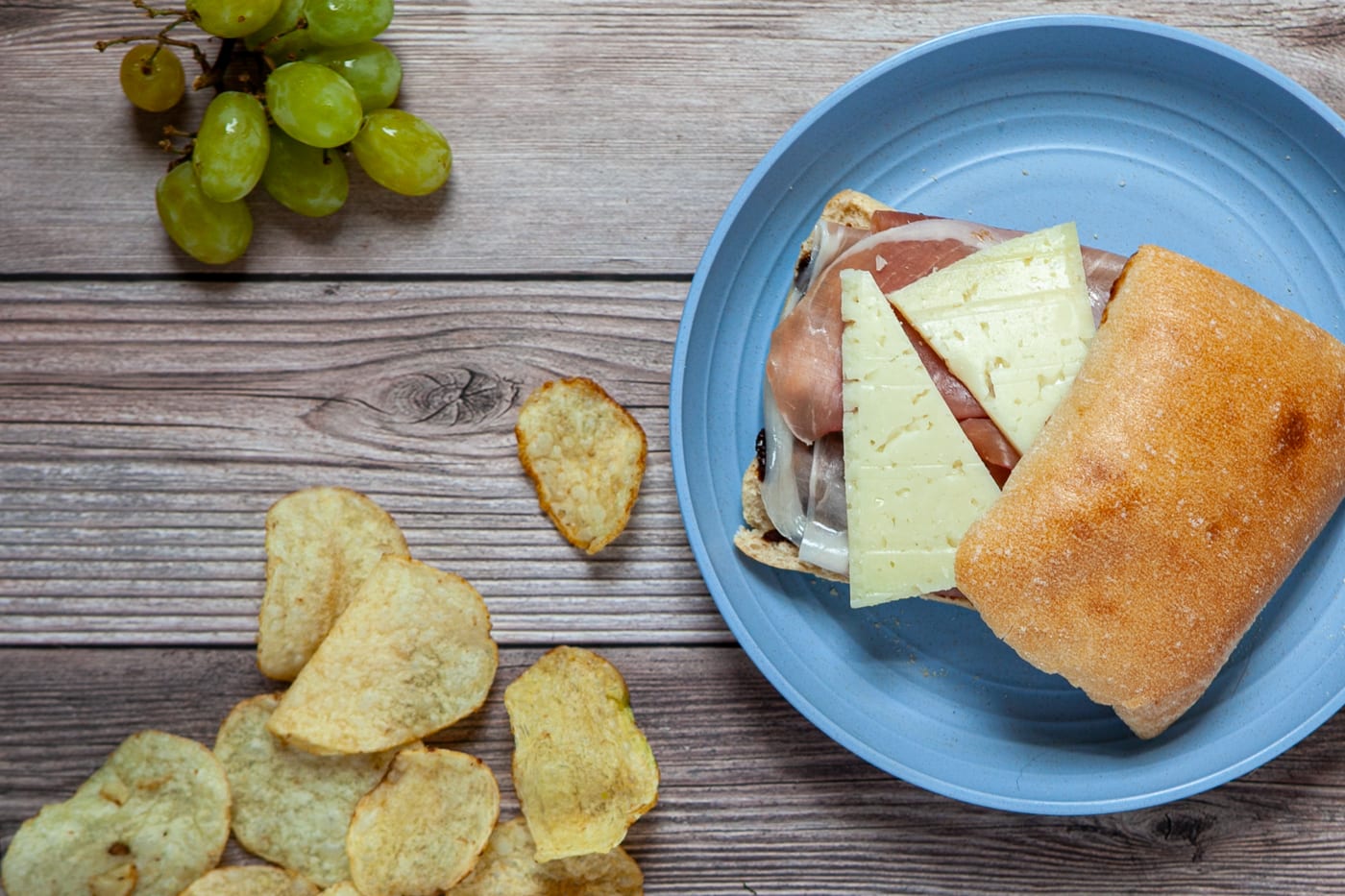 Print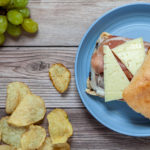 Prosciutto, Manchego Cheese, and Fig Butter Sandwich
---
Author:

Total Time:

5 minutes

Yield:

1

sandwich

1

x
Description
This sandwich combines buttery prosciutto, creamy Manchego cheese, and sweet Fig butter for a lunch option destined for a picnic in a park. Ciabatta rolls make great bread for road trip sandwiches because the hardy texture holds up during travel.
---
1 ciabatta roll
1–2 Tbsp. fig butter
2–3 slices prosciutto
1–2 sliced Manchego cheese
---
Instructions
If necessary, cut ciabatta roll in half.
Lay out bottom half of roll on a cutting board or plate.
Spread fig butter over the top with a knife.
Top bread with two or three slices of prosciutto and one or two slices of Manchego cheese.
Lay the top slice of the roll on top.
Prep Time:

5 minutes

Category:

sandwich, lunch
Keywords: sandwich, lunch, road trip, prosciutto
Recipe Card powered by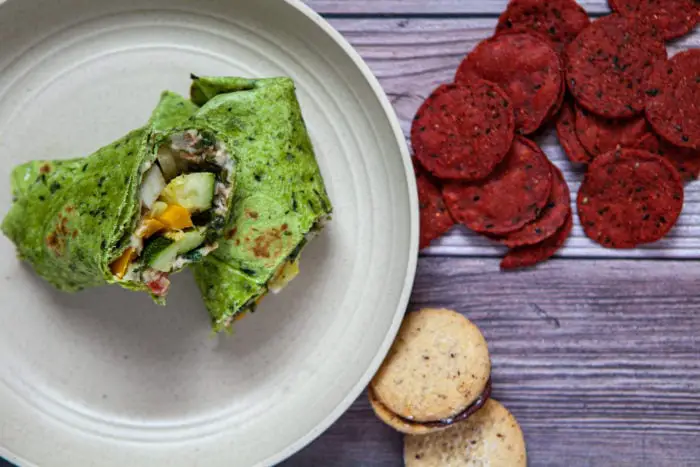 Print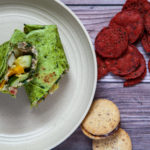 Mediterranean Vegetable Wrap
---
Author:

Total Time:

35 minutes

Yield:

1

sandwich

1

x
Description
This flavorful vegetarian road trip sandwich is sure to please everyone in the car. Roast the vegetables for this Mediterranean Vegetable Wrap beforehand to assemble wraps or keep them separate in an air-tight container. In a pinch, raw vegetables will be just as tasty!
---
1 bell pepper (yellow, orange, red, or green), cut into thin 2-inch slices
1 zucchini, cut into thin 2-inch slices
½ yellow onion, cut into thin slices
1 Tbsp olive oil
Salt
Pepper
1 tortilla (flour or spinach)
3 Tbsp. garlic hummus
2–3 Tbsp. packaged tabbouleh
oz. haloumi cheese, cut into ½-inch cubes
---
Instructions
Roast Vegetables
Preheat oven to 350
Add onion, zucchini, and bell pepper to pan. Mix with 1 tablespoon olive oil and salt and pepper to taste.
Roast vegetables for 20-30 minutes.
Assemble Wrap
Lay out tortilla.
Spread hummus in a thin, even layer to cover one side of tortilla
Spoon tabbouleh in center of tortilla. Top with 3-4 slices of pepper, zucchini, and onion and cheese cubes.
Tightly roll wrap from one side, using hummus to help hold it together. Tuck in the ends of the tortilla.
Notes
Roasted vegetables make enough for 4-6 wraps.
If available, microwave tortilla for 10-30 seconds before assembling to make more pliable.
Prep Time:

5 minutes

Cook Time:

30 minutes
Keywords: sandwich, wrap, vegetarian, road trip
Recipe Card powered by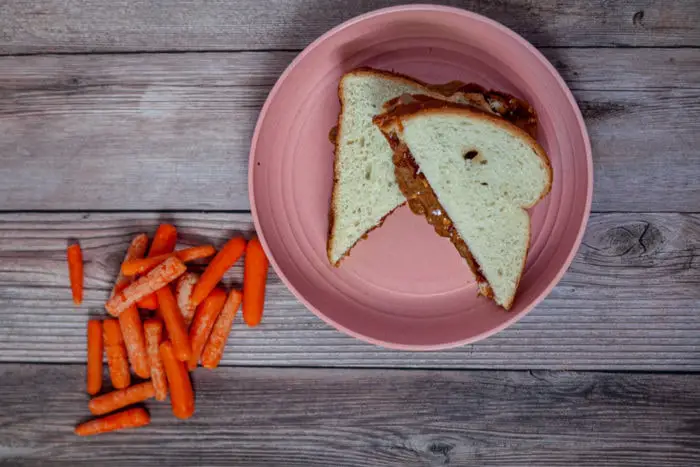 Print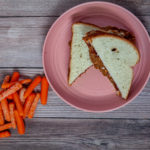 AB&J (Almond Butter and Jam Sandwich)
---
Description
A classic PB&J made special with the use of almond butter. Of course, a classic peanut butter and jelly sandwich works too! This is definitely a crowd pleaser that will appease everyone in your car for a quick and easy lunch. Plus, if you're looking for vegetarian sandwiches that travel well, you can't go wrong with AB&J or PB&J!
---
2 slices bread (white, wheat, or whole grain)
Almond Butter (crunchy or smooth)
Your favorite jam or jelly (I like strawberry or grape)
---
Instructions
Lay out 2 slices of bread with the "inside" layers face up.
On one piece of bread spread almond butter (as much or as little as you like).
On the other piece of bread spread jam or jelly (as much or as little as you like).
Flip one piece of bread on top of the other so that the inside layers meet.
Cut in half and serve.
Recipe Card powered by
Pin these road trip sandwich ideas: