While some of us can drive for hours on end without getting bored of the drive, others… not so much. So, when planning a road trip, you might want to thing about road trip entertainment ideas to keep your car passengers having fun all the way from home to destination and back.
Whether it's just you in the car or you have a mini van filled with kids or a convertible set to road trip with friends, and whether you're heading an hour away or spending a week on the road, these road trip entertainment ideas are sure to keep everyone in your car happy. Read on for some ideas for what to do in the car and what to bring on a road trip for entertainment.
Road trip entertainment ideas to pass time in the car:
1. Listen to music
Music is the ultimate car trip entertainment. Everyone loves cranking up the radio in the car, cranking down the windows, and singing along to the radio as they explore the open road. So turn on the radio, blast your favorite broadway musical showtunes, shuffle your favorite pop artist, or plan ahead with a playlist on Spotify, Apple music, or Amazon Music. To make it fun for everyone, plan ahead and have every person in the car create their own road trip playlist that you take turns playing, create one big playlist that everyone can contribute to, or search your music app for a curated playlist to suit any mood.
Bluetooth FM Transmitter
Have an older car that doesn't synch to your iPhone? No problem. Use a bluetooth FM transmitter to broadcast your tunes from your phone to your car speakers.
Amazon Music
Sign up for a free trial of Amazon Music for unlimited music listening.
2. Play road trip games
Road trip games are a fun way to pass the time in a car! Car games can keep the whole family engaged on long drives, whether you're hunting for stop signs, asking each other trivia questions, or looking out for the elusive Hawaii license plate. Here are some of the most popular things to play in the car:
Travel Bingo Set
BINGO! These sturdy auto bingo cards can be used over and over for road trip fun for years to come.
I SPY Travel Card Game for Kids
A fun road trip activity for kids, these cards will help prompt them to explore things they might typically see out the car window.
3. Watch backseat movies
Keep kids or adults entertained on long car trips by playing a movie in the backseat. Portable DVD players clip onto the front-seat's headrest turning your car into a drive-in movie theater. Bring popcorn snacks for an extra movie-going experience. And check out our list of the best road trip movies for inspiration!
Portable Headrest Video Players for Cars
These headrest DVD players play a movie for backseat passengers in the car.
4. Listen to audio books
Sometimes you want to listen to something more than music on a road trip. Listening to audio books is a great activity to do in the car. Available across genres and at varying lengths, you can fill an entire car ride chapter by chapter. It's entertaining and allows you to multitask by taking in that book you've been saying you want to read while you drive.
Audible Plus
Audible Plus offers an all-you-can-listen-to membership with thousands of audiobooks to listen to in your car.
5. Tell jokes
What did the stoplight say to the car? "Don't look! I'm about to change!" If you're looking for road trip entertainment for kids, jokes are a fun way to pass the time. Challenge your children to a joke competition or get them a joke book full of jokes about road trips to help them pass the time.
Best Road Trip Jokes Ever
Jokes about road trips and car travel, a perfect road trip activity for kids.
6. Learn a new language
Another productive use of time in the car is to start learning a new language. Pop in a learn-a-language CD, fine a language tutorial on Audible, or try a language podcast. Soon you and your passengers will go from road trip to viaje por la carretera or voyage en voiture. It's a fun and different idea for things to do in the car for adults or teenagers.
7. Sing car karaoke
If you love watching Carpool Karaoke, enjoy singing karaoke at a bar, or just find yourself belting along to whatever is playing on the radio, host your own car-aoke on your next road trip. You can simply create a playlist of karaoke versions of songs from Spotify and have passengers look up lyrics on their phones or download a karaoke app. Make karaoke in your car even more fun with a Bluetooth karaoke microphone passengers can pass between themselves.
Singing Machine Carpool Karaoke Microphone
Host your own singing competition with a wireless microphone meant to be used in the car.
8. Listen to podcasts
More engaging than music, less commitment than an audio book, podcasts are a fun choice for roadtrip entertainment. Whether you love true crime, movie trivia, politics, or marketing, there's a podcast for everyone. Load up your favorites or try something new!
9. Document your journey
A fun way to stay entertained in the car is document your journey! Take photos with your phone or a Polaroid camera. Take videos of the world passing by (or your car karaoke sessions). Start a journal writing down where you're going, what you see, where you stop, and more. Not only is documenting your journey a fun activity to do on the road, it will provide a memento that lasts well past your destination.
Fujifilm Instax Mini Instant Camera
An instant camera equals instant memories. Taking photos is always a fun road trip activity.
Road Trip Passport Journal
Record your thoughts and meaningful details from your time on the road in a road trip journal.
10. Make plenty of stops
Even with a great deal of car ride entertainment ideas, the best way to keep your passengers (and yourself) entertained on a road trip is to make plenty of stops! Build in time to visit the best roadside attractions in America, National Parks, rest stops, shops, diners, and whatever else you (and your passengers) want to see! Plan your stops ahead or follow the road signs for the next world's largest thing or best slice of pie in America!
Pin this list of road trip entertainment ideas: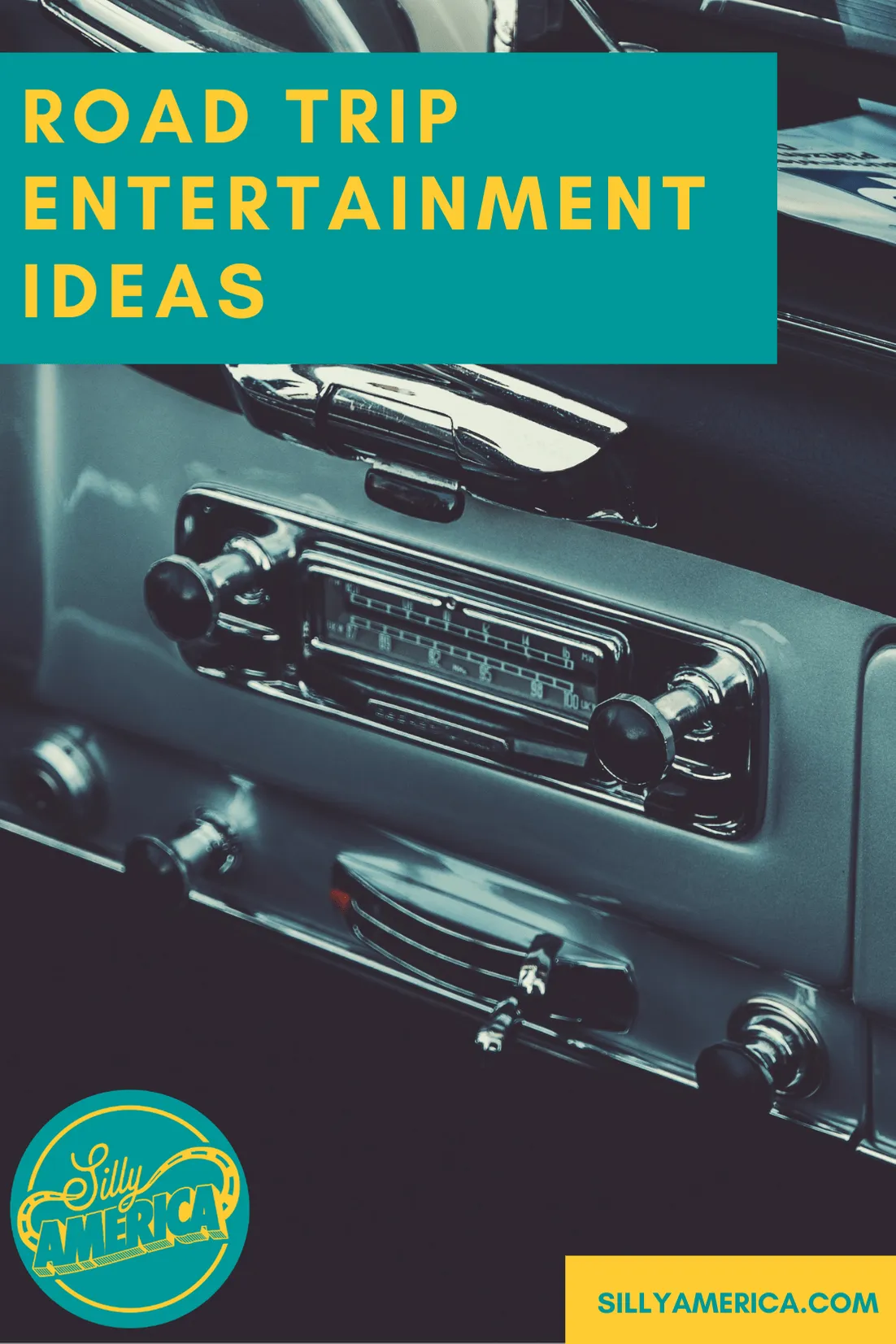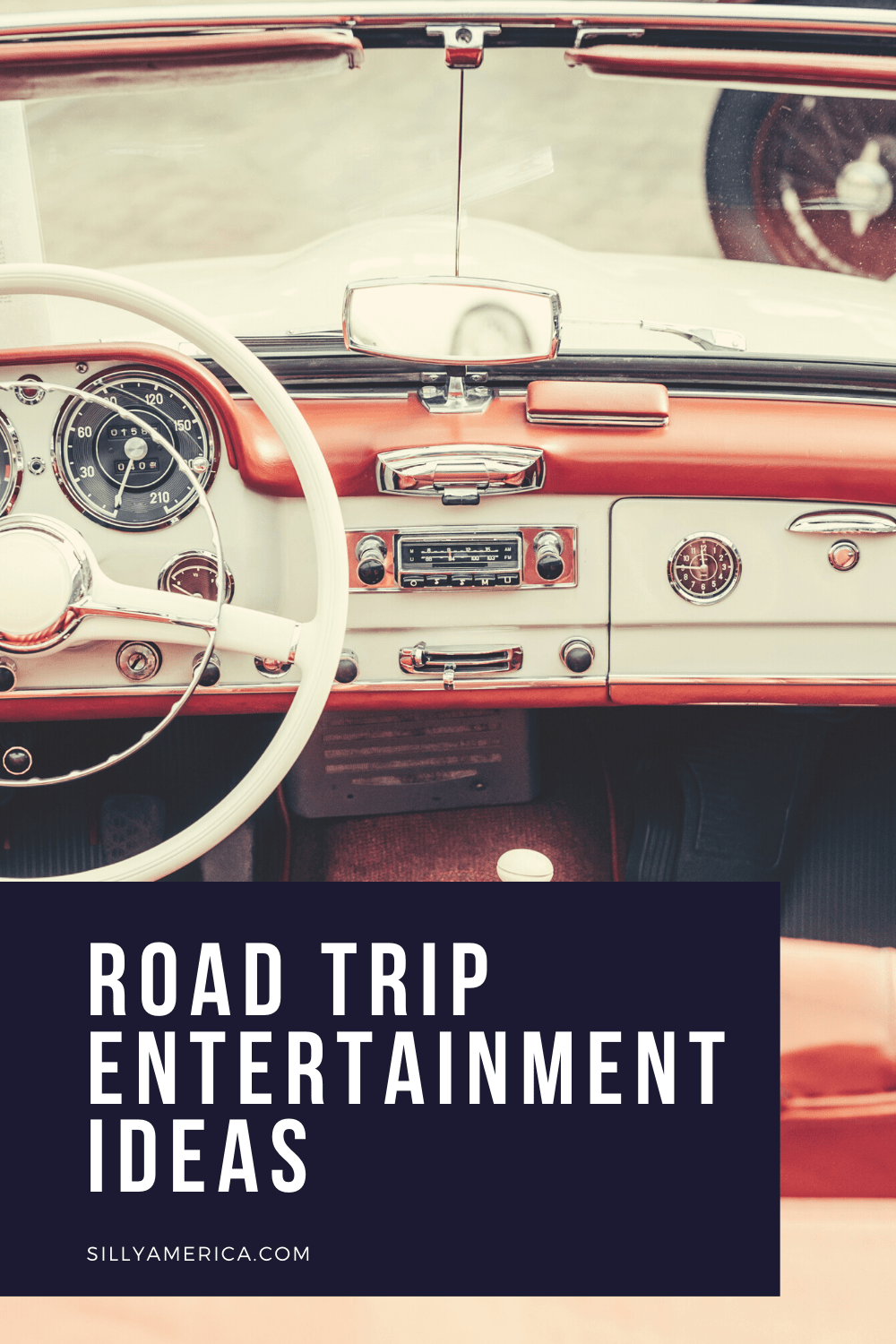 Photo by Daniel von Appen on Unsplash