In 1977 a memorial to the beloved cartoon character Popeye the Sailor Man was erected in Chester, Illinois, birthplace of the comic's creator Elzie C. Segar. The "Home of Popeye" still proudly displays this six-foot, 900 lb. bronze Popeye statue in Segar Memorial Park, overlooking the Mississippi River.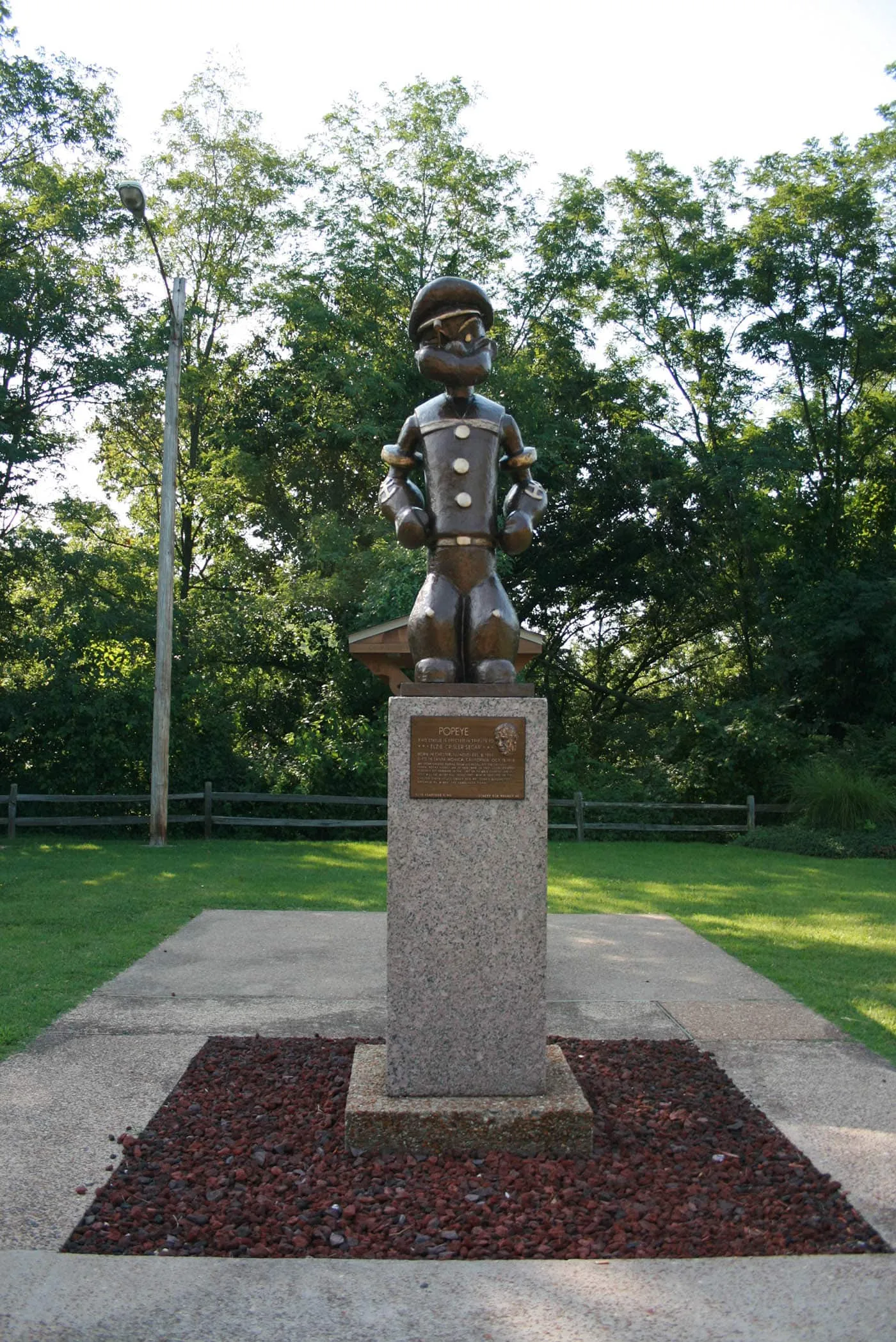 Cartoonist E.C. Segar was born in Chester, Illinois in 1894 and today, the entire town is devoted to his legacy. The titular Popeye statue is just one of many sculptures around town modeled after characters in the cartoon.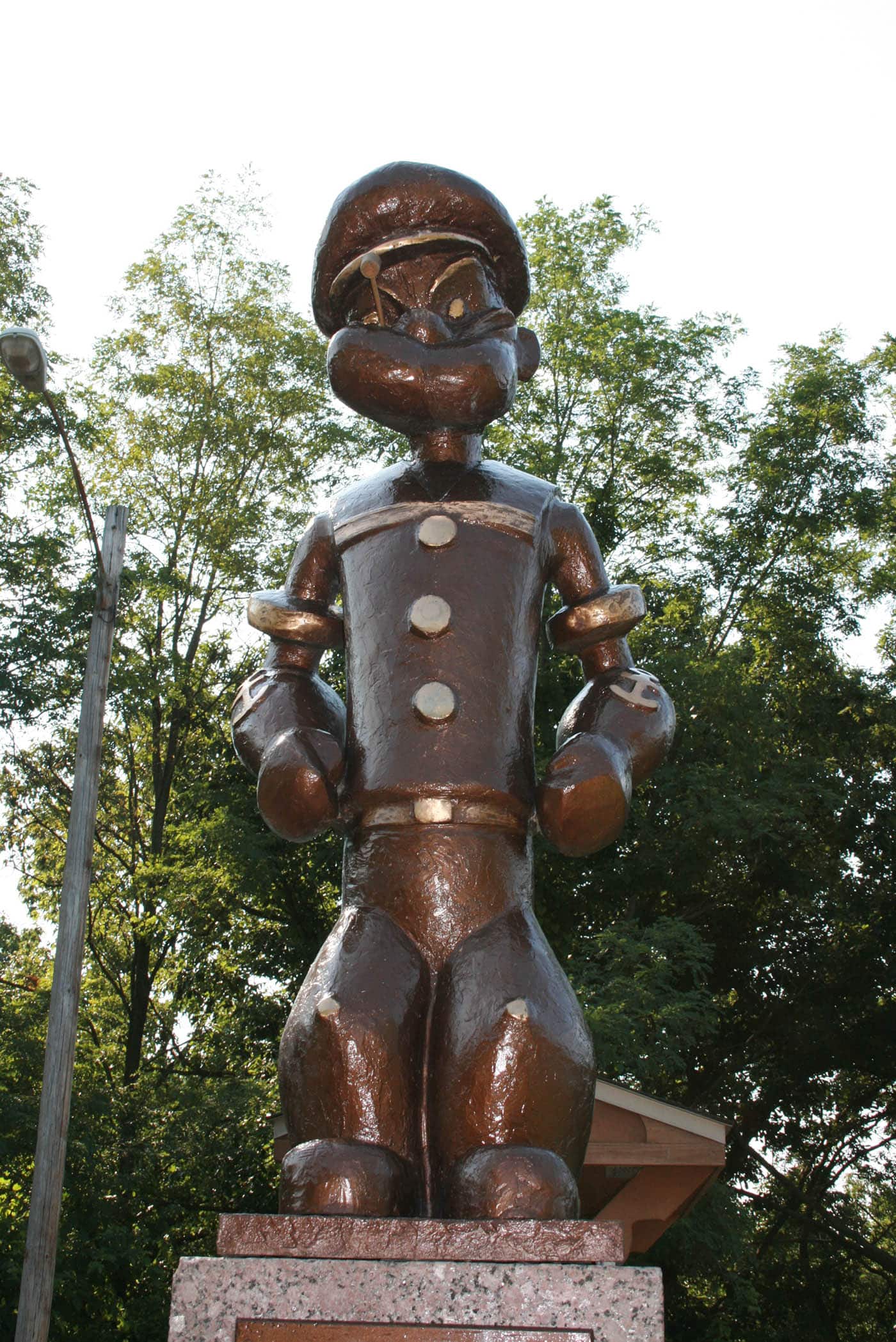 Dubbed the "Popeye Trail" 14 monuments (and counting) have been erected throughout the town that also include Wimpy (2006); Olive Oyl, Swee'Pea, and the Jeep (2007); Bluto (2008); Castor Oyl and Bernice the Whiffle Hen (2009); Sea Hag and Bernard the Vulture (2010); Cole Oyl (2011); Alice the Goon (2012); Poopdeck Pappy (2013); Professor Wotasnozzle (2014); Roughhouse (2015); Four Nephews (2016); King Blozo (2017); Nana (2018); and Popeye's Pups (2019) with Toar planned for 2020. (View the map of where to find them all here!)
It's become tradition for a new statue to be unveiled each year at the annual "Popeye Picnic" – a gathering to celebrate the cartoonist's legacy.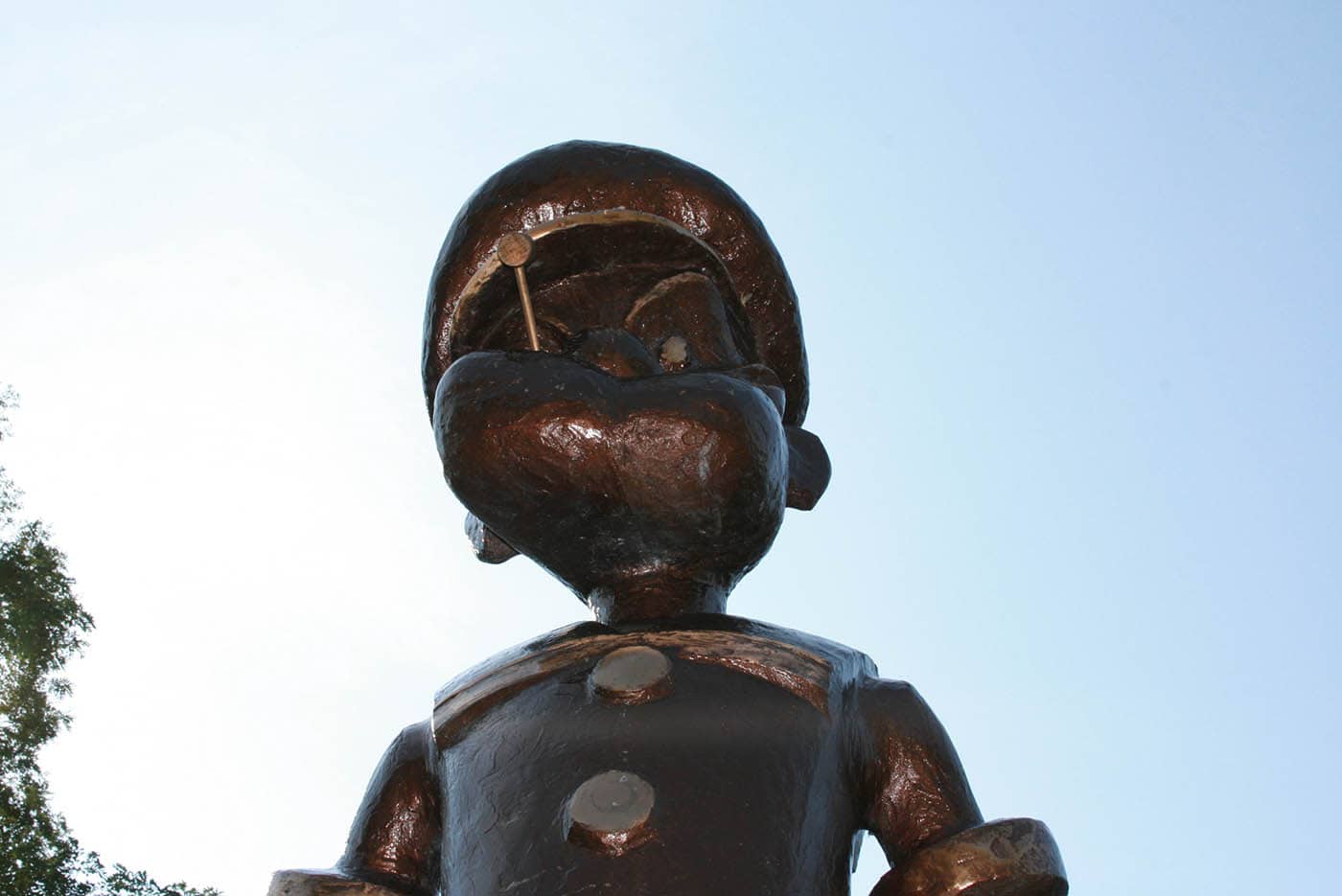 Visiting to see the Chester Illinois Popeye Statue and all of his friends will certainly have you dancing away singing the character's favorite tune…
I'm Popeye the Sailor Man,
I'm Popeye the Sailor Man.
I'm strong to the finich
Cause I eats me spinach.
I'm Popeye the Sailor Man.
Be sure to also stop by other Illinois roadside attractions like the Popeye Murals and take a photo at the Wimpy photo op while you're visiting Chester, Illinois!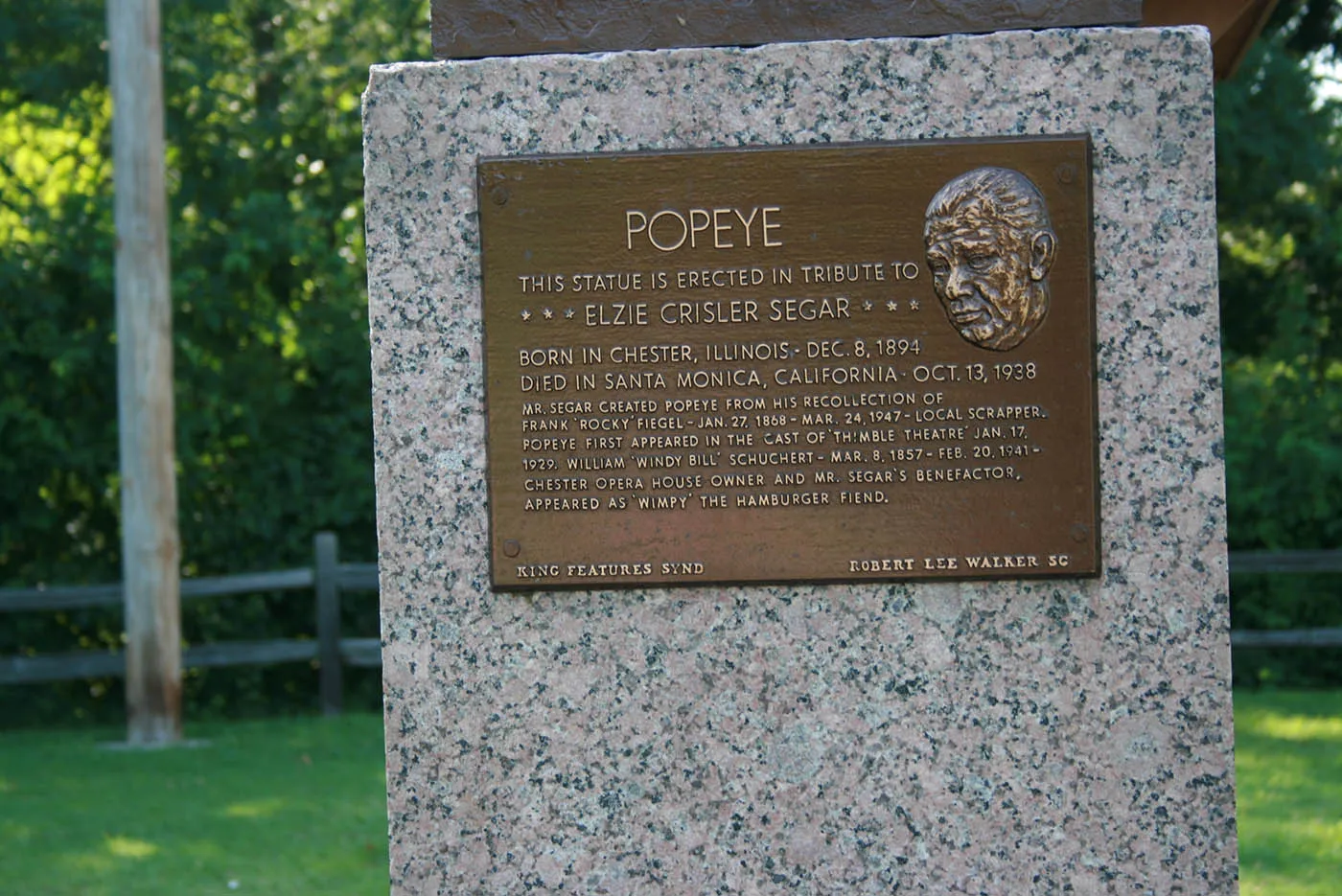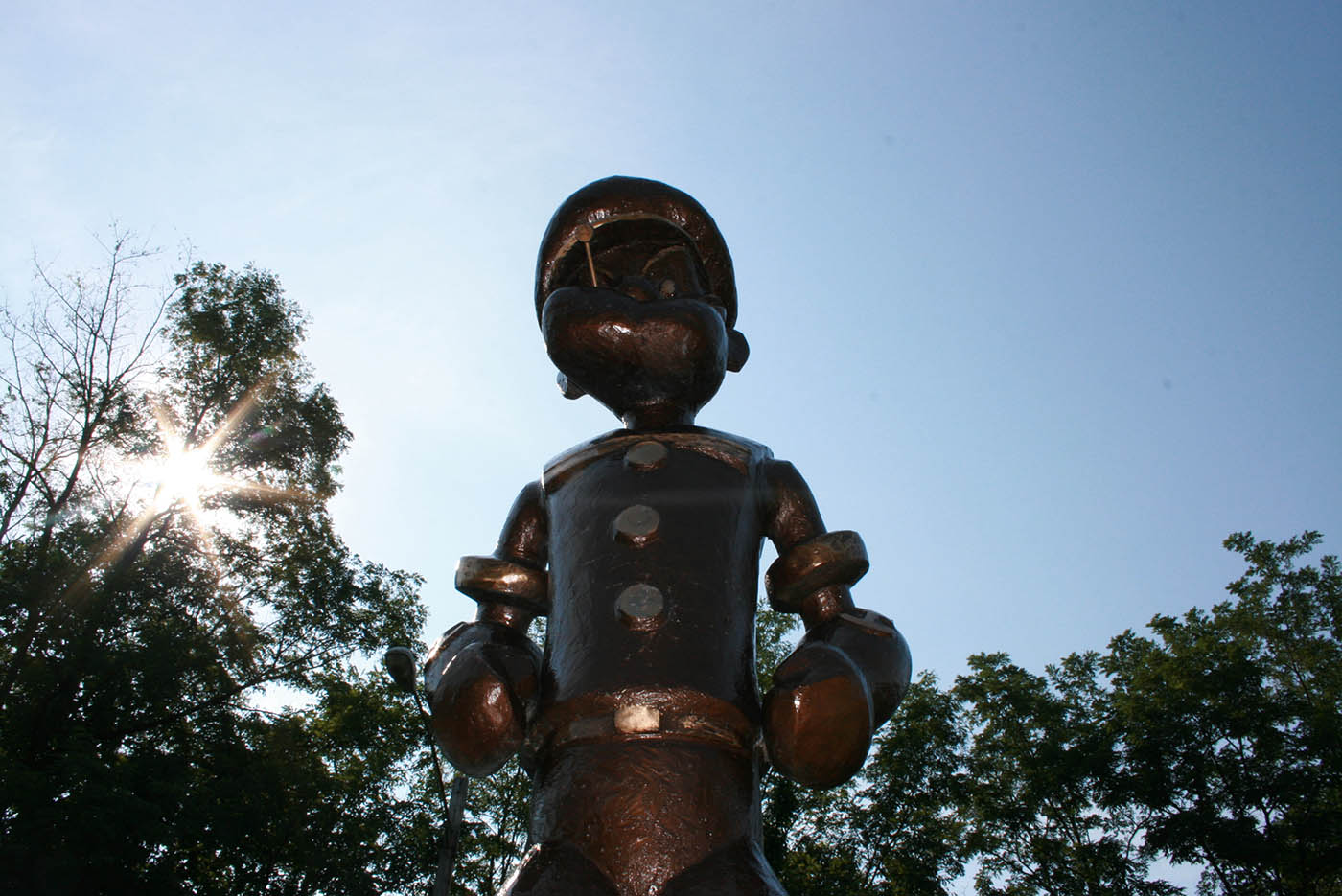 ---
Popeye Statue in The Home of Popeye
Location: Segar Memorial Park, 10 Truck Bypass, Chester, IL 62233, Chester, IL
Cost: Free to see
Hours: Always Visible
Date: July 15, 2007
---
Pin this Illinois roadside attraction: