I love American roadside attractions and, apparently, this artist did too. If you're traveling through the Denver International Airport keep an eye out for this piece of art: "America, Why I Love Her," a map of roadside attractions.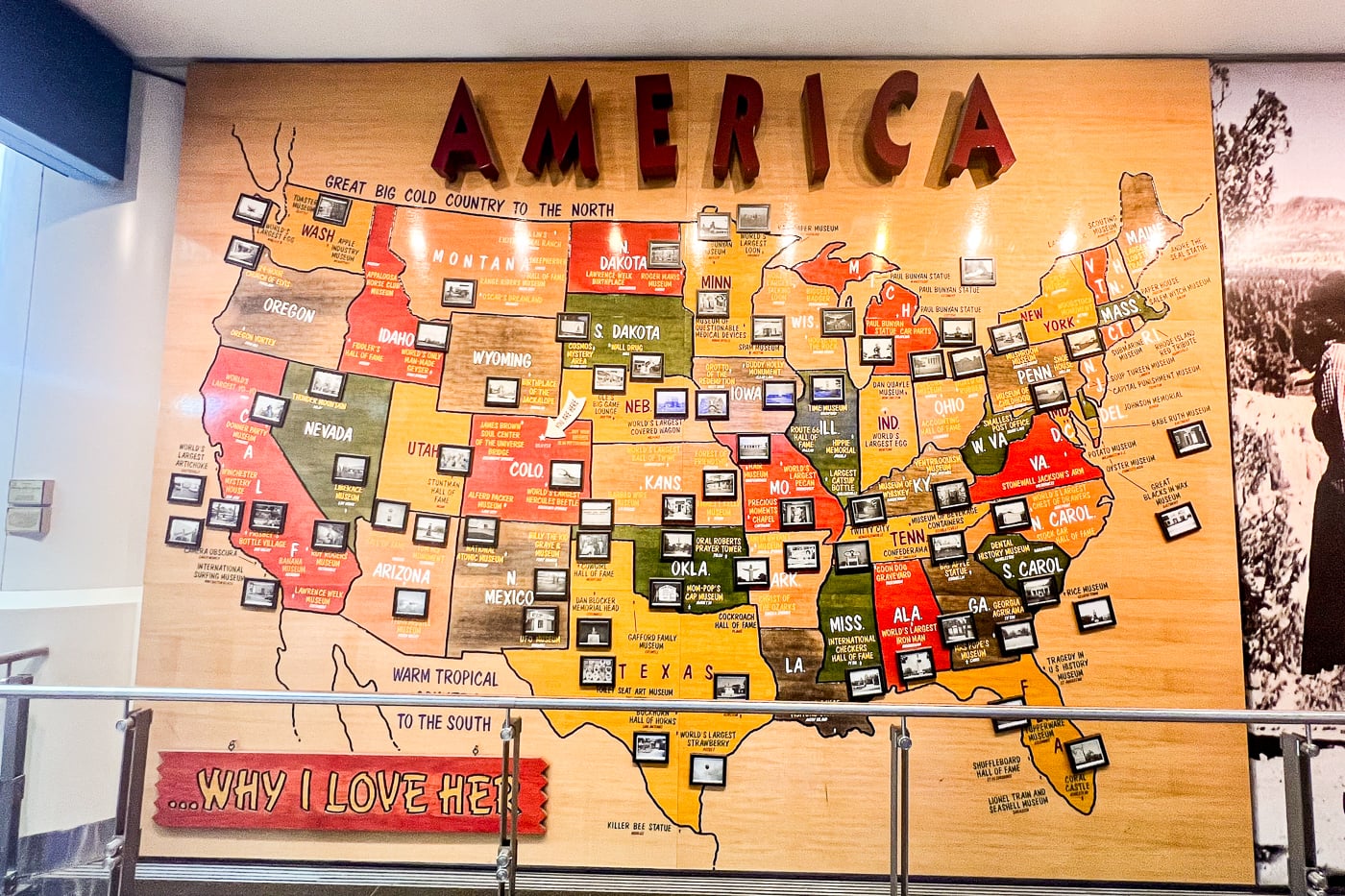 The giant roadside attractions map is located on Level 5, near baggage claim, in the Denver airport. Created by Gary Sweeney, the mixed media mural was inspired by the family road trips he took in his childhood and is an homage to the beautiful landscapes and strange monuments he experienced along the way.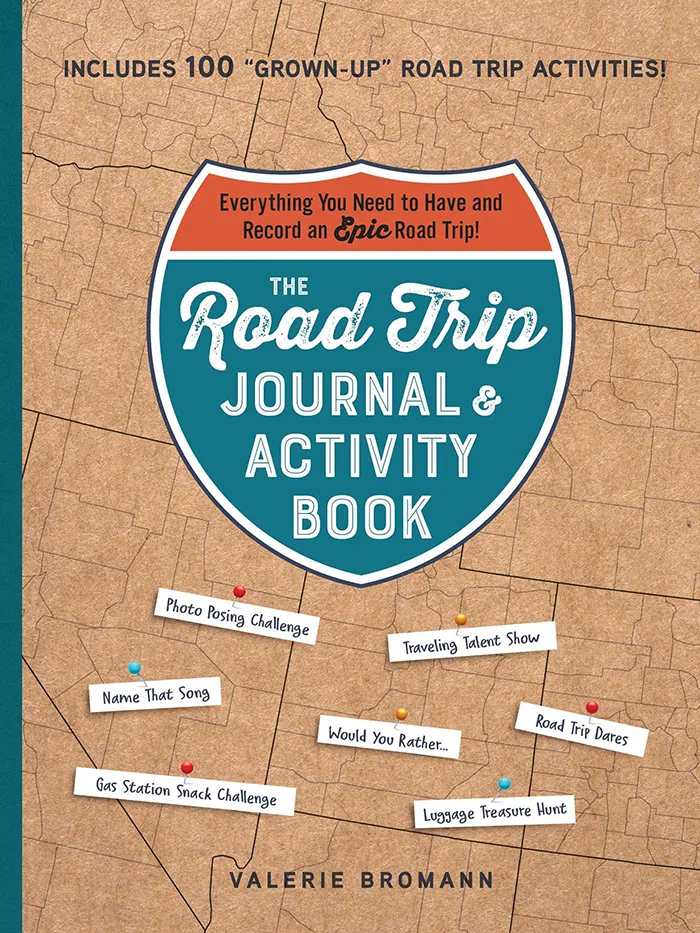 The Road Trip Journal & Activity Book
Everything You Need to Have and Record an Epic Road Trip!
Enjoy fun games and challenges to pass the time on your next road trip and have a keepsake to look back on for years to come with this entertaining must-have for your next vacation.
Sweeney worked as a customer service agent for Continental Airlines and spent a year flying around the country and visiting weird roadside attractions. He took that experience and transformed it into the murals that still entice Denver travelers today.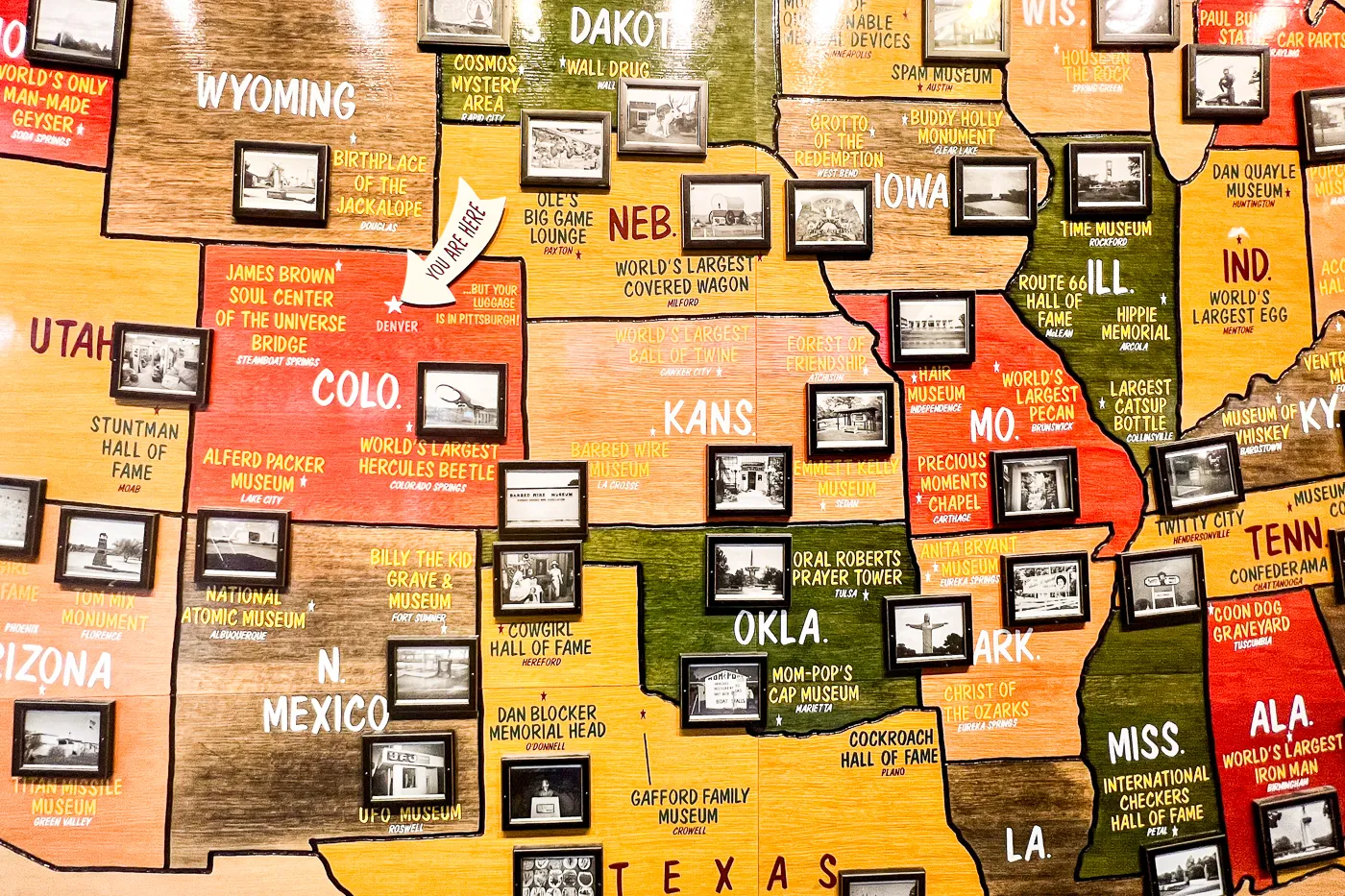 The mural features a large yellow, orange, red, and green map of the contiguous United States dotted with some of the most well-known roadside attractions, museums, and tourist traps in each state, and illustrated with framed black and white photos.
There's even a special marker for Denver that proclaims "YOU ARE HERE…BUY YOUR LUGGAGE IS IN PITTSBURGH!"
America, Why I Love Her has been on display since 1994. Being nearly two decades old it serves as a love letter to the American roadside and a time capsule to the past, as many of the icons depicted have since closed their doors or been removed.
There are actually two roadside attractions maps in the Denver International Airport, with the other one celebrating an entirely different set of roadside Americana. However, the southern half of the pair is temporarily in storage due to Great Hall construction within the terminal. It is set to return once construction is completed.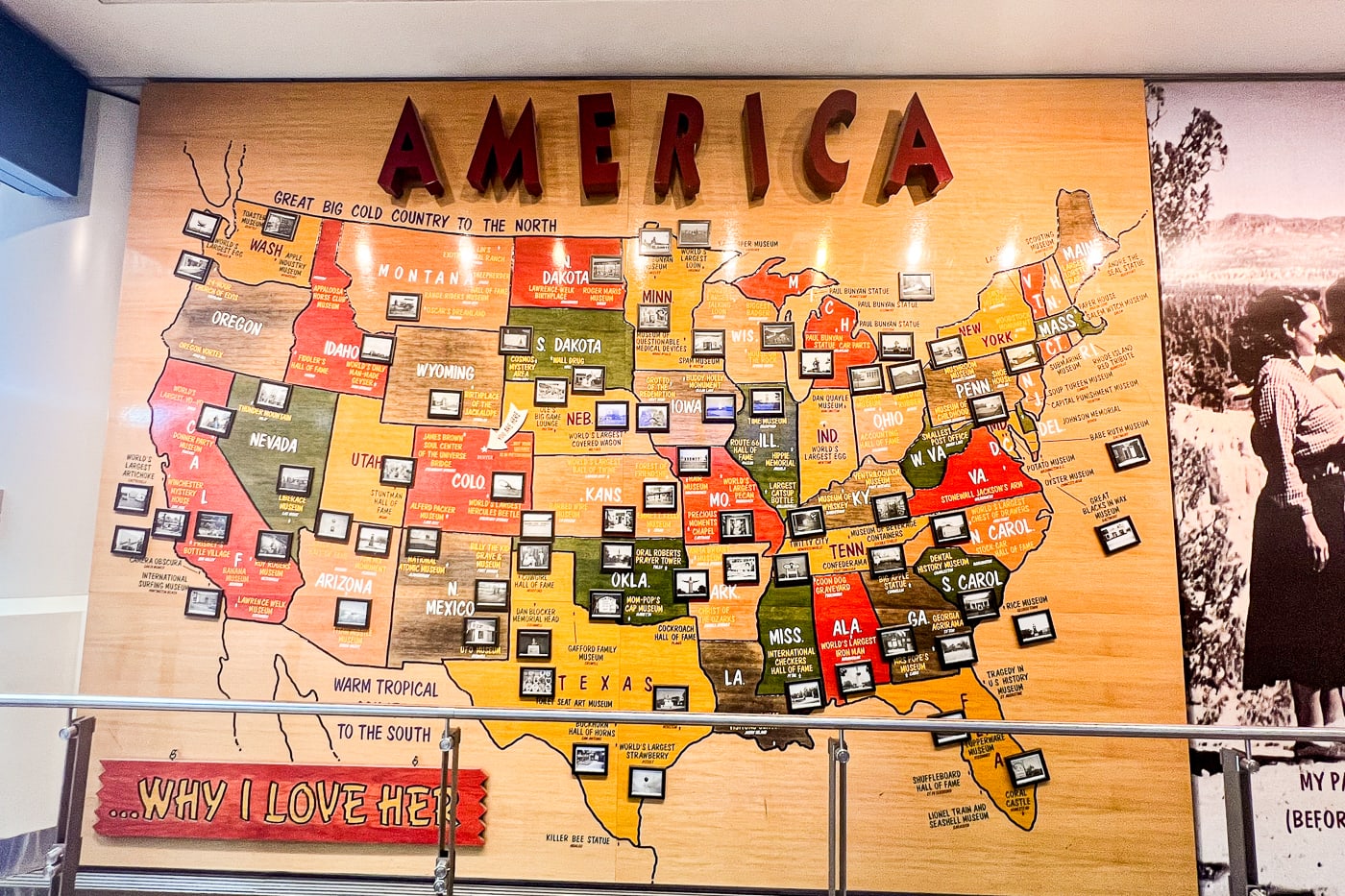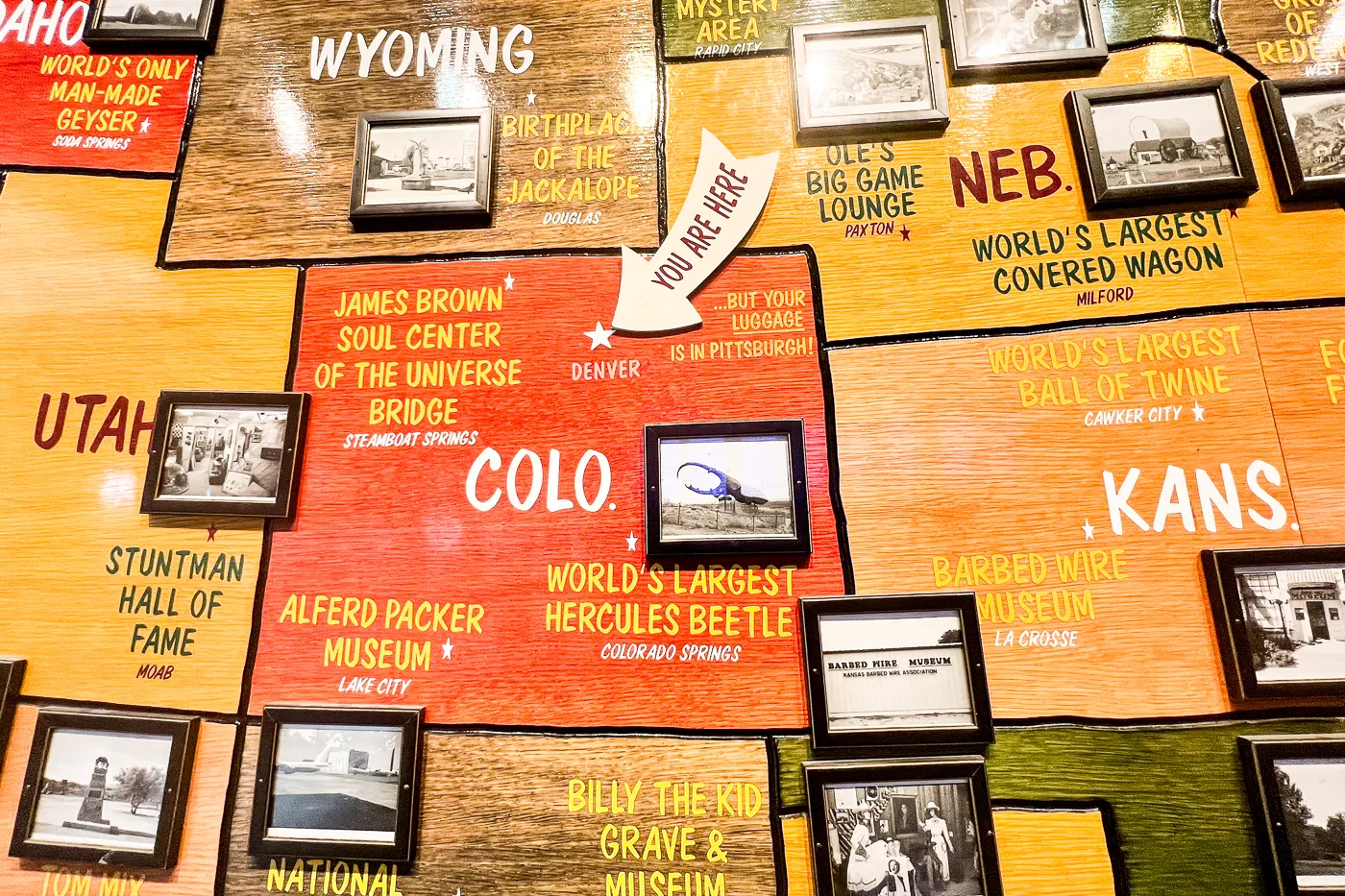 If you're traveling to Denver to check out all the best Colorado roadside attractions, be sure to make room in your itinerary for the Big Blue Bear, the Milk Can Shaped Ice Cream Shop, and the Big Sweep. And don't forget to keep an eye out for the Blue Mustang (Blucifer) as you travel to or from the Denver Airport!
Sites Listed on the Roadside Attractions Map
Alabama
Coon Dog Graveyard in Cherokee
World's Largest Iron Man in Birmingham
Arizona
Breck Girl Hall of Fame in Phoenix
Titan Missile Museum in Green Valley
Tom Mix Monument in Florence
Arkansas
Anita Bryant Museum in Eureka Springs
Christ of the Ozarks in Eureka Springs
California
Banana Museum in Altadena
Camera Obscura in Sana Monica
Donner Party Museum in Truckee
International Surfing Museum in Huntington Beach
Lawrence Welk Museum in Escondido
Prisbey's Bottle Village in Simi Valley
Roy Rogers Museum in Victorville
Winchester Mystery House in San Jose
World's Largest Artichoke in Castroville
World's Largest Yo-Yo in Chico
Colorado
Alferd Packer Museum in Lake City
James Brown Soul Center of the Universe Bridge in Steamboat Springs
World's Largest Hercules Beetle in Colorado Springs
Connecticut
Submarine Museum in Groton
Delaware
Johnson Memorial in Dover
Florida
Coral Castle in Homestead
Lionel Train and Seashell Museum in Sarasota
Shuffleboard Hall of Fame in St. Petersburg
Tragedy in US History Museum in St. Augustine
Tupperware Museum in Kissimmee
Georgia
Big Apple Statue in Cornelia
Georgia Agrirama in Tifton
Mrs. Pope's Museum in Cairo
Idaho
Appaloosa Horse Club Museum in Moscow
Fiddler's Hall of Fame in Weiser
World's Only Man-Made Geyser in Soda Springs
Illinois
Indiana
Iowa
Buddy Holly Monument in Clear Lake
Grotto of the Redemption in West Bend
Kansas
Barbed Wire Museum in La Crosse
Emmett Kelly Museum in Sedan
Forest of Friendship in Atchison
World's Largest Ball of Twine in Cawker City

Kentucky
Museum of Whiskey in Bardstown
Ventriloquism Museum in Fort Mitchell
Louisiana
Tabasco Sauce Visitors Center in Avery Island
Maine
Andre the Seal Statue in Rockport
Largest Lobster Trap in Oxford
Maryland
Babe Ruth Museum in Baltimore
Great Blacks in Wax Museum in Baltimore
Massachusetts
Paper House n Pigeon Cove (Rockport)
Salem Witch Museum in Salem
Michigan
Paul Bunyan Statue Car Parts in Grayling (Alpena)
Paul Bunyan Statue in Manistique
Paul Bunyan Statue in Ossineke
Paul Bunyan Statue in Oscoda
Minnesota
Museum of Questionable Medical Devices in Minneapolis
Paul Bunyan Museum in Akeley
Sandpaper Museum in Twin Harbors
Spam Museum in Austin
World's Largest Loon in Vergas
Mississippi
International Checkers Hall of Fame in Petal
Missouri
Montana
Dot & Lin's Exotic Animal Ranch in Plentywood
Oscar's Dreamland in Billings
Range Rider's Museum in Miles City
Sheepherder Hall of Fame in Circle
Nebraska
Nevada
Liberace Museum in Las Vegas
Thunder Mountain in Imlay
New Hampshire
Scouting Museum in Manchester
New Jersey
Capital Punishment Museum in Trenton
Soup Tureen Museum in Camden
New Mexico
Billy the Kid Grave and Museum in Fort Sumner
National Atomic Museum in Albuquerque
UFO Museum in Roswell
New York
Salt Museum in Liverpool
Woodstock Monument in Bethel
North Carolina
North Dakota
Lawrence Welk Birthplace in Strasburg
Roger Maris Museum in Fargo
Ohio
Accounting Hall of Fame in Columbus
Popcorn Museum in Marion
World of Rubber in Akron
Oklahoma
Mom-Pop's Cap Museum in Marietta
Oral Roberts Prayer Tower in Tulsa
Oregon
24-Hour Church of Elvis in Portland
Oregon Vortex in Gold Hill
Pennsylvania
Museum of Childhood in Douglassville
Mushroom Museum in Kennett Square
Shoe House in Hellam (York)
Rhode Island
Rhode Island Red Tribute in Adamsville
South Carolina
Dental History Museum in Charleston
Rice Museum in Georgetown
Stock Car Hall of Fame in Darlington
South Dakota
Tennessee
Confederama in Chattanooga
Museum of Beverage Containers in Goodlettsville
Twitty City in Herndersonville
Texas
Buckhorn Hall of Horns in San Antonio
Cockroach Hall of Fame in Plano
Cowgirl Hall of Fame in Hereford (Fort Worth)
Dan Blocker Memorial Head in O'Donnell
Gafford Family Museum in Crowell
Killer Bee Statue in Hidalgo
Orange Show in Houston
Toilet Seat Art Museum in San Antonio (Now, The Colony)
World's Largest Strawberry in Poteet
Utah
Stuntman Hall of Fame in Moab
Vermont
Big Ladderback Chair in Bennington
Virginia
Oyster Museum in Chincoteague
Stonewall Jackson's Arm in Locust Grove
Washington
Apple Industry Museum in Wenatchee
Toaster Museum in Seattle
World's Largest Egg in Winlock
Washington DC
Potato Museum in Washington DC
West Virginia
Smallest Post Office in Silver Lake
Wisconsin
Biggest Badger in Birnamwood
House on the Rock in Spring Green
World's Largest Talking Loon in Mercer
Wyoming
Birthplace of the Jackalope in Douglas
America, Why I Love Her – Roadside Attraction Map
Address: Denver International Airport, 8500 Peña Blvd, Denver, CO
Cost: Free to See…but you should probably buy a plane ticket
Hours: Always Visible
Pin this Colorado roadside attraction: