What do you reach for when you reach for a road trip snack? Something salty or something sweet? Something hot, cold, or off the shelf? Something healthy or something with as many calories as possible? If you answered healthy, this list might not be for you. But if you answered anything else for any of those questions, we've got you covered with this list of the best junk food road trip snacks.
While we all strive for a little balance in our life, sometimes you just want to throw caution to the wind and splurge. And sometimes that splurge comes in the form of a gooey and sweet or savory and salty snack for the car. There was that meme going around on social media that said, "it doesn't matter how old you are, buying snacks for a road trip should always look like an unsupervised 9-year-old was given $100." And that's what we're looking for here. The best junk food snacks to eat in the car when we just want a junk food snack in the car.
The way I see it, there are three criteria to use when choosing these not-so-healthy road trip snacks: they should satisfy a craving, they should be easily eaten with one hand (for the driver, at least), and they should be fast and easy to obtain. Most of the best road trip snacks can easily be found on the road: in gas stations, convenience stores, fast food drive throughs, travel centers, and hotel and rest area vending machines.
Salty, sweet. Hot, cold. Fatty, delicious. Read on to find the best junk food road trip snacks that you'll definitely want to pull over for.
Love road trip snacks?
Play with your food!
The Road Trip Journal & Activity Book features 100 activities to play in the car, at your hotel, or at stops along your route, including several fun food and snack themed challenges!
Best Junk Food Road Trip Snacks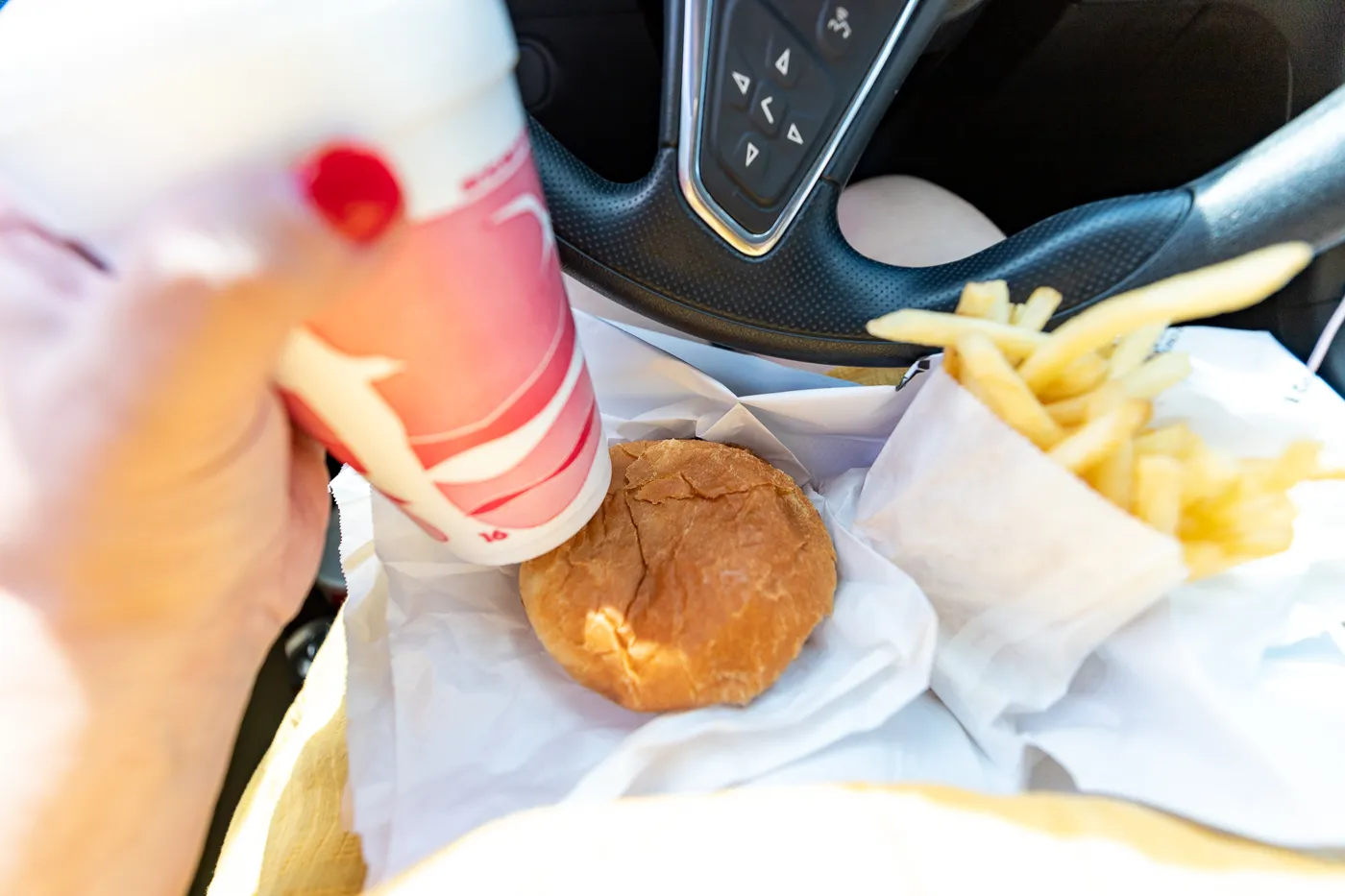 Fast Food Value Menu Snacks
Fast food drive throughs fulfill all our criteria for providing the perfect junk food snacks for road trips. They have many options that will satisfy almost any craving, they come in easy-to-eat packages, and they are so convenient, you don't even have to get out of your car to get something to eat!
There are often endless options for fast food takeout on the road too: Burger King, McDonald's, Wendy's, Shake Shack, Taco Bell, Jack in The Box, White Castle, KFC, In-N-Out Burger, Sonic Drive-In, Panda Express, Whataburger, Culver's… I can keep going.
But we're not looking for a meal here, we're looking for a snack. And when you want a fast food snack there are two places to look: the value menu and the sides menu. The value menu often offers the smallest version of the chain's well-known offerings for a bargain price (usually $1 to $3). Think, a small burger with limited toppings or a four piece of chicken nuggets. While the sides menu offers snacky sides like french fries and onion rings. Here are some of the best snacks you can get at a drive through:
French Fries
Onion Rings
Chicken Nuggets
Mozarella Sticks
Soft Taco
Cheesy Roll Uo
Stuffed Jalapeños
Small Hamburger/Slider
Cheese Curds
Boneless Wings
Cream Cheese Rangoons
Egg Rolls
Hashbrowns
Milkshakes
Ice Cream
Cookies
Snacking on fries in the car?
If you're snacking on fries, onion rings, or chicken nuggets in the car, you son't have to choose between a sauceless snack and making a mess. A Saucemoto Dip Clip clips to your air vent and provides a convenient portal to keep your ketchup, honey mustard, or barbecue sauce.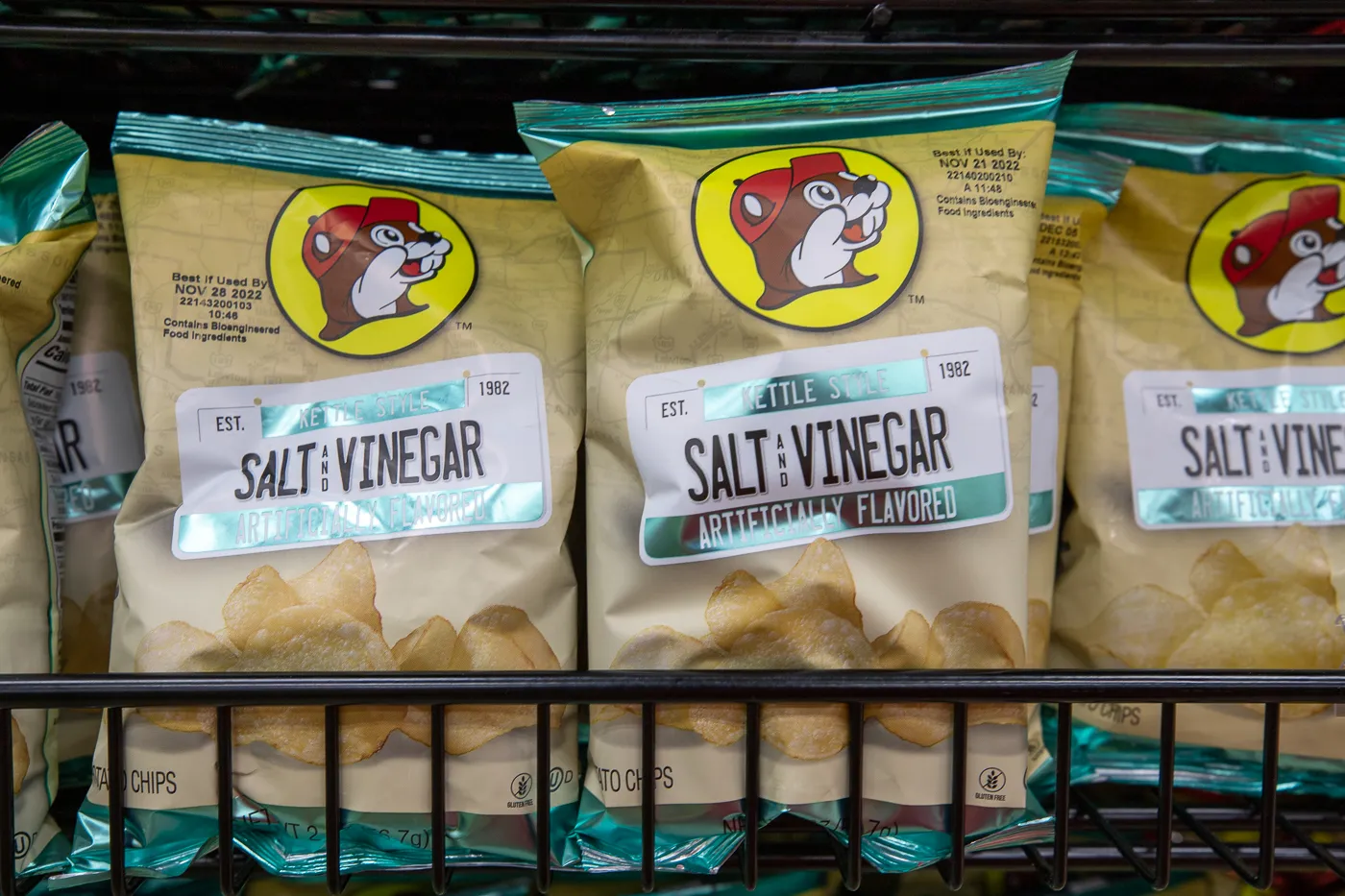 Chips
If you love a good salty snack, chips are at the top of the list. There's a huge variety of styles and flavors and every one of them provides a satisfying crunch. Here are some of the most popular types of chips you can grab when you're craving something salty:
Potato Chips
Salt and Vinegar Chips
All Dressed Chips
Sour Cream and Onion Chips
Barbecue Chips
Cheetos
Flamin' Hot Cheetos
Cheetos Puffs
Nacho Cheese Doritos
Cool Ranch Doritos
Takis Fuego
Potato Sticks
Hot Fries
Funyuns
Fritos
Chili Cheese Fritos
Gas Station Hot Foods
If you're craving a hot snack and feeling brave, you can always grab something from the gas station hot food section. You'll probably have to stop for gas at least once a day, if not multiple times depending on how many miles you're wracking up. So save yourself those extra stops by picking up a questionable hot dog from the roller grill or glistening under the heat lamp pizza slice if you're in the mood for a quick bite. Here are some common options that you'll find in your gas station heat lamp hot station:
Hot Dogs
Boneless Wings
Taquitos
Mini Tacos
Pizza Slices
Soft Pretzels
Potato Wedges
Packaged Baked Goods
Sometimes a little bit of cake goes a long way. If you have a sweet tooth, the packaged baked goods aisle of your gas station, convenience store, or travel center might be calling your name. These junk food road trip snacks are more indulgent than your typical candy bar and provide all the sugar you need for a quick energy spike after a long day in the car. Here are some of the best pre-packaged baked goods you can get at a gas station:
Twinkies
Honey Buns
Zebra Cakes
Donettes
HoHos
Glazed Cherry Pie
Hostess Cupcakes
Little Debbie Cosmic Brownies
Moon Pies
Oatmeal Creme Pies
Pop-Tarts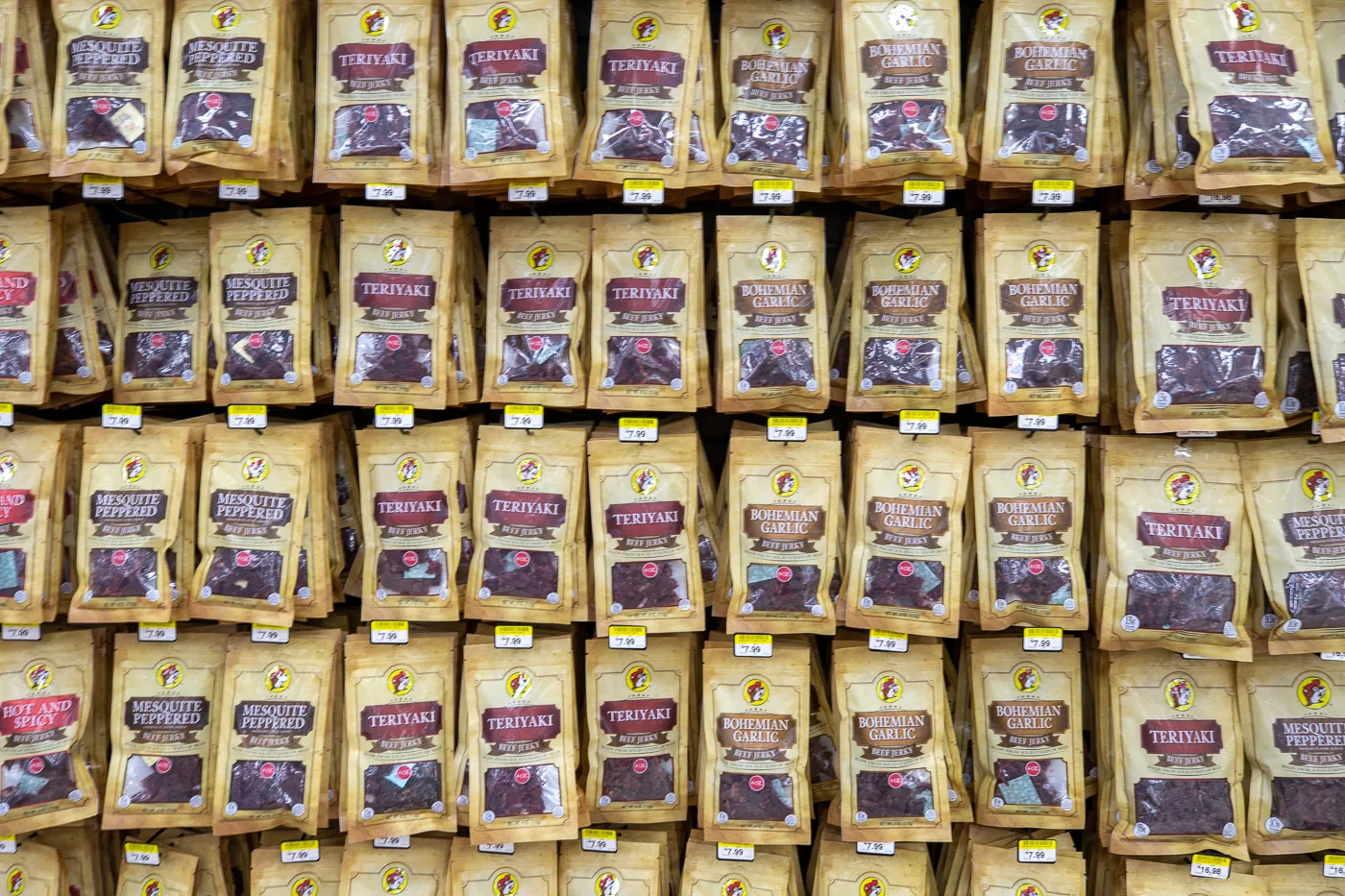 Beef Jerky and Meat Sticks
When it comes to junk food road trip snacks, beef jerky isn't all that bad. Who knew, considering it's dehydrated chunks of meat. But jerky is usually made from lean cuts of beef and is high in protein and low in carbs. Still, depending on the flavoring, it can be high in sodium. Making this meaty treat fall into the junk food category. Our favorite flavor is the Bohemian Garlic Beef Jerky, which is one of the best things to get at Buc-ee's travel centers. If you're just grabbing a snack from a gas station, you might be more limited in your options. Or, you might just find another meaty snack: Slim Jims meat sticks (which are similar in that they are meat, but different in the the fact that they are often a combo platter of meats, higher in carbs, and have a definitive stick shape).
While there are many snacks we love from gas stations, we recommend getting your jerky from a specialized travel center, where you might have more options in flavors, such as:
Teriyaki
Garlic
Mesquite
Hot and Spicy
Sweet Chili
Brown Sugar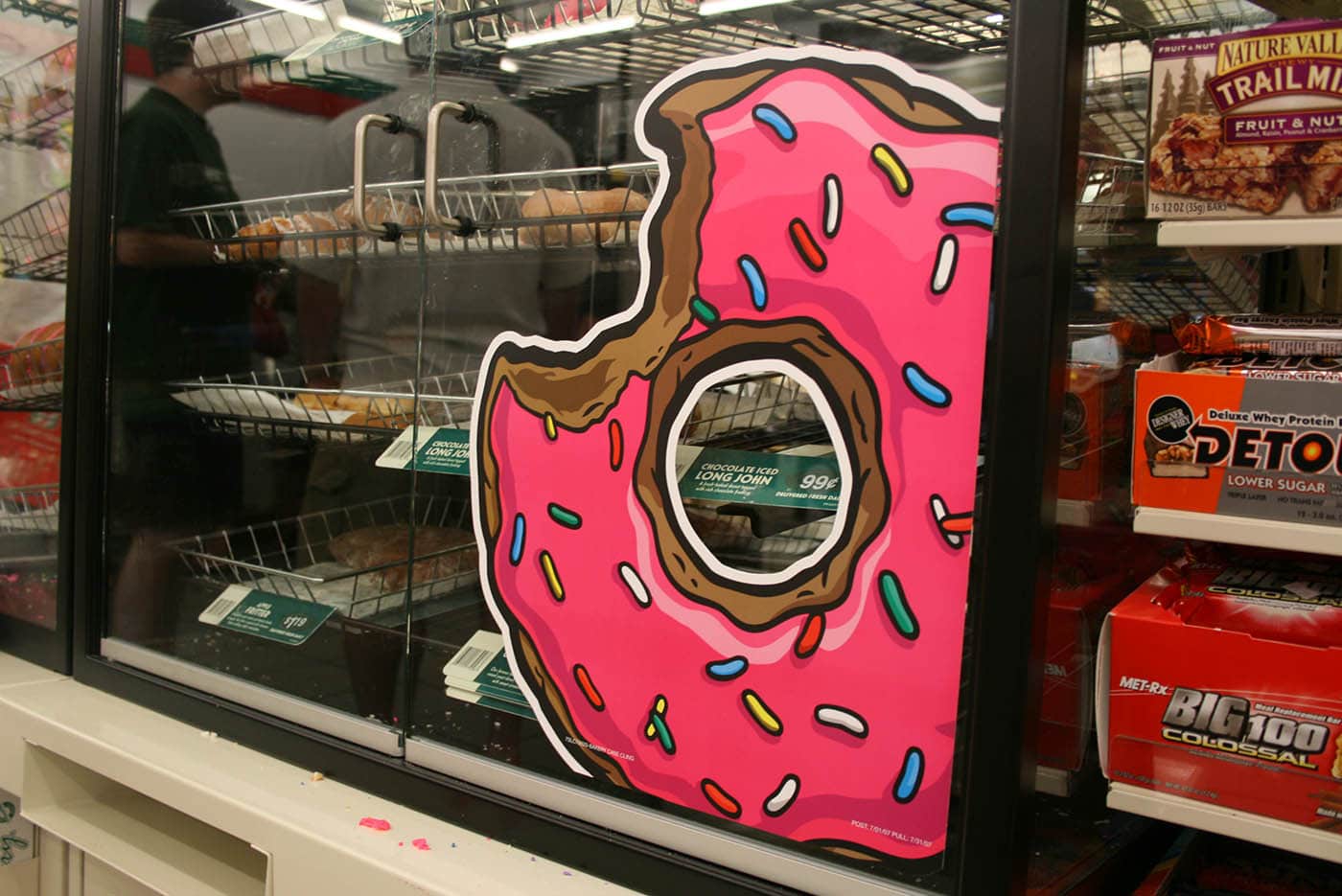 Gas Station Bakery Items and Pastries
For a snack that's a step above the packaged Twinkies and honey buns, you can snack on one of the "fresh" baked goods from your gas station or travel center. These grab-and-go pastries often lean in the breakfast pastry category but are a tasty sugar-rush any time of the day.
Gas stations are convenient but you can also grab a pastry to go from a coffee shop (like Starbucks), a doughnut shop (like Dunkin' Donuts or Krispy Kreme), or even a local bakery! Here are some of the most common gas station pastries you'll find on the road:
Doughnuts
Muffins
Apple Fritters
Brownies
Croissants
Cinnamon Rolls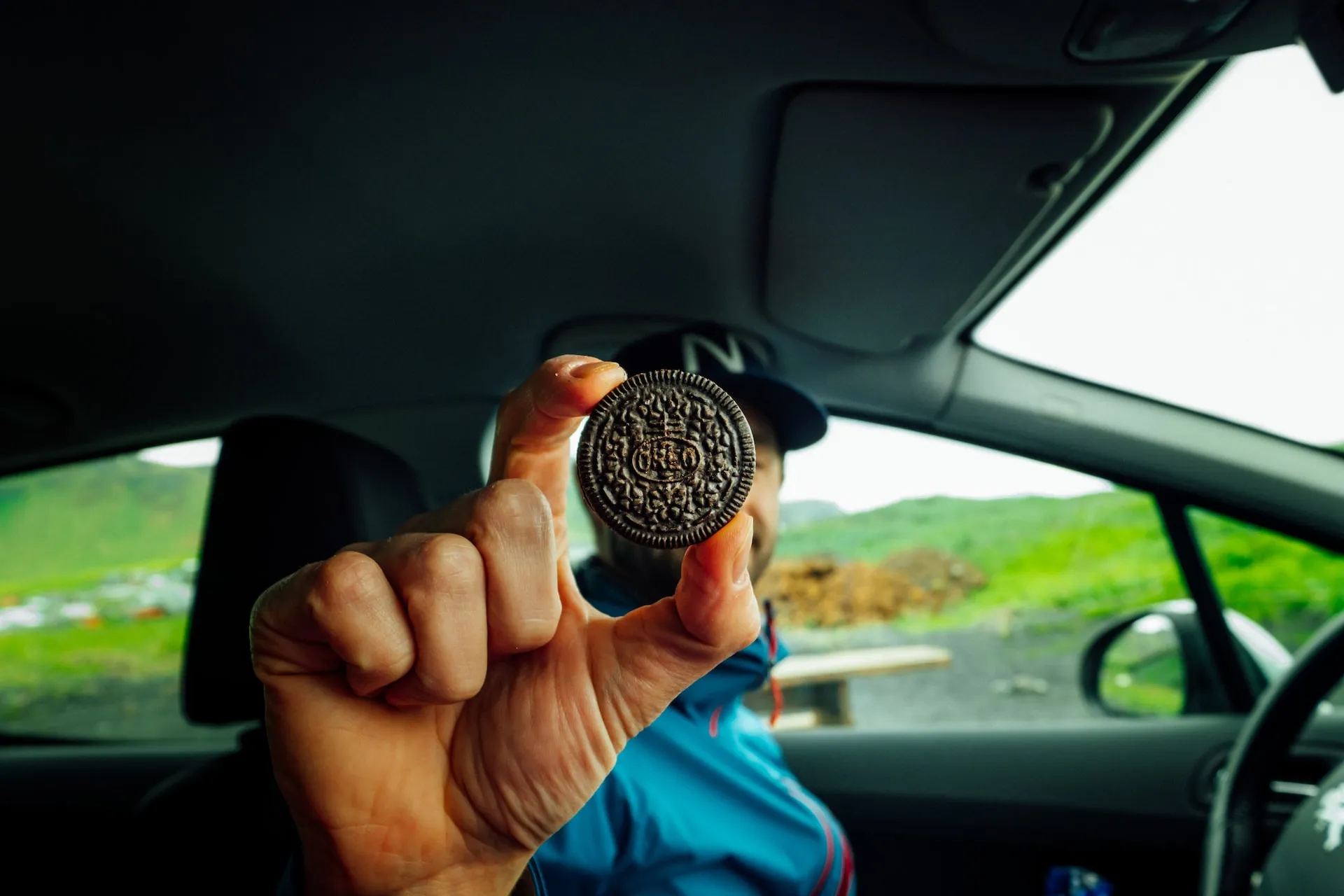 Cookies
Cookies are another great road trip junk food. You can snack on whatever flavor or brand is your favorite, whether that is chocolate chip, Oreo, chocolate chip, peanut butter, chocolate chip, oatmeal raisin, or chocolate chip. Gas stations and convenience stores usually have a pretty good selection of snack-sized bags of cookies. You can even buy a full bag of cookies if you have enough self control to not eat them all before your next highway turnoff. We recommend the snack size. Here are some of the types of cookies you might find on your road trip:
Oreos
Chips Ahoy! Chocolate Chip Cookies
Grandma's Chocolate Chip Cookies
Famous Amos Chocolate Chip Cookies
Teddy Grahams
Fudge Stripes Cookies
Mini Sandwich Cremes
Oatmeal Raisin Cookies
Peanut Butter Cookies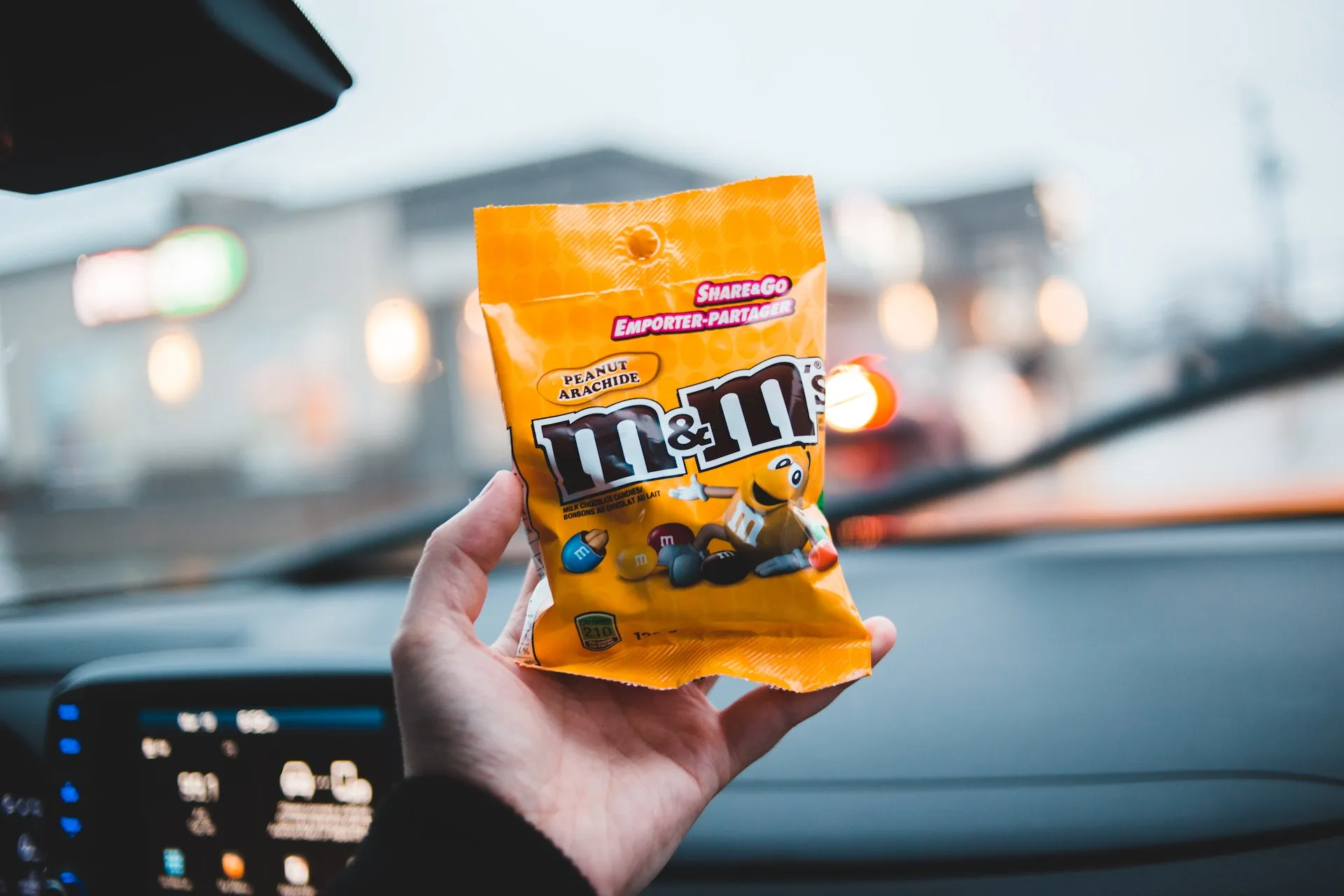 Chocolate and Candy
Candy comes in many forms but the two most popular varieties are chocolate and not chocolate. The candy you snack on on a road trip will most definitely fit into one of those categories. Most of the chocolate candy you'll snack on in the car comes in the form of candy bars or bags of little morsels of goodness. It's a solid choice for a junky road snack. Especially if you go for something like a Snickers bar, which has that extra punch of protein from the peanuts. Just make sure that any chocolate you buy is eaten right away or else you might end up with a melty mess. But who is leaving chocolate for later anyways?
Snickers
Milky Way
Almond Joy (got nuts)
Mounds (don't)
Butterfinger
Hershey Bar
Kit Kat
Nestle Crunch
Twix
Reese's Peanut Butter Cups
M&Ms
Peanut M&Ms
Whoppers
Junior Mints
Milk Duds
Not chocolate candy often comes in the form of gummies or other fruit-based flavors. Here are our favorites:
Sour Patch Kids
Gummy Worms
Sour Worms
Gummy Bears
Starburst
Red Vines
Twizzlers
Swedish Fish
Skittles
Mamba Fruit Chews
Ice Cream
Ice cream is not the ideal road trip snack. It melts really quickly. It's hard to eat with one hand. The McDonald's ice cream machine is always broken so it is as never as convenient as you think. Still, I have to keep this on here because, to me, ice cream is synonymous with road travel.
Way back in the 1900s I went on a high school choir trip and we took an overnight bus from Chicago to Washington D.C. What I remember most from that trip is stopping off at a convenience store in some state in between at some random hour of the night and everyone choir and band member got off the bus and bought individual pints of Häagen-Dazs and ate them dry. I got strawberry. It was delicious. But ever since then I've I've equated road travel with eating copious amounts of ice cream.
So get that ice cream as a tasty tasty snack. But maybe eat it all before getting back in the car. Or stop at a local ice cream parlor and eat it there (not every snack has to be eaten on the go). And bring wet naps. Here are some road trip ice cream options:
McDonald's Sundaes (if only)
Häagen-Dazs Pints
Chip Burgers
Drumsticks
Ice Cream Sandwiches
Strawberry Shortcake Bars
Frozen Snickers Ice Cream Bars
Fudge Bars
Push Up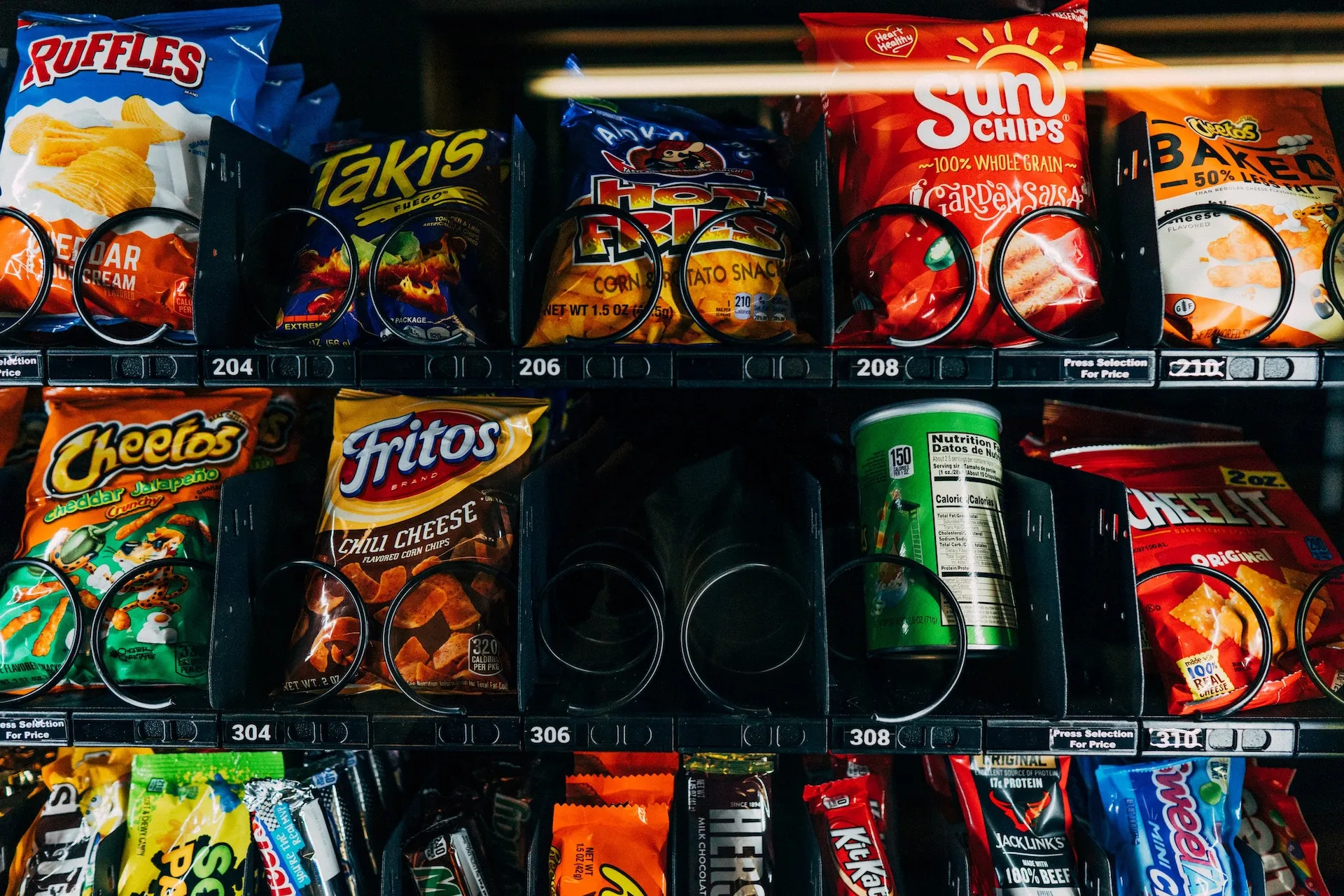 More of the Best Junk Food Road Trip Snacks
There are endless options when it comes to finding junk food snacks to eat on a road trip. Here are some more popular snacks and snack mixes to snack on when you need a quick road trip snack!
Pretzels
Cheese Sandwich Crackers
Cheez-Its
Snyder's of Hanover Pretzel Pieces (Honey Mustard and Onion, Peanut Butter, Cheddar Cheese, Buttermilk Ranch)
Combos (Pizzeria, Cheddar, Pepperoni)
Corn Nuts
MUNCHIES Snack Mix
Bugles
Love road trip snacks?
Play with your food!
The Road Trip Journal & Activity Book features 100 activities to play in the car, at your hotel, or at stops along your route, including several fun food and snack themed challenges!
Pin this list of the best junk food road trip snacks to save for later: