The perfect travel photo deserves the perfect caption. But when a picture says 1,000 words, it is sometimes hard to find the right words to describe it. That's where these road trip captions for Instagram come in.
If you need a little inspiration for just what to say when posting your travel pics on social media, use these road trip Instagram captions as a guide. Whether you want to capture the emotional sentimentality of traveling the open road, make all your followers laugh, or borrow the words of those who came before you, al of these ideas will provide an inspired starting point.
Copy these expressions, quotes, and quips to use as a starting point for your Instagram captions. You can also save the images to your phone to share on your Instagram stories or other social media . Don't forget to tag me at @SillyAmerica if you do, and follow me there too for more road trip inspiration!
Need the perfect emoji to go with your road trip Instagram captions? Check out our lists of Road Trip Emoji and Route 66 Emoji.
Need to perfect hashtags to help get your travel photos found? Check our list of the best Road Trip Hashtags for Instagram.
Sentimental Road Trip Captions For Instagram
Gonna take a sentimental journey…Road trips are all about feeling all the different emotions along the bumpy road of travel. The highs are high and the lows are low. But, overall, they always provide a balanced and worthwhile vacation adventure. Here are some sentimental road trip captions for Instagram that help encapsulate the nostalgic, dewey-eyed, soppy side of car travel.
Wind in my hair. Don't care.
Friends. Freedom. And a full Tank of Gas.
You. Me. And the open road.
Driving into the sunset.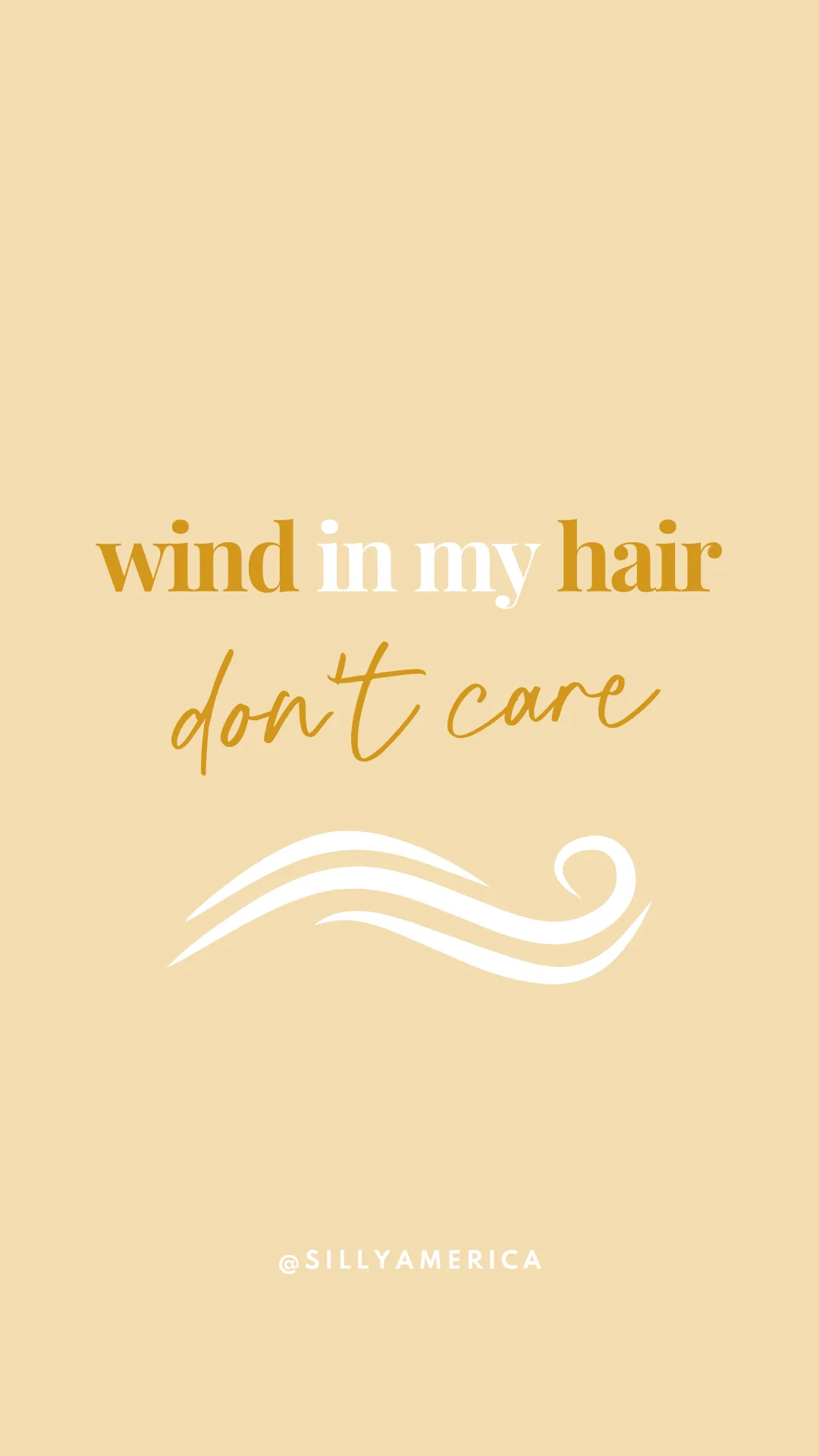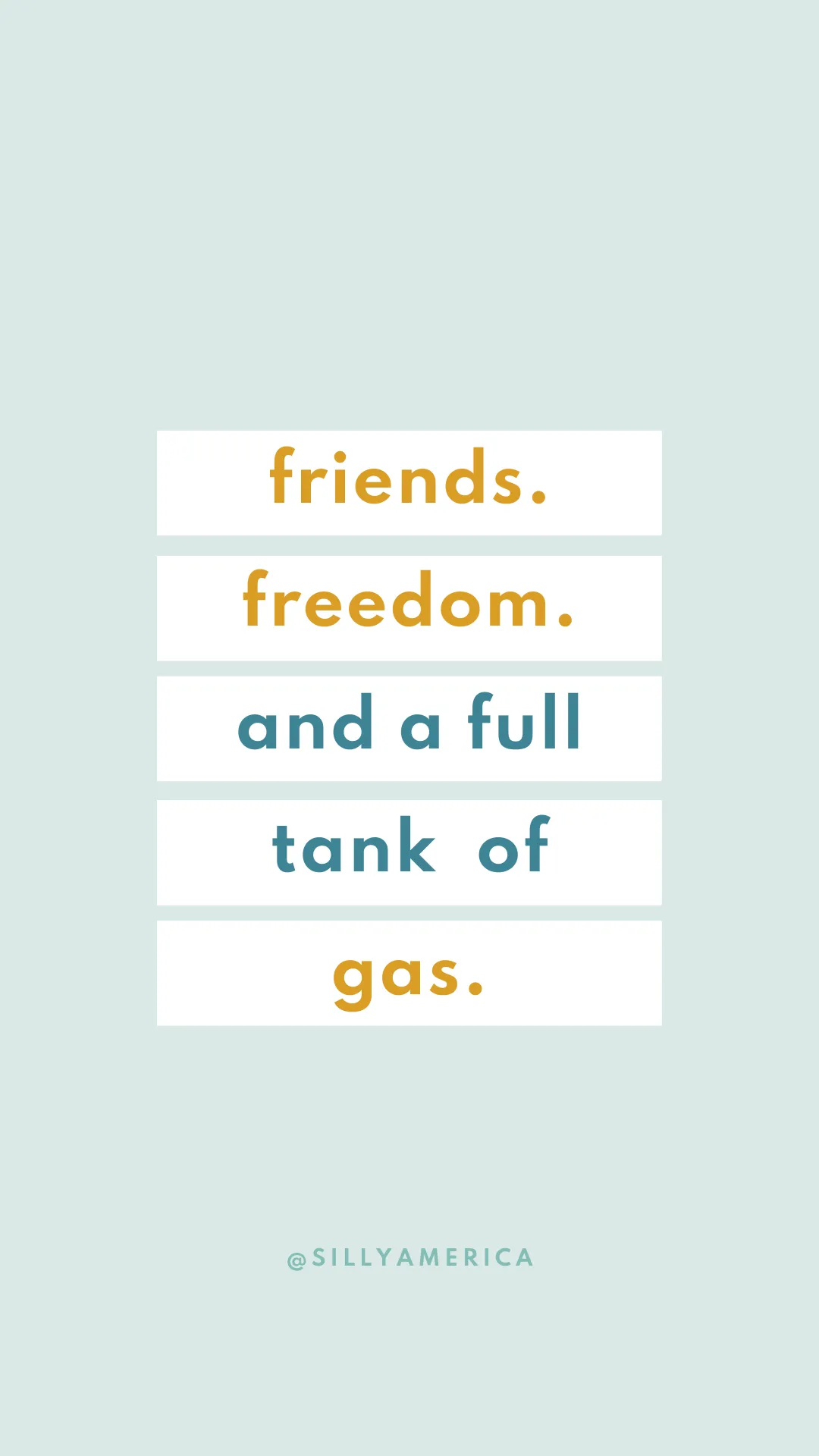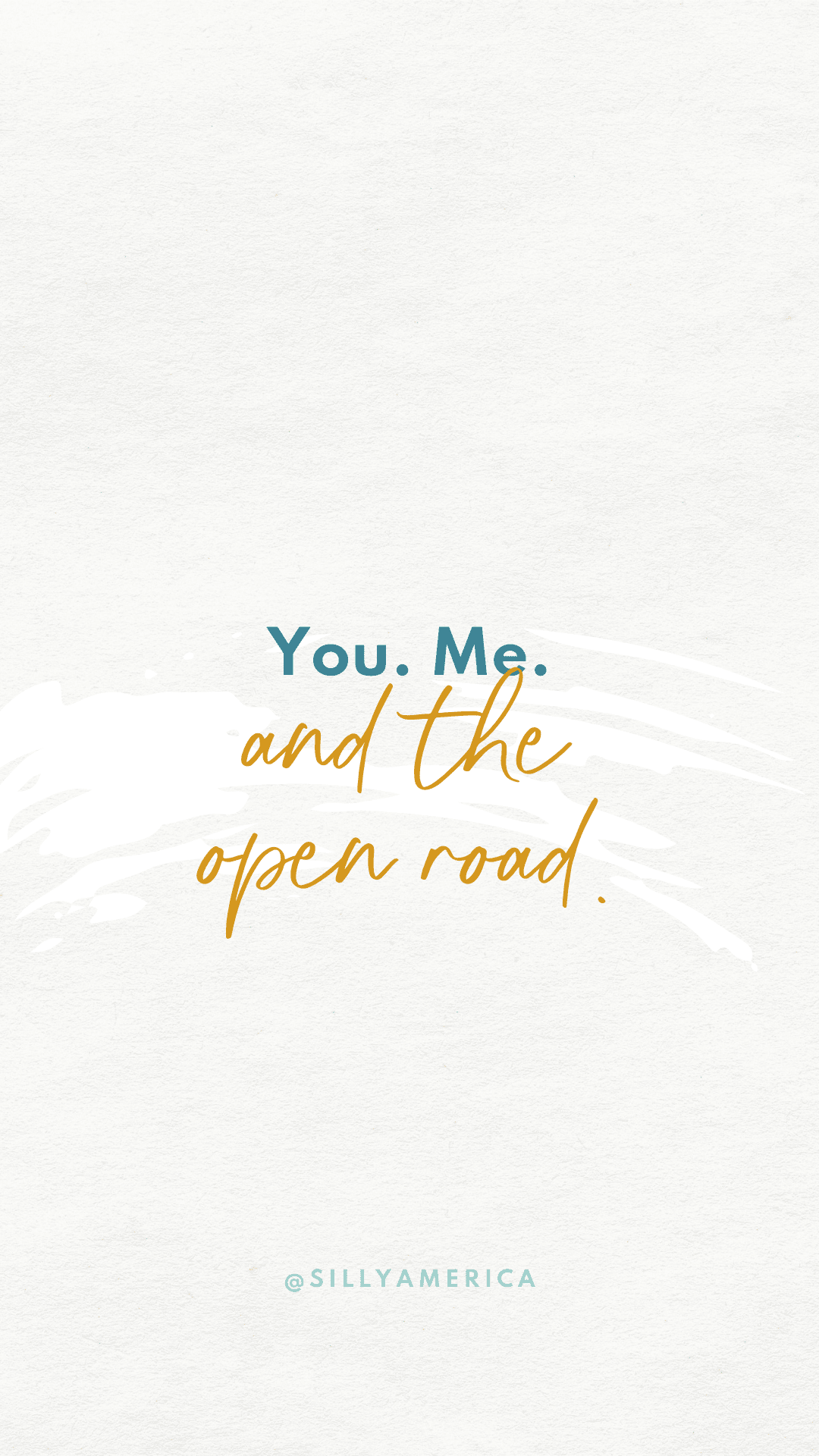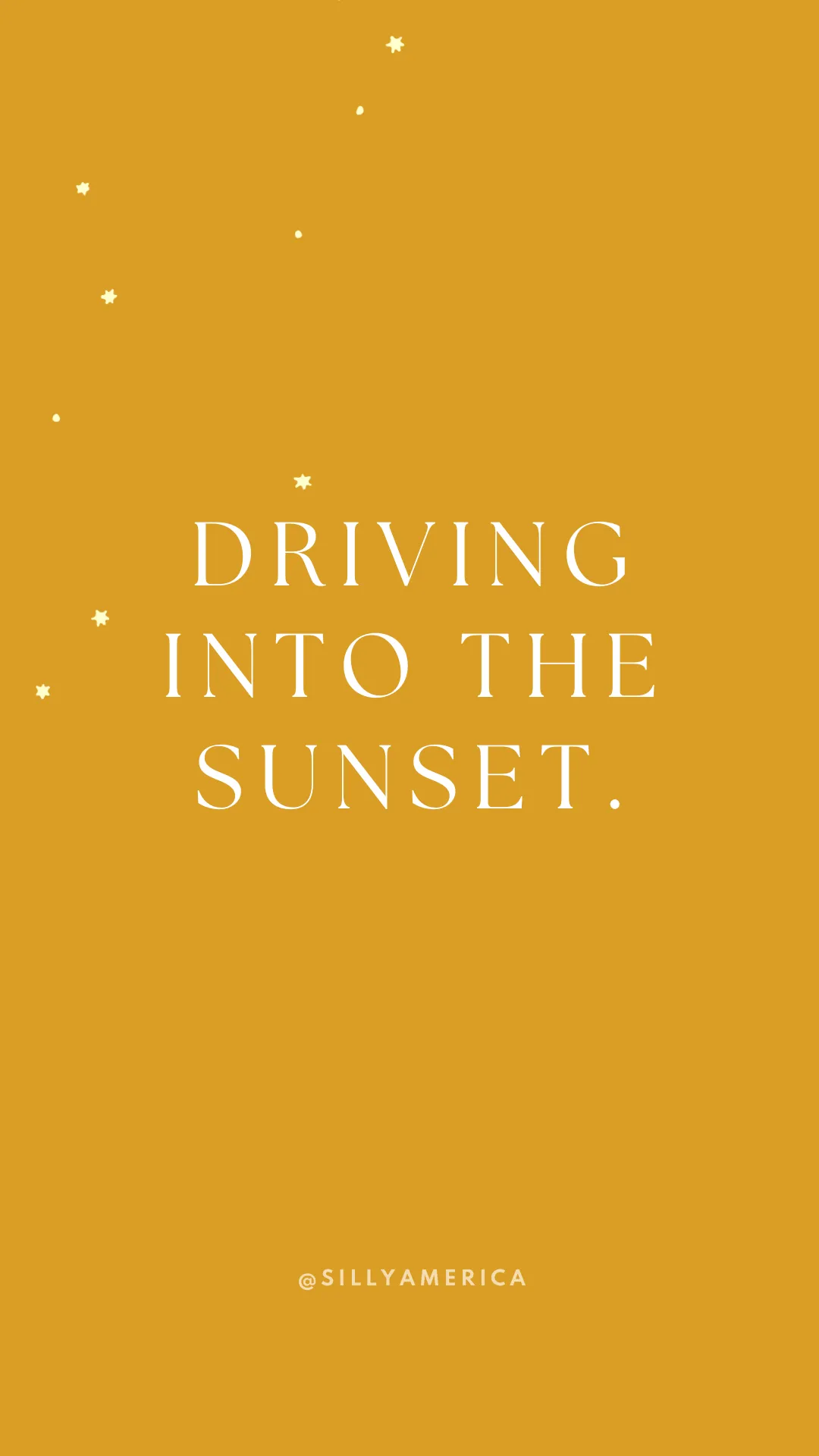 Making memories one road trip at a time.
Key to my car? Or key to my heart?
Today was just a bump in the road.
It's not the destination. It's the journey.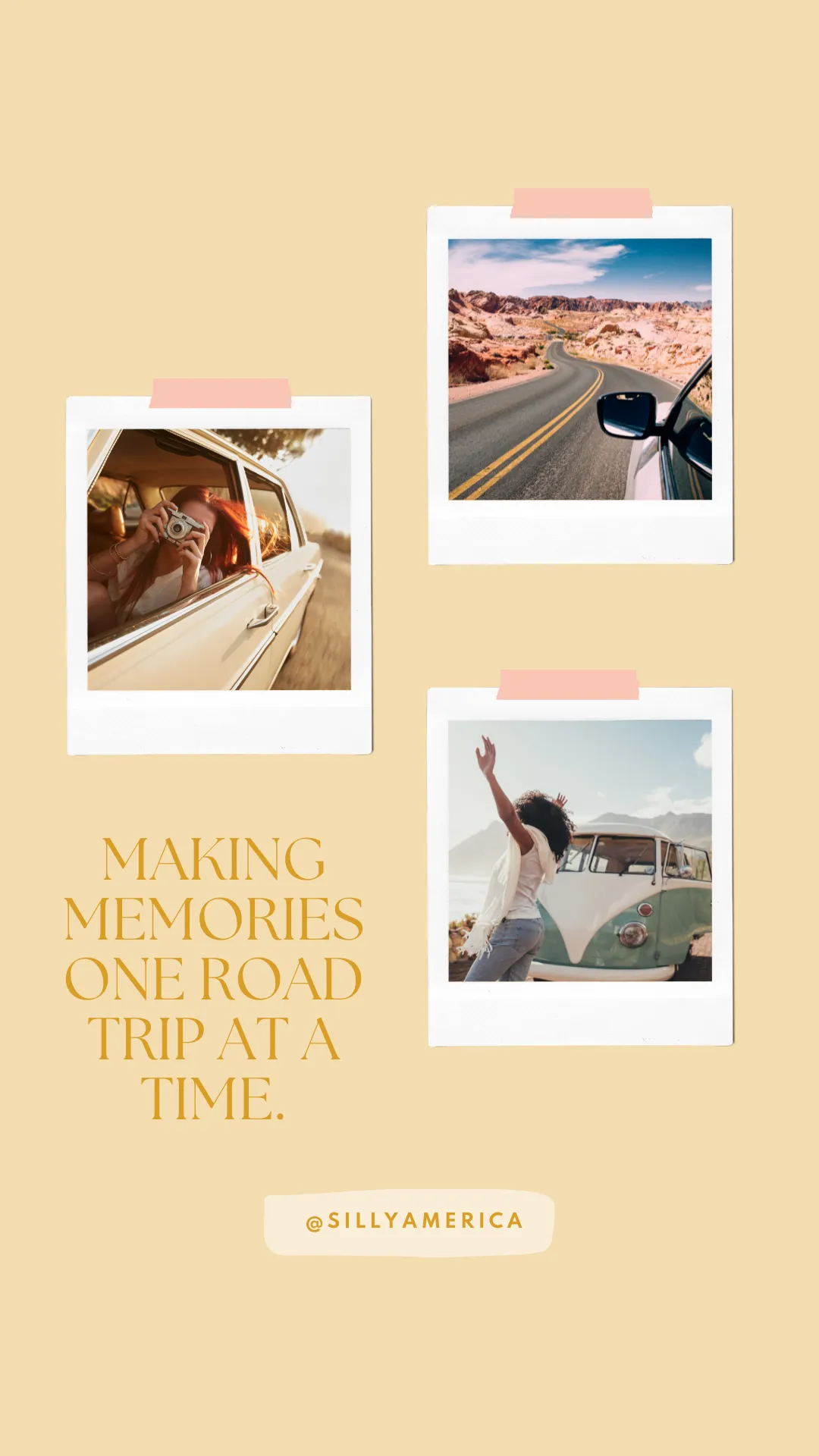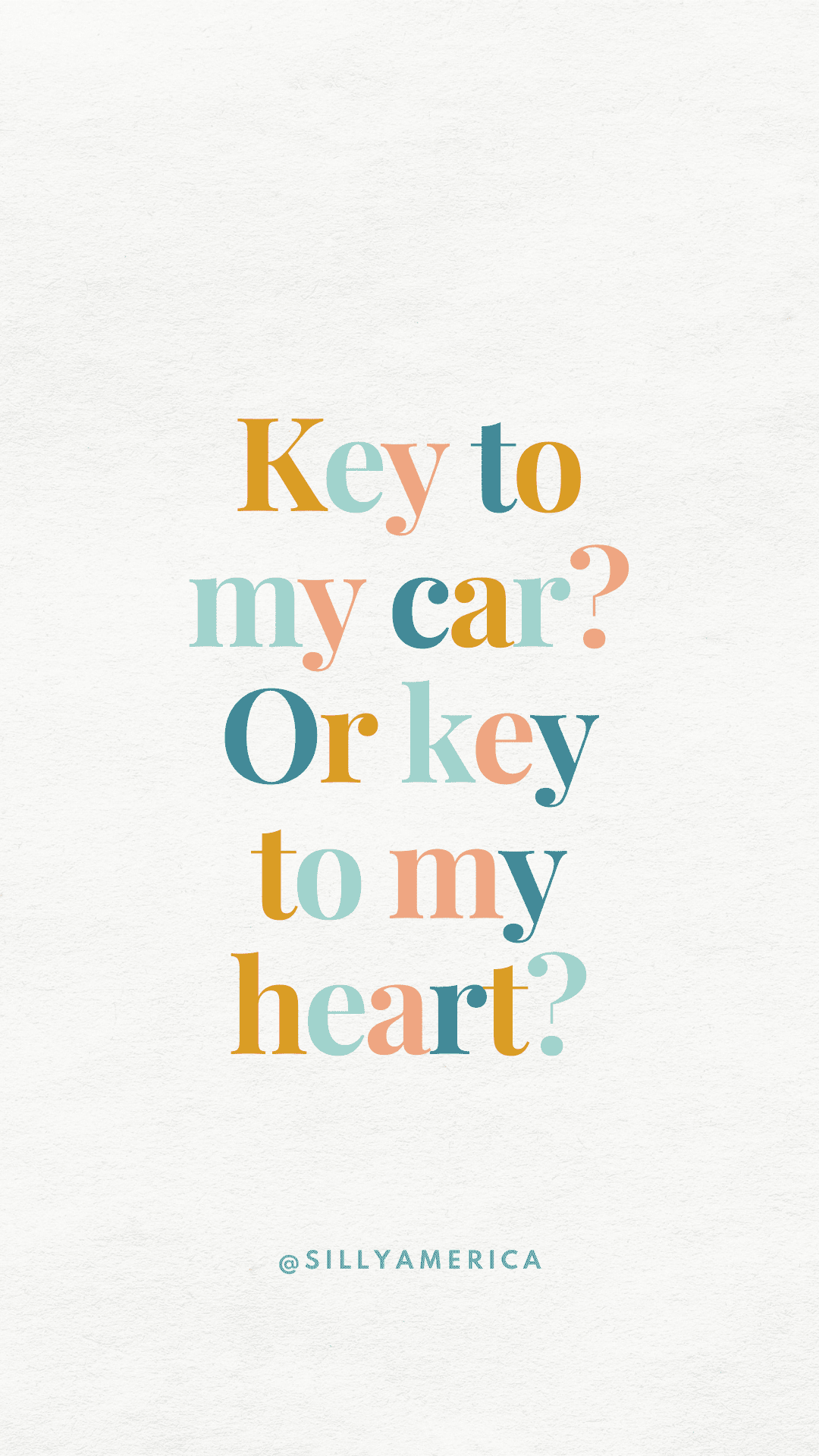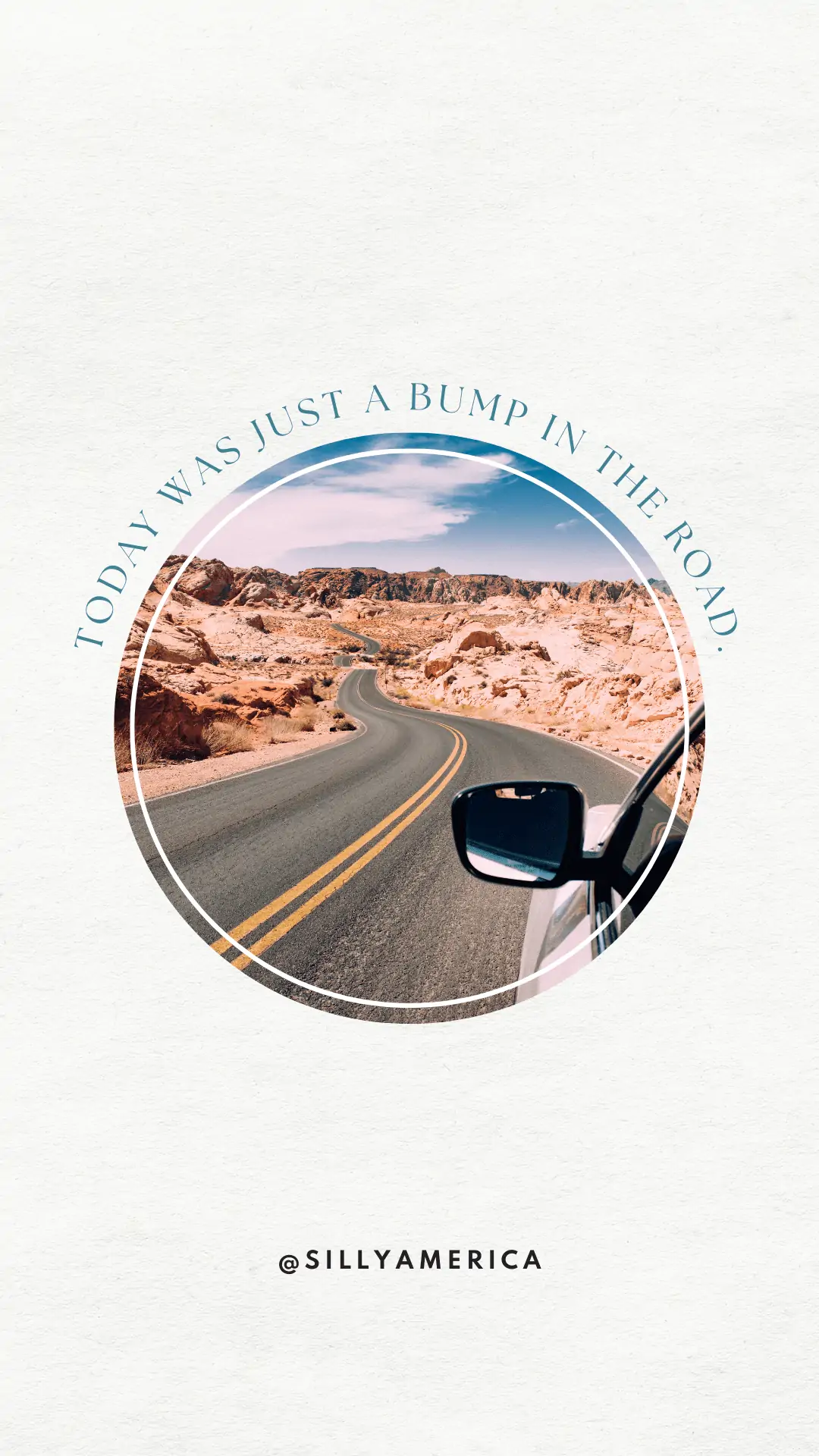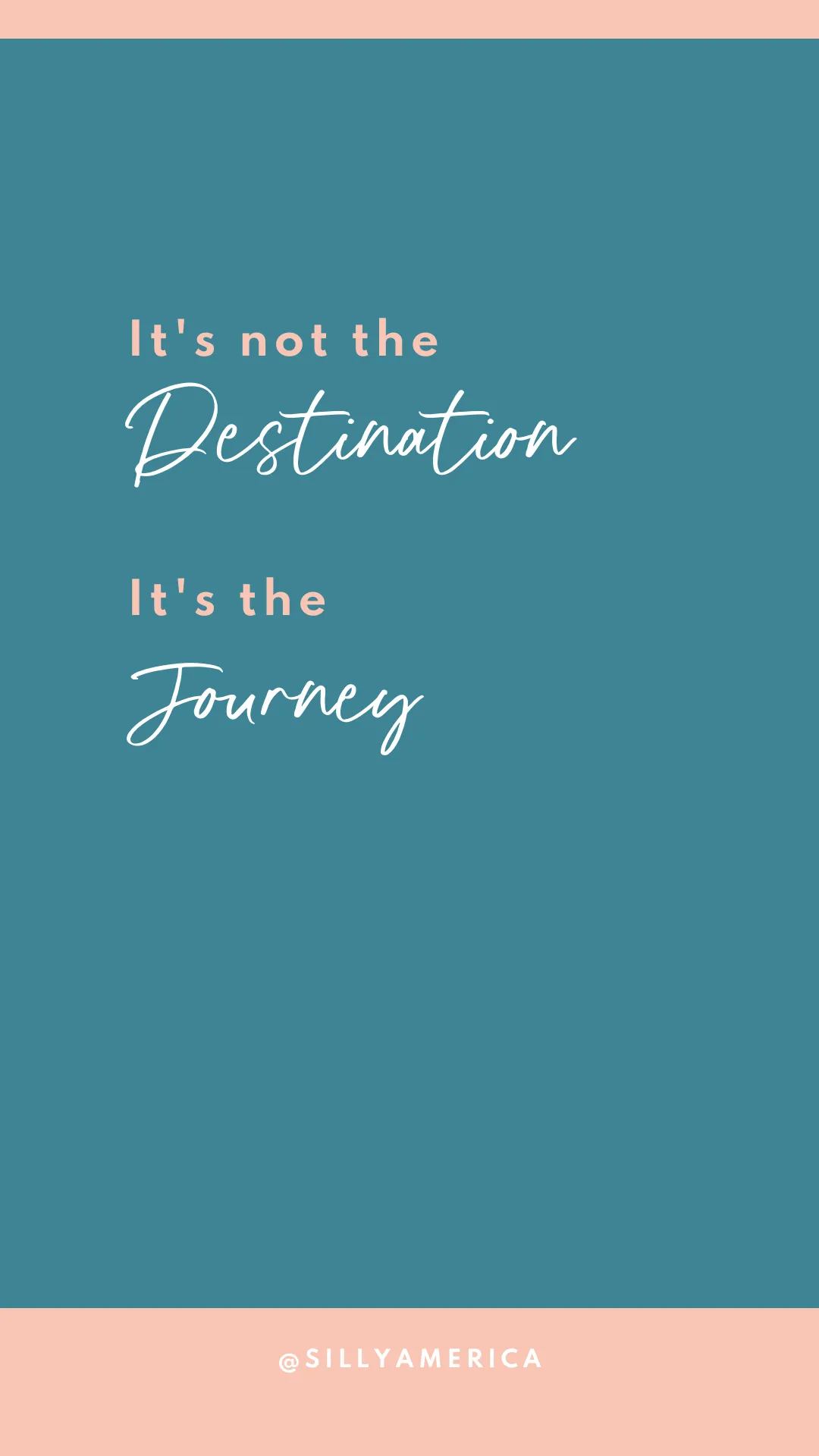 I'll go the extra mile for you.
There are no wrong turns. Only new adventures.
What will we find at the end of the road?
Miles and miles. Smiles and smiles.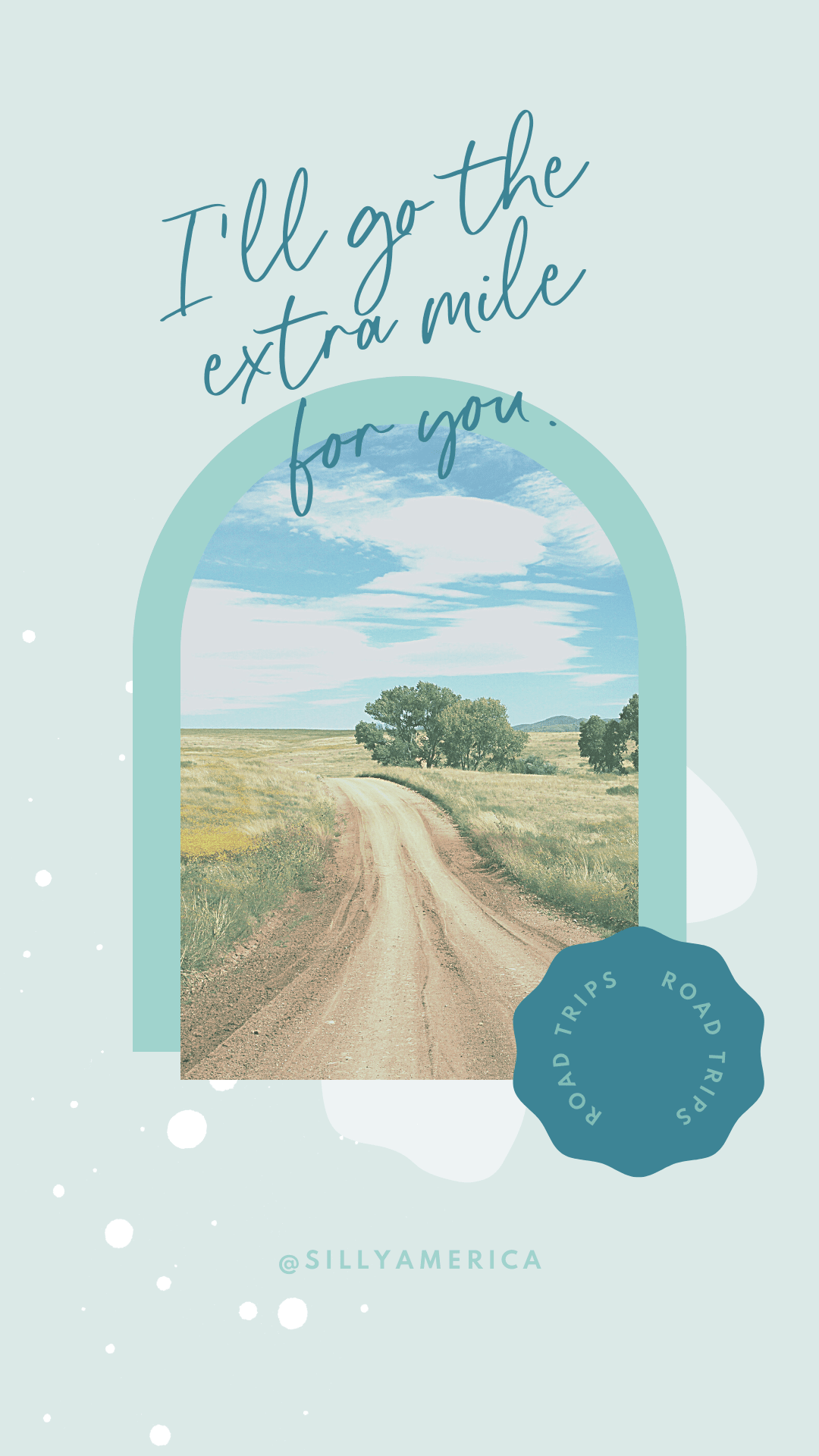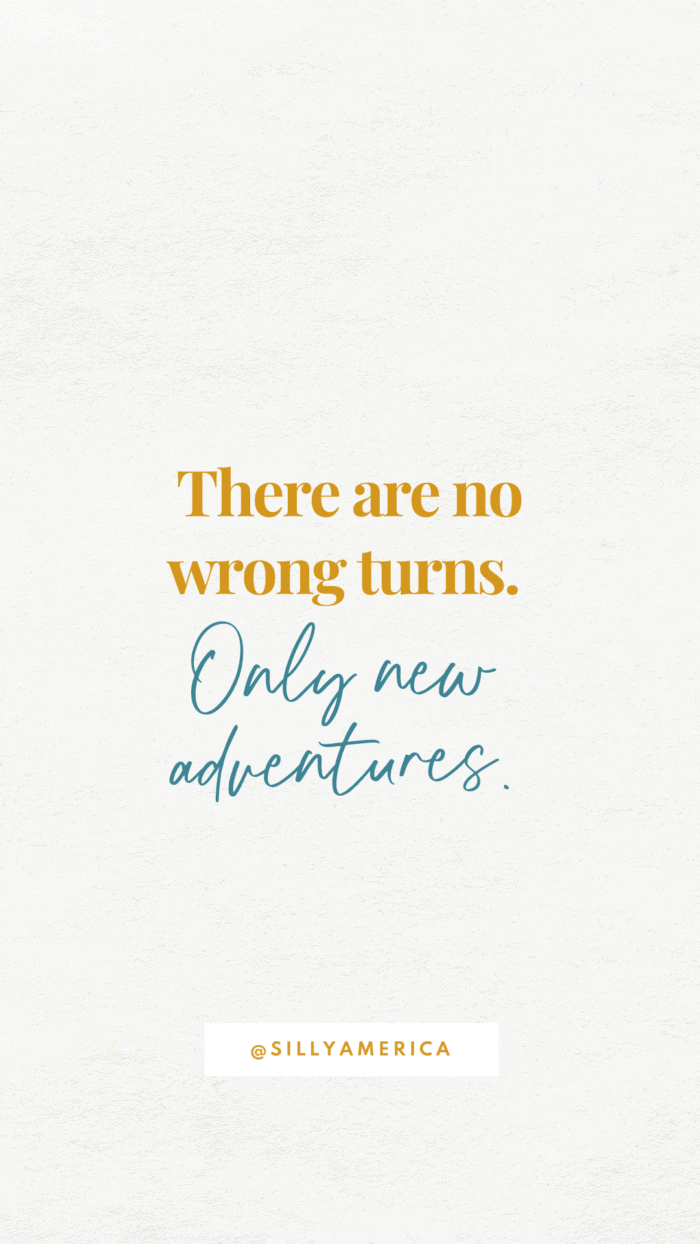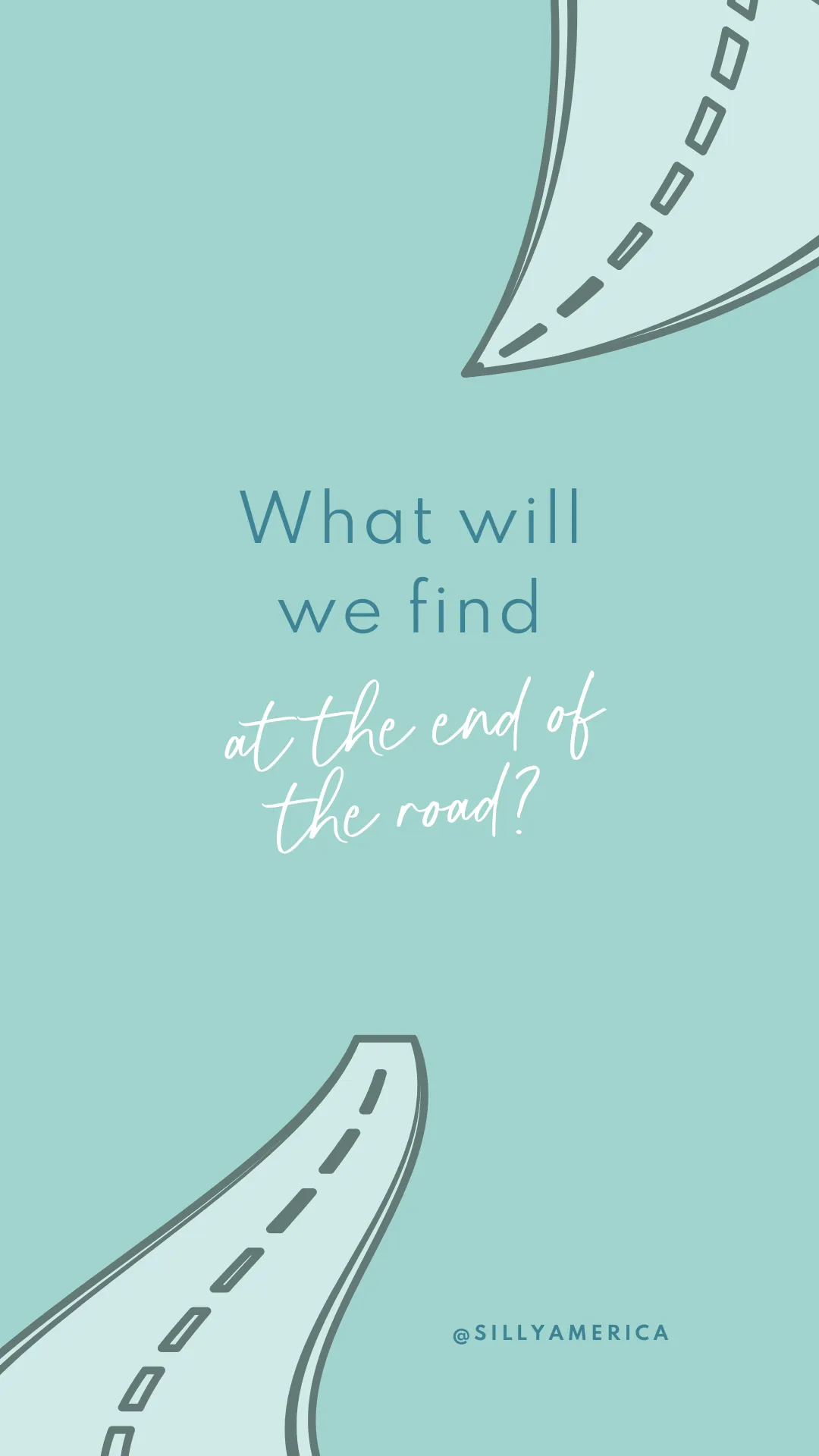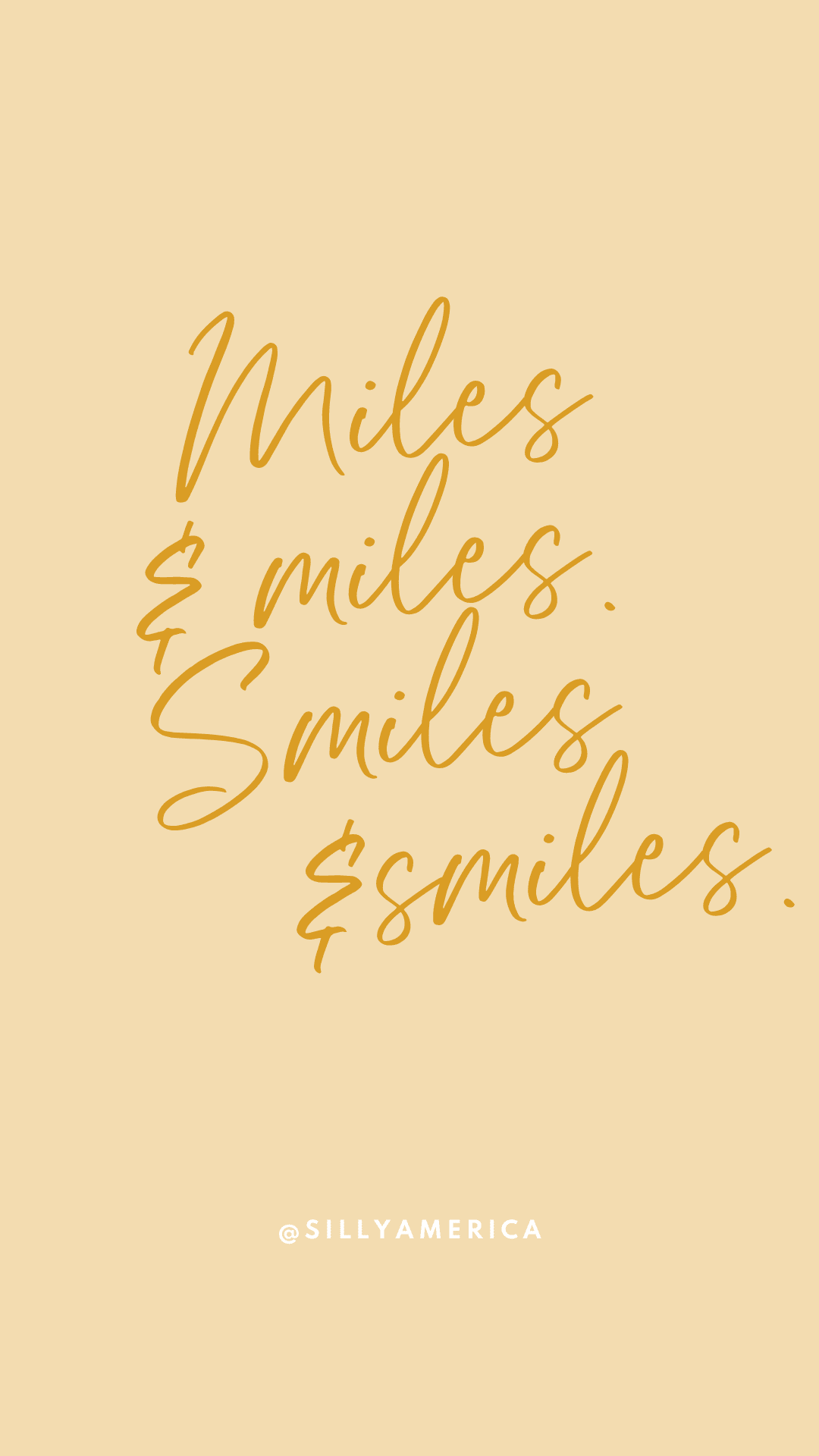 Wanderlust and highway dust.
Collect moments, not things.
Look at life through a windshield, not through the rearview mirror.
Taking it one mile at a time.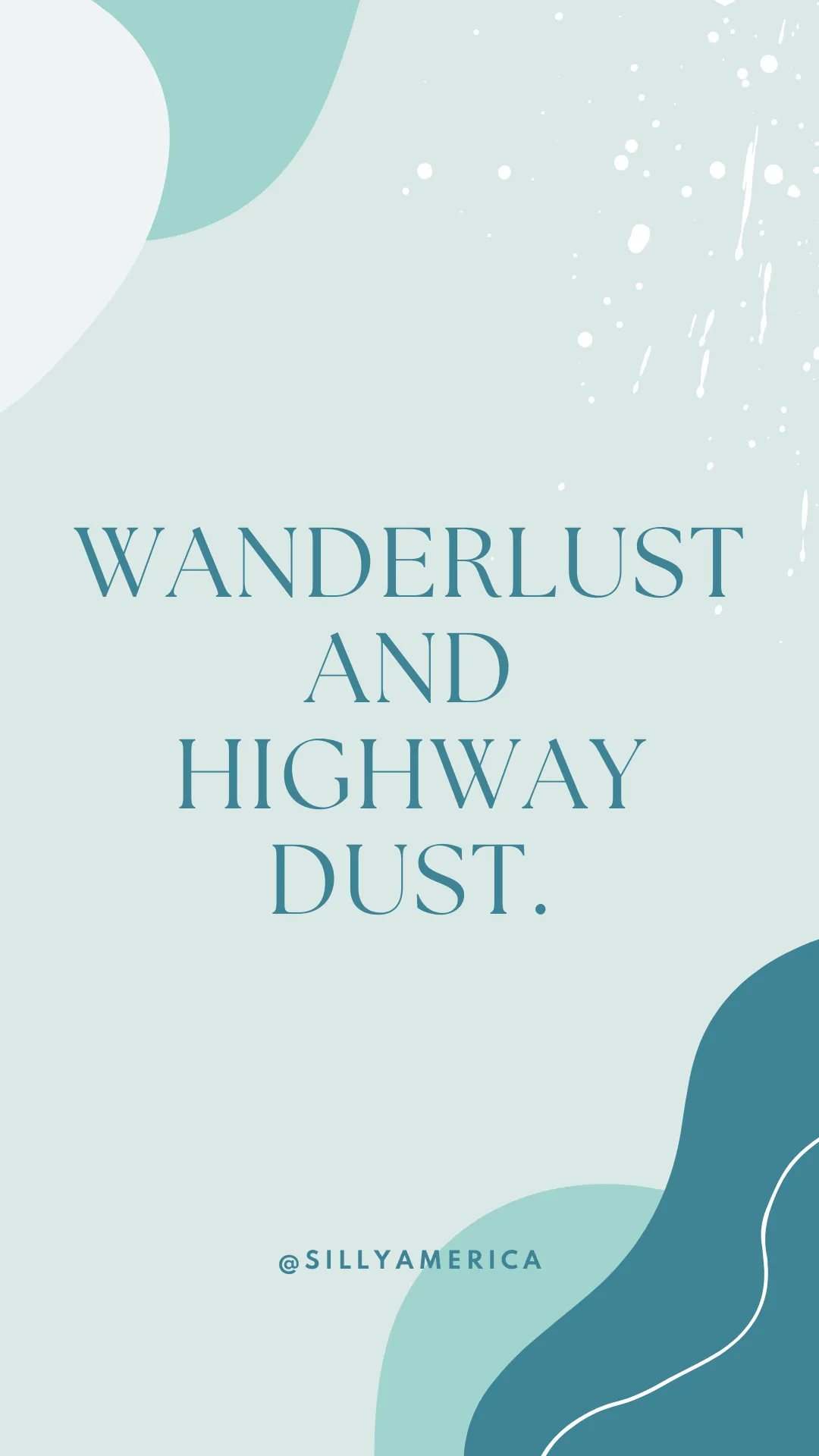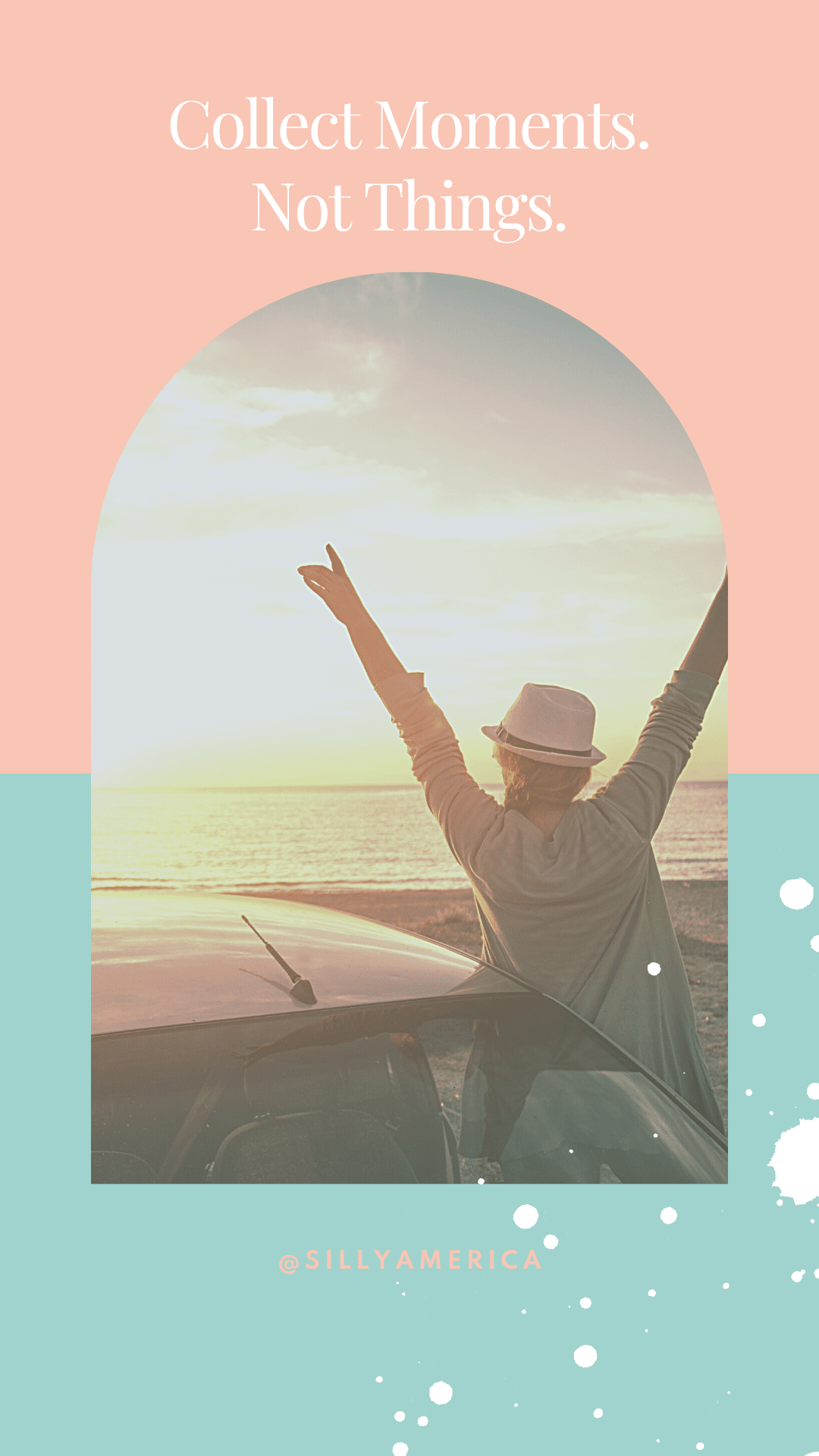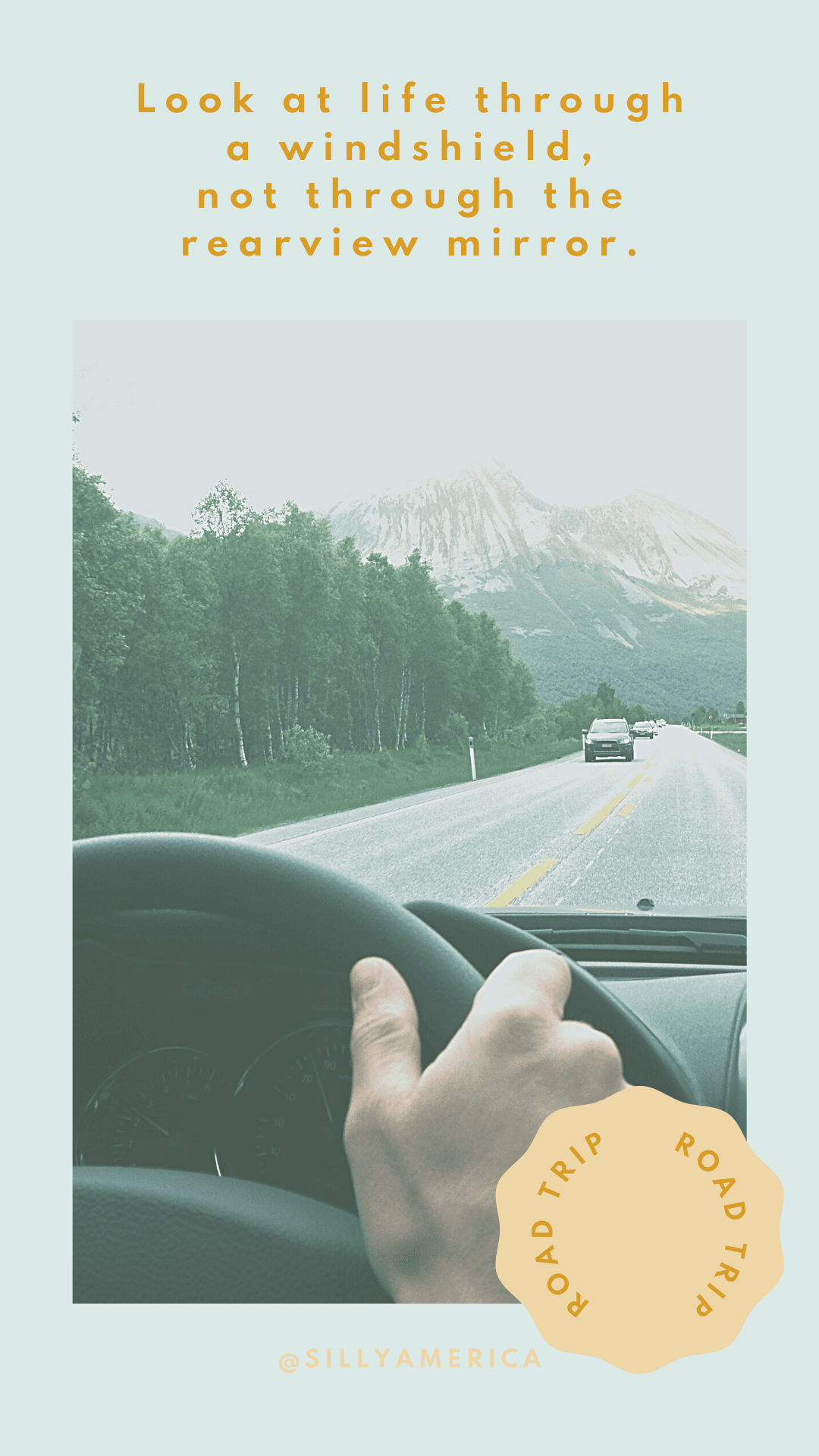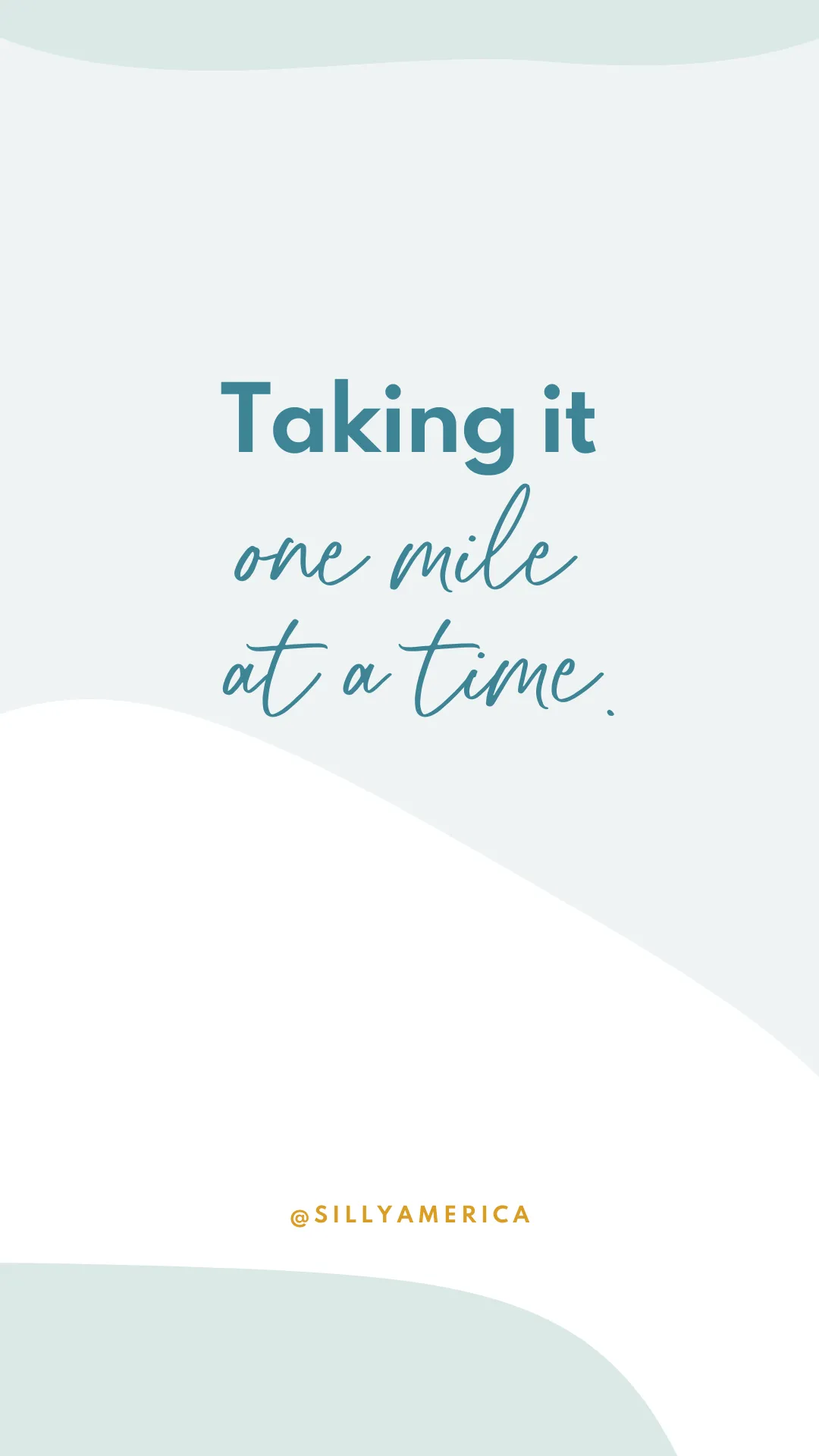 Out of mind, out of town.
Every day is a winding road.
Happiness is planning a road trip to somewhere new.
It feels good to be lost in the right direction.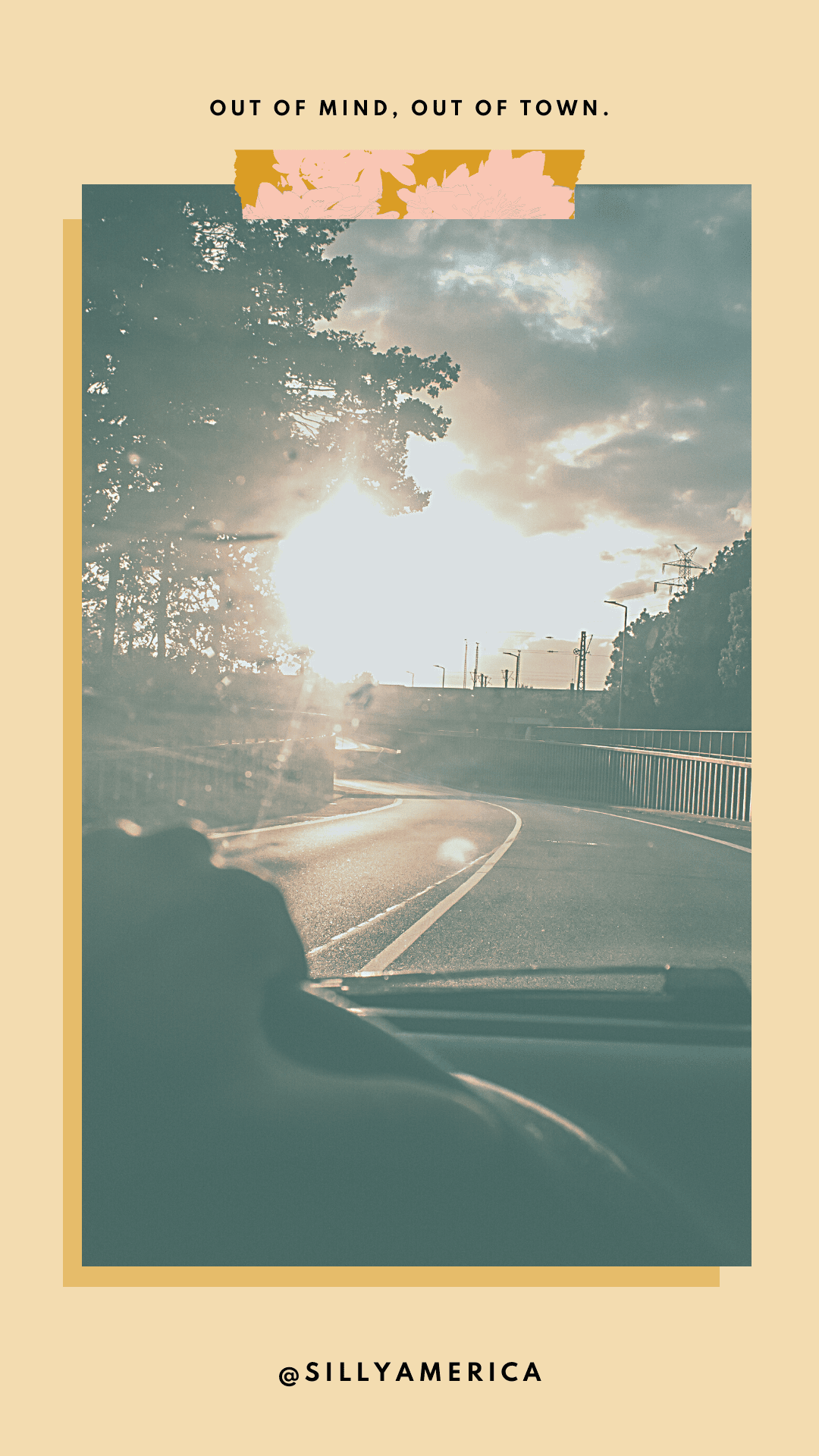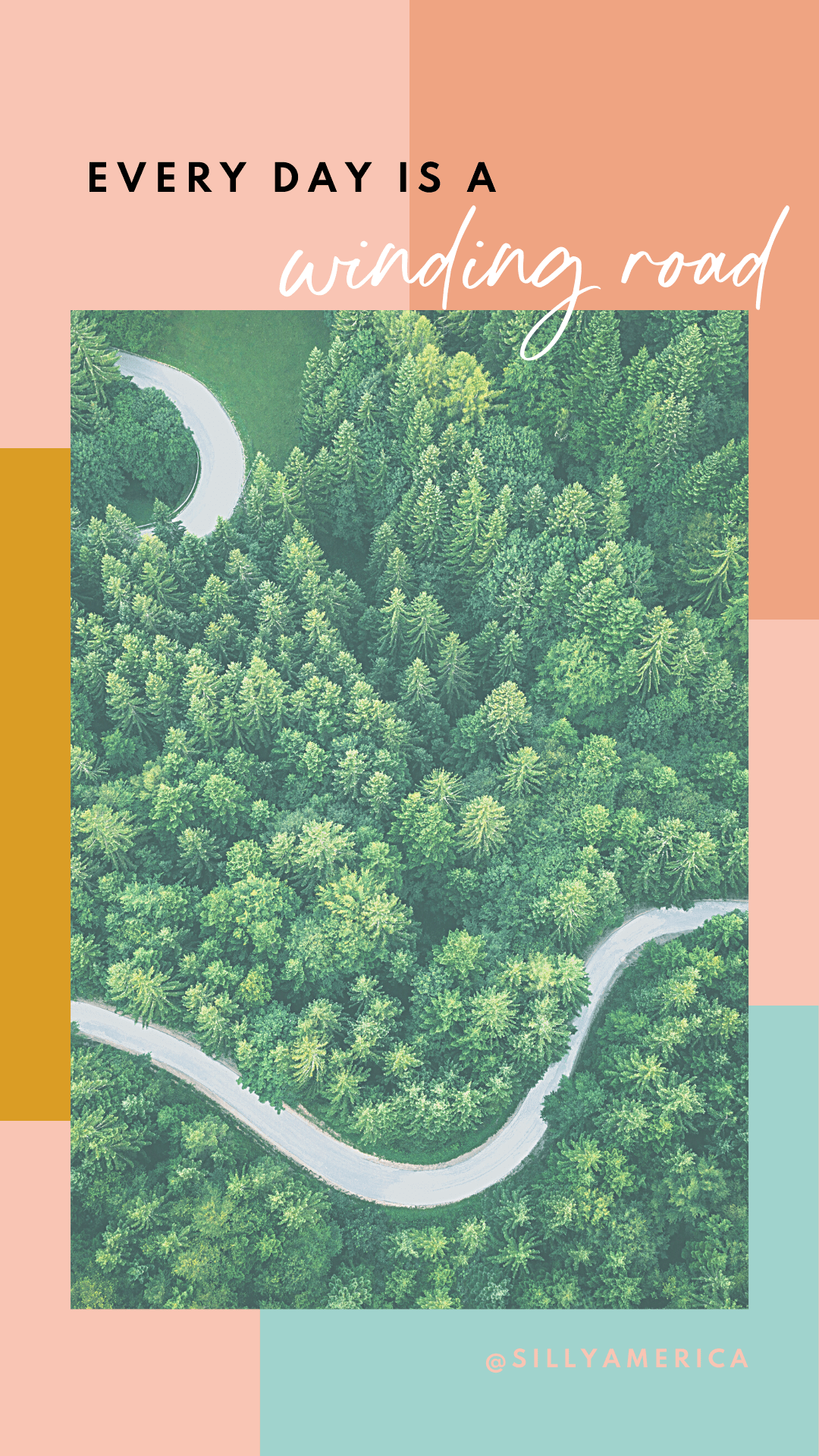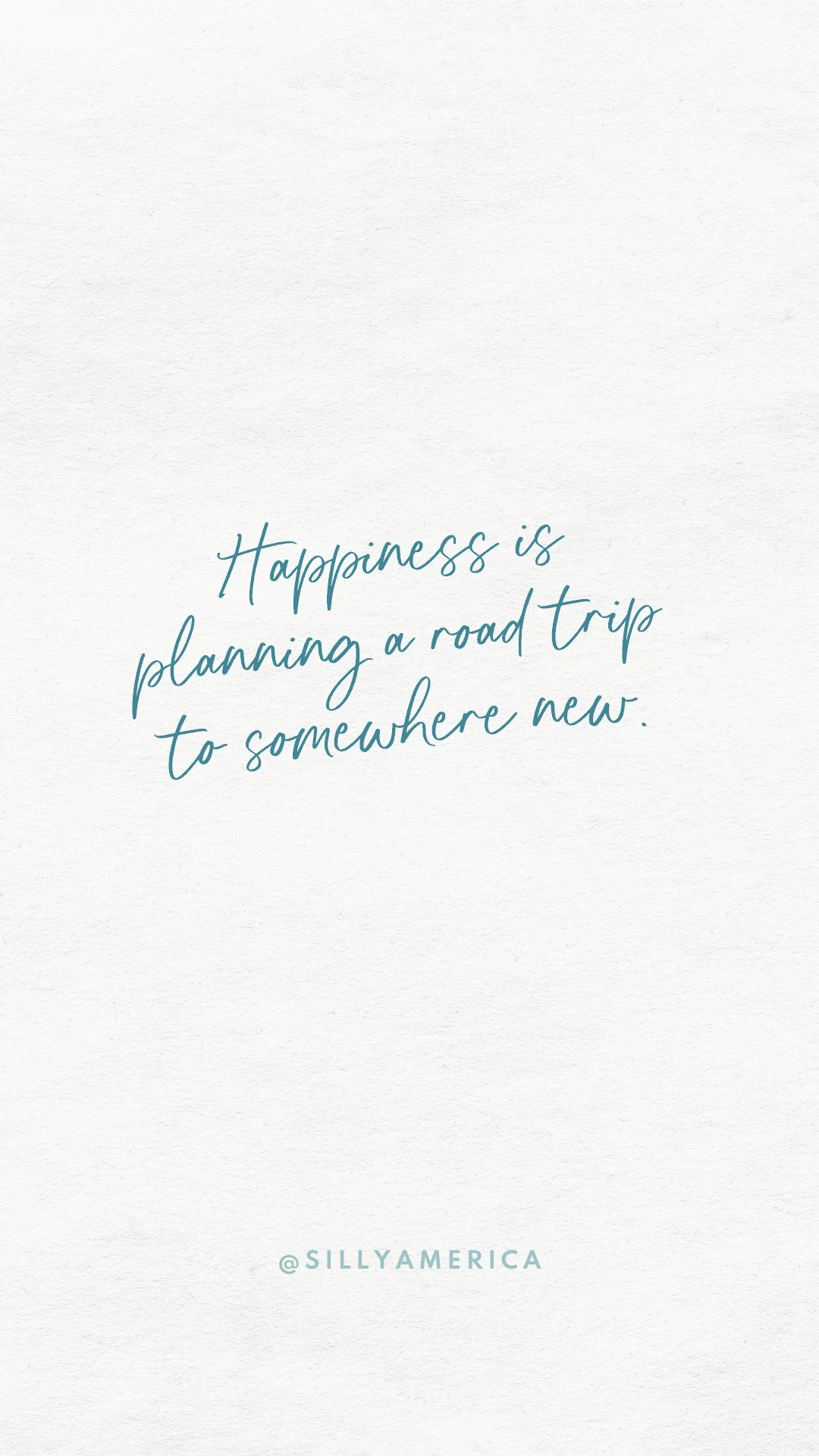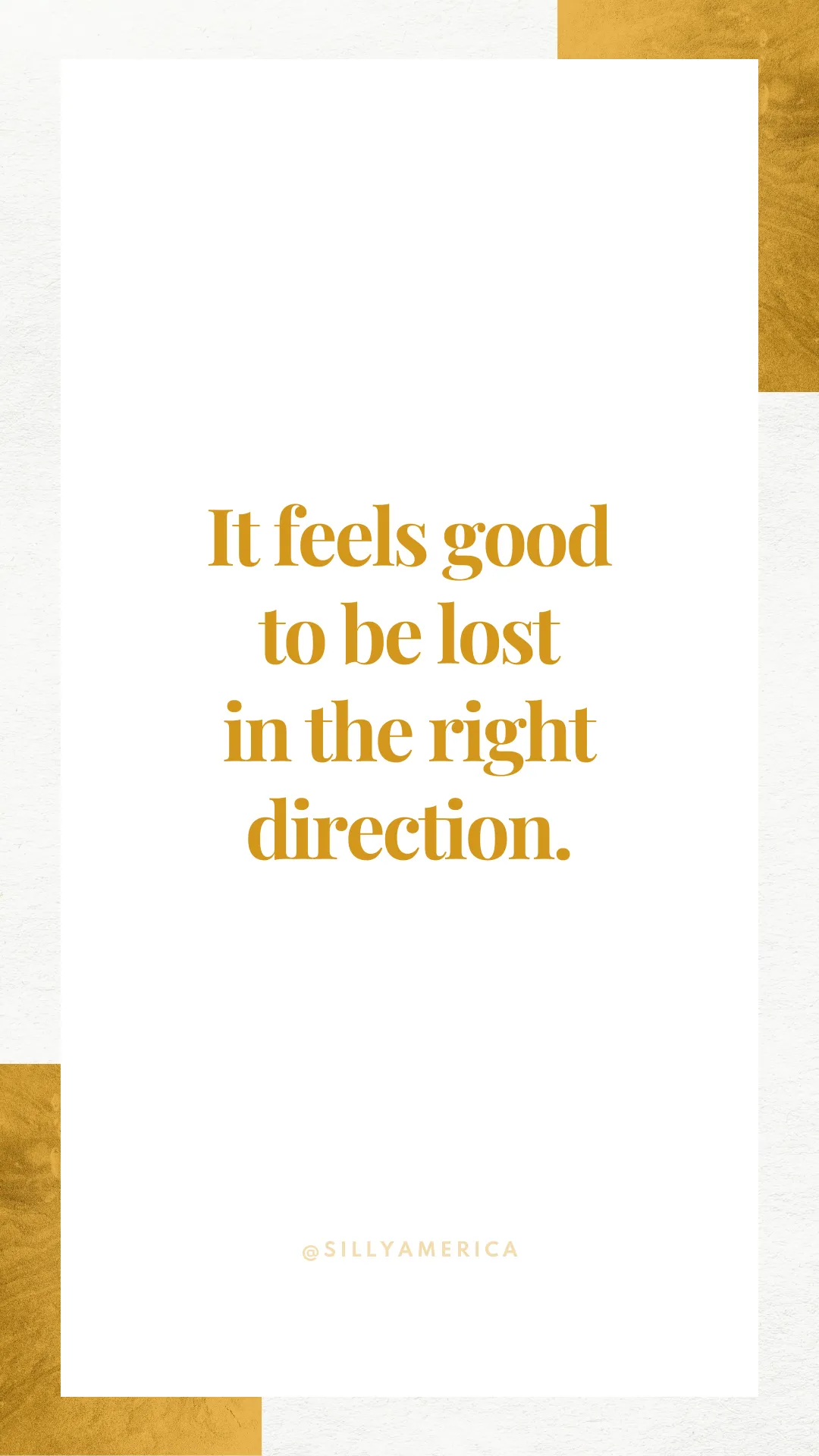 Taking life by the steering wheel.
No road trip is long with good company.
The road is a great listener.
Travel with curiosity.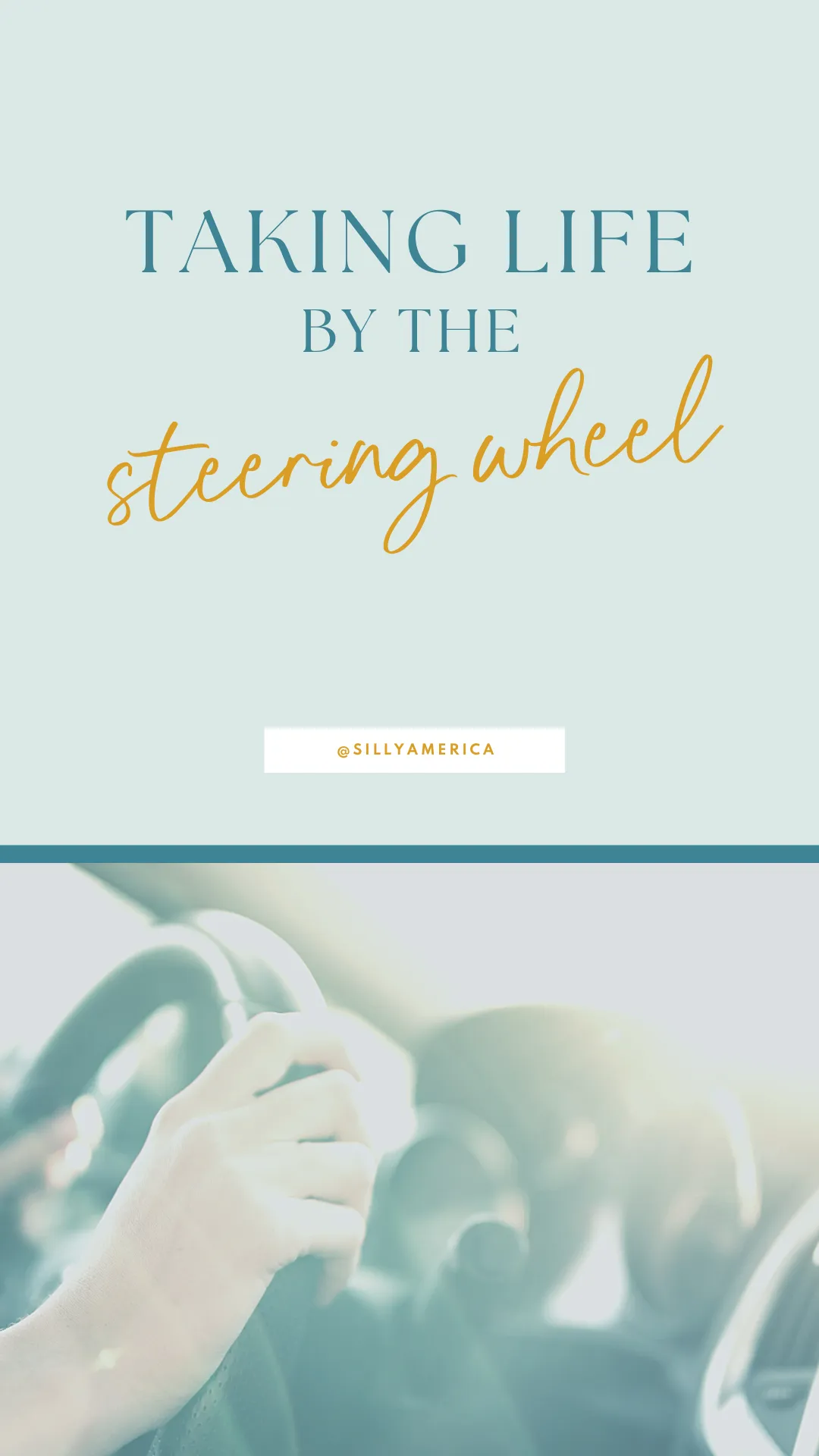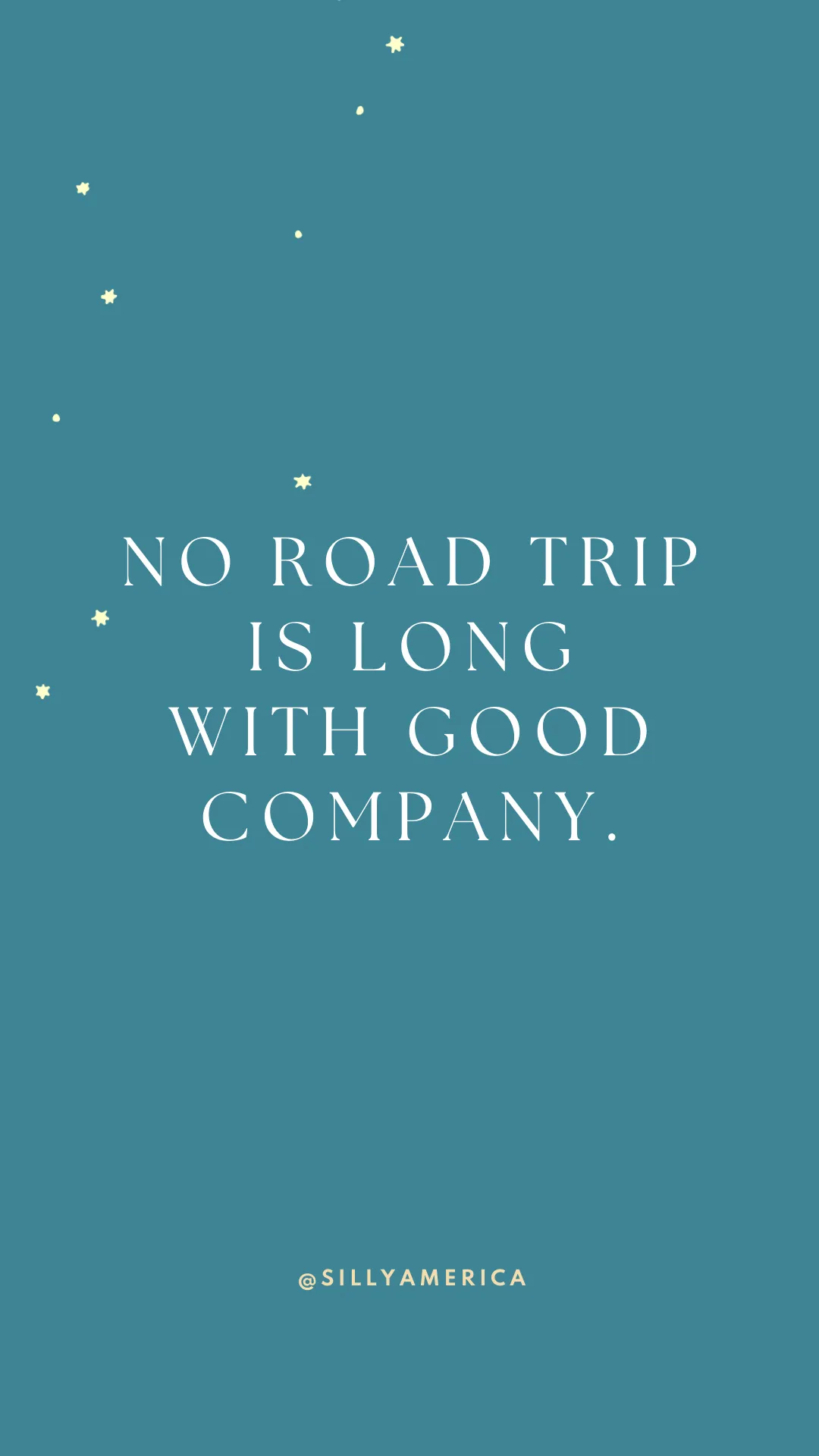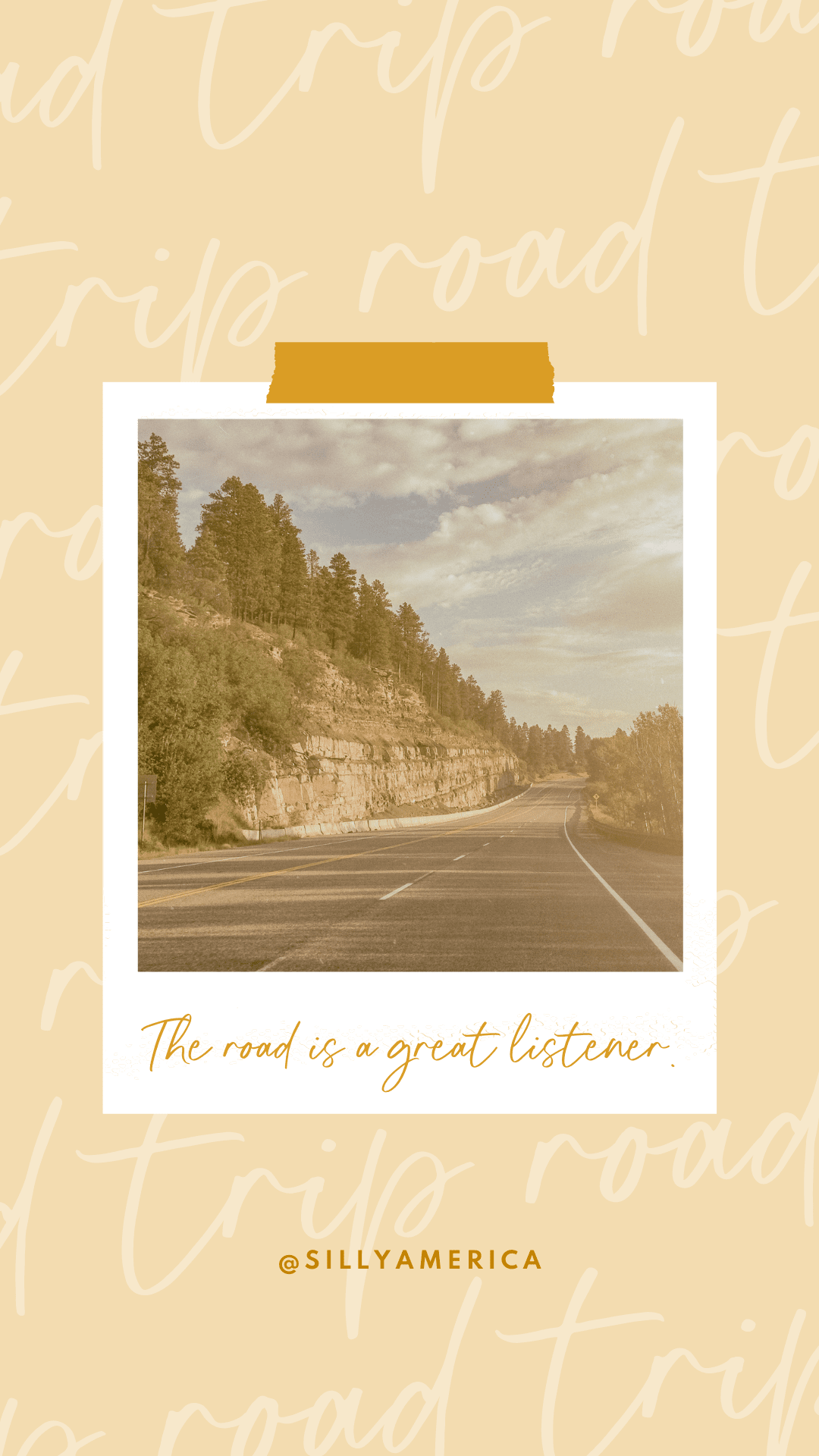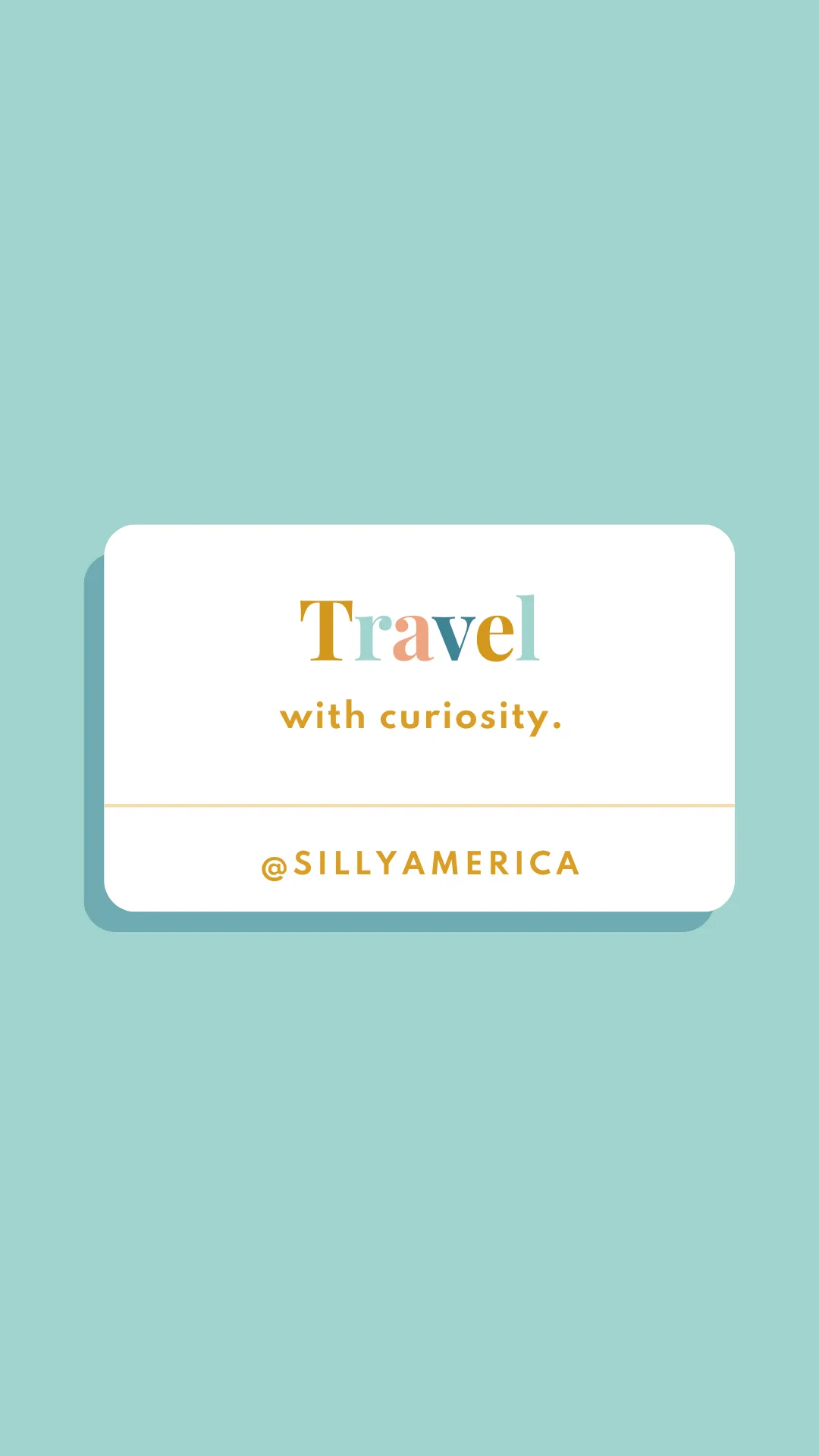 Taking it one mile at a time.
A great road trip is measured in friends, not miles.
Little by little, one travels far.
Ultimately, every road leads to the whole world.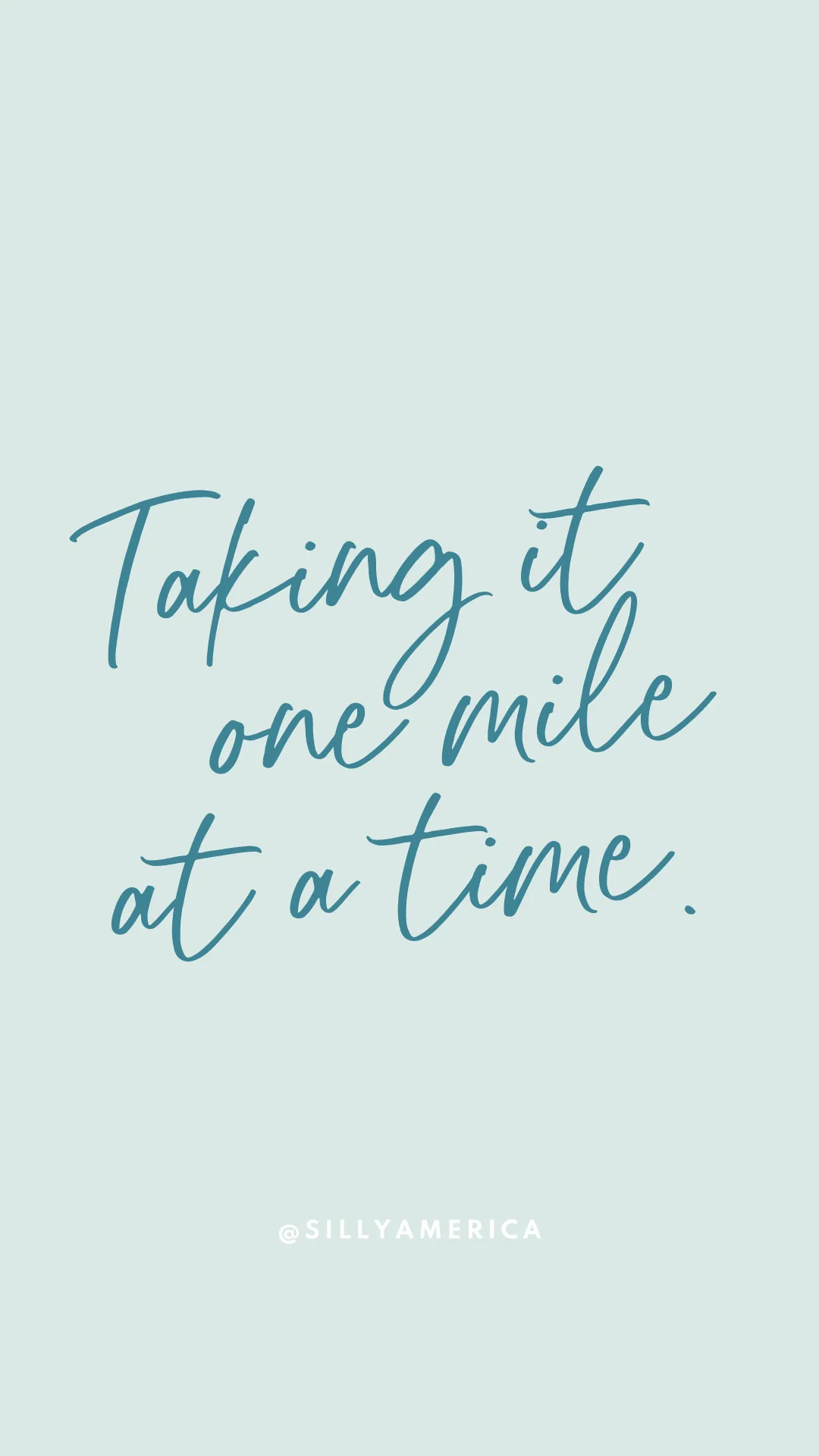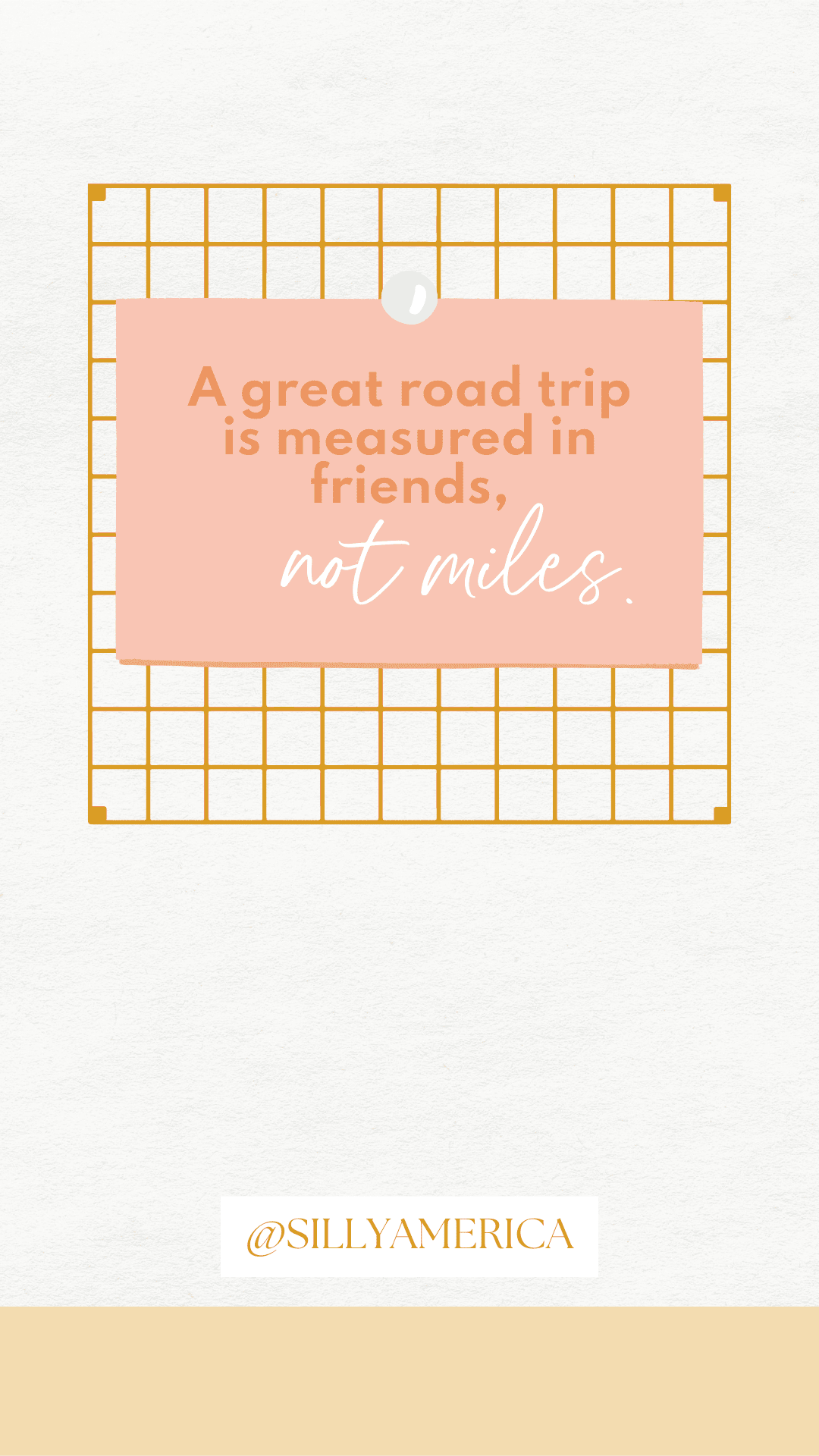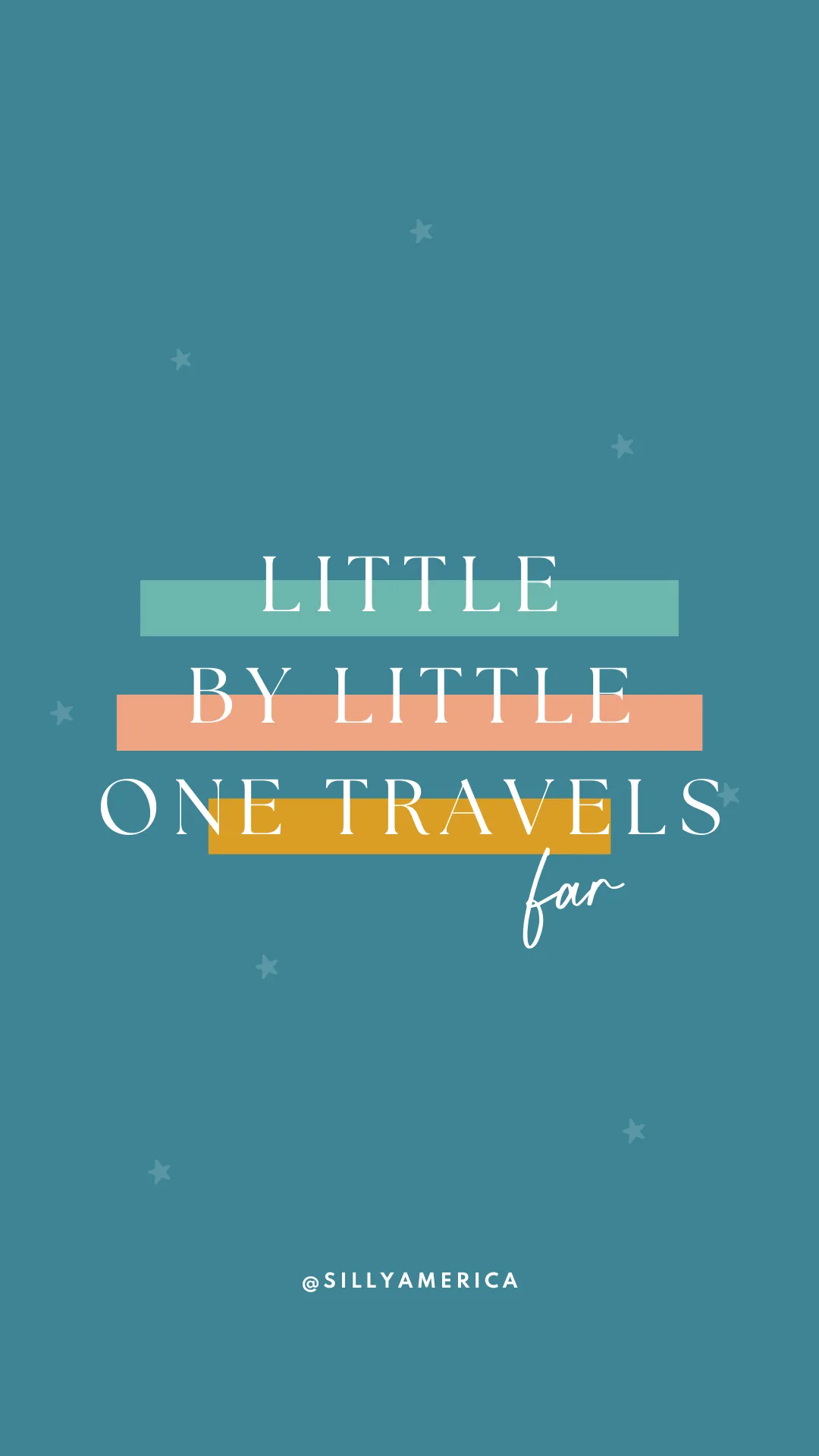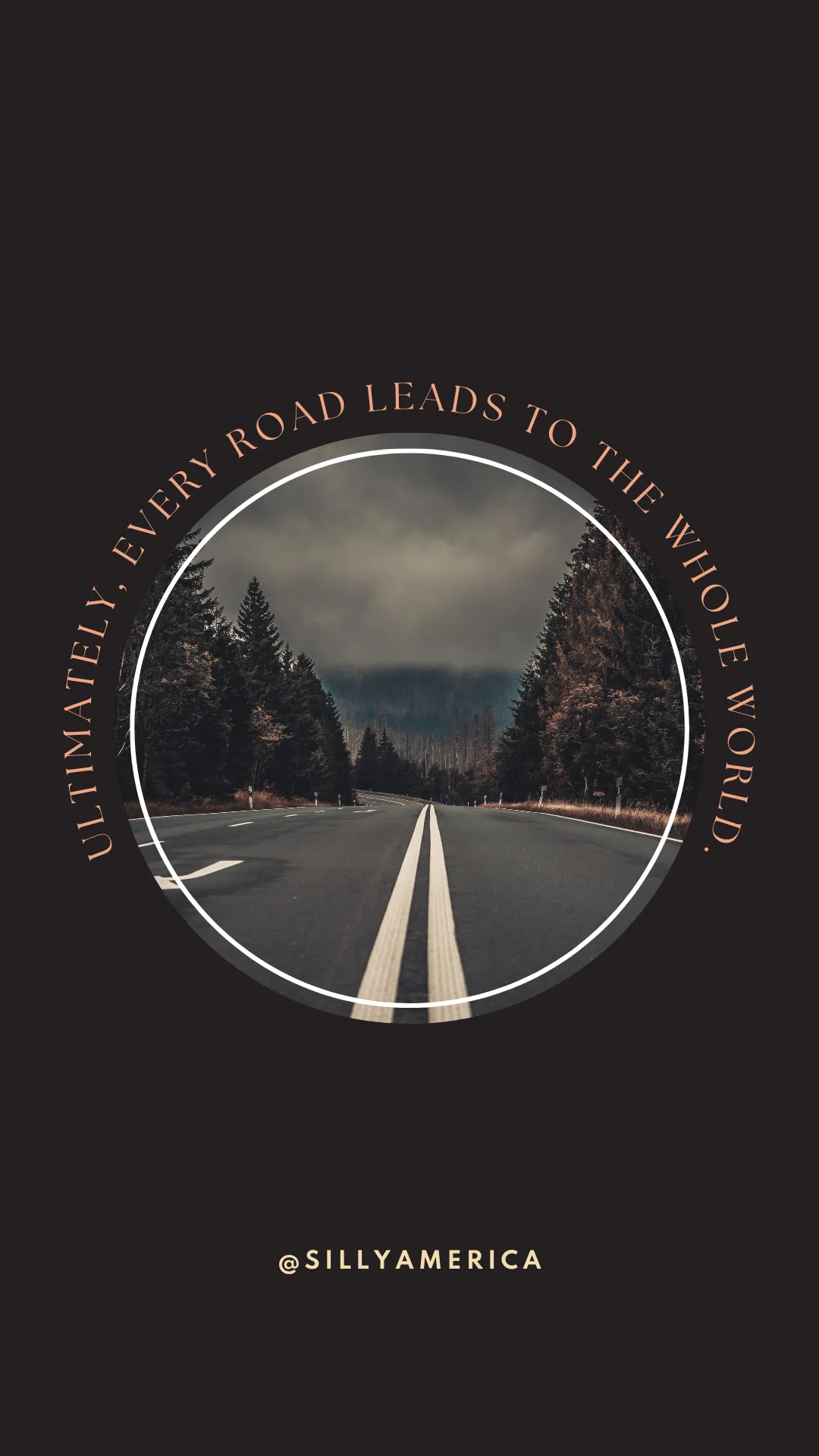 Road trips aren't measured by mile markers, but by moments.
Taking the high road and seeing where it takes me.
A rocky road behind me. Smooth sailing ahead.
There's no problem so big that a road trip can't solve.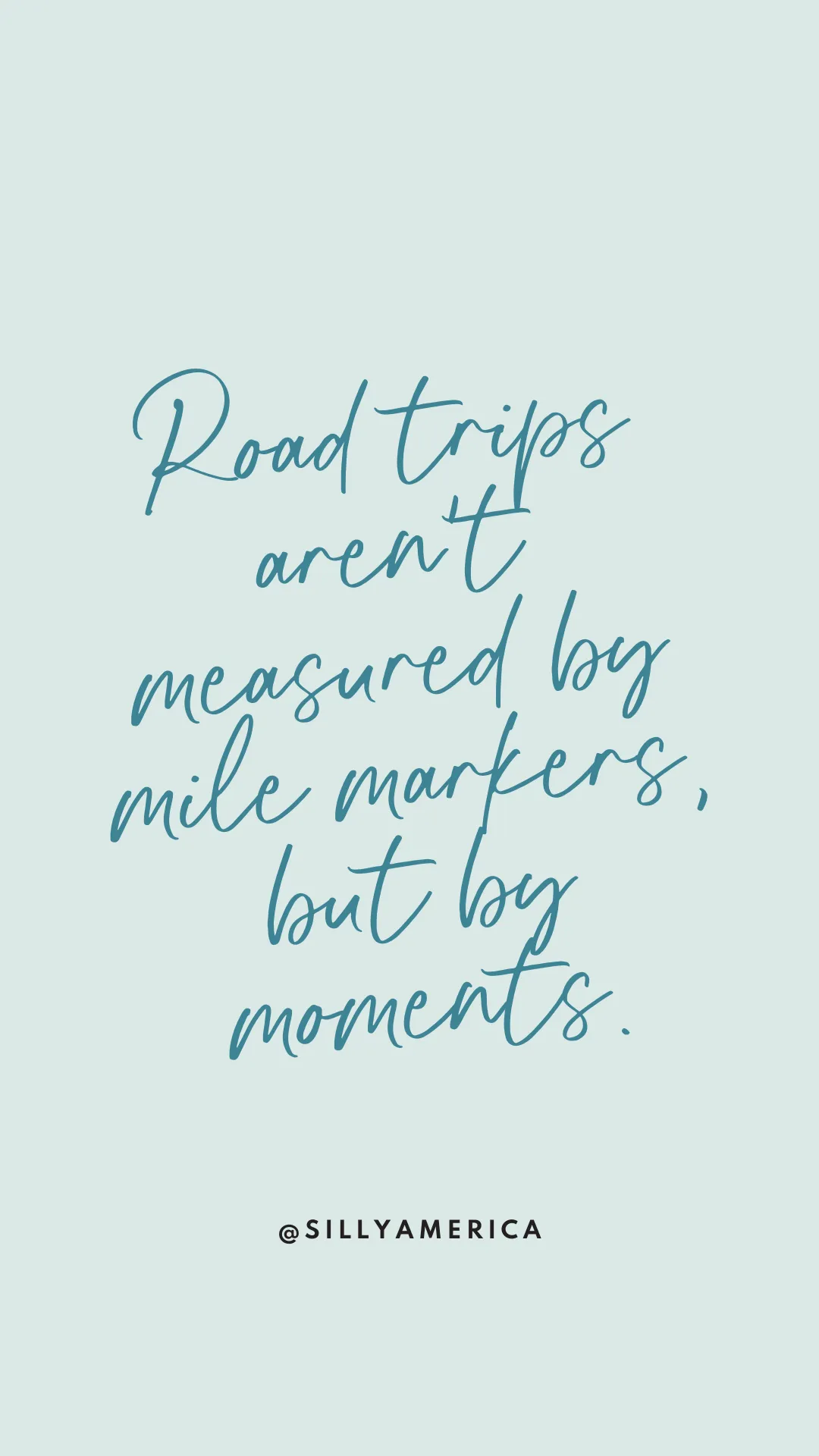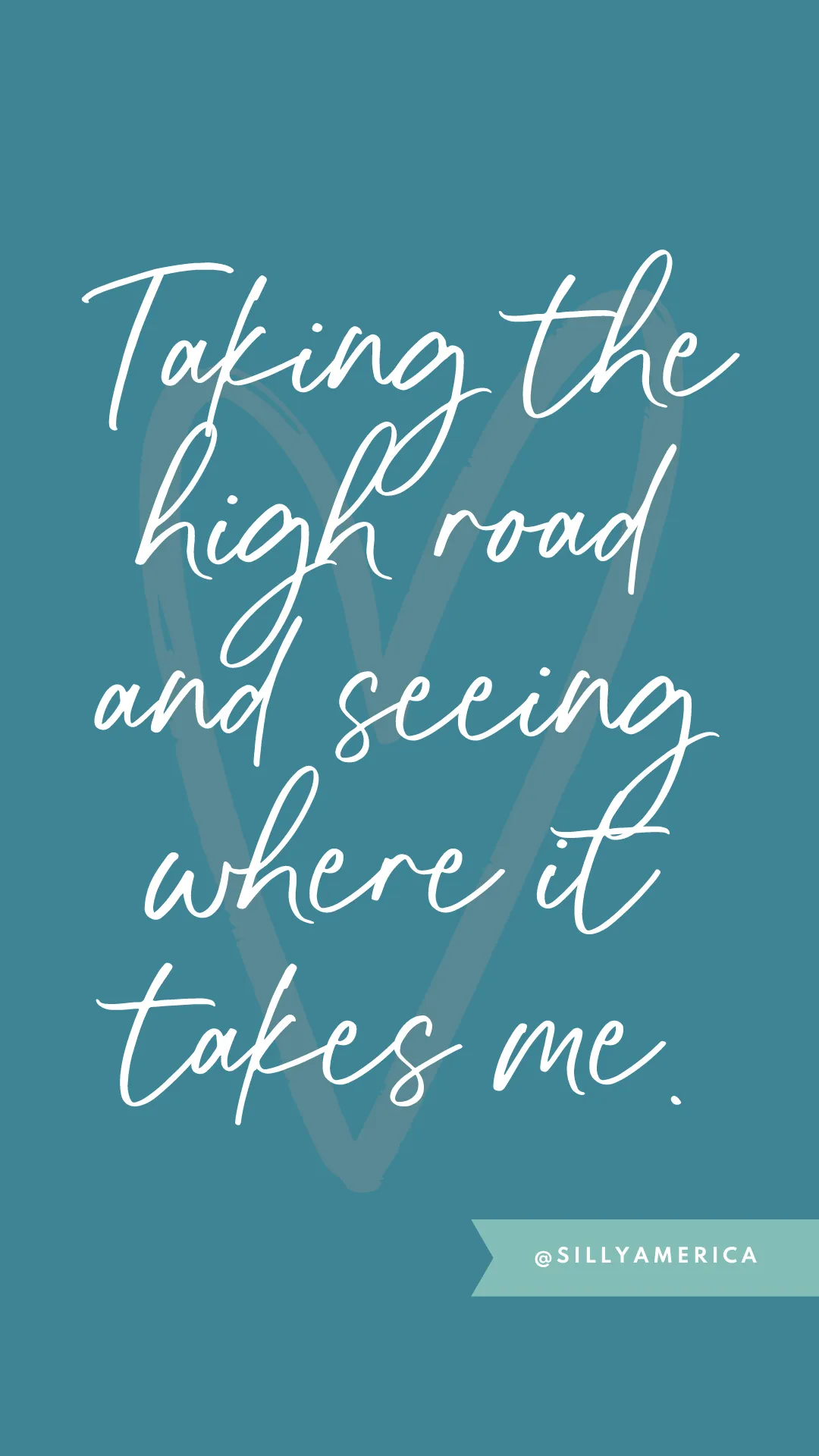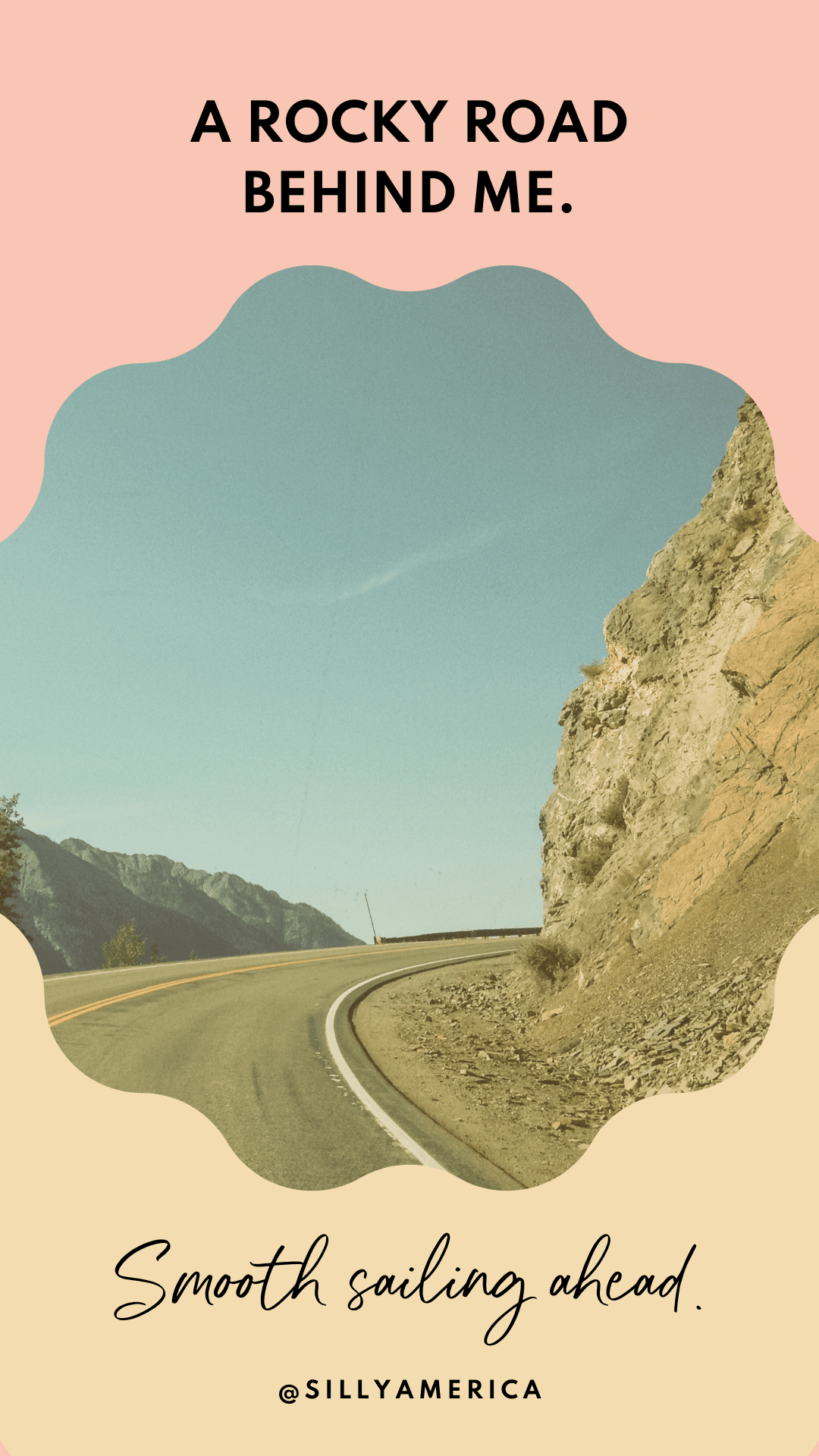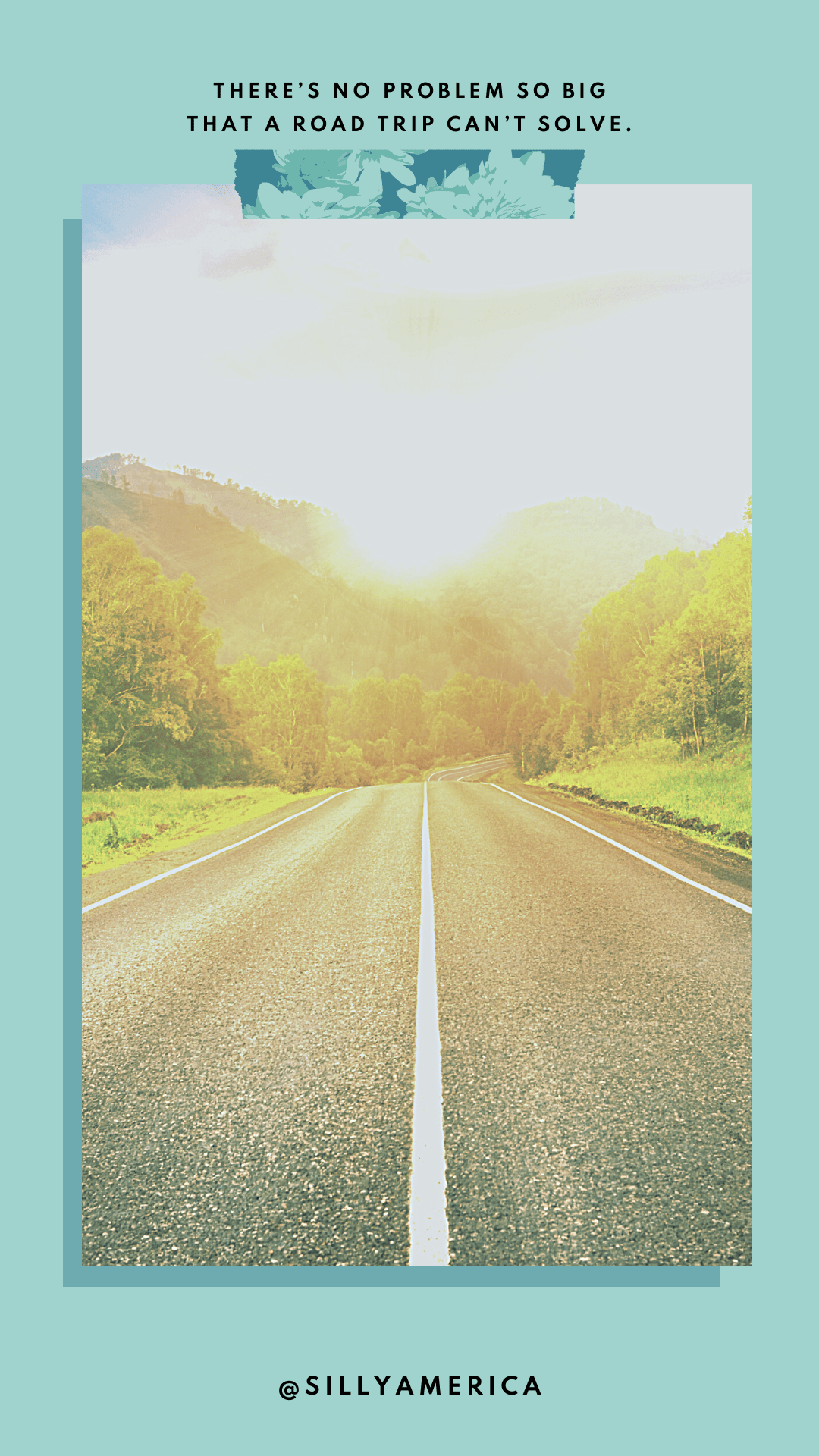 People don't take road trips, road trips take people.
It's a road trip kind of day.
I don't care how long it takes, but I'm going somewhere beautiful.
Baby, you got the keys. Now shut up and drive!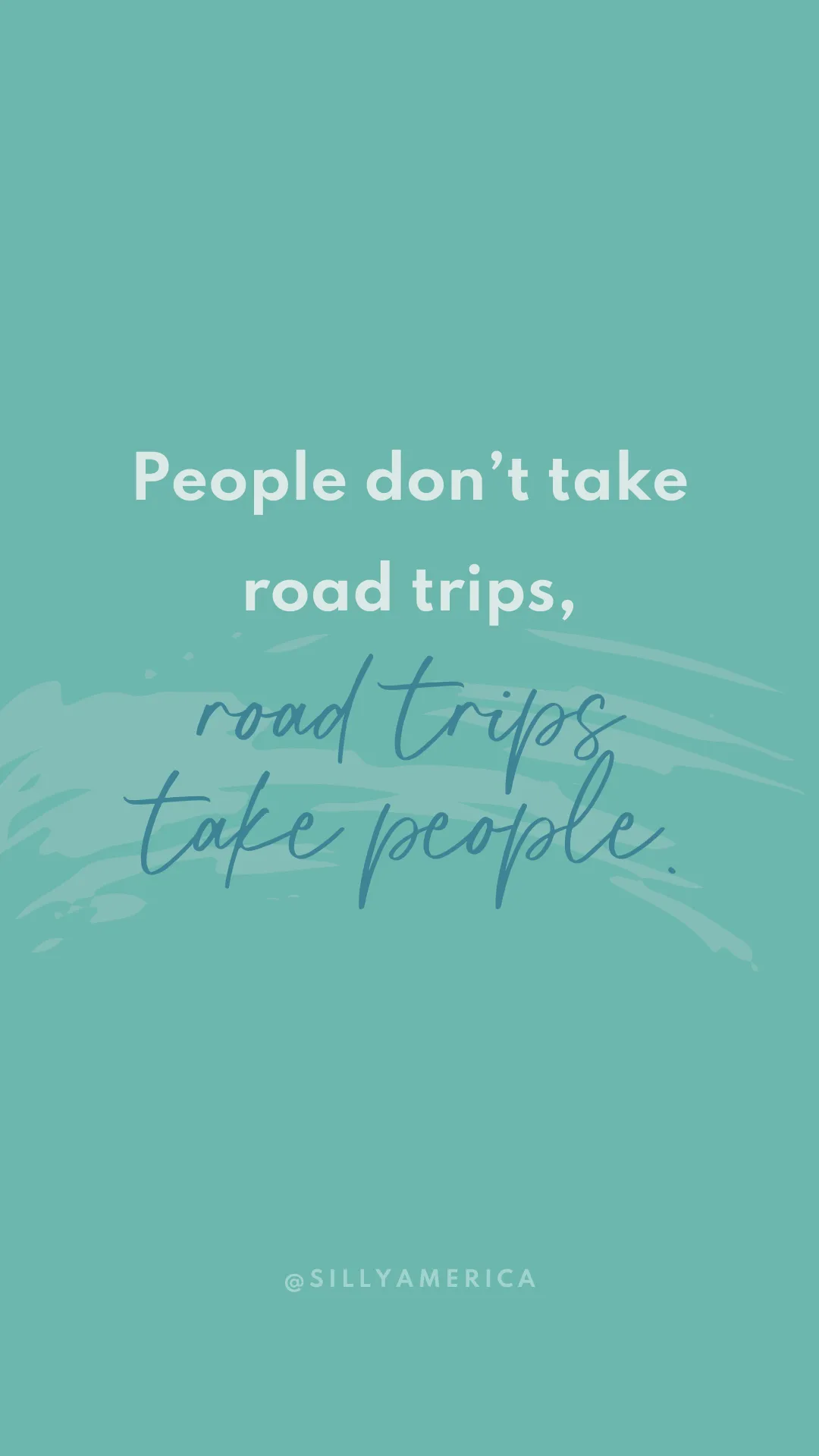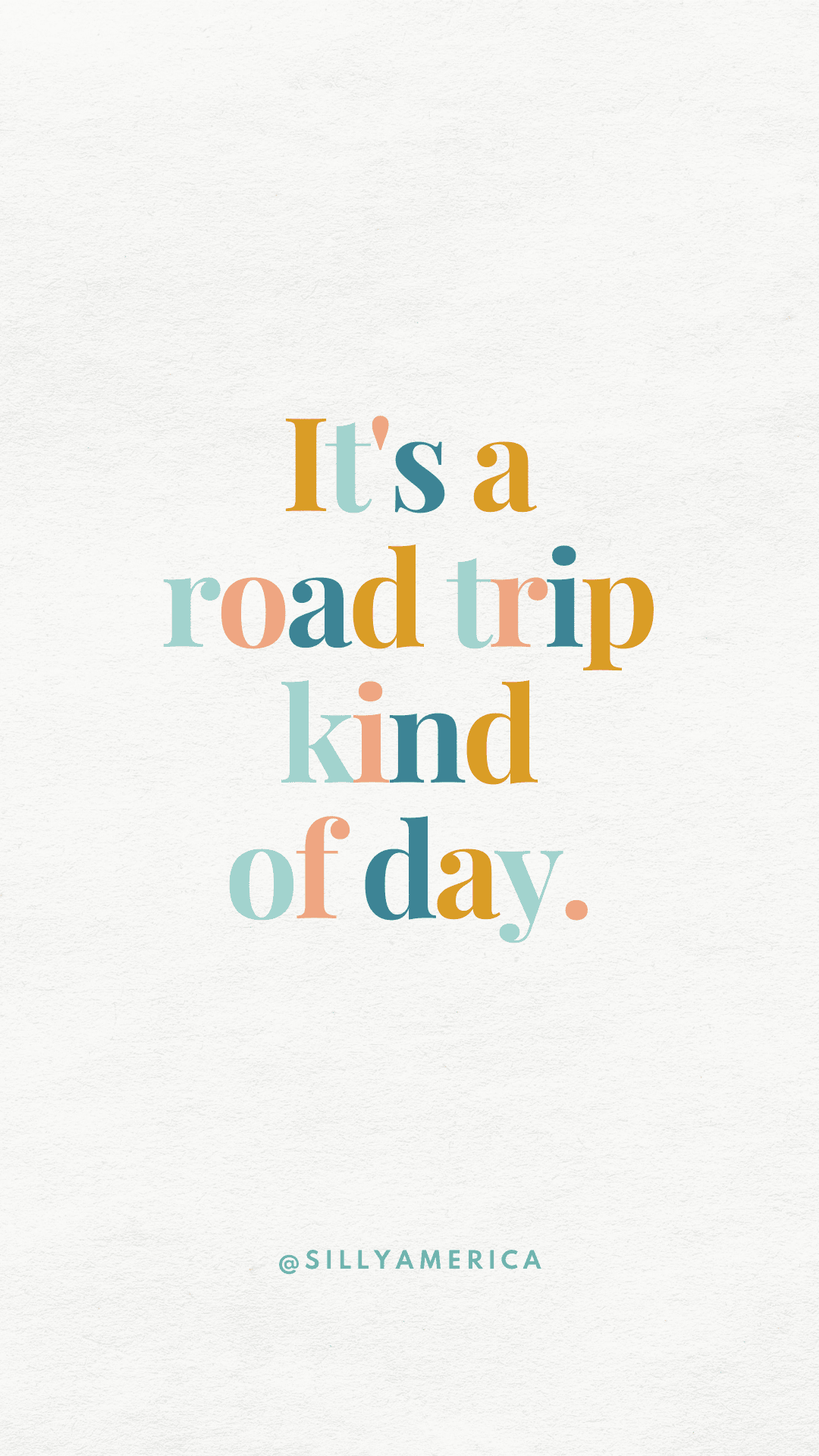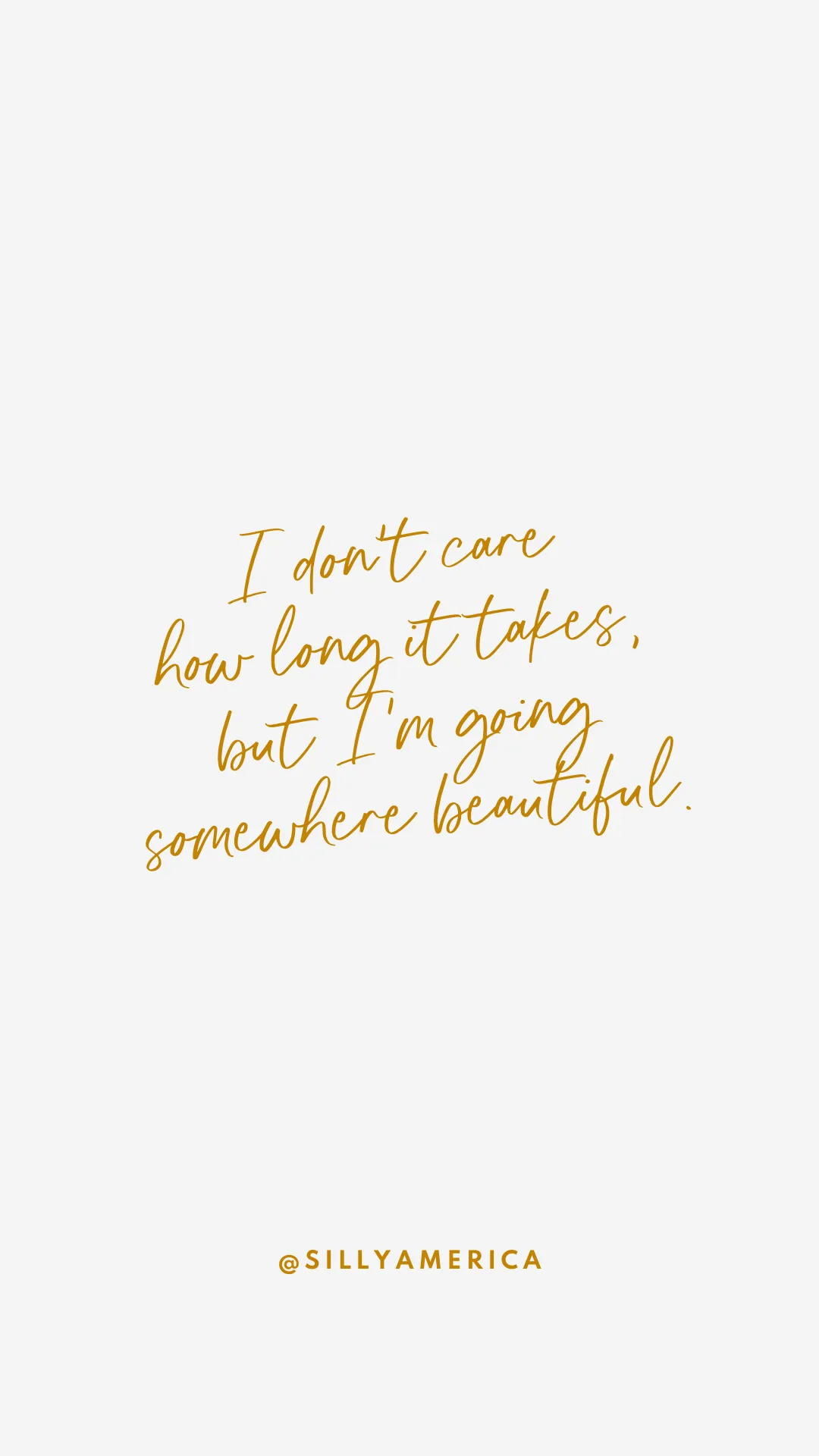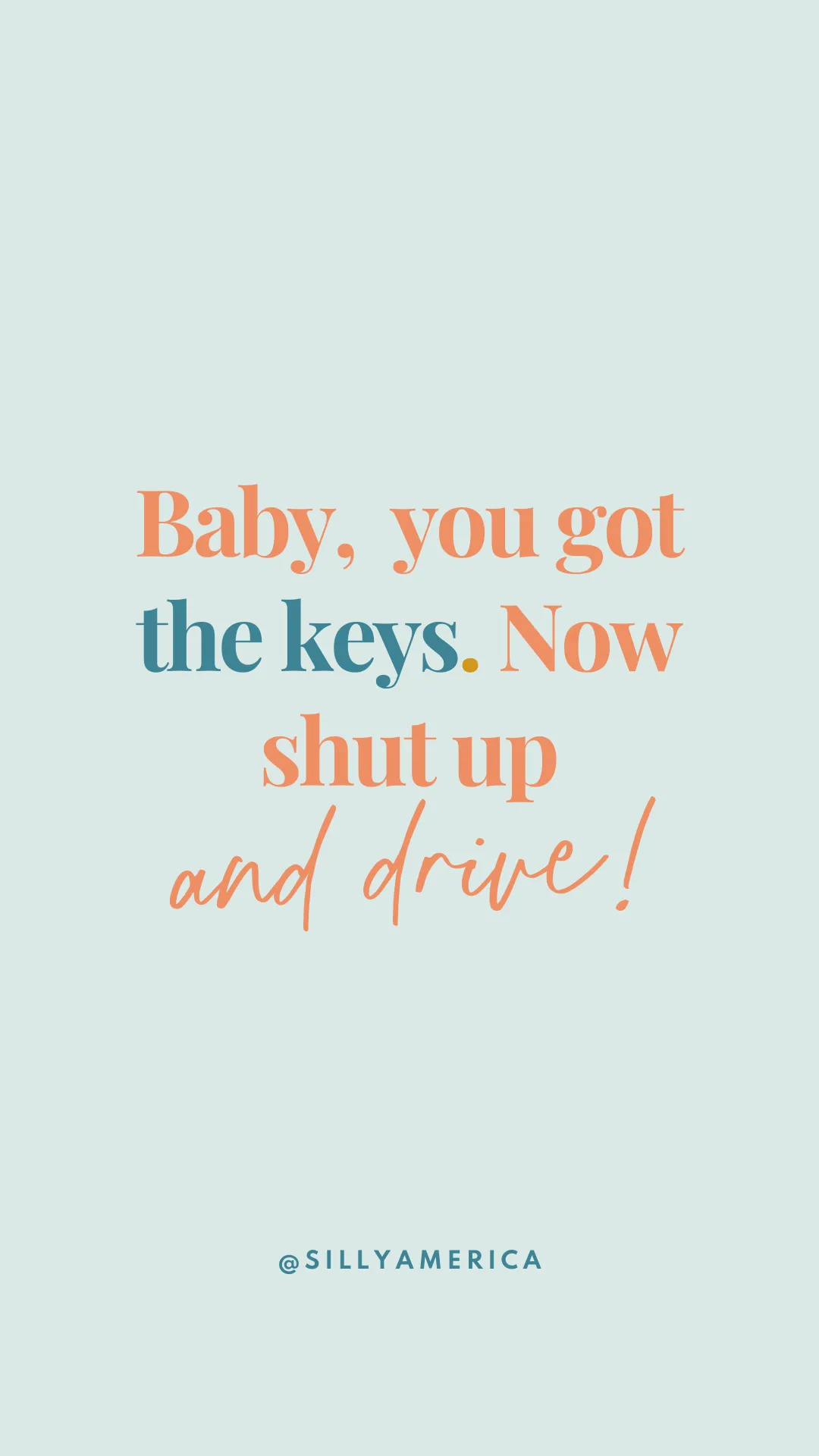 Going places that I've never been.
In the mood for a long drive with no destination.
Until our paths cross again…
Feels like a good day for a road trip.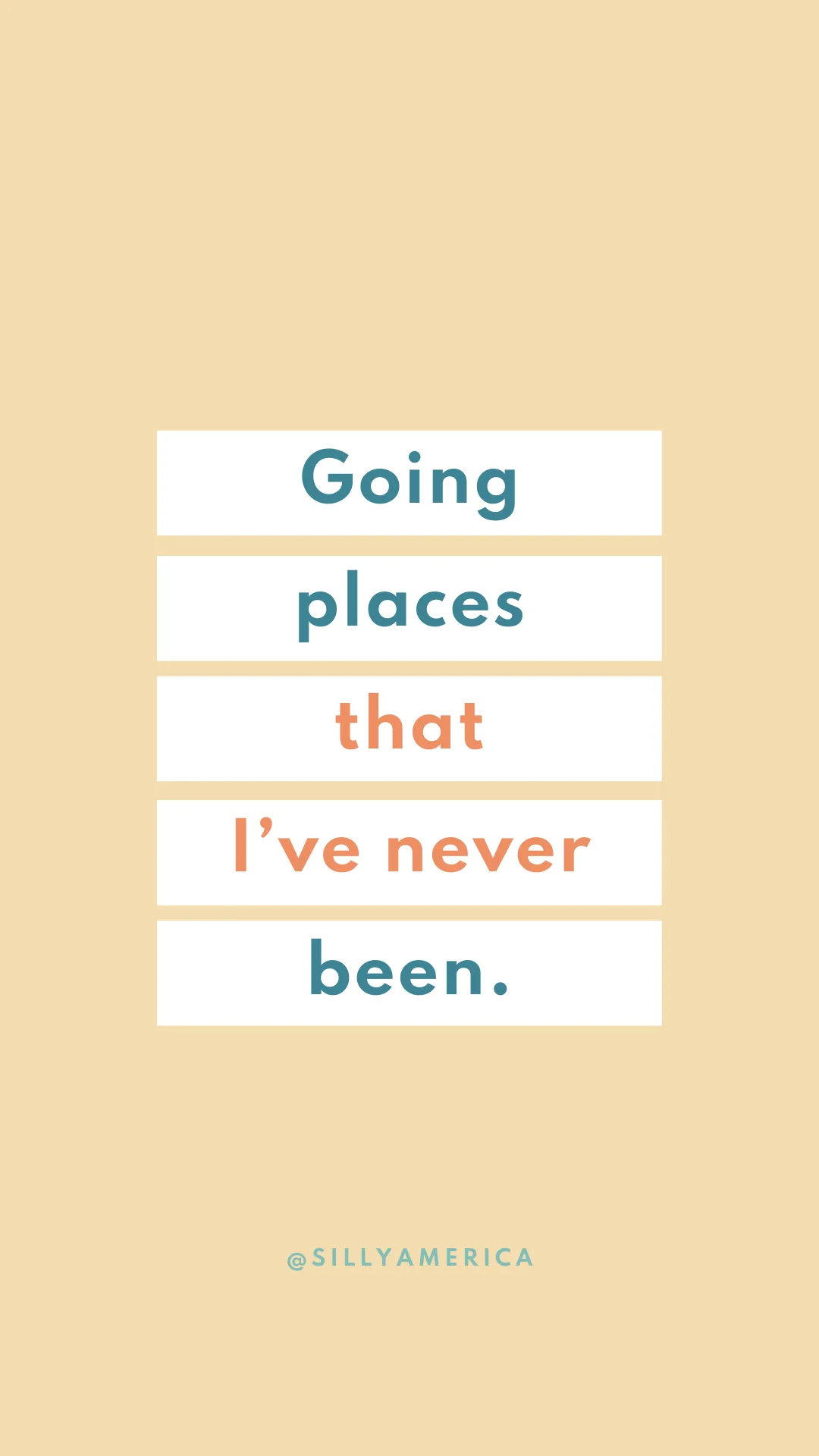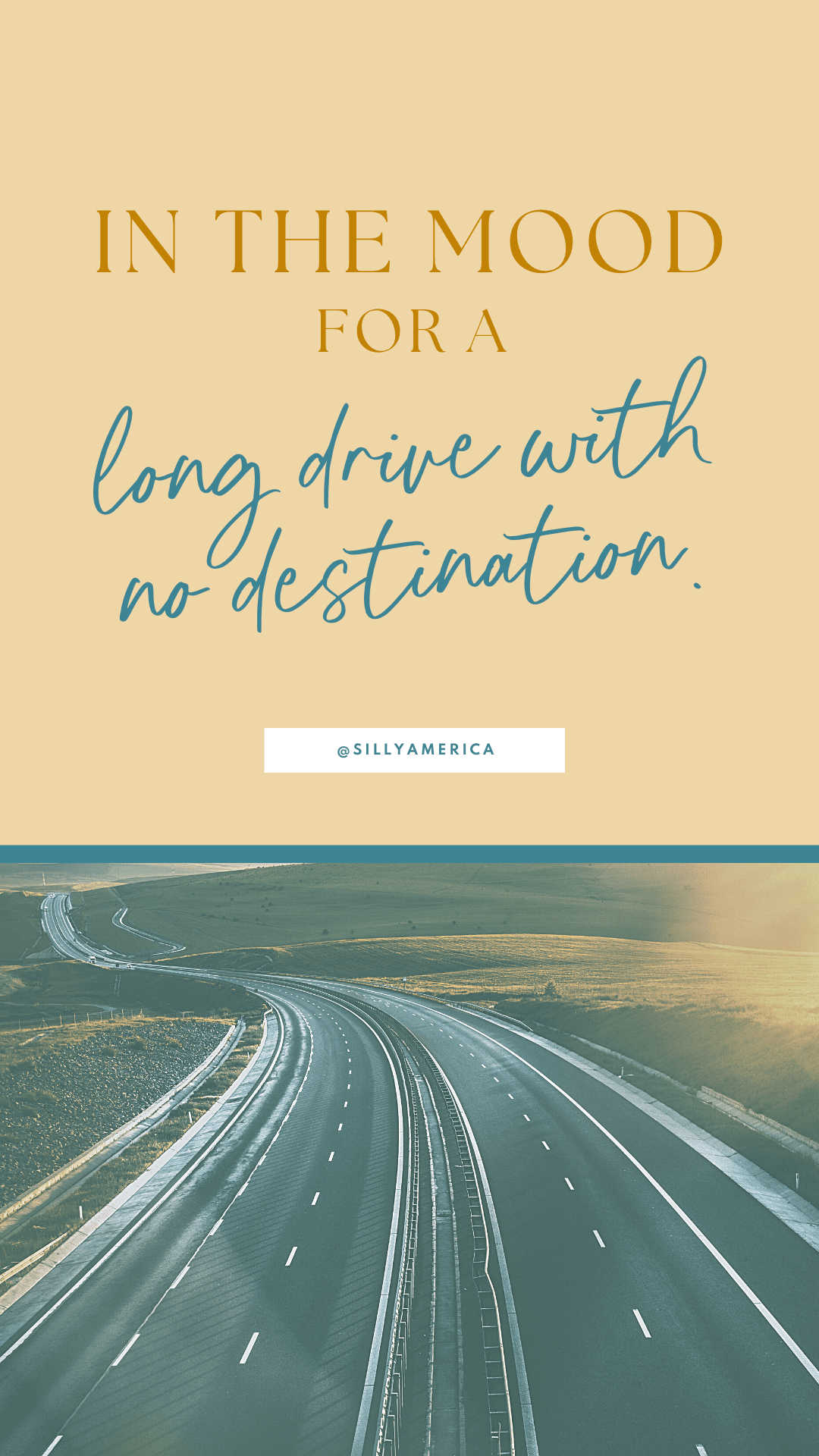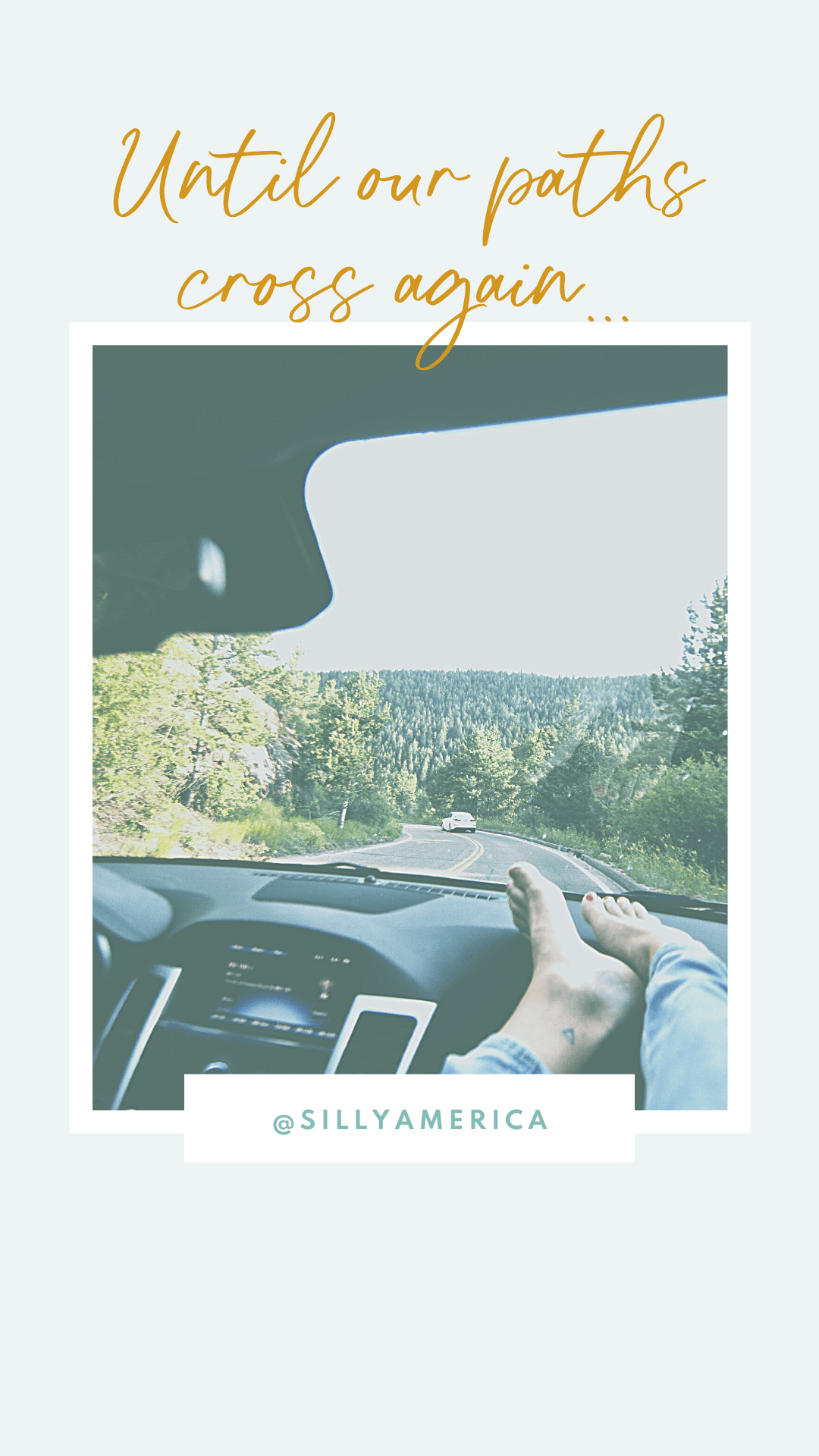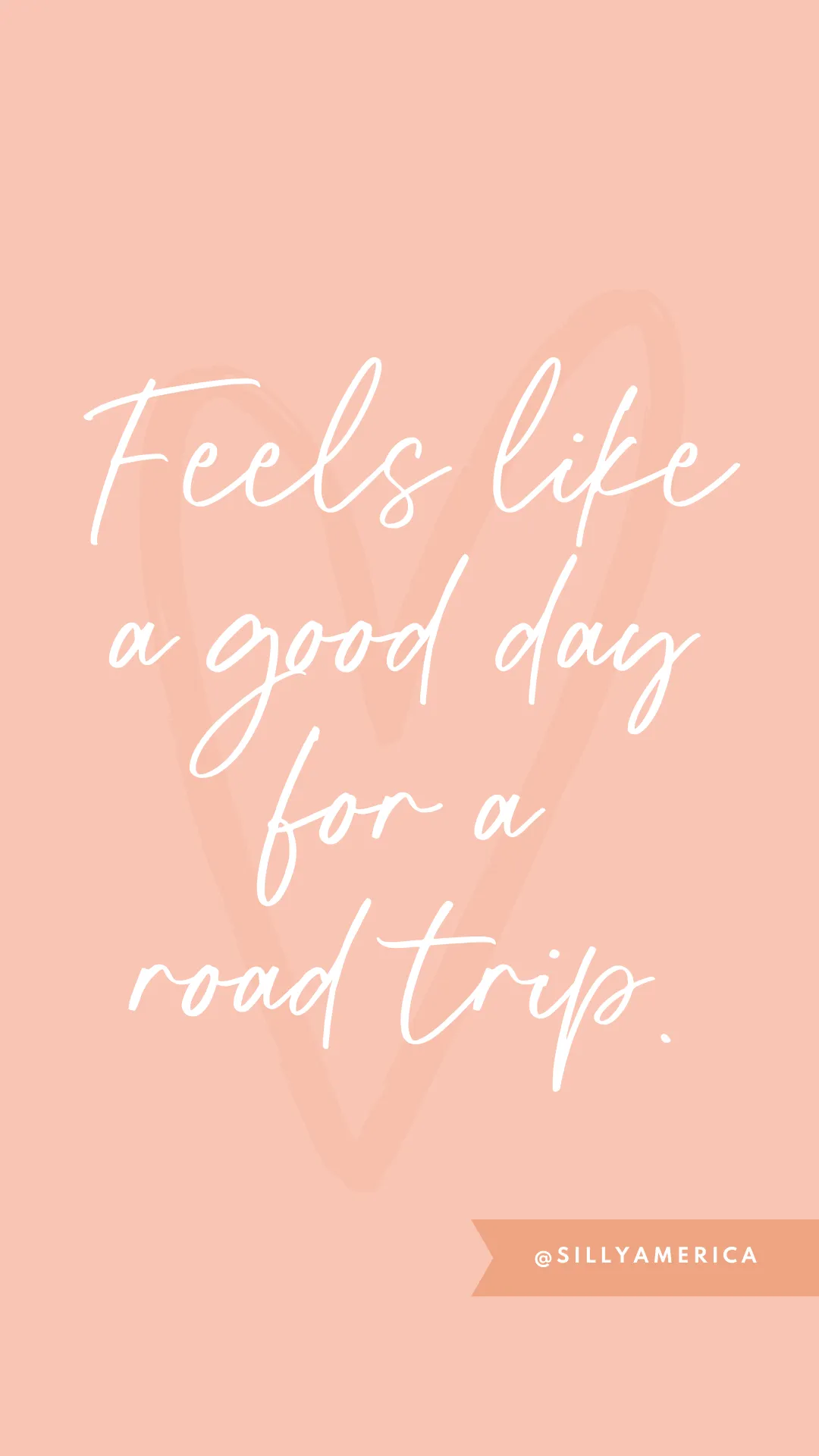 I don't know where I'm going, but I'm on the way.
Sometimes the best therapy is a road trip.
Road trips aren't about the destination, they're about all those stops along the way.
Sometimes, all you need is a good friend and a full tank of gas.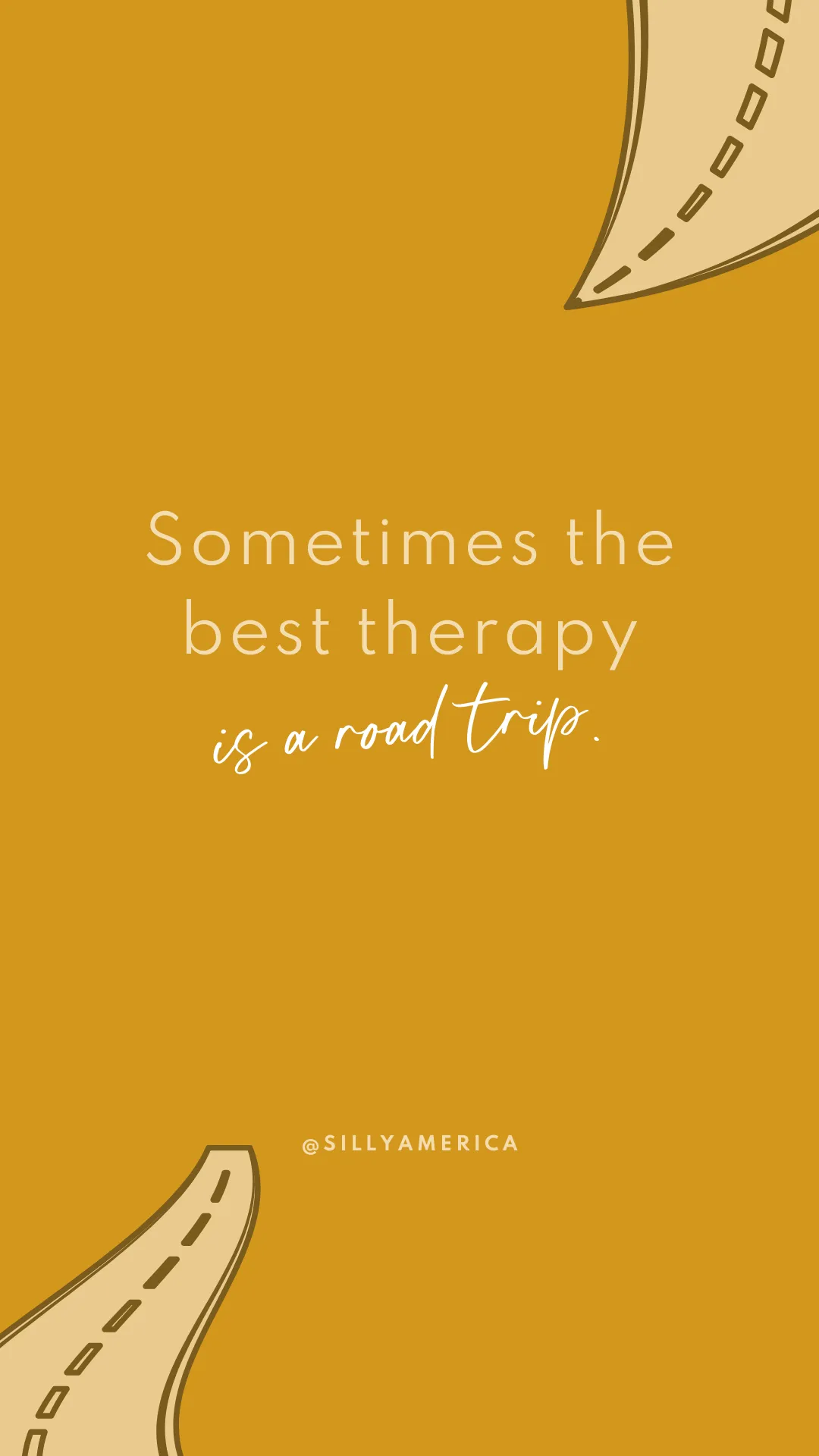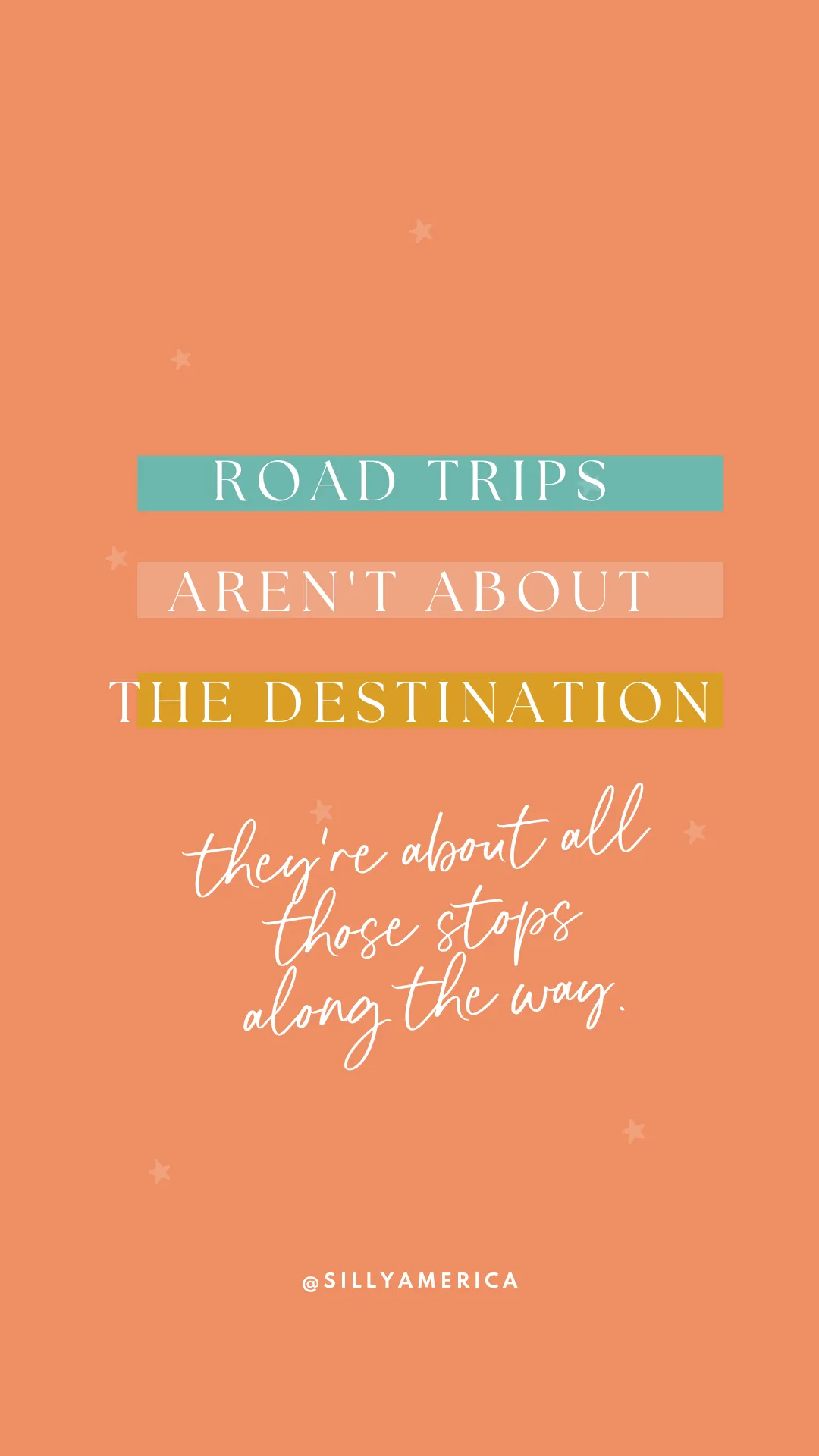 Difficult roads often lead to beautiful destinations.
Itchy feet. Wind-blown hair.
The road is calling.
Getting lost. Finding myself.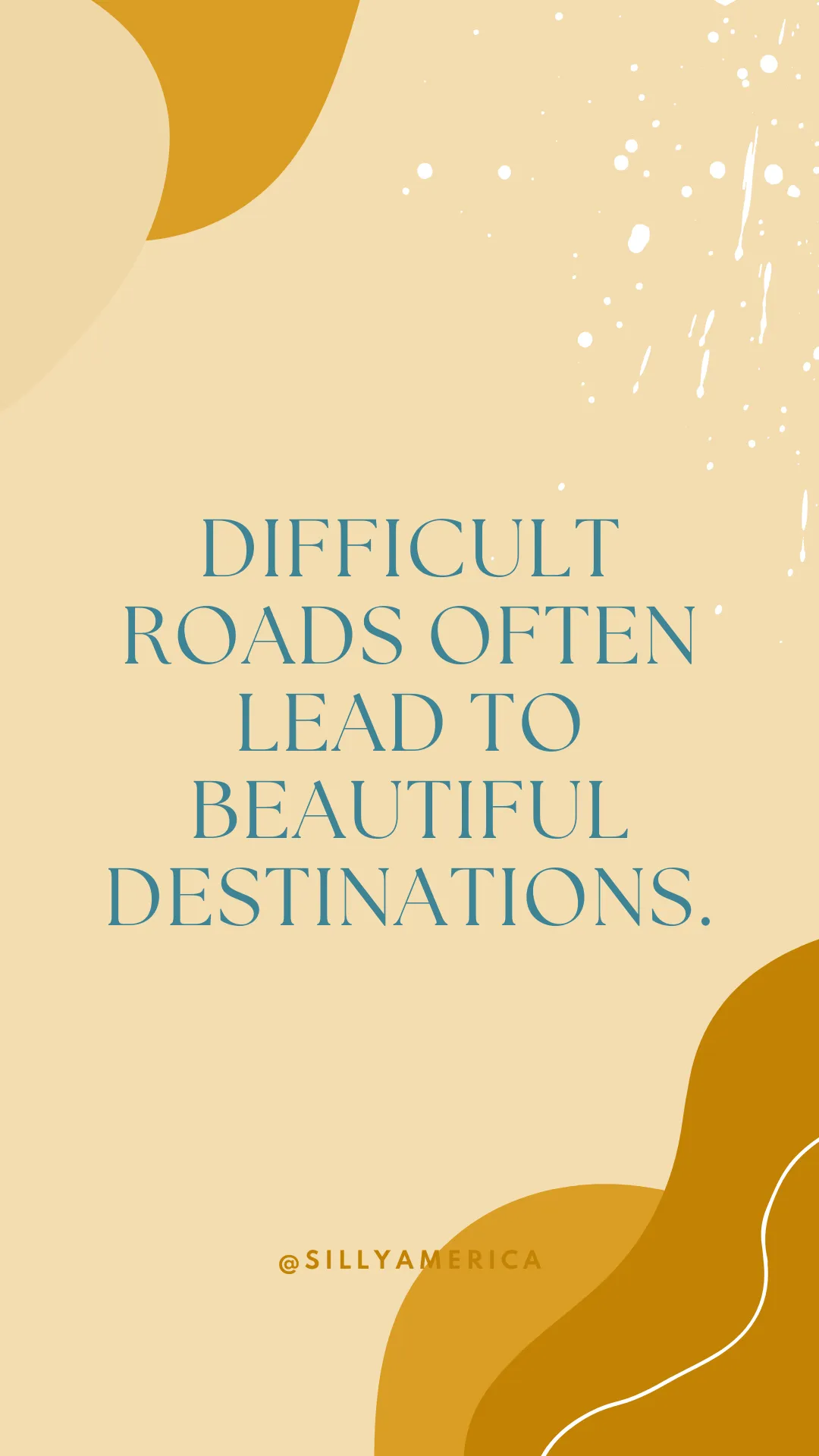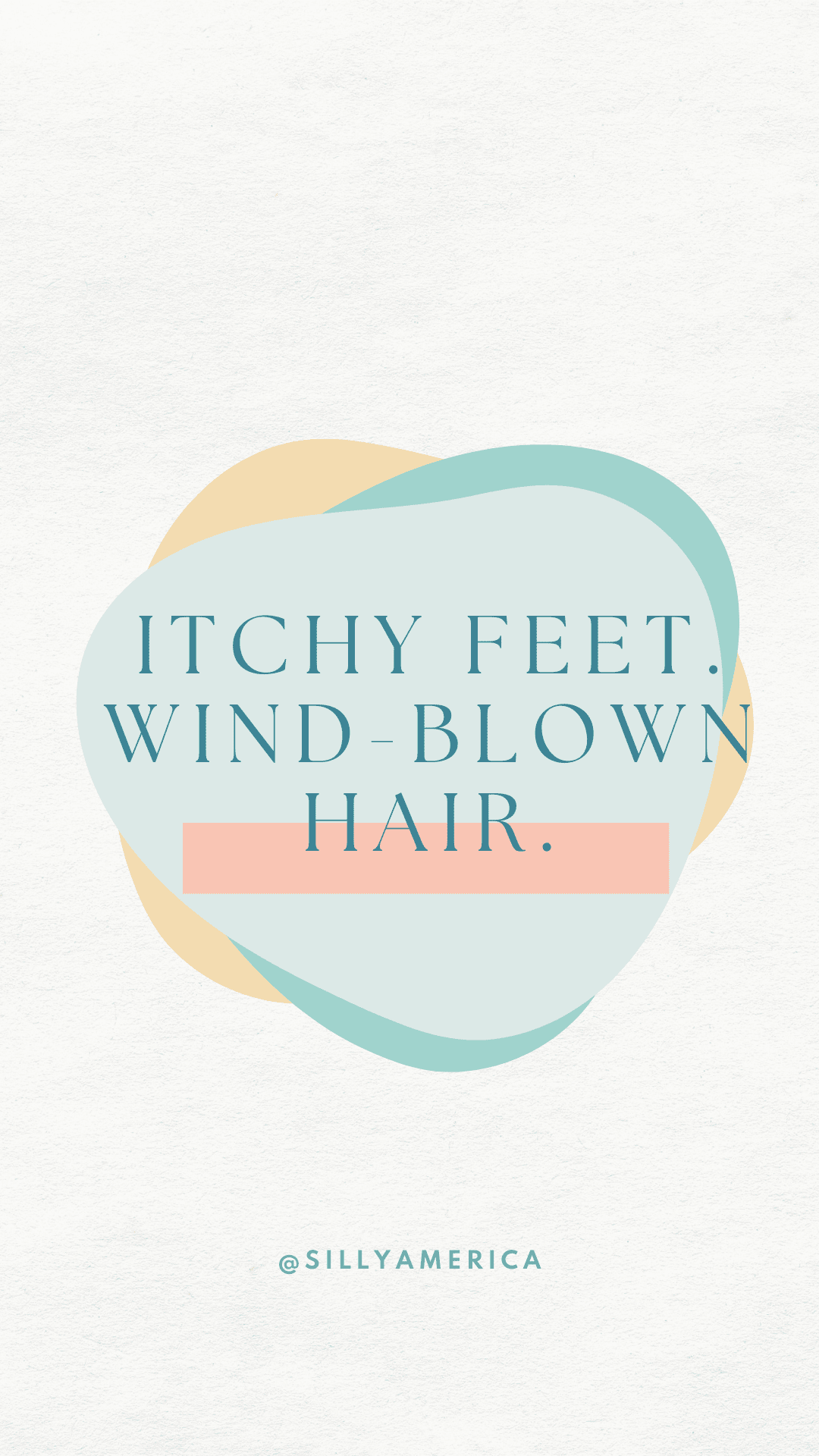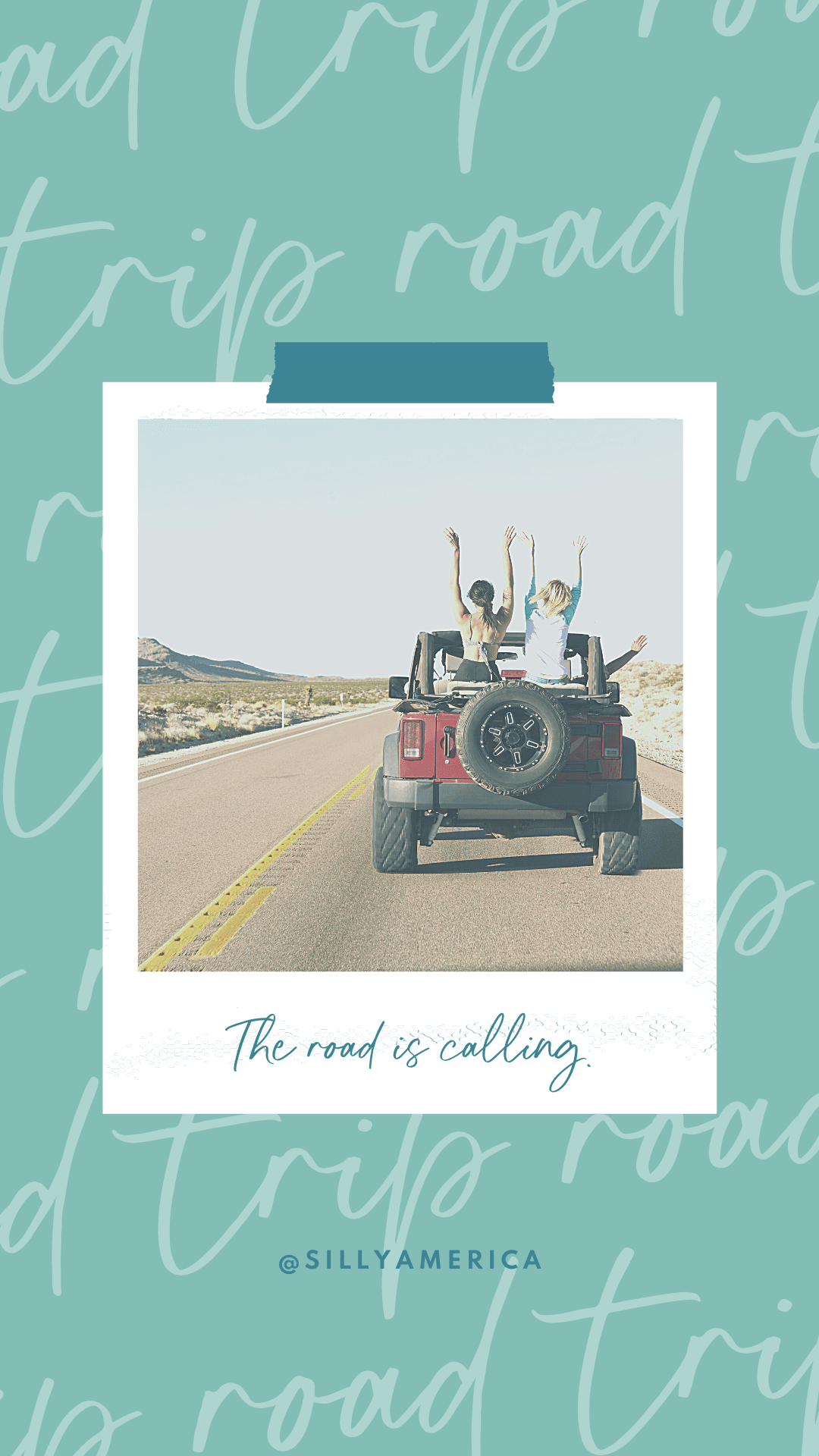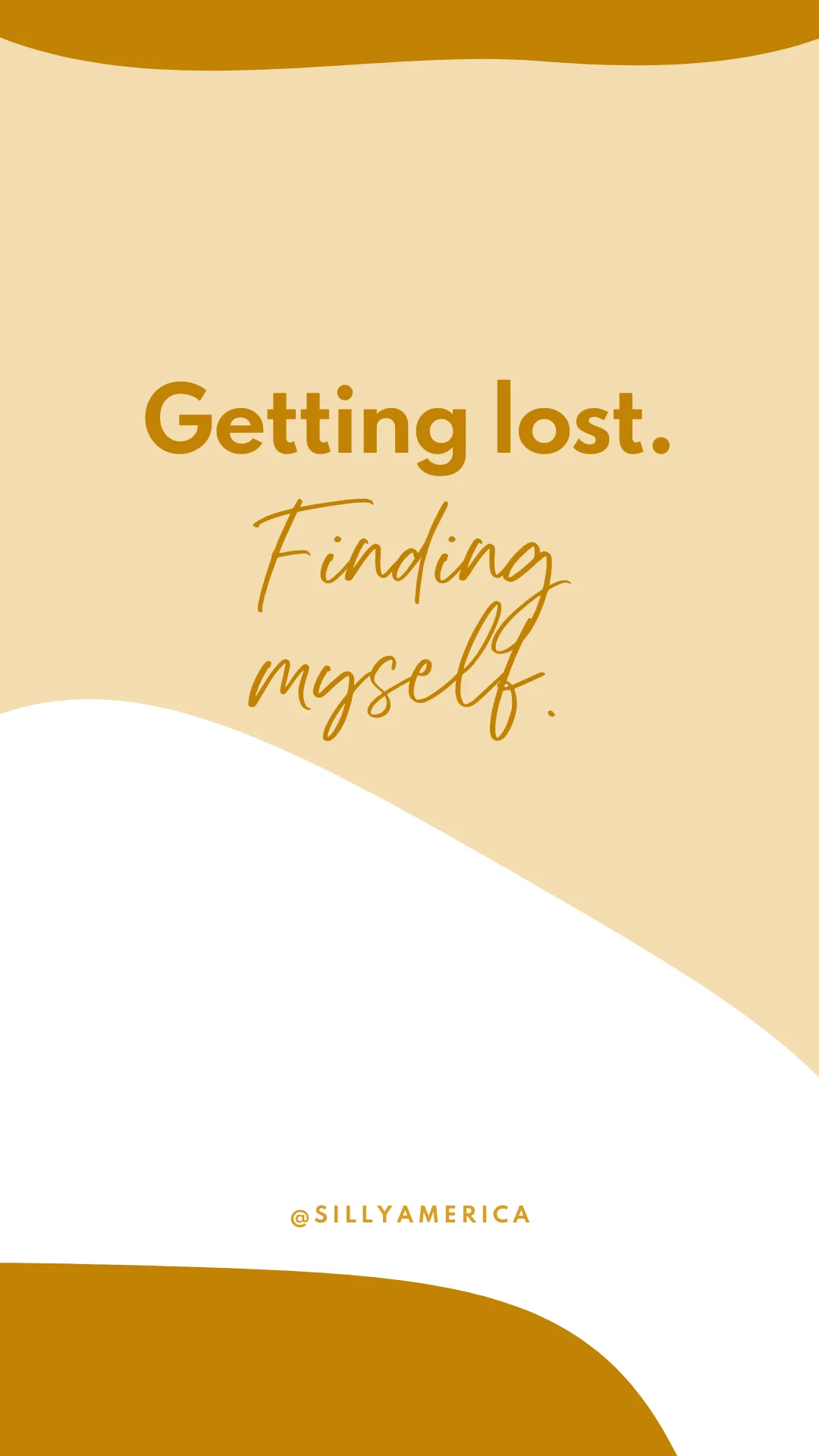 Short Road Trip Instagram Captions
These short phrases might only have a few words each, but they manage to say a lot. Brush off your vocab book and utilize these common phrases, popular road trip idioms, and song lyrics to boost your social media descriptions.
Let's go on a road trip!
Shotgun!
Get LOST!
Hit the road.
Along for the ride!
Let's get this show on the road!
My way or the highway!
My ride or die.
Stay in my lane? Never!
Coming in a clutch!
You're driving me crazy!
On the road again.
Take the scenic route.
Get in the car!
Greetings from [your destination]!
Always say yes to a road trip.
Windows down, music up.
Are we there yet?
Life is a highway.
Drive it like you stole it!
Go the long way.
Jump in and let's go!
Adventure awaits.
Road Trips are my happy place.
Road tripper for life.
Start the car!
Road trips are a vibe.
Better to travel than arrive.
Life is short and the world is wide.
Living like every day is a road trip.
Ready! Set! Go!
Escape the ordinary.
BRB: exploring.
A bend in the road is not the end in the road.
Come along for the ride.
I'm road trip ready!
Embrace the detours!
Saving the passenger seat just for you!
Wanna go for a ride?
Break the journey.
Going off the beaten path.
Caught the travel bug!
Life's a trip!
BBN. Be back never.
Out of Office Reply: ON.
Offline and on the road.
WARNING! Road trip in progress.
What happens on a road trip, stays on a road trip.
The best things happen outside of our comfort zones.
Road Trip Puns for Travel Instagram Captions
I never get TIREd of making road trip puns! Just look at my Instagram account for proof. So I tried WHEELy hard to come up with some dad-joke worthy wordplay that will have you laughing out loud in the car. These double entendres and witticisms will surely give you and your audience a fun chuckle. Can't get enough? Check out our bigger list of 60 Road Trip Puns for more!
Road trip rules? All bets CAR off!
Having a WHEEL-y fun time on my road trip!
Taking the week off work. Instead of nine to five, I'm working nine to DRIVE!
RV there yet?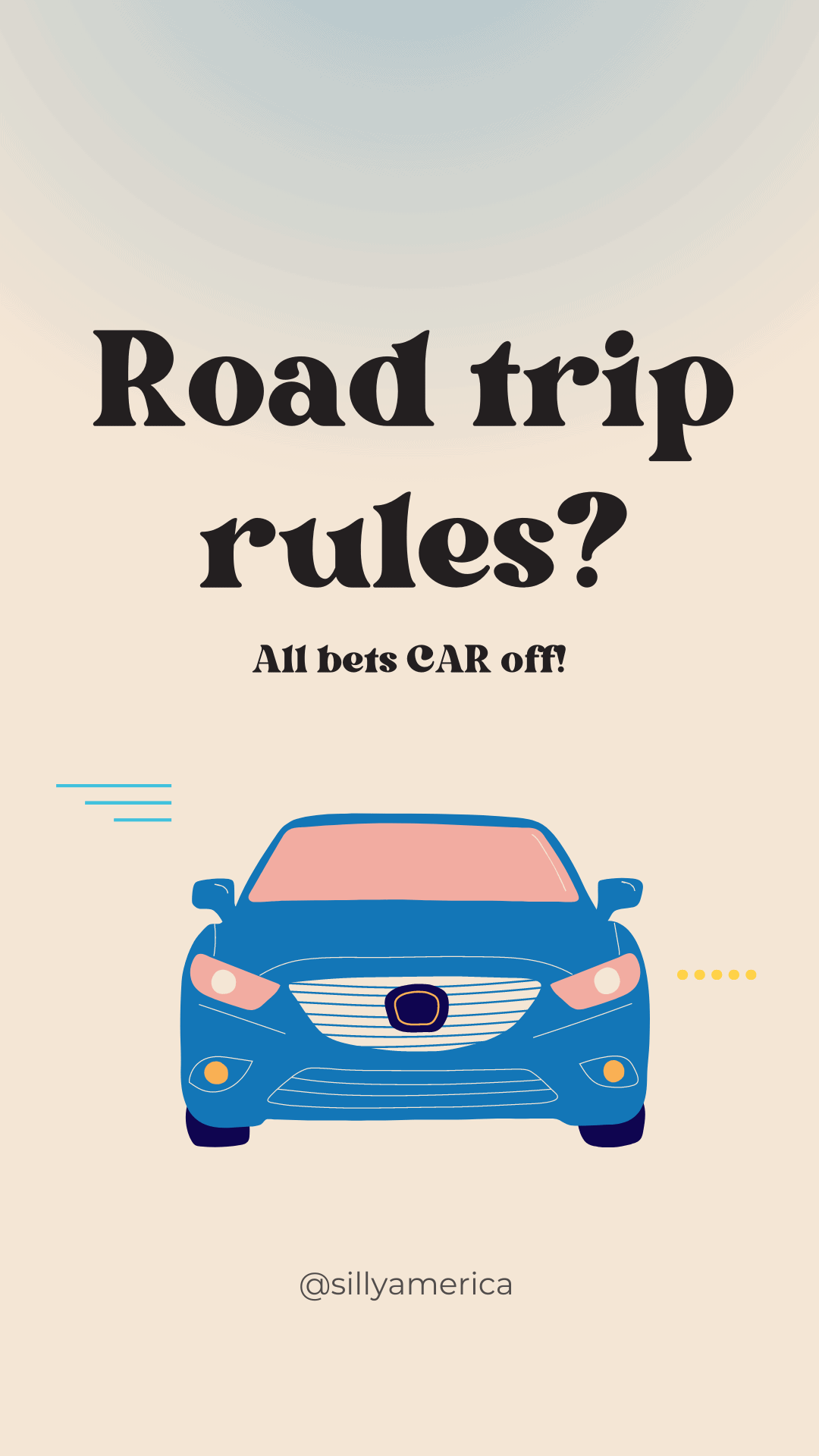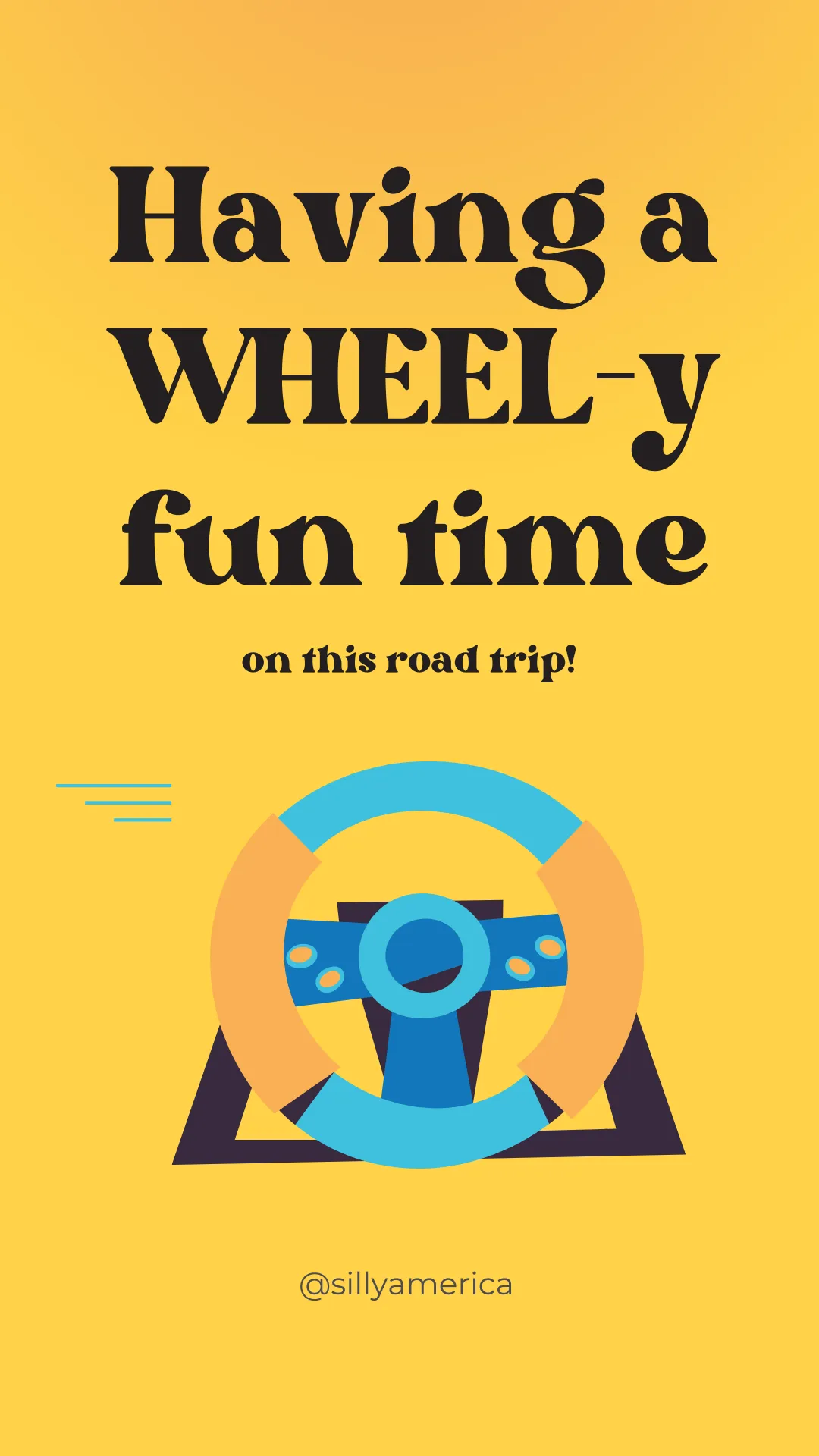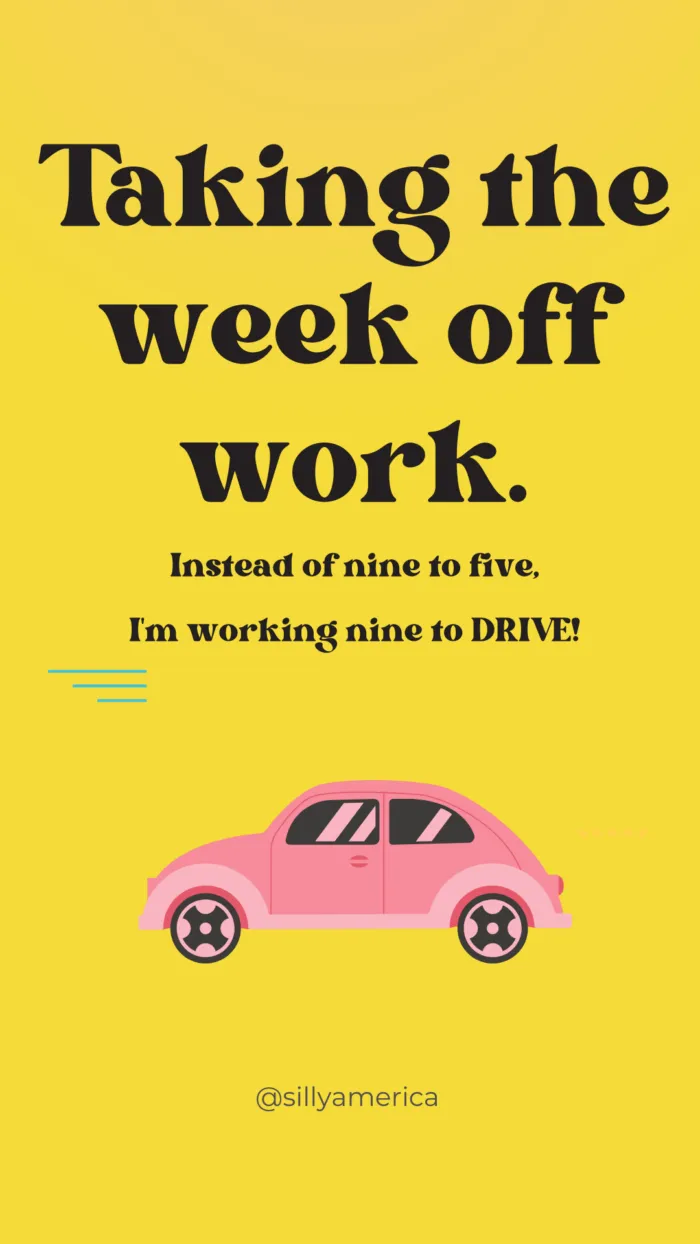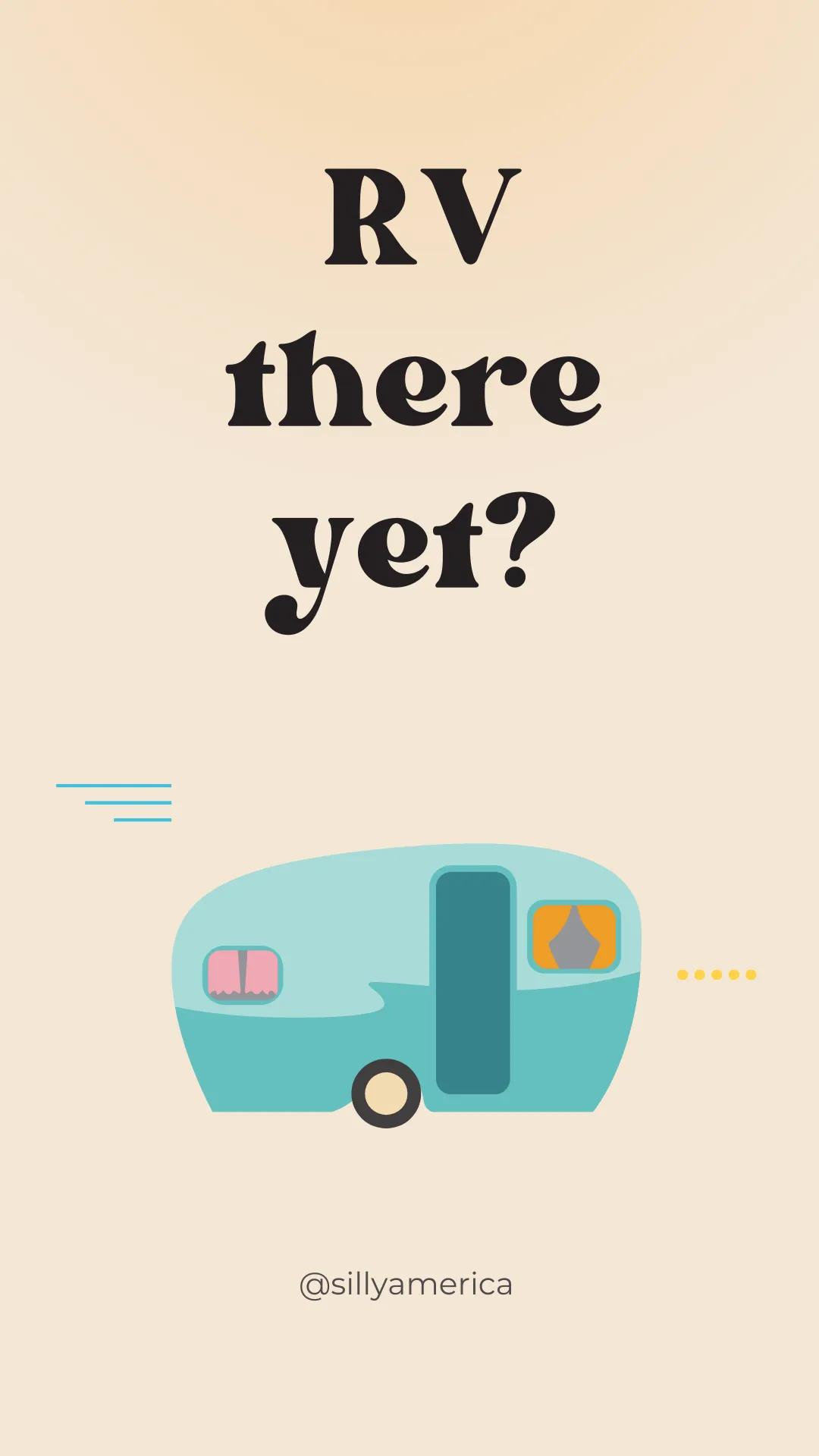 Am I having fun? That's a DRIVEN!
You drive me CAR-azy!
Road trip? ALPACA my bags!
I love road trips, but all this driving is TIRE-ing!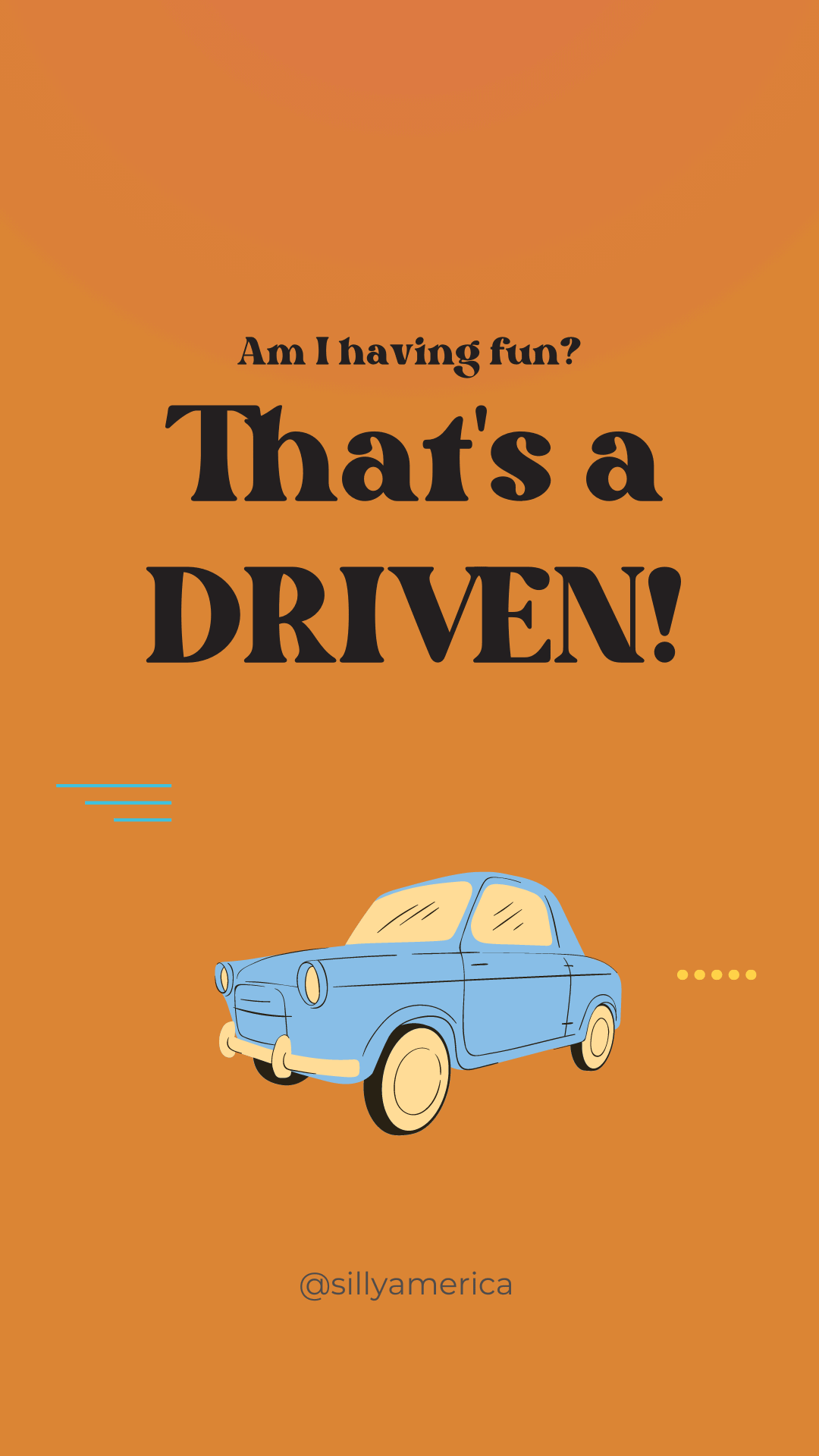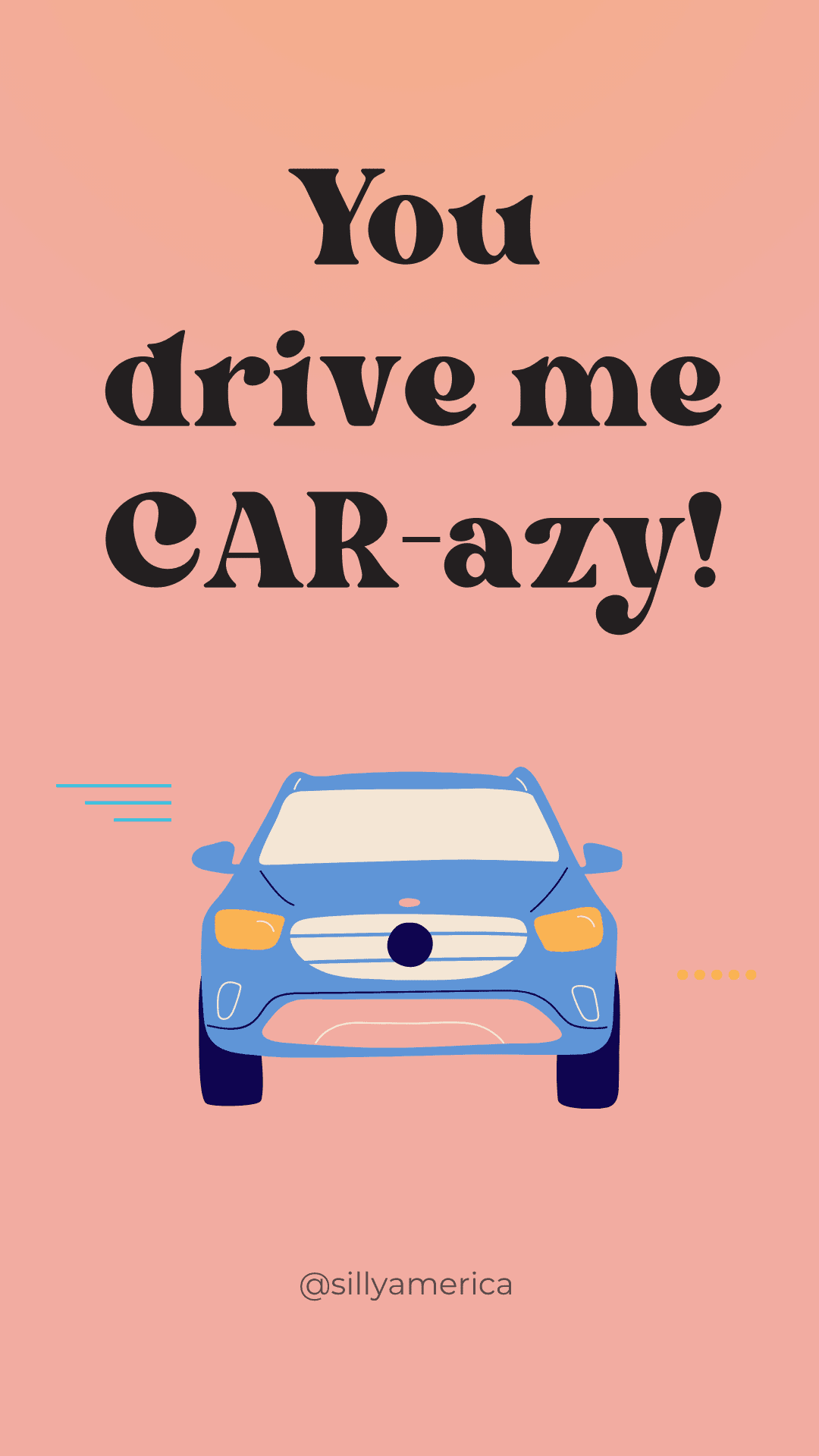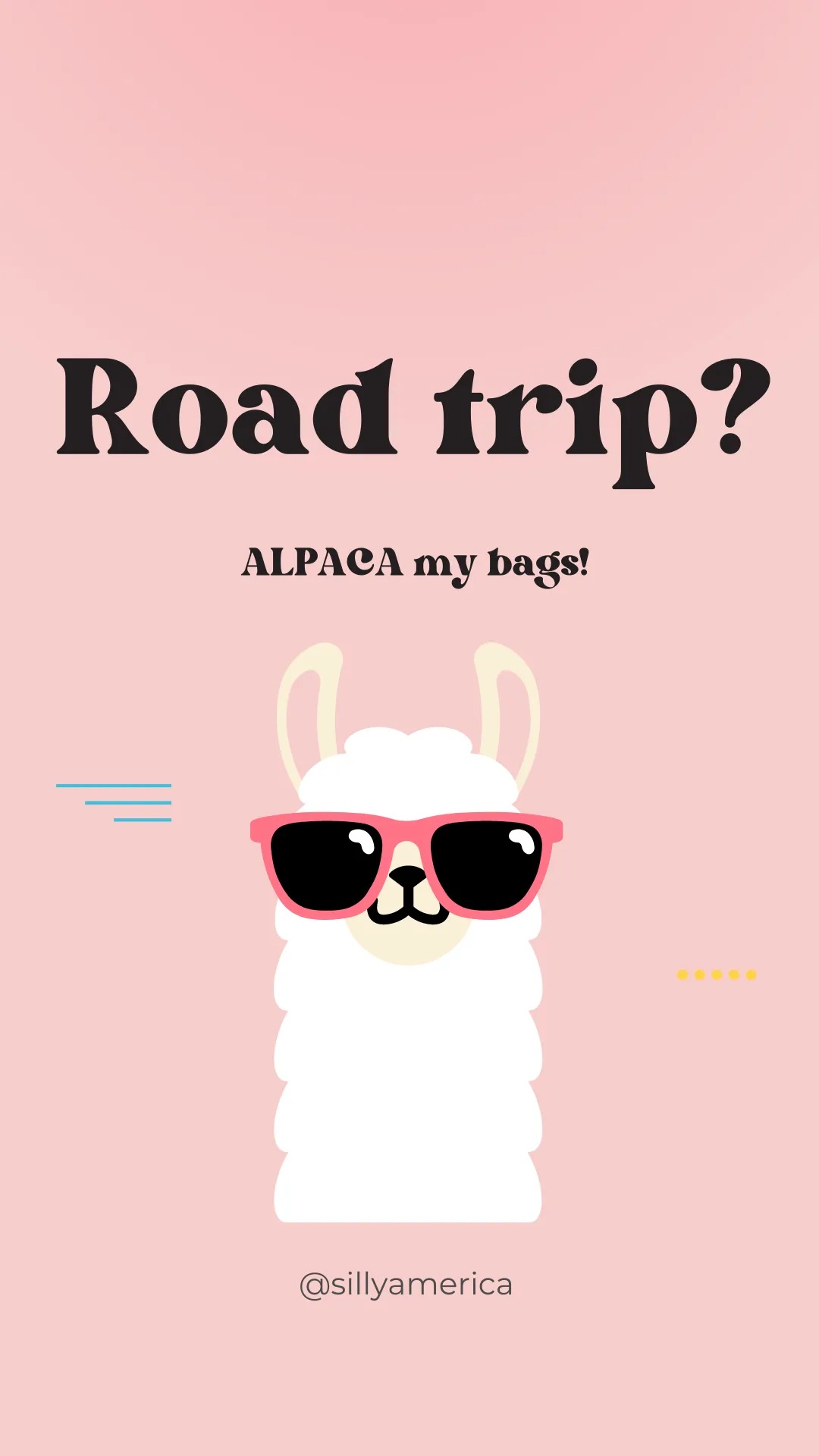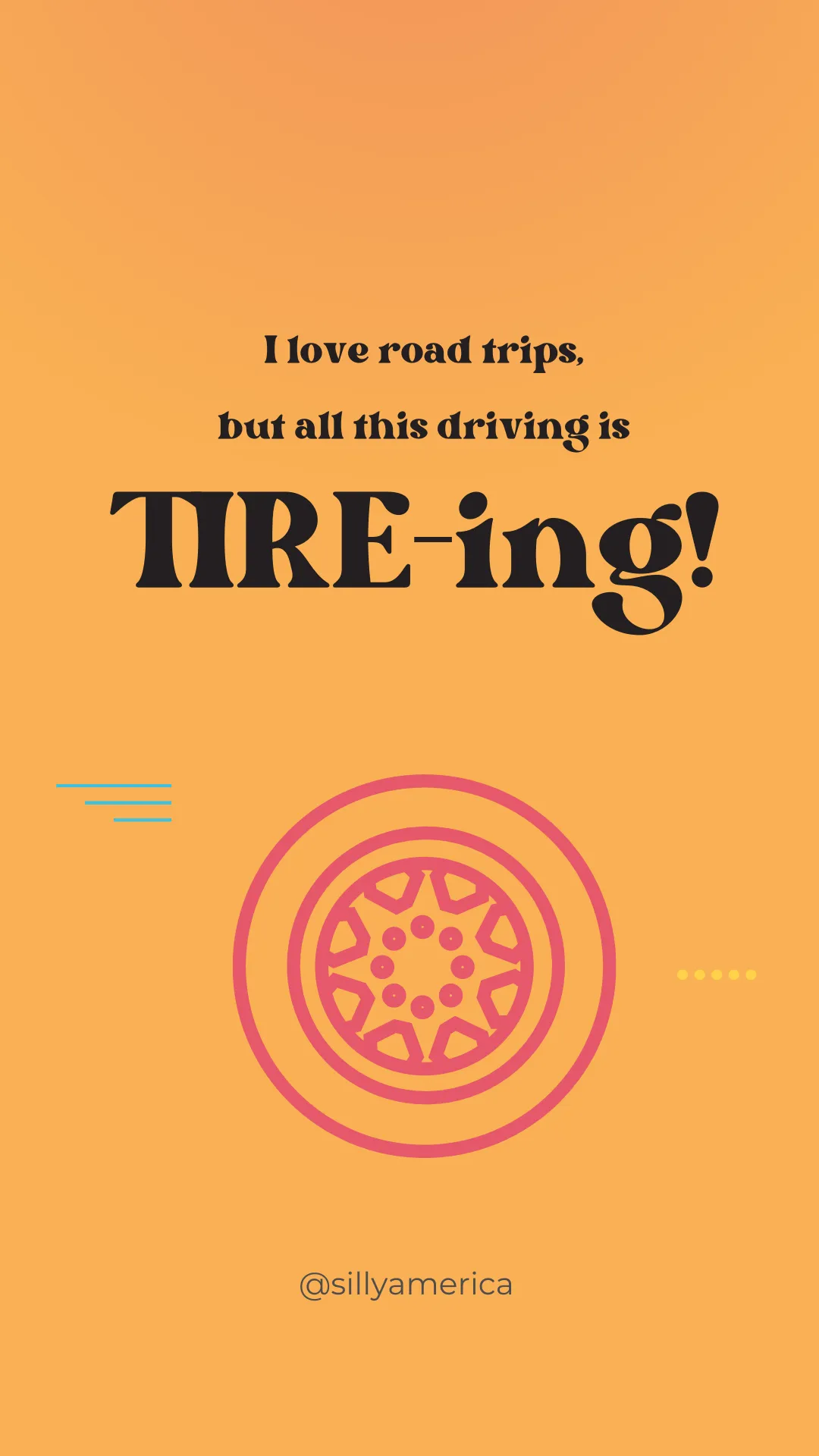 Ad-VAN-ture awaits!
Camping trips are time well TENT!
I've been driving all day – time for a BRAKE!
Not going to lie, today was kind of a DRAG!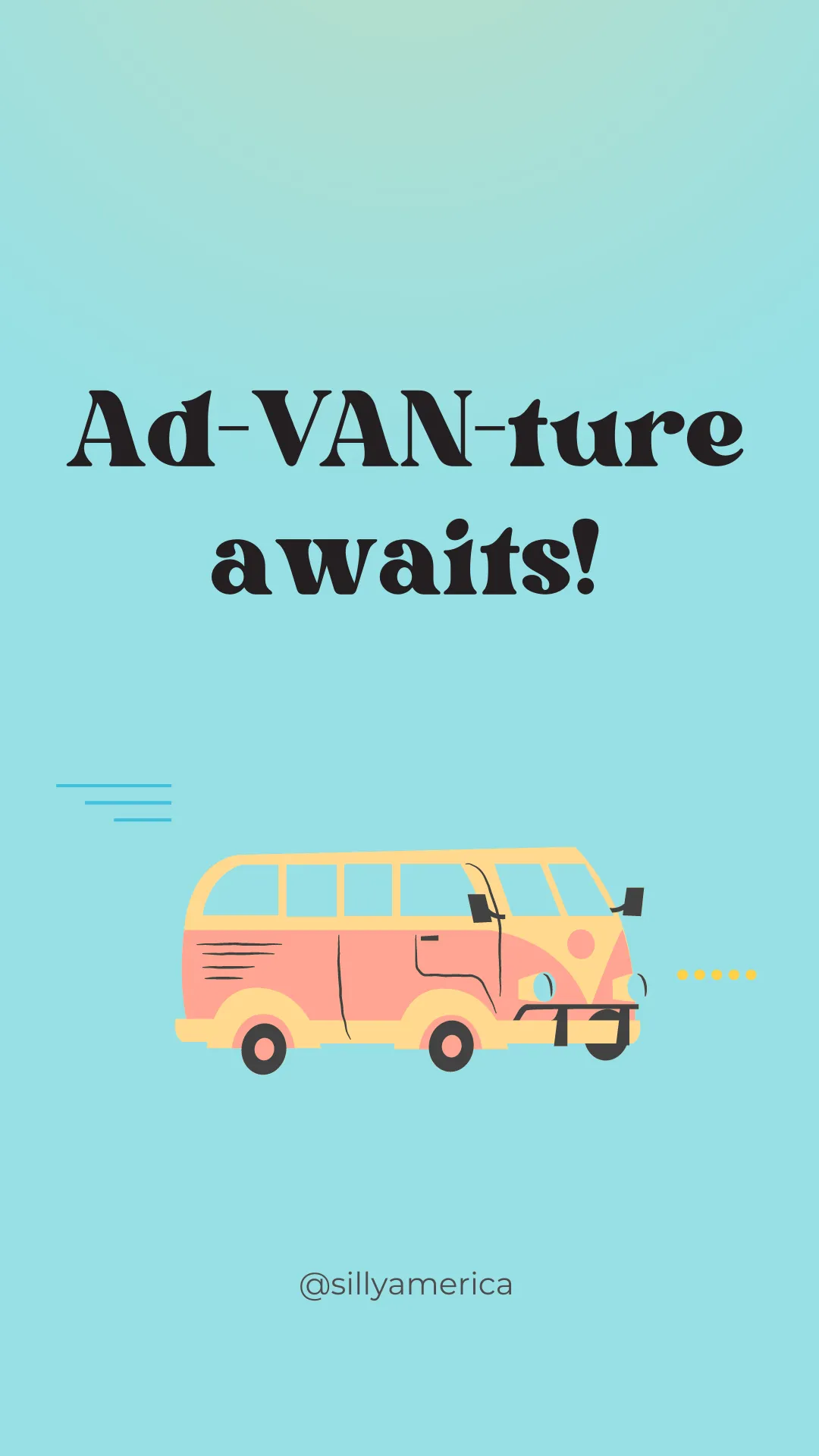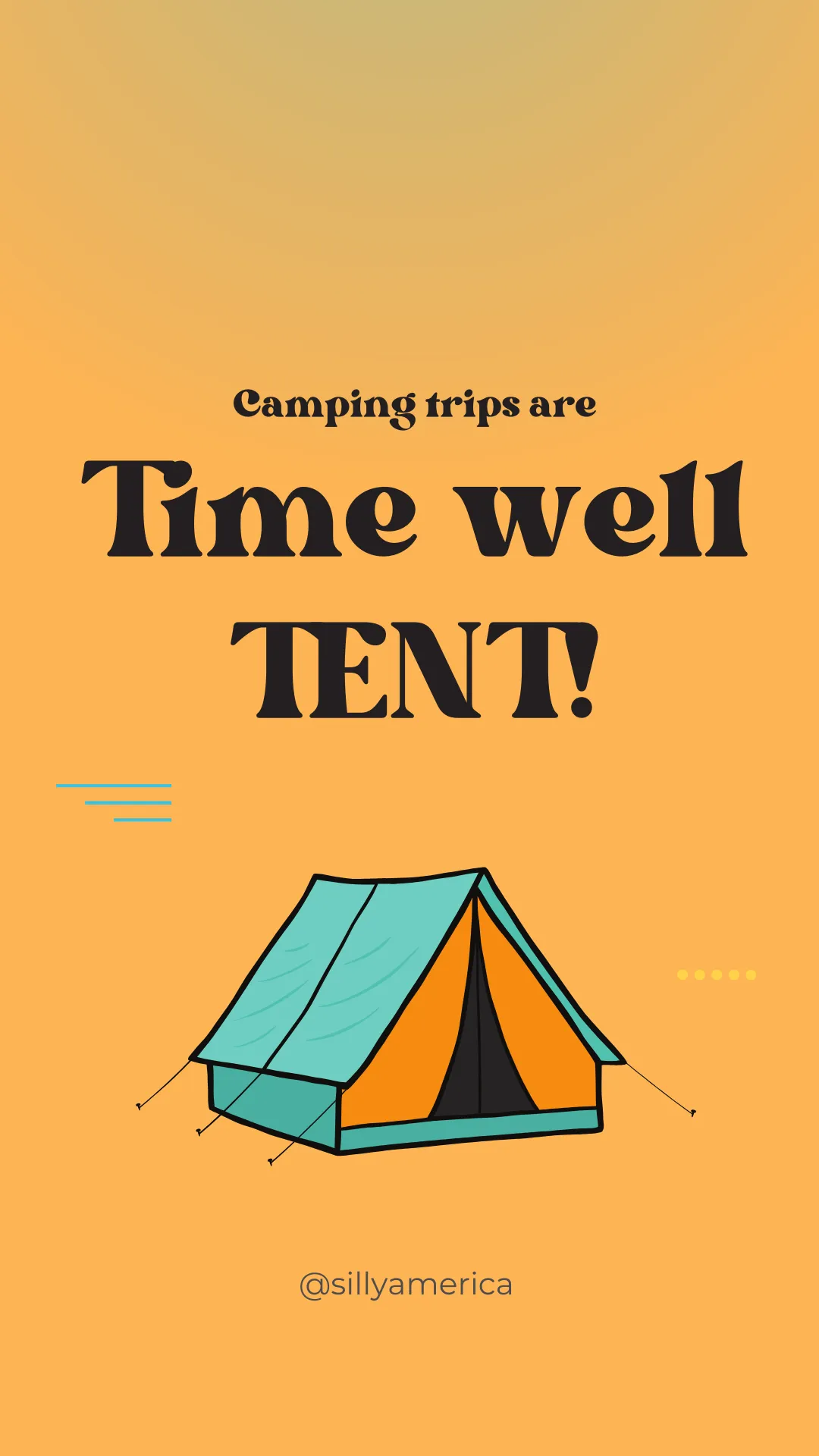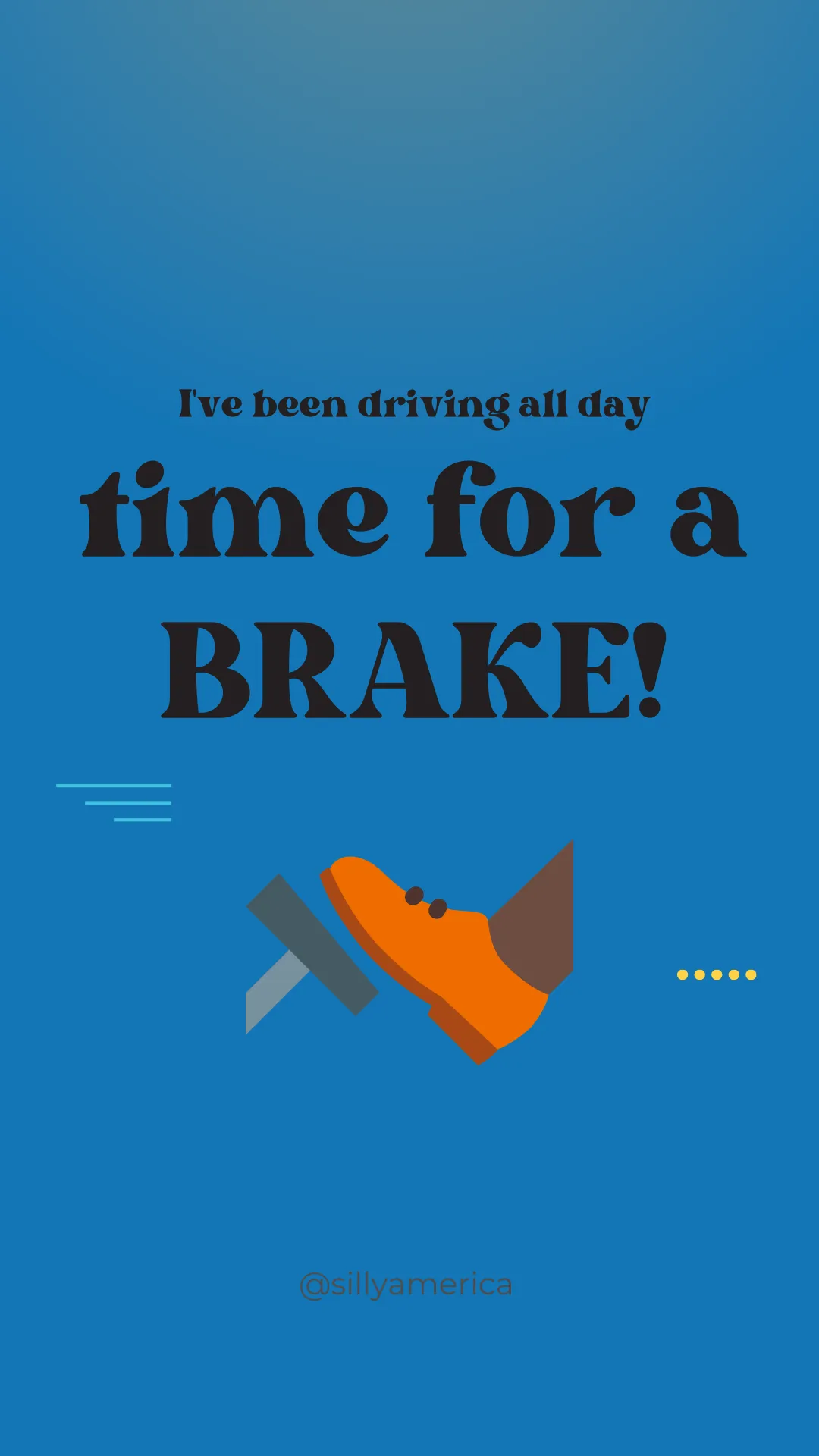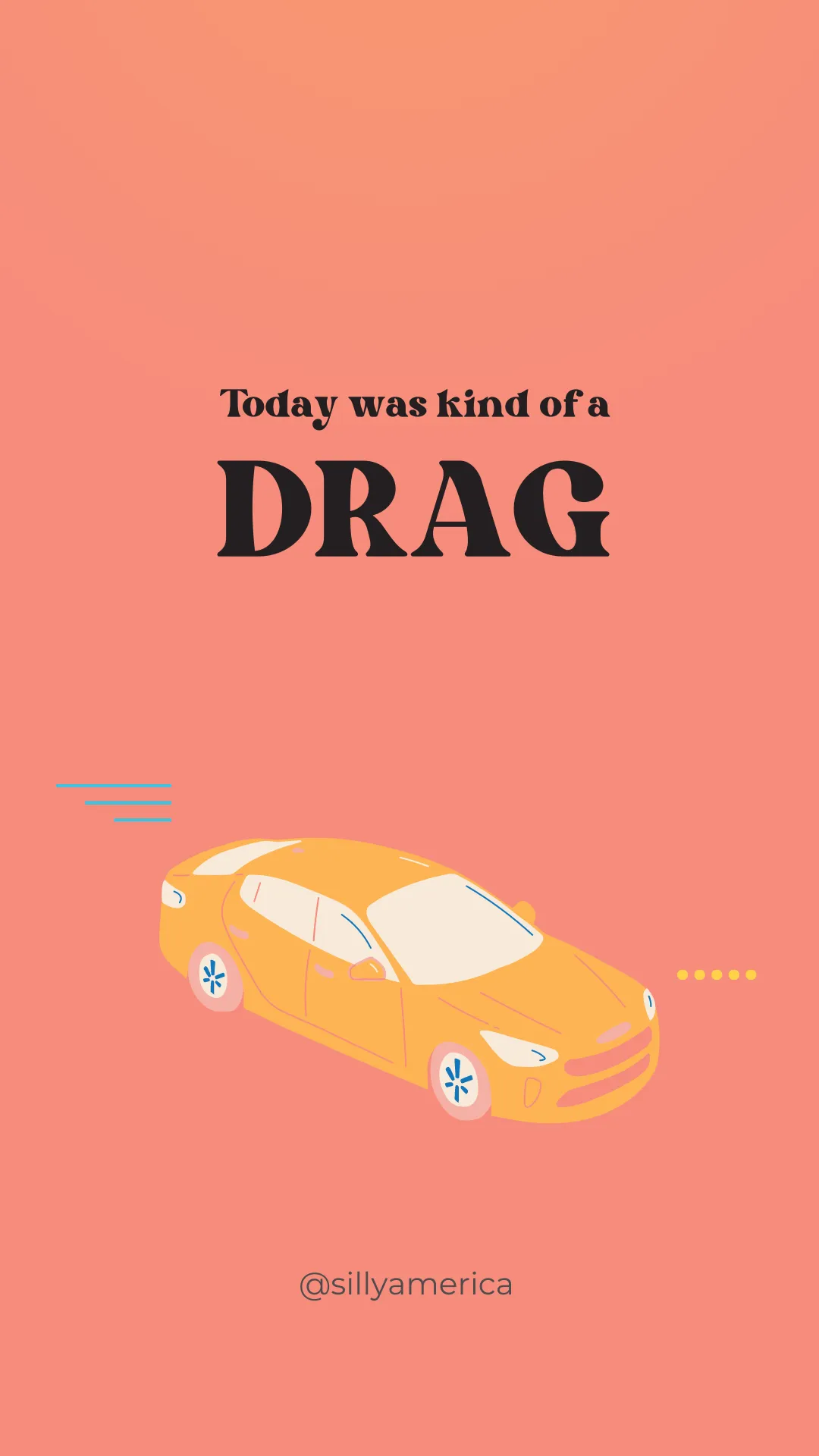 Let's be GEAR: I'm always up for an adventure!
CAR and away, this has been the best trip ever!
Having SUITE dreams in my hotel.
SPOILER alert!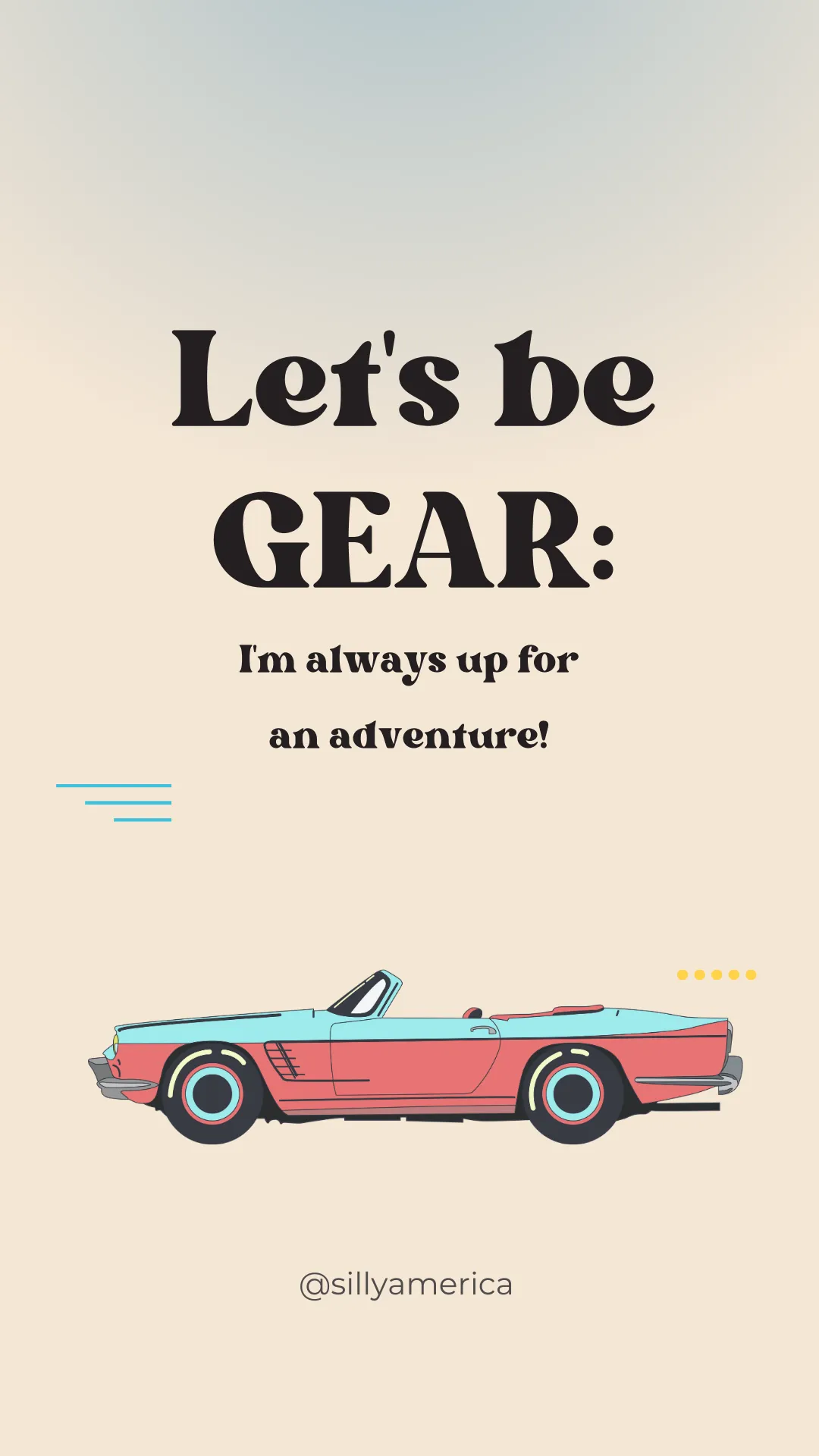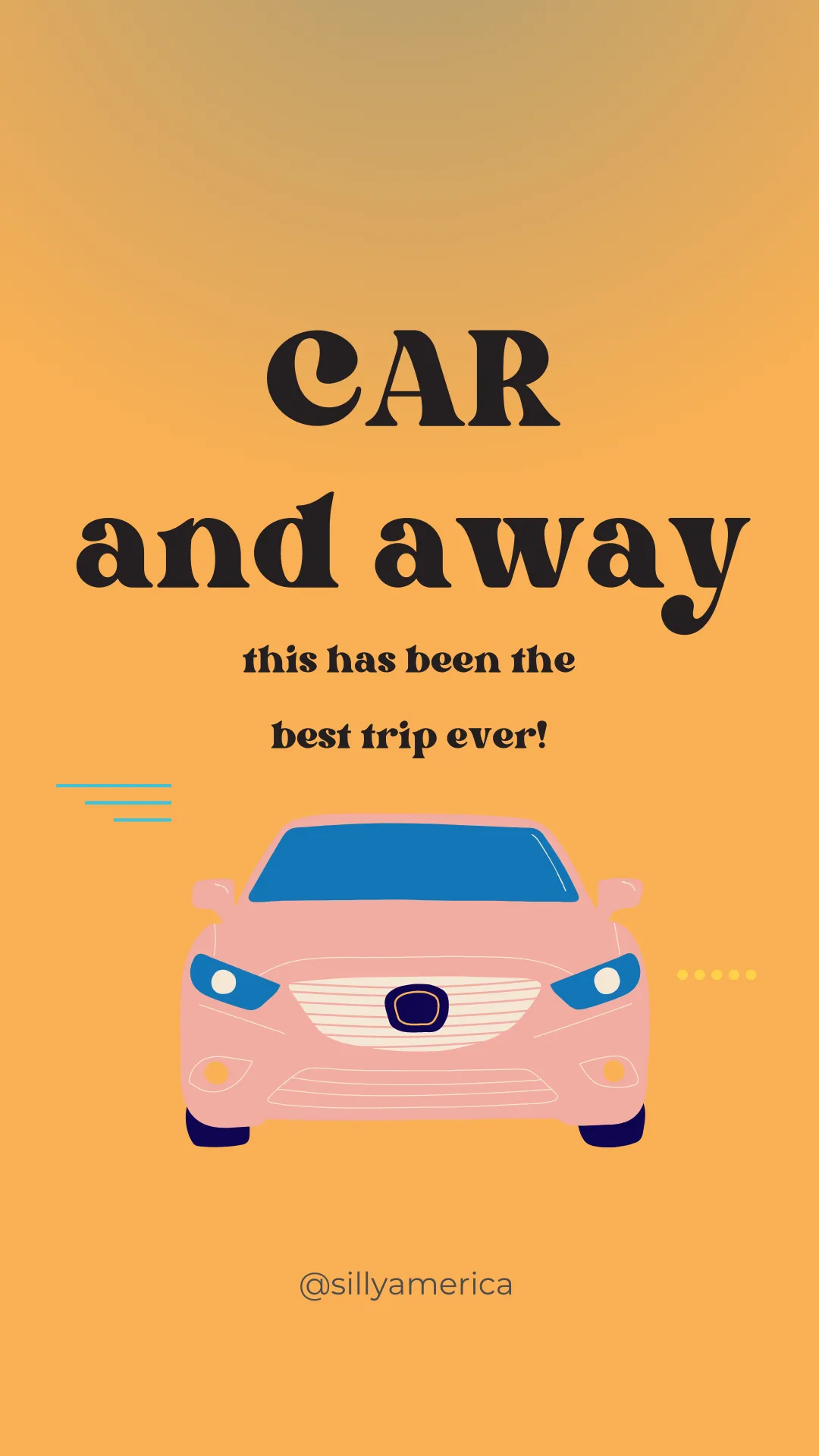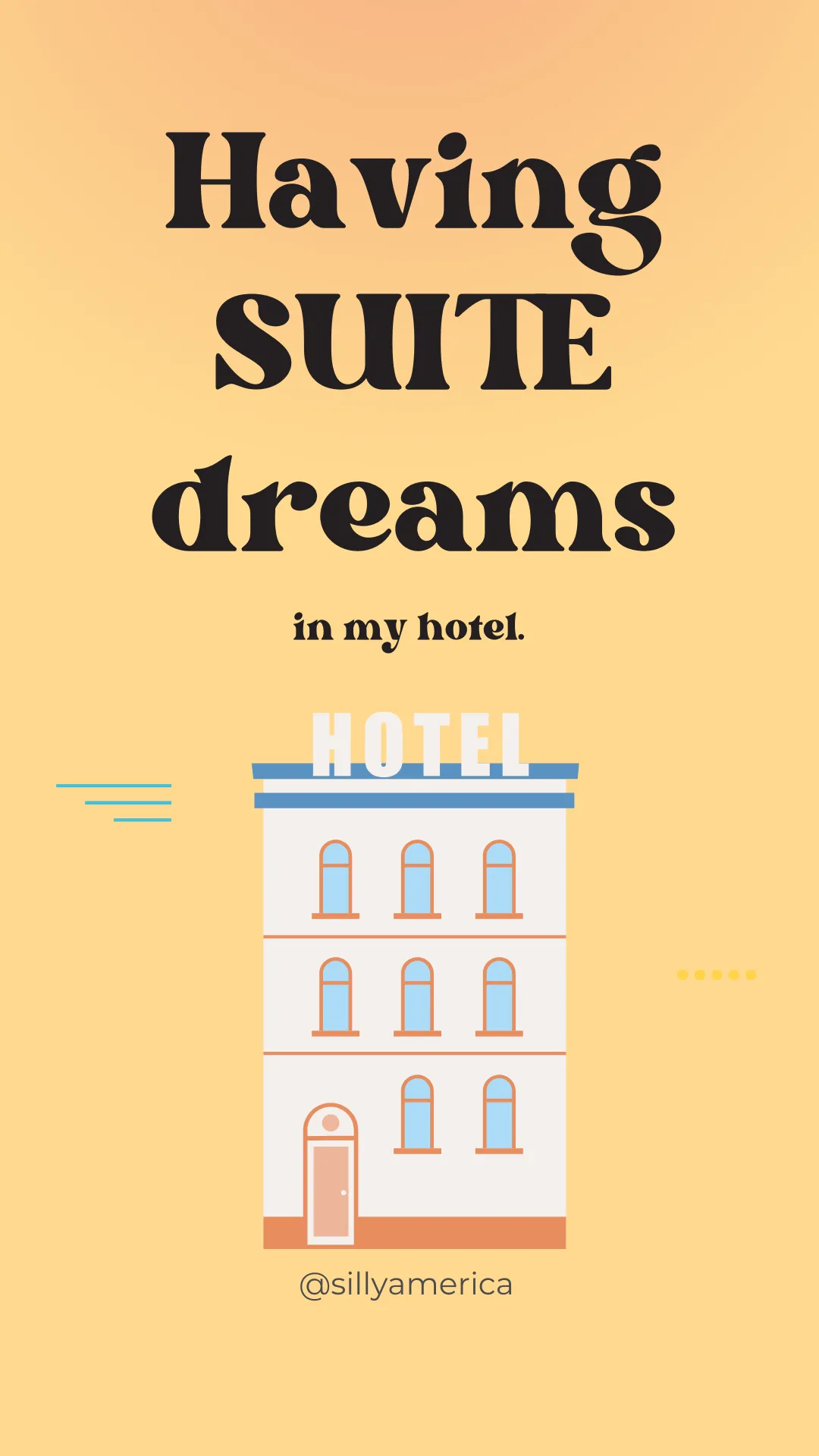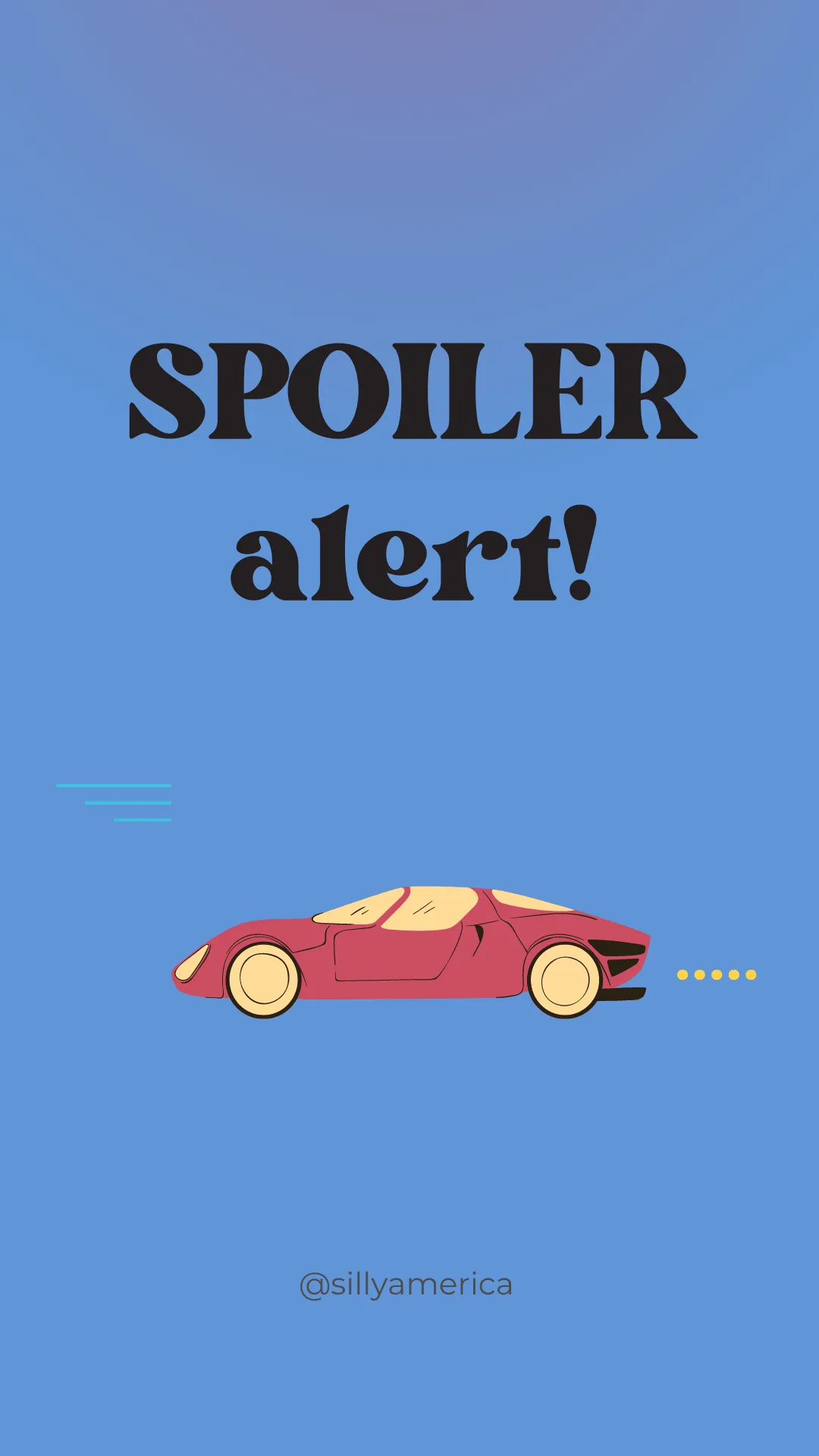 Where to next? It's anybody's GAS!
Wrong turn? I couldn't CAR less!
All you SPEED is love! And a full tank of gas.
After driving all day, I'm EXHAUSTed!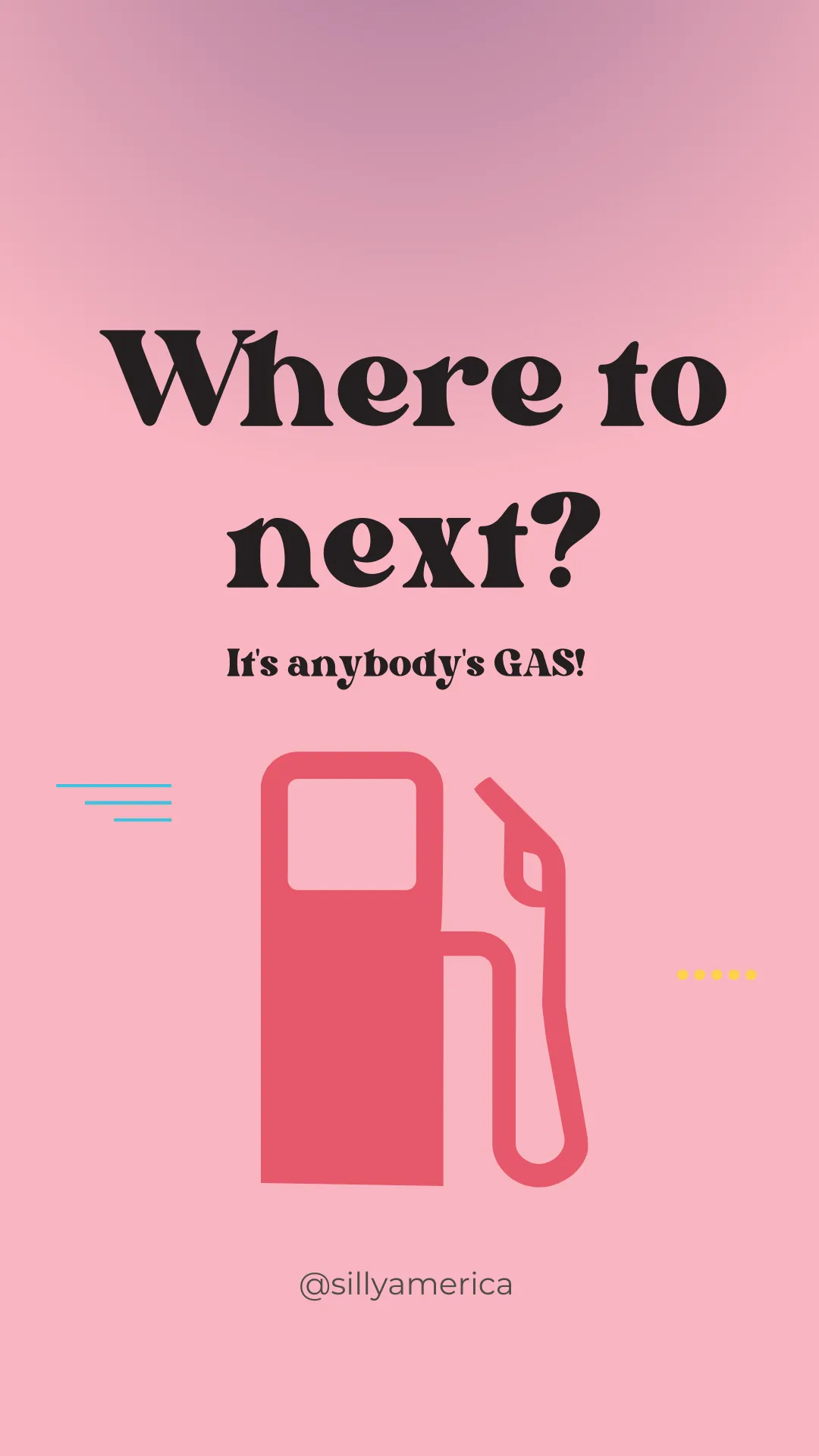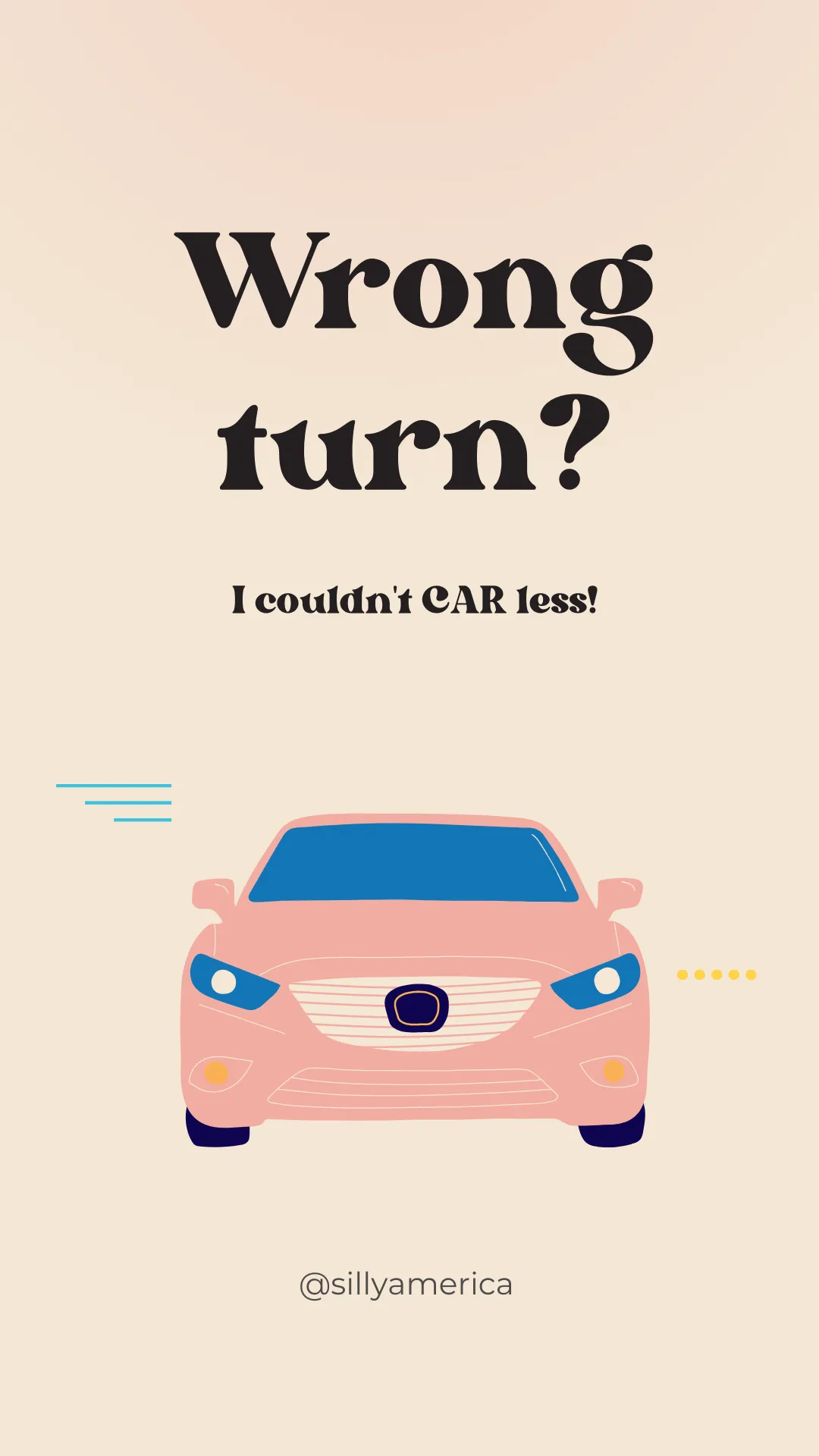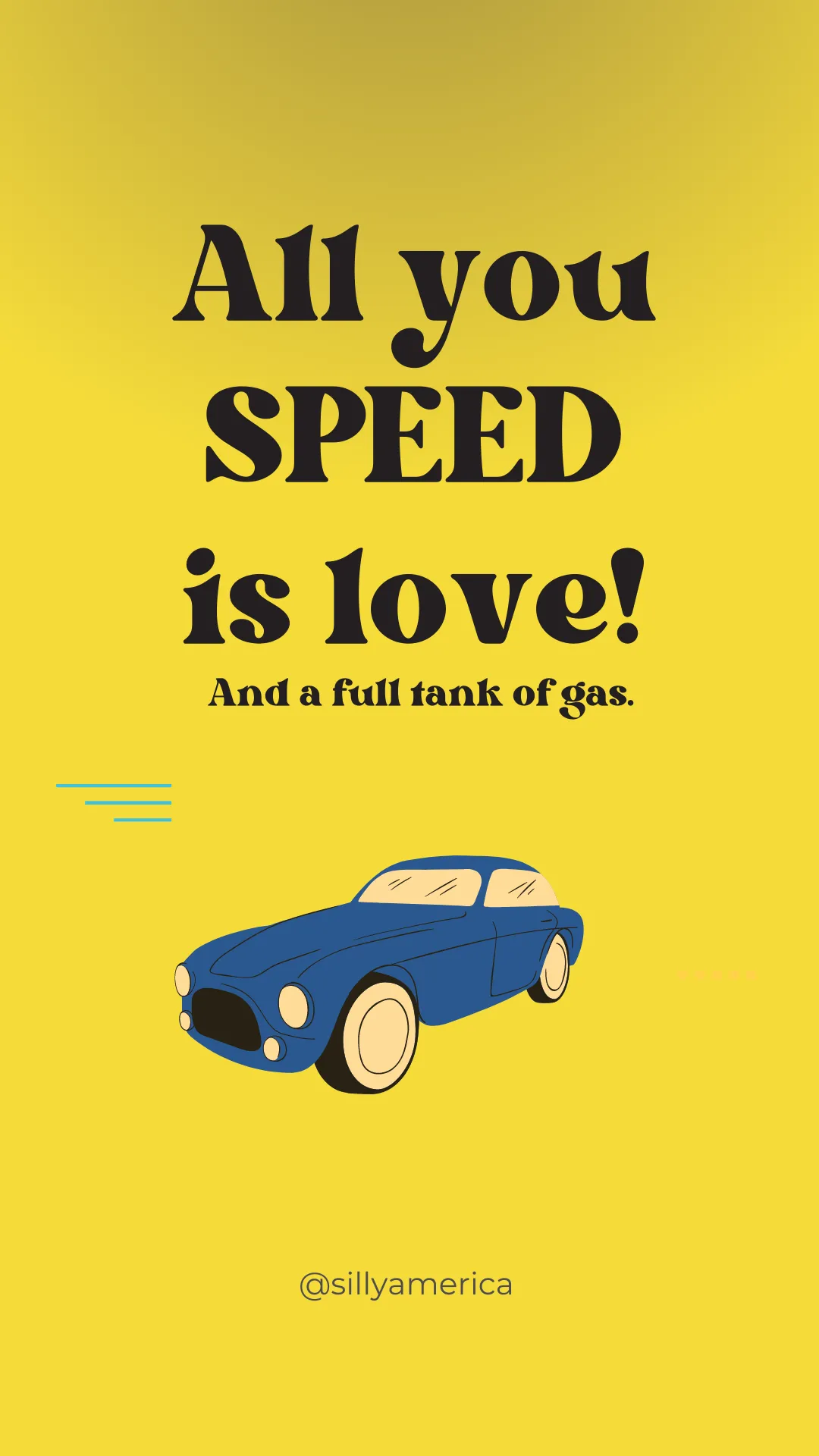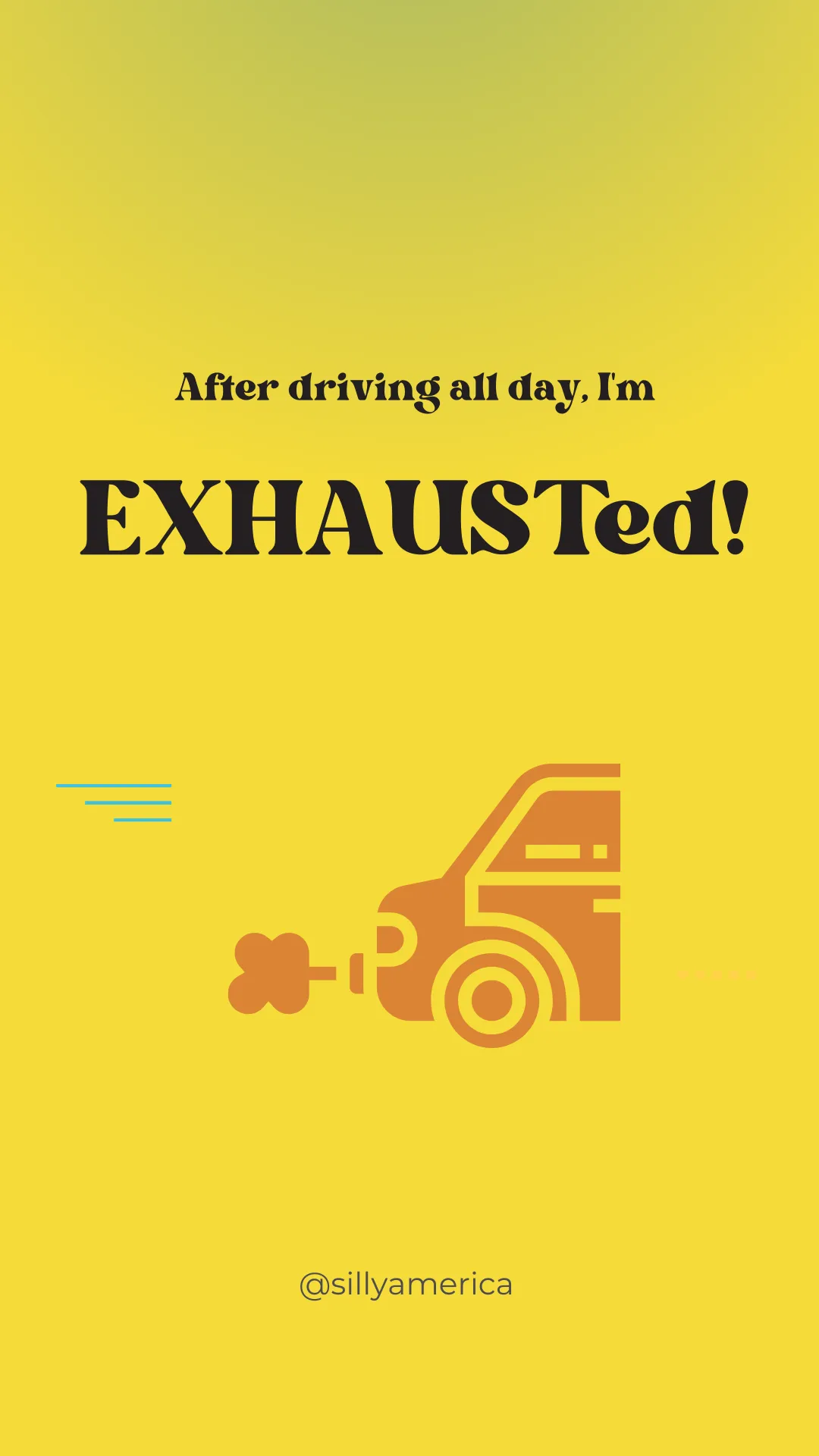 Once in a WHEEL, a long drive is what you need!
Getting to the ROUTE of the problem!
FUEL never guess what I saw today!
DRIVE never done this before!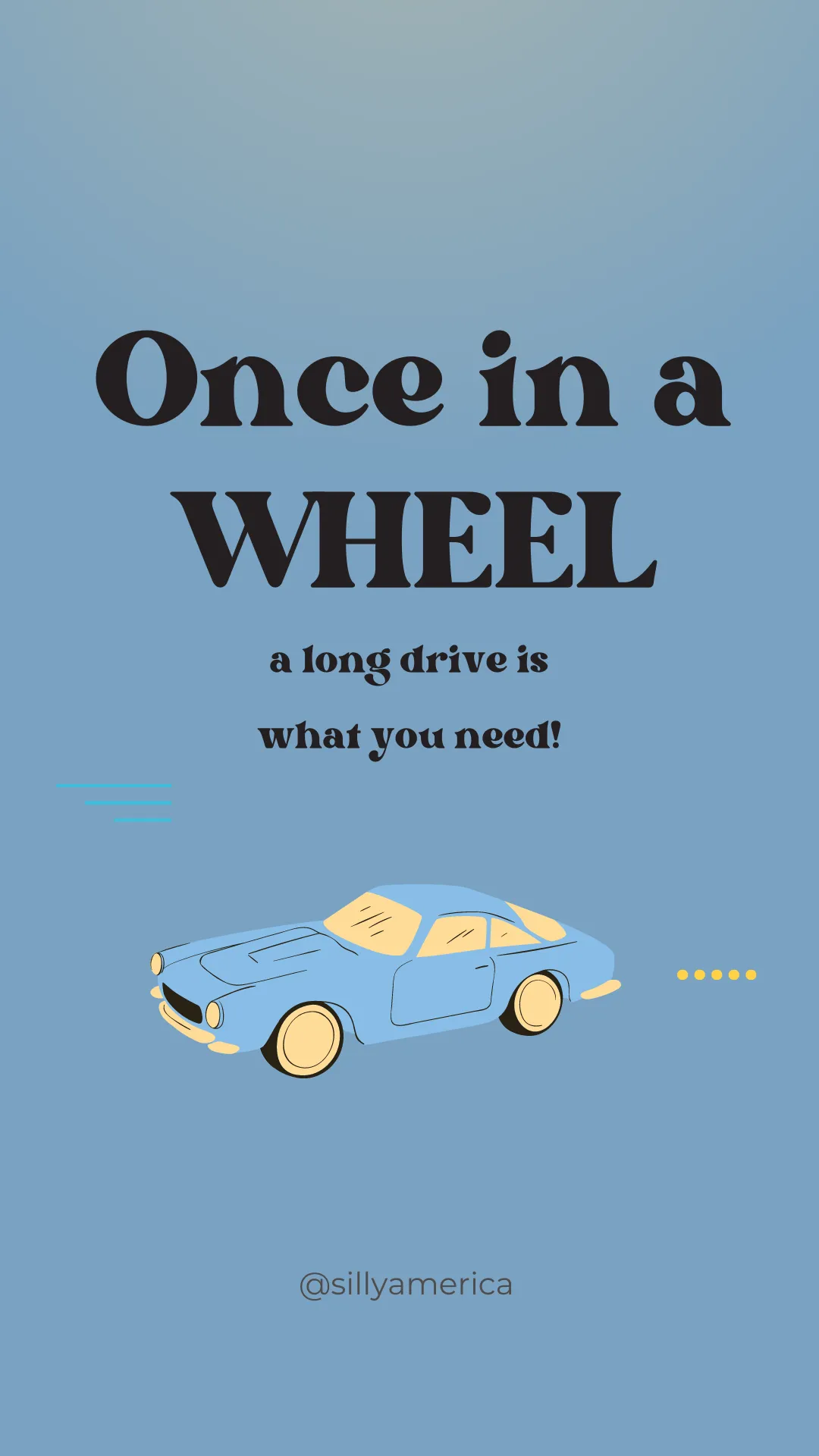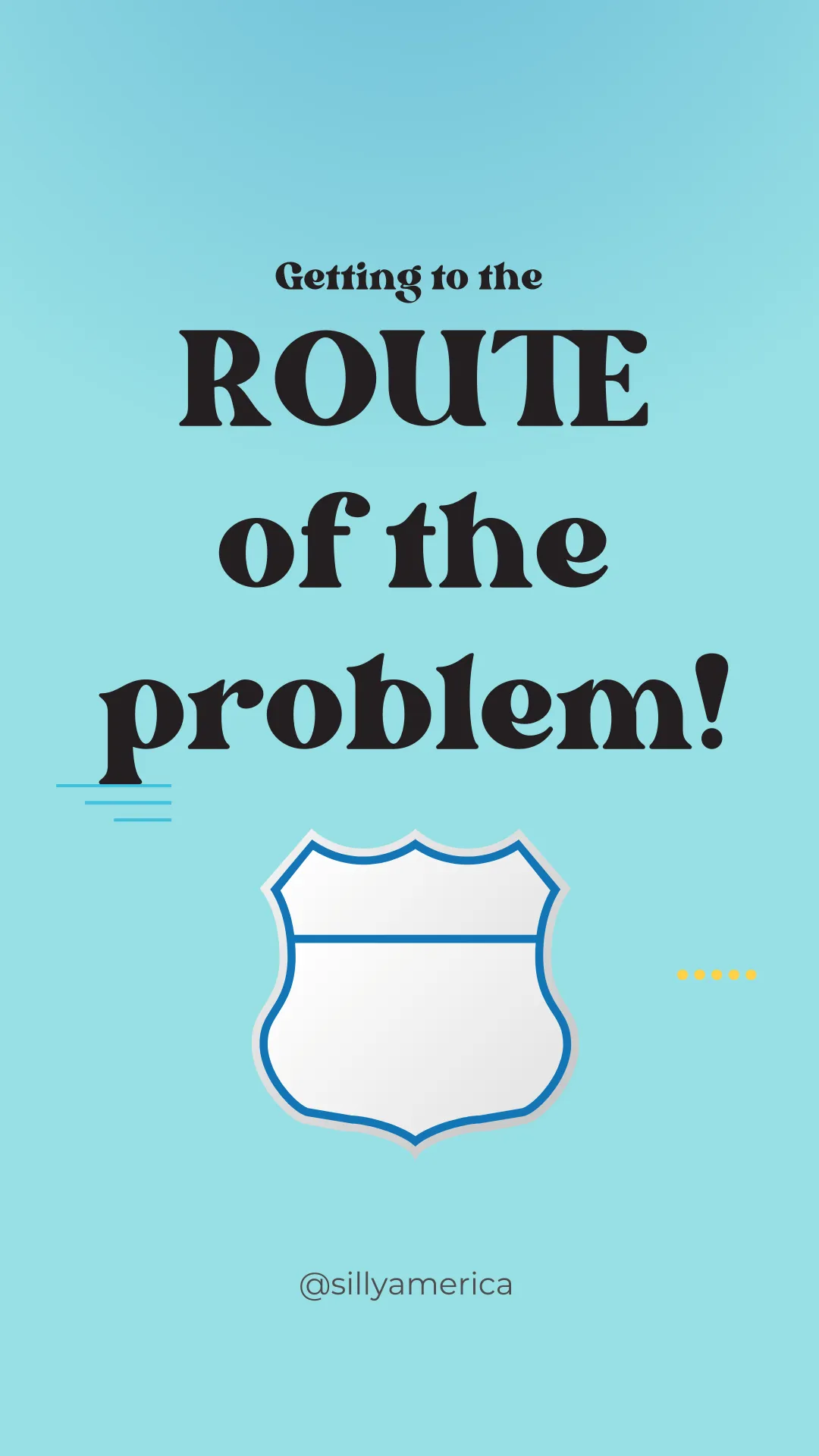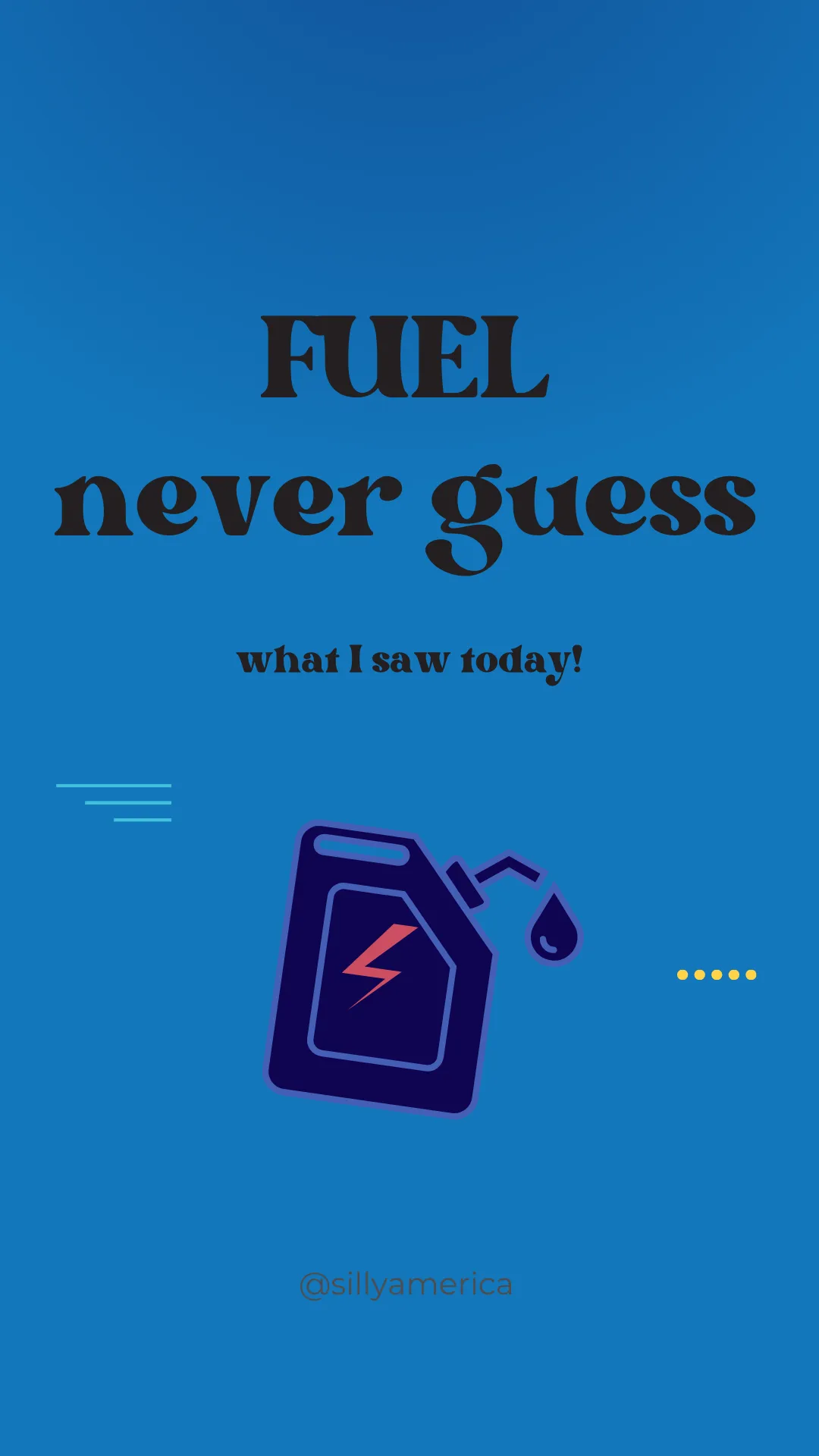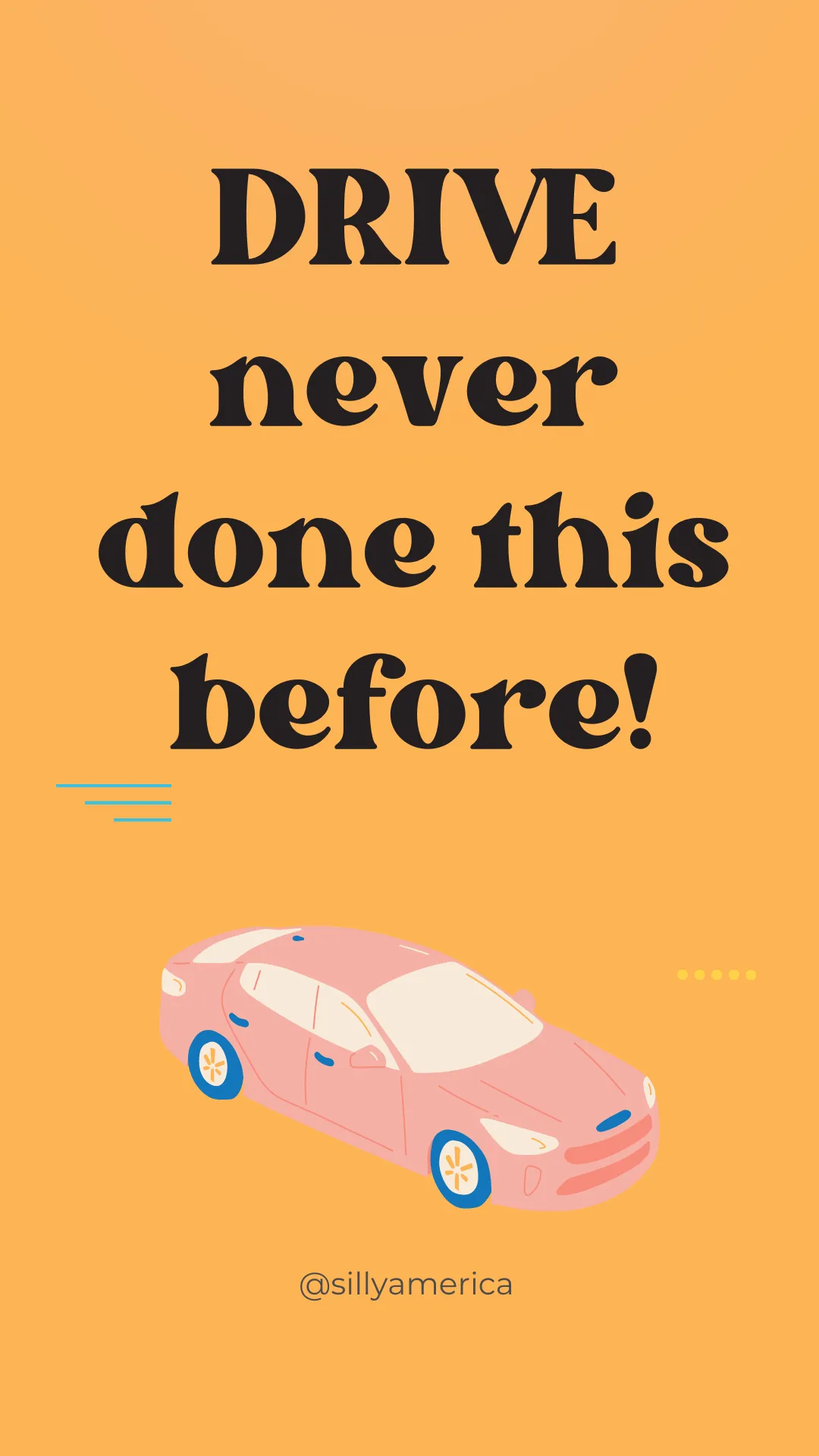 Get a ROAD of this!
Road trips are just mind over MOTOR!
I have no set itinerary – I'm just FUELing around!
Take a walk on the wild RIDE!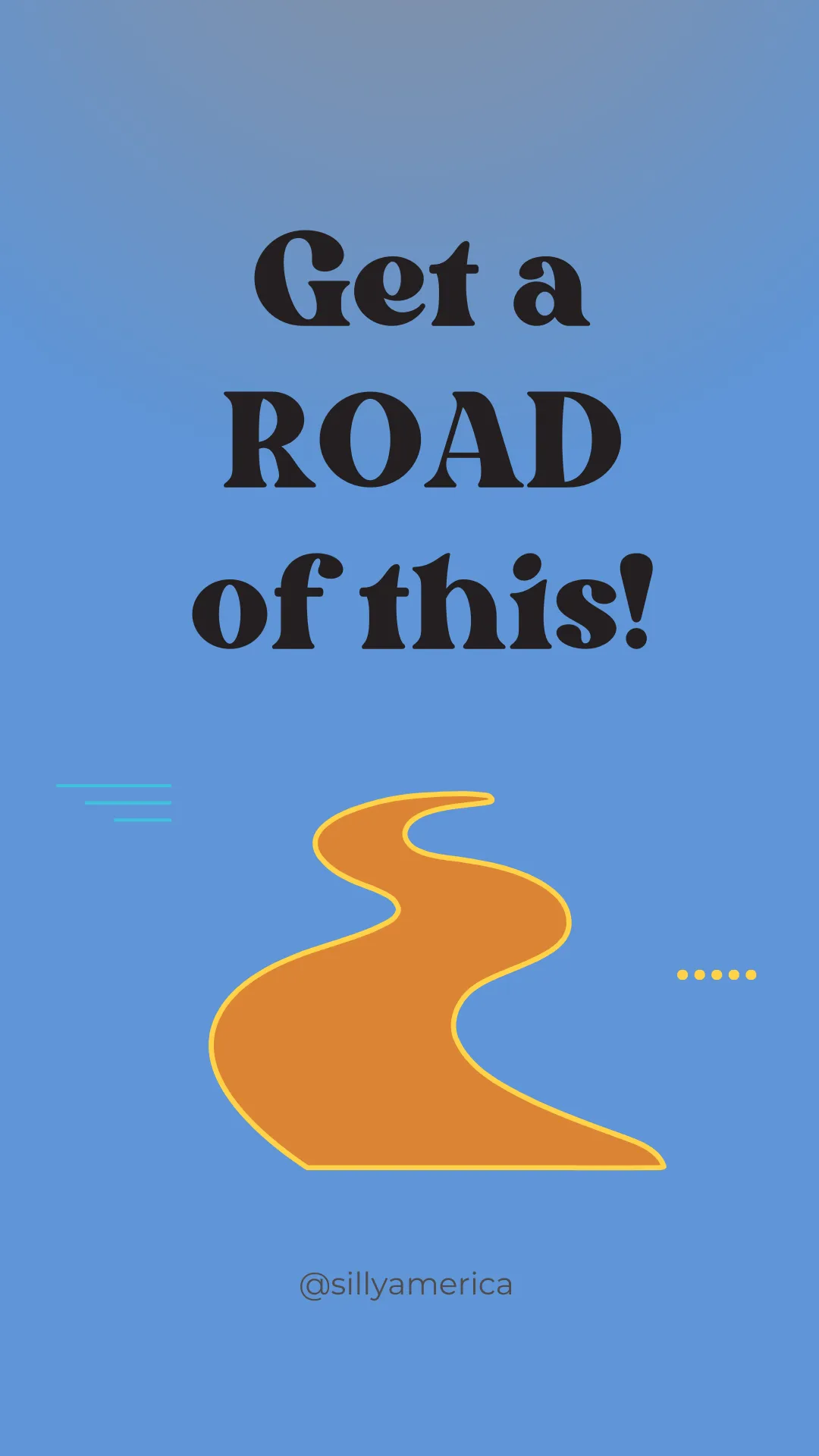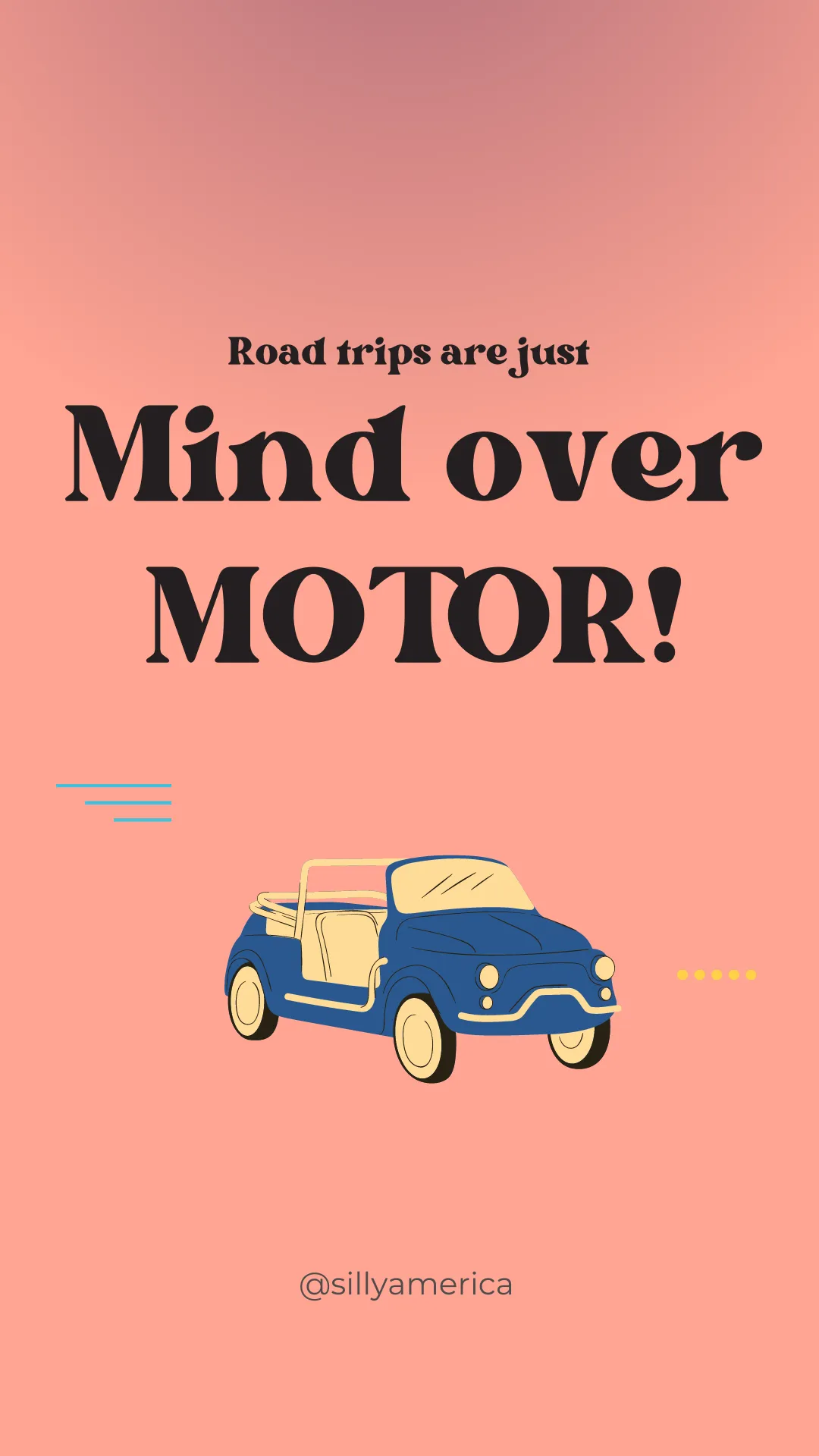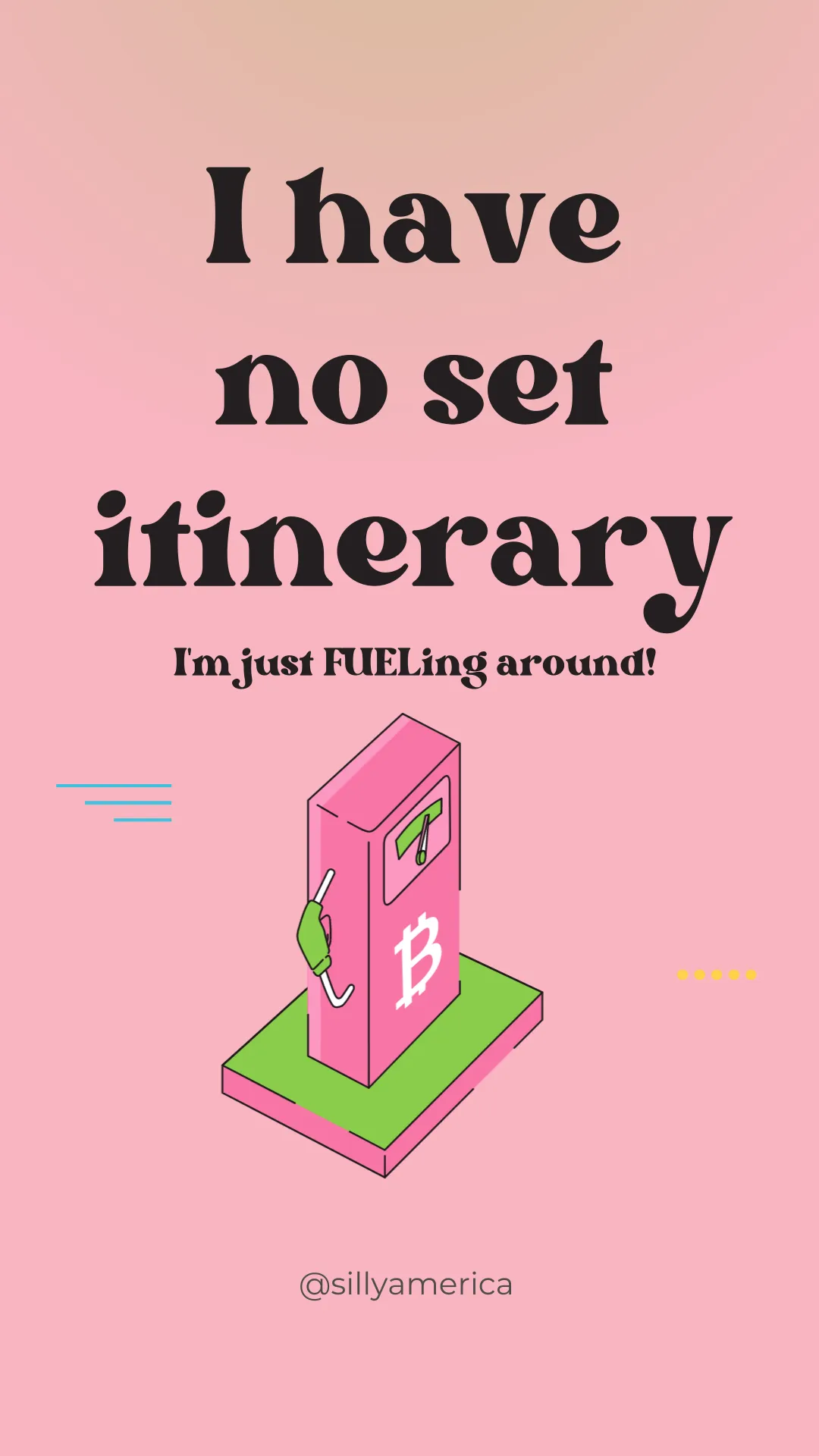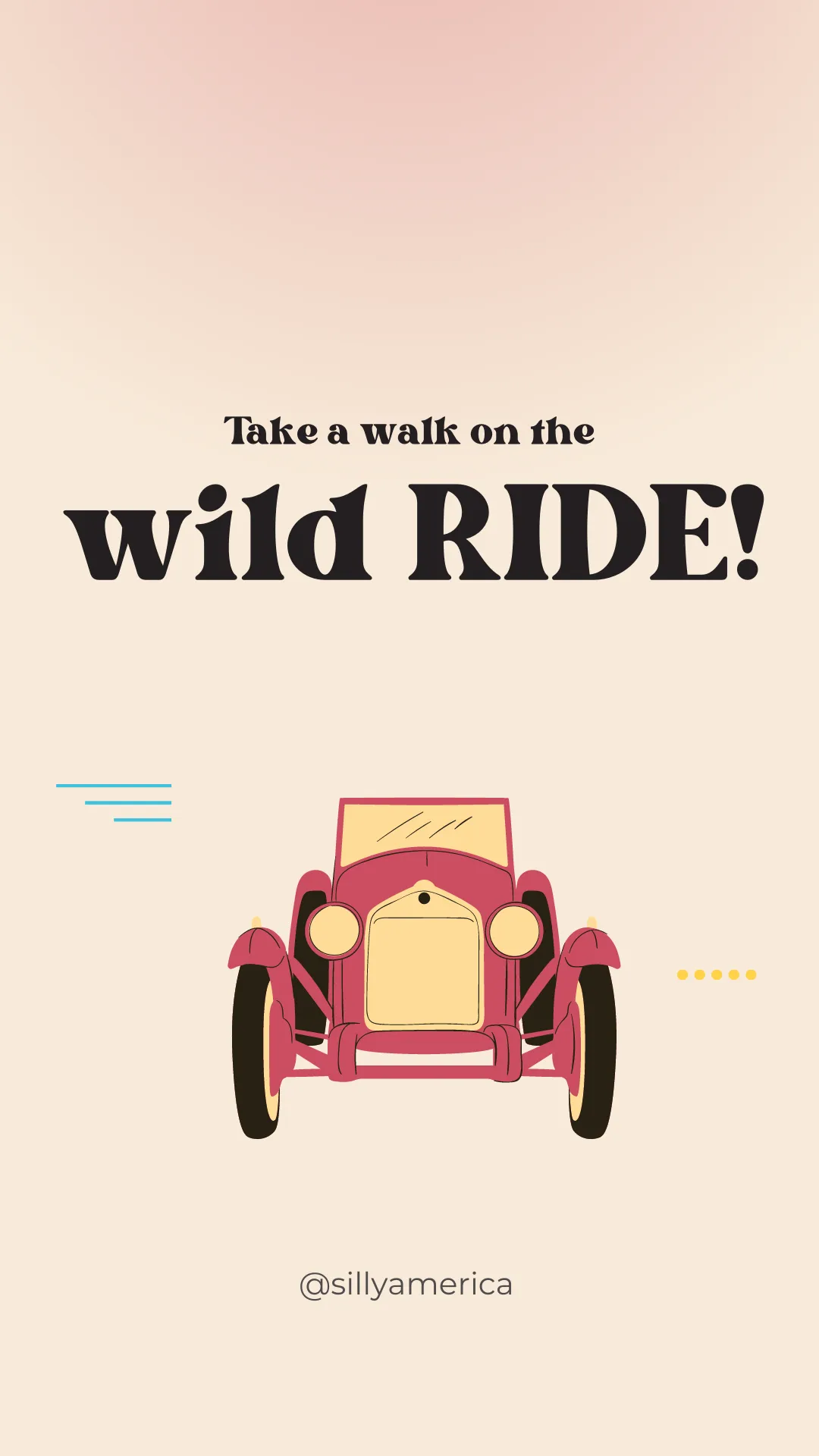 Taking a road trip? Who'd have TRUNK!
In IGNITION to road trips, I like to fly too!
I'm AUTO-ly delighted to be on the road!
No stops? That's FUEL and unusual punishment!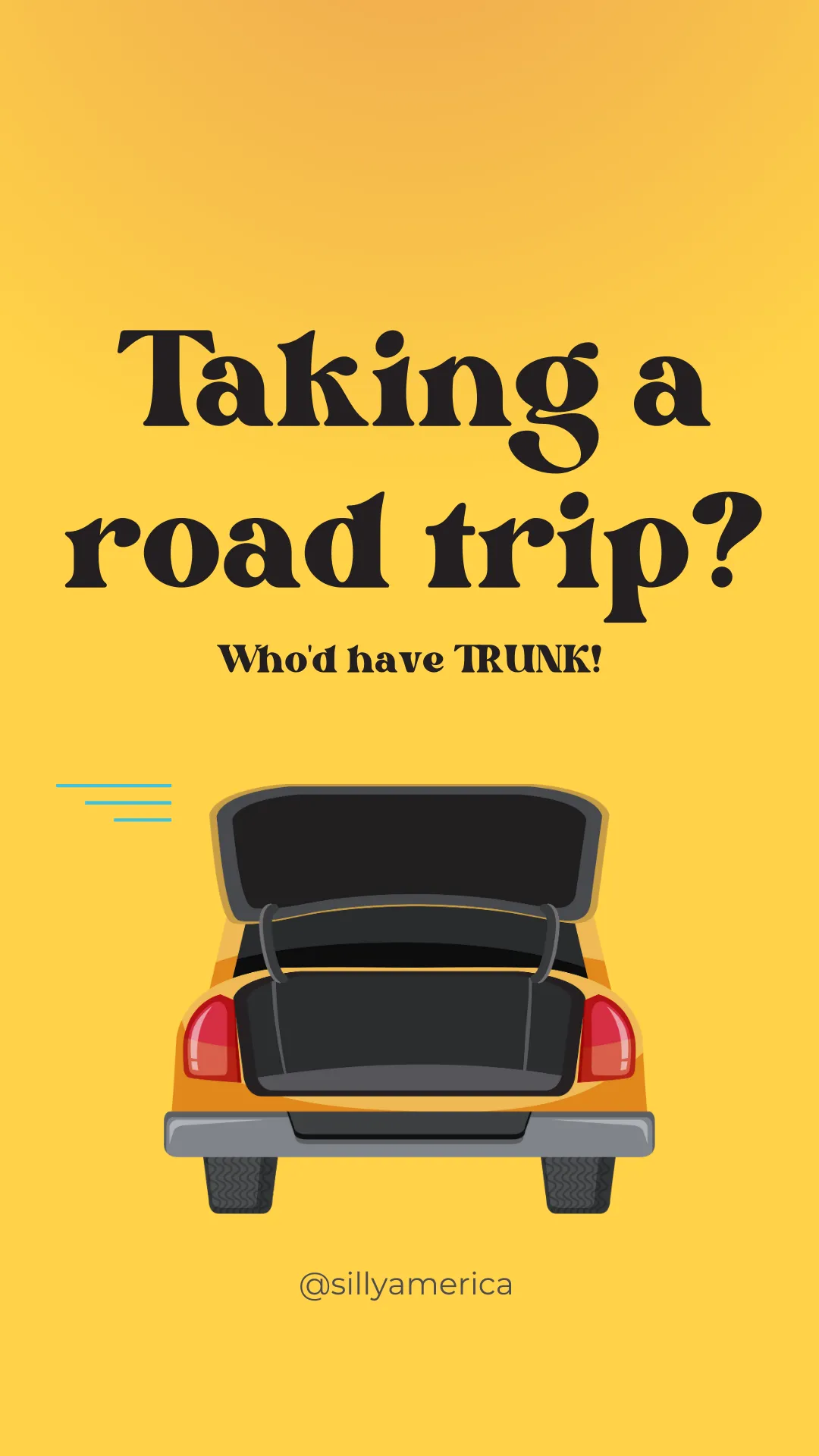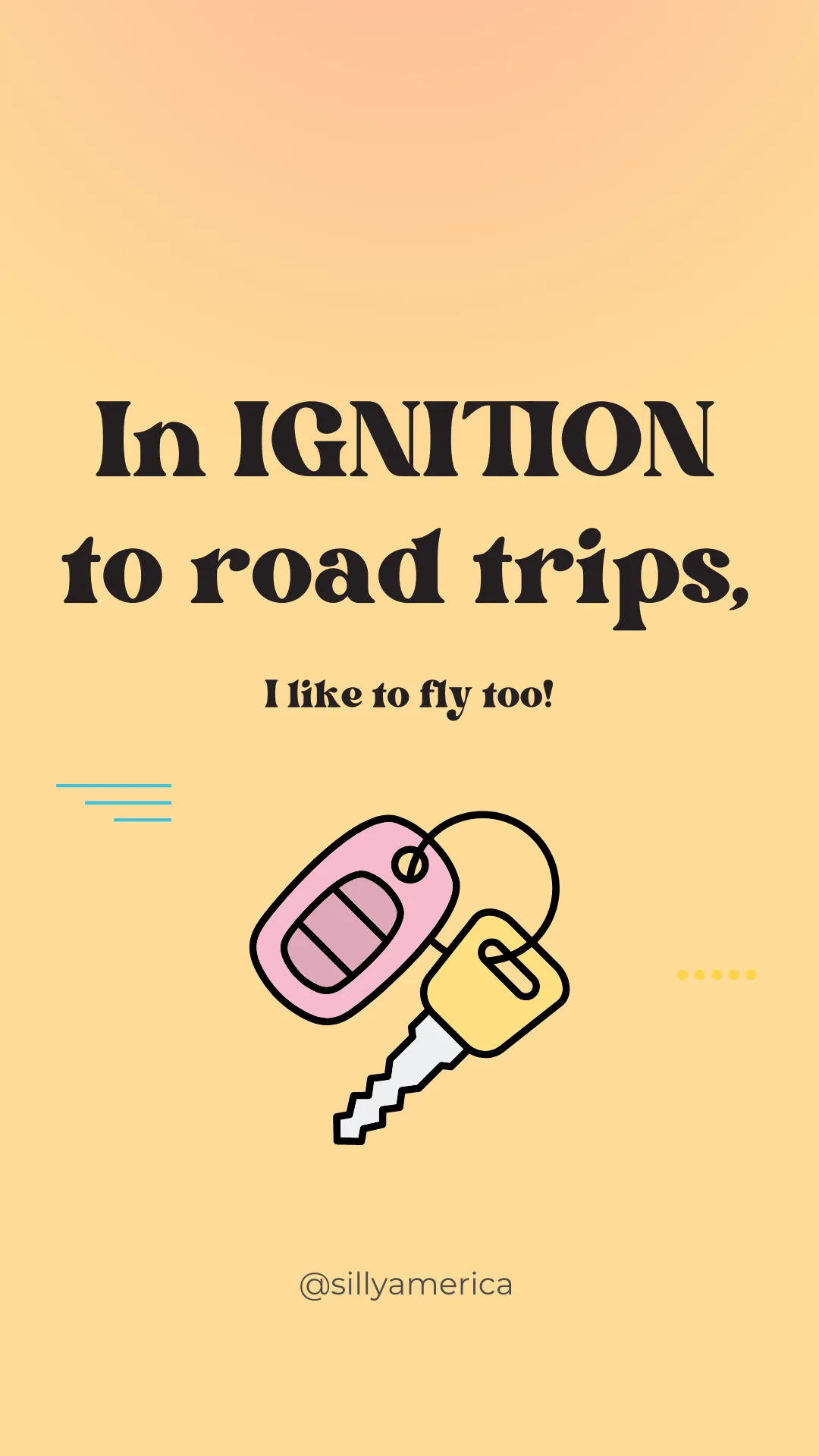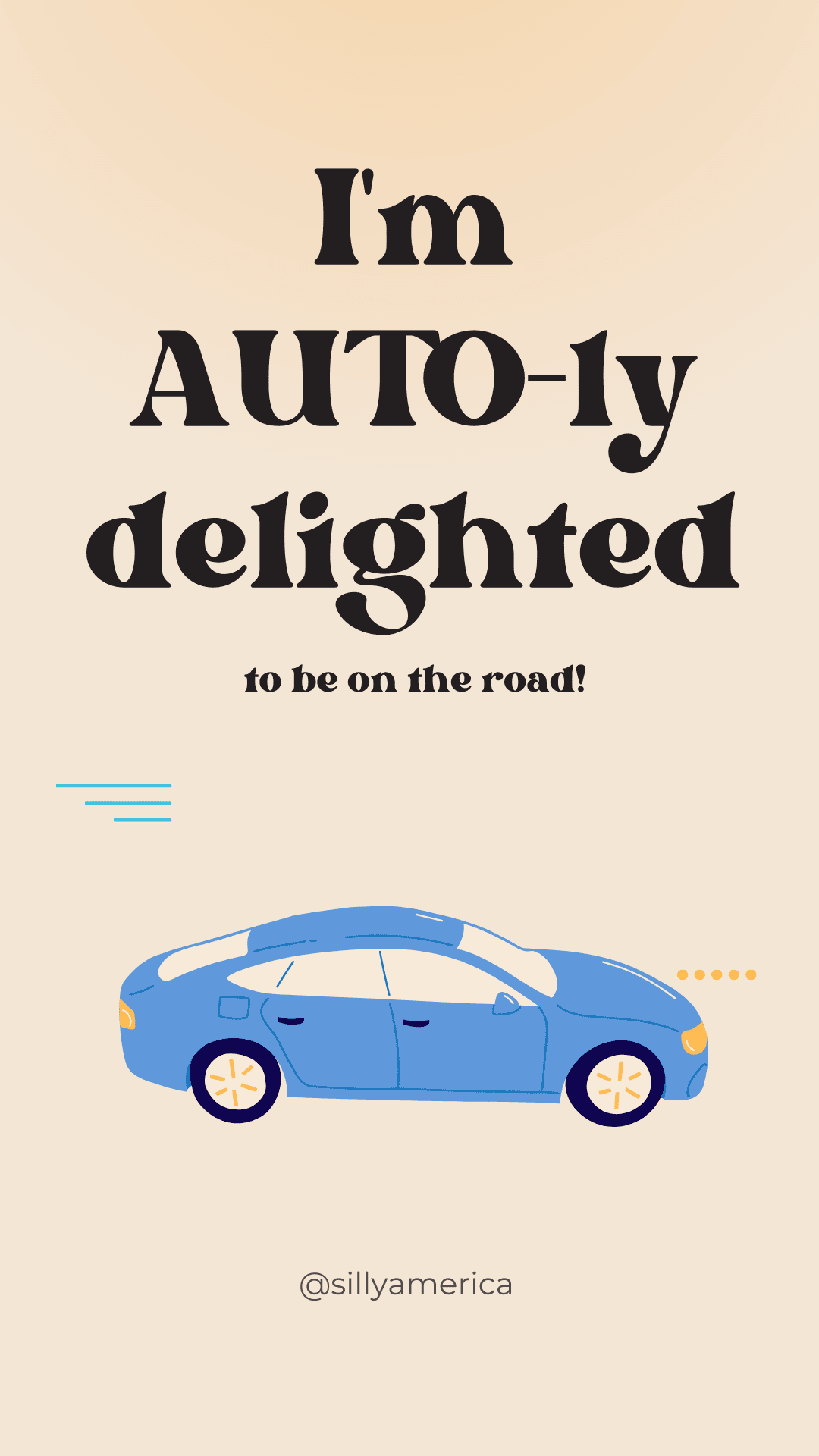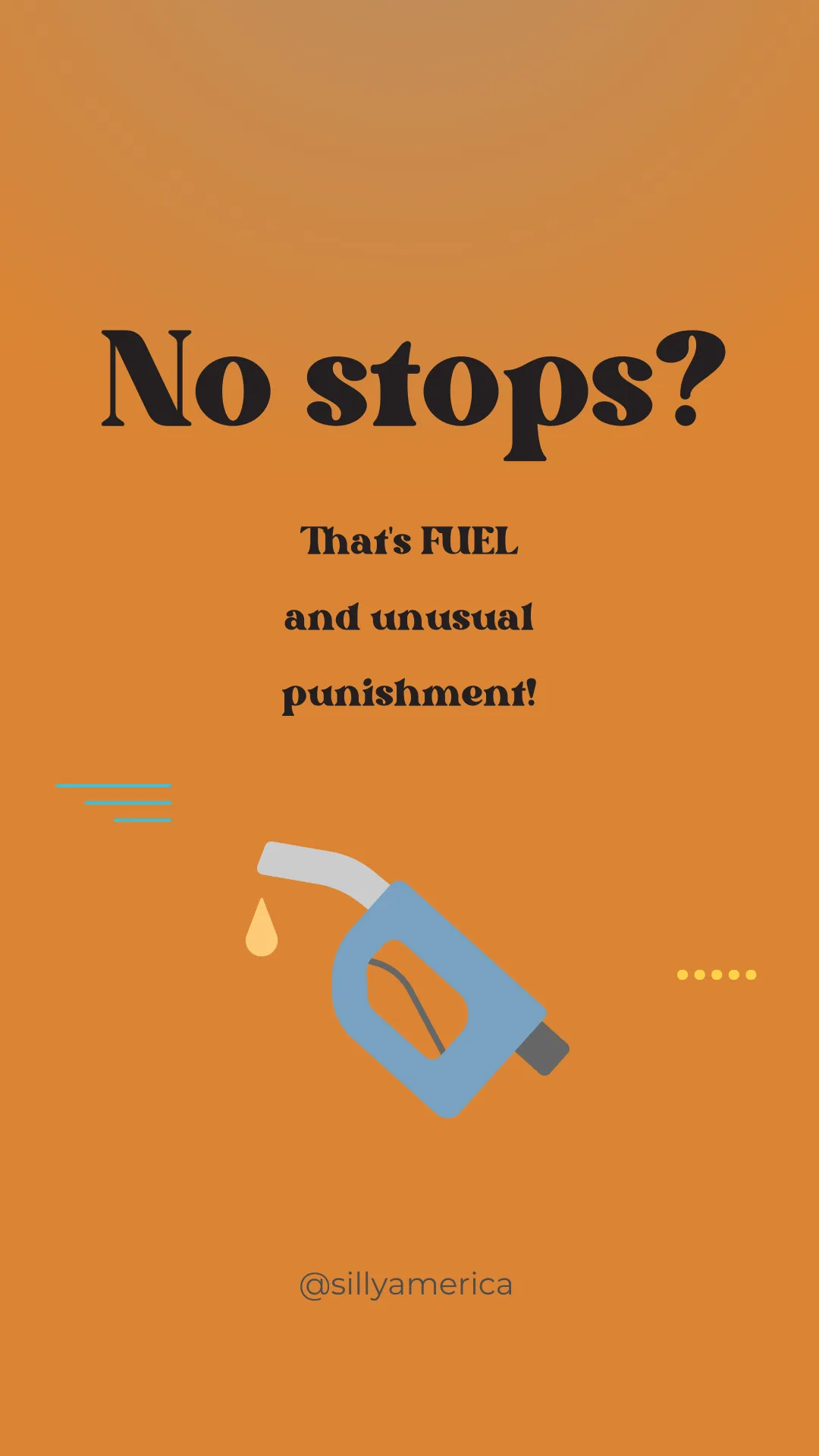 Funny Road Trip Captions for Instagram
Make em laugh. Make em laugh. Start your photo update with a roar. Use one of these plays on words, witty phrases, or road trip jokes that will add the HA to your hashtag.
I was going to update you on what I did today, but I'm out of gas.
Get in loser, we're taking a road trip.
It doesn't matter how old you are, buying snacks for a road trip should always look like an unsupervised 9-year-old was given $100.
Asphalt keeps me grounded.
Money can't buy happiness. But it can pay for your road trip. And that's kind of the same thing.
I have a thirst for adventure. And for the extra-large soda in my cupholder.
If gas was free, you would never see me again.
All I want for Christmas is a road trip.
I'm just a travel addict on the road to recovery.
According to my GPS, we've only gone two inches.
There is nothing I like more than sleeping through a road trip. But they're always saying you should keep your eyes on the road.
My heart says, "take a road trip."" My bank account says, "Where? To your job?"
I refuse to take my dog on a road trip. He is such a bark seat driver.
Travel Word and Definitions
Sometimes a single word can speak for itself. Here are some single words that define the road trip experience. If you're a hodophile on a dérive with a serious case of wanderlust and fernweh, these are for you and your resfeber heart.
Hodophile: a lover of roads.
Dérive: an unplanned journey guided by the landscape.
Fernweh: homesick for a place I've never been.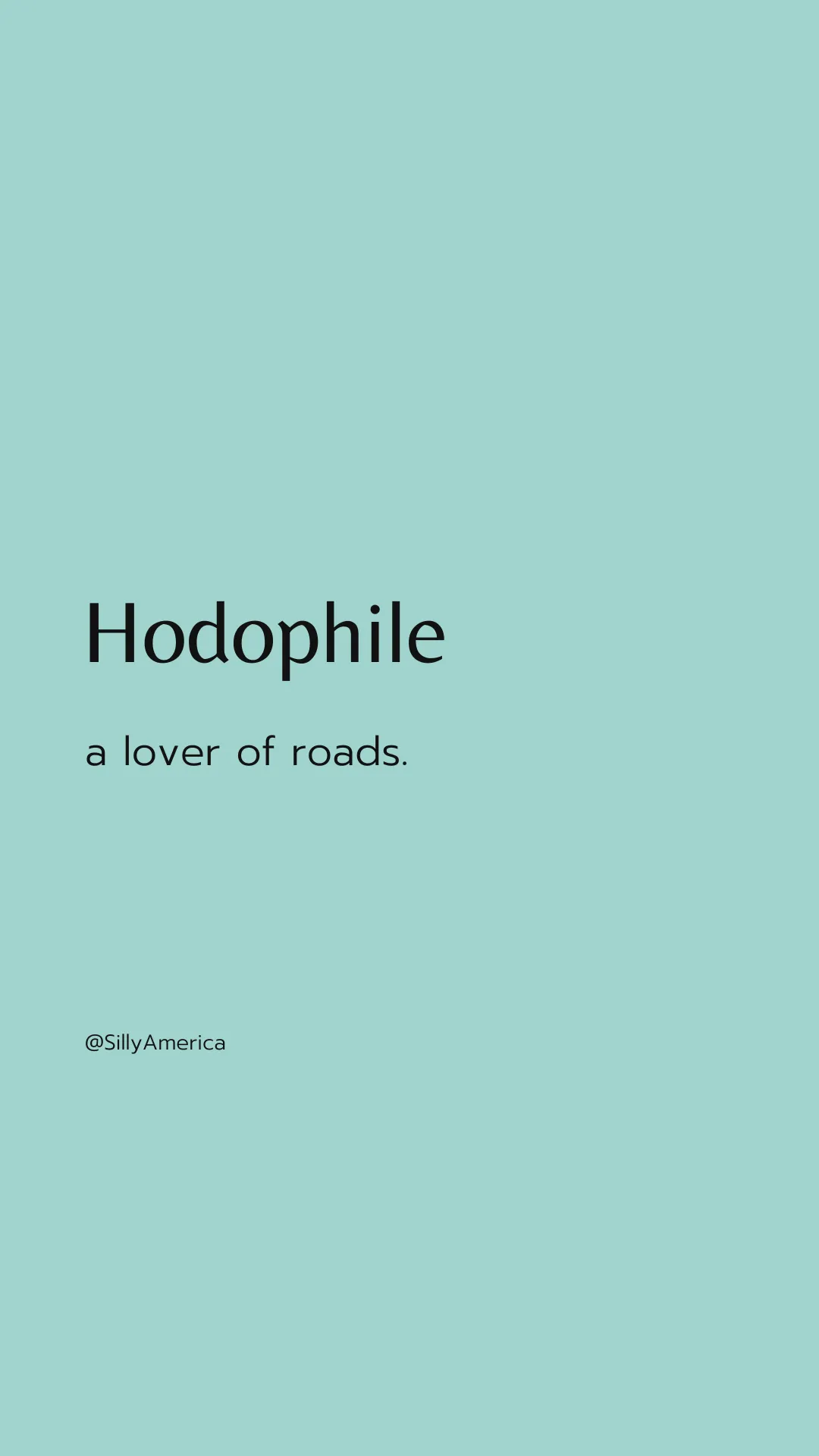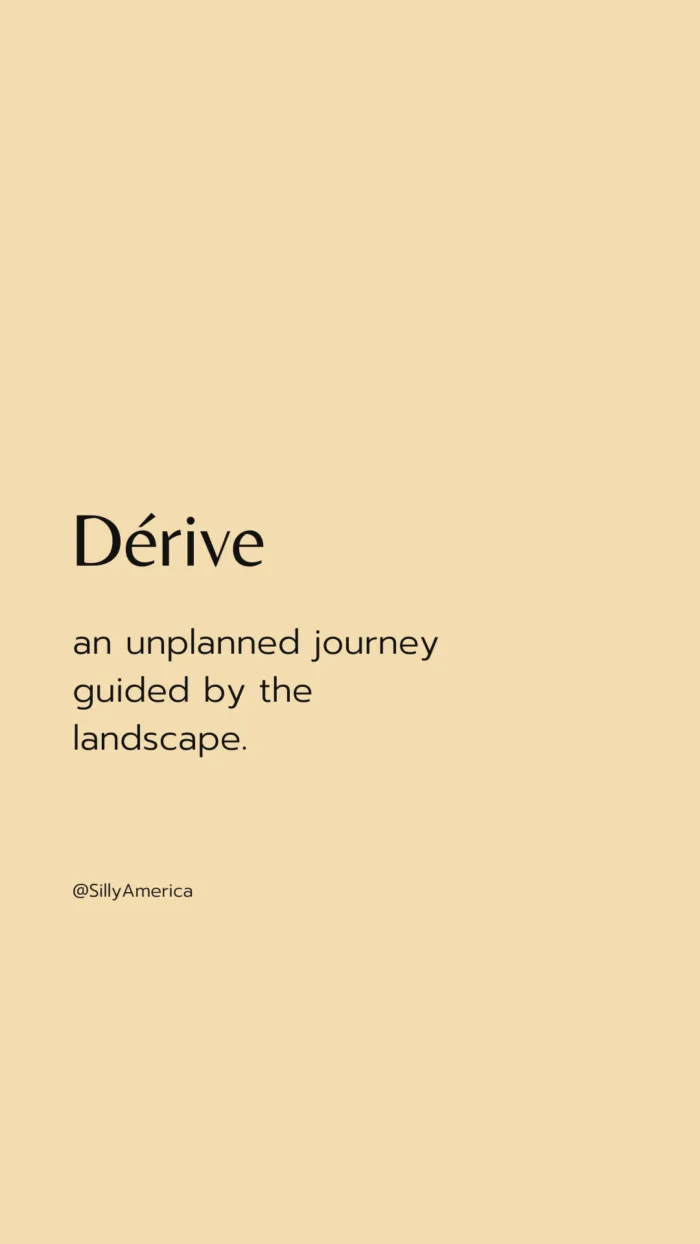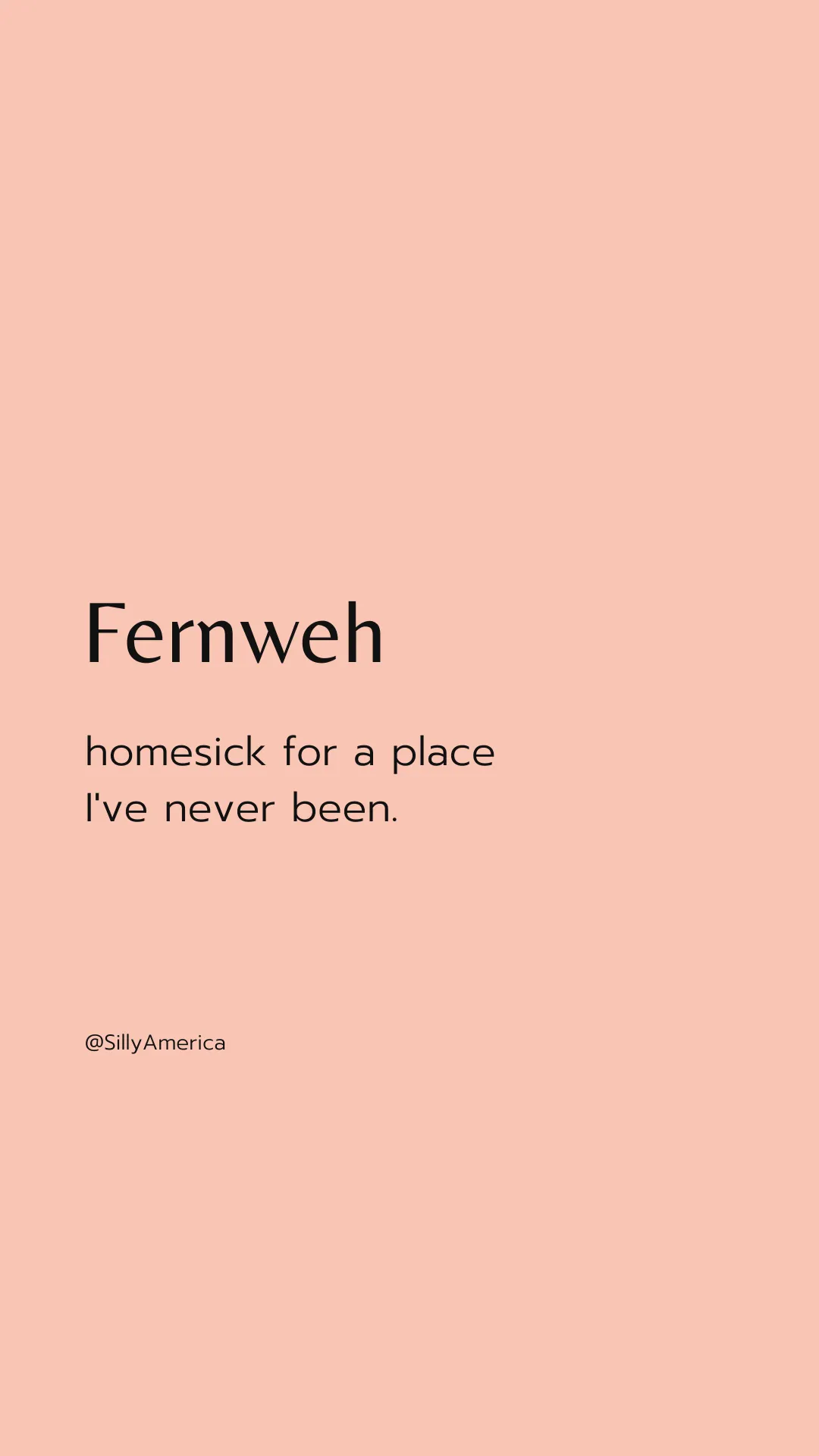 Wanderlust: a strong, innate desire to travel the world.
Resfeber: the restless rate of a traveler's heart before a journey begins.
Peregrinate: to travel or wander from place to place.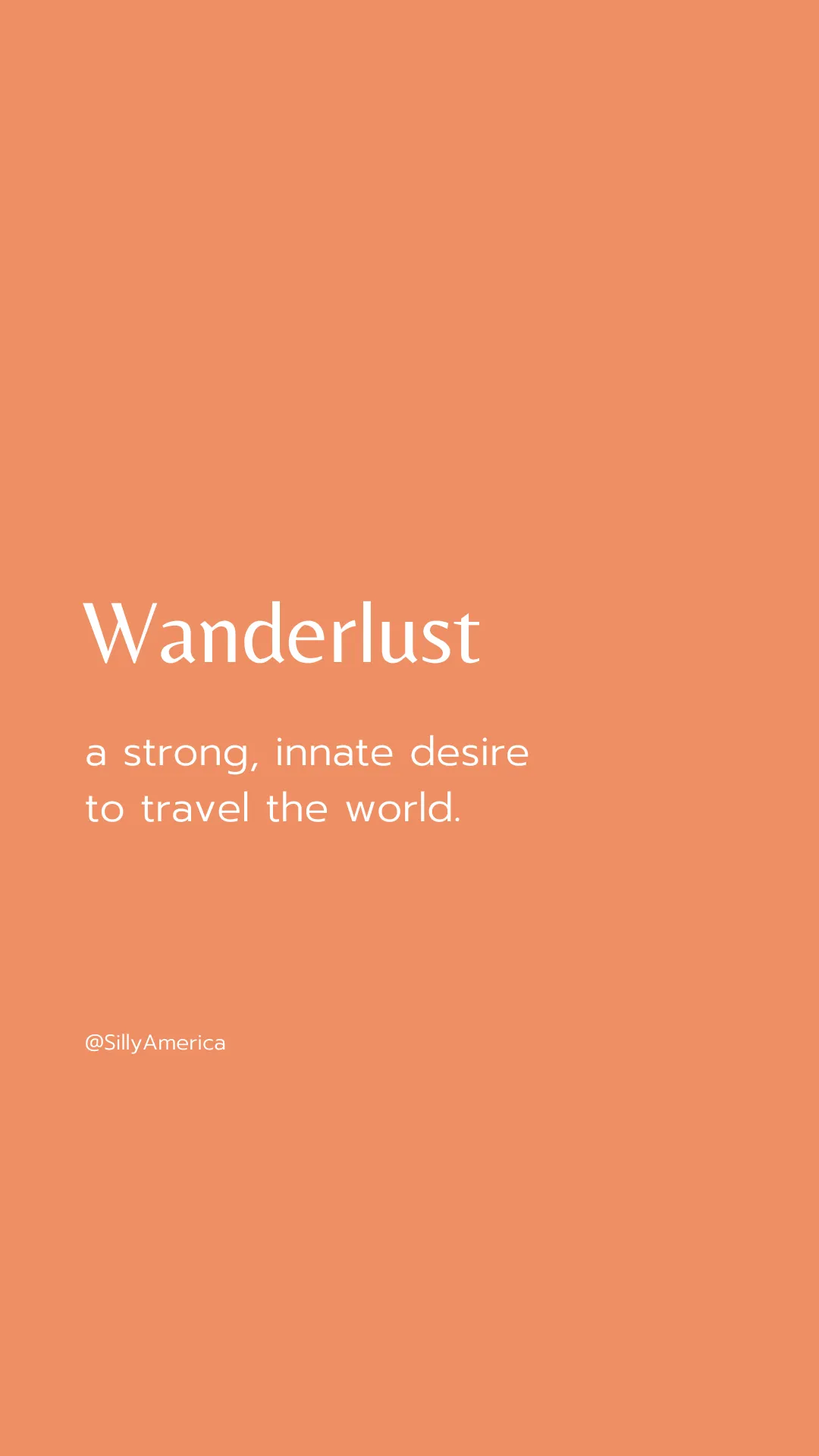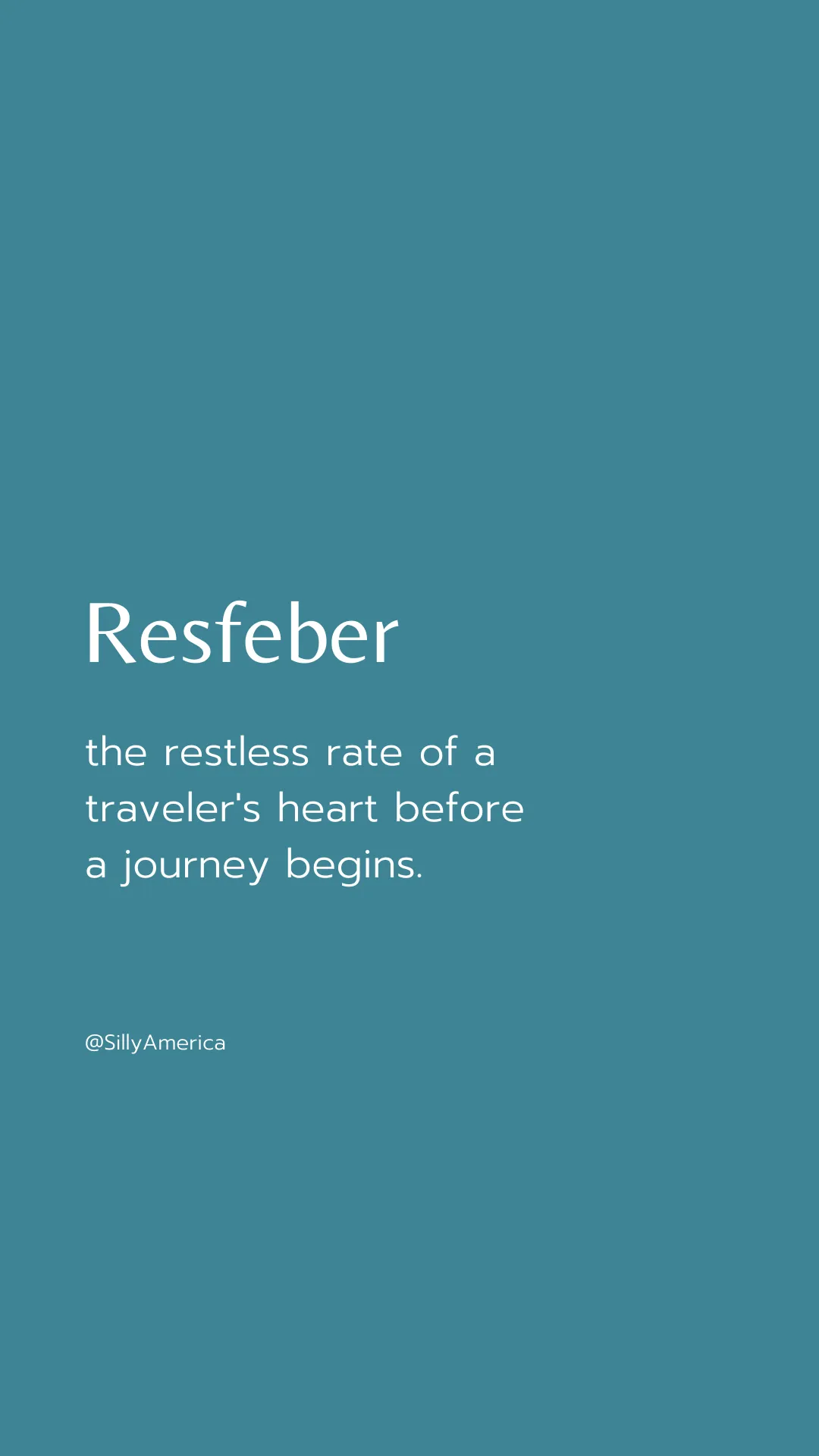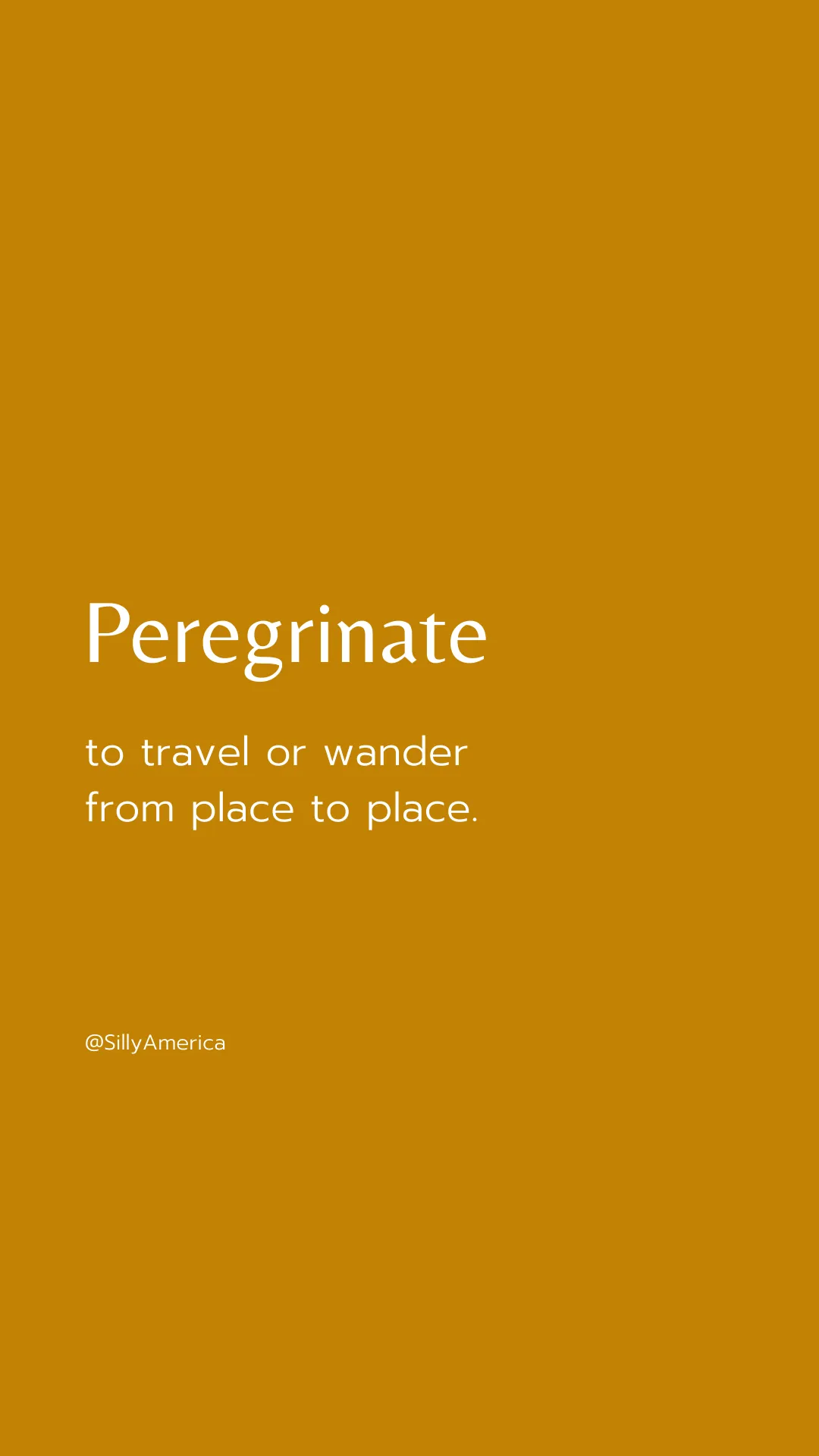 Road Trip Quotes for Instagram
You don't always have to reinvent the (steering) wheel when it comes to writing social media captions. Sometimes, those who said it before you said it best. In those cases, start your Instagram caption with a road trip quote! Not all of these sayings were originally quotes about road trips, but, all the same, they are meant to make you think, make you laugh, or to inspire you to hit the road and plan your next journey. From funny road trip quotes to serious ones, family road trip quotes to ones perfect for the solo traveler, there is plenty of inspiration behind every word. Can't get enough? Check out our list of the 50 Best Road Trip Quotes to Inspire Your Adventures.
"Afoot and light-hearted I take to the open road. Healthy, free, the world before me." Walt Whitman, Song of the Open Road
"Nothing behind me, everything ahead of me, as is ever so on the road." Jack Kerouac, On the Road
"Two roads diverged in a wood, and I—I took the one less traveled by, And that has made all the difference." Robert Frost, The Road Not Taken
"Because the greatest part of a road trip isn't arriving at your destination. It's all the wild stuff that happens along the way." Emma Chase, Tamed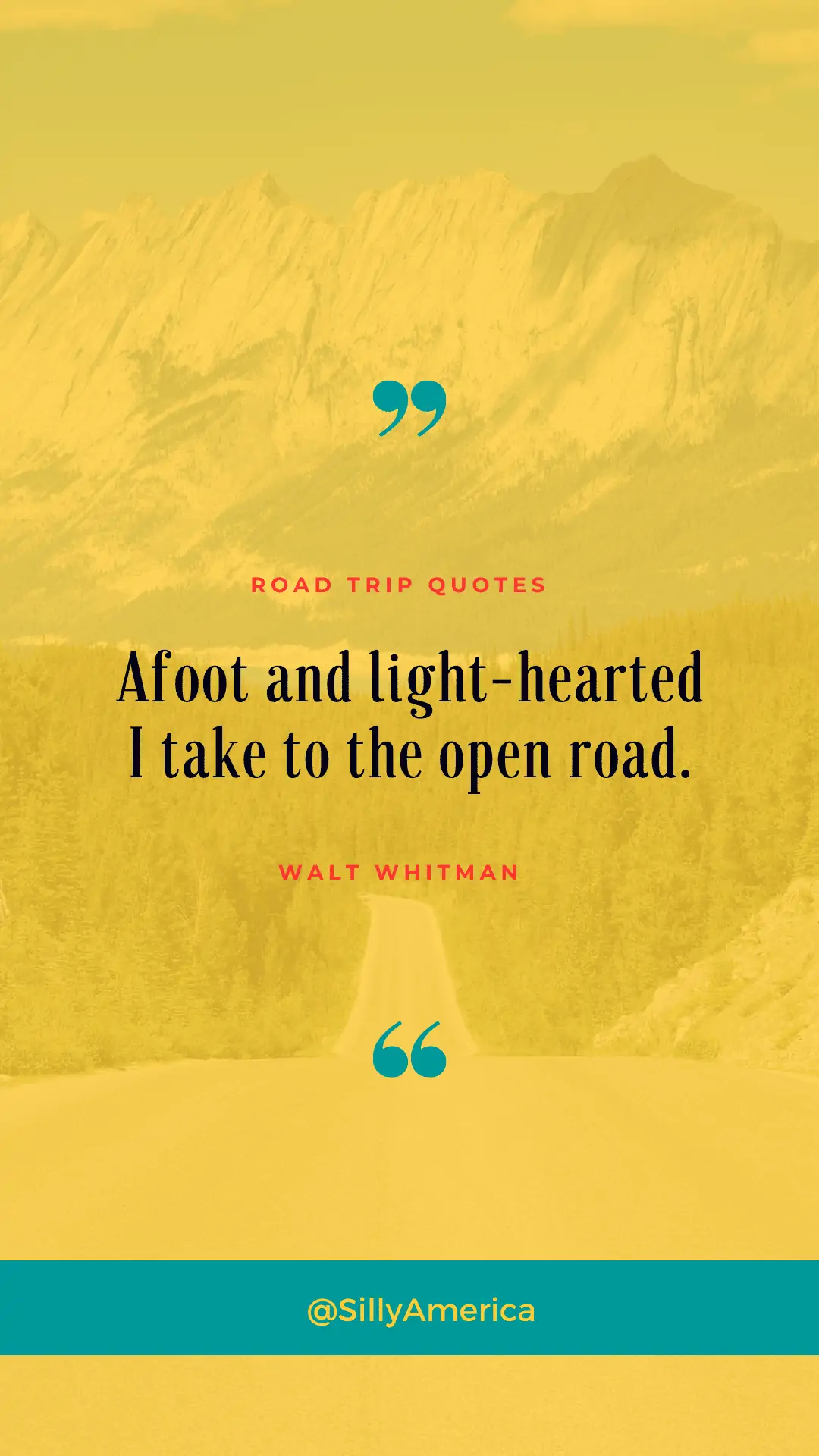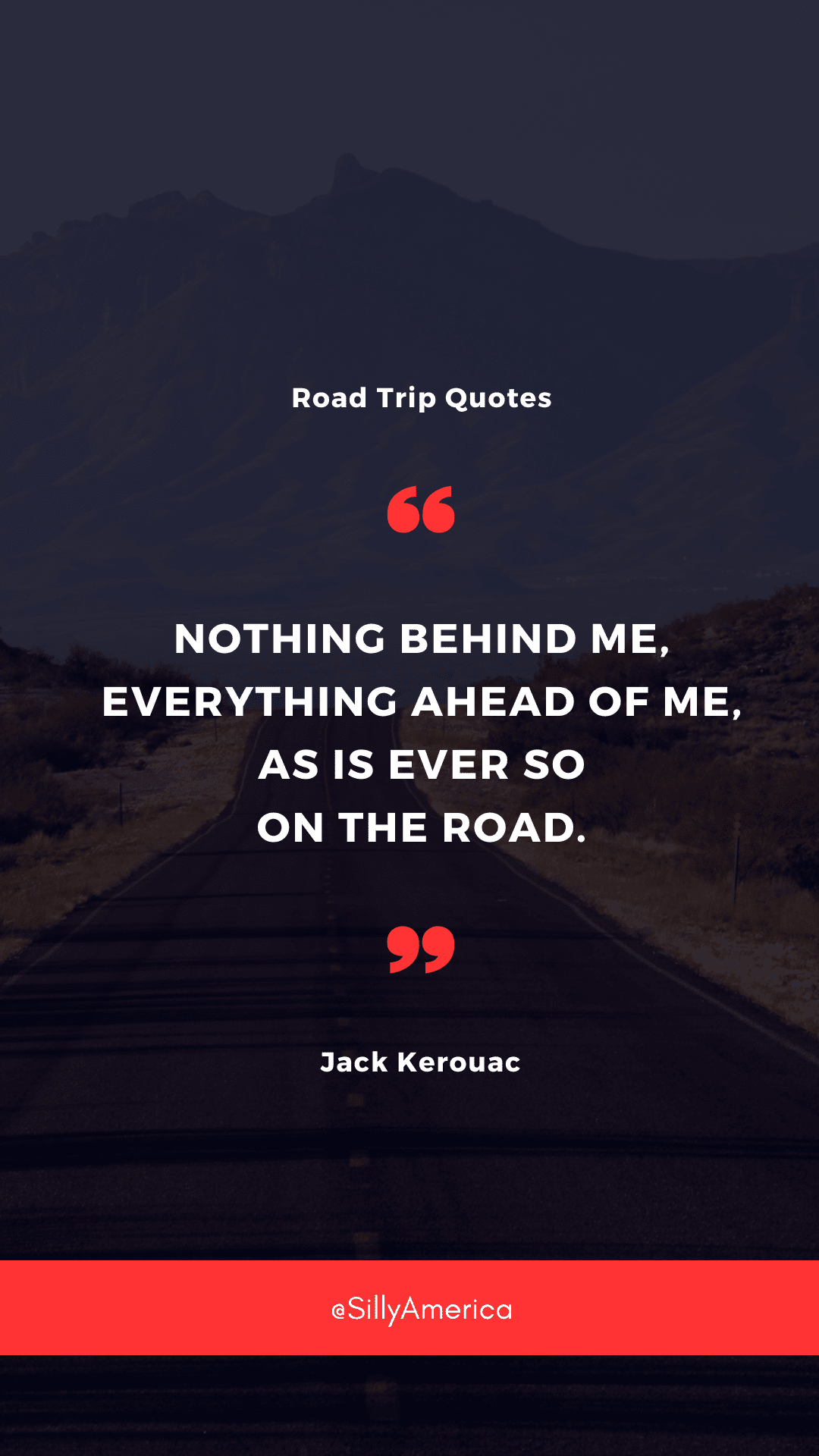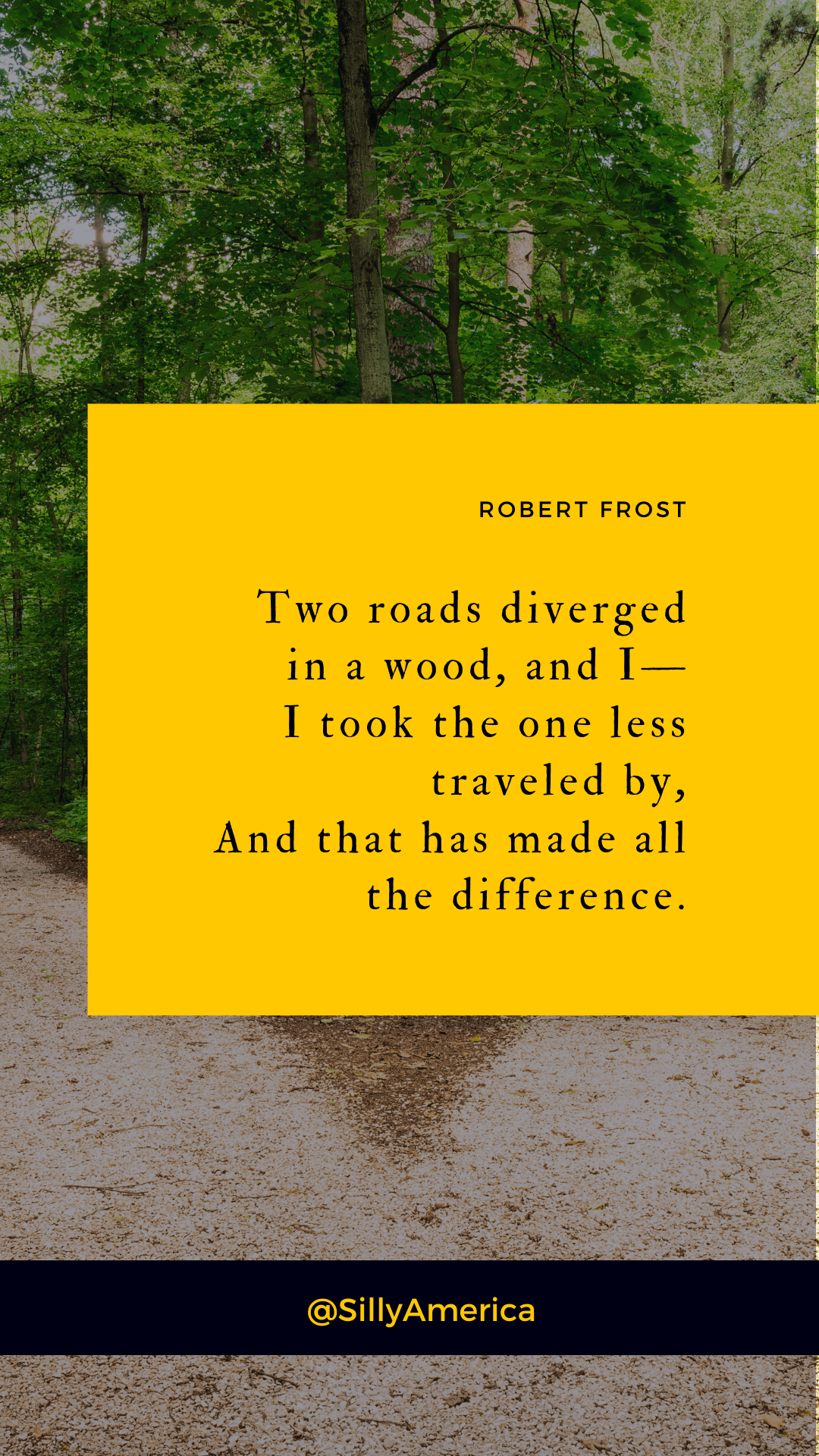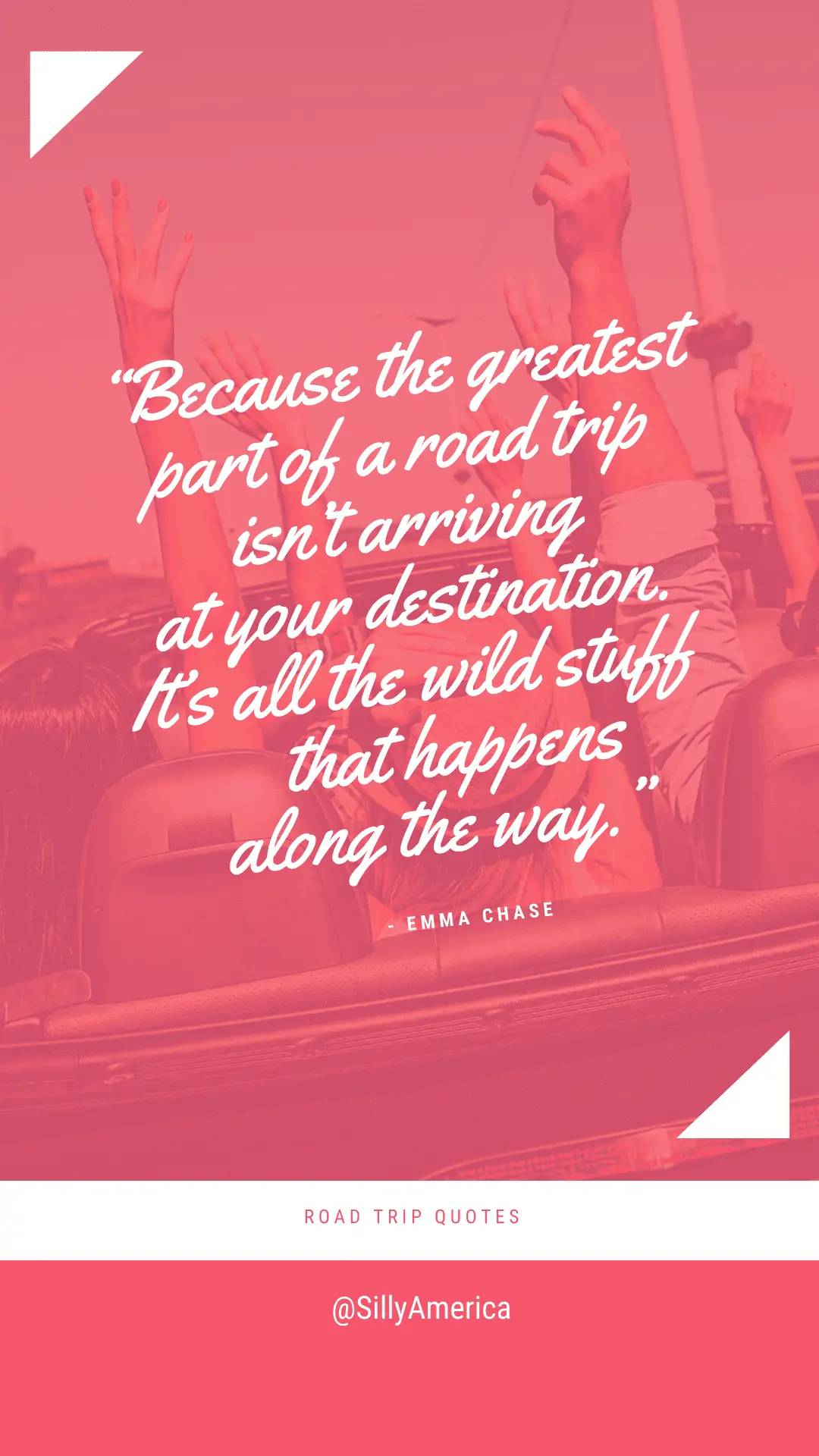 "That's why I love road trips, dude. It's like doing something without actually doing anything." John Green, An Abundance of Katherines
"Roads are a record of those who have gone before." Rebecca Solnit, Wanderlust: A History of Walking
"When all's said and done, all roads lead to the same end. So it's not so much which road you take, as how you take it." Charles de Lint, Greenmantle
"Sometimes the most scenic roads in life are the detours you didn't mean to take." Angela N. Blount, Once Upon an Ever After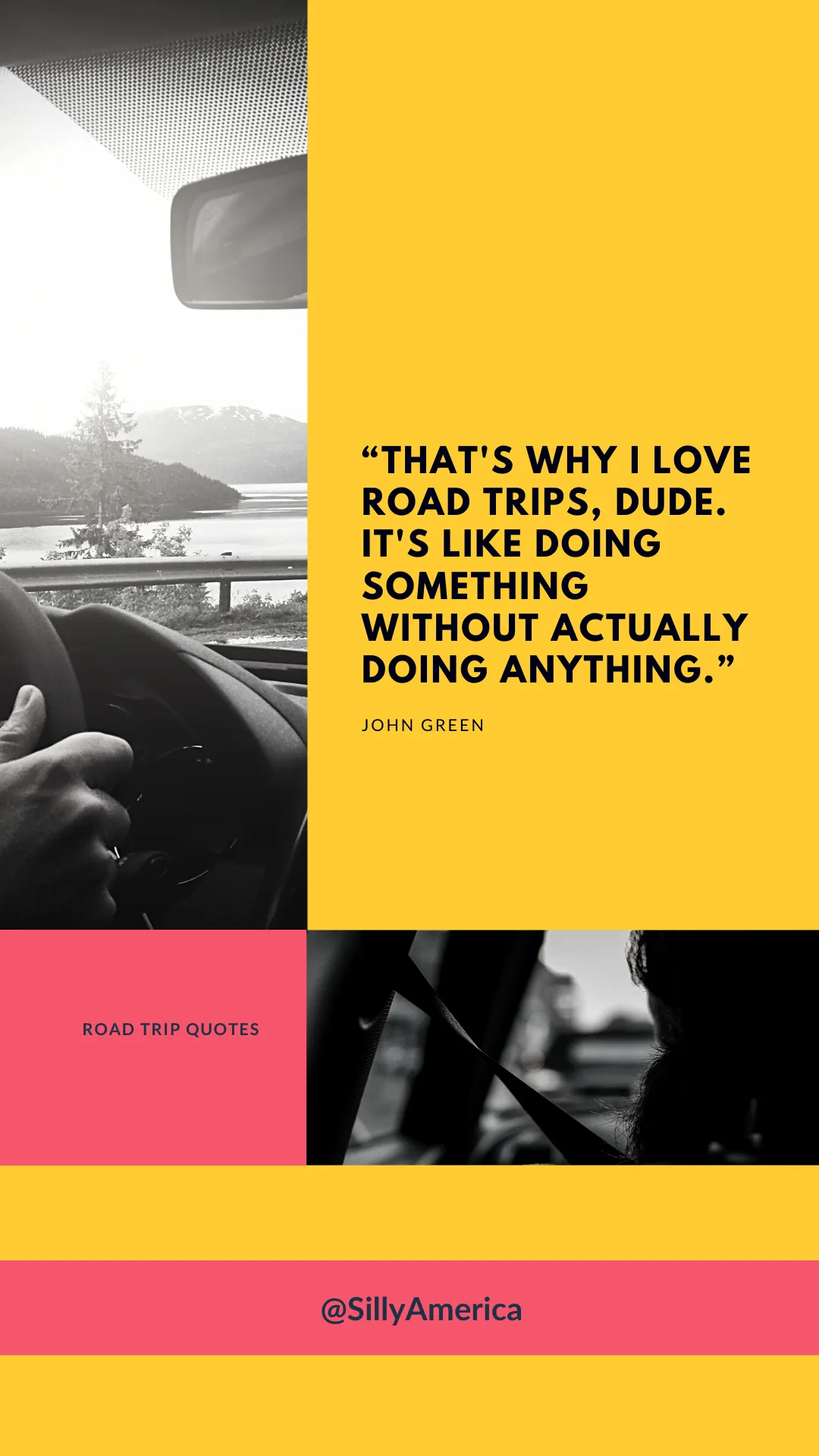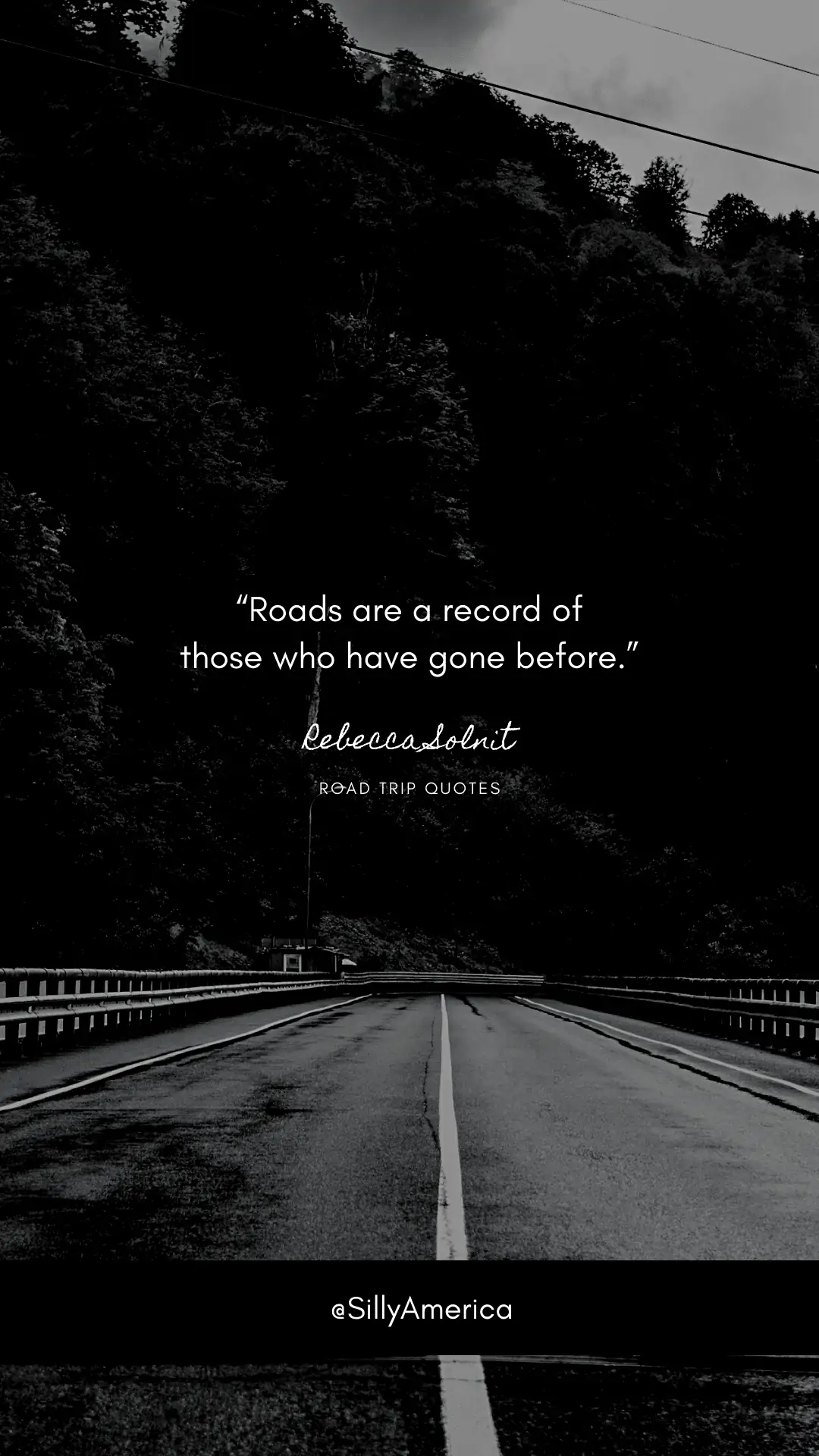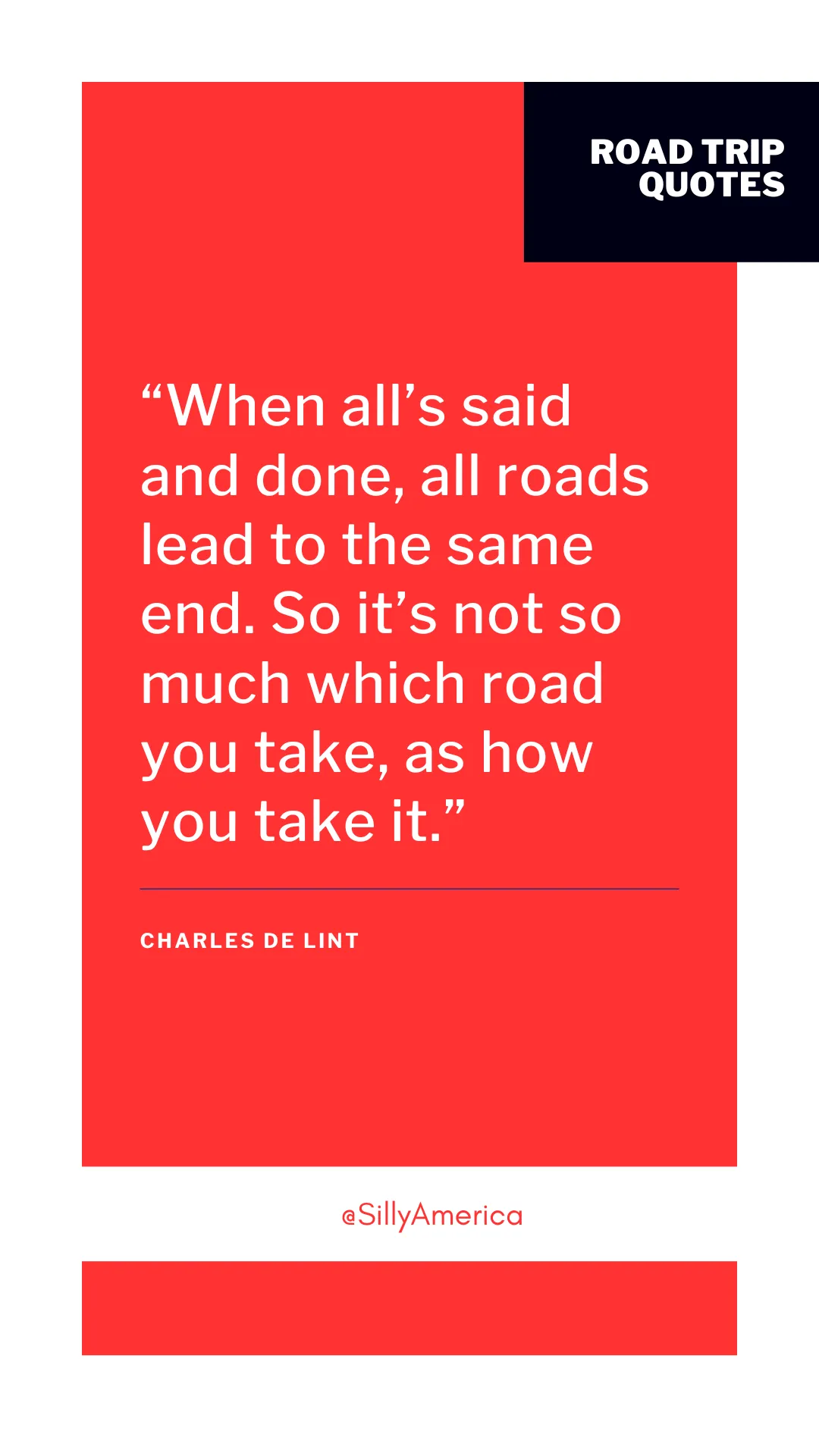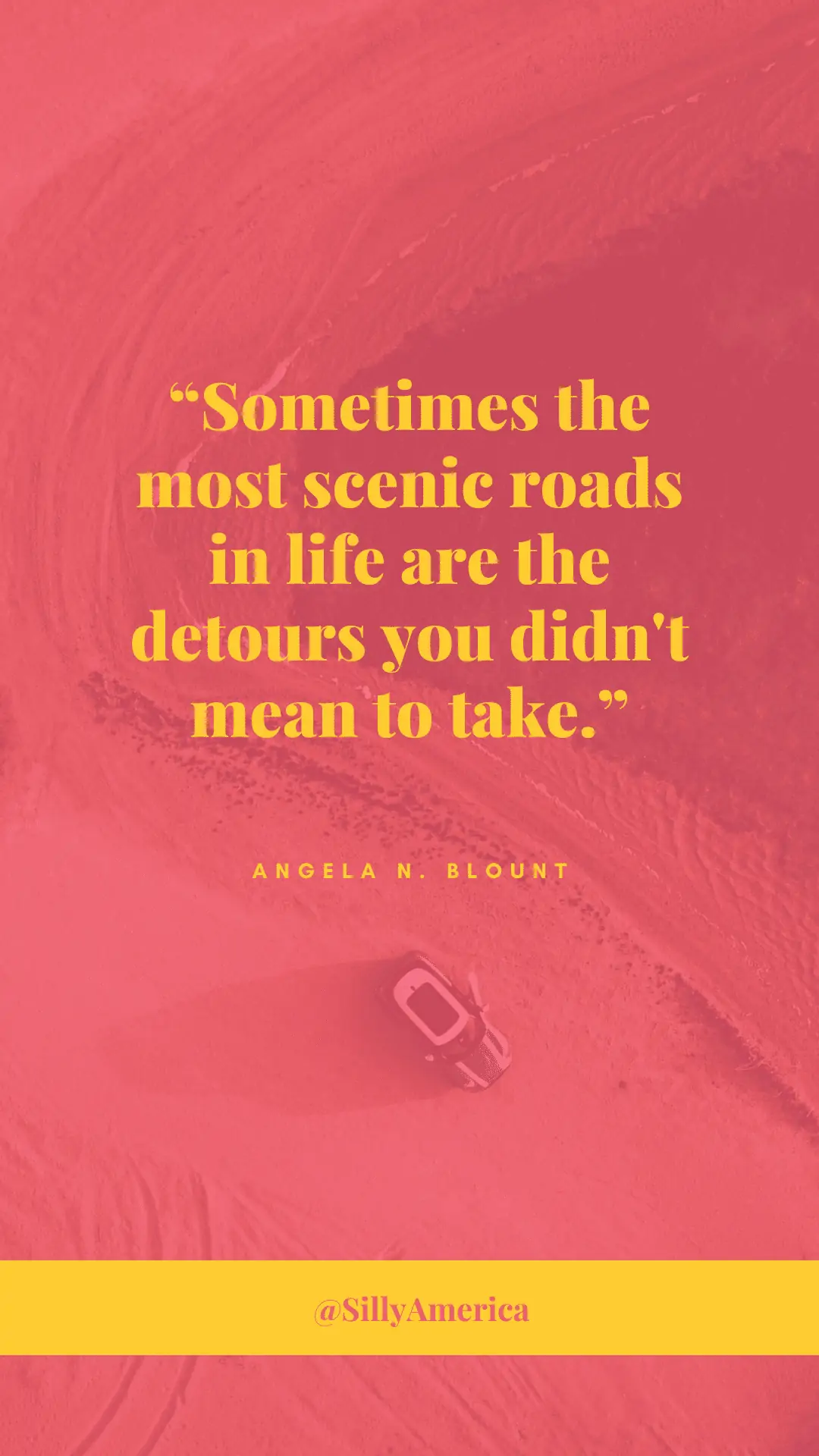 "Life is beautiful if you are on the road to somewhere" Orhan Pamuk, The New Life
"I travel not to go anywhere, but to go. I travel for travel's sake. The great affair is to move." Robert Louis Stevenson, Travels with a Donkey in the Cévennes
"Life is a long, bumpy road, but that makes for an exciting ride. It's OK to map out your future… but do it in pencil." Jon Bon Jovi
"It is not down in any map; true places never are." Herman Melville, Moby-Dick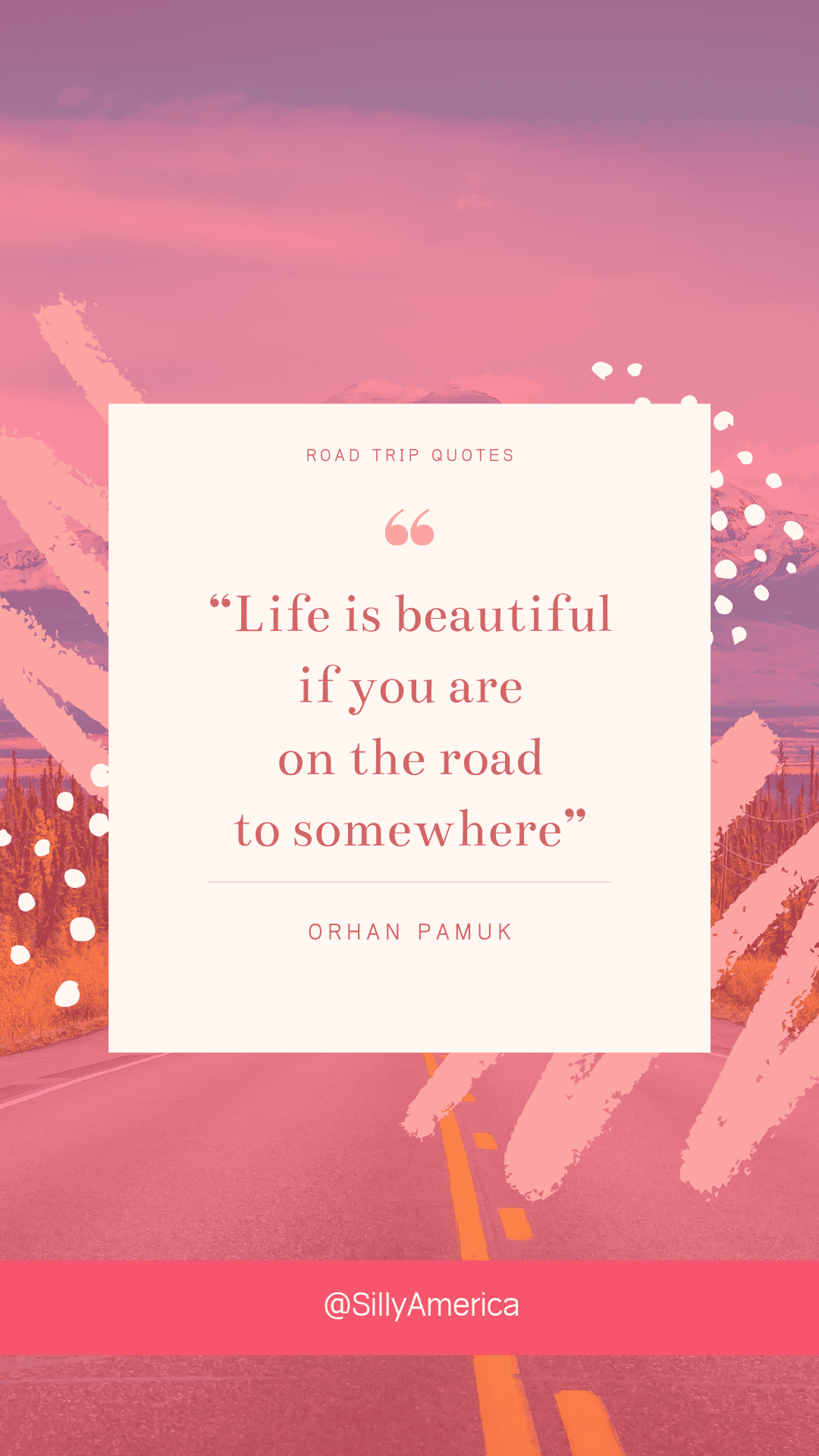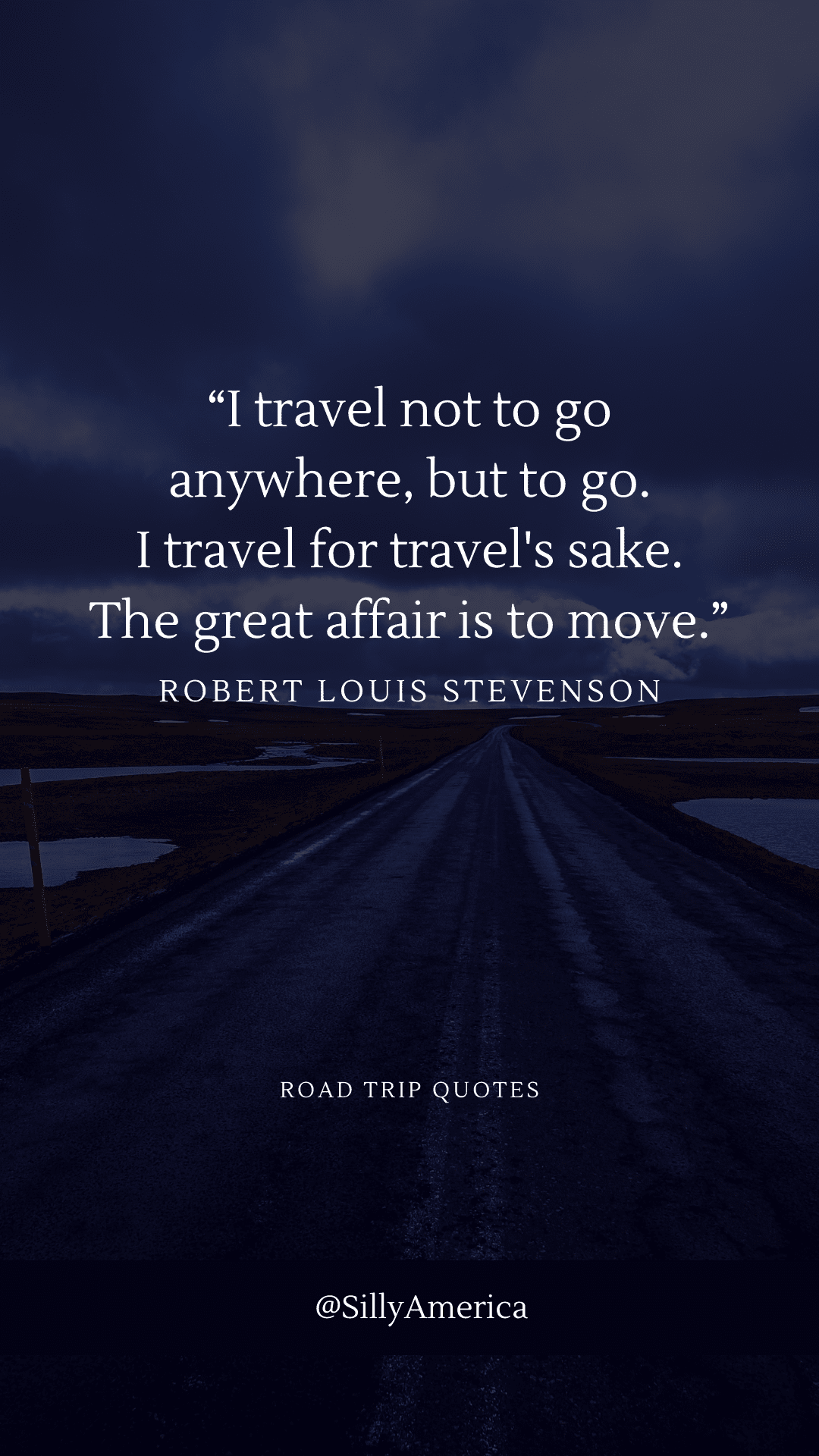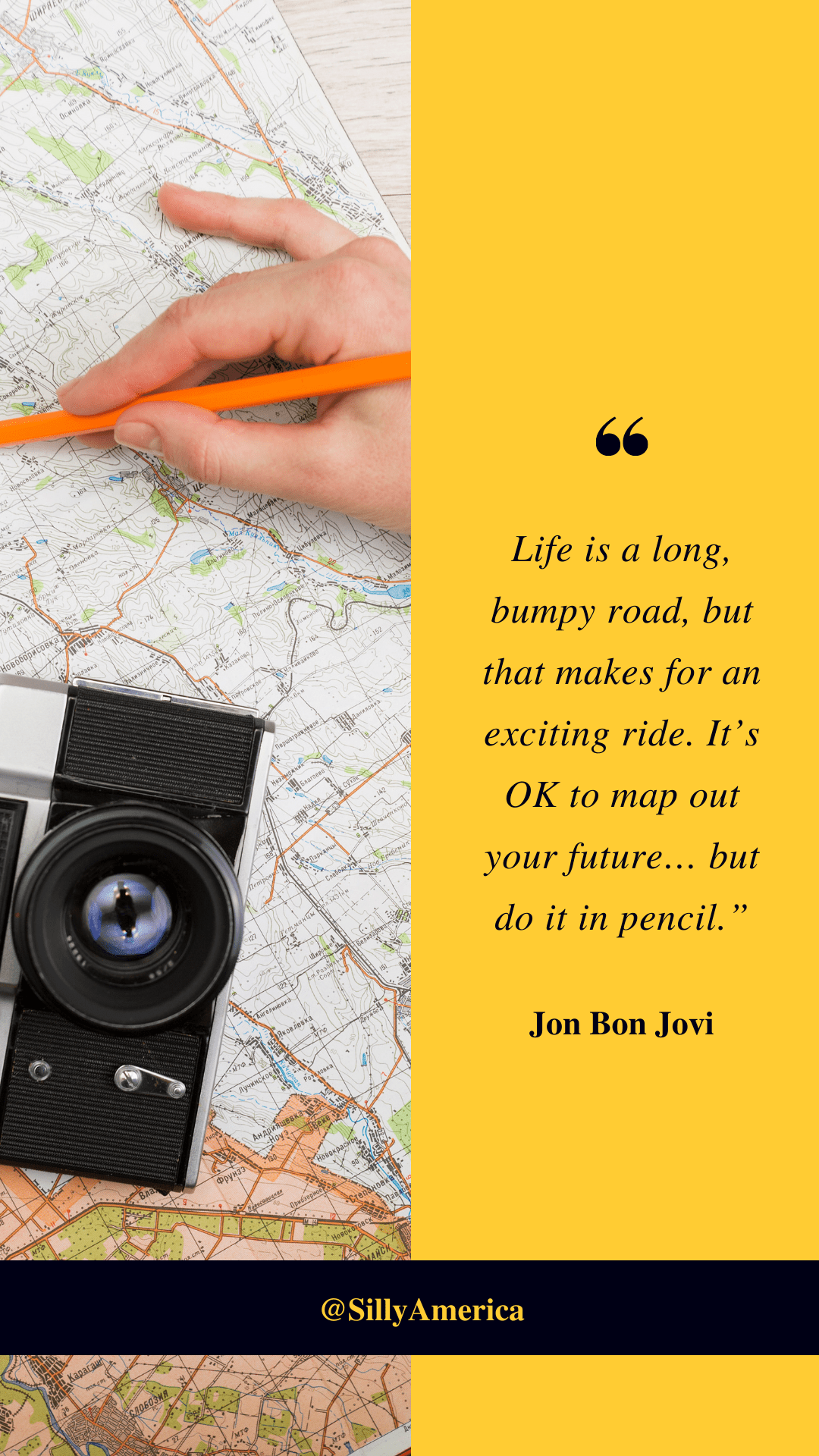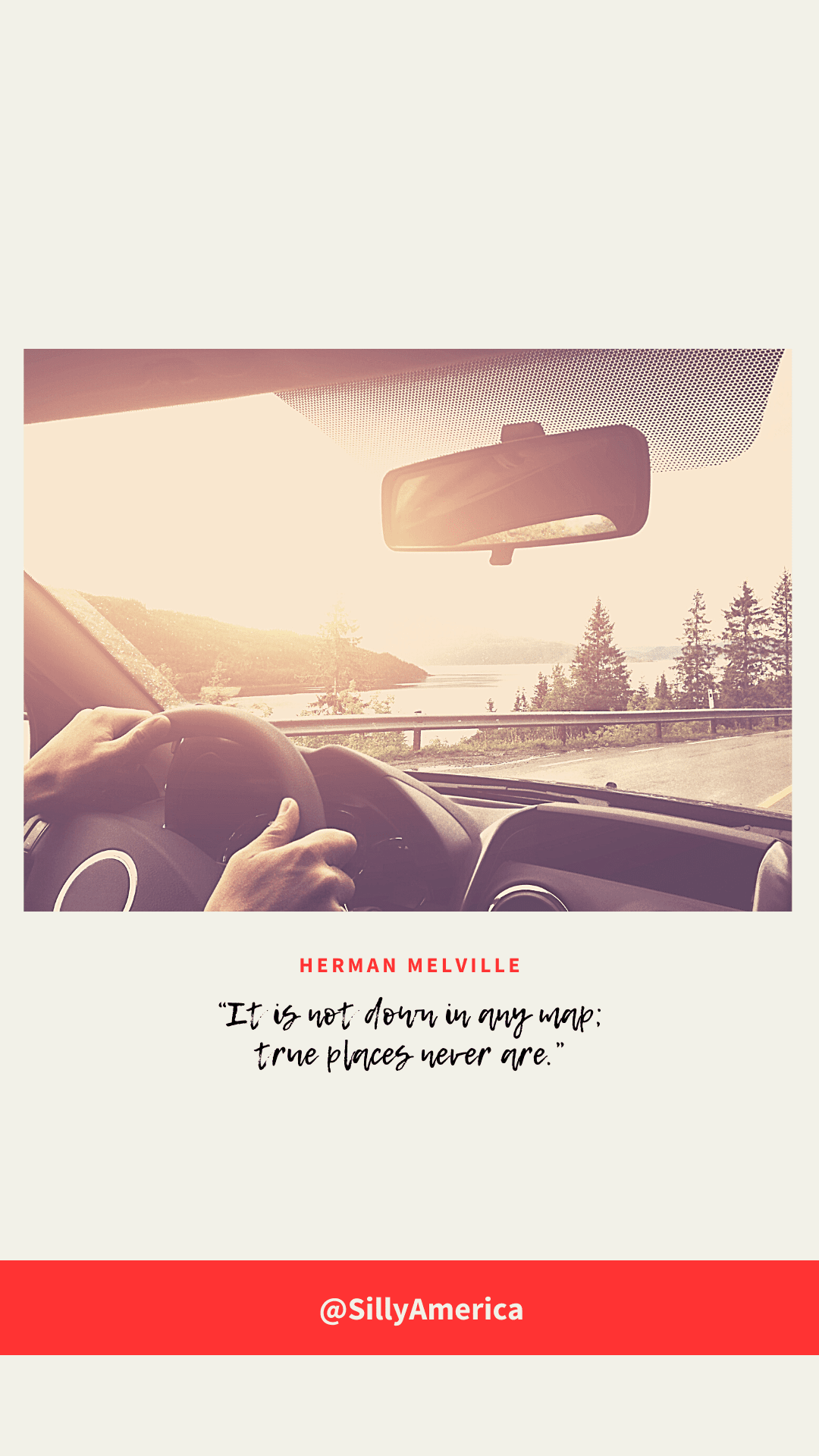 "Still, round the corner, there may wait, A new road or a secret gate." J.R.R. Tolkien, The Lord of the Rings
"One's destination is never a place but rather a new way of looking at things." Henry Miller, Big Sur and the Oranges of Hieronymus Bosch
"Peculiar travel suggestions are dancing lessons from God." Kurt Vonnegut, Cat's Cradle
"If you come to a fork in the road, take it." Yogi Berra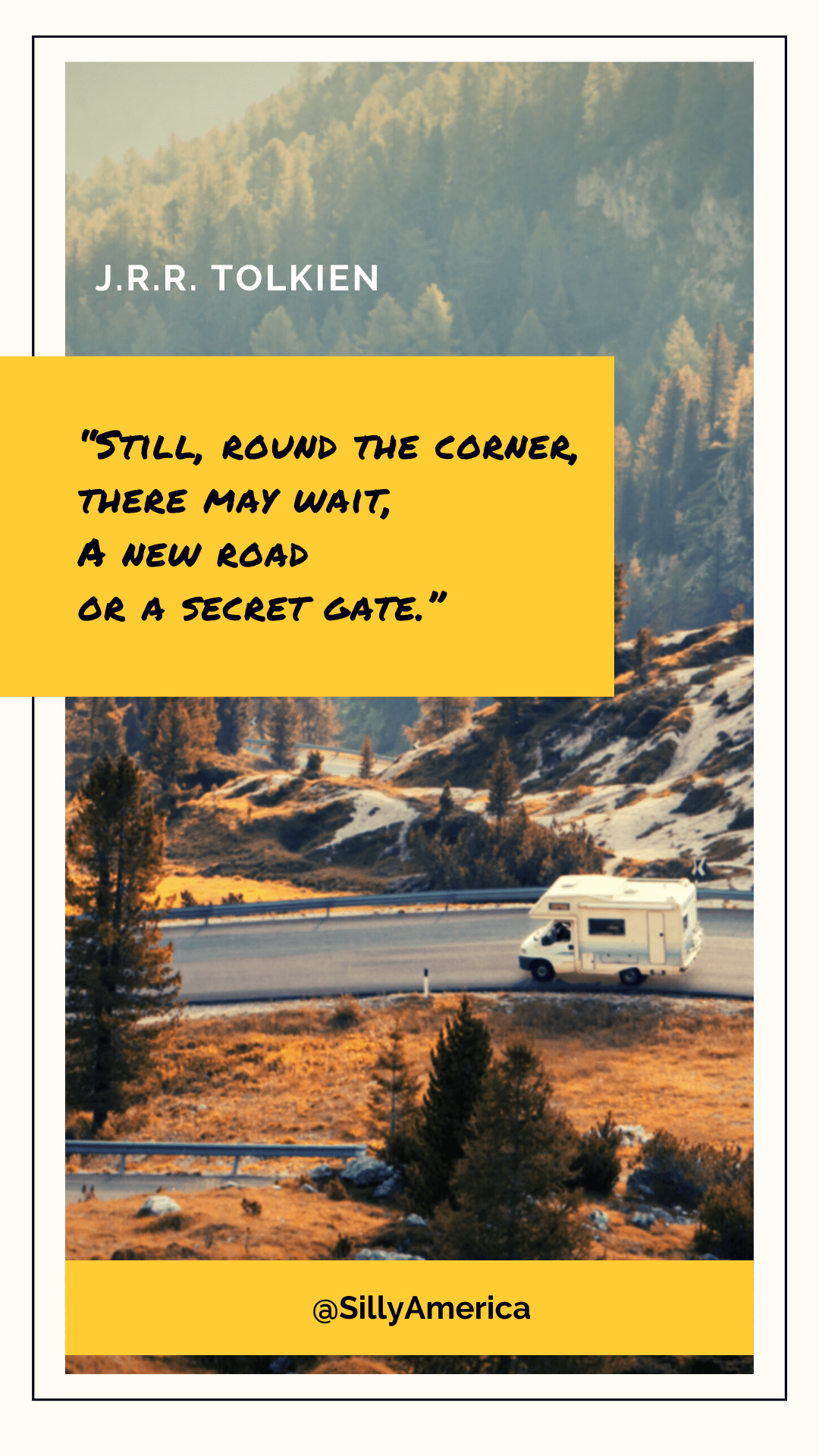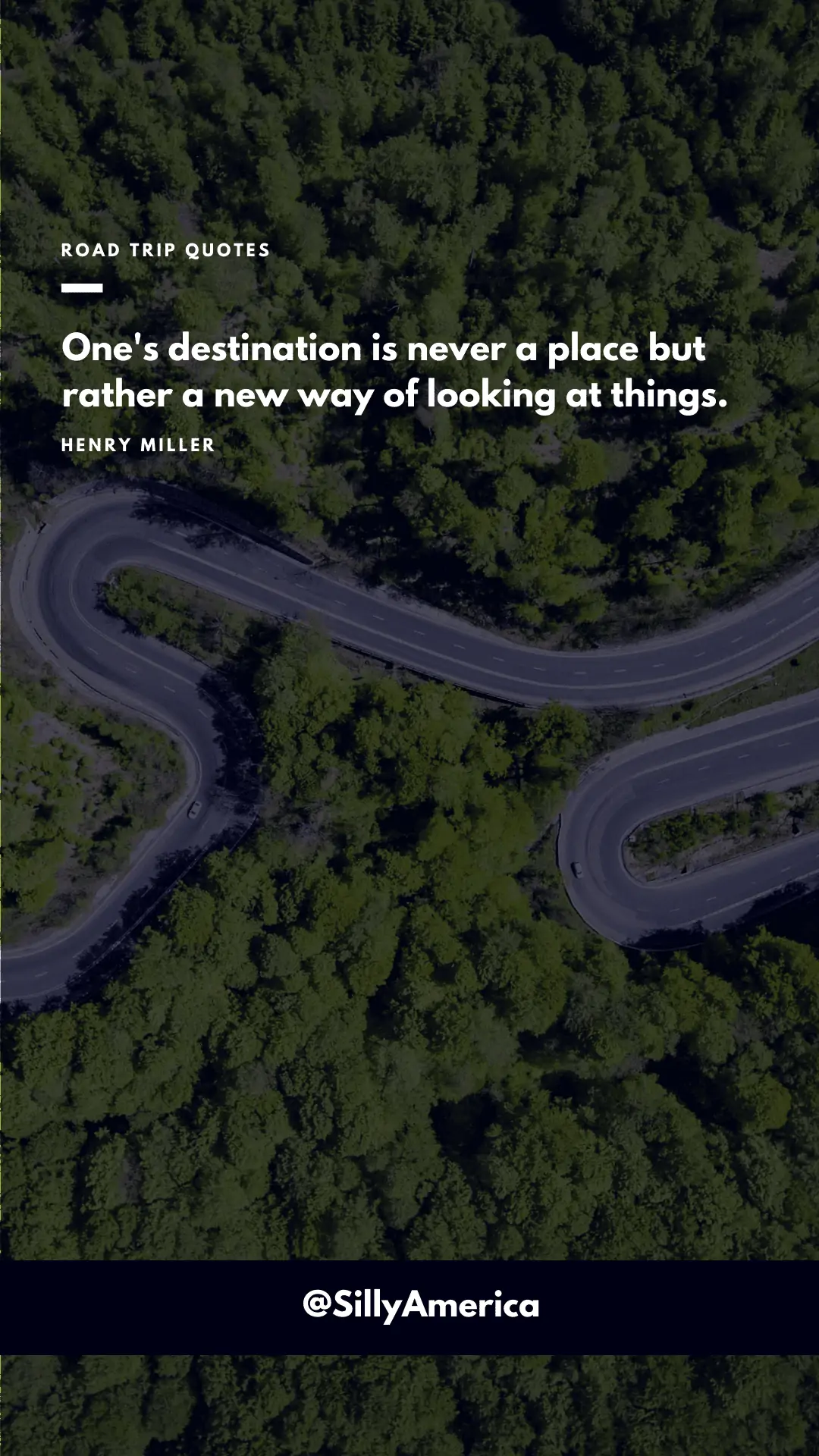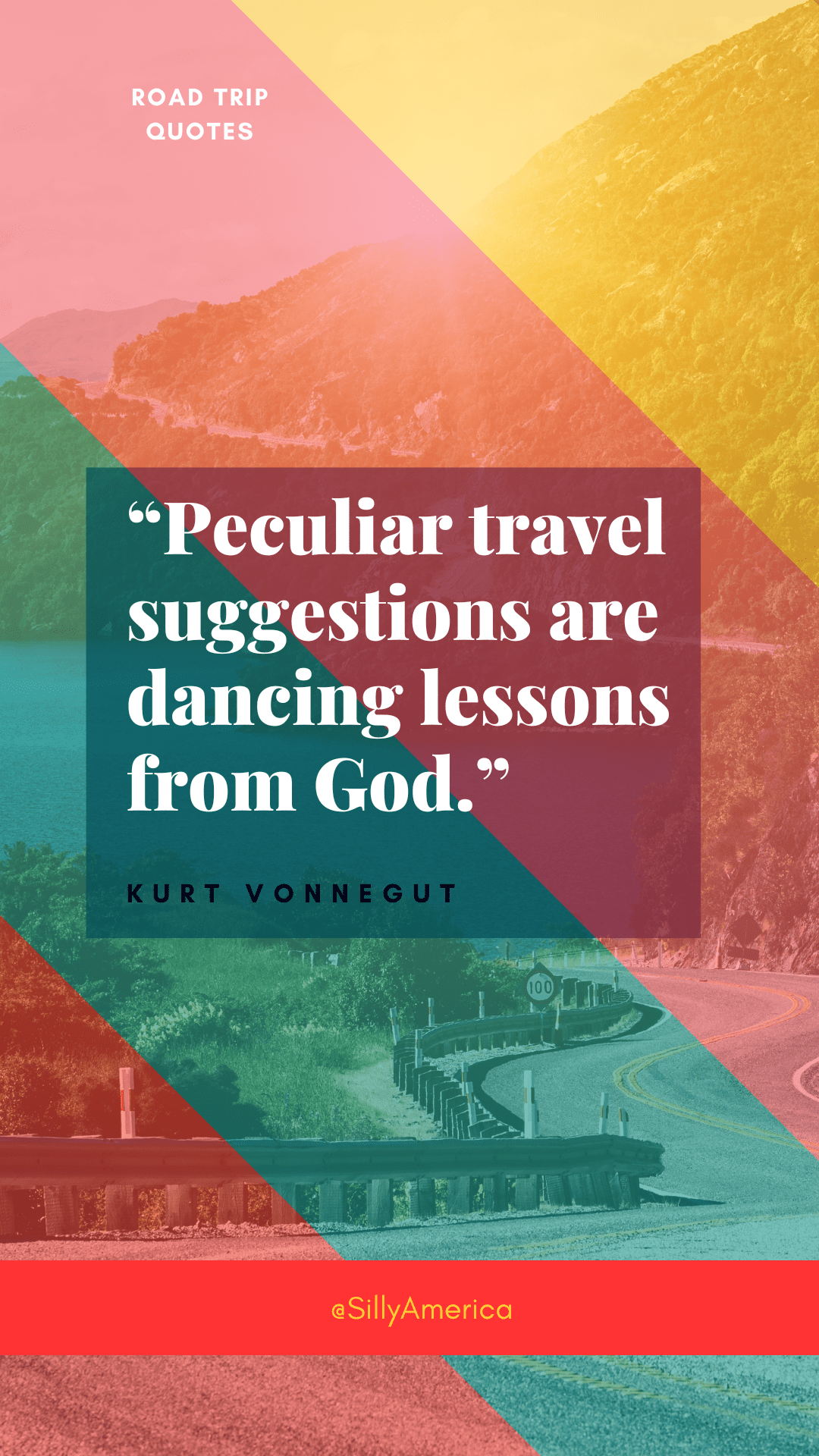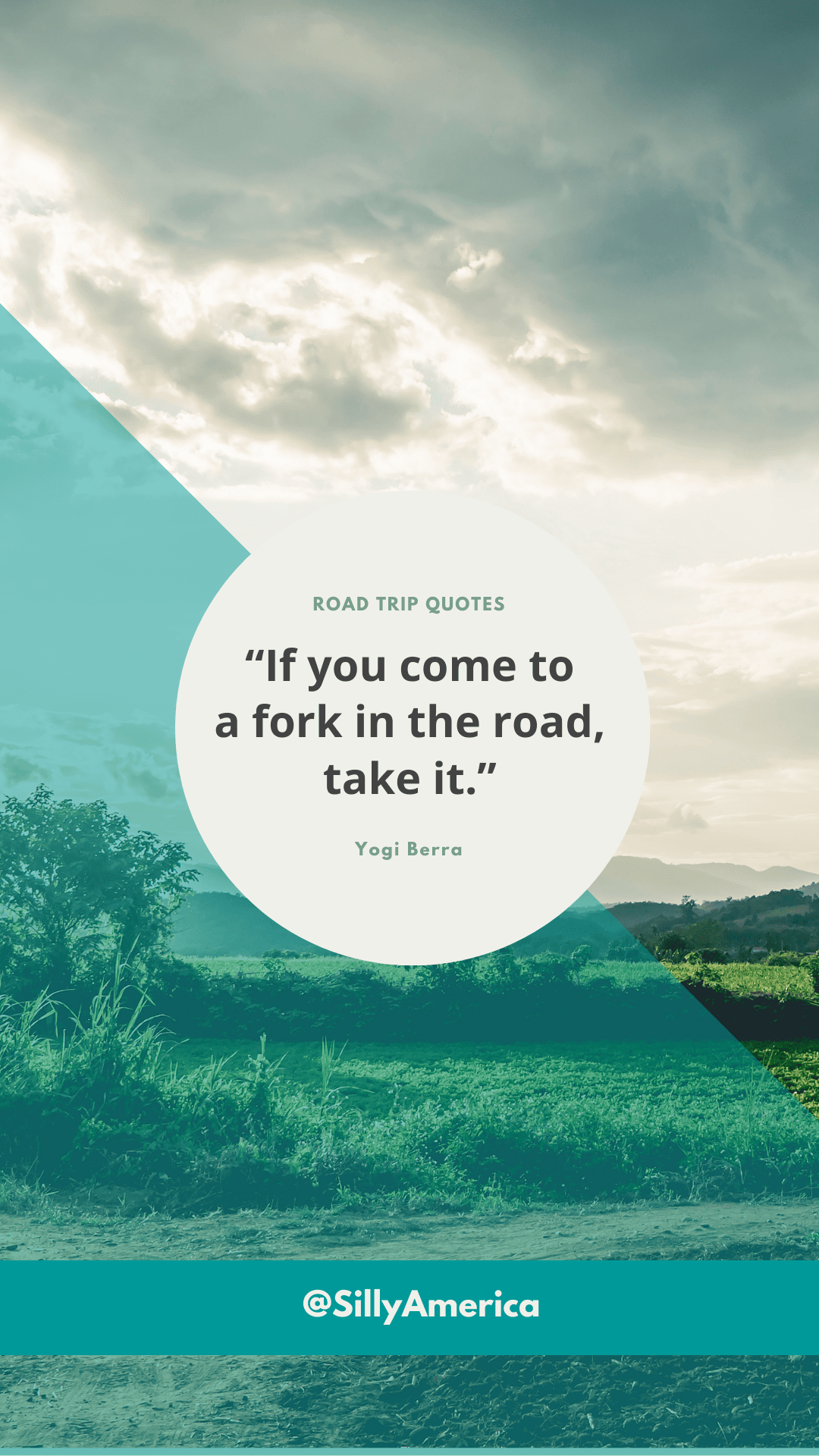 "To move, to breathe, to fly, to float, To gain all while you give, To roam the roads of lands remote, To travel is to live." Hans Christian Andersen, The Fairy Tale of My Life: An Autobiography
"If you make the mistake of looking back too much, you aren't focused enough on the road in front of you." Brad Paisley, American country music singer and songwriter
"When you're traveling, you are what you are right there and then. People don't have your past to hold against you. No yesterdays on the road." William Least Heat-Moon, Blue Highways
"Now, on this road trip, my mind seemed to uncrinkle, to breathe, to present to itself a cure for a disease it had not, until now, known it had." Elizabeth Berg, The Year of Pleasures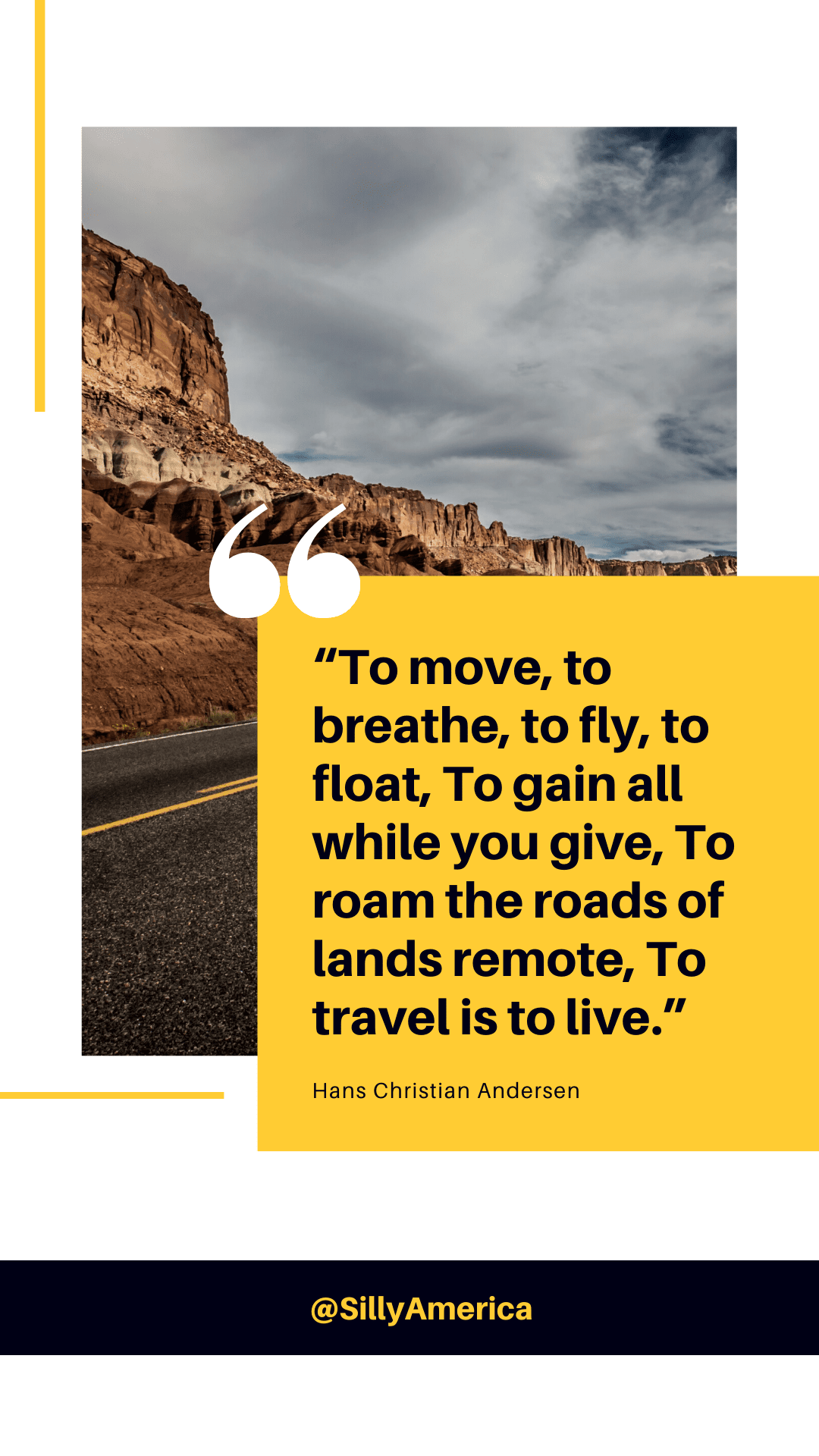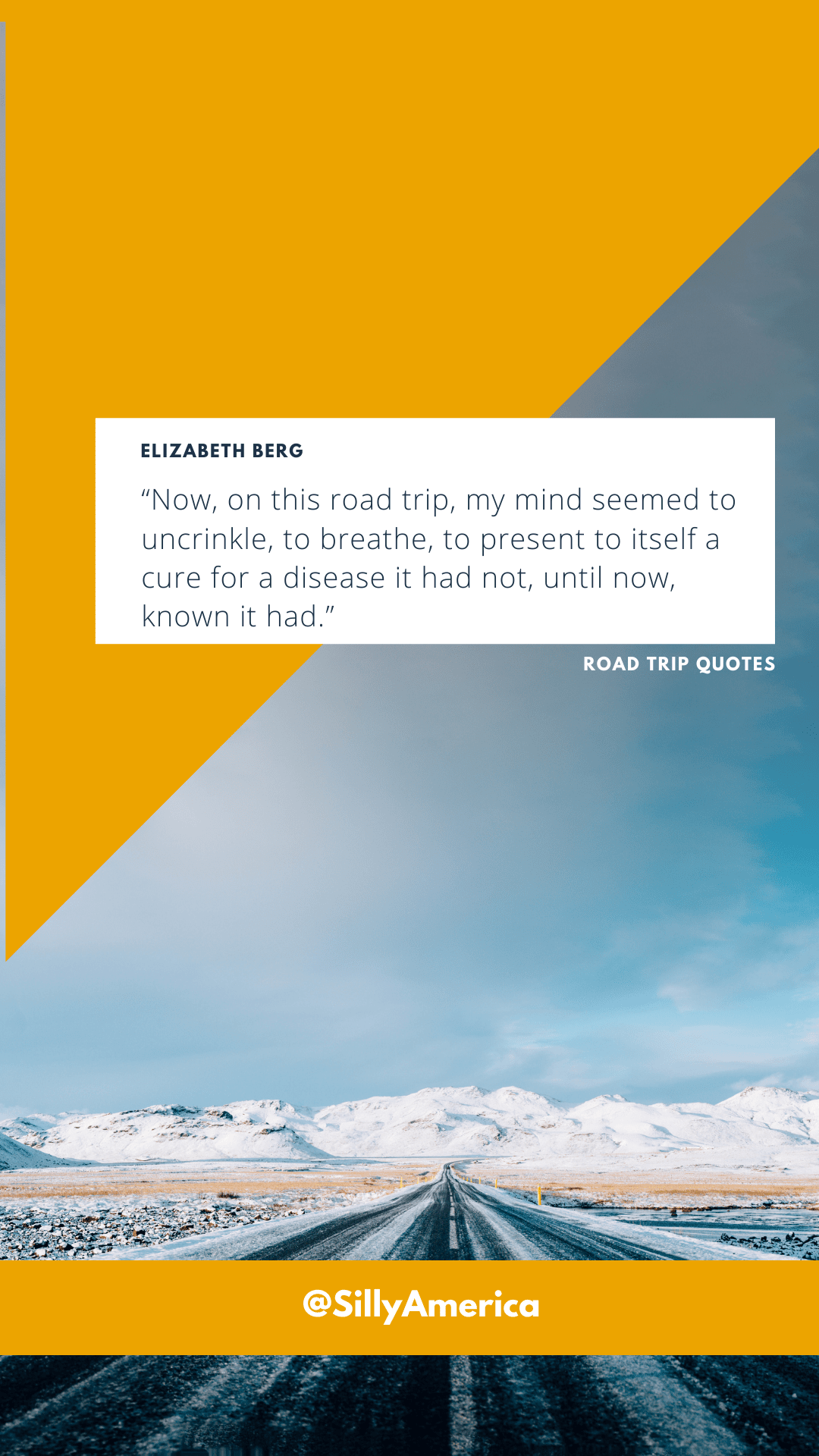 "People don't take trips—trips take people." John Steinbeck, Travels with Charley: In Search of America
"The freedom of the open road is seductive, serendipitous and absolutely liberating." Aaron Lauritsen, 100 Days Drive: The Great North American Road Trip
"Good company in a journey makes the way to seem the shorter." Izaak Walton, The Compleat Angler
"Our battered suitcases were piled on the sidewalk again; we had longer ways to go. But no matter, the road is life." Jack Kerouac, On the Road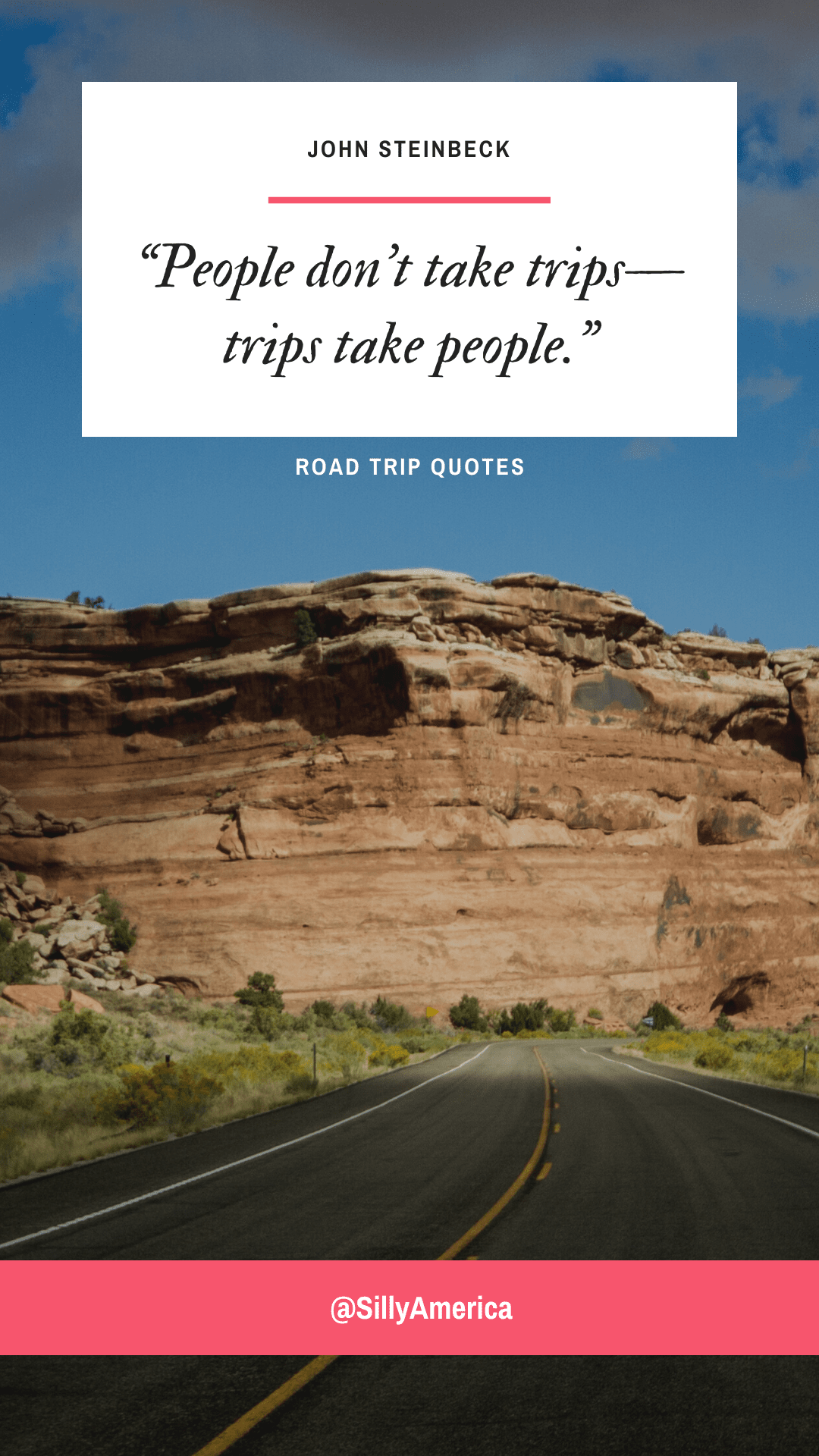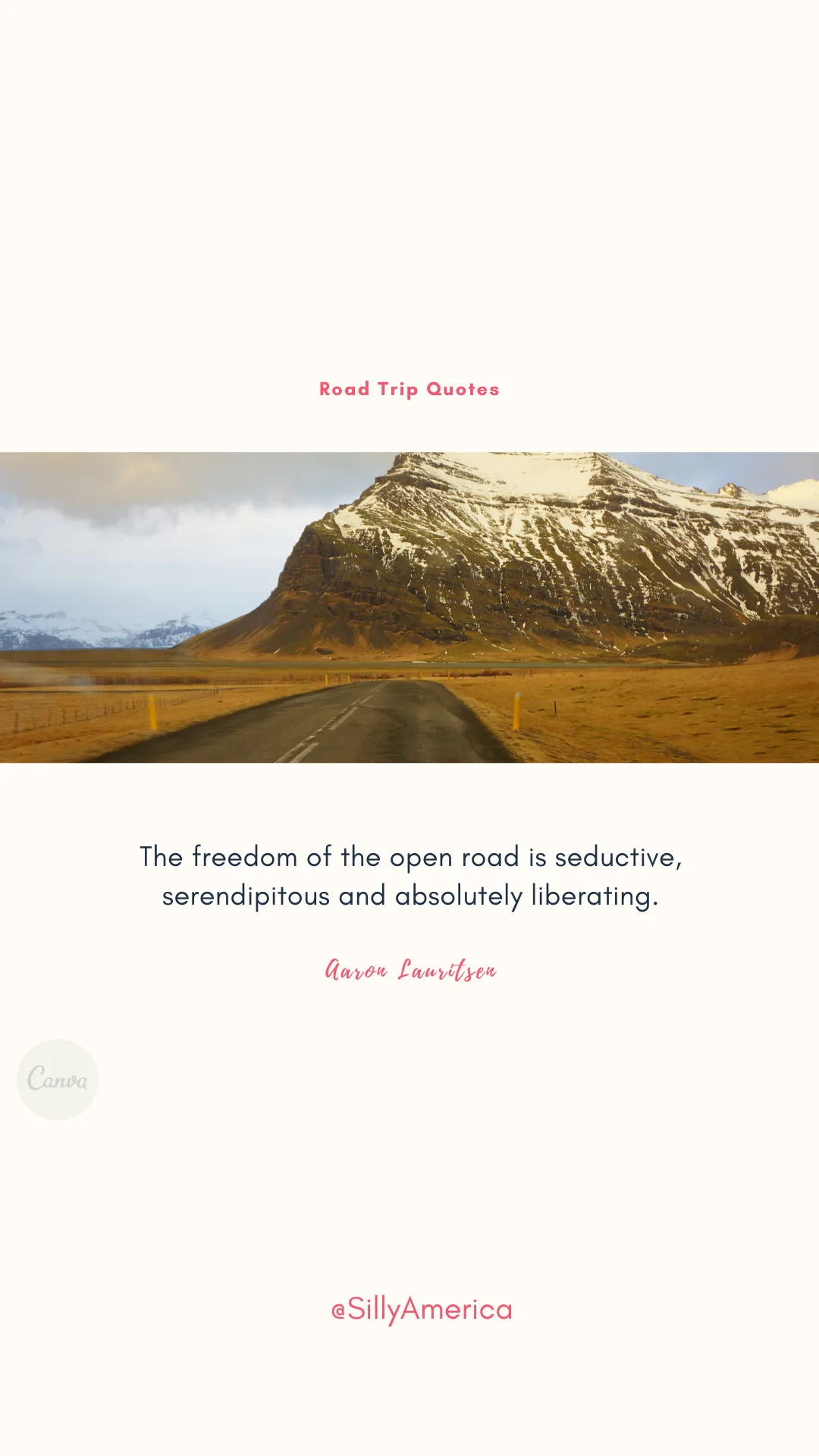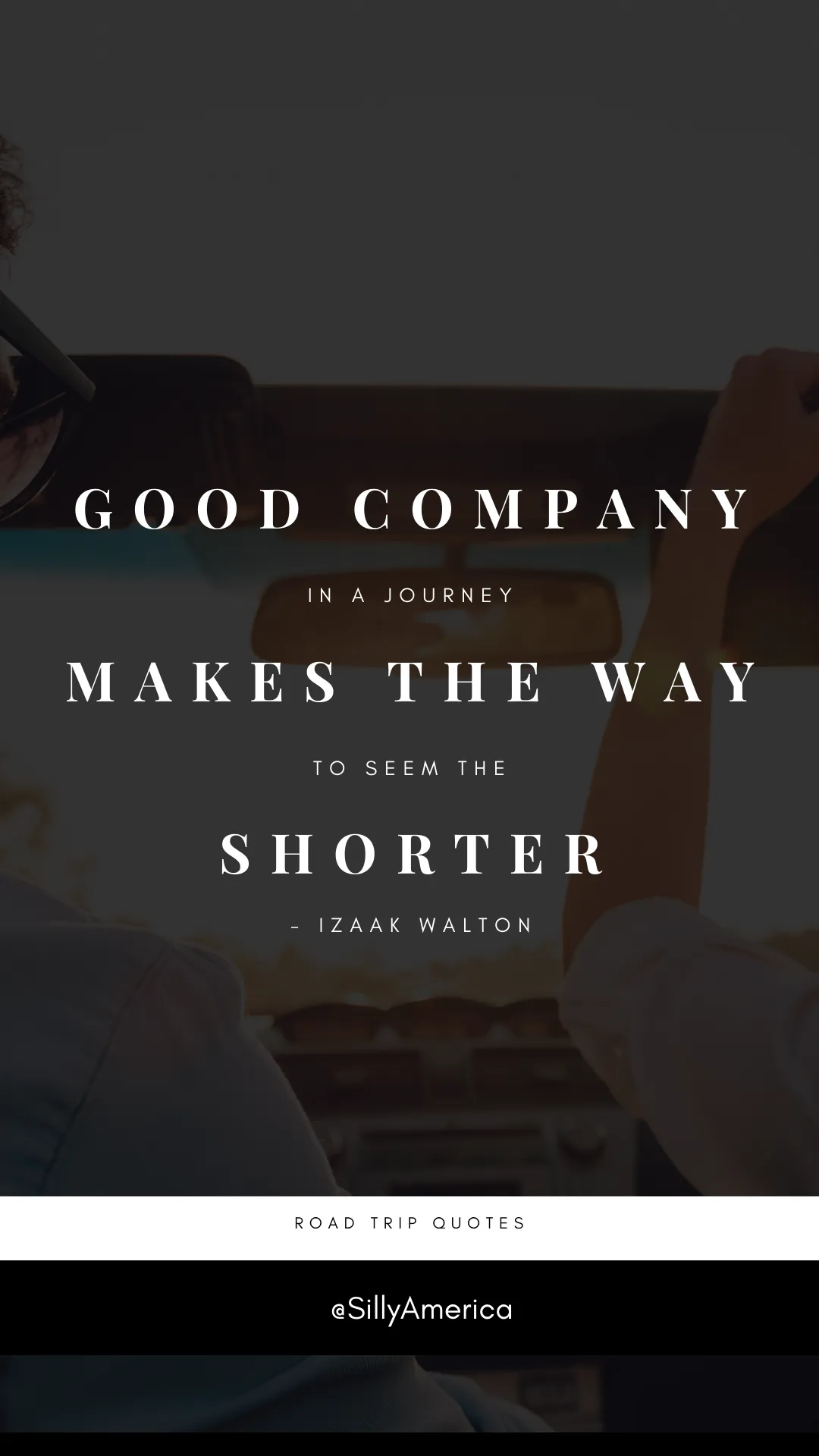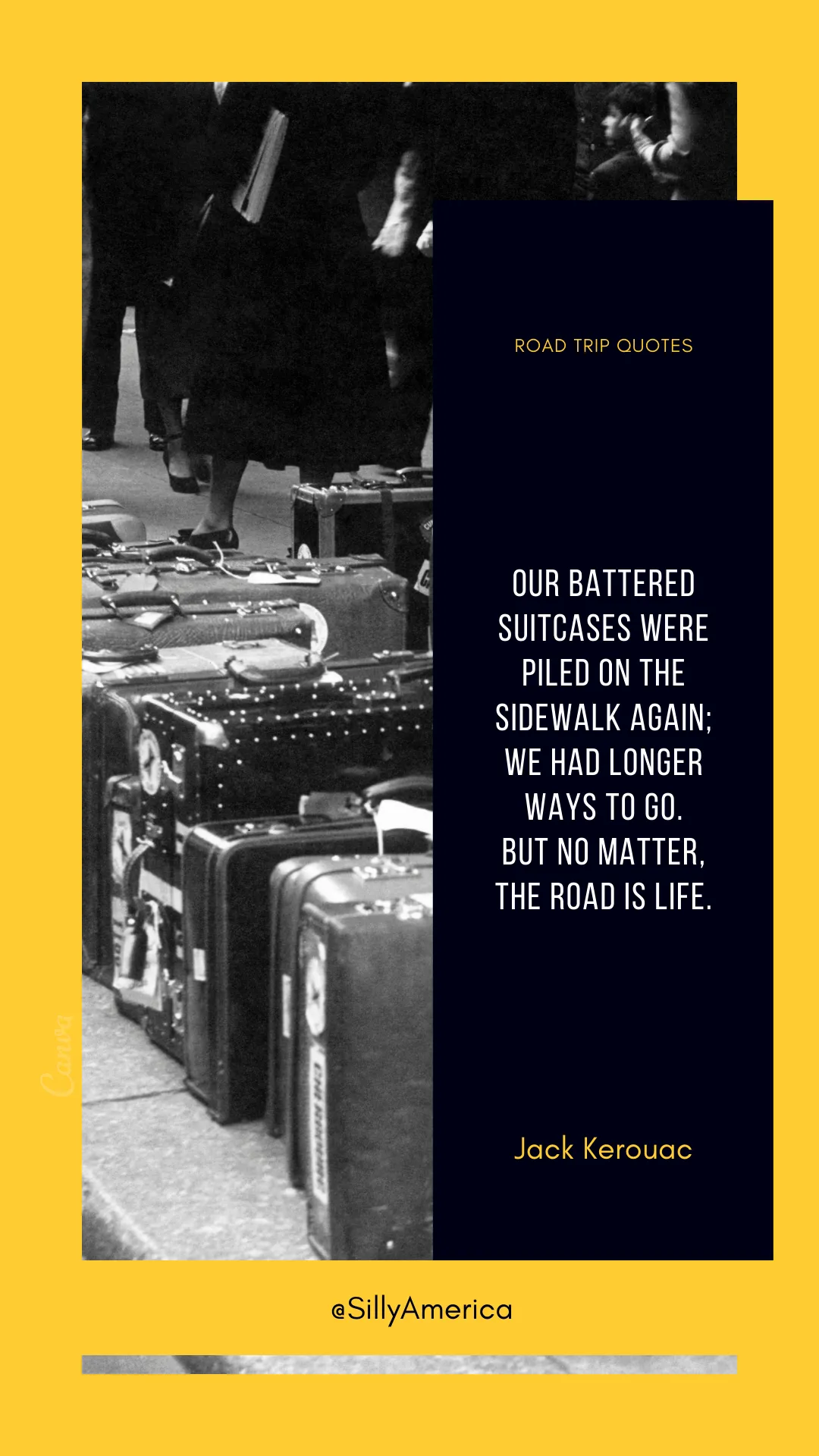 "The biggest adventure you can ever take is to live the life of your dreams." Oprah Winfrey
"I think I deserve something beautiful." Elizabeth Gilbert, Eat, Pray, Love
"Sometimes, the road less traveled is less traveled for a reason." Jerry Seinfeld, Seinfeld, The Baby Shower [S02E10]
"Make voyages. Attempt them. There's nothing else." Tennesse Williams, Camino Real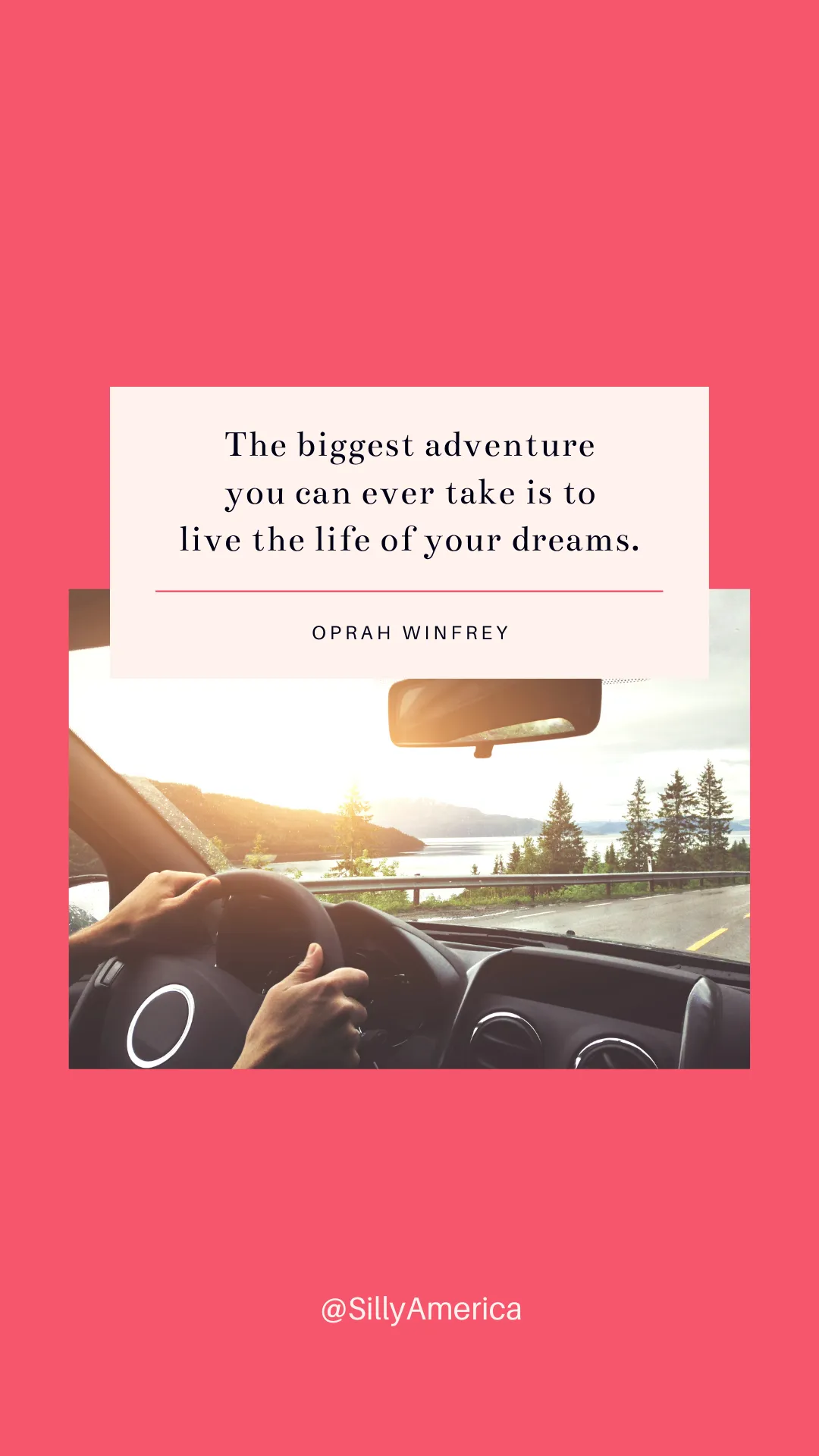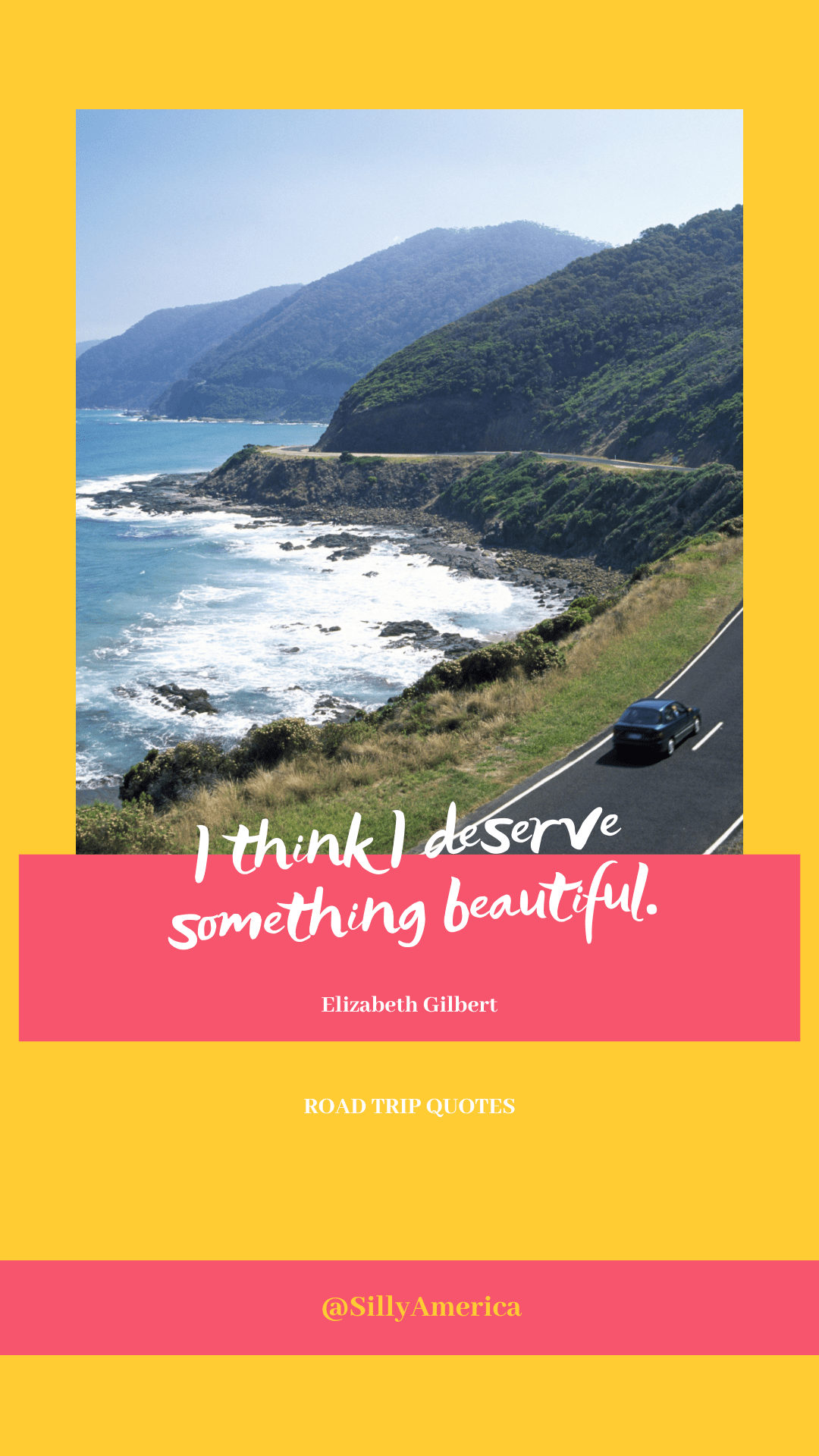 "We travel, some of us forever, to seek other states, other lives, other souls." Anaïs Nin, The Diary of Anaïs Nin, Vol. 7: 1966-1974
"Not I, not any one else can travel that road for you, You must travel it for yourself." Walt Whitman, Song of Myself
"A good traveler has no fixed plans and is not intent upon arriving." Lao Tzu, Tao Te Ching
"We shall not cease from exploration, And the end of all our exploring, Will be to arrive where we started, And know the place for the first time." T. S. Eliot, Four Quartets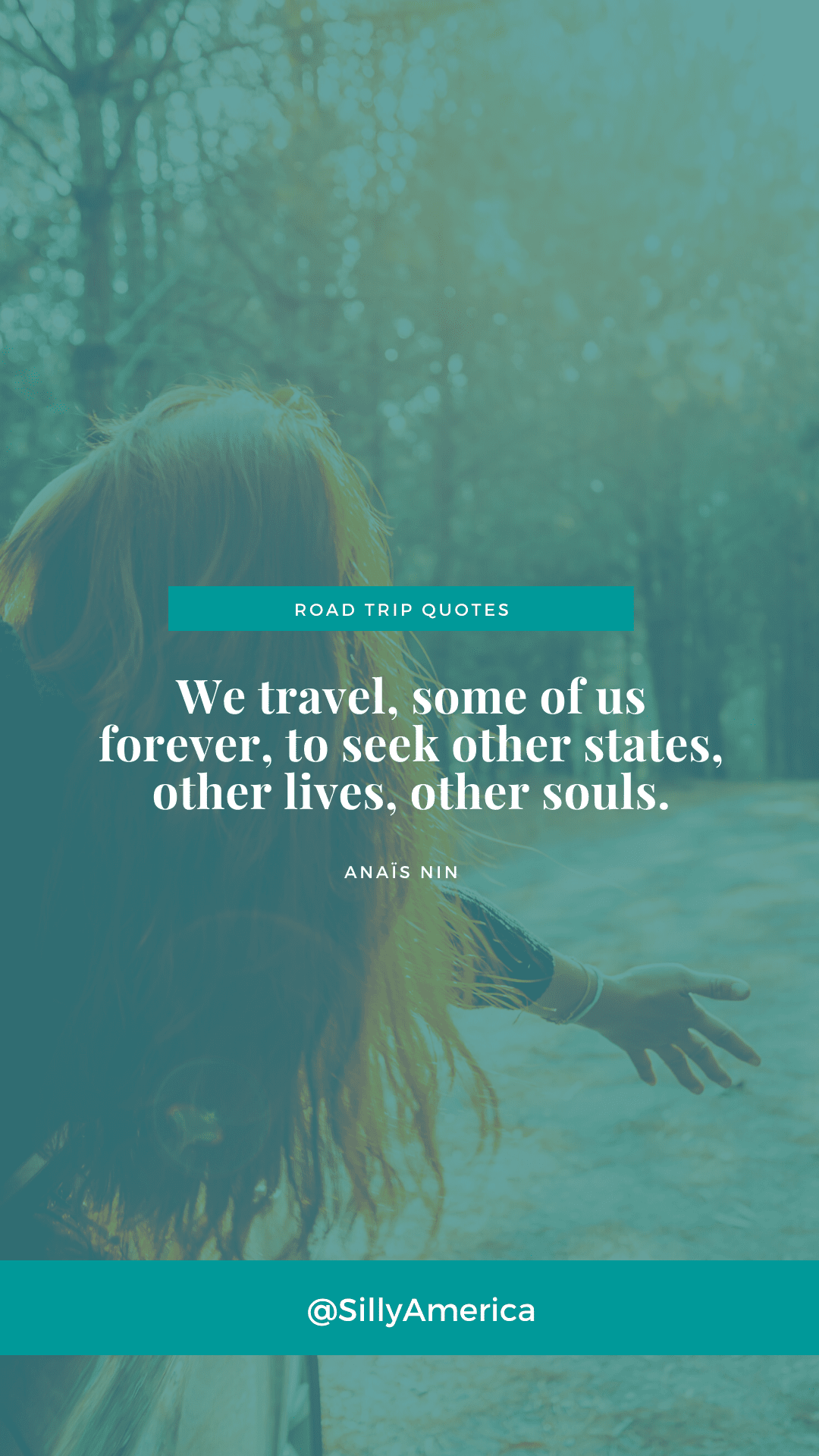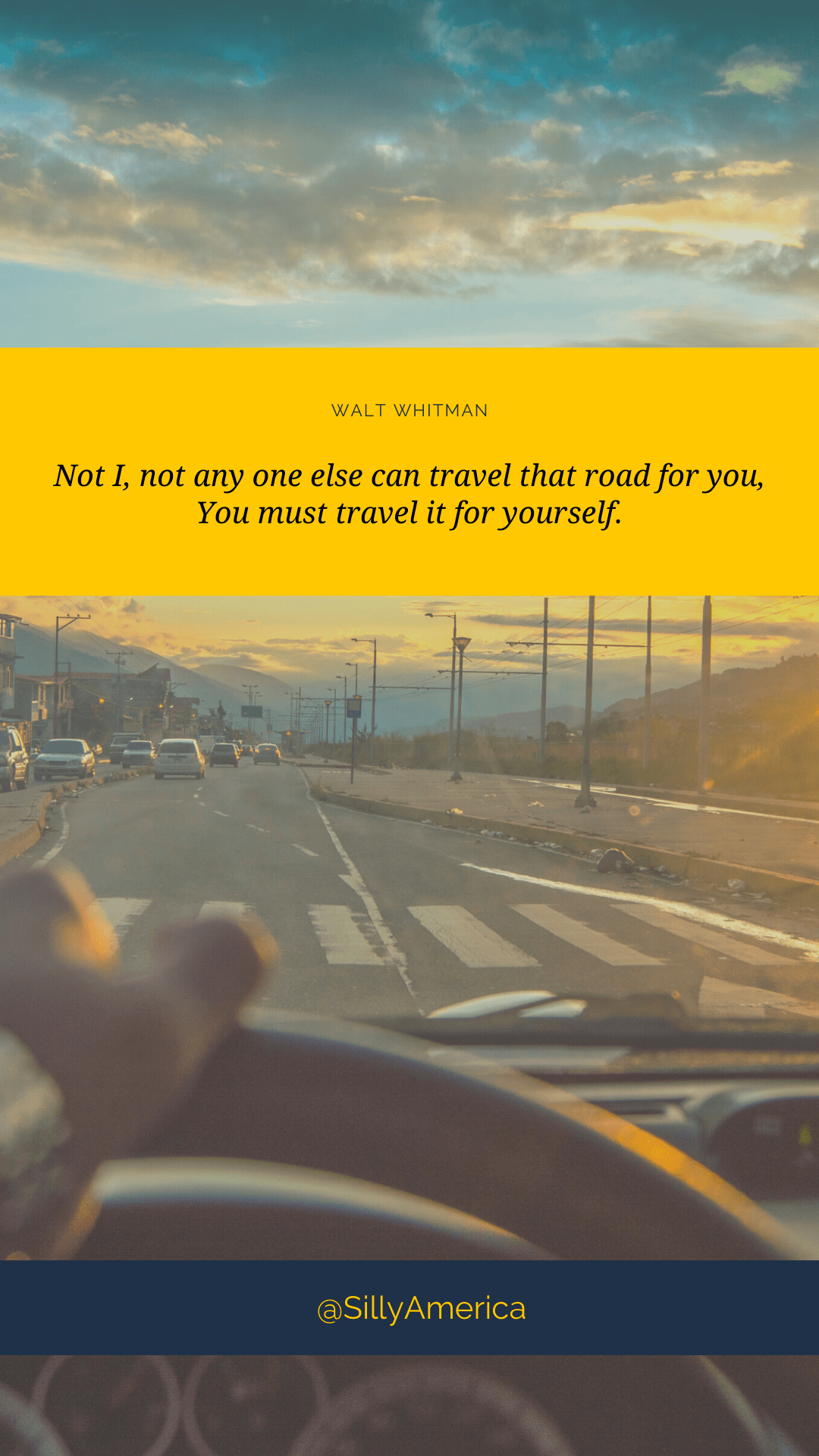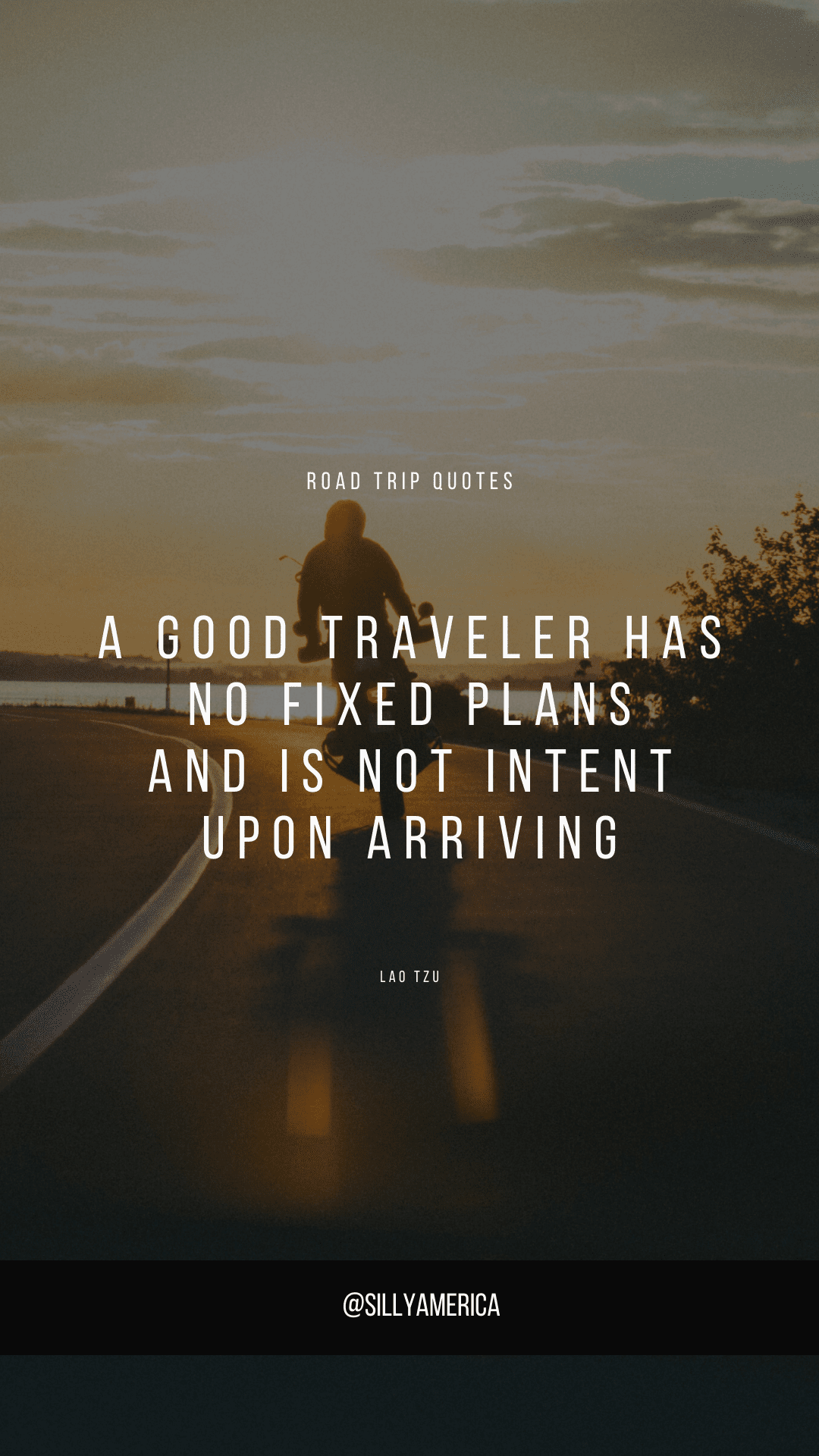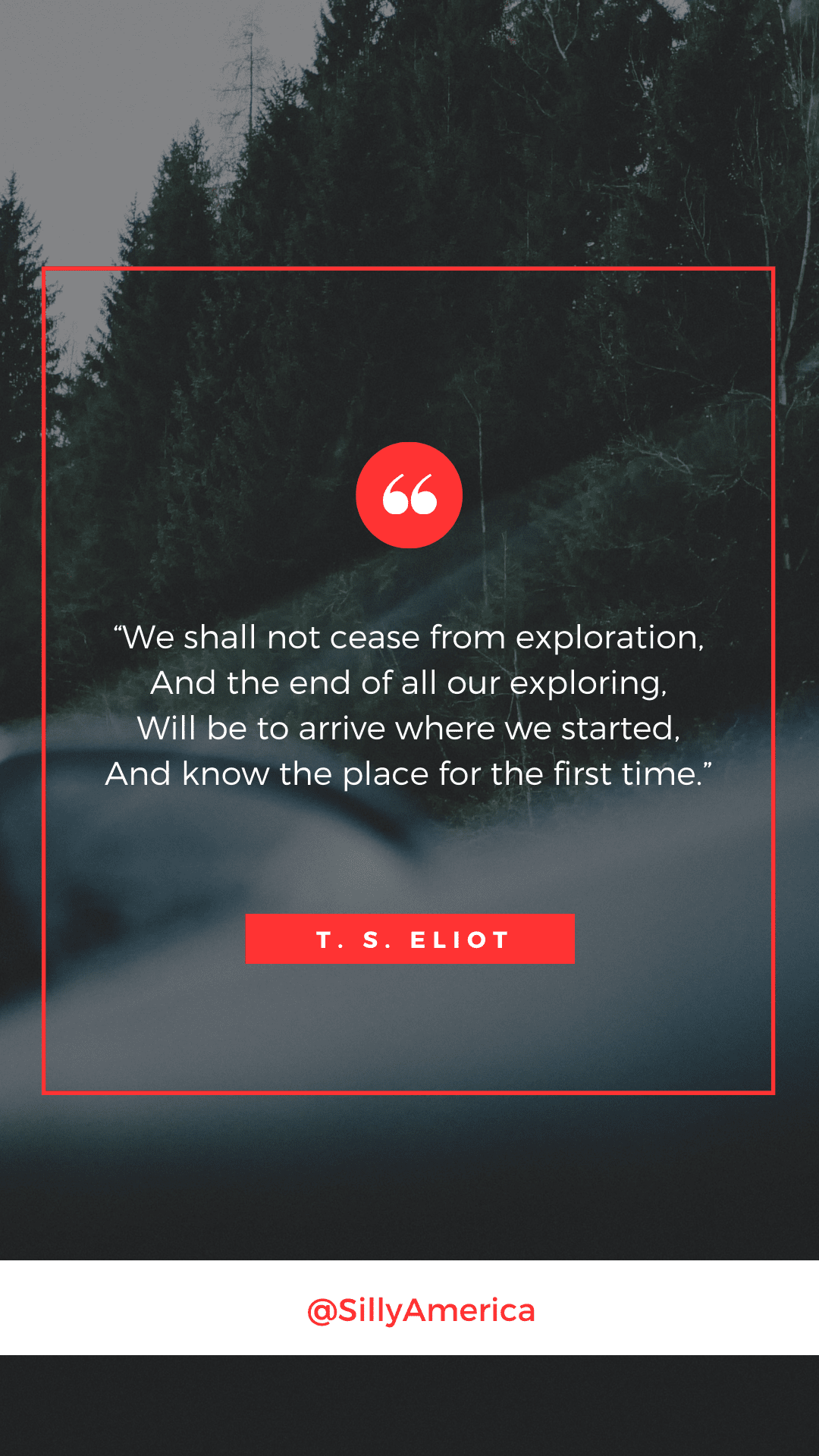 "I love road trips. You get into this Zen rhythm; throw the sense of time out the window." Miriam Toews
"Not all those who wander are lost." J .R.R. Tolkien, The Fellowship of the Ring
"Mileage craziness is a serious condition that exists in many forms. It can hit unsuspecting travelers while driving cars, motorcycles, riding in planes, crossing the country on bicycles or on foot. The symptoms may lead to obsessively placing more importance on how many miles are traveled than on the real reason for the traveling…On foot, in a van, on a fleet motorcycle or on a bicycle, a person must be very careful not to become overly concerned with arriving." Peter Jenkins, A Walk Across America
"I love the way music inside a car makes you feel invisible; if you play the stereo at max volume, it's almost like the other people can't see into your vehicle. It tints your windows, somehow." Chuck Klosterman, Killing Yourself to Live: 85% of a True Story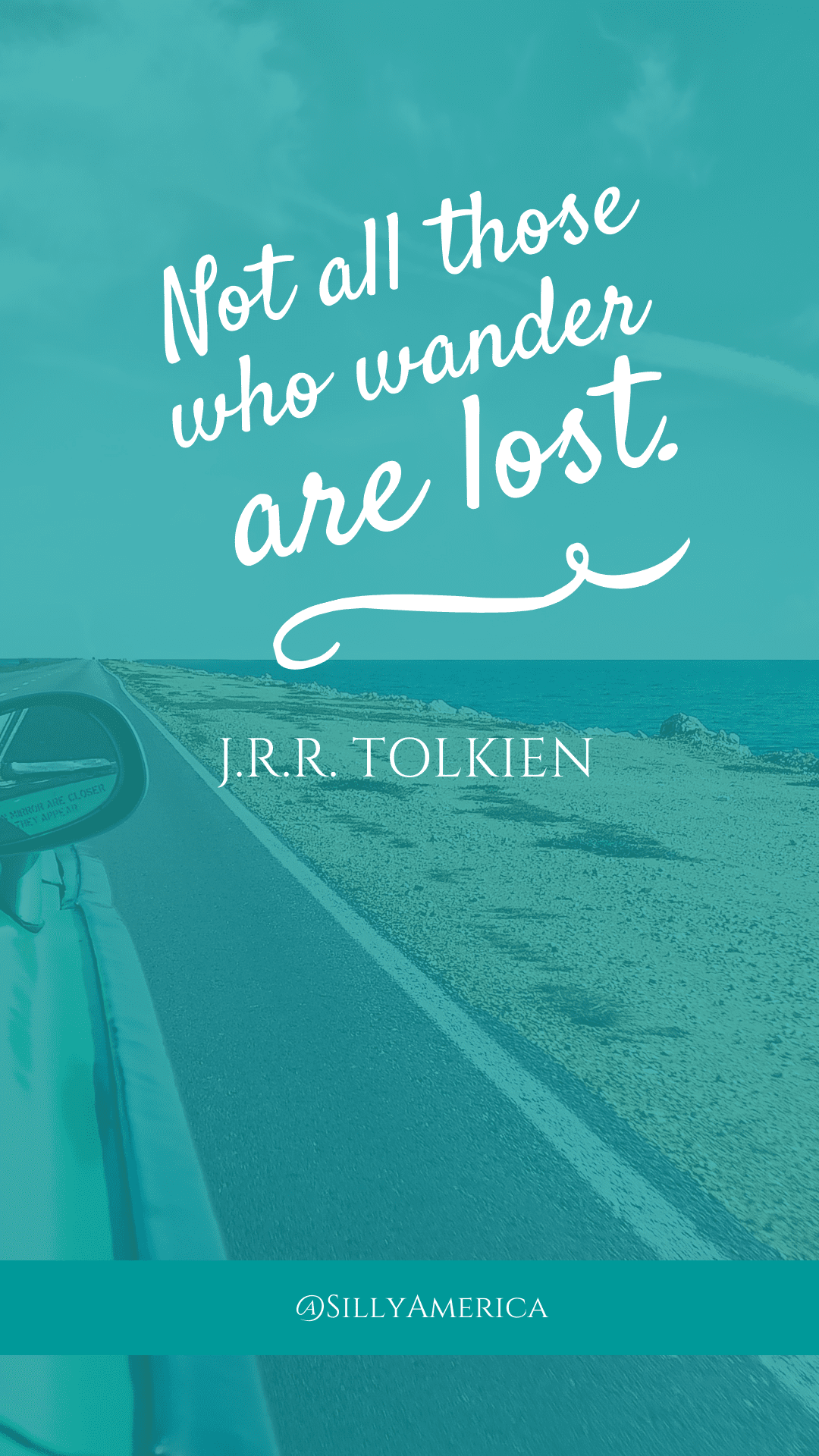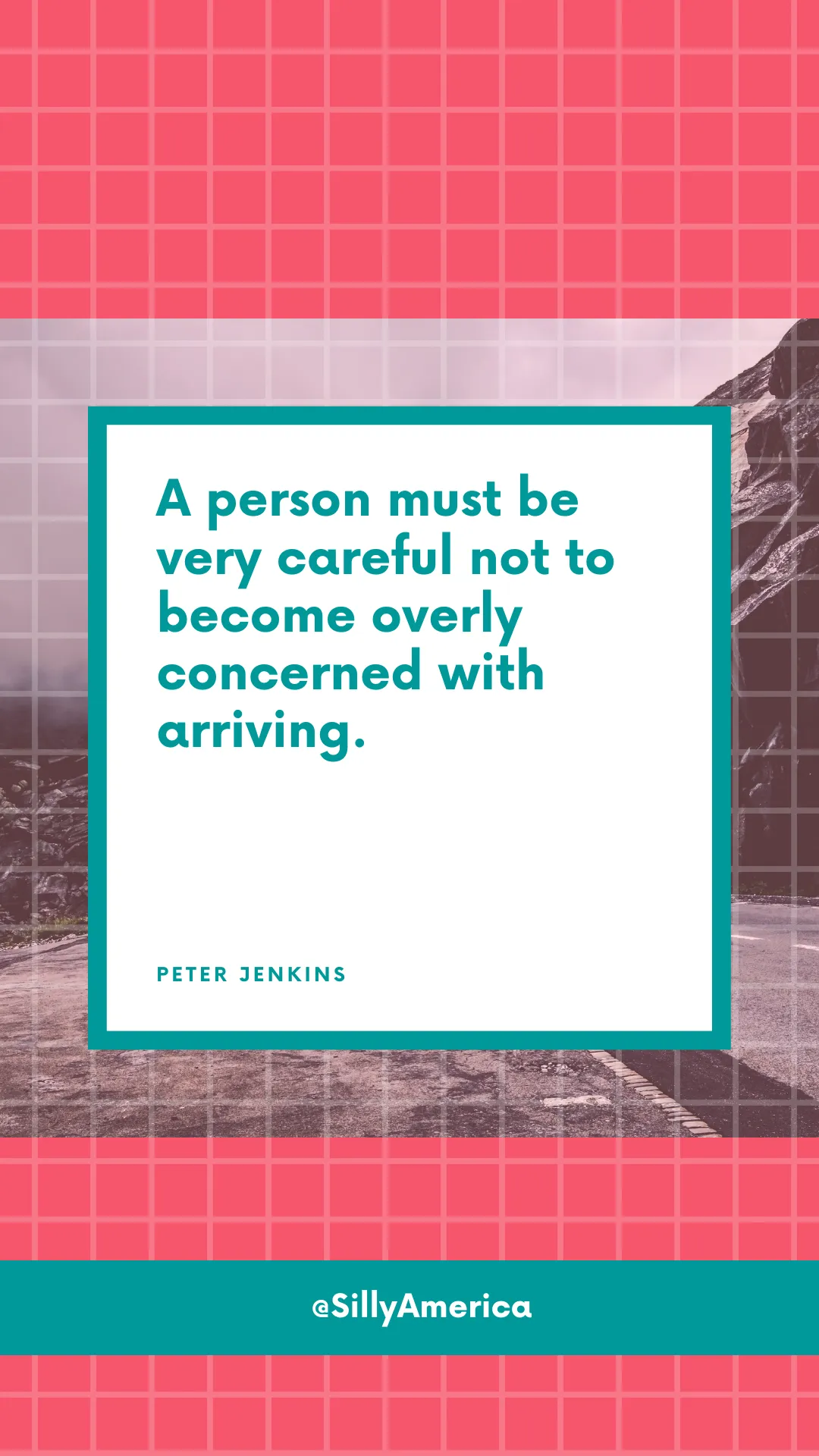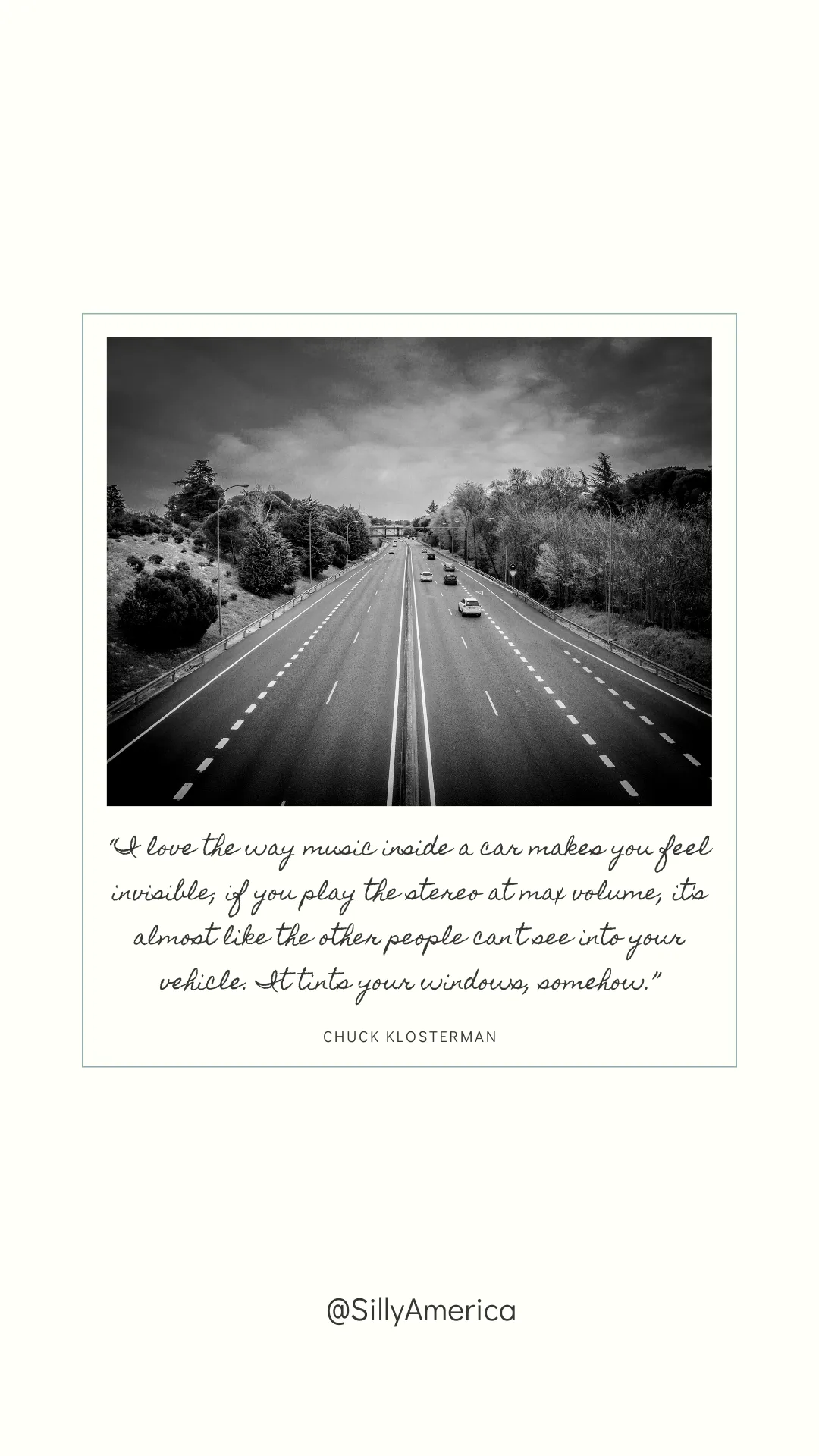 "Road trips required a couple of things: a well-balanced diet of caffeine, salt and sugar and an excellent selection of tunes—oh, and directions." Jenn McKinlay, Books Can Be Deceiving
"To awaken quite alone in a strange town is one of the pleasantest sensations in the world. You are surrounded by adventure. You have no idea of what is in store for you, but you will, if you are wise and know the art of travel, let yourself go on the stream of the unknown and accept whatever comes in the spirit in which the gods may offer it." Freya Stark, Baghdad Sketches
"And just like that, we're on our way to everywhere" Emery Lord, Open Road Summer
"I may not have gone where I intended to go, but I think I have ended up where I needed to be." Douglas Adams, The Long Dark Tea-Time of the Soul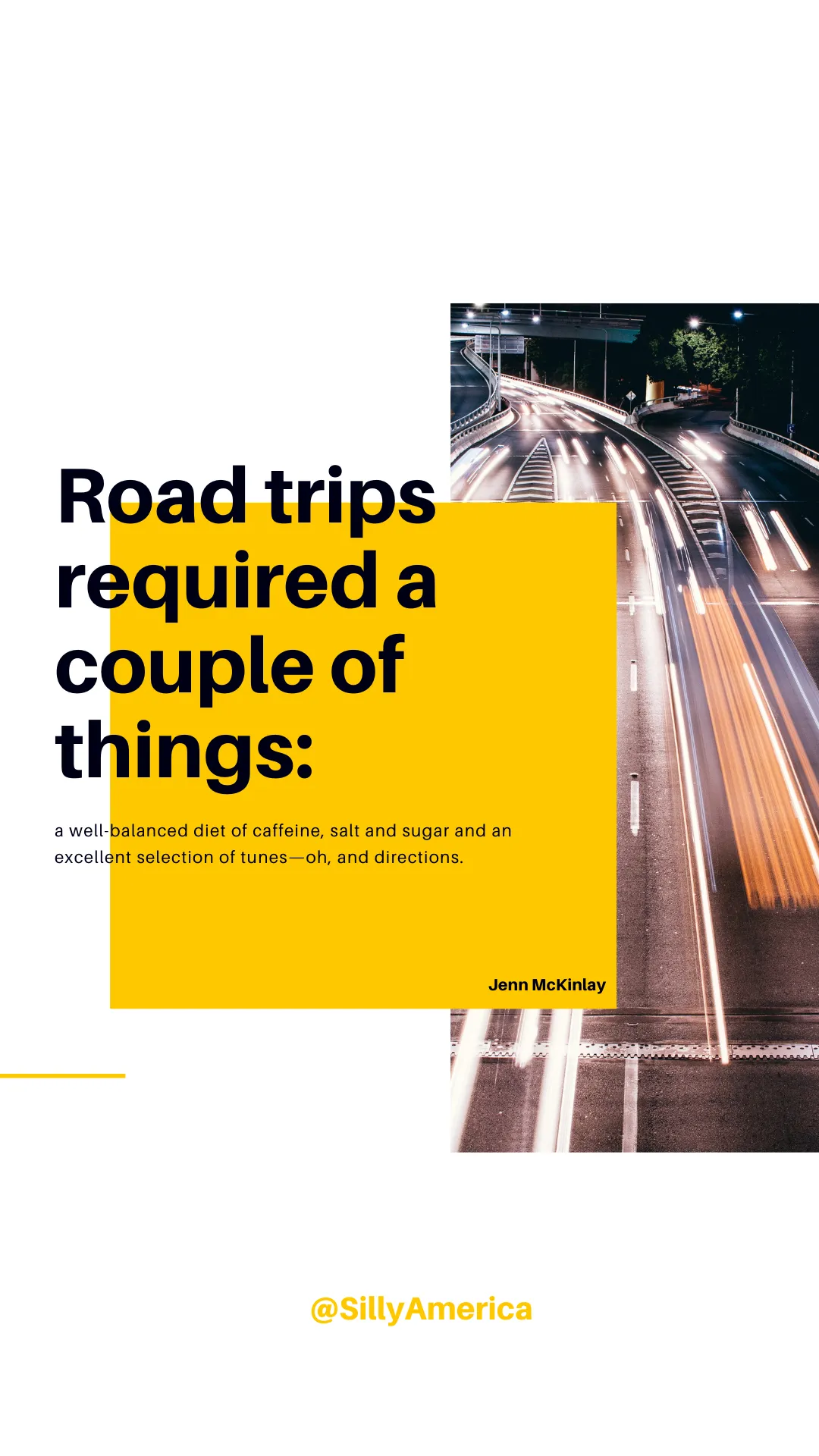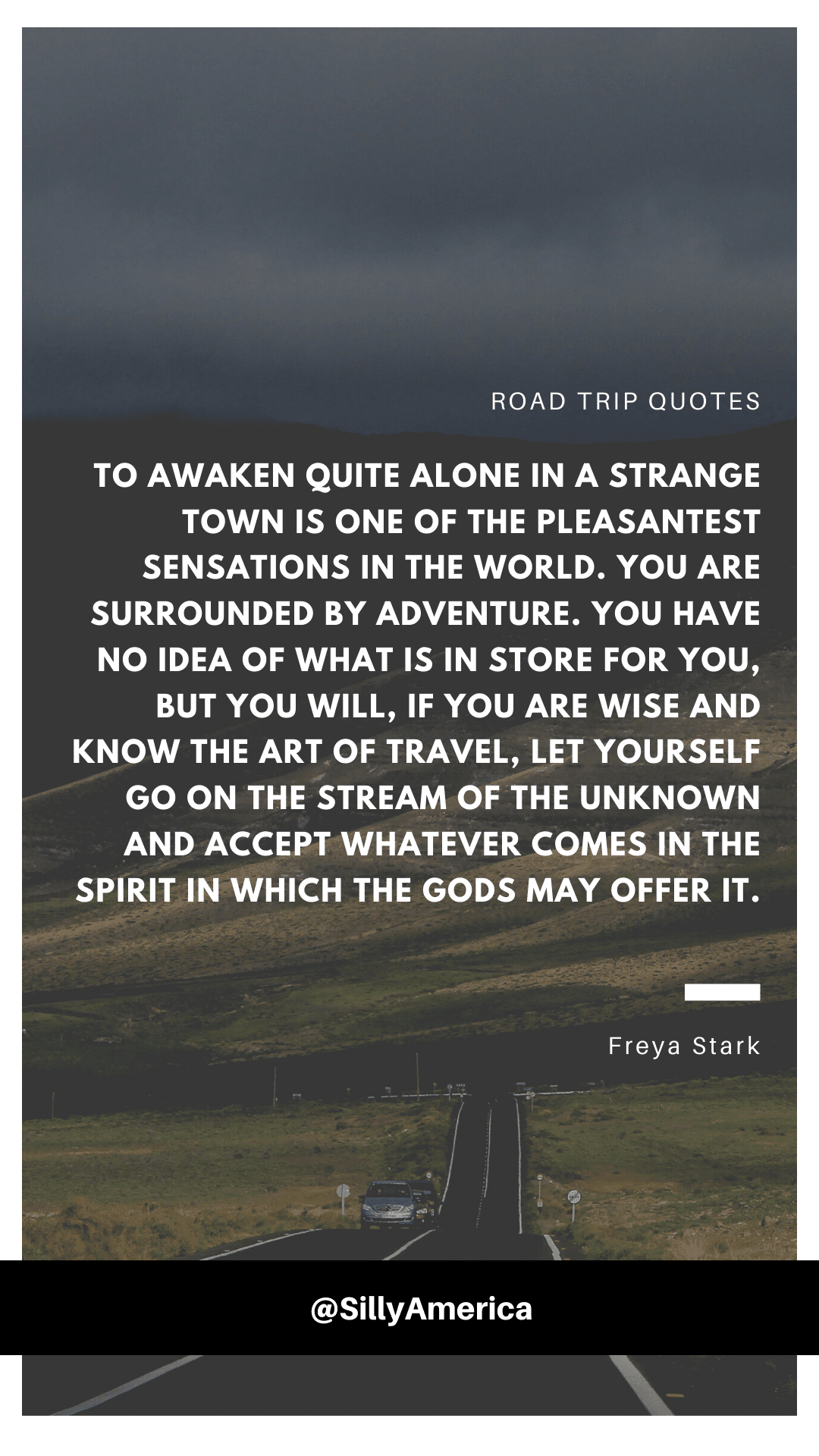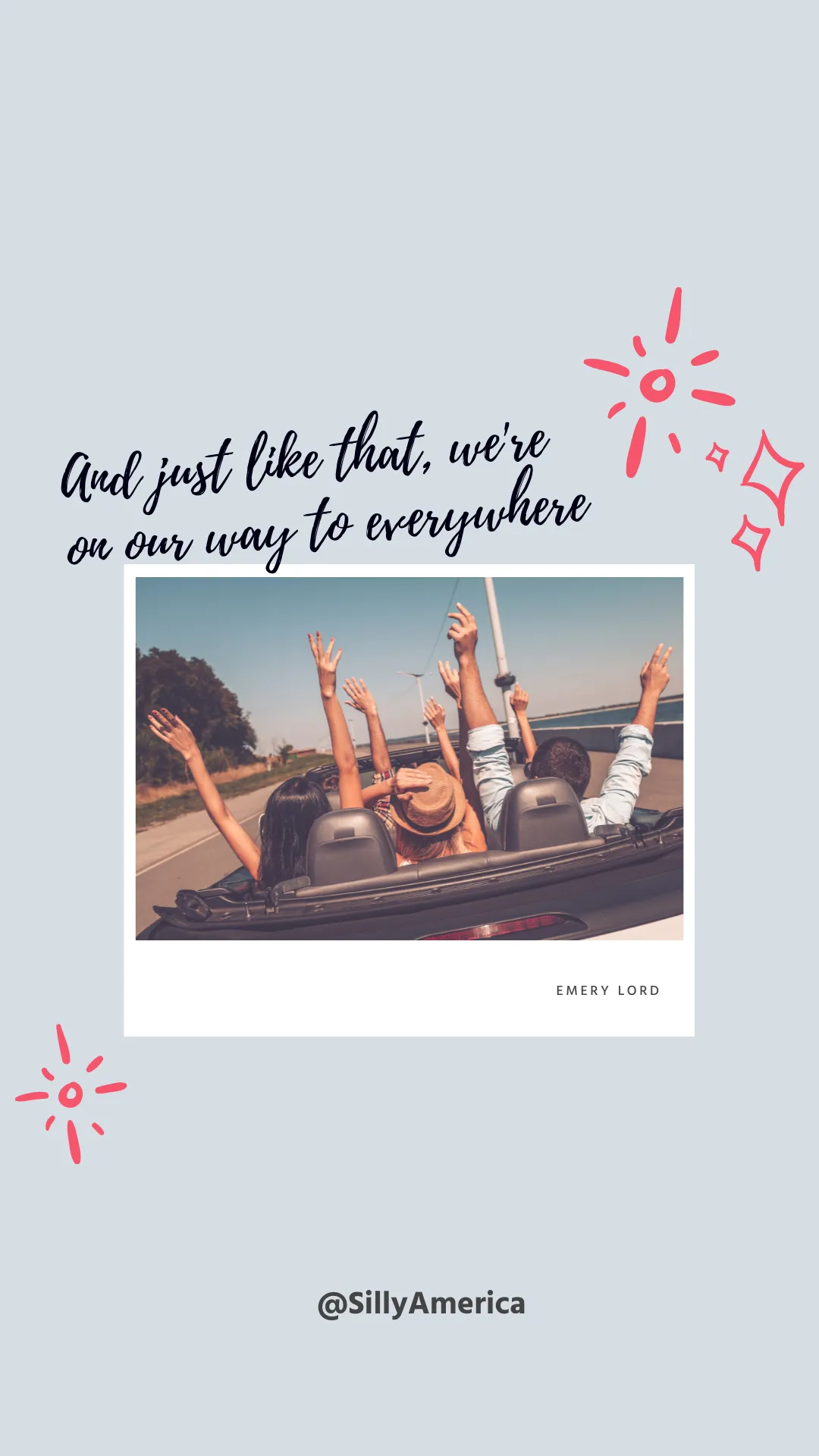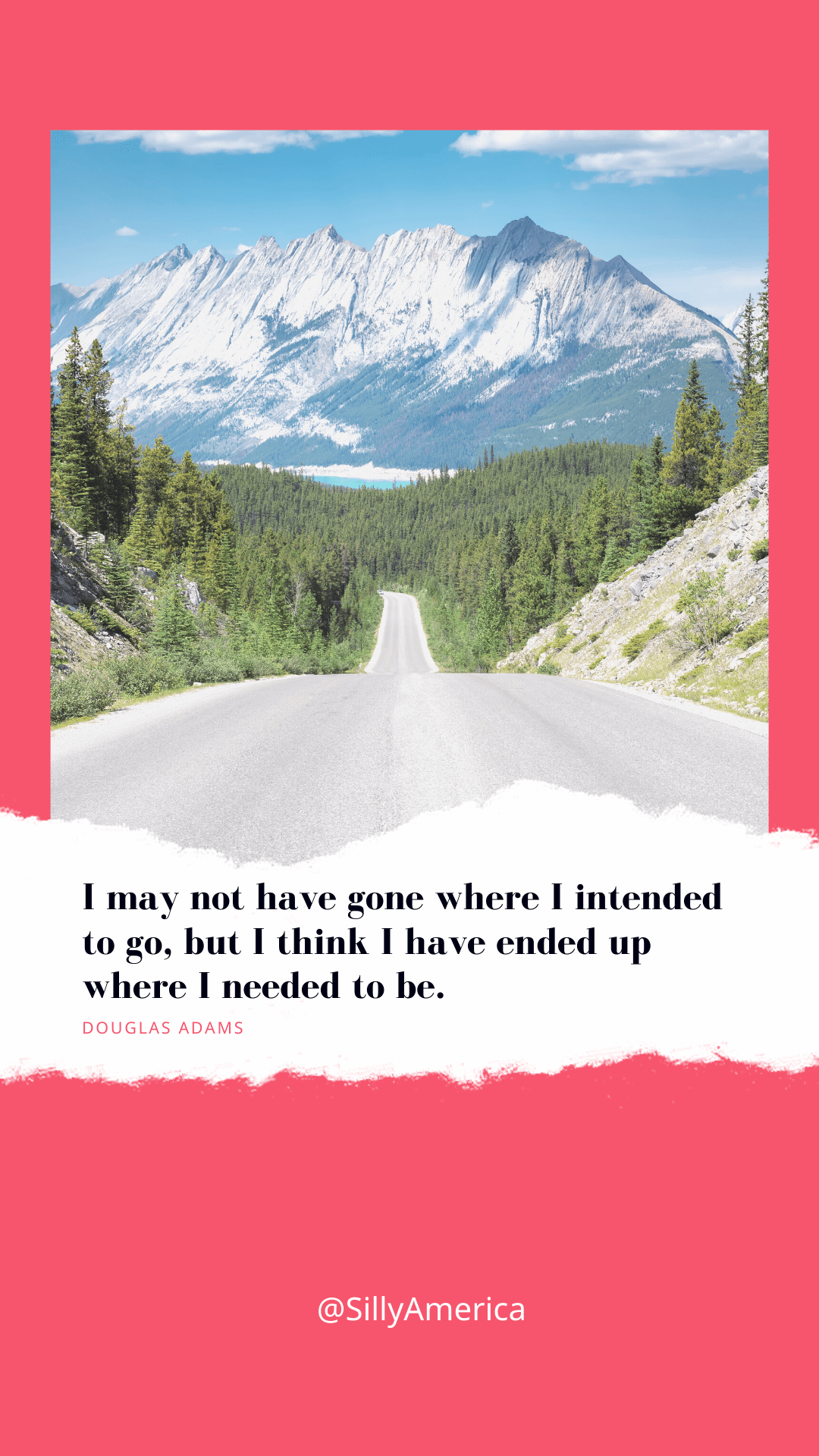 "A road trip is a way for the whole family to spend time together and annoy each other in interesting new places." Tom Lichtenheld, Everything I Know About Cars
"All he needed was a wheel in his hand and four on the road." Jack Kerouac, On the Road: the Original Scroll
"You know more of a road by having travelled it than by all the conjectures and descriptions in the world." William Hazlitt, On The Conduct of Life
"Once you have traveled, the voyage never ends, but is played out over and over again in the quietest chambers, that the mind can never break off from the journey." Pat Conroy, The Prince of Tides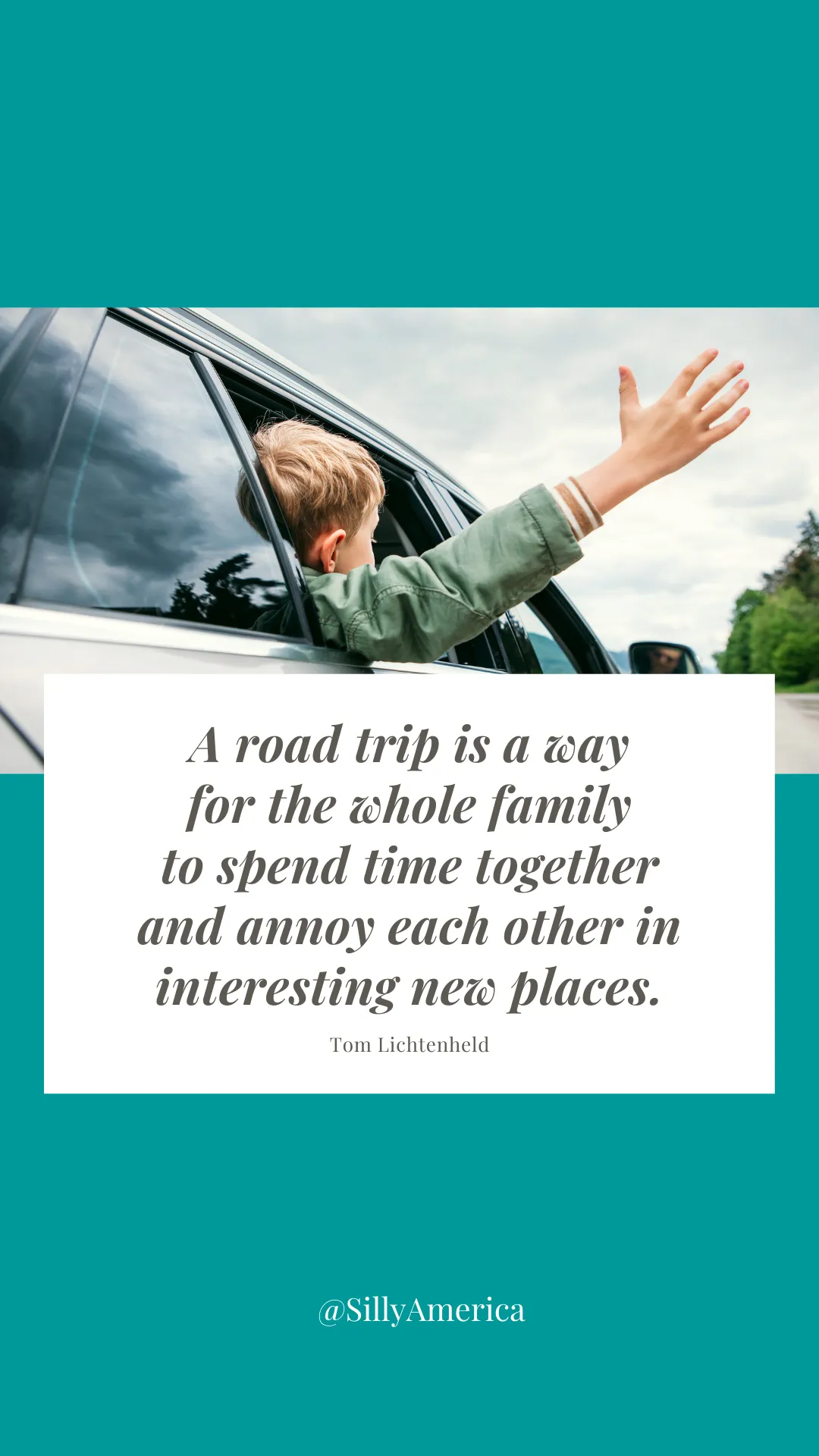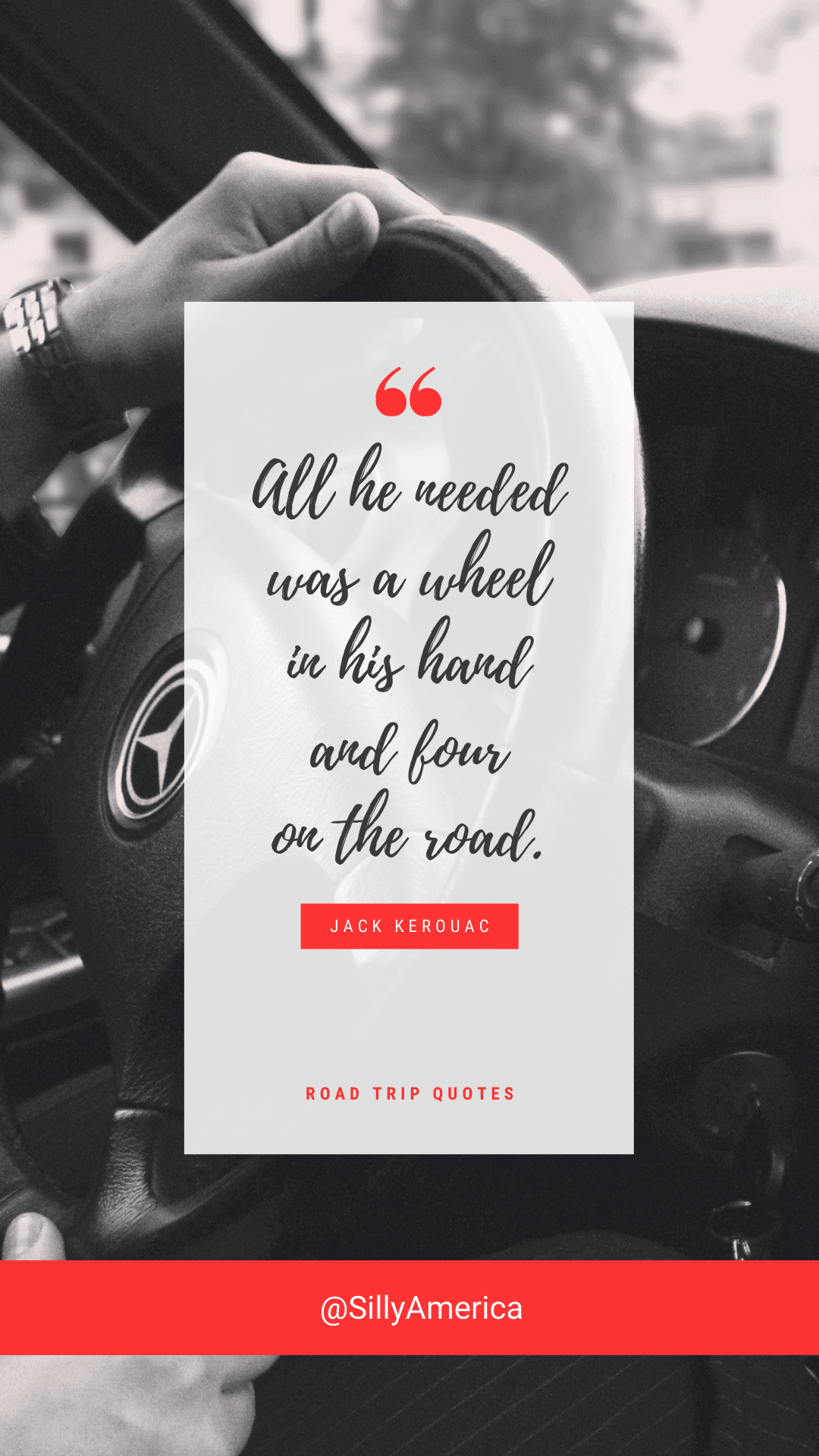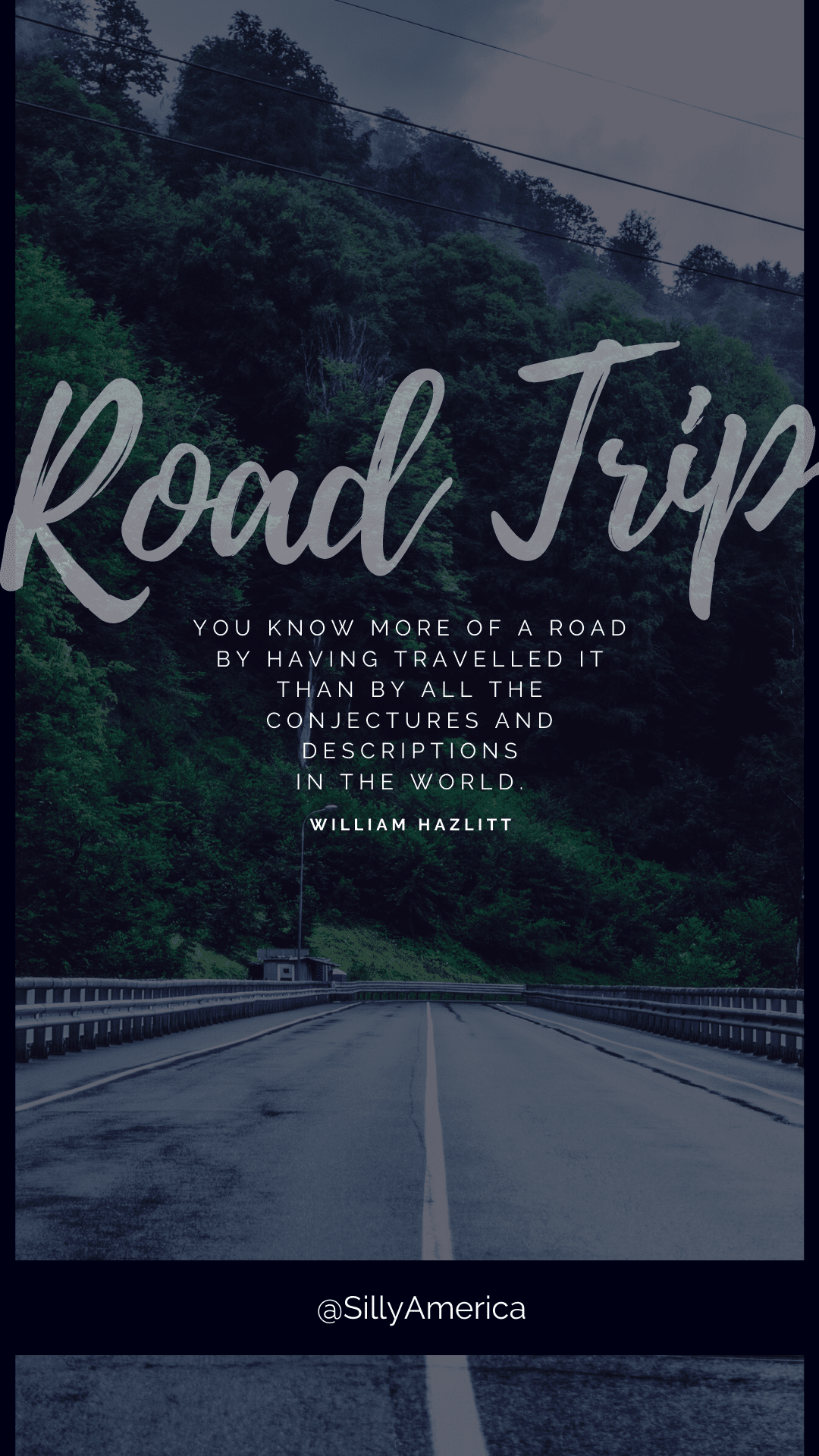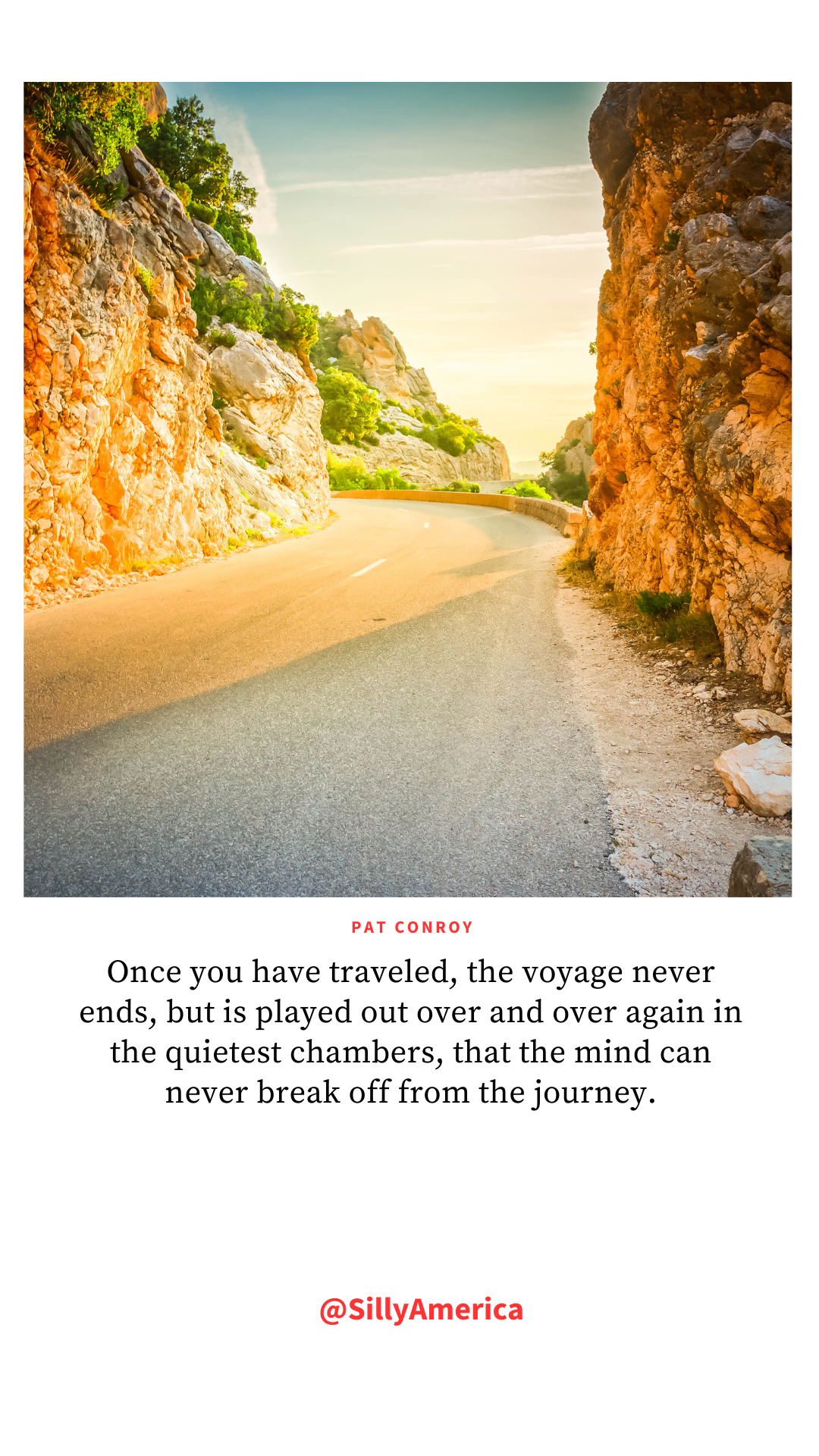 "Look on every exit being an entrance somewhere else." Tom Stoppard, Rosencrantz and Guildenstern Are Dead
"The pleasure we derive from journeys is perhaps dependent more on the mindset with which we travel than on the destination we travel to." Alain de Botton, The Art of Travel
"I just go with the flow, I follow the yellow brick road. I don't know where it's going to lead me, but I follow it." Grace Jones
"I can speak to my soul only when the two of us are off exploring deserts or cities or mountains or roads." Paulo Coelho, Aleph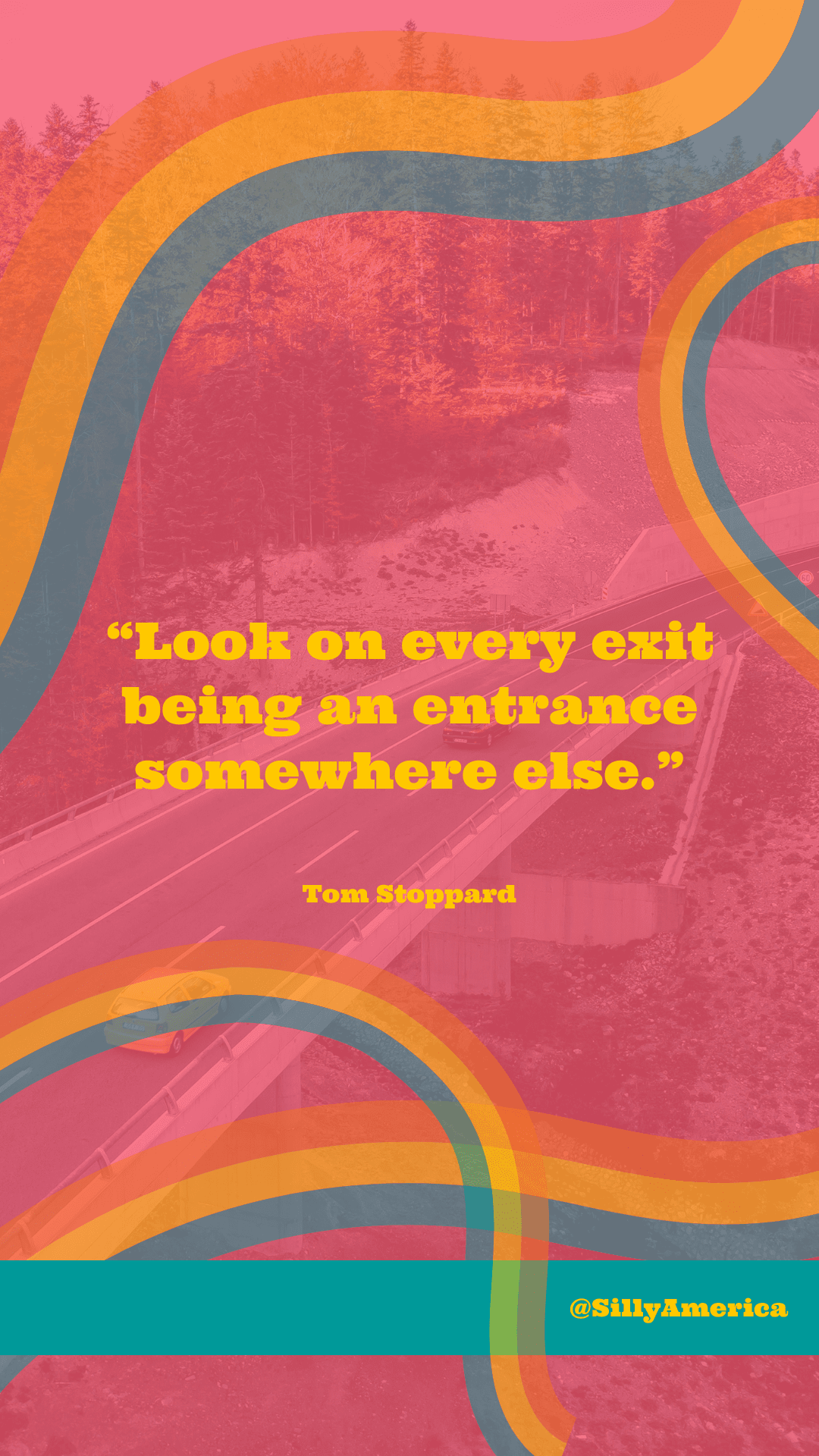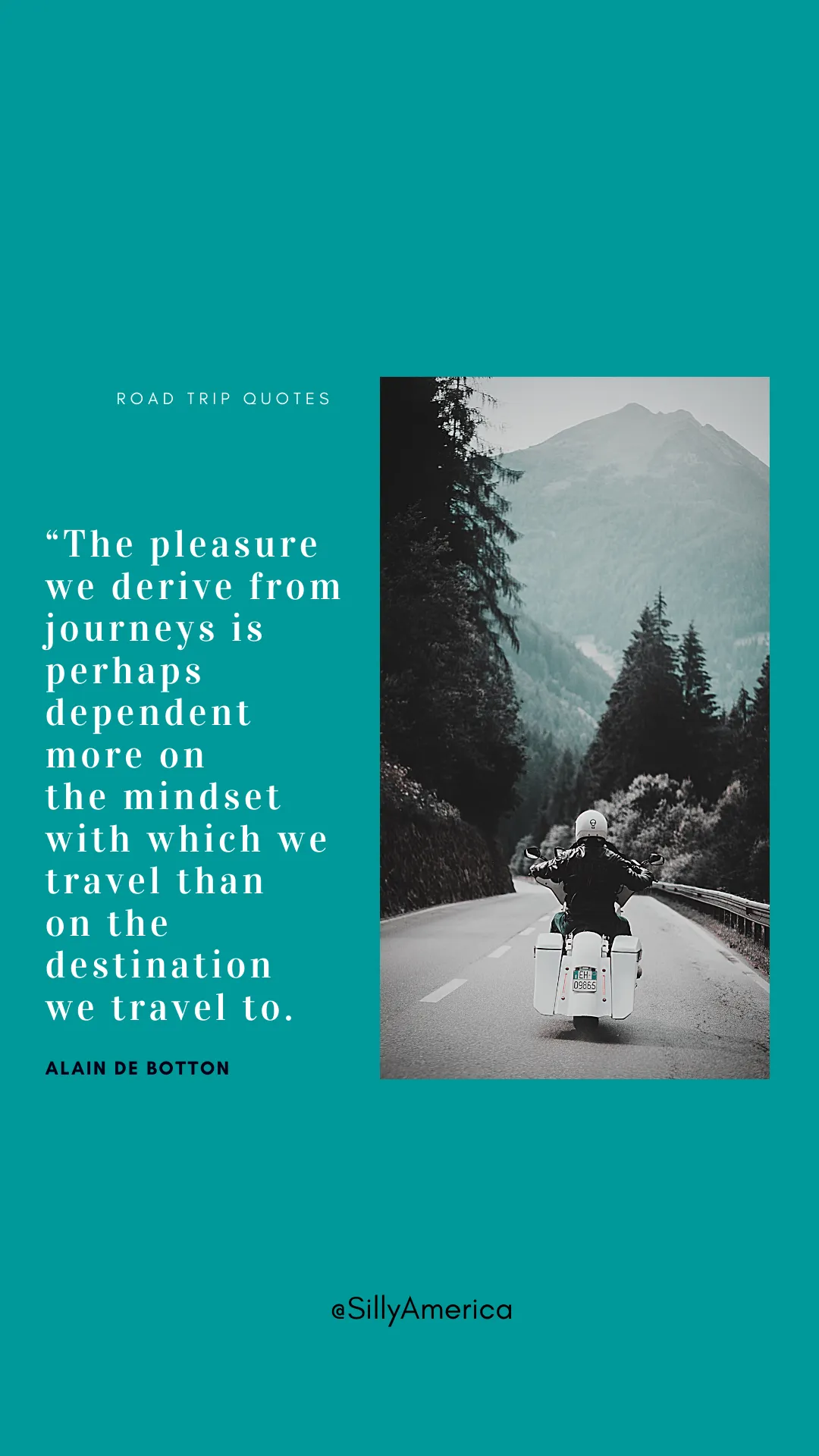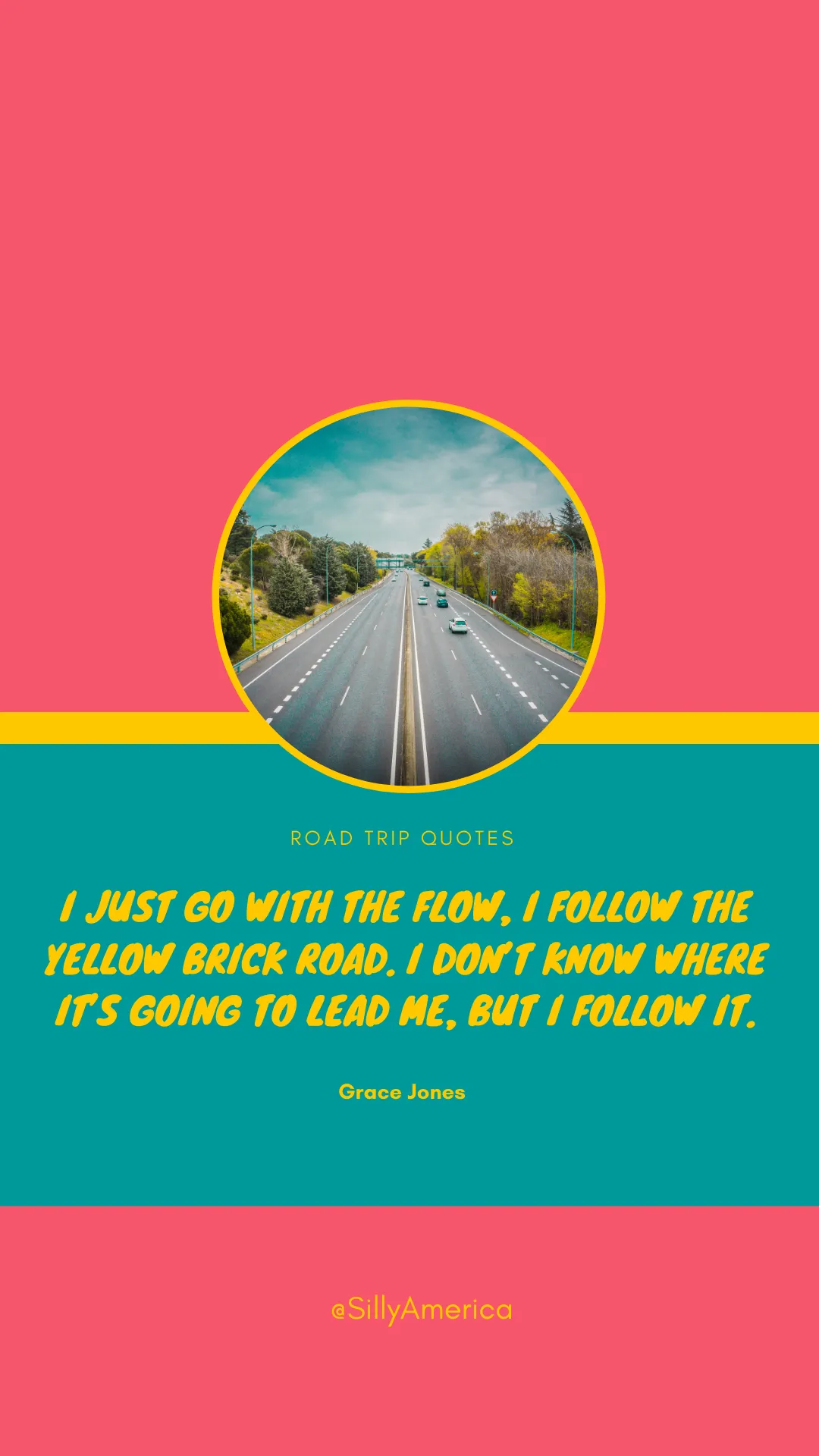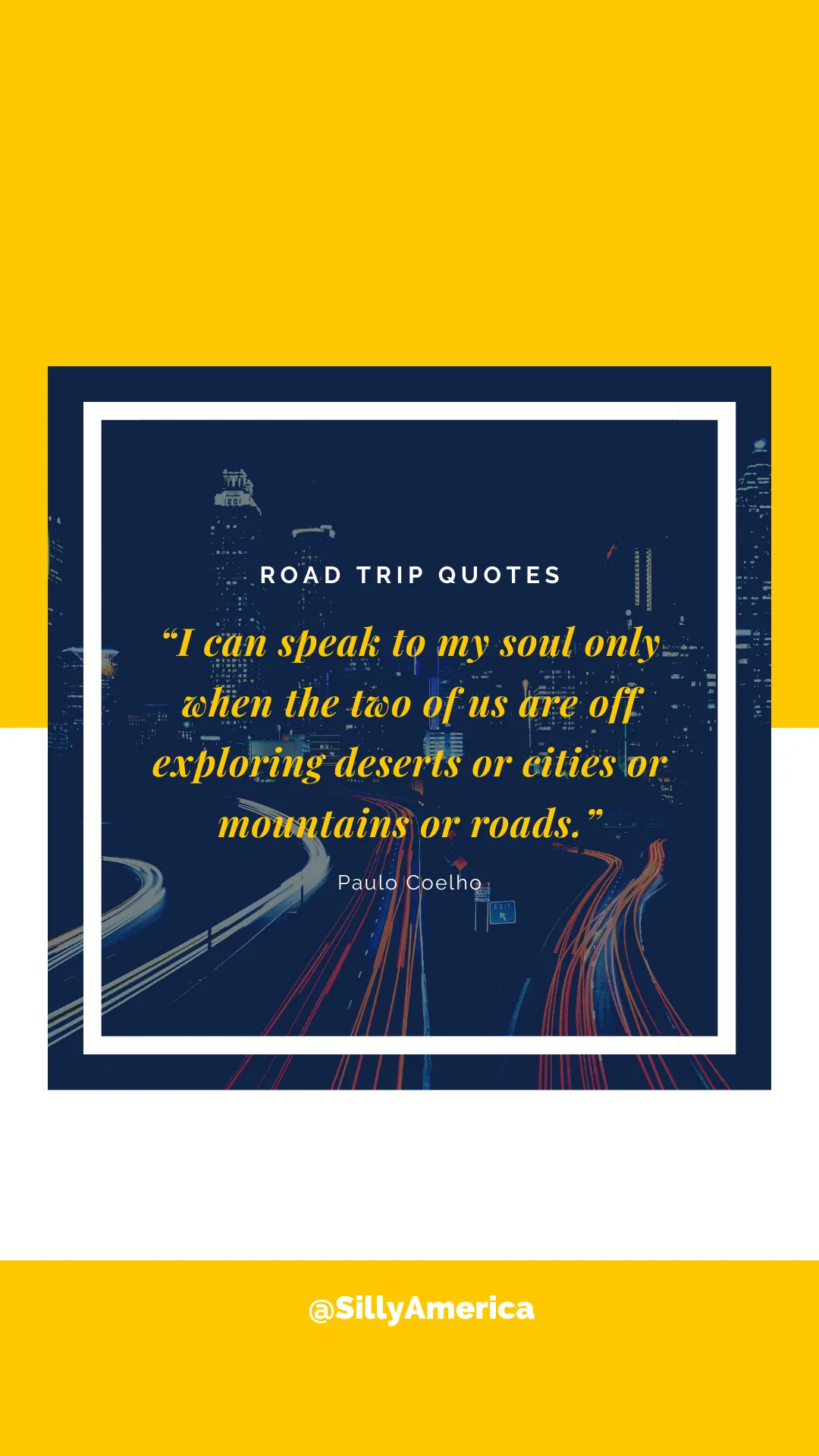 "See the world. It's more fantastic than any dream made or paid for in factories." Ray Bradbury, Fahrenheit 451
"Don't Count The Days. Make The Days Count." Muhammad Ali
"Kilometers are shorter than miles. Save gas, take your next trip in kilometers." George Carlin, Brain Droppings
"The open road is a beckoning, a strangeness, a place where a man can lose himself." William Least Heat-Moon, Blue Highways: A Journey into America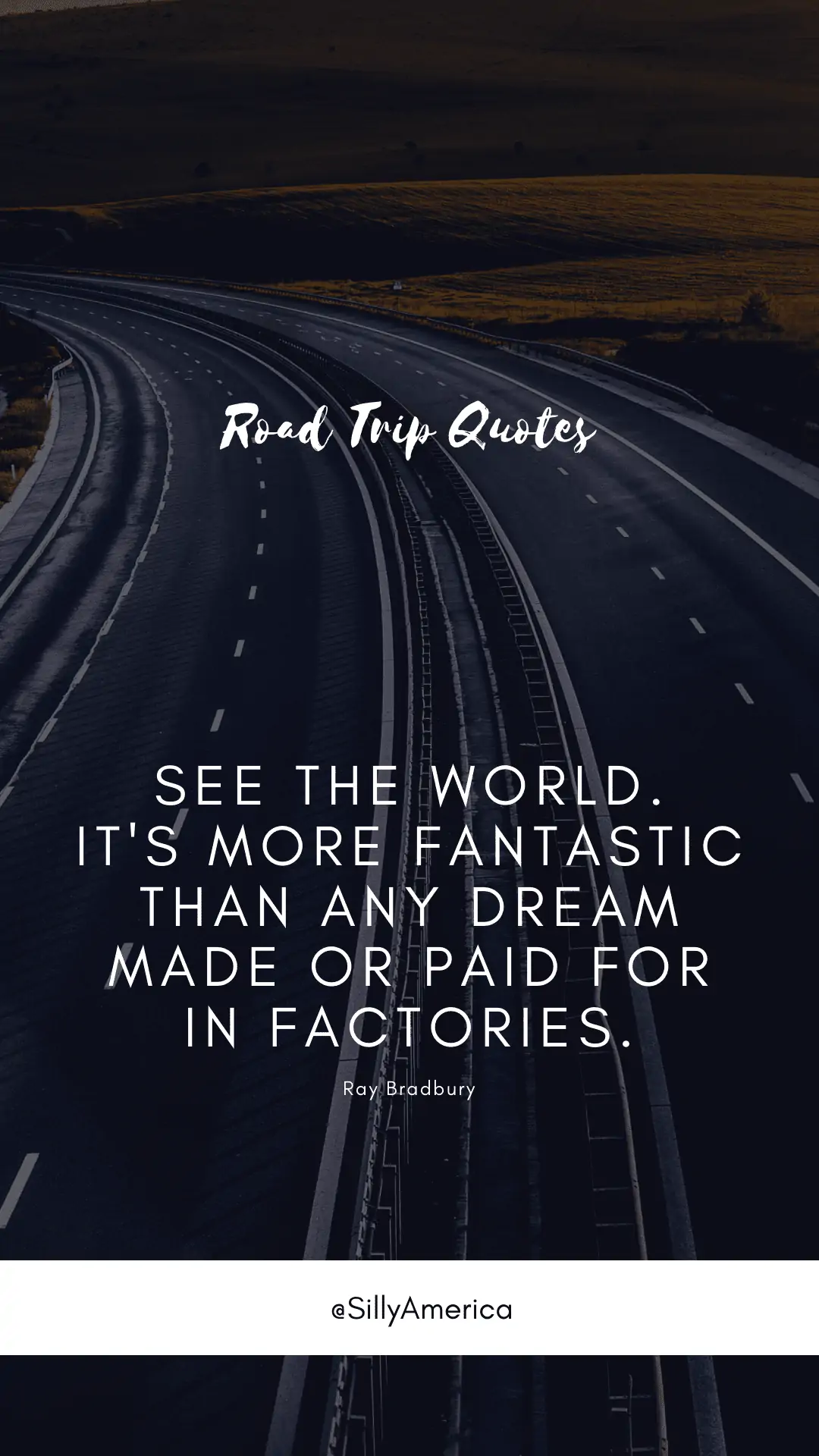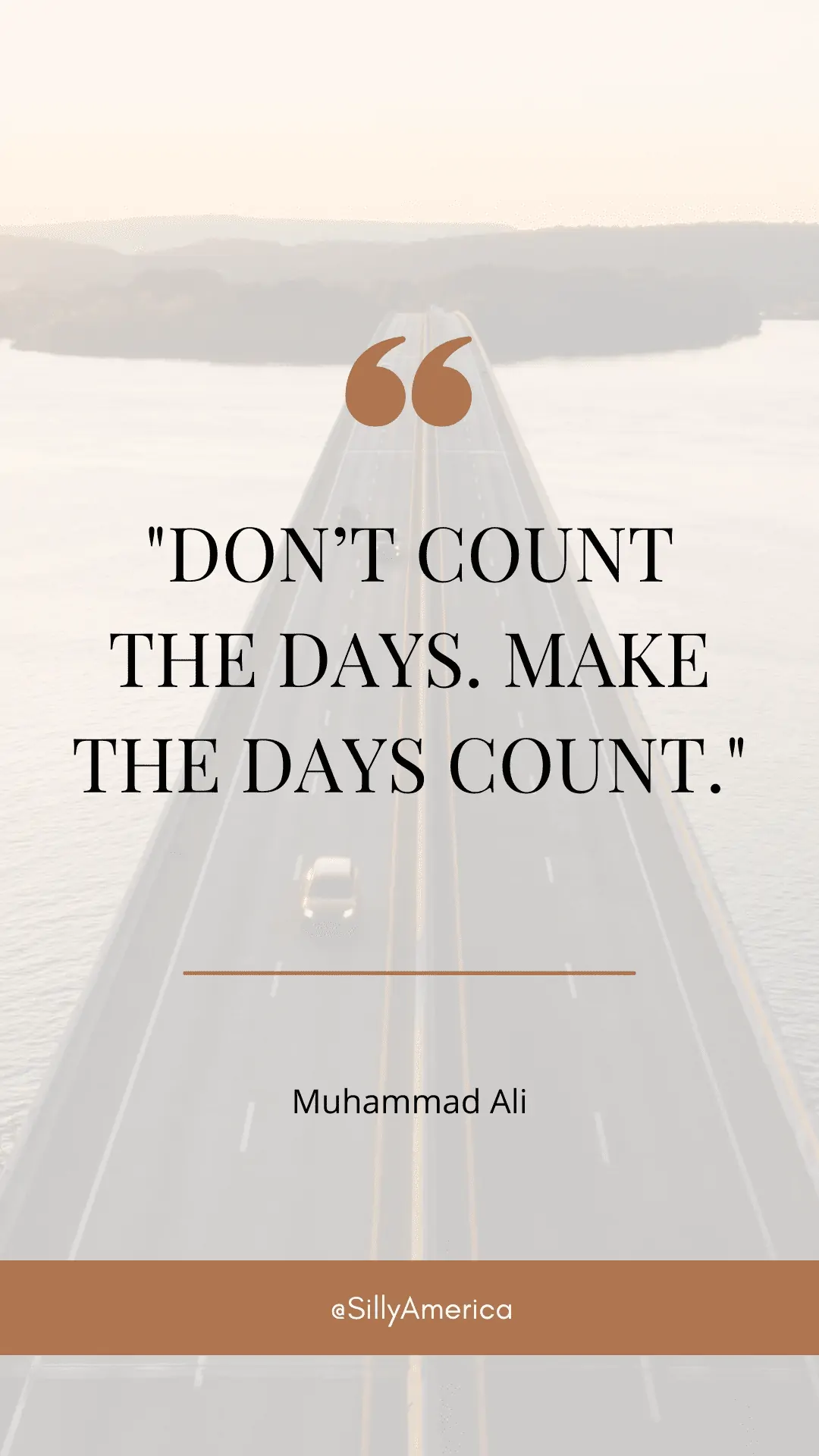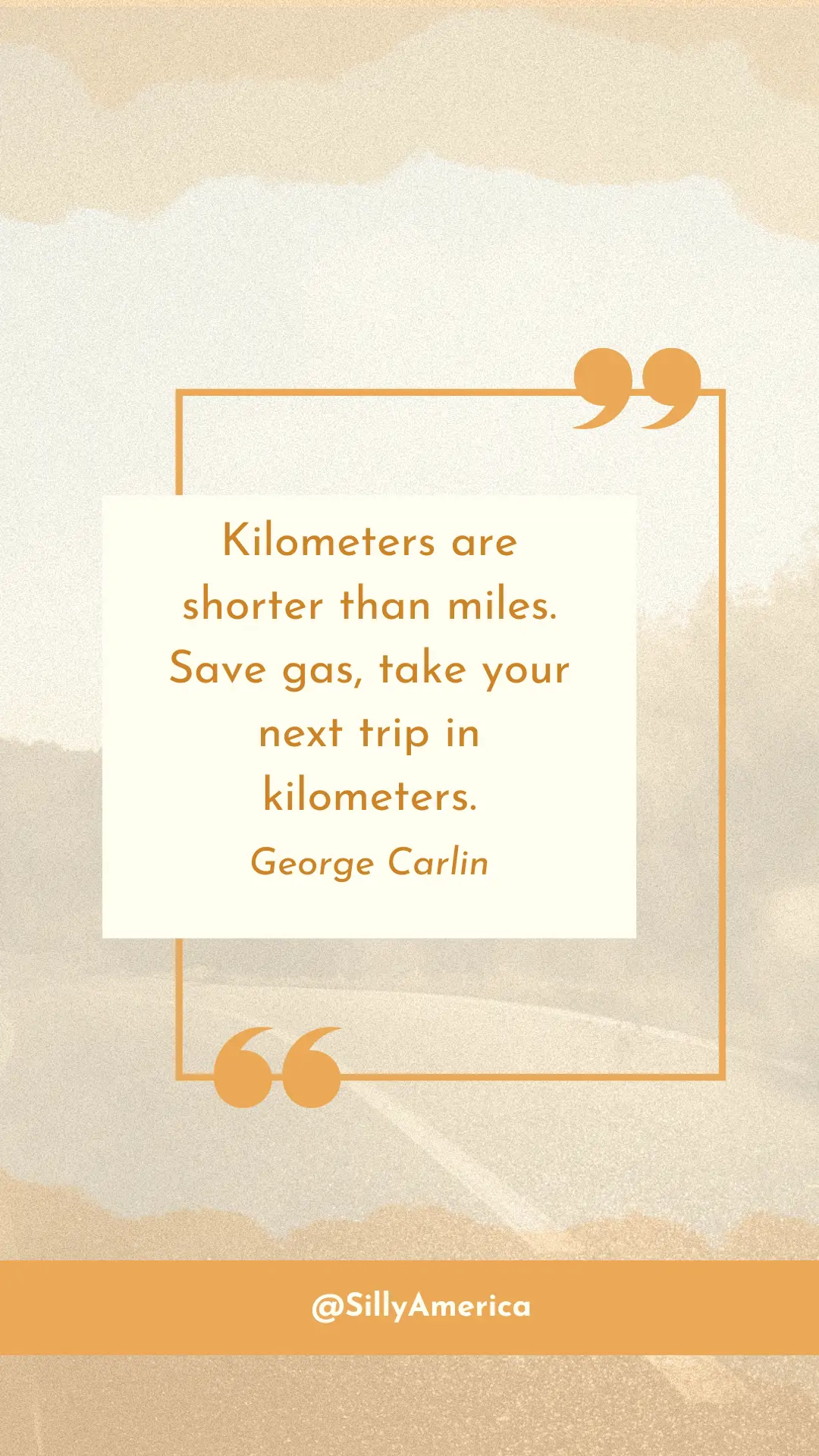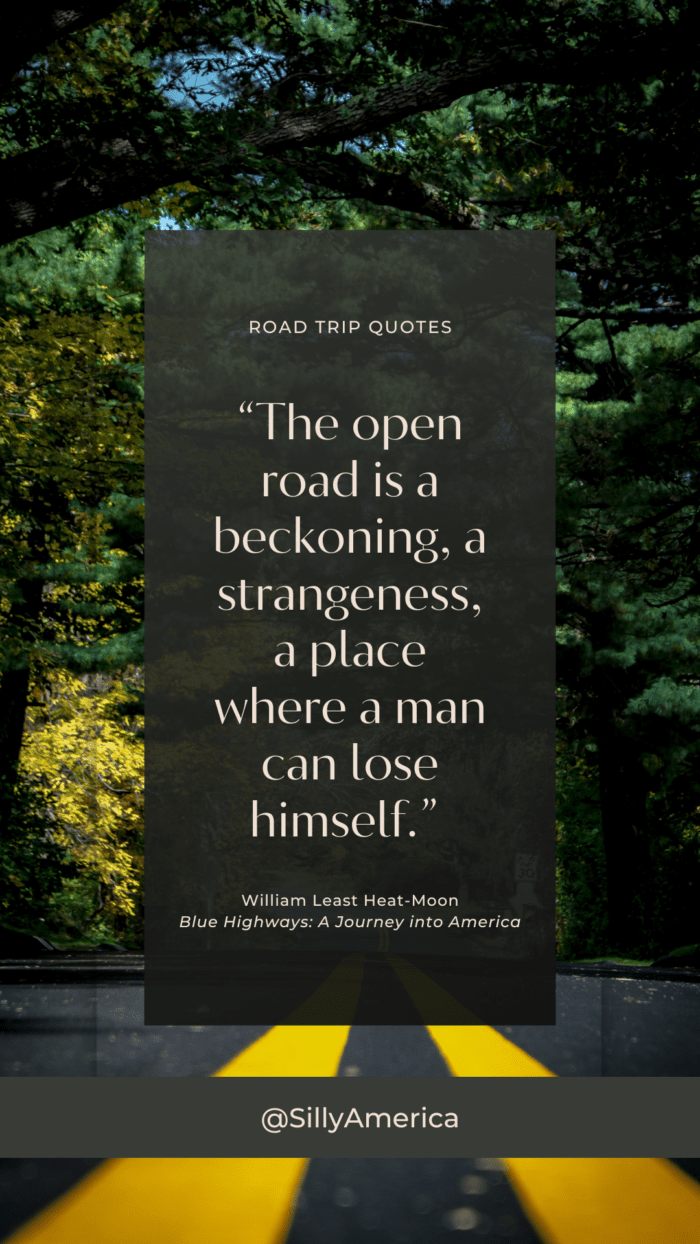 Pin this post to save these travel social media captions for later: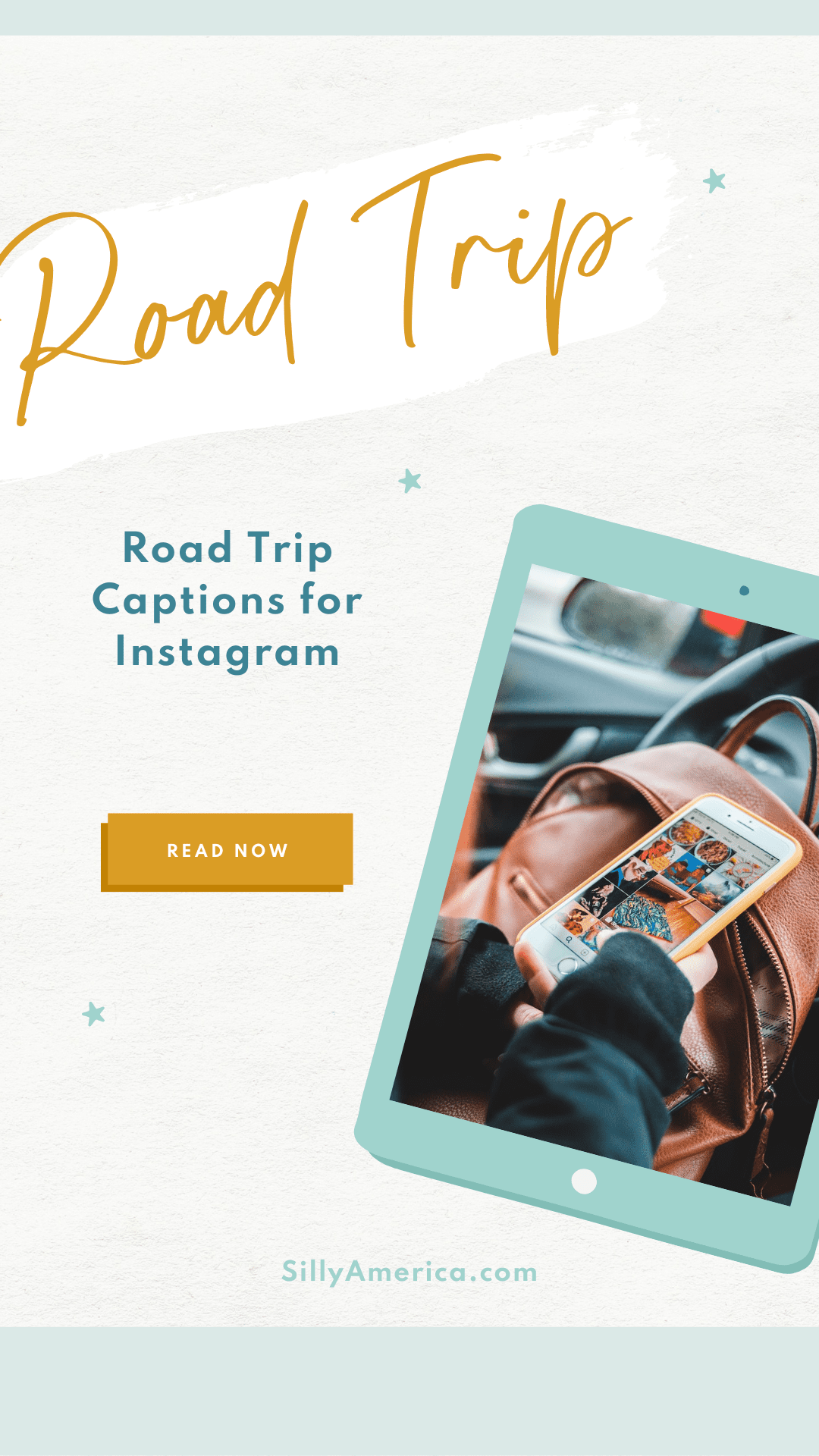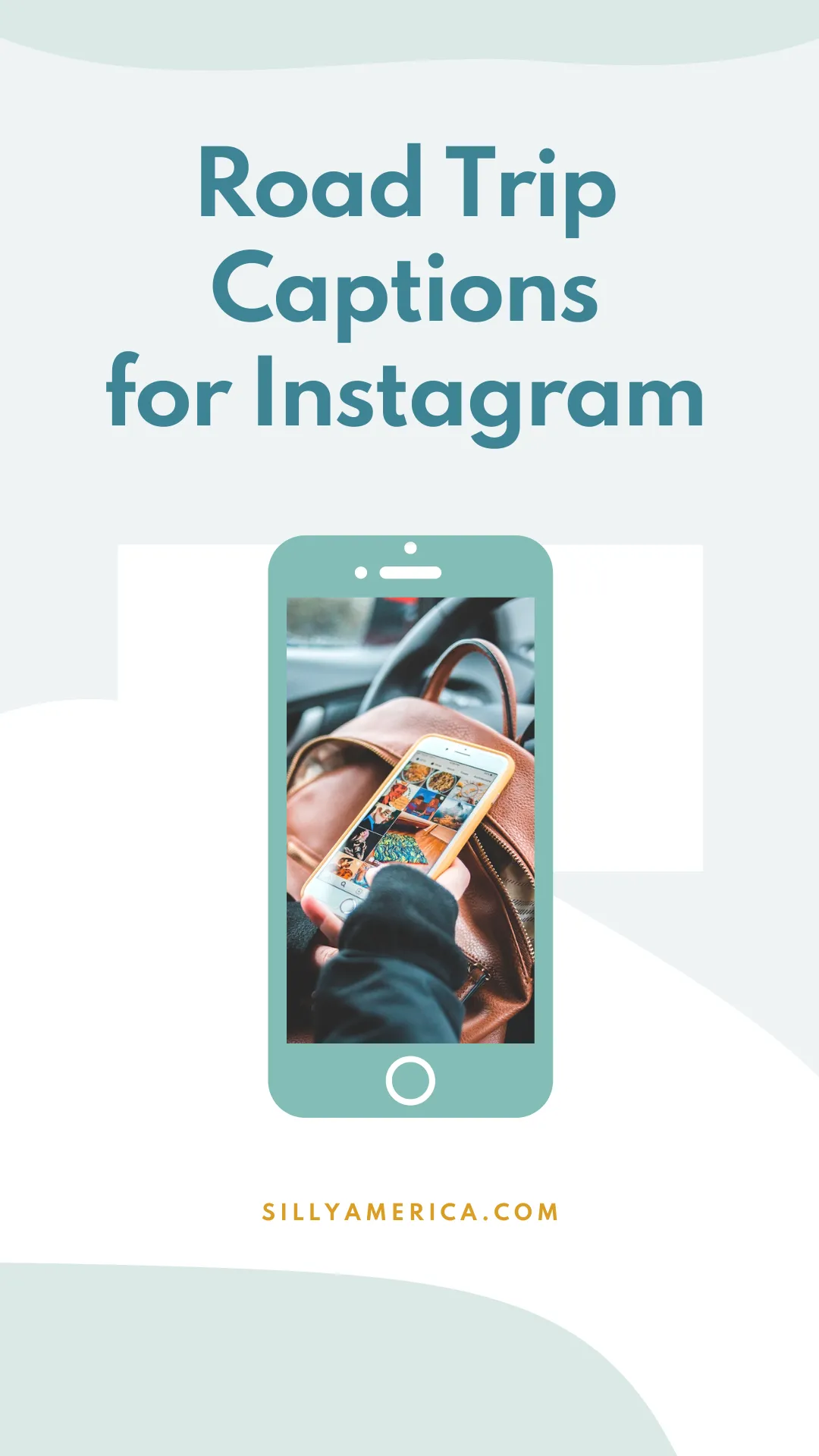 Photo by Erik Mclean via Pexels