The roadside attractions. The national parks. The great open road. Your diner breakfast platter. There are so many moments and memories you'll encounter on a road trip and, chances are, you'll want to capture a digital reminder of them all. A great road trip deserves great photography and the only way to get those perfect shots are with the best road trip cameras that meet your needs.
Sure, you can take photos with your phone when you travel. But is that really the best choice? If you've ever been disappointed with a washed out sunset photo, a too-cropped selfie, or a flat landscape that looks nothing like it did in person, it might be time to upgrade your camera.
For roadtrippers especially, a good-quality camera can make all the difference. After all, road trips are usually planned and plotted around epic photo-worthy stops, whether those stops are for the Grand Canyon or the world's largest cow.
What should you look for in a road trip camera? And what camera should you buy for a road trip? As a photographer myself who has been road tripping and photographing roadside attractions for over 15 years, I lay out my thoughts below. Keep reading to find out why you should buy a road trip camera, what to look for in the equipment you choose, and my recommendations for the best road trip cameras to capture your travels.
Why you need a camera for your road trip.
Why should you buy a camera for a road trip and not just use your smartphone? While smartphones have come lightyears in terms of quality over the last few years, they still haven't caught up to DSLRs or mirrorless cameras. Here are some of the reasons you should consider adding a dedicated camera to your bag:
No matter how good your phone's photos are, a good quality DSLR will always be better. I've been shooting with the same Canon 5D MKII DSLR for over ten years and it still takes amazing photos that are sharper and more vibrant than my brand new iPhone 11.
Lenses, lenses, lenses! With a smartphone you're pretty much stuck with whatever the built-in camera comes with. Usually that camera works great within certain parameters but if you zoom in too far, it's nothing but grain (even with advancements like the three-lenses now built into the iPhone 11 and beyond). Using a DSLR or mirrorless camera with interchangeable lenses is life-changing. From ultra-wide to ultra-zoom to macro, you can choose lenses that fit your needs. And, over time, you can build up a library of lenses to fit every need you may have.
Your phone is always doing double duty. Think about how many things you'll use your phone for on a road trip. It's your GPS, your file manager, your to-do list, your social media machine, your stereo…and your camera. If you don't want to miss a shot, having a tool that's not being used something else is a must.
It's always good to have a backup. Even if you do plan to take photos with your phone, having a just in case fallback option for photos is a good idea. What if you lose your phone, it runs out of batteries, or it runs out of space? Having a backup camera ensures you won't have to sacrifice memories.
Most modern cameras connect to your smartphone. If you're worried about not being able to share those photos to Instagram, don't. Most modern cameras connect to your iPhone or Android via bluetooth or wifi, so you can get better quality photos sent straight to your phone. This also usually comes with the functionality to use your phone as a remote, so, together with a tripod, you can 100% up your selfie game.
What to consider when buying a road trip camera.
What road trip camera you get depends on your needs. Do you want epic, sharp, colorful photos that will get all the likes on Instagram? Or do you just want snaps to send to your family? Here are some things to consider what choosing what camera to buy for a road trip.
What is your budget?
Cameras can range in cost from under $100 to well into the thousands. And that doesn't even include extras like lenses, cases, external flashes, and more. Think about your budget now and for the future. A good-quality camera is an investment but it can last a long time and the interchangeable lenses mean when it comes time to upgrade, you'll just need to replace the body. Whereas a cheap point in shoot might not cost a lot now, but might be obsolete a year from now.
How much does it weigh?
Weight is a key factor to consider when choosing a camera, especially for travelers. If all you're doing is hopping in and out of a car, a heavier DSLR won't be too much of a hassle. But if your road trip involves a day-long hike through Zion National Park or a week-long pass to Disney World, a heavy camera will weigh you down. Consider how long you plan to be on your feet with a camera around your neck.
How much space will it take up?
The great thing about road trips compared to any other type of travel is that you usually have a little more leeway when it comes to road trip packing. Whereas taking a plane you have to contend with TSA restrictions on the size and weight of your luggage, on a road trip you can pack your trunk to your heart's content.
Still, many road trips start with a plane ride to the starting point, your car might be packed to the brim already, or you just don't want to worry about carrying around a lot of extra stuff.
How will you use the camera?
Will you be taking your camera hiking? You'll want something light enough to carry. Will you be taking it to the beach? You'll want something waterproof. Do you plan to videos? Check out the video specifications. Are you a selfie queen? A flip screen is a must. Do you take a photo of every meal? Consider a macro lens.
How you will use your camera, where you'll take it, and what you like to shoot are all factors to consider when choosing a camera to take on a road trip.
What features do you need?
What features you need in a road trip camera are entirely up to you. What might be important to me won't be the same for you. Deciding what is important to you in a camera can help you narrow down your options. Think about whether you're going to use it take videos versus photos. Selfies versus landscapes. Indoor photos versus outdoor. During the day versus at night.
Here are some camera specifications to look out for:
Sensor Size: a camera's sensor size determines just how high quality the photos can get. Generally speaking, the bigger the sensor, the better the quality of photos. A bigger sensor usually means bigger pixels, less noise, better performance in low-light situations, and an image that contains more information overall. A full-frame DSLR or mirrorless camera mirrors the size of 35mm film cameras and has a bigger sensor than other formats like APS-H or APS-C crop-sensor cameras (found in still-decent low to mid-range DSLRs and mirrorless cameras), or 1.5 to 1-inch sensors (usually found in fixed-lens point and shoots).
Megapixel Count: The megapixel count for your camera refers to the number of pixels it can capture by the million. The higher the megapixel count a camera has, the larger you can make prints that still come out looking sharp. While you want a high megapixel count, if you'd just planning to post your road trip photos on Instagram, a blog, or Facebook or print a couple of 8x10s for your wall, you don't have to go crazy. High megapixels alone shouldn't be the only factor you consider.
ISO Range: A camera's ISO setting refers to the camera sensor's sensitivity to light. The higher the ISO, the less light you need. So, on a bright, sunny day, you would be able to shoot at a low ISO, but indoors in darker settings, you'd need to bump it up higher. Typically a camera might have an ISO range of about 200 to 1600 but modern cameras stretch that judiciously in both directions. If you plan to do a lot of shooting indoors or in low light situations, look for a camera that performs well at a high range. Just be weary, the higher the ISO the higher the image is susceptible to noise and grain.
Screen Type: Digital cameras use LCD (liquid-crystal display) screens to display and set settings, allow you to review images, and to frame and preview shots. The sizes and functions vary and your needs will vary as well. Some cameras have capacitive touchscreens, allowing you quick access to setting and the ability to focus your image with your fingertip. If you take a lot of selfies or photos from weird angles, you might want to make sure you get an articulating screen — also known as a flip screen, flip-out screen, adjustable screen, or hinged screen — that you can move to get a better view from different angles.
WiFi Capabilities: For roadtrippers on the go, a camera that has wifi capabilities might be an important functionality. With a wi-fi enabled camera you can share photos to your smartphone to post to social media, turn your phone into a remote for better selfies, or automatically transfer your photos to your laptop when you get to your hotel
Video Specs: If video is important to you, a camera's video specs should be important to you. You'll want a camera that offers at least 1080p HD resolution or even the even better 4K capabilities, you'll want to make sure if uses a compression level and file format that works for you, and you'll want to make sure it can handle any accessories you need, like microphones or lights.
Level of Manual Control: Some people want a camera that will do all the work for them and others want a camera that will allow them to adjust every setting for the perfect image. Keep in mind how automatic or manual you want your camera to be when choosing one.
Zoom Type: If a camera has an optical zoom, the actual lens adjusts to get up close to far away subjects. A digital zoom will adjust within the camera itself and basically makes a cropped version of what it sees. Optical zoom produces better images with more detail.
RAW Shooting: If a camera has the ability to shoot in RAW it means you can capture images that capture all the available data, without compression. This produces images superior to JPGs that make editing easier, because there is more data for your photo editing program to work with. RAW file sizes are much bigger thank jpegs and have to be edited and saved in a more common format before sharing to social media, so it might not matter to you. But professionals almost always shoot in RAW for the flexibility the files have to be worked with beyond the initial capture.
Battery Life: When taking a road trip, your camera's battery life matters. You'll often be spending all day in the car and sometimes be camping or hiking with no access to electricity. You want to make sure you can go as long as you need without needing a charge (or be prepared to stock up on extra batteries).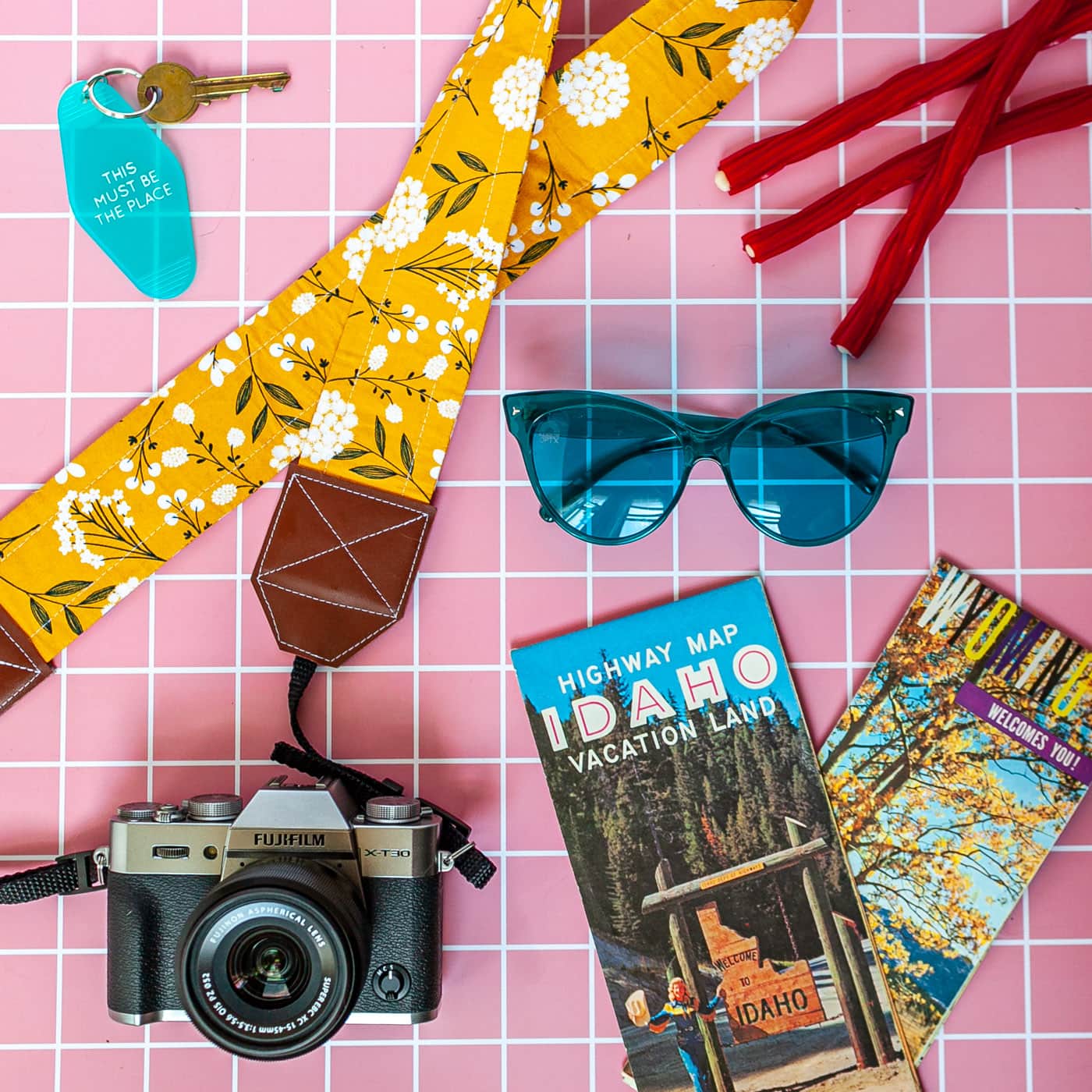 The best road trip cameras:
DSLR Cameras for the Best Road Trip Photography
DSLRs are the best cameras to buy if you're serious about your travel photography. They take amazing photos, have the ability to shoot in RAW, and have so many options for lenses and accessories. While the price tag may be steeper than any other option, consider it an investment. I used the same Canon 5D Mark II DSLR for over ten years, and that body still takes amazing photos. When I did decide to buy a new camera (a Canon 6D Mark II), I just needed to replace the body – all of the lenses I collected over the years still work since I stuck with the same brand.
Besides taking amazingly sharp photos, the best part about having a DSLR is the interchangeable lenses. I love being able to hook on an ultra-wide lens on a road trip to capture the full scenery of the grand canyon or all of the world's largest buffalo on one screen and then switch to an ultra-zoom to shoot a hot dog eating contest from across the crowd.
What is a DSLR?
DSLR stands for "digital single-lens reflex" camera. It combines the technology of traditional 35mm film SLRs (single-lens reflex cameras) with a digital imaging sensor. Inside the camera is a mirror that reflects light that comes through the lens into an optical viewfinder (where you can preview your shot) from a prism or set of additional mirrors. When the shutter is pressed it triggers the mirror to flip and the shutter to open, allowing light to hit an image sensor, capturing the final image.
Pros
DSLRs usually offer superior quality to mirrorless, point and shoot, or phone cameras.
If you stick with one brand, lenses can be used across different camera bodies and upgrades.
They're durable and can be used for many years.
They usually have excellent battery life for long days on the road.
Most newer models are WiFi enabled to use your phone as a remote or send yourself photos.
Cons
DSLRs tend to be the most expensive option for cameras.
Usually you pay for the camera body but lenses, external flashes, and other accessories cost extra.
They weigh more and take up more room in your car than other options.
There is a higher learning curve to use the manual options (though most do come with out-of the box auto functionality as well).
Our Picks – Beginner DSLR Cameras for Travel Photography
Canon EOS Rebel T7
Features: 24.1 Megapixel CMOS (APS-C) sensor, DIGIC 4+ Image Processor, built-in Wi-Fi and NFC technology, 9-Point AF system and AI Servo AF, optical viewfinder, 9-Point AF with Center Cross-Type Point, 3.0″ 920k-Dot LCD Monitor, Full HD 1080/30p Video Recording, ISO 100-6400, Up to 3 fps Shooting, Scene Intelligent Auto Mode, Creative Filters and Creative Auto Modes, works with Canon EF lenses
---
Nikon D3500
Features: 24.2 Megapixels, 5 FPS Continuous Shooting, Full HD 1080p video, Bluetooth connectivity for Nikon's free SnapBridge app
---
Our Picks – Intermediate DSLR Cameras for Travel Photography
Canon EOS 6D Mark II
Features: 26.2 Megapixel Full frame CMOS Sensor, Optical Viewfinder with a 45 point All Cross type AF System, Dual Pixel CMOS AF with Phase detection and Full HD 60p, DIGIC 7 Image Processor, Vary angle Touch Screen, 3.0 inch LCD. Built in WiFi, NFC, bluetooth and GPS capability
---
Nikon D7500
Features: 20.9 Megapixel CMOS Sensor, 8 FPS Continuous Shooting, 4K UHD video
---
Our Picks – Pro DSLR Cameras for Travel Photography
Canon EOS 5D Mark IV
The Canon EOS 5D Mark IV features a 30.4 MP full-frame sensor and 4K video for high-resolution shooting no matter the medium. It's a professional camera, so you'll pay for the quality, but this work horse is worth it.
Features: 30.4 MP full-frame CMOS sensor, 61-point AF system, 4K video, Dual Pixel RAW files, built-in Wi-Fi connectivity, built-in GP
---
Nikon D850
Features: 45.7 Megapixel full-frame sensor, 8K6 and 4K time lapse movies, 4K Ultra HD video recording, built-in wifi and bluetooth
---
Mirrorless Cameras for a Lighter Load
A great alternative to DSLRs for road trip photography is a mirrorless camera. Like DSLRs, they take fantastic photos and use interchangeable lenses, but are usually a slightly cheaper and weigh a lot less.
I recently added a mirrorless camera to my road trip photography arsenal. It's the perfect addition to my kit that I can bust out when I want something lighter to throw in my purse or for those times I don't want to carry around something heavy and bulky, like when I'm spending an entire day at Disneyland or going for a hike.
What is a mirrorless camera?
As I said above, a DSLR works with a mirror flipping to open to reflect light. As you can probably guess, a "mirrorless" camera doesn't work with mirrors. In this type of camera, light passes through the lens onto the image sensor, capturing a preview of the image and displaying it on the rear LCD screen of the camera or on an electronic viewfinder (EVF).
Mirrorless cameras are also referred to as mirrorless interchangeable-lens cameras (MILC), DSLM (digital single lens mirrorless), or EVIL (electronic viewfinder, interchangeable lens).
Pros
Mirrorless cameras take great quality photos and are continually being improved upon.
They weigh less than DSLRs.
They have many of the same manual functions photographers expect from a professional camera (but also have automatic functions perfect for beginners).
They have interchangeable lenses, just like DSLRs.
Cons
Mirrorless cameras can be just as expensive as DSLRs.
Usually you pay for the camera body and a kit lens, but additional lenses, flashes, and accessories cost extra.
There is a higher learning curve to use the manual options (though most do come with out-of the box auto functionality as well).
The battery life isn't as good as a DSLR.
Our Picks
Panasonic Lumix G100
Features:
Features: 4K photo, 4K 24p 30p video, advanced audio, iA (intelligent auto) mode, webcam capabilities, advanced 360-degree sound
---
Features: 26.1 MP, X-Processor 4 Image Processor; Built-In Flash; 5-Axis In-Body Image Stabilization; 425-Point Hybrid AF System
---
---
Canon EOS R5 Full-Frame Mirrorless Camera
Features: 45 MP CMOS censor, DIGIC X Image Processor, Sensor-Shift 5-Axis Image Stabilization; Dual Pixel CMOS AF II with 1053 Points, Subject Tracking with Deep Learning
---
Nikon Z5
Features: Full frame, 24.3 megapixels, 4K UHD videos, VR image stabilization, 273 point autofocus system, dual SD slots, USB powering while camera is in use
---
Fujifilm X-T4 Mirrorless Digital Camera
Features: 26.1 megapixel sensor, 4K video at 60fps, In-body-stabilization, Film Simulation Modes
---
Panasonic LUMIX S5 Full Frame Mirrorless Camera
Features: 35mm Full-Frame CMOS, 24.2MP CMOS sensor with Dual Native ISO, 6.5-stop Dual Image Stabilization, Live Composite mode, 4K video
---
Sony Alpha 1 Full-frame Interchangeable Lens Mirrorless Camera
Features: 50.1MP full-frame stacked Exmor RS CMOS sensor w/ integral memory, blackout-free shooting up to 30fps, 240 fps refresh rate, anti-flicker mechanical and electronic shutter
---
Point and Shoot Cameras that are Easy to Use
Before everyone switched to using their smart phones as a camera, there were point and shoots. To be honest, with the quality of the latest iPhones, Google Pixels, and Samsung Galaxys, a new phone is probably a better investment over a point and shoot camera.
Still, there's a place for using a point and shoot camera on a road trip. The biggest advantage to using a point and shoot over an iPhone is that it frees up that phone to be used for other things. You won't have to worry about missing picture because your phone is being used for a GPS or backseat game playing. It's also a cheaper option to have a point and shoot available just in case you run out of battery or space on your phone. Also, some point and shoots have features that phones do not, like waterproofing. A waterproof point and shoot is a great option if you're planning to spend a of time on a beach, it's the perfect camera for a beach road trip.
What is a point and shoot camera?
A point-and-shoot camera (also referred to as a compact camera) is a camera that's meant to be simple to use: you point at your subject, you see what to expect on an LCD screen, you press a button, and your image is saved. These cameras are basic, don't allow for interchangeable lenses, and usually have a built-in flash.
Pros
Having a point and shoot camera on a road trip will help save your phone's battery life and storage.
They are easy to use and the learning curve is quicker than for a DSLR or mirrorless camera.
They are more affordable than DSLRs or Mirrorless Cameras.
The optical zoom is superior to most phone cameras.
Cons
Point and shoot cameras have comparable image quality to smartphones.
There are no interchangeable lenses.
They don't have as many manual options as DSLRs or mirrorless cameras.
Our Picks
OLYMPUS Tough TG-6 Waterproof Camera
Features: Water proof (50 feet /15 meter), dust proof, shock proof (7 feet / 2.1 meter), crush proof (100 kgf), freeze proof (14 degree Fahrenheit / -10 degree Celsius ), anti-fog, F2.0 lens, back illuminated CMOS image sensor, 5 underwater shooting modes, JPEG and raw file formats, 4K movie and full HD 120 fps high speed recording
---
Canon PowerShot G7X Mark III Digital Camera
Features: 20.3 Megapixel CMOS sensor, 40x optical zoom, 4K 30p video, tilted LCD, 20.1 Megapixel CMOS sensor, DIGIC 8 Image processor, 4.2x optical zoom Lens, 4K 30P/ FHD 120P video
---
Panasonic Lumix 4K Digital Camera
Features: 20.3 Megapixel MOS sensor, 30x Leica DC VARIO ELMAR lens (24 720mm), optical image stabilizer, 4K QFHD video recording
---
Fujifilm Instax Mini EVO Instant Camera
Features: 10 lens options, 10 film effect options, smartphone app
---
Action Cameras for Road Trip Adventures
Do your road trips take you off road? Do you plan to hike in Yellowstone, rain or shine? Surf on the California coast? White water raft West Virginia's Gauley River? Ski in Denver? Snorkel in the Florida Keys? If your road trips tend to the more adventurous side, an action camera would serve you well.
Another advantage of using an action camera for road trips is the time lapse setting! Look for this setting to take photos at set intervals to stitch together a road trip time lapse of your whole trip!
What is an action camera?
Action cameras are designed to capture photos and videos of extreme action. You'll often see a mountain biker with one strapped to his helmet or a surfer with one strapped to her board. They are designed to be small in order to go anywhere with you, easy to use to easily capture the moment, and durable, to withstand the most extreme elements, from snow to rain to wind to water.
Pros
Most action cameras are waterproof (with or without a housing)
Some are voice activated.
The image stabilization tends to be great.
Time lapse settings for recording your road trip.
They're small and won't take up a lot of room in your car.
Cons
To get the most out of your action camera you'll need to purchase additional accessories and mounts.
Can be limited to wide angles with no zoom.
The battery life isn't the best.
Our Picks
GoPro HERO10 Action Camera
Features: 23 megapixel photos, 4K60 video, HyperSmooth 4.0 video stabilization, TimeWarp 3.0, 1080p Live Streaming + Webcam, Preview Front and Rear Touch screens
---
AKASO EK7000 4K Action Camera
Features: 4K 25Fps & 2.7K 30Fps video, 12MP photos/30 frames per second, wireless wrist remote control. 2 rechargeable 1050mAh batteries, built-in Wi-Fi & HDMI, waterproof up to 100 feet
---
Road Trip Dash Cams For Your Car
If you don't want to miss a minute of your road trip, even if you're driving, or want to make an epic road trip time lapse video of every step you took from your first turn to your destination, a dash cam (dashboard camera) might be a good investment.
Dash cams are traditionally used as a safety measure, to record your every move in case of an accident. But they can also be used to record your every road trip. Most car dash cams are designed to record the road in front of you, but you can also find cameras that record inside of your car, if you want to capture your karaoke (car-aoke) performances.
If you're looking to create fun travel videos, travel vlogs, or rod trip timelapses it might make more sense to get a GoPro and mount it to your dashboard to ask as a road trip dash cam, but if you're planning on recording your entire trip, it might be worth it to have equipment dedicated to the task.
What is a dashboard camera?
A dashcam is a camera that mounts to your car's dashboard and continuously records the view from your front window (or, in some cases, into the car) while you're driving. They are often used by cautious drivers who want to record details of their journey and make sure they have proof in case of a car accident, but can also be used to record your entire road trip.
Pros
Designed for the specific purpose of recording from your dashboard.
Have better battery life that a GoPro or smart phone and are designed to keep recording for longer periods of time.
Cons
Most dashboard cameras have a singular use and can't be used outside of the car.
With their wide-angle lenses they sometimes pick up part of the window and car hood.
Might be illegal in some jurisdictions.
Our picks:
GoPro Suction Cup Mount
Features: works on cars, boats, motorcycles and more; industrial strength suction cup' broad range of motion and stability; quick release
Just for fun road trip cameras
There are tons of cameras to bring on a road trip that really would just be fun to use. There are instant cameras, old film cameras, disposable cameras, Lomography cameras, and more. You probably wouldn't want to bring these fun additions as your main camera, but for Polaroid souvenirs or to reconnect to that lost thrill of not knowing what you have until the film is developed, these modern marvels and blasts from the past can add a little extra excitement to your road trip photography.
Pros
These cameras make a fun addition to any road trip.
Cons
It's one more thing to pack and keep track of.
You'll probably want a traditional digital camera as well.
Film, film processing, and accessories can add cost.
Our Picks
Fujifilm Instax Mini 11 Instant Camera
Features: automatic exposure, one-touch selfie mode
---
Lomography Simple Use Reloadable Camera
Features: pre-loaded Color Negative 400 Film, built-in flash, color gel filters, reloadable
---
Polaroid Now I-Type Instant Camera
Features: autofocus, double exposure, self-timer, flash, compatible with both i-Type and 600 film.
Pin this post on the best road trip cameras to Pinterest to save for later:
Photo by Lisa Fotios from Pexels