Road trip games are always a fun way for passengers of any age to pass time in the car. Fun car games include Road Sign Bingo, the License Plate Game, Questions and Answers, and, of course, a road trip scavenger hunt! But the fun shouldn't stop when you get to the hotel. There are plenty of games to play in a hotel, and one of the most fun is a hotel scavenger hunt!
Hotel scavenger hunts are a fun way to keep everyone entertained after a long day of travel. Just print off a list of things to see in a hotel, have everyone keep a copy and keep their eyes peeled, and then award points for who sees the most and who sees what first. Play at one hotel on a weekend vacation or across many on a week-long road trip.
You can play different variations for young kids to adults, and even play at a hotel birthday party.
Ready to play?
Learn how to play and download some of our free hotel scavenger hunt printables below! Play on a family vacation, a Disney trip, or a road trip!
How to Play a Hotel Scavenger Hunt Game
Make a list. Make a list of things you think you'll see in a hotel. It can be as easy (a bed, a sink, carpeting), as hard (warm fresh cookies, a pink Cadillac bed), or as specific (someone making waffles at the breakfast buffet) as you'd like! Tailor your items to your own trip (including details of hotels you've booked) or use the free printable PDFs below!
Set up a point system. Set points for each item. It can be the same 10 point award for every item or you can mix it up giving different totals to different items, depending on how hard they might be to find. You can even use a scaled-point system where the first person to see something gets 10 points, the next 9, and so on.
Play! Whenever a passenger sees something on the list they have to announce it and then can cross it off the list. Some items everyone can get credit for (there might only be one cowboy hotel on your itinerary) but other more common items (like a check-in desk or elevator) go to the first person to see it.
Add it up. At the end of tour road trip or vacation, add up everyone's points. Whoever has the most points wins! What they win is up to you. It can be anything from a physical prize, the biggest hotel bed on the last night, or choice of where to stop for lunch.
Bonus Ideas and Game Variations:
Use cell phone cameras and a vacation hashtag (#SmithFamilyHotelScavengerHunt) to keep track of everyone's finds. Have everyone take photos or selfies in front of the object they find.
Use instant cameras to document your items and keep them in a photo album or a vacation scrapbook.
Instead of a list of items or photos, use hotel scavenger hunt riddles or clues that everyone has to solve!
The Road Trip Journal & Activity Book
Enjoy fun games and challenges to pass the time on your next road trip and have a keepsake to look back on for years to come with this entertaining must-have for your next vacation. The Road Trip Journal & Activity Book features fun and engaging journal prompts. plus 100 activities and games to play in the car, at your hotel, or at stops along your route.
Free Hotel Scavenger Hunt Printables
Download these free printables to play this fun find and seek game. Look for all the items in your hotel and see who can get them all first!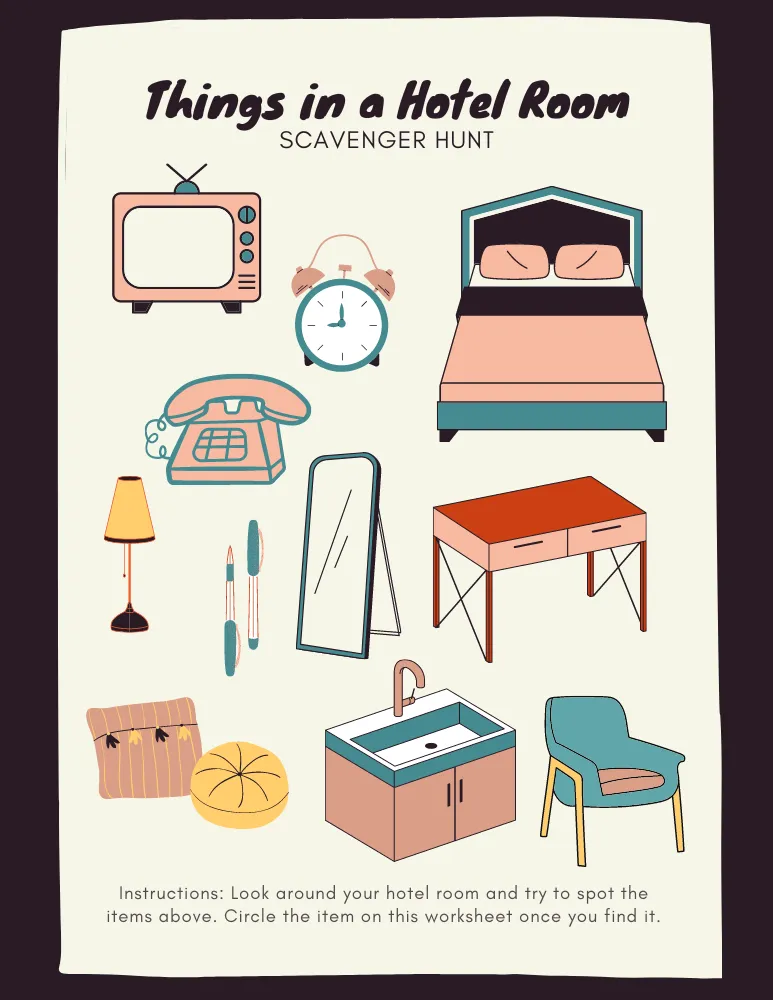 Free Hotel Scavenger Hunt Printable Game Sheet
Print a copy of this game sheet for all the little ones you're traveling with. A fun game for children on vacation, this visual Hotel Room scavenger hunt game sheet lets them explore the hotel room and identify all the things they might find!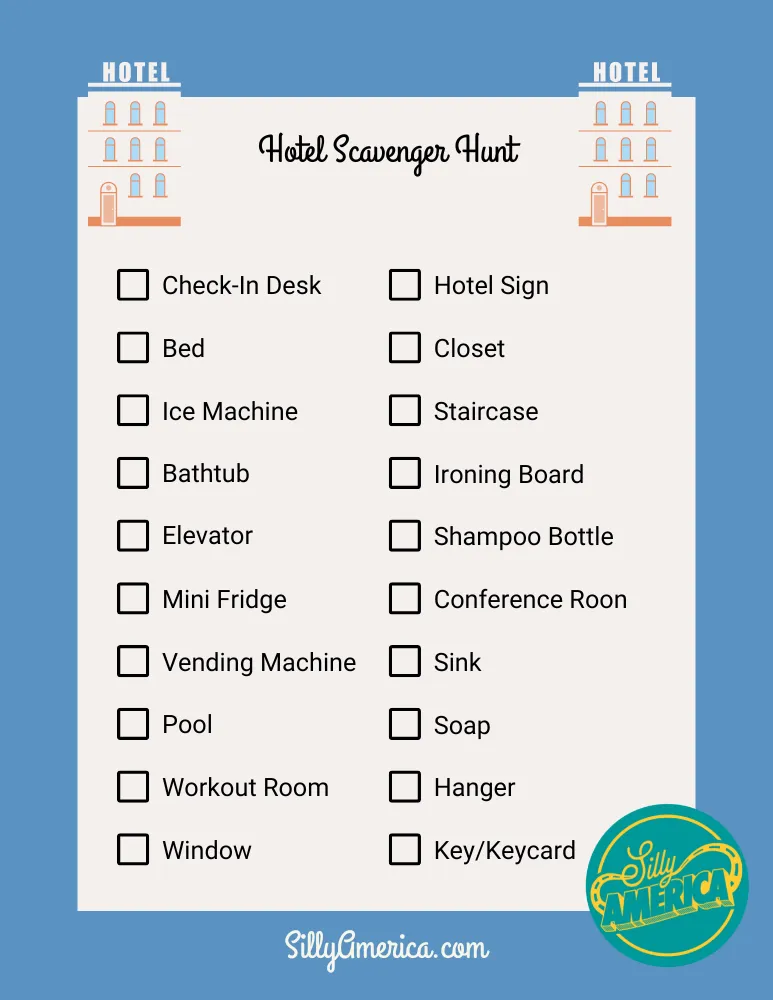 Hotel Scavenger Hunt List
This printable checklist has checkboxes so you can check off everything you find. Be sure to download one copy for everyone you're traveling with!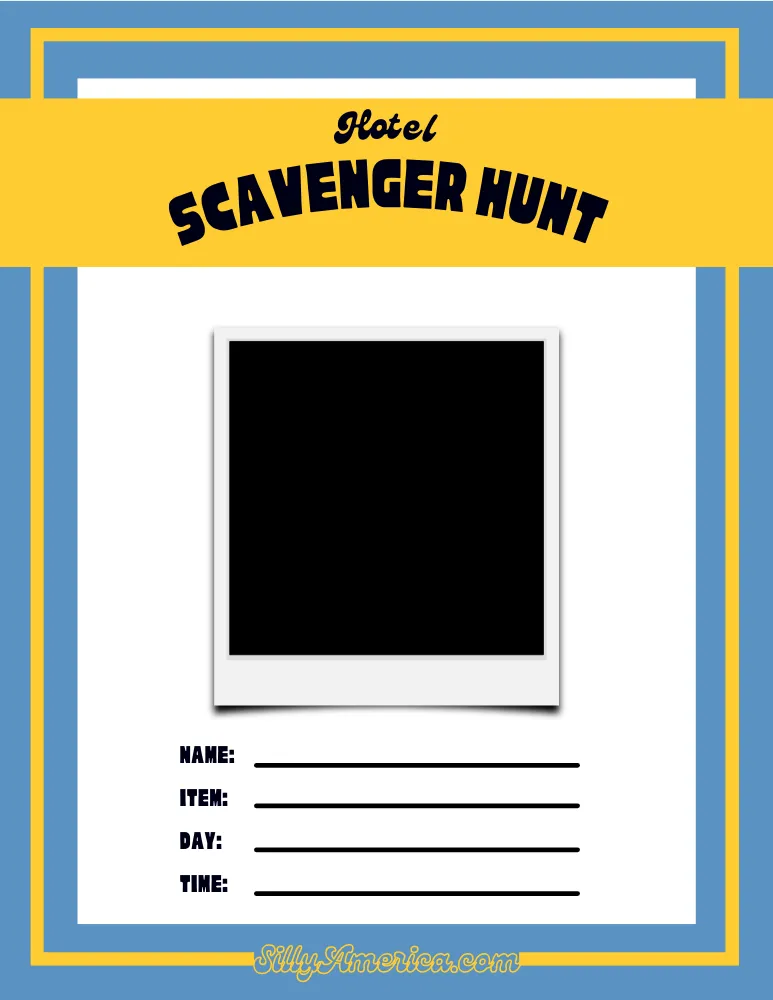 Photo Scrap Book Sheet
Create a photo scrap book of your finds by printing out photo sheets to use with an instant camera. Tape or glue your instant photos to these pages and mark them with the finder's name, the item, and the day and time the spotted the item!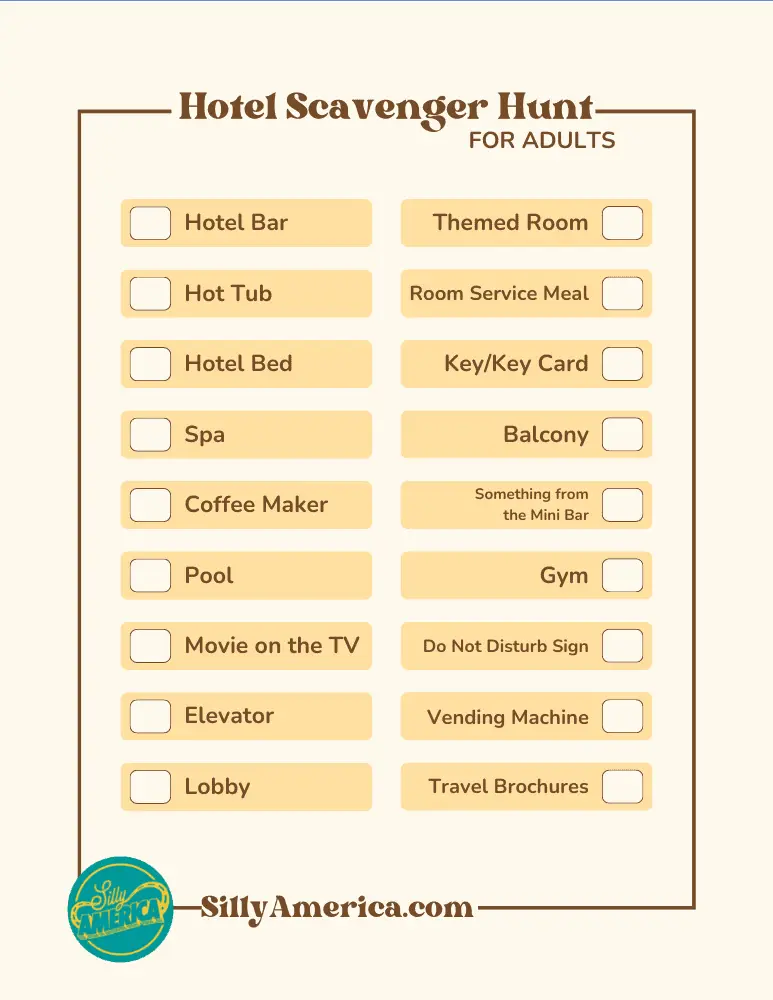 Hotel Scavenger Hunt for Adults
If you need hotel scavenger hunt ideas for adults, think of some of the more adult areas of a hotel: the jacuzzi or hot tub, the hotel bar, the spa, or the mini bar. Treat the game more like a selfie challenge and see who can get the best photos in all the best places on the list.
Hotel Scavenger Hunt Ideas and Items to Find
Use this list of hotel vocabulary and items you'd find at your accommodation to make your own personalized list of scavenger hunt hotel ideas.
Air Conditioner/Heater
Airport Shuttle
Alarm Clock
Ashtray
Balcony
Bar
Bathrobe
Bathtub
Bed
Bedside Table
Breakfast Buffet
Chair
Coffee Maker
Concierge
Conditioner
Conference Room
Curtains
Desk
Do Not Disturb Sign
Door
Dressing Table
Elevator
Emergency Exit Sign
Front Desk/Reception Desk
Gym/Weight Room/Fitness Center/Workout Room
Hair Dryer
Hallway
Hot Tub/Jacuzzi
Ice Machine
Iron
Ironing Board
Key/Keycard
Kitchenette
Laundry
Lobby
Luggage Rack
Makeup Wipes
Microwave
Mini Bar
Mini Fridge
Parking Lot
Phone
Pillow
Pool
Quilt
Room Service Menu
Room Service Tray
Safe
Service Bell/Reception Bell/Concierge Bell
Shampoo
Sheet
Shower
Slippers
Soap
Sofa/Couch
Spa
Stairs
Television/TV
Thermostat
Tissues
Toilet
Toilet Paper
Travel Brochures
Vending Machine
Wardrobe
Washcloth
Water Bottle
Pin this road trip game to save for your next road trip!