Sometimes you have a long day on the road and just want to retire to your hotel room early, but aren't quite ready for bed. Other times a rainy day might unexpectedly keep you inside longer than expected. You might think there is nothing to do in a hotel room other than watch a movie on cable. But there are plenty of games to play in a hotel that will keep you, your friends, or your family entertained.
Check out some our favorite board games, card games, games for adults, and games for kids and families that can easily be played in a hotel room when you're stuck inside or just don't want to leave. Keep this list on hand for your next road trip or vacation.
Games to Play in a Hotel
Board Games to Play in a Hotel
Playing board games is a great way to entertain yourself in a hotel room after a day of driving or on a rainy day. There are so many different board games to choose from and you can't go wrong with any! Bring along favorites you already own or buy travel-sized version of the classics to easily transport from your trunk to your room. Here are some of our favorite board games to play in a hotel
Scrabble to Go
Challenge each other to come up with the most impressive words. A travel edition of scrabble not only allows you to play this fun board game in a hotel room, latching pieces mean you can bring your unfinished game with you to pick up at the next day and the next hotel.
Monopoly World Tour
If you're stuck in the hotel all day and are looking for a game to fill the time, try a fun twist on Monopoly. This travel-themed Monopoly game takes you to different locations and lets you make travel goals.
Connect 4 Grab and Go Game
Try to get four checkers in a row and block your opponent from getting it first. Connect 4 Grab and Go is a compact travel version of the popular board game.
Clue Grab and Go Game
Solve a whodunit mystery by following the clues. Move around the board and try to piece together what you find to be the first to crack the case in a friendly game of Clue.
Card Games to Play in a Hotel
Card games are some of the best games to play in a hotel. Especially since a deck of cards is small, easily packed in a suitcase, and provides a world of options. Bring a specialty card game or any standard deck and spend a day in bed playing cards.
UNO
UNO is a classic card game that has players racing to get rid of all the cards in their hand first by matching what's in their hand with what was last discarded. Don't forget to yell UNO when you reach the coveted one card left.
Go Fish
An easy card game for kids to play in a hotel, try to match four cards or make pairs with the cards in your hand by fishing the cards of the other players. You can play with any deck of cards or buy a special deck!
Exploding Kittens
In this unique card game you take turns playing cards and causing trouble with the singular goal to not explode.
Hotel Games for All Ages
These hotel games can be enjoyed by anyone you're traveling with, whether you're in the hotel with friends, family, kids, or a significant other!
Pictionary
A game of Pictionary can provide a hilarious distraction for a day in the hotel. Test your artistic abilities by trying to draw a clue and have everyone else guess what you're trying to draw. Choose a category like movies, animals, places – anything you want! All you need to play Pictionary in a hotel room is some paper, something to draw with, and a little imagination. Or, bring along an official game of Pictionary to play!
Charades
Like Pictionary, charades is a game that has your opponents try to guess your keyword or phrase. Only instead of drawing, you have to act it out.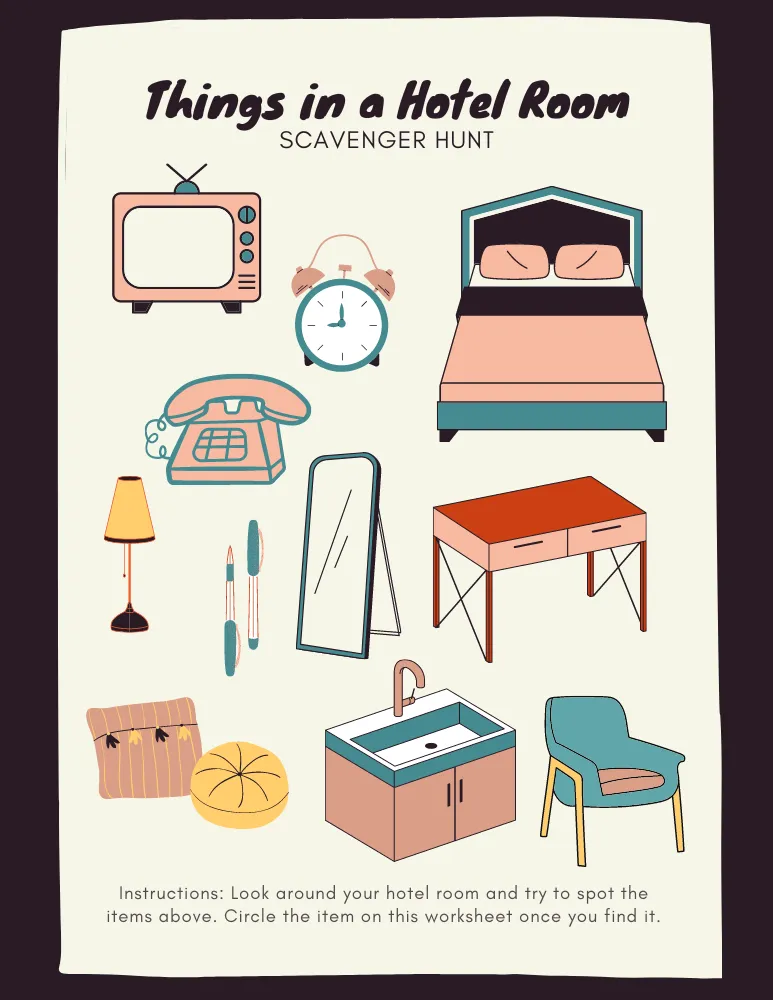 Hotel Scavenger Hunt
Create a hotel scavenger hunt and see who can spot the most things. Create your own by listing out things you expect to see in a hotel: a check-in desk, an ice machine, a pool. Or download a hotel scavenger hunt playing card online!
20 Questions
Play 20 questions by picking a person, place, or thing and giving an opponent 20 questions to narrow it down and guess who or what you are. Bring along a fun set with pre-made clues and ideas or just make it up as you go!
Kids Games to Play in a Hotel
You won't always be planning ahead with board games or cards games or other supplies to keep you entertained in a hotel. Here are some family and kid friendly activities you can do in your accommodation that require nothing but imagination.
Build a Blanket Fort
If there is one thing you can find in every hotel room, its pillow fort supplies. There are pillows, chairs, couch cushions, towels, and blankets galore. Make a fun activity out of creating a hotel room blanket fort and spend some time inside reading, playing other games, talking, or watching a movie on the TV.
Draw What You See
Your hotel room probably came with a pad of paper and pen. Or maybe you brought along a notebook and crayons. Open the window and draw what you see outside. Or think about something special you saw on your vacation and make a drawing of that!
Pillow Fight
Grab some pillows and have a friendly pillow fight. Be carefully not to hot too hard to injure anyone or break anything in the room!
Make Towel Origami
Use the bathroom towels to spark a competition. See who can manipulate them into the best origami masterpiece. Whether you can only make a snake or a complicated elephant, towel origami is a fun way to test your imagination and skills.
Waste Basketball
Use wads of Kleenex, scrap paper, or fast food wrappers to make throwable balls and use the hotel room's trash can as a basketball net. See who can get a basket from the furthest distance or try trick shots from the bed, around an obstacle, or over the shoulder.
Hotel Games for Adults
While with some variations these games can be enjoyed by travelers of all ages, these games are better suited for the adults who are traveling.
Questions and Answers
If you're traveling with friends, a boyfriend, husband, girlfriend, or wife, a great way to pass the time in a hotel is by playing questions and answers. Get to know your travel companions by asking the burning questions you've always wanted to know. Need inspiration? Check out this list of 100 Fun Road Trip Questions.
Truth or Dare
Would you rather reveal something potentially embarrassing about yourself or do something potentially embarrassing? Play a friendly round of truth or dare in your hotel room or by the pol. Take turns asking "truth or dare?" If truth is picked they have to answer any question you ask them. If they pick dare, give a wild (but safe and hotel friendly) dare. A game of truth or dare in the hotel can be as tame or wild as you desire, and will let you really get to know your friends.
Two Truths and a Lie
Go around and have everyone say three facts about themselves: I studied abroad in Florence, I've traveled to 35 countries, my favorite color is pink. They can be anything you want…but one of them must be a lie. State two truths and one lie about yourself and then everyone else has to guess which of those facts is not so factual.
Never Have I Ever
Never Have I Ever allows you to say something you've never done and learn which of your friends have. Each person takes turns saying something they have never done using the phrase "never have I ever." For example: "Never Have I Ever Been to New York," Never Have I Ever Driven for 12 hours straight," or "Never Have I Ever gone to a national park." Then everyone else has to chime in to say whether they have done the things you haven't. If you're over 21, you can have everyone take a drink if they have done the action in question. Or, just have the guilty raise their hand and yell "I have!"
Kiss Marry Kill
In this friendly game you start by naming three people, usually with something in common. Characters in a movie franchise, actors from a TV show, or even people you all go to school with. Then each of you have to decide who you would kiss, who you would marry, and who you would want to never see again. Let everyone know your choices and explain why!
Pin This List of Games to Play in a Hotel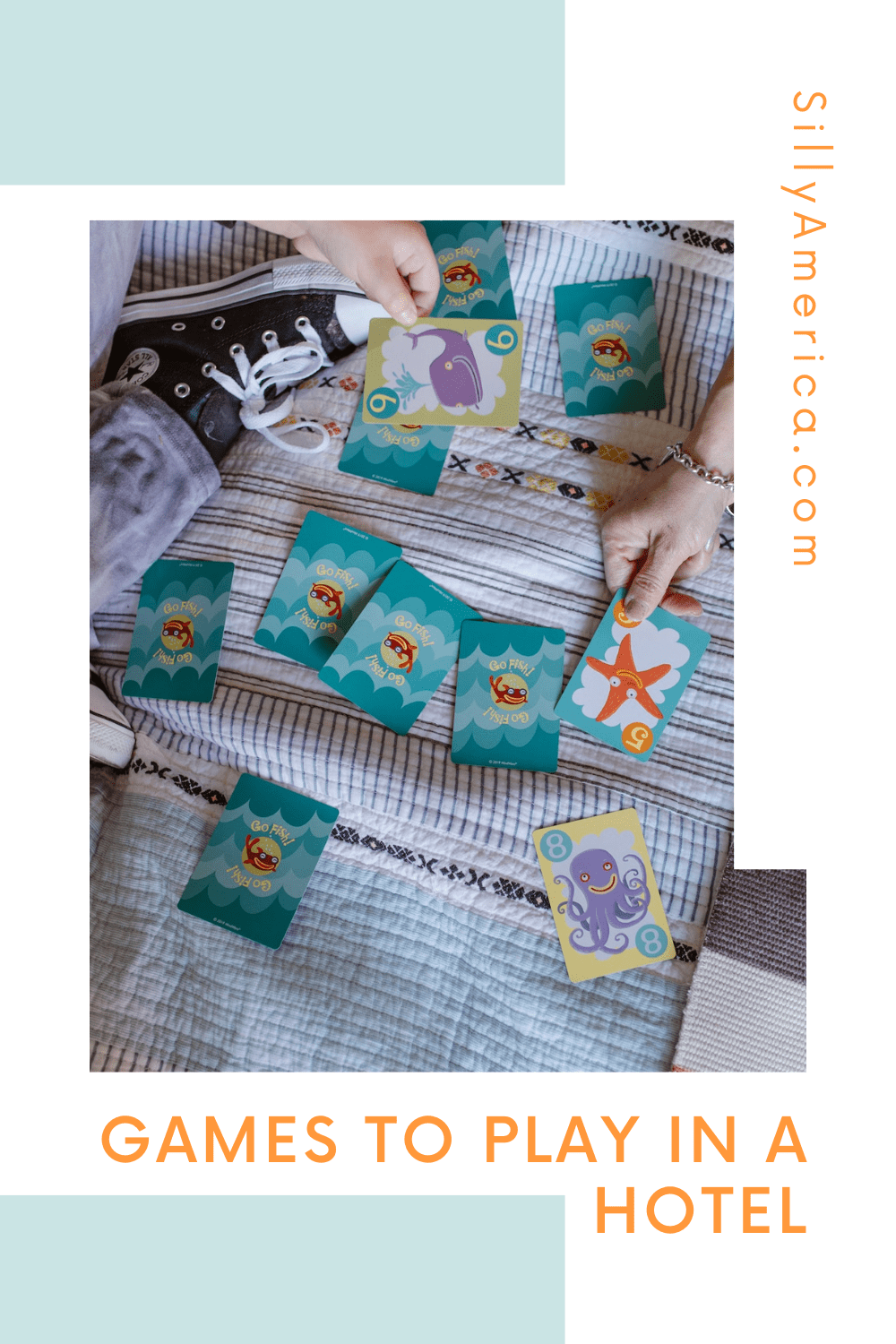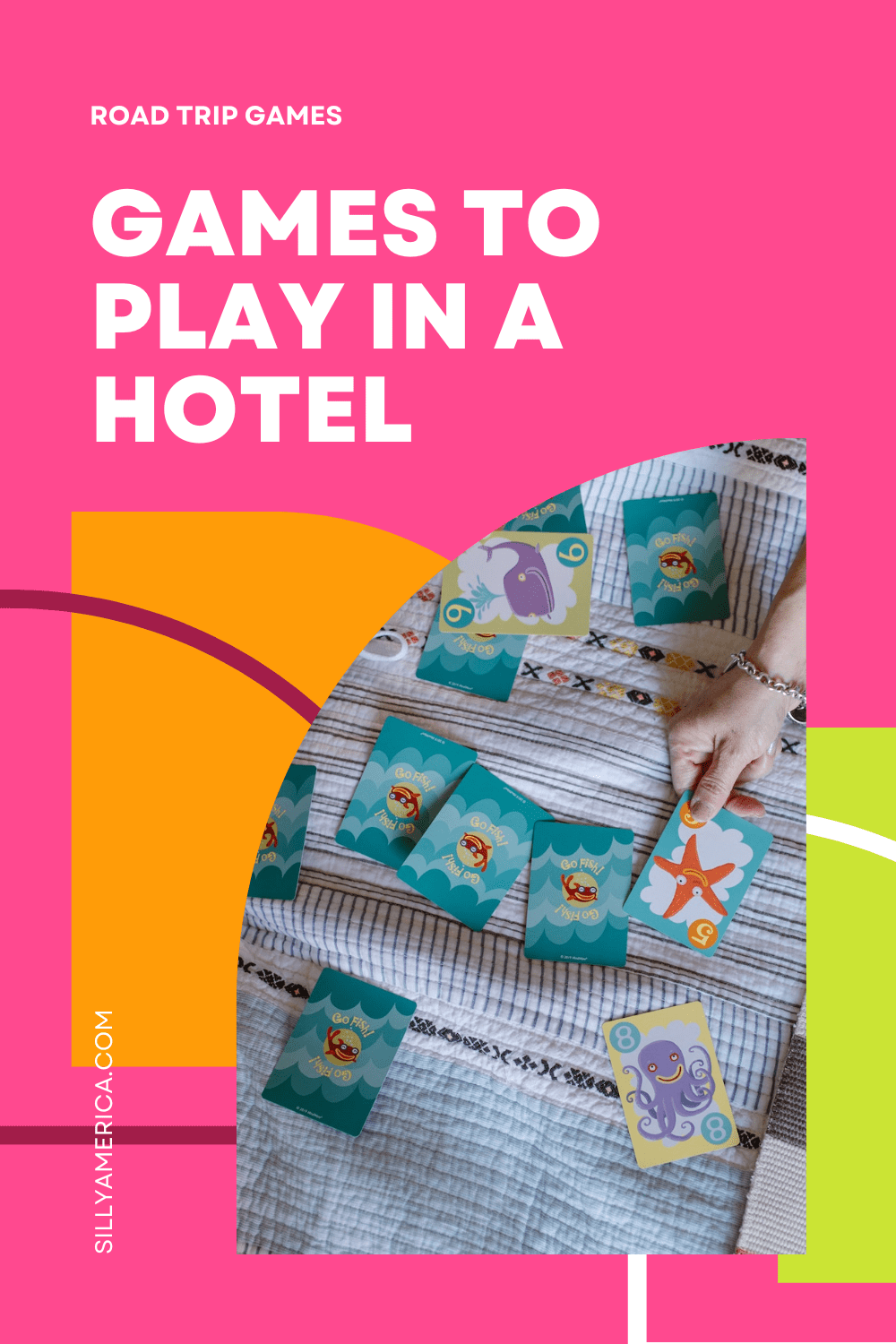 Photo by RODNAE Productions