There are plenty of weird, wacky, and peculiar things to see in Fremont, a weird wacky and peculiar neighborhood in Seattle, Washington.
Call it "The People's Republic of Fremont." Call it "The Artists' Republic of Fremont." Call it the "center of the universe." Whichever you choose, Fremont, a neighborhood in Seattle, Washington, is unlike anywhere you've ever been. The district prides itself on its offbeat ways with everything from hosting an annual Solstice Parade to filling their street corners with weird roadside attractions. It's no wonder the area's unofficial slogan is De Libertas Quirkas — "free to be peculiar."
Want to find all the peculiar for yourself? Follow this list of all the best attractions and things to see in Fremont, Seattle.
Attractions and Things to See in Fremont, Seattle: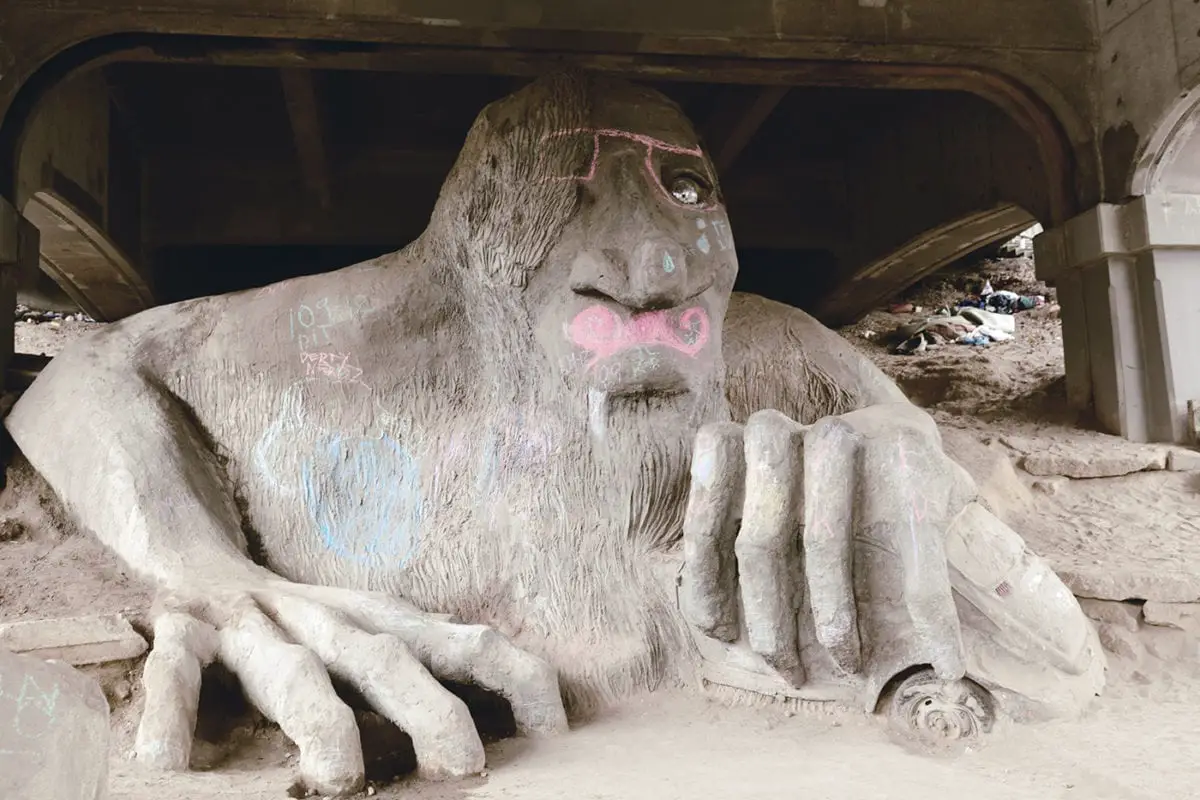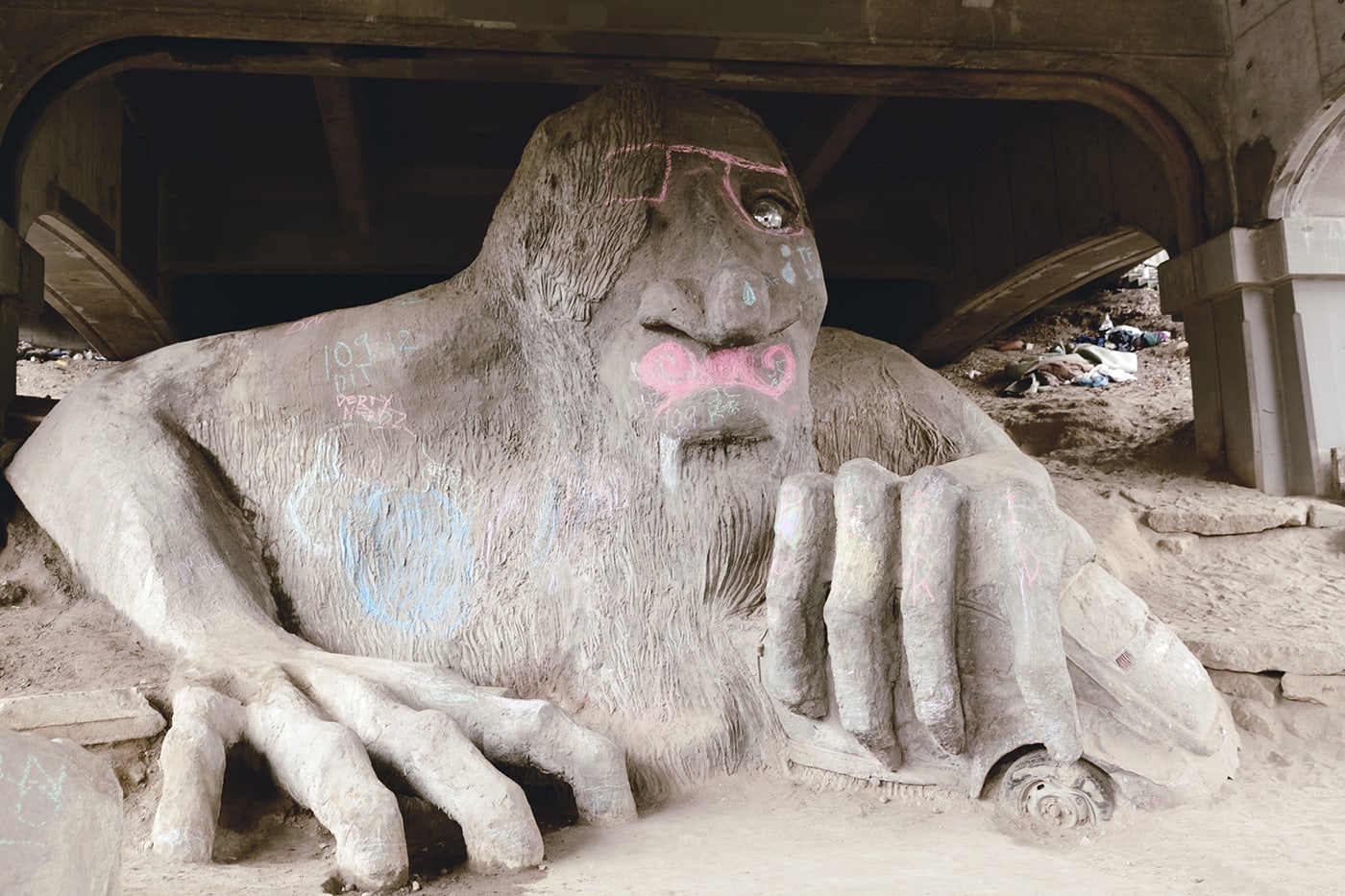 The Fremont Troll
N 36th Street
In 1989 the Fremont Arts Council in Seattle, Washington, held a contest to select an idea for an art project to occupy the space under the Aurora Bridge. Disillusioned by the idea of the space becoming a waste dump, they wanted to do something different and more imaginative. After five projects were picked, the community voted and the Fremont bridge troll received overwhelming support. The Fremont Troll was a collaboration by artists Steve Badanes, Will Martin, Donna Walter, and Ross Whitehead and is an amazing 2-ton, 18-foot creature made from rebar steel, wire and 2 tons of ferroconcrete. One shining eye of the Seattle troll watches for visitors and billy goats alike and in one hand he clutches an actual Volkswagen Beetle.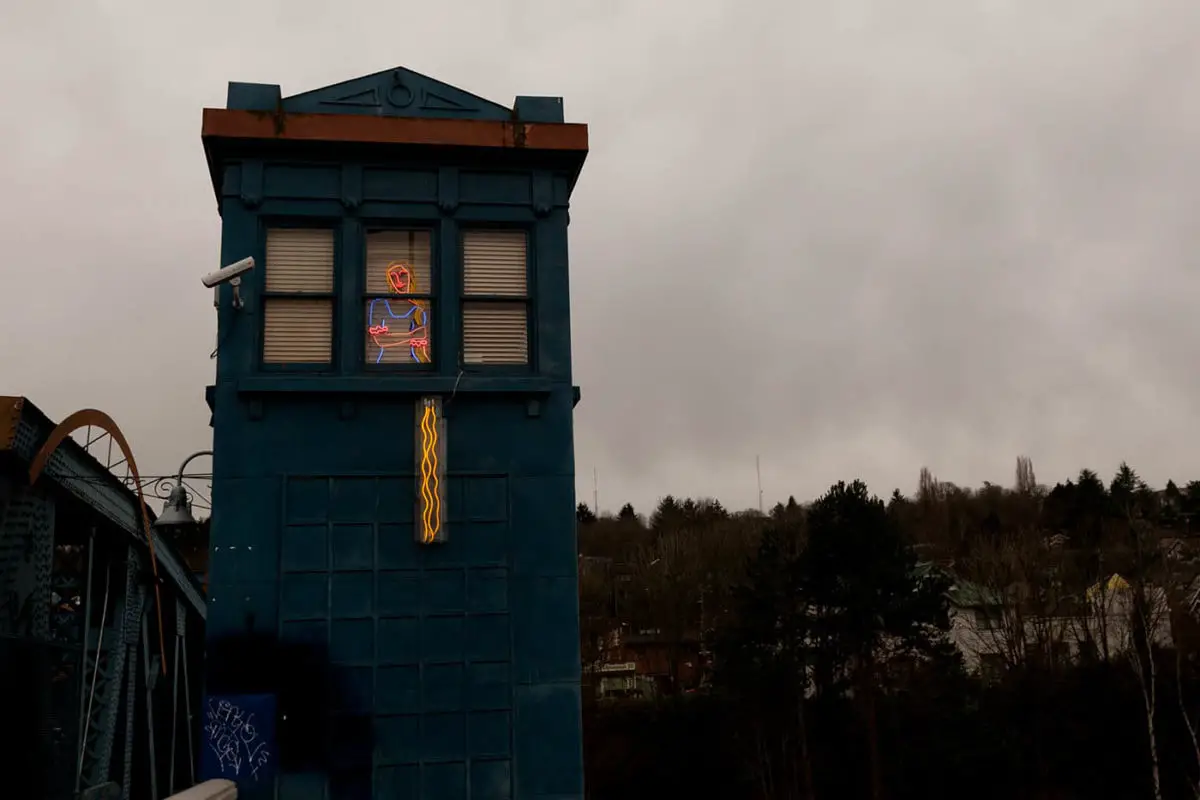 Bridgetender Rapunzel in Neon
Fremont Bridge
"Rapunzel! Rapunzel! Let down your hair that I may climb thy golden stair!" In the window of the northwest tower of the Fremont Bridge you will find the neon outline of princess Rapunzel, arms crossed in wait for someone to call out to her the help with her escape, and strands of her golden hair trickling down the side of the tower. She's graced the side of the bridge since 1995 when the public art was installed by Fremont glass artist Rodman Miller.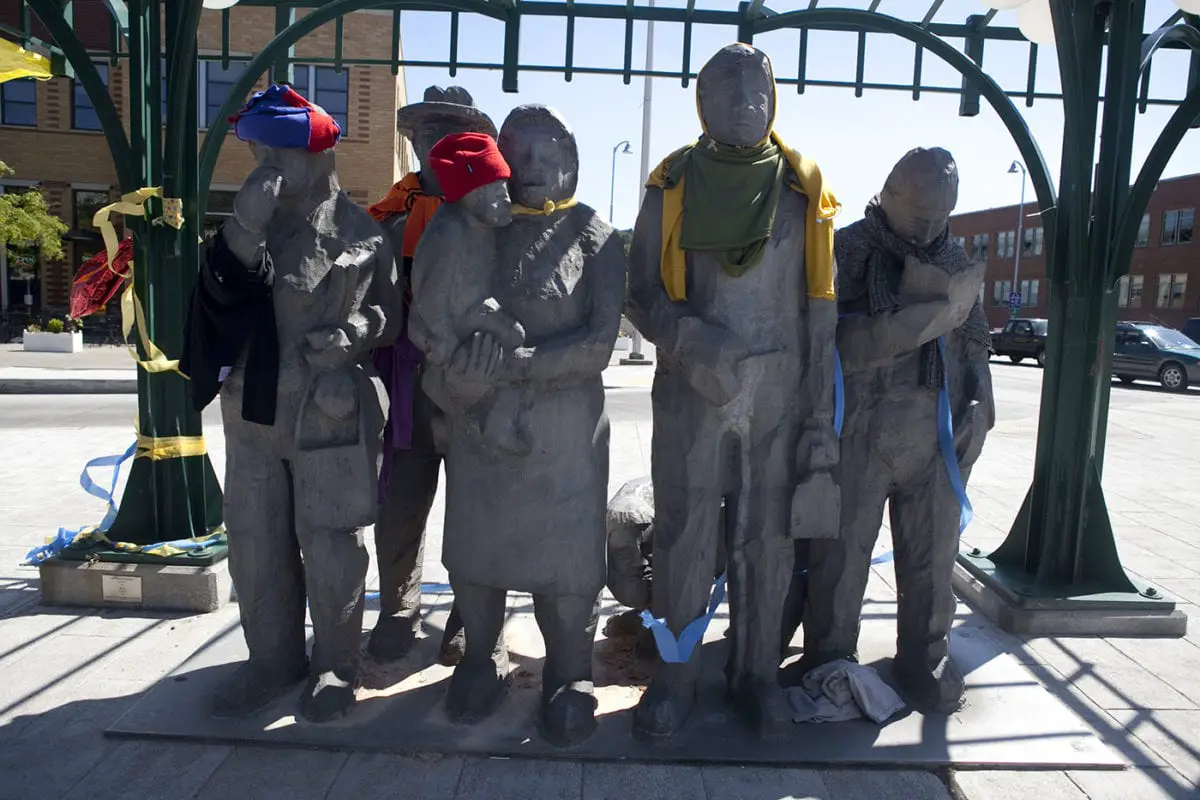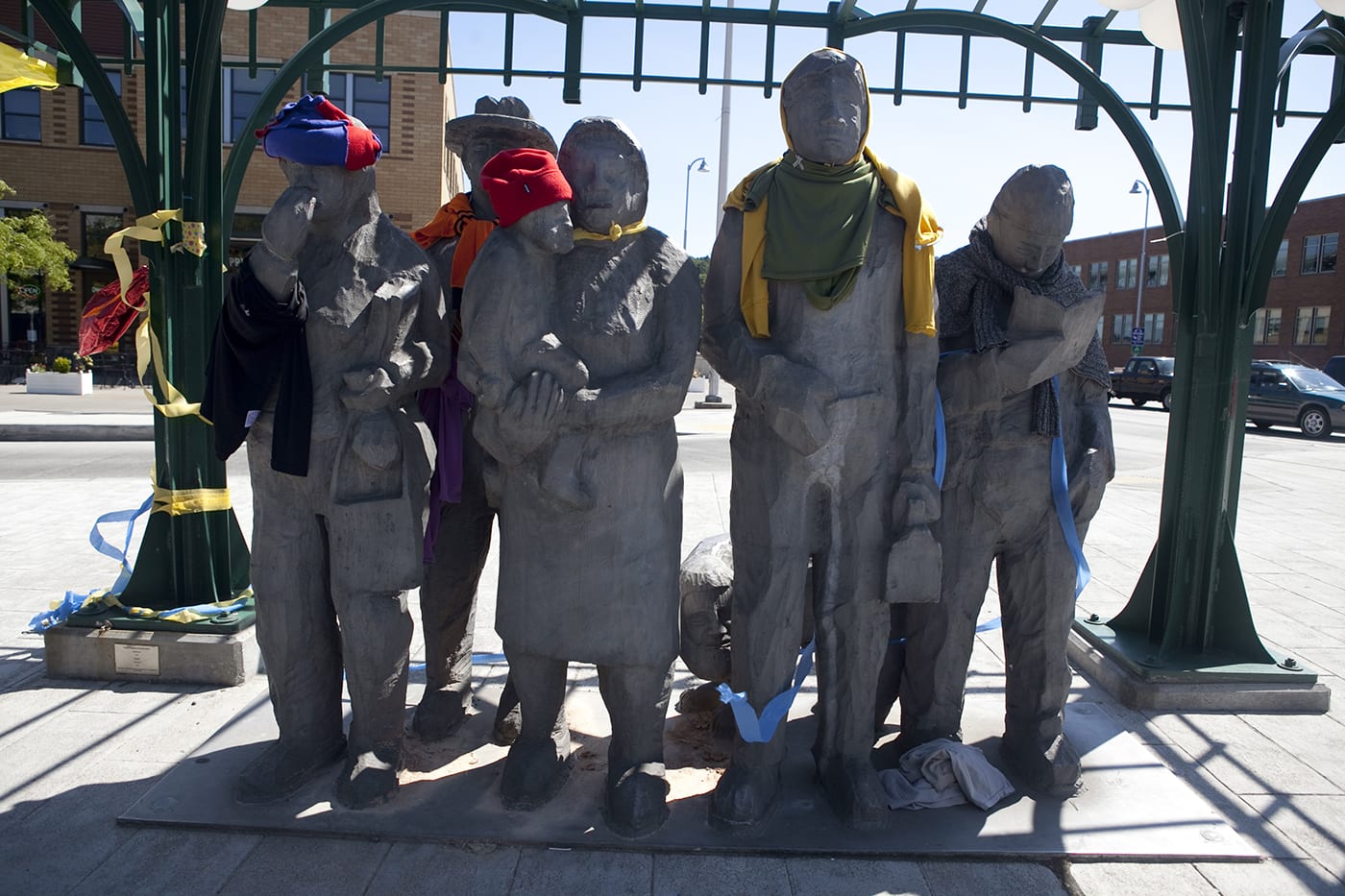 Waiting for the Interurban
N 34th Street
On a corner in Seattle five people, a baby, and a dog have been patiently waiting for the Seattle-Everett Interurban since 1979. Waiting for the Interurban is a cast aluminum piece crafted by sculptor Richard Beyer. Commemorating the light rail Interurban line that used to connect downtown Seattle with all of its neighborhoods, the sculpture depicts a groups of people waiting. And waiting. And waiting.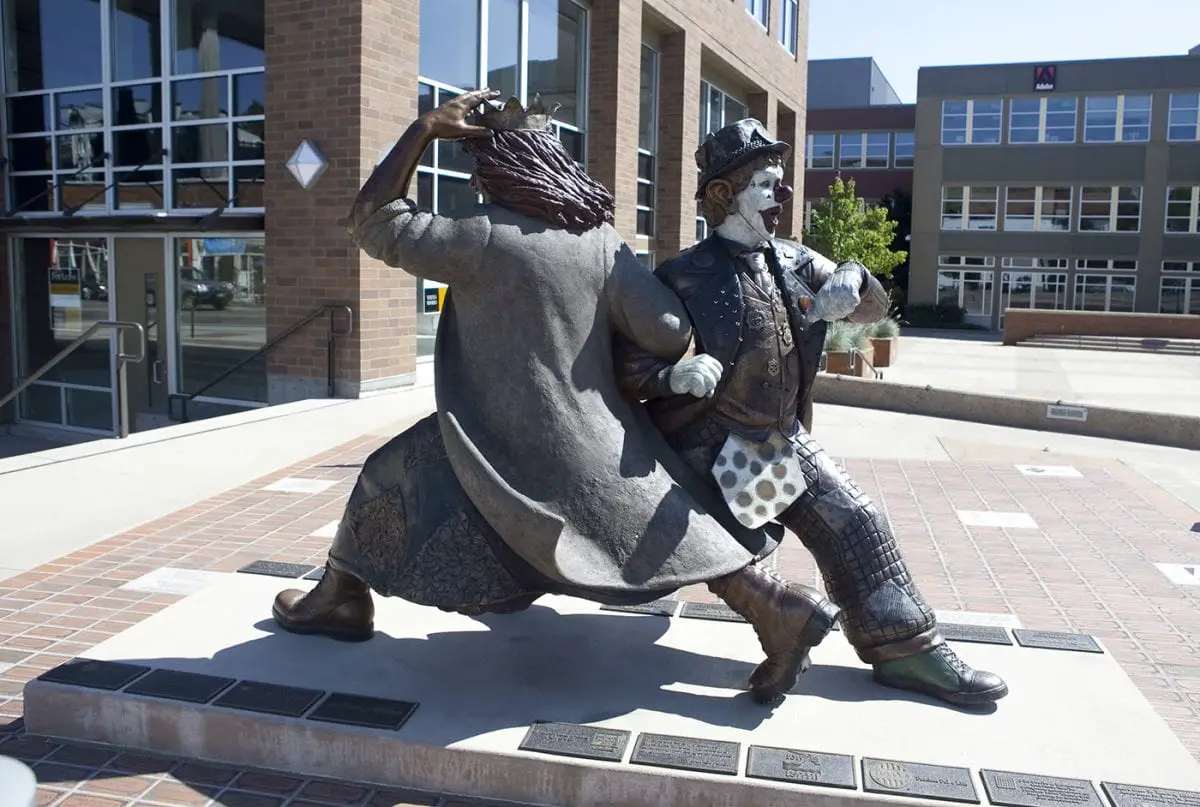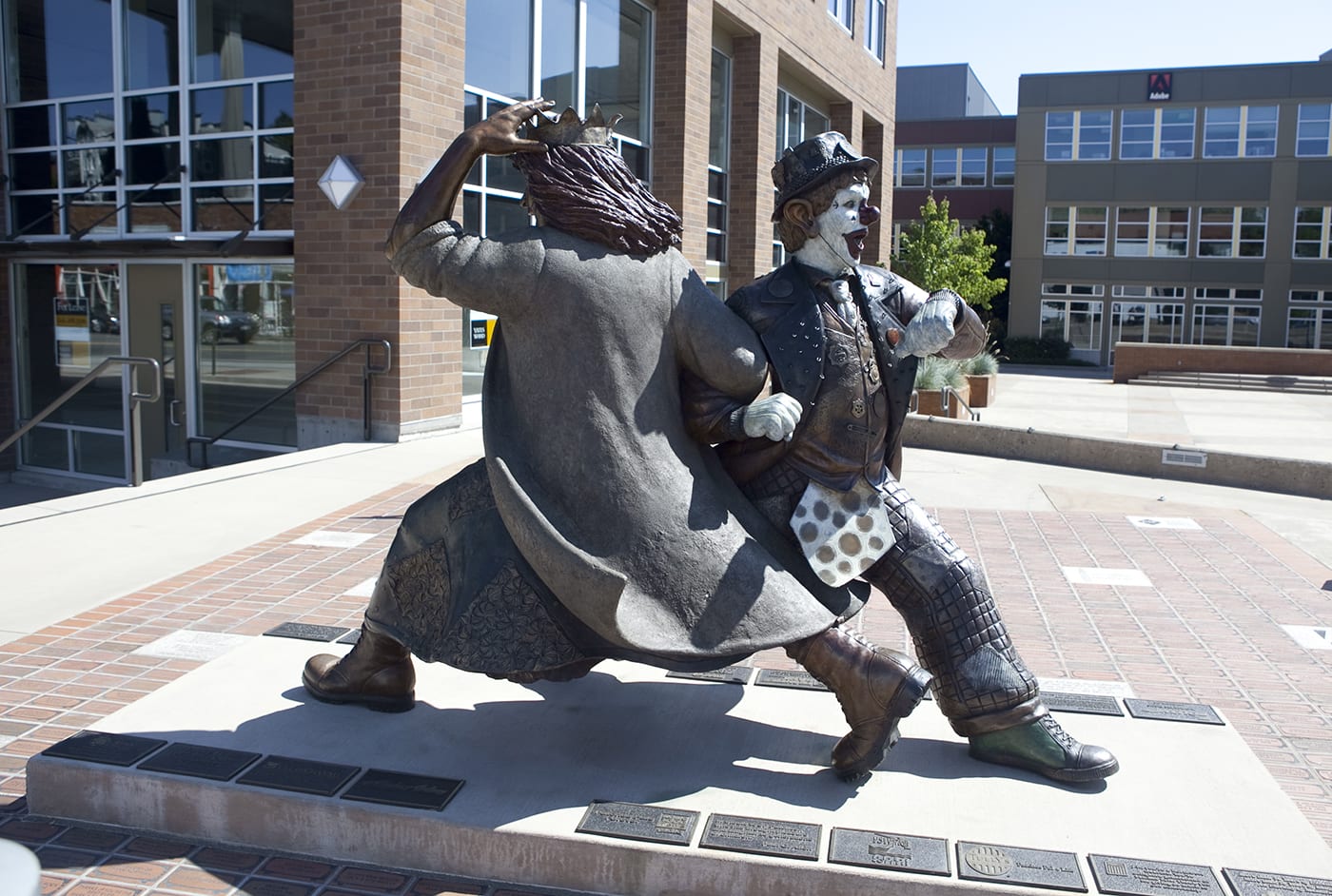 Late for the Interurban (J.P. Patches Statue)
North 34th Street and Fremont Avenue North
The J.P. Patches Show was a local live children's TV program that ran for 23 years (from from 1958 to 1981) on KIRO-TV in Seattle. In 2008 the J.P. Patches Statue, also dubbed "Late for the Interurban" was erected in Fremont. The bronze statue was made by sculptor Kevin Pettelle that celebrates the 50th anniversary of the J.P. Patches Show and depicts the clown J.P. Patches (as played by Chris Wedes) and his girlfriend Gertrude (as played by Bob Newma) swinging arm in arm.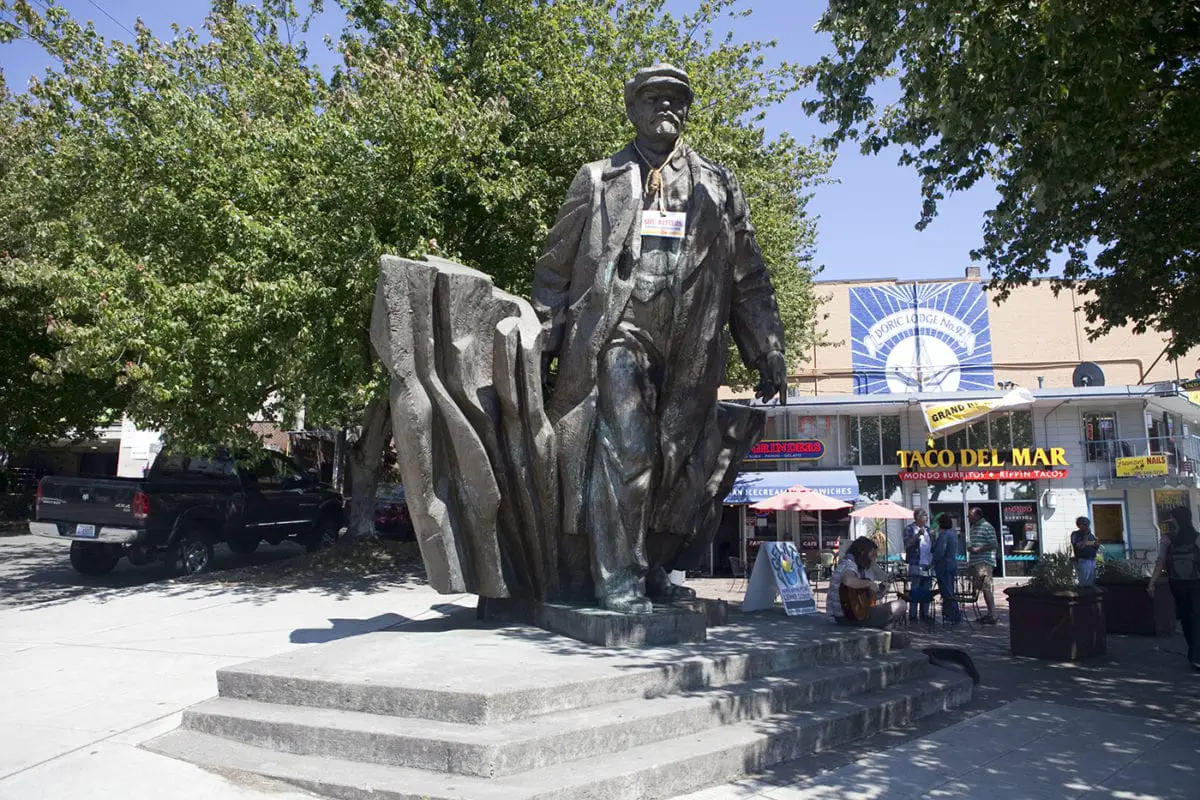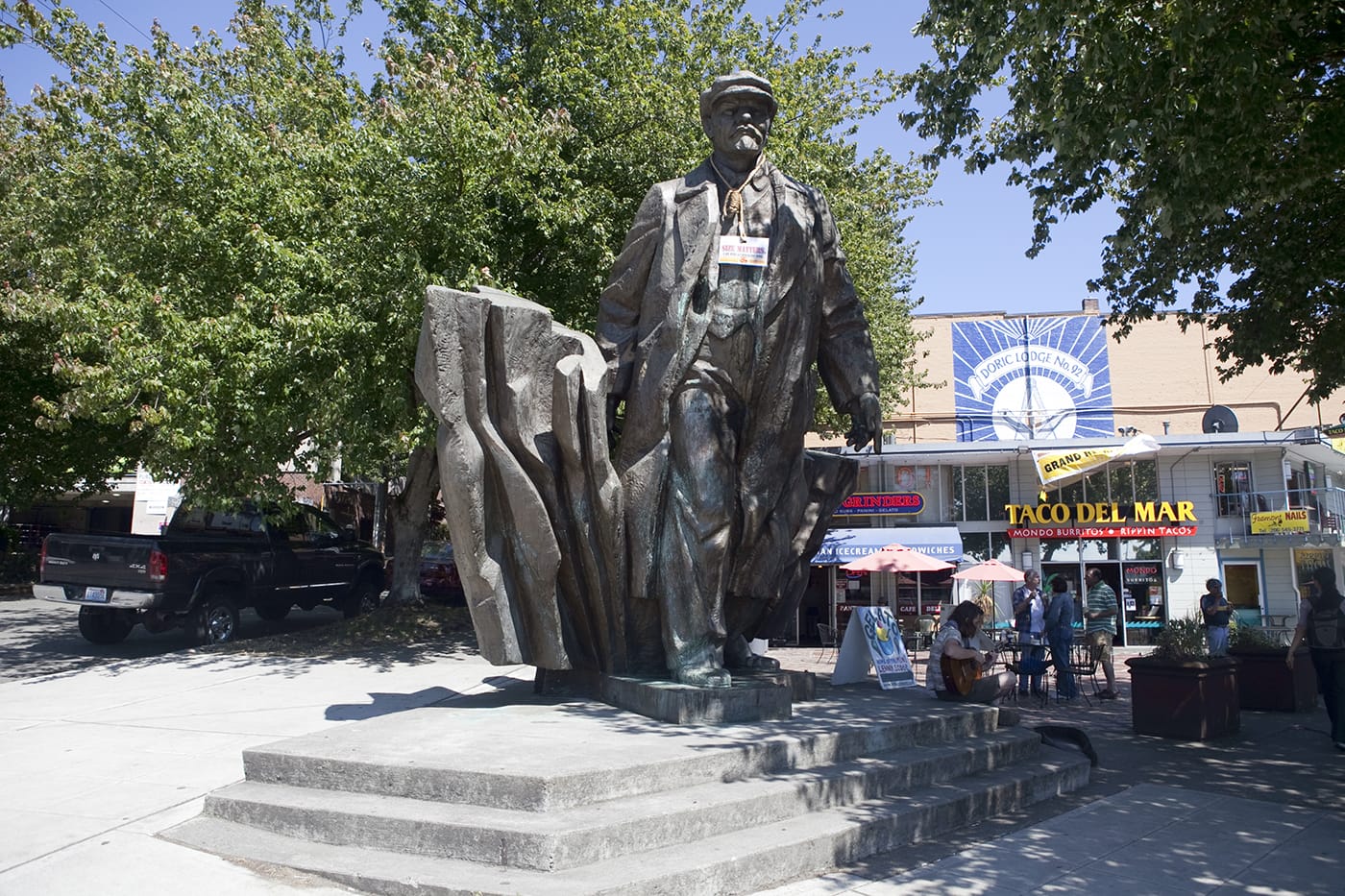 Statue of Lenin
3526 Fremont Pl N
Standing tall on a street corner in Seattle is an oddly out-of place sculpture: a 7-ton 16-foot rendering of the infamous Russian communist revolutionary Vladimir Lenin. Shortly after, in the fall of Czechoslovak communism in the 1989 Velvet Revolution, the statue was removed and eventually bought by Lewis E. Carpenter, an American from Washington, who had it shipped back to Seattle.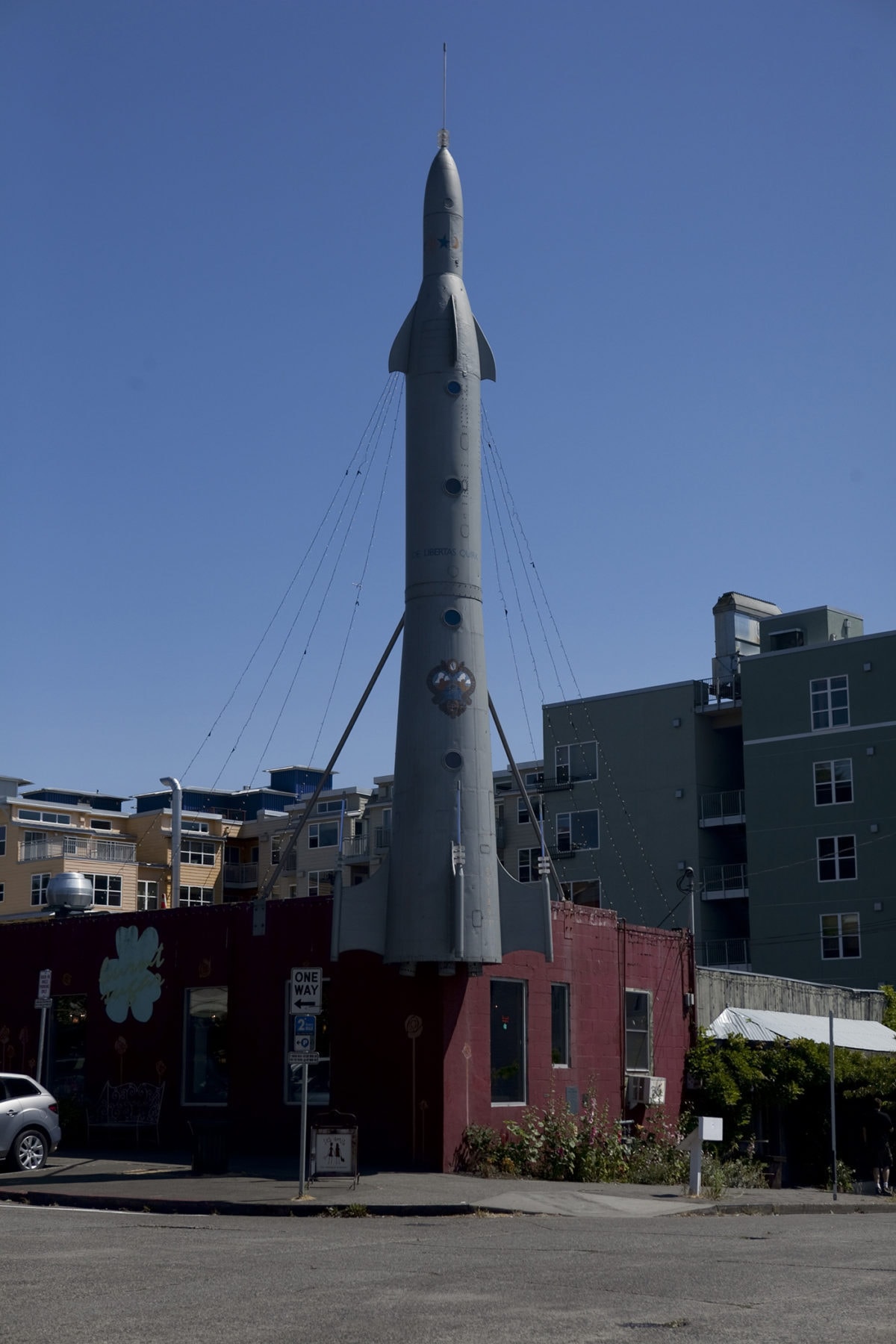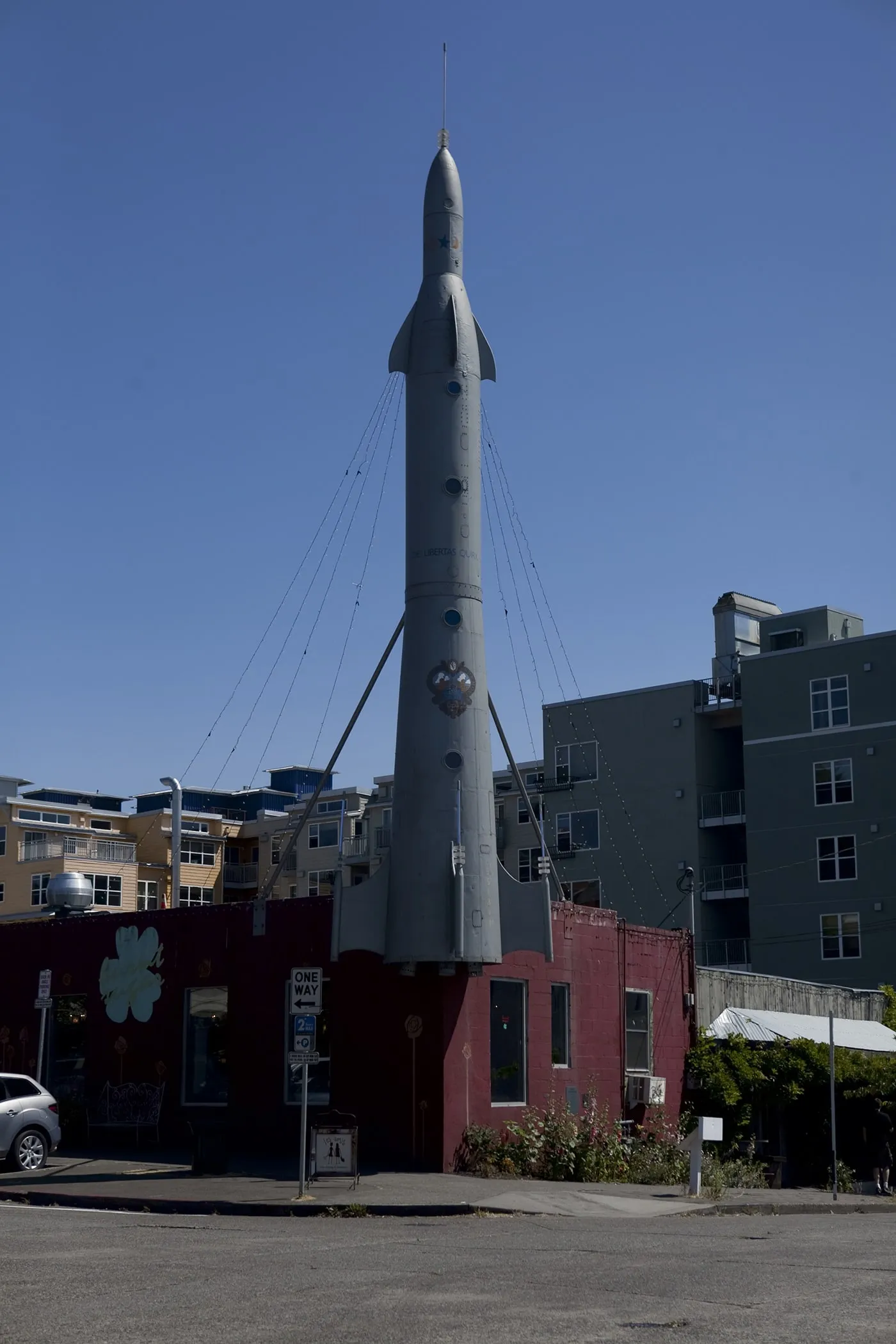 The Fremont Rocket
3420 Evanston Ave N
The Seattle rocket stands tall at a staggering 53 feet and was made from military surplus using the tail boom of a Fairchild C-119 'Flying Boxcar' transport aircraft. Neon laser pods were added to the nose and each fin. Painted on the front of the roadside attraction is the Fremont crest and motto: "De Libertas Quirkas" meaning "Freedom to be Peculiar."
Rooftop Saturn
3417 Evanston Ave. N
In 2013 a giant model of Saturn with a 25-foot ring-span was erected on top of a building across from the Seattle Rocket.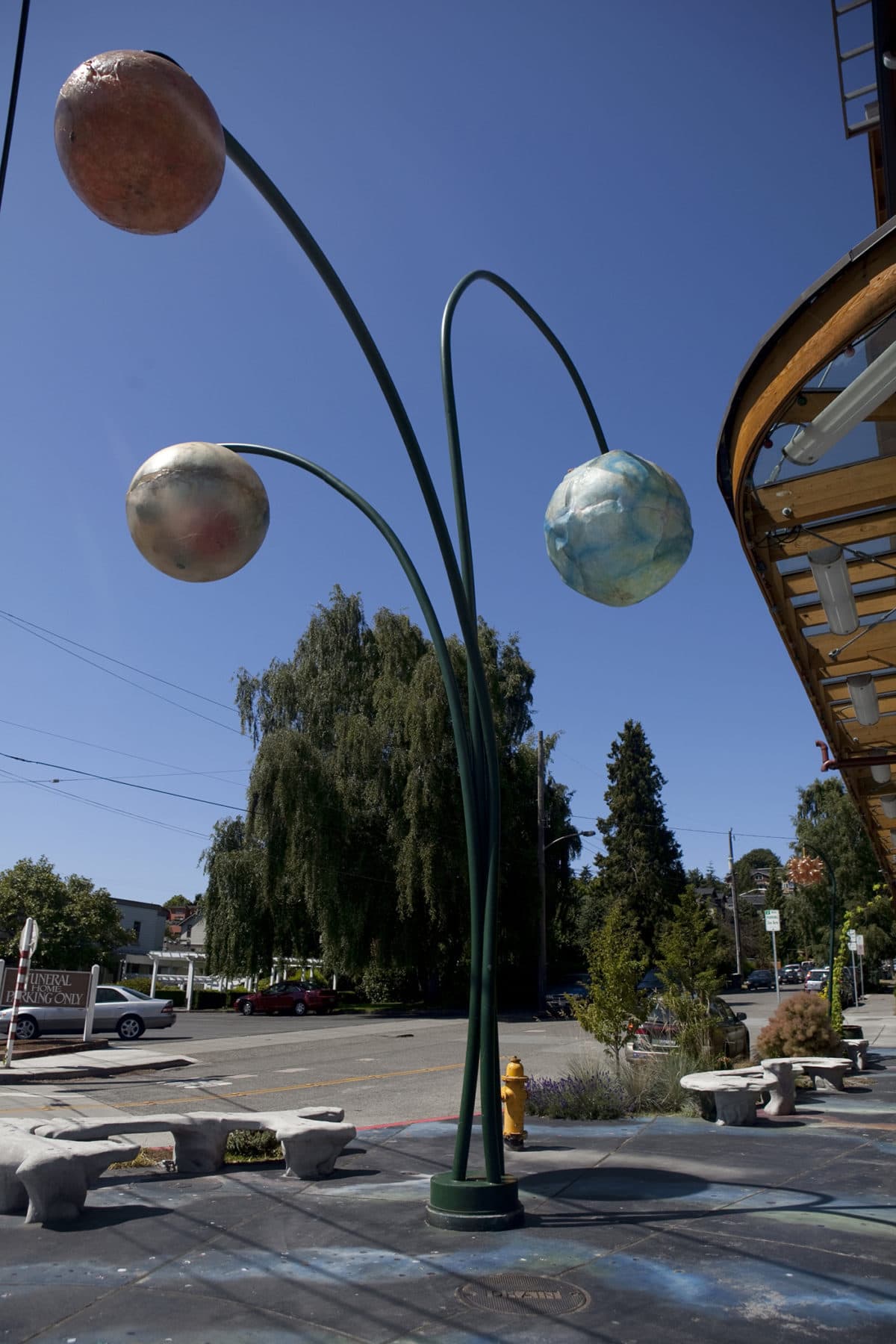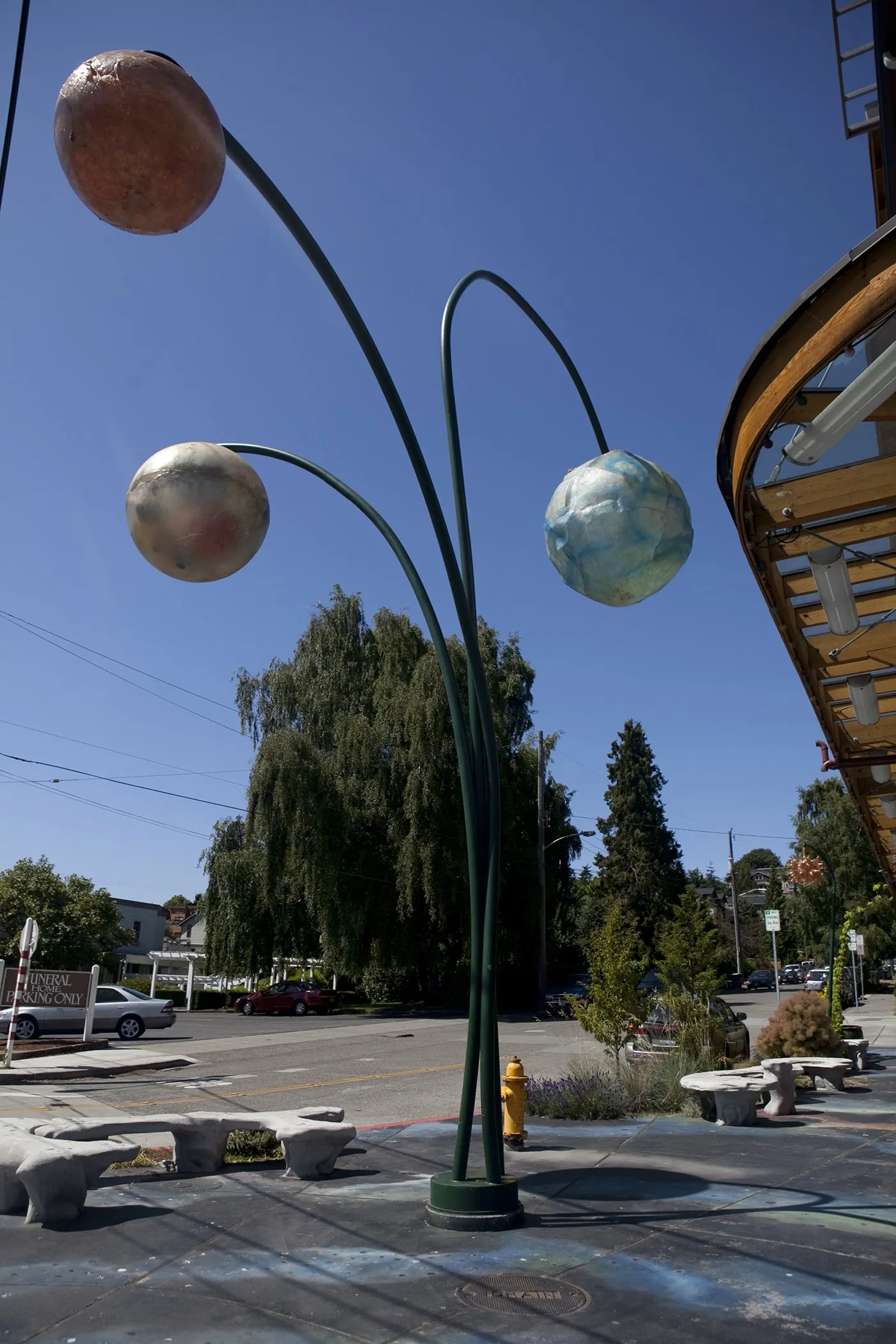 Space Sculpture
600 N 36th Street
This space-aged 3D art installation can be found at a large plaza in front of the Space Building. The work was created by local artist Jessica Randall and the Fremont Arts Council and features a mixed-media sidewalk mural of the galaxies that swirls with a mixture of paint and marble-like dots of glasswork. And then there are tall hooks from which hang planet-like lanterns.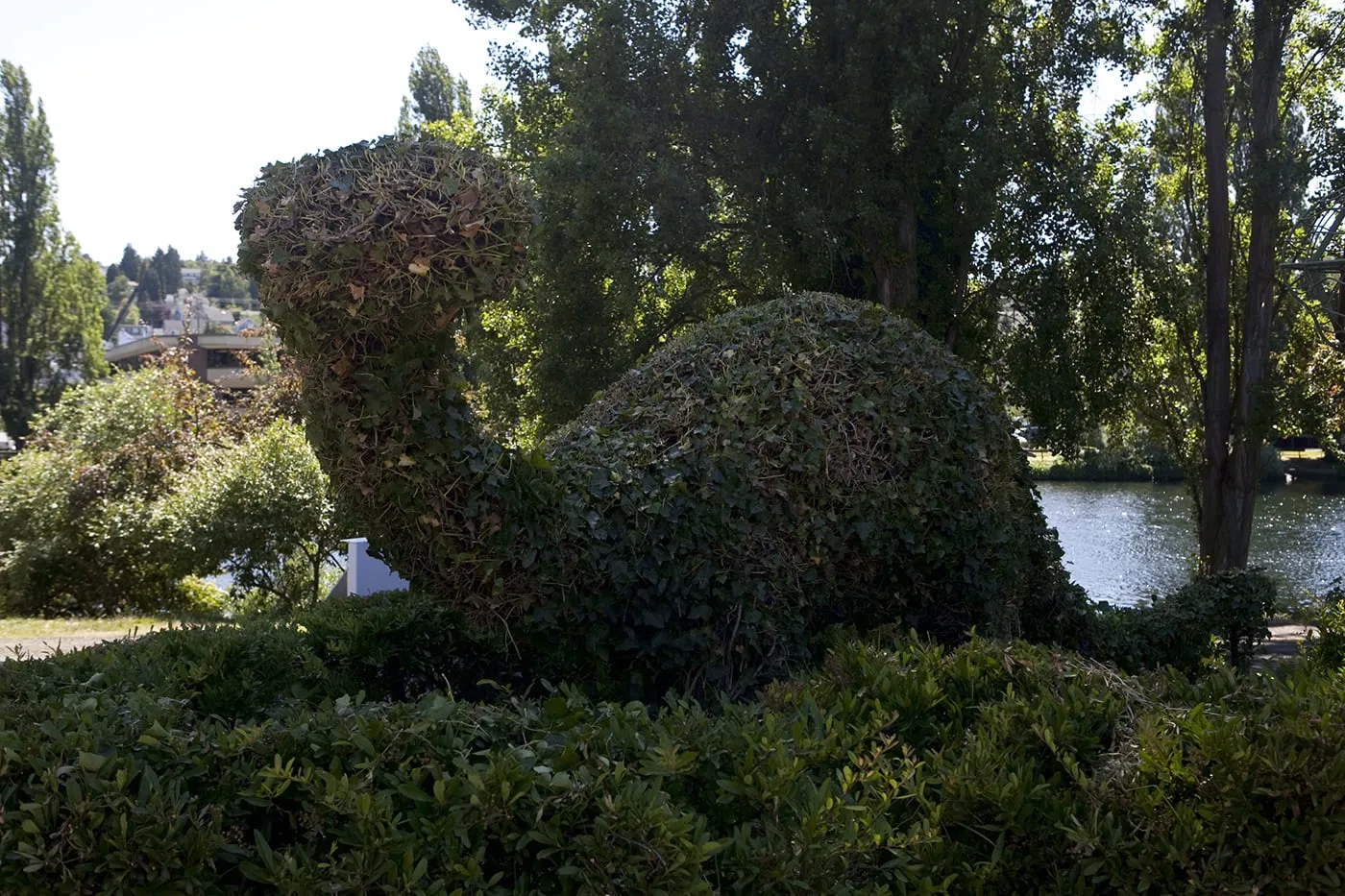 Apatosaurus Dinosaur Topiaries
101 N Canal Street
These ivy-covered dinosaur-shaped hedges (depicting a mother and child reptile) are a site to behold indeed! The mother dino is about 66-feet long, and together, the dinosaur topiaries weigh in at about 5 tons and require about 7,000 ivy plans to cover them completely.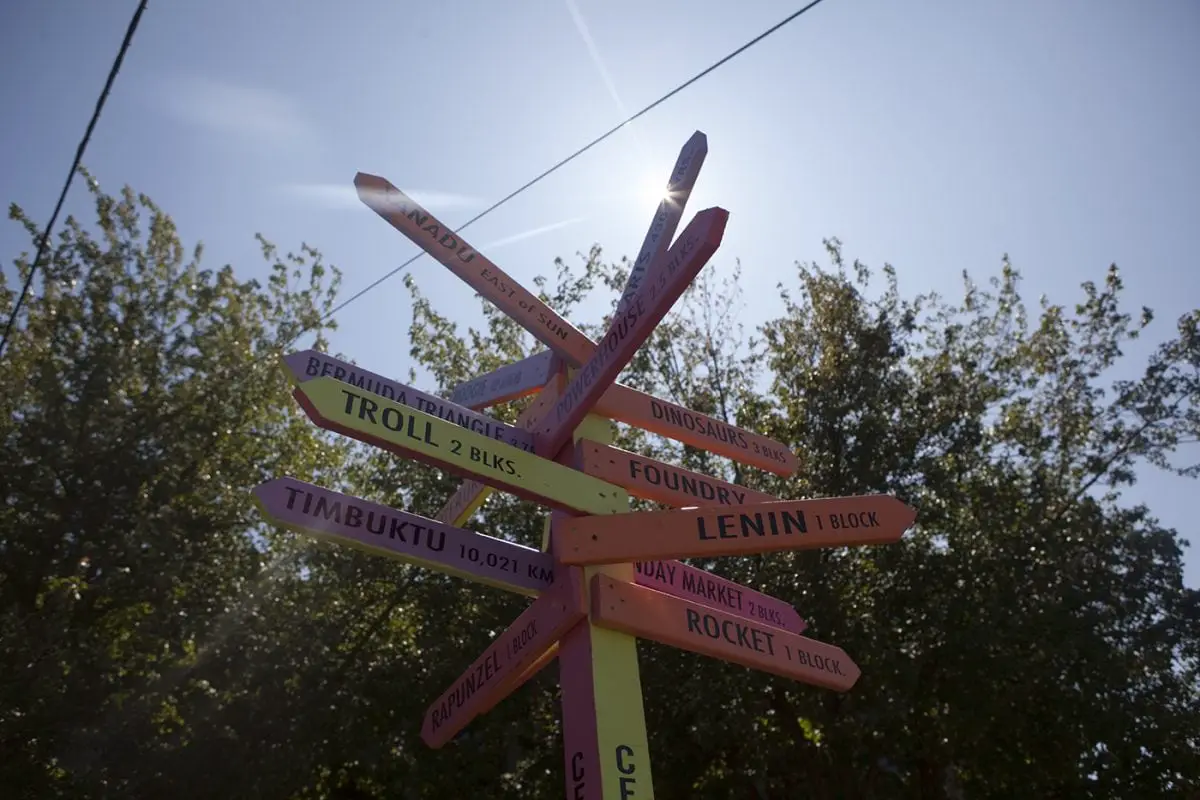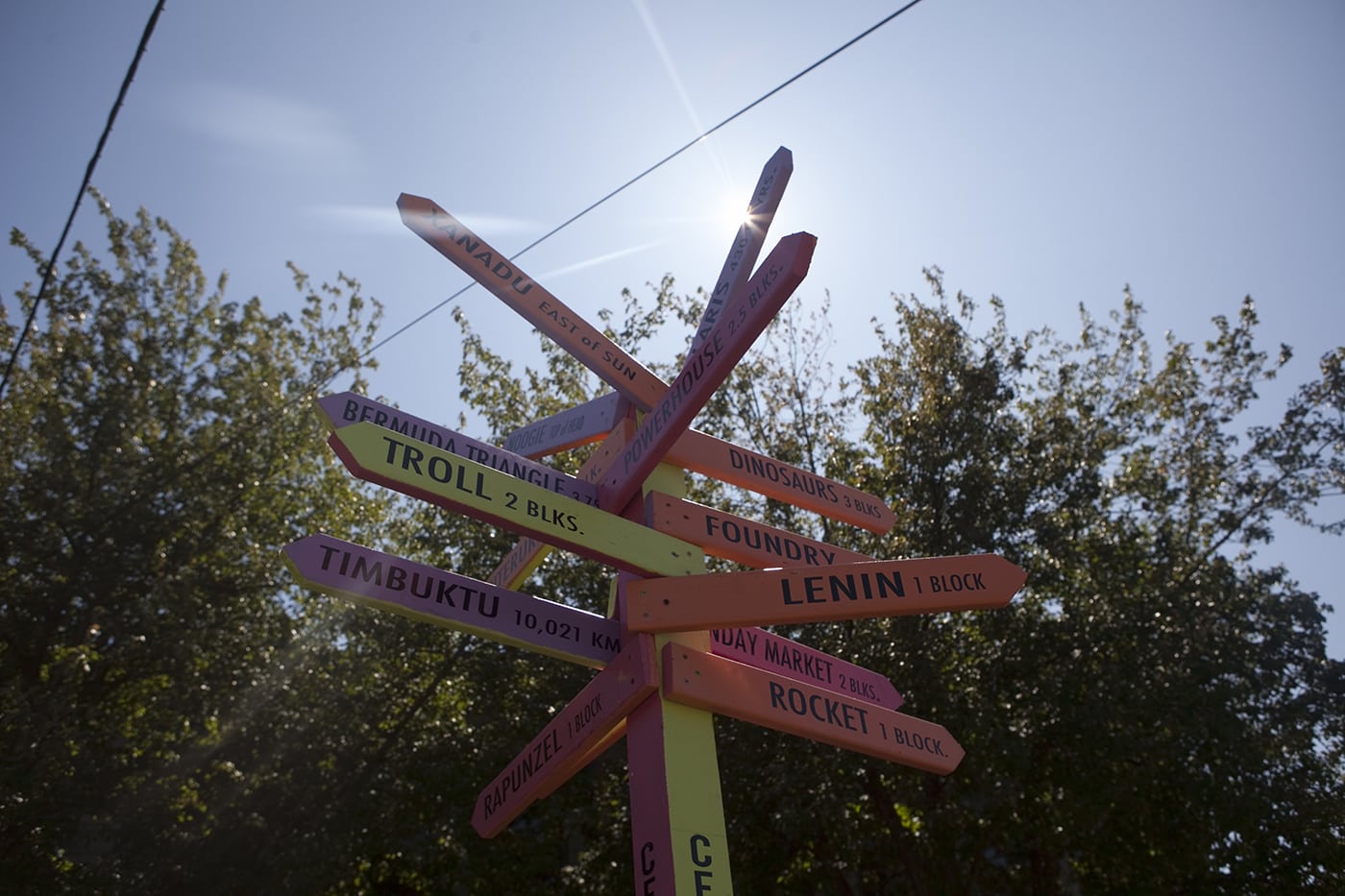 The Guidepost: Center of the Universe Sign
Intersection of N 35th Street and Fremont Avenue N
On a small median in the middle of a street, where North 35th Street meets North 36th Street meets Fremont Avenue North, where it is believed to be the true center point of the entire world, there is a tall wooden guidepost that will point you in the direction of almost anywhere you want to go, whether near or far. Find your way to all the attractions and things to see in Fremont, along with more global destinations like the North Pole, Rio De Janeiro, Xanadu, and Machu Picchu.
Pin this list of the things to see in Fremont, Seattle: