Putting together a list of funny car puns was EXHAUSTING! But it was worth it knowing these ideas will FUEL your road trip content! If you're looking for the best car puns to use as captions for Instagram, in articles or blog posts, or on other social media posts, these dad-joke worthy wordplays are for you!
Reach for the CARS and keep scrolling to use these fun car puns as Instagram captions for your travel photos or just to have a good chuckle. Copy the quips to use for Instagram captions, email sign-offs, or texts to your besties or save the images to your phone to share them on your Instagram stories or other social media . Don't forget to tag me at @SillyAmerica if you do, and follow me there too for more road trip inspiration!
Looking for more funny puns and road trip social media ideas? Check out these other articles, here they CAR:
Car Puns
The word "car" can be used in place of my alternated words to make for the fun wordplay that fuels many of the best puns and jokes. Car can be used instead of words like care, are, core, star, far, par, or bar. Use these examples below or substitute car for any of those words in your favorite phrases to create your own car pun!
I couldn't CAR less!
All bets CAR off!
CAR none!
Reach for the CARS!
There you CAR!
This is as CAR as we go!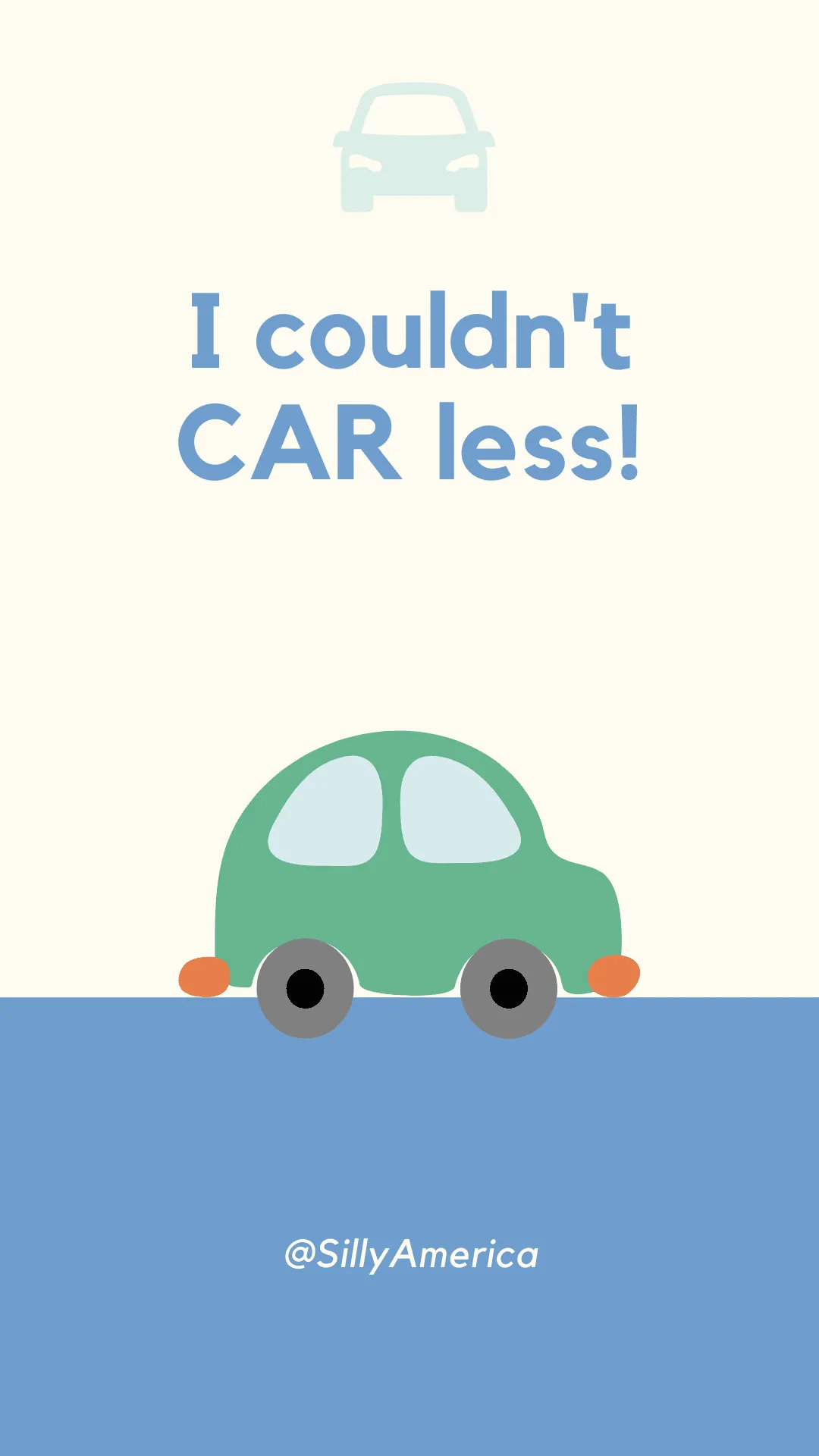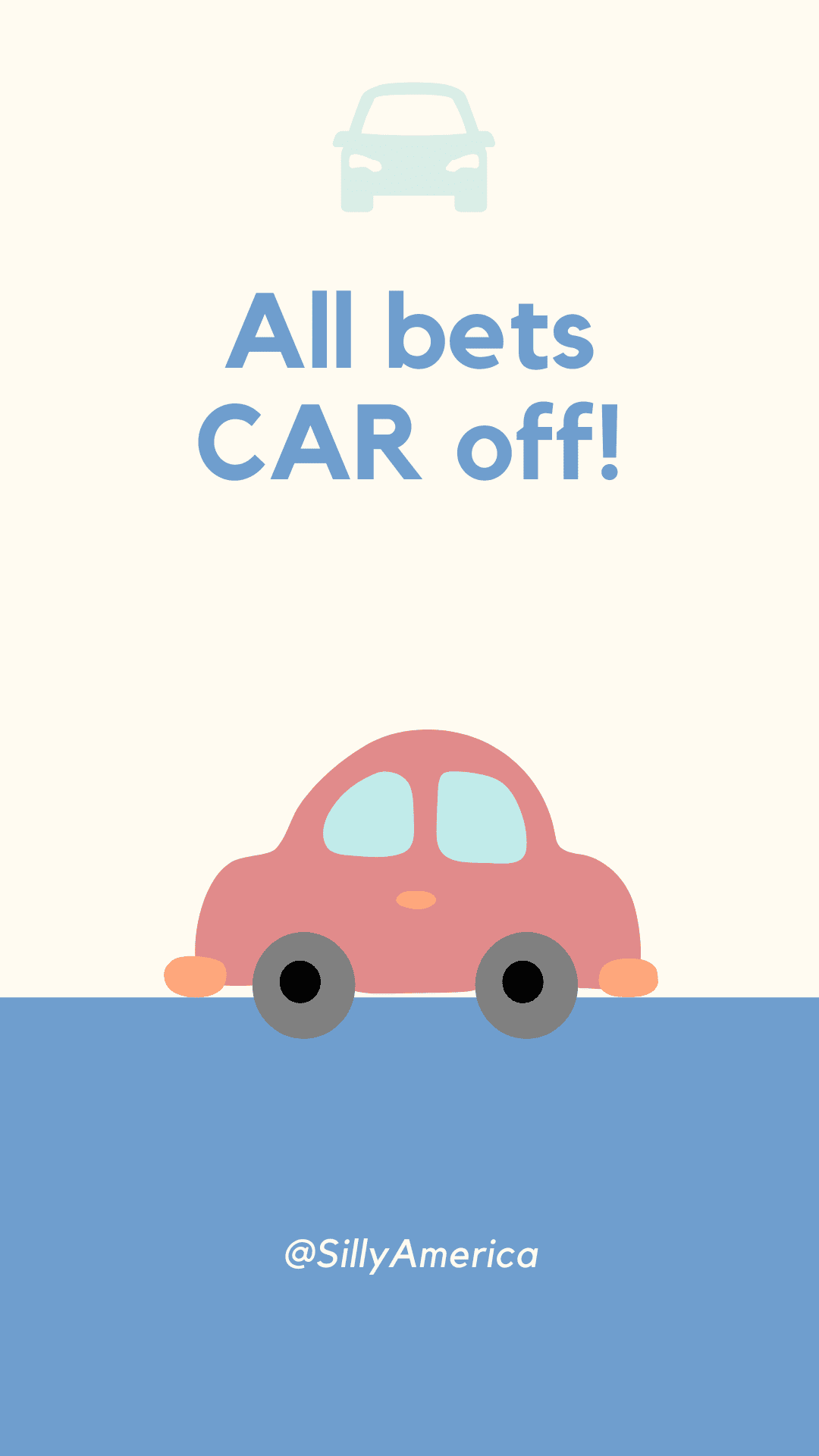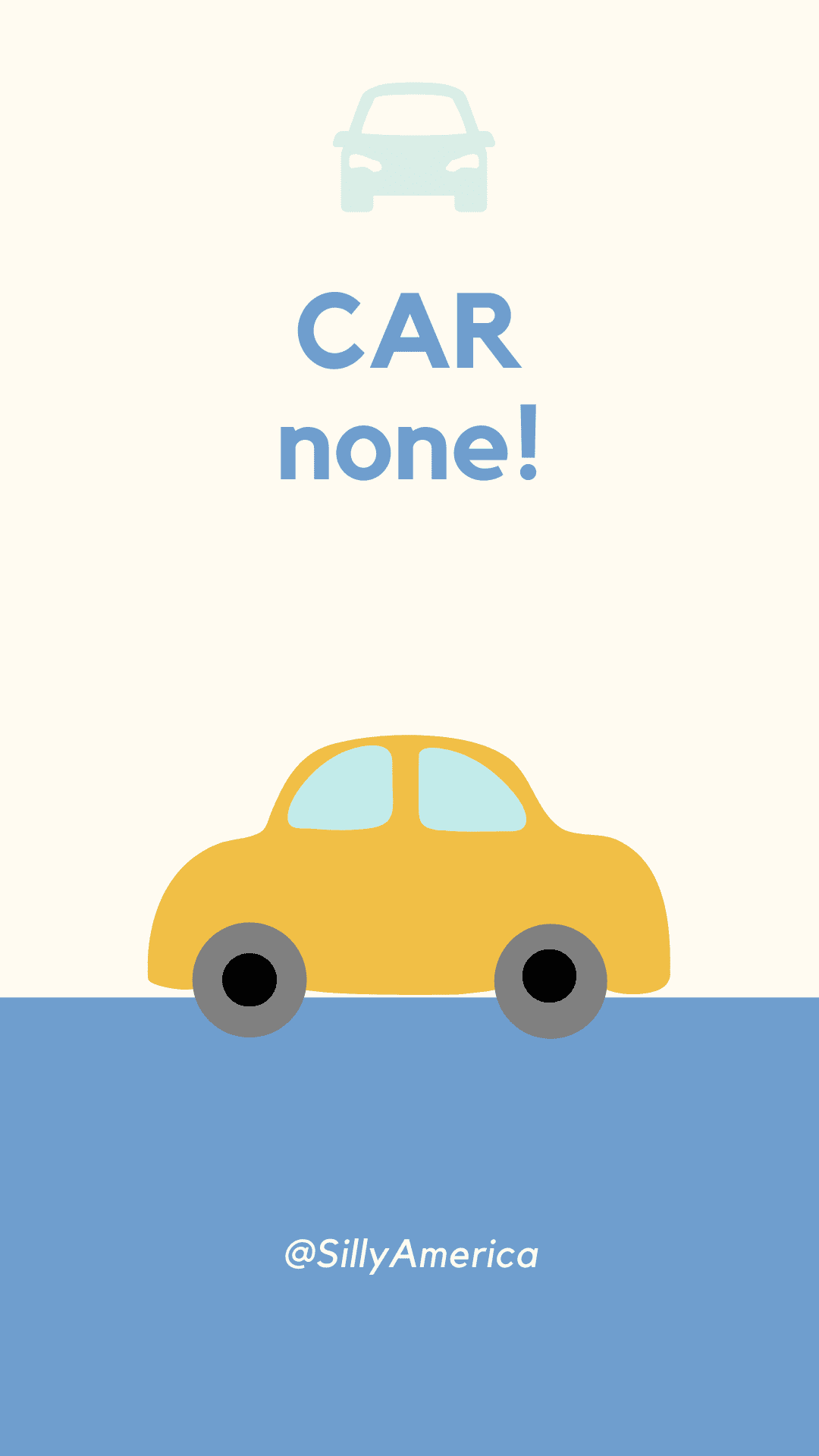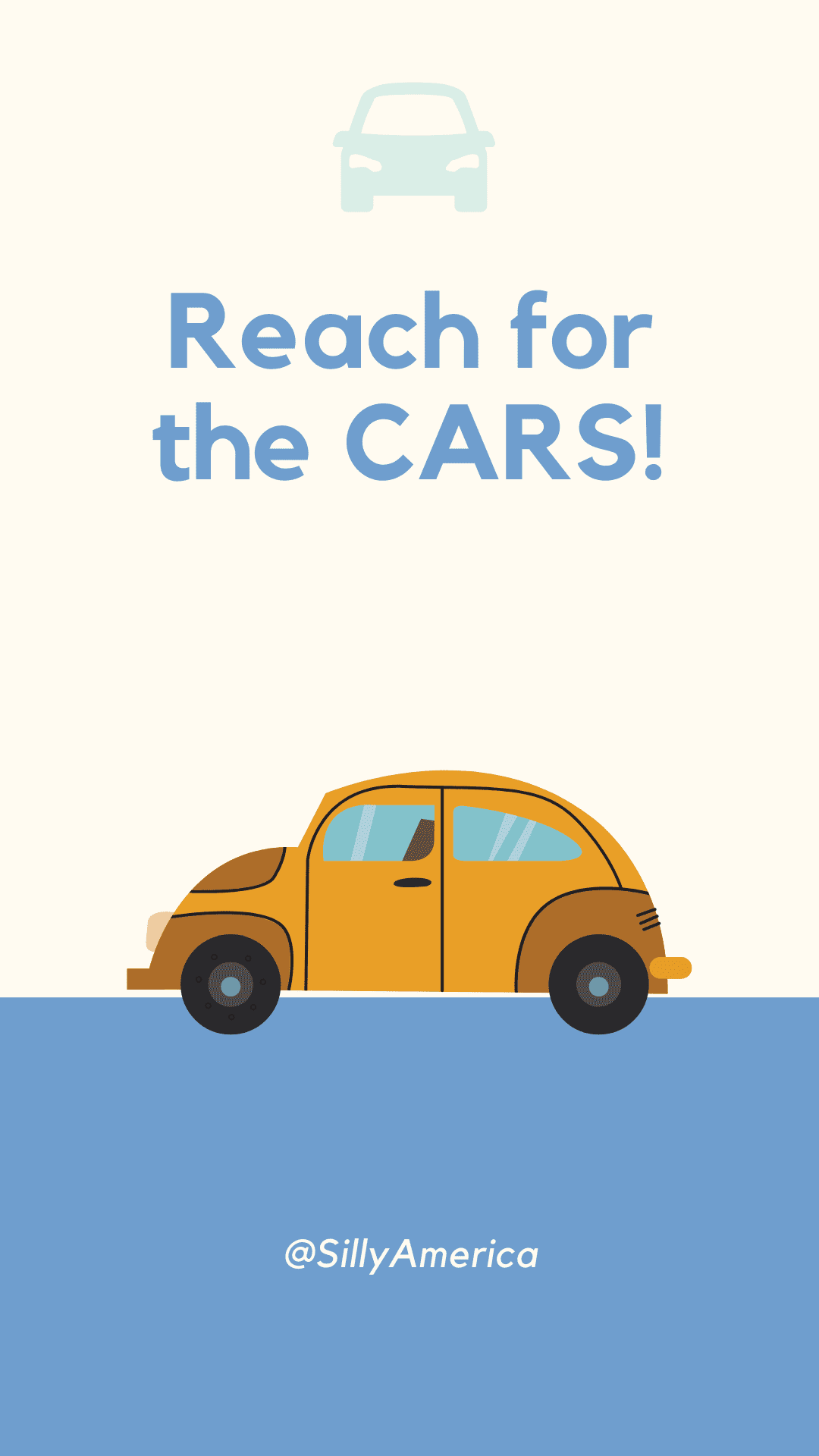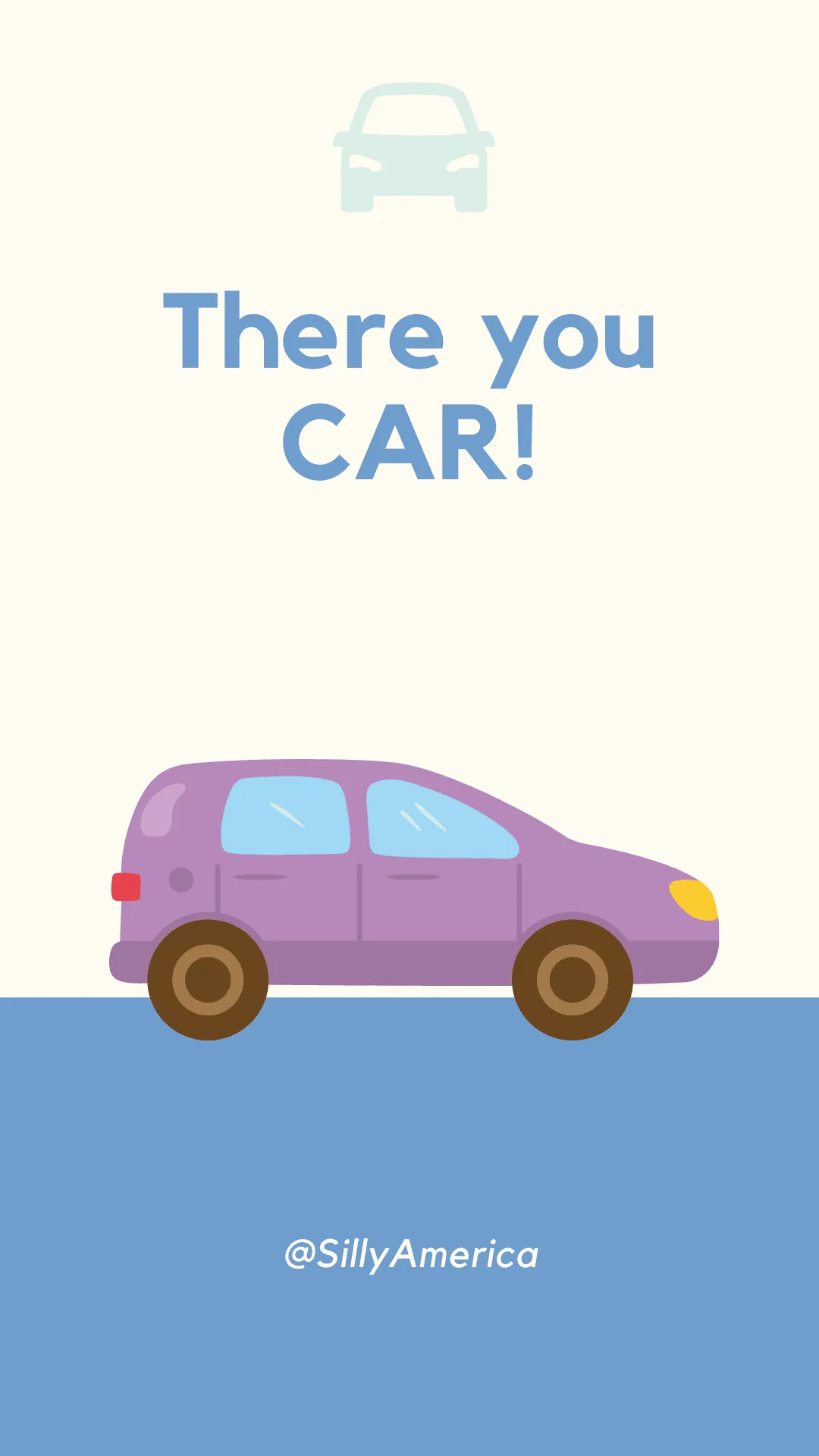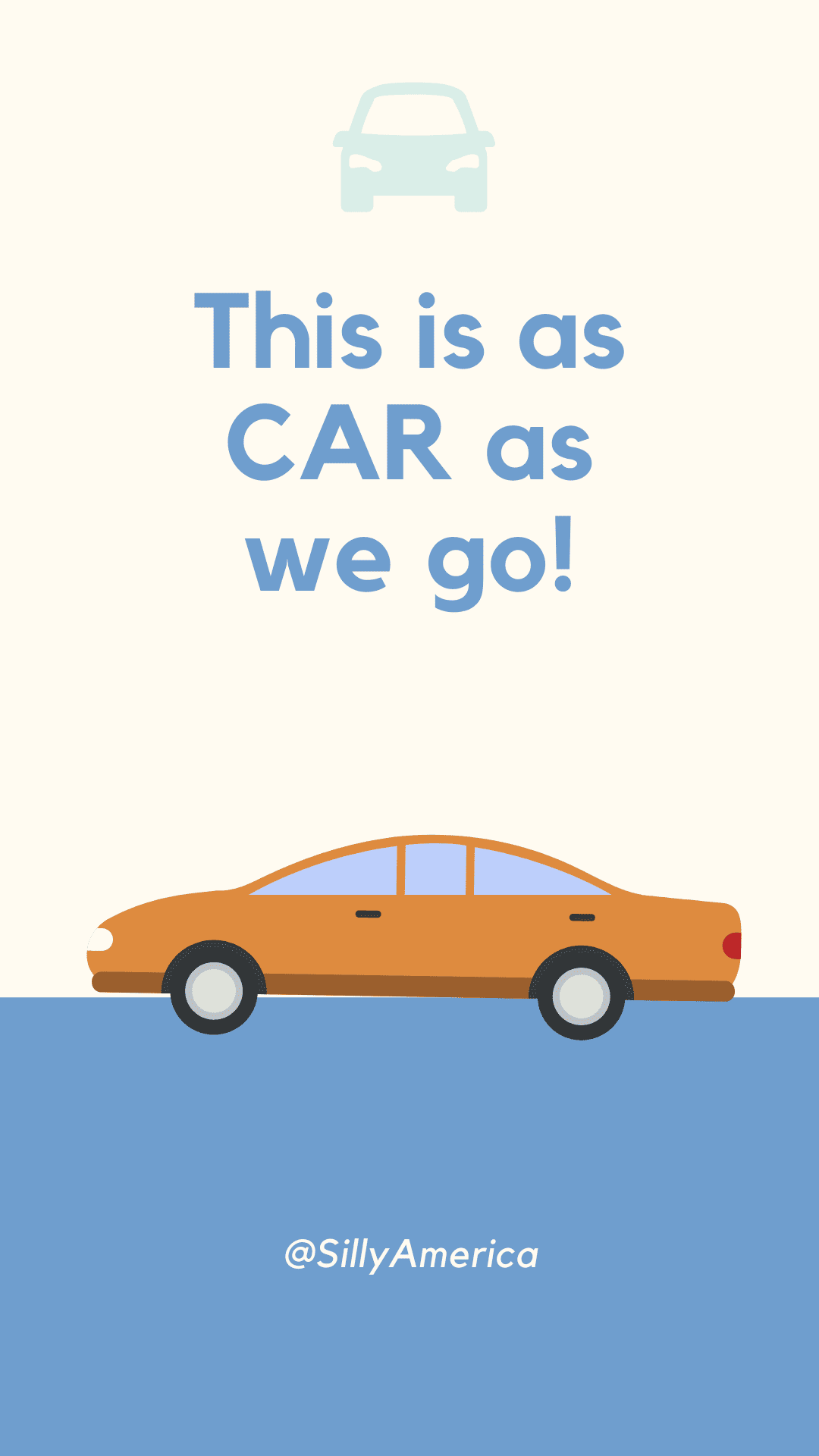 More Car Related Puns
Not all car puns have to use the word car itself. Here are some more creative jokes that use car parts or related words to create clever witticisms.
Ruin the car movie? No SPOILERS here!
This long car ride is a DRAG!
You are EXHAUSTING!
I a-DOOR you!
I don't trust that manual transmission. It seems kind of SHIFTY.
You AUTO know better!
It was an AXLEdent!
You really DROVE home that point!
That motorcycle shouldn't be driving. It is TWO TIRED.
I hate to BRAKE it to you.
Who would have TRUNK?
Give it the BOOT!
You're FUEL of it!
Ready for a road trip? WHEEL see!
Road tripping without me? We need to BRAKE up!
That car is a big WHEEL!
It's FUEL to be kind!
TRUCK it!
Is there VROOM for one more?
I'm a FUEL for you!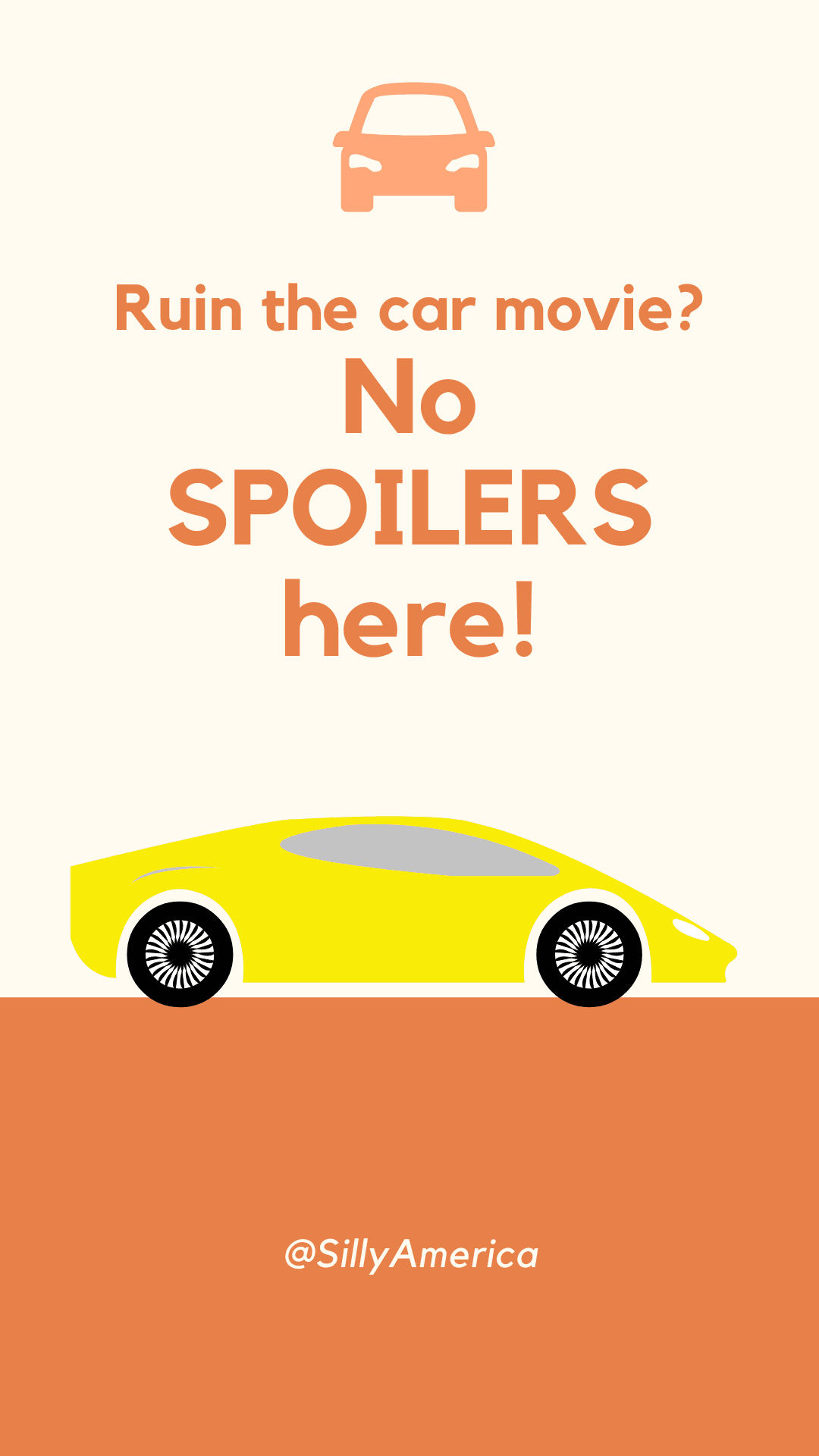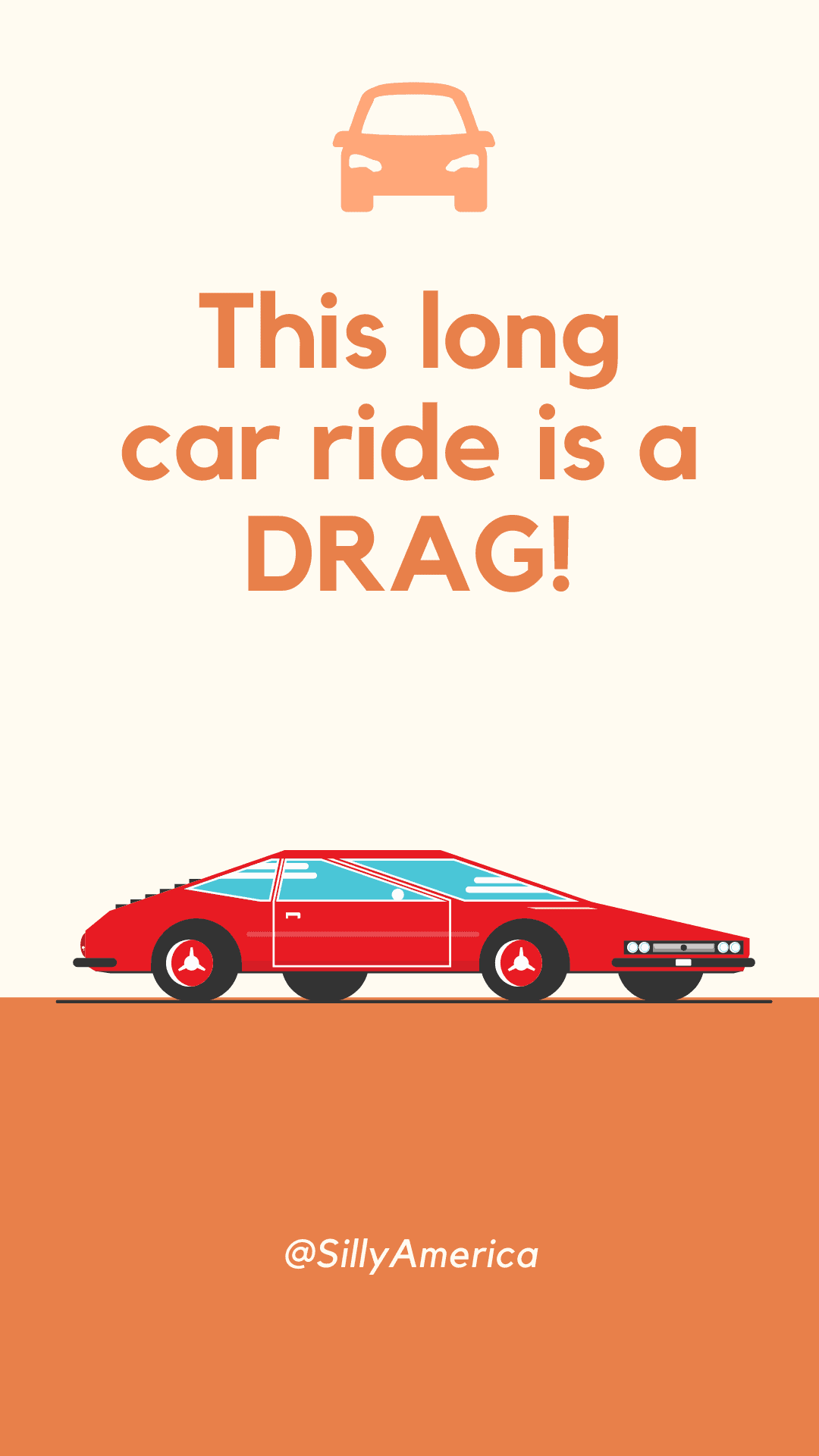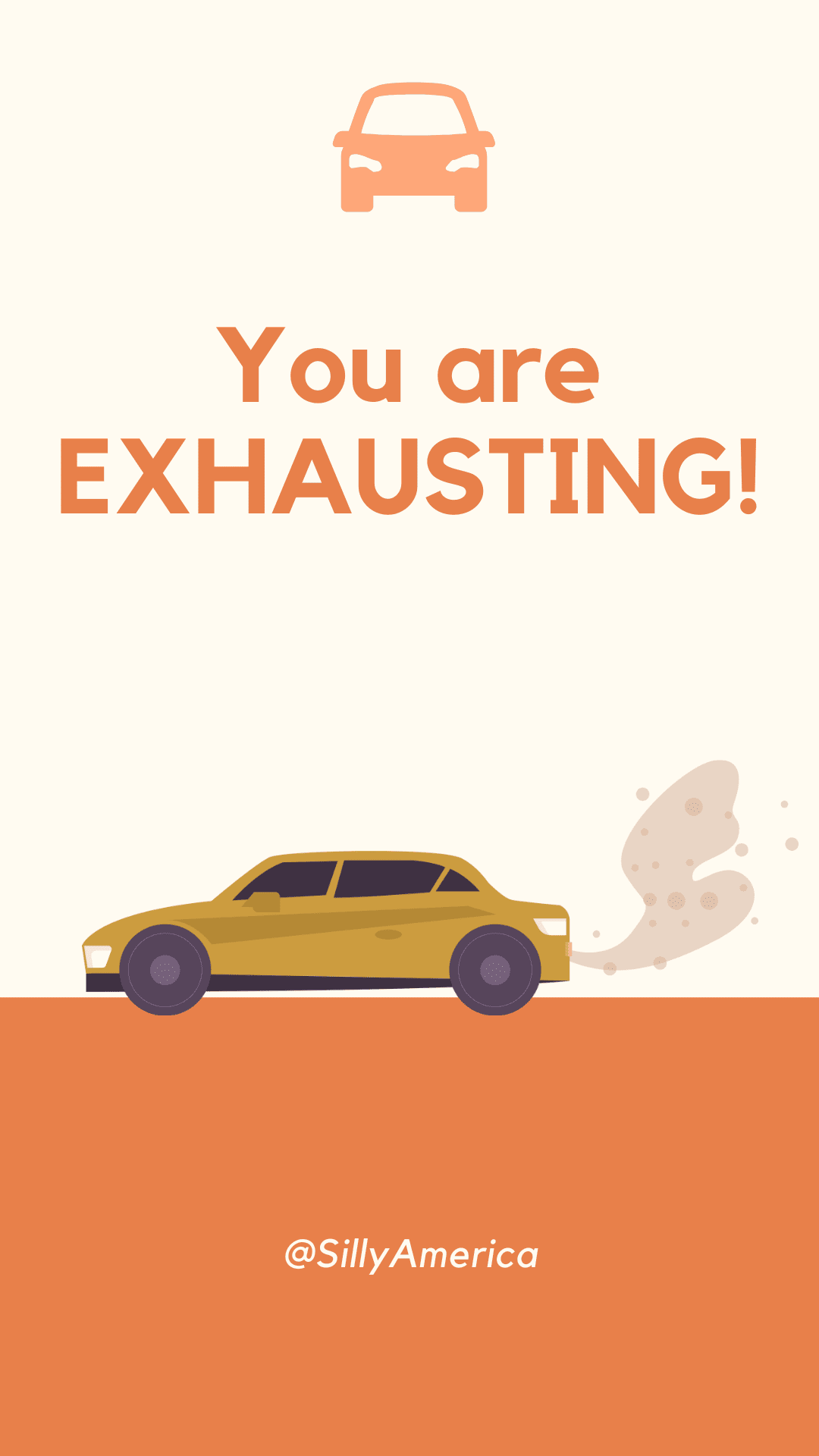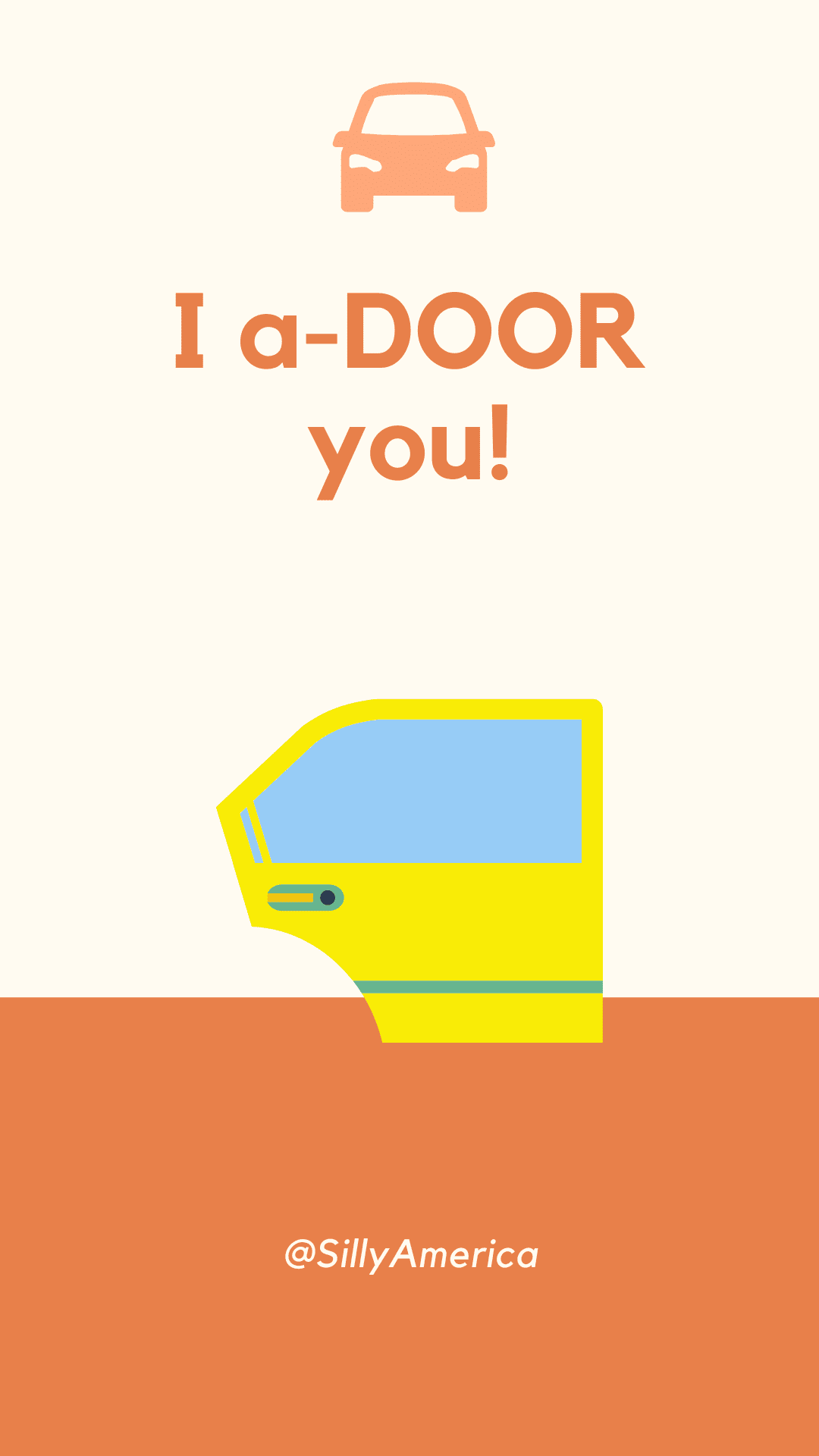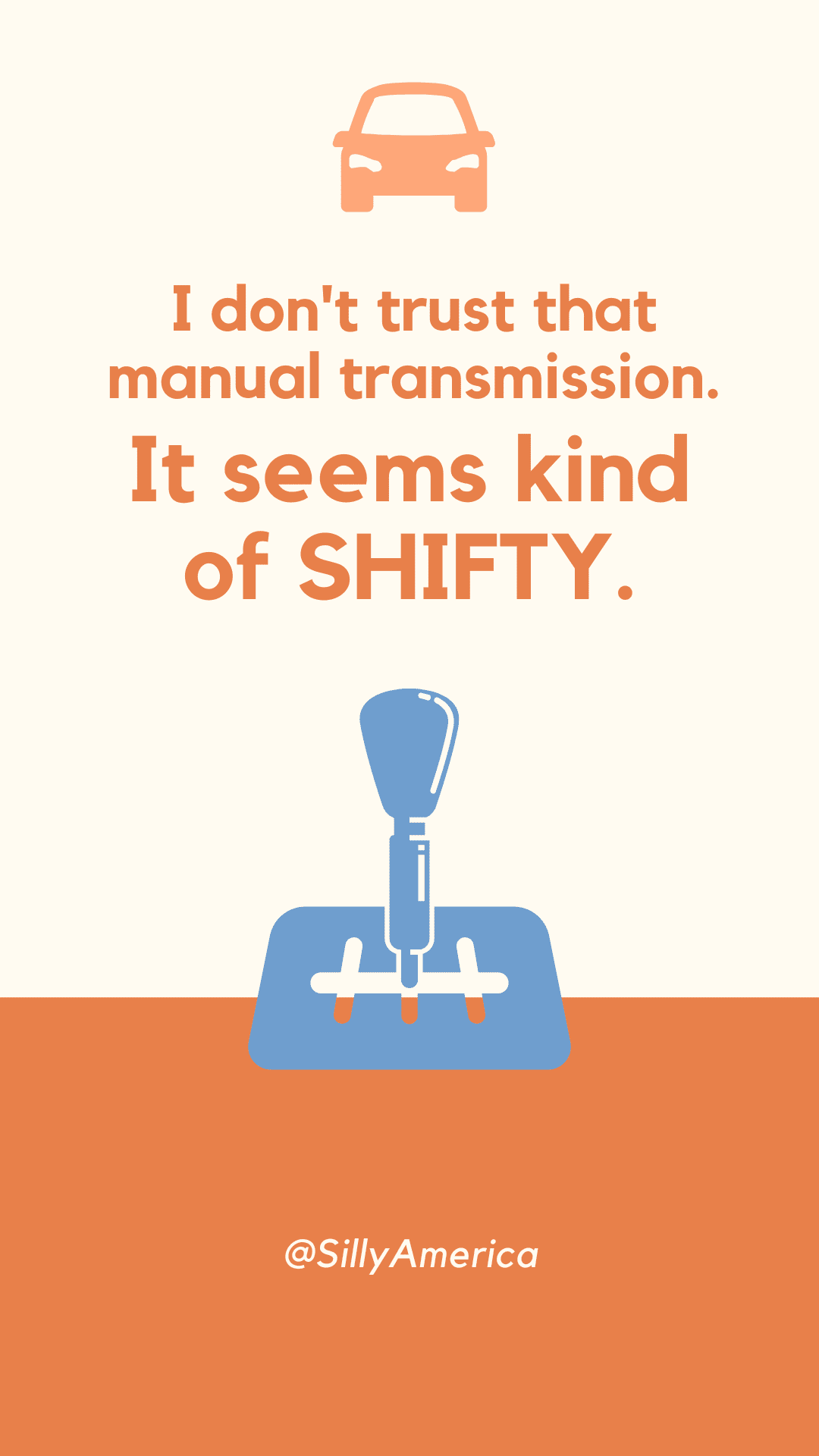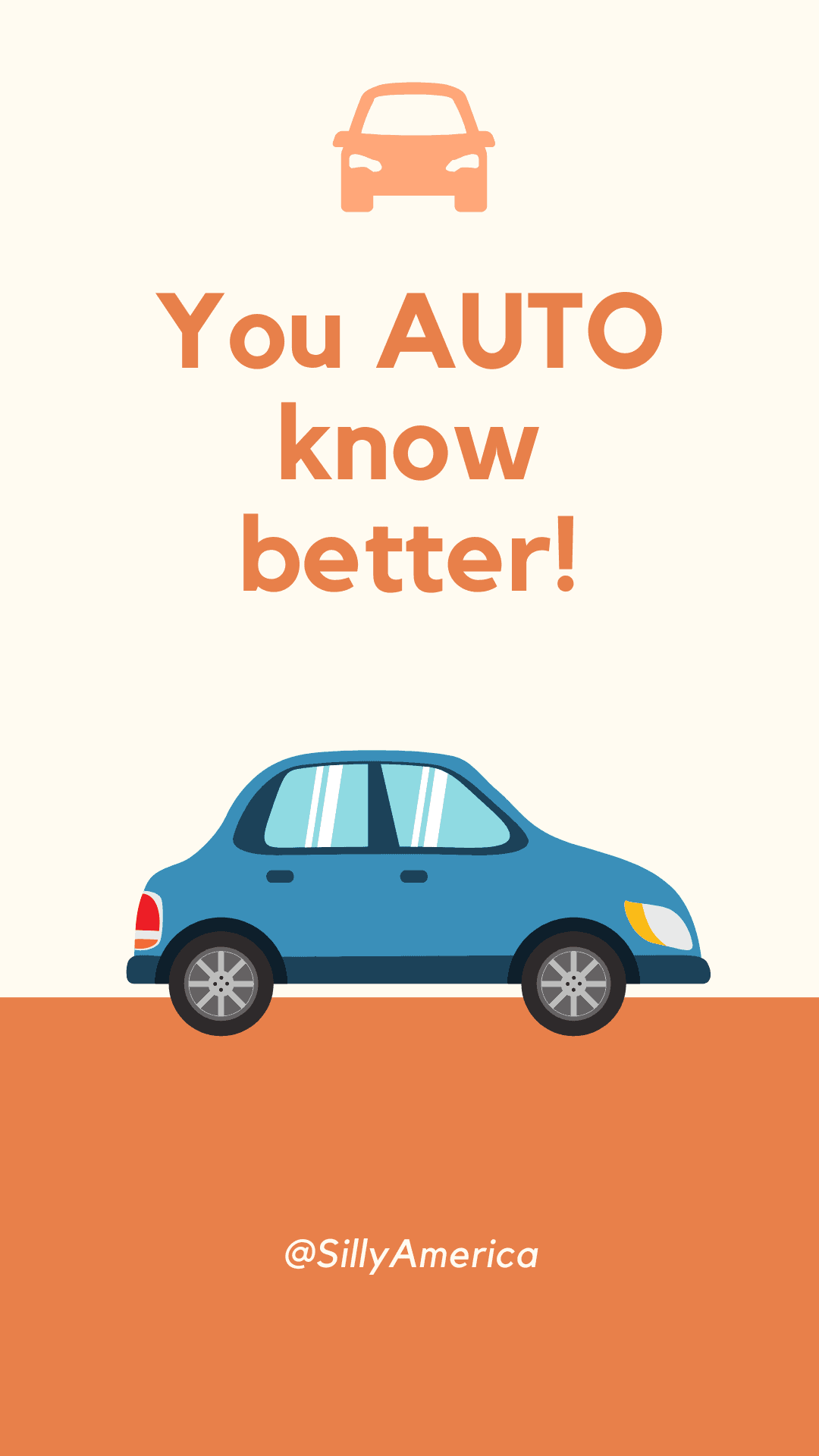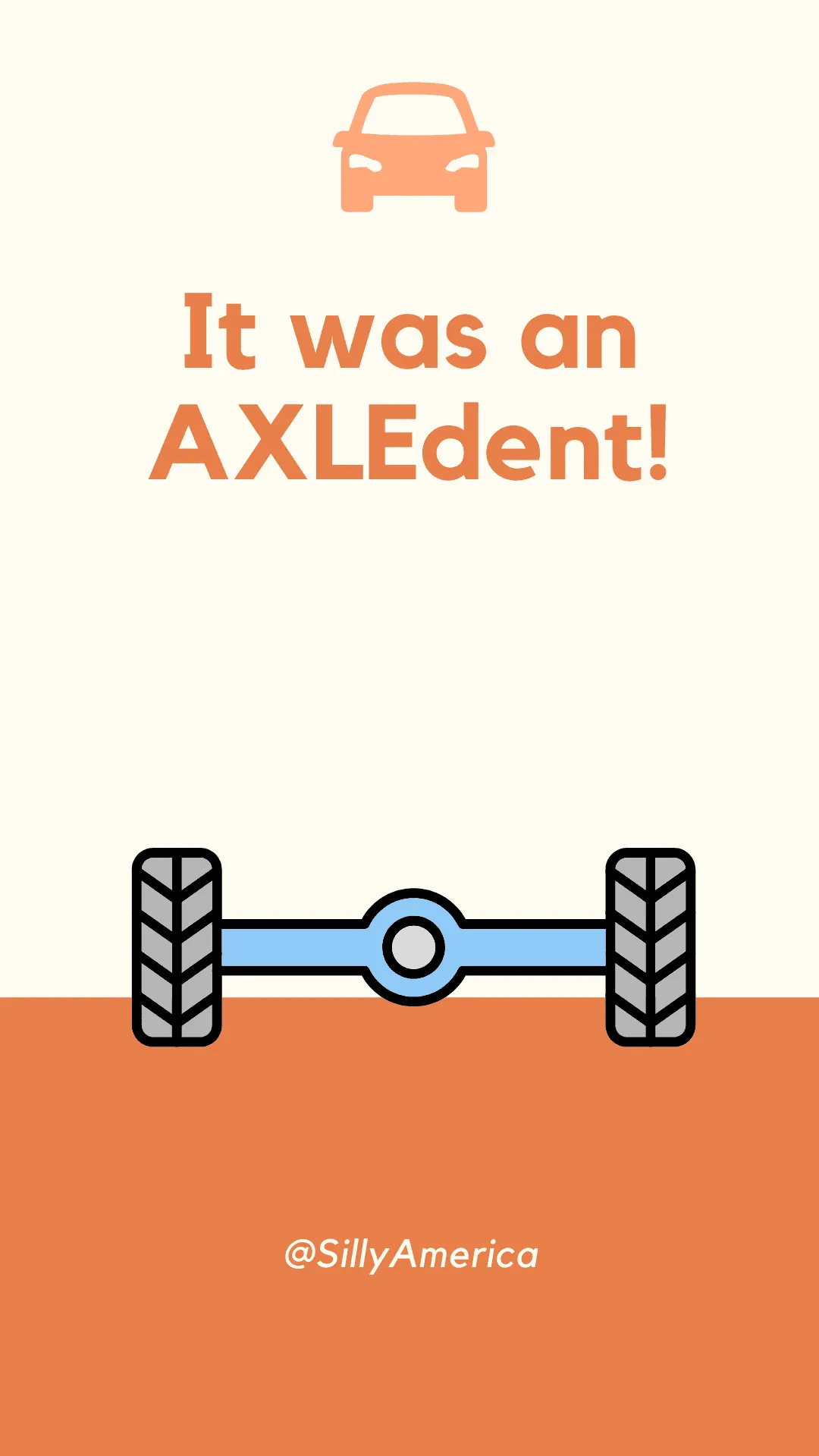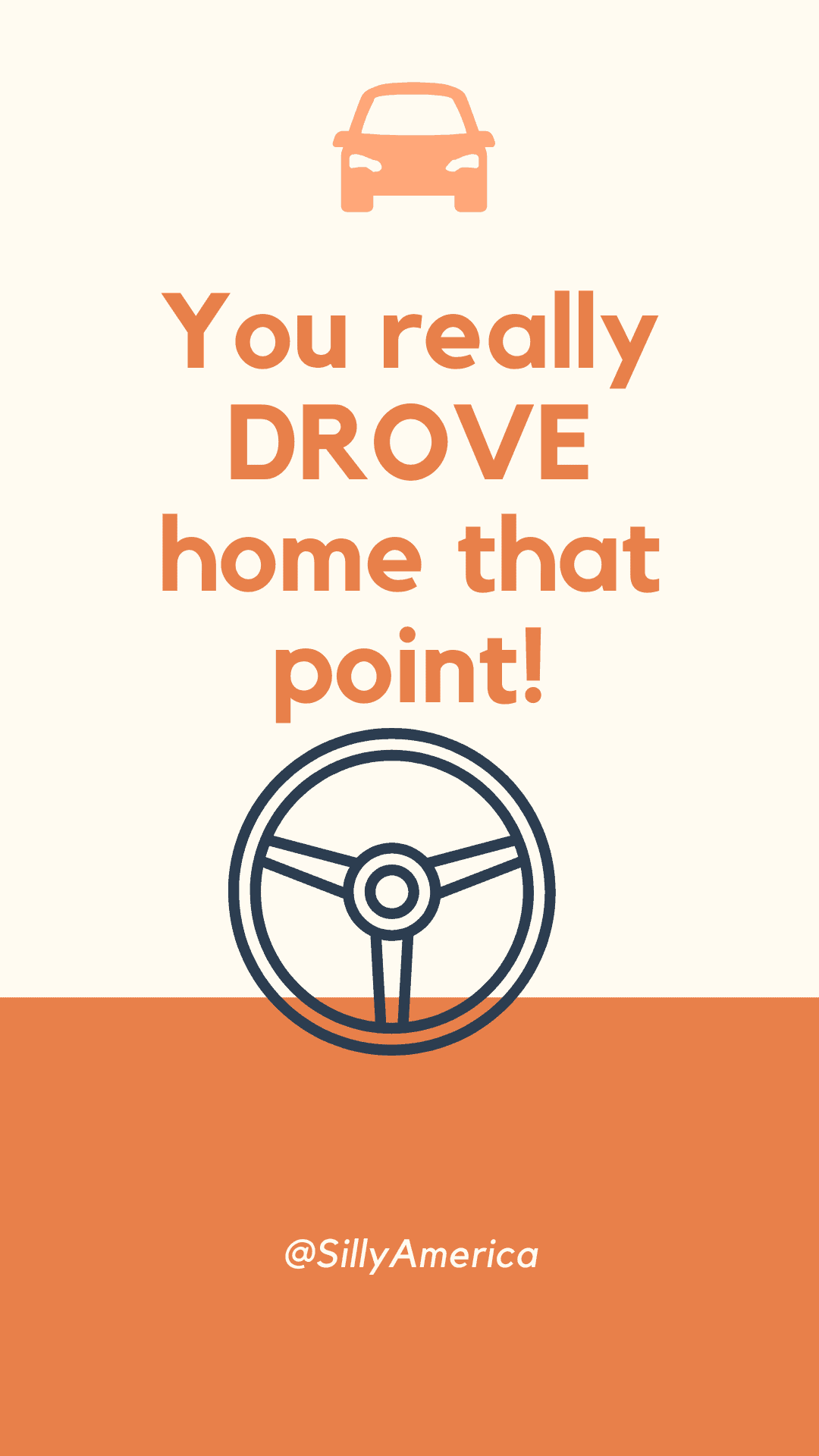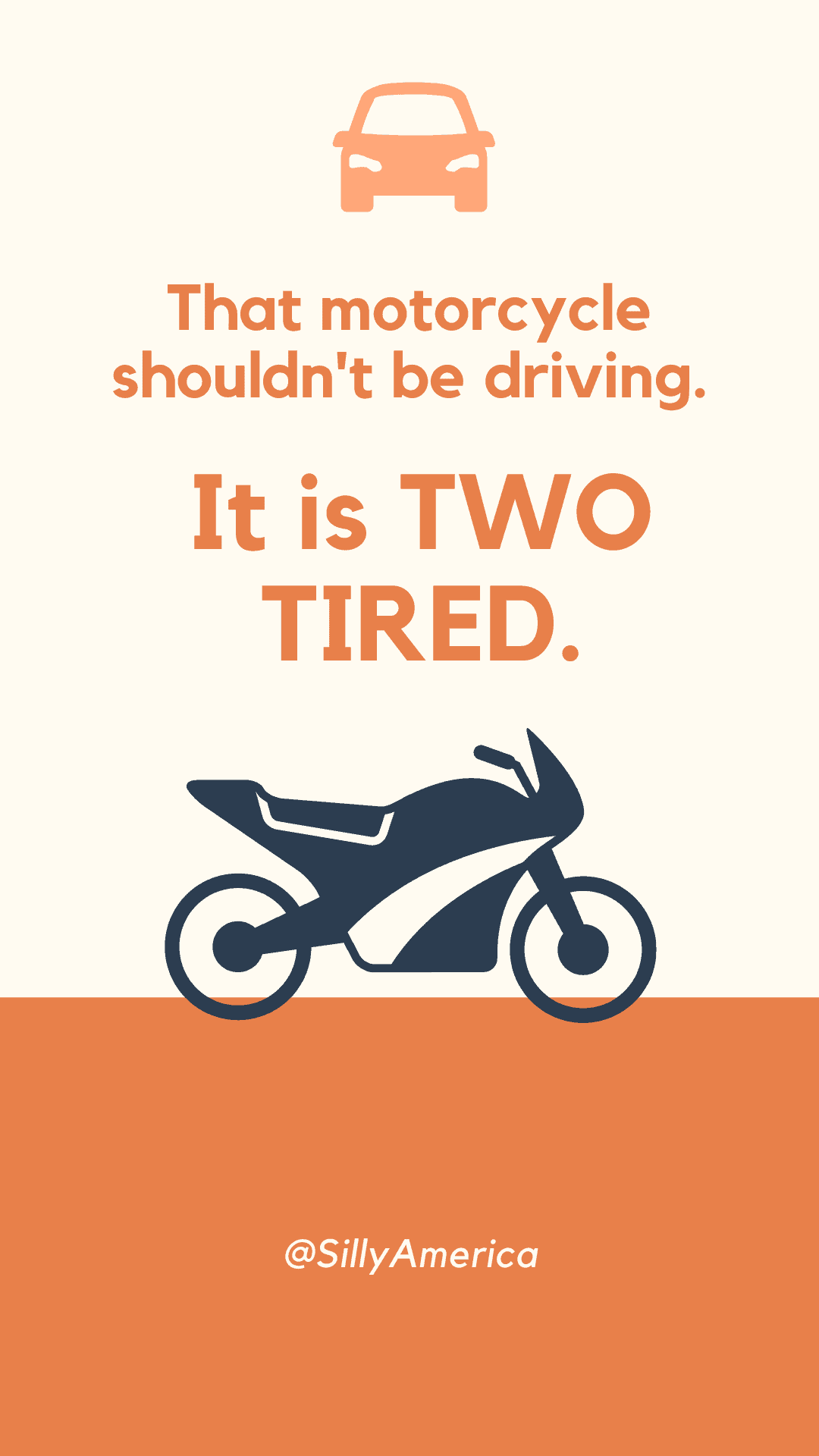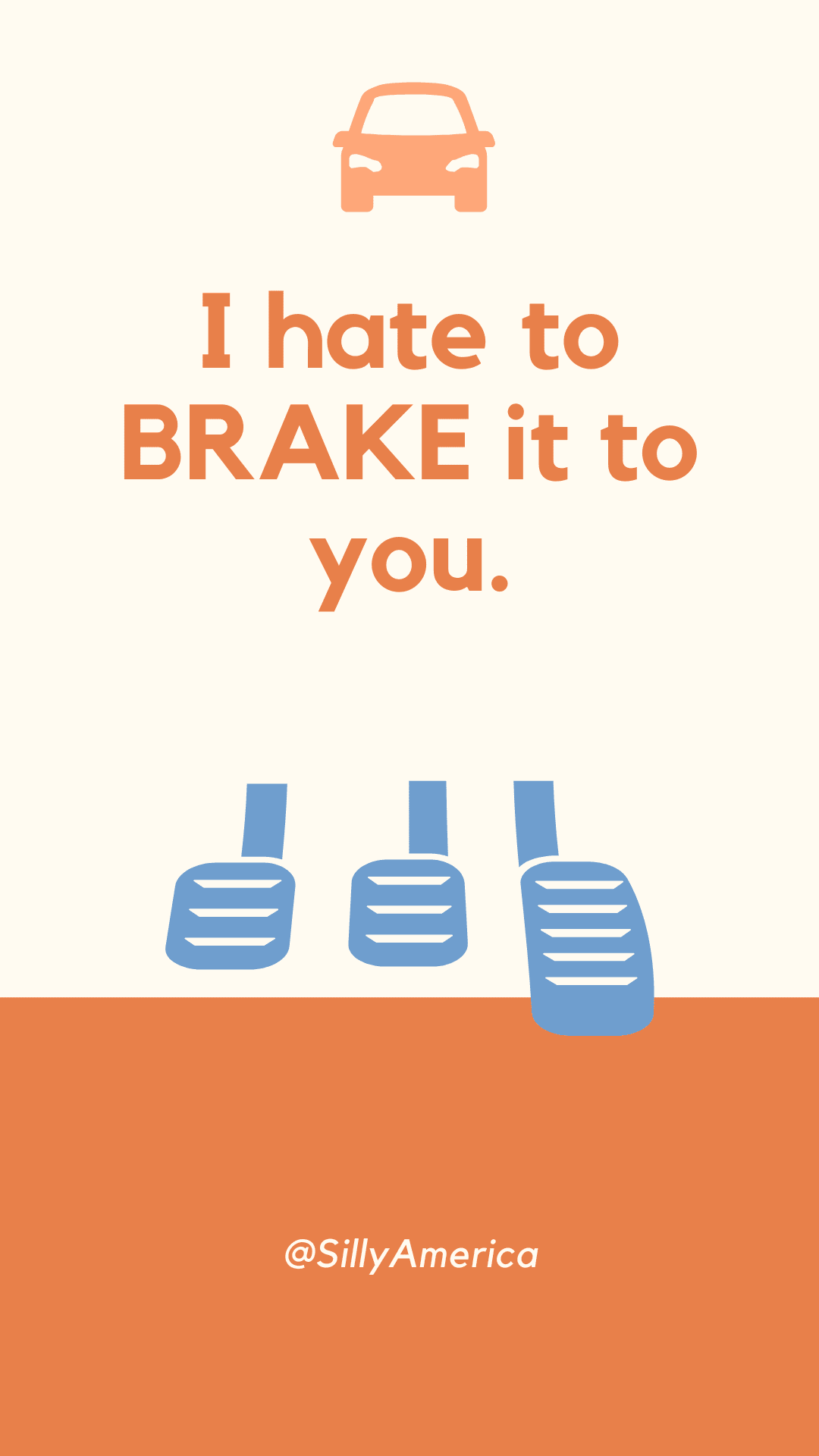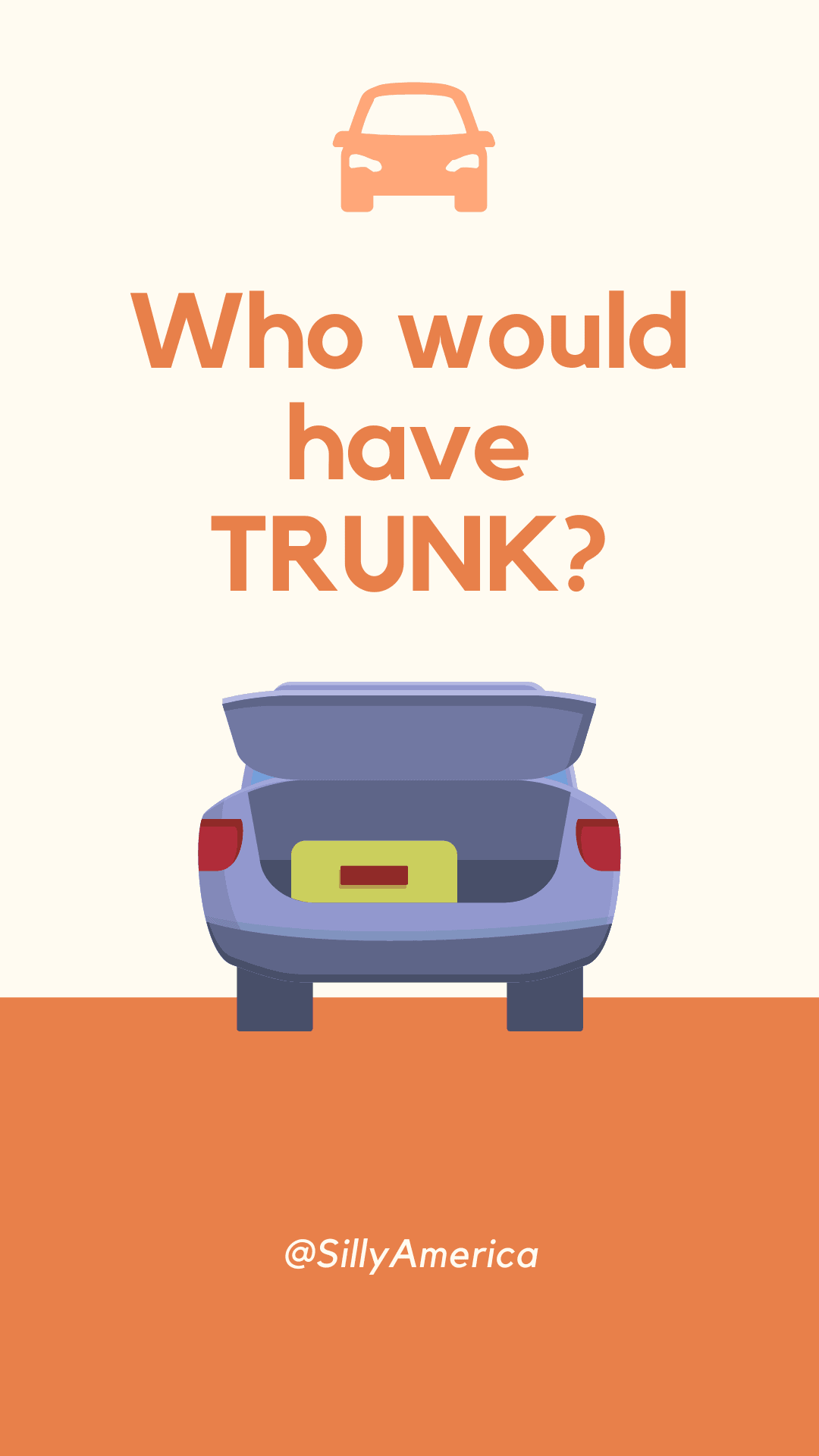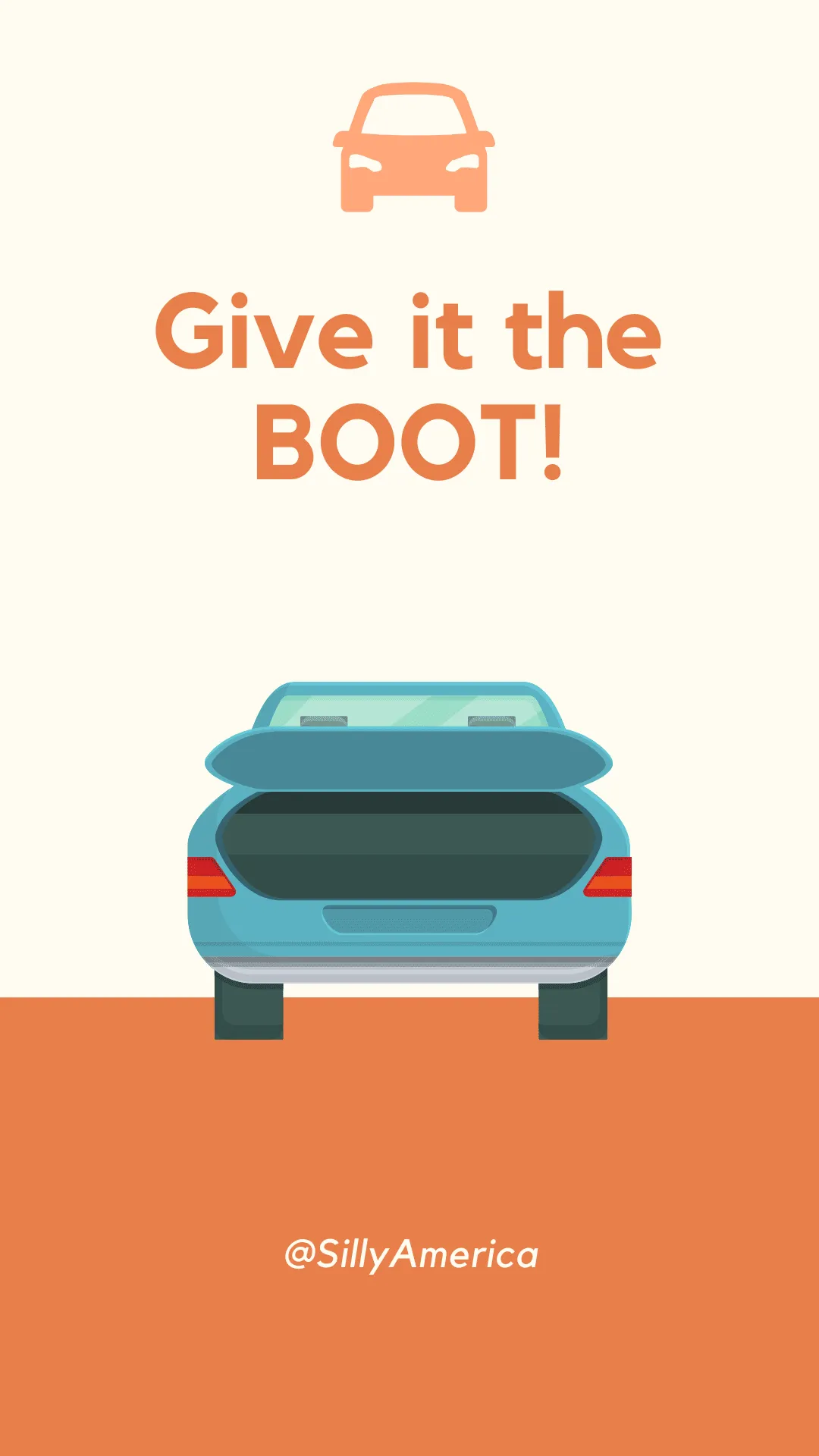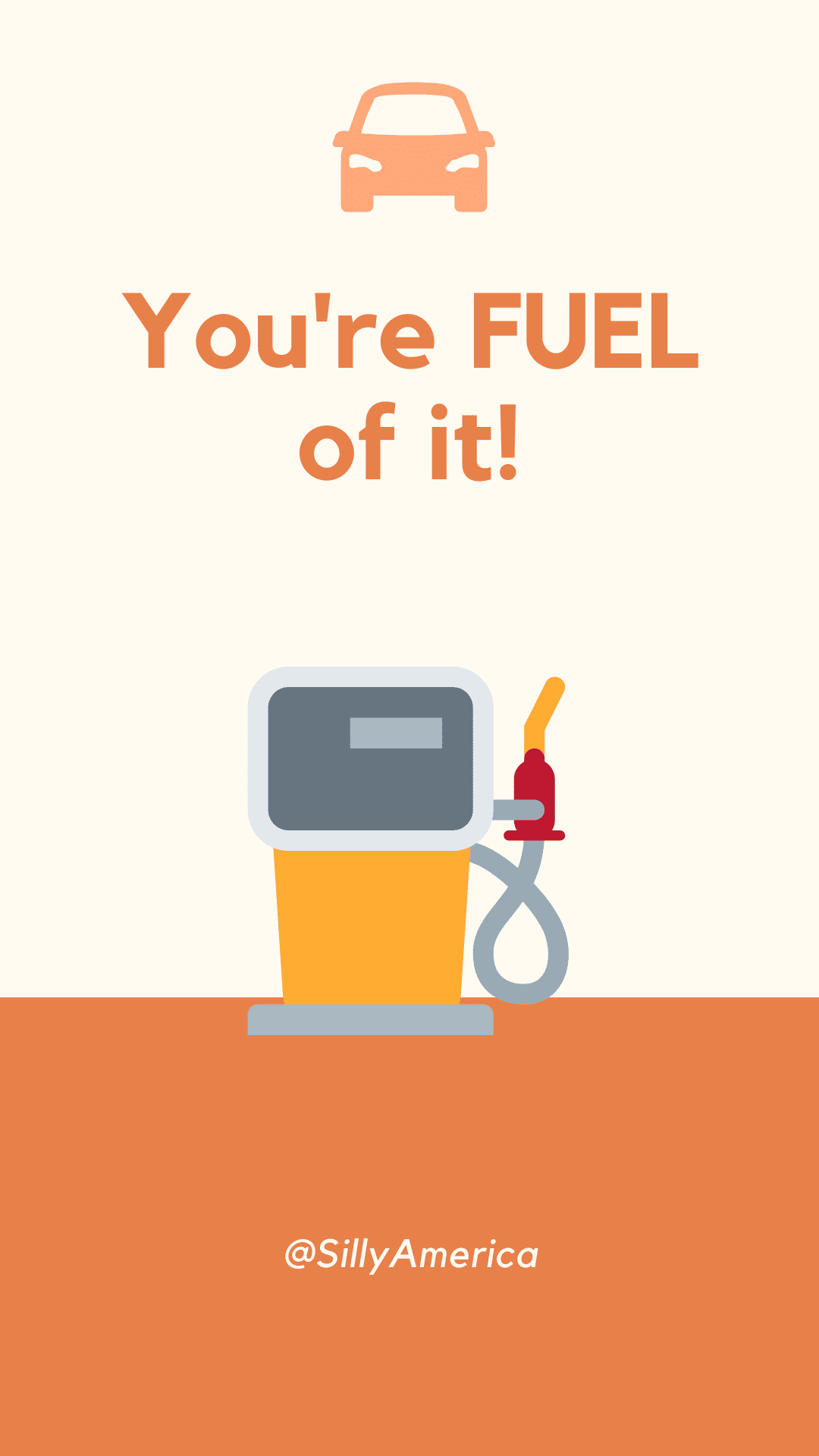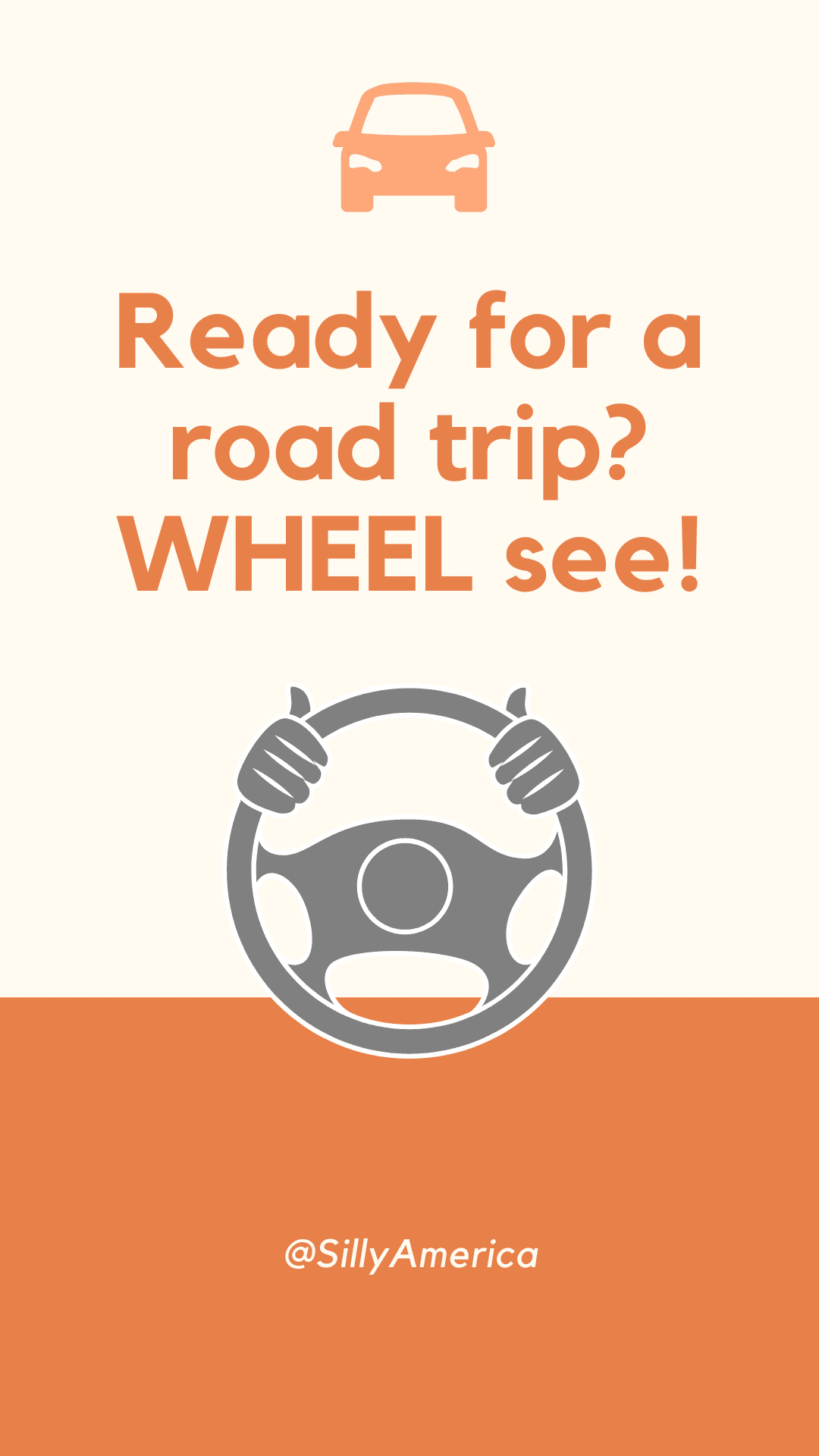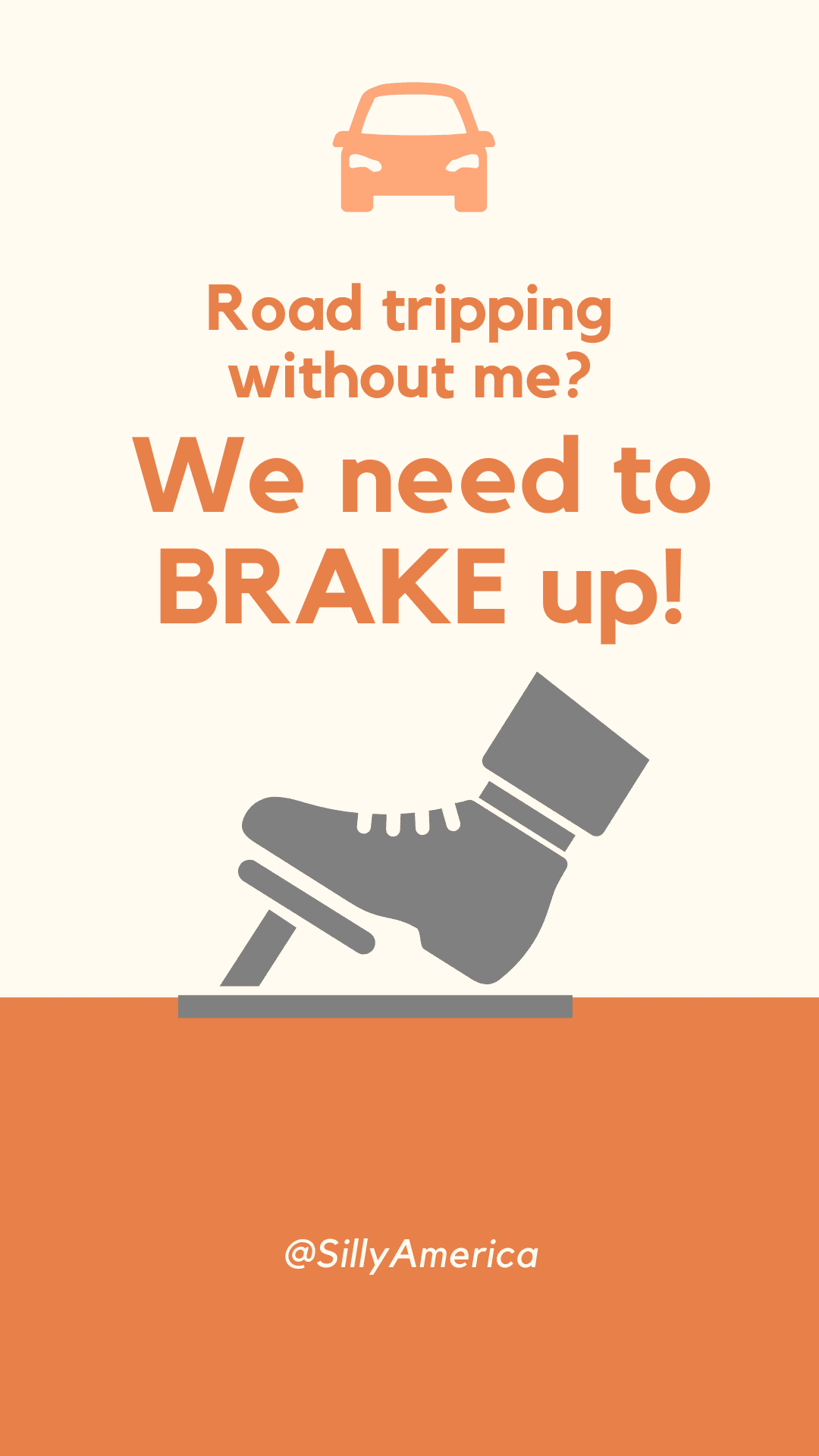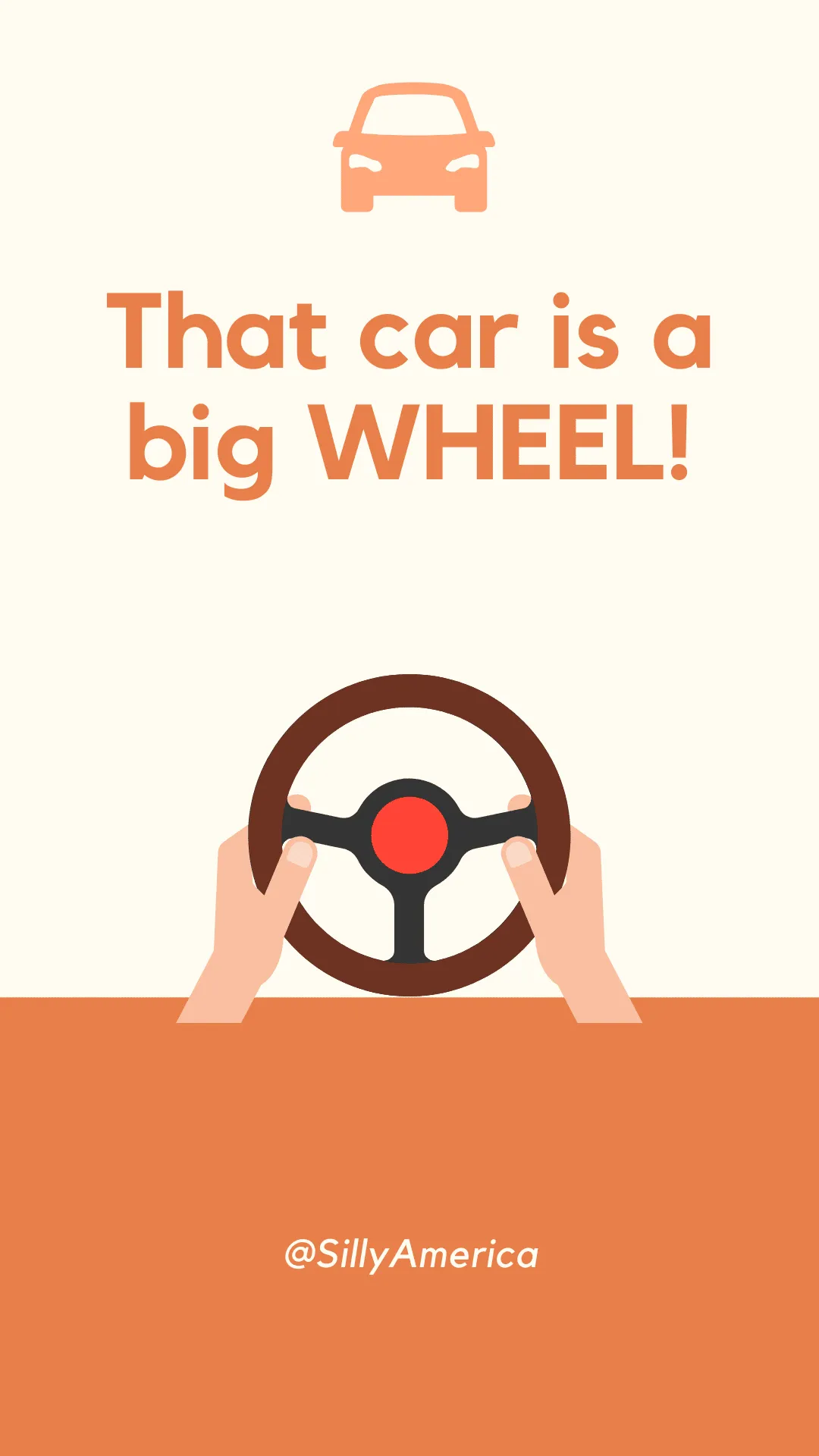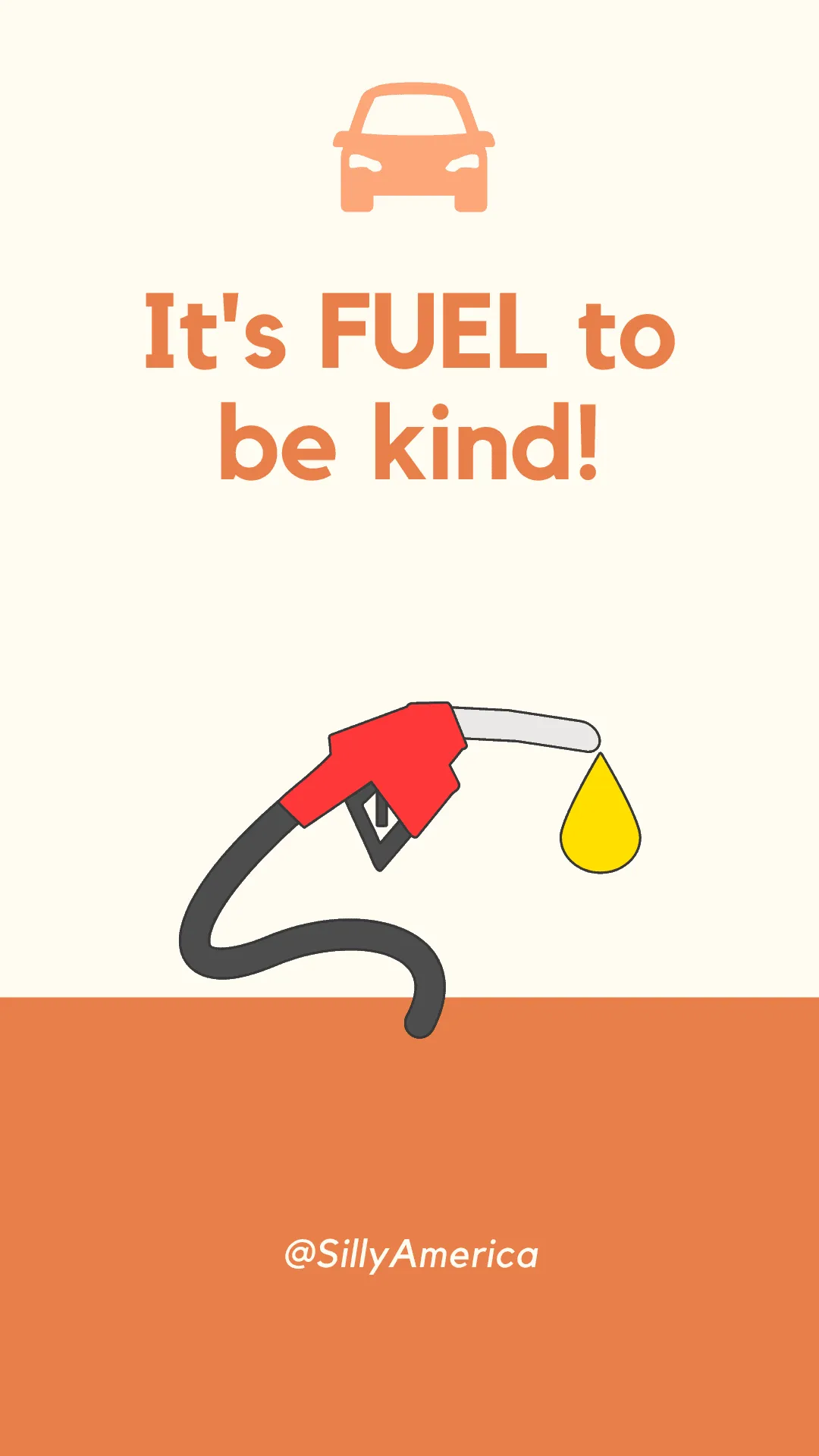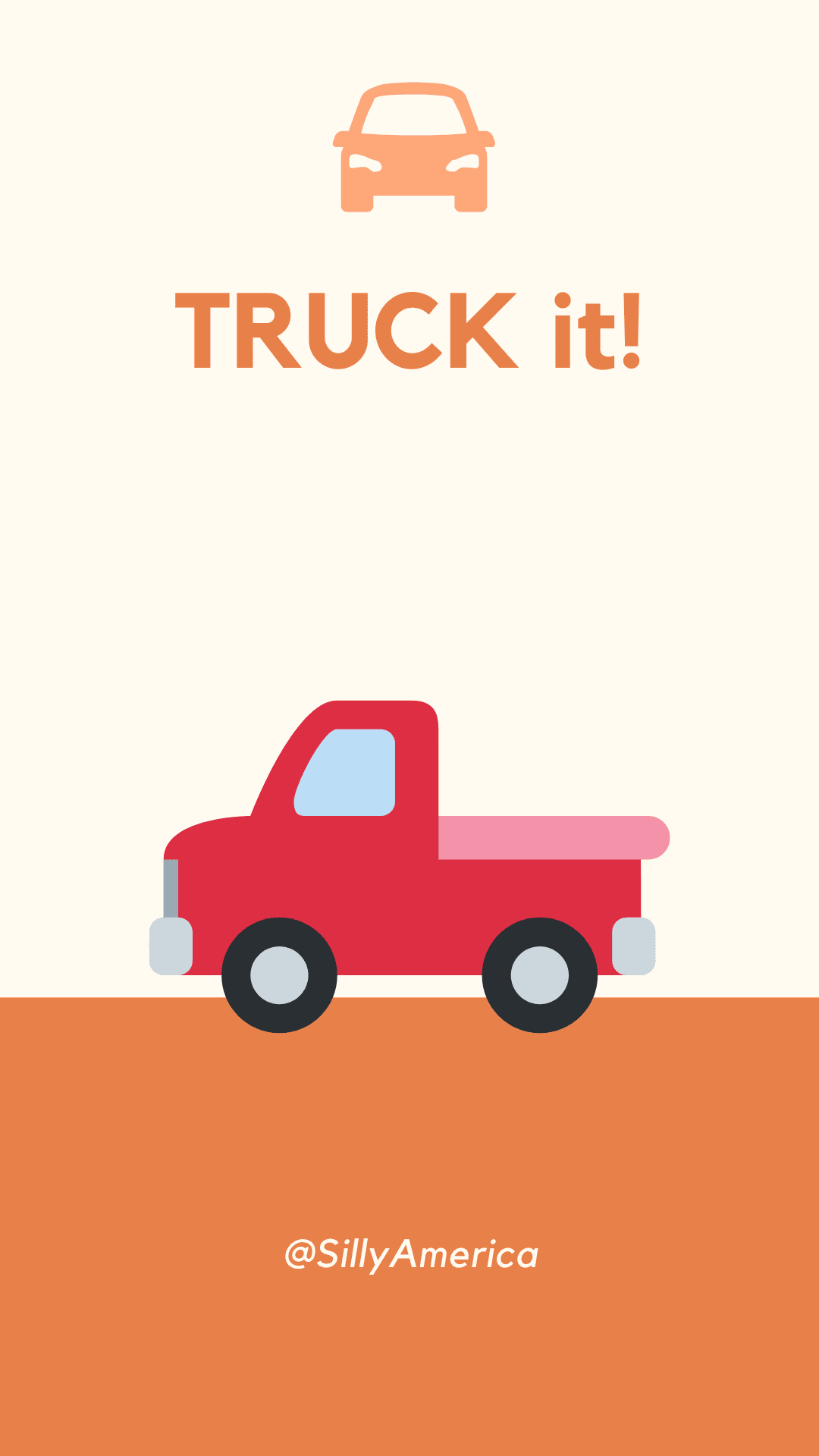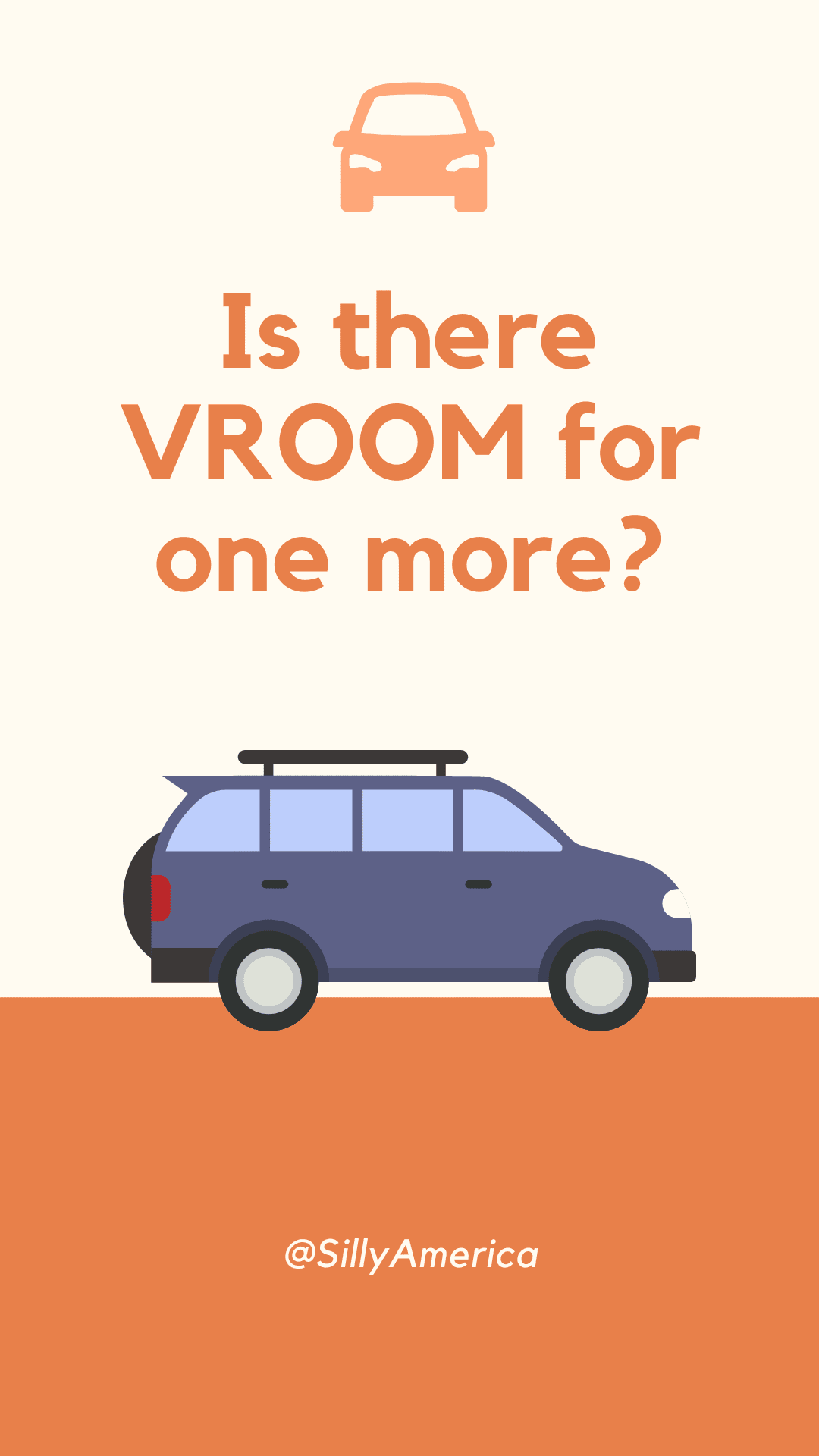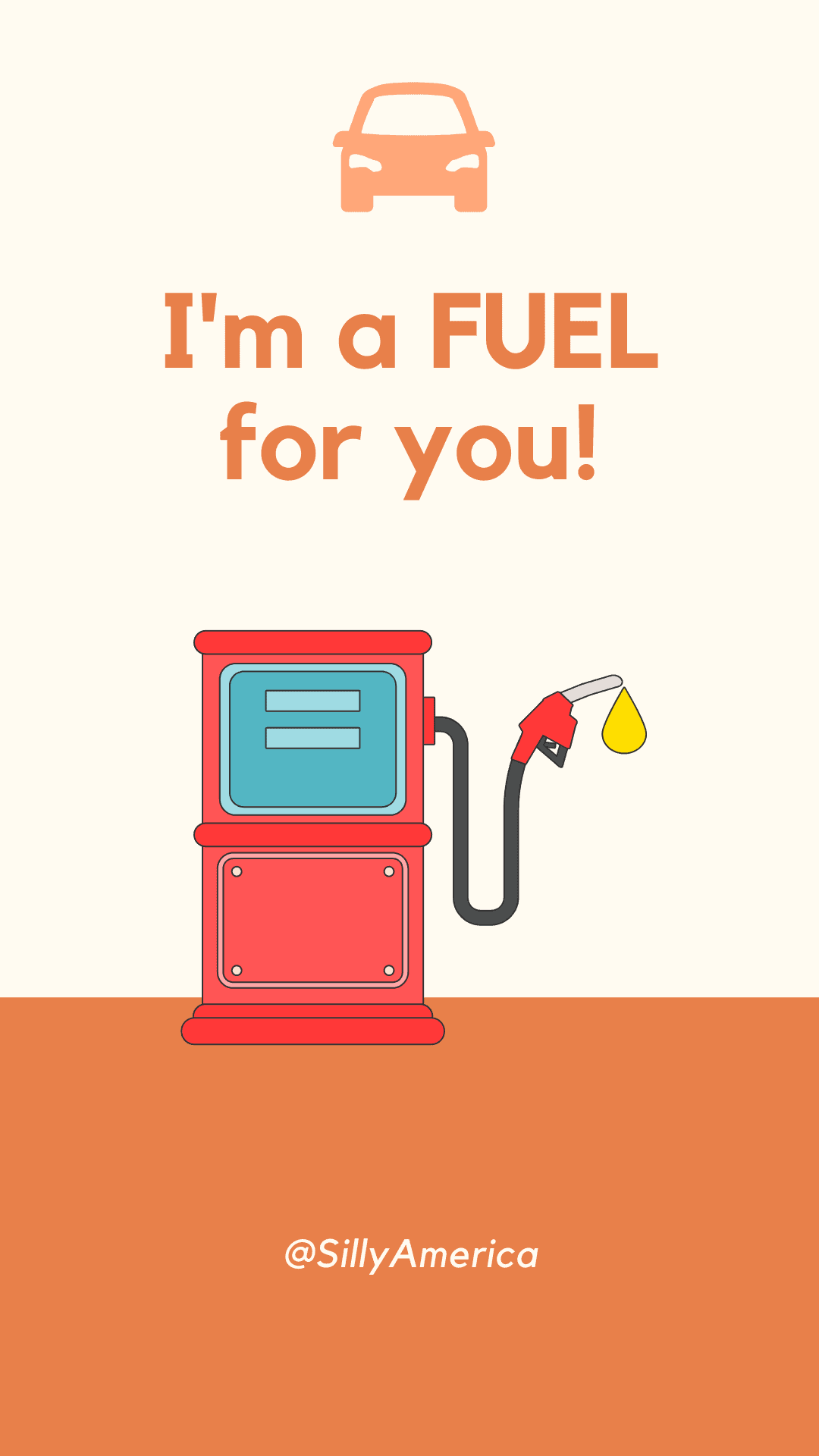 Puns for Car Makes and Models
If you want to reference a specific car make or model that you're driving on a road trip, here are some funny puns that will have you COROLLA-ing on the floor laughing.
You AUDI believe me when I tell you about this car!
You really DODGEd a bullet there!
How much? I can't aFORD that!
I'm HONDA way!
Oh my FORD!
I'm in too JEEP!
FIAT chance!
Everything MUSTANG go!
Time to COROLLA long!
Don't be CAMRY shy!
Don't PRIUS your luck!
Cut the ACCORD!
Hot and CHEVY!
I'm SAAB-ing!
Going ROGUE.
A car? There's one OUTBACK.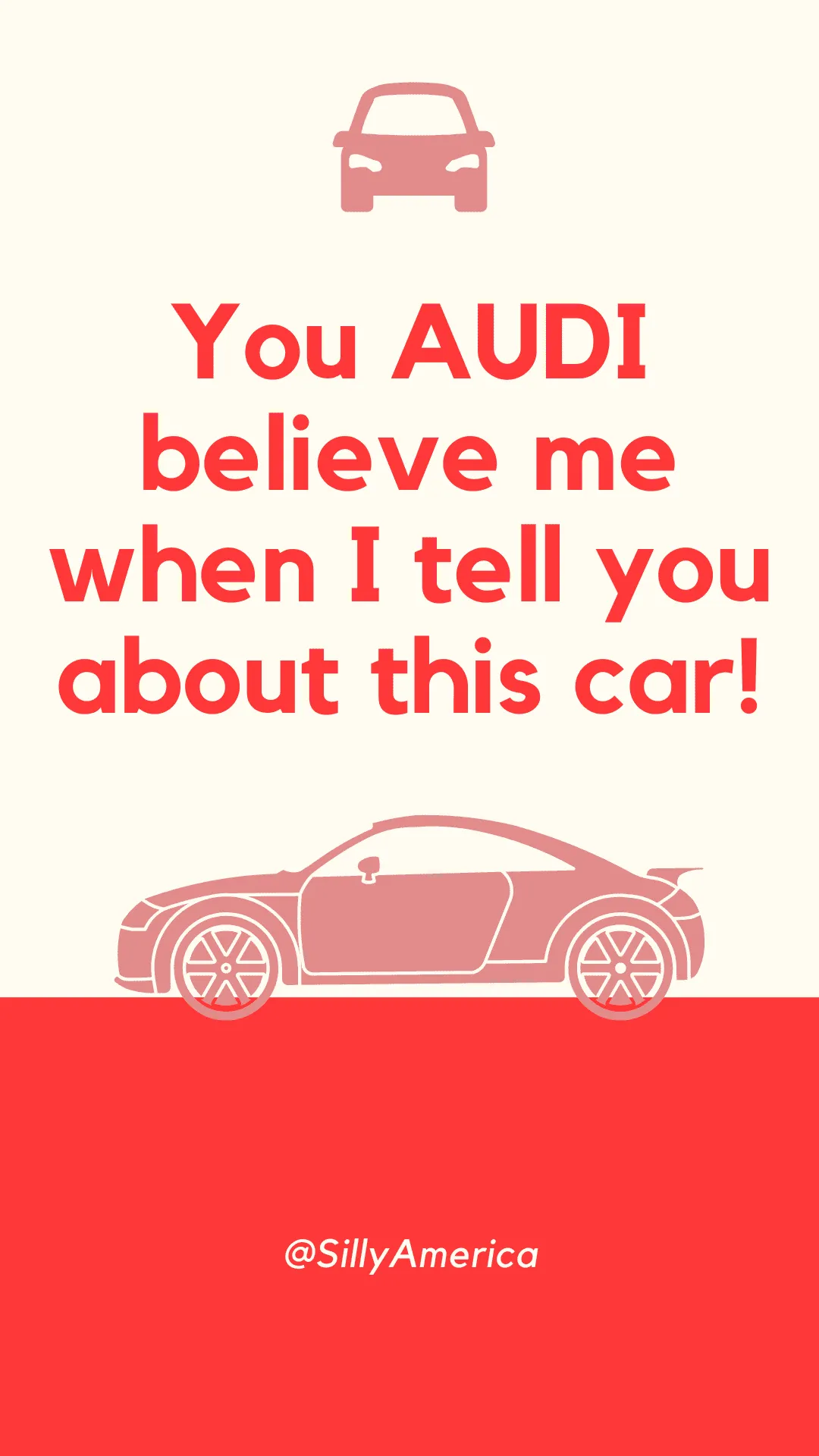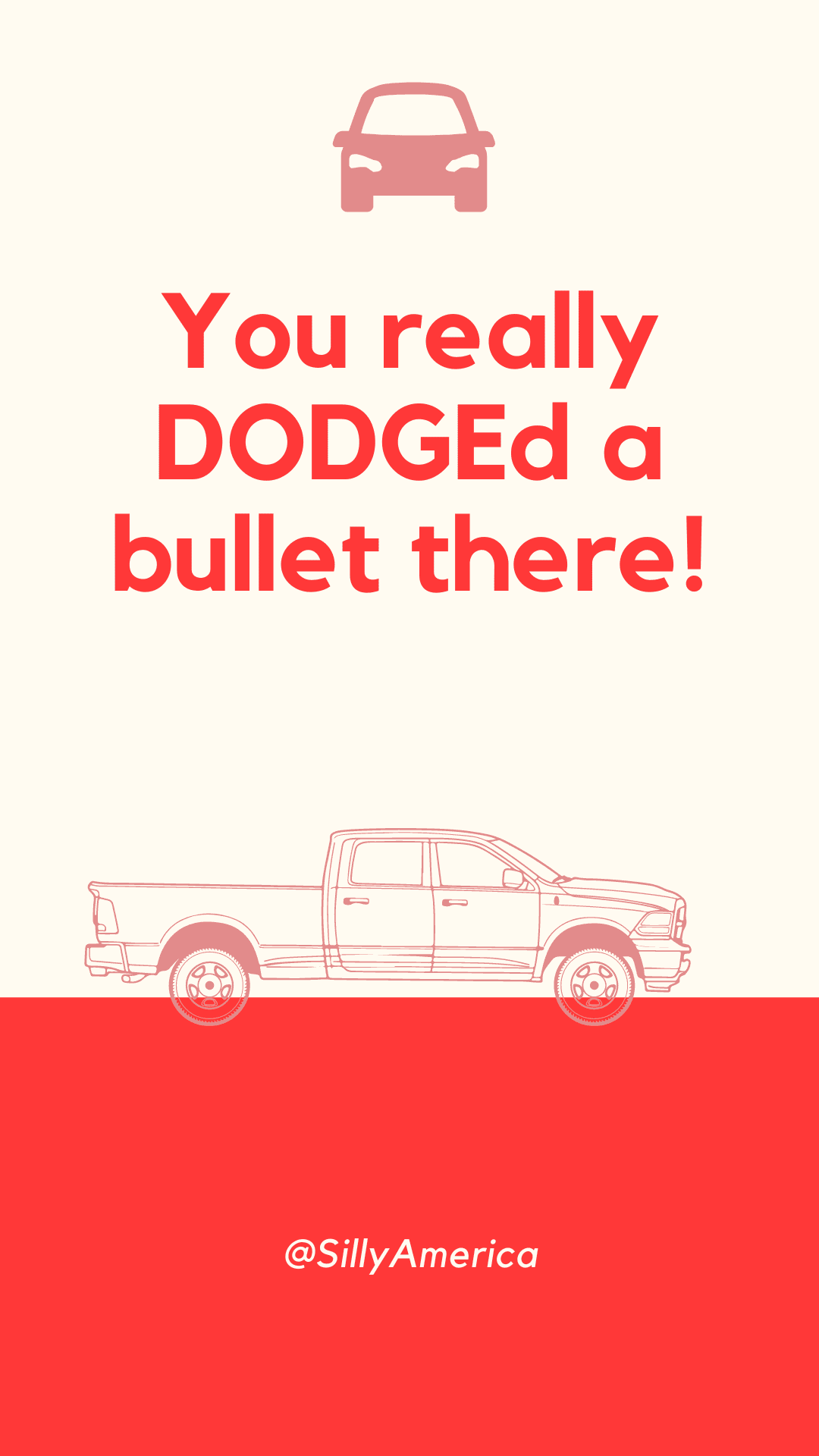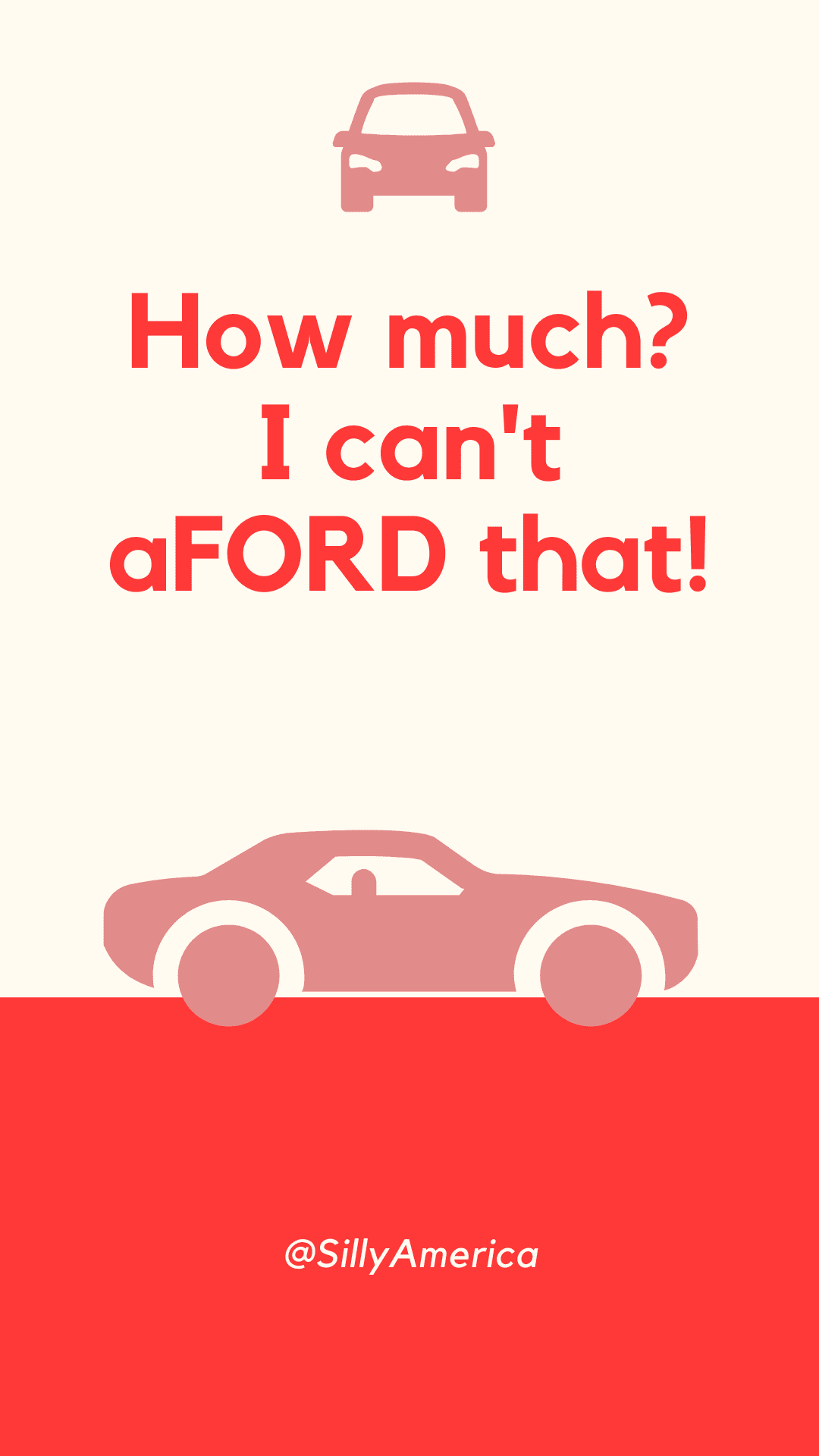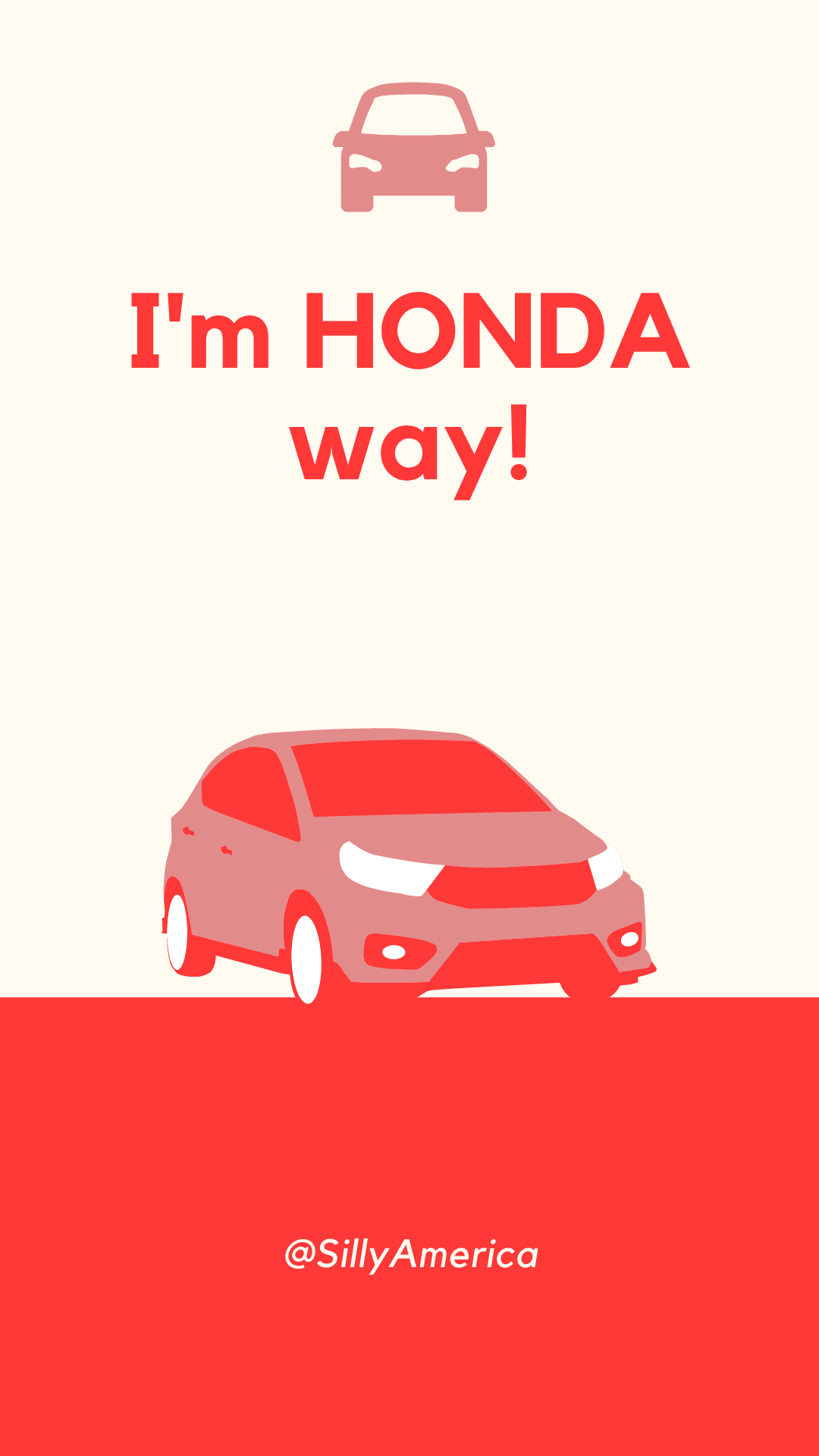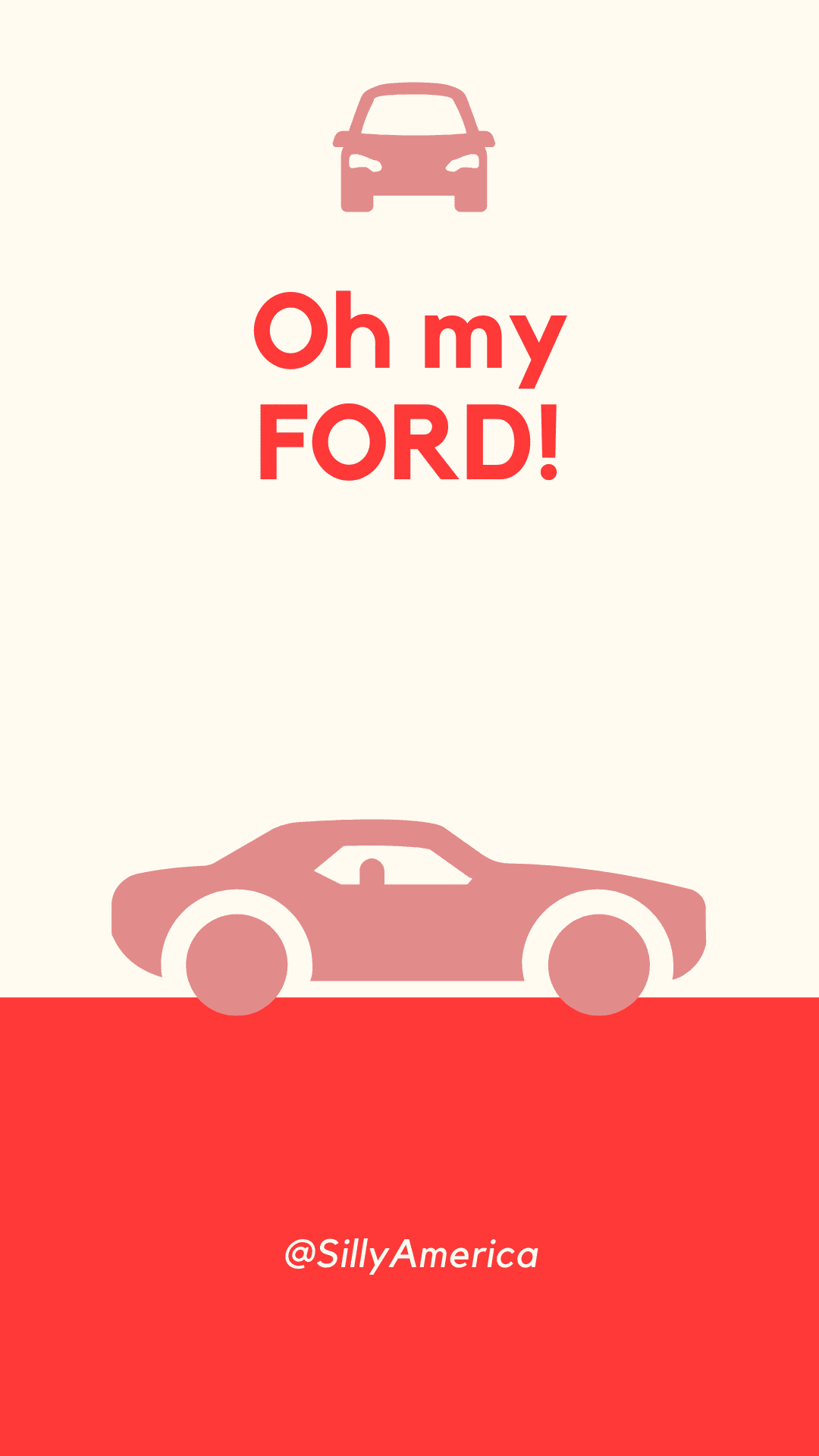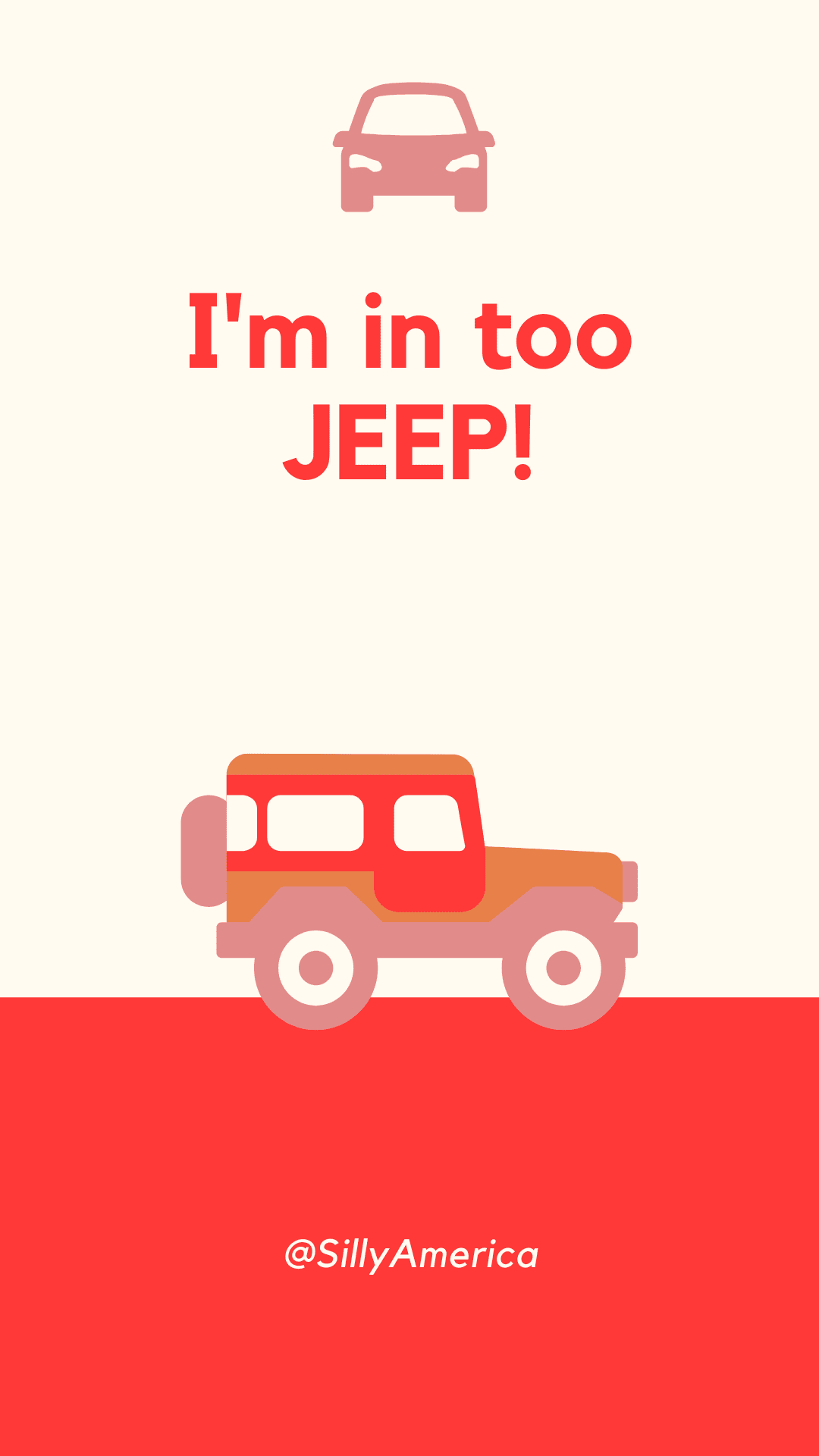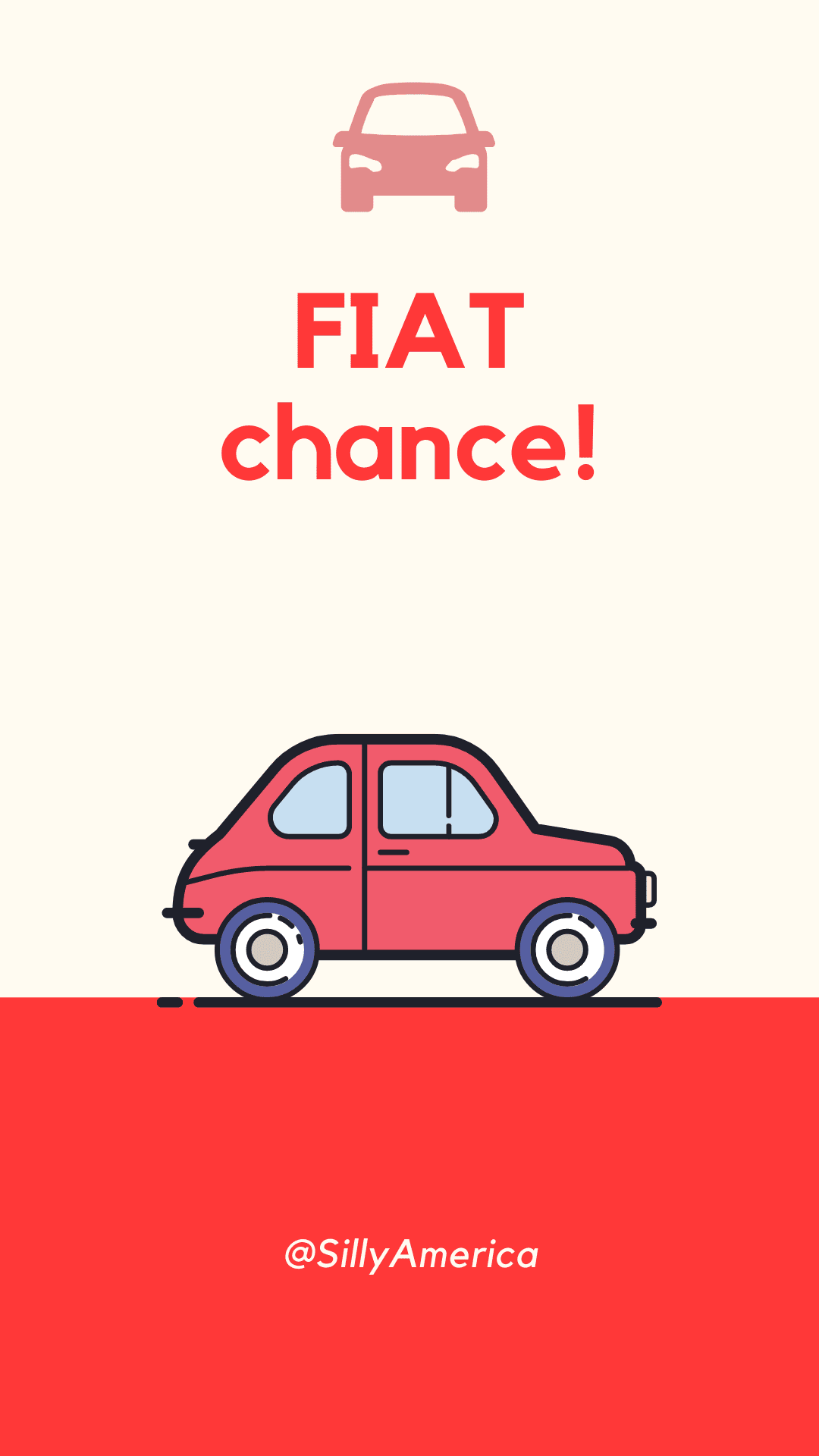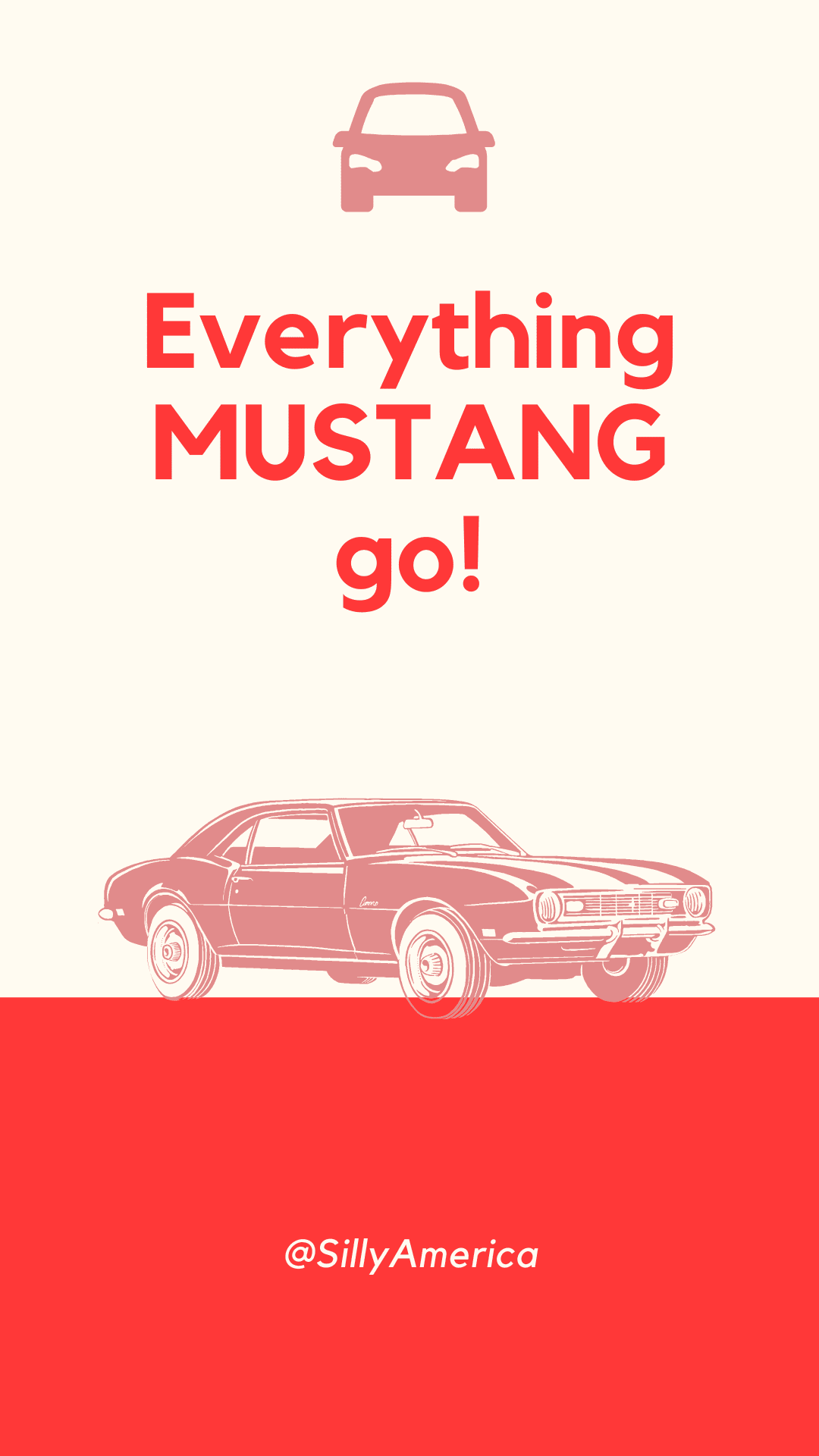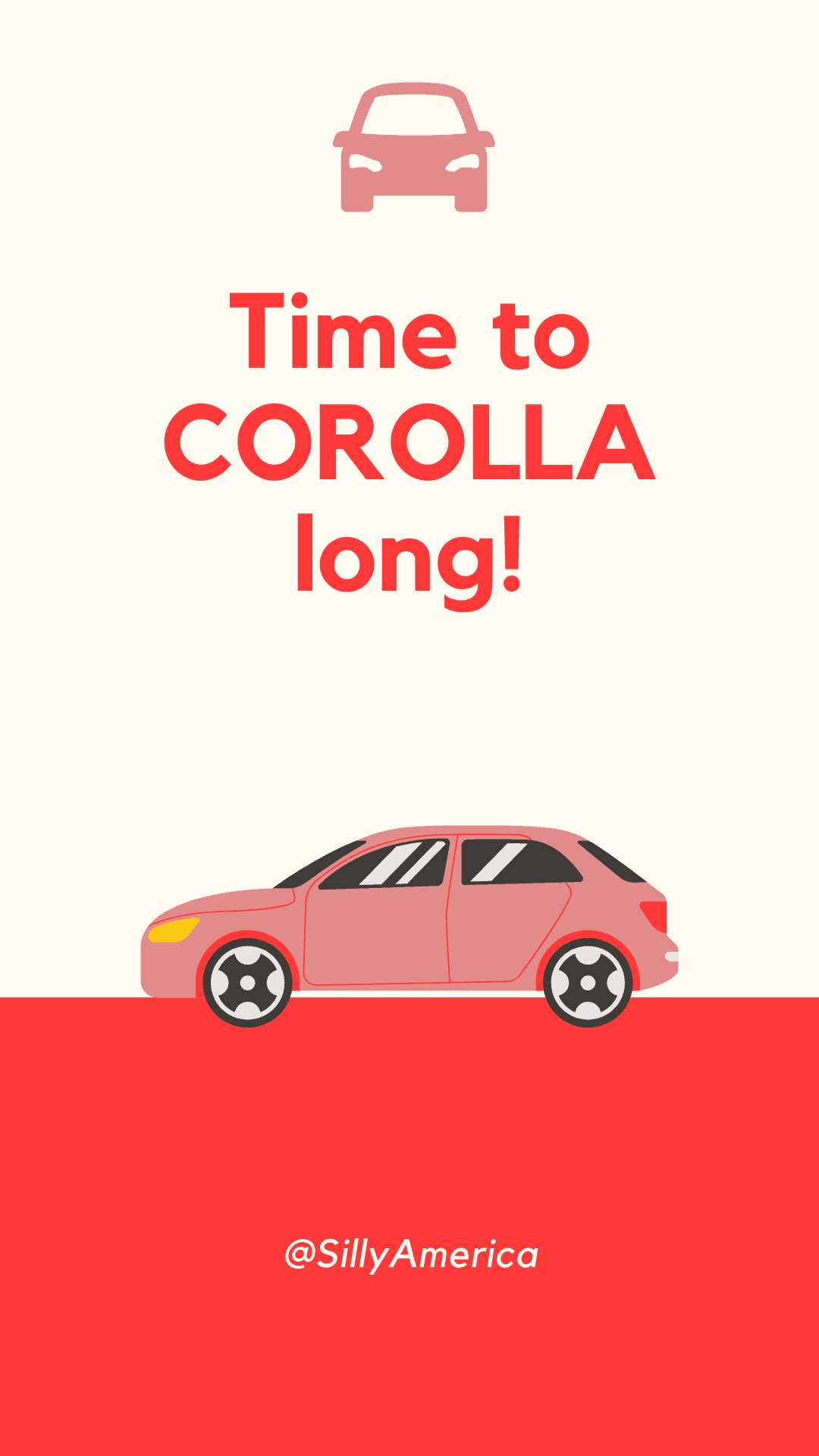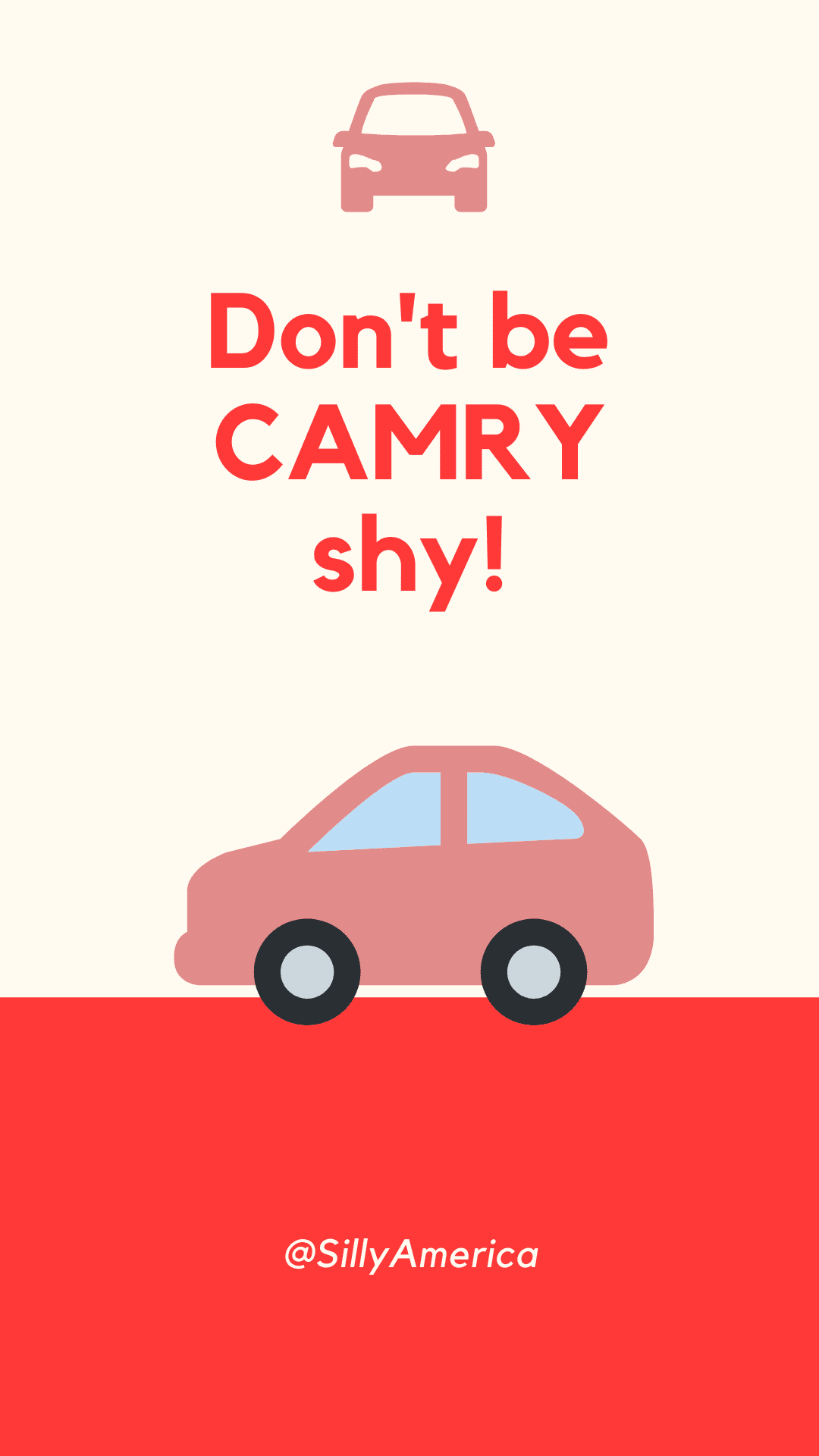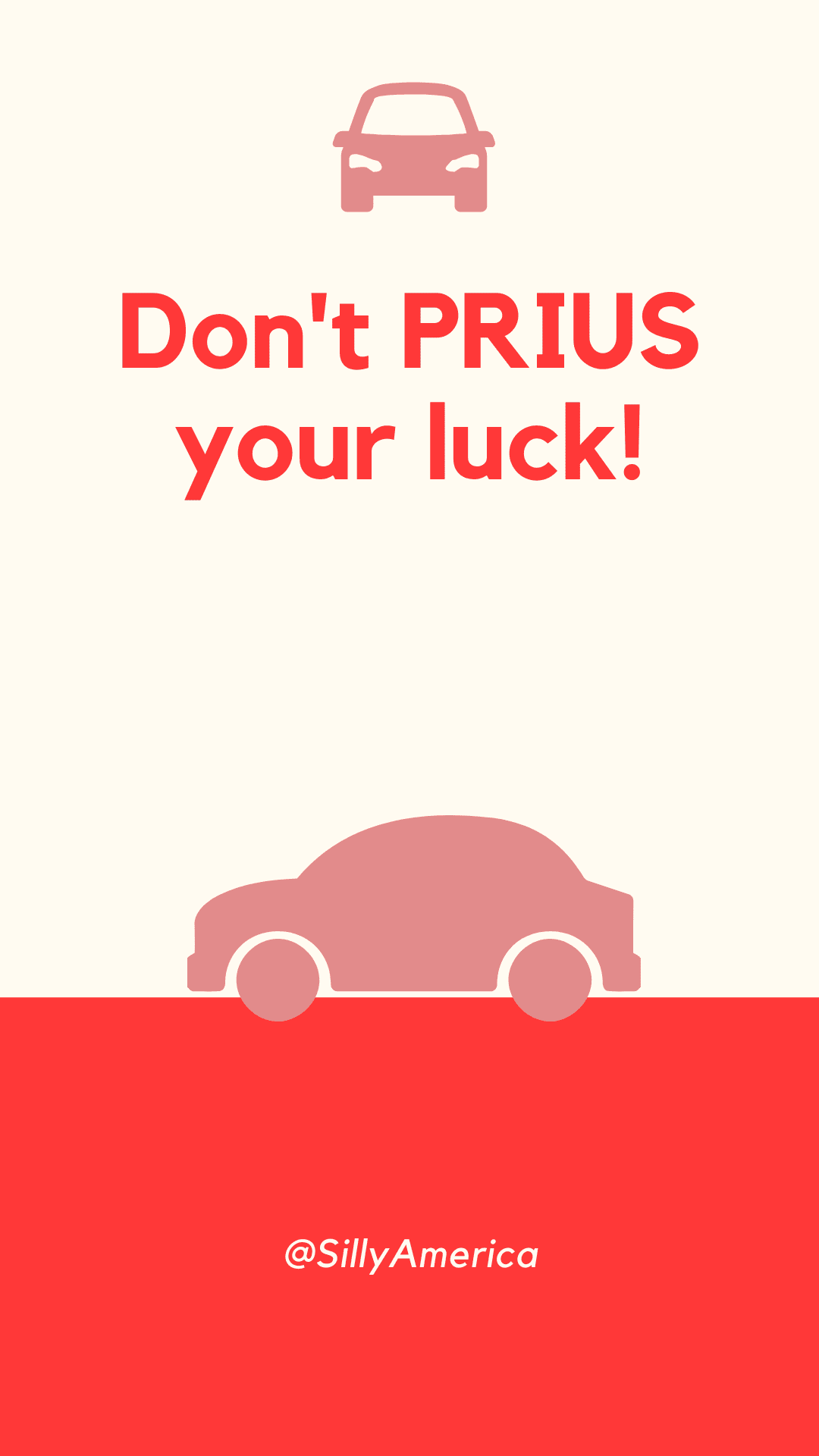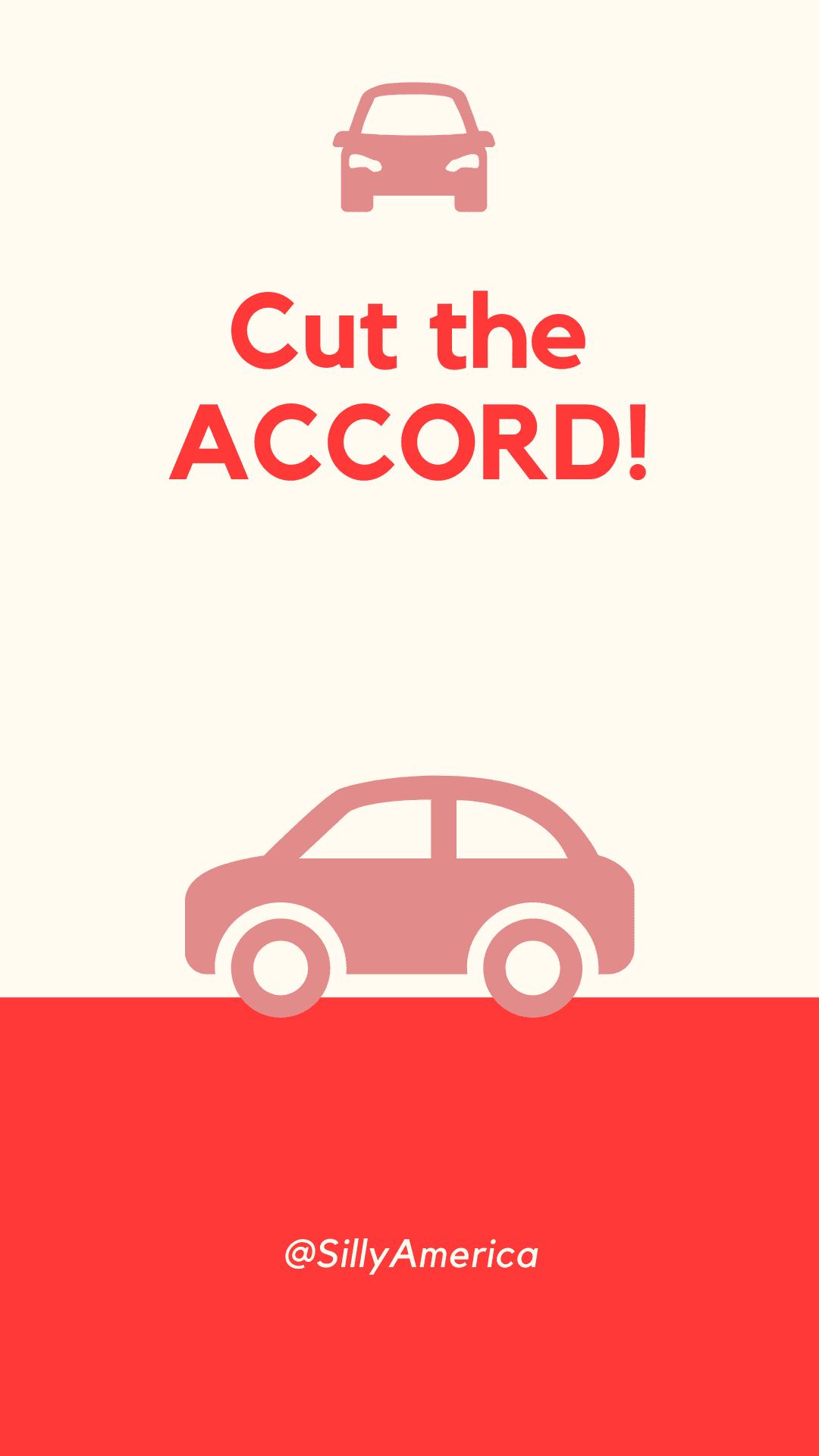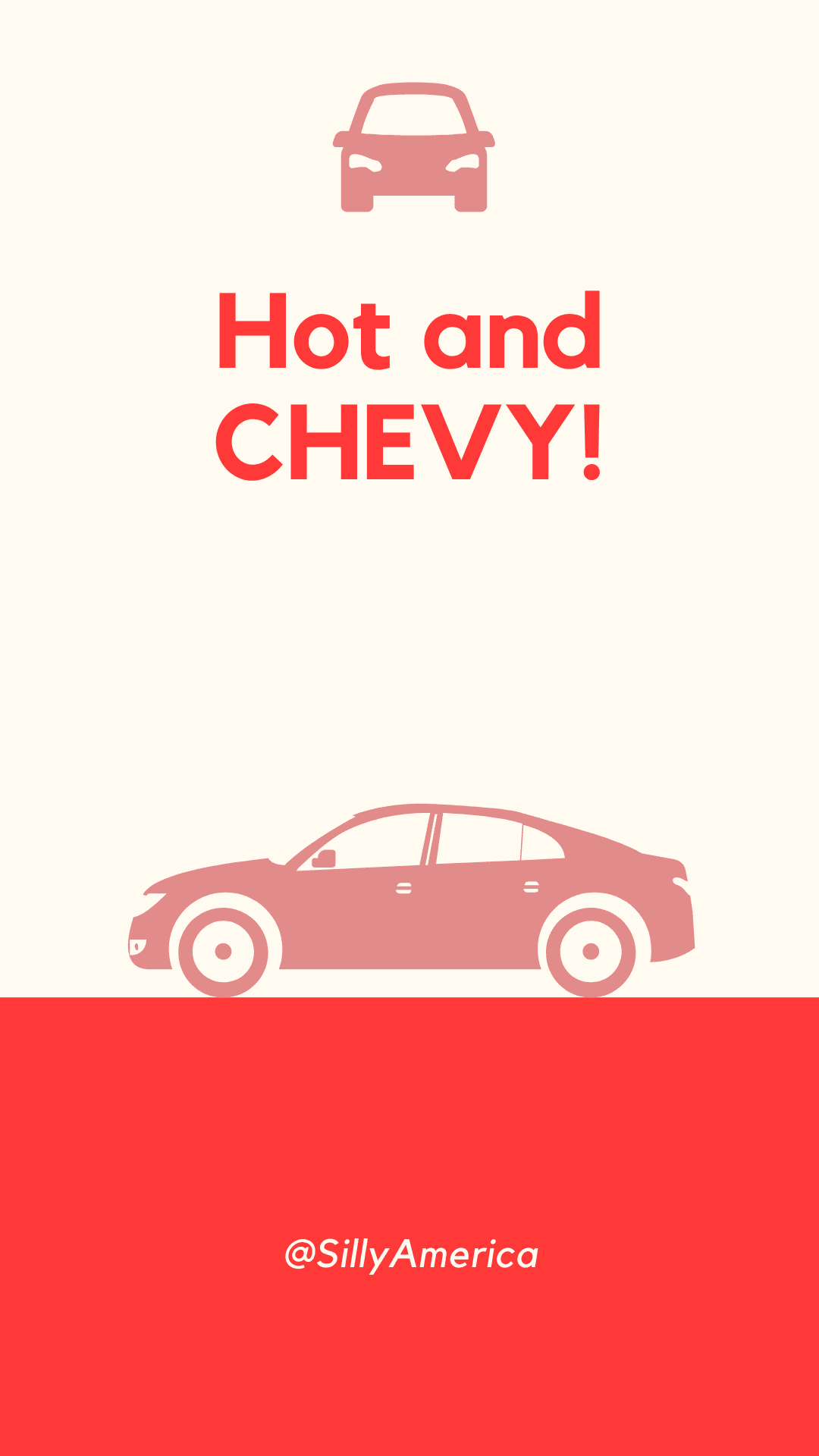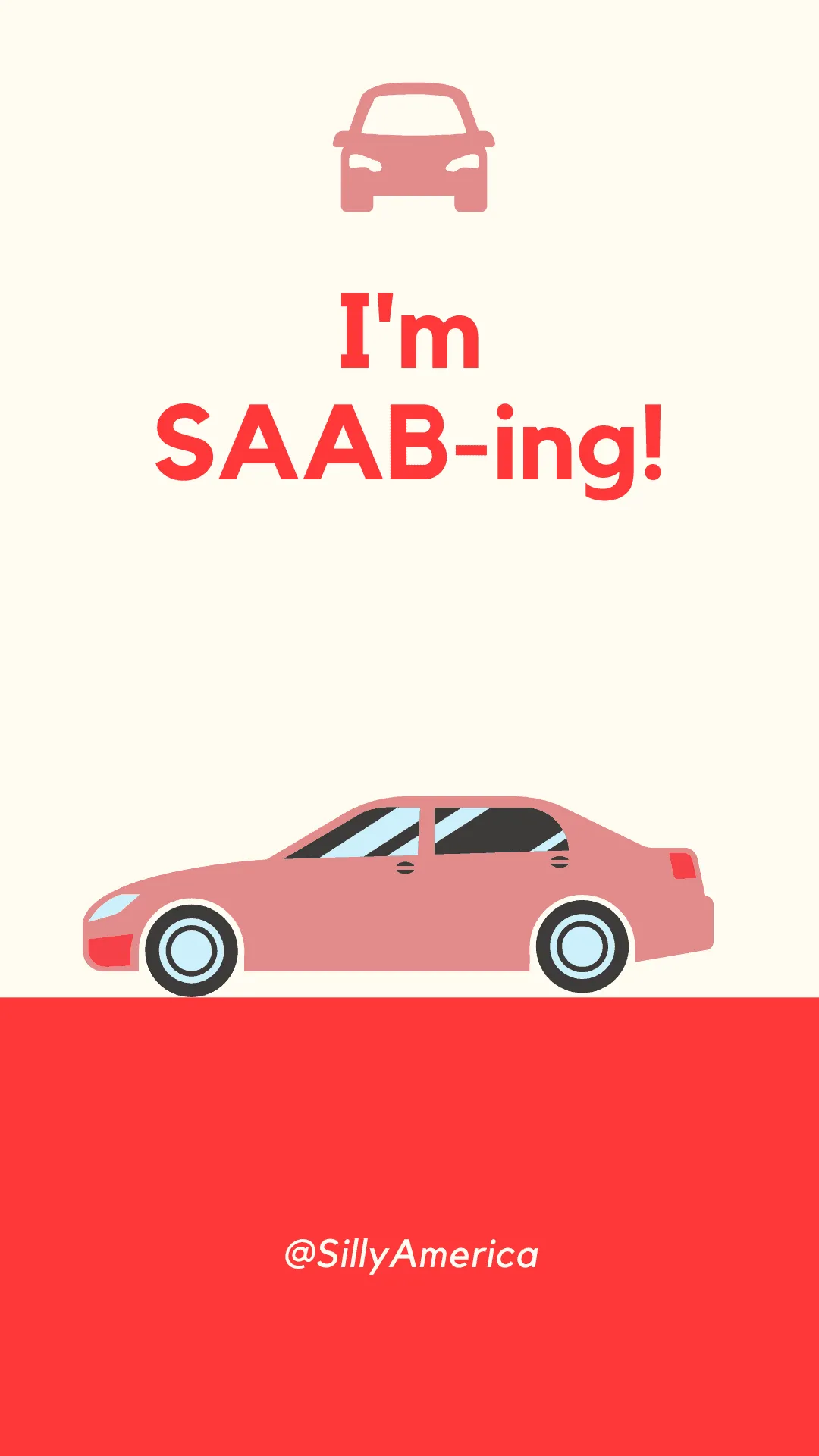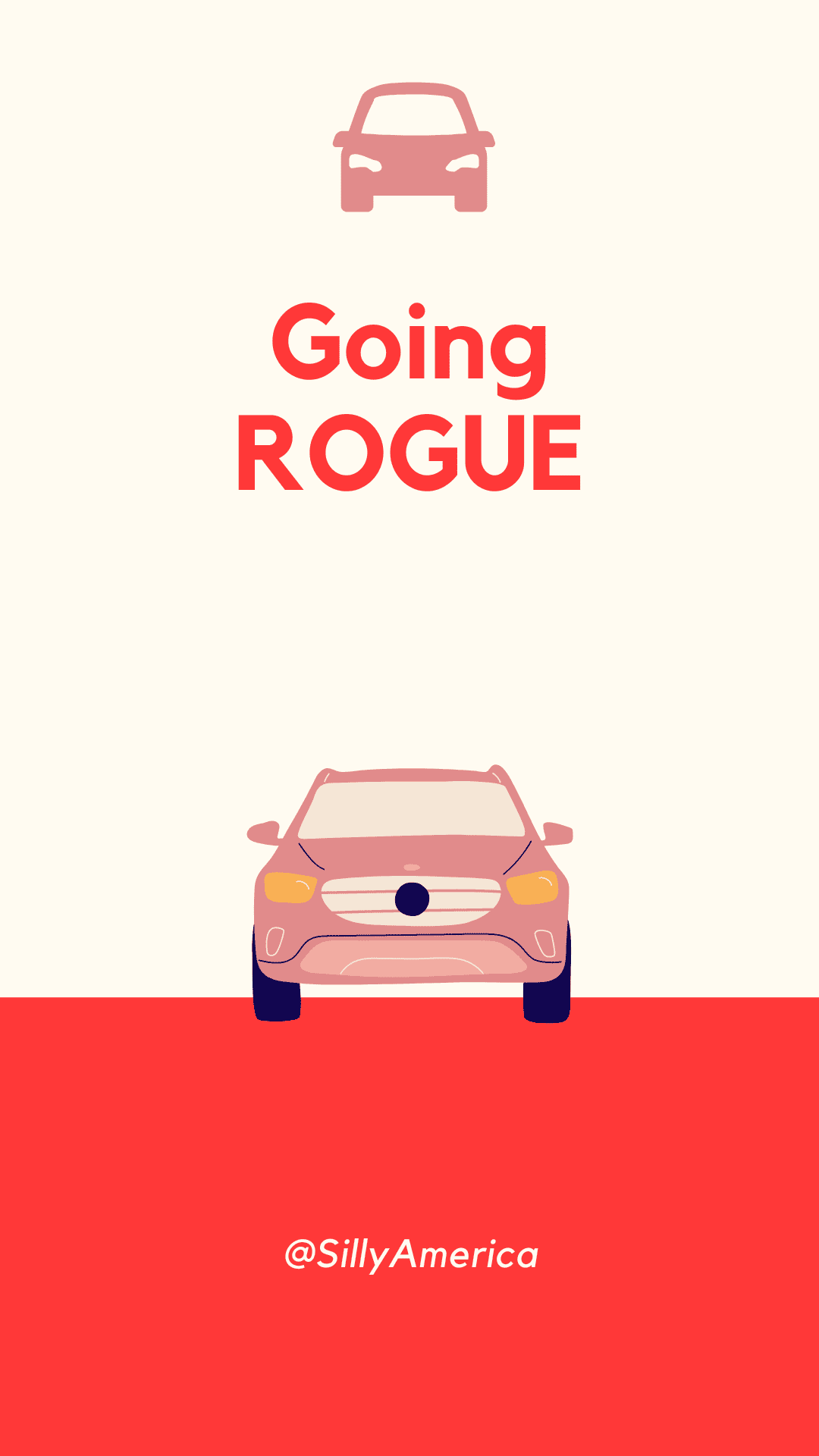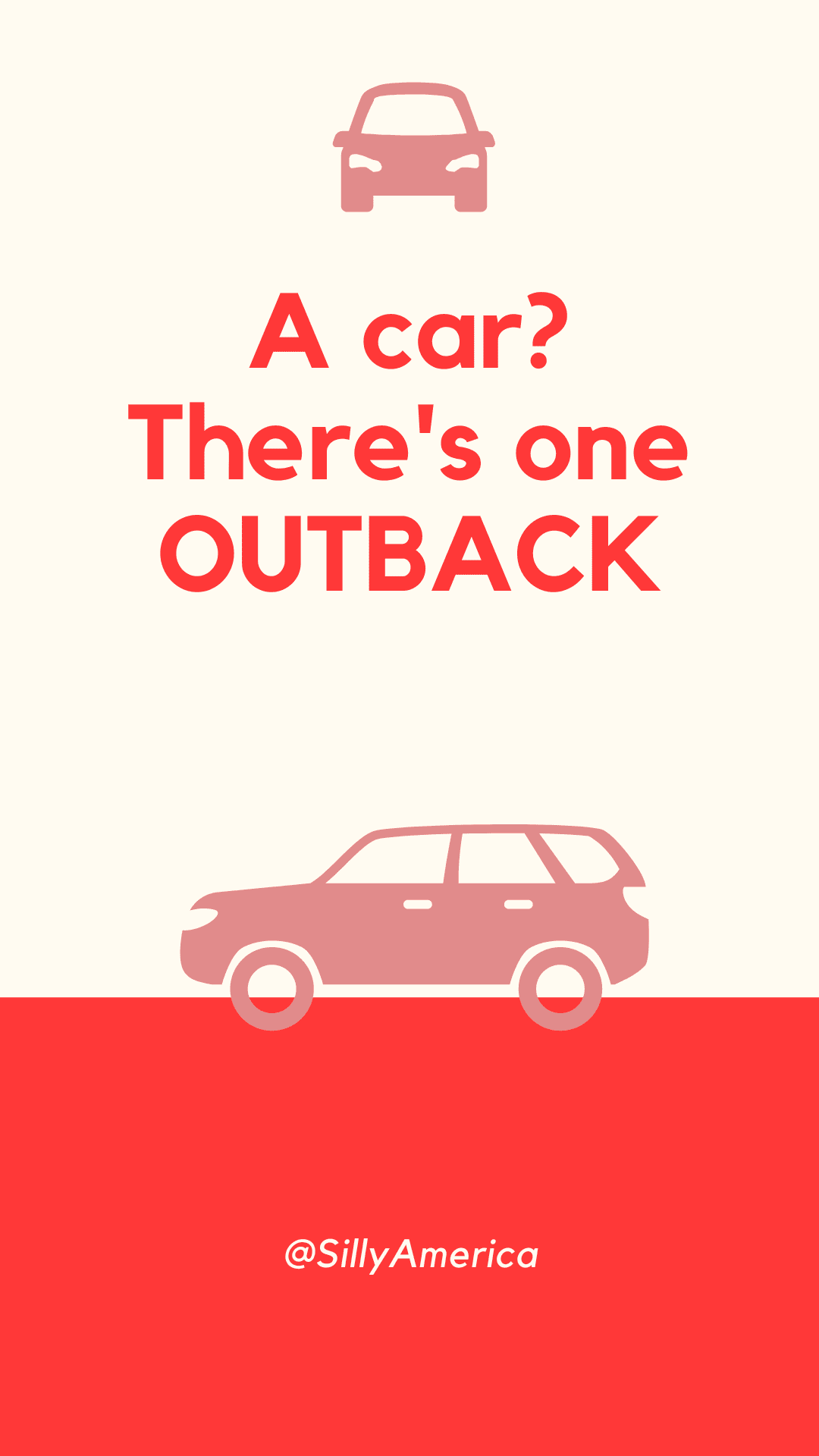 Pin this list of funny car puns to save for your next road trip!