Historic Route 66 runs 2,238 miles between Chicago and Los Angeles and around 400 of those miles run through Oklahoma. At every turn you'll find something new and fun to see. Whether it's a piece of original road, a classic diner, a weird roadside attraction, or an informative museum, Oklahoma Route 66 attractions abound on the Mother Road.
Are you ready to get your kicks on Oklahoma Route 66? Let's check out the top 15 Oklahoma Route 66 Attractions to see on this stretch of your road trip.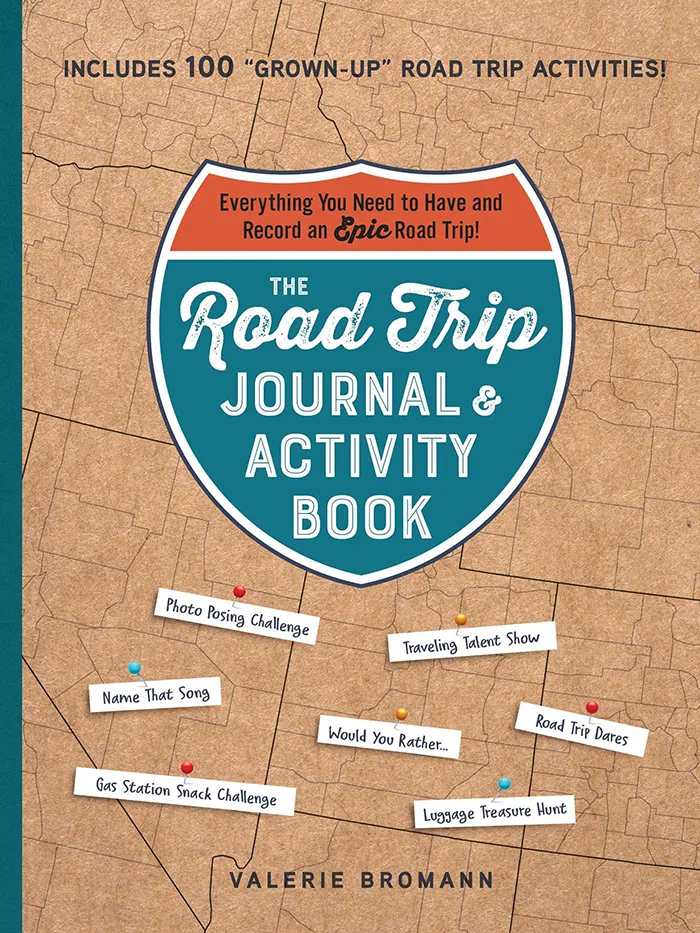 The Road Trip Journal & Activity Book
Everything You Need to Have and Record an Epic Road Trip!
Enjoy fun games and challenges to pass the time on your next road trip and have a keepsake to look back on for years to come with this entertaining must-have for your next vacation.
The AAA Route 66 Road Fest is the ultimate Route 66 experience. This inaugural weekend-long event puts you face-to-face with FUN in various engaging forms all the way up until the Route 66 Centennial celebration in 2026! Expect lines of collectible cars competing in juried car shows, an array of vintage and modern RVs, and autonomous self-driving shuttles that give test-ride passengers like you a taste of the future of mobility. The whole family can enjoy activities like the Route 66-themed putt-putt course, Pinewood Derby competitions, virtual reality, interactive art, local pop up shopping, and even robotics and drones. The MUST-SEE attraction is the Route 66 Journey Exhibit. This nostalgia-inducing interactive exhibit takes you through each decade in the Mother Road's rich history. To top it all off is the Road Fest Music Experience, an outdoor concert that will feature local and regional artists and national touring headliners!
2022 Route 66 Road Fest: OKC, June 18-19 & Tulsa, June 25-26.
Sponsored Content
Top 15 Oklahoma Route 66 Attractions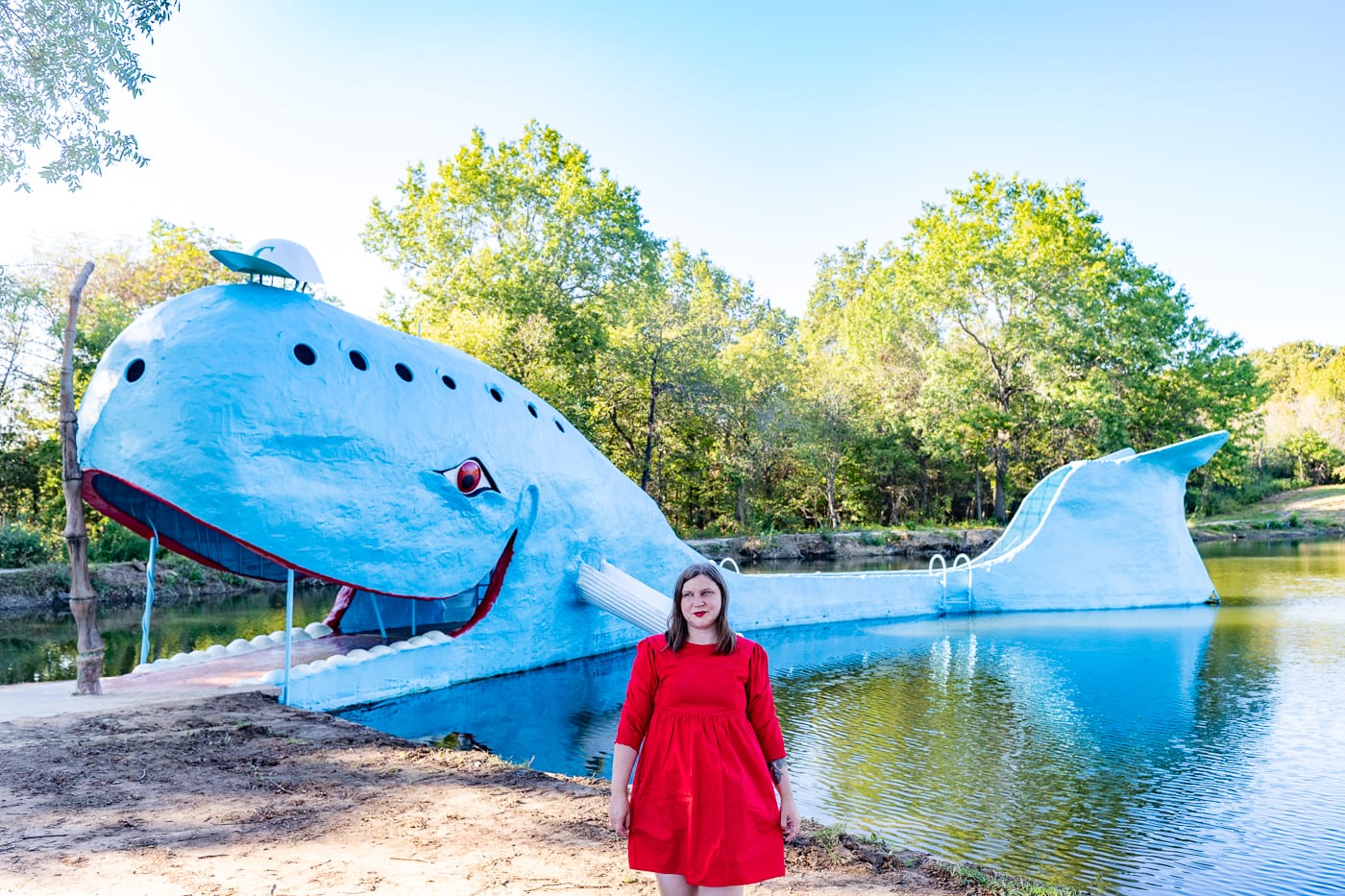 Blue Whale of Catoosa
2600 U.S. Rte 66, Catoosa, OK 74015
The Blue Whale of Catoosa has been a Route 66 icon since 1972. Hugh Davis originally built the giant 80-foot-long blue sperm whale adjacent to their alligator farm as an anniversary present for his wife Zelta and their kids. It soon became the centerpiece of their Route 66 attraction, Nature's Acres, and a much beloved roadside attractions for travelers on the Mother Road and beyond. After the park closed in 1988, the giant whale fell into disrepair, but today it is maintained by a local group, preserving this piece of nostalgia for modern road trippers.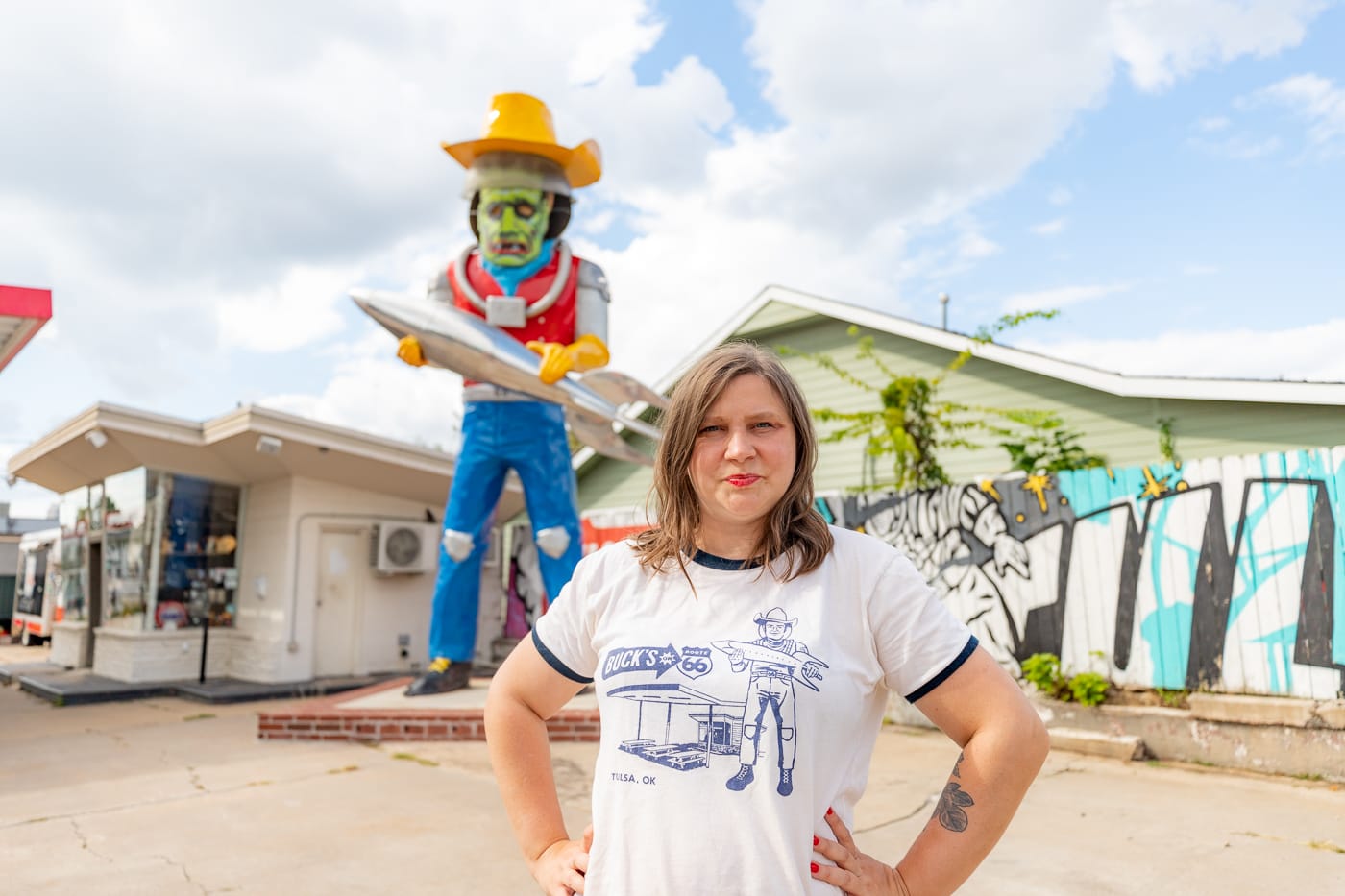 Buck Atom Space Cowboy Muffler Man
Buck Atom's Cosmic Curios on 66, 1347 E 11th St, Tulsa, OK 74120
Past meets present at Buck Atom's Cosmic Curios on 66. In 2019 they unveiled their very own larger-than-life fiberglass mascot: Buck Atom. This Space Cowboy Muffler Man was a brand-new muffler man crafted from a mold and modeled after the retro roadside attractions. Wearing a space suit, kerchief, a cowboy hat with a space visor, and carrying a bright silver rocket ship, Buck is part muffler man, part cowboy, part spaceman, and all fun.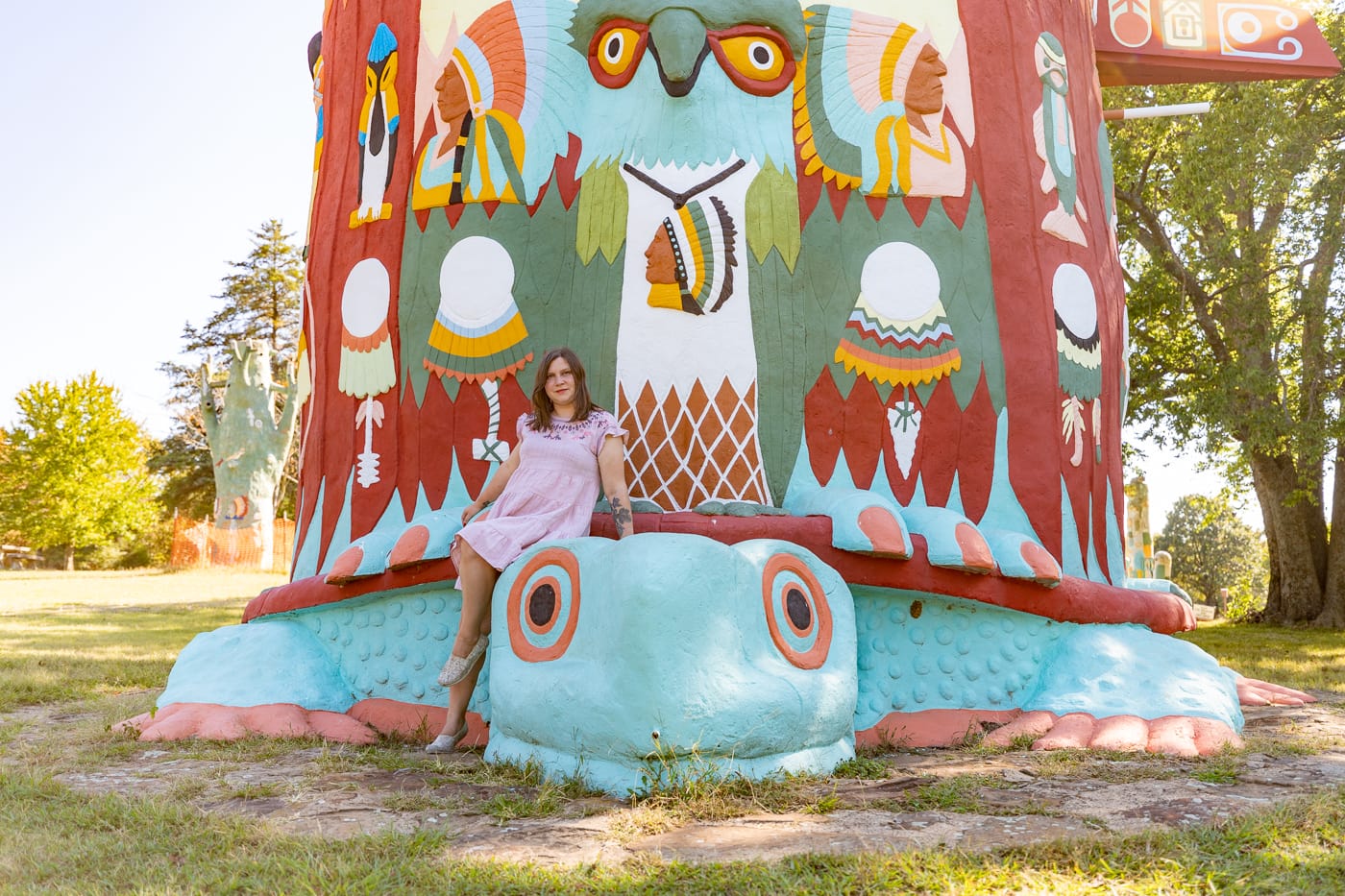 Ed Galloway's Totem Pole Park
21300 OK-28 A, Chelsea, OK 74016
Ed Galloway (1880-1962) began work on his totem pole in 1937 and completed it in 1948. Now dubbed the "World's Largest Concrete Totem Pole" the colorful sculpture stands at 60-feet tall with a circumference of 30 feet and a variety of vibrant images carved into it. It's a popular Oklahoma tourist attraction and the centerpiece of Ed Galloway's Totem Pole Park where it is surrounded by 11 other objects and buildings to explore.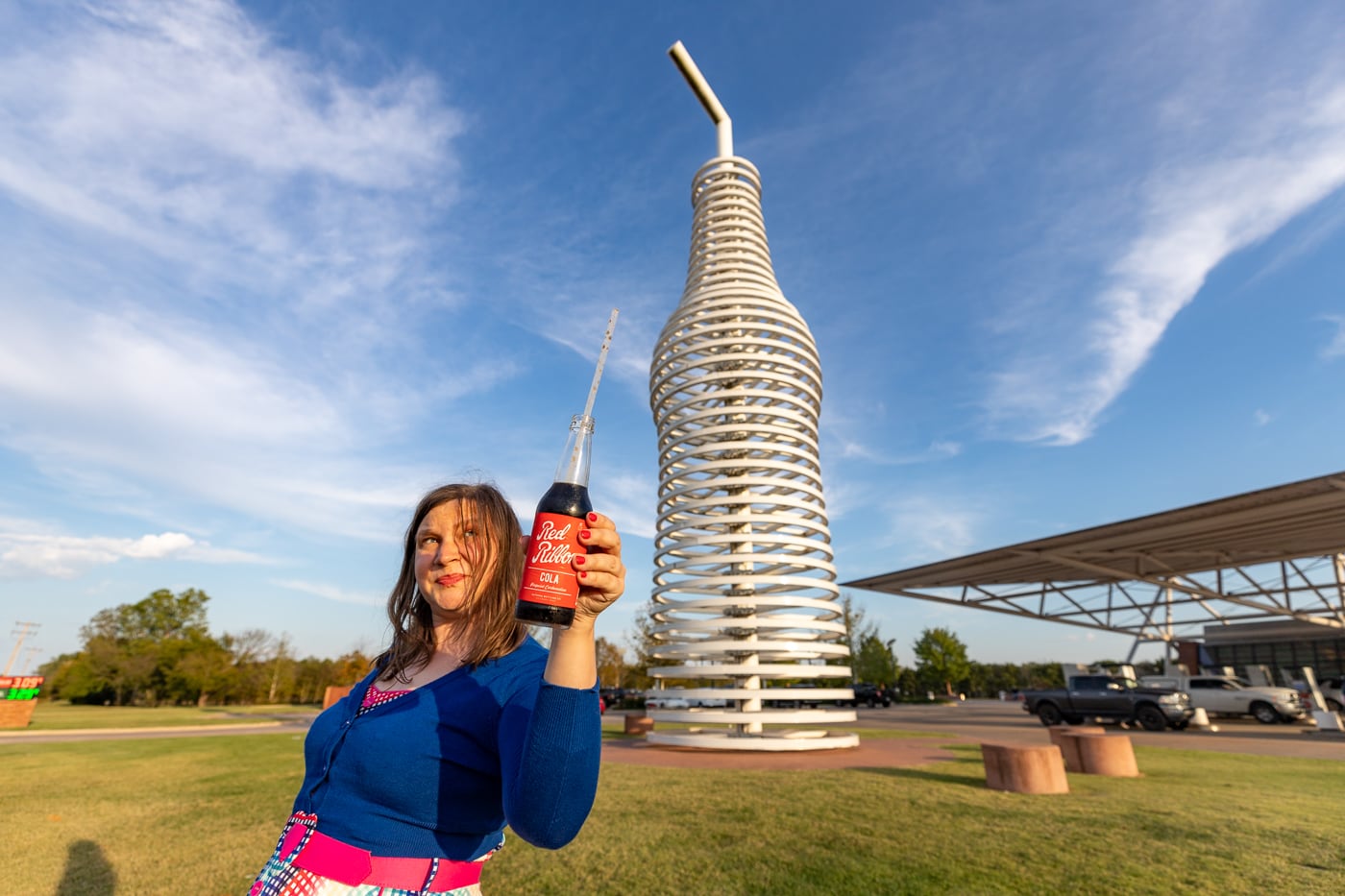 Pops 66 Soda Ranch: World's Largest Soda Bottle
660 U.S. Rte 66, Arcadia, OK 73007
A relatively new Route 66 roadside attraction, the giant pop bottle in Arcadia quickly became a must-see when it was installed in 2007. The 66-foot-tall soda bottle, appropriately called "Bubbles," is made of stacked steel hoops and thousands LED lights that can be illuminated with different colors. Next door you can stop into Pops 66 for a hamburger steak or peruse the 700 plus sodas on display for purchase.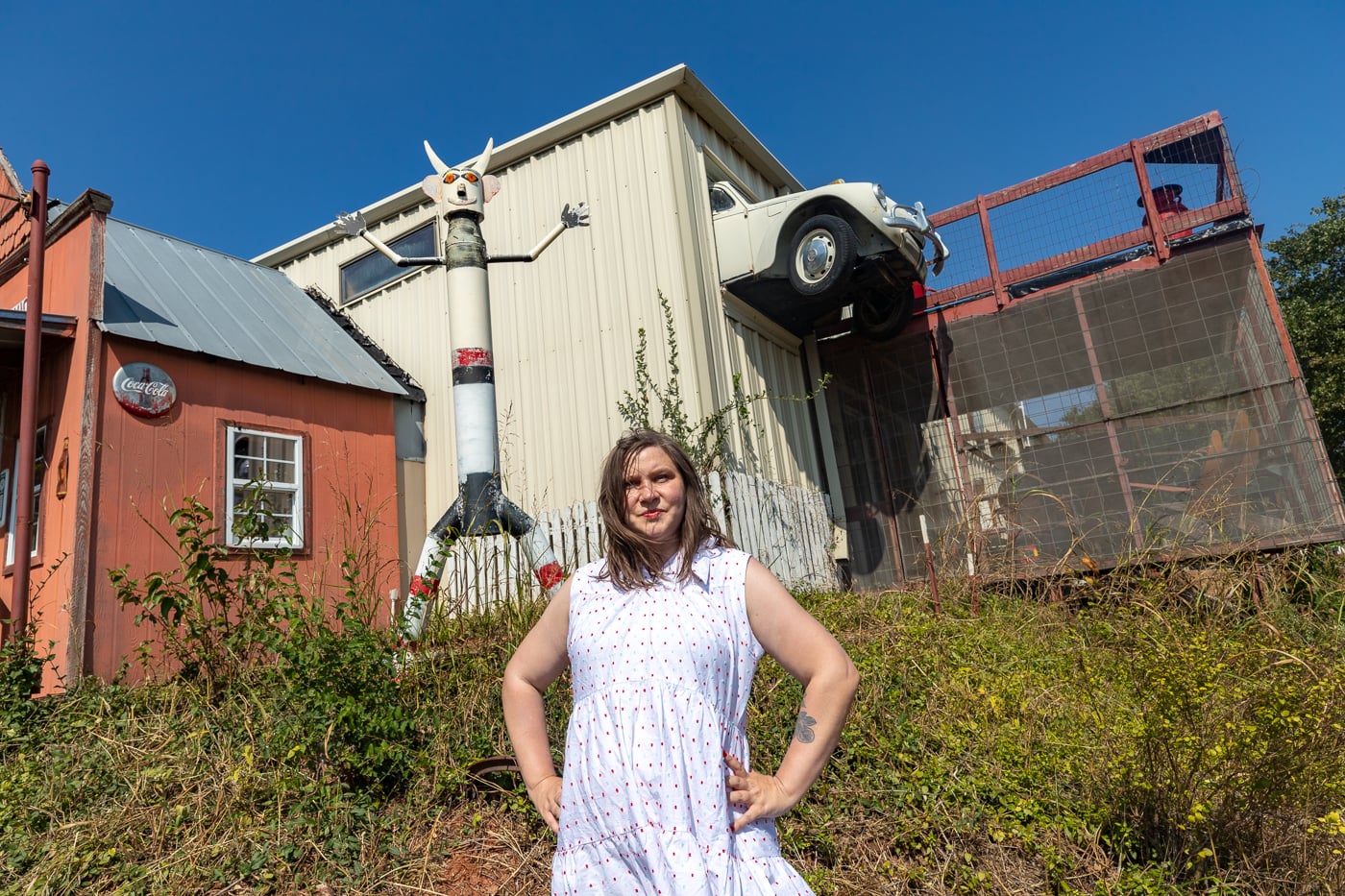 OK County 66 – John's Place
13441 E Old Hwy 66, Arcadia, OK 73007
Want to see the best of Route 66 in one place? At OK County 66 you can visit small-scale recreations of all the major iconic Route 66 roadside attractions. John Hargrove built this museum and all the replicas within it. You can see the giant Twin Arrows, the Gemini Giant, Wigwam Motel, the Blue Whale, and a buried Volkswagen Beetle that represents Cadillac Ranch.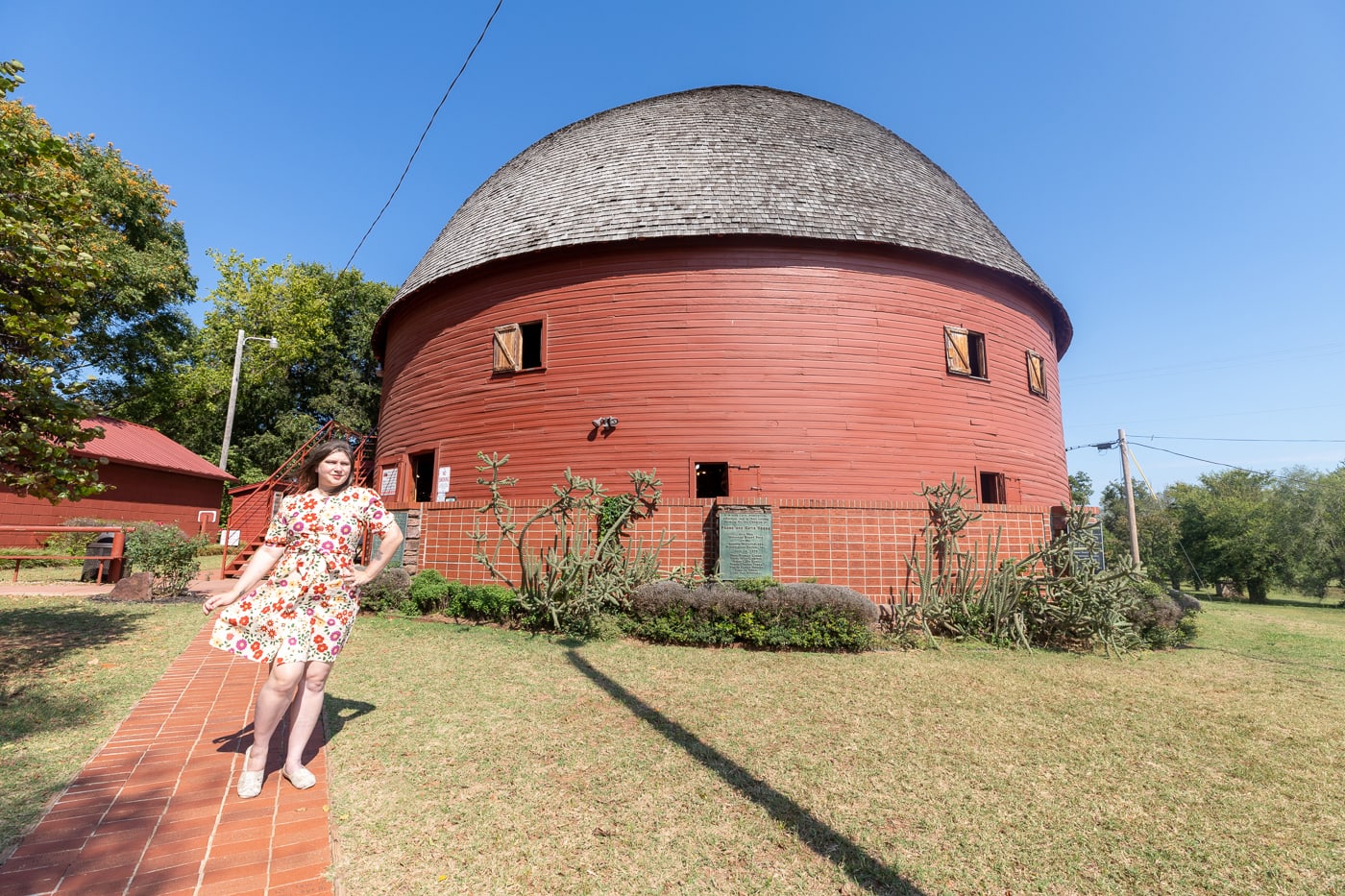 Arcadia Round Barn
107 OK-66, Arcadia, OK 73007
Arcadia Round Barn is the only wooden round barn in Oklahoma. Farmer William Harrison Odor built the oddly shaped barn in 1898. At 43 feet high and 60 feet in diameter, the building's unique construction was maintained by soaking native bur oak boards and then curving them using a special form. The round barn's ground floor once housed livestock, hay, and grain but you can find informational displays about the barn's history and gift shop. The second floor was used for community dances and is still available for private events.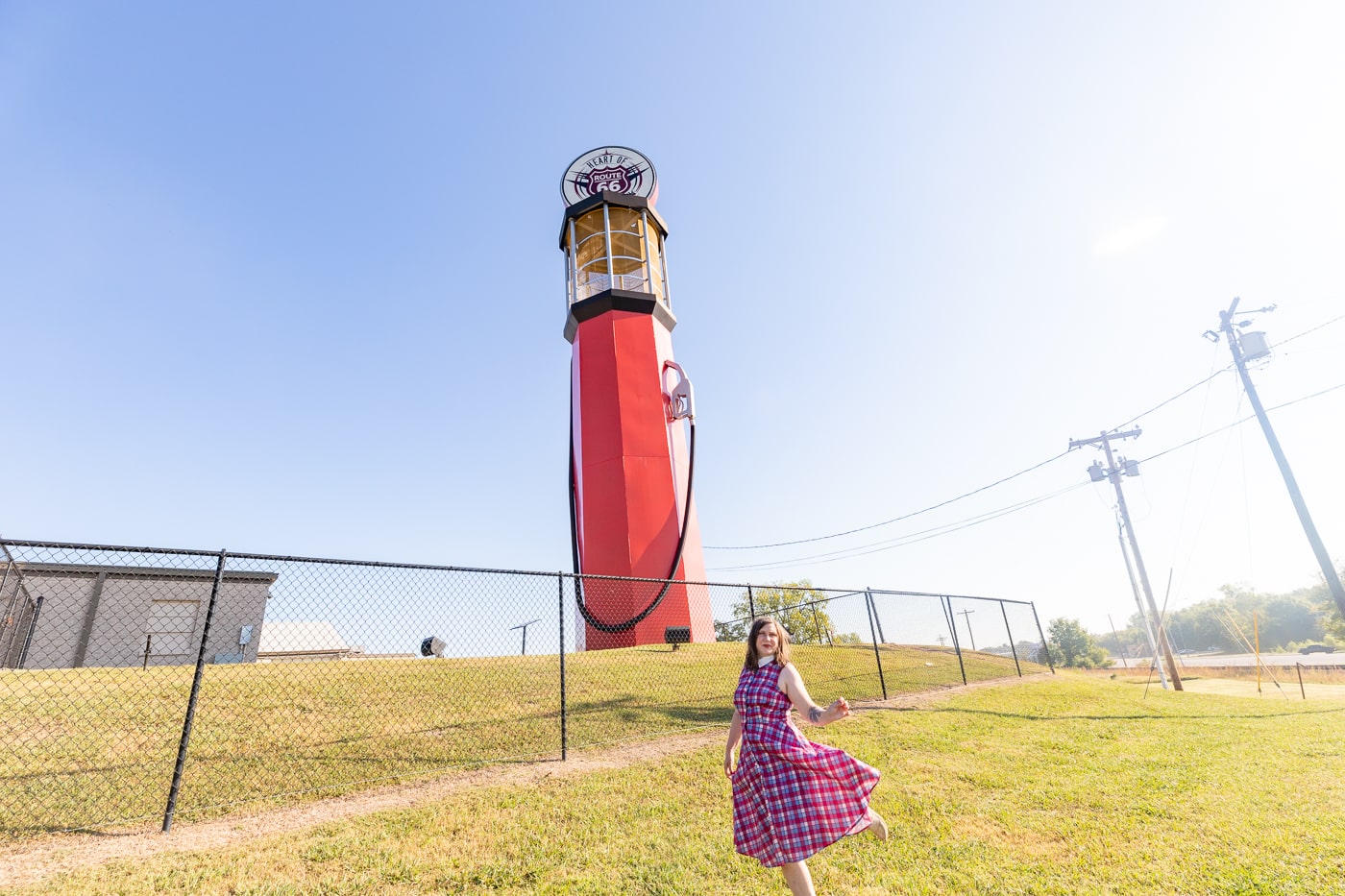 World's Tallest Gas Pump
13 Sahoma Lake Rd, Sapulpa, OK 74066
Outside of the Heart of Route 66 Auto Museum in Sapulpa is the World's Tallest Gas Pump. Completed in 2018, this Oklahoma roadside attraction was modeled after vintage pumps common on the route when it opened in 1926. The non-functioning pump was meant to stand at 66 feet tall, but ended up being even taller.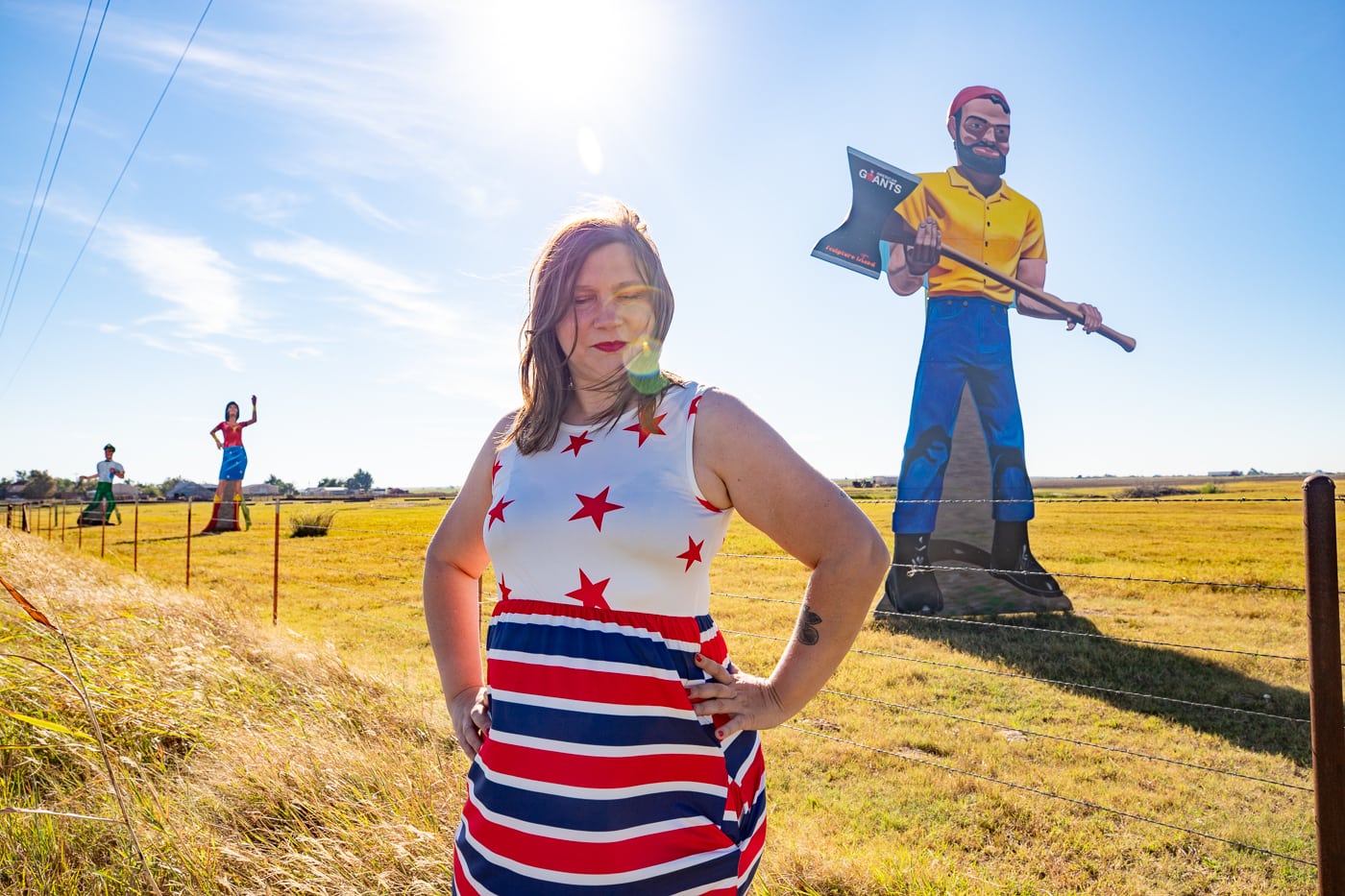 Muffler Men Mural
10000 E1020 Rd Calumet, OK 73014
California-based artist John Cerney is well known for his over the top cutout murals and giant highway art. For the Route 66 muffler man mural he create dthese three 18-foot tall giant cutouts that line the side of the road. One, a traditional Bunyan muffler man holding an ax, modeled after one found in Flagstaff, Arizona. One a Uniroyal Gal, the muffler man's female equivalent, modeled after Nitro Girl in New Jersey. And one a green-wearing gas station attendant who breaks out of the traditional static pose to dance the twist.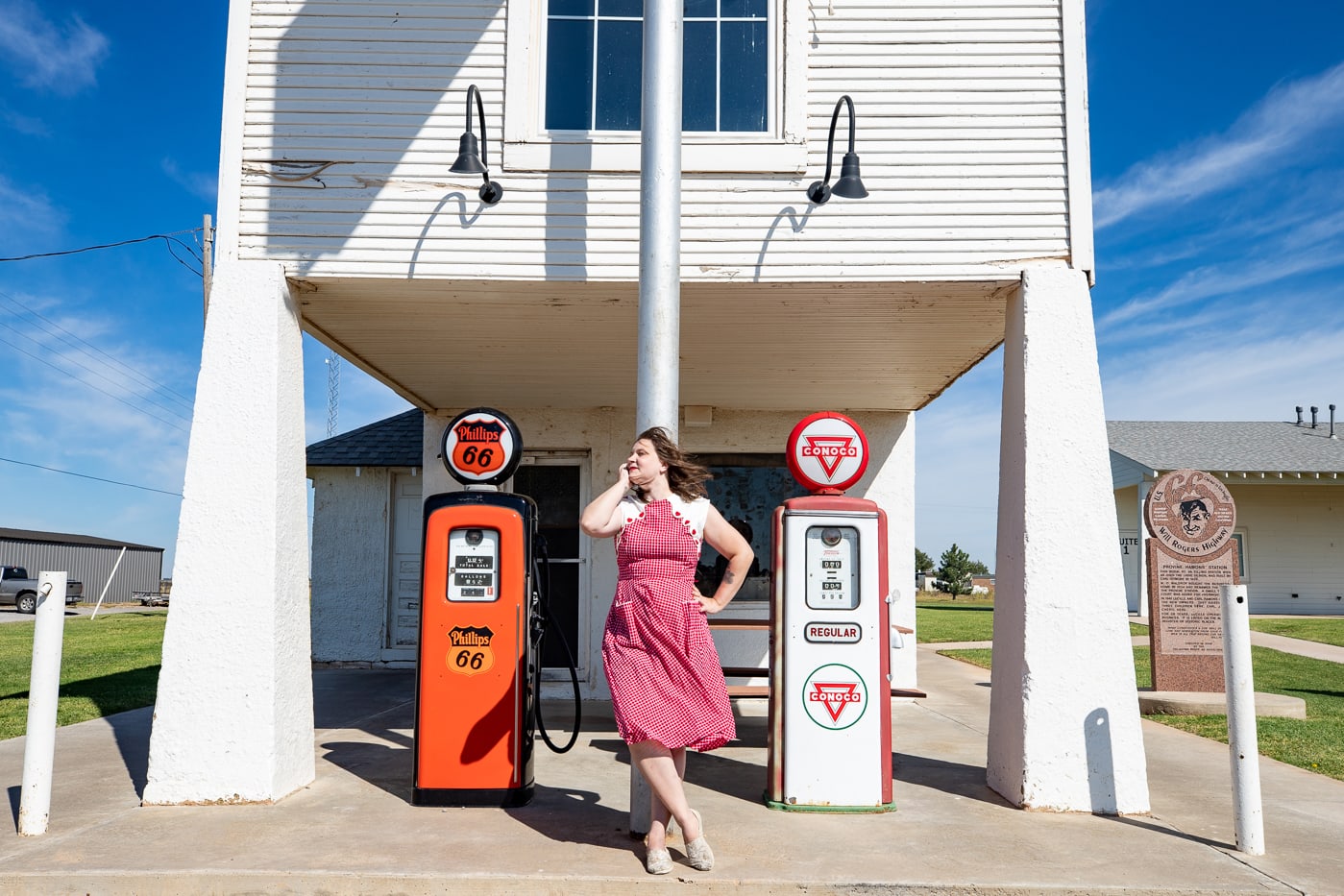 Lucille's Historic Highway Gas Station
U.S. Rte 66, Hydro, OK 73048
Officially known as the Provine Service Station, this vintage service station in Hydro, Oklahoma on Route 66 is more commonly known as Lucille's Historic Highway Gas Station or, simply, Lucille's Place. The gas station was owned by Lucille Hamons, known as the "Mother of the Mother Road," who owned and operated this gas station with her husband from 1941 until her death in 2000.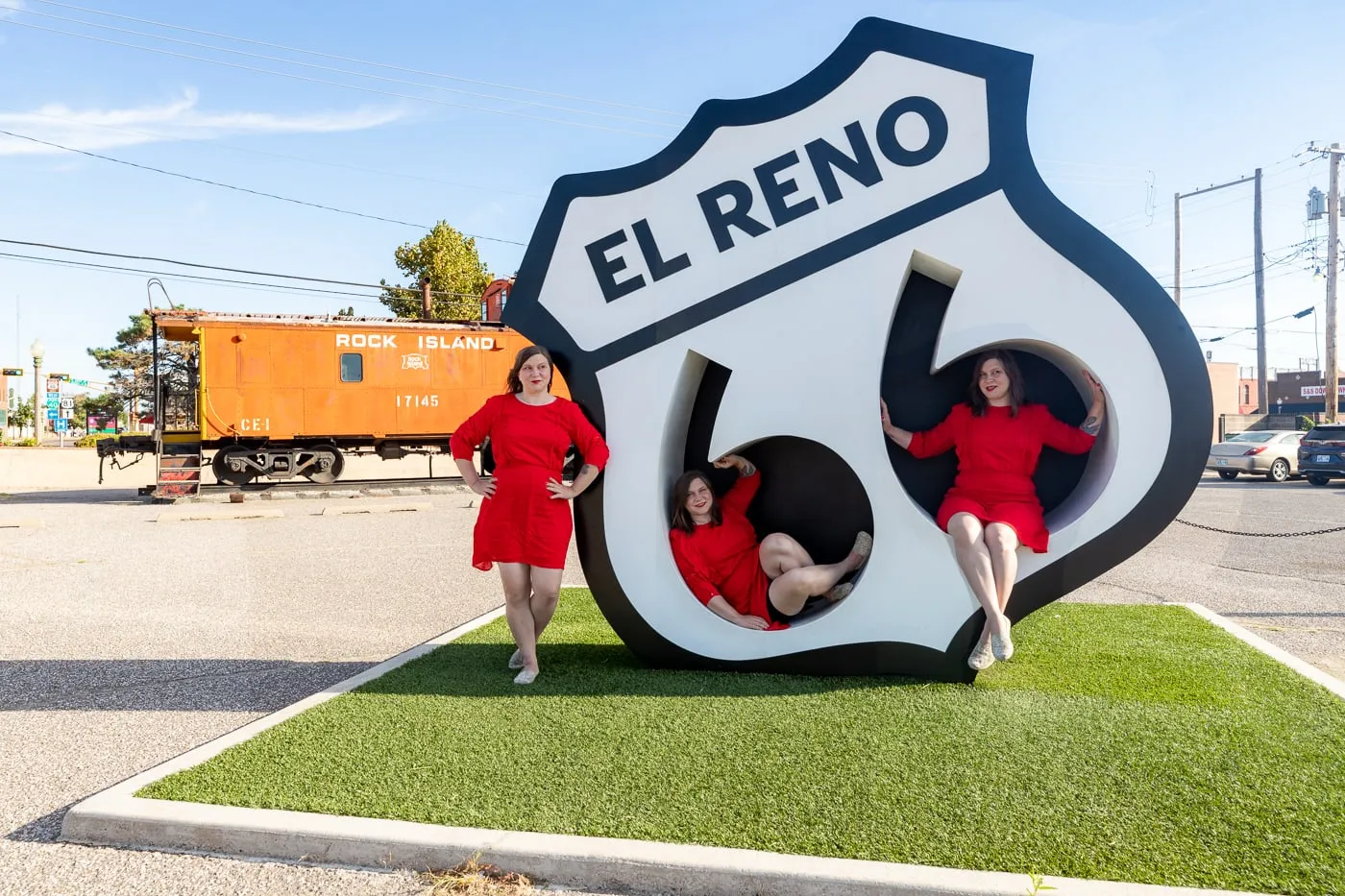 El Reno Mother Road Monument
300 S Choctaw Ave, El Reno, OK 73036
The El Reno Mother Road Monument was erected in 2018. Designed by Oklahoma City business PremierCraft, it was created to provide a fun photo opportunity for Route 66 travelers. The idea for the giant Route 66 shield came from Mayor Matt White, who was inspired by other popular photo spots he saw on the Arizona stretch of the road. The monument features a 10-foot tall black and white Route 66 shield with hollowed out double sixes. Visitors are encouraged to climb inside the 6 and the 6.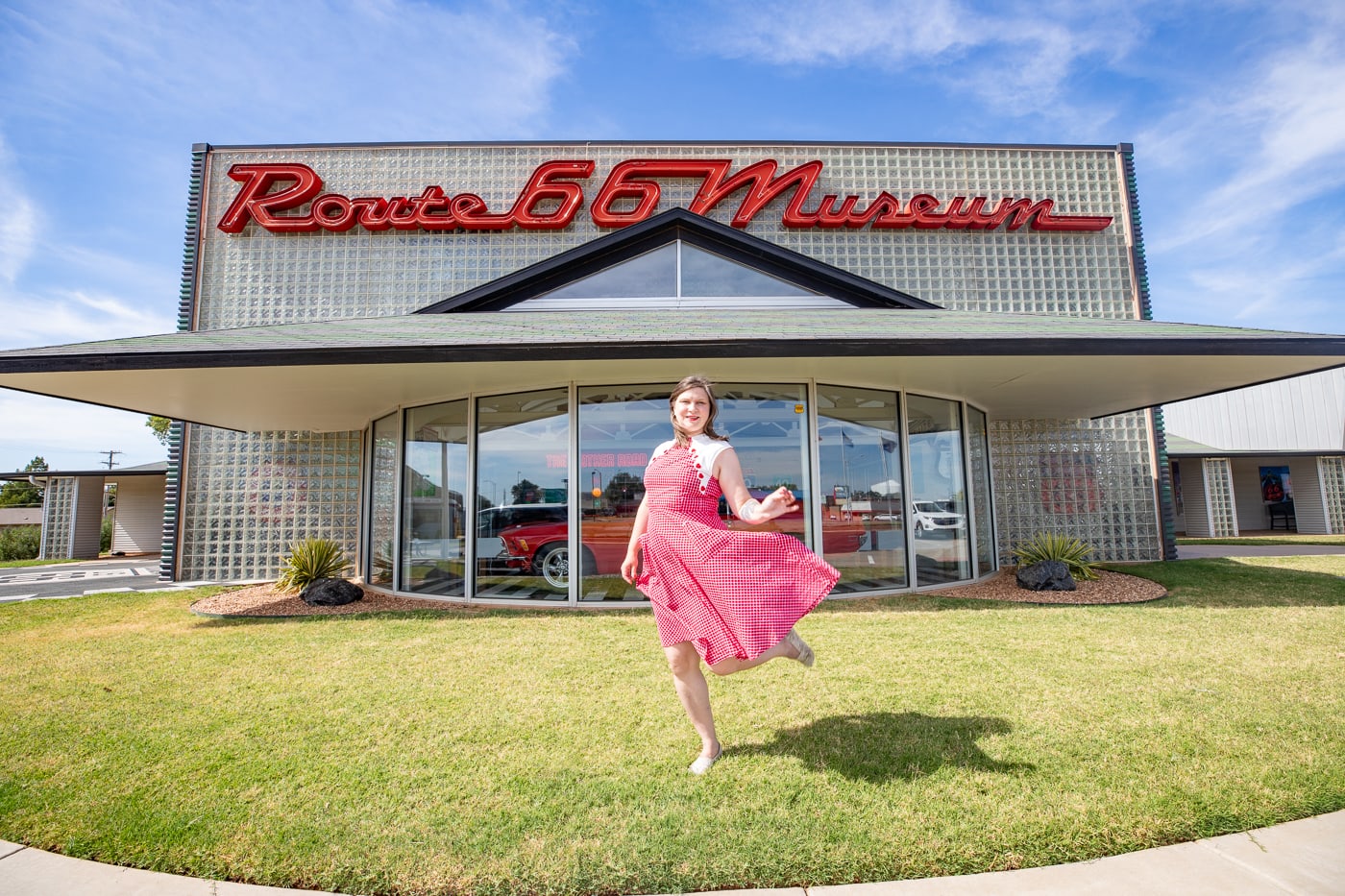 Oklahoma Route 66 Museum
2229 W Gary Blvd, Clinton, OK 73601
The Oklahoma Route 66 Museum takes travelers for a journey across the Mother Road and through history. Each room of the museum is built on a different theme and has accompanying music that immerses you in the experience. Informative displays teach visitors about the different eras of road travel; themes like diners and drive-ins, roadside motels, and roadside attractions; and important historical events that shaped Route 66's impact on the country.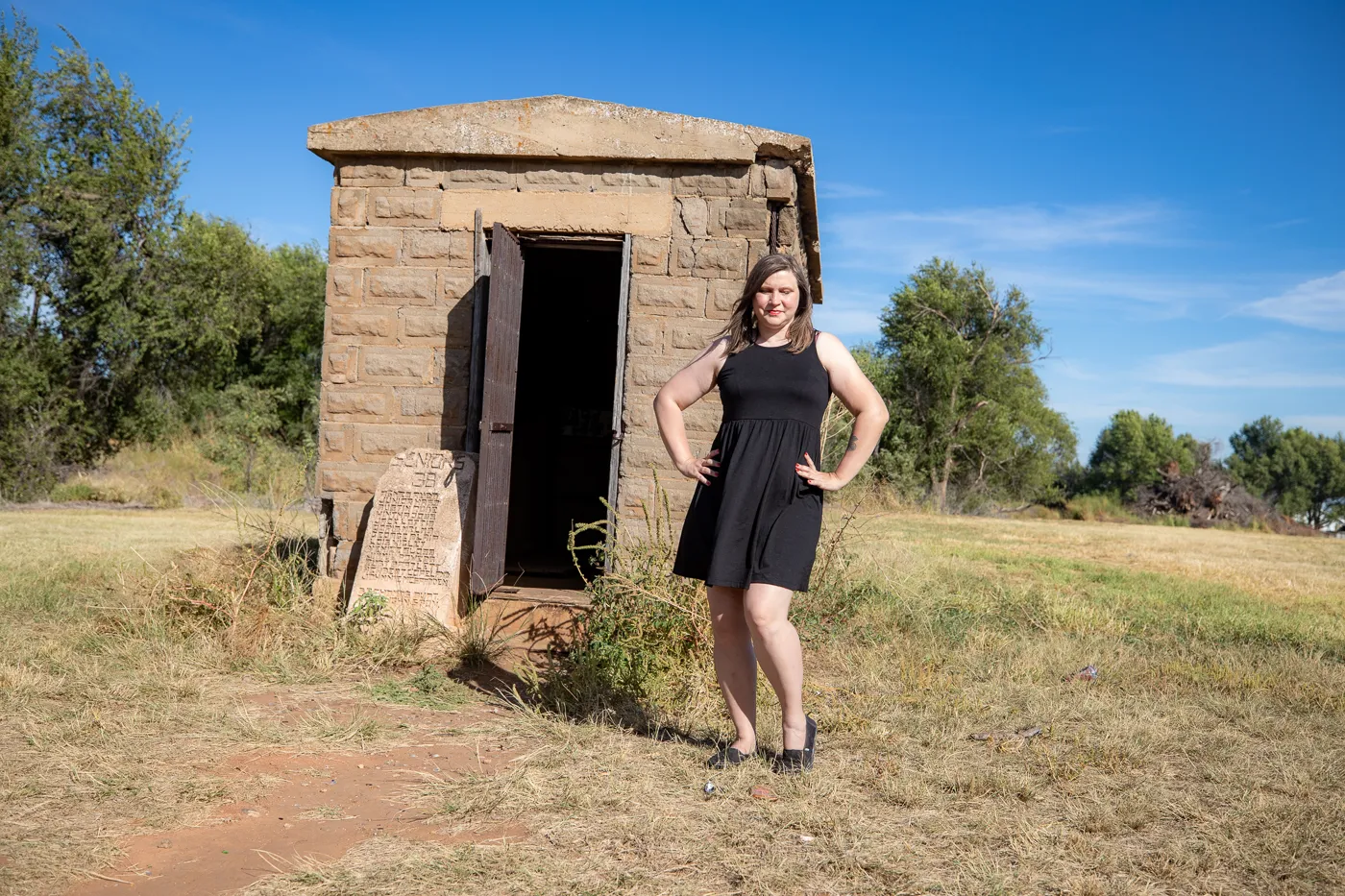 One Room Jail
Main Ave., Texola, OK 73668
Texola is a small, near-deserted ghost town on the border of Oklahaoma and Texas. It's the last stop in the state when driving west on Historic Route 66. The One Room Jail in Texola is tiny cinderblock jail that was built a the end of the 1800s. As its name states, this Route 66 roadside attraction is pretty small, with just one room accessible by an iron-barred door. Marked out front is a slab dedicated to the Texola High School Class of 1938.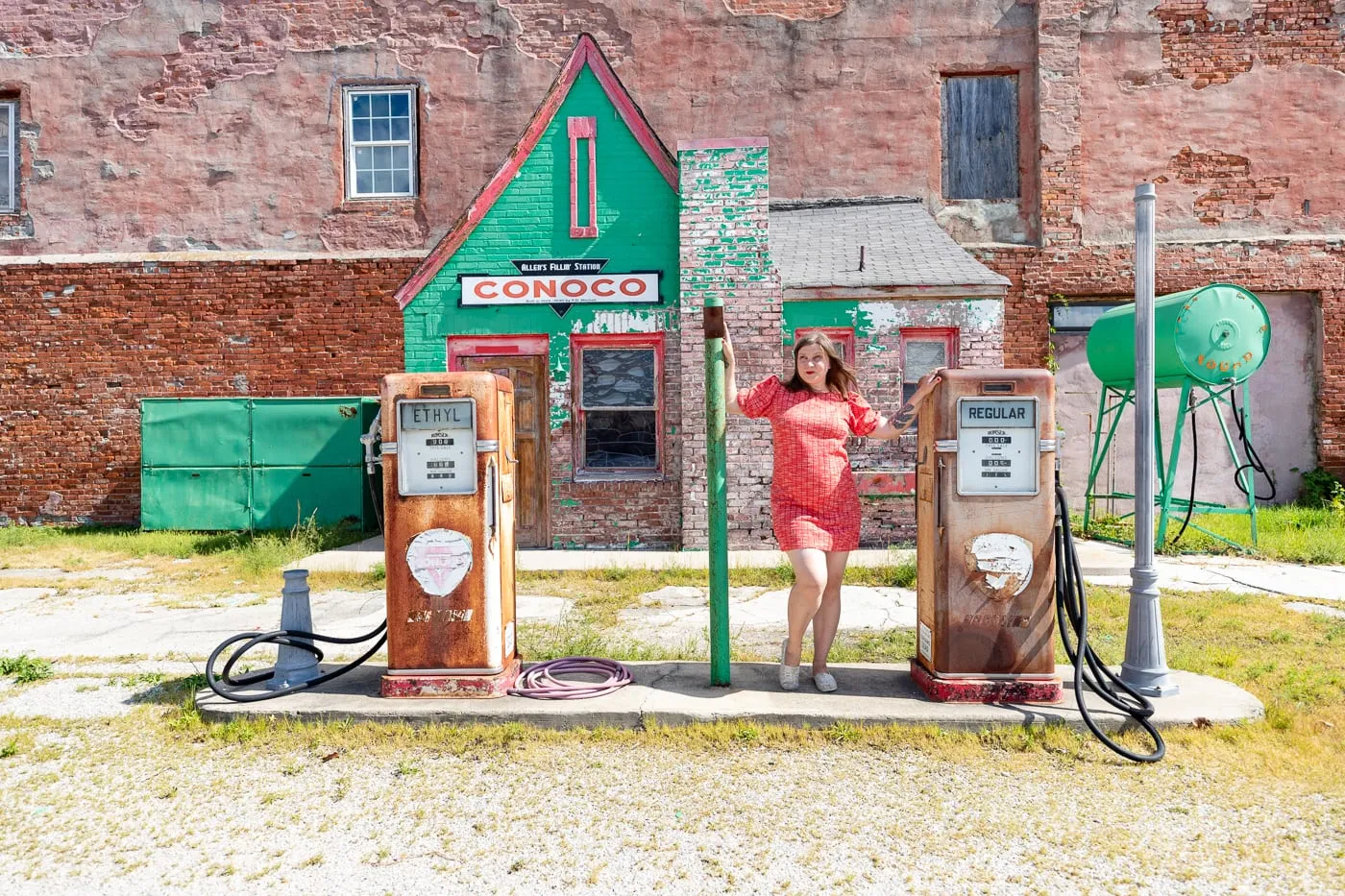 Allen's Conoco Fillin' Station
101 S Main St, Commerce, OK 74339
Appropriately known as the "Hole in the Wall Conoco Station," Allen's Conoco Fillin' Station is an old cottage-style service station that was built into a brick wall of an existing building in 1929 or 1930. F.D. Mitchell created the structure as a Conoco fuel gas station for Route 66 travelers to stop at. Though, was converted to a Phillips 66 Gas Station in 1938. It is even rumored that Bonnie and Clyde once stopped here for gas.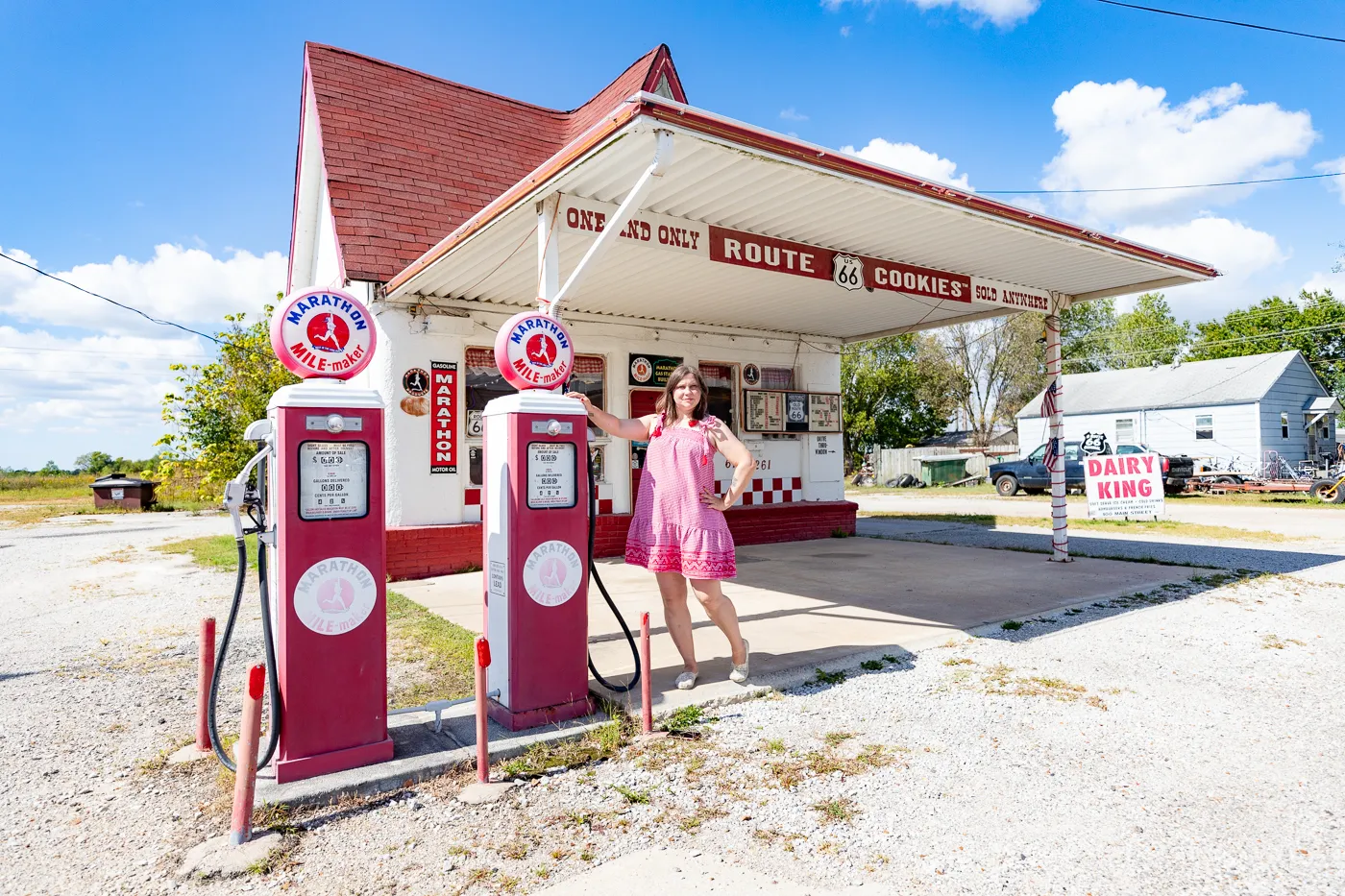 Dairy King
100 N Main St, Commerce, OK 74339
Built into an old cottage style gas station, the Dairy King location started its life as a Marathon station in 1927. While they will no longer fill up your tank at the Dairy King, they will fill up your belly. Stop in for a burger, a milkshake, a banana split, and a famous Route 66 cookie shaped like the highway marker shield and are printed with US 66.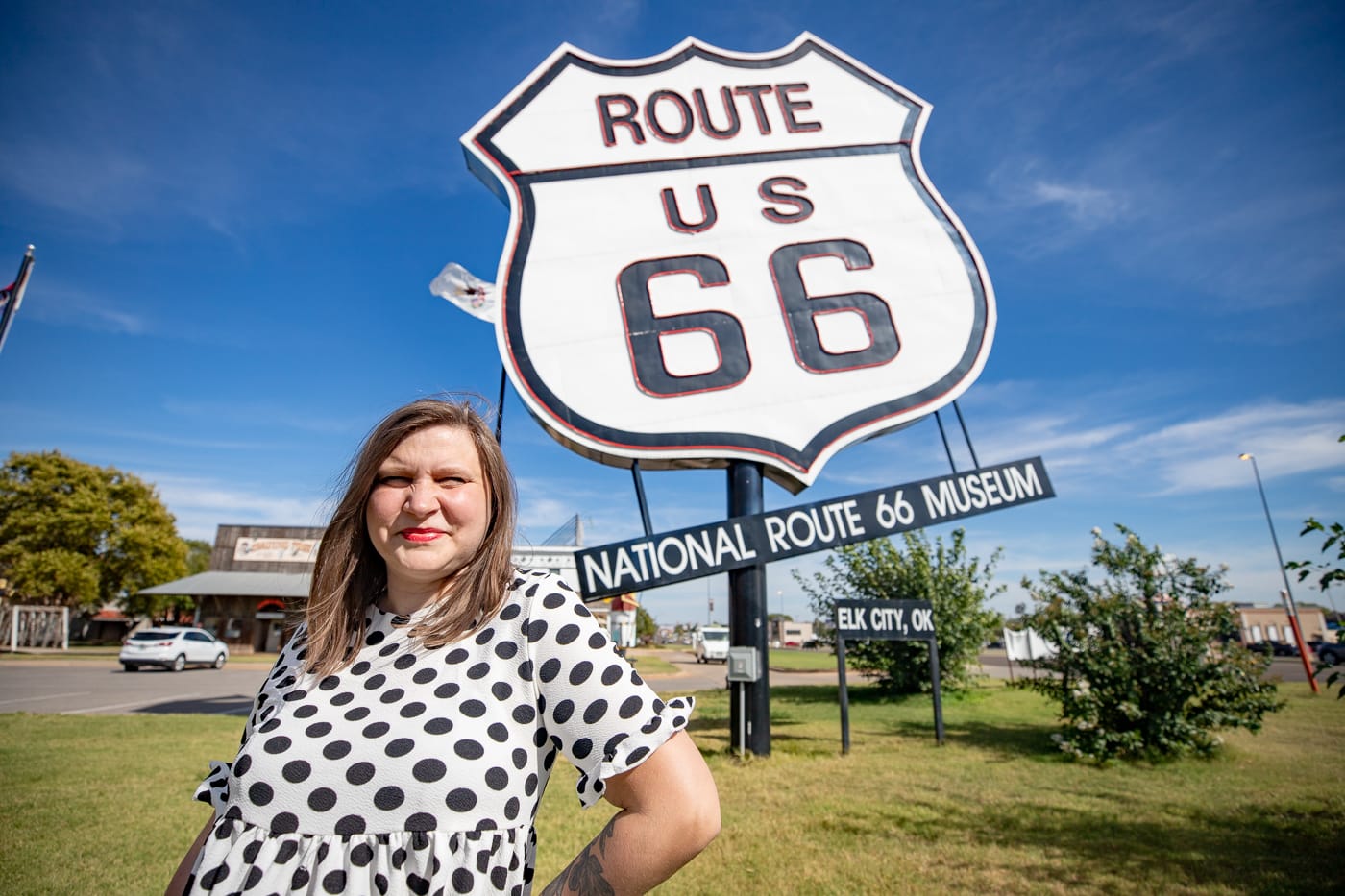 National Route 66 Museum
2717 W 3rd St, Elk City, OK 73644
The National Route 66 Museum in Elk City, Oklahoma celebrates the Mother Road in both Oklahoma and beyond. Focused on the people who lived and work on the Mother Road along with the automobiles and places that defined it, the museum campus offers an interactive tour through history. Reserve a couple of hours of your road trip time to explore all of the buildings and exhibits.
Want more? Check out our web story on the Best Things to See on Oklahoma Route 66.
Pin this list of the top 15 Oklahoma Route 66 attractions