And I'm back from my Labor Day Mount Rushmore road trip from Chicago to South Dakota and back! It was quite the whirlwind of adventure! I have to admit that my list of roadside attractions to see on the route was pretty ambitious, but we managed to make it to twenty-nine attractions in four days! (Including two that weren't on my itinerary and not including the handful that we passed by and saw without being able to stop.)
I DID make it to Mount Rushmore and it was quite a thrill to see it up close. You see, one of my favorite photos that I have is an old black and white picture of the monument that my grandparents took long ago: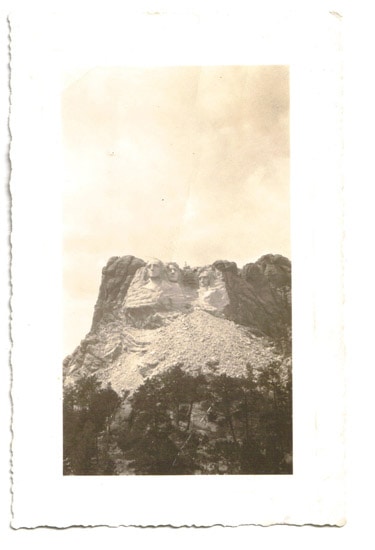 Notice something missing? The photo has George Washington, Abraham Lincoln, and Thomas Jefferson, but Teddy Roosevelt is just framed out. I'm not sure when the photo was taken but it had to have been somewhere between 1934 and 1939, when Roosevelt was dedicated. It was that photo that inspired my road trip to Mount Rushmore. I had to see the monument, completed, for myself!
Since I'd never seen Mount Rushmore in person, and I happened to have a four-day weekend over Labor Day, I decided that it was the perfect time to pack up my car and head on over to South Dakota on a road trip to Mt Rushmore. By Saturday afternoon we were standing in front of the carved Black-Hills Mountain and four complete presidential faces.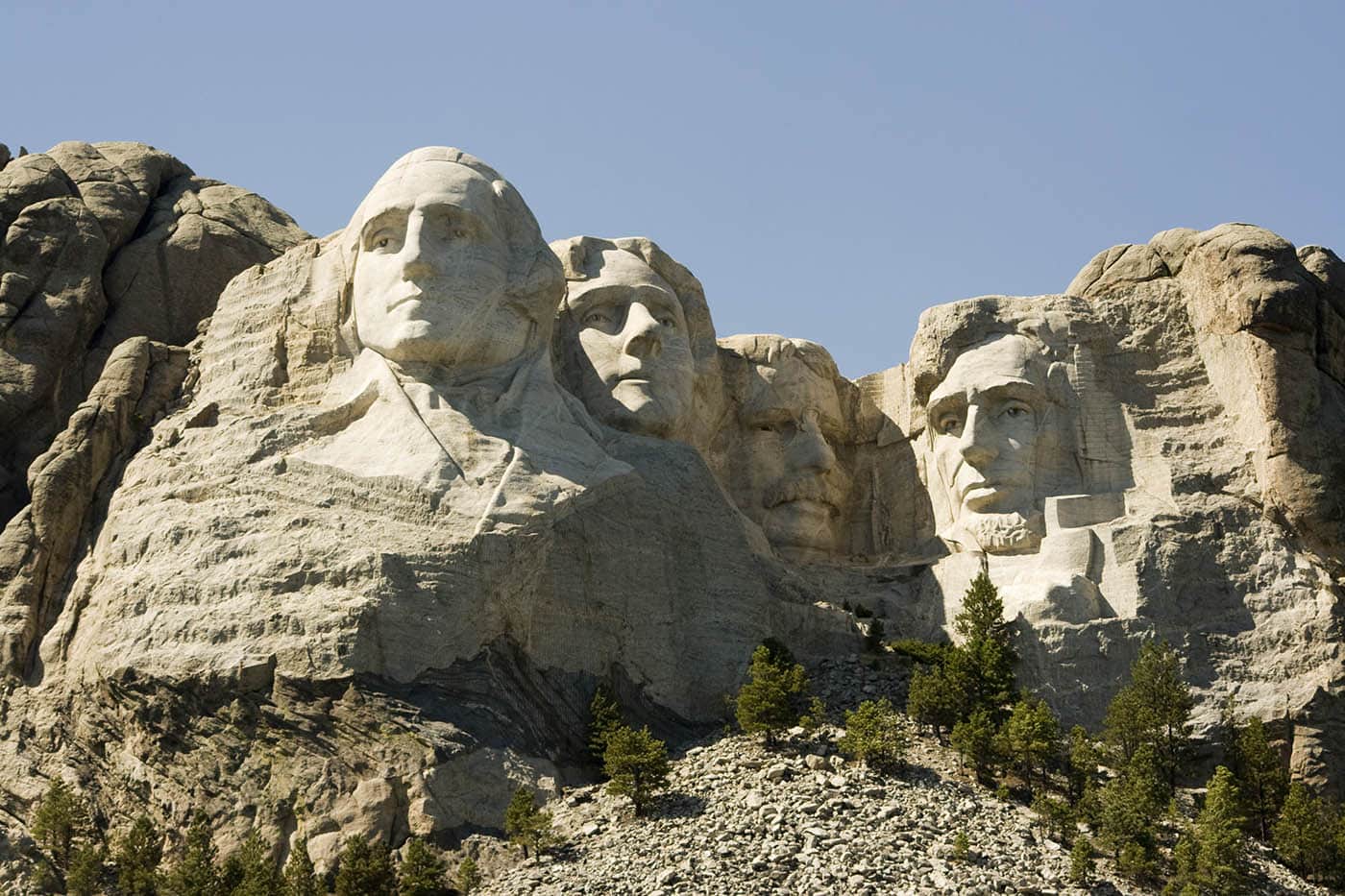 While in South Dakota, we also went to see Crazy Horse, which is another monument that's been in the works for 50 years and still has 50 years to go. Who knows, maybe someday my grandkids will find this photo and be inspired to take off on a road trip of their own.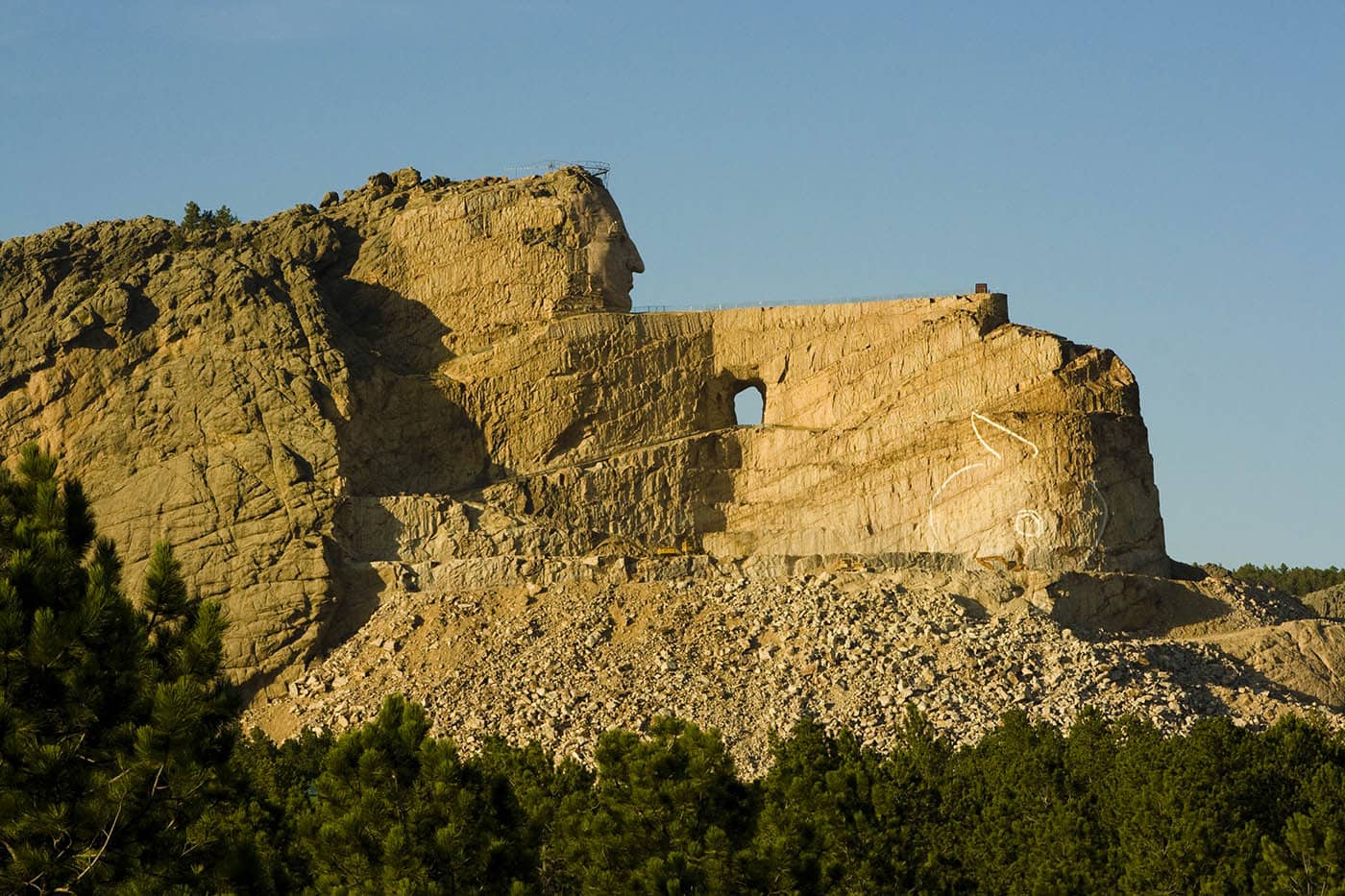 What is Mount Rushmore?
Mount Rushmore National Memorial is a larger-than-life sculpture of four U.S. presidents carved into the side of a mountain in the Black Hills region of South Dakota. The four giant faces are of George Washington, Thomas Jefferson, Theodore Roosevelt and Abraham Lincoln. Each bust spans about 60 feet tall.
Mount Rushmore road trip itinerary
When planning a road trip to Mount Rushmore your itinerary will really be determined on where you are coming from. I drove from Chicago to South Dakota and back and that took me over 2,500 miles through five states over four days.
Our Mount Rushmore trip itinerary took us there on I-90 the whole way, driving through Wisconsin, Minneapolis, and South Dakota. On the way back, we went south through Nebraska (stopping at Carhenge on the way), then took I-80 across Nebraska and Iowa.
Here's a map full of Mount Rushmore road trip ideas: the pink pins were what to see on the way there and the blue pins were things to see on the way back. We didn't make it to all of the stops, but we saw quite a few!
Attractions near Mount Rushmore
There are plenty of attractions near Mount Rushmore to add to your itinerary. Make a full day, weekend, or week of tourism by visiting these nearby places on your Mount Rushmore vacation or while driving through the Black Hills.
Badlands National Park
Visit Badlands National Park to experience 244,000 acres of breathtaking landscapes full of rock formations, buttes, canyons and spires. Take a scenic drive through the Badlands Loop Scenic Byway, hike one of the many trails, hunt for fossils, and look for wildlife (like prairie dogs and bison) in the grasslands. Visit their website for more information.
Devils Tower National Monument
Devils Tower is a laccolithic butte that rises 867 feet above the surrounding Wyoming landscape. Made of igneous rocks, this was the first national monument. Climb to the top or admire from afar. Visit their website for more information.
Custer State Park
Custer State Park is a wildlife reserve in the Black Hills. It's known for its incredible wildlife, including famed bison herds. Visit their website for more information.
Rapid City
The distance from Rapid City to Mount Rushmore is only 23.1 miles, a short 29 min drive via US-16 W. There's plenty to see in Rapid City, South Dakota. There's a dinosaur park full of dino sculptures, Bear Country USA (a drive-through wildlife park), and presidential monuments on every corner. Visit their website for more information.
Things to see on the way to Mount Rushmore
There are so many things to see on the way to Mount Rushmore! My road trip took me from Chicago to Mount Rushmore by car, so these are all the roadside attractions and fun stops we stopped at on our way there and back. Click learn more for each one for more information!
Bessie The Cow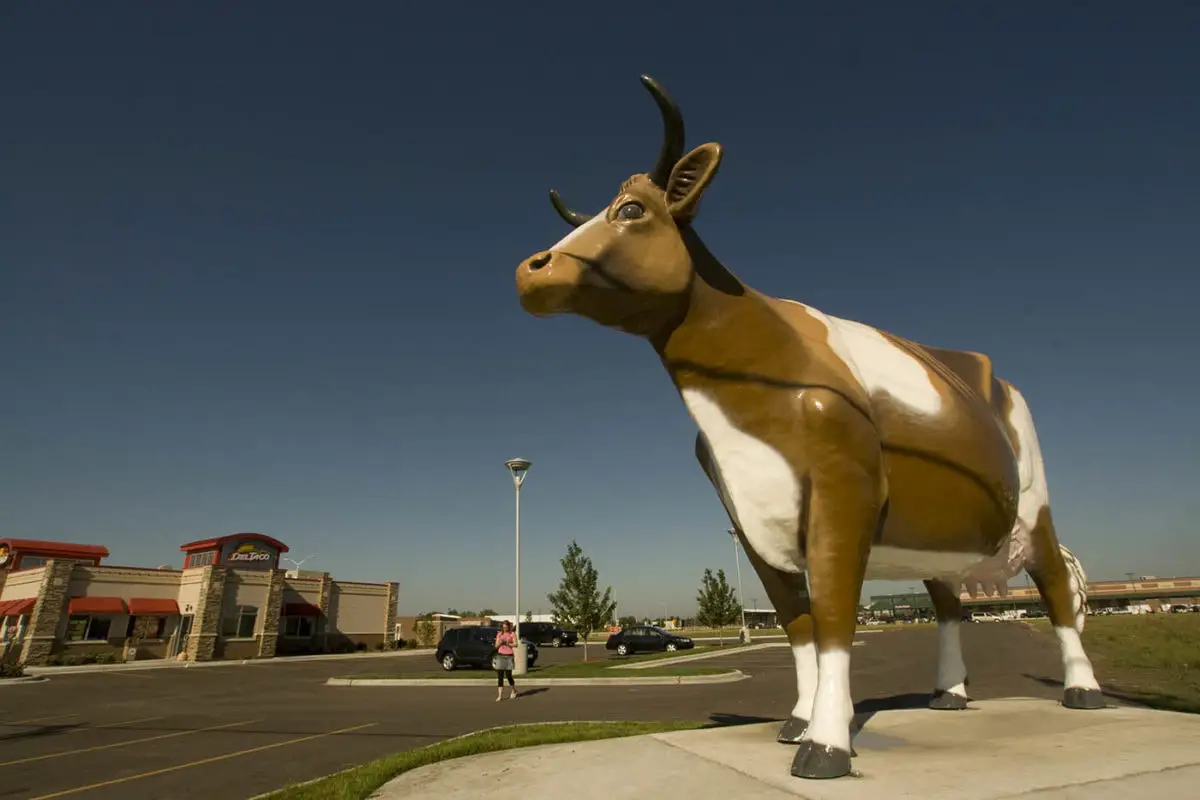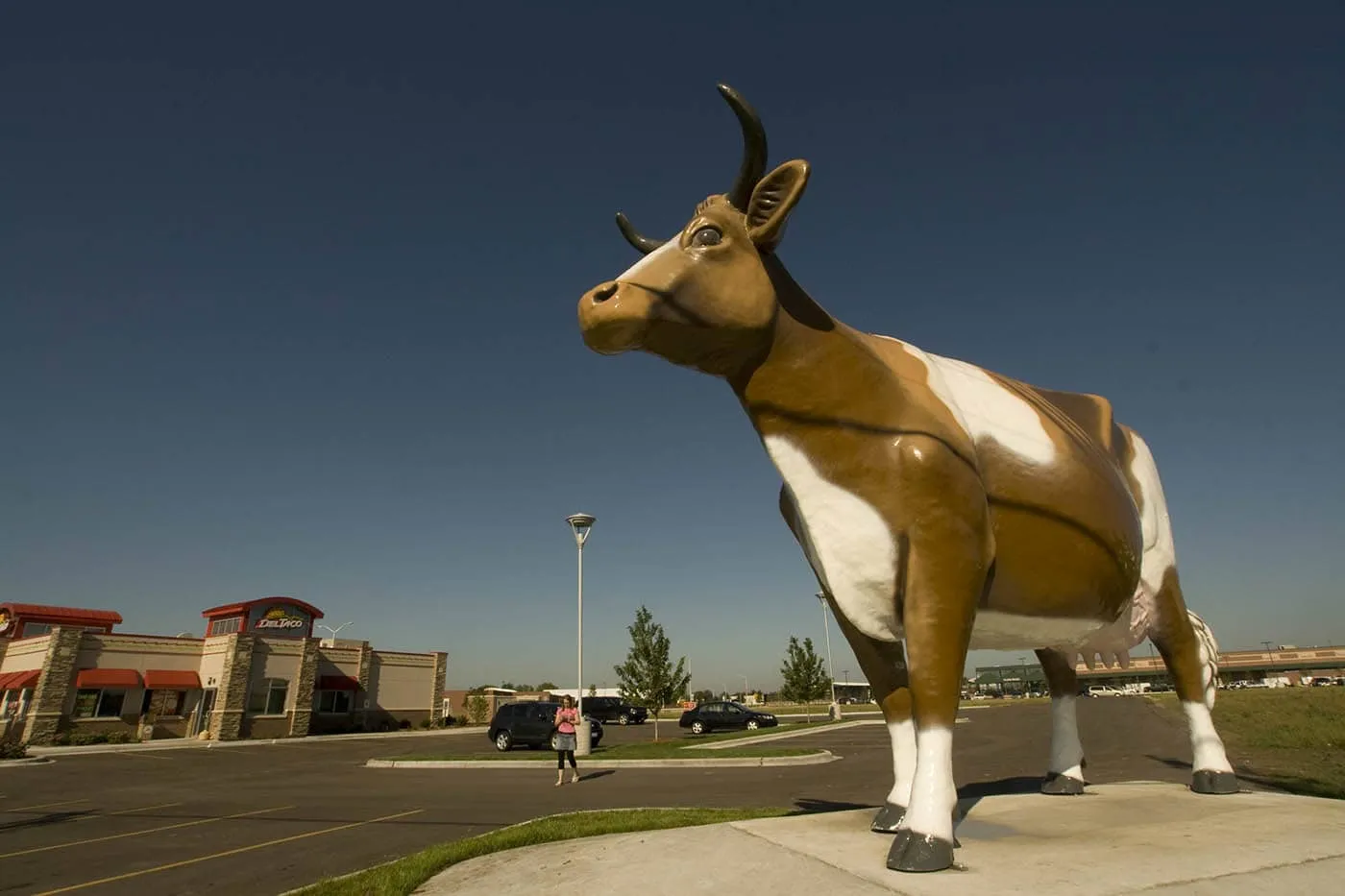 Janesville, Wisconsin
A 16-foot-tall, 20-foot-long, one-ton fiberglass giant cow statue.
MouseHouse Cheesehaus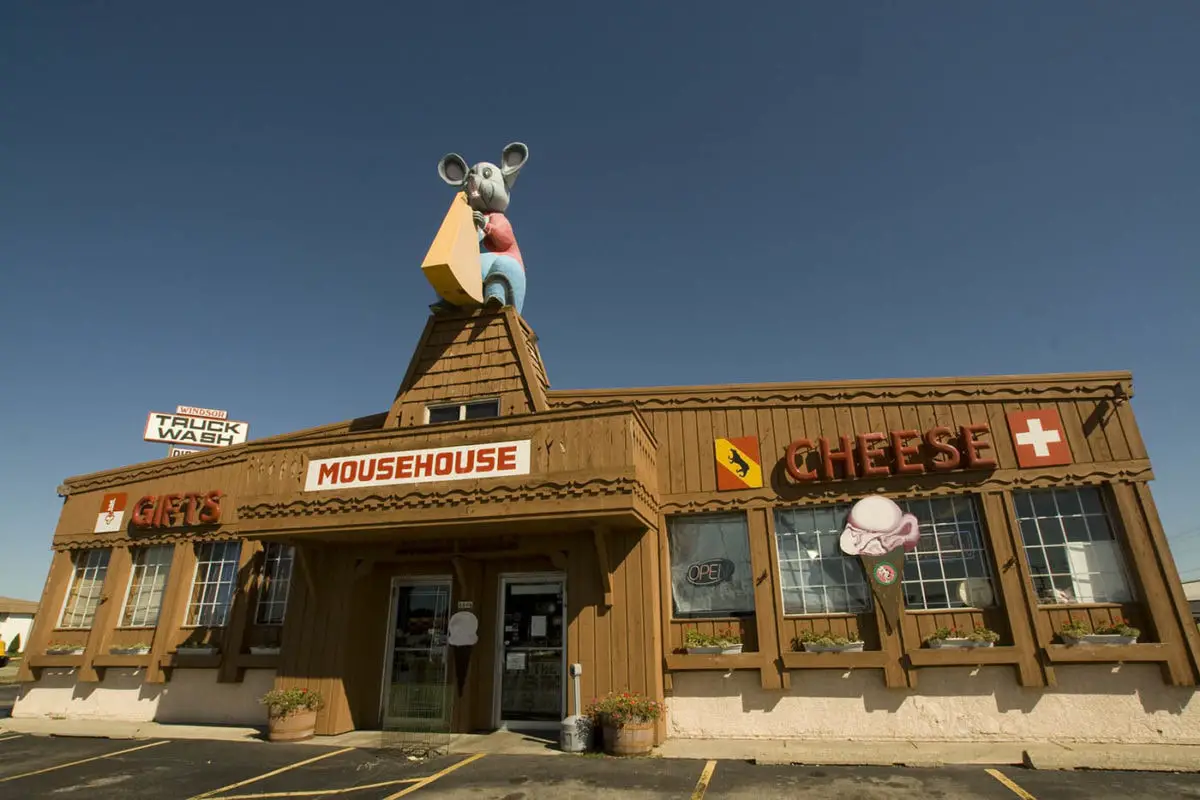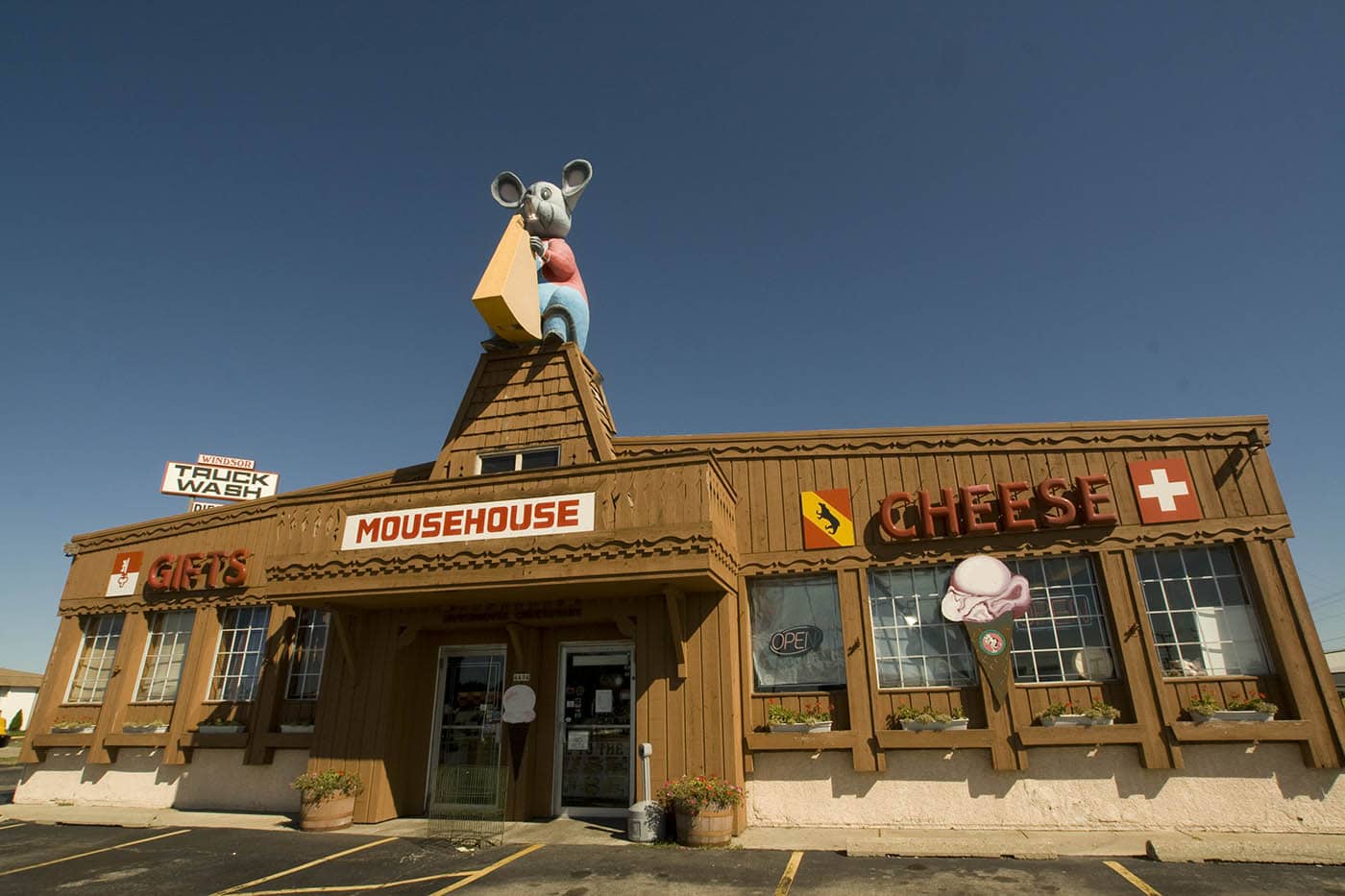 Windsor, Wisconsin
A delicious cheese shop with a fun mouse mascot.
Sissy the Cow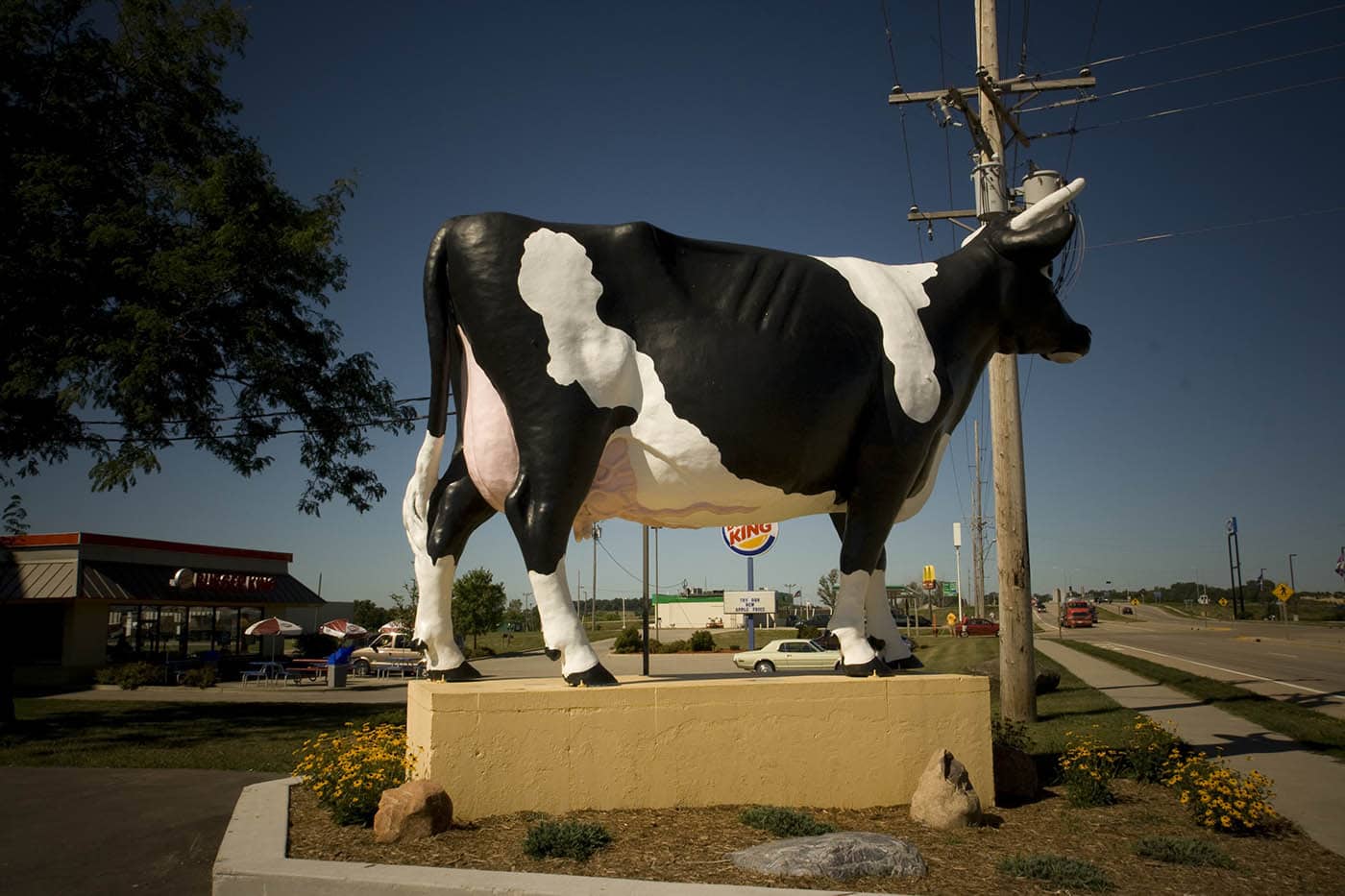 DeForest, Wisconsin
Giant fiberglass cow in front of Ehlenbach's Cheese Chalet.
Pinkie the Pink Elephant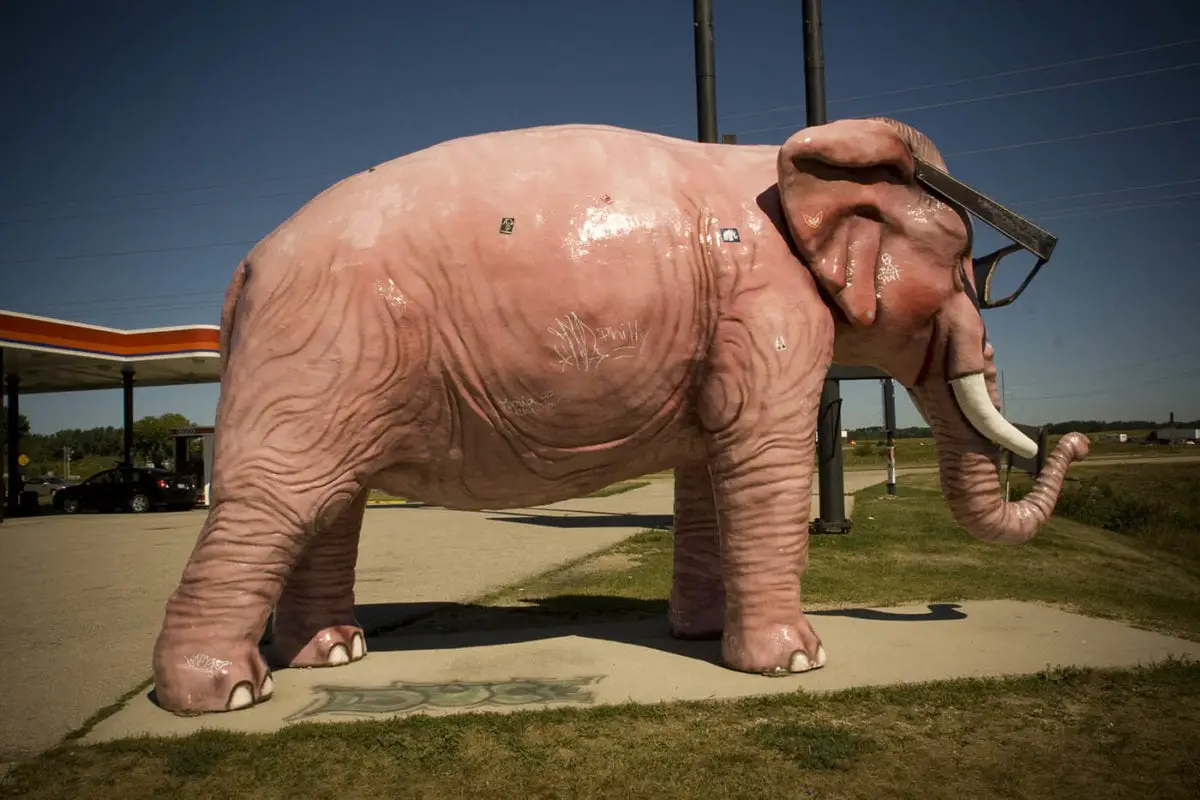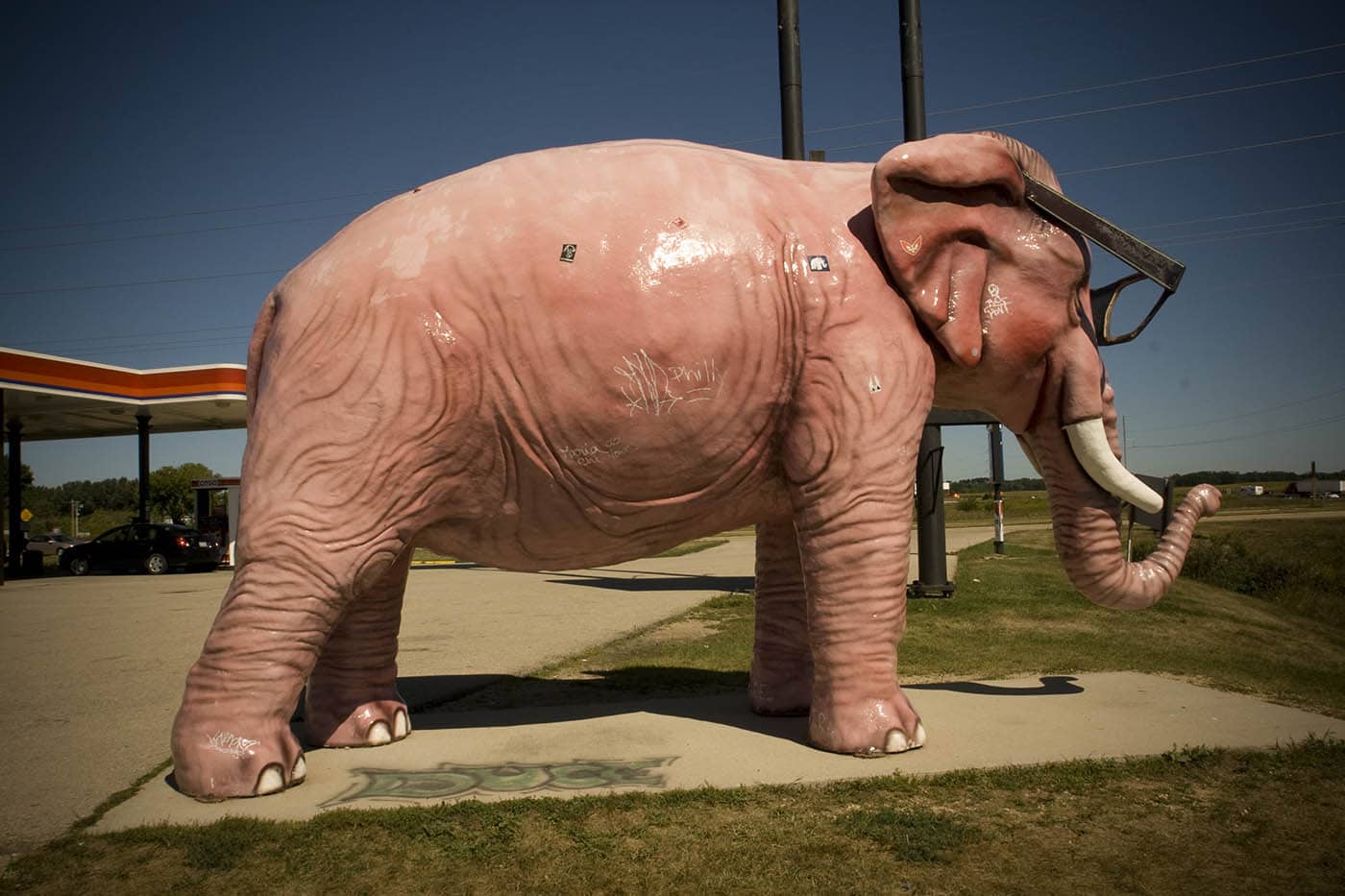 Dr. Evermor's Forevertron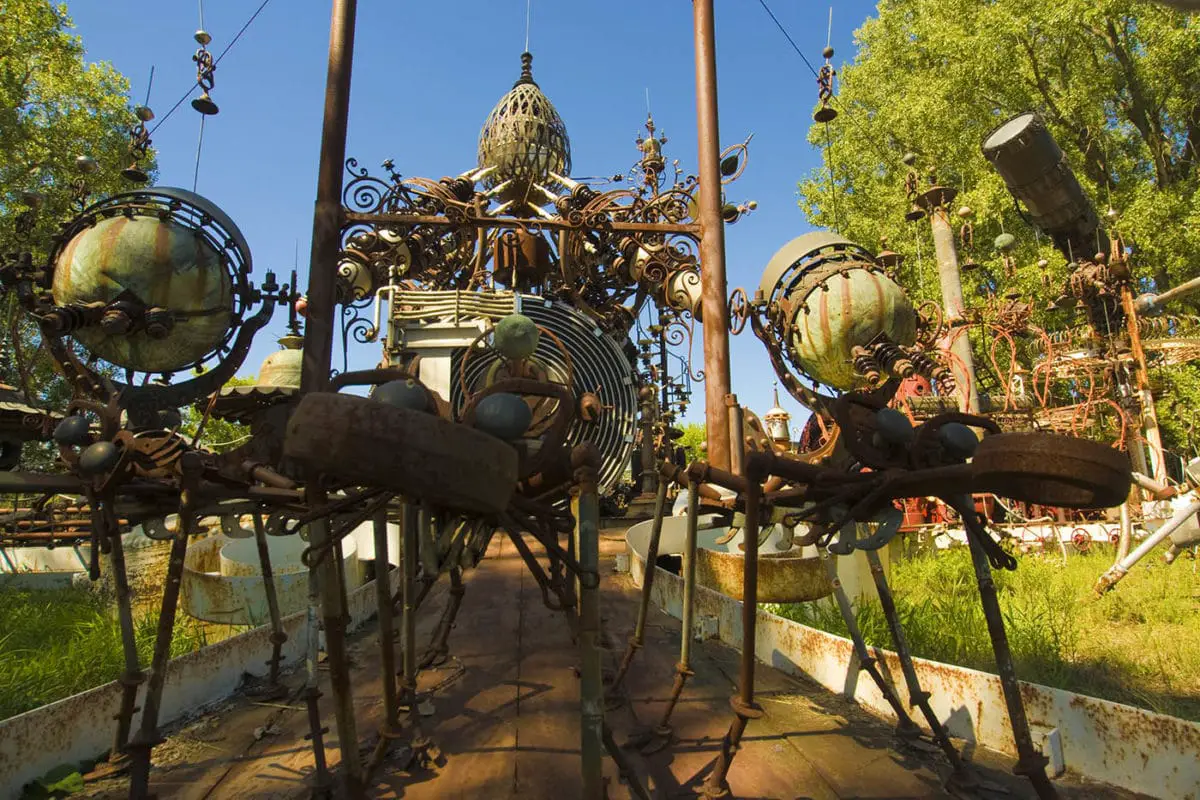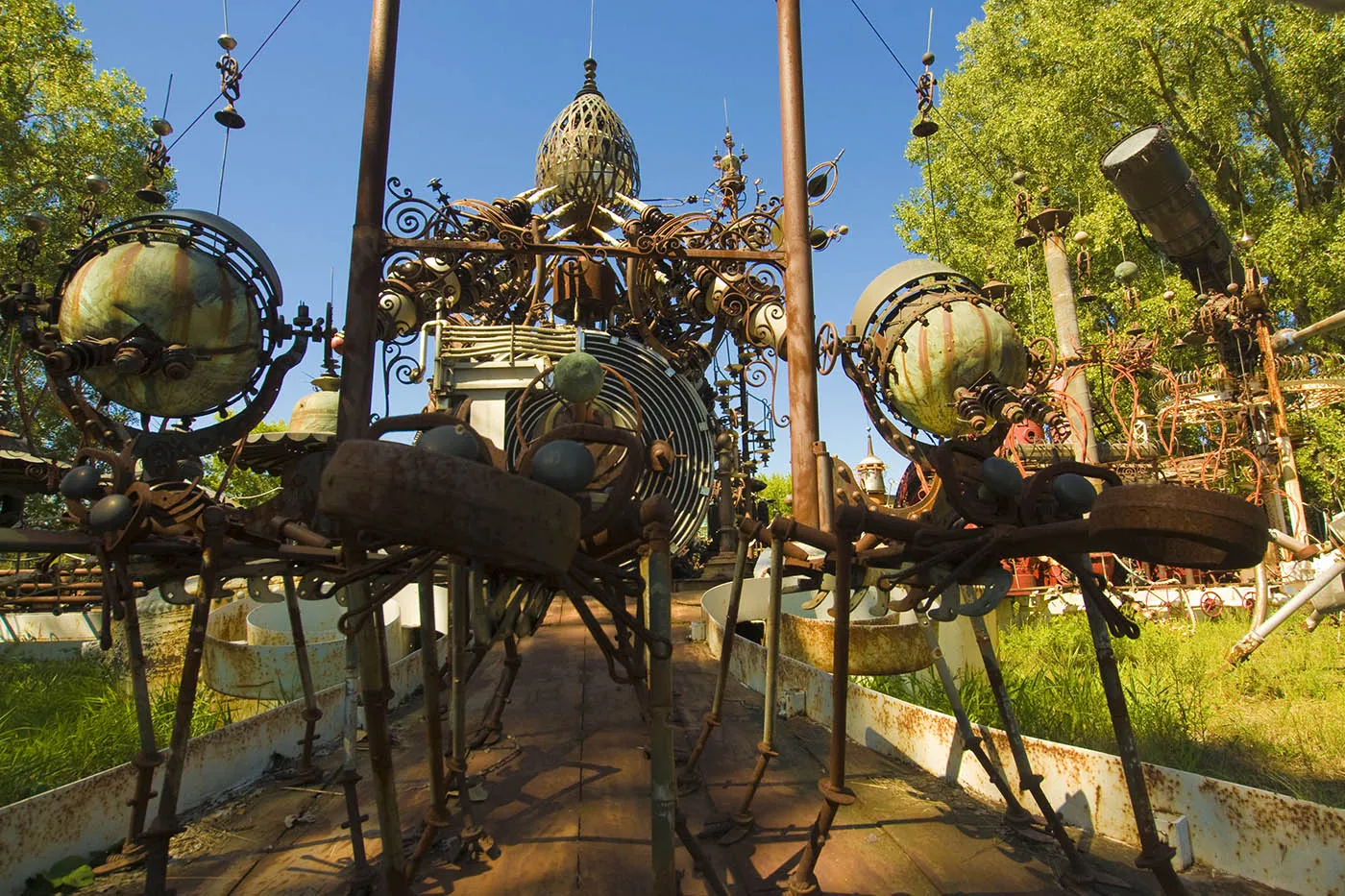 North Freedom, Wisconsin
The "world's largest scrap metal sculpture." 
Giant Cowboy Mouse
Oakdale, Wisconsin
A truck stop mouse wearing a big cowboy hat.
FAST Fiberglass Animals, Shapes & Trademarks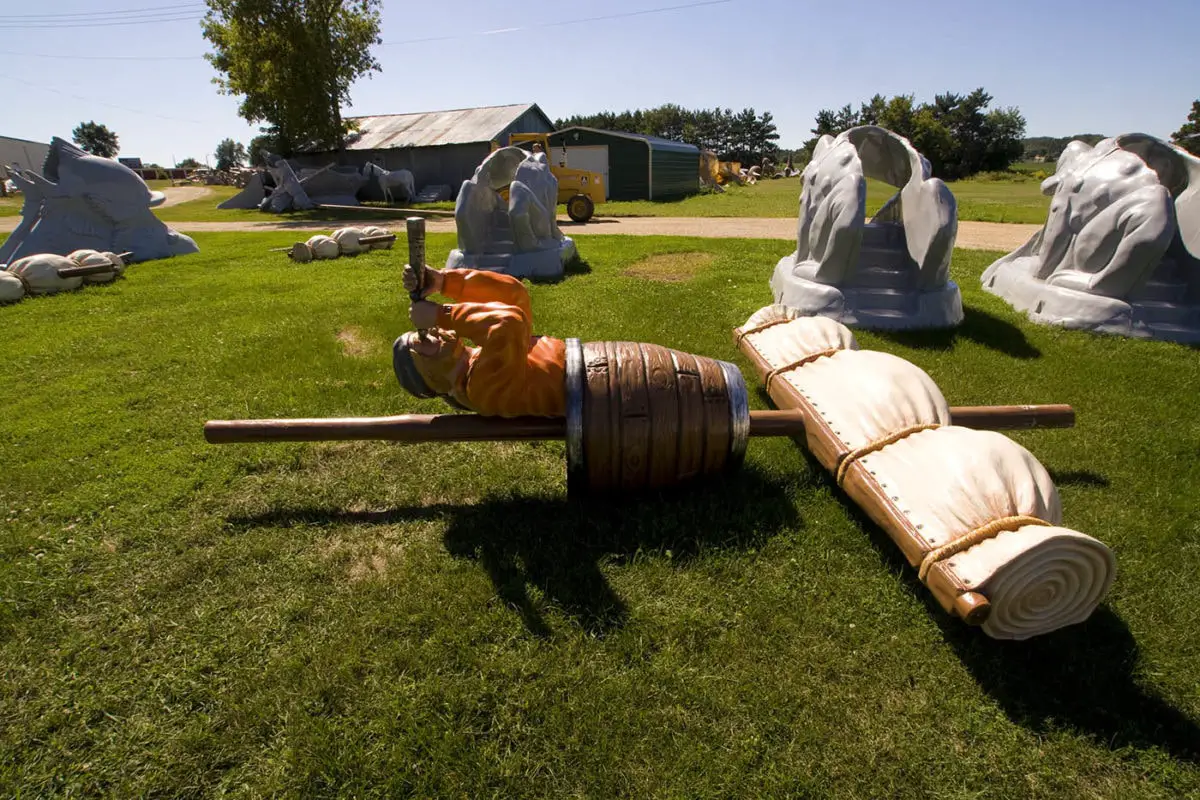 Sparta, Wisconsin
Workshop and outdoor gallery for the "premier manufacturer of fiberglass statues" and water park attractions.
World's Largest Bicyclist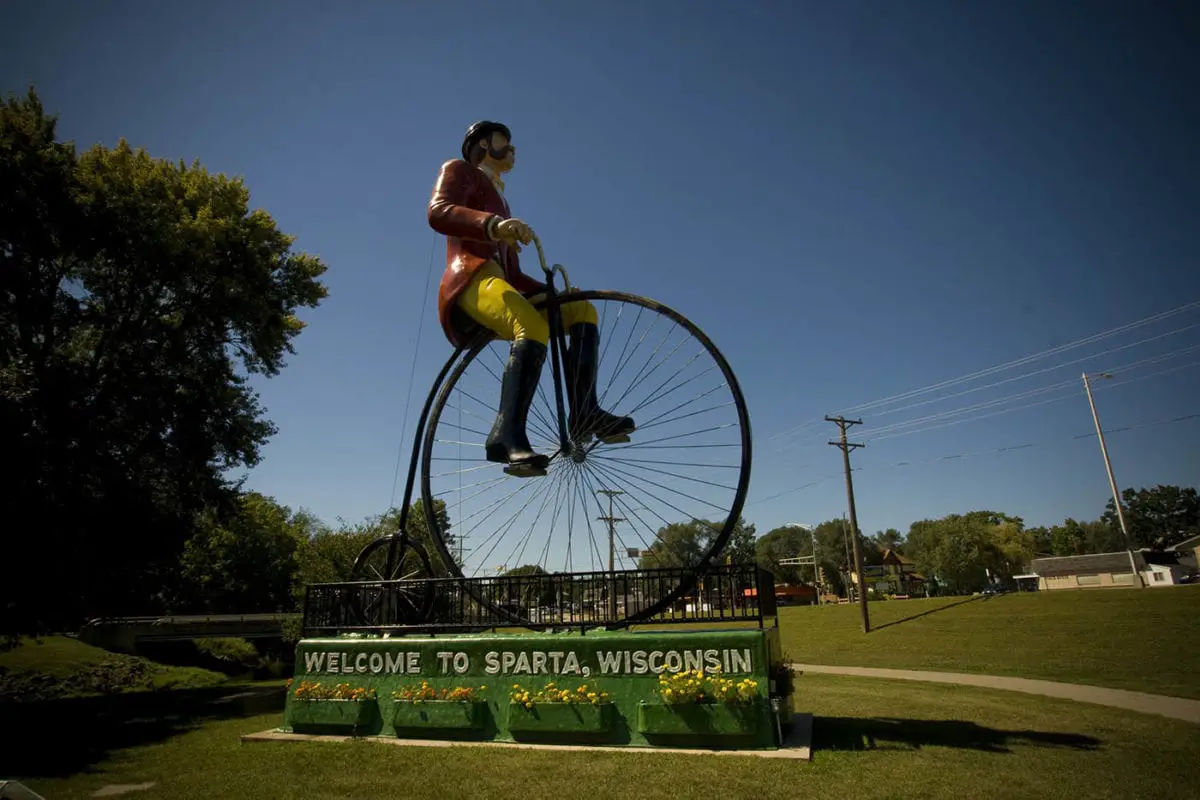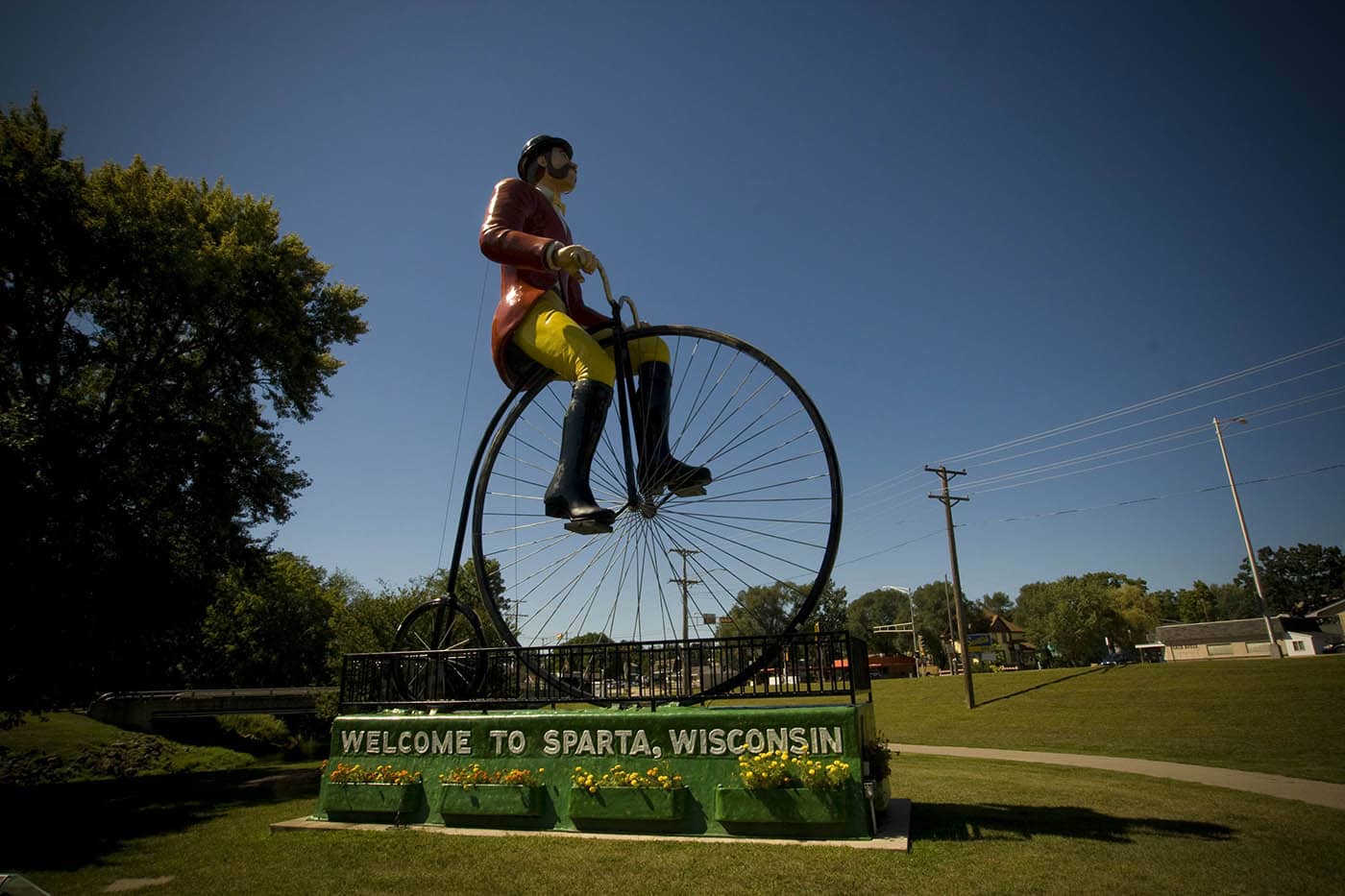 World's Largest Six-Pack
The Bicycle Man of Sparta is a thirty-two-feet tall fiberglass sculpture symbolizing the town's claim as the Bicycling Capital of America.
World's Largest Six-Pack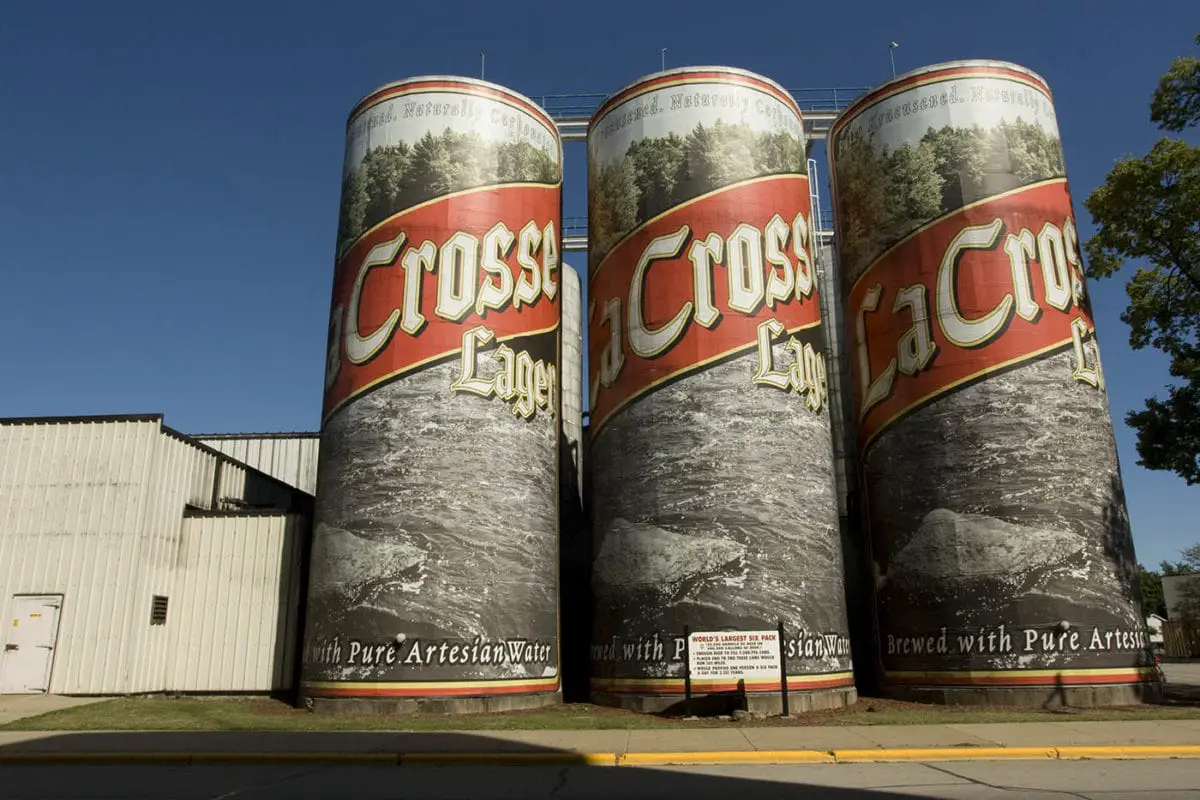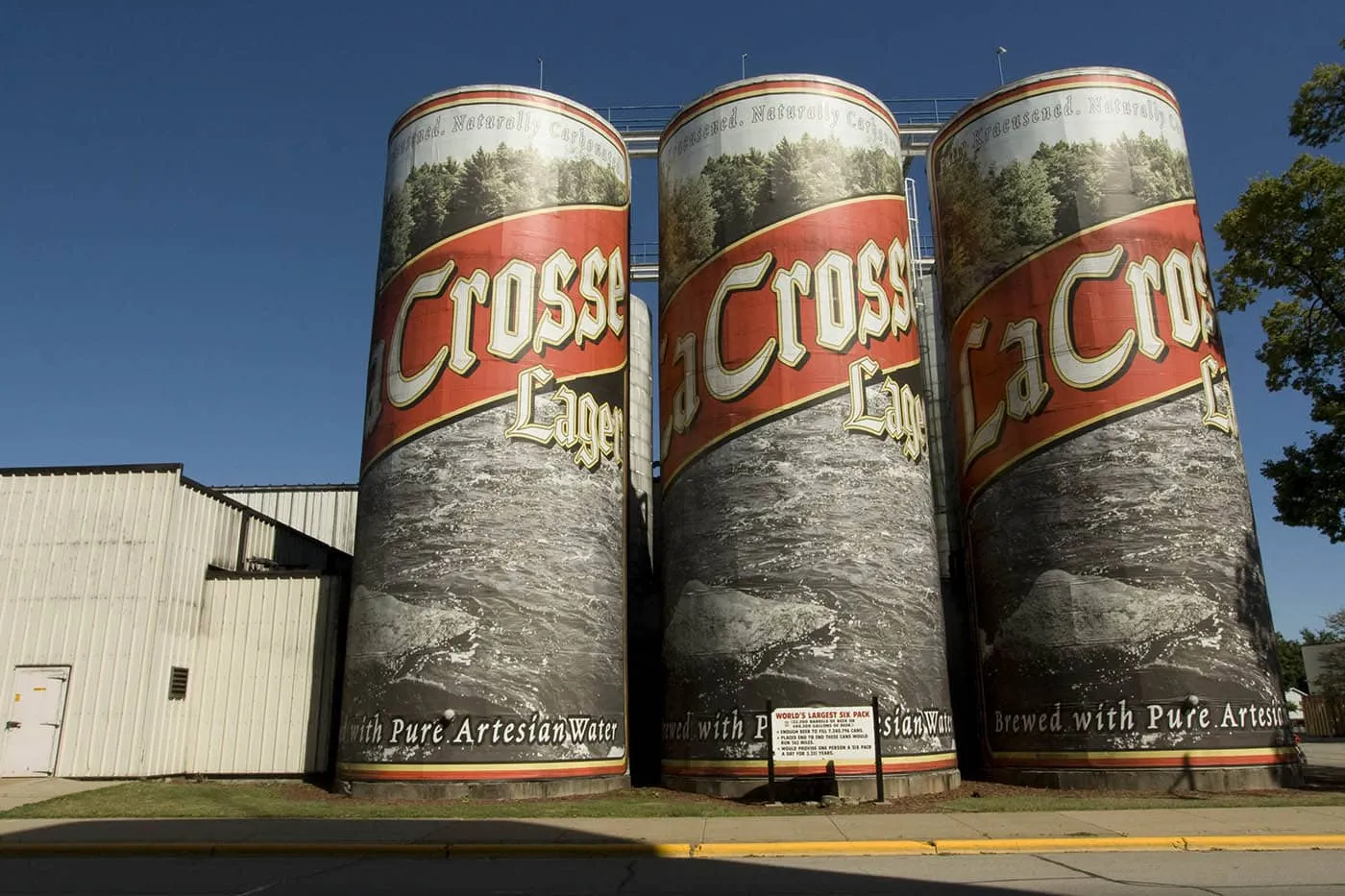 La Crosse, Wisconsin
Dressed up storage tanks for City Brewing Company that hold 688,200 barrels of beer 
Culvert Man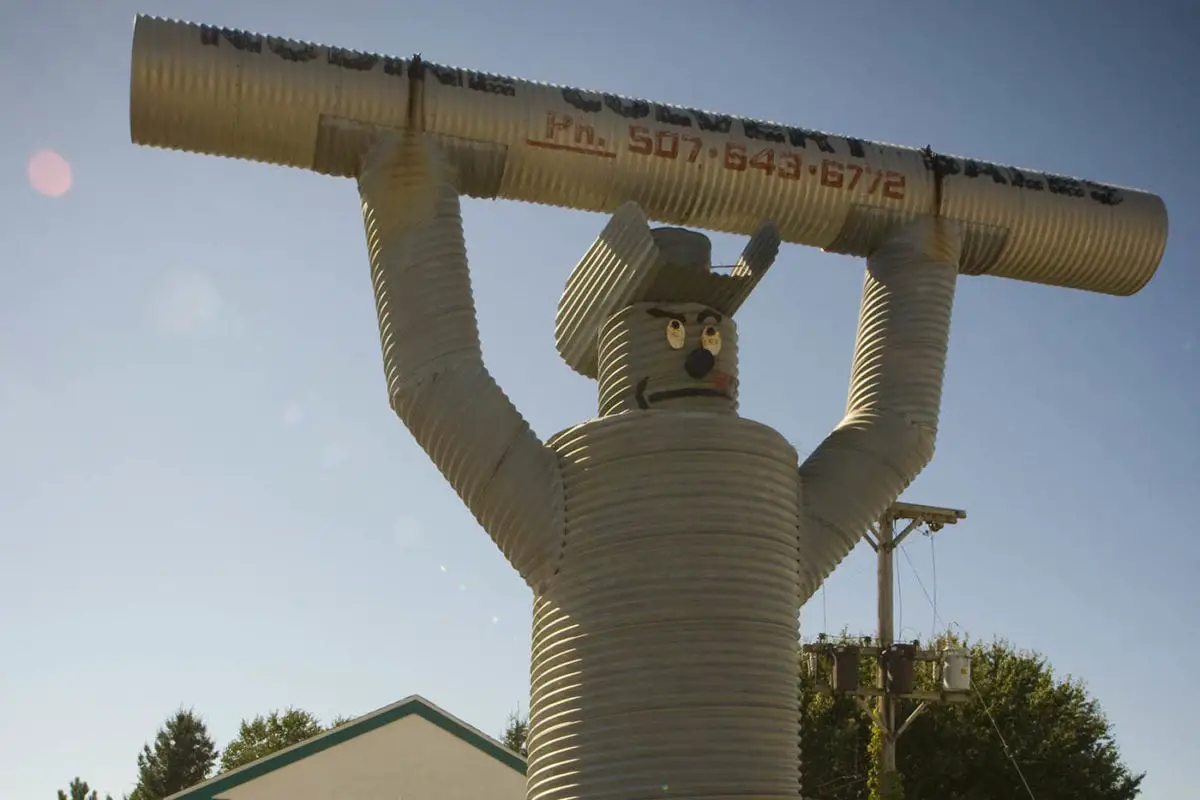 Nodine, Minnesota
A 30 foot giant metal cowboy sculpture made from corrugated steel culvert pipes.
Jolly Green Giant Statue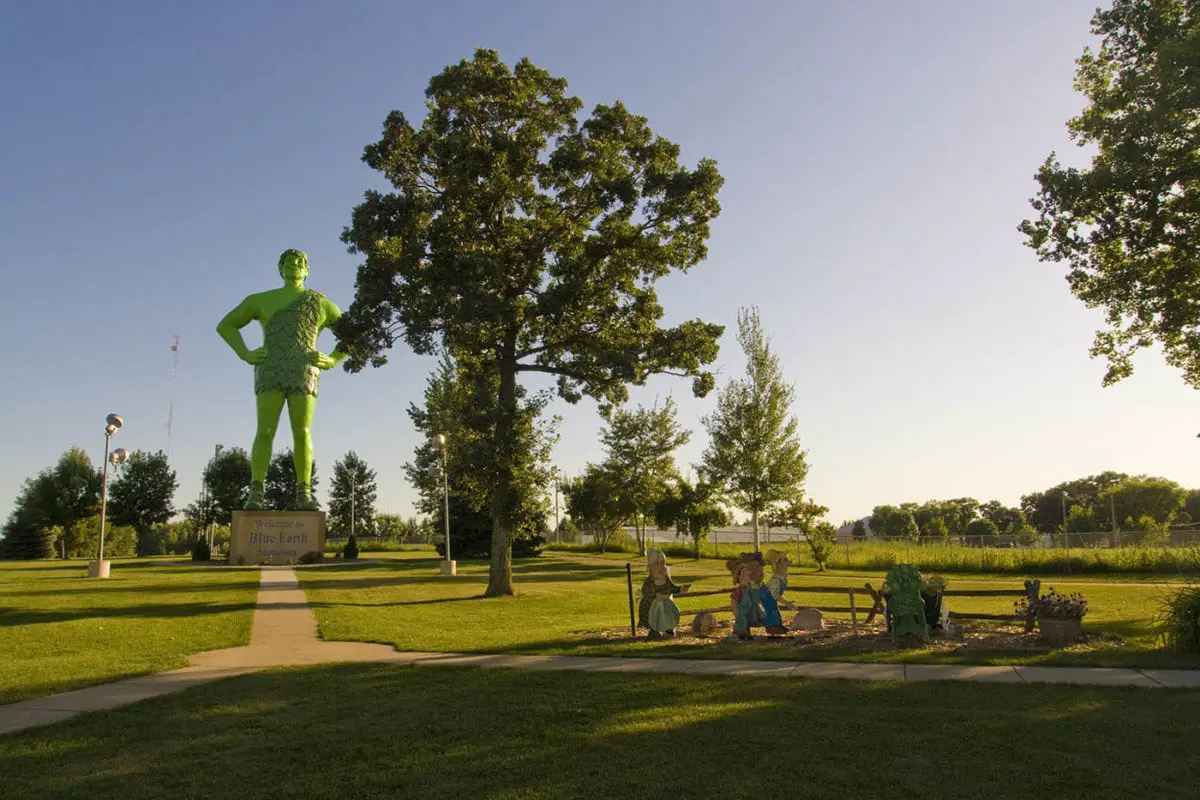 Blue Mound Wayside Chapel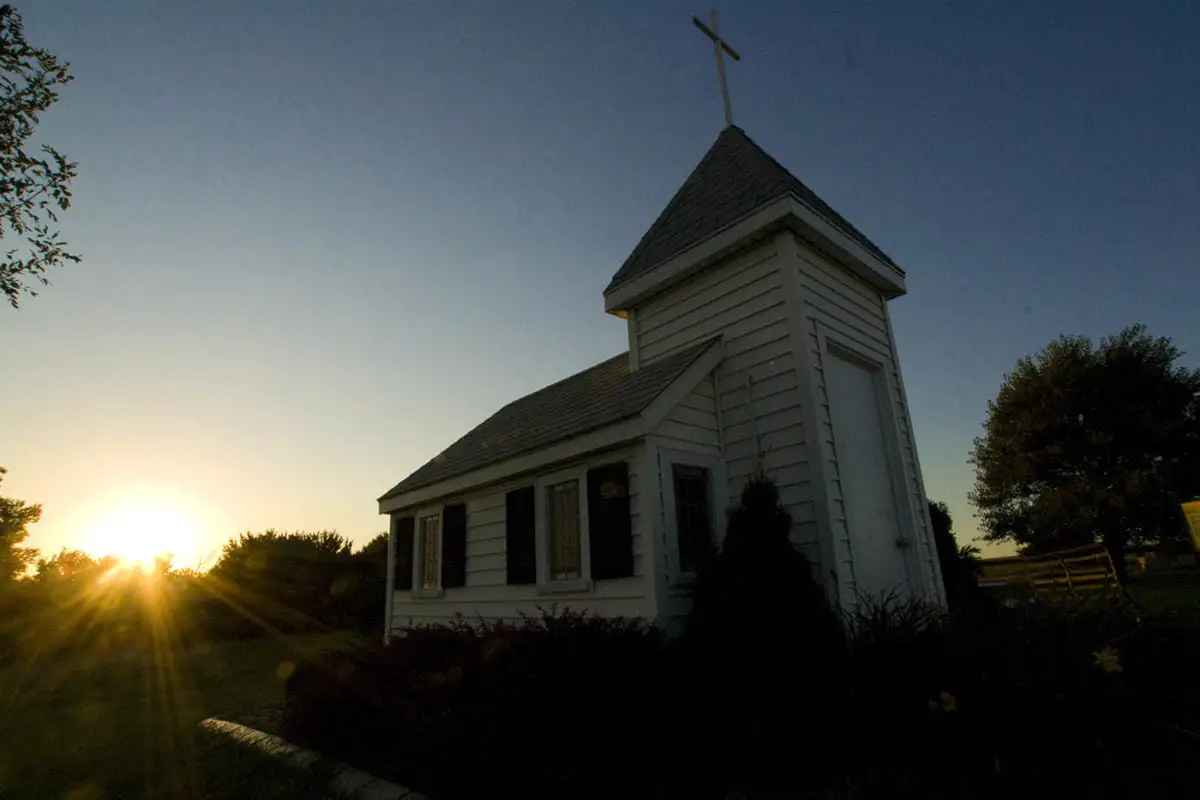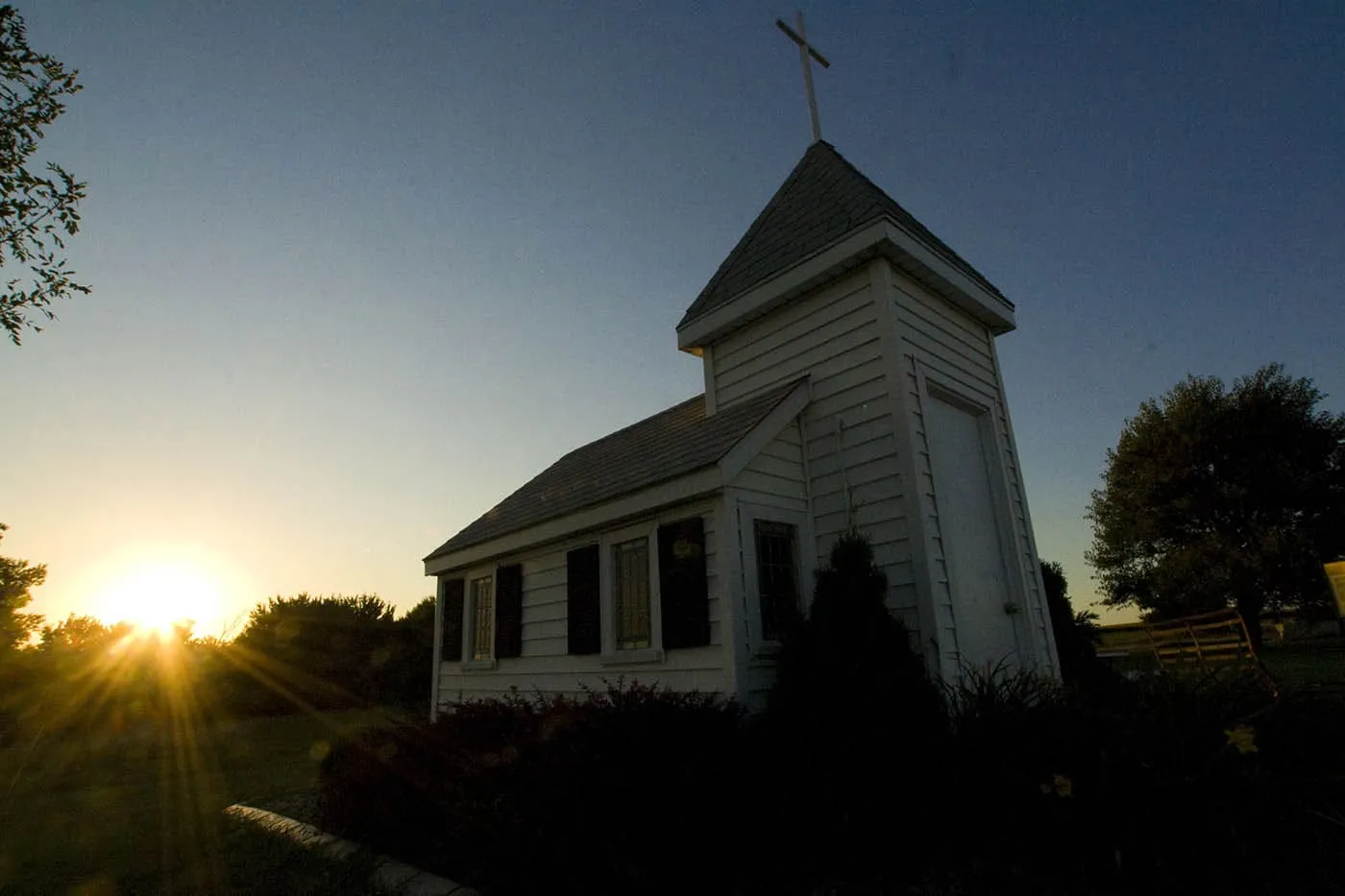 Luverne, Minnesota
A tiny church on the side of the road.
Concrete Outline of USS South Dakota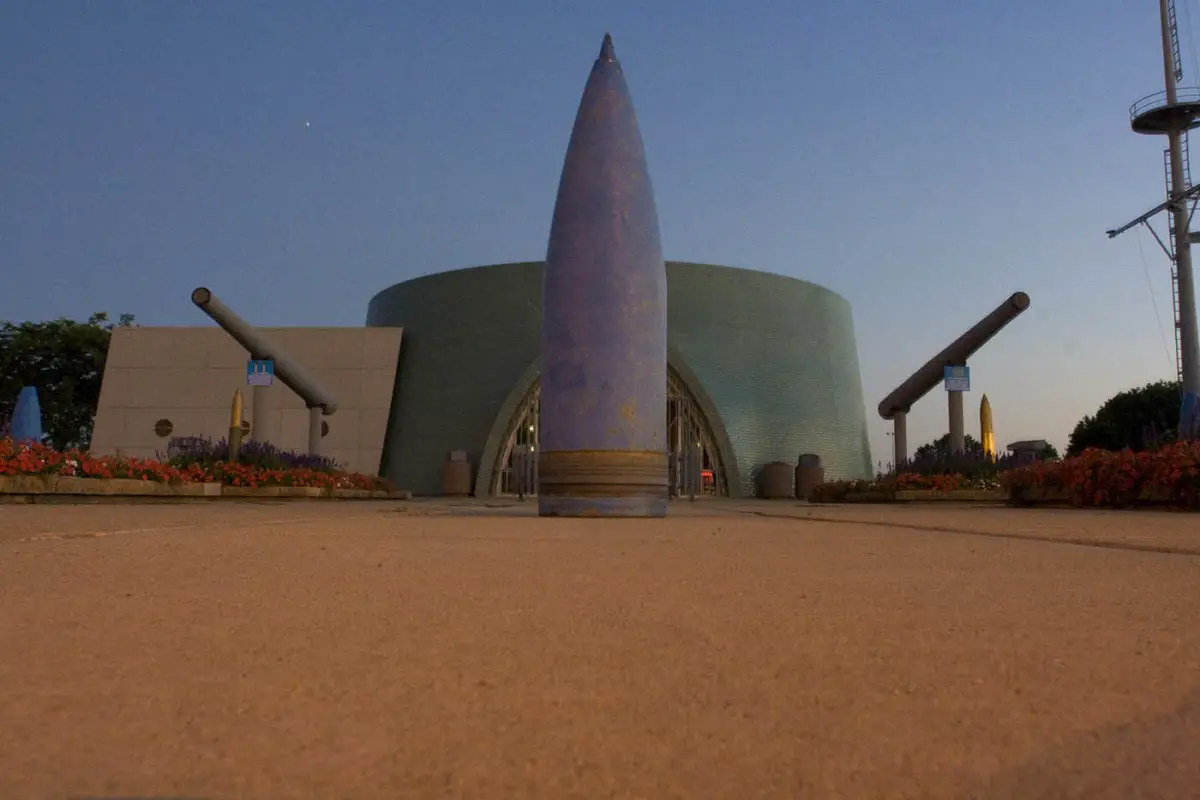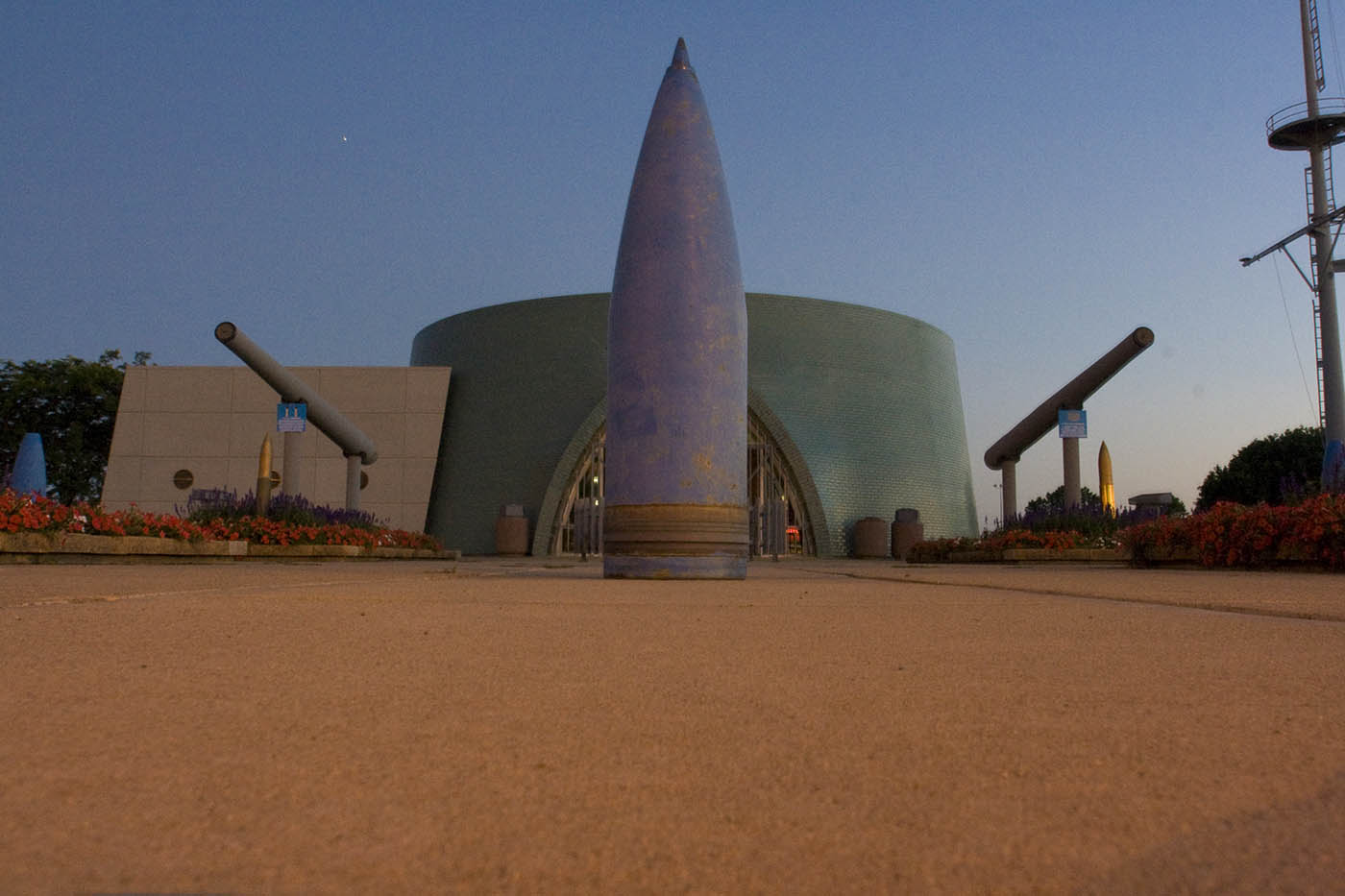 Sioux Falls, South Dakota
A concrete structure depicting the actual dimensions of the USS South Dakota. 

Mr. Bendo Muffler Man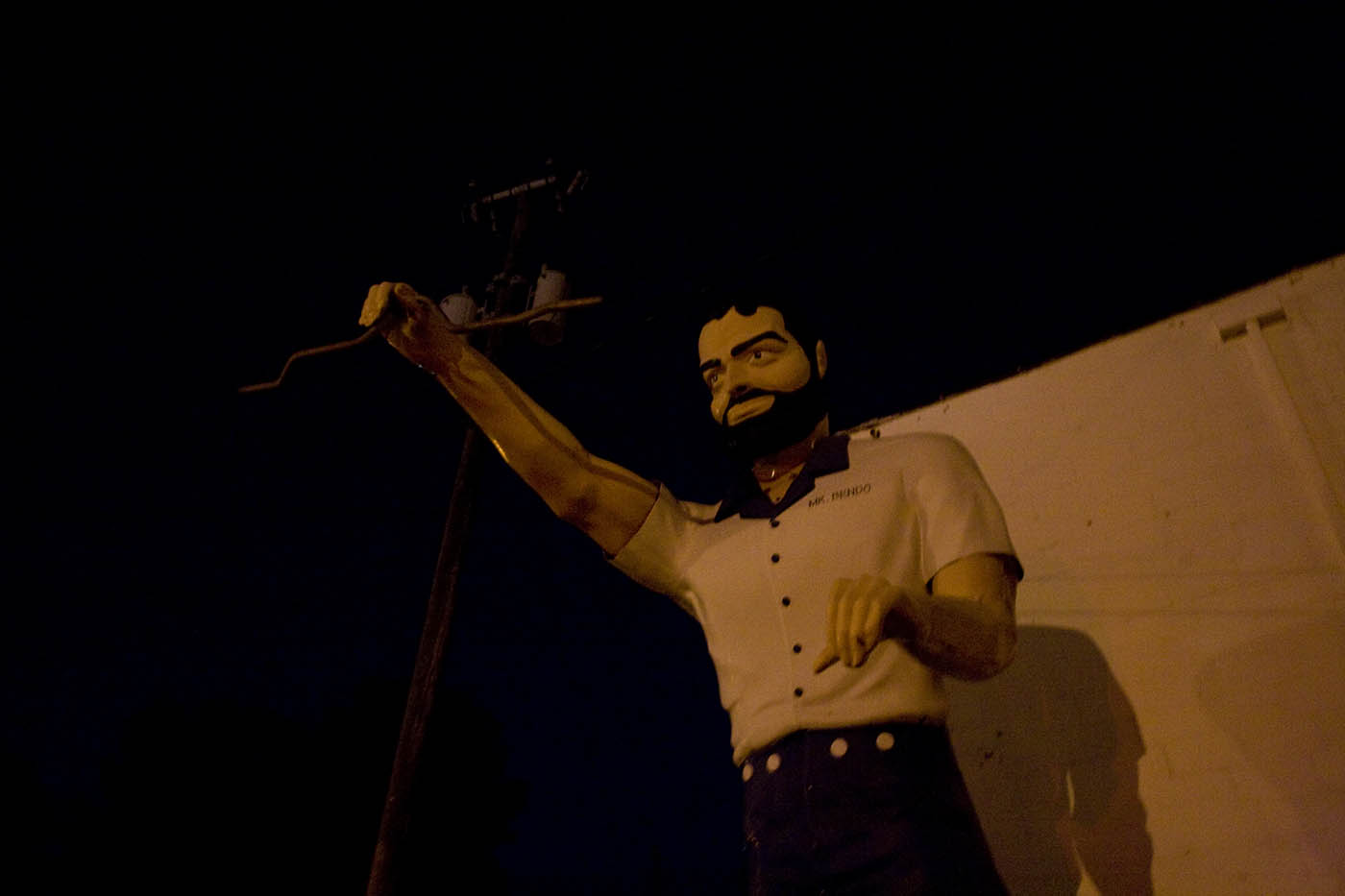 Wall Drug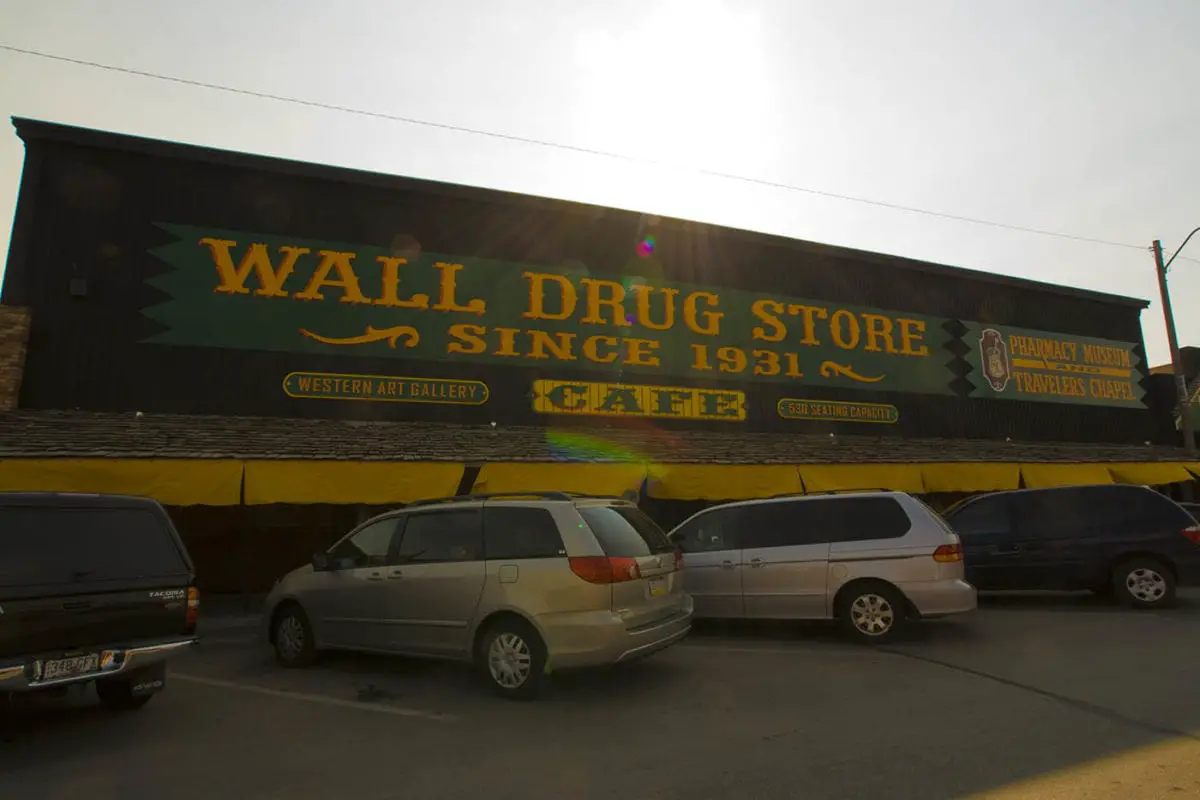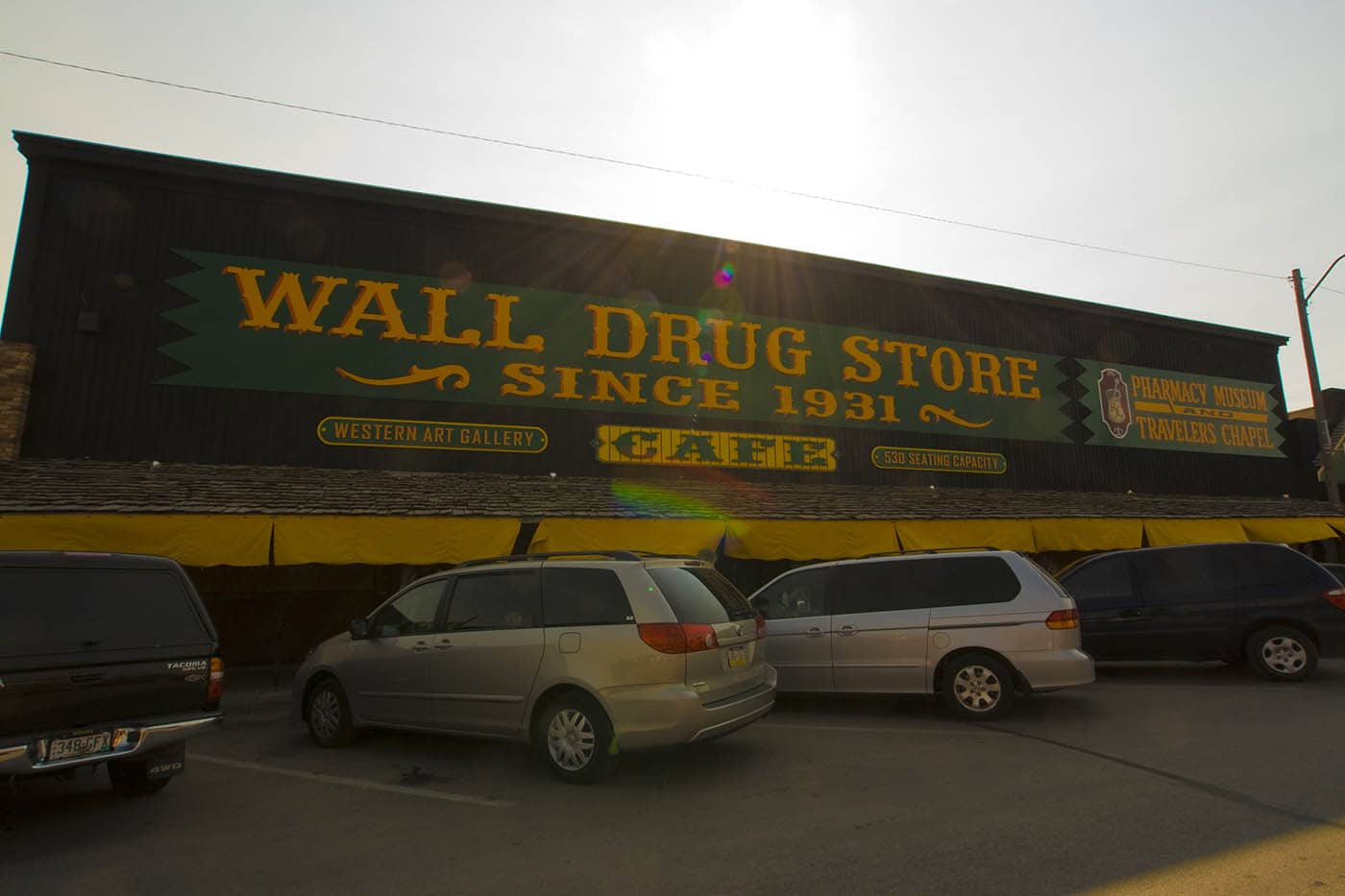 Wall, South Dakota
A drug store and gift shop known for its free ice water and can't miss highway signs.
Men Made from Tires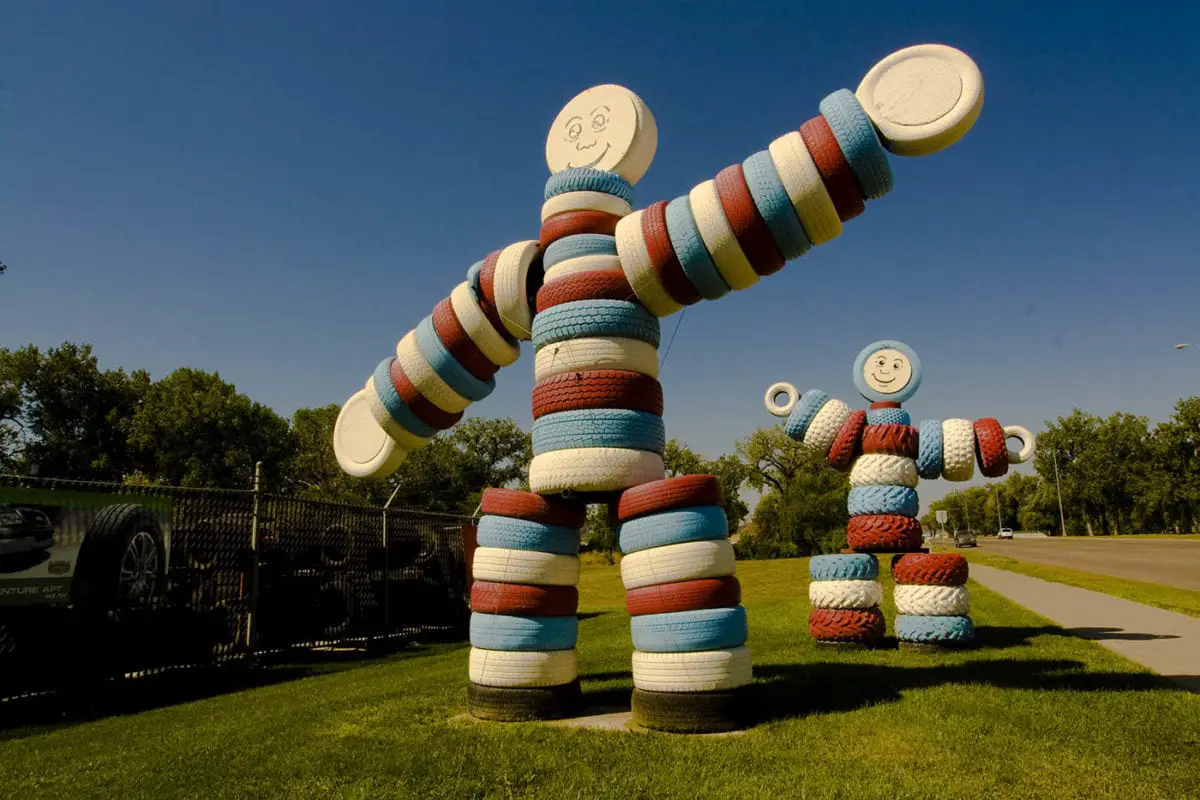 Rapid City, South Dakota
Red, white, and blue rubber figures standing outside of a tire shop.
Dinosaur Park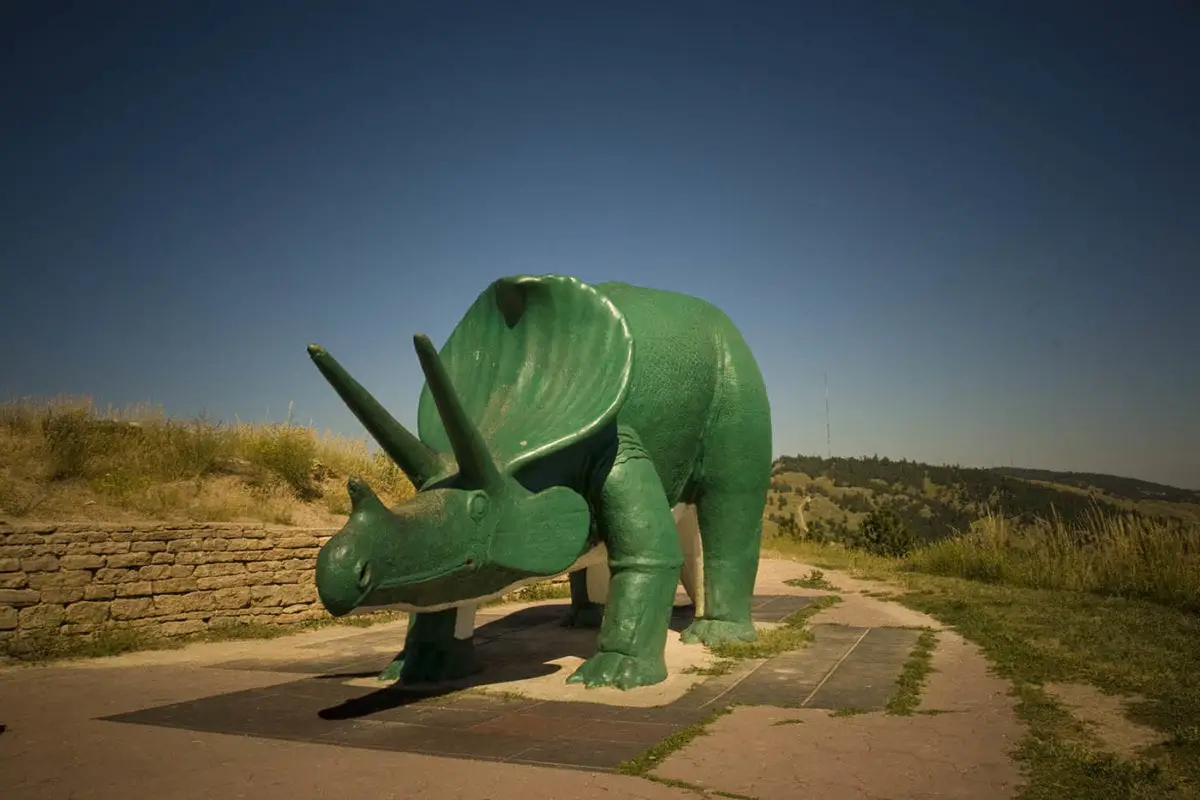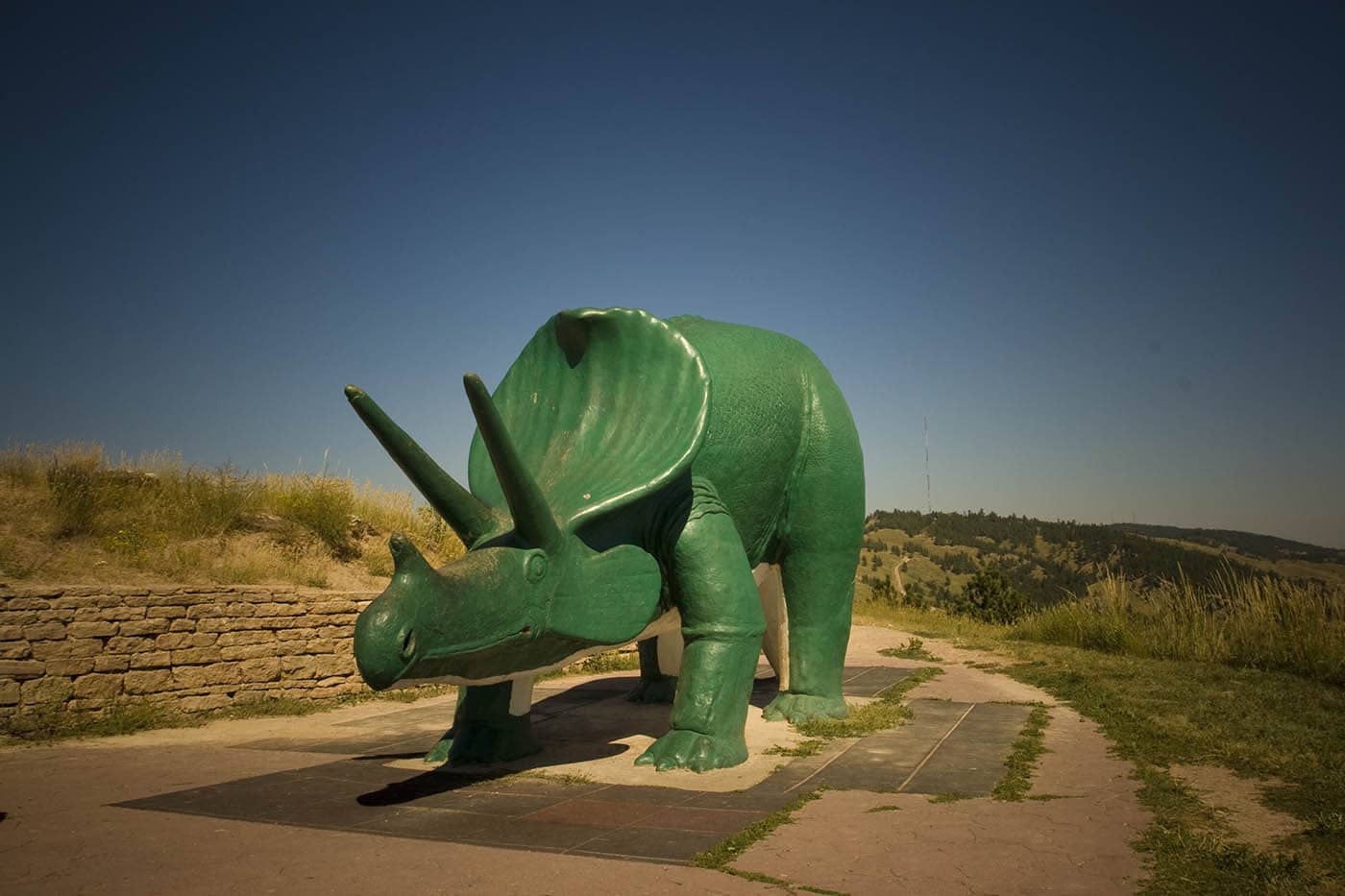 Rapid City, South Dakota
A hill-top playground for giant green cartoon-like dinosaur sculptures.
Storybook Island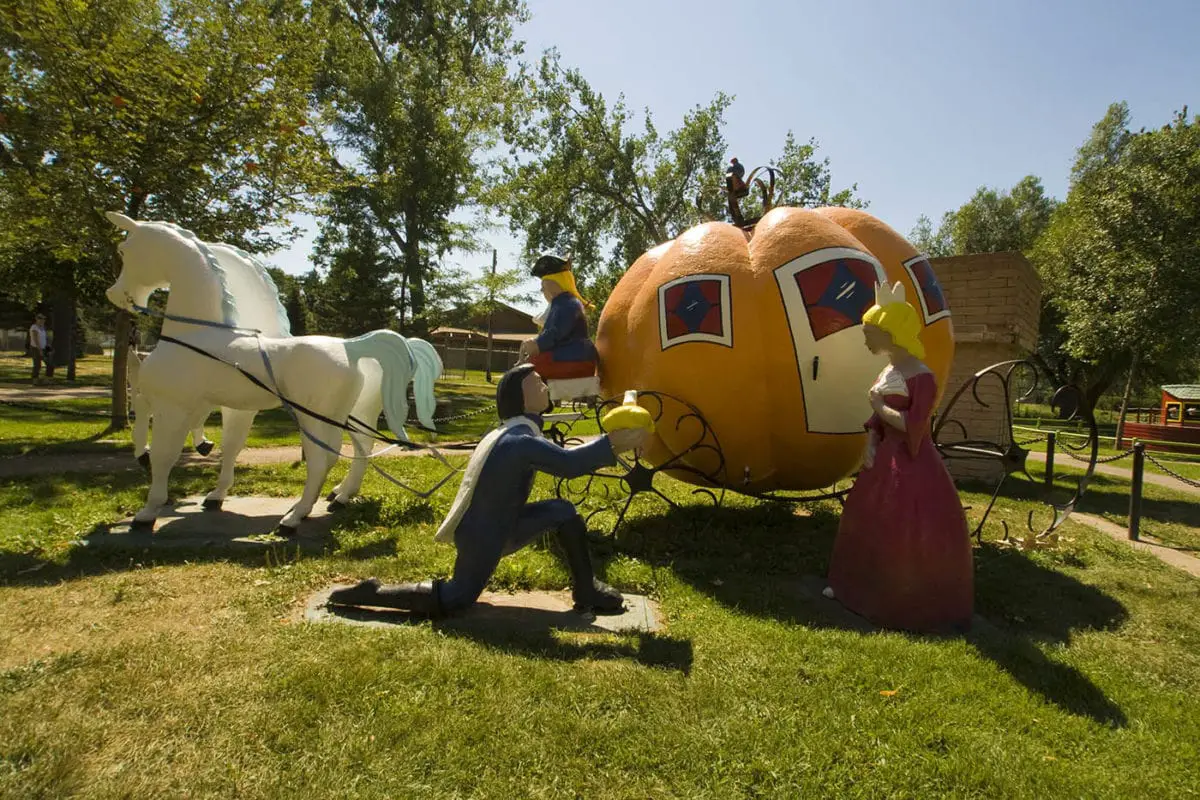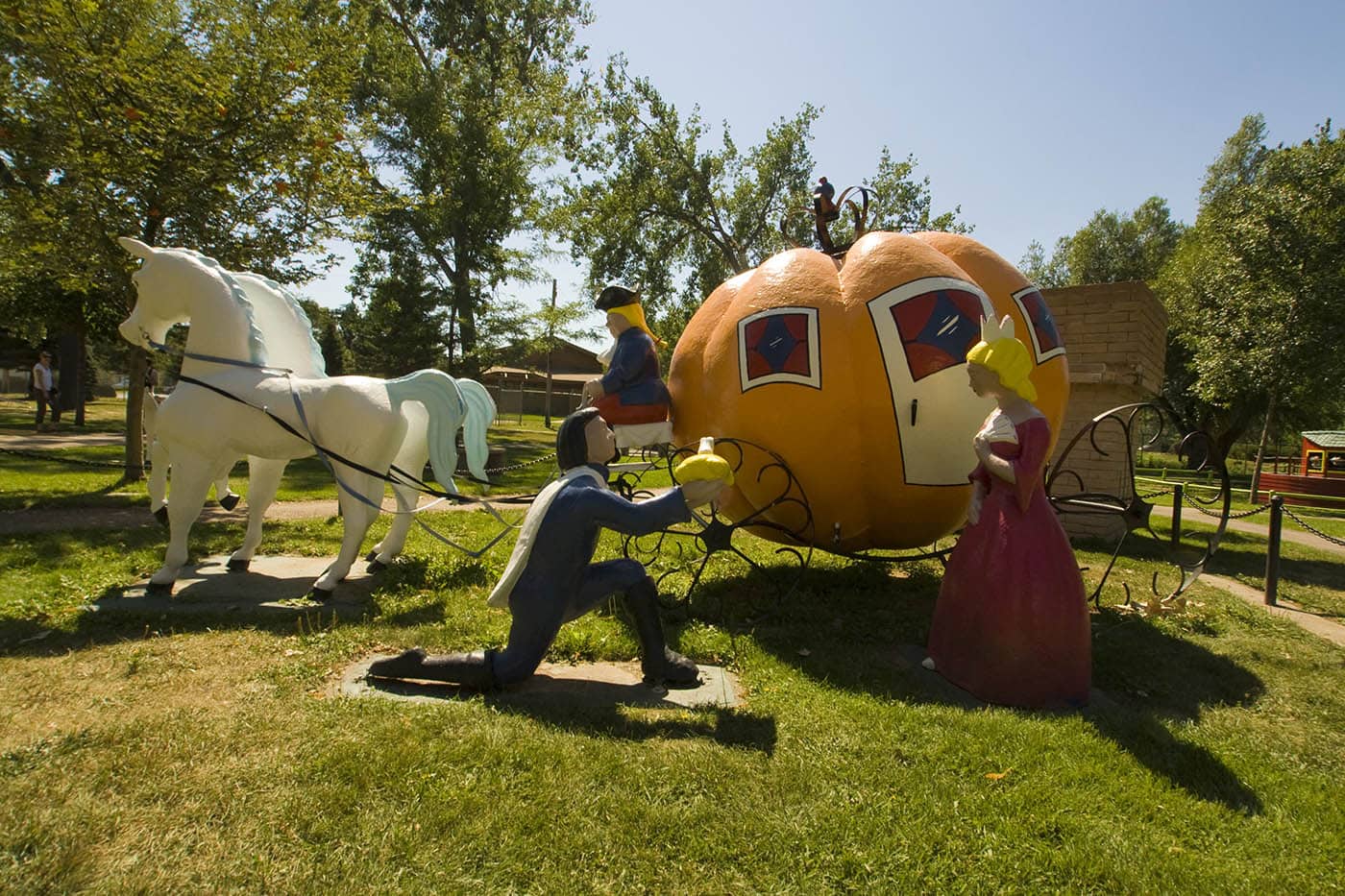 Rapid City, South Dakota
A children's play area and family theme park with a fairy tale twist.
Cosmos Mystery Area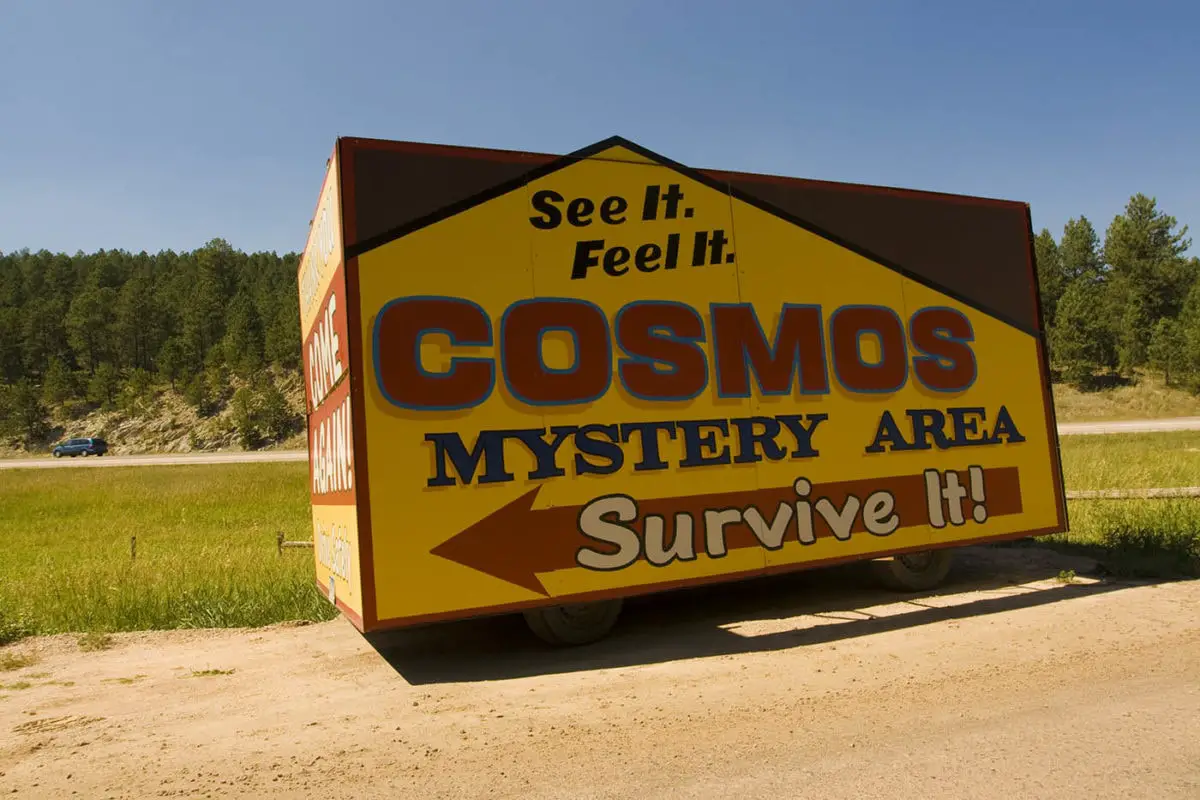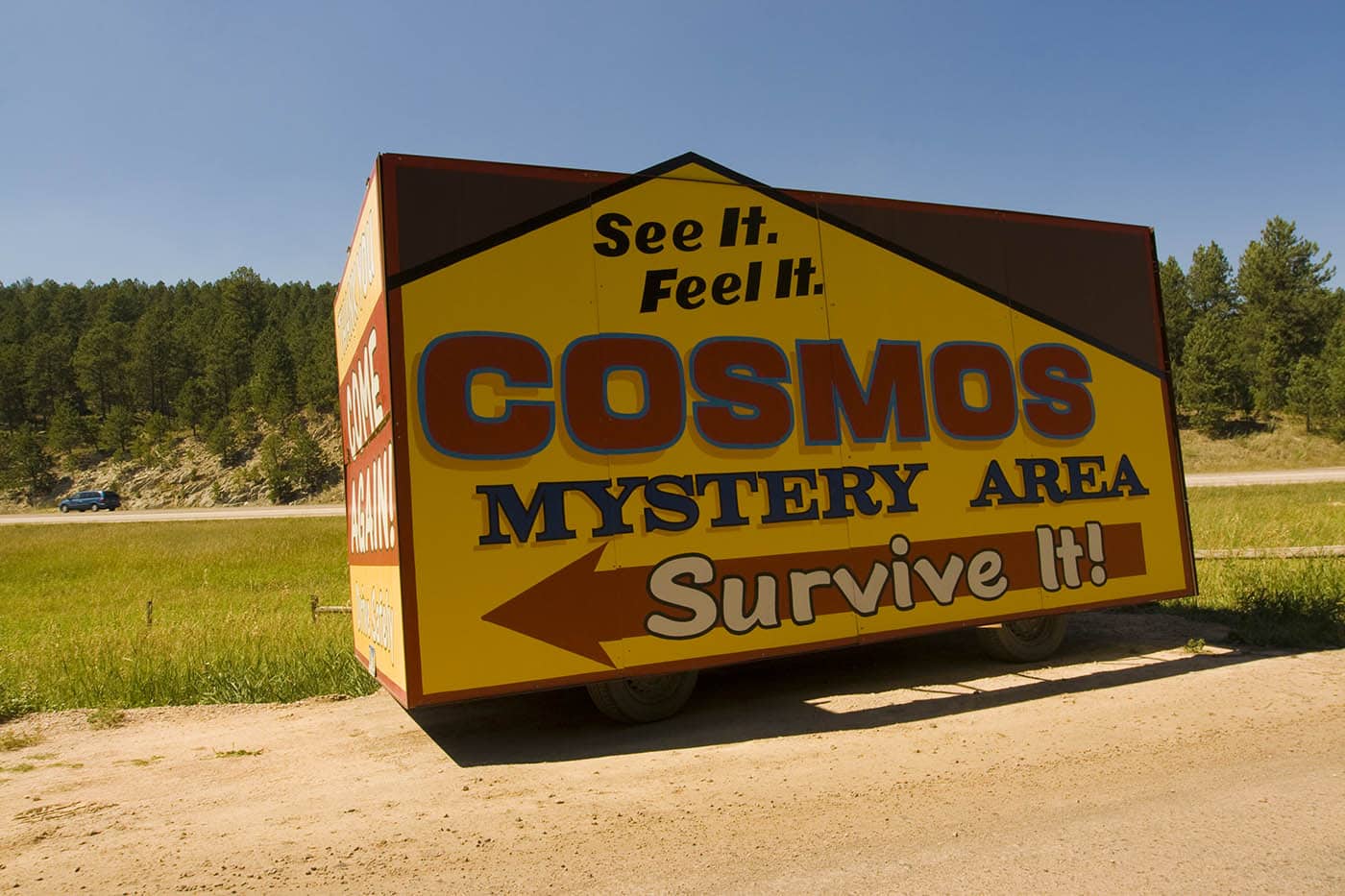 Rapid City, South Dakota
Stand sideways and watch balls roll upwards on this tours full of interactive optical illusions.
Mount Rushmore National Memorial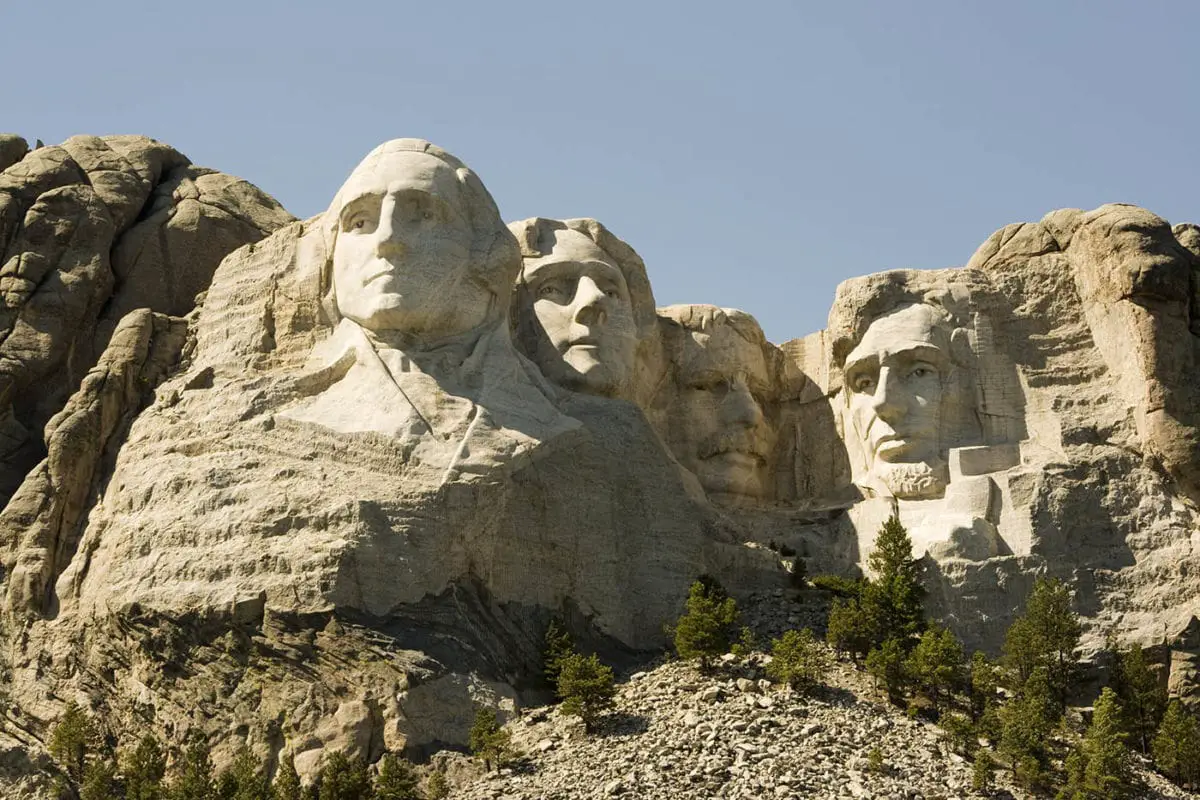 Keystone, South Dakota
Four former president's busts carved into the side of a mountain in the Black Hills region of South Dakota
Crazy Horse Mountain Memorial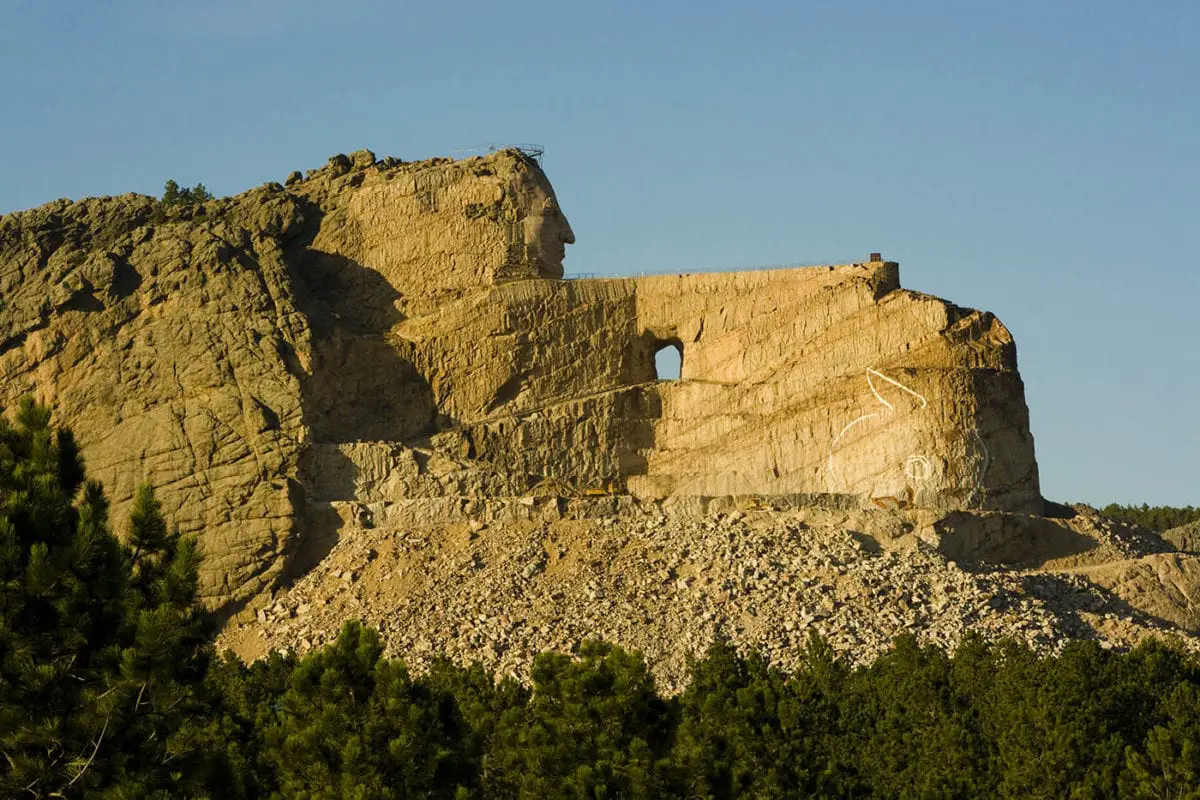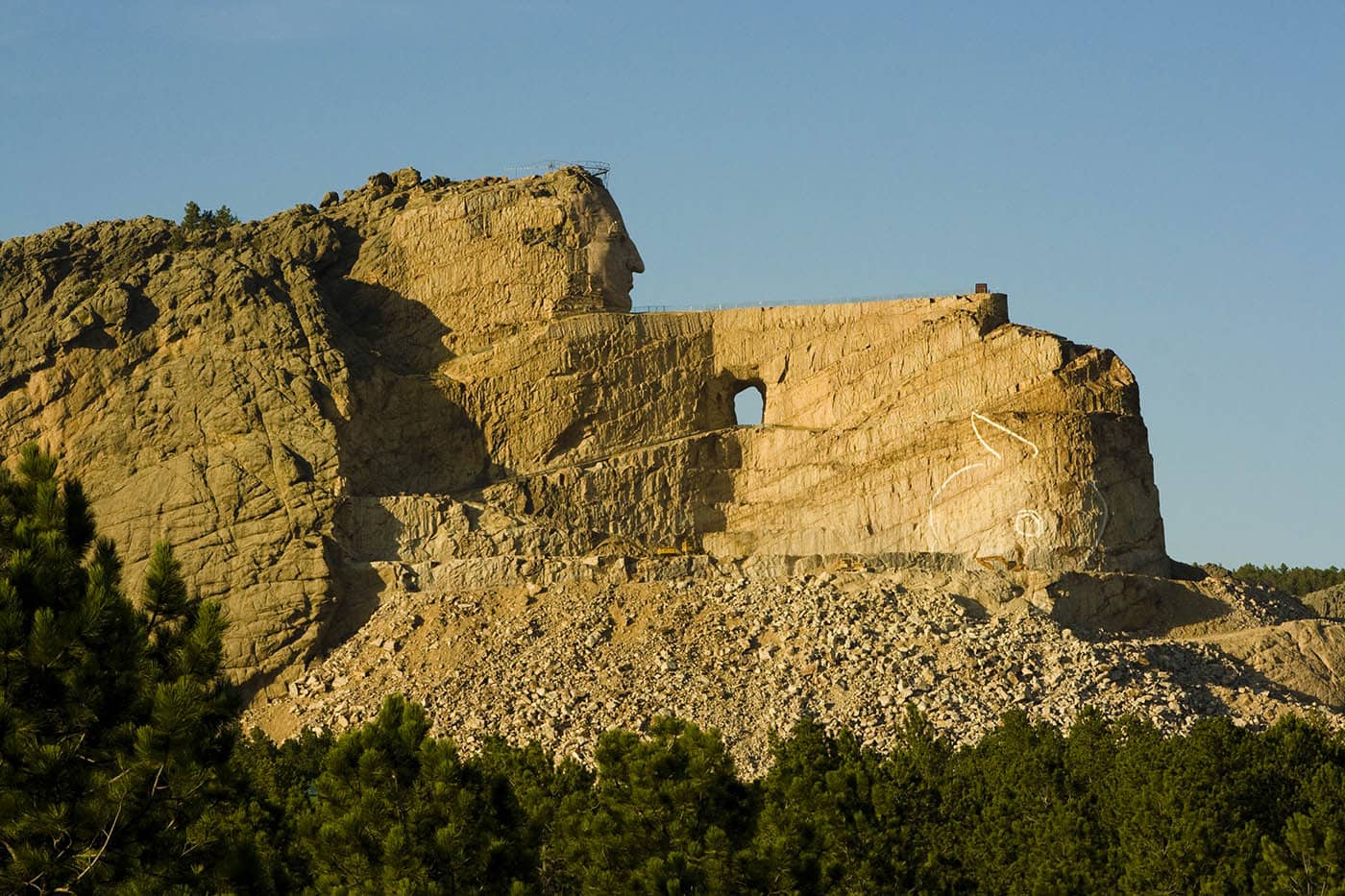 Crazy Horse, South Dakota
A perpetually-in construction monument depicting the Oglala Lakota warrior Crazy Horse.

Carhenge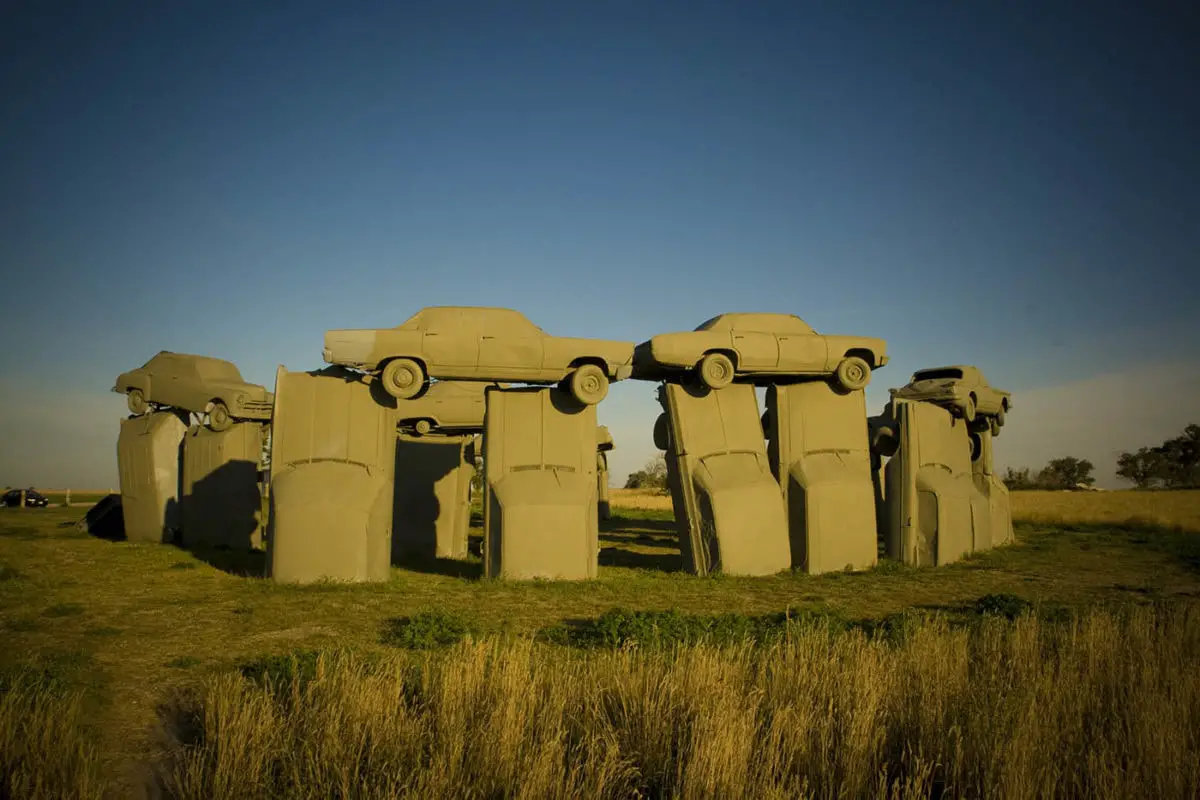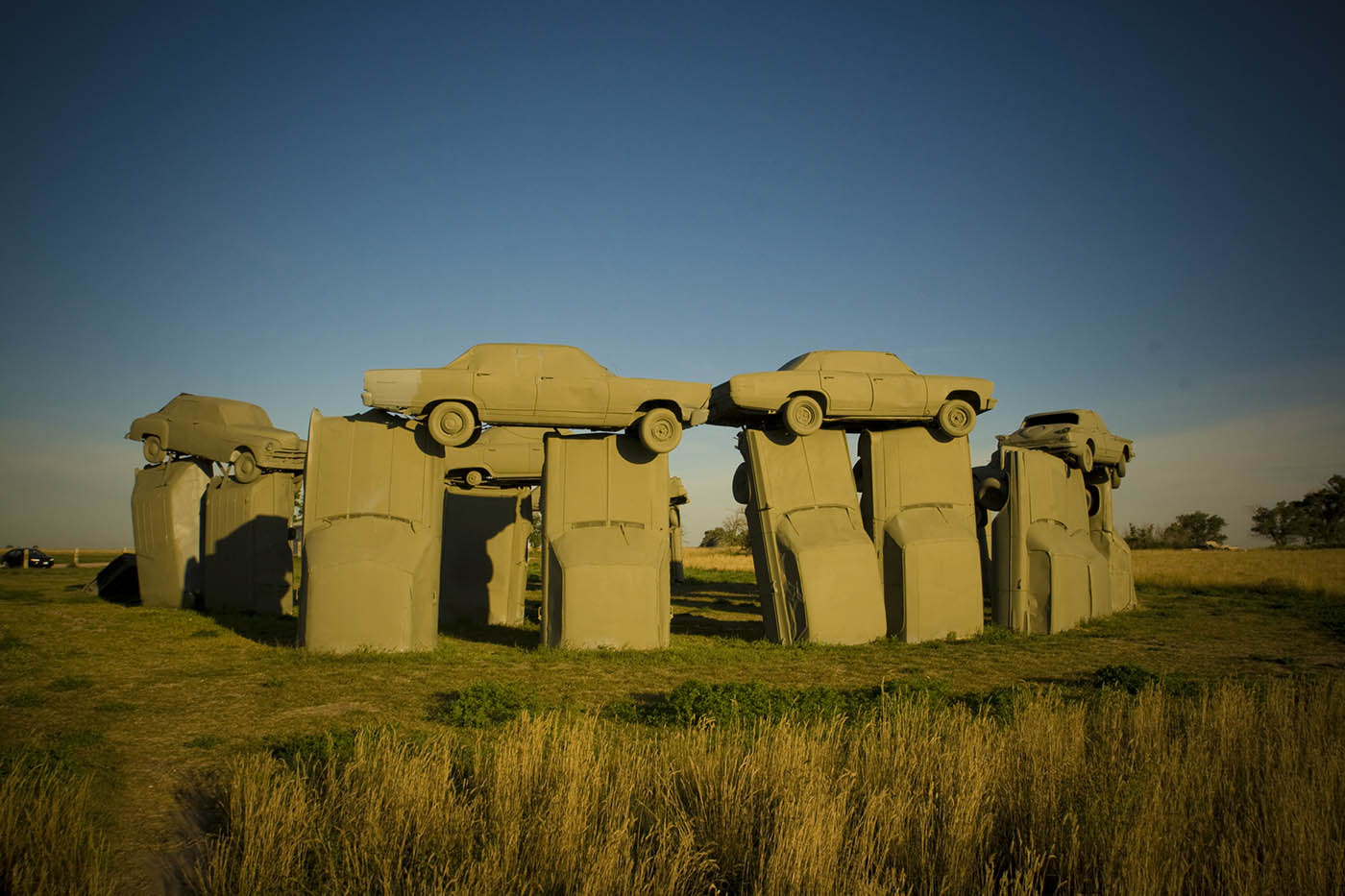 Alliance, Nebraska
A replica of England's Stonehenge made from cars.
World's Largest Porch Swing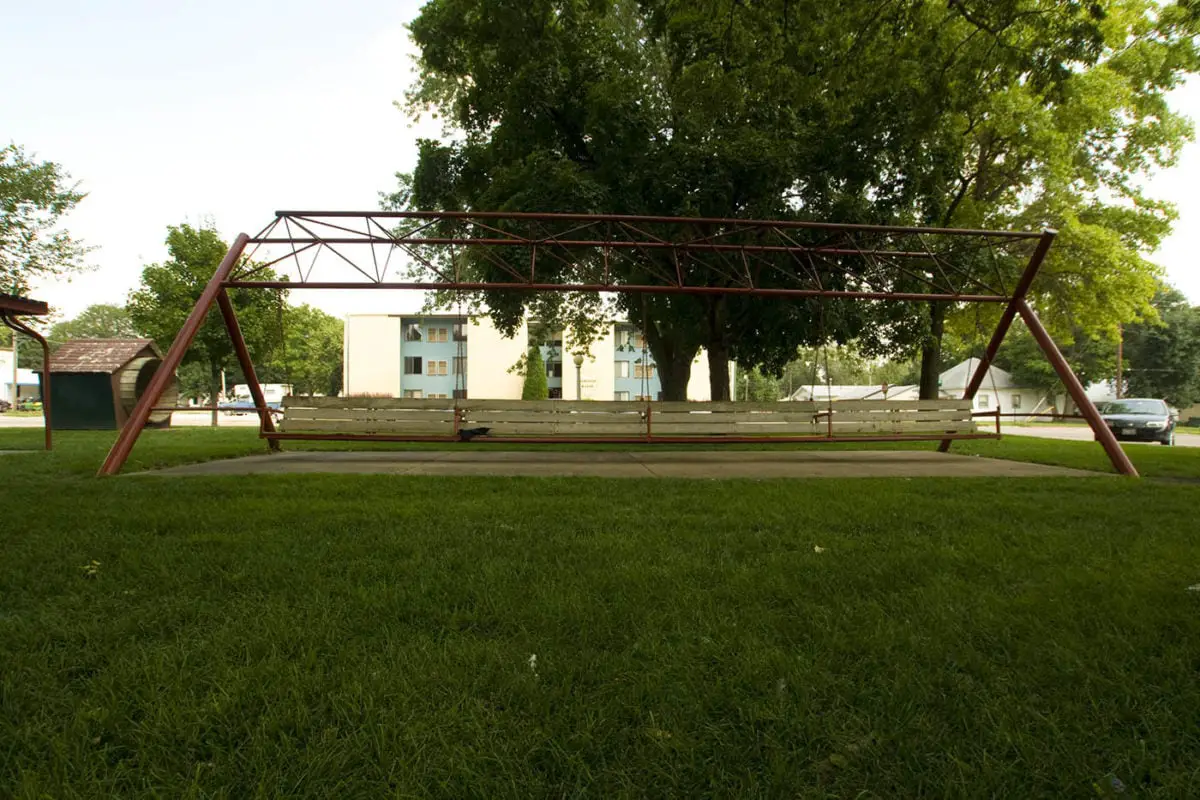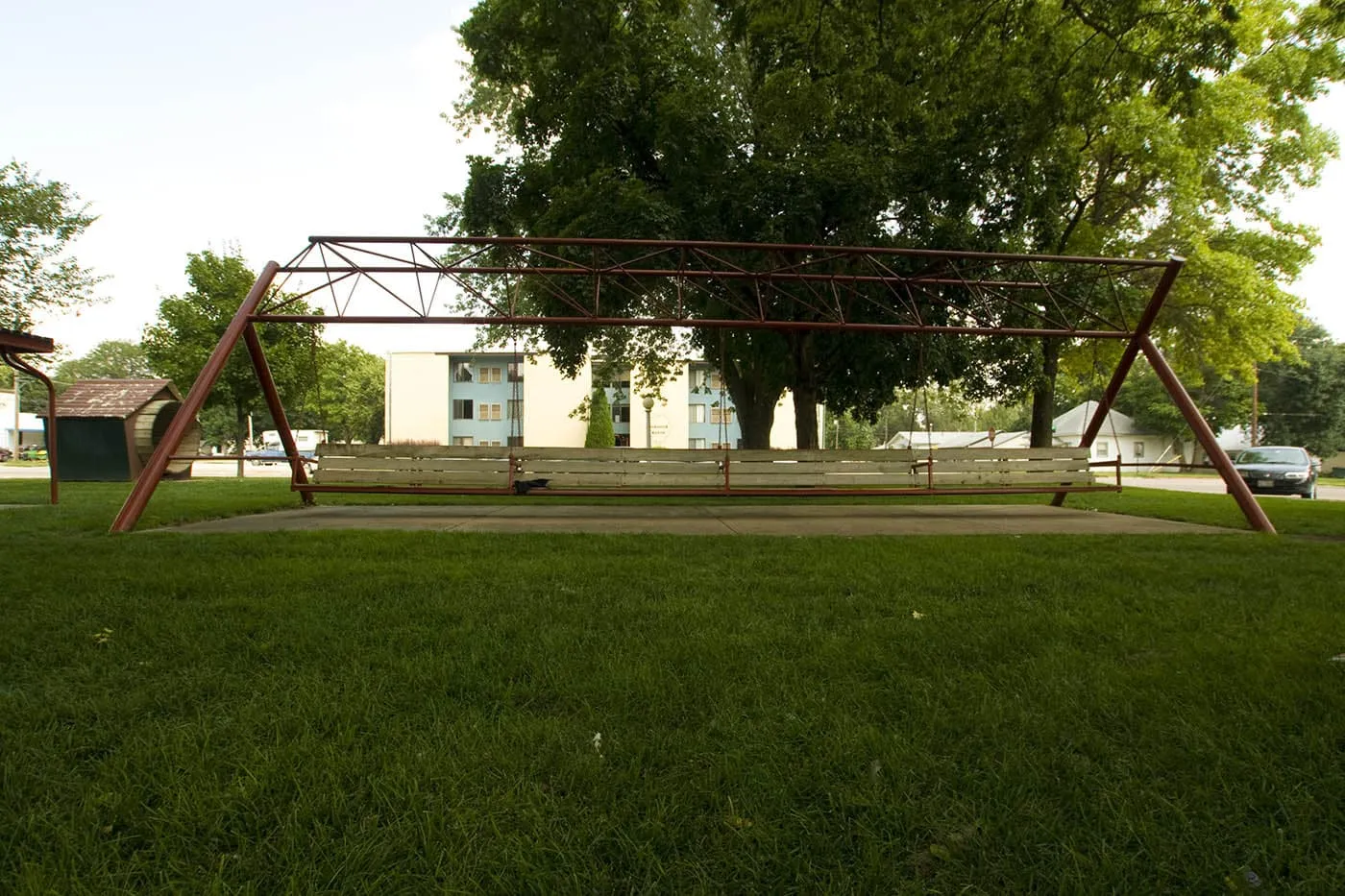 Hebron, Nebraska
Sit on a 32-foot long porch swing that holds up to 18 adults or 24 children.
World's Largest Time Capsule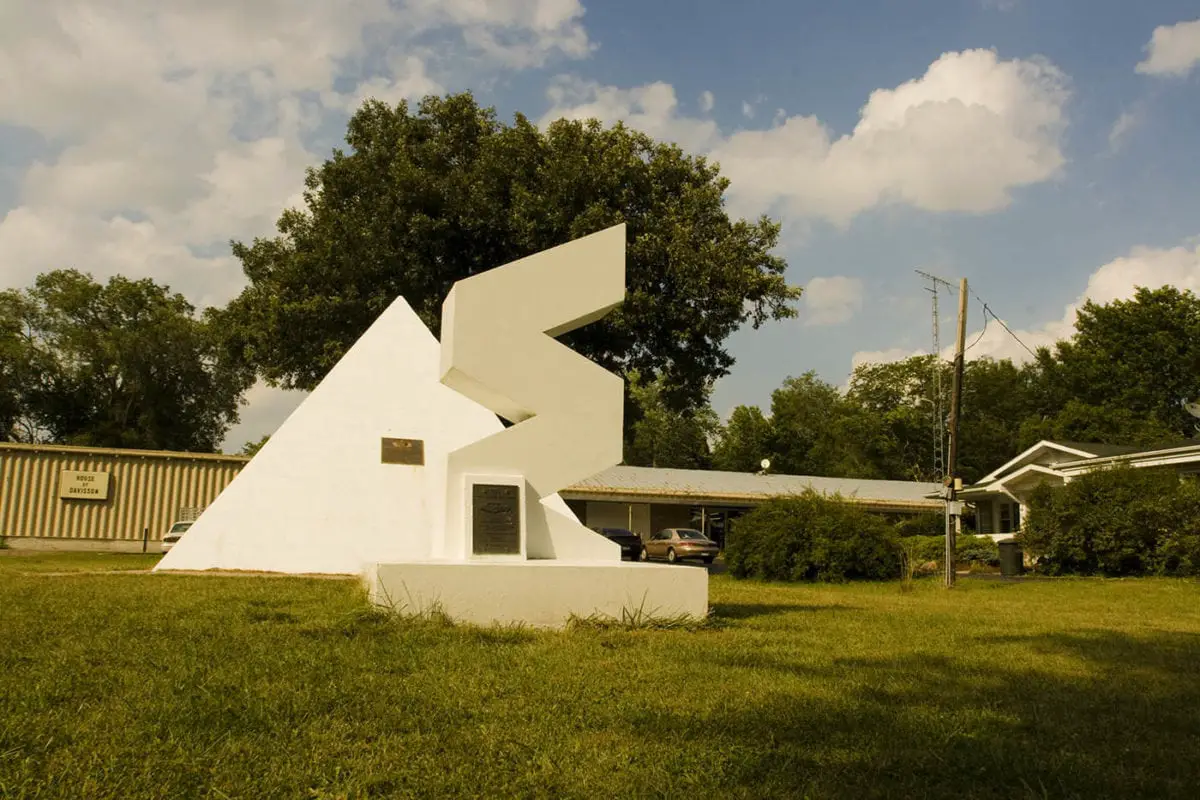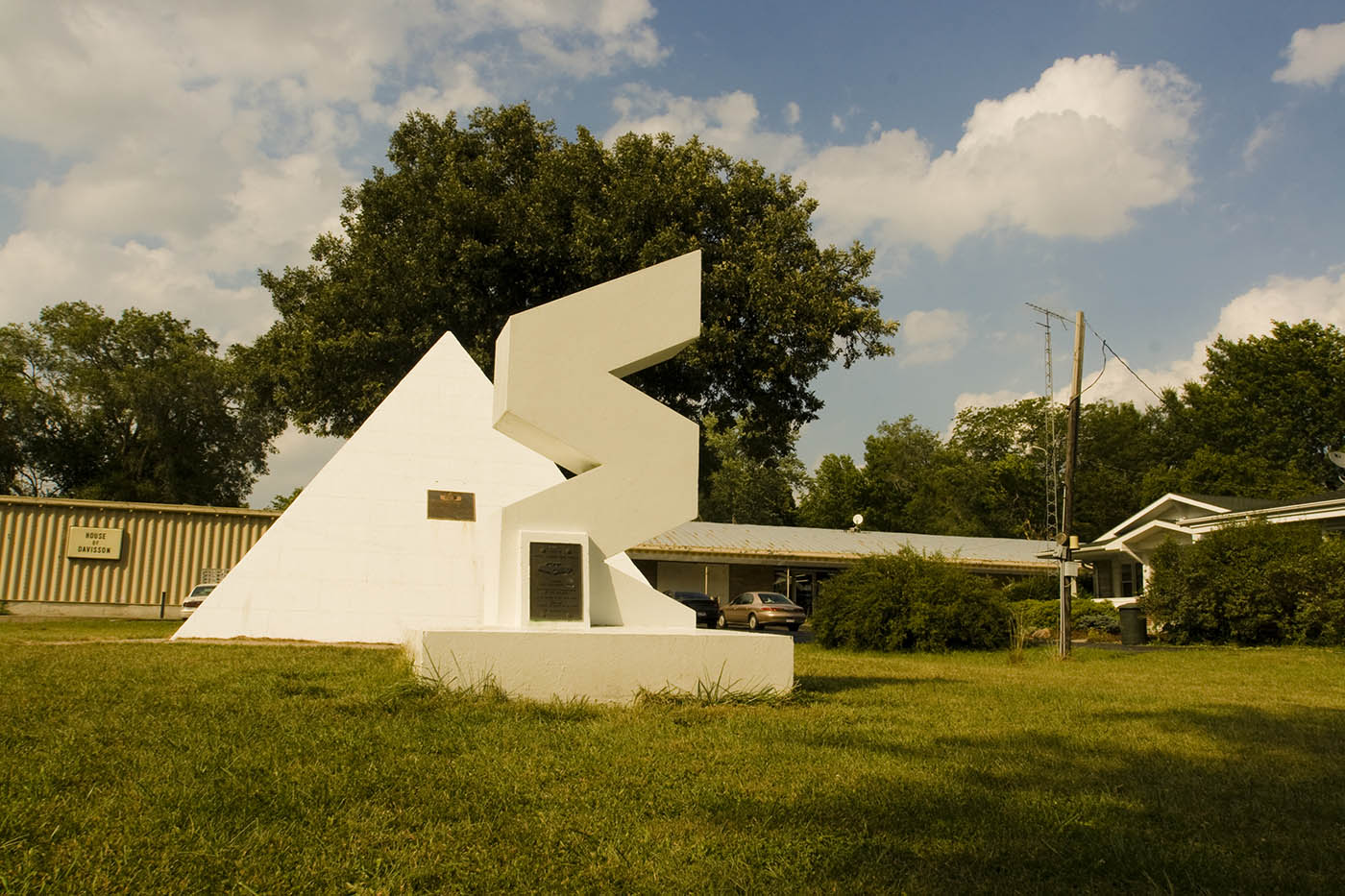 Seward, Nebraska
The world's largest time capsule was dedicated on July 4, 1975 and is set to be opened 50 years later on July 4, 2025.
Spider Made Out of a Volkswagen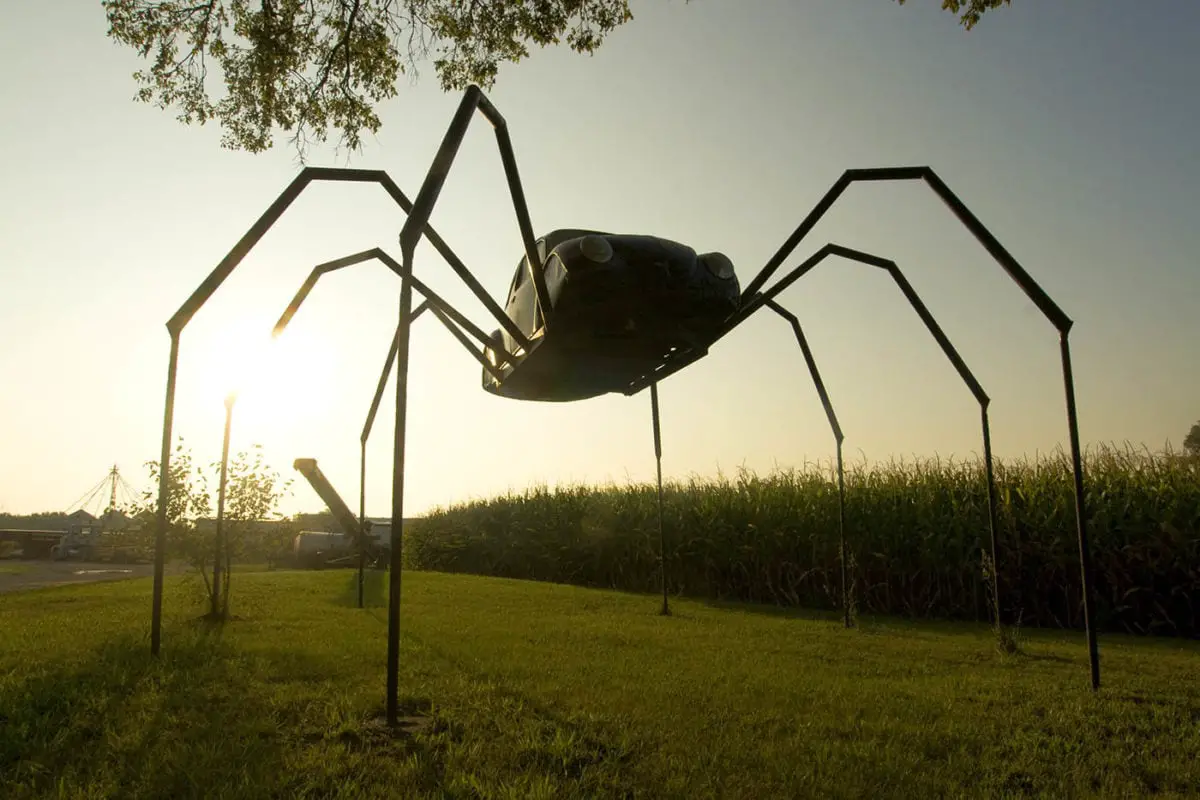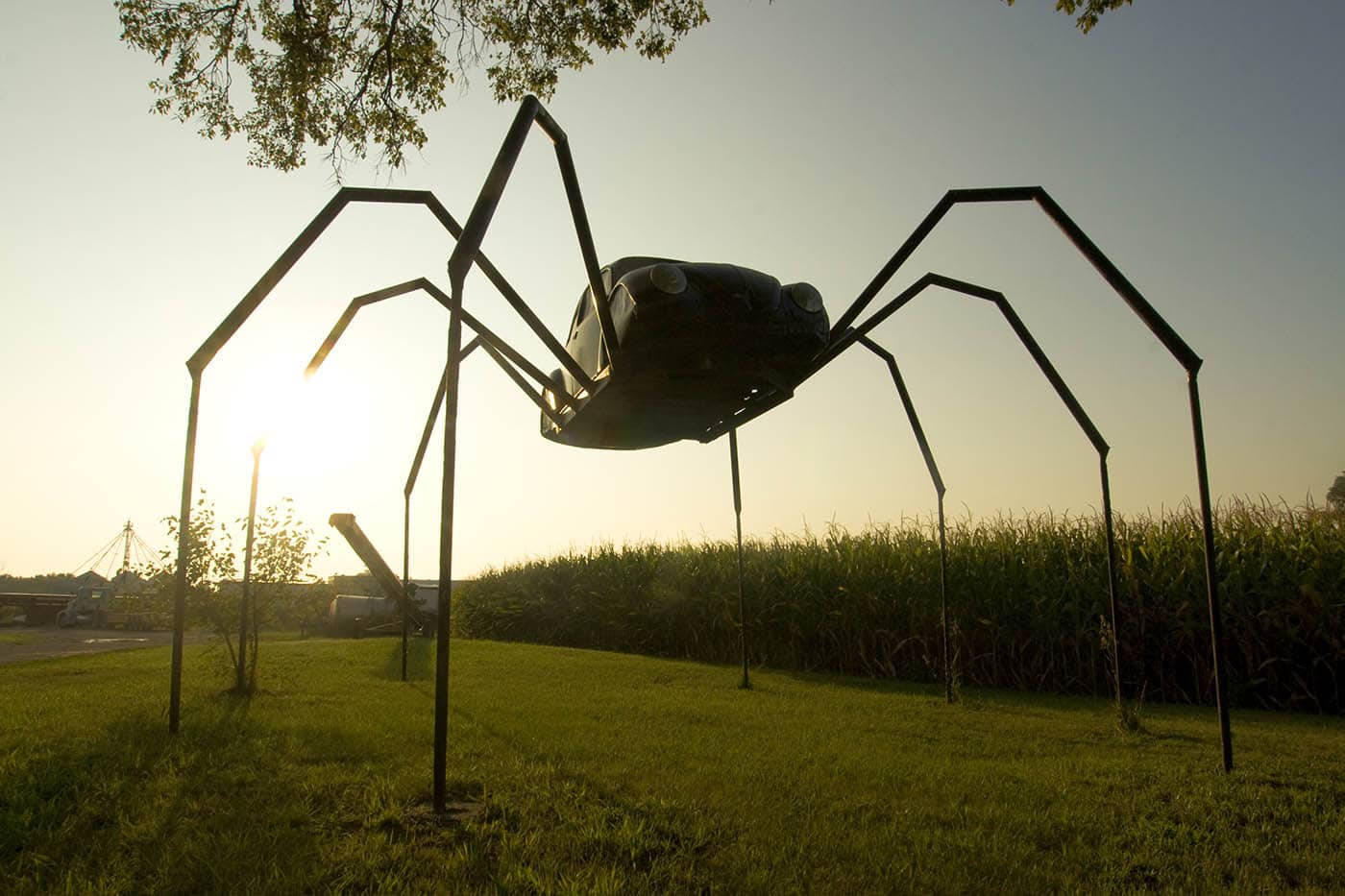 Avoca, Iowa
A giant VW beetle spider made from a vintage Volkswagen beetle car sitting on top of eight long, thin, spider legs.
10-Foot-Tall Rotating Ear of Corn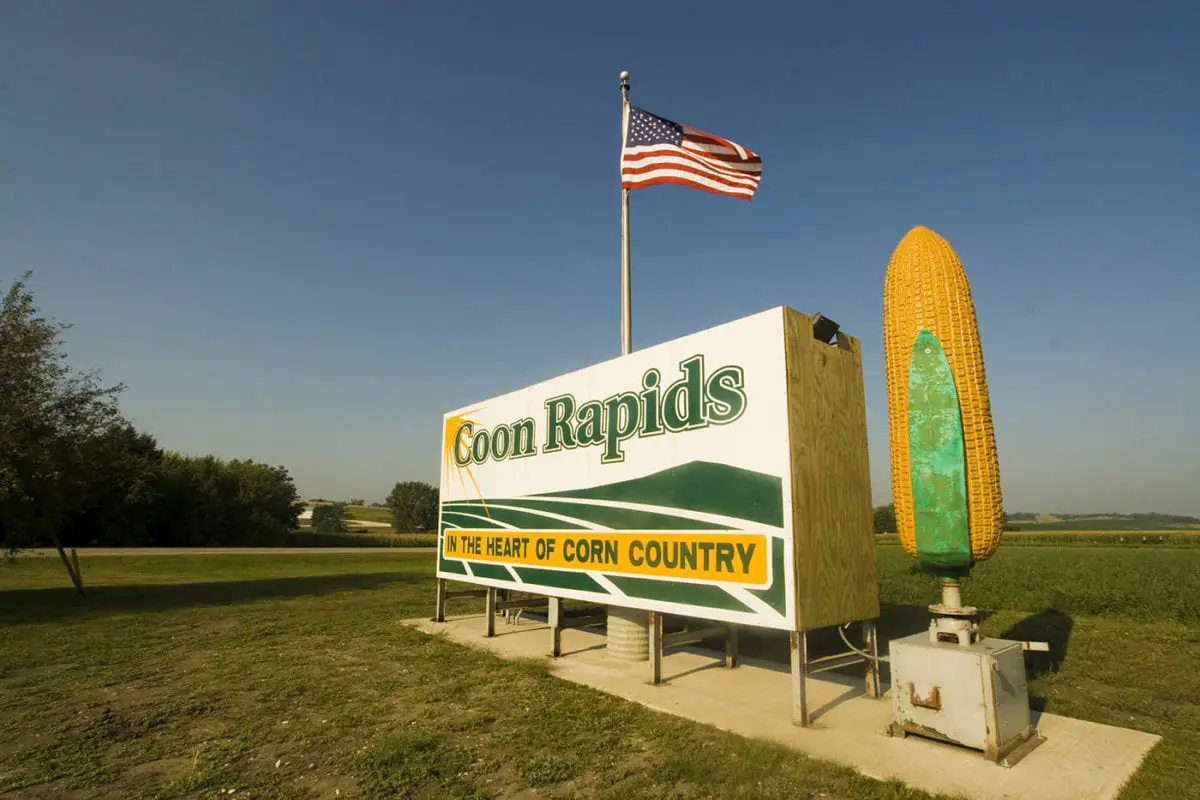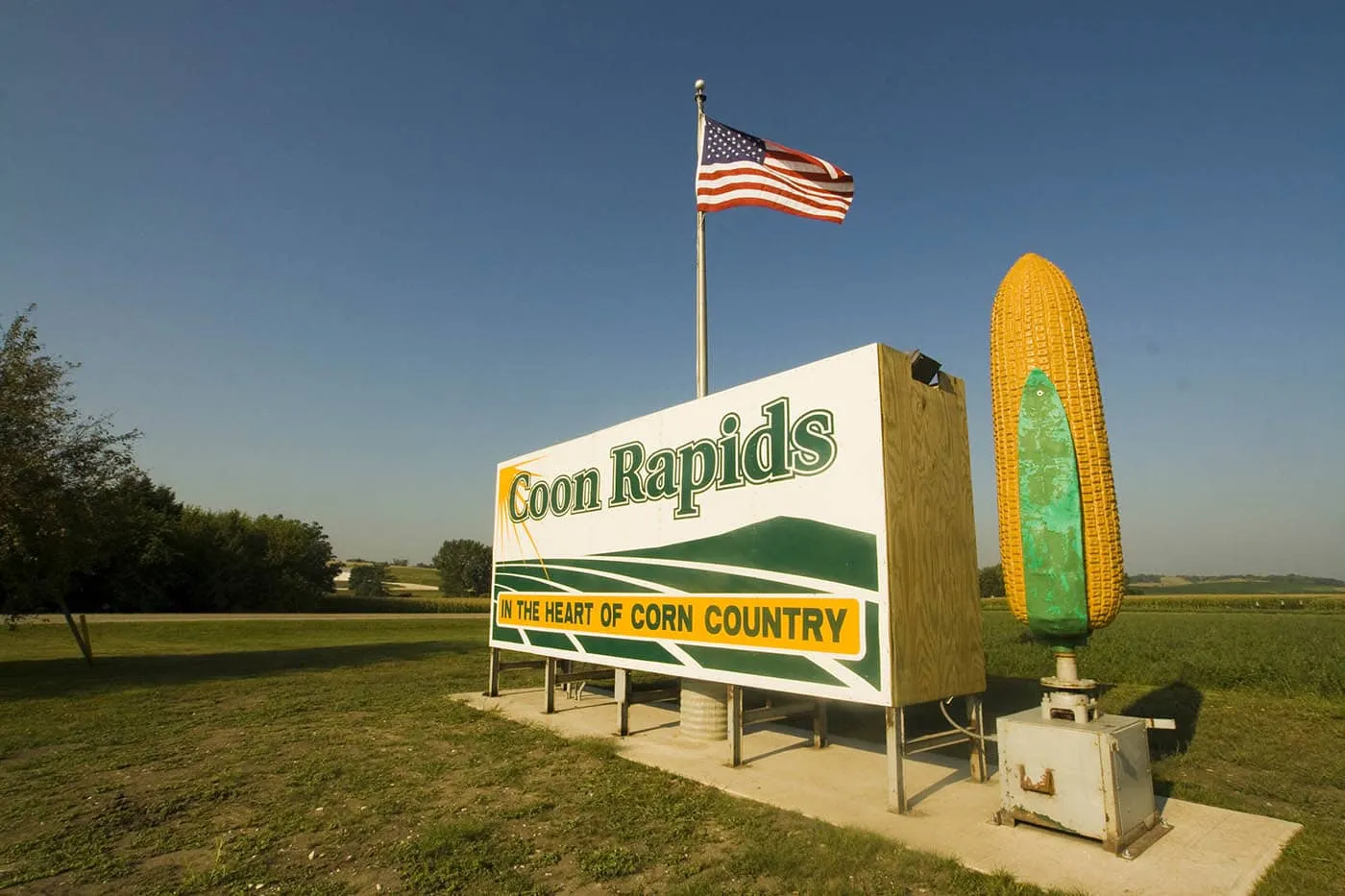 Coon Rapids, Iowa
A giant ear of corn that spins and welcomes you to town.
Where to stay when visiting Mount Rushmore
There are a variety of options when deciding where to stay when visiting Mount Rushmore. There are plenty of budget hotels or rustic lodges. Camping in the black hills is also available for tents, cabins, or RVs.
We briefly set up camp at the now defunct Flintstone Bedrock City, but it was really windy so we decided to keep going and find a hotel in Nebraska. See the map below for hotels near Mount Rushmore.
Pin this Mount Rushmore road trip itinerary for later: