Route 66 is famous for the bright neon signs that light up the way. And perhaps no neon sign on The Mother Road is more recognizable than the one at the Blue Swallow Motel in Tucumcari, New Mexico.
The Blue Swallow Motel was built in 1939 by carpenter W.A. Huggins. It opened soon after, around 1941, with ten rooms and a cafe (two additional rooms, bringing the room count to the 12 it has today, were added in 1948).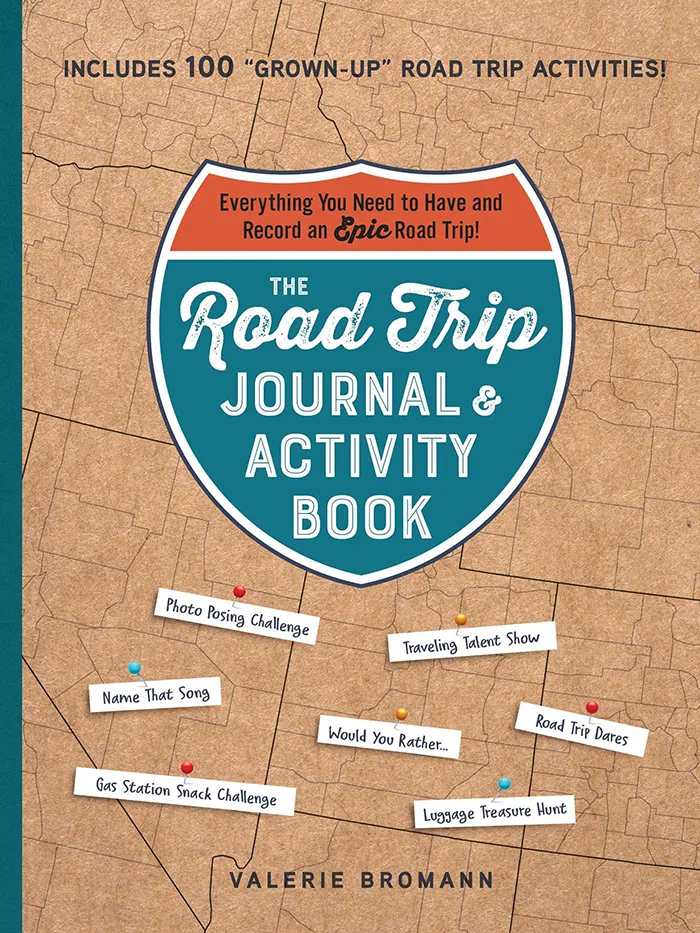 The Road Trip Journal & Activity Book
Everything You Need to Have and Record an Epic Road Trip!
Enjoy fun games and challenges to pass the time on your next road trip and have a keepsake to look back on for years to come with this entertaining must-have for your next vacation.
Many owners have operated this Route 66 motel through the years. Ted and Marjorie Jones took over around 1944. In 1958, Floyd Redman purchased the property as an engagement present for his wife Lillian. The couple ran The Blue Swallow together until Floyd's death in 1973. After, Lillian continued to run it on her own. In 1998 it was sold to Dale and Hilda Bakke, who worked on restoring the motel, including updating the electrical system, repairing the neon lights, and replacing the old monochrome TVs with modern color ones. In 2006, it was sold to Bill and Terri Kinder. In 2011, Kevin and Nancy Mueller. In 2020 it was again sold to Robert and Dawn Federico, who operate the motel today.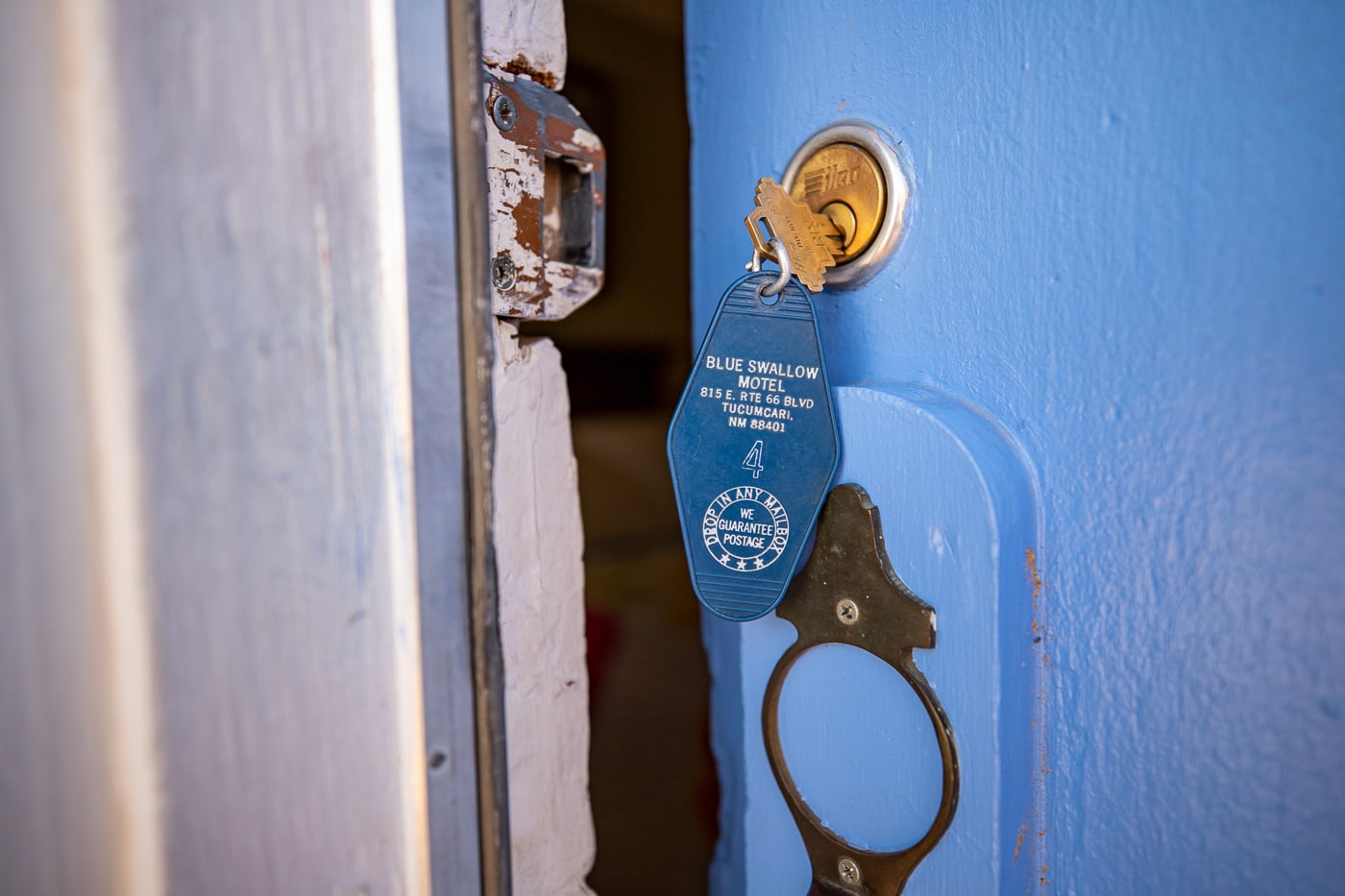 The L-shaped property winds around the main reception building (be sure to stop back in in the morning to buy a souvenir and get a cup of "the best coffee on Route 66" to enjoy on the patio set outside your room). The buildings features pink stucco walls embossed with seashell designs topped off with a stepped parapet. Of course, all of this is embellished with those touches of neon we all know and love.
Unlike most other classic drive-up motor courts where you park in front of your room, most of the rooms at The Blue Swallow are equipped with attached garages to pull in your car or motorcycle. But don't worry, if you're driving an oversized vehicle or are just not comfortable with the tight fit of the garage you can also park next to the main building.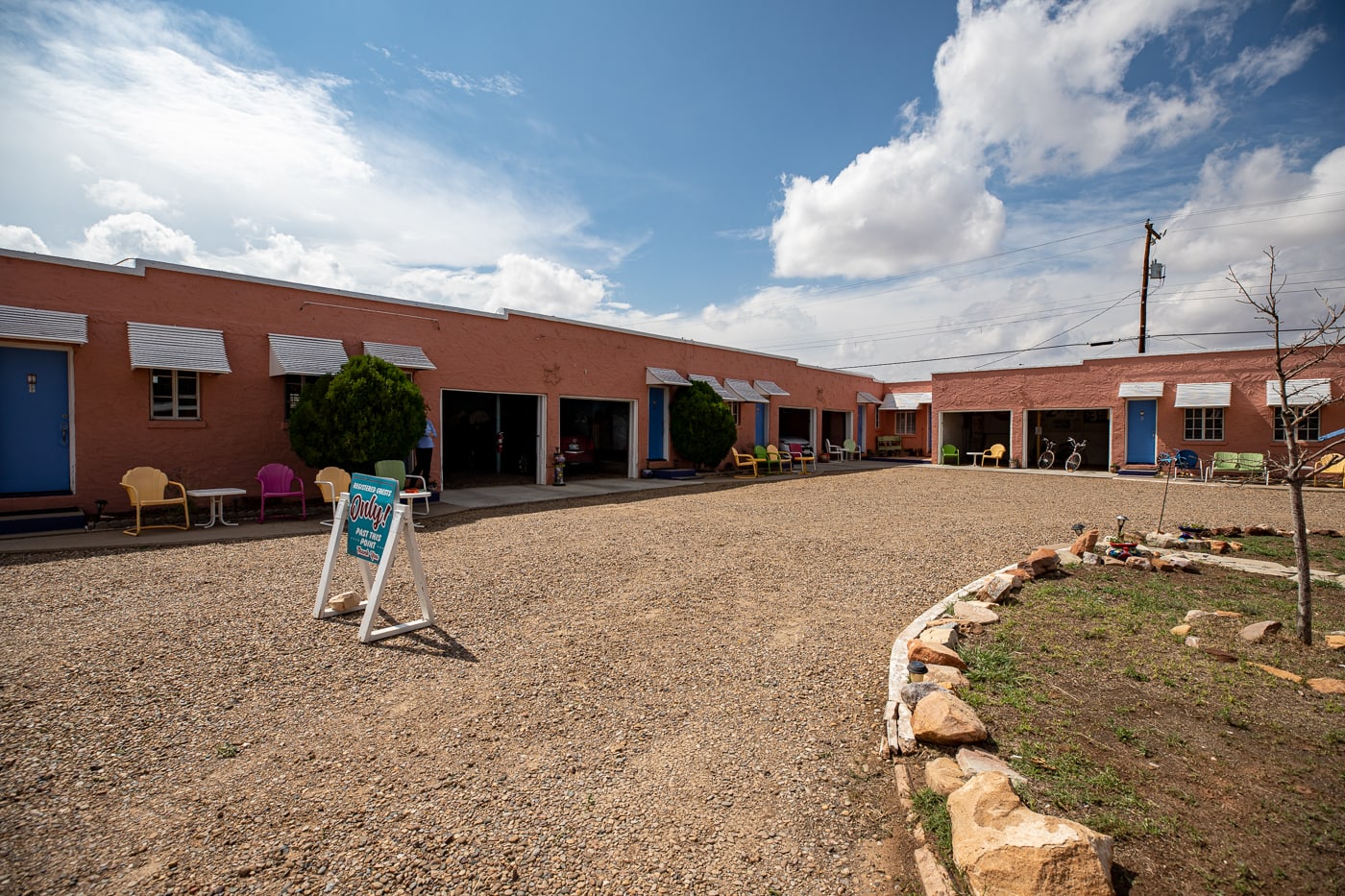 What makes this historic motel most unique compared to many other classic hotels and businesses on Route 66 is that this is one of the longest continuously operated motels along the New Mexico stretch. While many others suffered after the faster I-40 was built and allowed travelers to speed past the smaller towns, Blue Swallow has never closed its doors. It's always been a beloved and recognized New Mexico Route 66 motel, and was even listed on the National Register of Historic Places in 1993.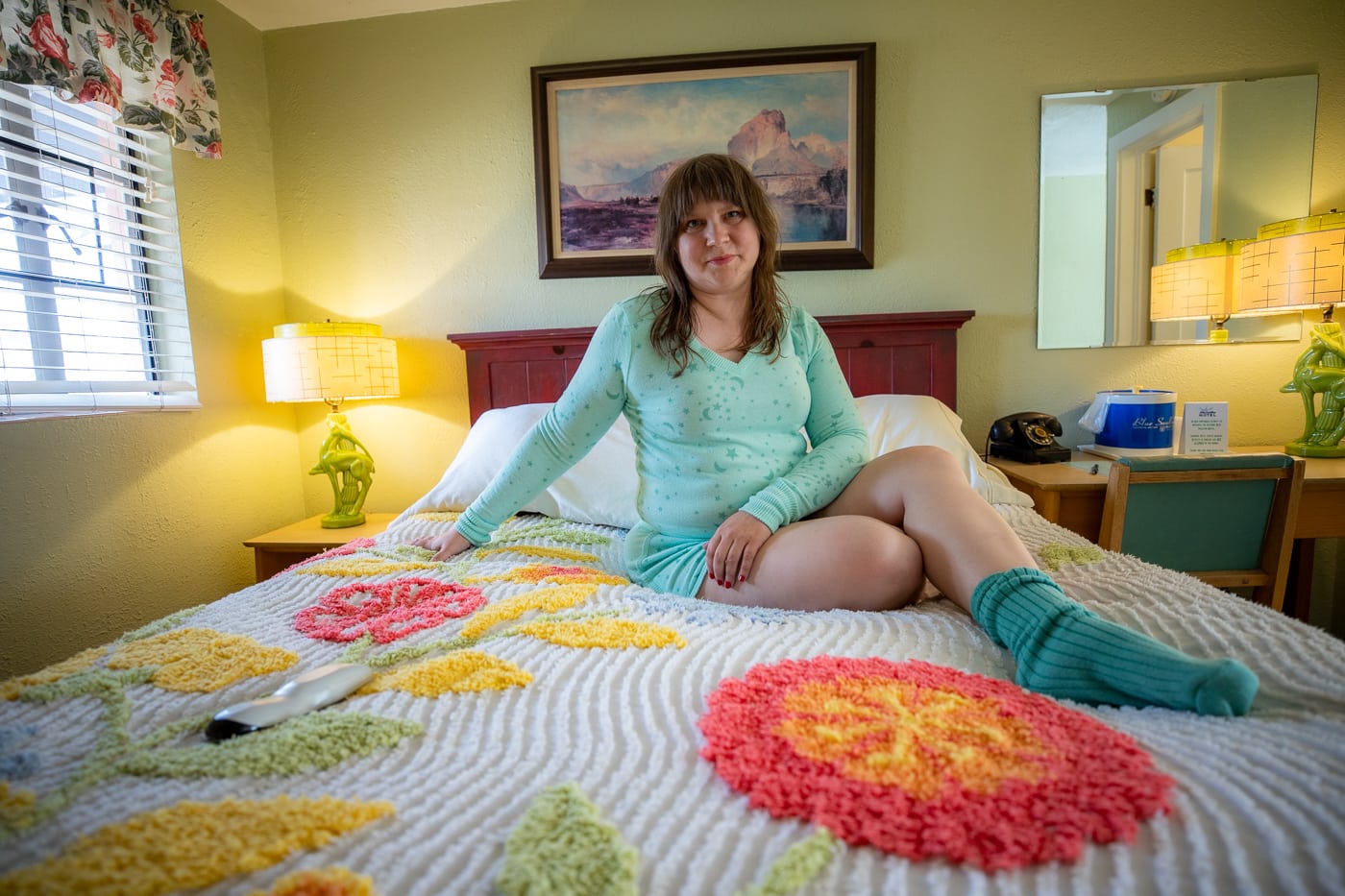 While a stay at the Blue Swallow Motel in many ways feels like a step back in time you won't have to worry about being deprived of modern amenities, with flat screen TVs, high-speed WiFi, and comfy beds in each room. It truly is one of the best hotels on Route 66, so book your stay today!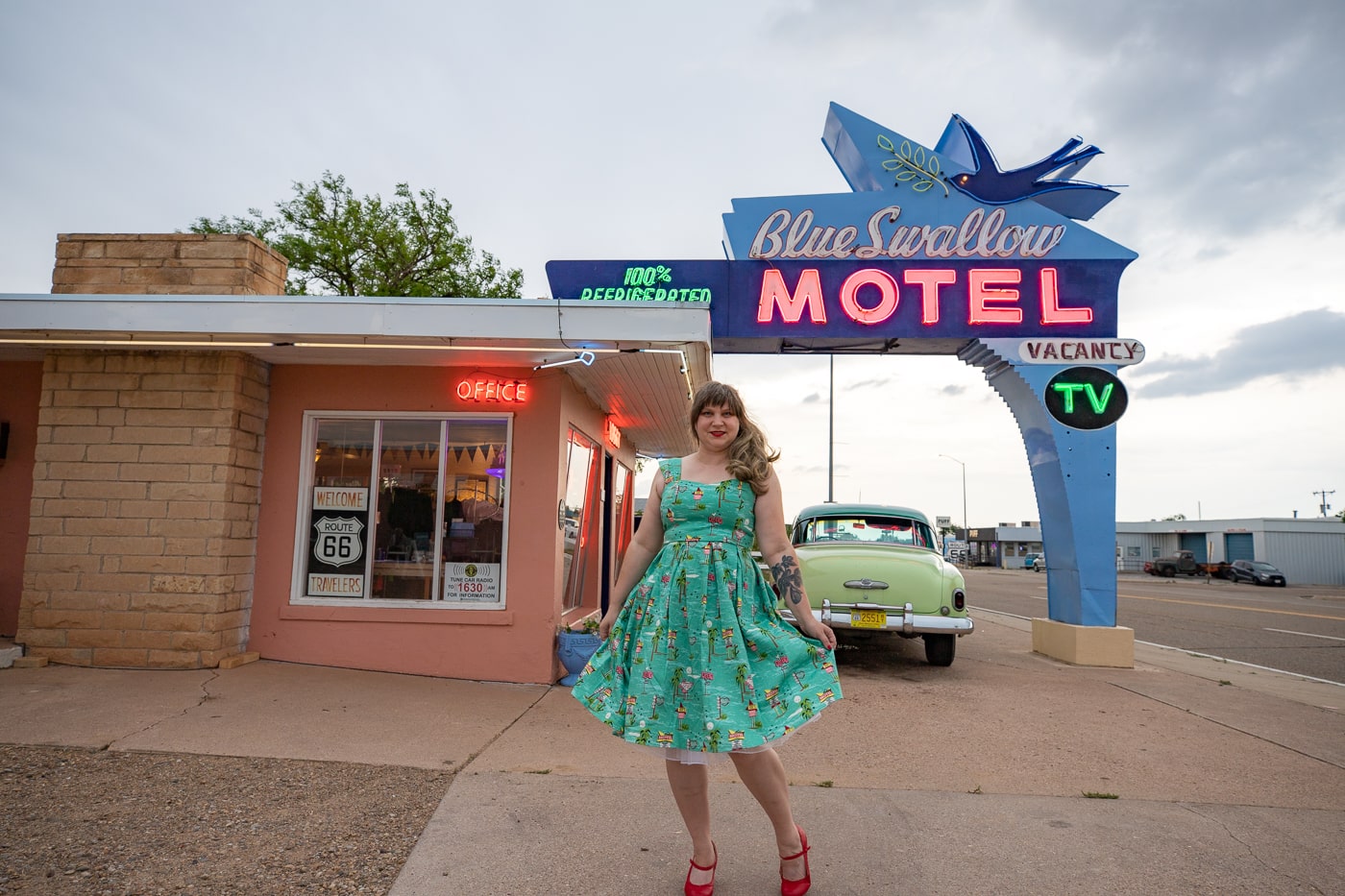 Those without reservations can still flock to the motel to take photos of the famous neon sign that has been immortalized on countless Route 66 guidebooks, magazines, prints, and postcards. Jutting out in front of the building is a geometric sign post topped with a neon blue bird declaring "Blue Swallow Motel," "TV," and "100% Refrigerated Air." It says "Vacancy" too, though you will rarely see that part of the sign lit up. So if you do want to spend the night, book well ahead. (A couple of days before my stay the neon sign was damaged in a hail storm, it was still partially lit up, and, thankfully, not damaged completely).
For those who are staying the night you'll be welcomed with warm hospitality, comfy beds, a touch of nostalgia, and a convenient location near everything you'll want to see in Tucumcari. Be sure to visit the Route 66 monument, the Route 66 museum, the big La Cita sombrero, and Tee Pee Curios. And don't pass up dinner at Del's Restaurant.
Book your stay ahead of time, but if the Blue Swallow Motel has no vacancies you can also try another historic Route 66 motel with another famous sign across the street: Motel Safari.
Don't fly past the Blue Swallow Motel on your Route 66 road trip. Pull over, check out the neon sign, buy a souvenir, take some photos, and be sure to book ahead if you want to spend the night at this iconic Route 66 motel
More photos of the Blue Swallow Motel in Tucumcari, New Mexico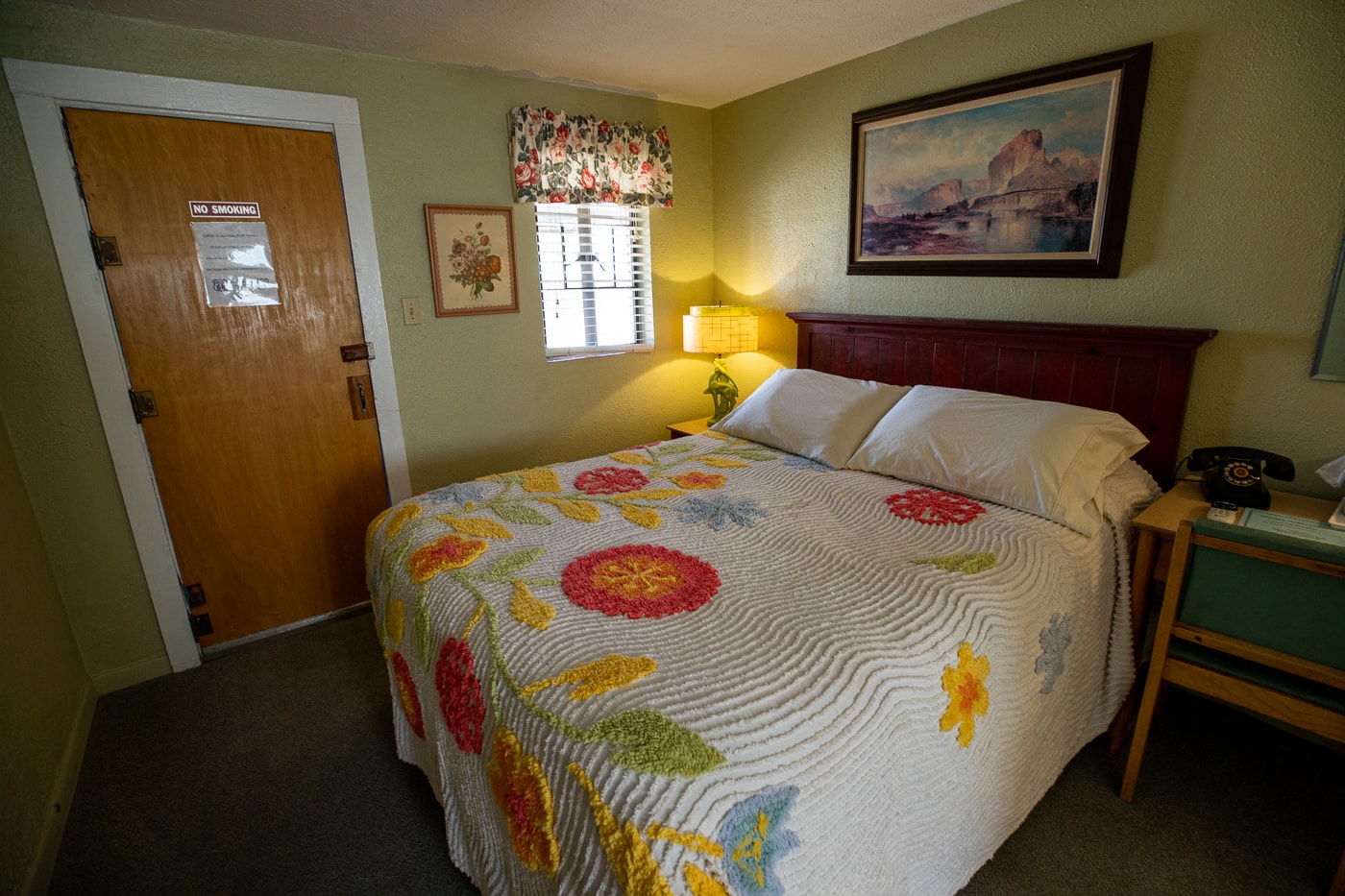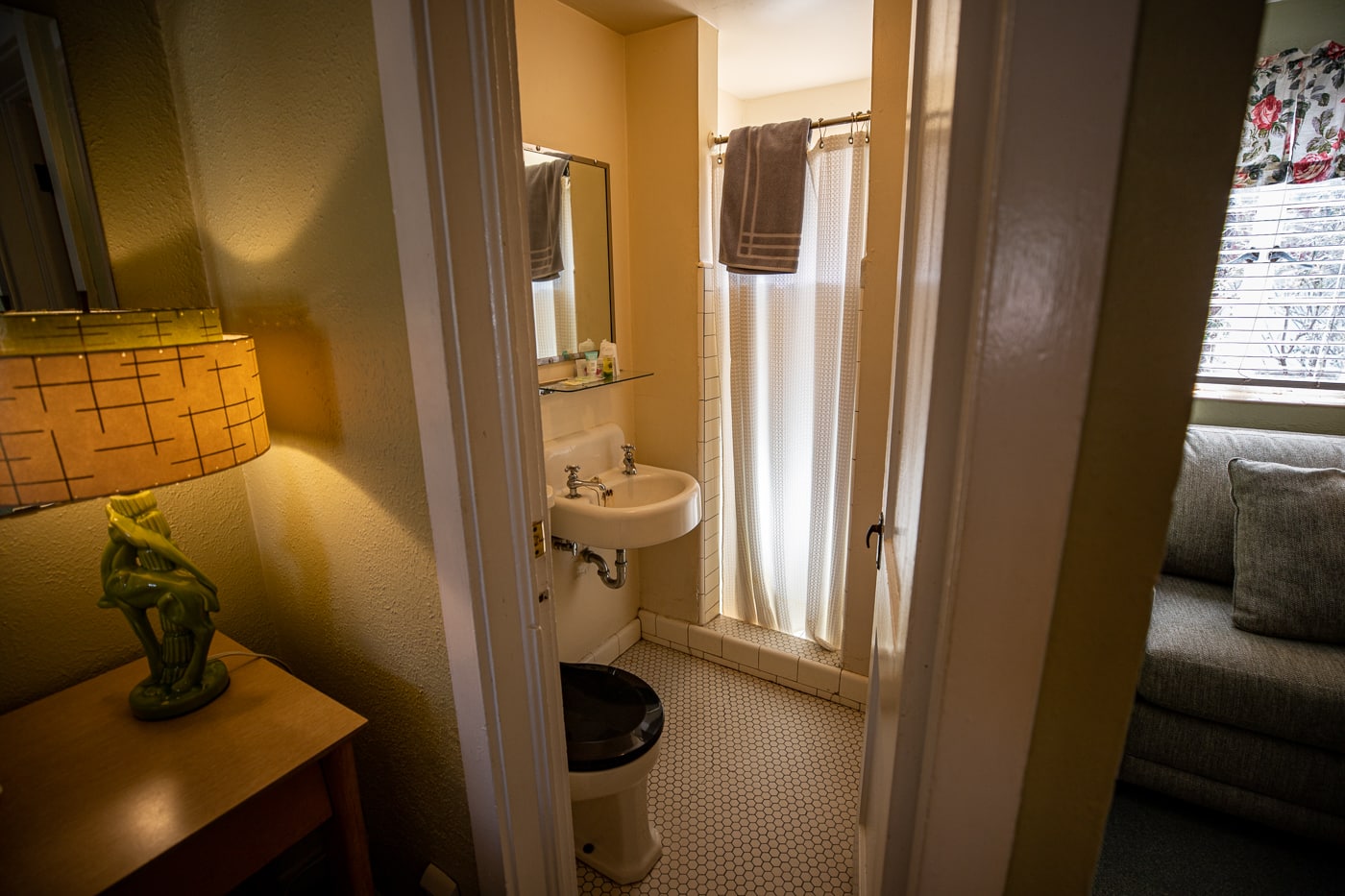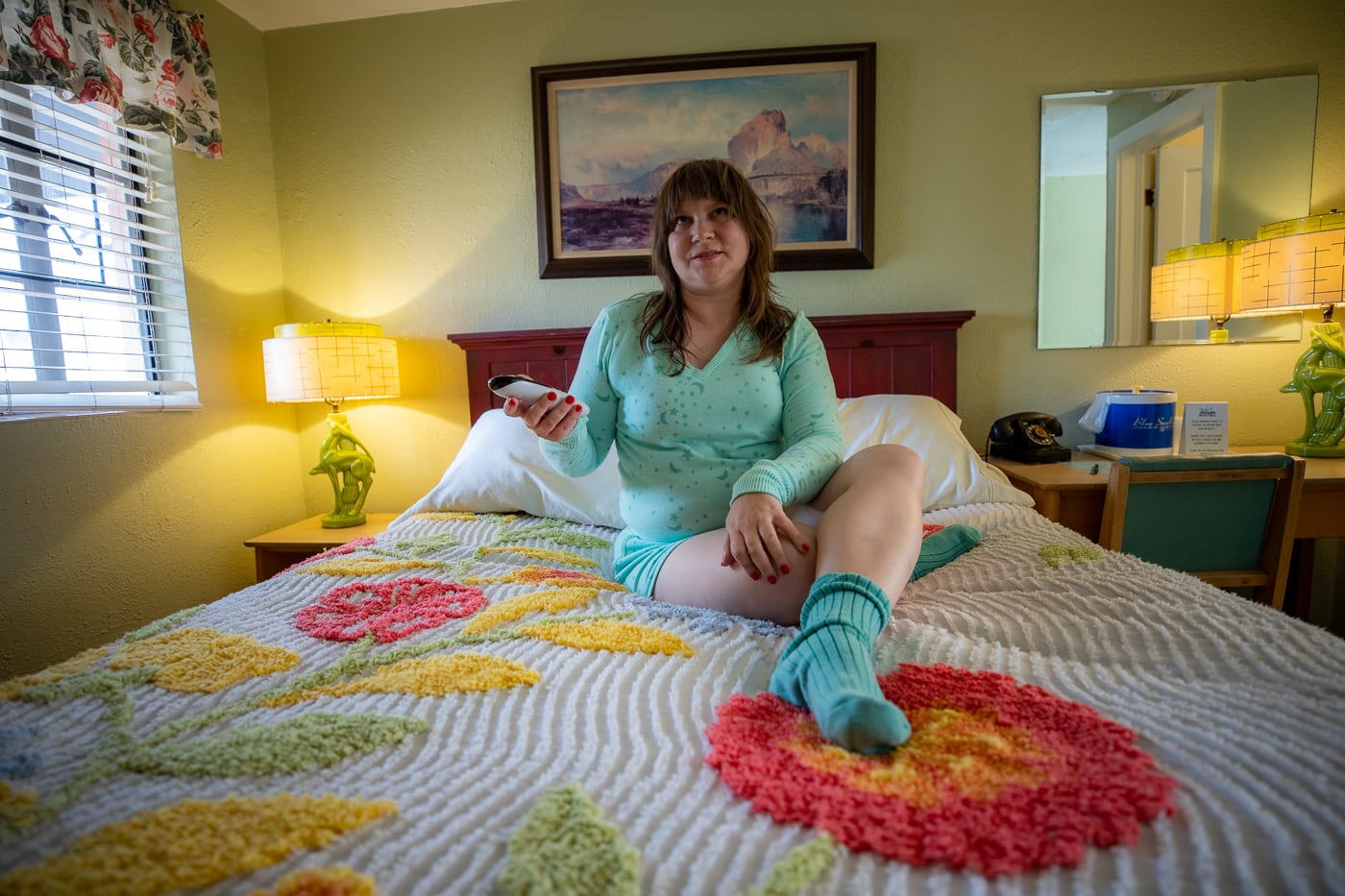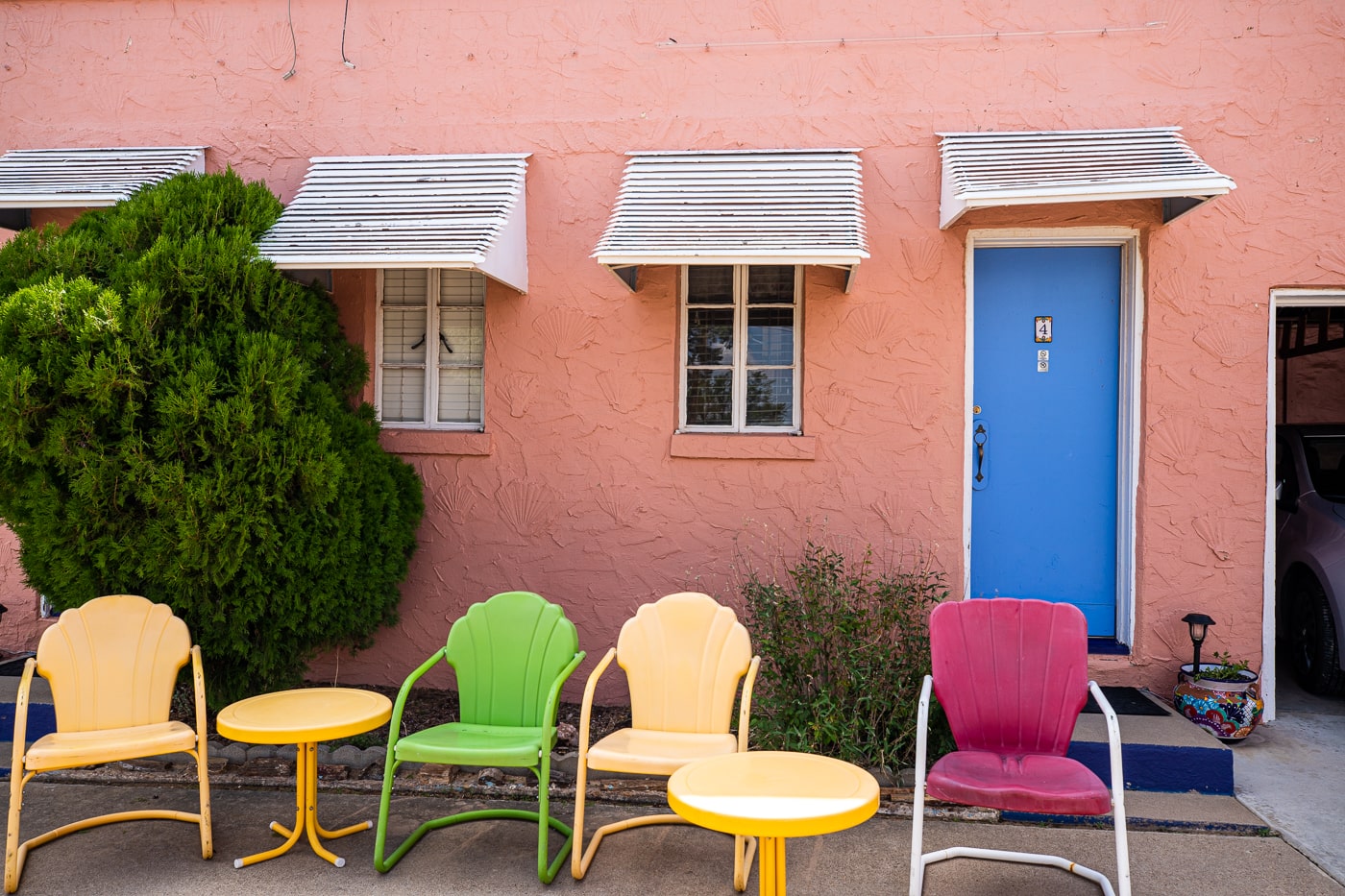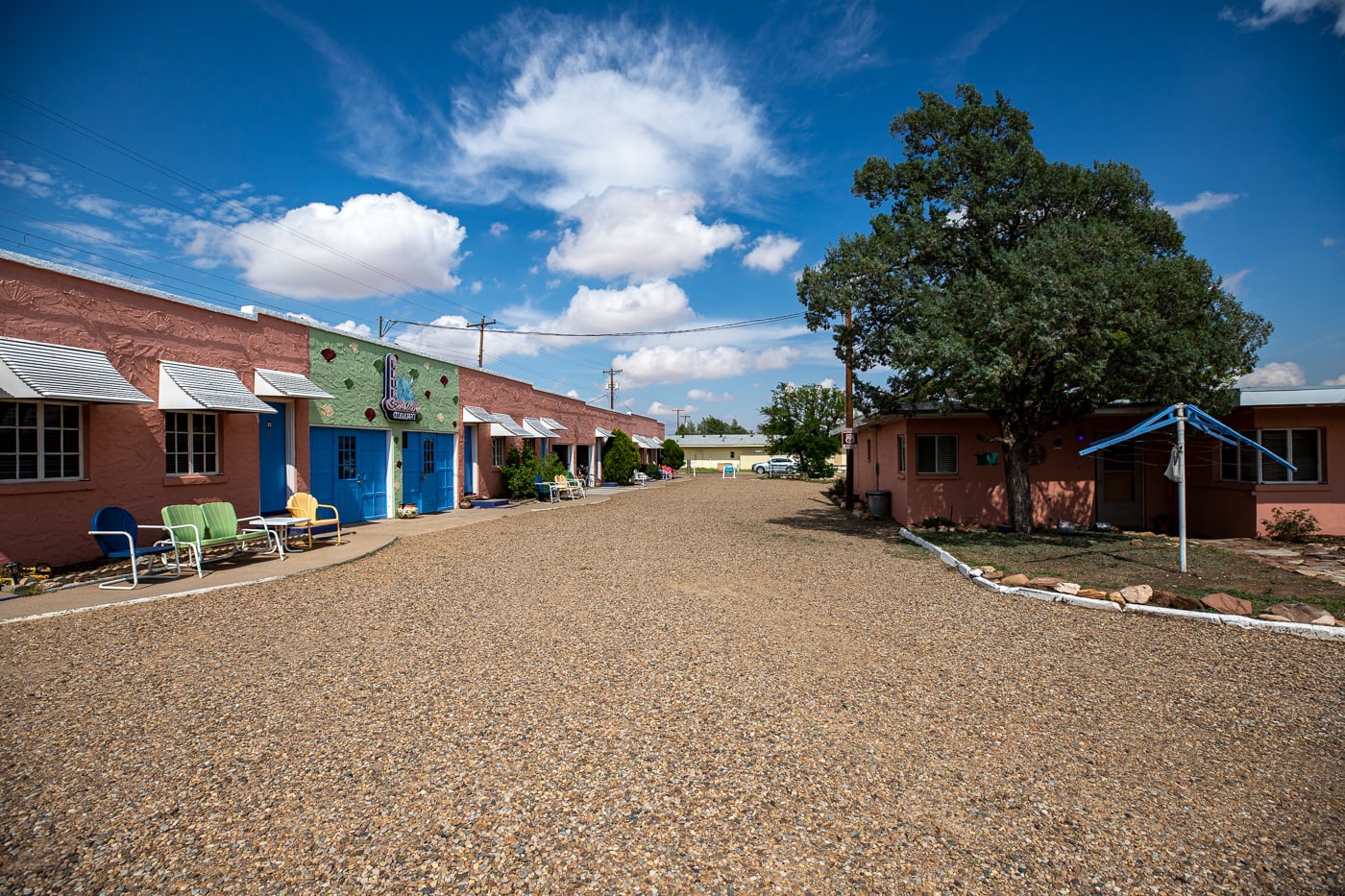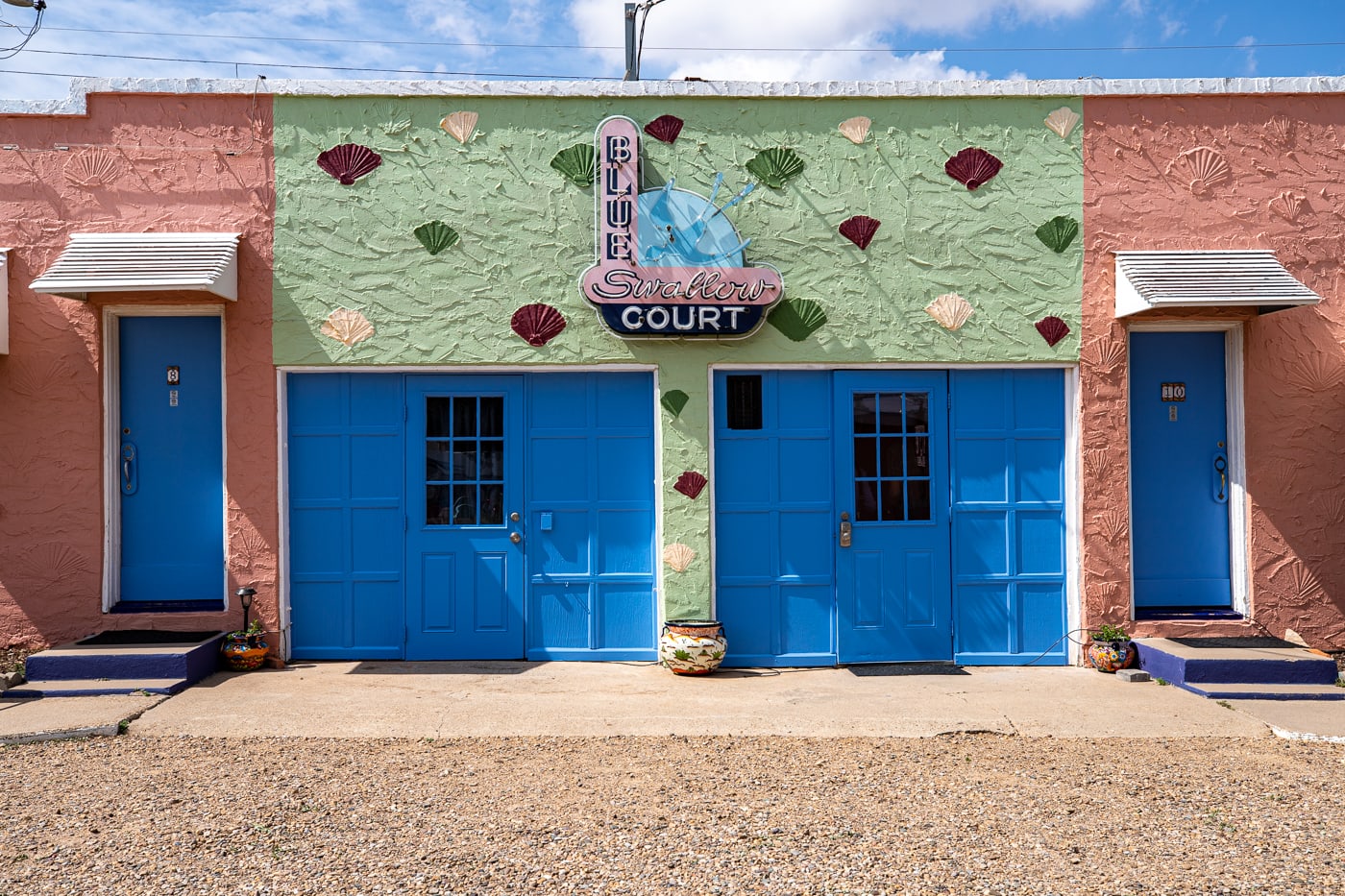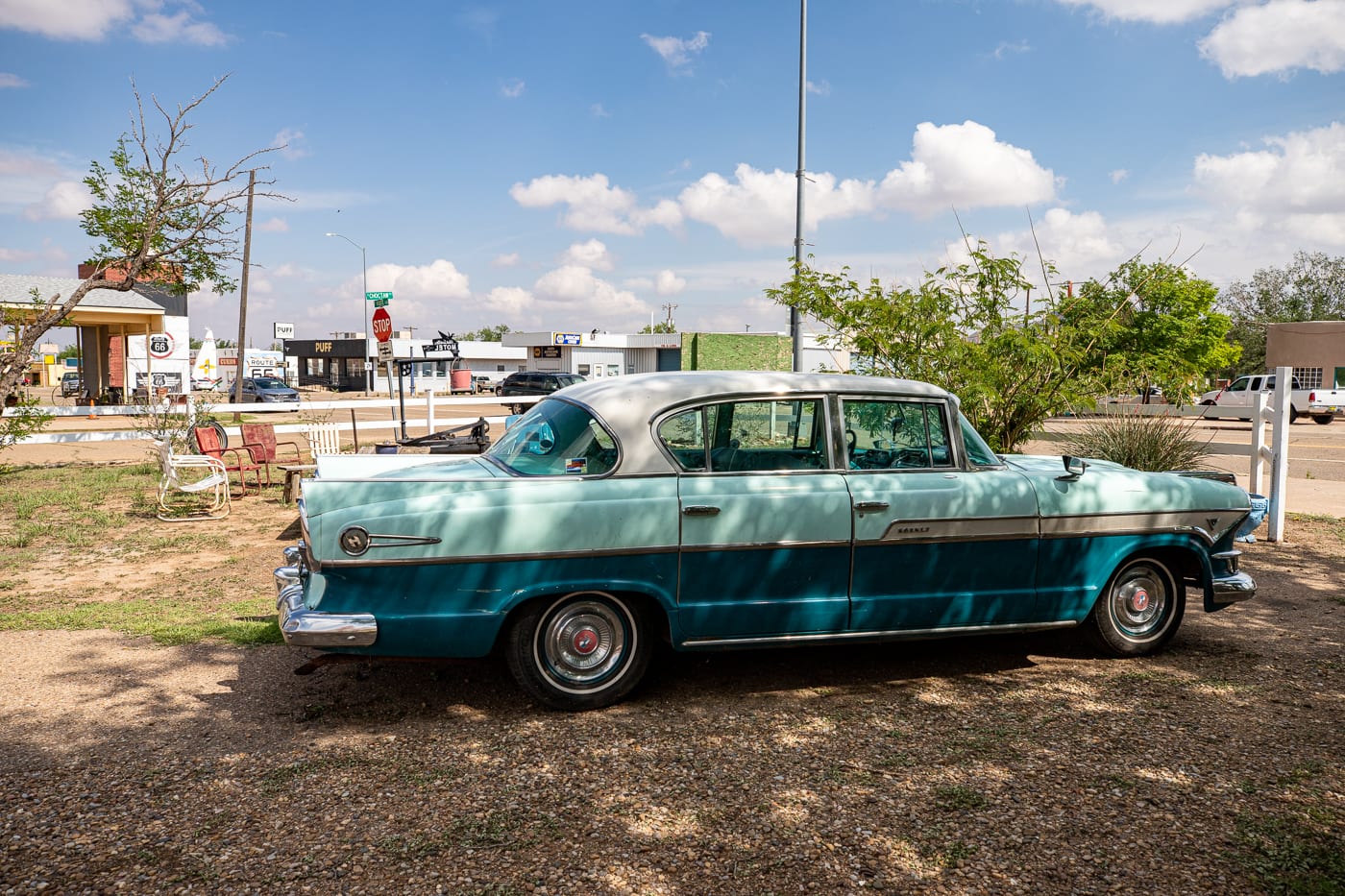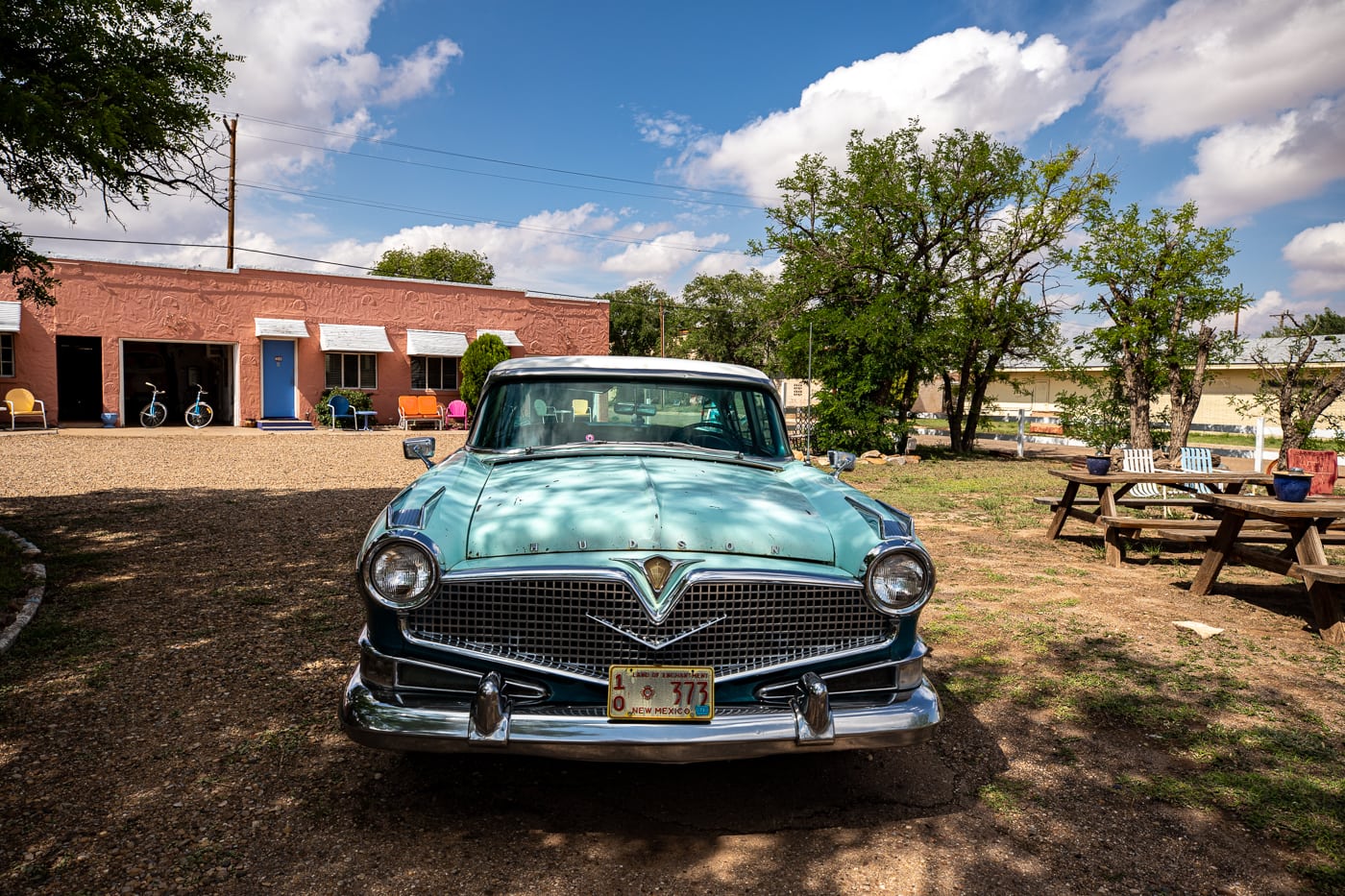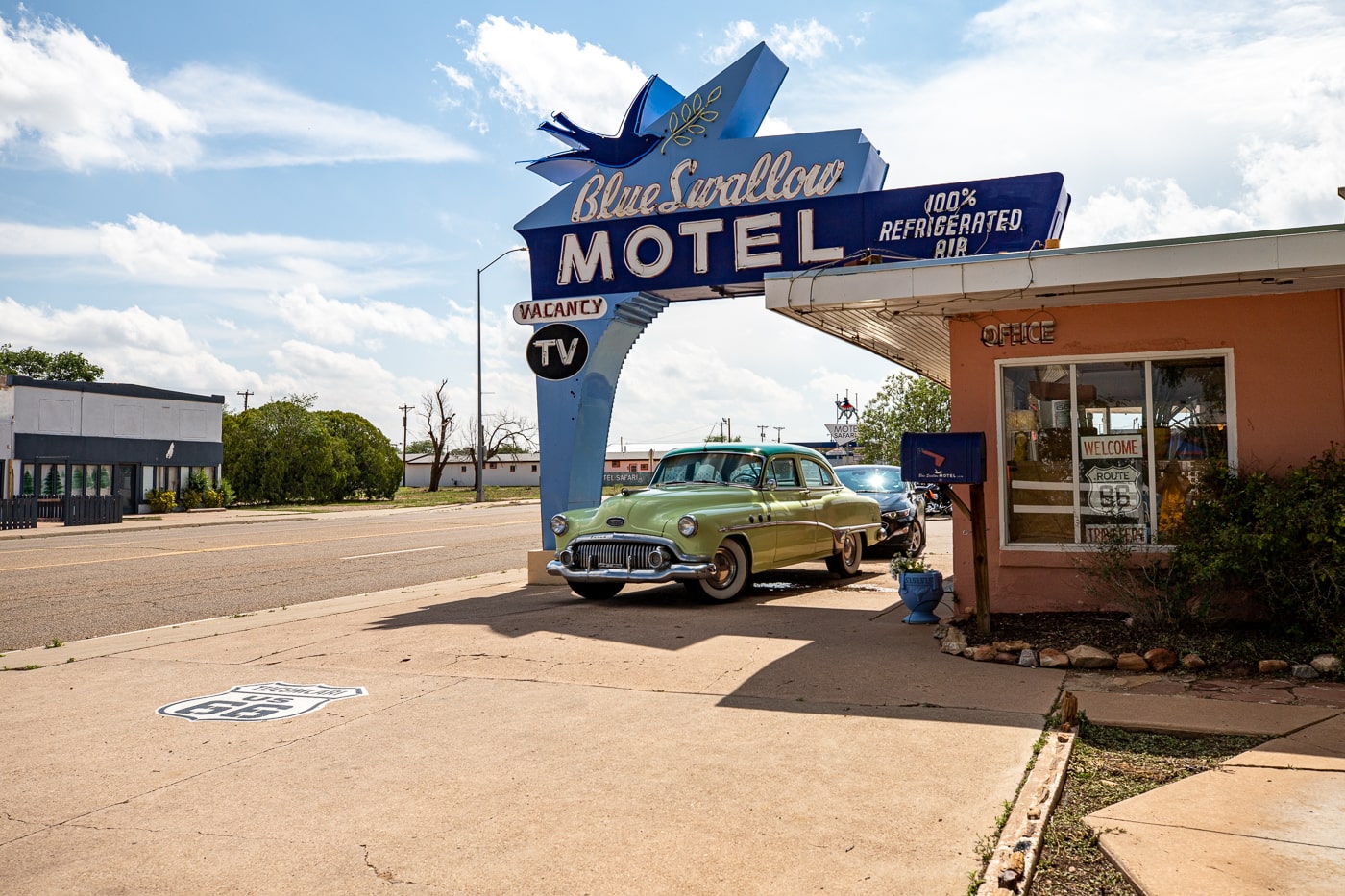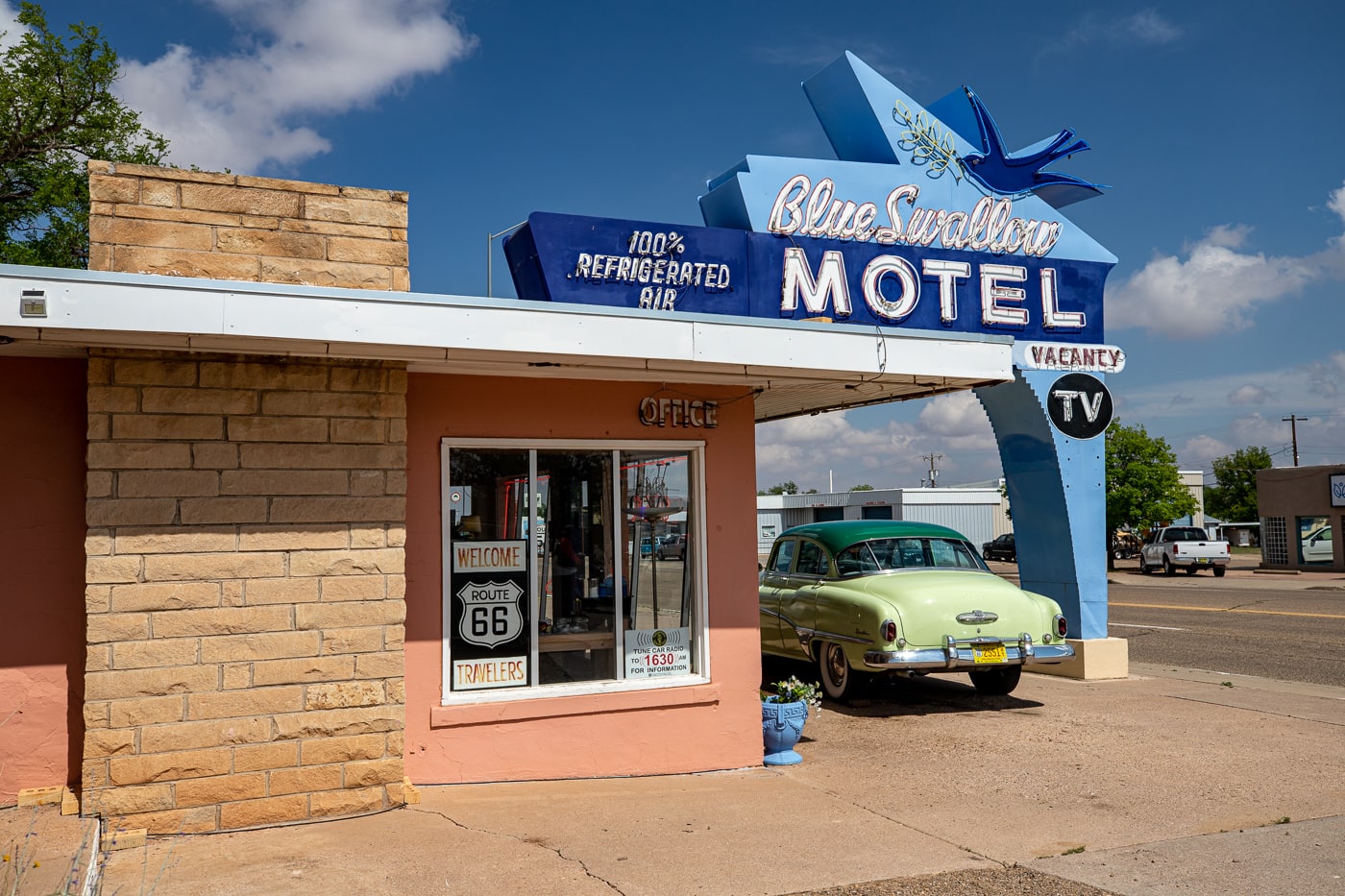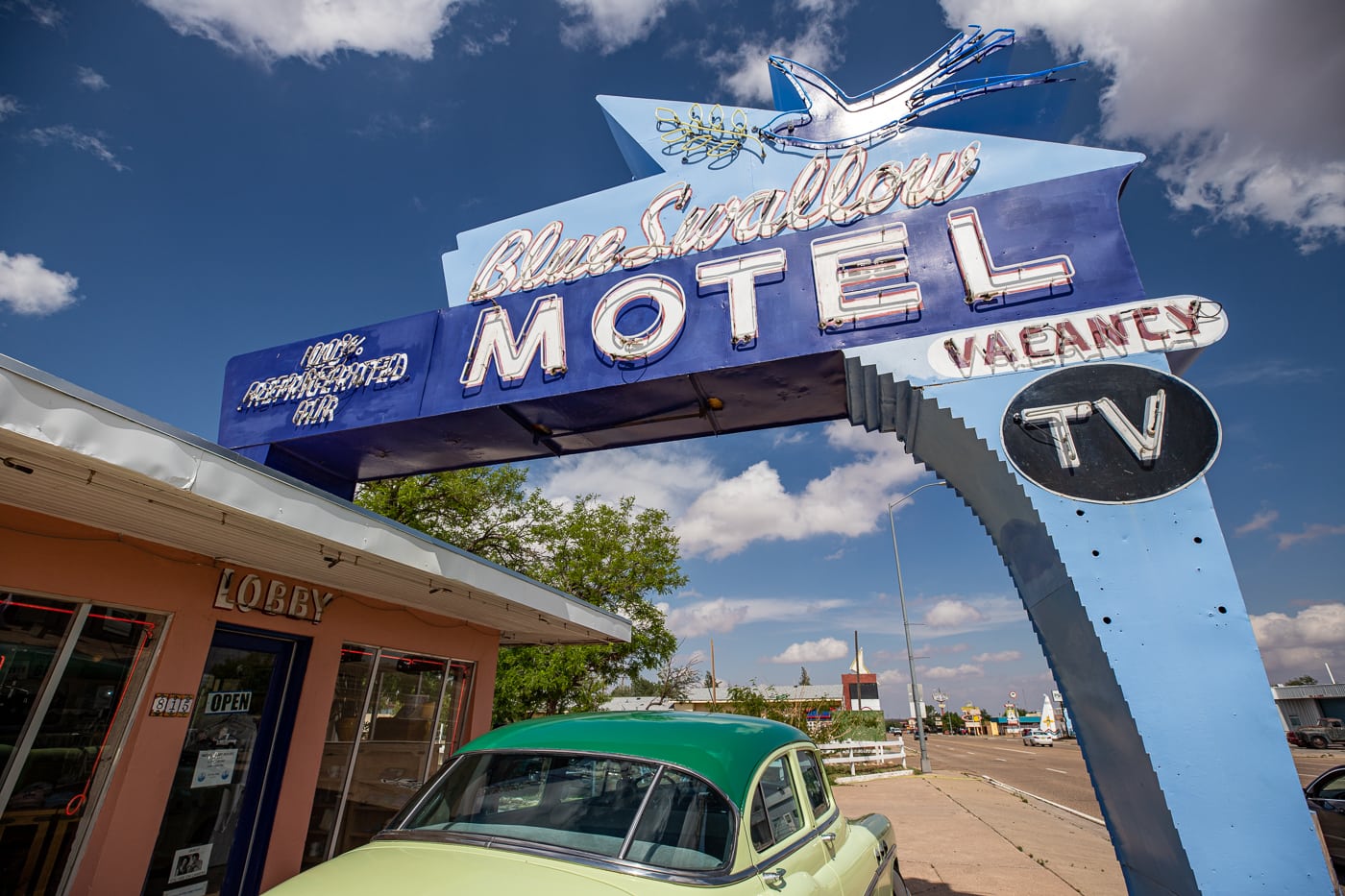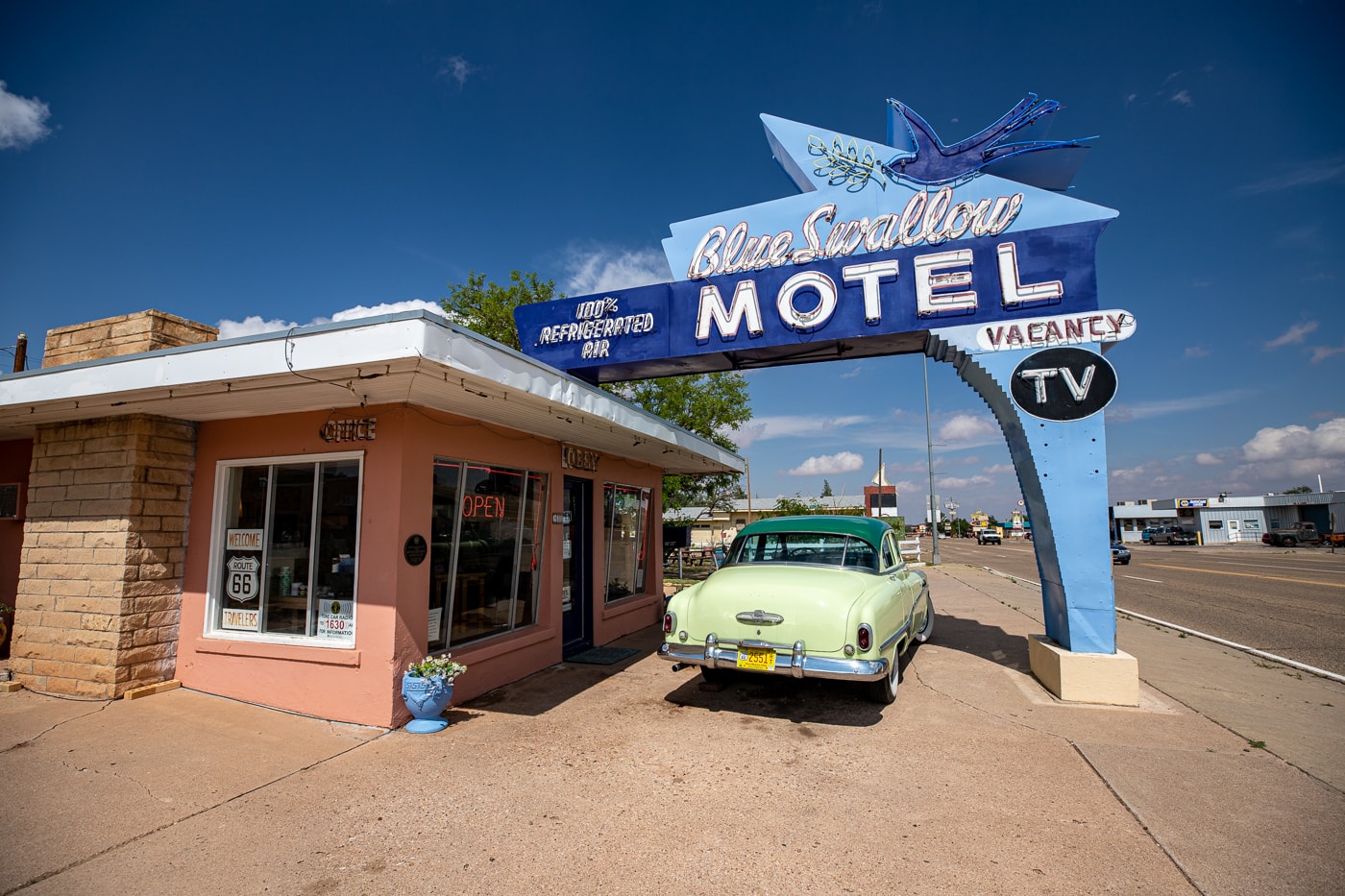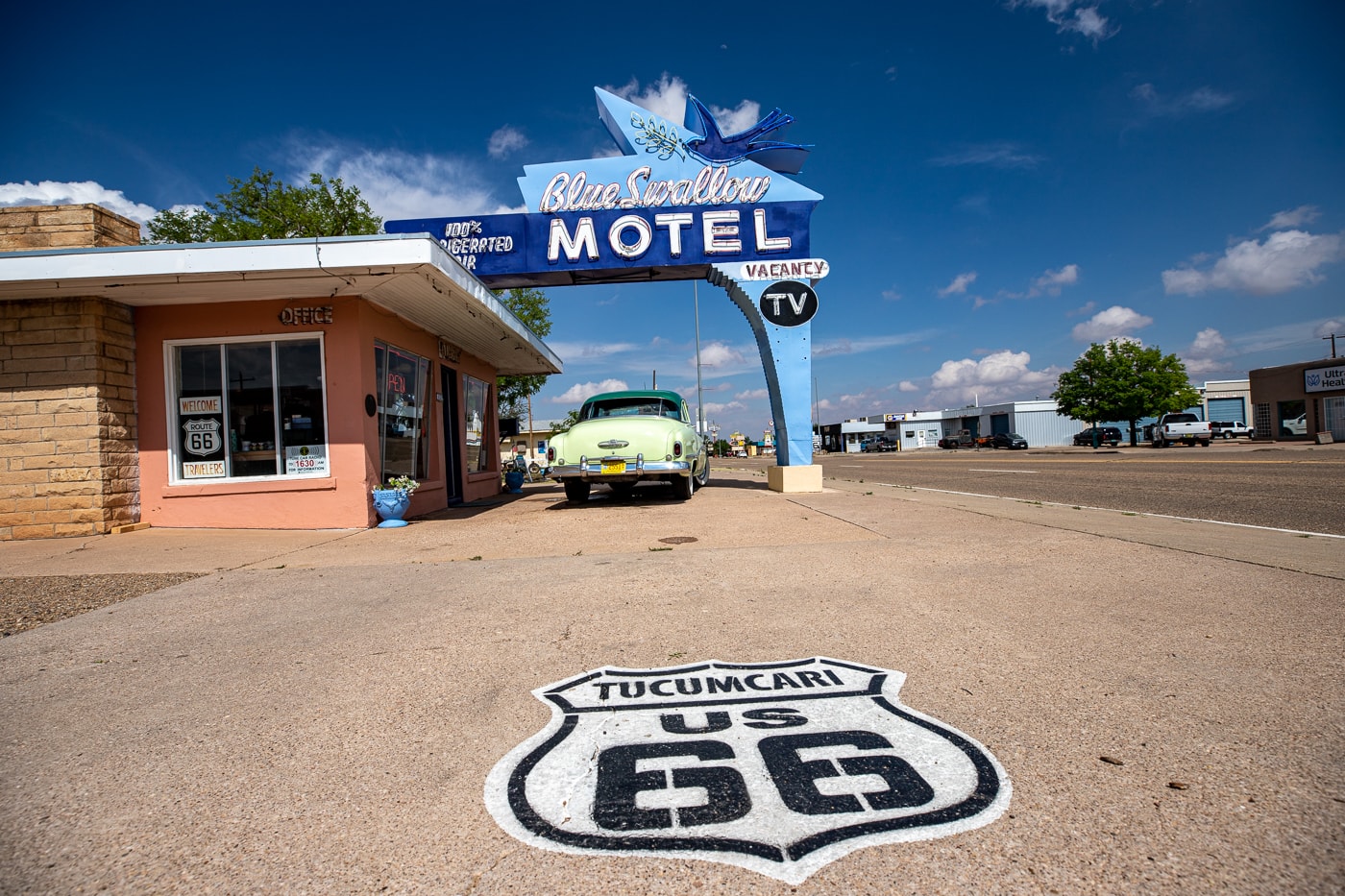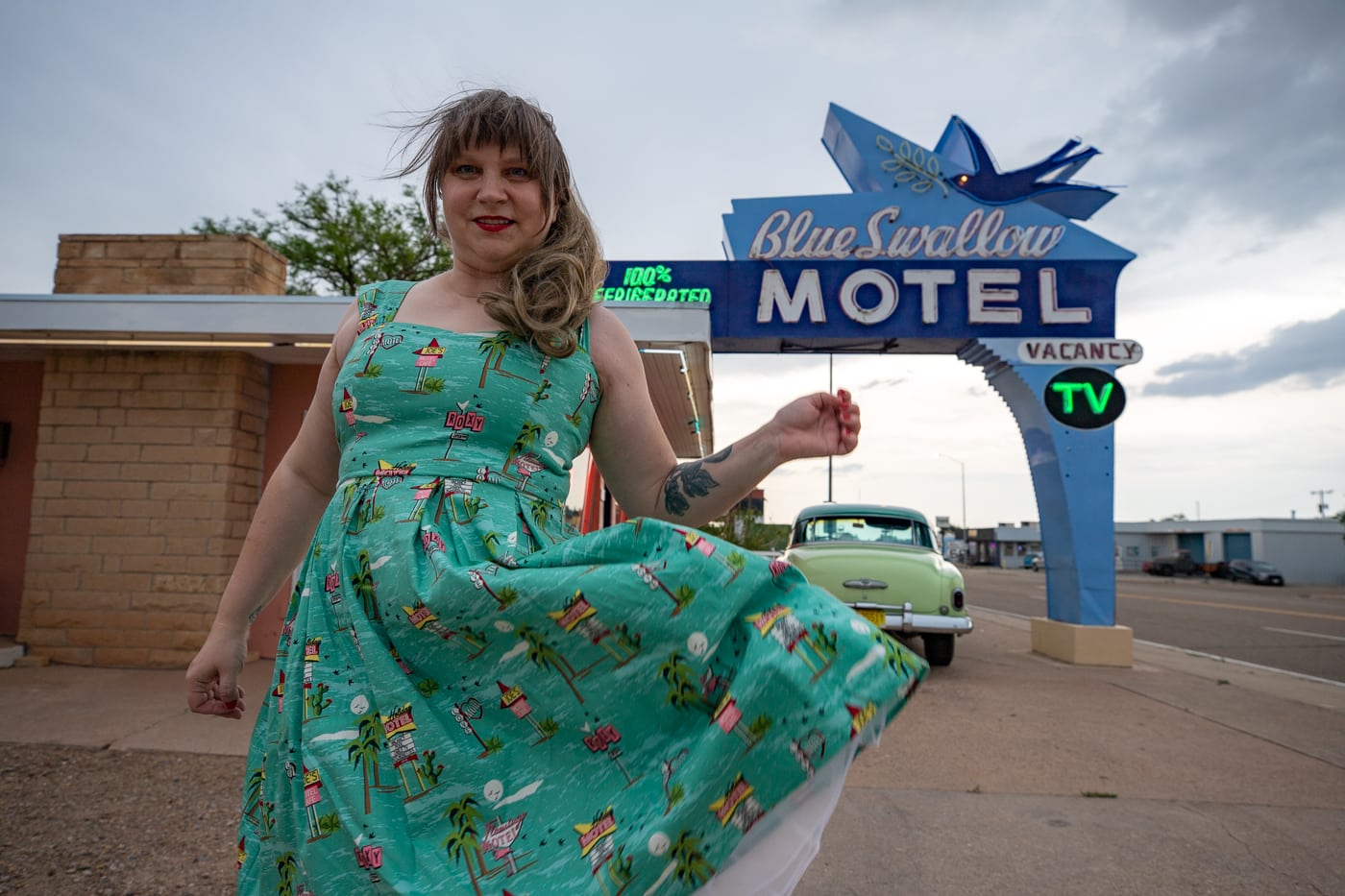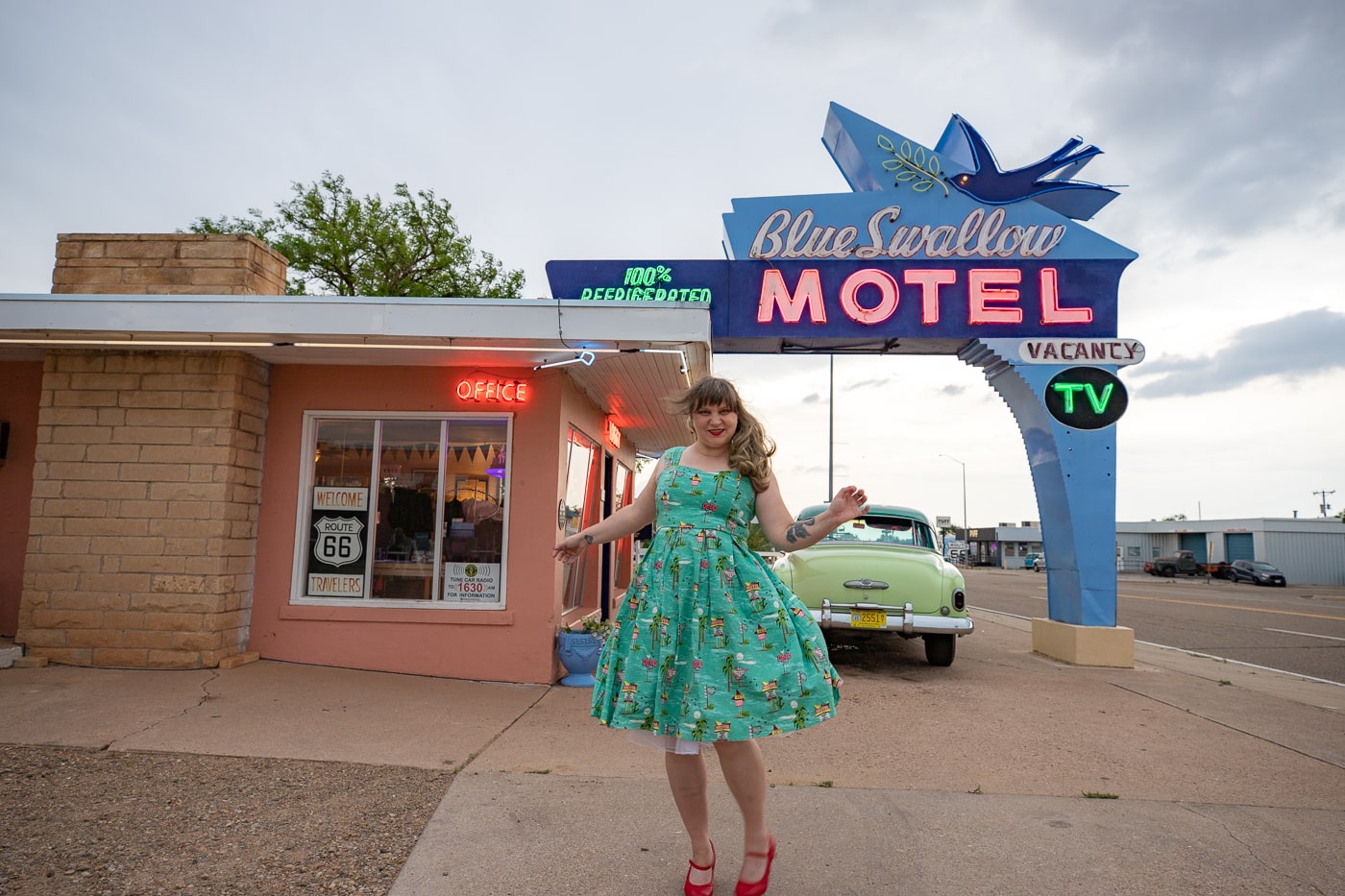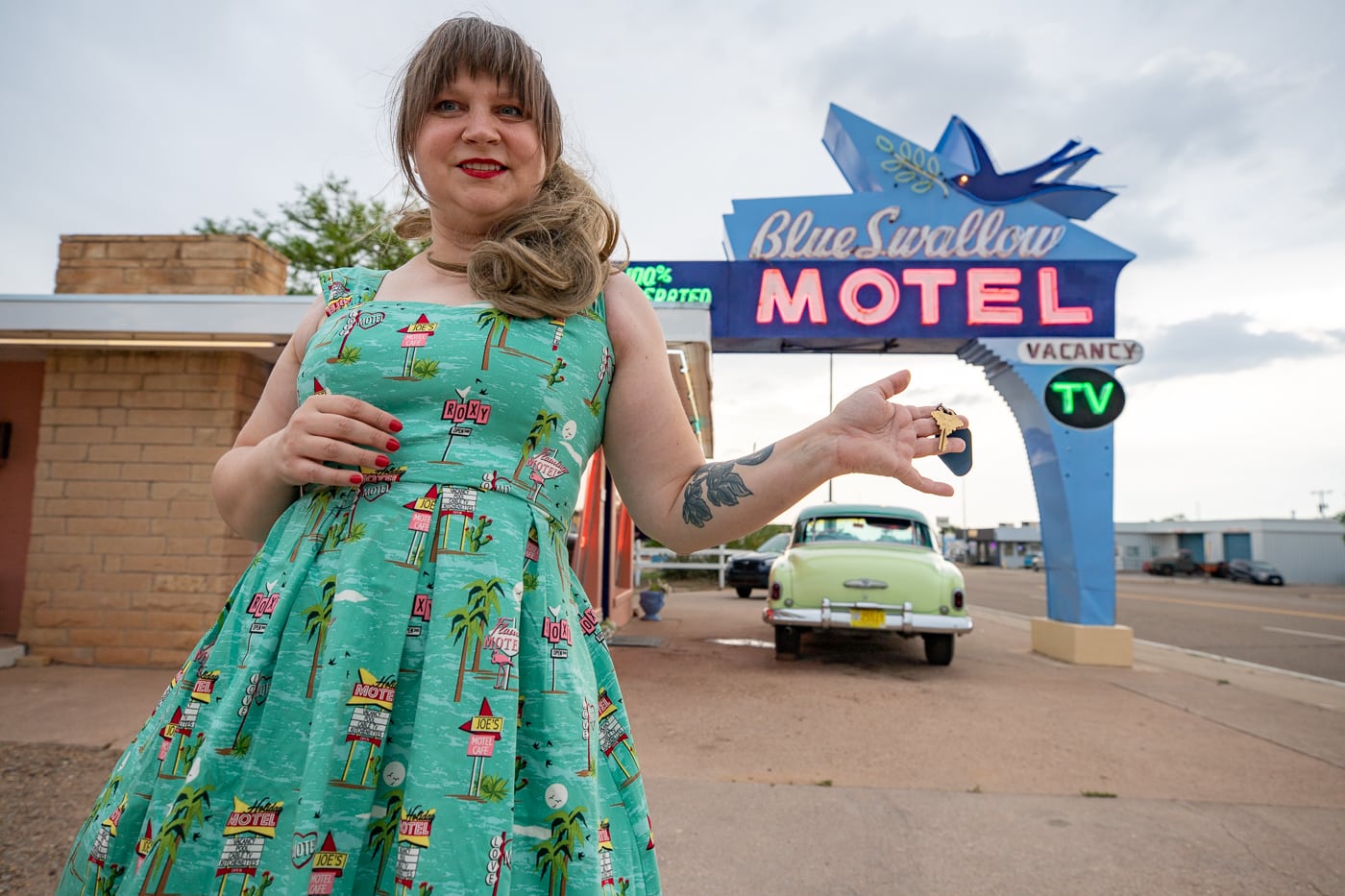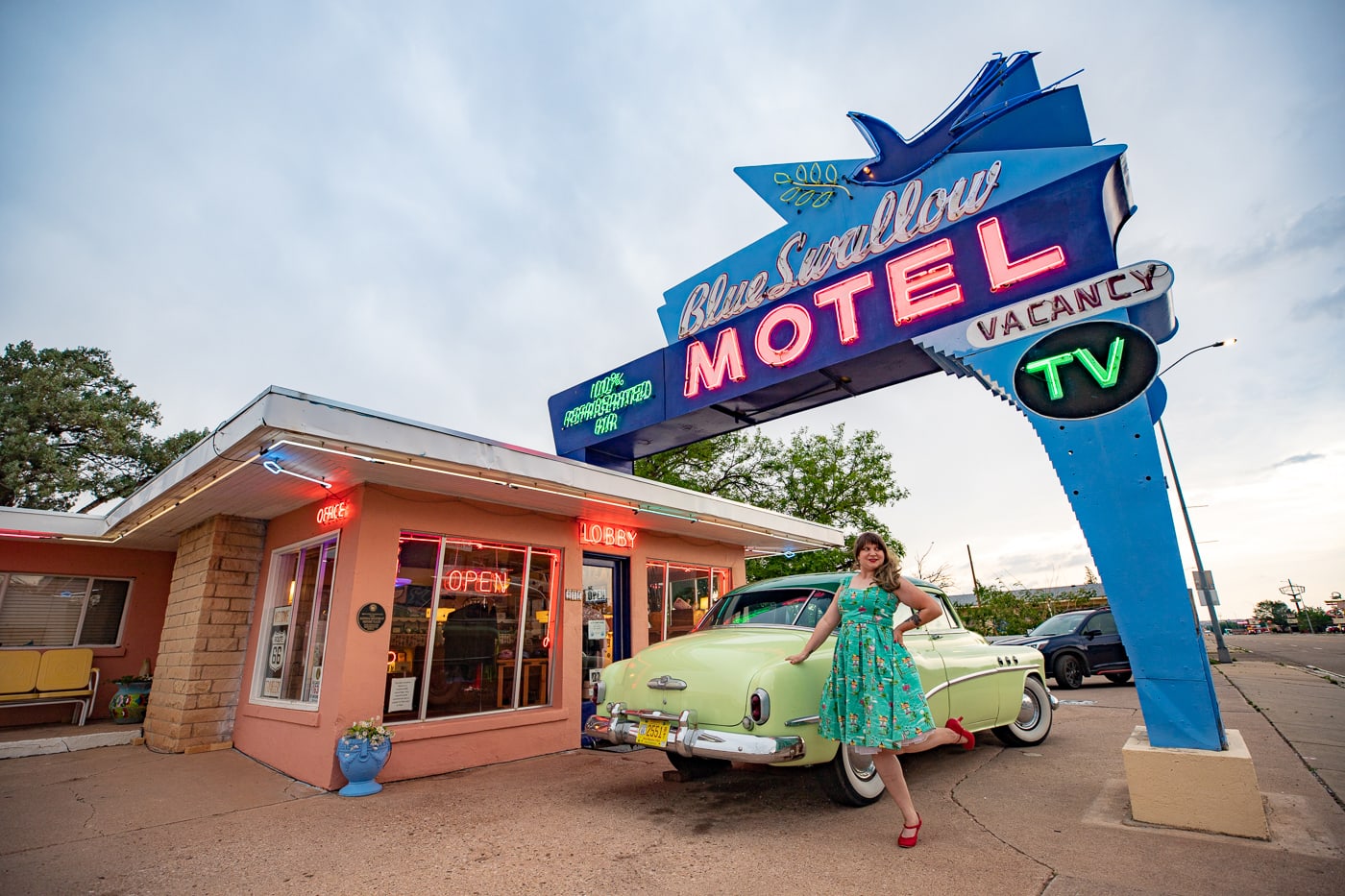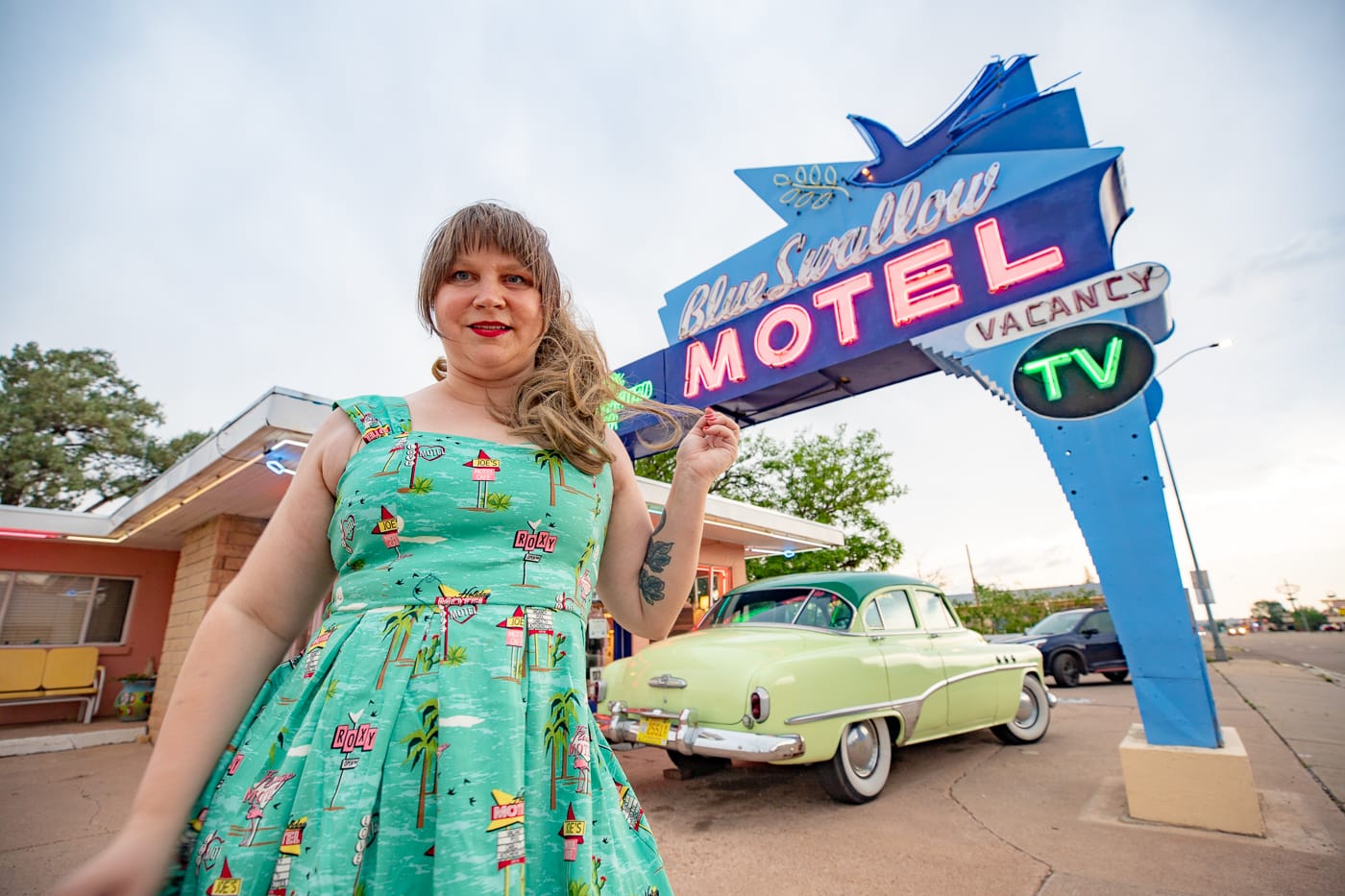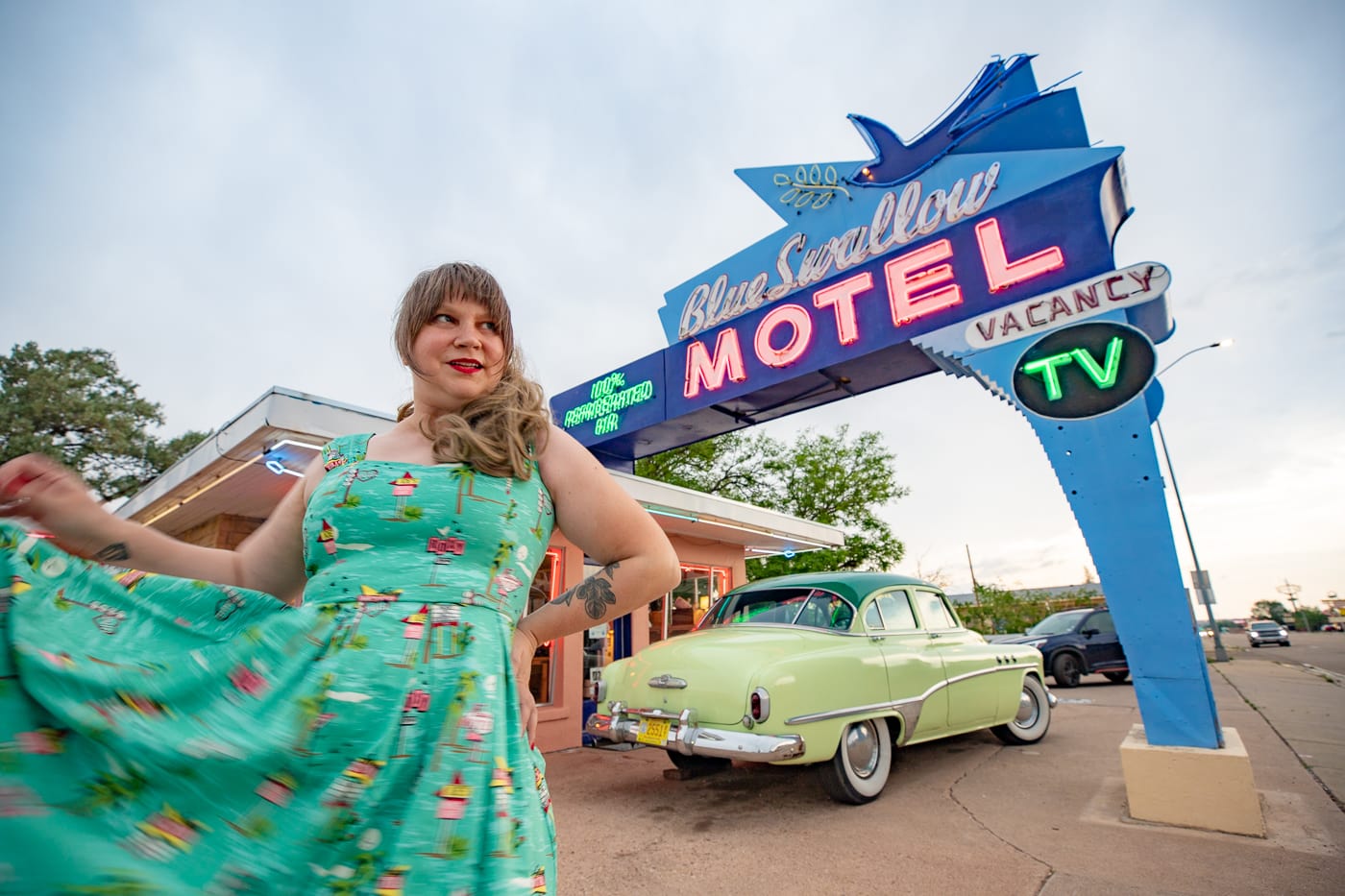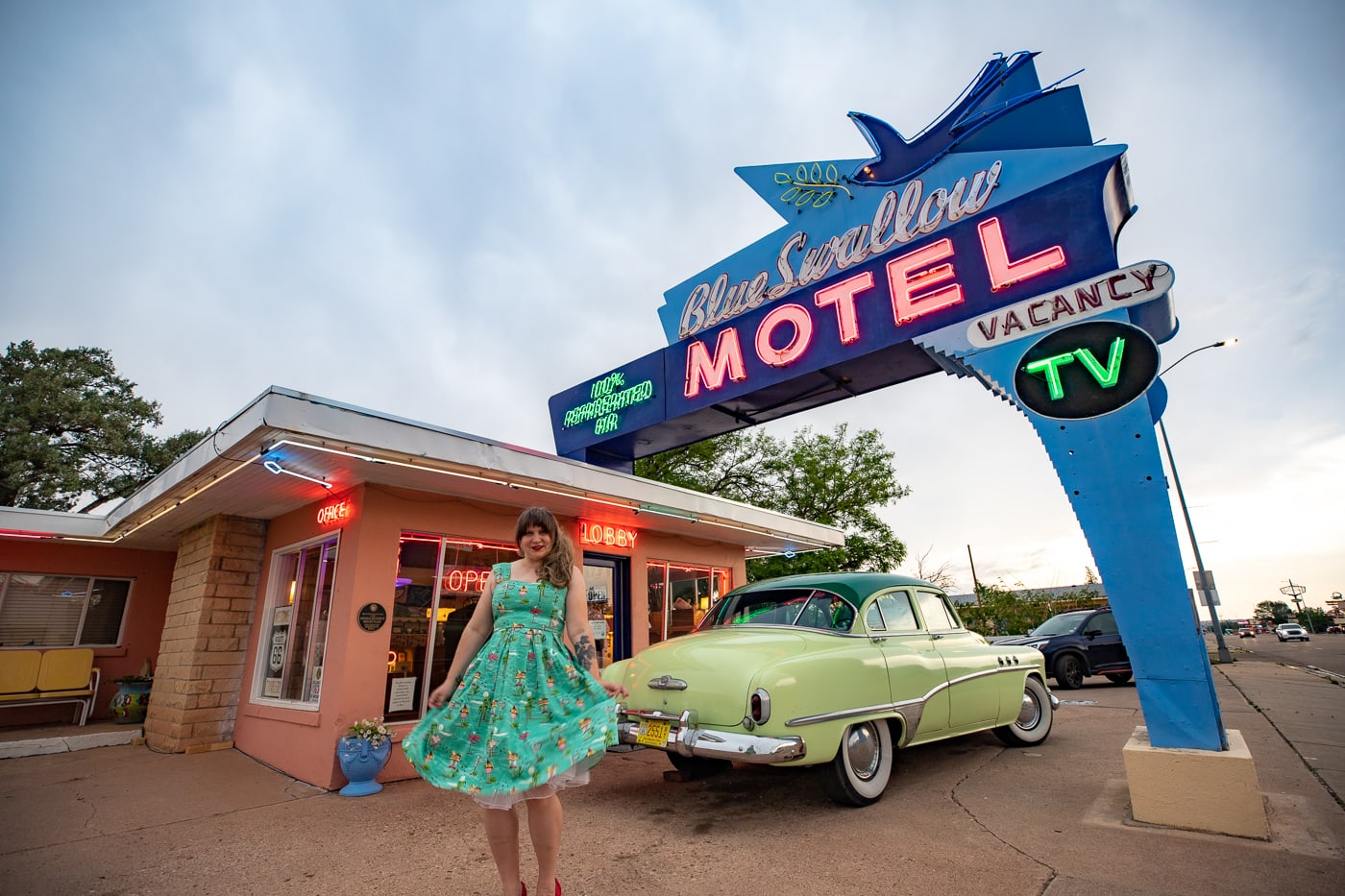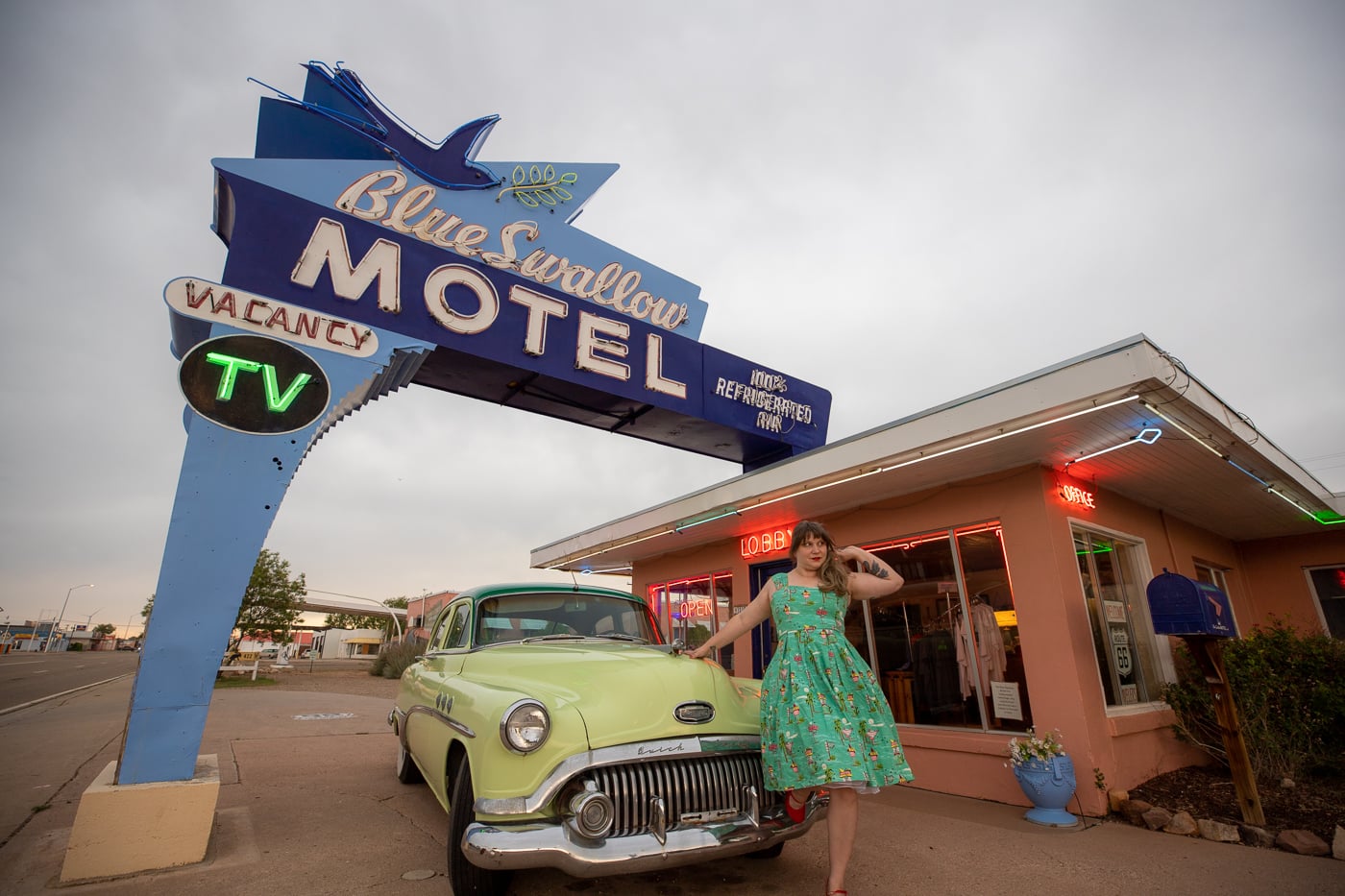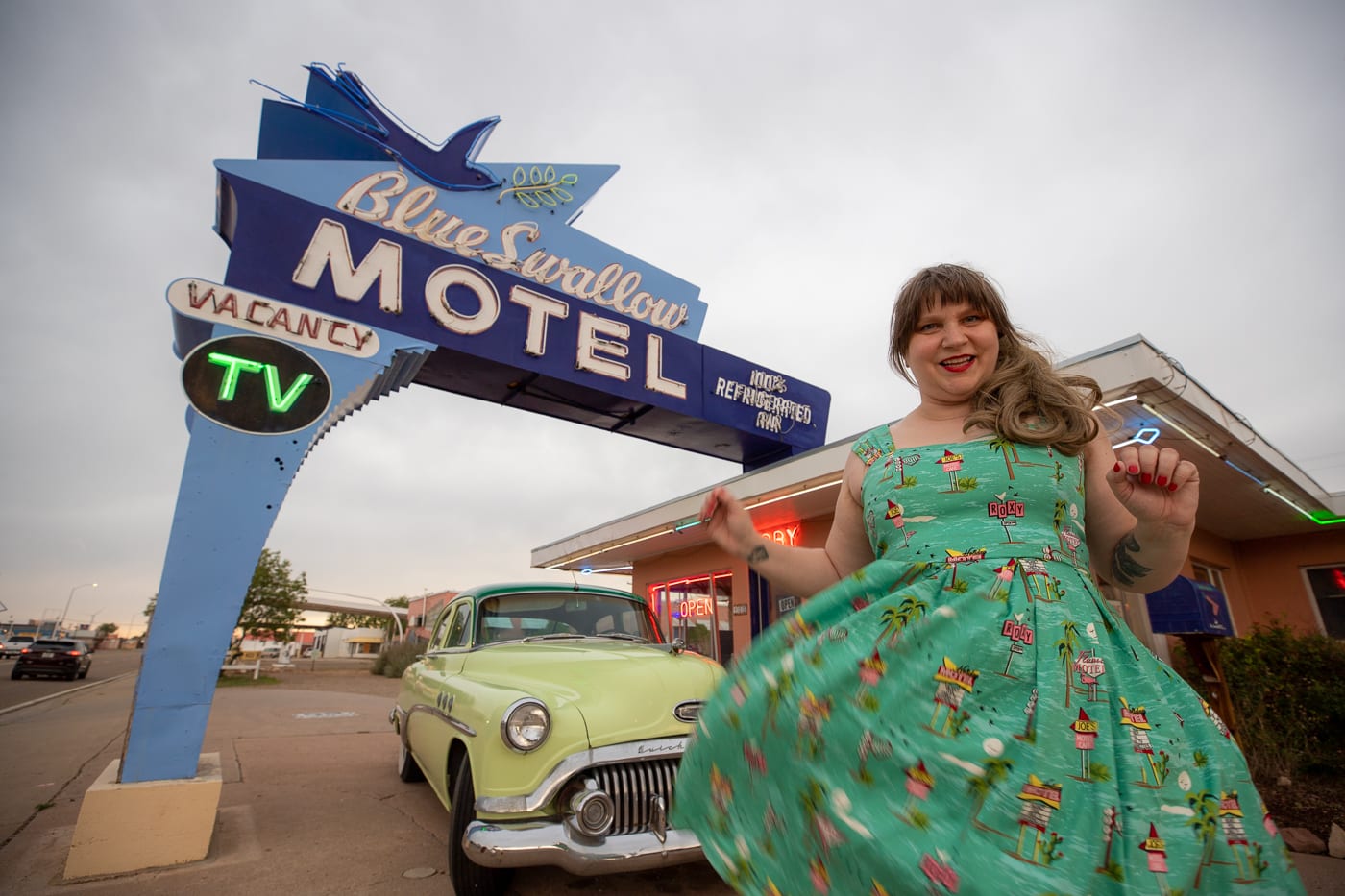 Blue Swallow Motel FAQ
Why is Blue Swallow Motel famous?
The Blue Swallow Motel in Tucumcari, New Mexico is famous for being one of the longest continuously running motels on Route 66. It is most known for its famous neon sign, one of the most recognizable neon signs on Route 66, which is often photographed and used in guidebooks, publications, and postcards.
How many rooms does the Blue Swallow Motel have?
While the motor hotel opened in 1941 with 10 rooms, there are now 12 guest rooms at the Blue Swallow Motel. There are four room types to choose from: 1 Queen Bed (maximum 2 people), 2 Full-sized Beds (maximum 4 people), The Blue Swallow Family Suite (2 queen-beds, 1 pull-out sleeper sofa, maximum 5 people), and The Lillian Redman Suite (a two-room suite with special amenities, named after long-time owner and operator Lillian Redman).
Who are the owners of the Blue Swallow?
Robert and Dawn Federico currently own and operate the Blue Swallow Motel. The purchased the property in June 2020.
How long has Blue Swallow Motel been around?
The historic motel was built in 1939 and opened around 1941. It has been in continuing operation on Route 66 ever since!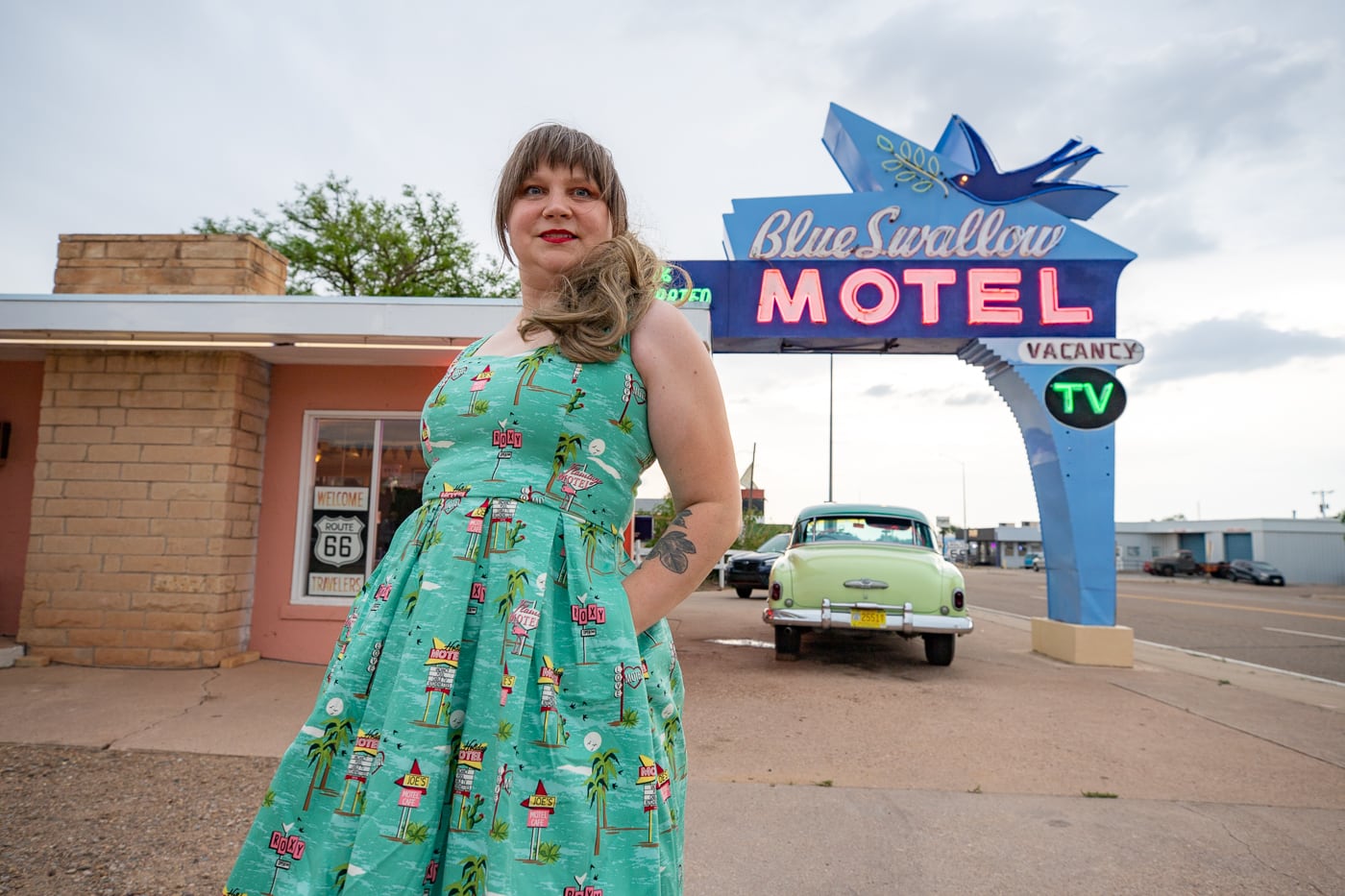 Blue Swallow Motel
Address: 815 E Rte 66 Blvd, Tucumcari, NM 88401
Pin this New Mexico Route 66 motel to save for your road trip itinerary: