Seligman, Arizona is a town synonymous with Route 66. And this mural has become synonymous with Seligman. While in town on your Route 66 road trip don't forget to stop for photos with the green postcard-style Seligman Grocery Mural.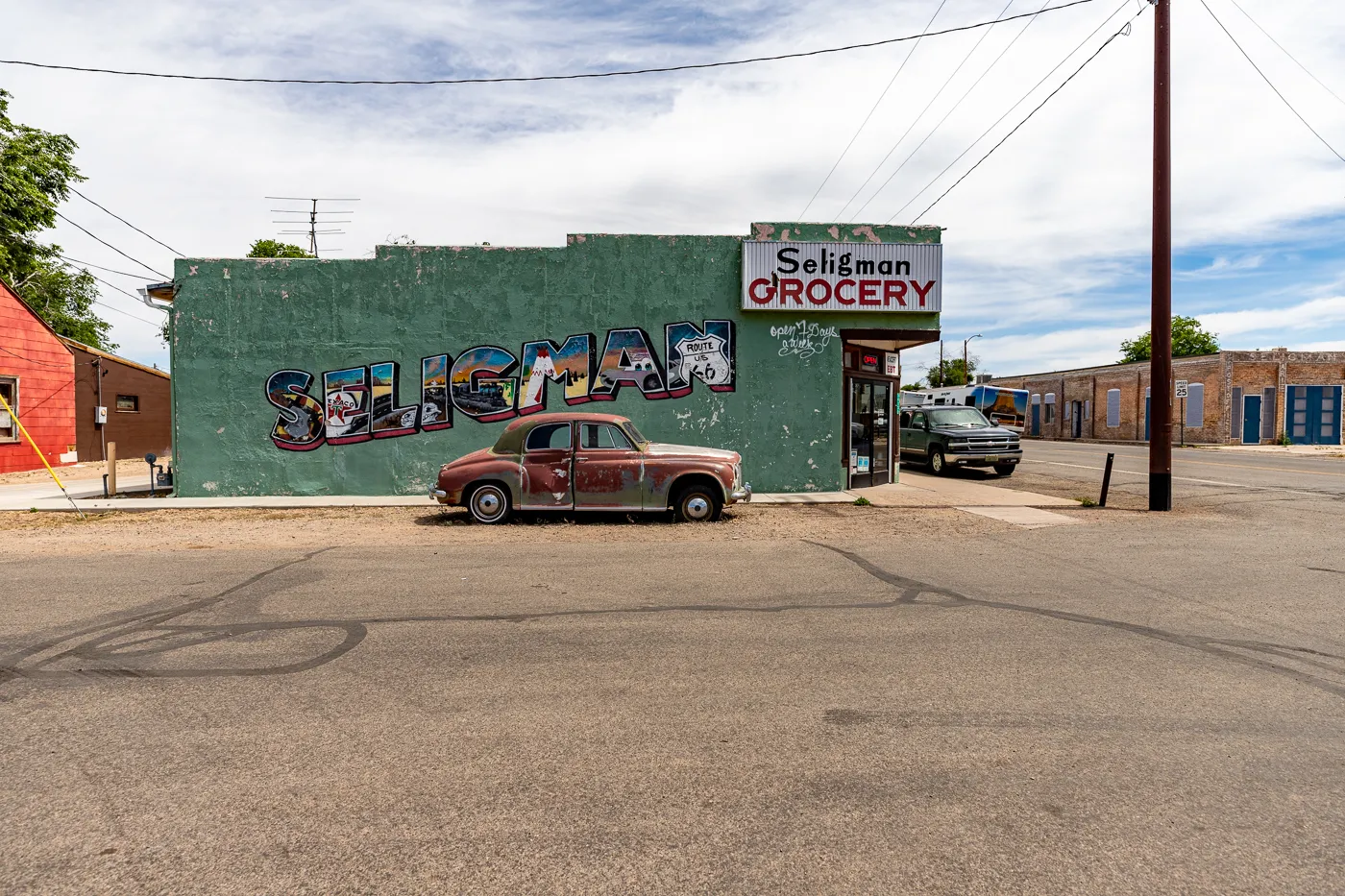 Seligman, Arizona is a small town in northern Arizona. Found right on Route 66, one of the original U.S. highways that connected Chicago, Illinois, to Santa Monica, California, its location played a vital role in the development and preservation of the iconic route. With an array of convenient amenities such as gas stations, diners, and motels, it became a popular stop for motorists and travelers that captured the essence of the roadside culture and Americana of that era.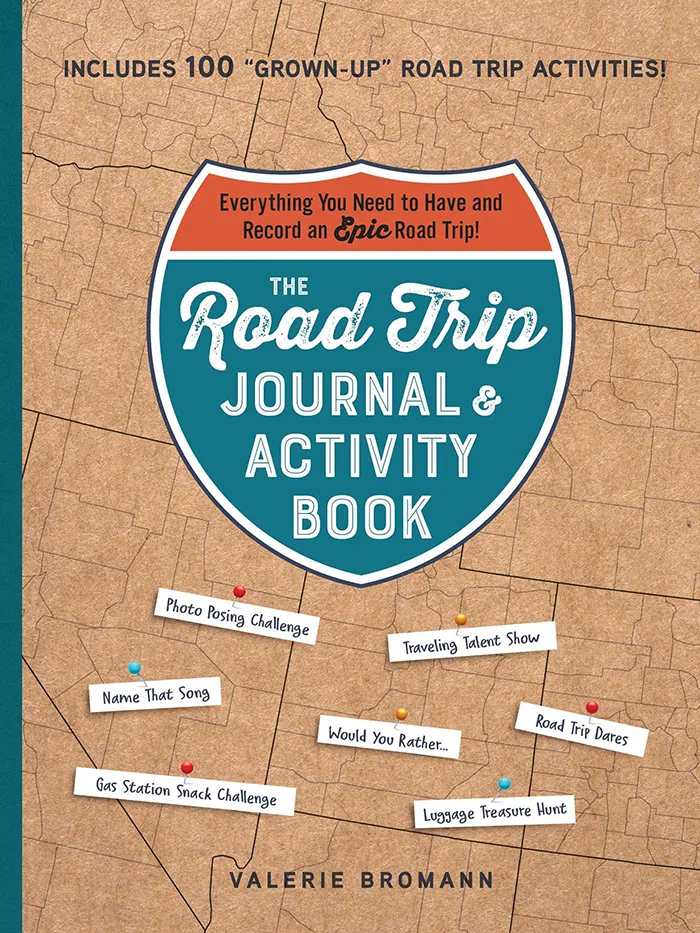 The Road Trip Journal & Activity Book
Everything You Need to Have and Record an Epic Road Trip!
Enjoy fun games and challenges to pass the time on your next road trip and have a keepsake to look back on for years to come with this entertaining must-have for your next vacation.
Today, Seligman is a community that prides itself on staying true to the past and keeping alive the lure of Historic Route 66. It is renowned as a bastion of Route 66 nostalgia, where visitors can experience a glimpse of the past. The town's main street is lined with vintage signs, classic motels, iconic diners, and quirky shops that capture the essence of the highway's golden era.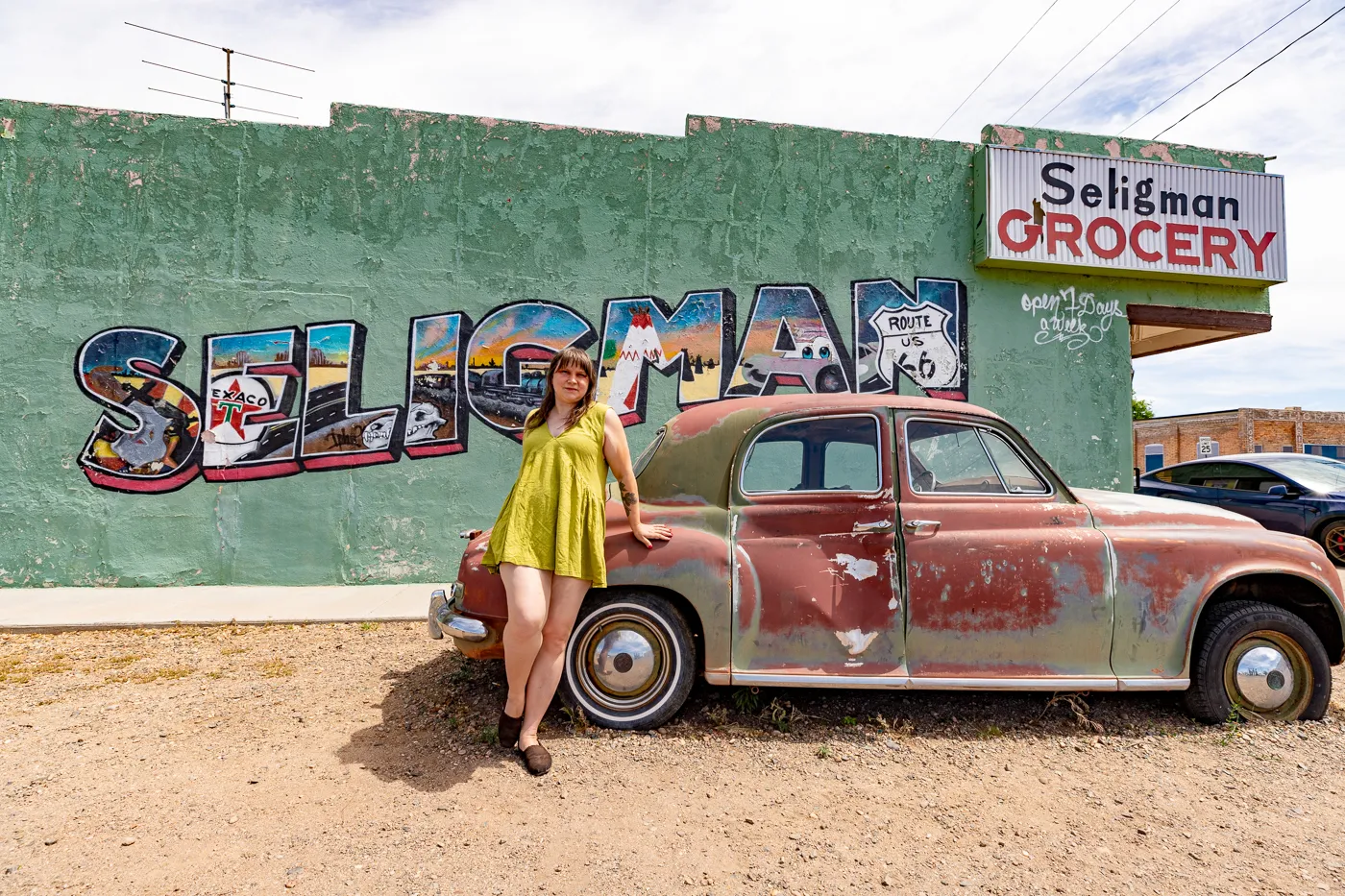 Seligman, Arizona is a must-stop on any Route 66 road trip and the Seligman Grocery mural has been a must-capture spot for anyone looking to showcase their road trip on Instagram.
The artwork can be found on the side of a local small grocery shop and features a bright green background with postcard-style lettering that spells out the town's name. Inside each letter is a classic scene from the classic road. Some of the sites captured in the mural include a Texaco sign, a desert road (complete with a weary skull), a train, Wigwam Motel, Cars on the Route, and a Route 66 shield.
In front of the mural is a beat up old red car that will give your photos that extra pop.
Besides visiting this mural you also have to plan to spend some time in town to check out all other must-see Arizona Route 66 attractions, like Delgadillo's Snow Cap Drive-In, Angel and Vilma's Route 66 Shop, Copper Cart and Route 66 Motoporium, Rusty Bolt, and Roadkill Cafe.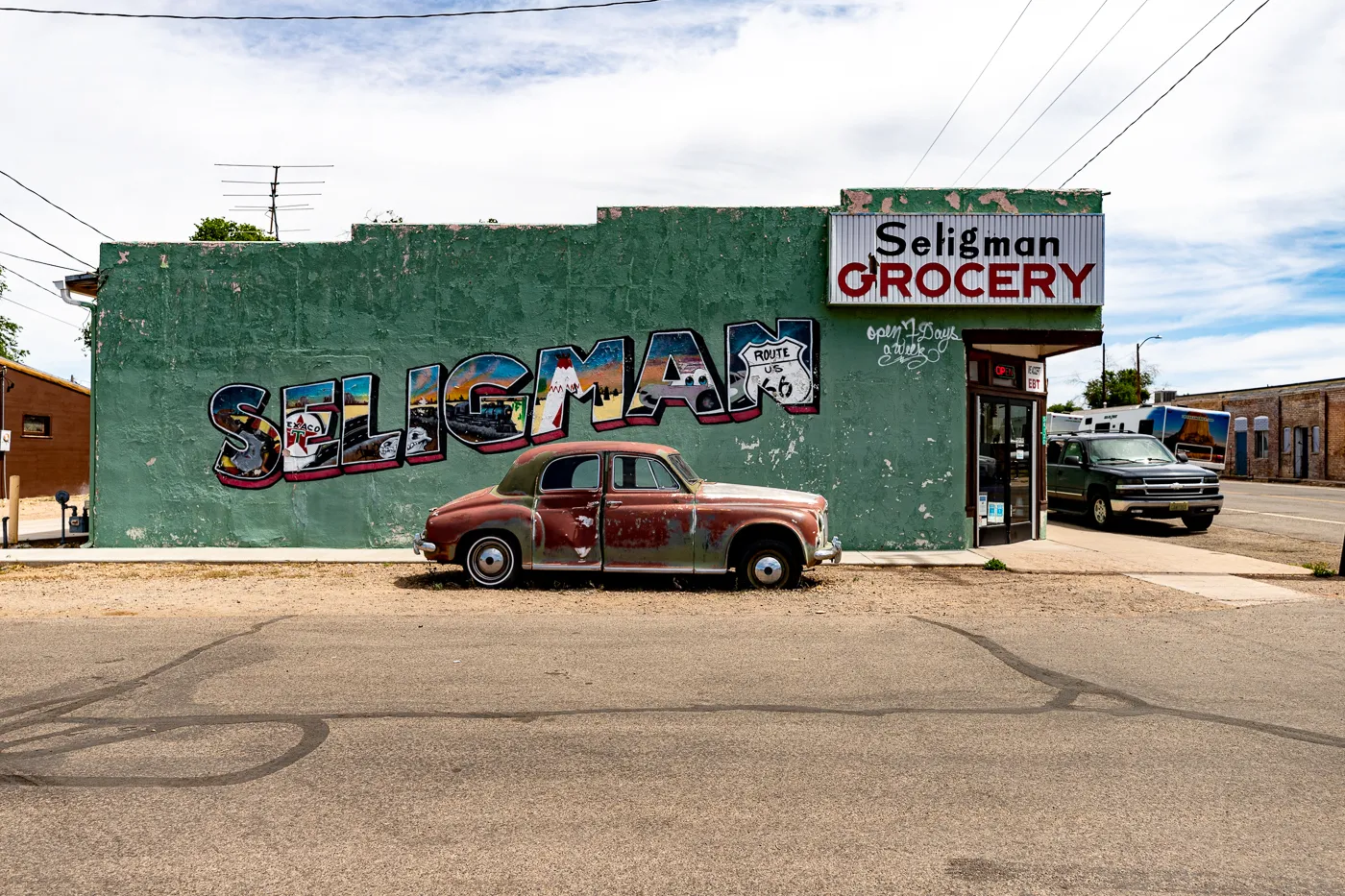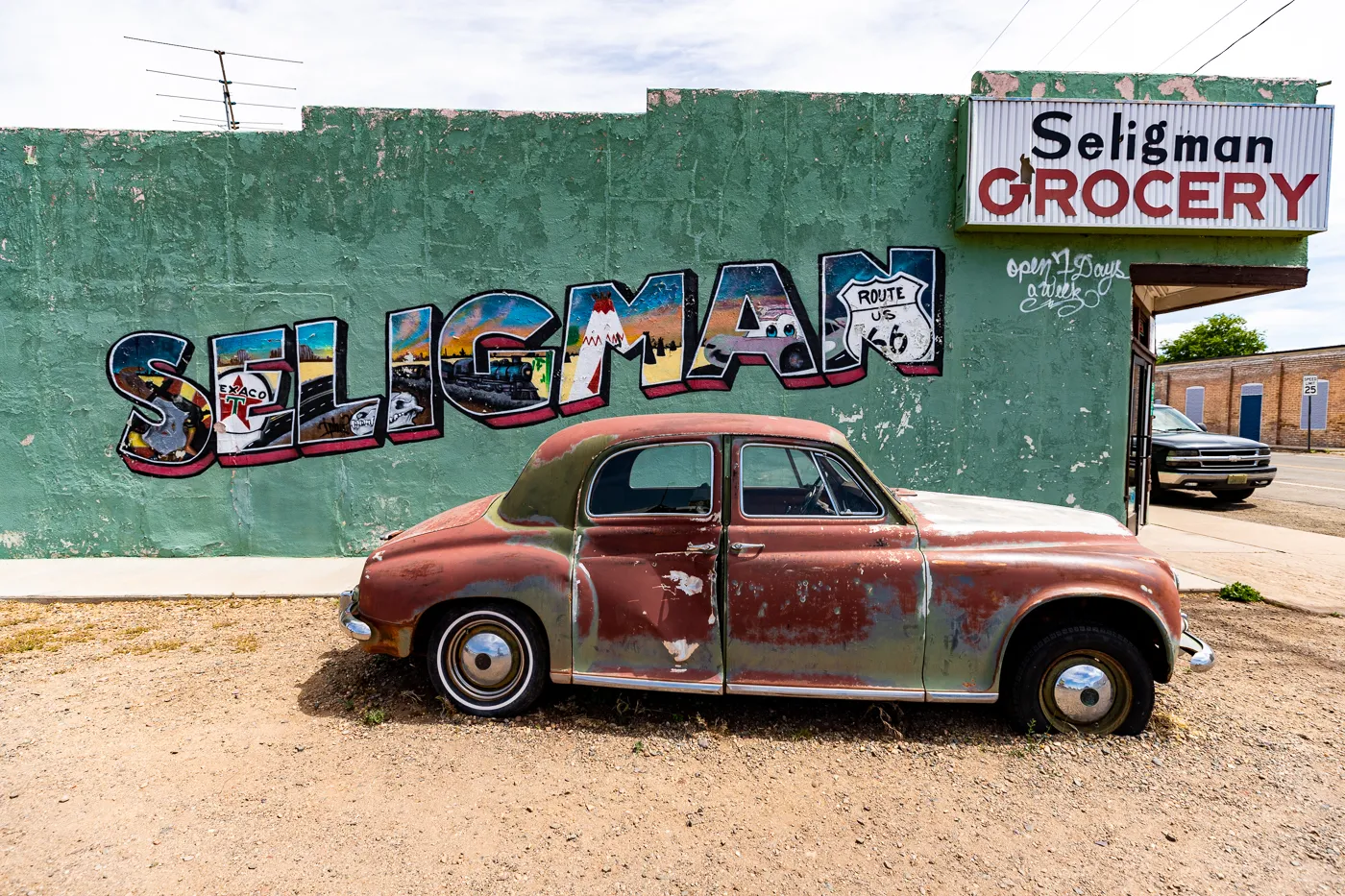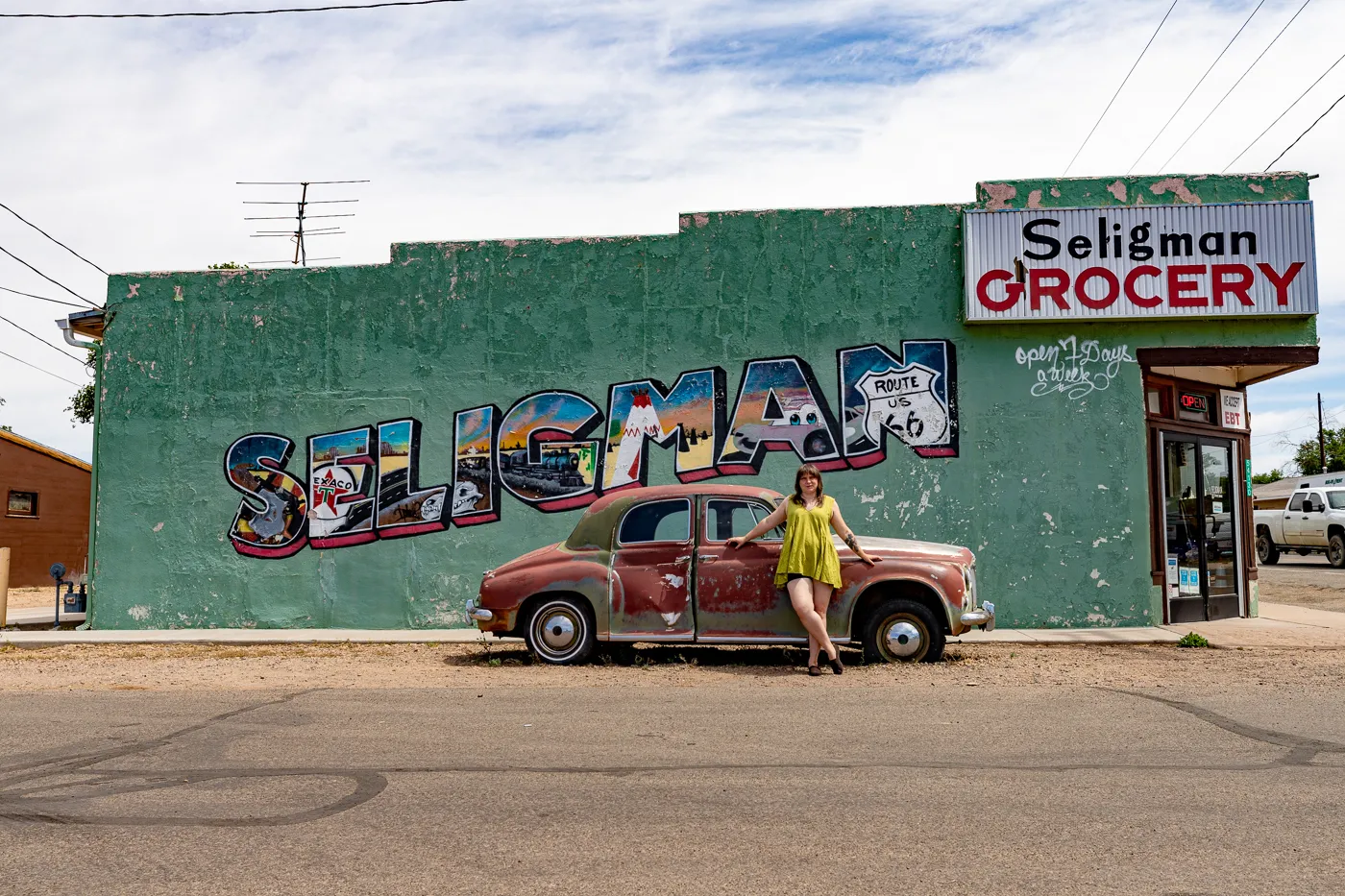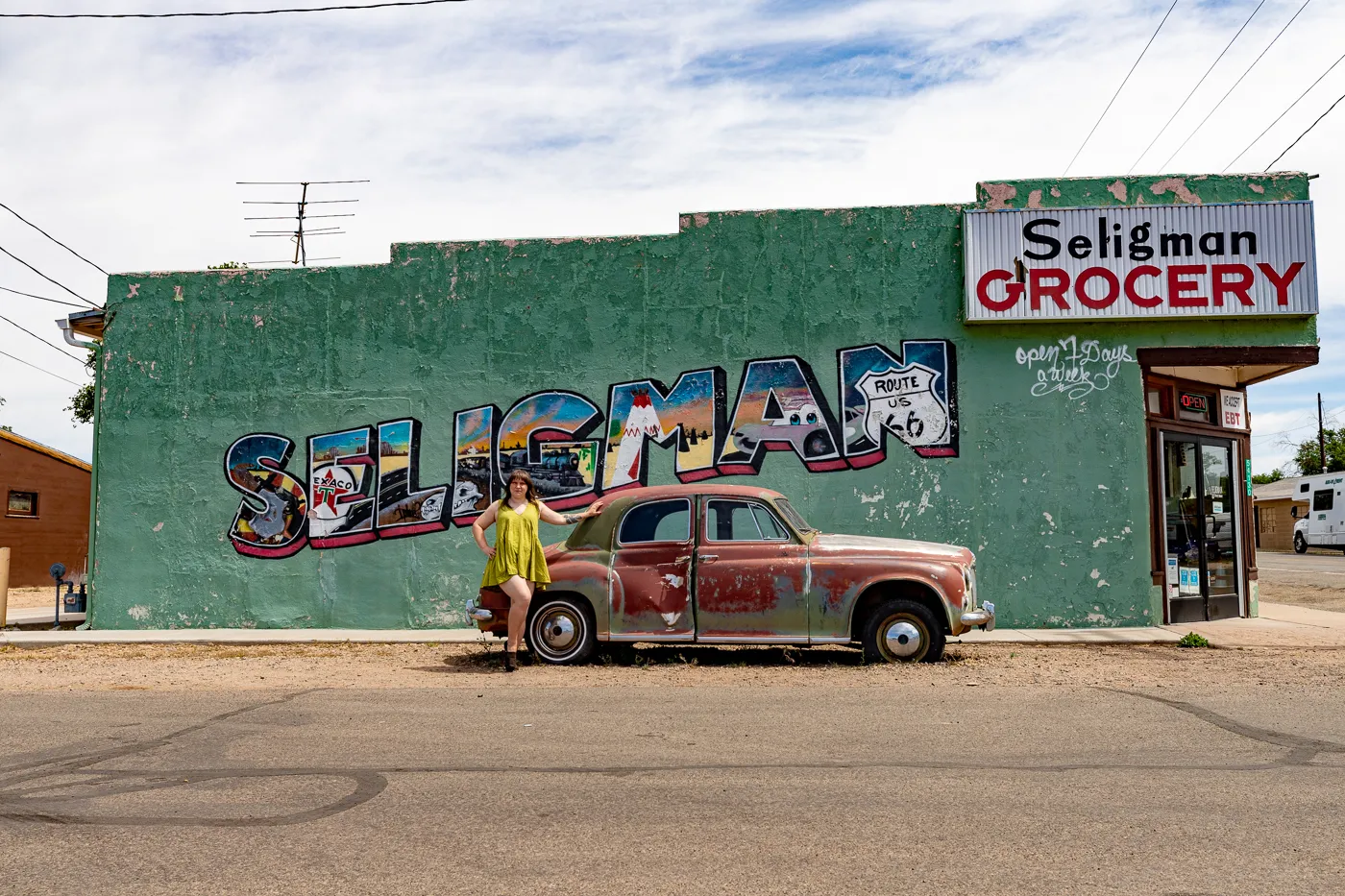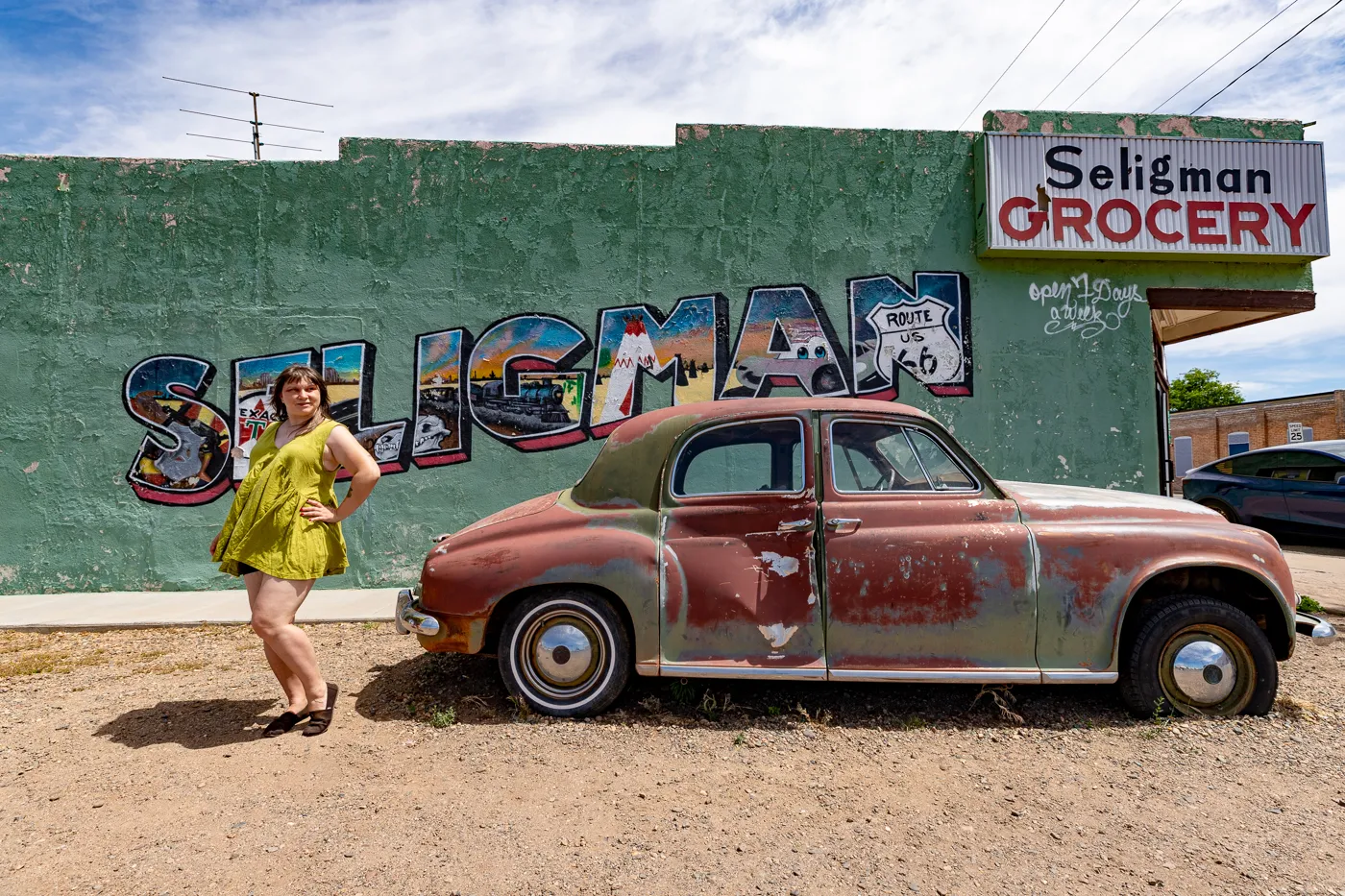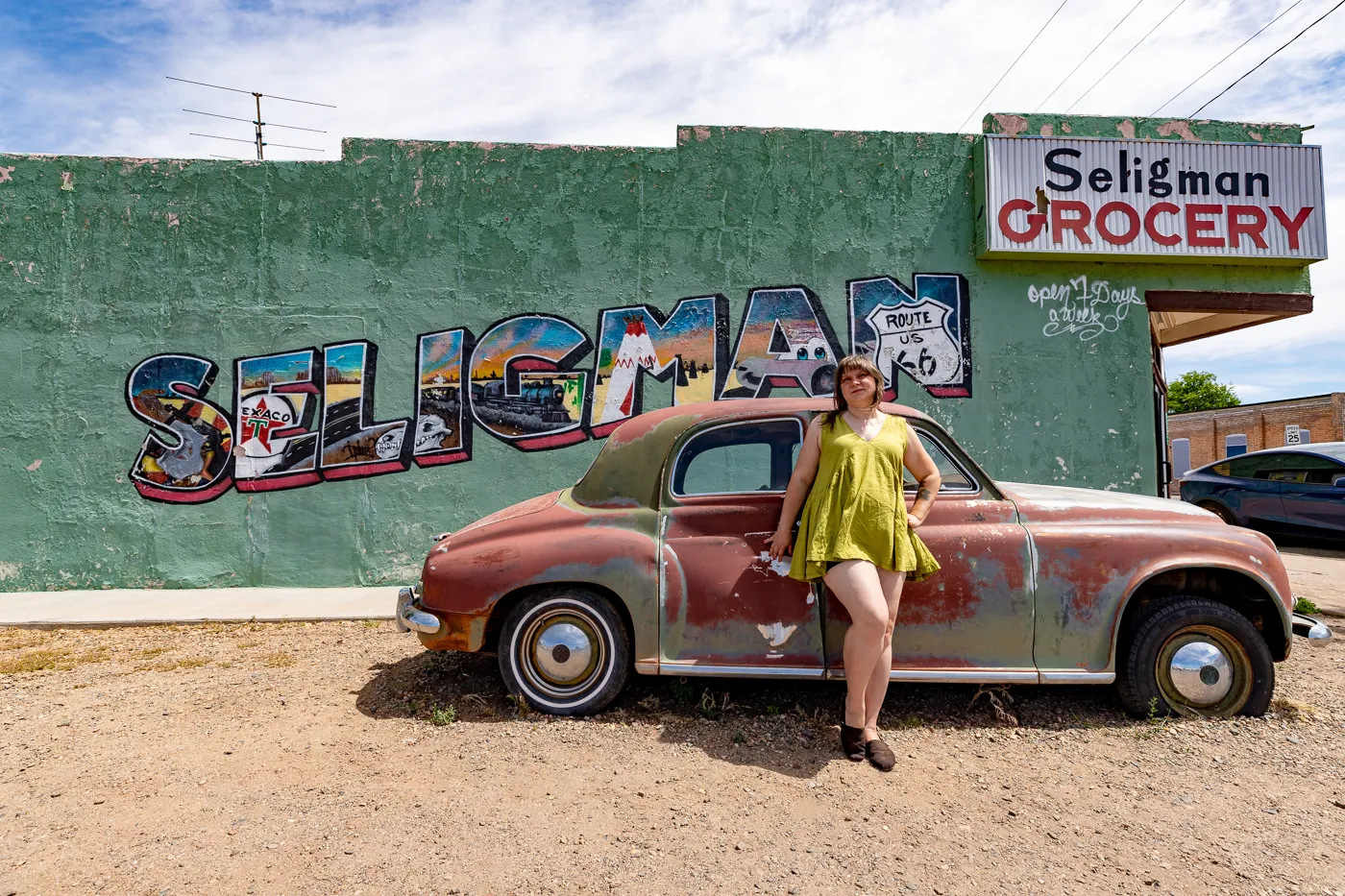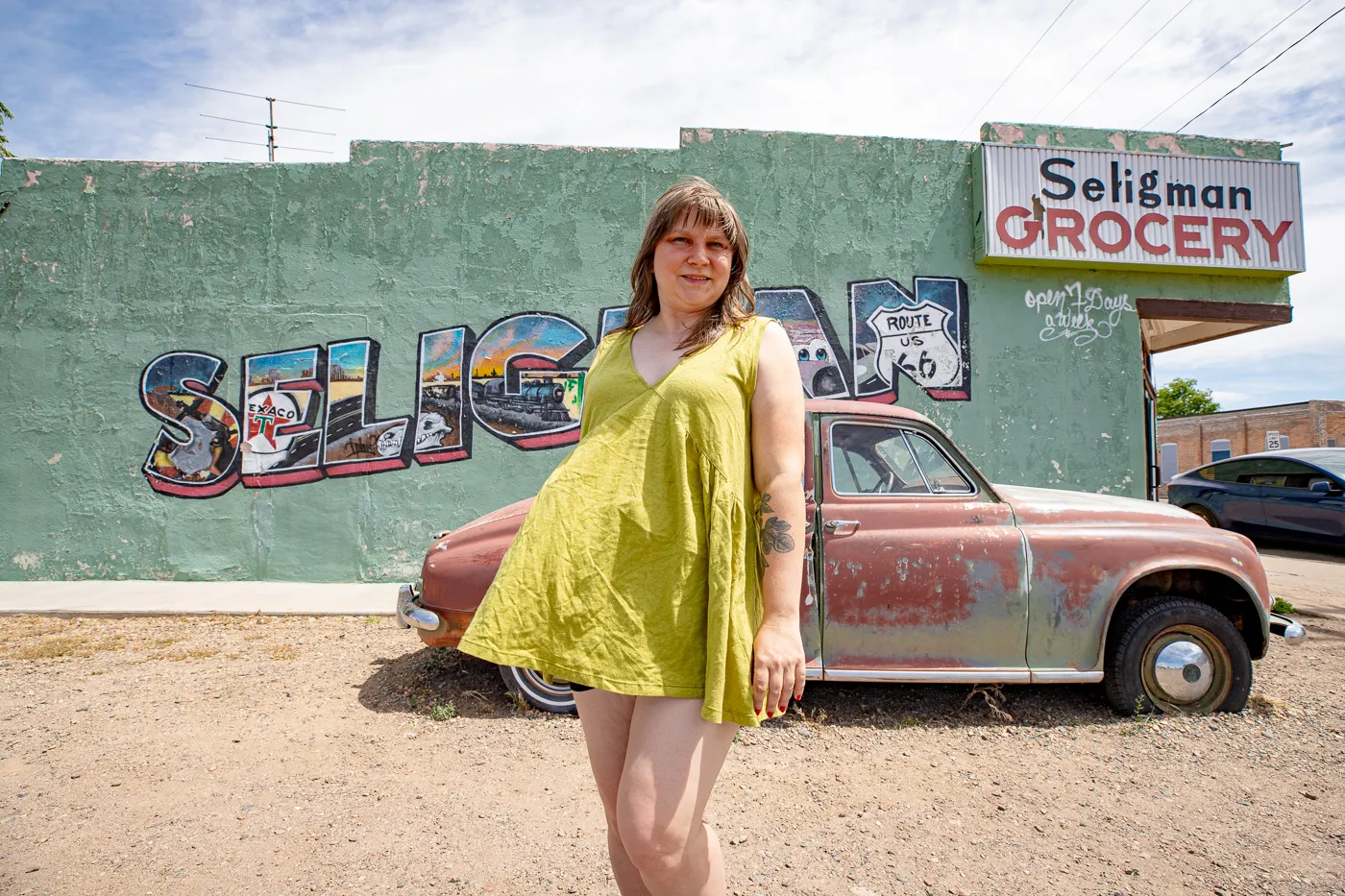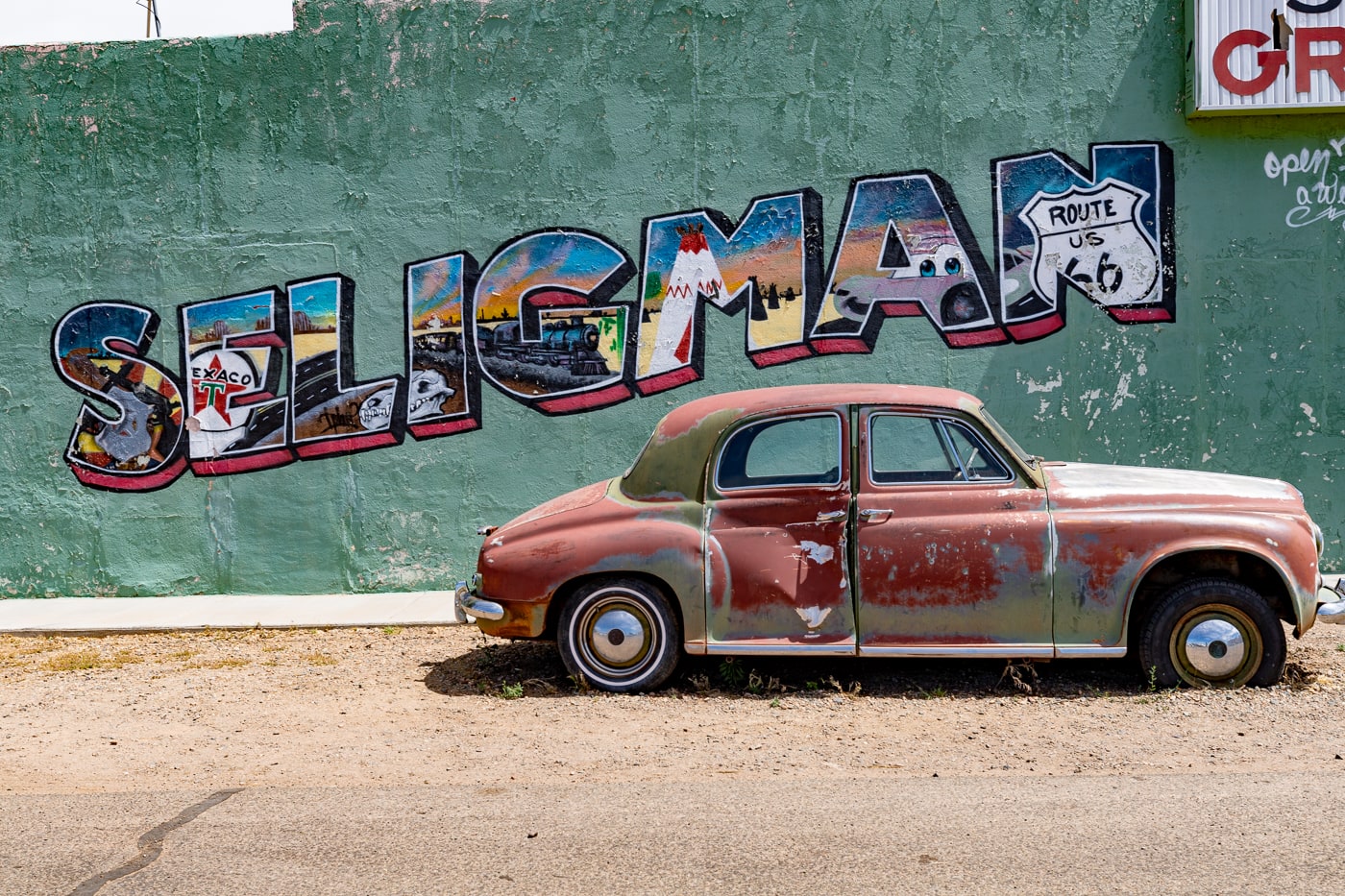 Seligman Grocery Mural
Address: Seligman Grocery Market, 54130 N Main St, Seligman, AZ 86337
Cost: Free to See
Hours: Free to See (Grocery Store hours vary)
Pin this Arizona Route 66 roadside attraction to save for your road trip itinerary: