Roadside attraction? Check. Classic American diner? Check. Route 66 landmark? Check. The Owl Cafe in Albuquerque, New Mexico is all of these things and more. If you give a hoot about your Arizona Route 66 road trip, stop here to admire the novelty architecture, snack on a green chile cheeseburger, and wash it all down with a famous milkshake.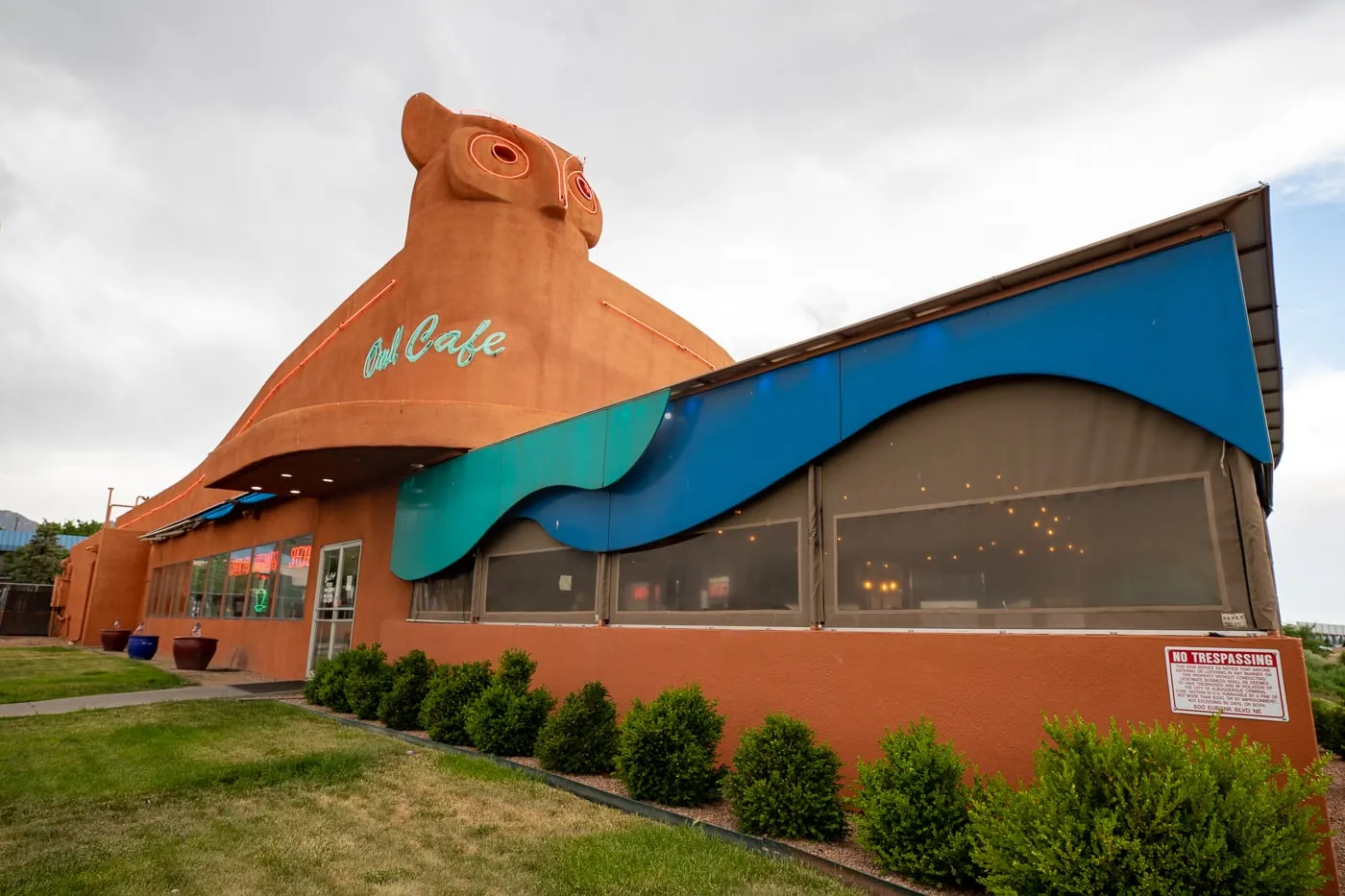 Owl Cafe in Albuquerque, New Mexico is best recognized for it's owl-shaped building. At the corner of Eubank and Lomas Boulevards you'll find a striking orange-tinted southwestern stucco building with a giant owl head protruding from the ceiling. If you drive by at night, you'll see the animal's eyes glowing in neon lights.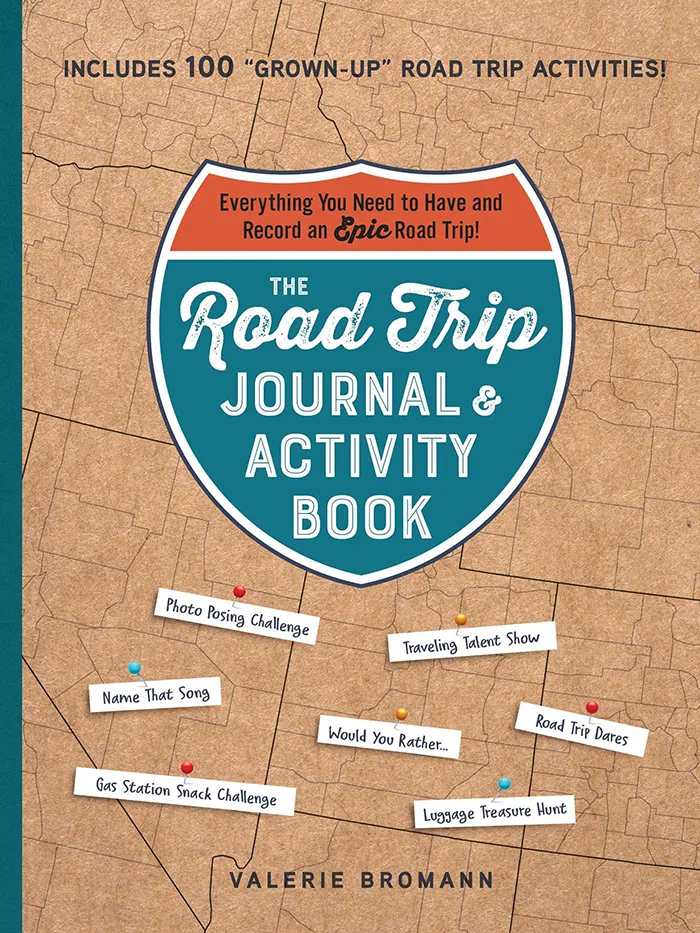 The Road Trip Journal & Activity Book
Everything You Need to Have and Record an Epic Road Trip!
Enjoy fun games and challenges to pass the time on your next road trip and have a keepsake to look back on for years to come with this entertaining must-have for your next vacation.
But this Albuquerque roadside attraction is more than just a roadside attraction. It's home to a retro diner that serves some of the best food on The Mother Road. Inside the restaurant feels like you stepped right into a classic 1950s diner, with more neon lights, chrome barstools, and mini jukeboxes at the tables. The menu features all the classic diner fare you'd expect with an extra New Mexican twist.
You'll find an array of options from fried pickles to chicken fried steak to "owlchiladas" to burritos to taco salad to omelets. And each entree comes with a complementary sampling of beans with green chiles to start you off.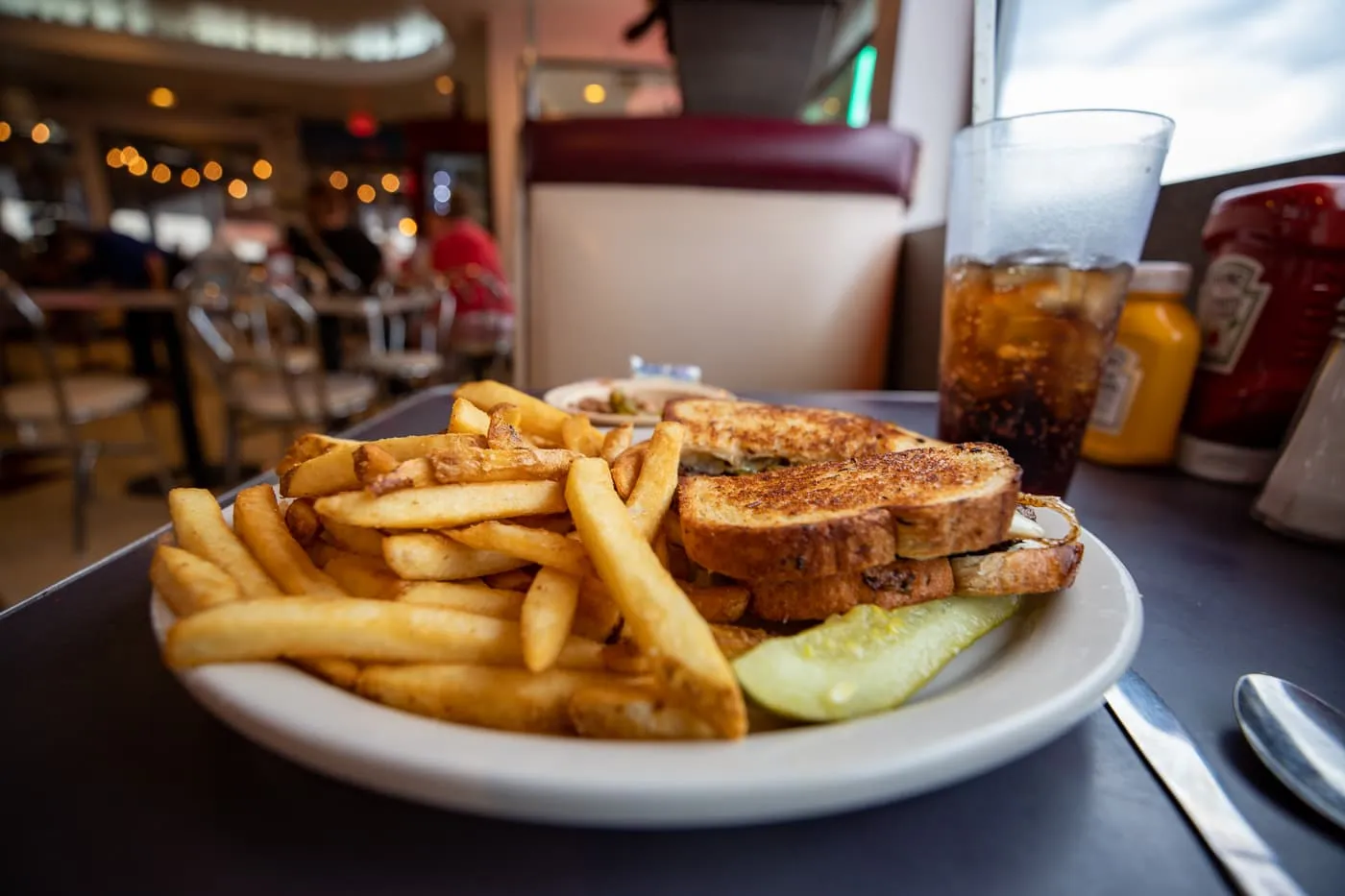 Of course, there's also the burger menu, anchored by the classic "Owl" green chile cheeseburger: a fresh-ground hand patted burger topped with American cheese, lettuce, tomato, onion, pickles, mayonnaise, and spicy green chile.
It's a burger that was on the map before this location ever existed.
The Owl Burger originated at the original Owl Cafe, which opened in 1949 in San Antonio New Mexico. The green chile cheeseburger became so popular that they expanded to this new location in 1986. While the owl-topped restaurant is now a well known landmark in Albuquerque and on Route 66, it didn't open until a year after the road was decommissioned. But that doesn't make this restaurant any less classic.
If OWL you need is the perfect stop for breakfast, lunch, or dinner on your Route 66 road trip, be sure to add Owl Cafe to your travel itinerary. And don't leave without trying one of their award-winning milkshakes, you can even take it to go!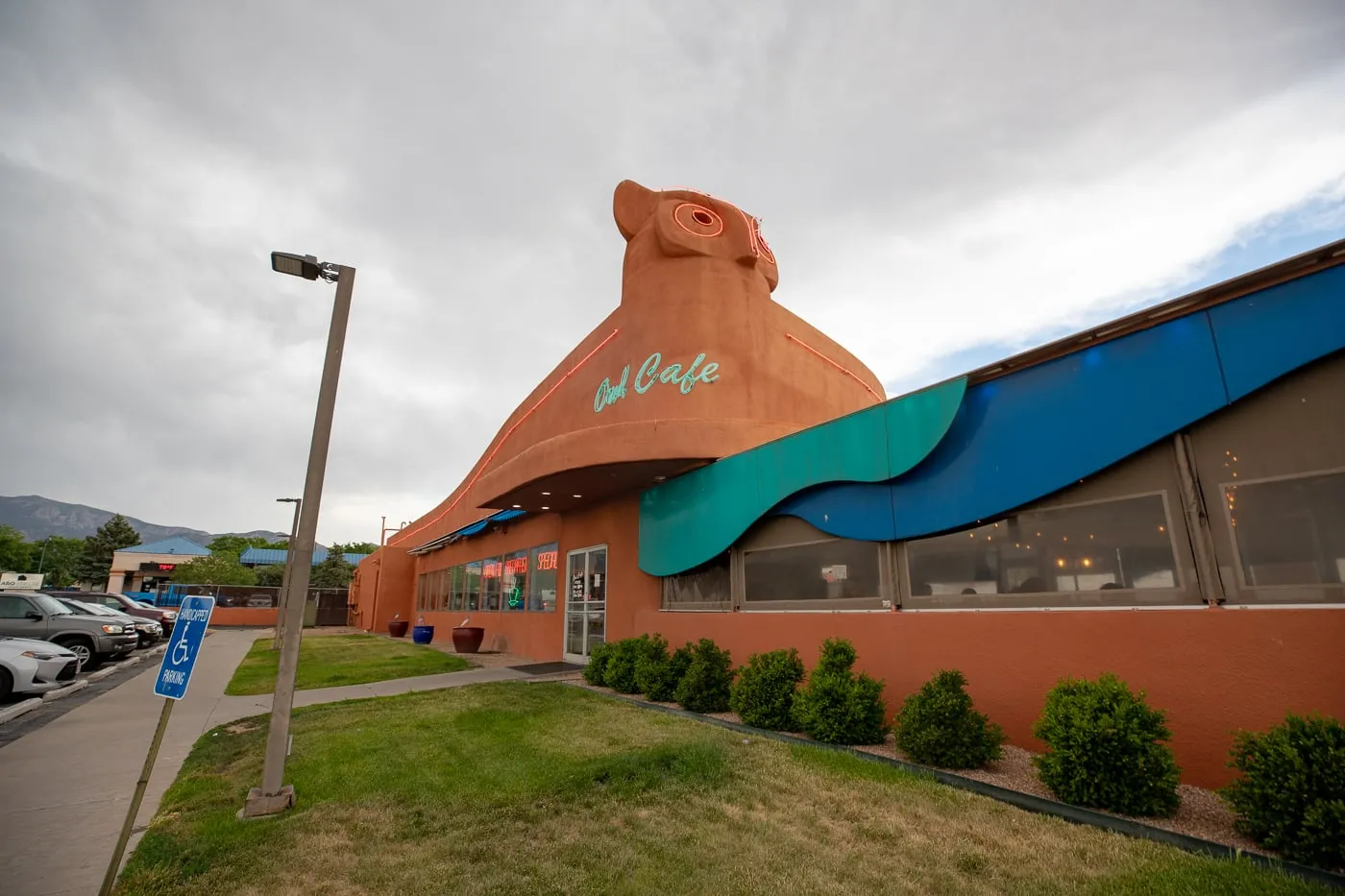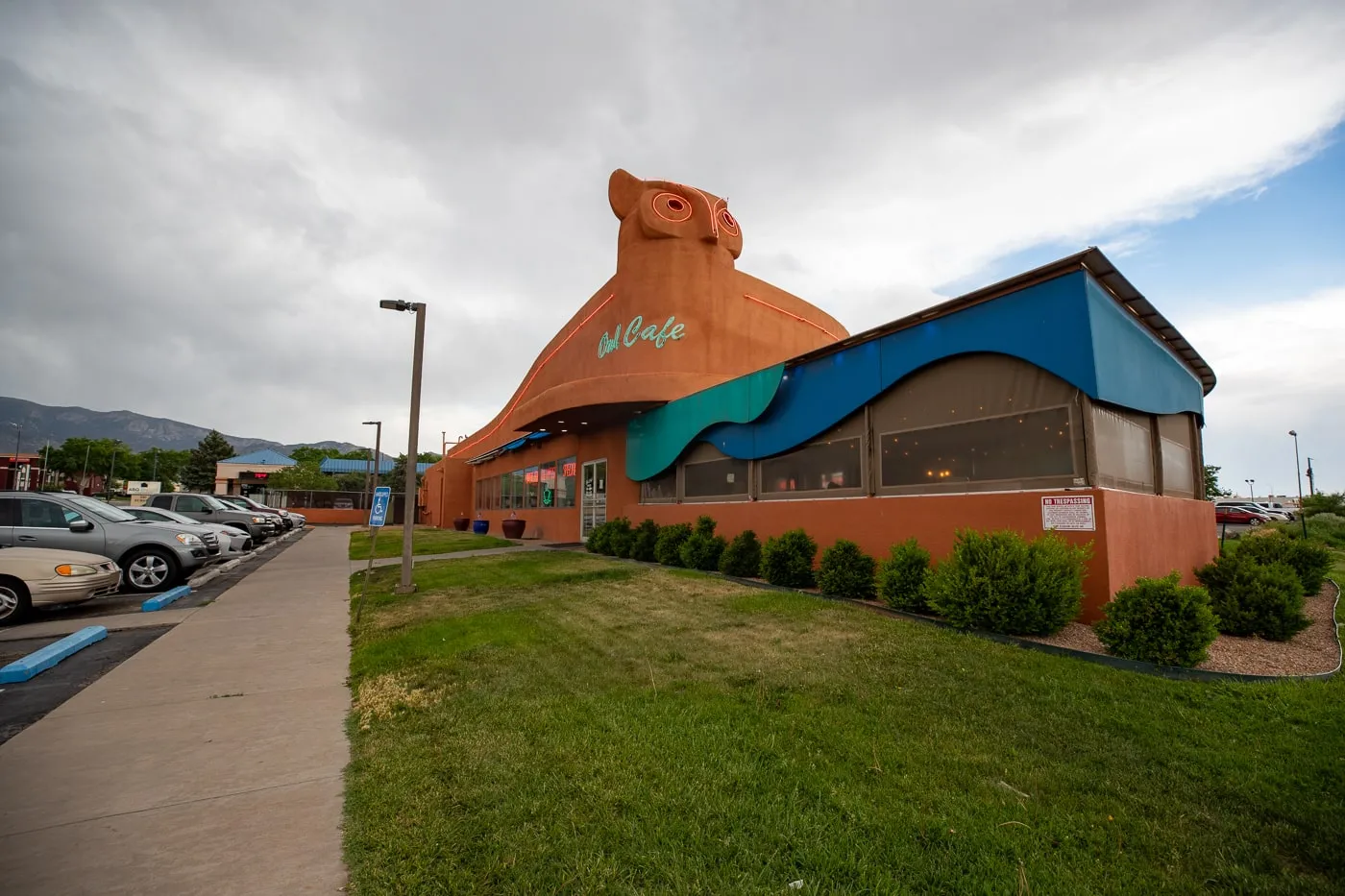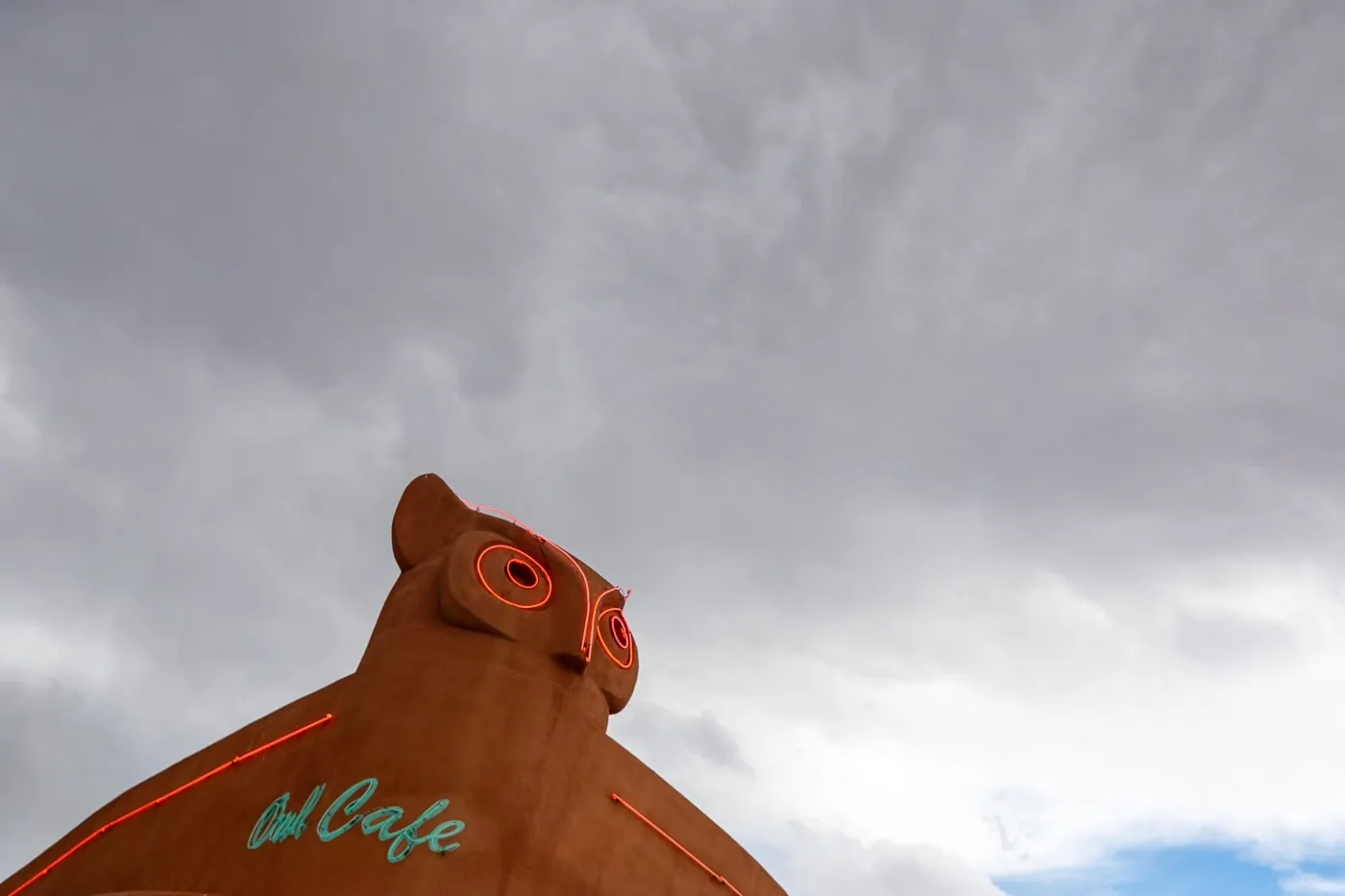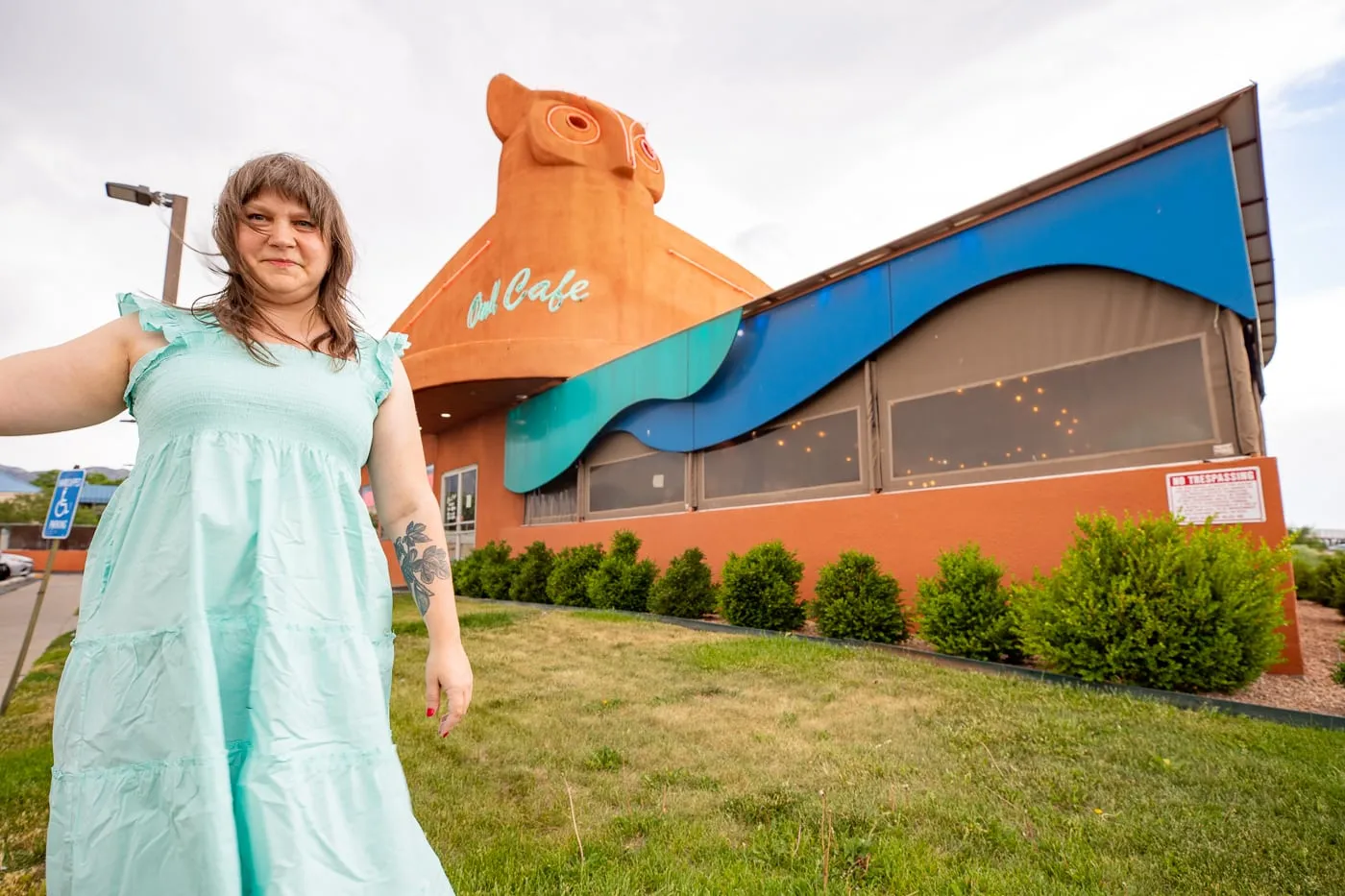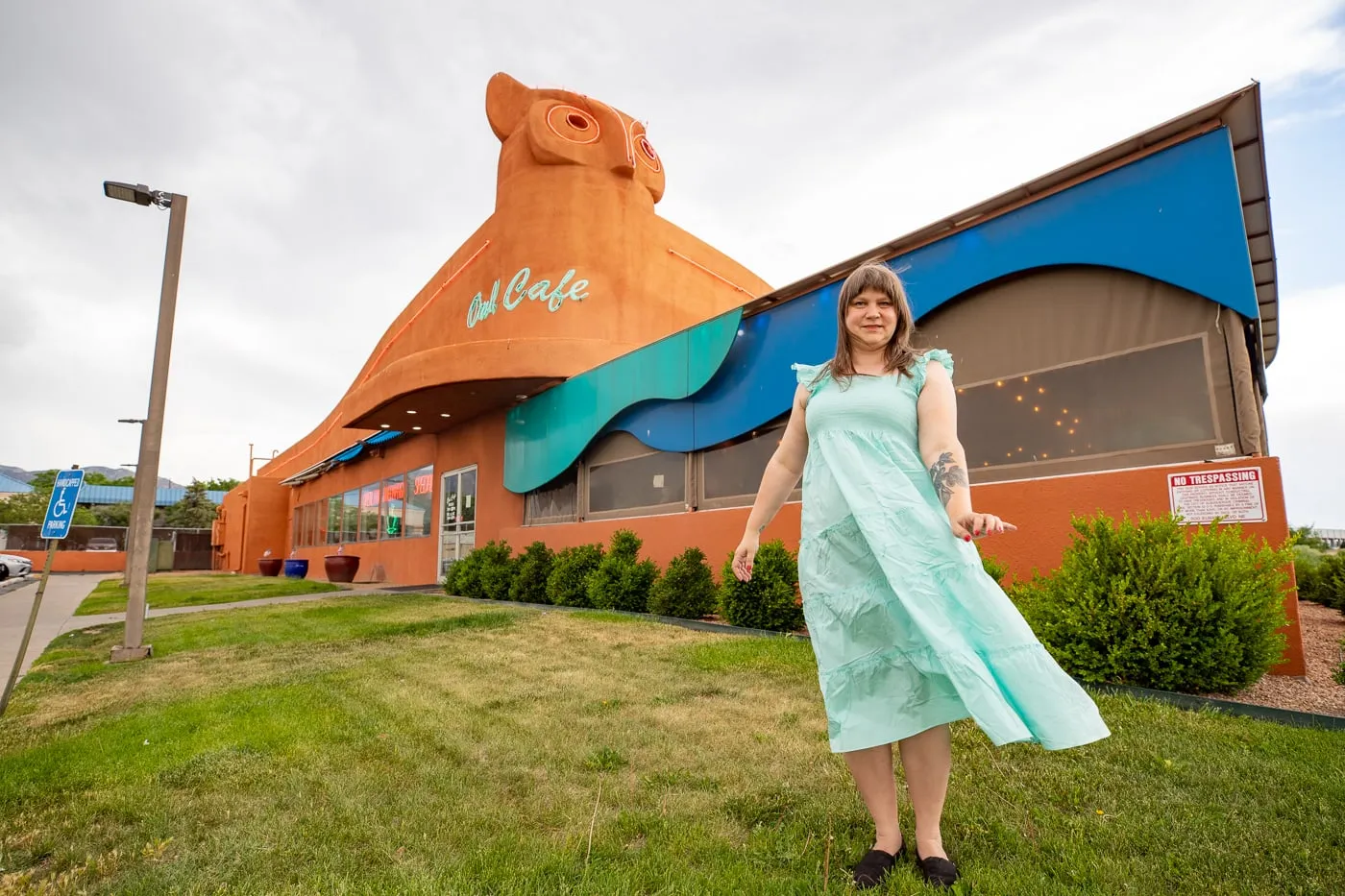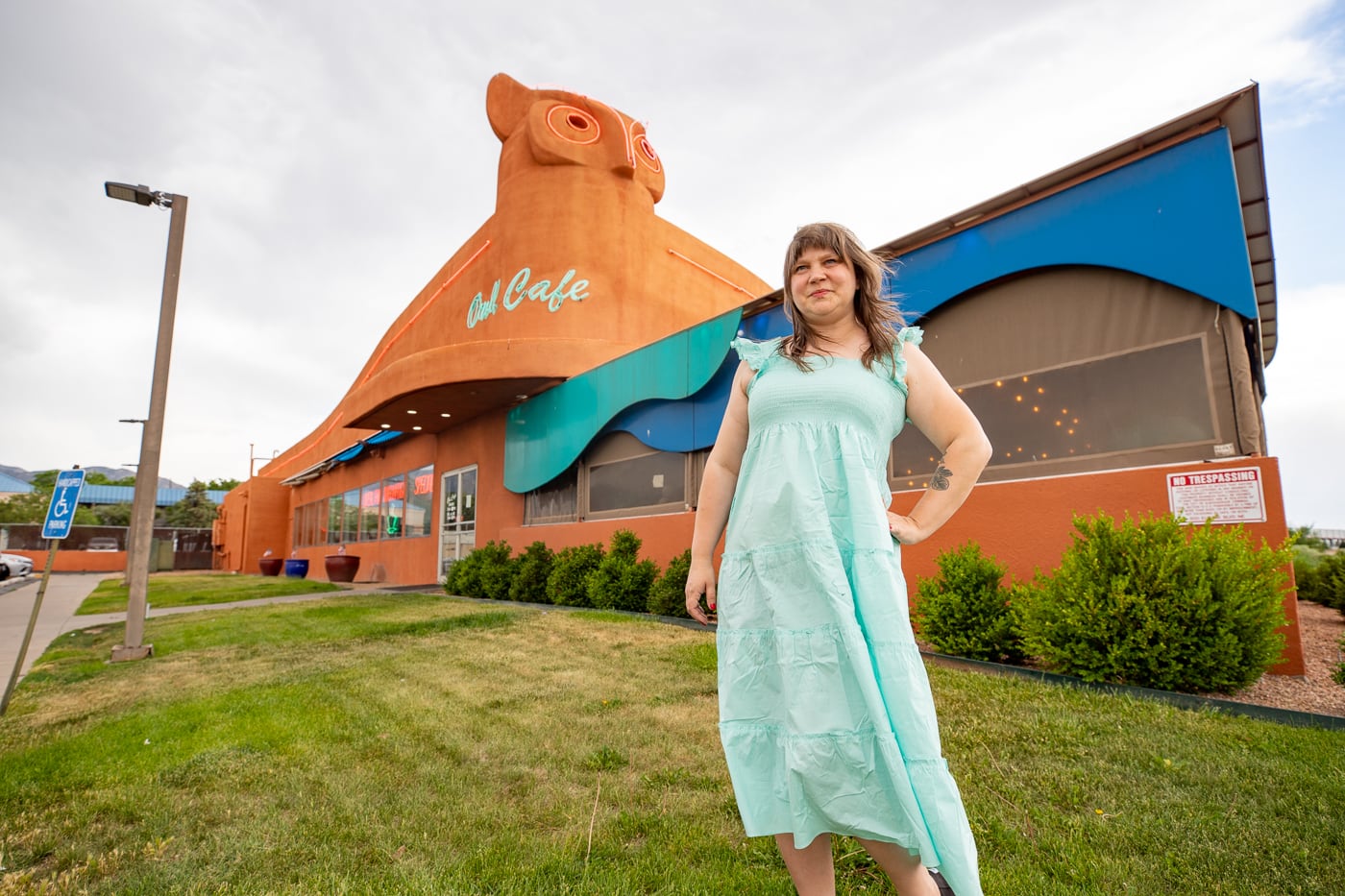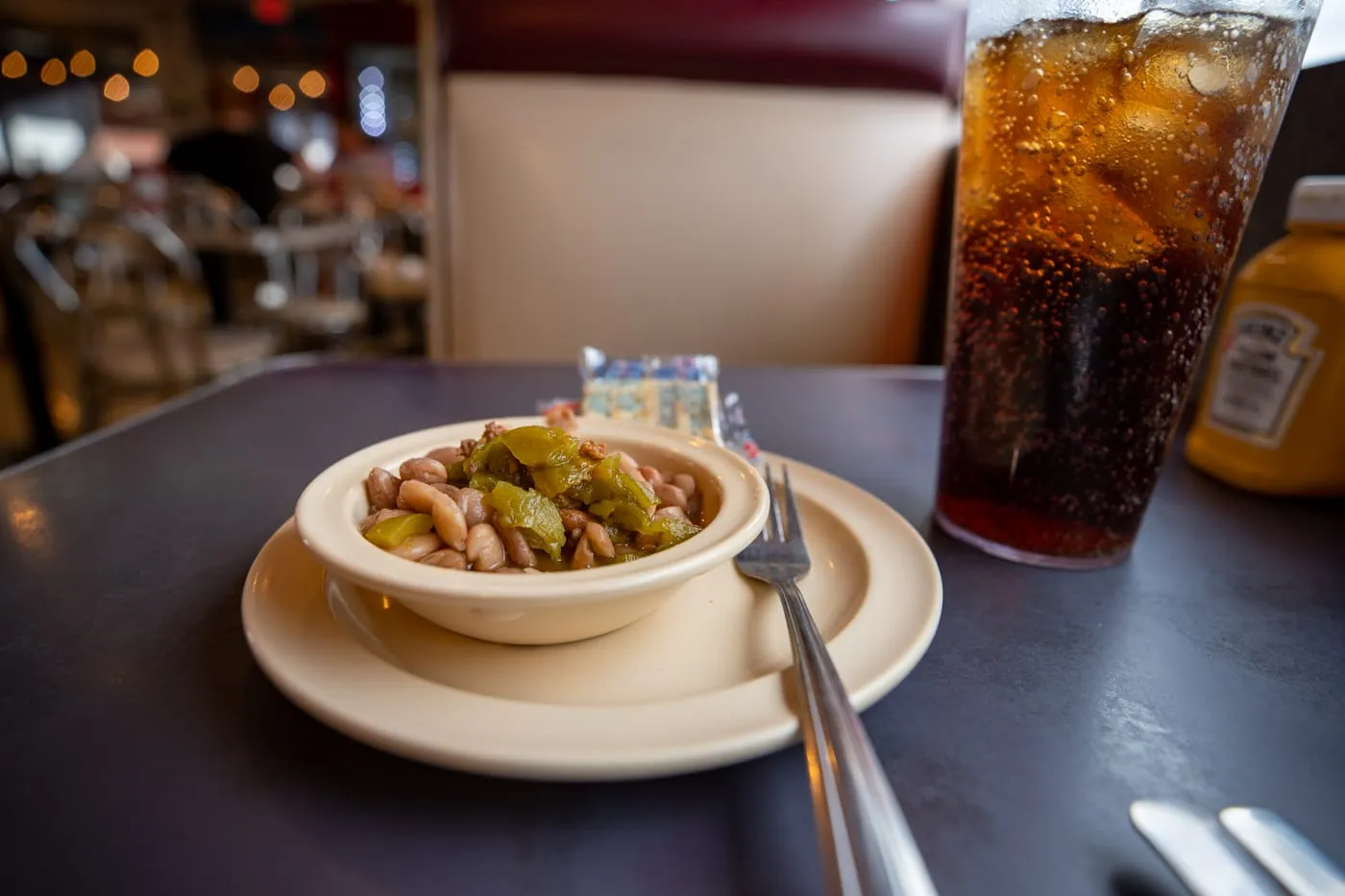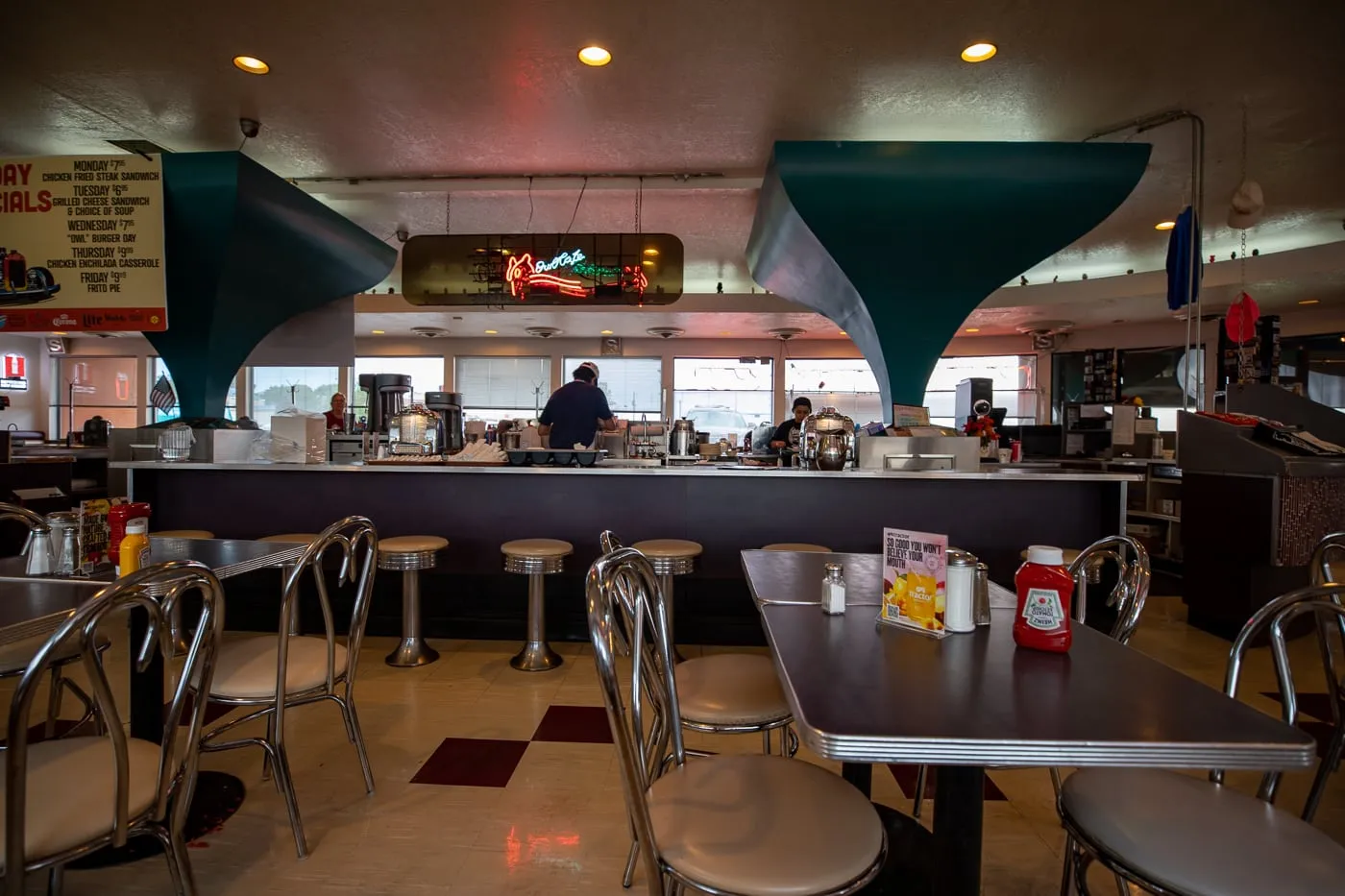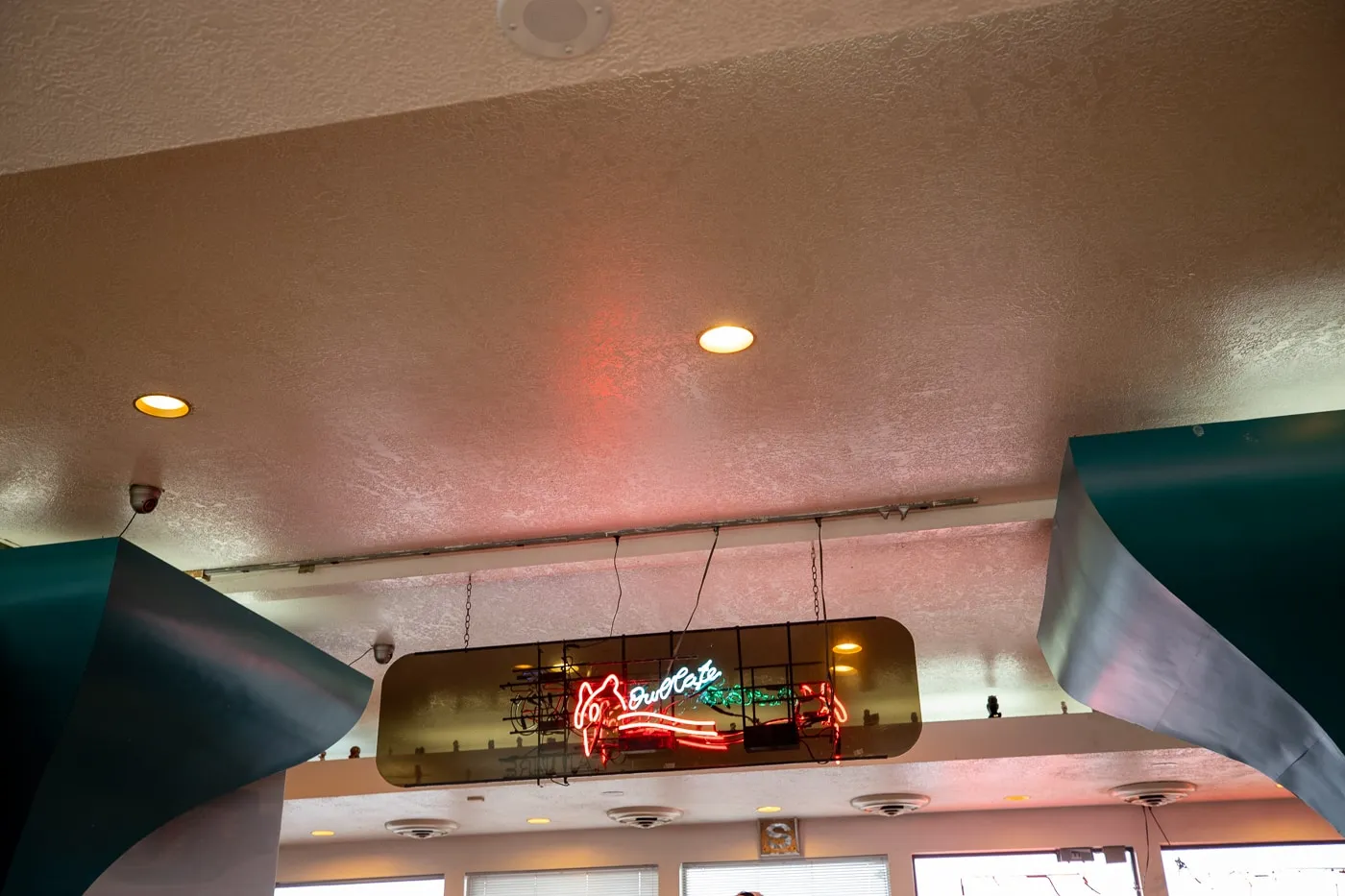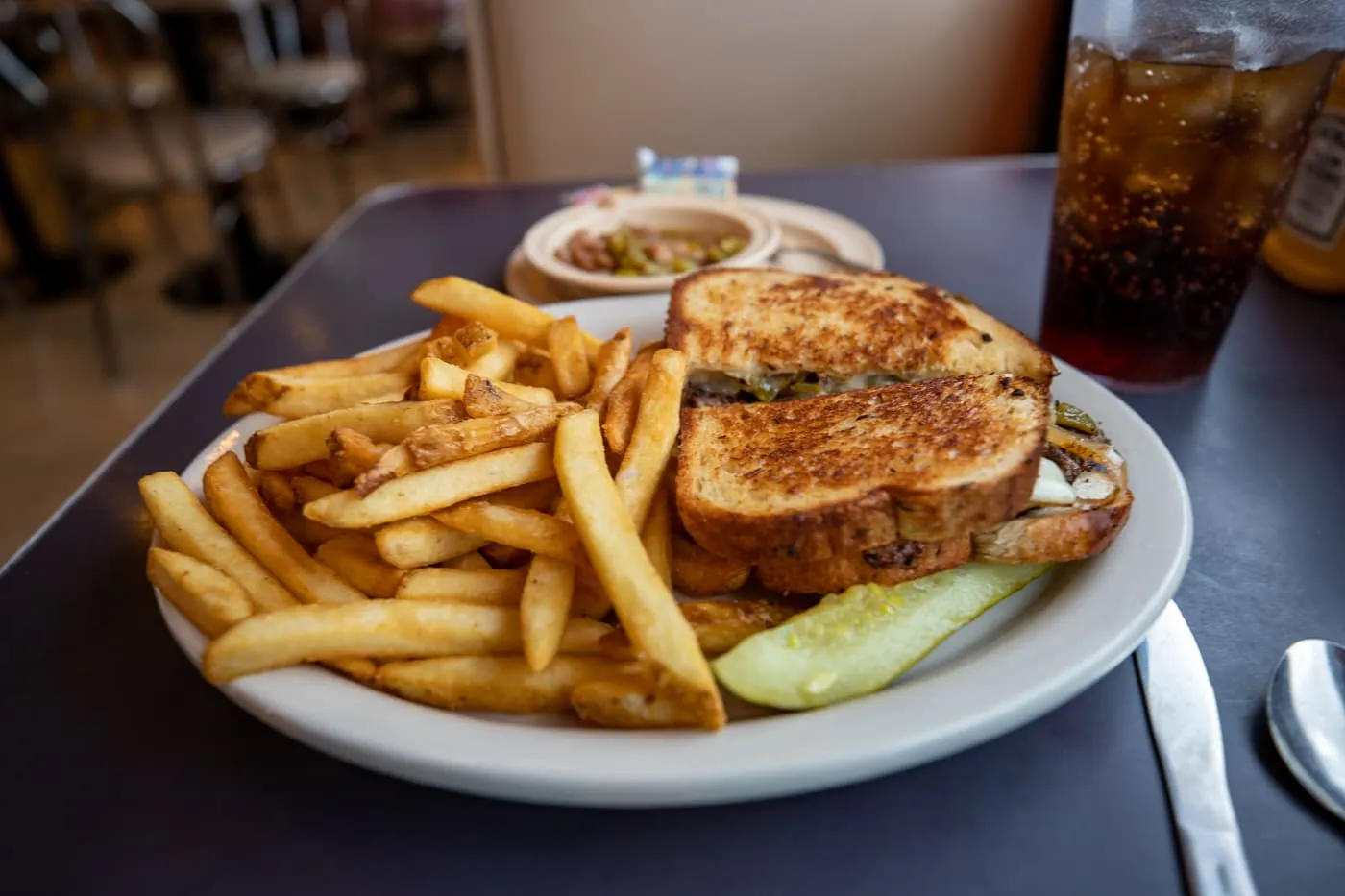 Love this New Mexico Route 66 restaurant? Here are some more local attractions to add to your road trip itinerary: the Giant Red Arrow, Tinkertown Museum, Singing Highway, 66 Diner, and the American International Rattlesnake Museum.
Owl Cafe
Address: 800 Eubank Blvd NE, Albuquerque, NM 87123
Cost: Free to See, Menu prices vary
Hours: 7am – 9pm Monday – Thursday, 7am-10pm Friday-Saturday (Owl-shaped building always visible)
Visit their official Facebook page for up-to-date information.
Pin this New Mexico Route 66 diner and roadside attraction to save for your road trip itinerary: