I just moved to Texas and have a lot of destinations on my Texas roadside attraction bucket list. But there was one iconic place I knew I had to stop at at one of my first road trips in the state: Buc-ee's
Buc-ee's is a popular travel center chain that is lures travelers in with an impressive fleet of fueling stations, a massive convenience store, and some of the cleanest bathrooms you'll find on the road.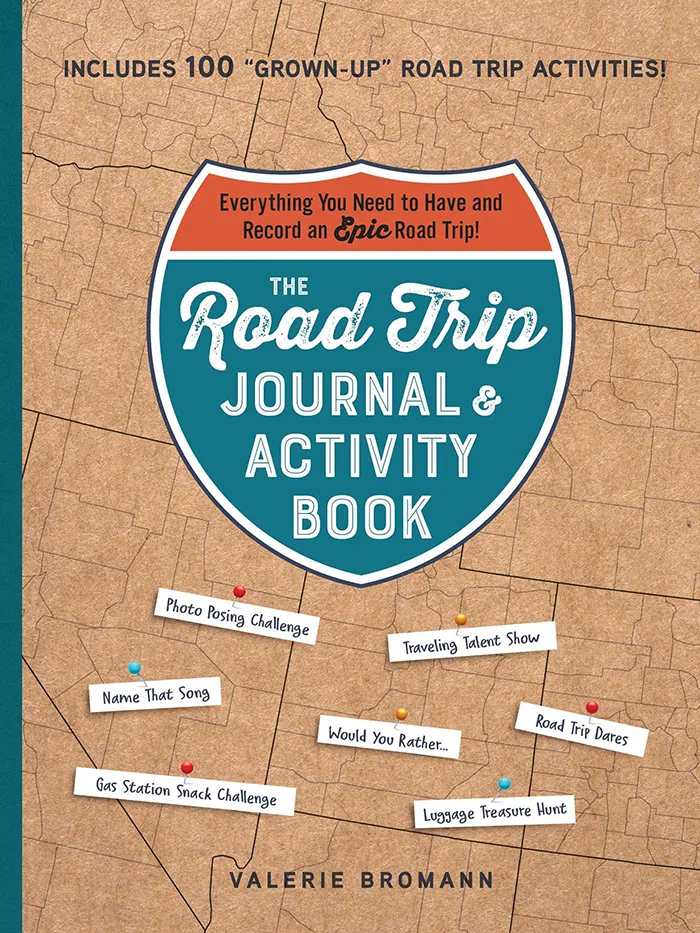 The Road Trip Journal & Activity Book
Everything You Need to Have and Record an Epic Road Trip!
Enjoy fun games and challenges to pass the time on your next road trip and have a keepsake to look back on for years to come with this entertaining must-have for your next vacation.
I knew it was a popular stop among Texans and knew I had to experience one for myself.
Being my first time at Buc-ee's, I wasn't sure what to expect, or which of their massive offerings were worth taking home with me, so I asked my Instagram followers what to get at Buc-ee's. And they had opinions. Lots of opinions.
I'm not going to lie: my first trip to Buc-ee's was overwhelming. There was so much to see, and buy. But my followers' suggestions did not disappoint: I left with a bag full of snacks, lunch, and souvenirs. I also have a list of even more things to look for the next time I pull over (after all, I definitely need to make it to the world's largest Buc-ee's in New Braunfels, Texas).
Below is a list of the best things to get at Buc-ee's, as suggested by my Instagram followers.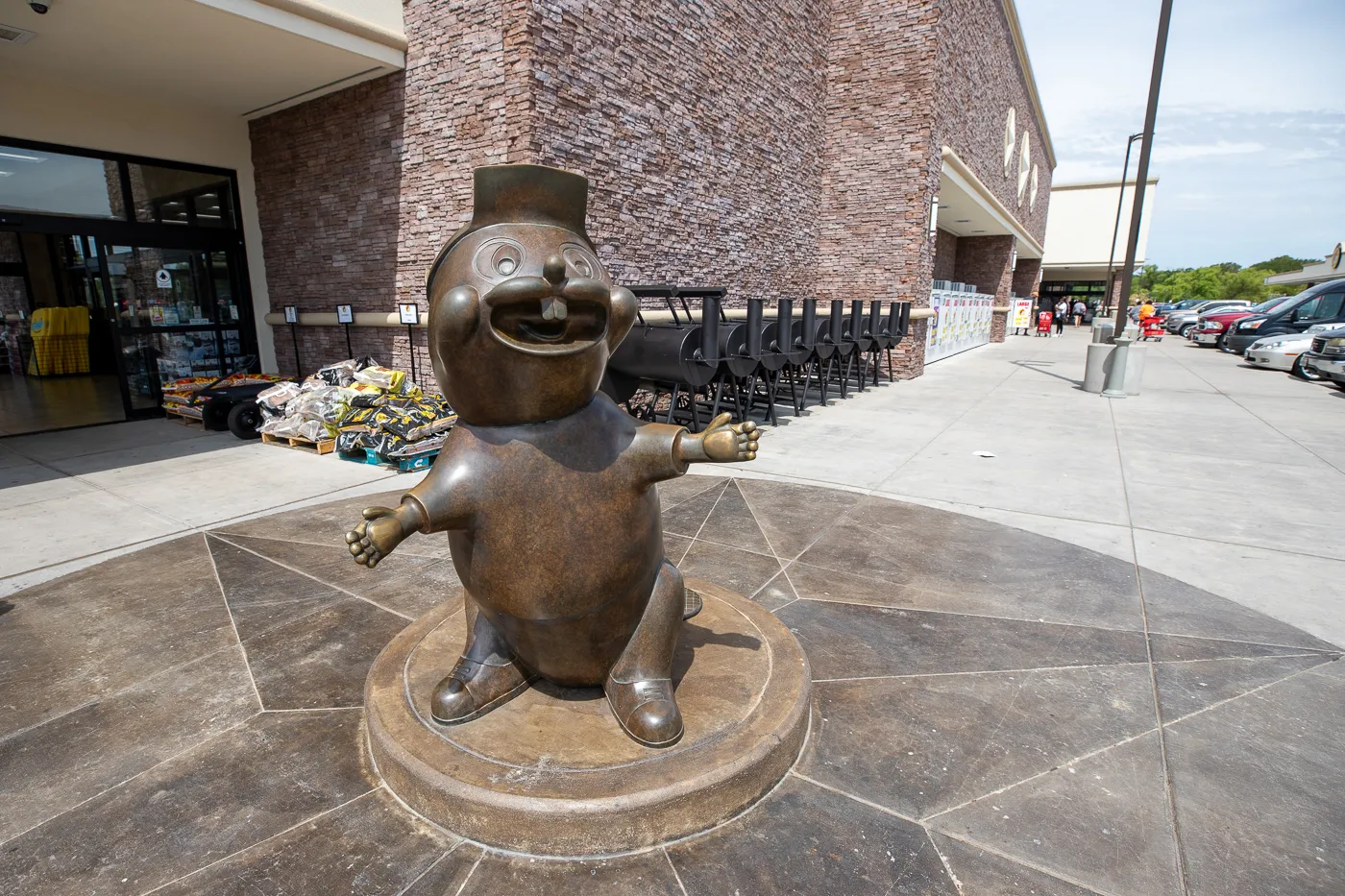 Best Things to Get at Buc-ee's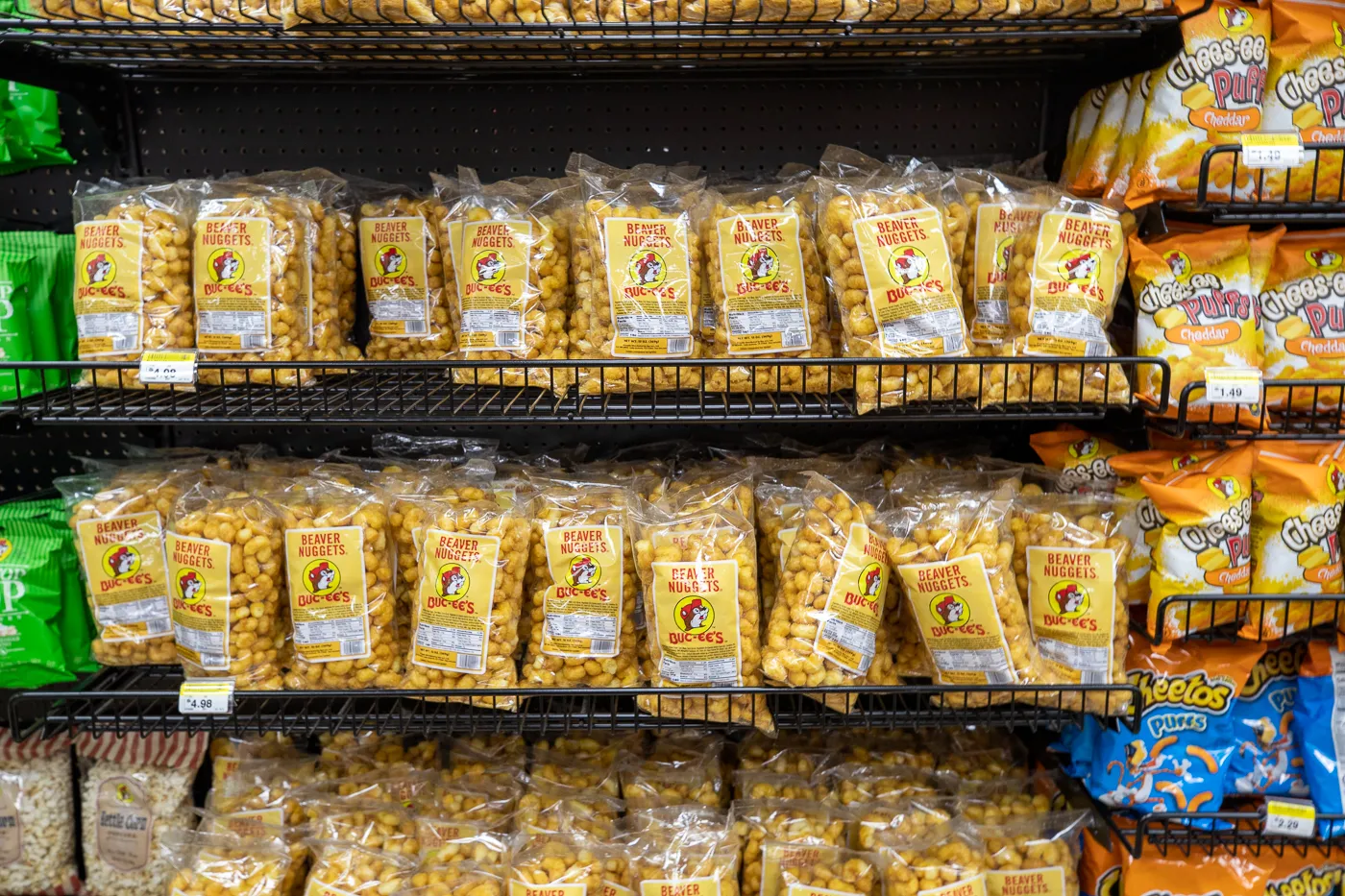 Buc-ee's Beaver Nuggets
By far the most popular suggestion for what to get at Buc-ee's was Buc-ee's Beaver Nuggets. What are Beaver Nuggets? This sweet snack is a puffy corn nugget soaked in a brown sugar and caramel coating. One of my followers said they tasted like Cracker Jack and that is a pretty on point observation. While the classic recipe reigns, you can also find thee treats in other flavors, such as sea salted caramel, bold 'N' Sorta Spicy, White Cheddar, White Cheddar Habanero, and Cinnamon Sweet.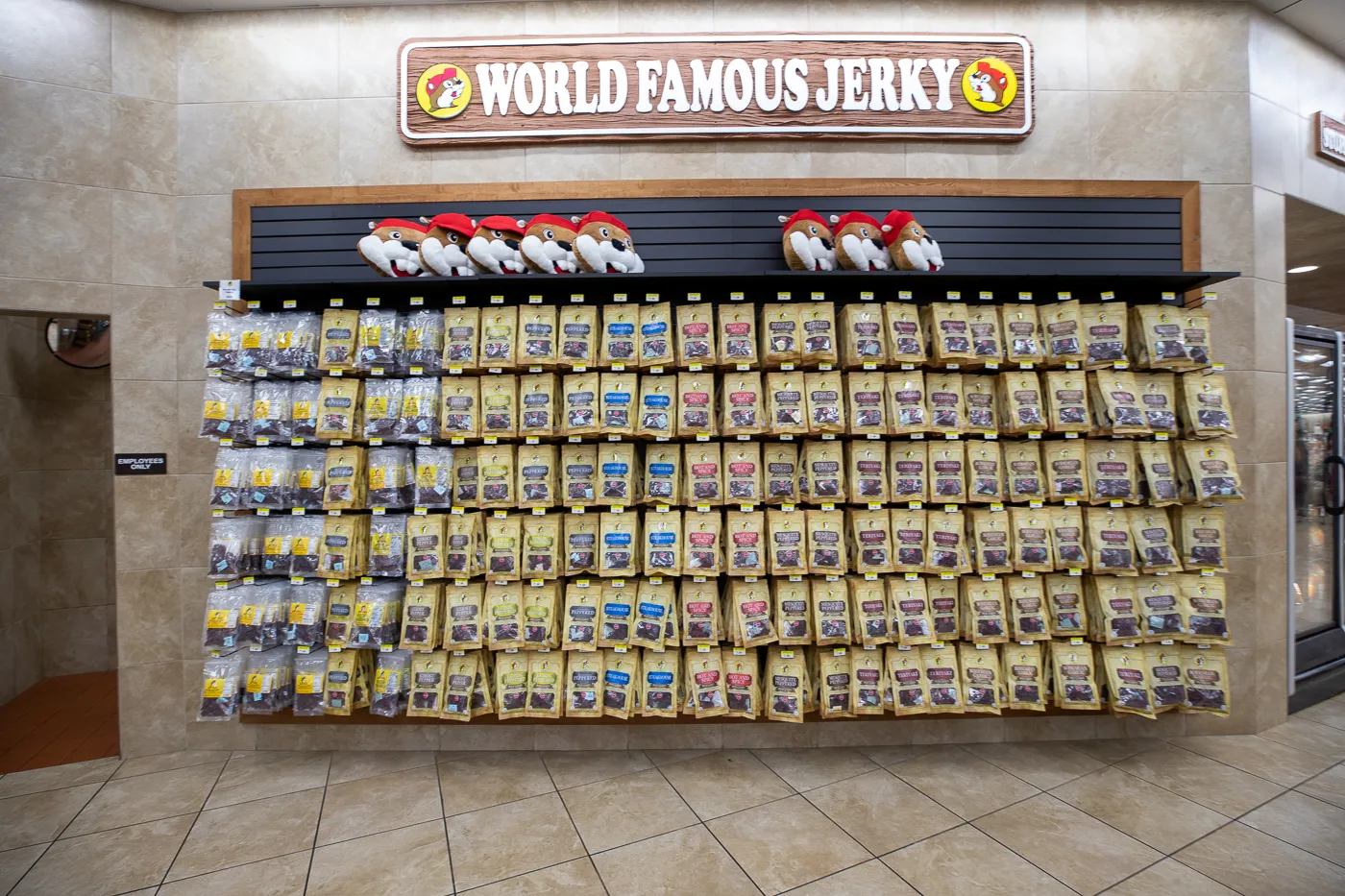 Beef Jerky
If you're craving something salty over sweet, go for the beef jerky. These beefy bits pack a ton of meaty flavor accented by spices and seasonings. There are different flavors to choose from on the "World Famous Jerky Wall," like Hot and Spicy, Mesquite Peppered, and Teriyaki. On the suggestion from a follower I went with the Bohemian Garlic beef jerky and it had the perfect combo of smoke and garlic flavors.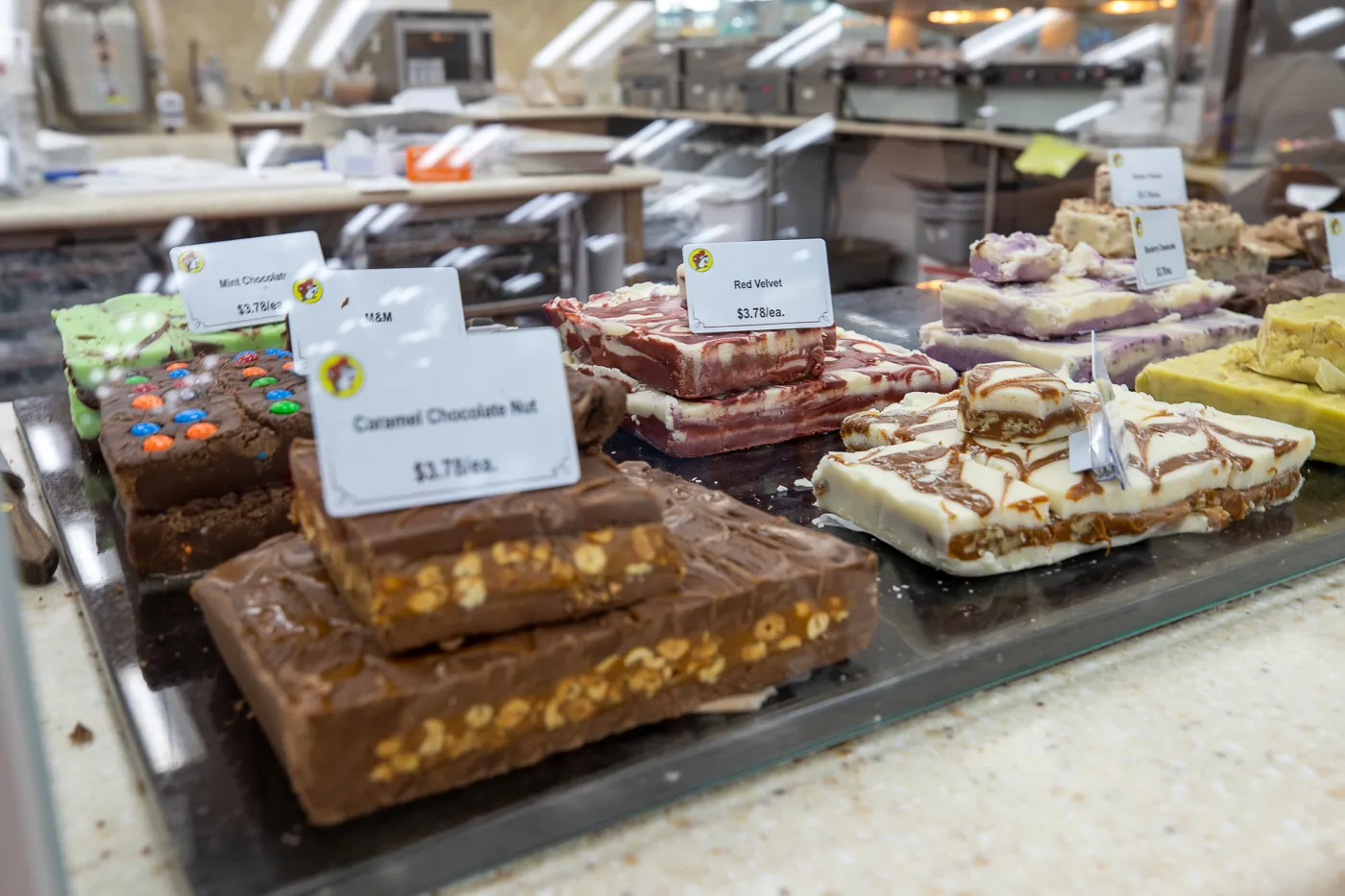 Fudge
You can never go wrong with some ooey-gooey fudge. Fudge is a staple of roadside convenience stores (I'm looking at you Uranus Fudge Factory and General Store) and Buc-ee's selection does not disappoint. With standard flavors like M&M and Mint Chocolate and more off-the-wall selections like Blueberry and Banana Pudding, there is something for every taste. One follower said that is was "expensive but worth it."
Candied Nuts
There's something so satisfying about a warm candied nut, with the salty crunch encased in a sweet coating. So it's no wonder the candied nuts were also one of the most suggested things to get at Buc-ee's.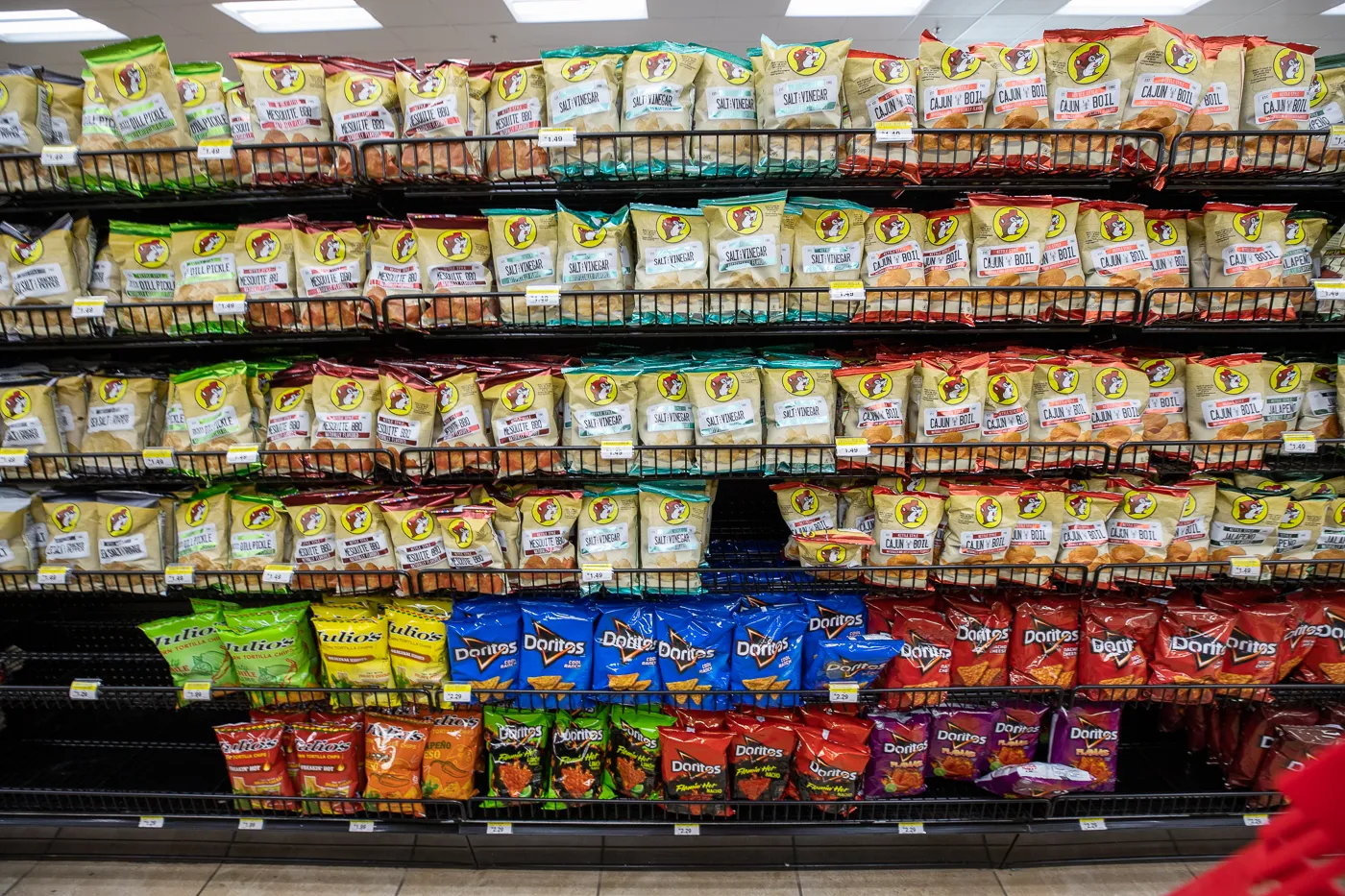 Chips and Snacks
Buc-ee's has a whole line of their own snacks, like gummies, candies, and chips (someone told me that the salt and vinegar variety was supreme). They also have a wide selection of traditional convenience store items to choose from.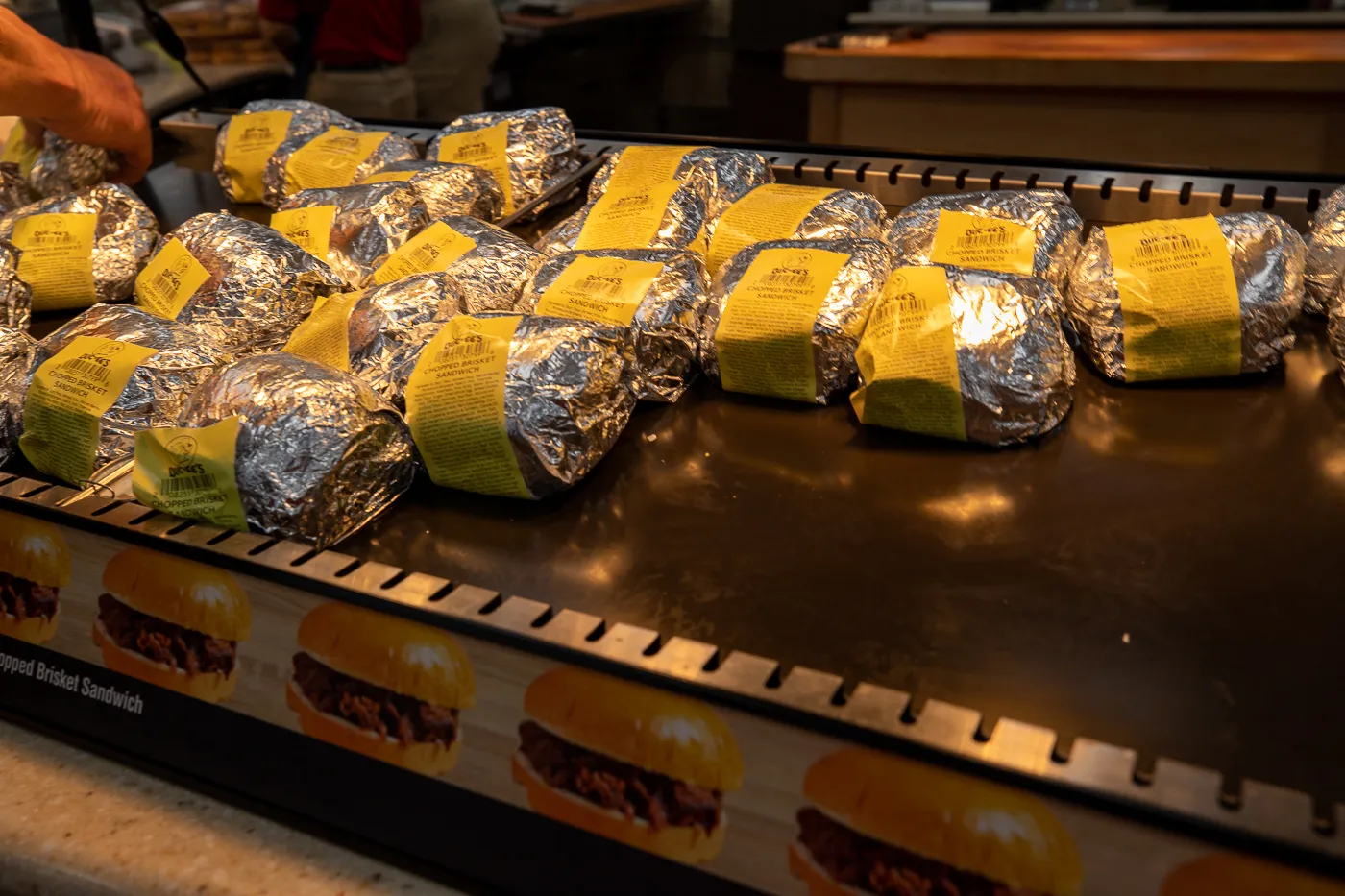 Chopped Brisket Sandwich
At Buc-ee's you can grab snacks, souvenirs, and a full meal. Several of my followers had ideas for their favorite bite here, like deli sandwiches, pulled pork sandwiches, sausage rolls, or tortilla wrapped hot dogs. By far the most suggested item was the chopped brisket sandwich. While many admitted there were far better briskets around Texas, they still said grabbing a Buc-ee's chopped brisket sandwich was a must for a quick lunch on the go. And I have to agree. I ate one in the car and the sweet and saucy sandwich was the perfect fuel for an afternoon of road tripping.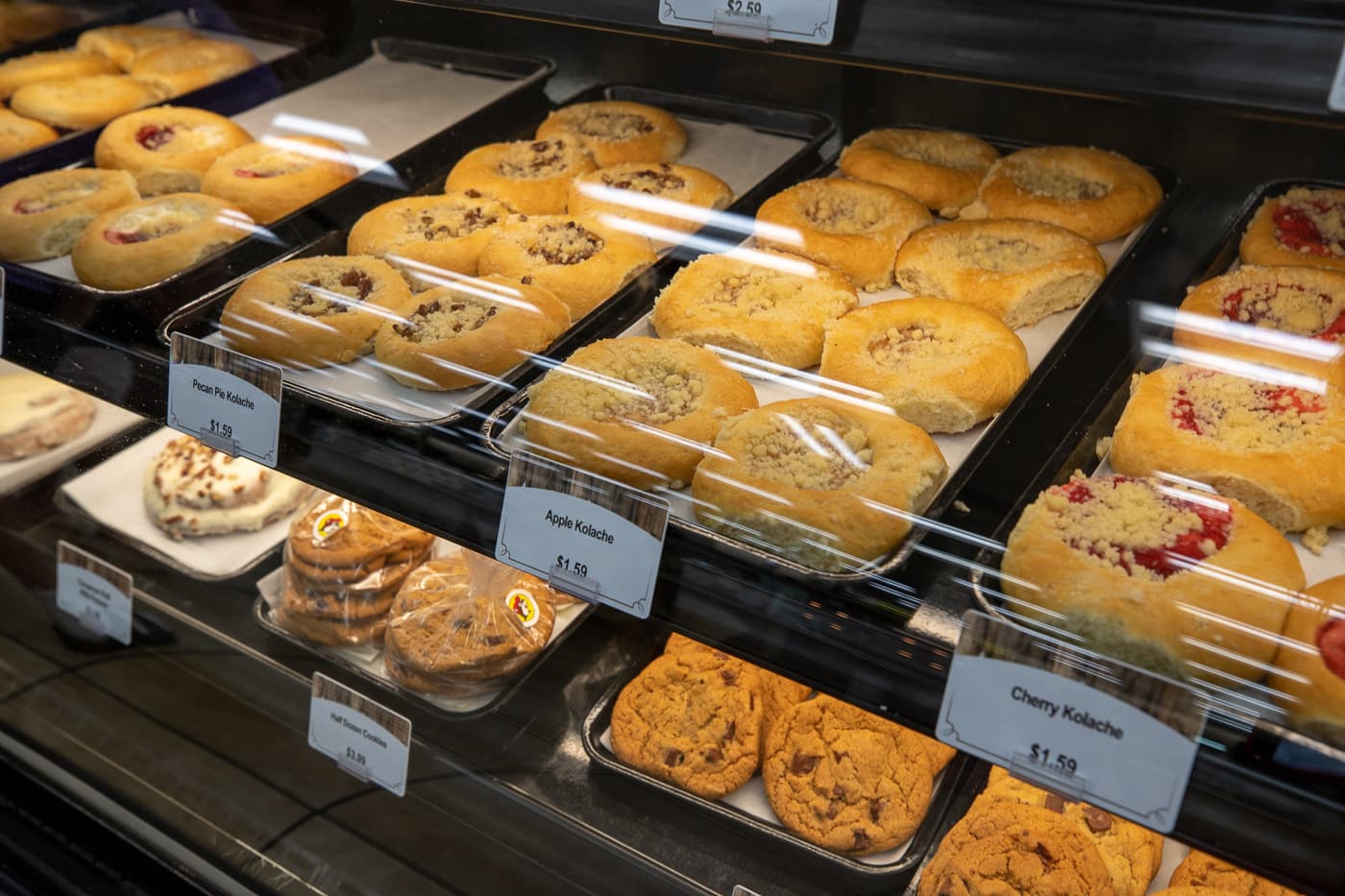 Kolache
The bakery section at Buc-ee's is full of baked goods, like cookies, scones, and muffins. But if you're going to get one bakery item, make it the kolache. Kolache were made popular in Texas due to a strong history of Czech residents who brought the recipe over. It is a sweet yeast-based pastry filled with fruit surrounded by dough. Popular flavors at Buc-ee's include apple, cherry, and pecan pie. You can also get savory versions (technically Klobasniky) filled with sausage and cheese.
Overbite Chocolate Beaver Heads
One of my followers told me that I just had to grab a chocolate peanut butter beaver head in the checkout line, and I couldn't say no to that! This thick disk of chocolate was filled with a creamy peanut butter. While this is a delectable treat, don't buy one on a 100 degree plus day if you do not plan to eat the entire things right away. I ate half and left the other half to melt all over my car… Other flavors like plain milk chocolate and chocolate with crispy rice are also available!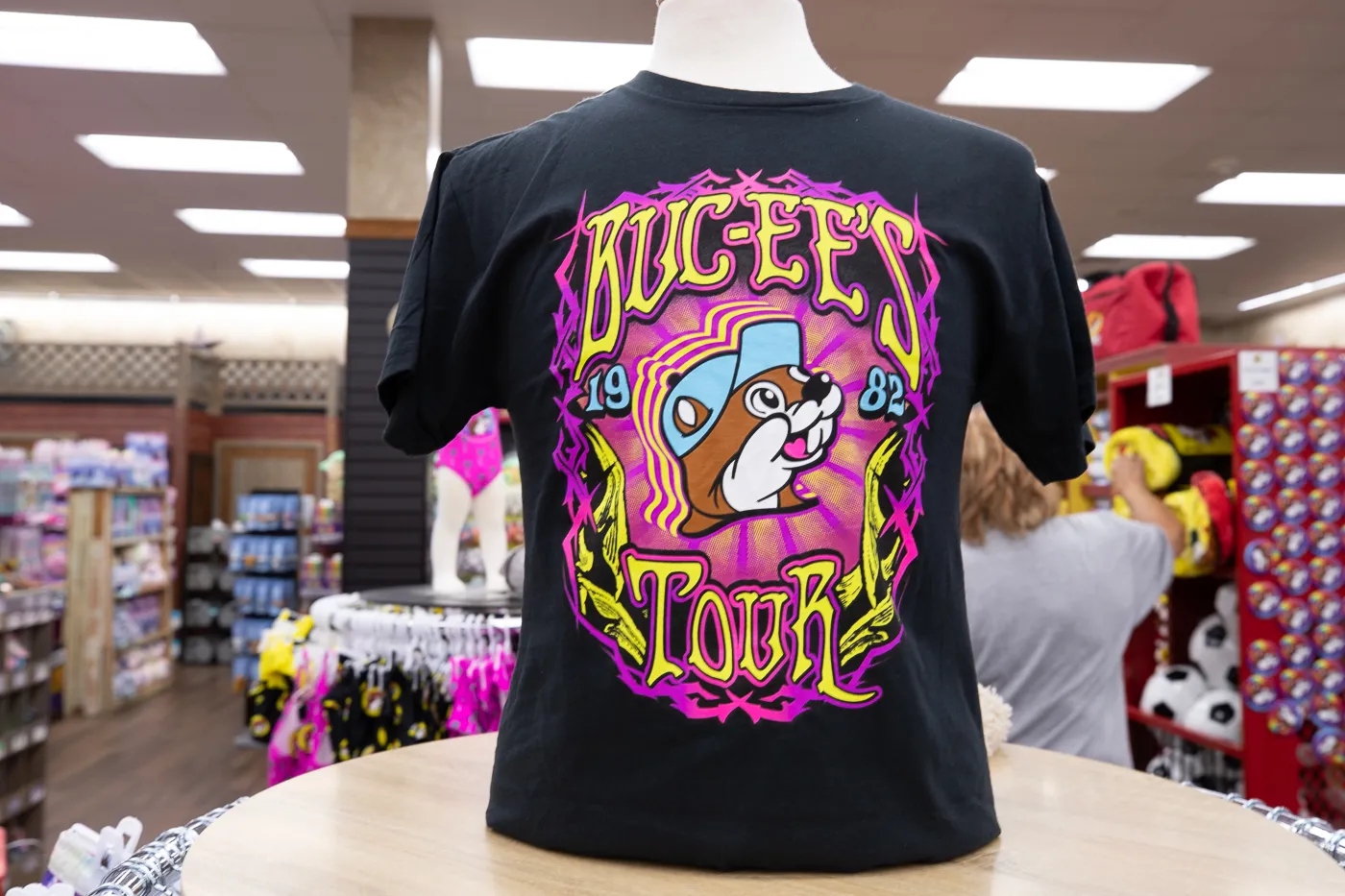 T-Shirts (and other branded souvenirs)
Buc-ee's might be known for their road trip snack options, but souvenirs here also reign supreme. You can find the Buc-ee's beaver mascot on just about anything you can imagine: swimsuits, magnets, phone holders, keychains, mugs, and more. One of the most popular souvenirs is a branded T-shirt. I bought one that says "Buc-ee's, Snacks, Naps" because truly my three favorite things in life are a good road trip stop, snacks, and naps.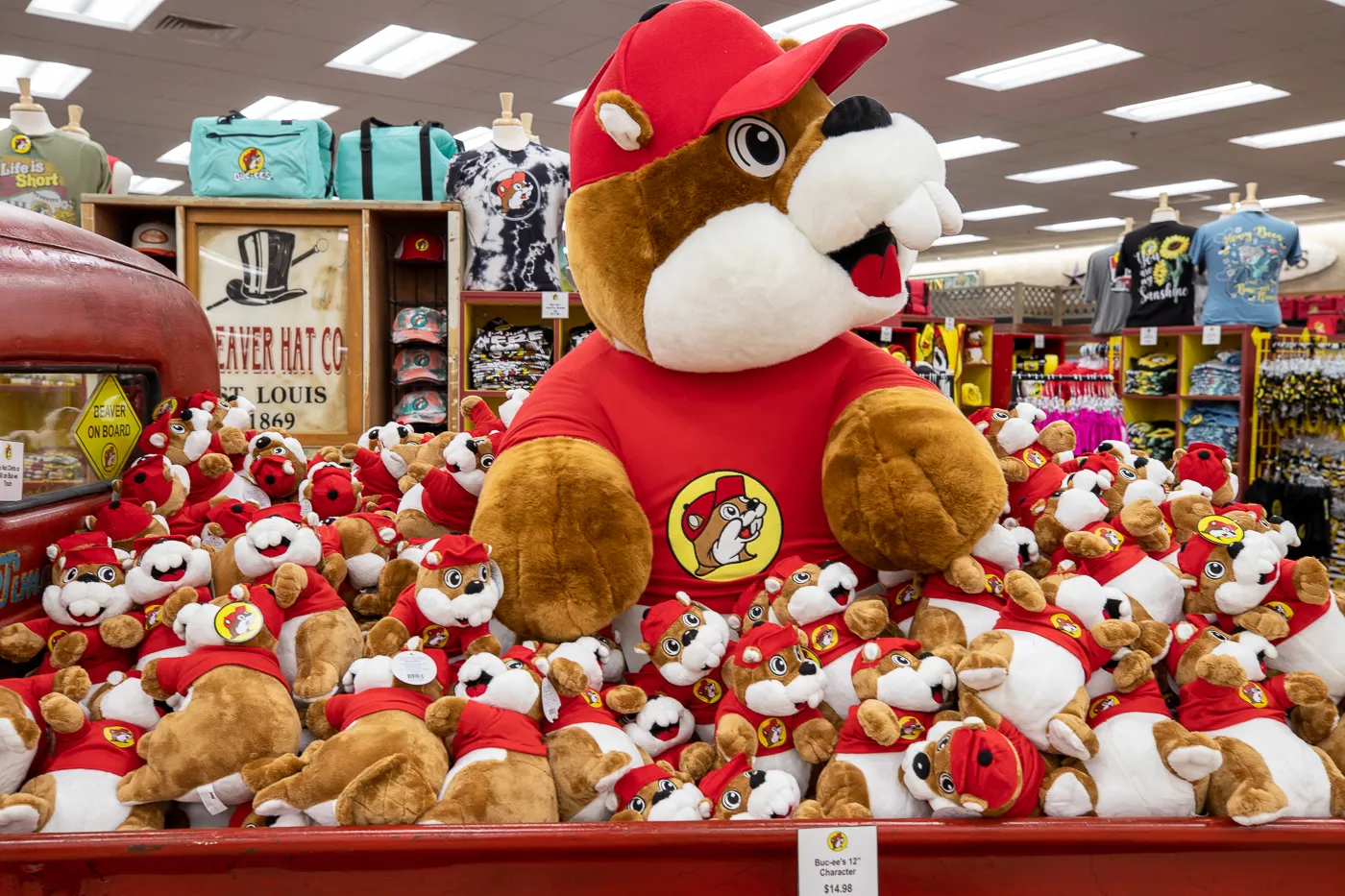 Buc-ee's Stuffed Animal Beaver
I have always been obsessed with stuffed animals so, when someone said I should get a stuffed Bucee's beaver to serve as a road trip mascot, I had to add this to my shopping list. There are plenty of sizes to choose from, whether you're looking for a shotgun companion to join you in the carpool lane, a small buddy to sit in the console, or a a tiny Buc bag charm.
Gas and a Car Wash
There are so many things to buy inside the Buc-ee's convenience store, but don't get so distracted that you forget why you pulled over in the first place. Be sure to fill up your car with gas and get a car wash before heading off on the rest of your road trip.
Pin this post to save for later: