A couple of friendly-looking men made from tires stand outside of the Tires Tires Tires tire shop (now The Tire Guys) in Rapid City, South Dakota! Take a look:
These red, white, and blue rubber figures were built by Ron Tyrrell, the man who owns Tires, Tires, Tires, the shop they stand in front of (now The Tire Guys). Dubbed Tire Man and Buddy these South Dakota roadside attractions were created in 1988 and 2005, respectively. These giant men are constructed from stacked, multicolored tires and have big shining happy smiles on their rubber faces as they wave at cars who pass by.
These cute guys are a quick detour – so stop on by to check them out on your way to other Rapid City roadside attractions, such as the dinosaur park, Storybook Island, and Cosmos Mystery Area or check them out on your road trip to Mount Rushmore.
Just be sure to smile big wave back at them!
Update: as of around 2013, one of these big tire men is missing.
---
Tire Man and Buddy — Men Made From Tires
Location: 327 E Omaha St, Rapid City, South Dakota (outside the Tires, Tires, Tires / The Tire Guys store)
Hours: They are outside and are Always visible (store hours vary)
Costs: Free to See
Date: August 30, 2008
---
Pin this South Dakota roadside attraction: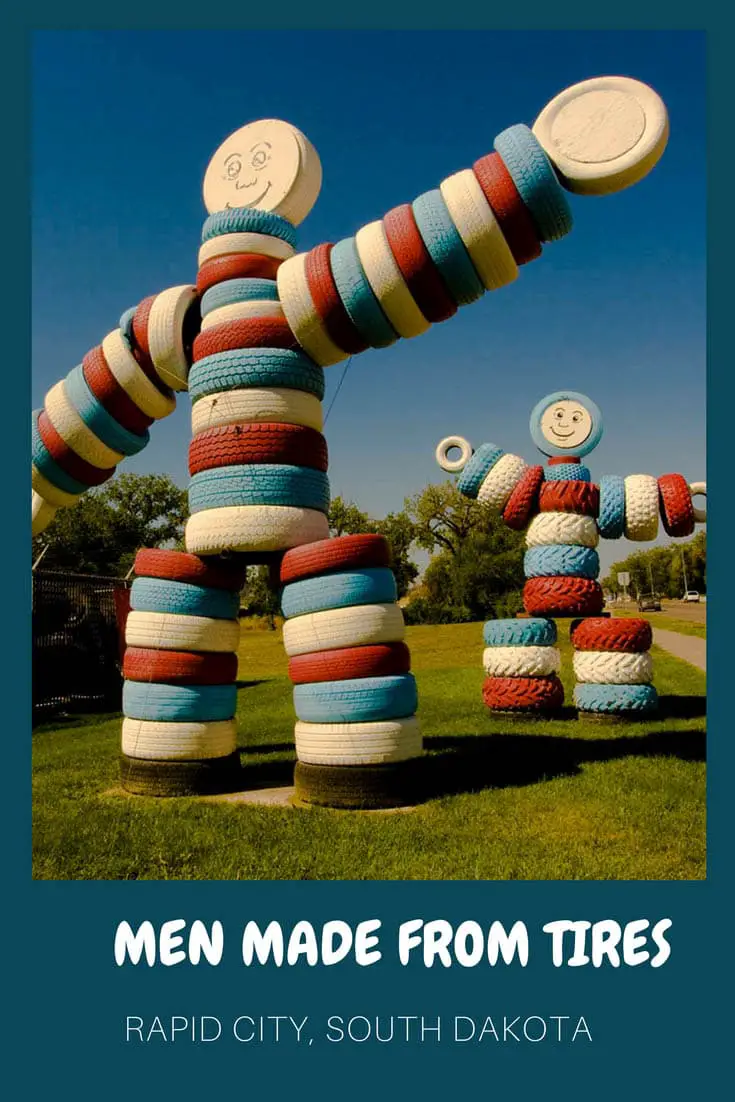 On a South Dakota road trip? Stop for gas at Sinclair and check out the Sinclair Oil Dinosaur!