Apparently Michigan is in the Eastern time zone. In retrospect I probably already knew that but it never occurred to me to even check. Luckily, I was alerted to this fact the night before I was taking my Southgate, Michigan road trip and driving from Chicago to Detroit (or, at least, close to Detroit) and therefore made it to my actual destination, Southgate, in plenty of time to watch a calamari eating contest (the whole reason for the trip in the first place) and stop at all the Michigan roadside attractions along the way!
Chicago to Southgate, Michigan Road Trip Recap:
I woke up at 6am and was at the Starbucks on the corner by 7. I needed coffee to keep me going. I always need coffee to keep me going.
It's funny: driving the 2 hours between my parent's home and college used to feel like forever and a day but now driving for 6 hours in one go feels like absolutely nothing. Without any stops Southgate would have only been about a four and a half hour drive. But you know me, I can't drive anywhere without making a few stops…
My first stop was to be the World's Largest nose in Grand Beach, Michigan. Unfortunately I got there at about 9:10am and the place it was at didn't open until 10am. I didn't have the time to dally about so I decided to leave it behind. Ah, next time. Luckily just down the road was an ice cream shop with a few cows and a giant ice cream cone! Totally unexpected, it's always fun to run into giant cows!
Most of my afternoon drive was spent stopping at Big Boy restaurants to see some Big Boy statues. Mind you, I didn't eat at a one of the restaurant but I had never seen a Big Boy before! So I decided to stop at every one I saw advertised! I ended up hitting five of them (well, seven, but two of them had no statue to be seen! What's with that?)
My next stop was Ypsilanti where there was a giant cow on the roof of a "dairy." Now, by "dairy" I mean a kind of scary store that didn't have anywhere to park and just had a driveway out front where a kind of scary man stood who would presumably go inside and bring what you wanted to your car… Luckily there was a guy getting "things" in front of me so while he was being taken care of I took some photos and when he left I sped by…
And then I was off to Southgate! Right near Southgate there are two glorious side of the highway attractions: the World's Largest Tire and an oil tank painted like a basketball!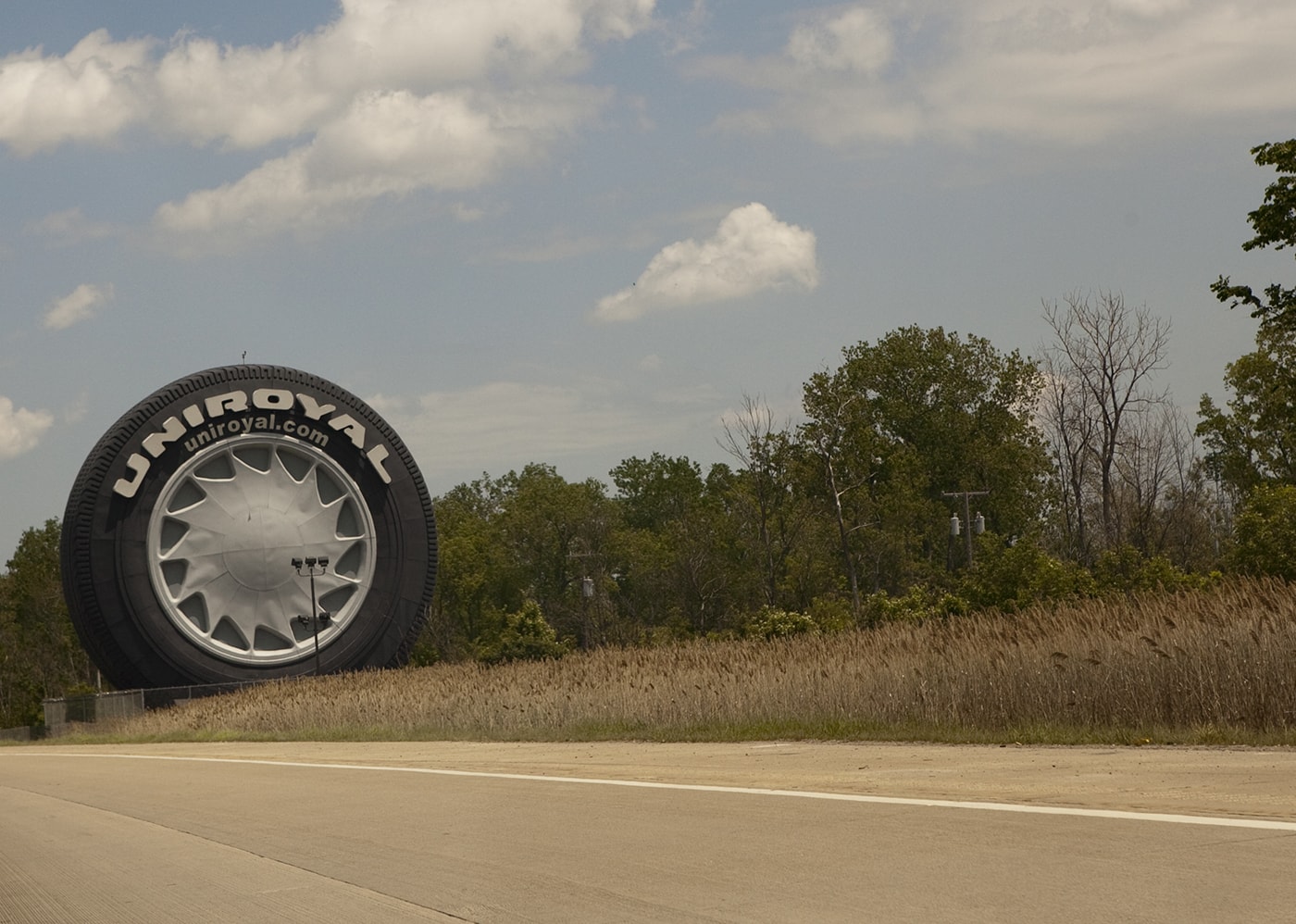 From there I headed straight to Mallie's Sport Bar and Grill to catch the calamari eating contest and catch the unveiling of the new Guinness world record holder for world's largest hamburger!
It was an awesome Michigan road trip, though with only one day round trip I didn't get to see nearly as much as I'd wanted — I'll have to head that way again some time. I didn't quite make it all the way into Detroit to see the wonders the city holds, and I didn't actually eat at any of the Big Boys (or anywhere special at all), and I do need to see that world's largest nose. So, Michigan, we will meet again.