Flintstones, meet the Flintstones — here at Flintstones Bedrock City in Williams, Arizona. Have a yabba-dabba-doo time. A dabba-doo time. At this fun roadside attraction!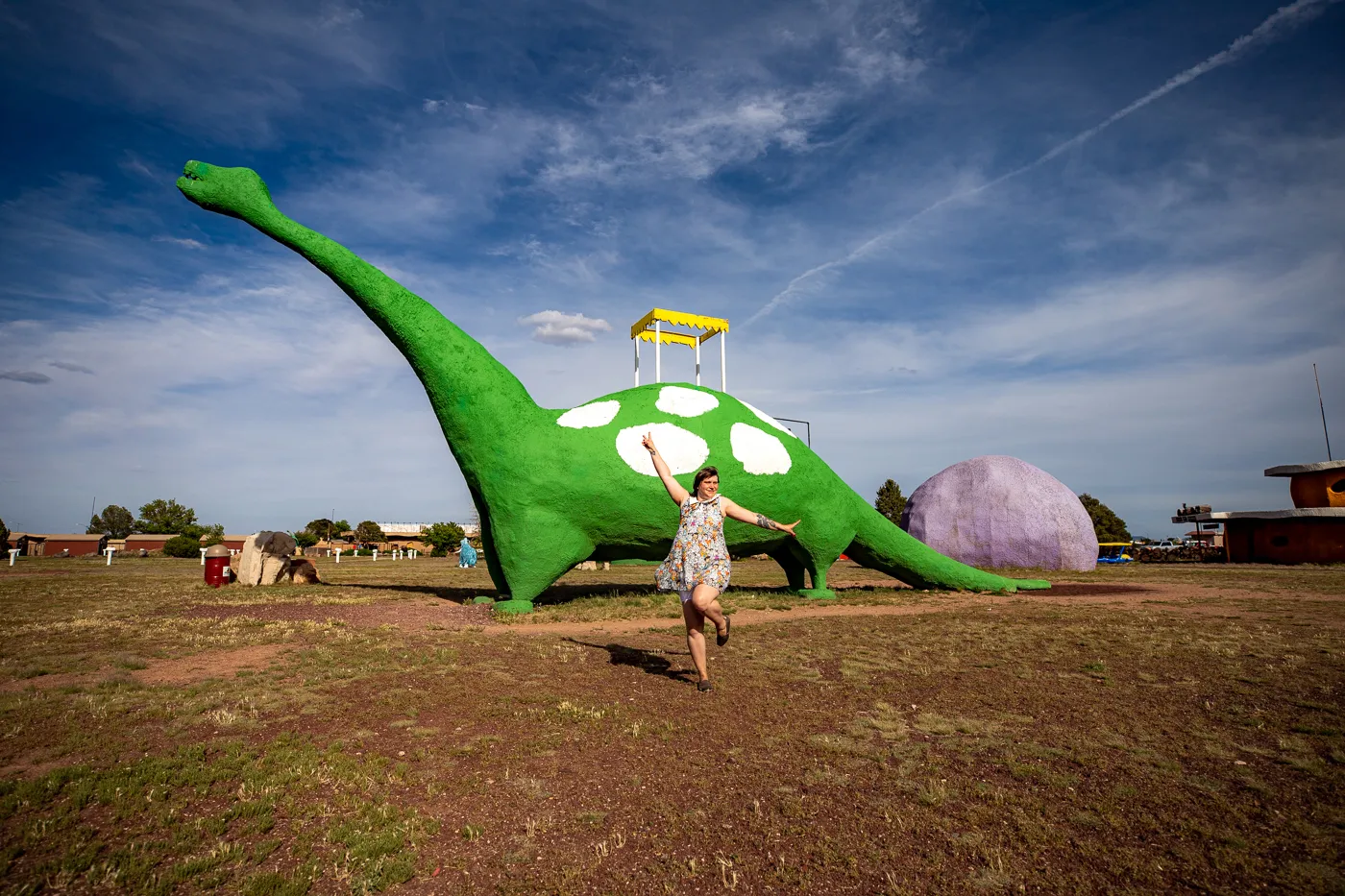 The Flintstones is a classic American animated sitcom that was originally produced by Hanna-Barbera Productions and aired on ABC from September 30, 1960, to April 1, 1966. The TV show followed Fred and Wilma Flintstone, their baby Pebbles, their pet dinosaur Dino, and their neighbors Barney, Betty, and Bamm-Bamm Rubble living their modern lives in the Stone Age.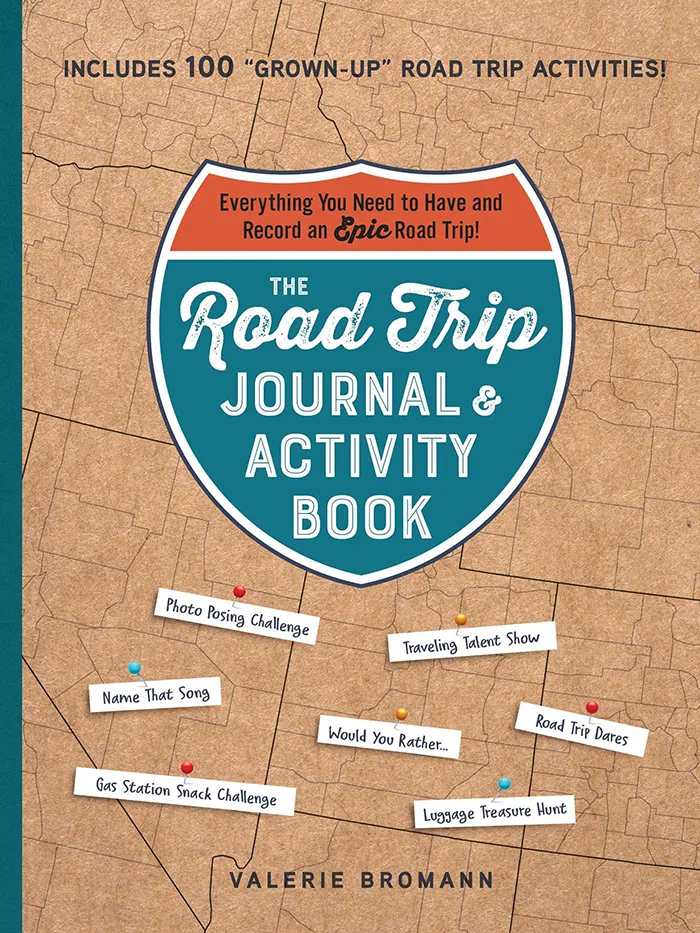 The Road Trip Journal & Activity Book
Everything You Need to Have and Record an Epic Road Trip!
Enjoy fun games and challenges to pass the time on your next road trip and have a keepsake to look back on for years to come with this entertaining must-have for your next vacation.
This modern stone-age family is emblematized in a small Arizona theme park that might just be as prehistoric as they are.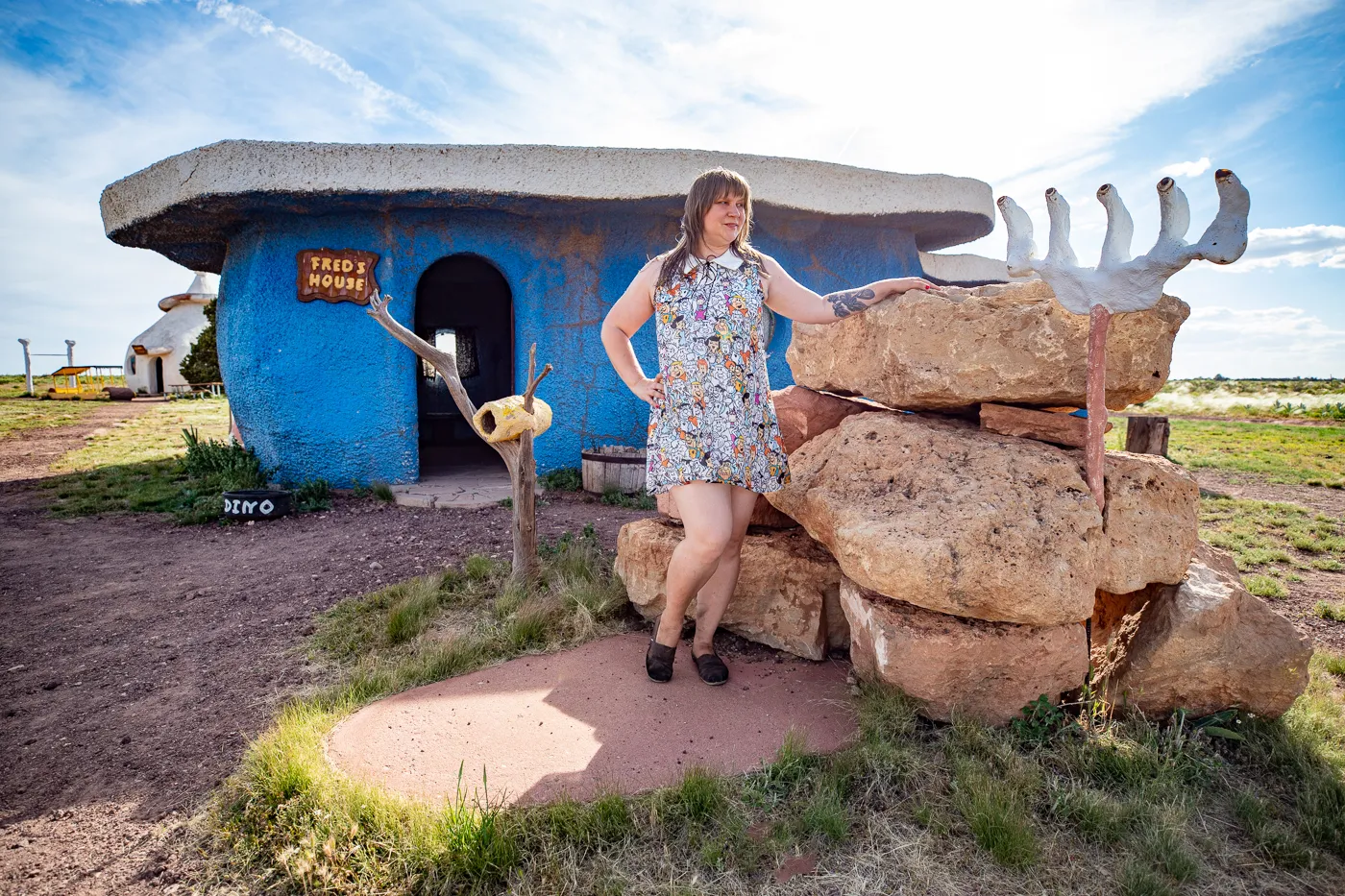 Bedrock City opened in Williams, Arizona in 1972. Francis "Hudi" Speckels and his father, Woody Speckels, originally opened a sprawling Flintstones-themed theme park just outside Mount Rushmore in North Dakota. After a successful opening they decided to expand to a second location in Arizona, settling into the perfect spot right between historic Route 66 and the Grand Canyon.
The attraction captures the fun qualities of the cartoon series, with bubbly and colorful buildings and sculptures that capture the likenesses of the fictional town and characters.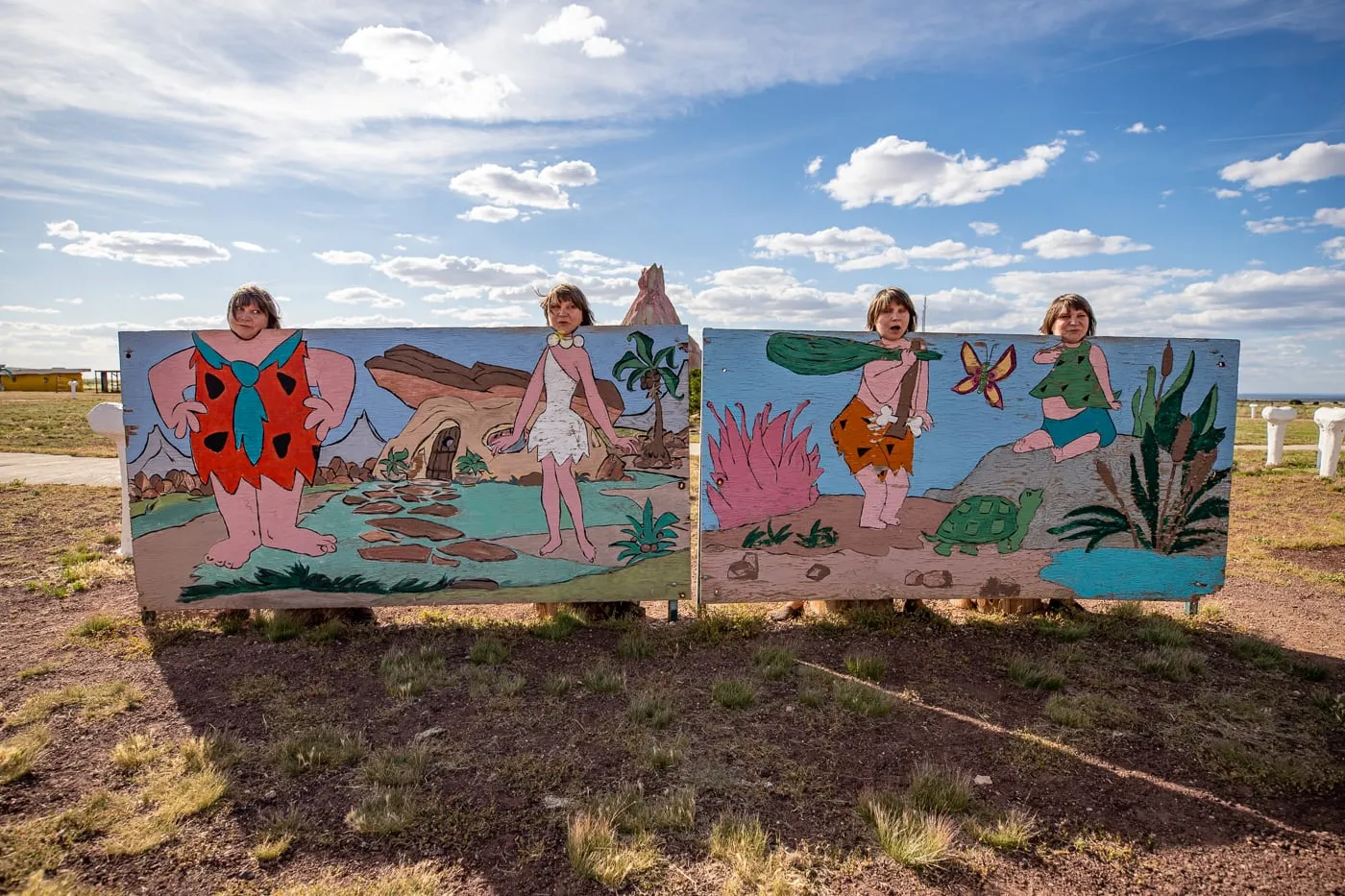 In 2019 this Arizona roadside attraction was sold to Troy Morris and Ron Brown. The pair had plans to tear down Bedrock City and open a wild bird refuge called Raptor Ranch. But due to public outcry and a renewed interest in the prehistoric park, they decided to keep the old attraction open indefinitely, opening their Raptor Ranch alongside the landmark.
While many of the buildings are a little worse for wear and a lot of statue, fixtures, and embellishments are long gone, this relic from the past is definitely worthy of a visit! So plan a trip to Flintstones Bedrock City before it goes extinct!
Want to ride with the family down the street? Here are some of the popular things to see at Flintstones Bedrock City: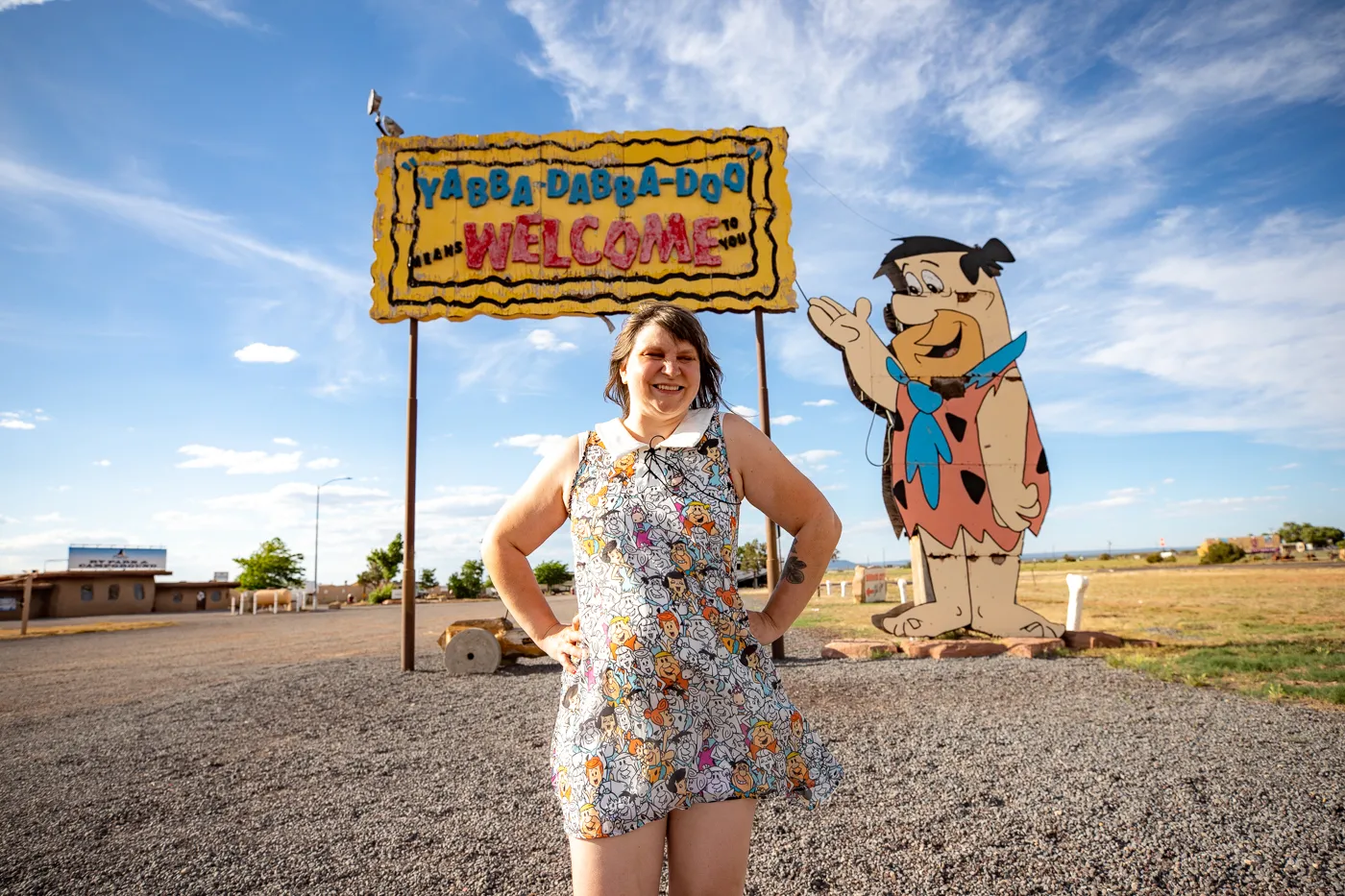 Yabba Dabba Doo Welcome Sign
You can't miss this iconic sign that beckons travelers to and from the Grand Canyon to pull over and check out the roadside attraction. The sign features an oversized Fred Flintstone and a bright yellow sign that says "Yabba-Dabba-Do Means Welcome to You."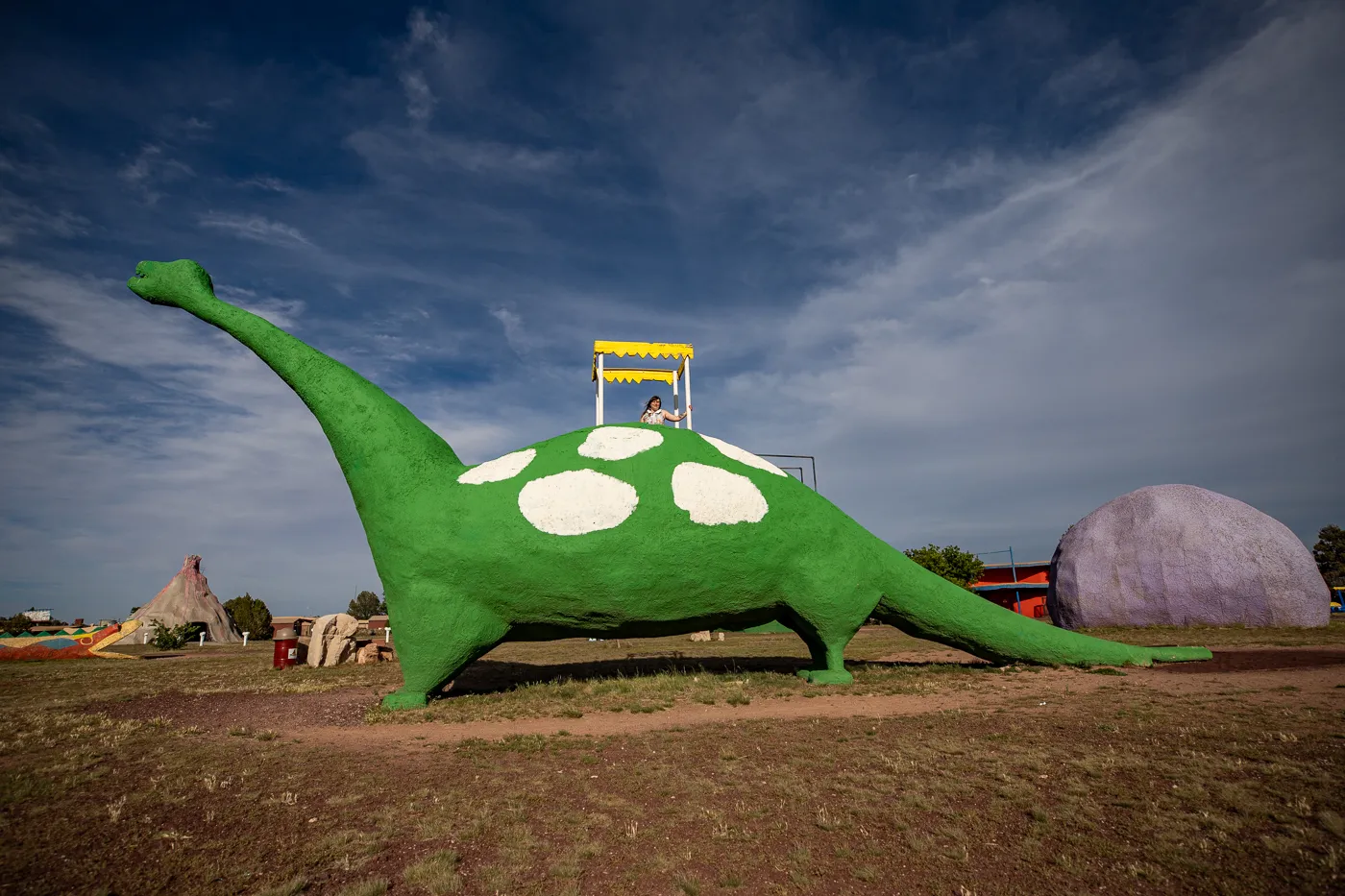 Giant Dinosaur Slide
Perhaps the centerpiece to the whole theme park is the giant dinosaur slide. Climb up this giant green dinosaur and slide down the dino's tail, if you dare!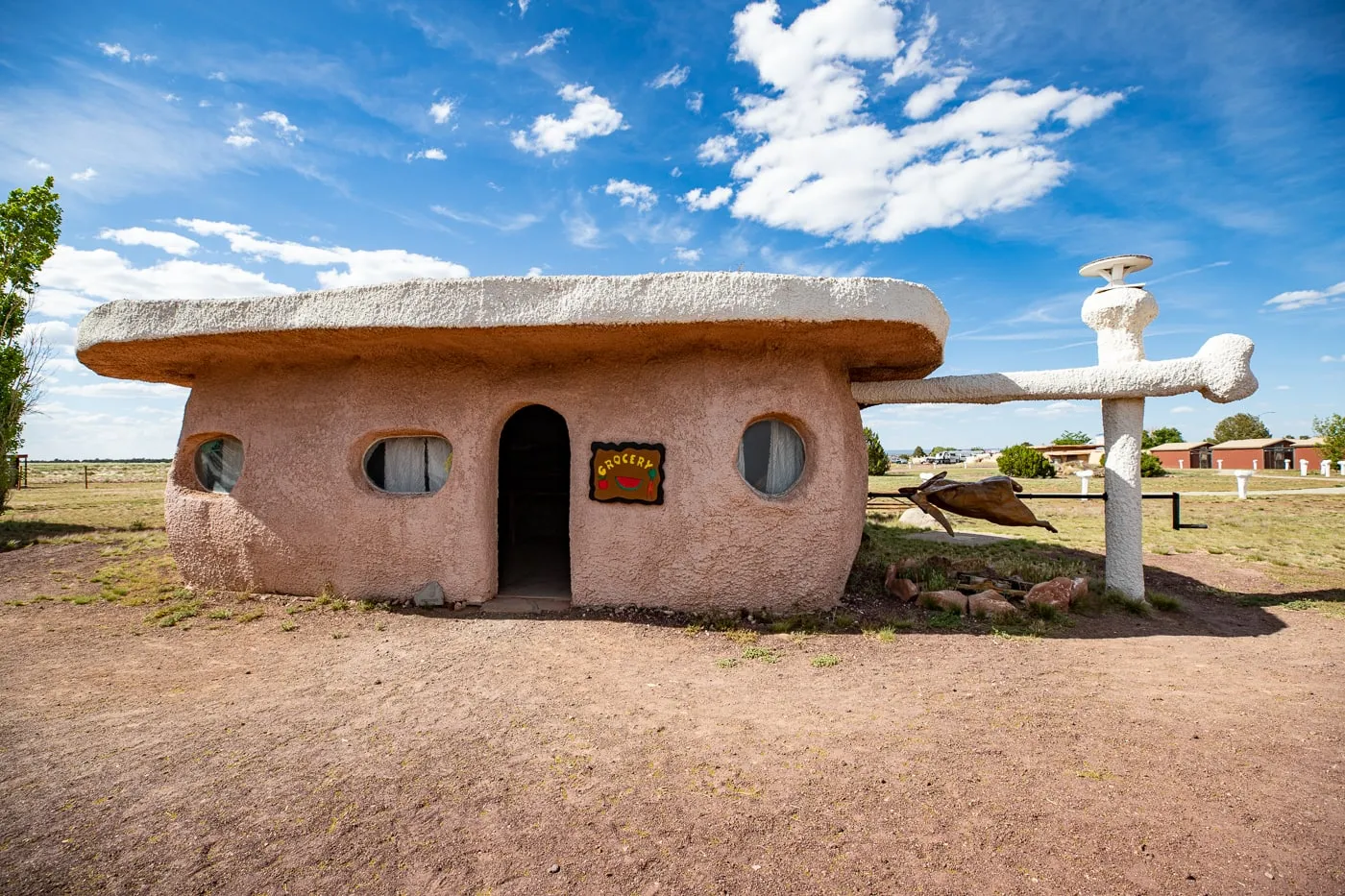 Grocery Store
The grocery store is one of the most iconic buildings in Flintstones Bedrock City. The protruding bone-shaped spit holds a Pterosaur dinosaur roasting over an open flame. Spin the handle to make sure it cooks evenly (just go slow, it is pretty old!).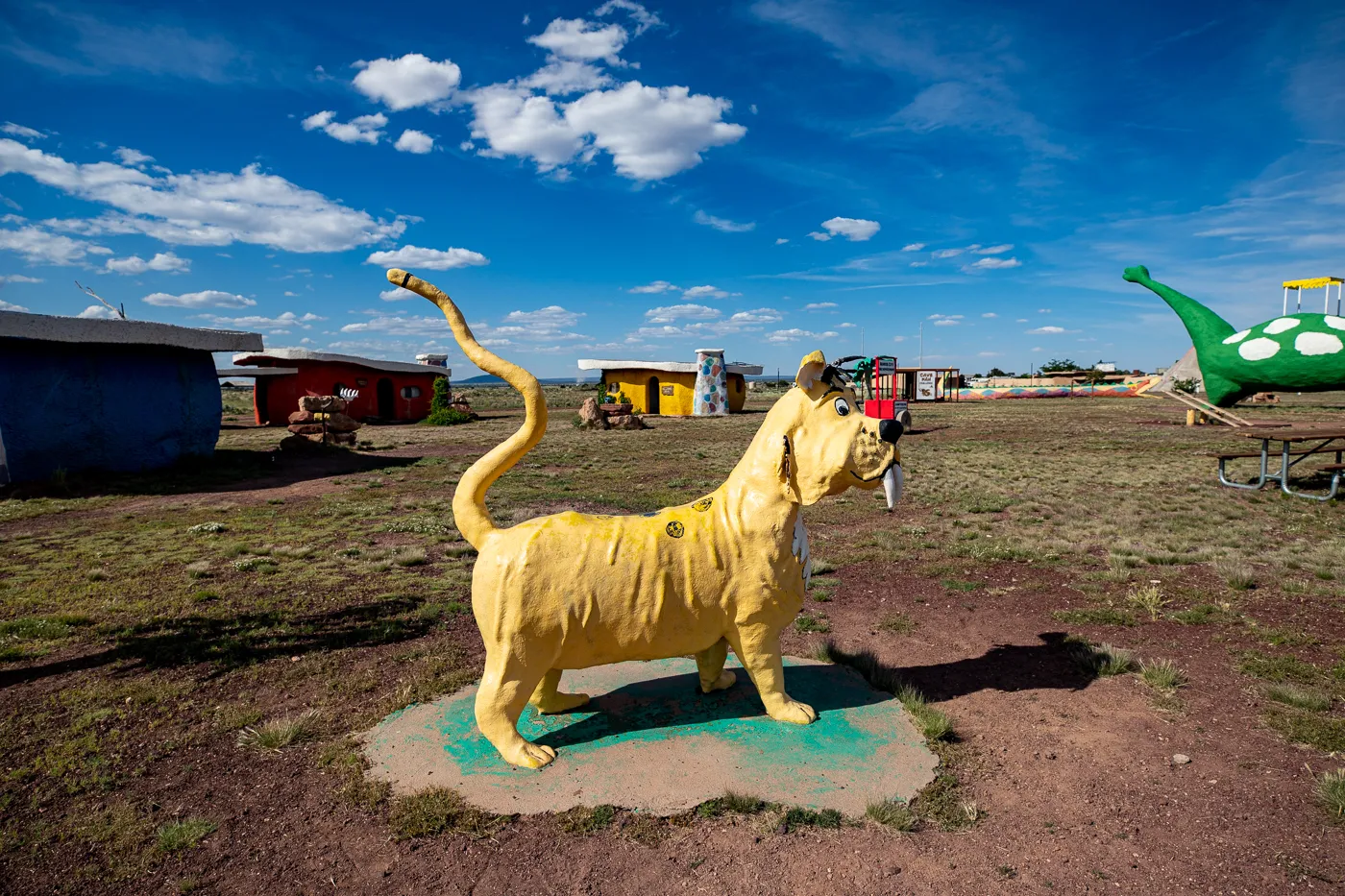 Saber-Toothed Cat
This big yellow cat might look cute, but he definitely has a bite! It makes a fun photo, especially with the vintage standing camera that is pointed right at it!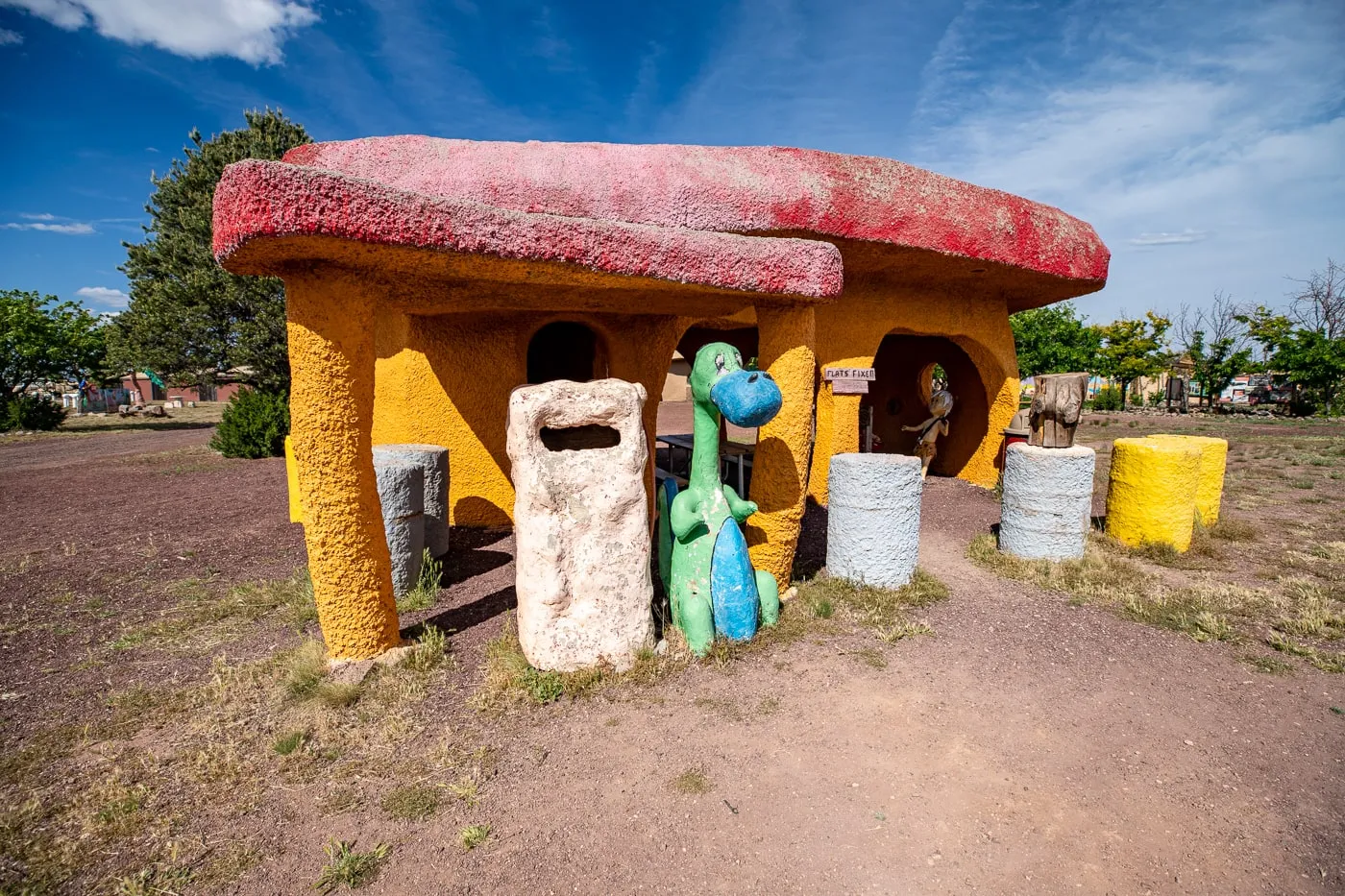 Dino Gas Station and Garage
Fill up your car or fix a flat (have wheel's even been invented yet?) at the Dinosaur Stoneage Gas Station. The gas station is guarded by a blue and green dinosaur and used to offer up regular or dino supreme! Peek inside to find statues of Pebbles and Bamm-Bamm!
Hatching Dinosaur Egg
Don't miss taking your photo with this bright yellow dinosaur hatching from an egg!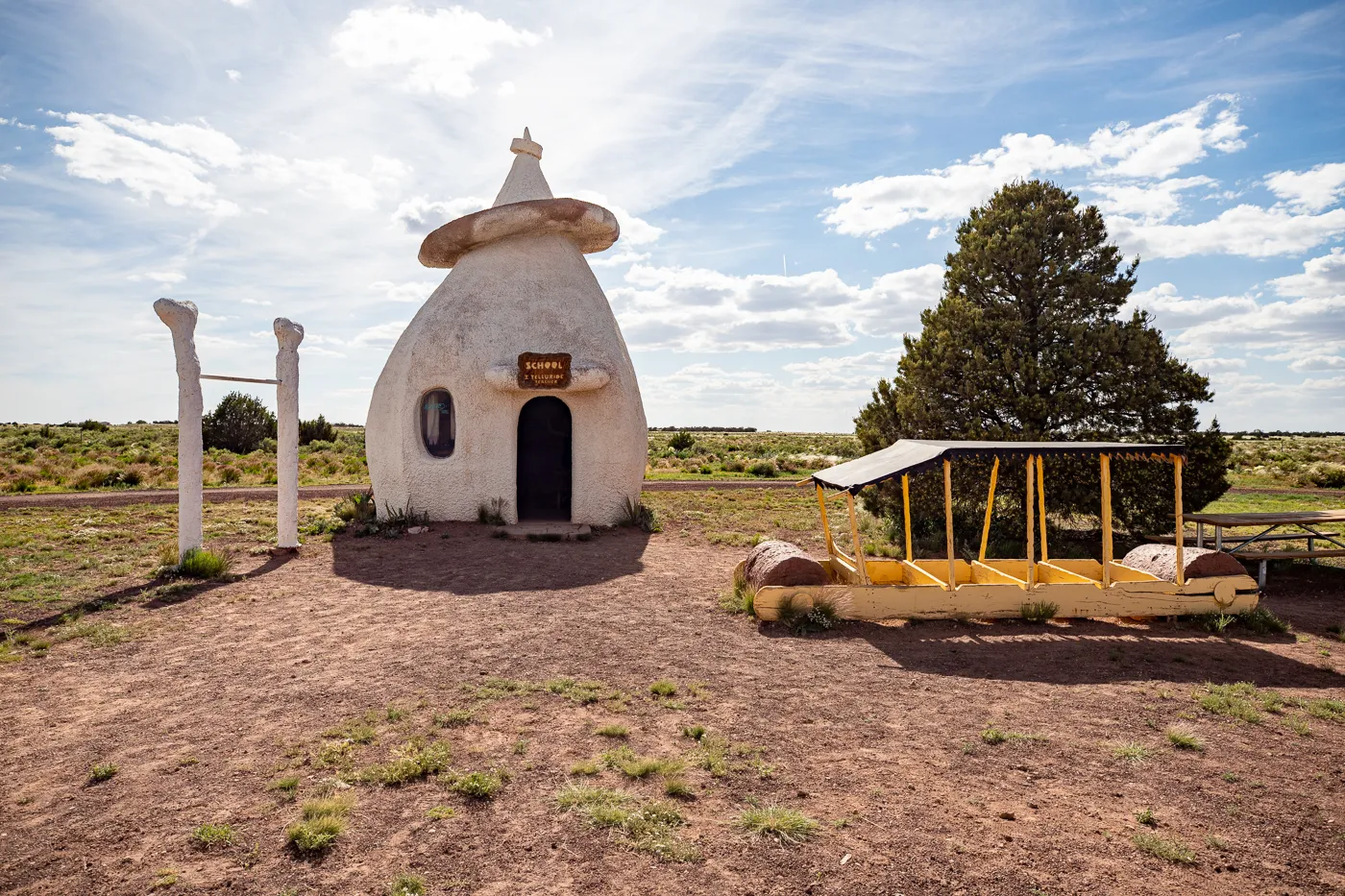 School
Step inside the schoolhouse to learn more about the world from your teacher, Betty Rubble. Find a chalkboard, spinning globe (the world isn't flat?), and desks for all the prehistoric schoolchildren.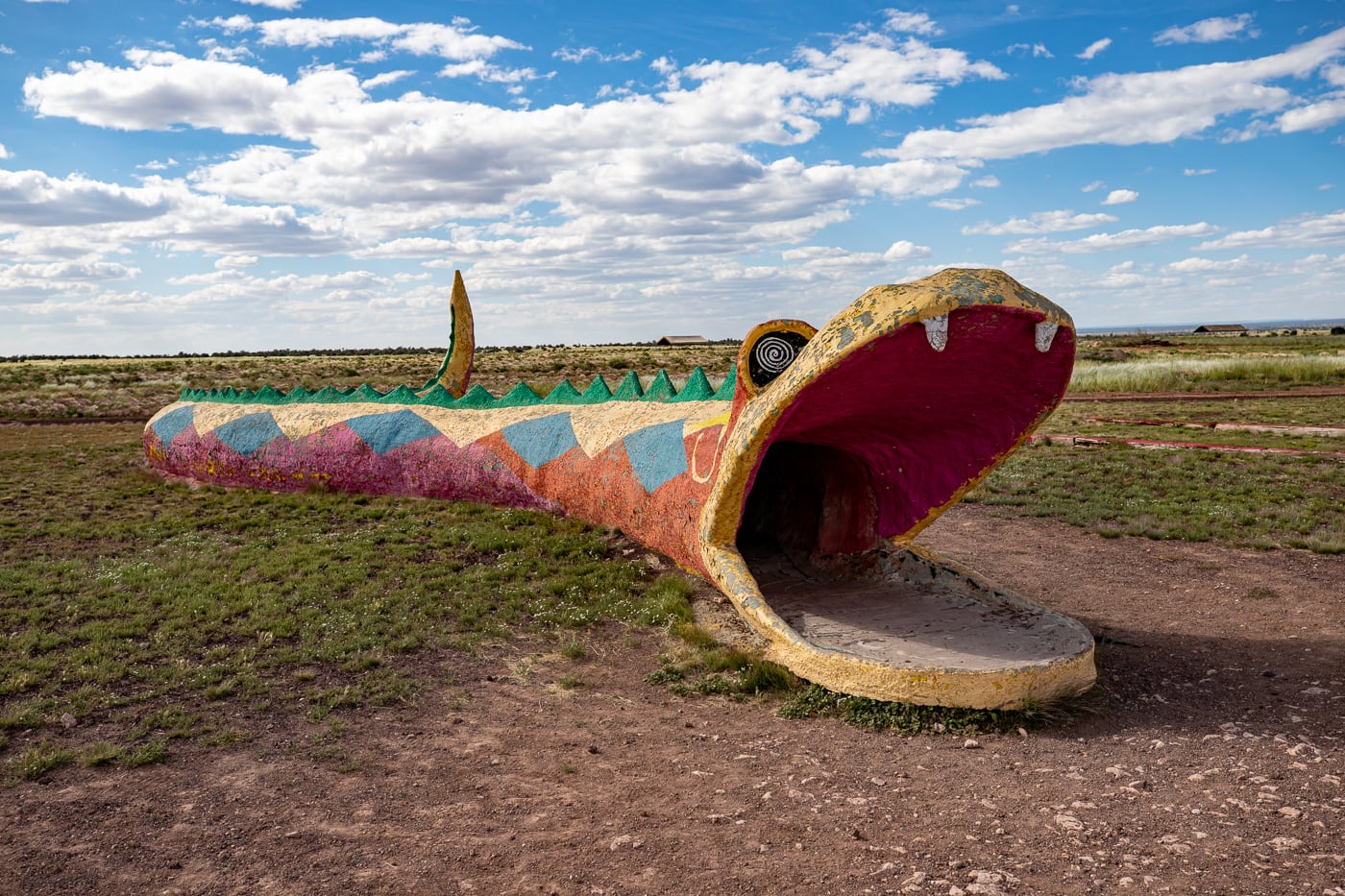 Giant Crawl-Through Snake
This interactive attraction features a hollowed-out inside that allows visitors to crawl through a snake's stomach. It's tight, so maybe save this one for the kids!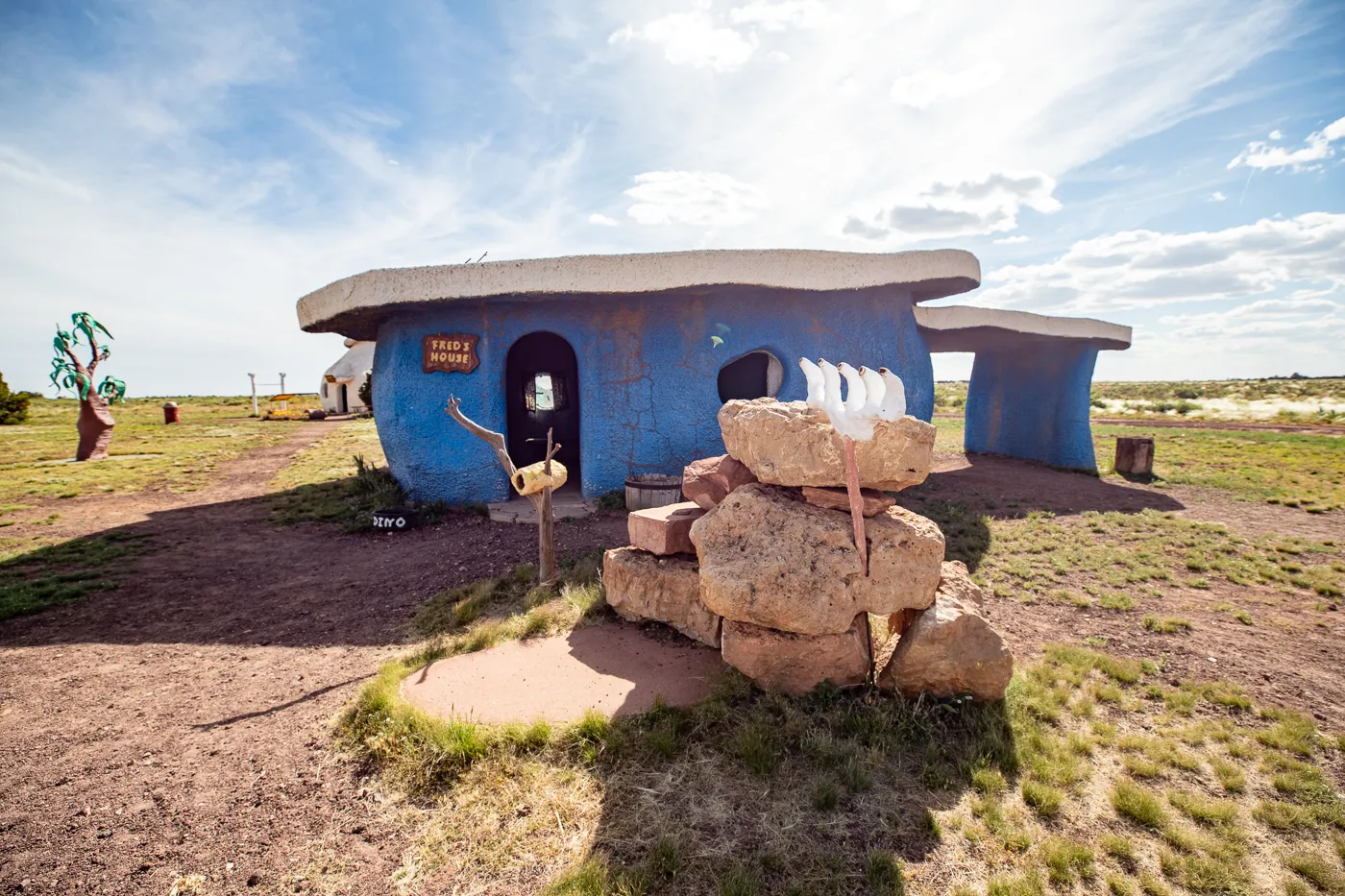 Fred's House
Fred Flintstone is the patriarch of the cartoon family and his house is a must-see! The blue abode is fun both inside and out! See where Fred, Wilma, Pebbles, and Dino sit by the fireplace or lay down for the night!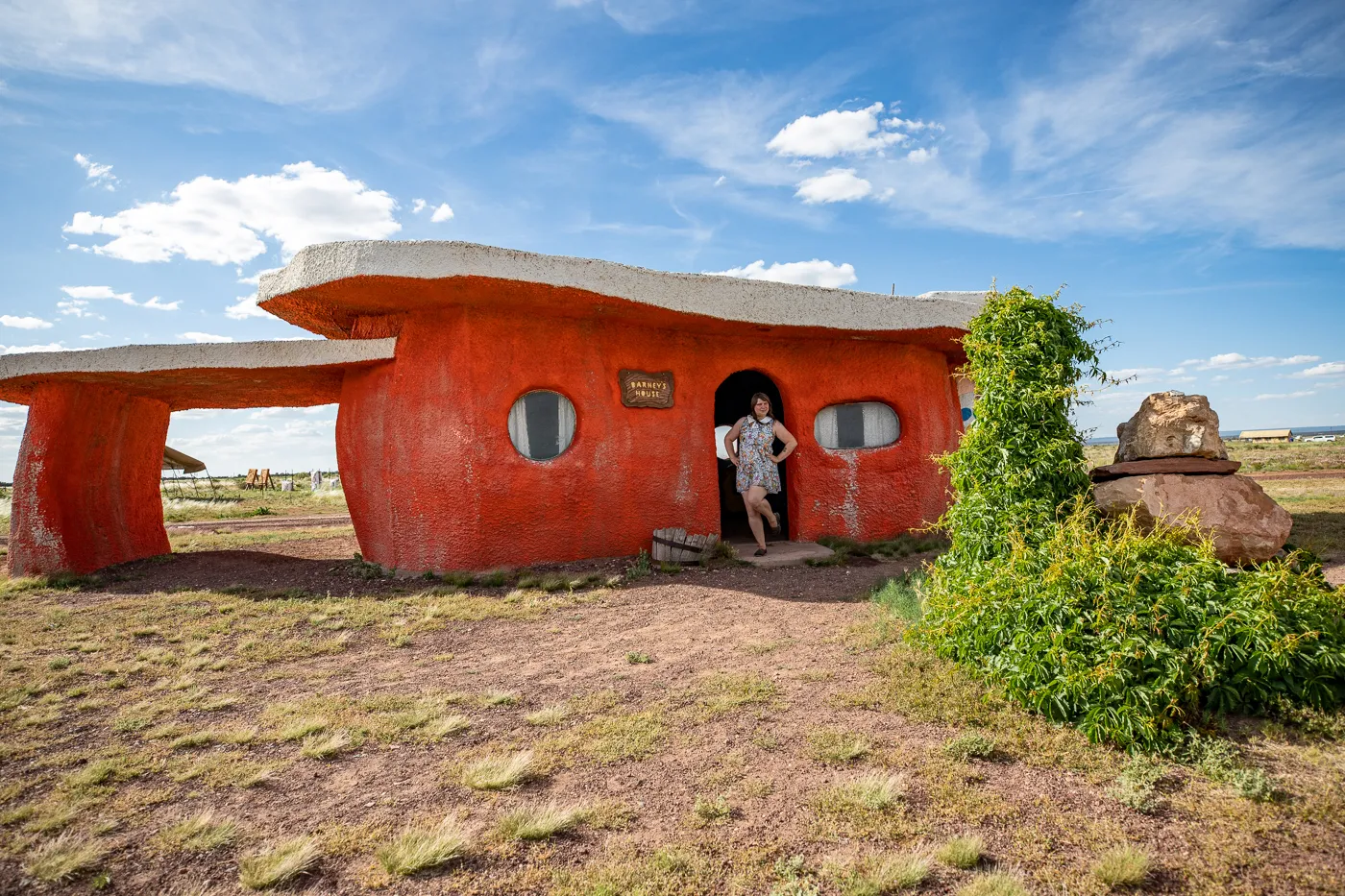 Barney's House
Just across the way is home to Fred's best pal Barney and his wife Betty and son Bamm-Bamm!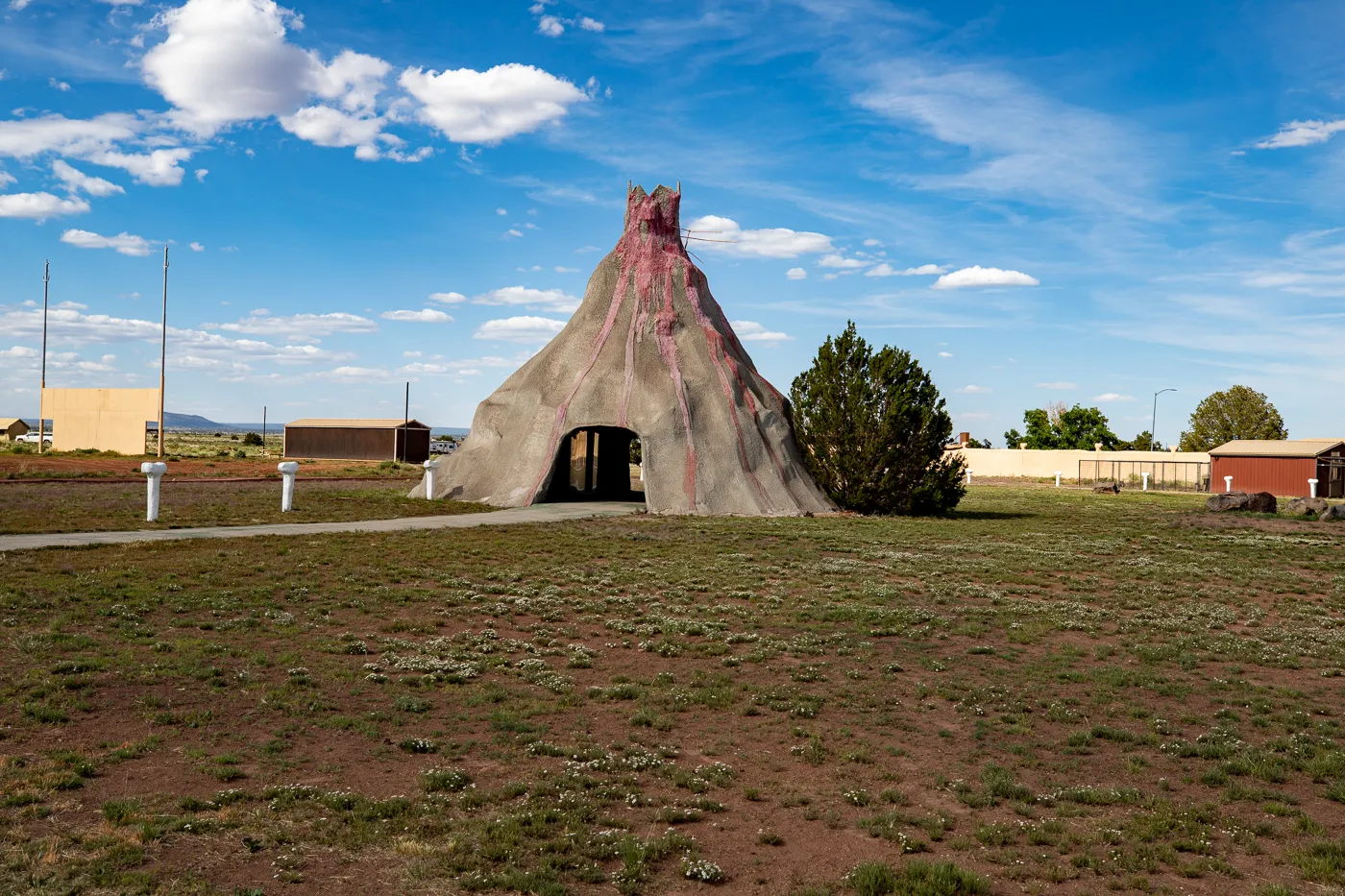 Volcano Train Ride
In this Arizona roadside attraction's heyday visitors could ride a Fredmobile train ride that looped through Mt. St. Wilma (a giant volcano that loomed over the theme park). While the train might no longer be running the volcano still serves as a backdrop to the surrounding Bedrock Village.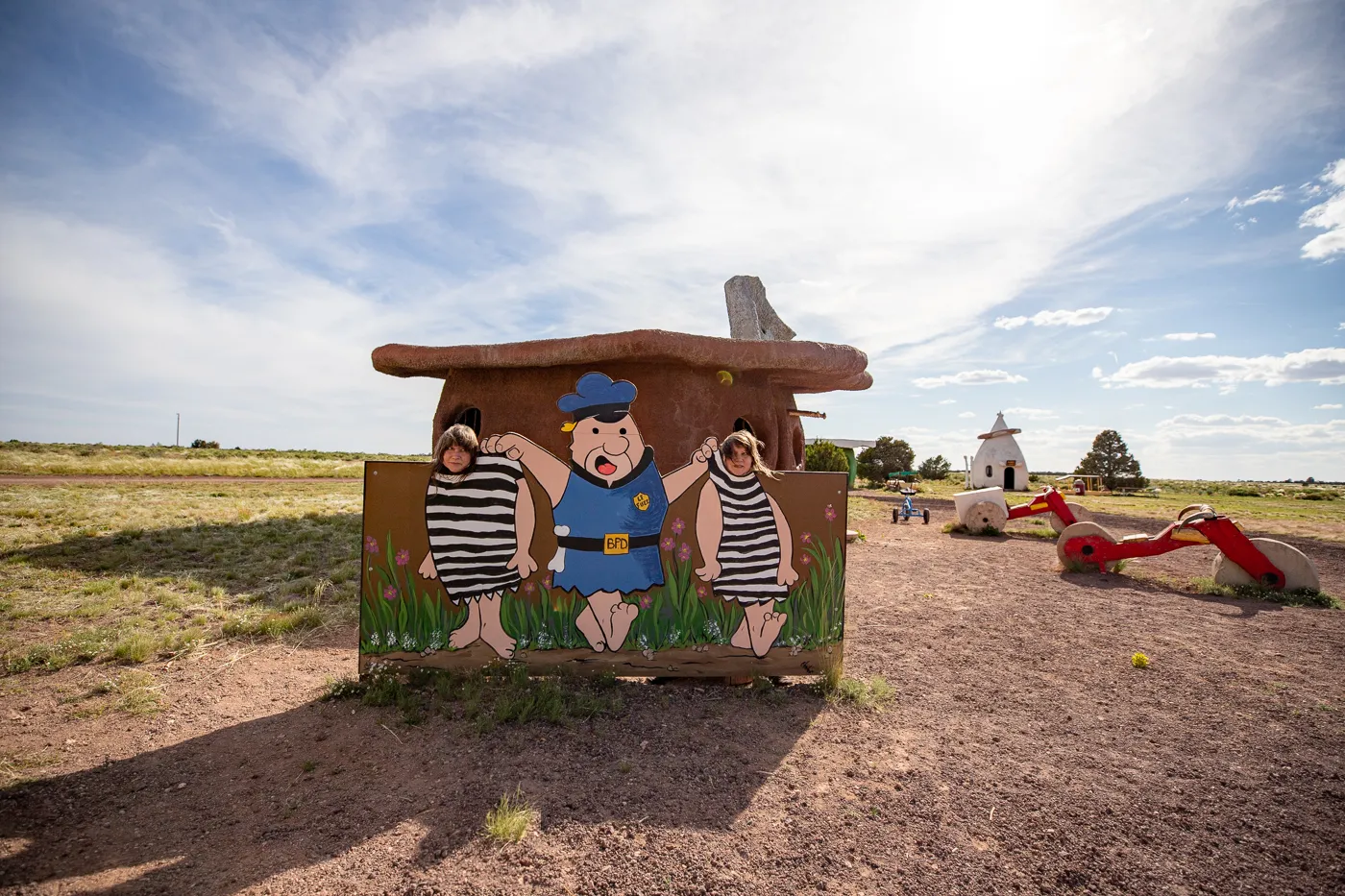 Bedrock City Jail
You might normally try to avoid going to jail on a road trip, but this jail is worth checking out! Look for the fun cutout photo op outside go behind bars inside!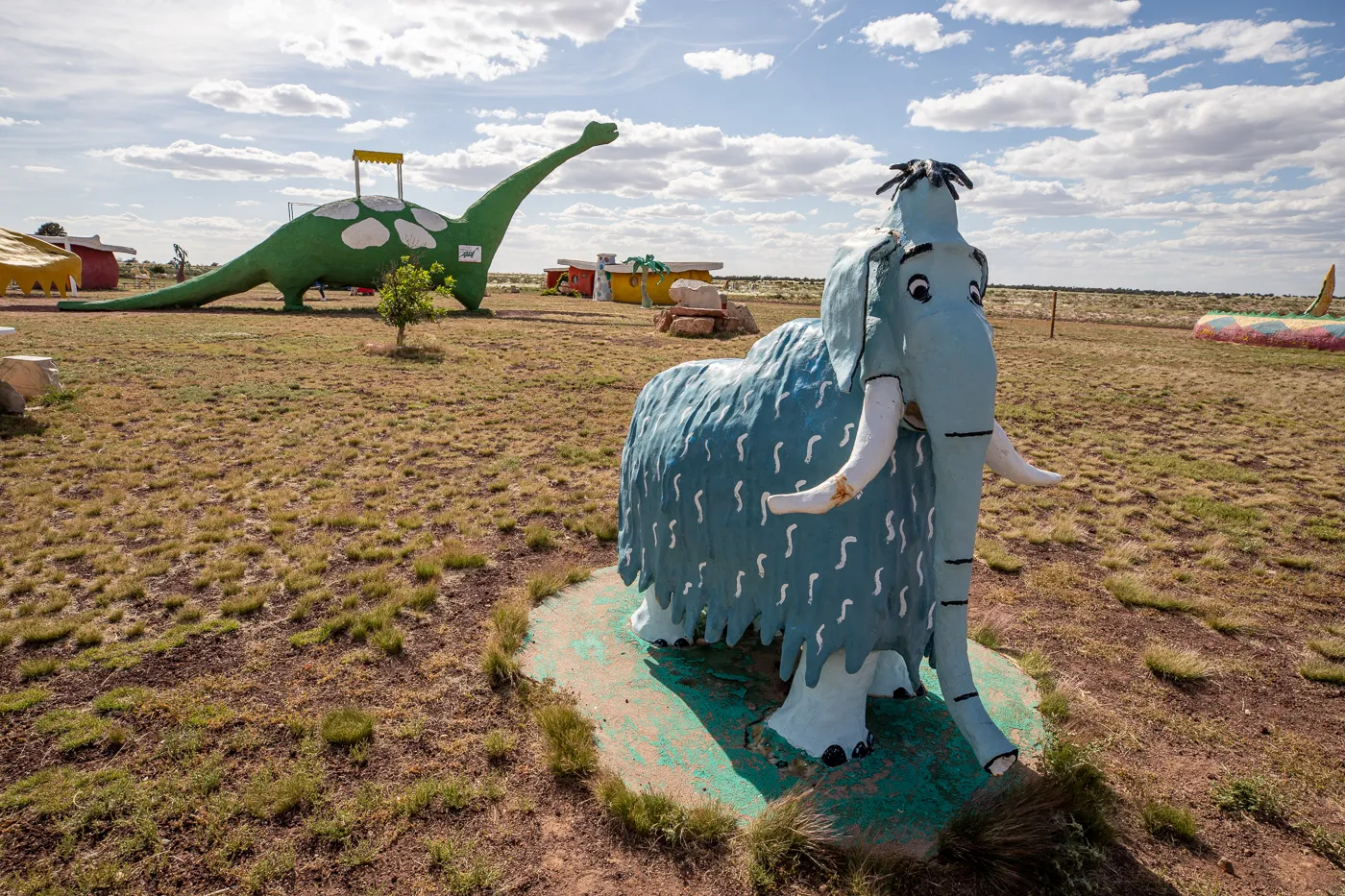 Woolly Mammoth Statue
Another fun statue to take pics with! Who can resist a big blue woolly mammoth?
Of course, there are plenty of other things to see at Flintstones Bedrock City! There are more statues of the cartoon characters, a post office, a dental office, a barber shop and salon (complete with some interesting bone-us hairdos to explore), Stonehead's General Store, and the Policeman's House. You can even stop for a snack or meal at Fred's Diner!
Visit Flintstones Bedrock City in Williams, Arizona on your Route 66 or Grand Canyon road trip. I promise, you'll have a gay old time.
More Photos of Flintstones Bedrock City in Williams, Arizona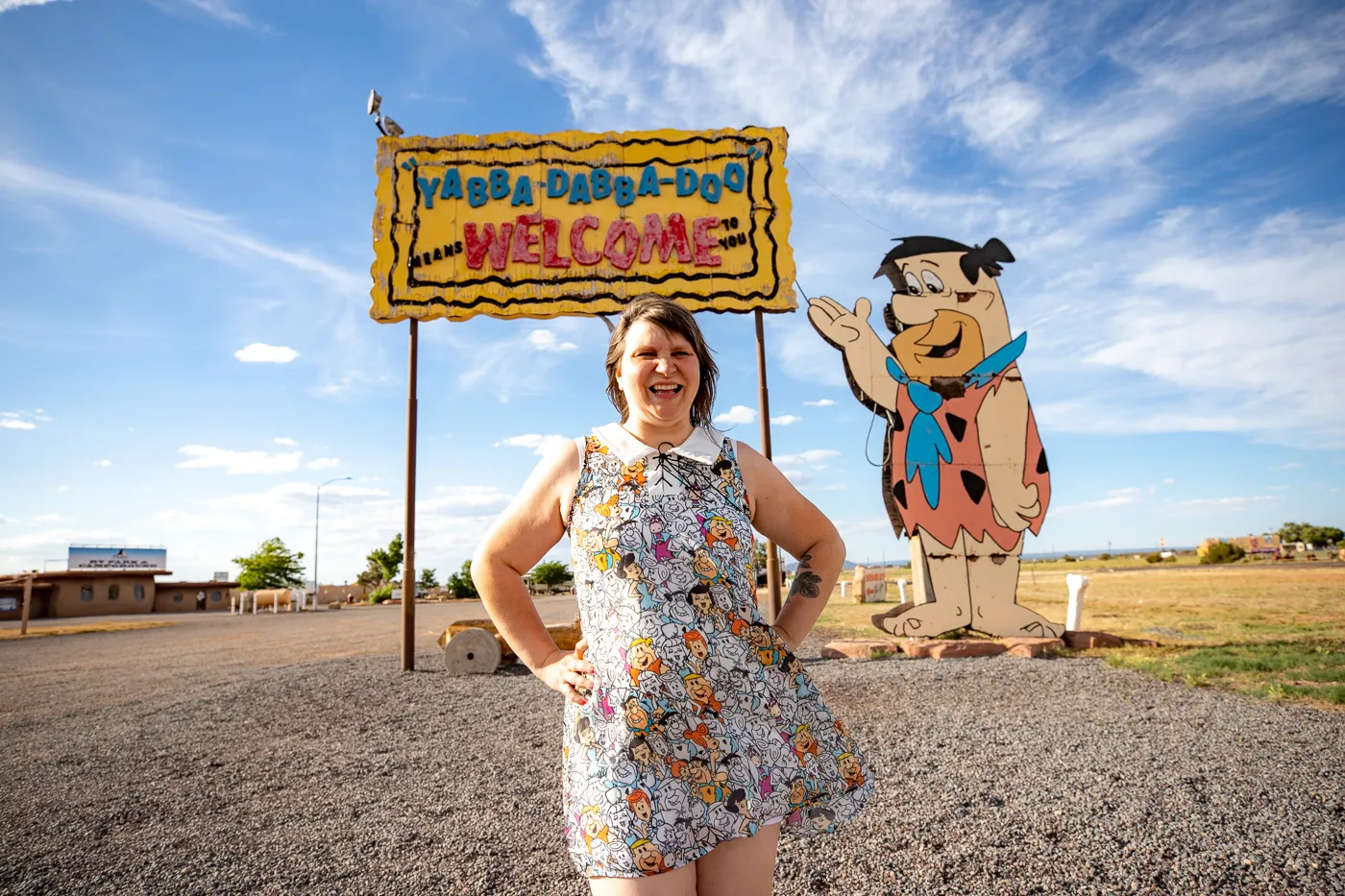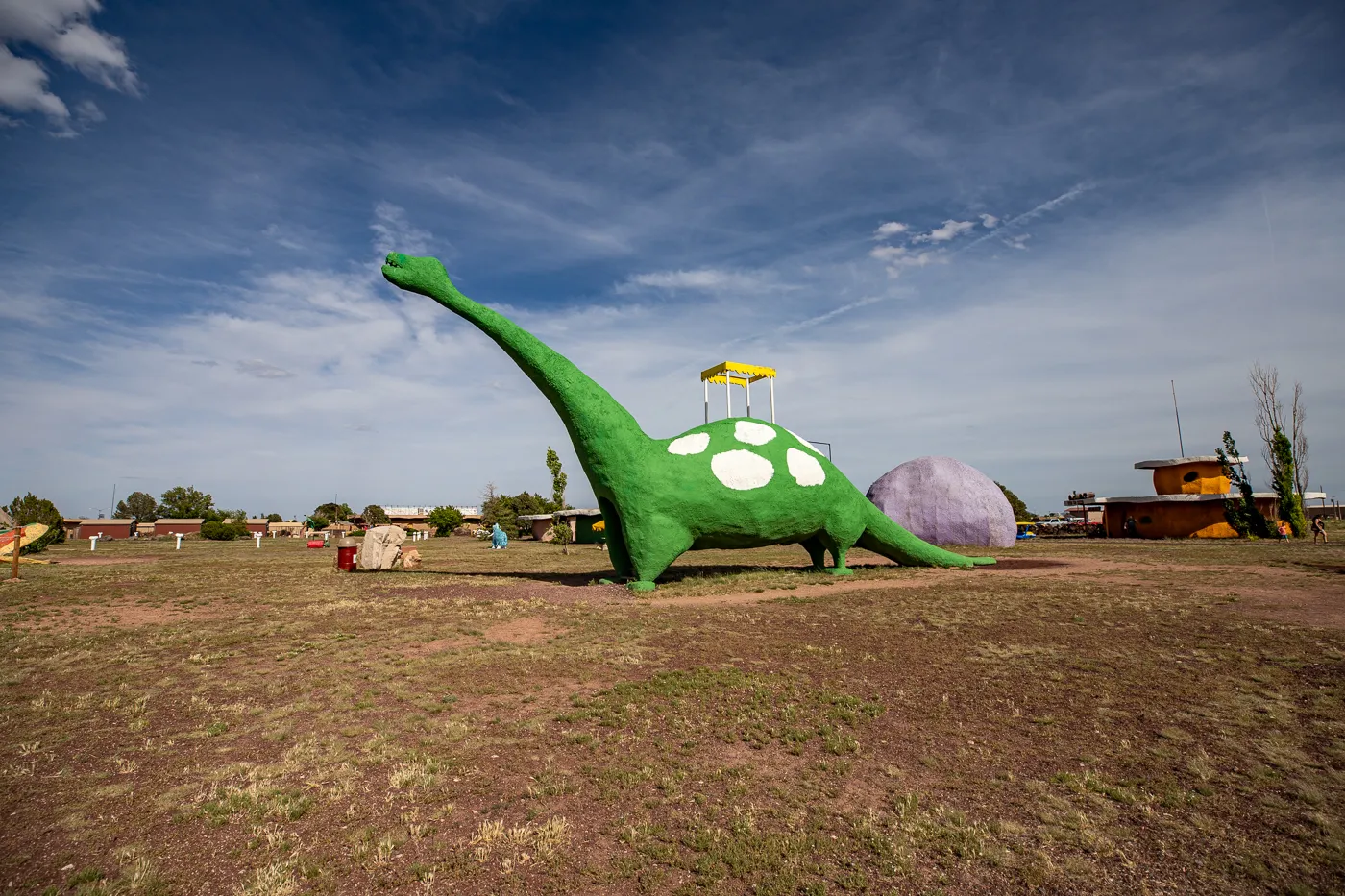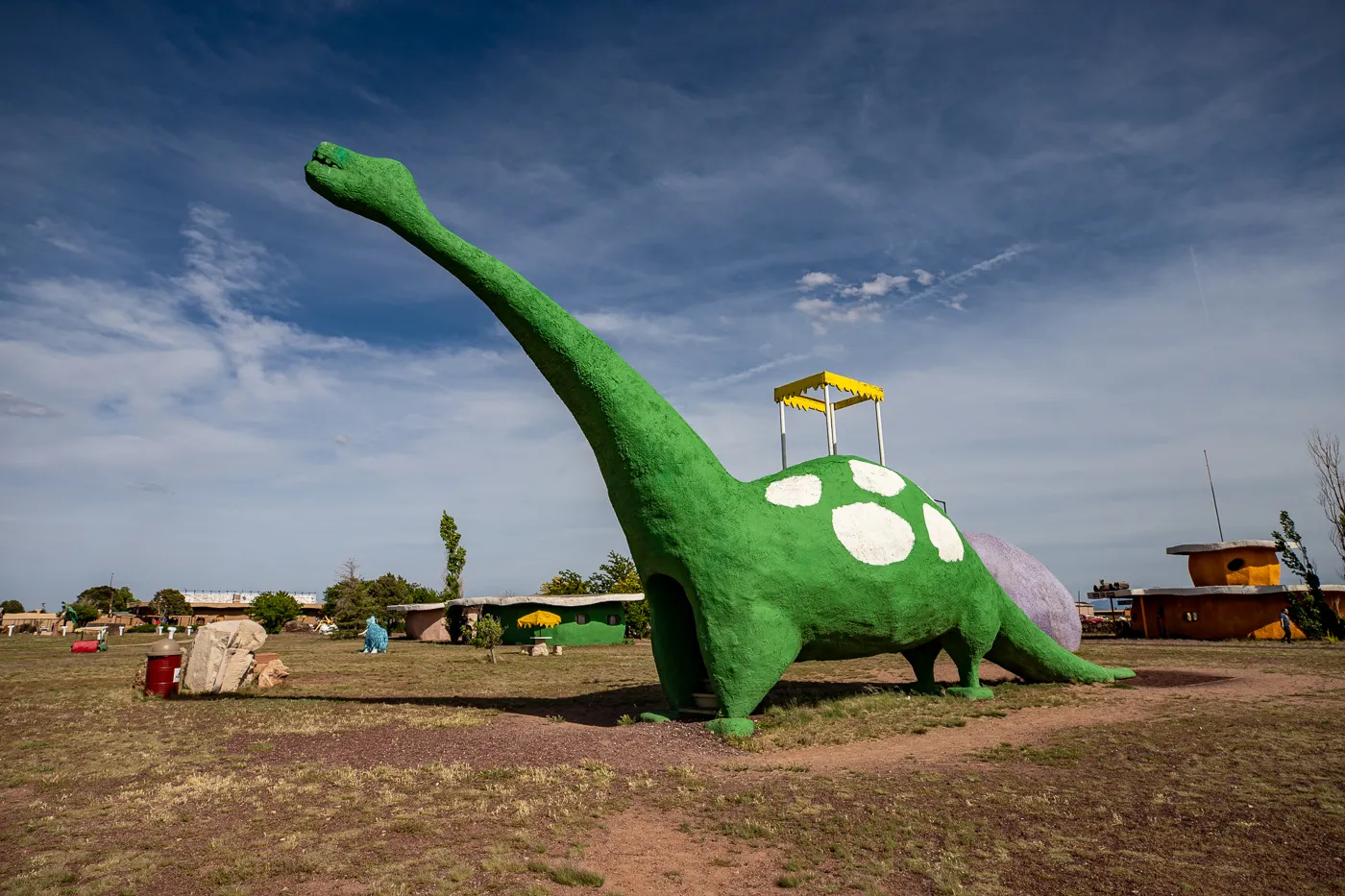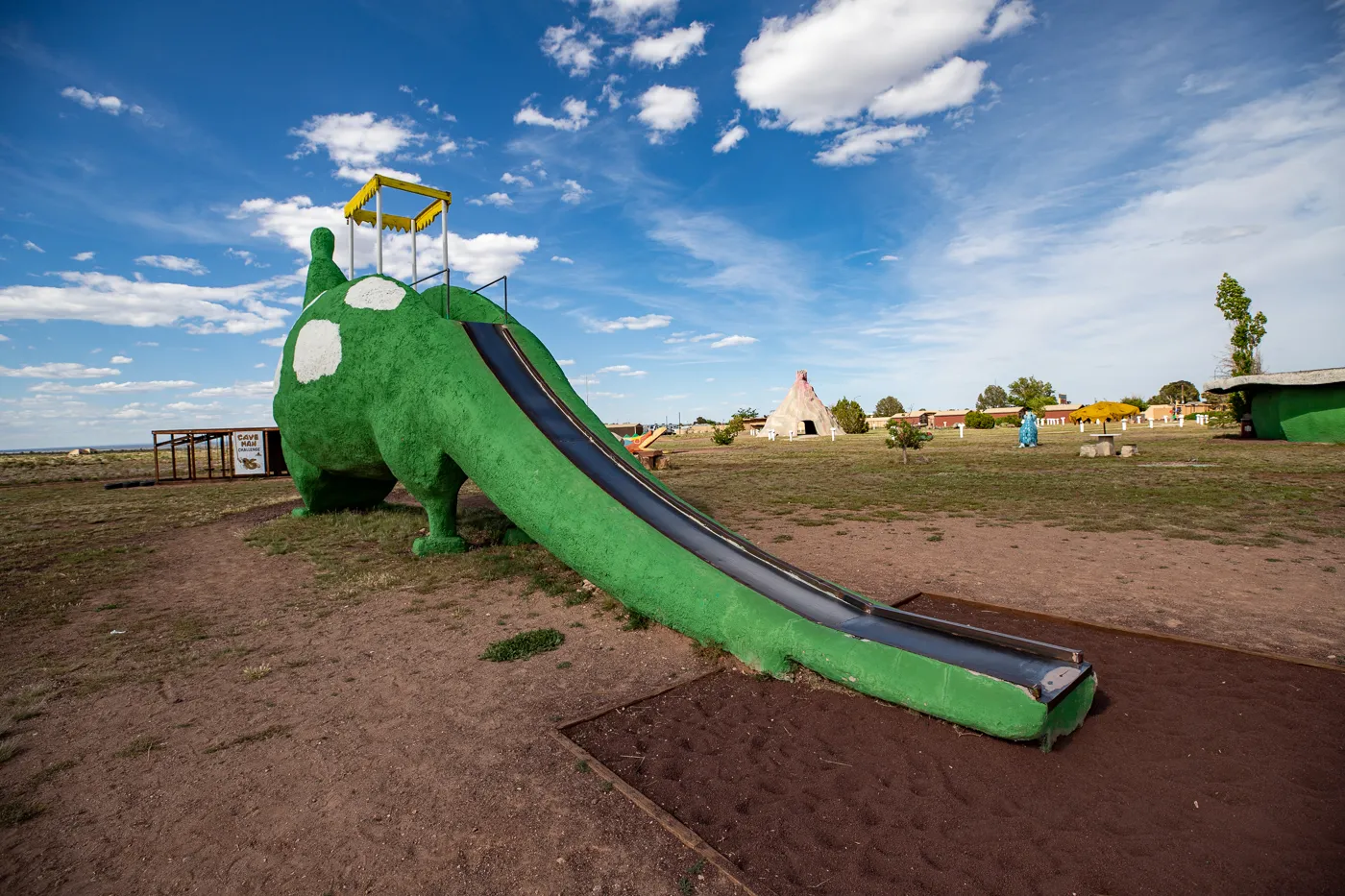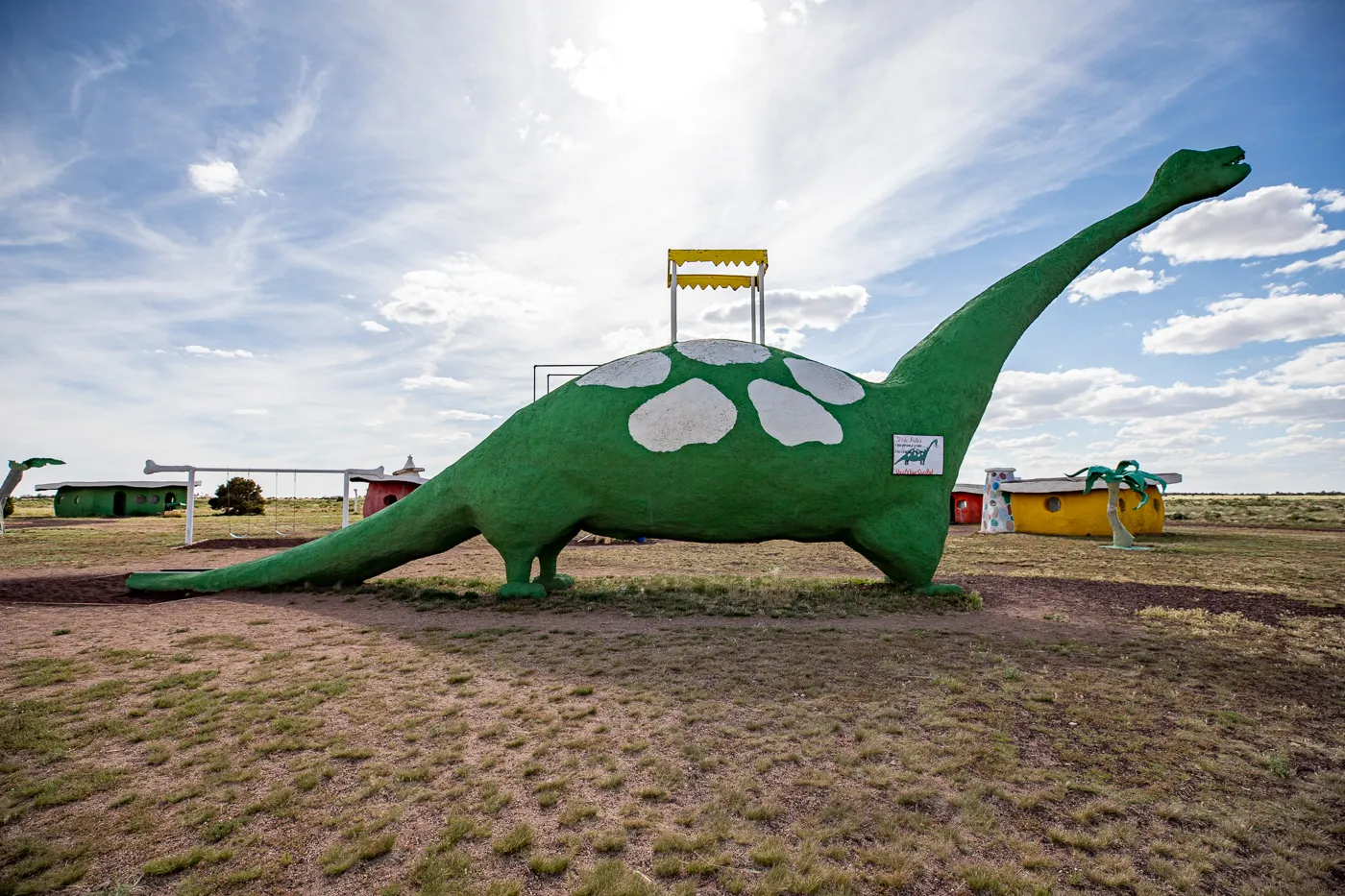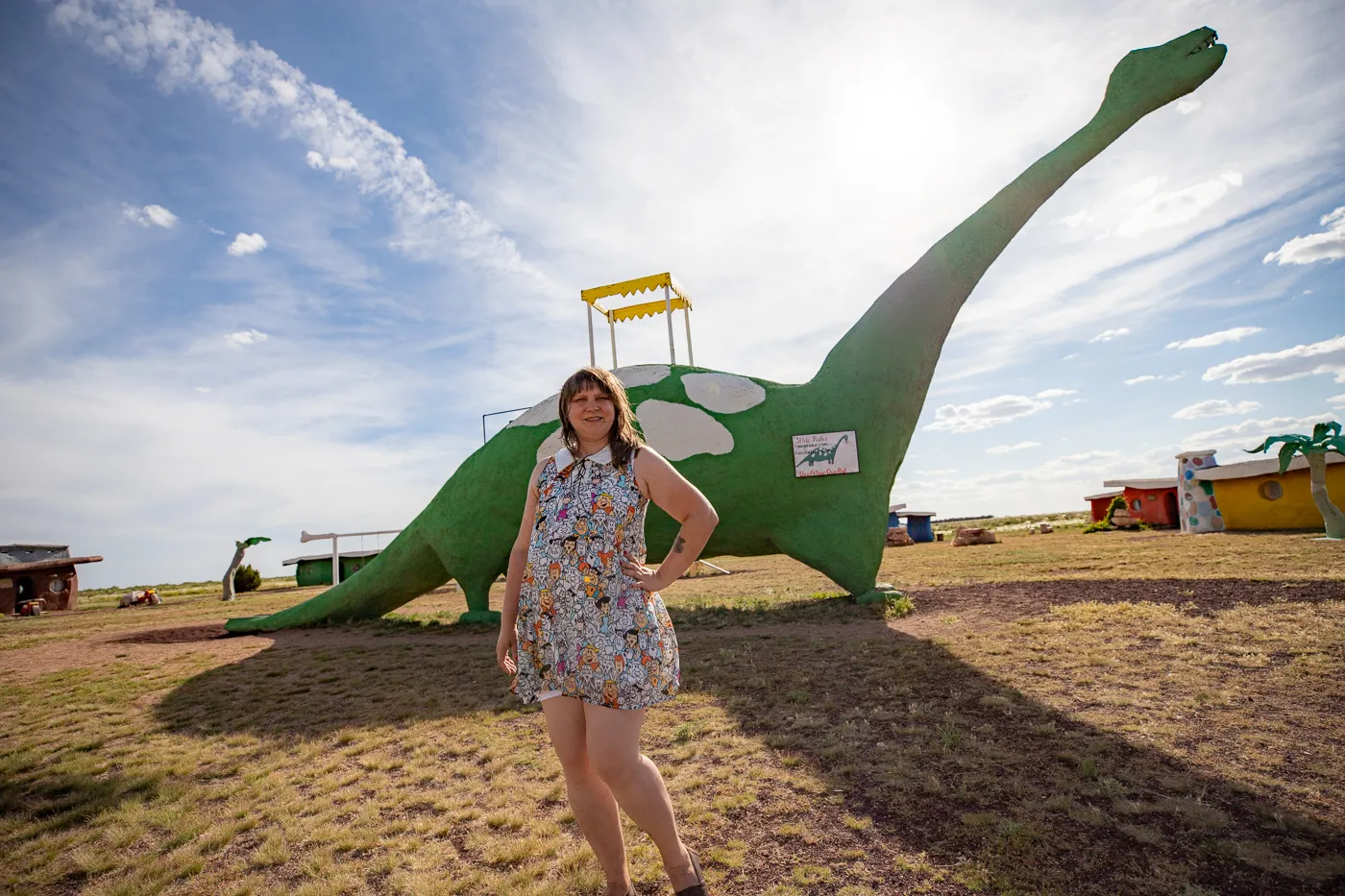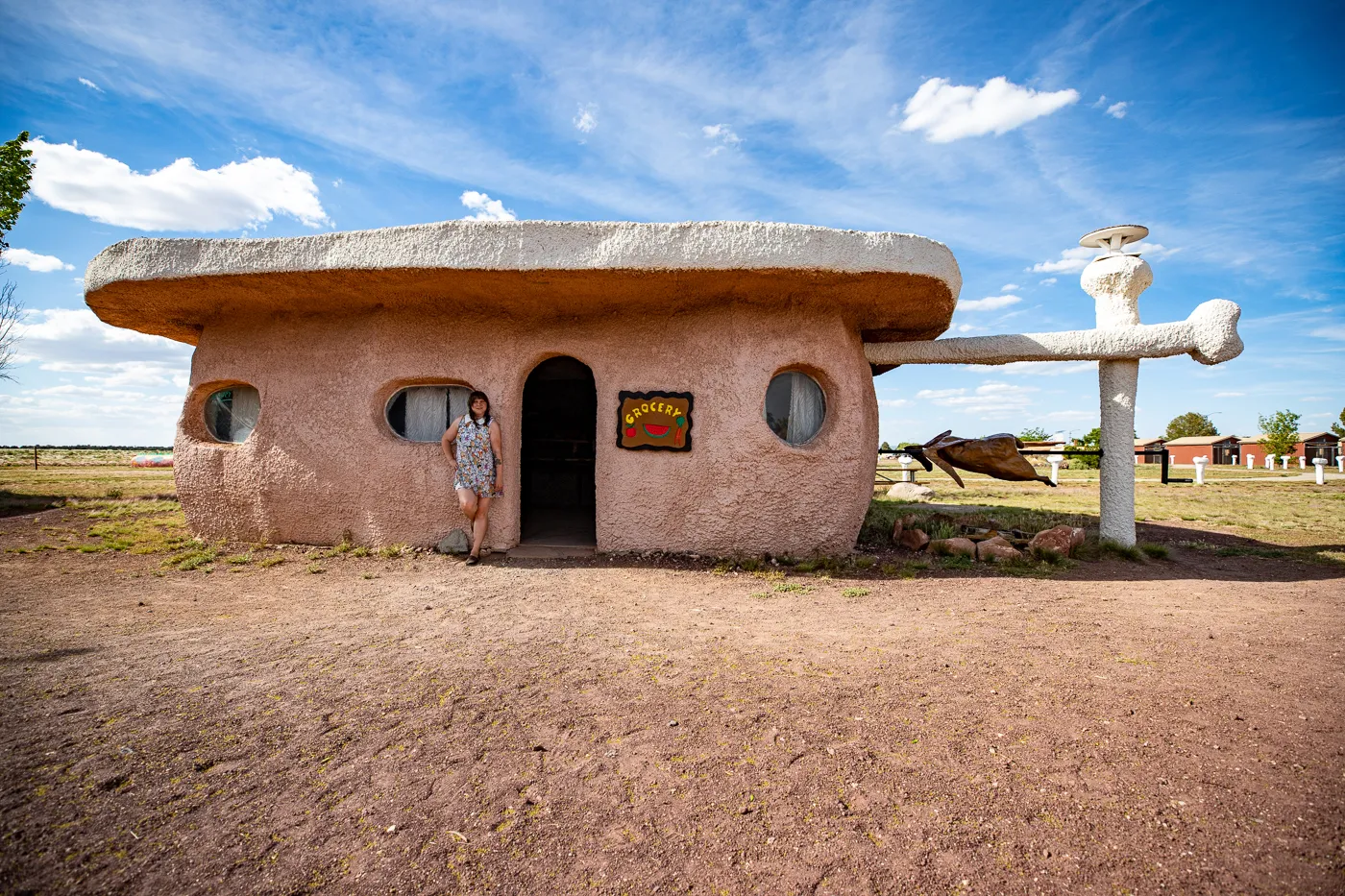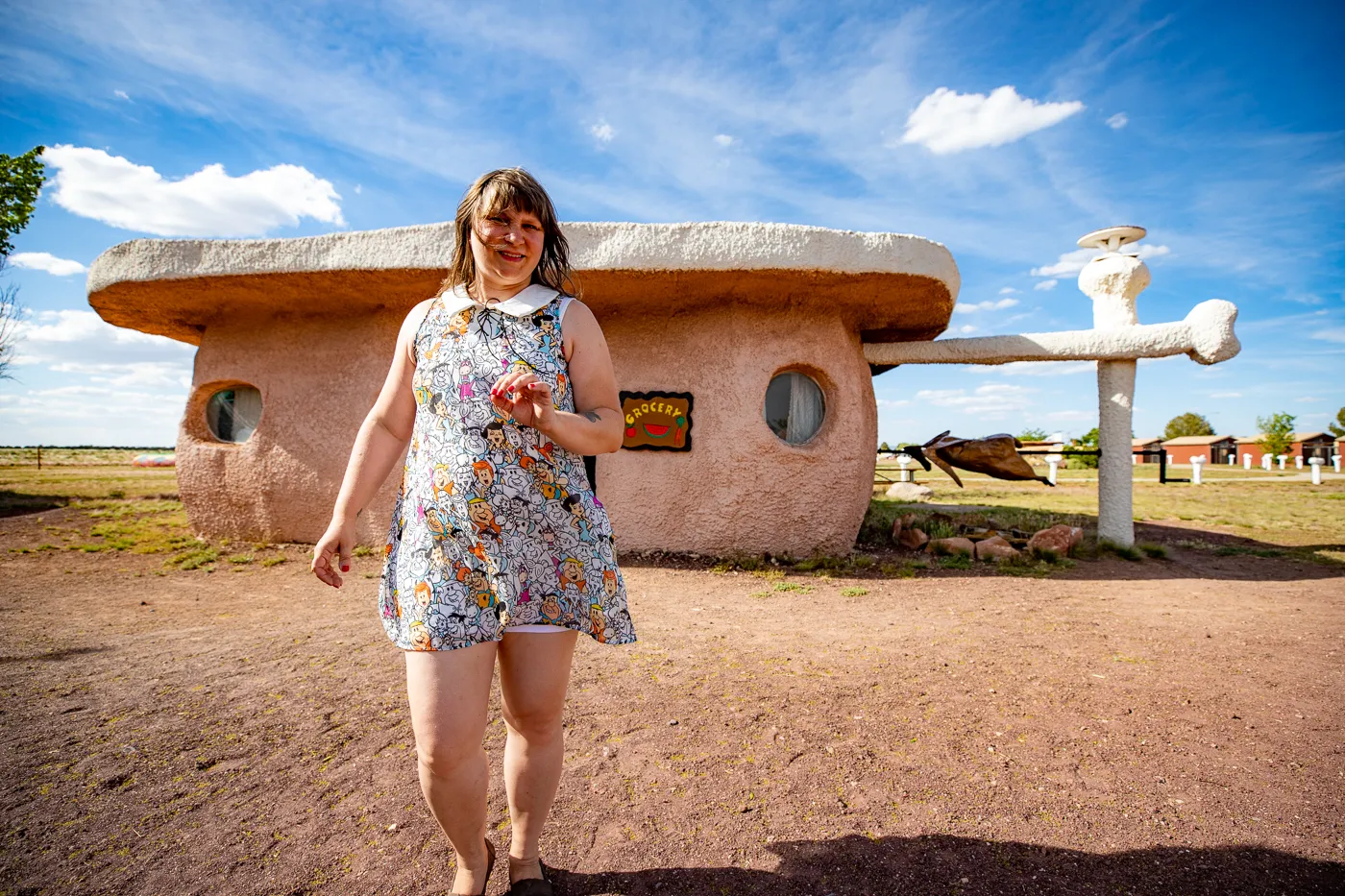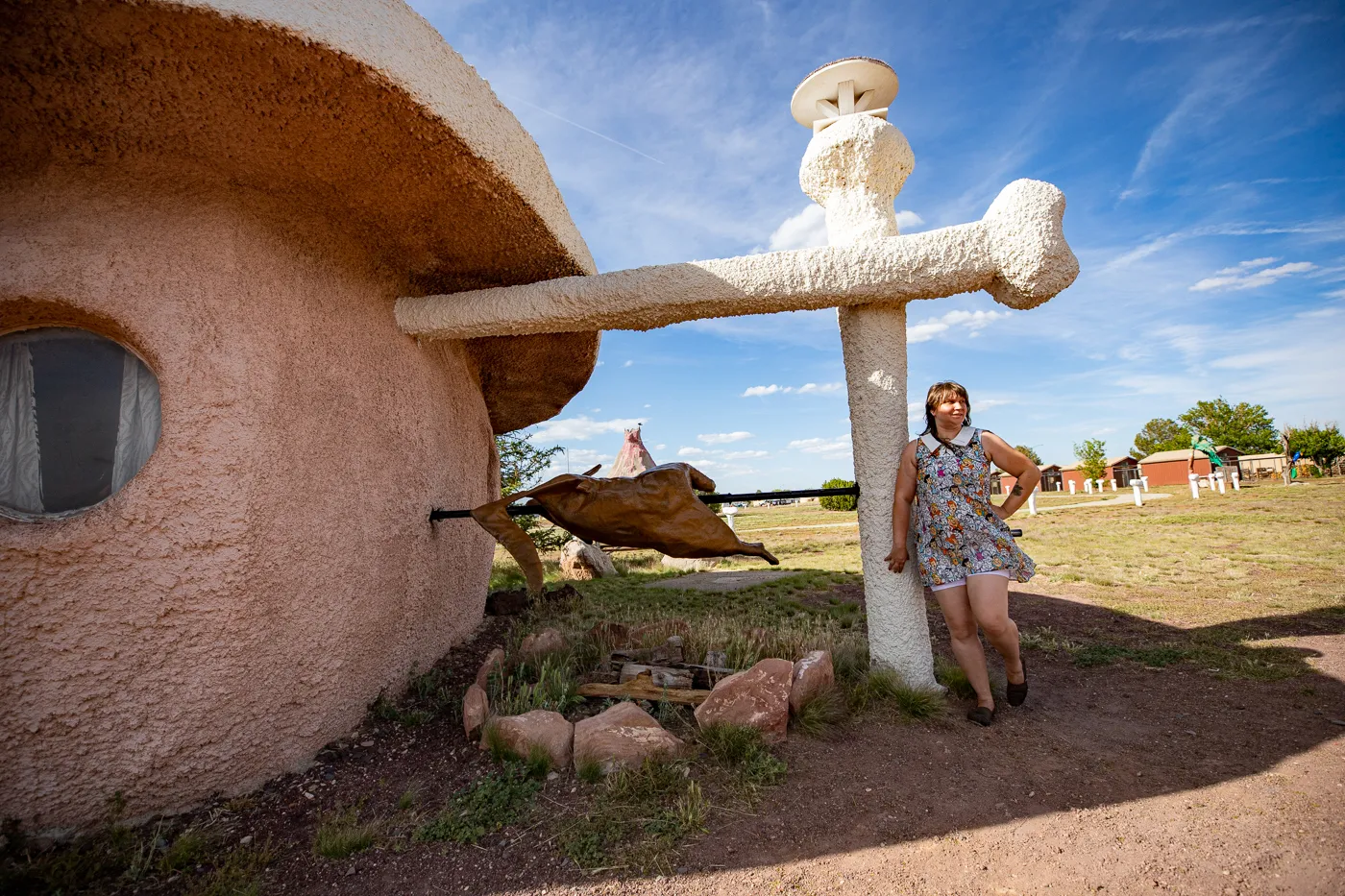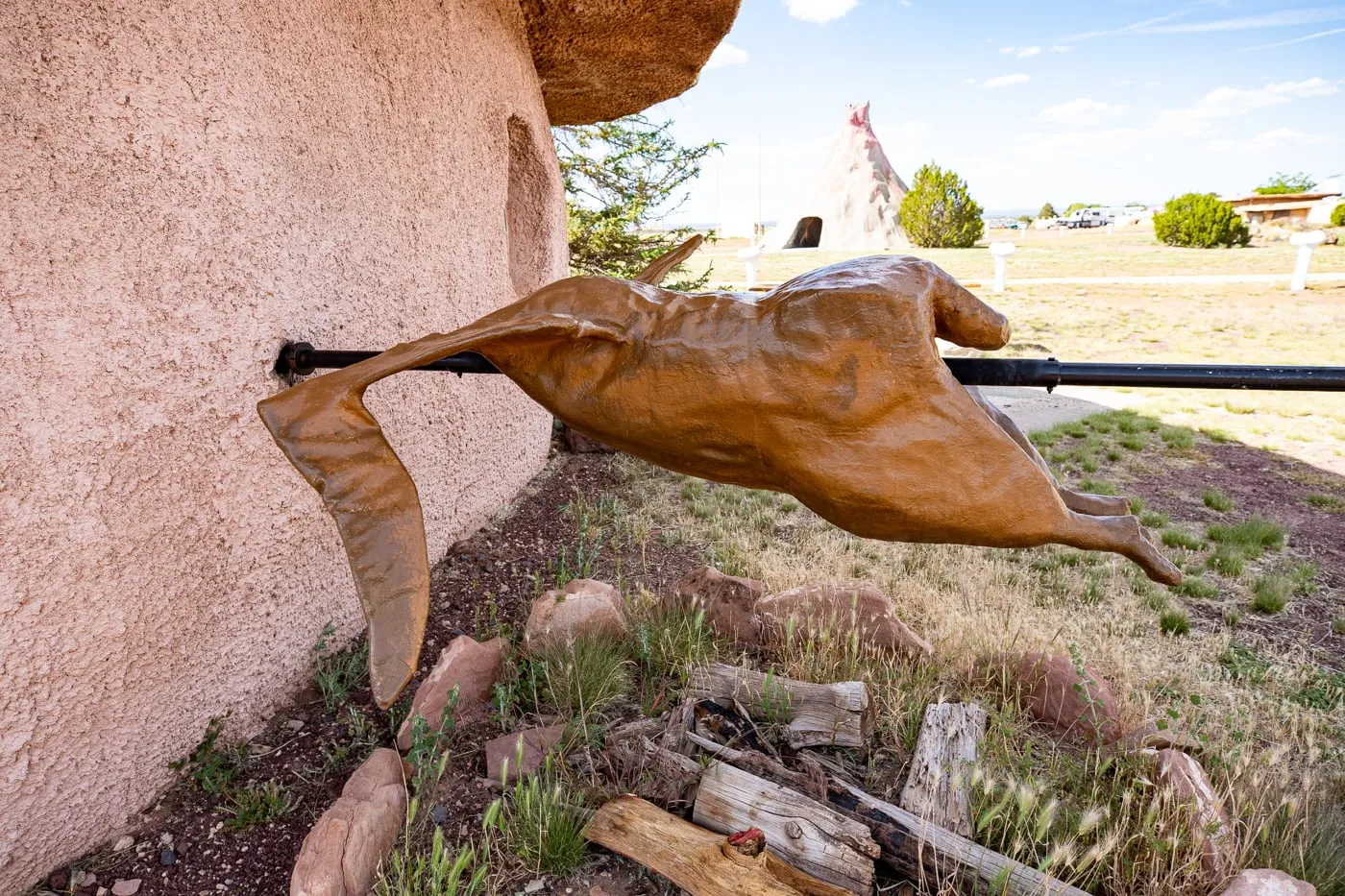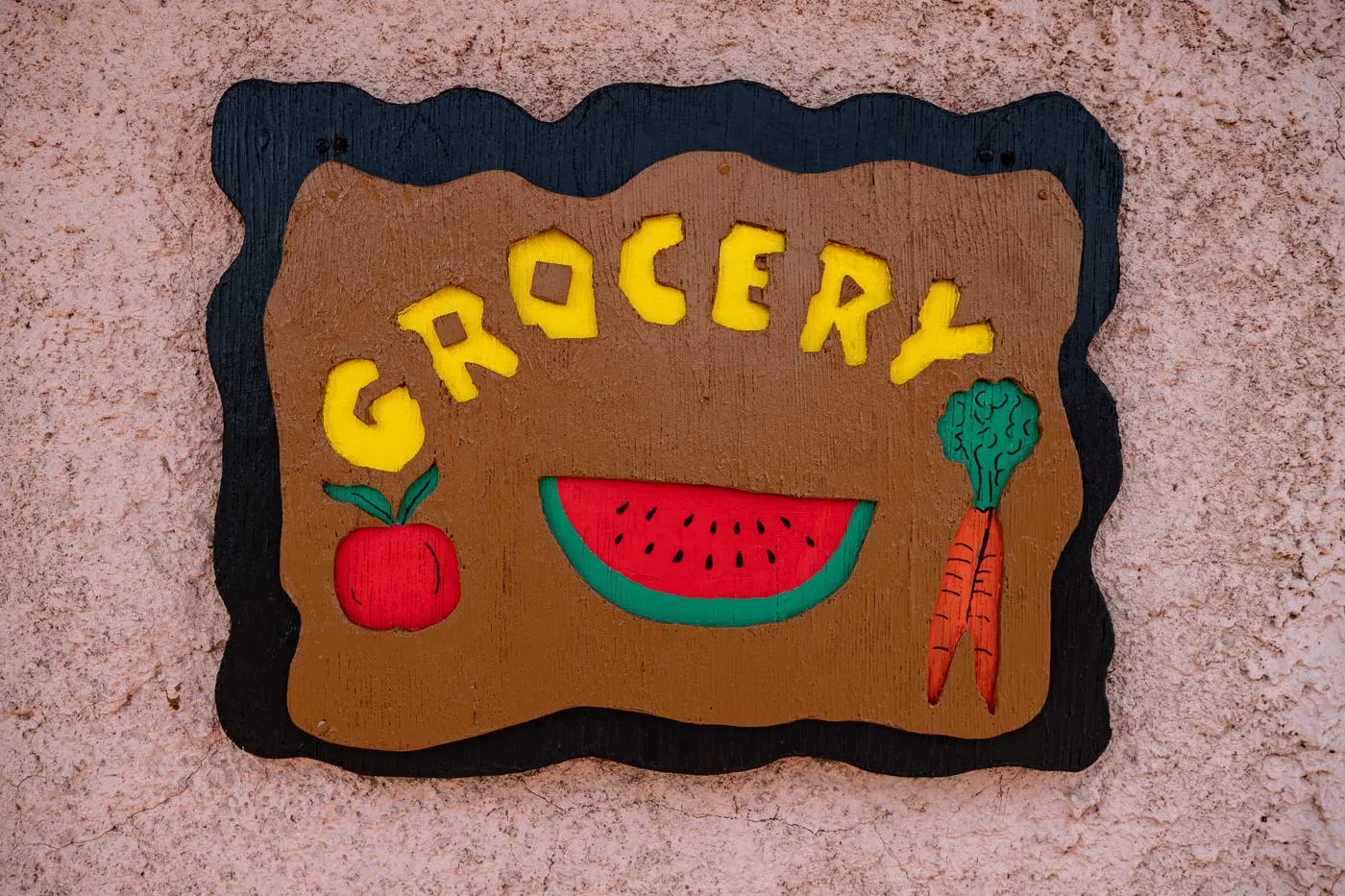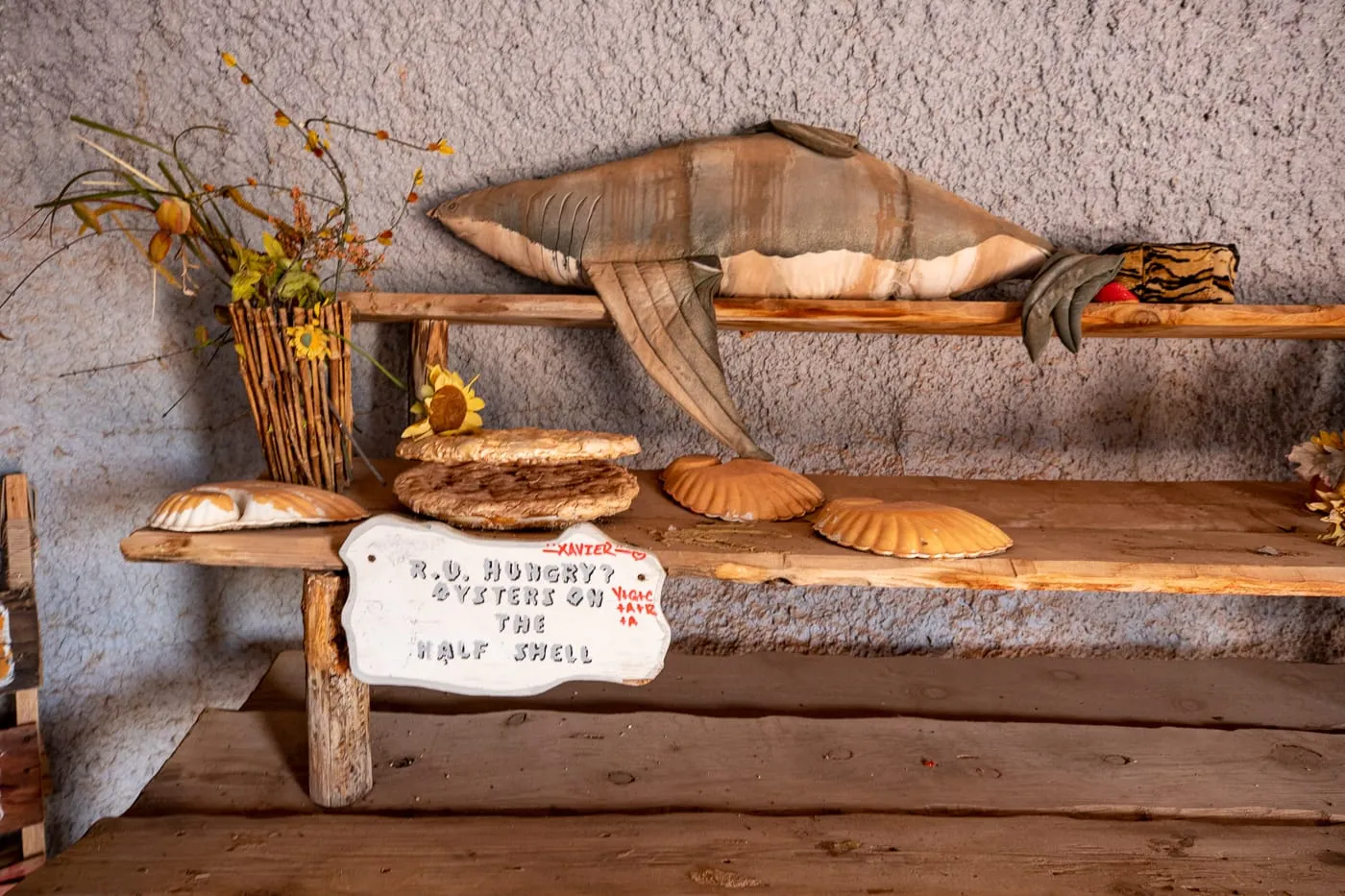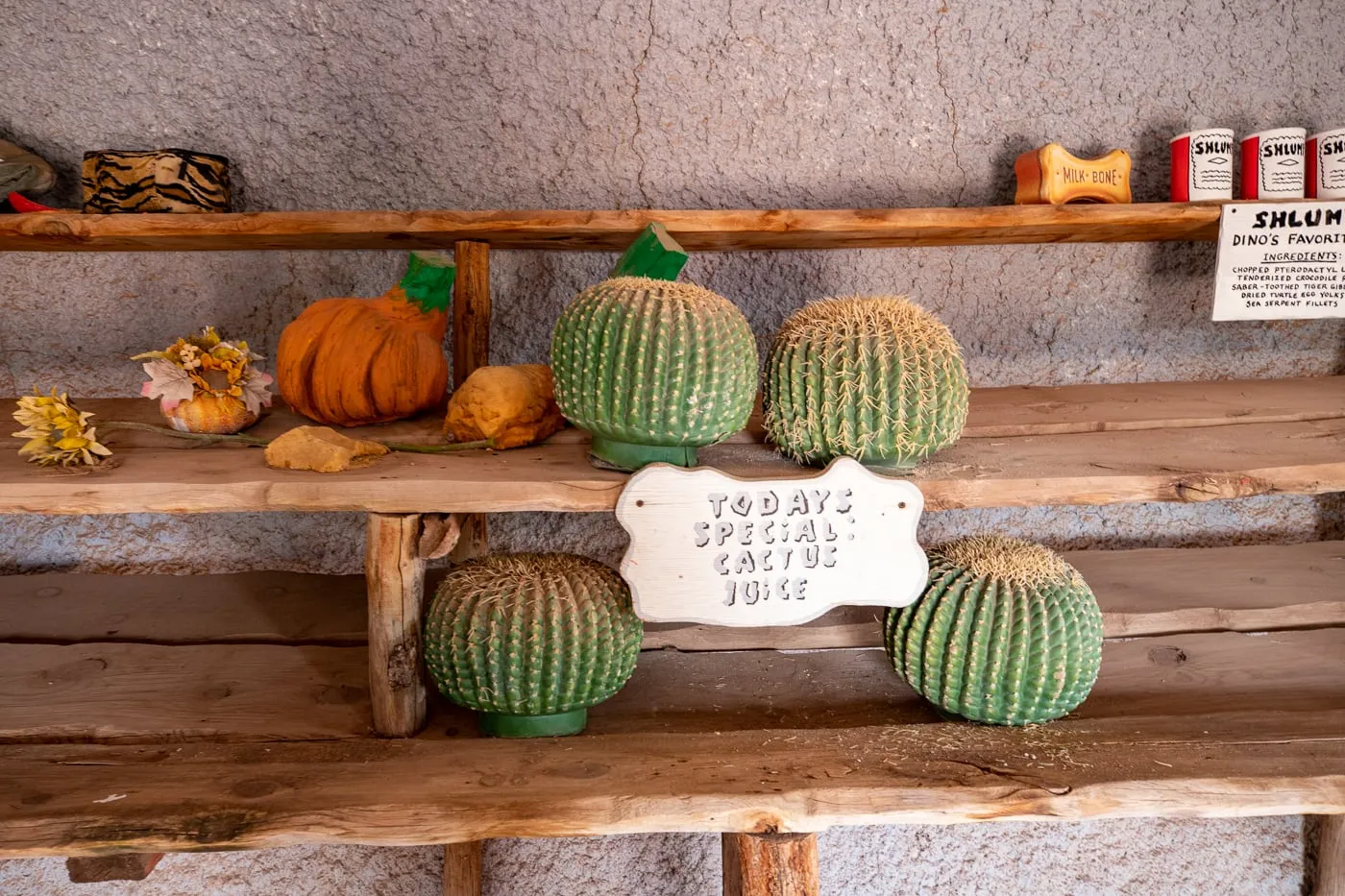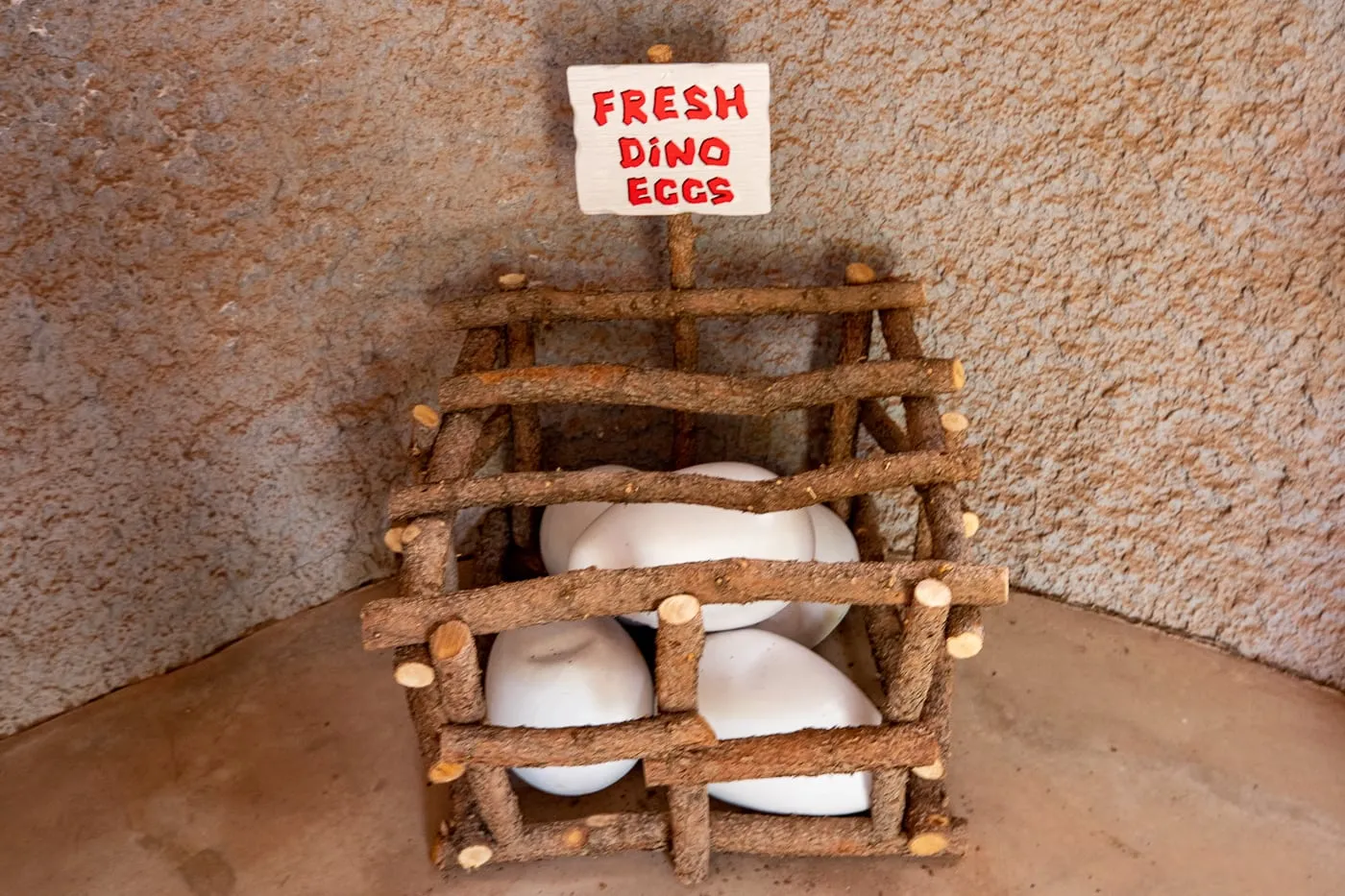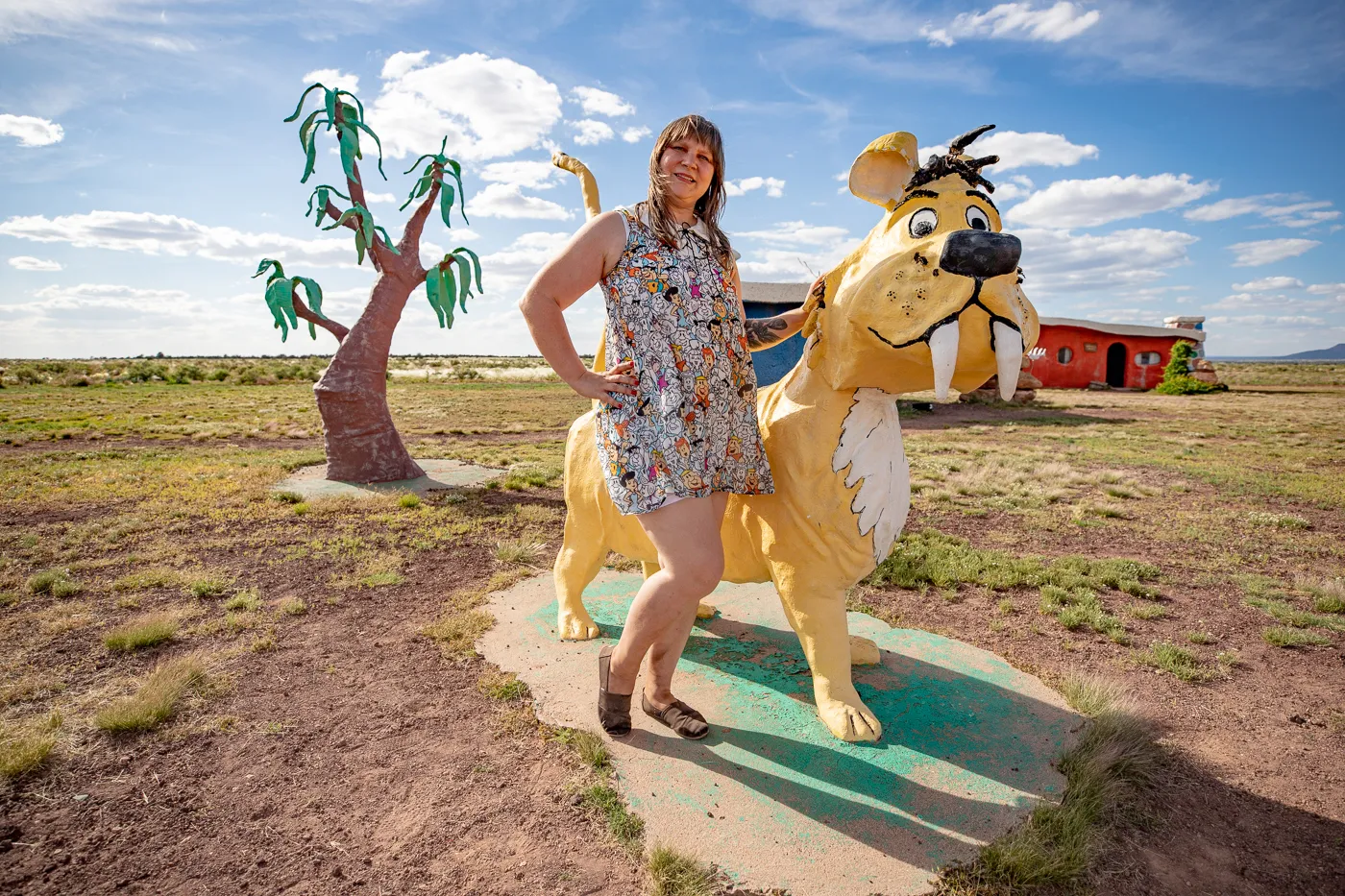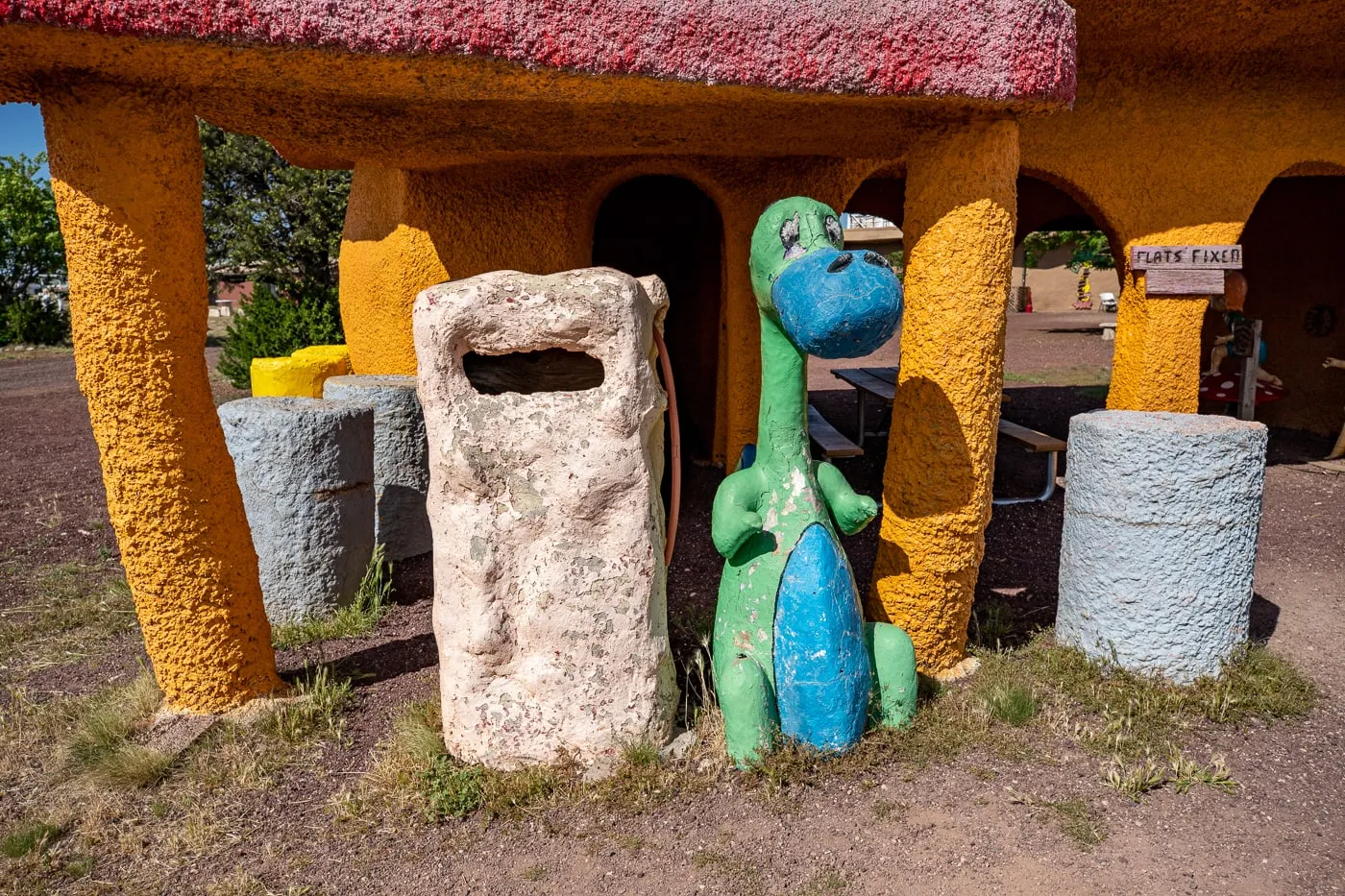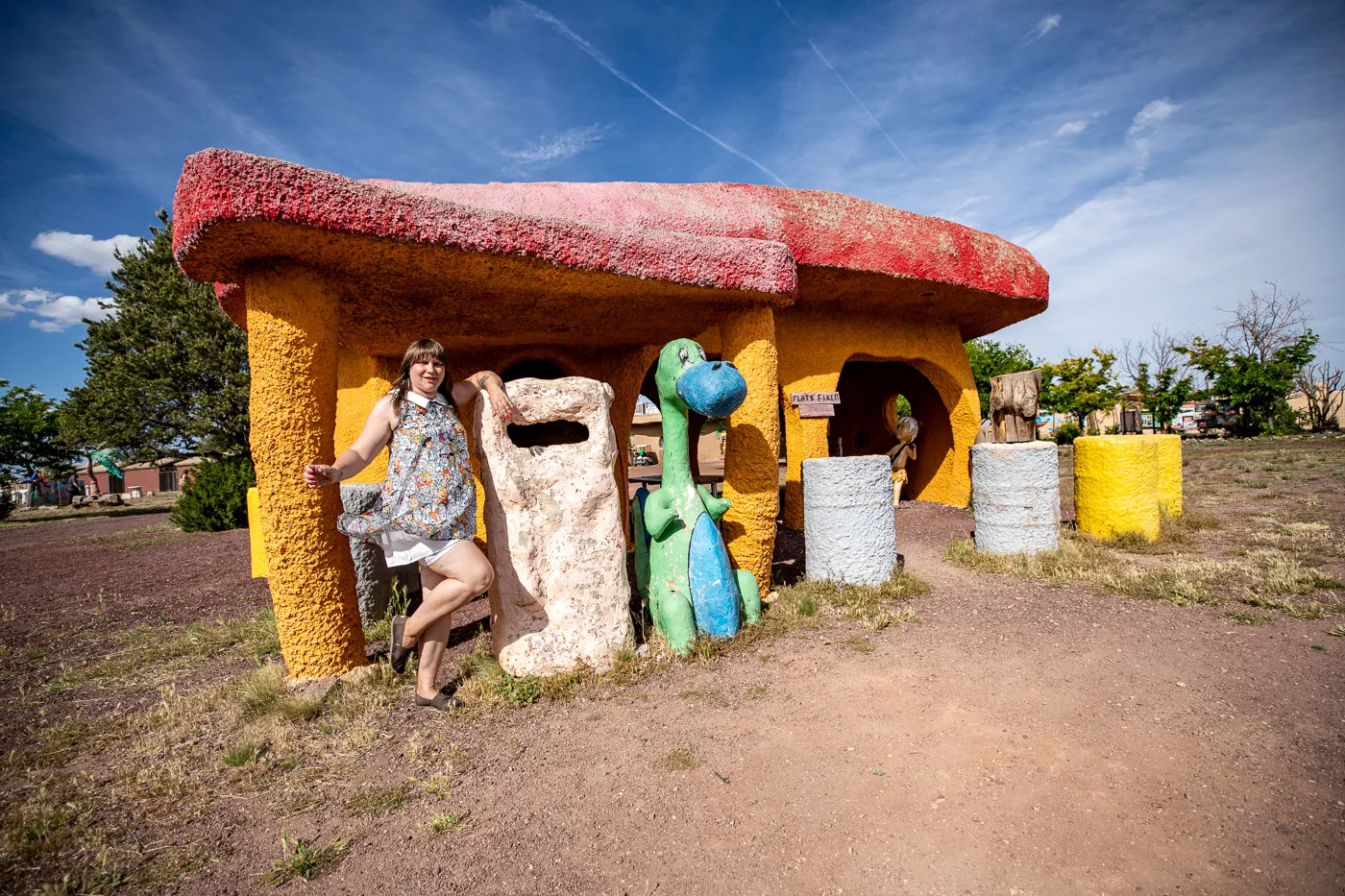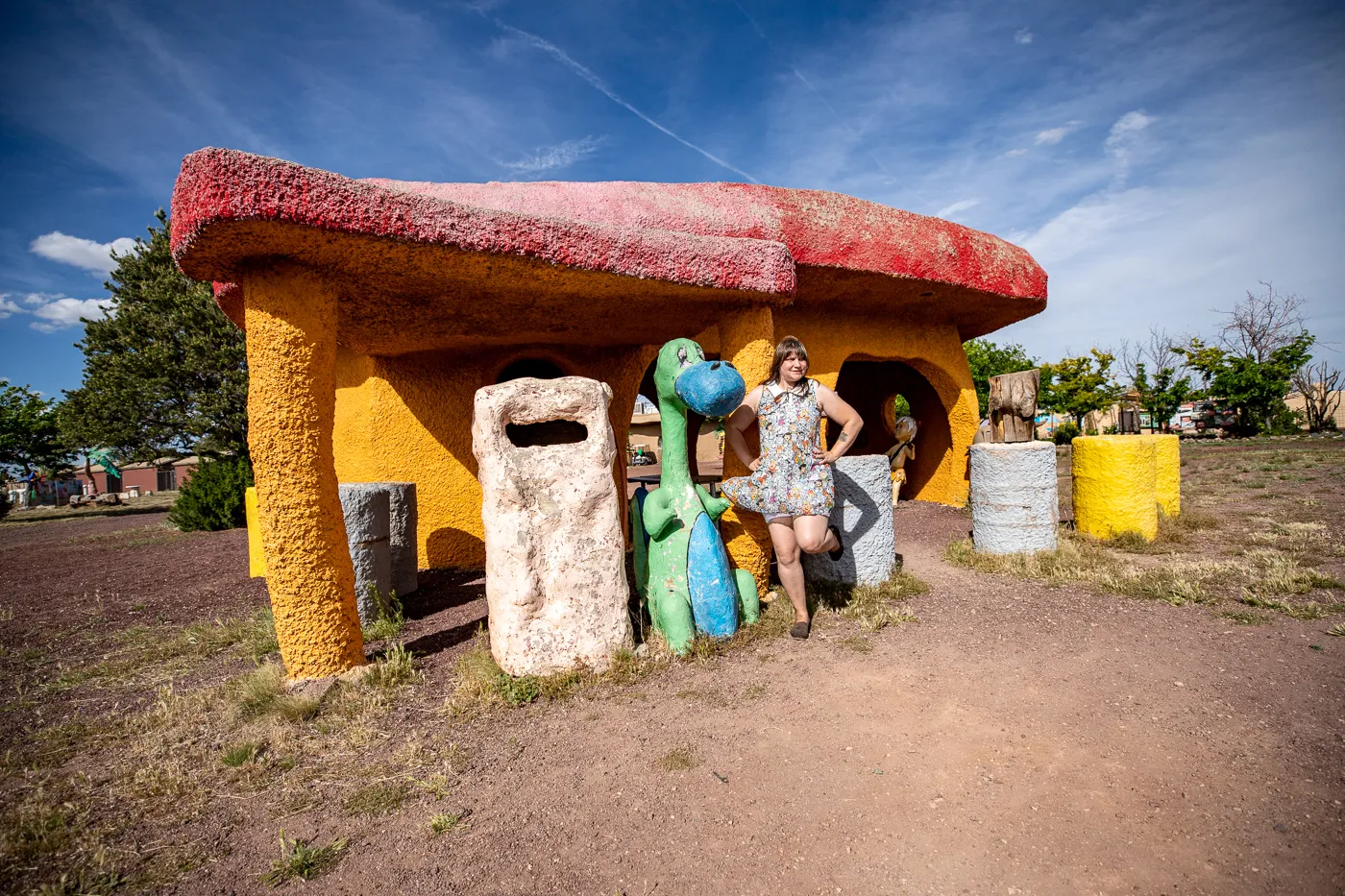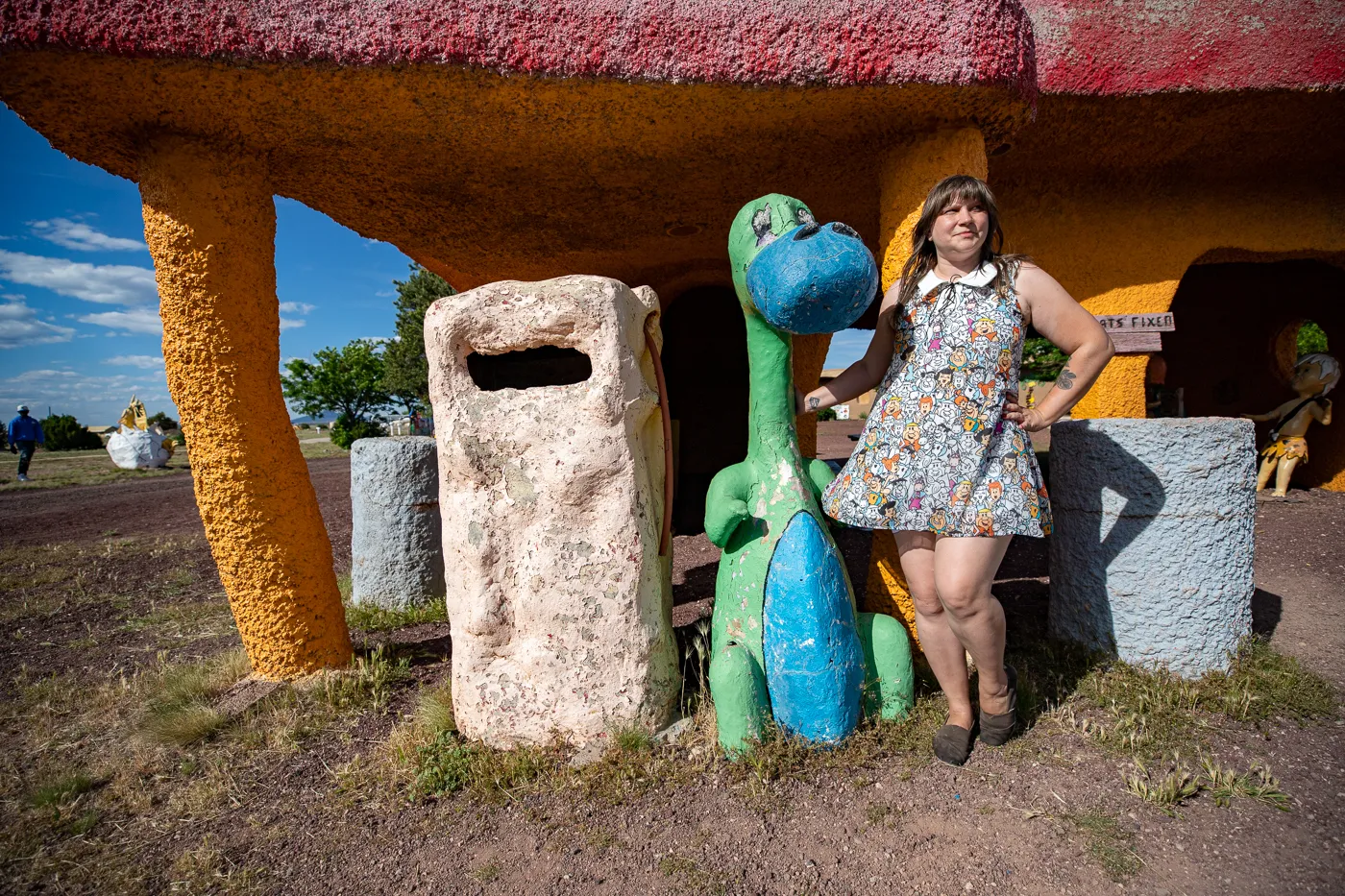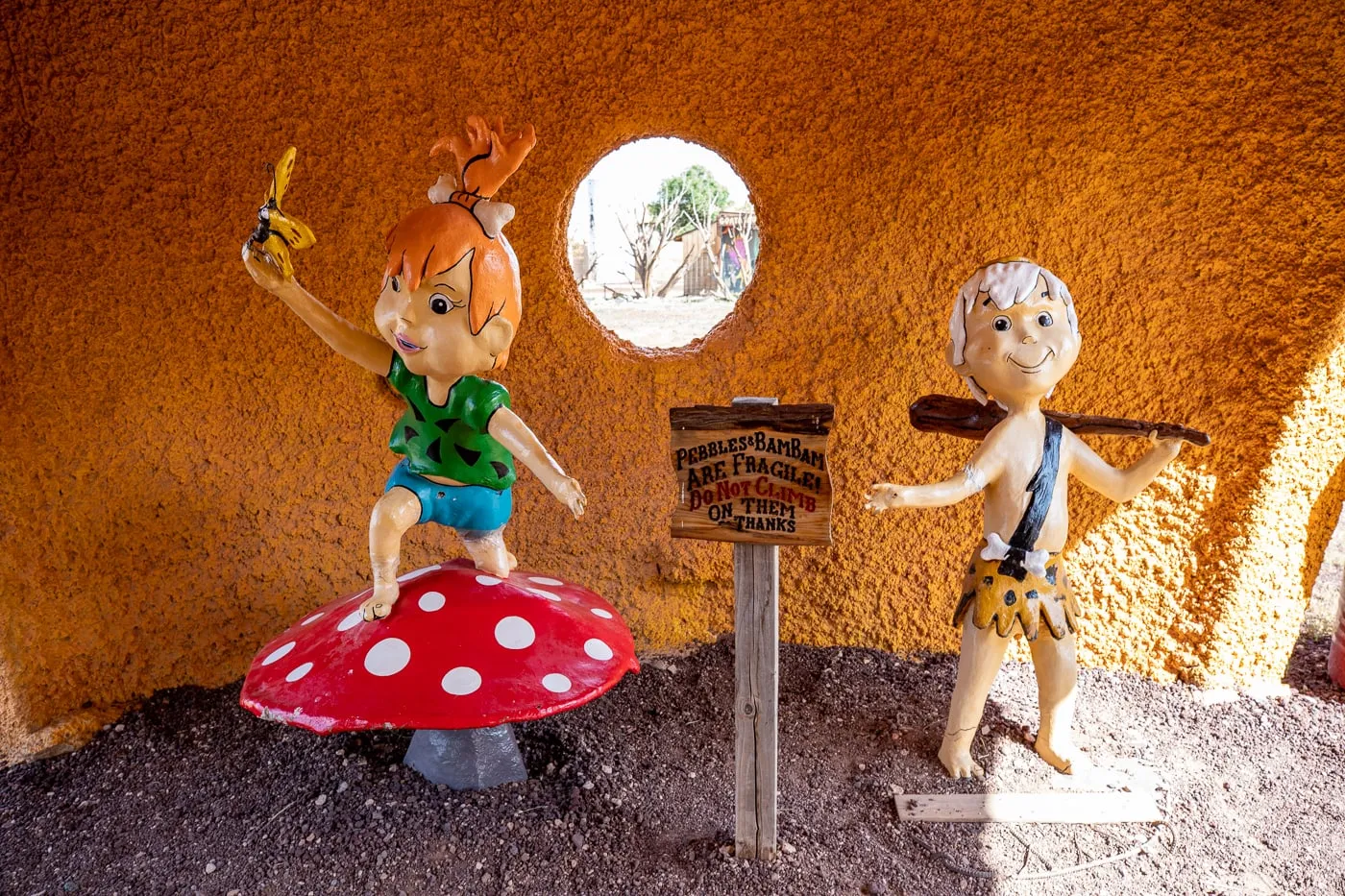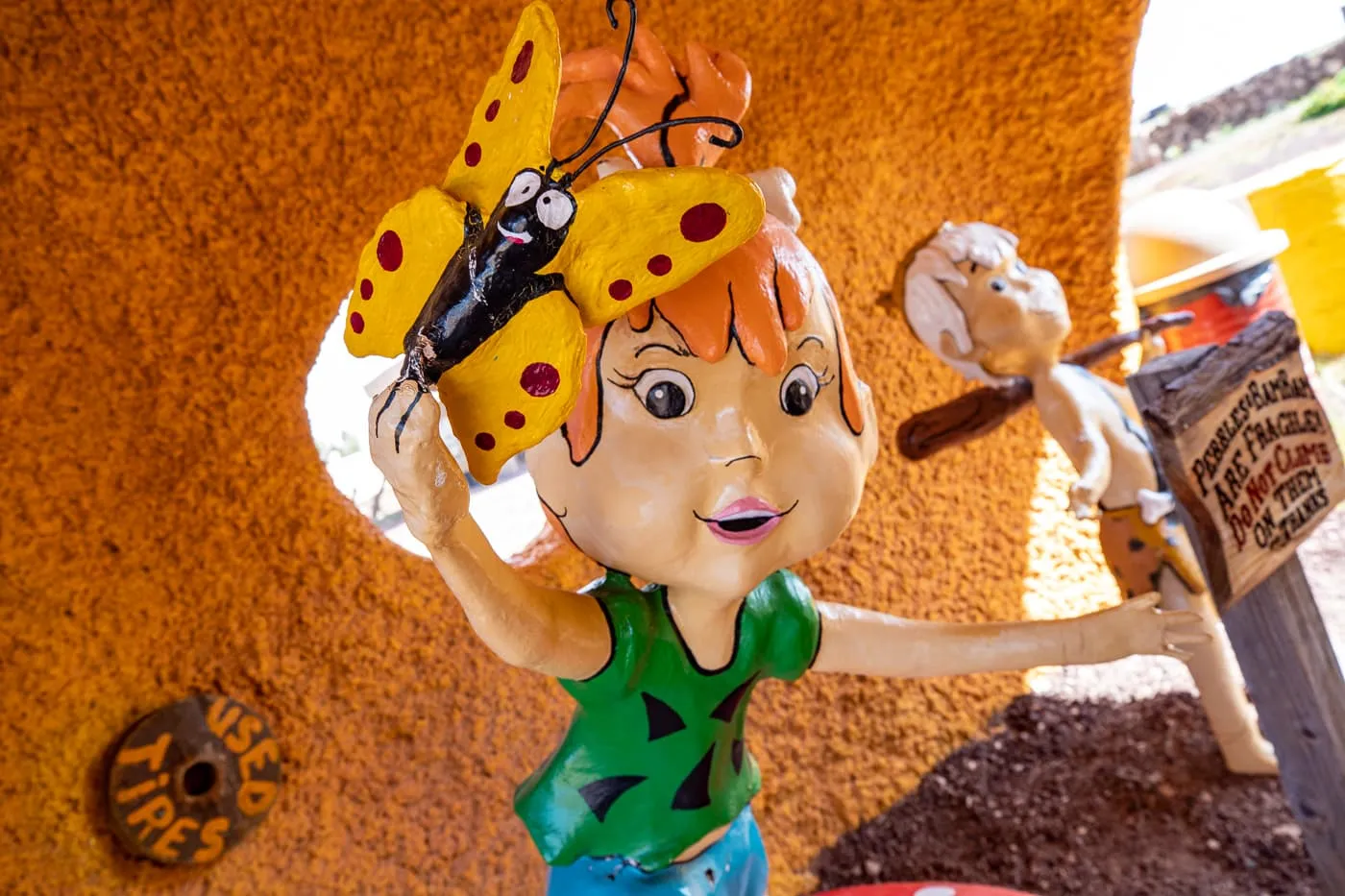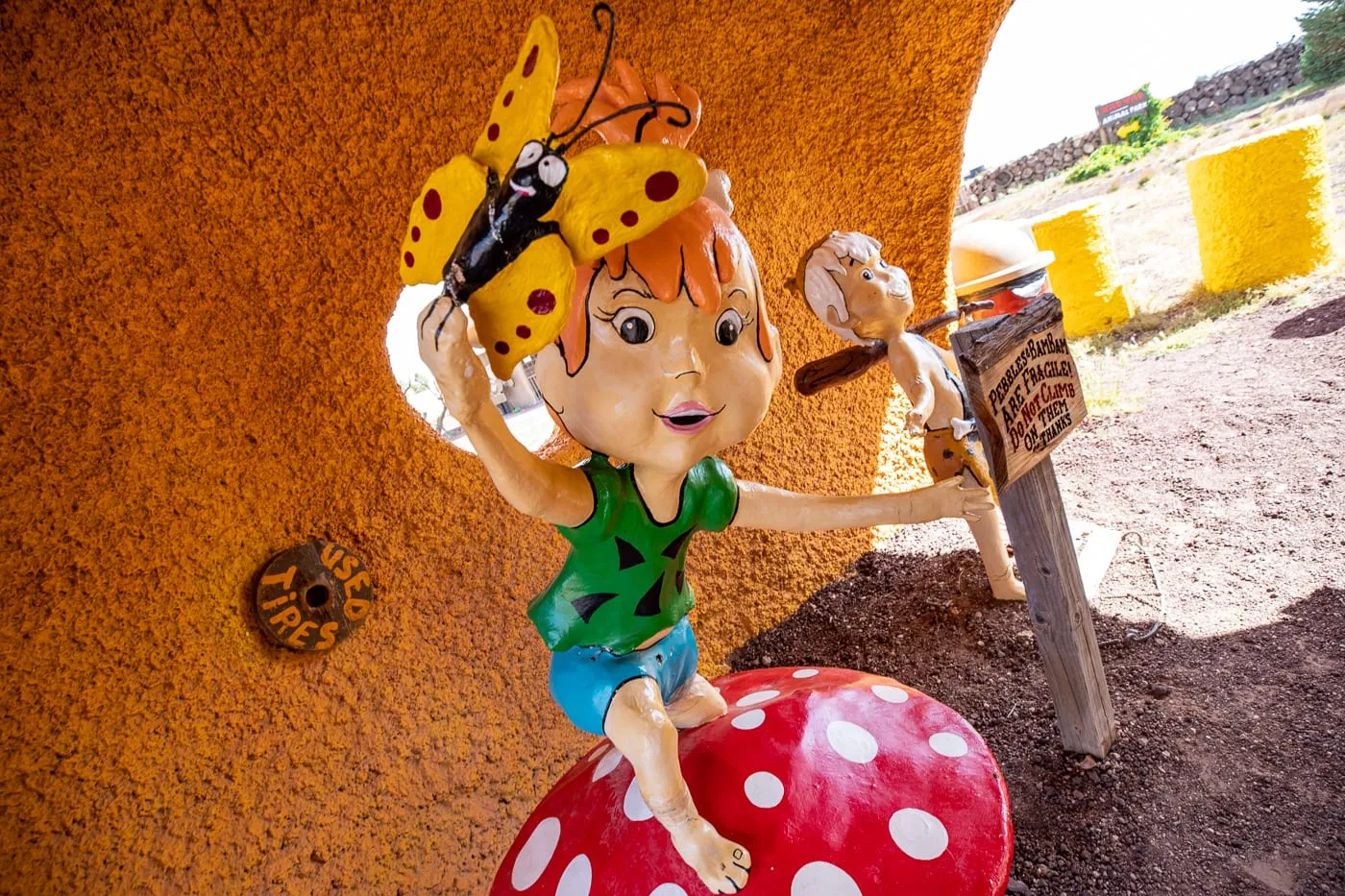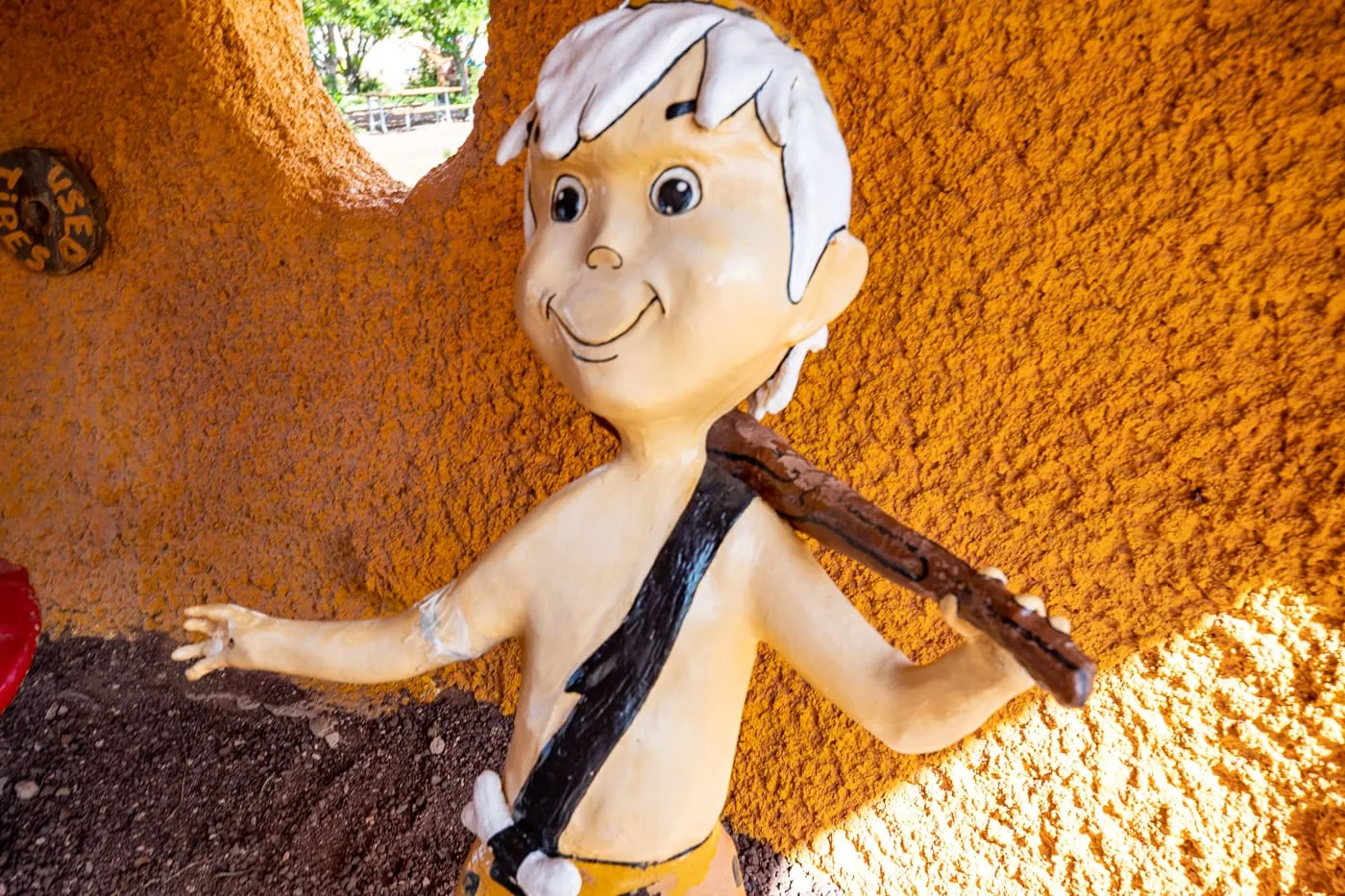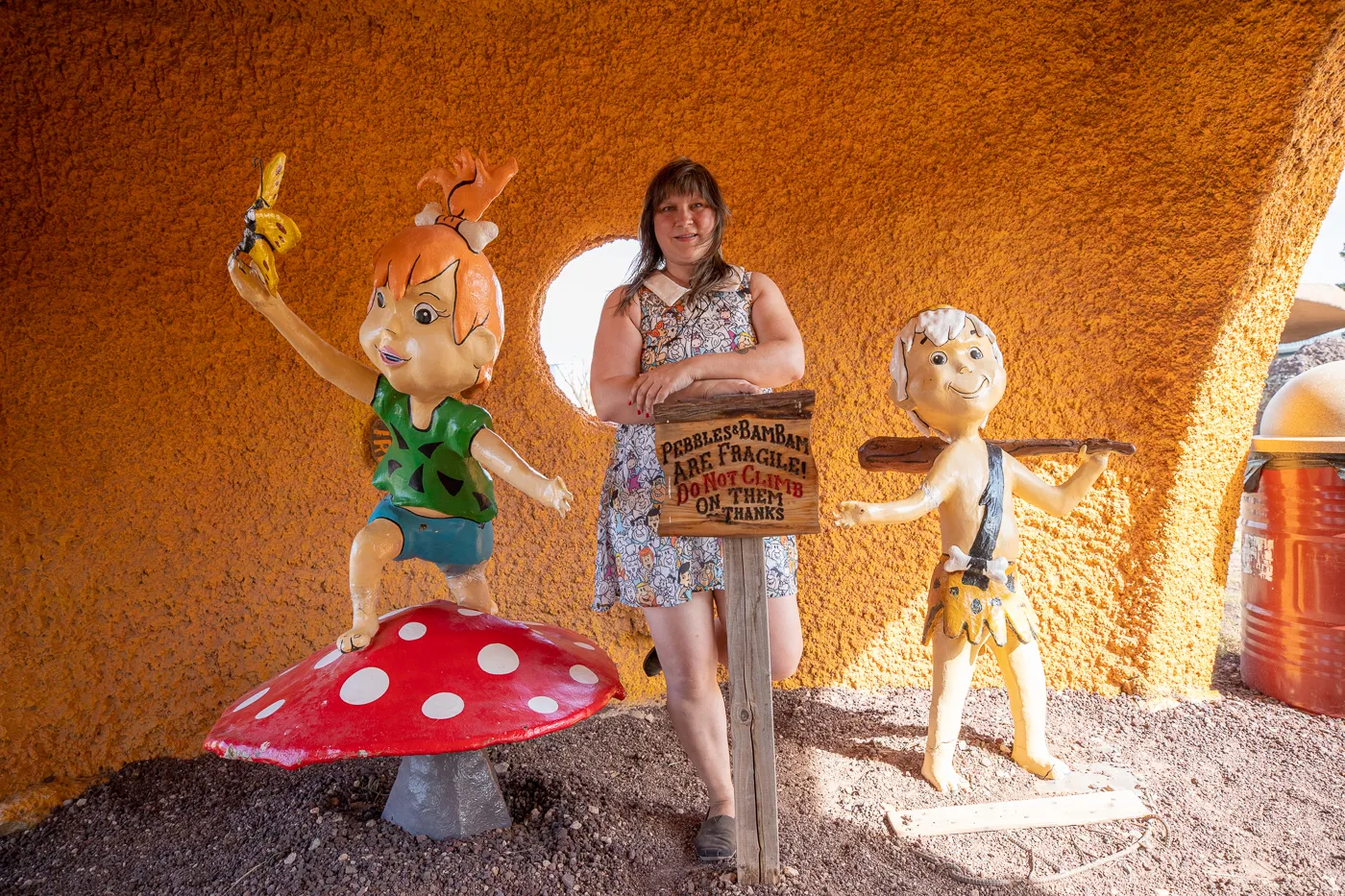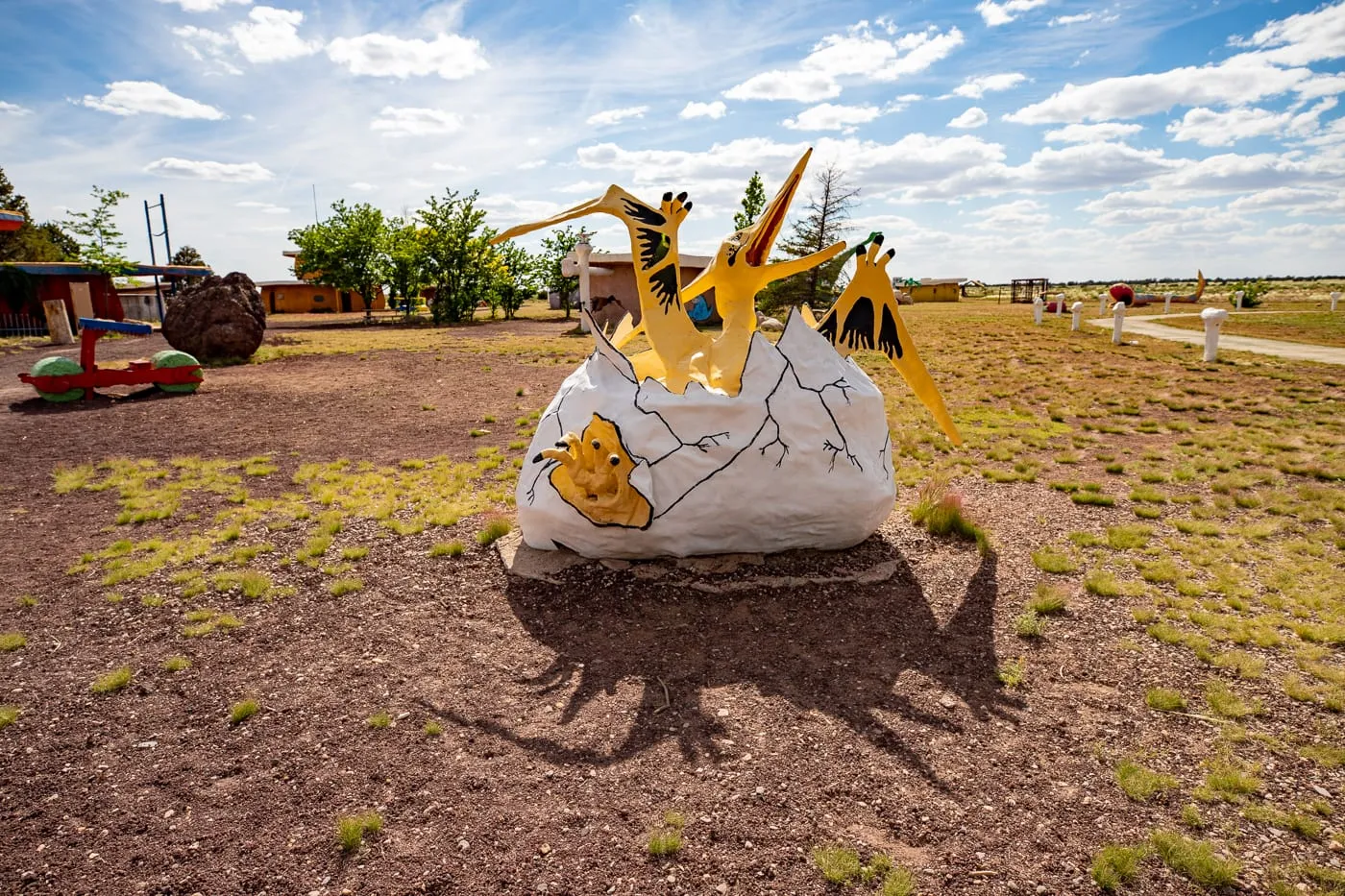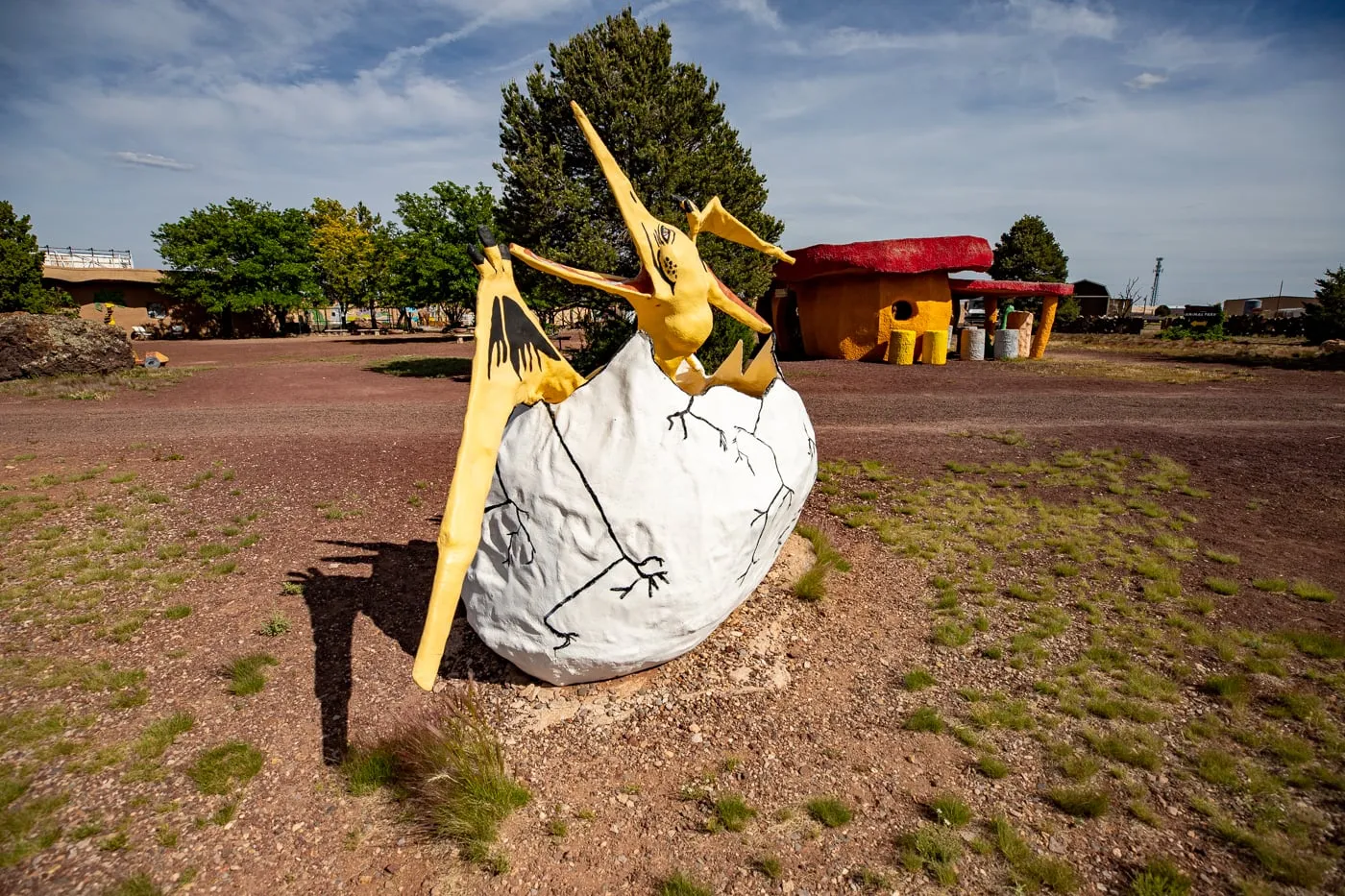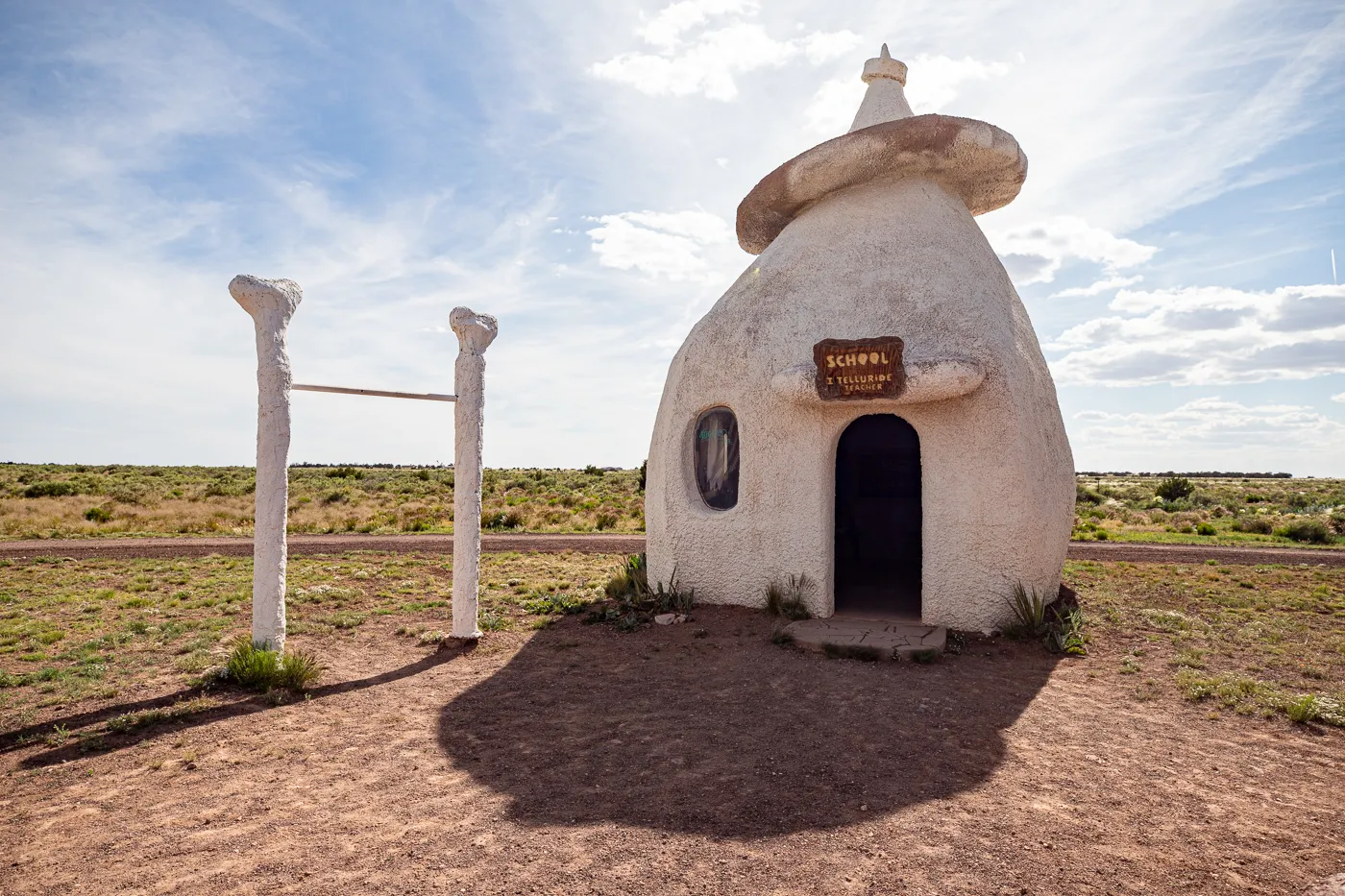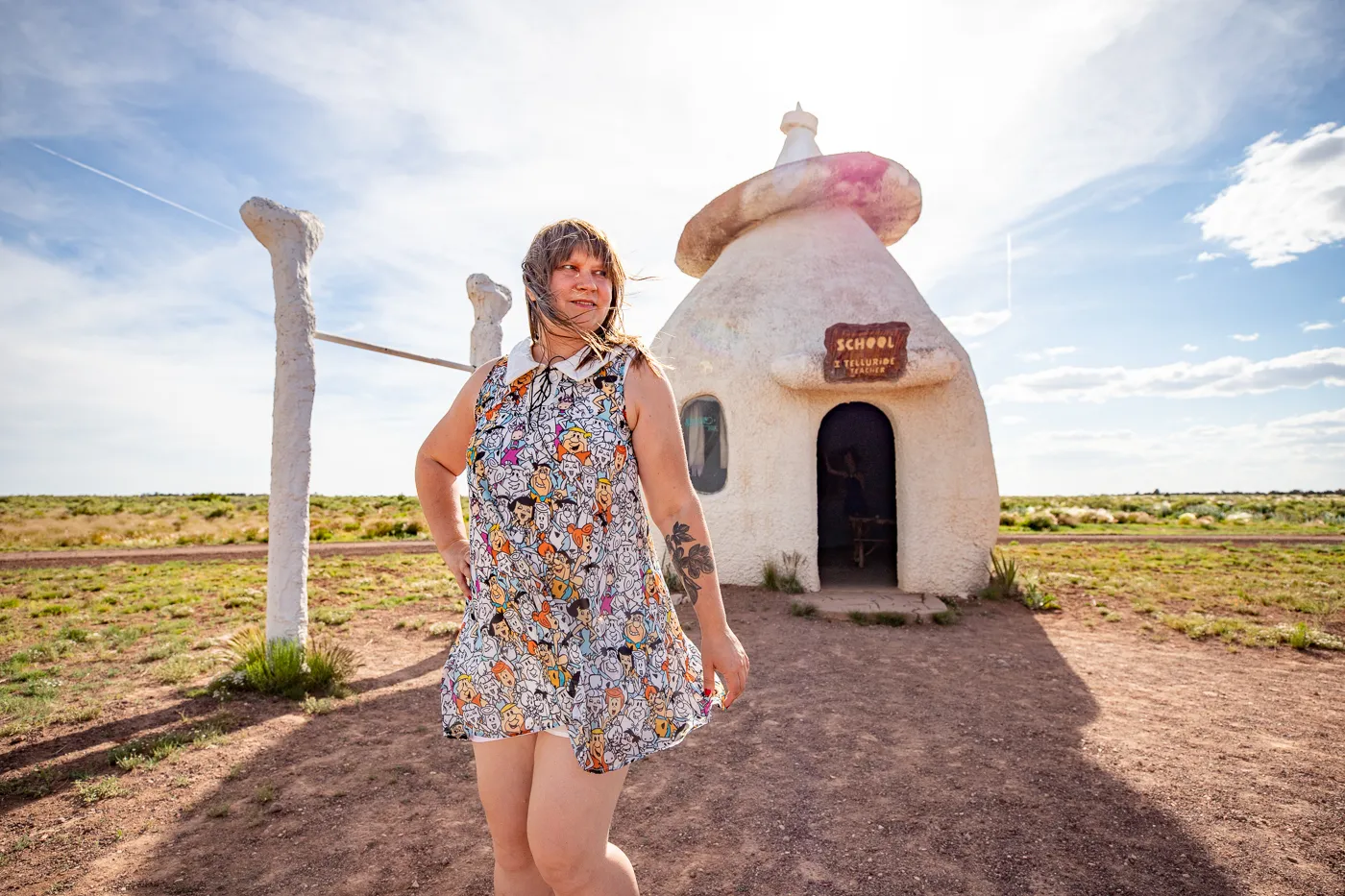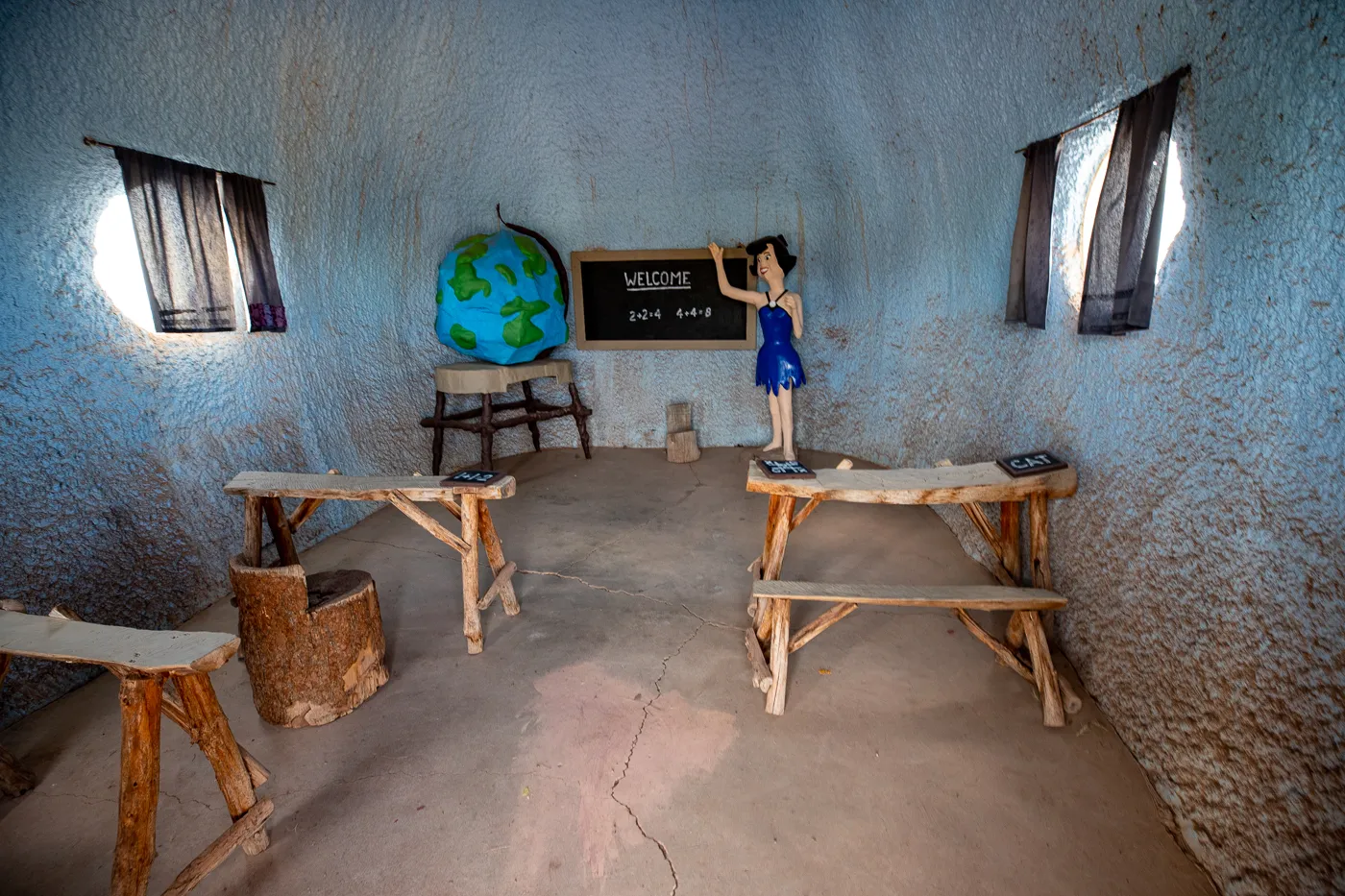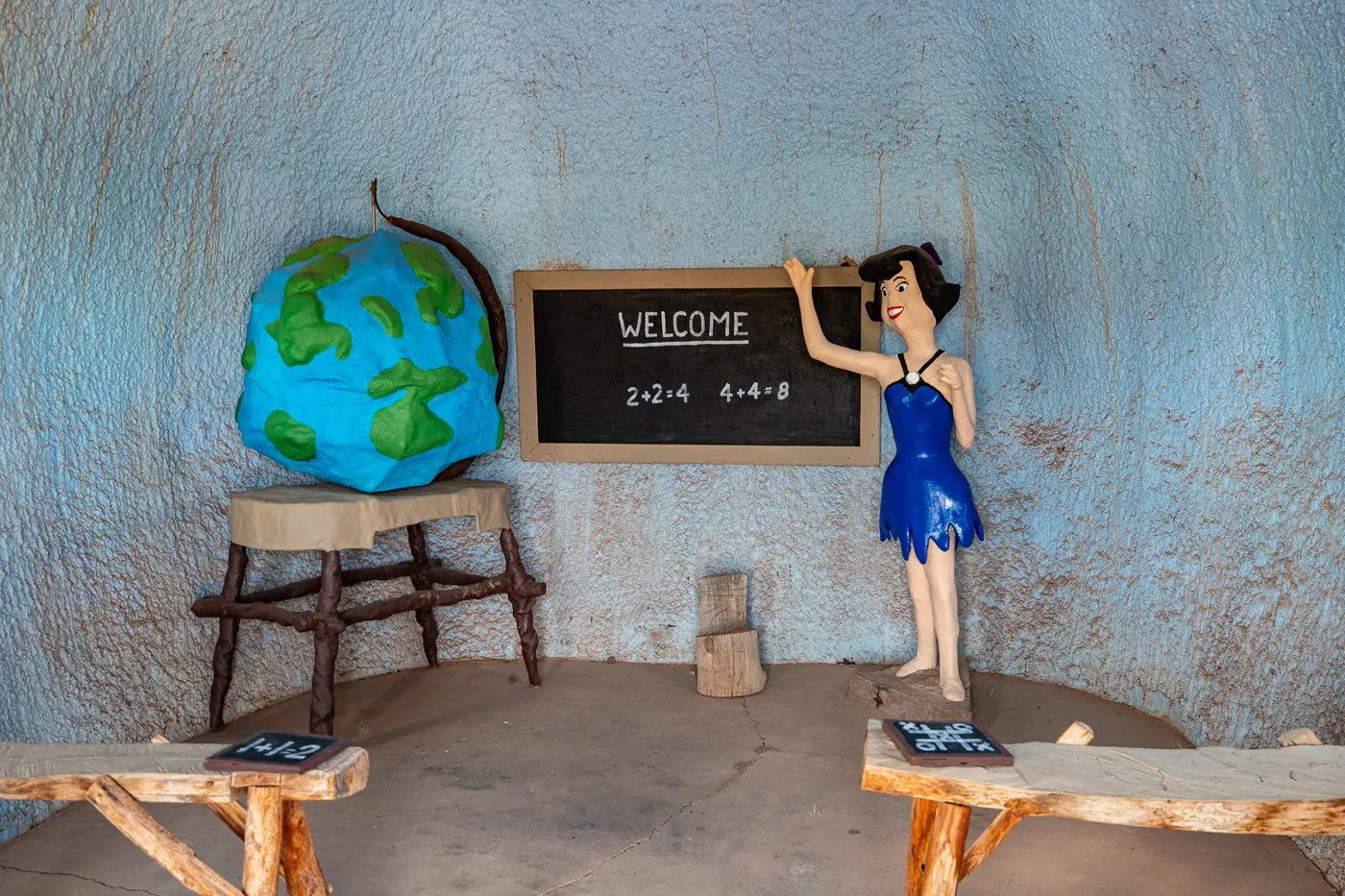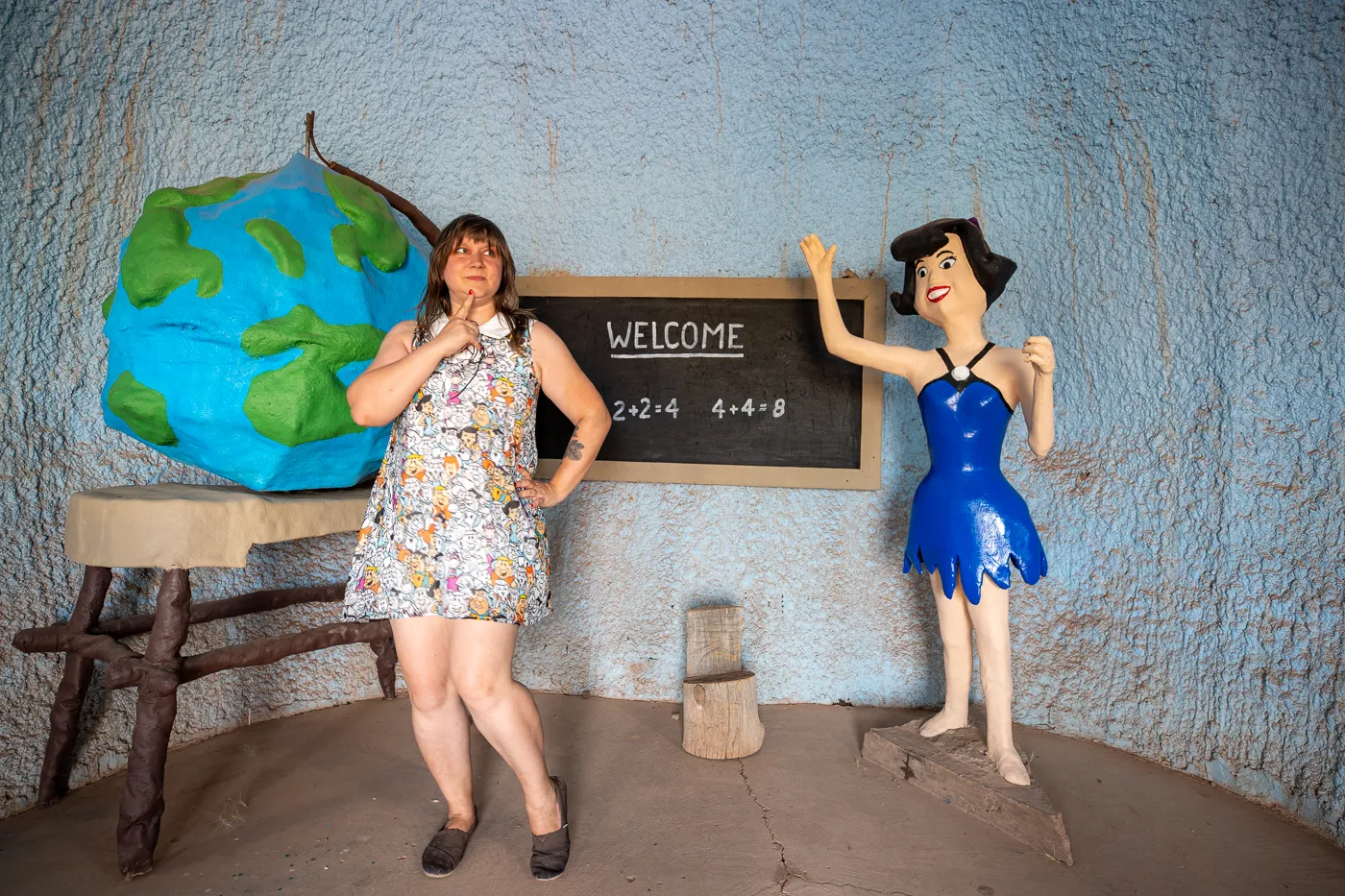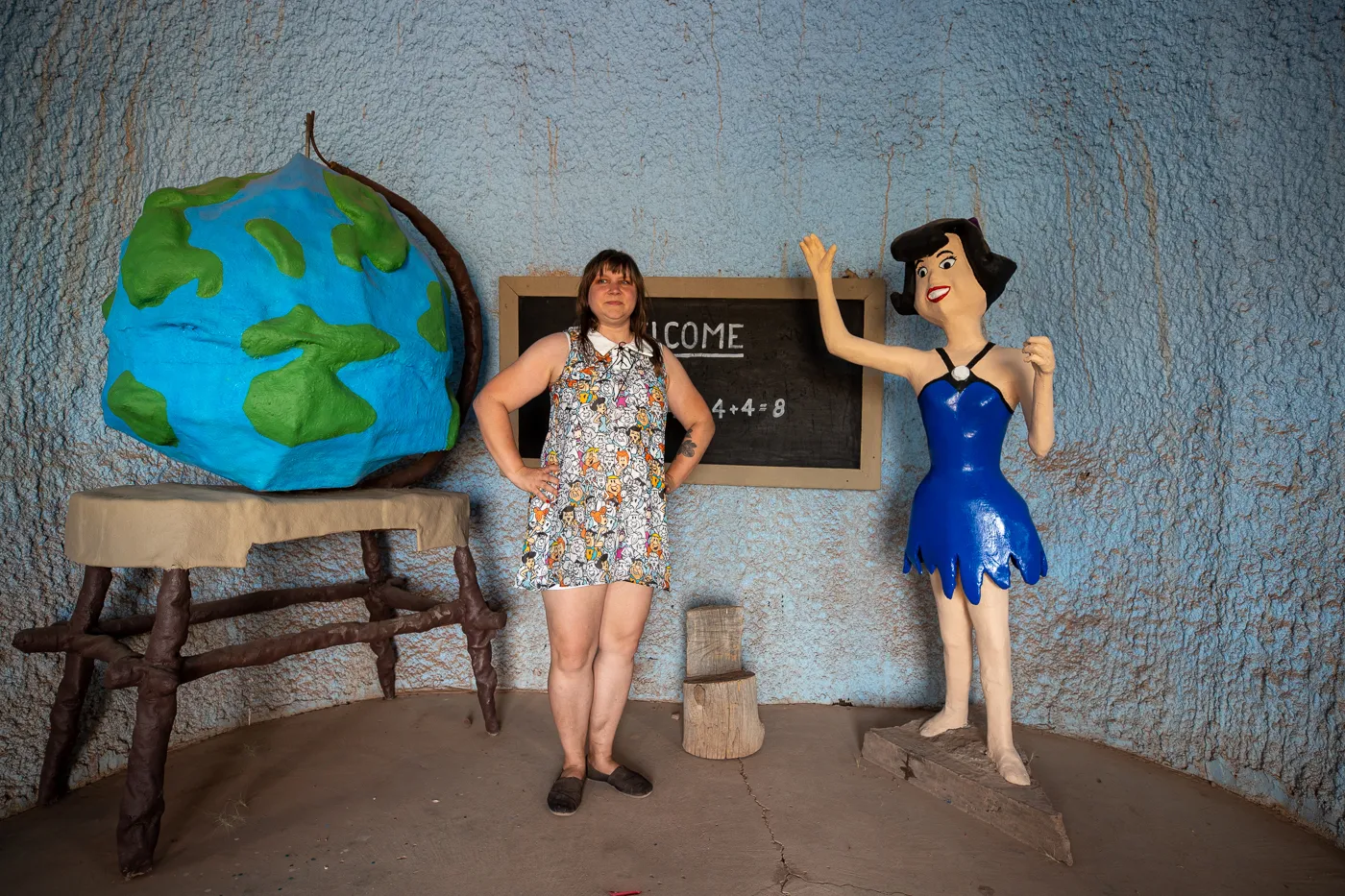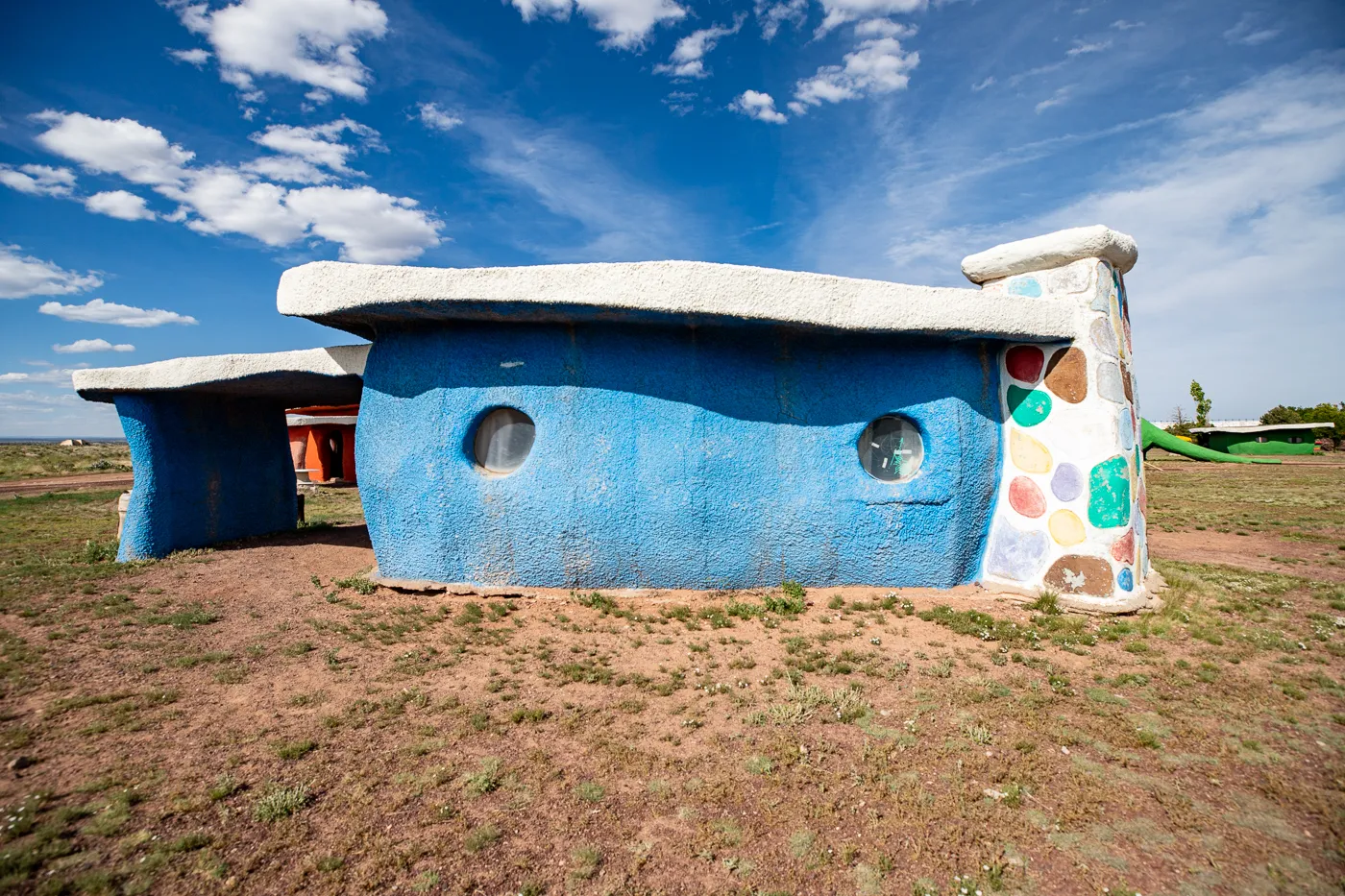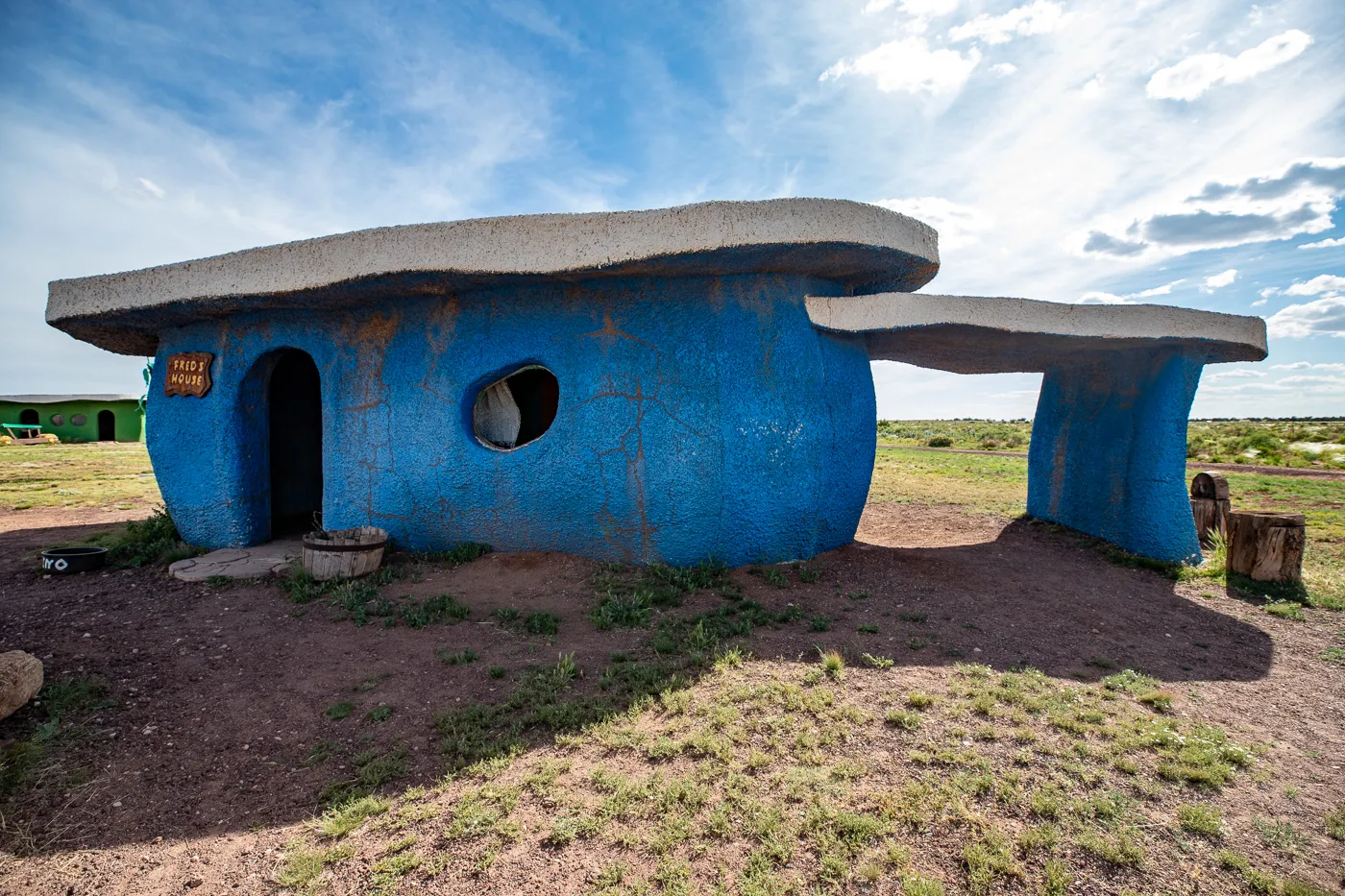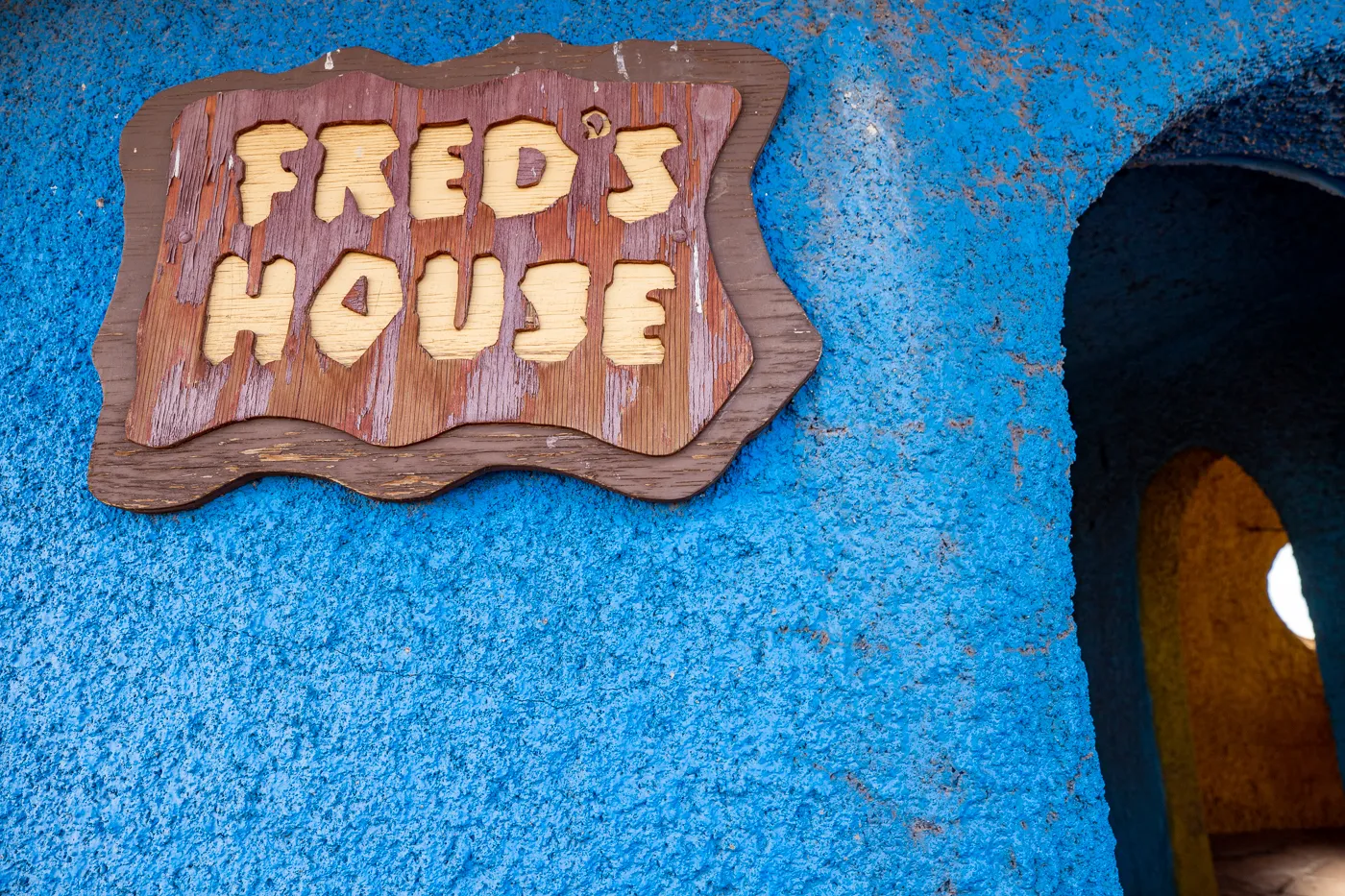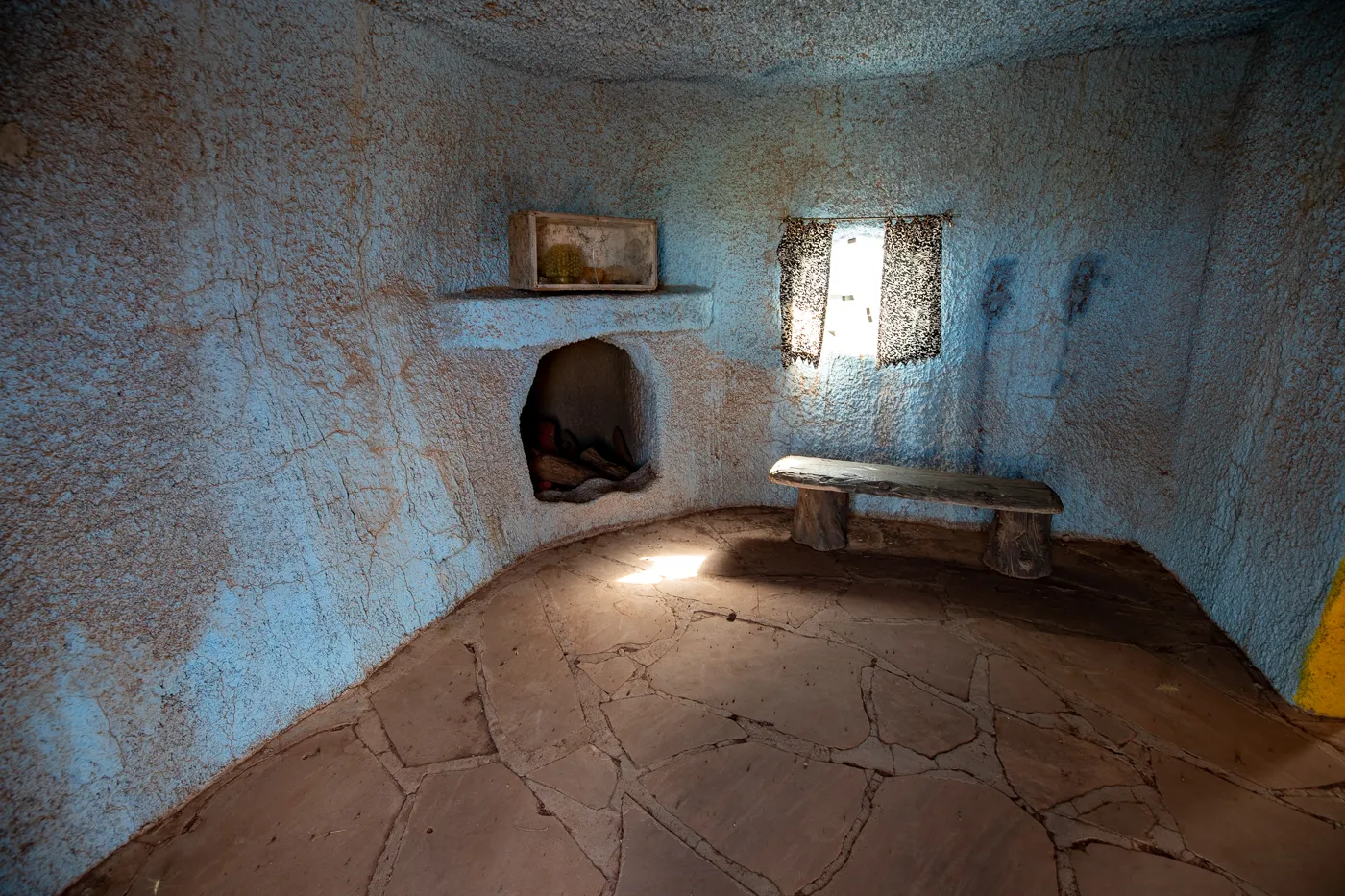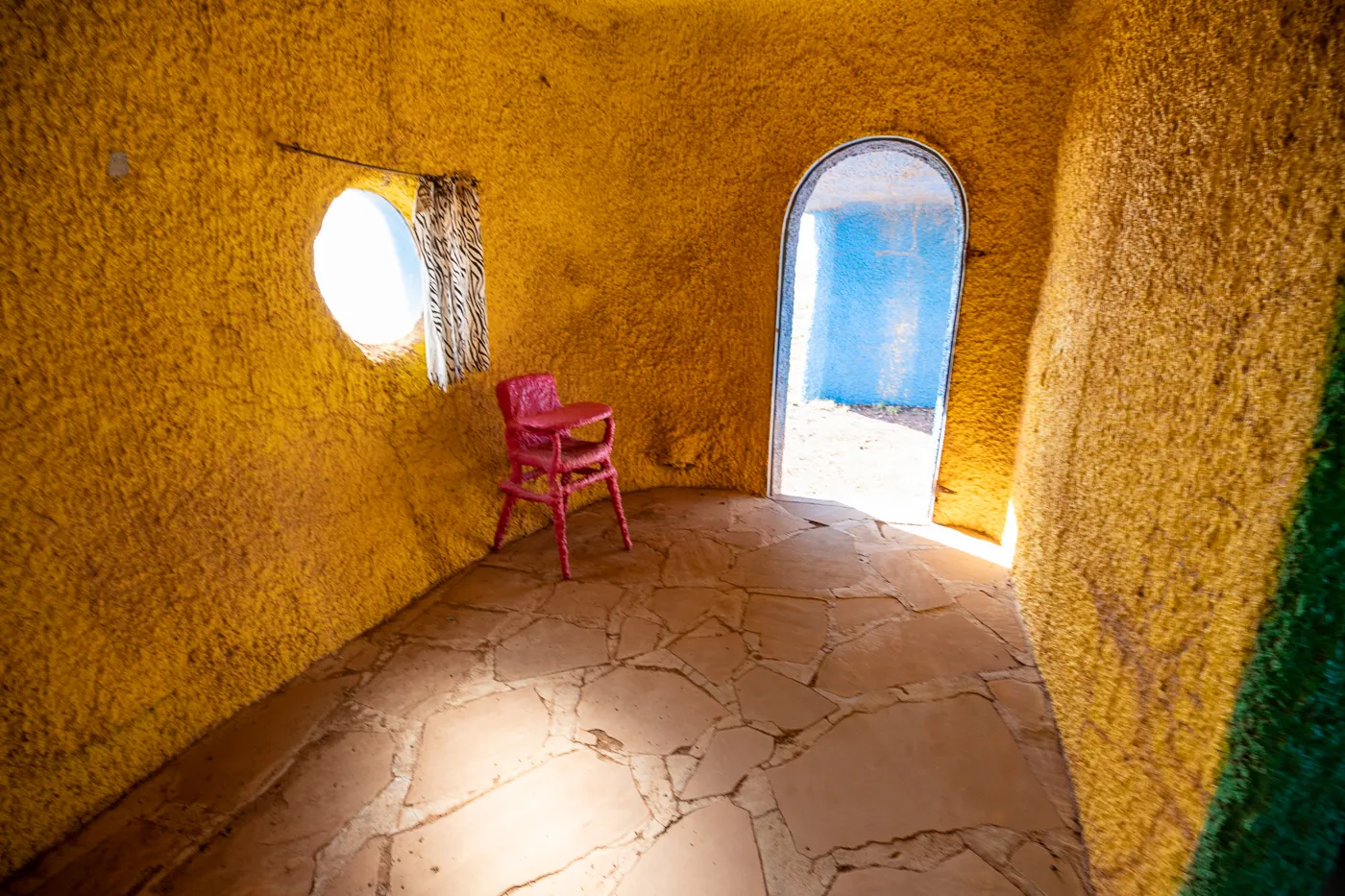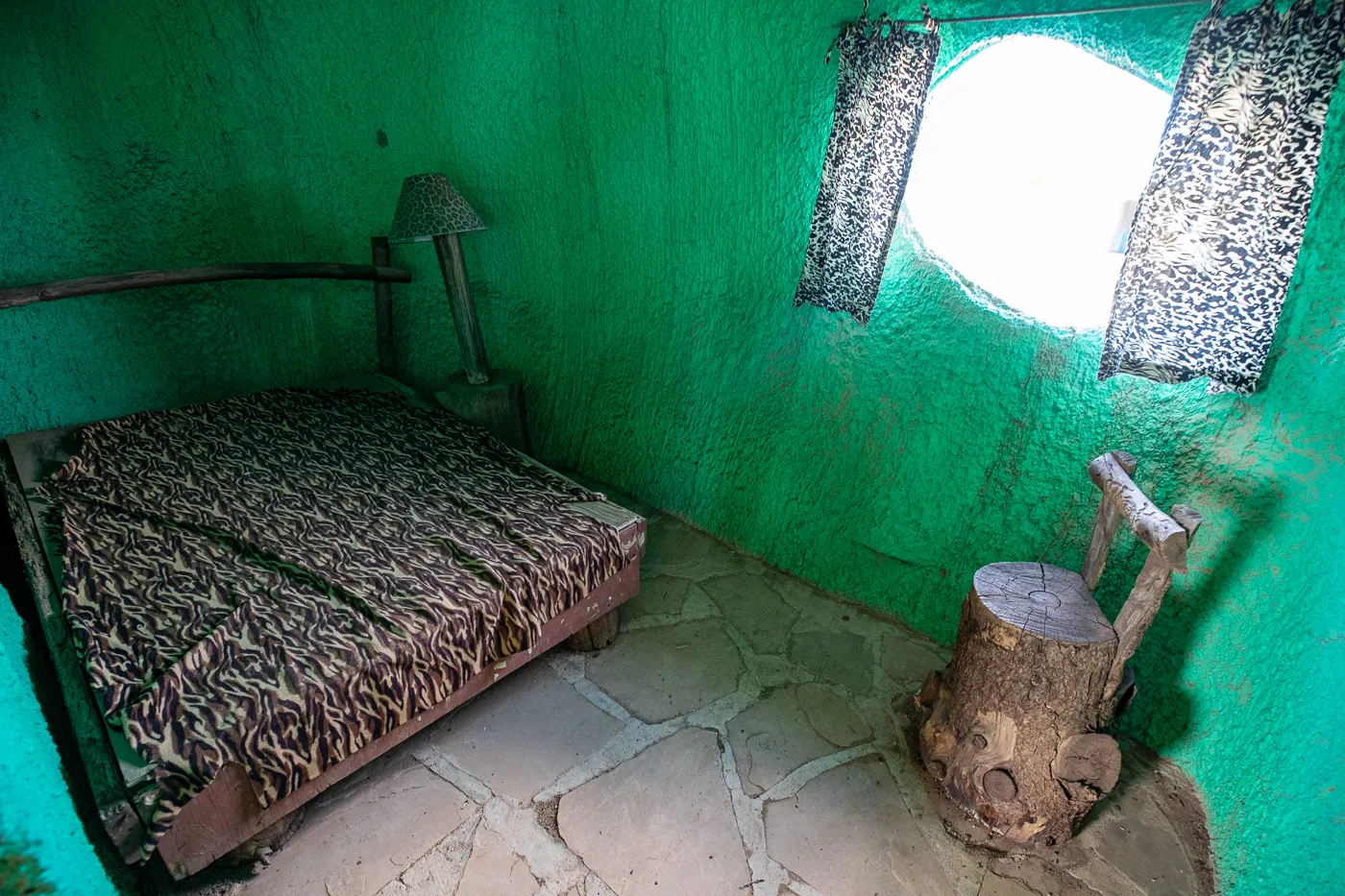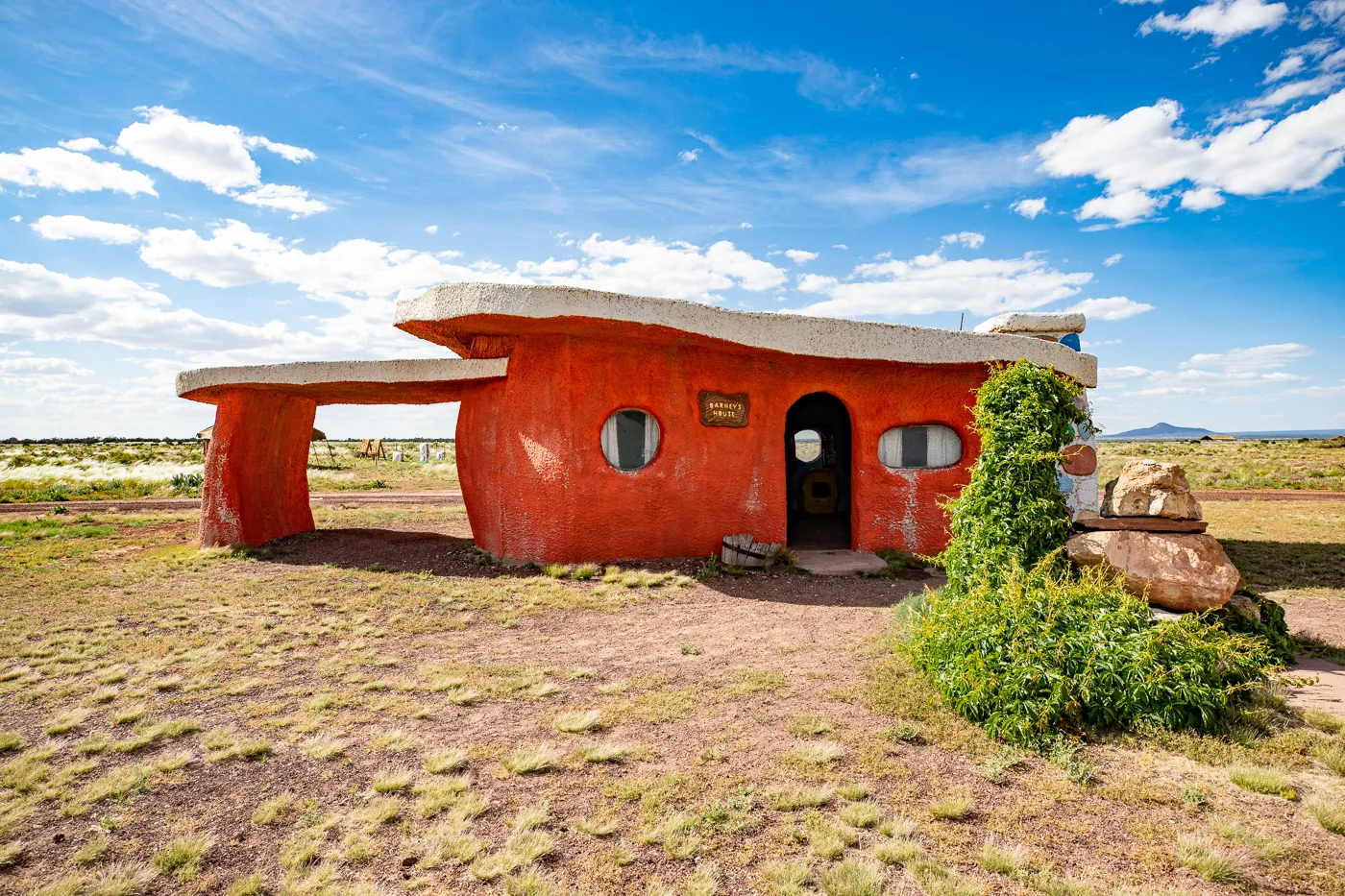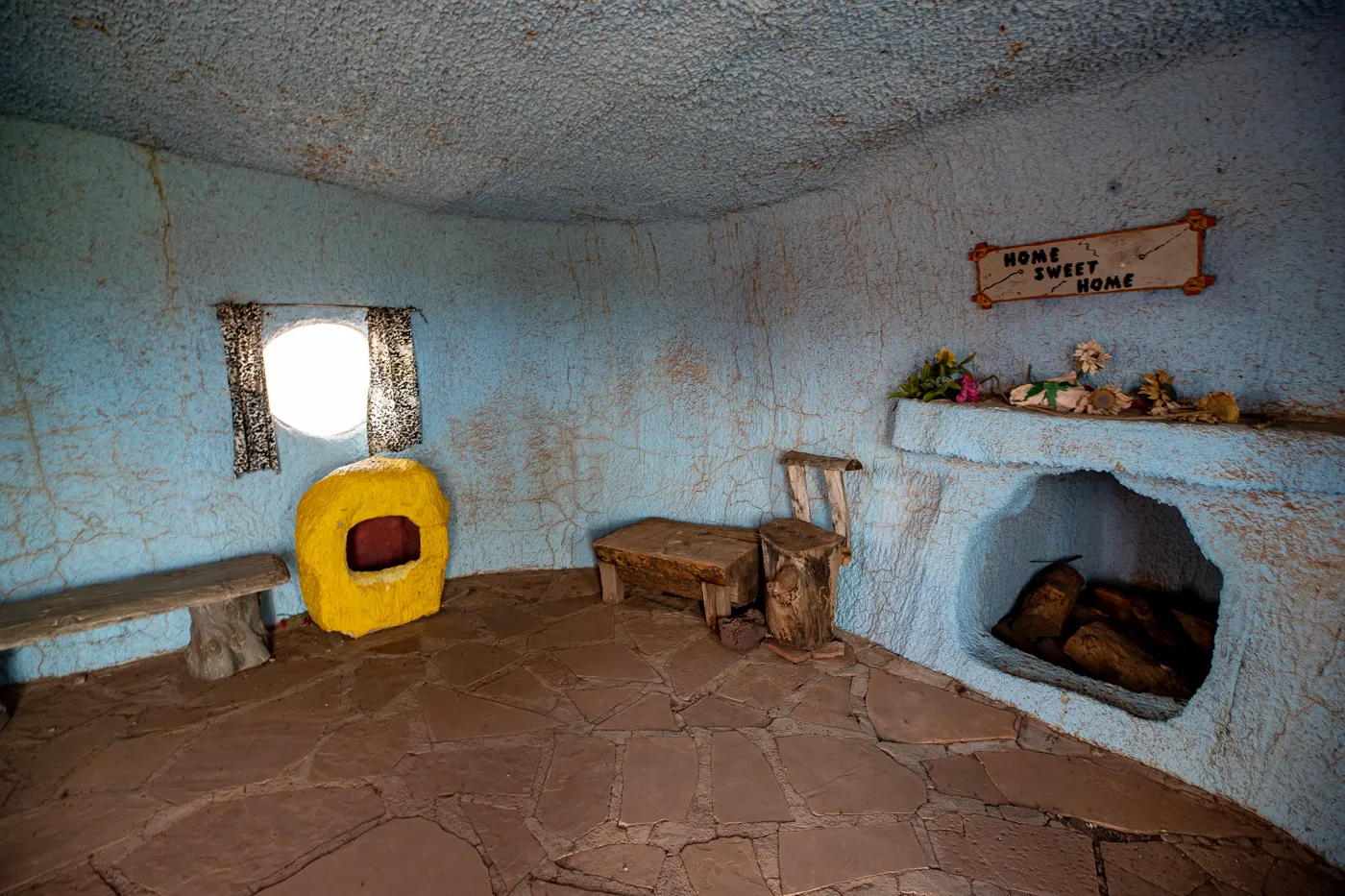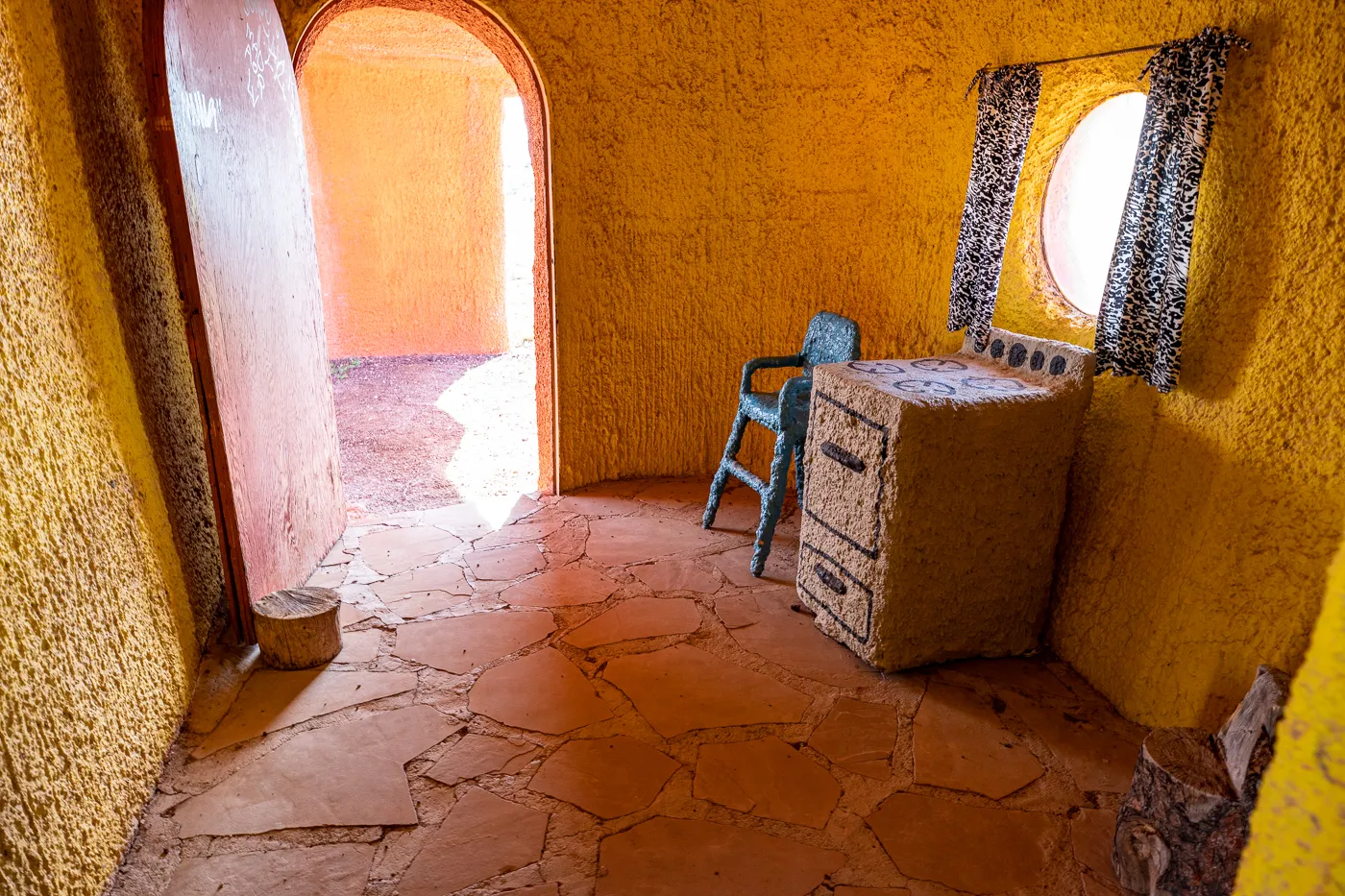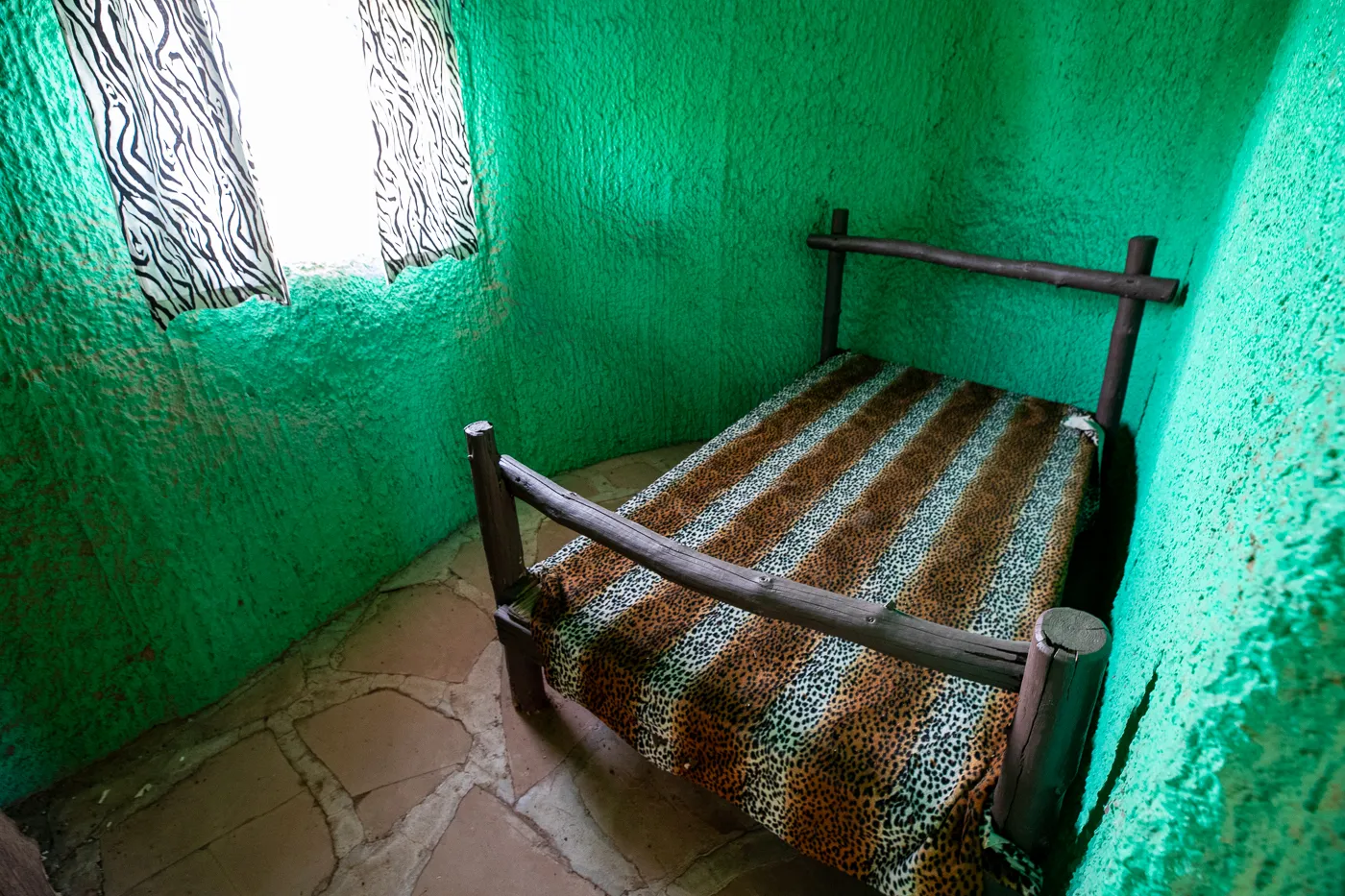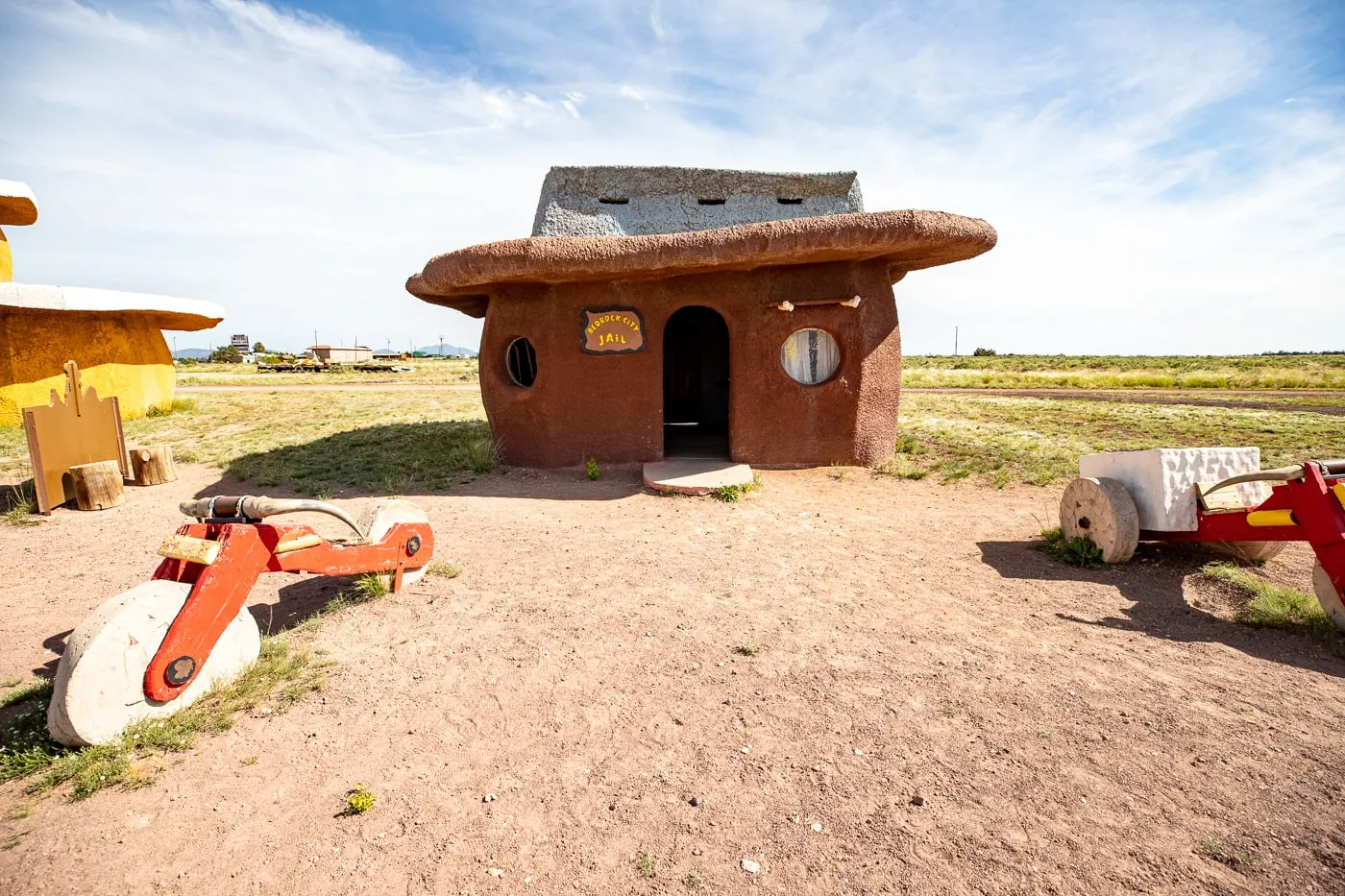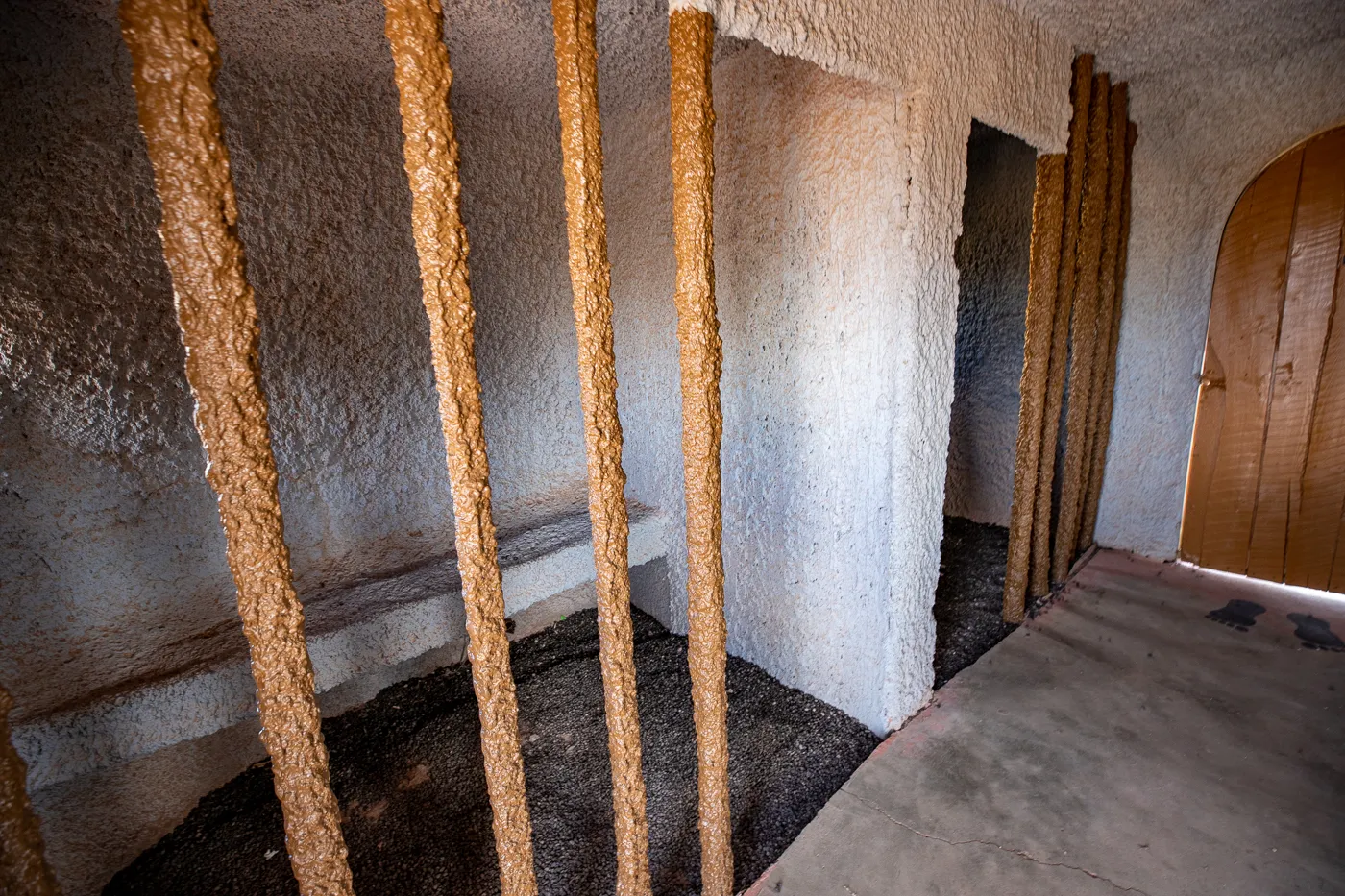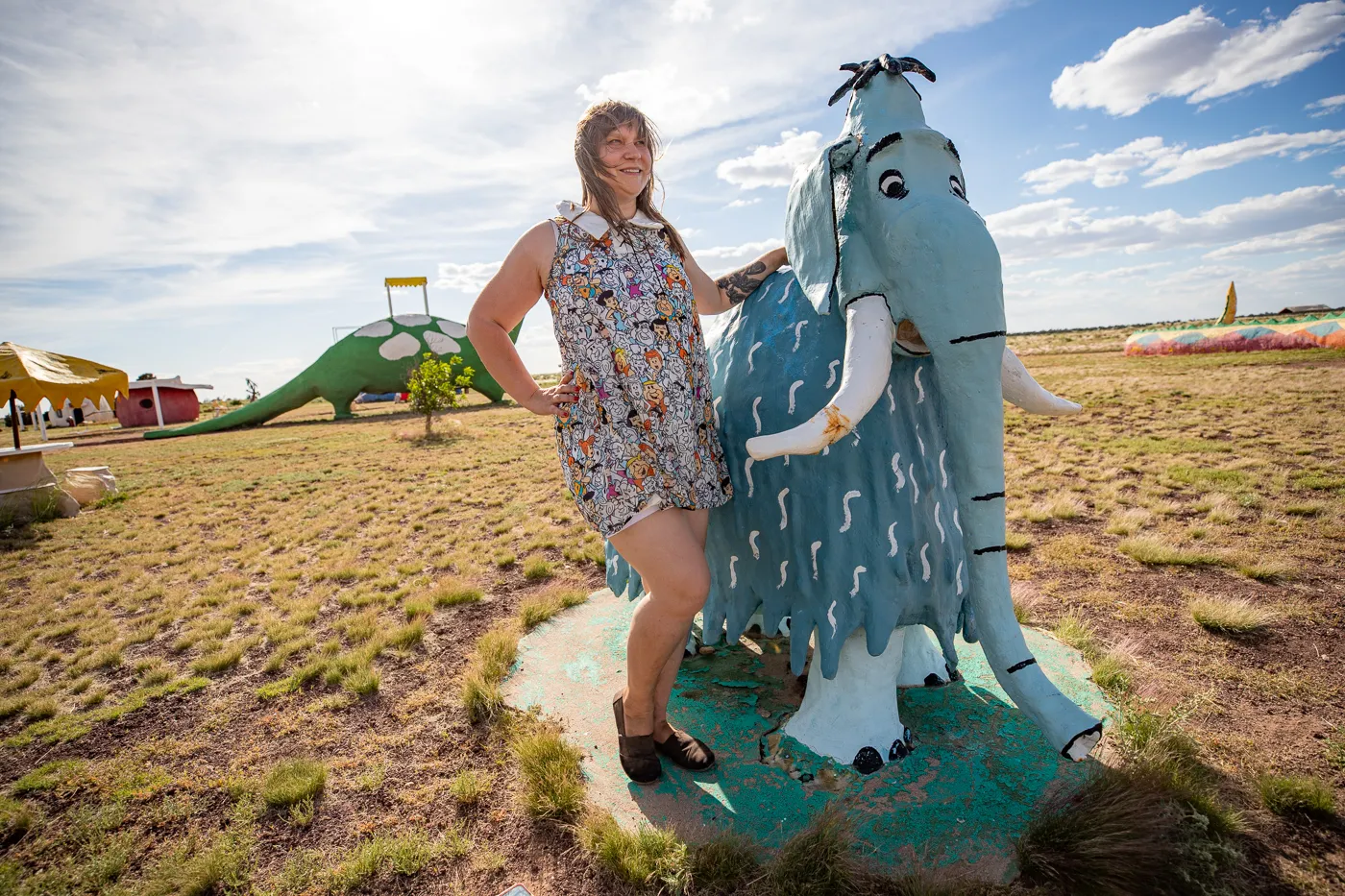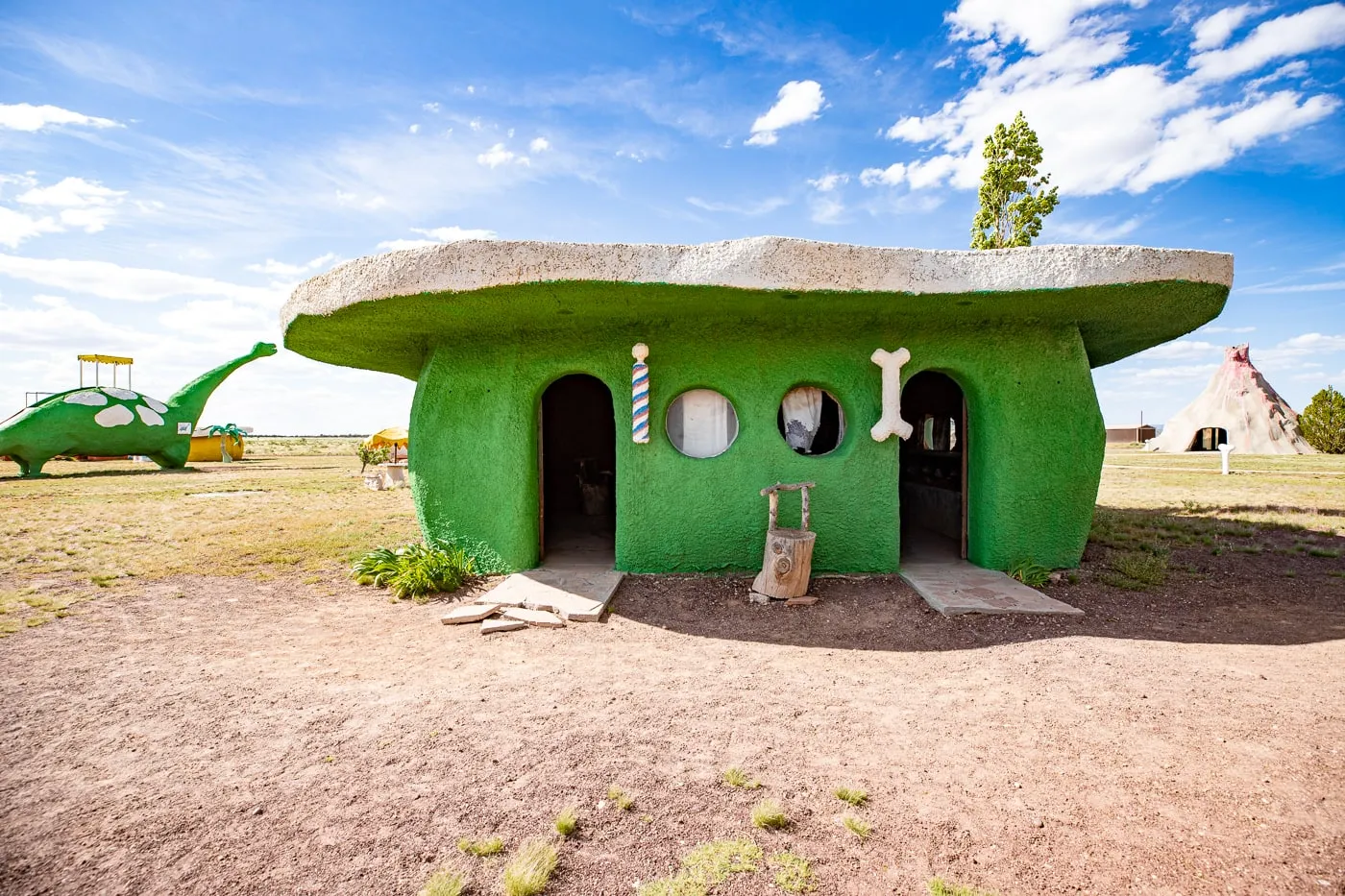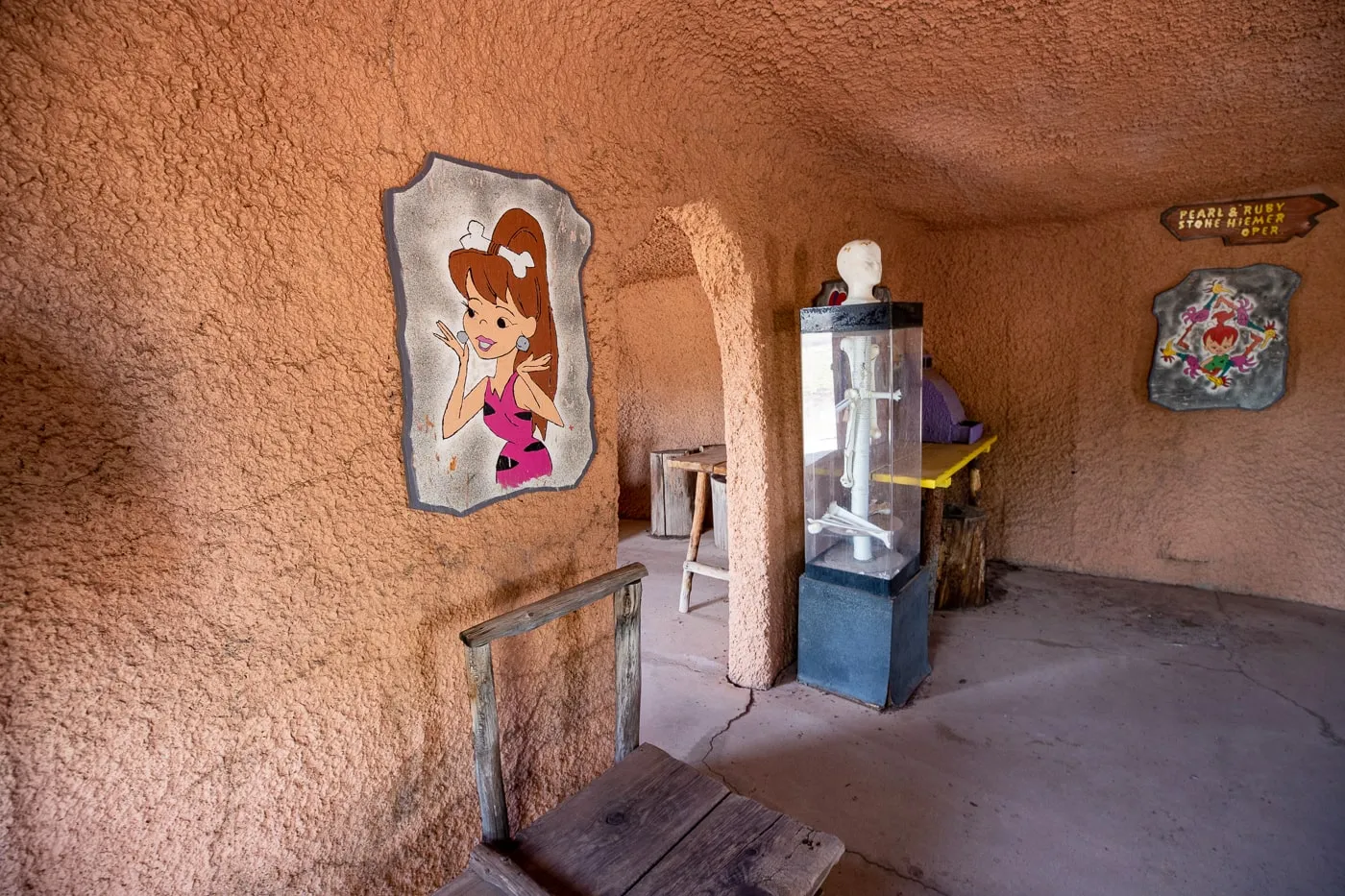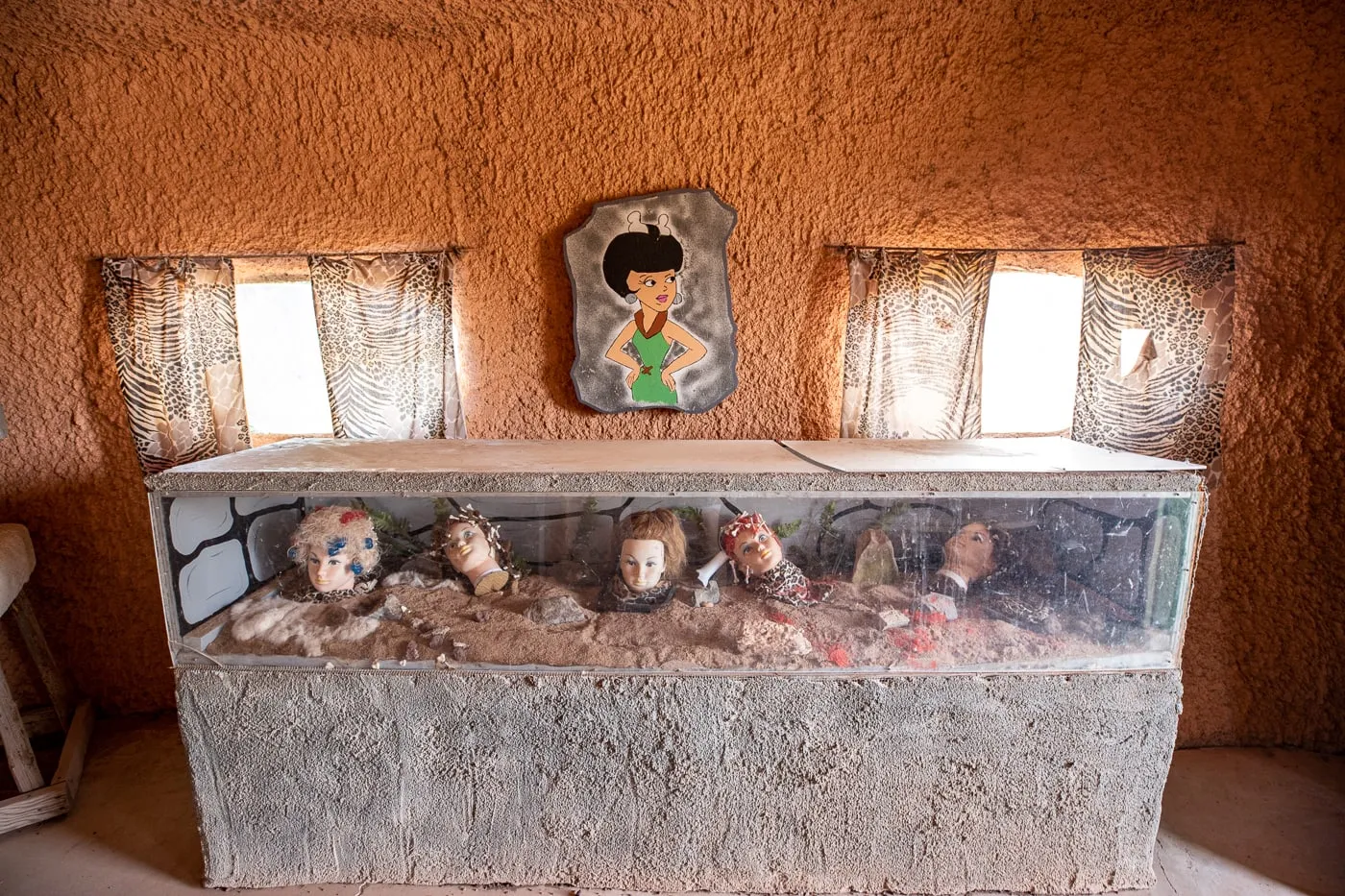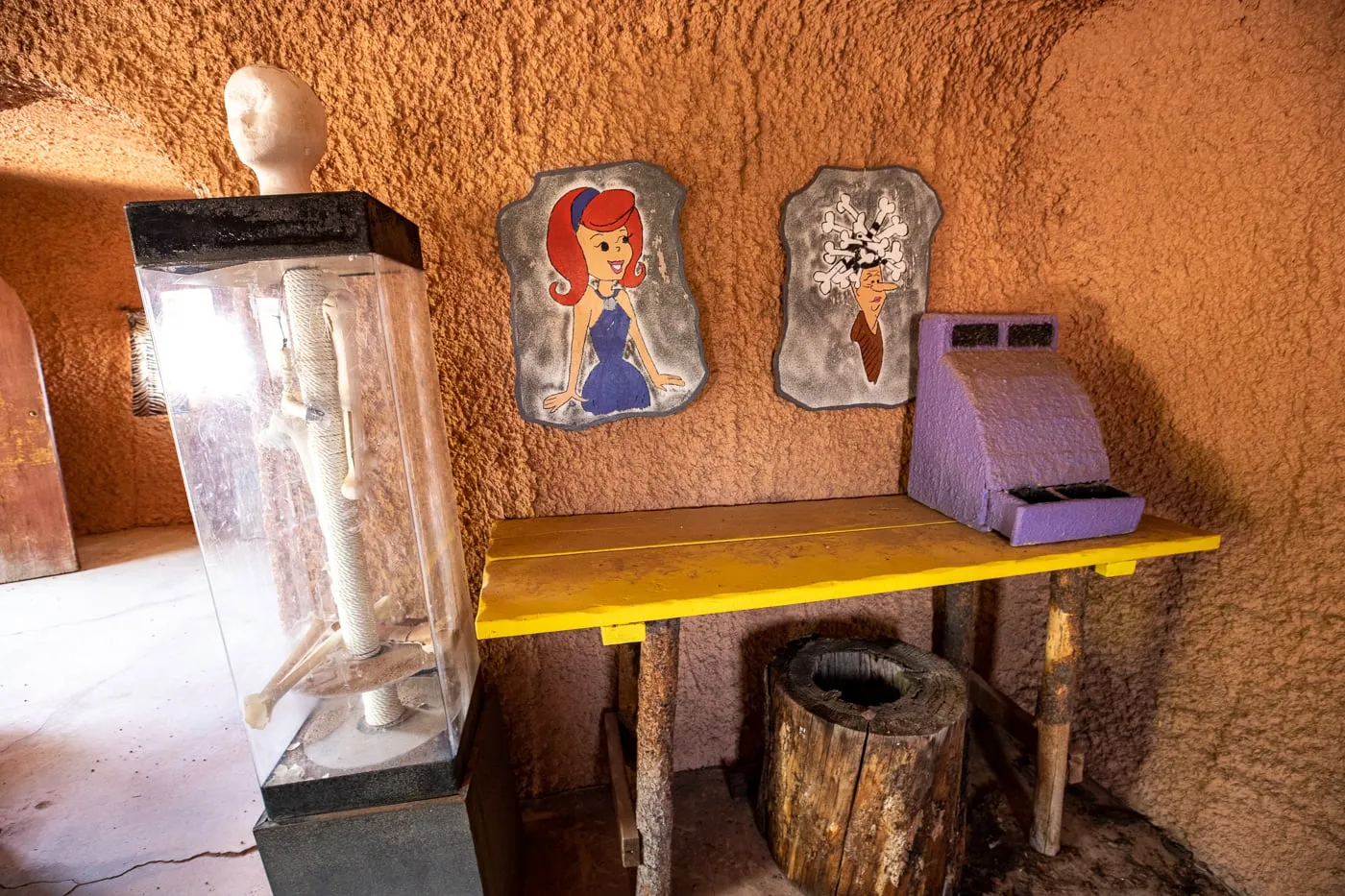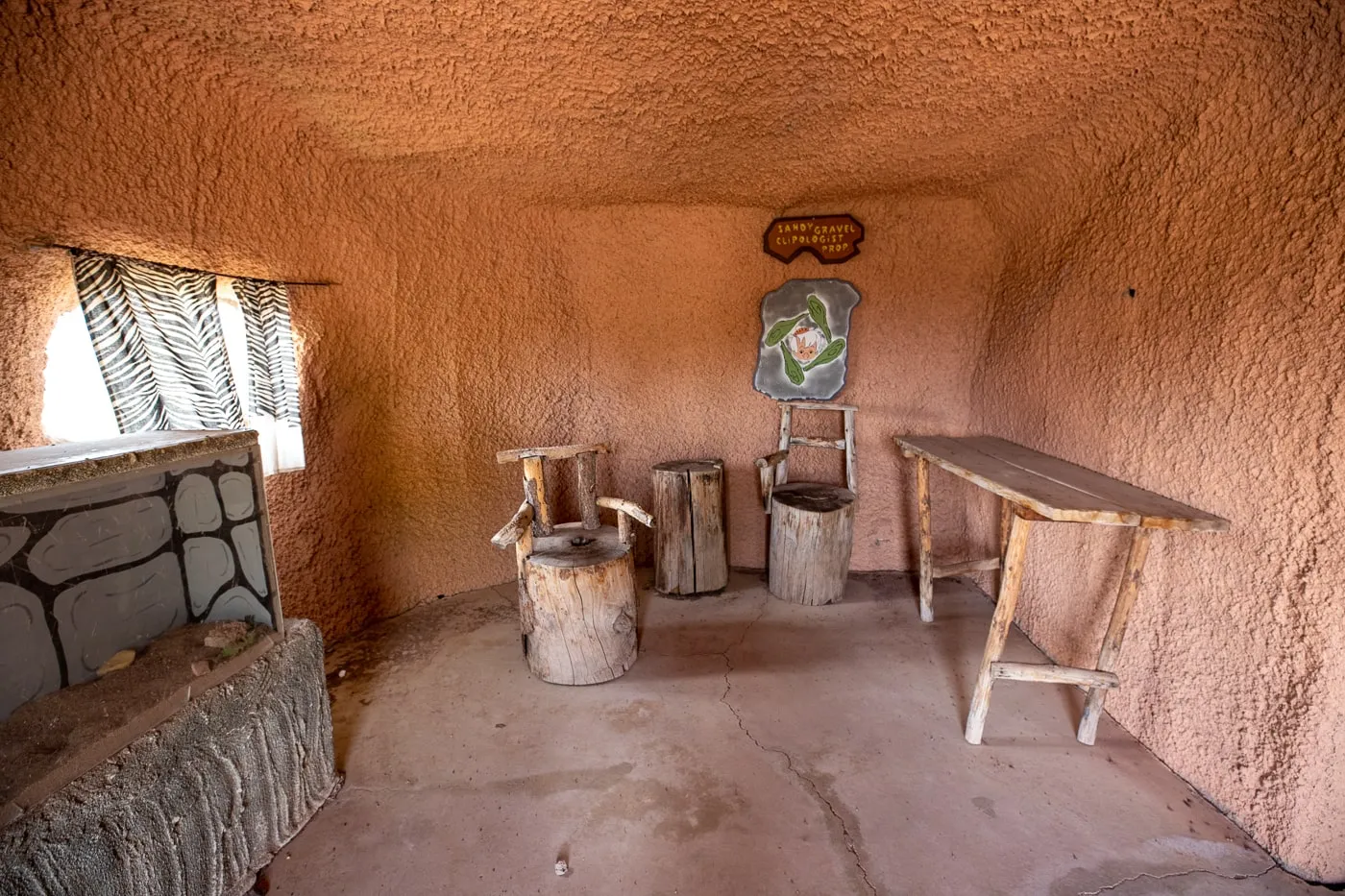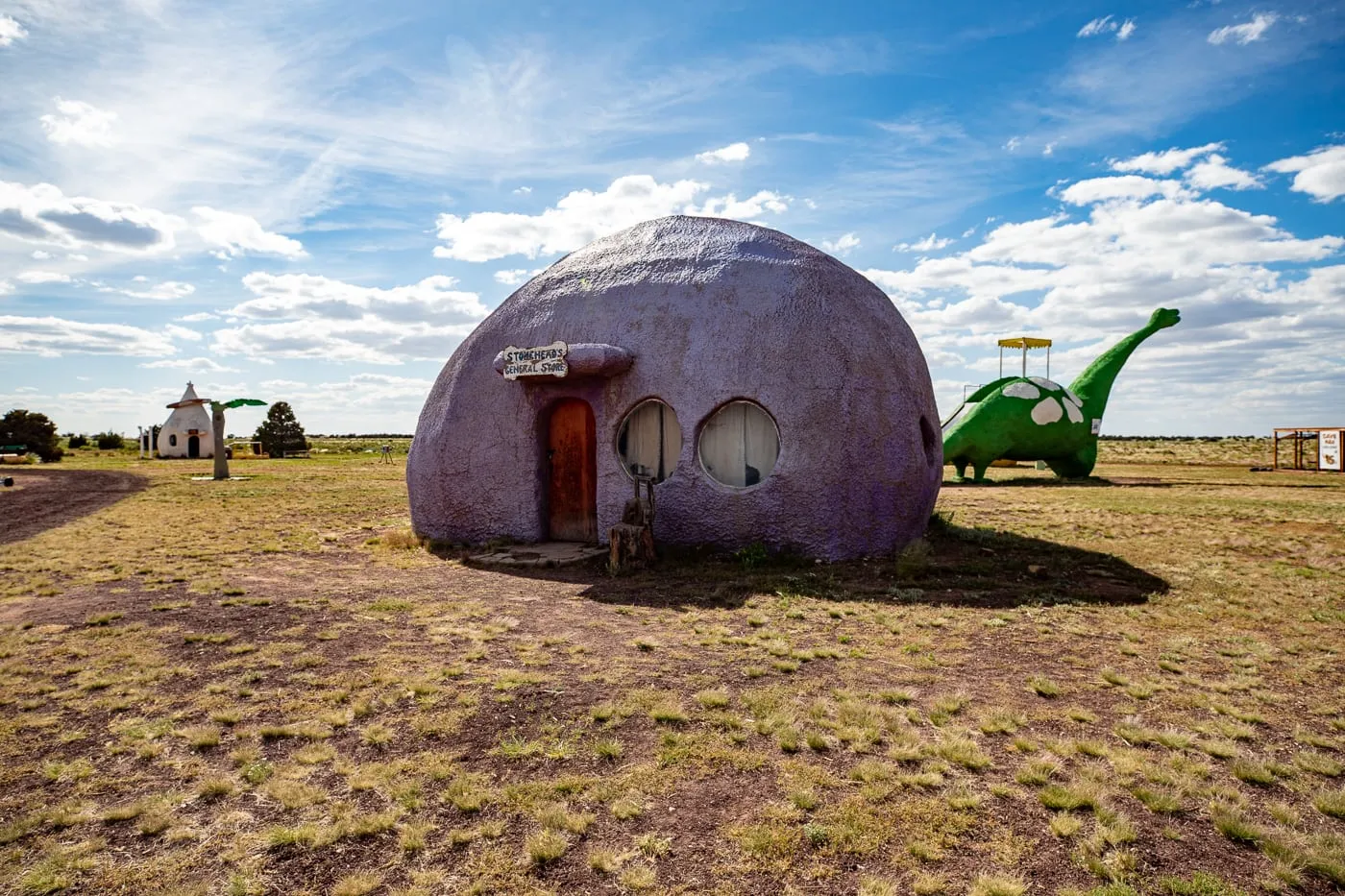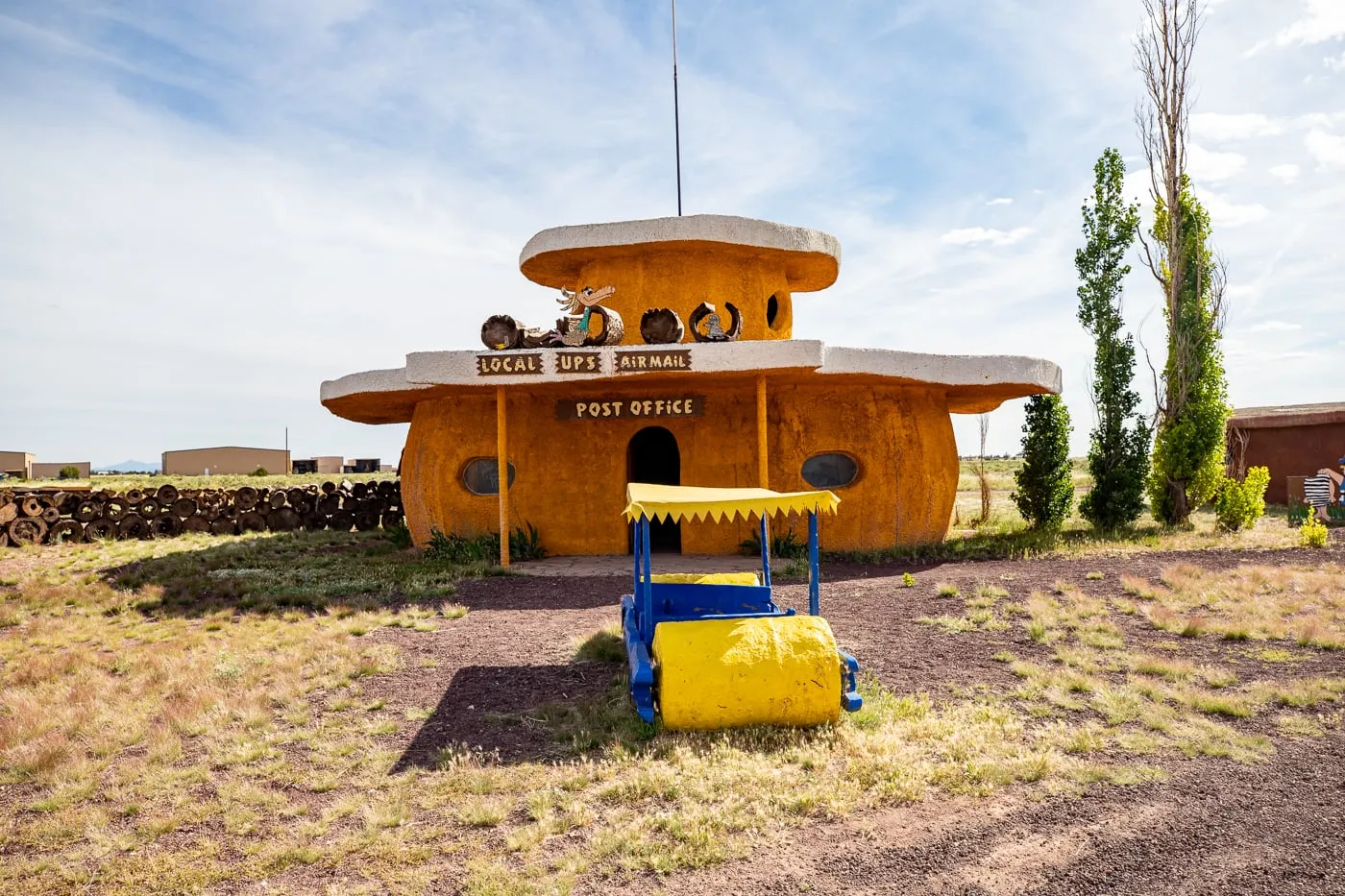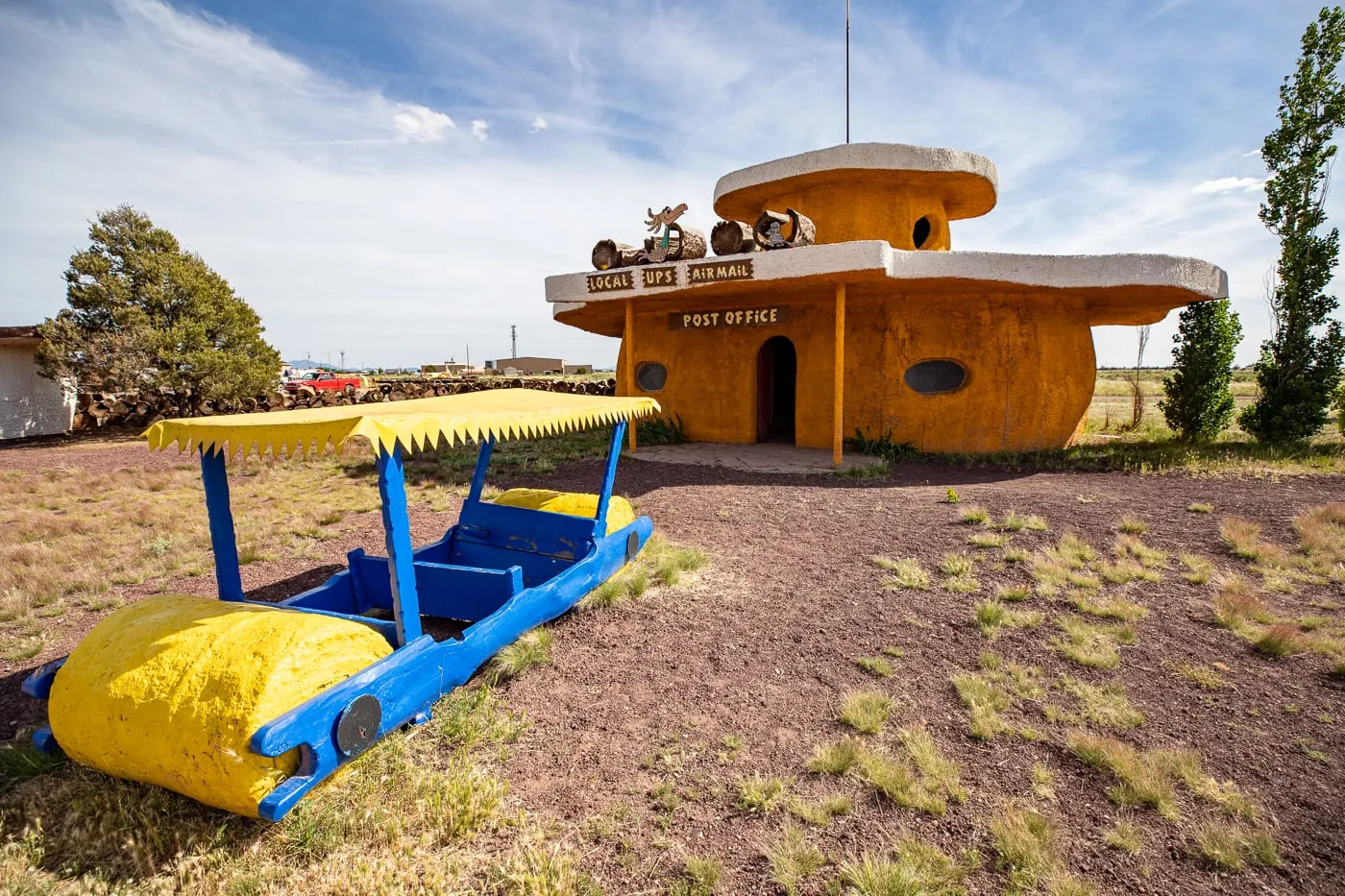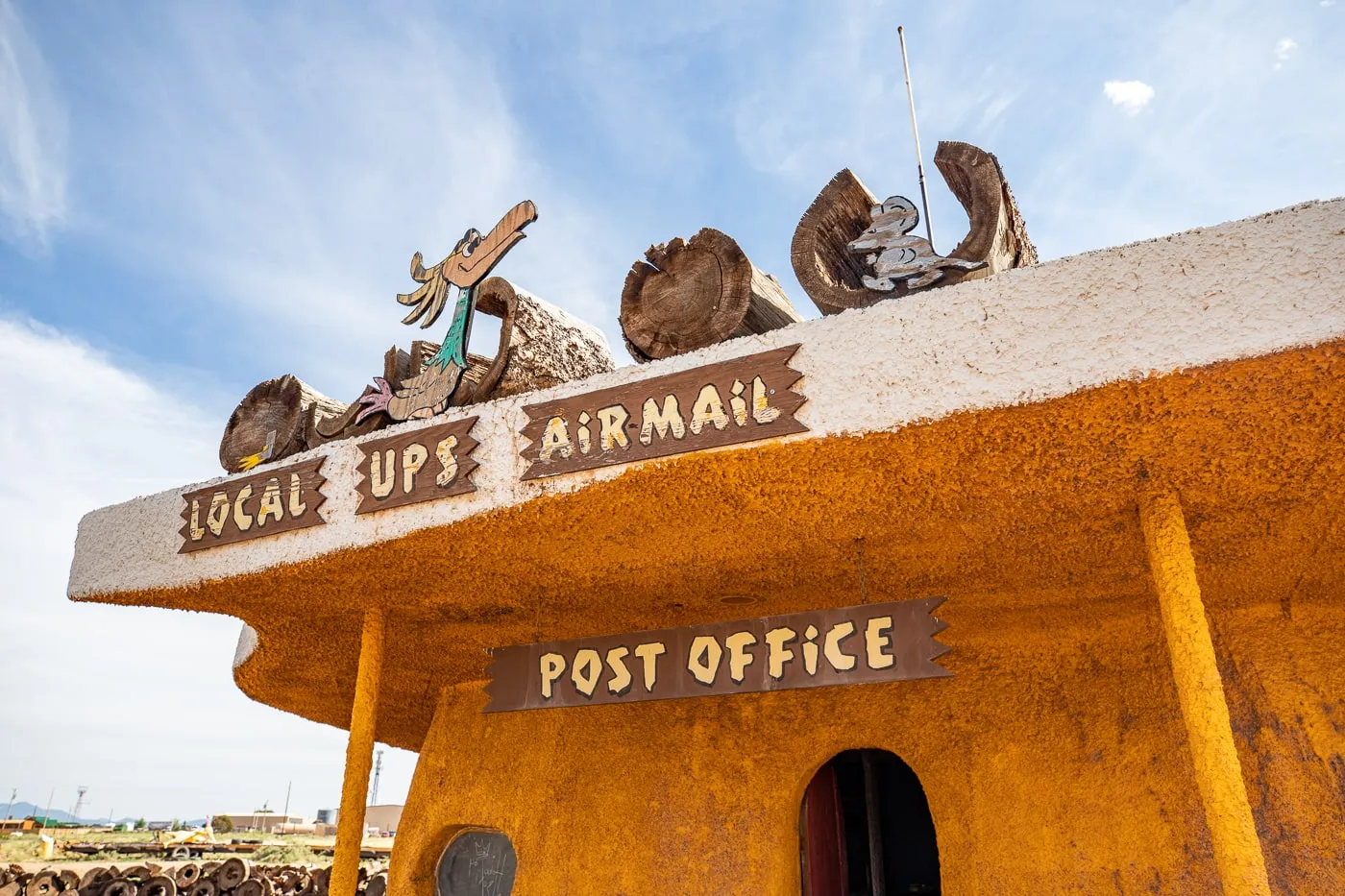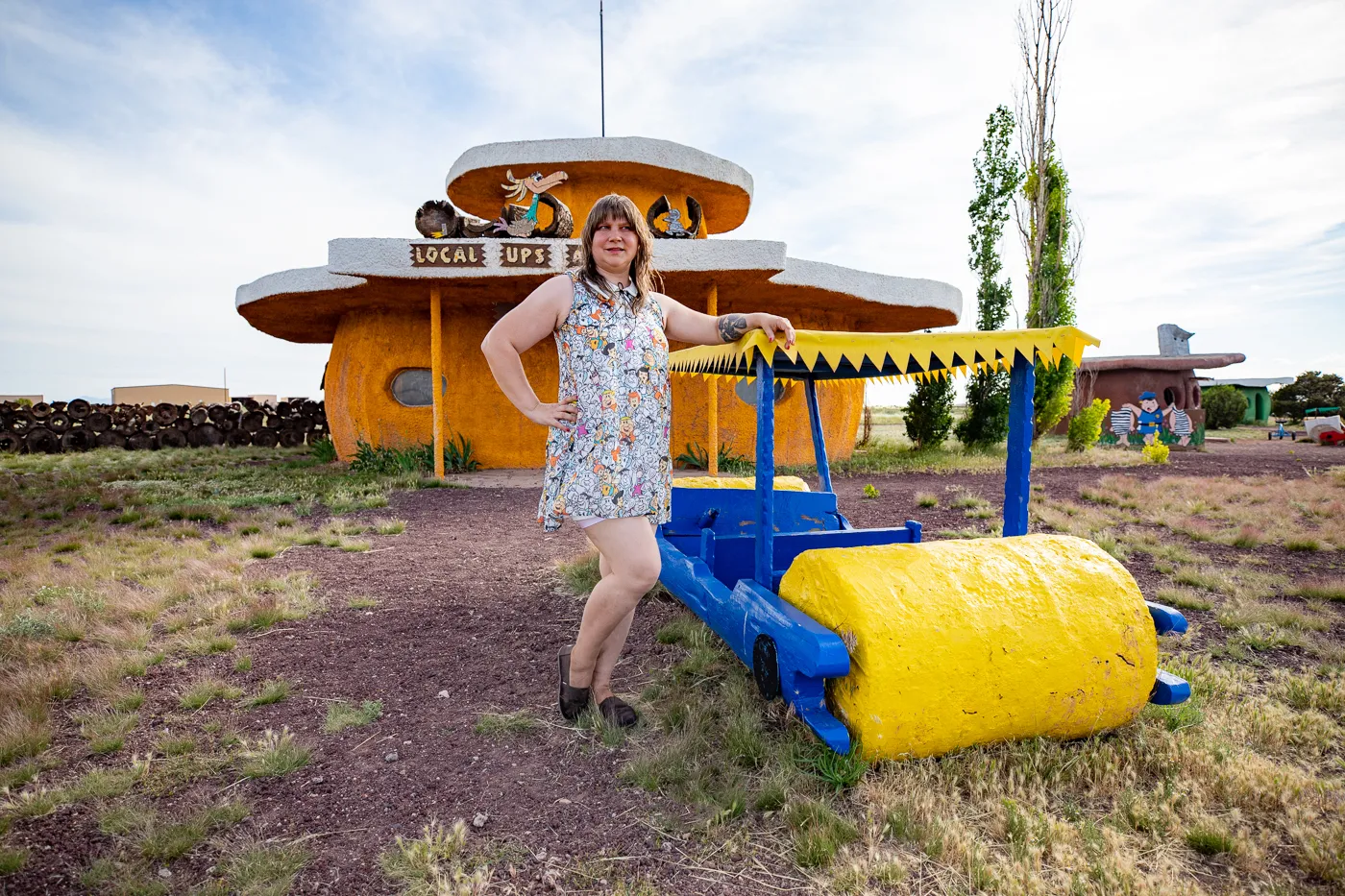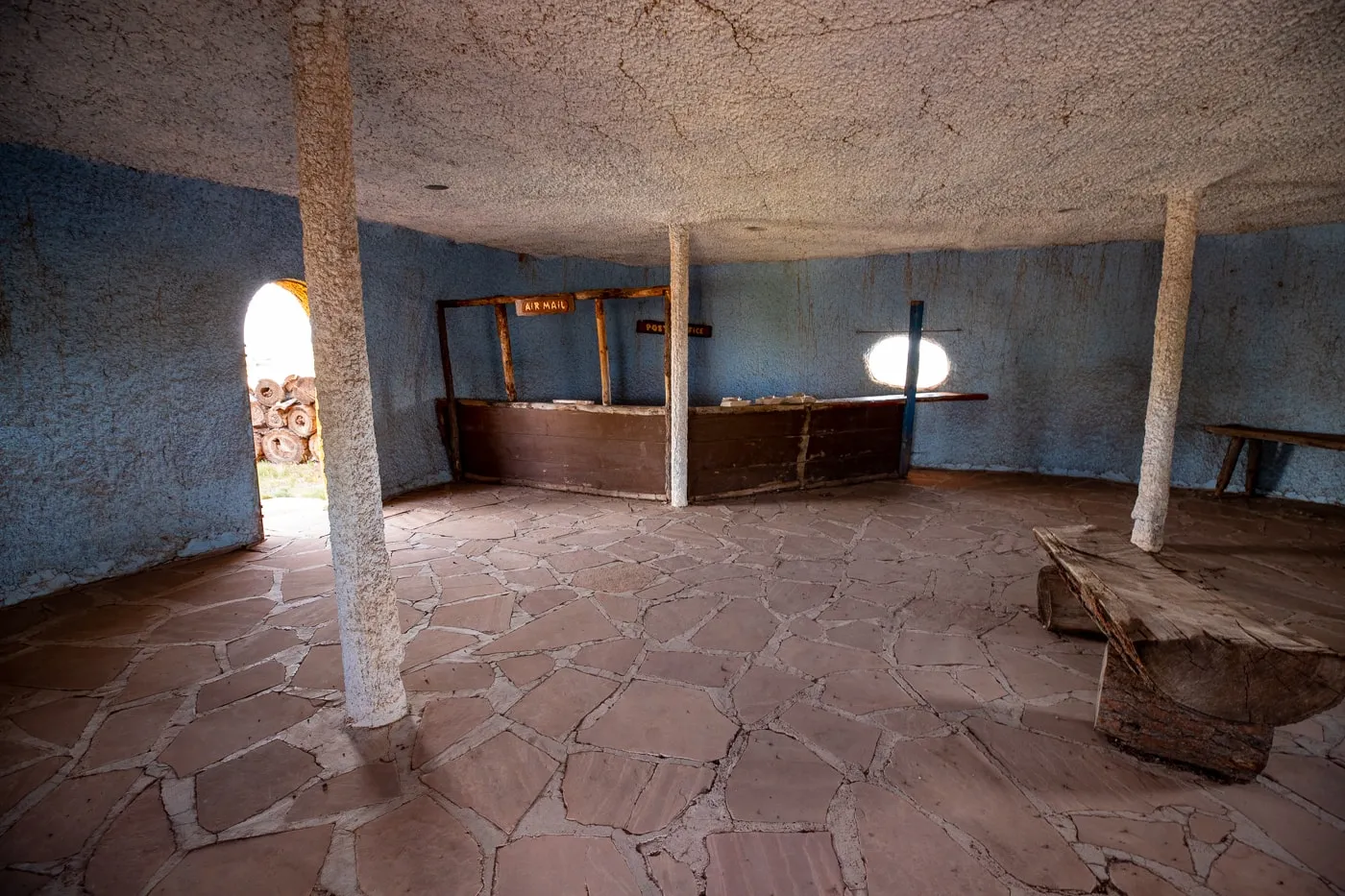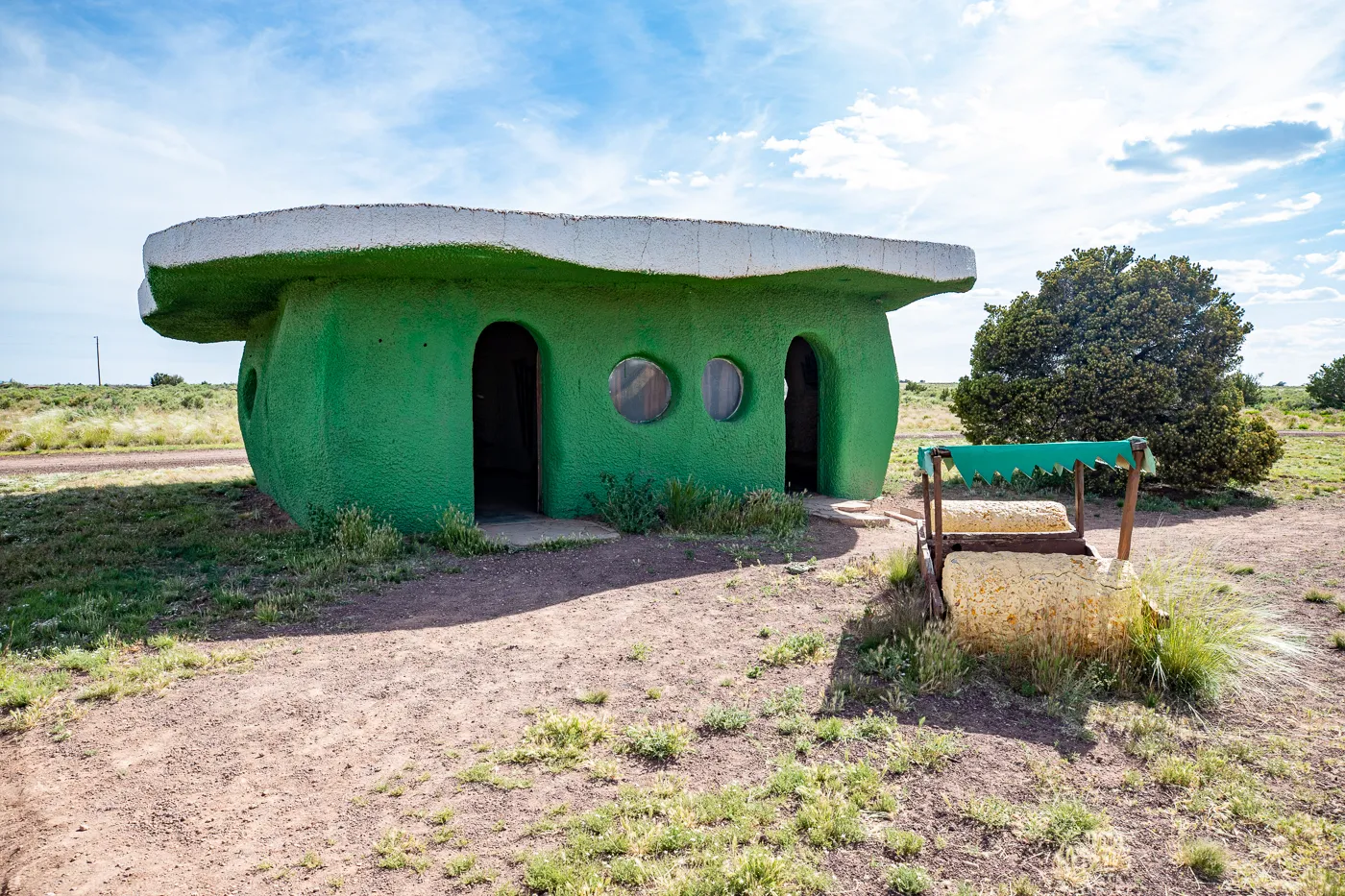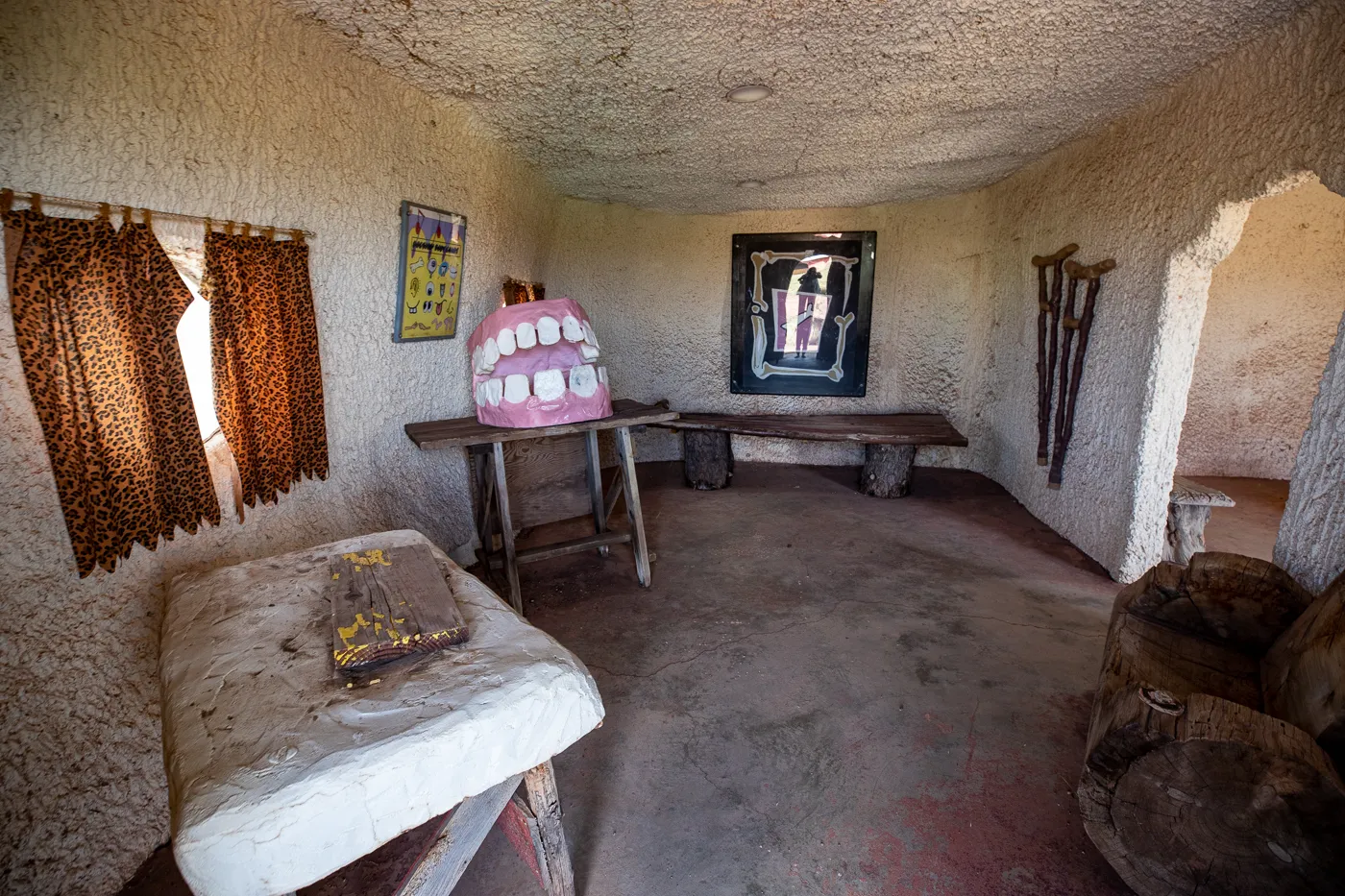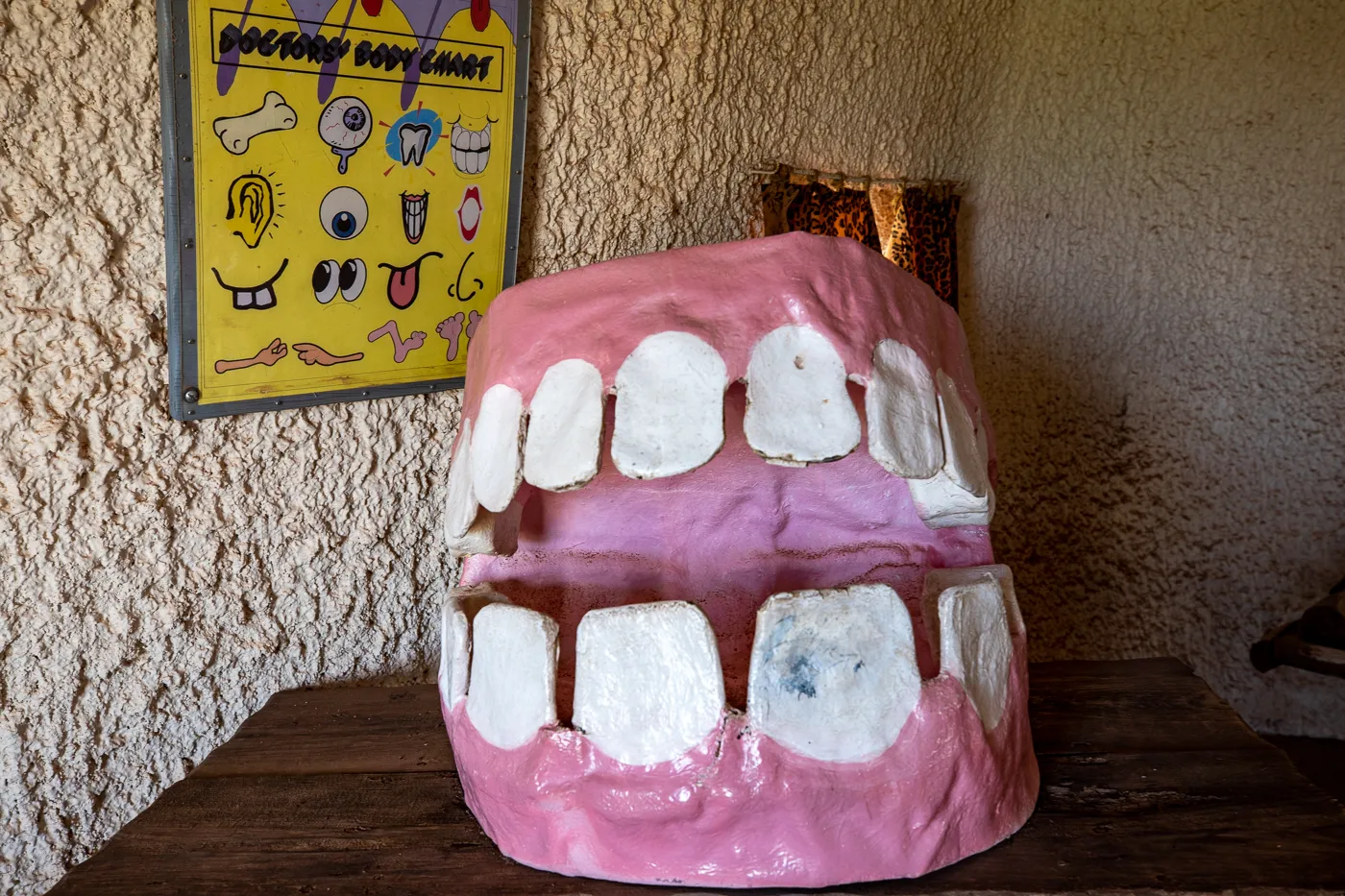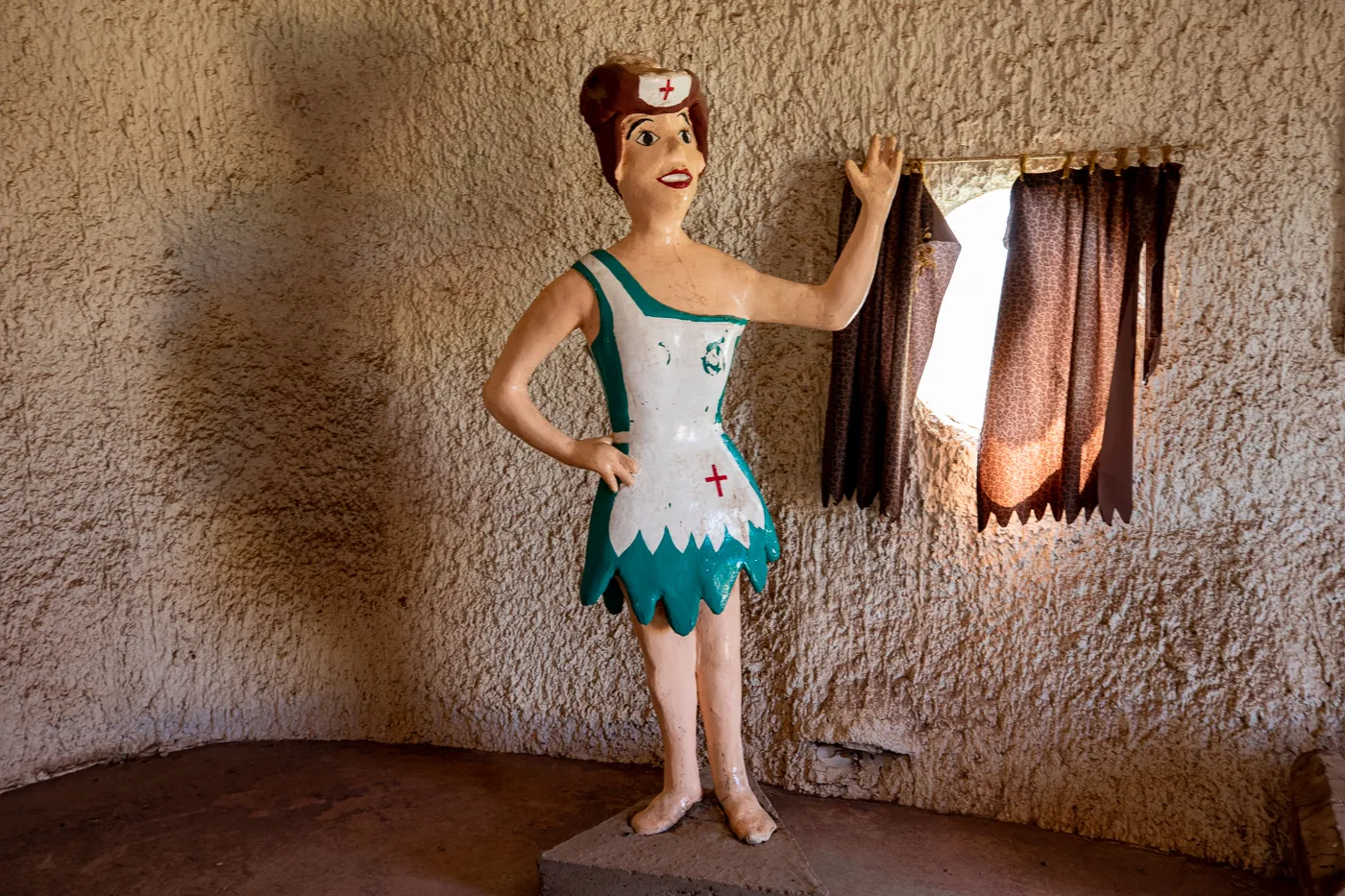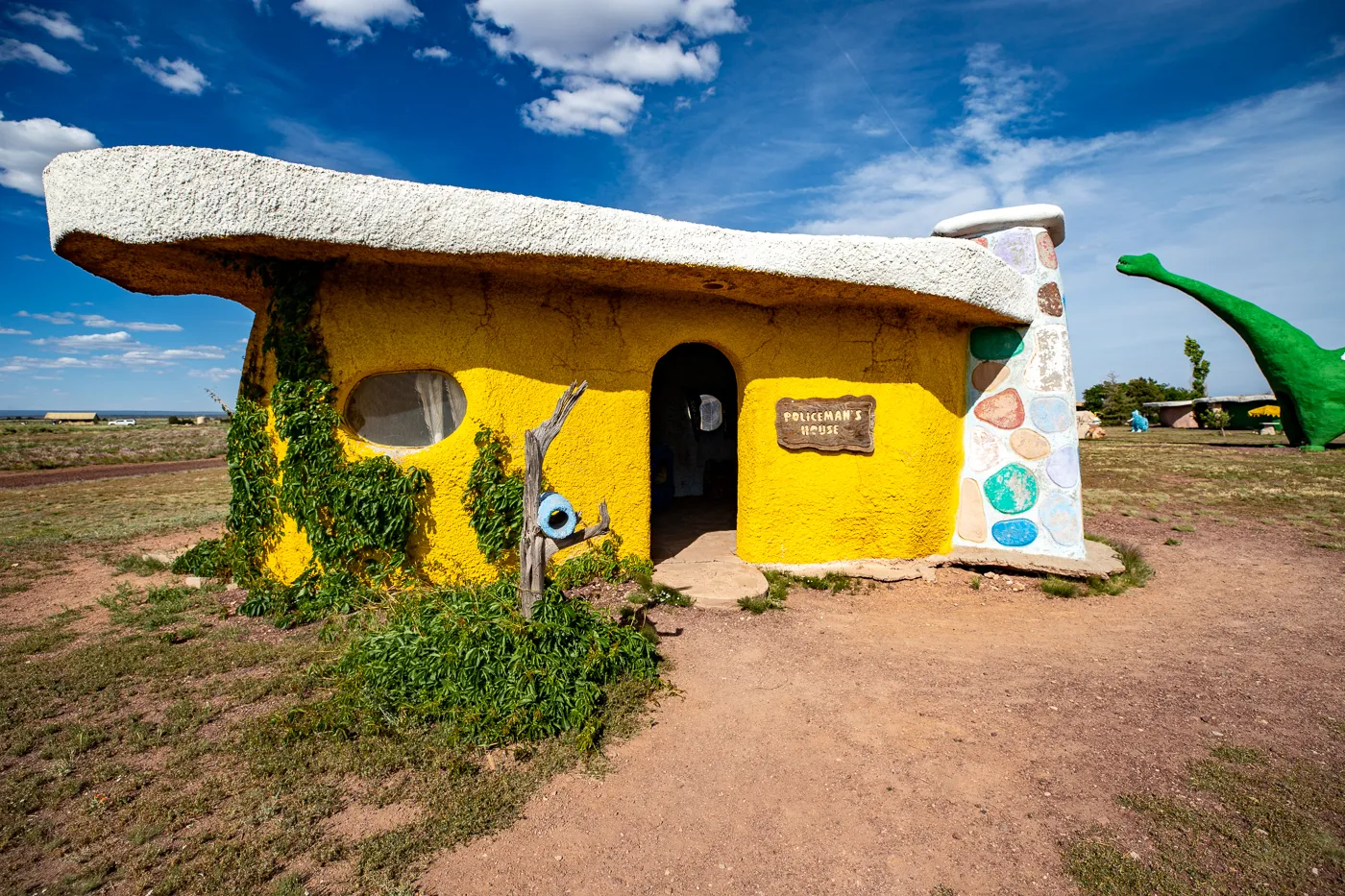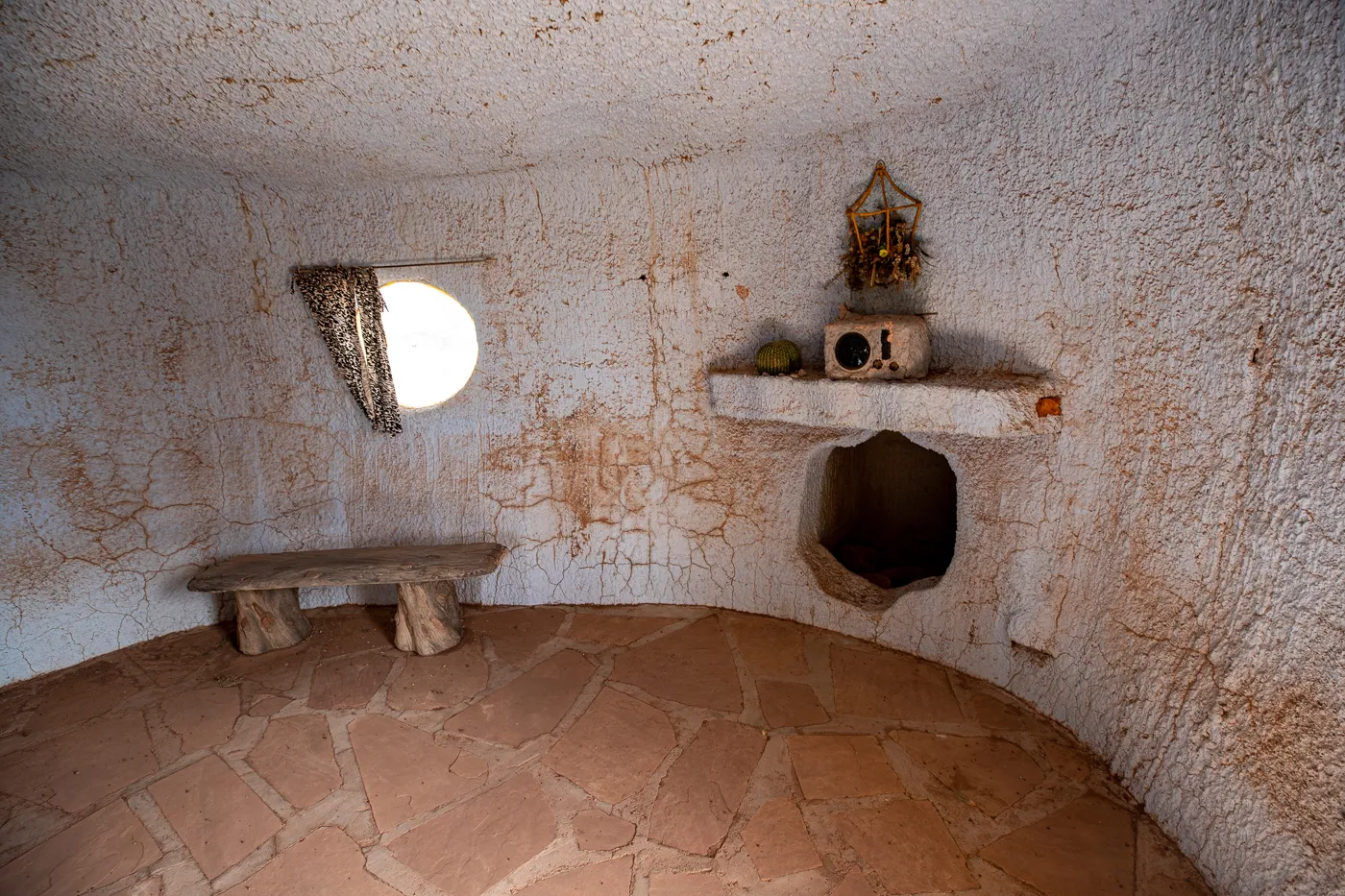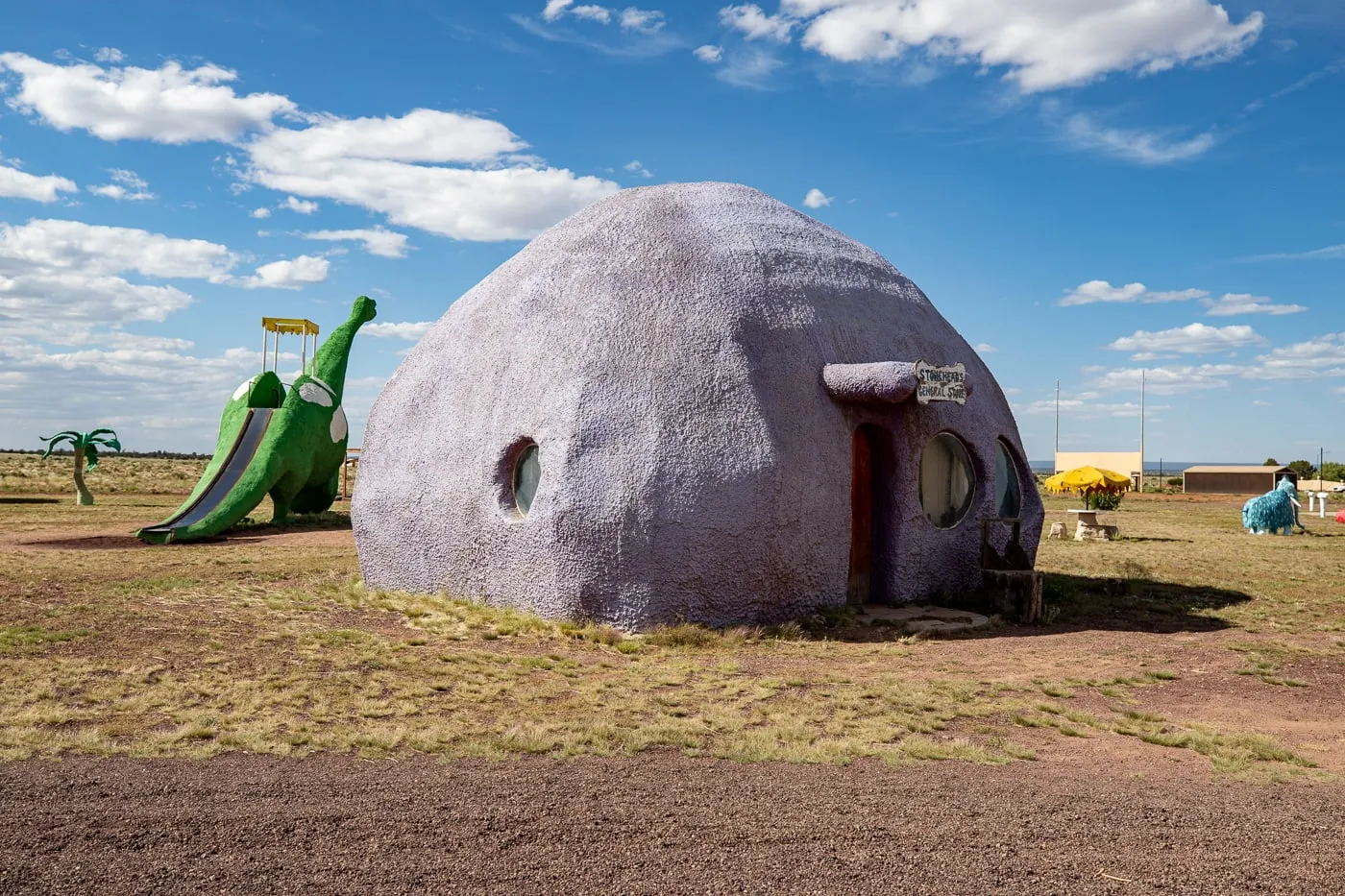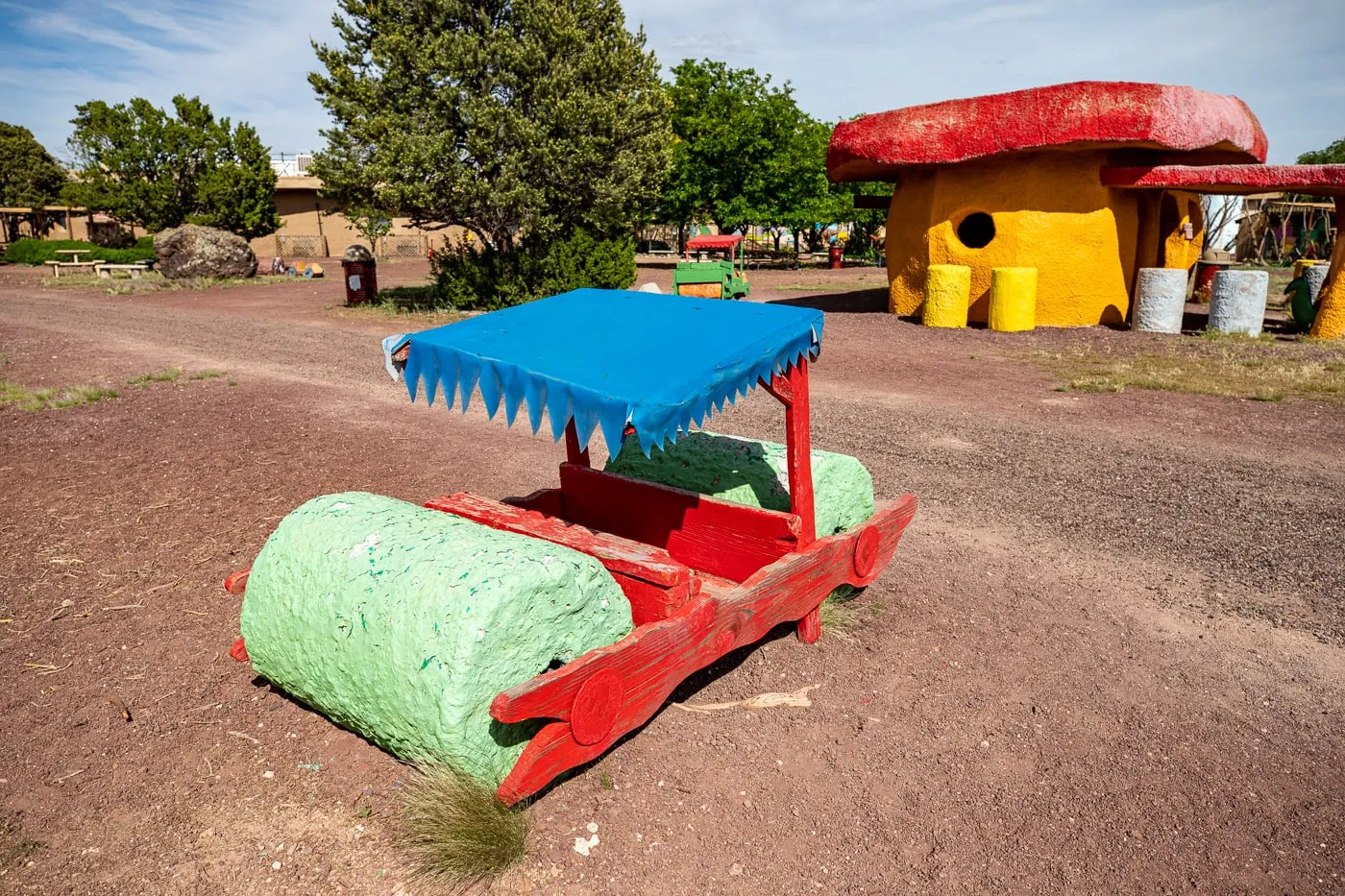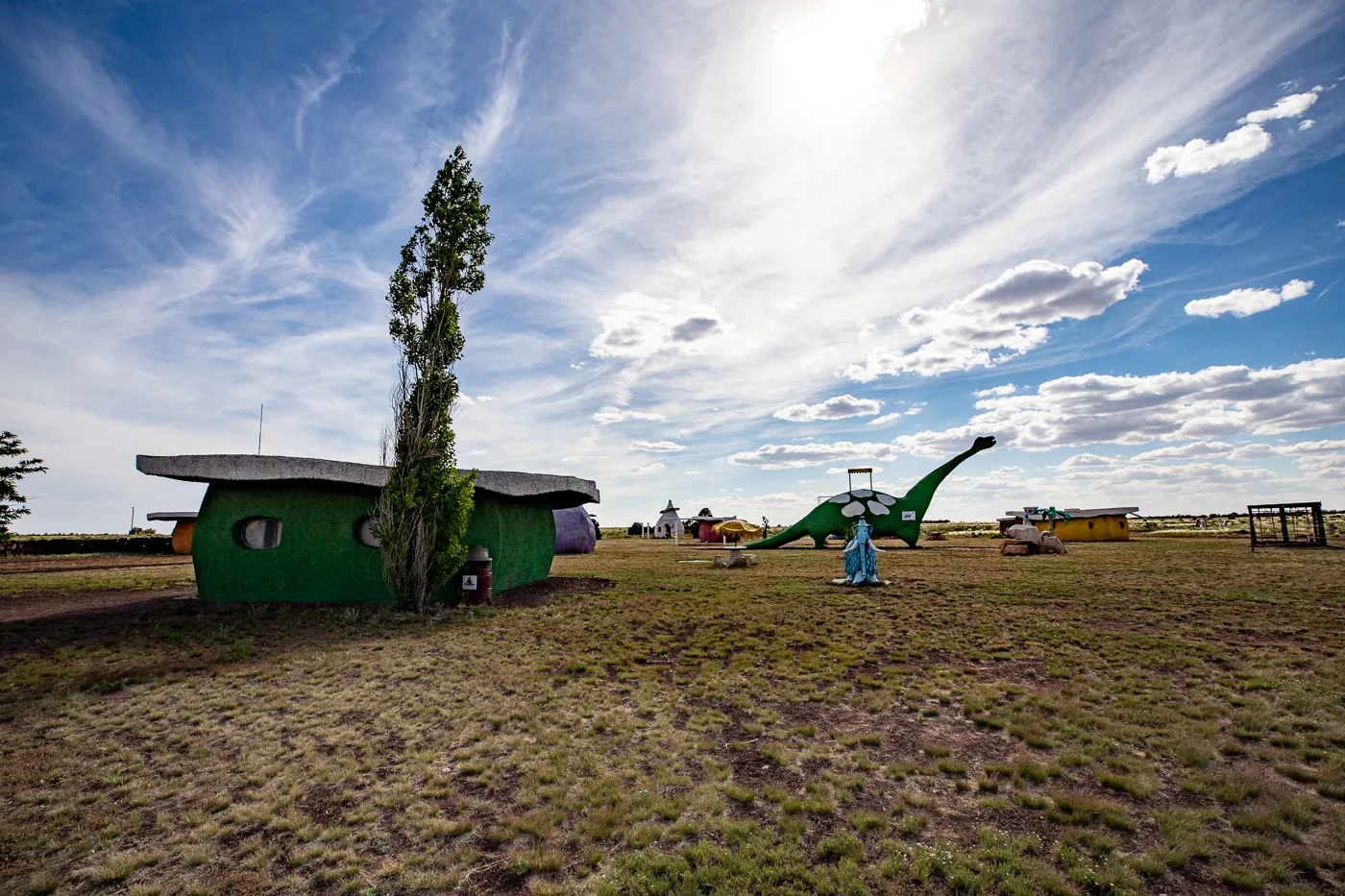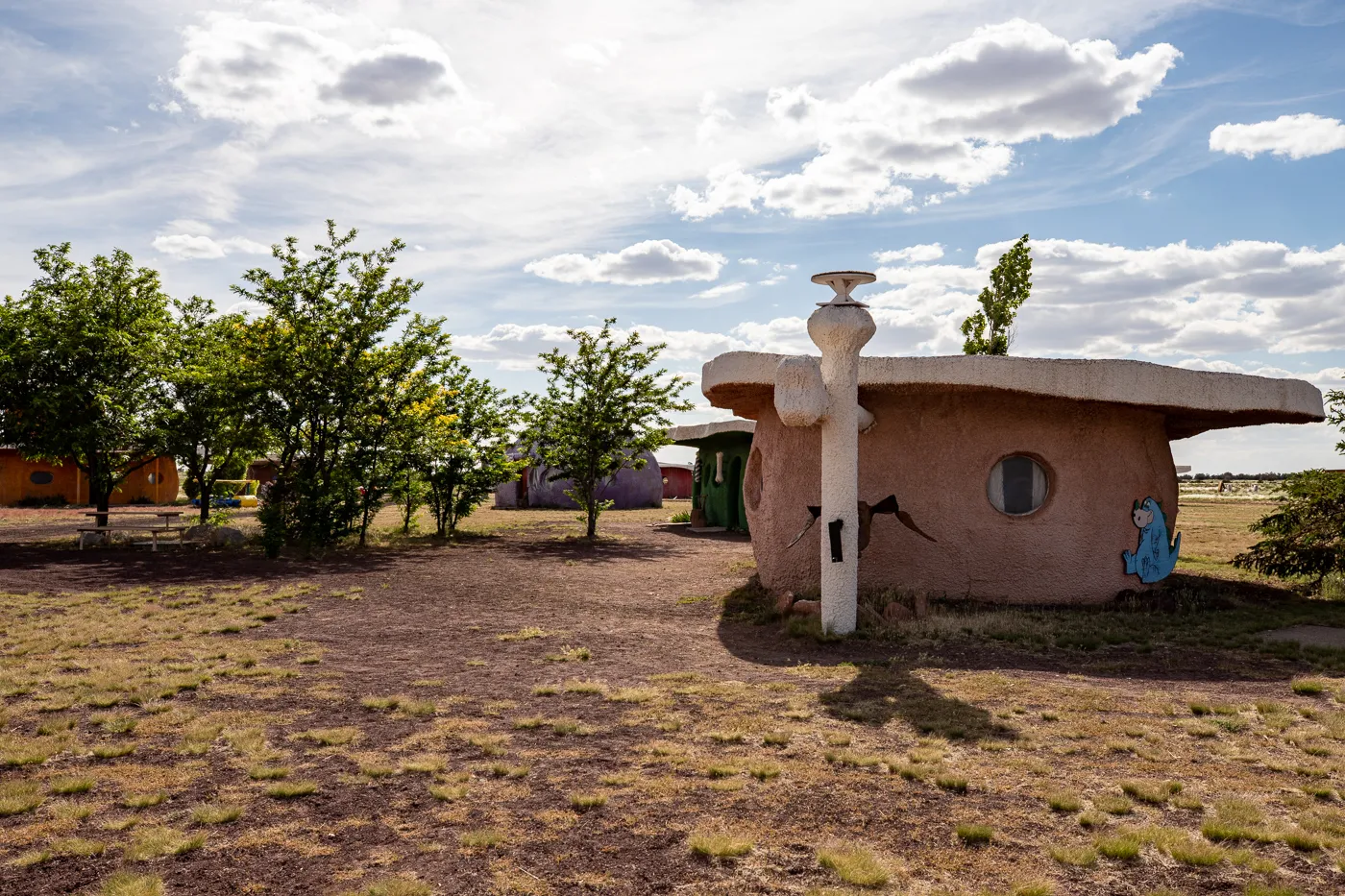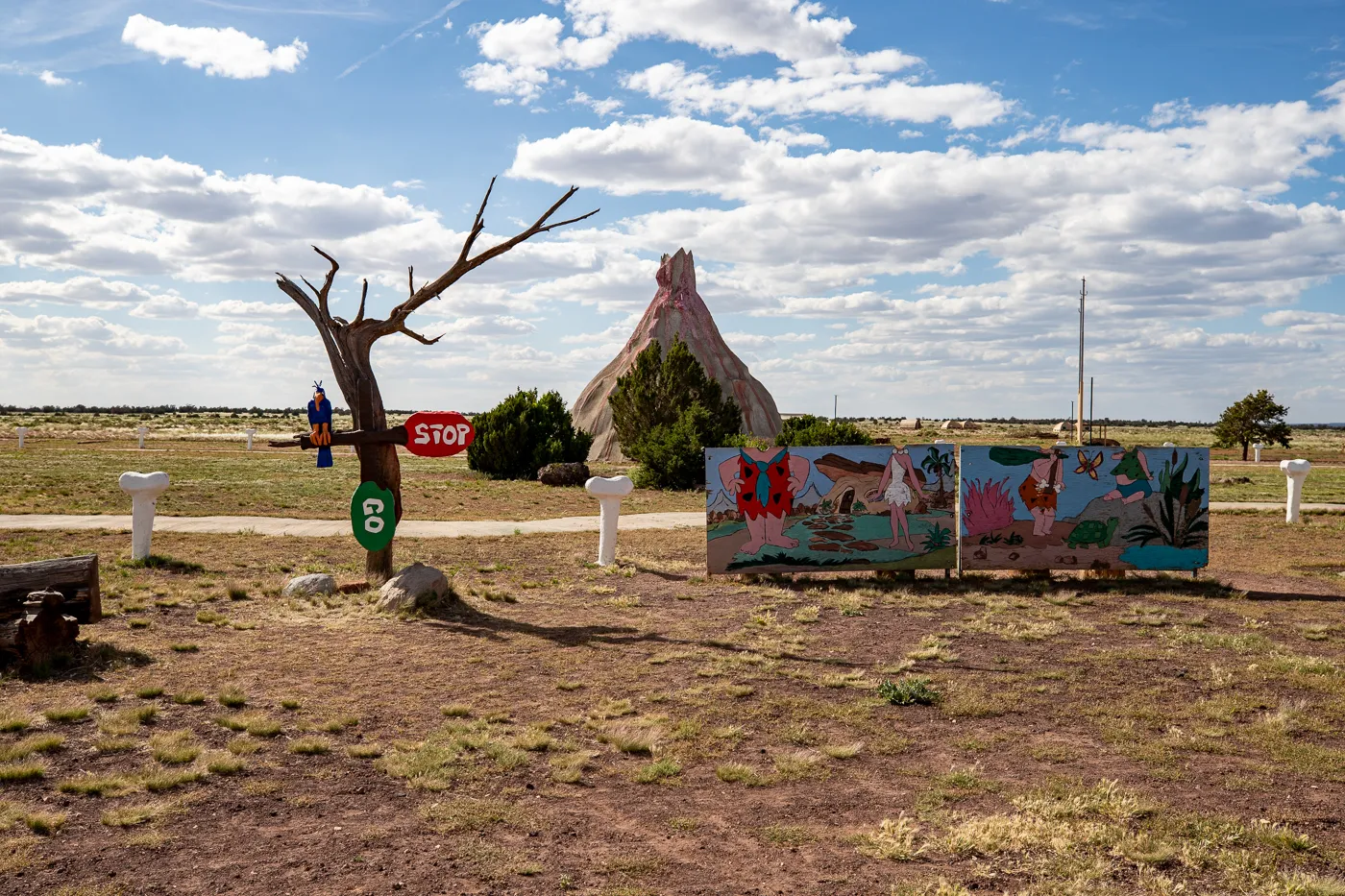 Where to Stay Near Flintstones Bedrock City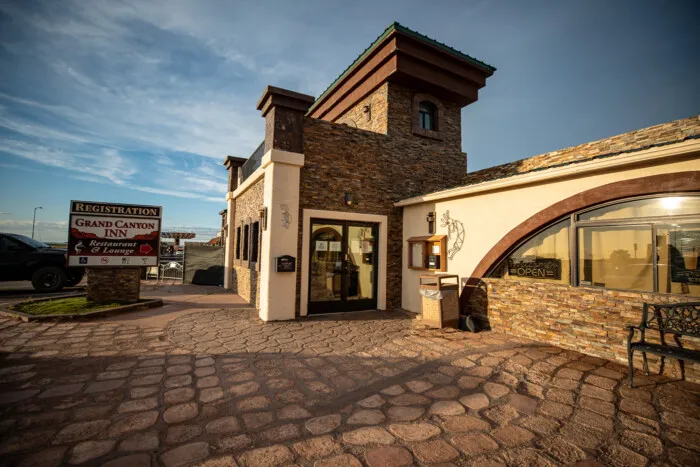 Grand Canyon Inn in Williams, Arizona (Valle)
This hotel is located right across the street from Flintstones Bedrock City, making it the perfect place to spend the night before or after visiting the attraction. With comfy beds, an outdoor pool, and an on-site bar and restaurant it is a convenient yet affordable hotel to stay in when visiting both this roadside attraction and the Grand Canyon, which is just a thirty minute drive away!
Flintstones Bedrock City FAQ
Is Flintstone Village still open?
Yes! The roadside attraction in Arizona is still open. While it was previously set to be closed by the new owner's of the property, they changed their mind and you can still visit this iconic spot on your Grand Canyon vacation!
Is Bedrock City in South Dakota still open? When did Bedrock City close?
No. The Flintstones Bedrock City in Custer, South Dakota was a 62-acre theme park and campground. It had opened in 1966 and closed in 2015. In July 2019 all the remaining cartoon structures were removed.
What state is the Flintstone park in?
The Flintstone park is located in Williams, Arizona. A former location also existed in South Dakota.
How far is Bedrock City from the Grand Canyon?
Flintstones Bedrock City is located about 29 miles (a 35-minute drive) from the Grand Canyon Visitor Center at the South Entrance of the national park.
Flintstones Bedrock City
Address: Raptor Ranch, 332 AZ-64, Williams, AZ 86046
Cost: $8 Admission
Hours: 8am – Sunset
Visit the attraction's official website for up-to-date hours and admission fees.
Pin this Arizona Roadside Attraction to save for your road trip itinerary: