Where on Route 66 can you get a cheeseburger with cheese, some "dead chicken," and a mustard surprise, all served with a smile (or, at least a potato smile)? You can get all that and more at Delgadillo's Snow Cap in Seligman, Arizona, a Route 66 institution that has been slinging burgers, milkshakes, and a unique sense of humor since 1953.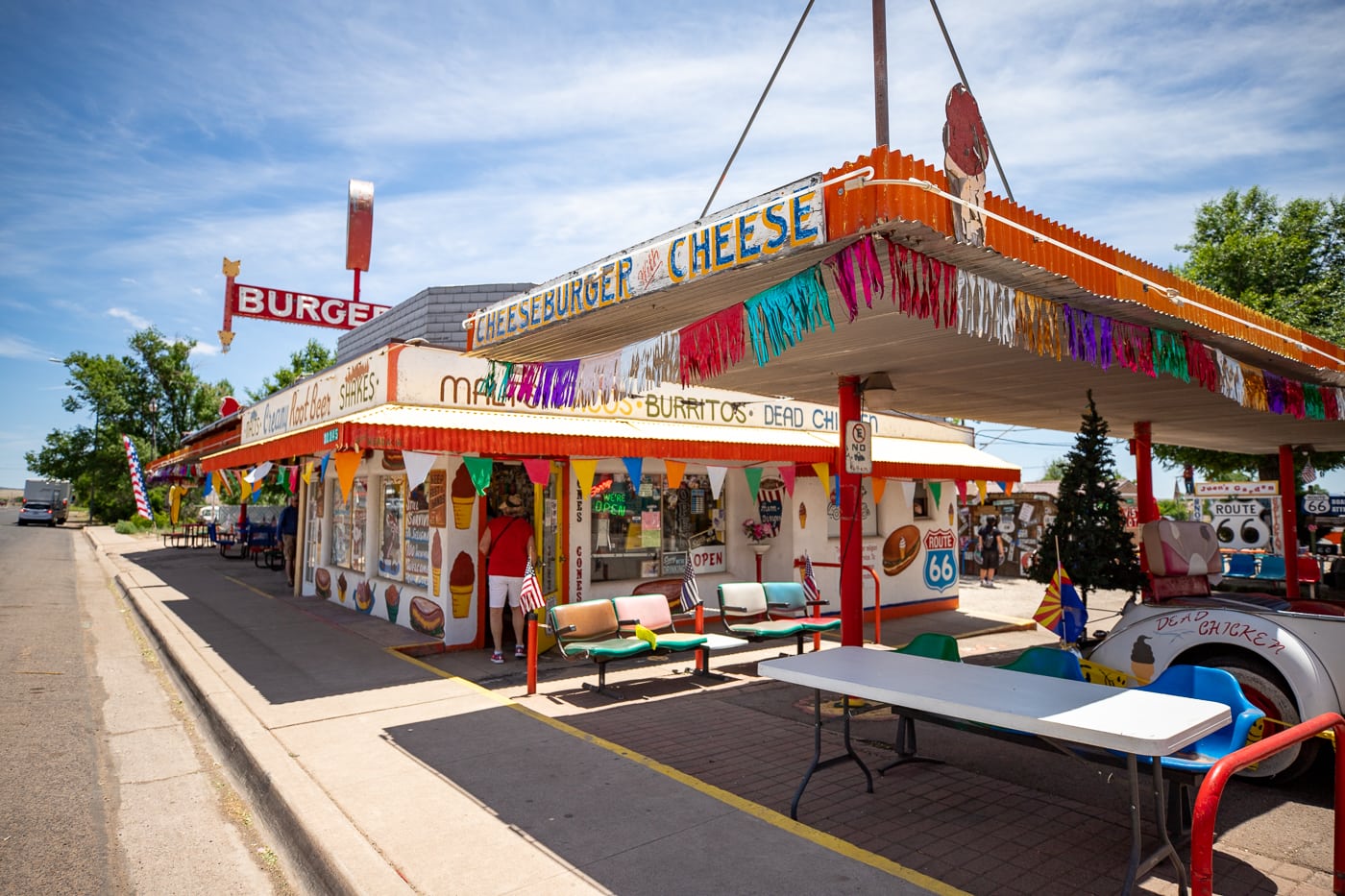 Delgadillo's Snow Cap Drive-In opened on Route 66 in 1953. Local resident Juan Delgadillo (1916–2004) pieced the restaurant together with a limited budget using scrap lumbar from the nearby Santa Fe Railway yard. Outside he set up an old 1936 Chevrolet hardtop, sliced off the roof, added horns, and threw a Christmas tree on the back. The modified vehicle served as a fun roadside attraction that caught the eye of passersby, beckoning them from the road and into the restaurant.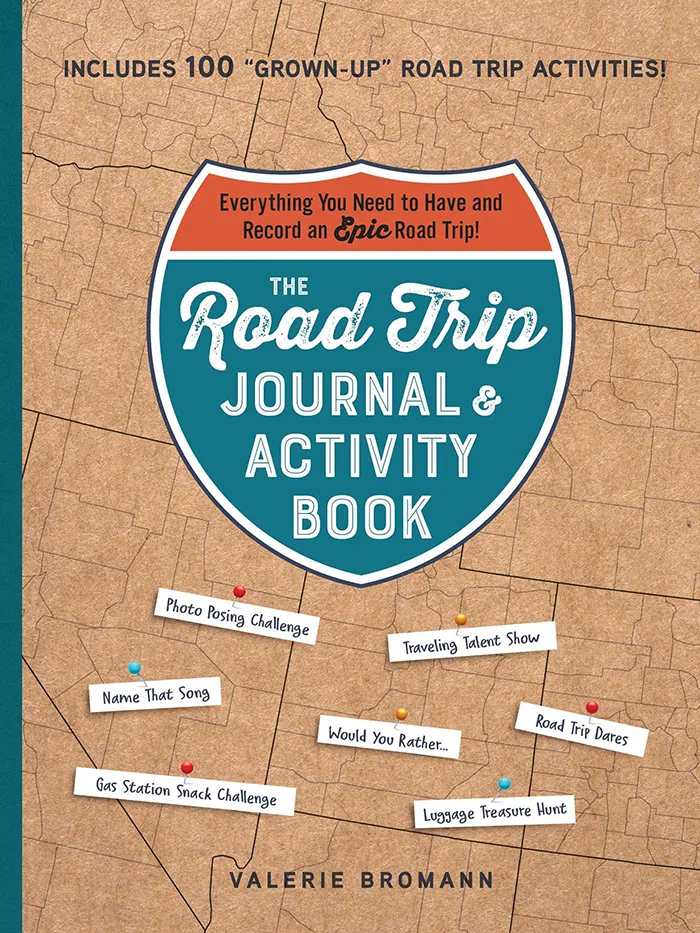 The Road Trip Journal & Activity Book
Everything You Need to Have and Record an Epic Road Trip!
Enjoy fun games and challenges to pass the time on your next road trip and have a keepsake to look back on for years to come with this entertaining must-have for your next vacation.
From the start the Seligman Snow Cap was always known for the pranks and practical jokes that came along with your order. The doors have multiple knobs (only one of which works), clever signage warns you not stand on the floor. As you order your burger, hot dog, taco, or milkshake, expect the unexpected if you ask for ketchup, mustard, or a straw. (And if you order a side of fries, expect an extra potato smile.)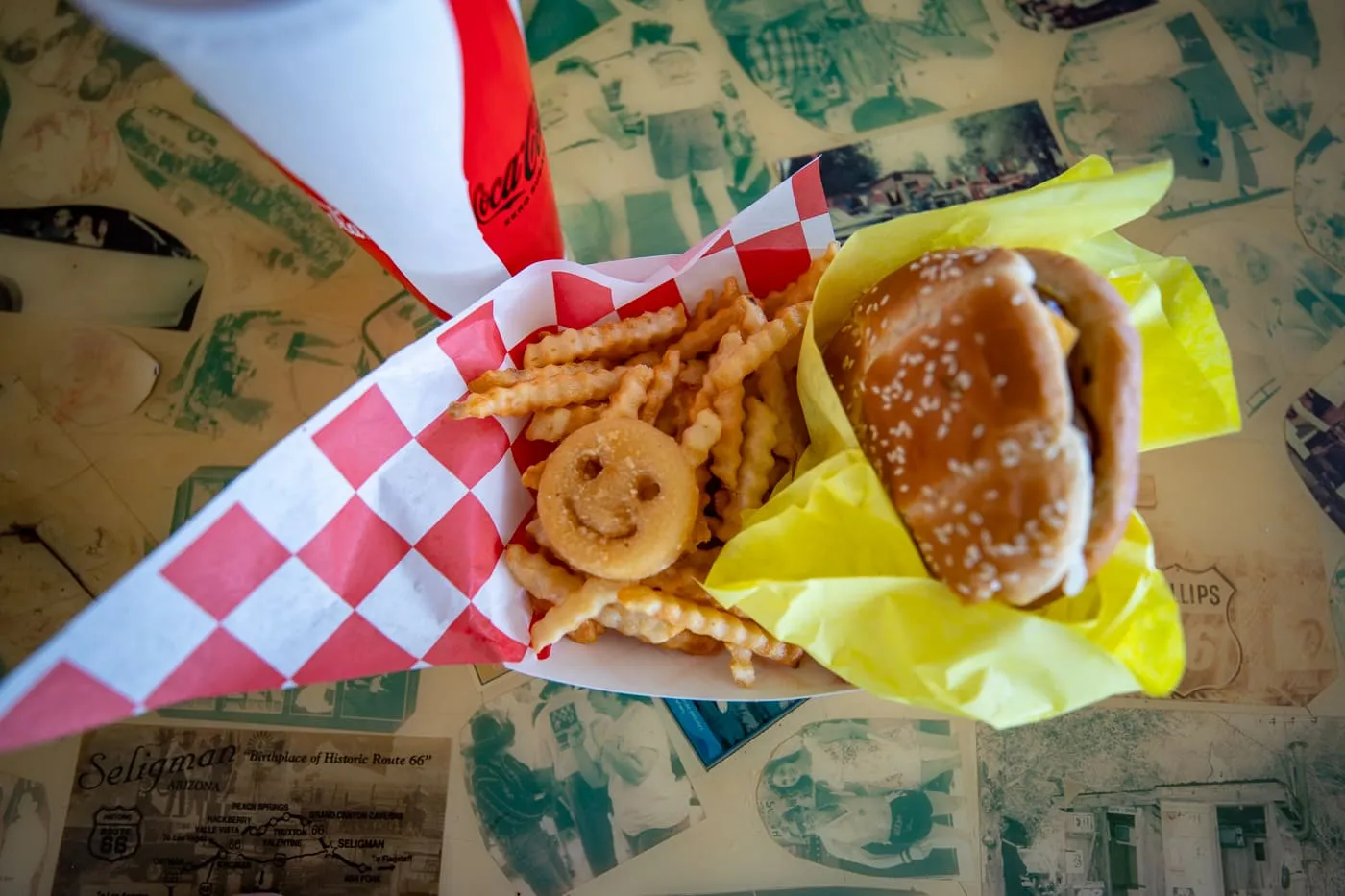 Behind the restaurant you'll find Juan's Garden stuffed full of a paradise of kitschy knickknacks. You'll find vintage cars, a bench with a Route 66 face-in-hole photo op, hand-painted signs, and a menagerie of found objects put together in interesting ways.
Unfortunately, Juan Delgadillo passed away in 2004. But his family stepped in and now runs the restaurant, keeping the legacy of this Route 66 institution alive. You can expect to find the same great food served with the same signature humor and gags travelers have come to expect.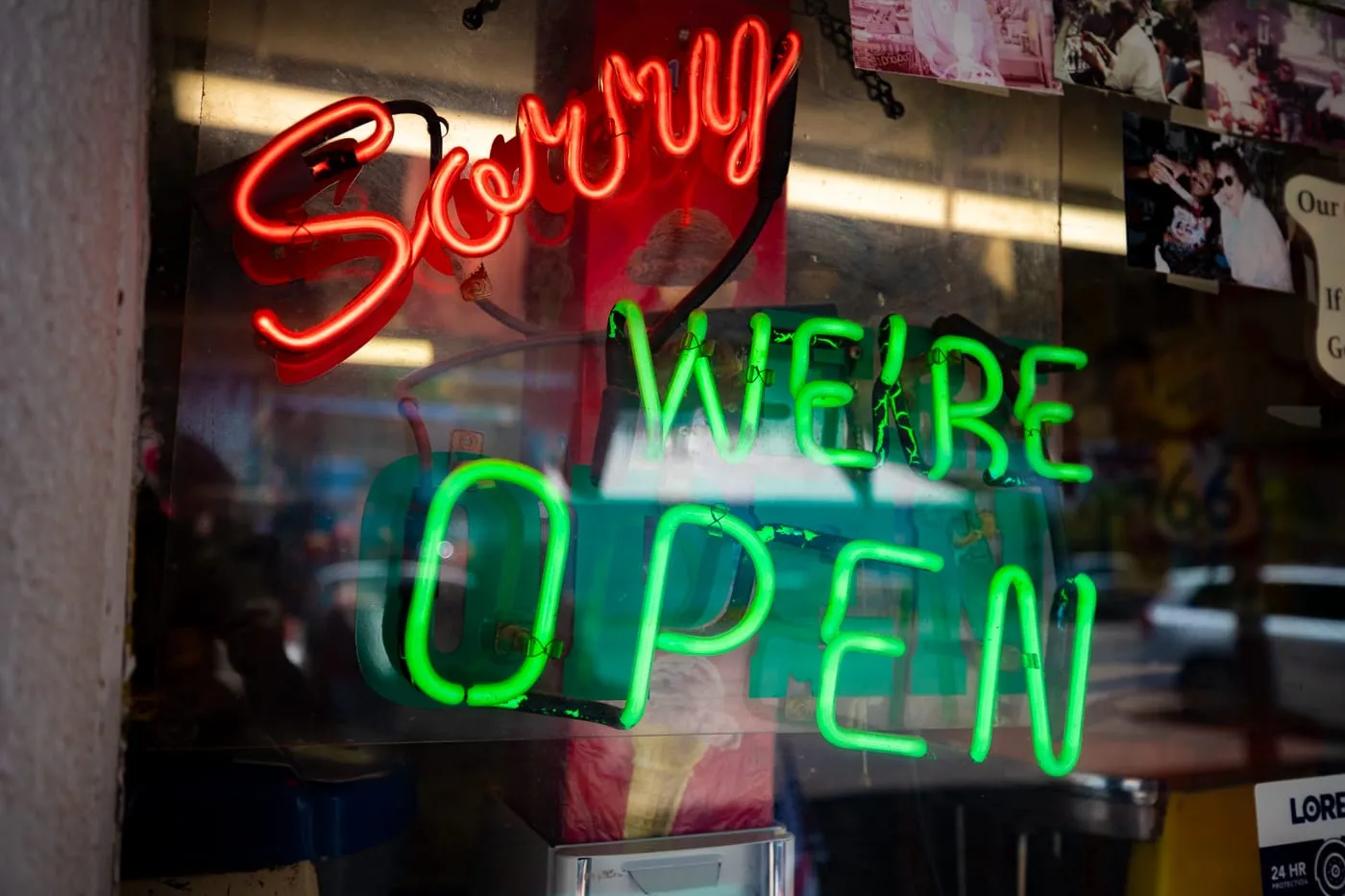 If you're driving through Seligman, Arizona on Route 66 and are looking for lunch, just look for the lit-up neon sign declaring, "Sorry, We're Open."
While in town be sure to also visit these other must-see Arizona Route 66 attractions: the Seligman Grocery Mural, Angel and Vilma's Route 66 Shop, Copper Cart and Route 66 Motoporium, Rusty Bolt, and Roadkill Cafe.
Photos of Delgadillo's Snow Cap in Seligman, Arizona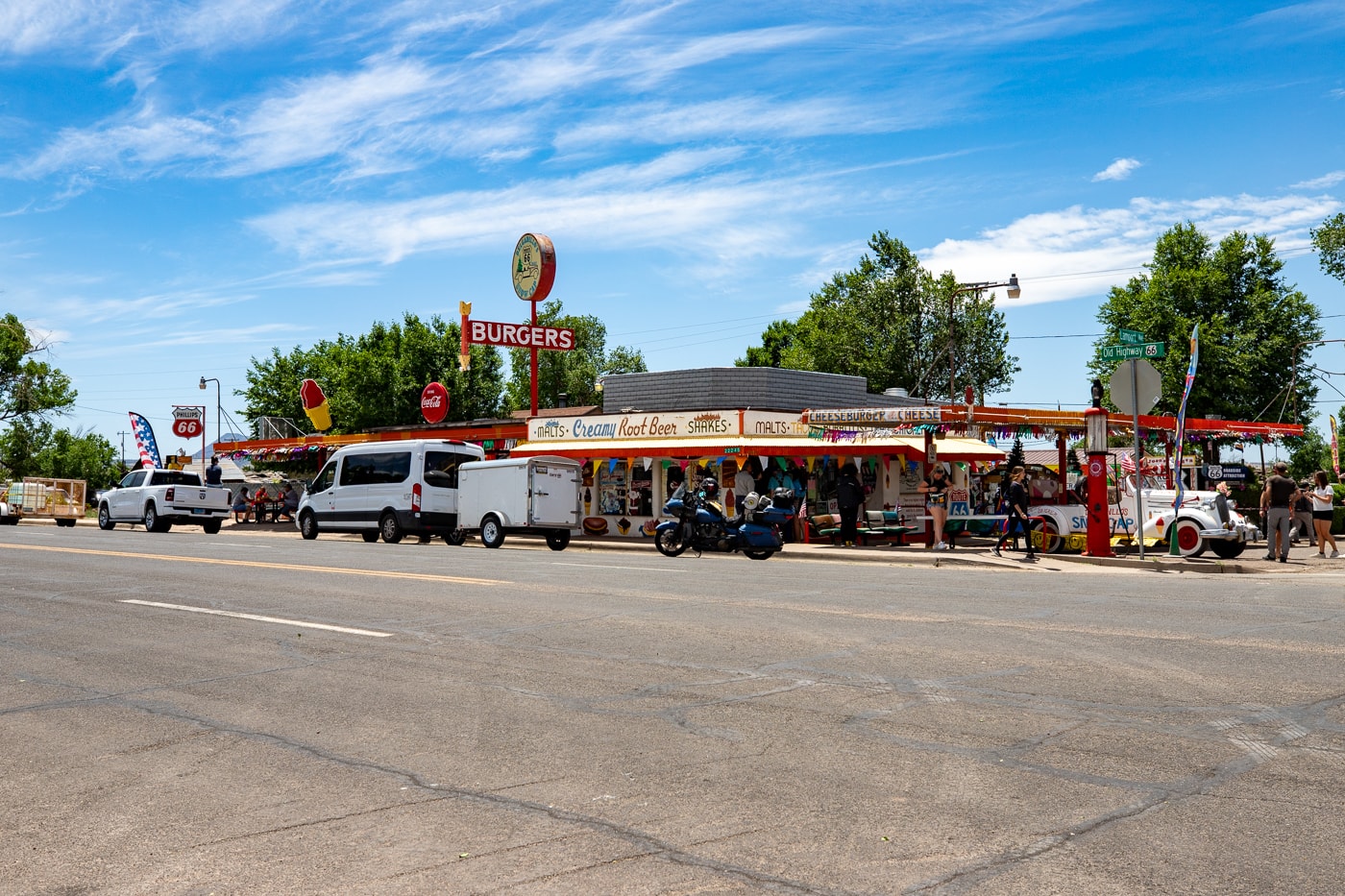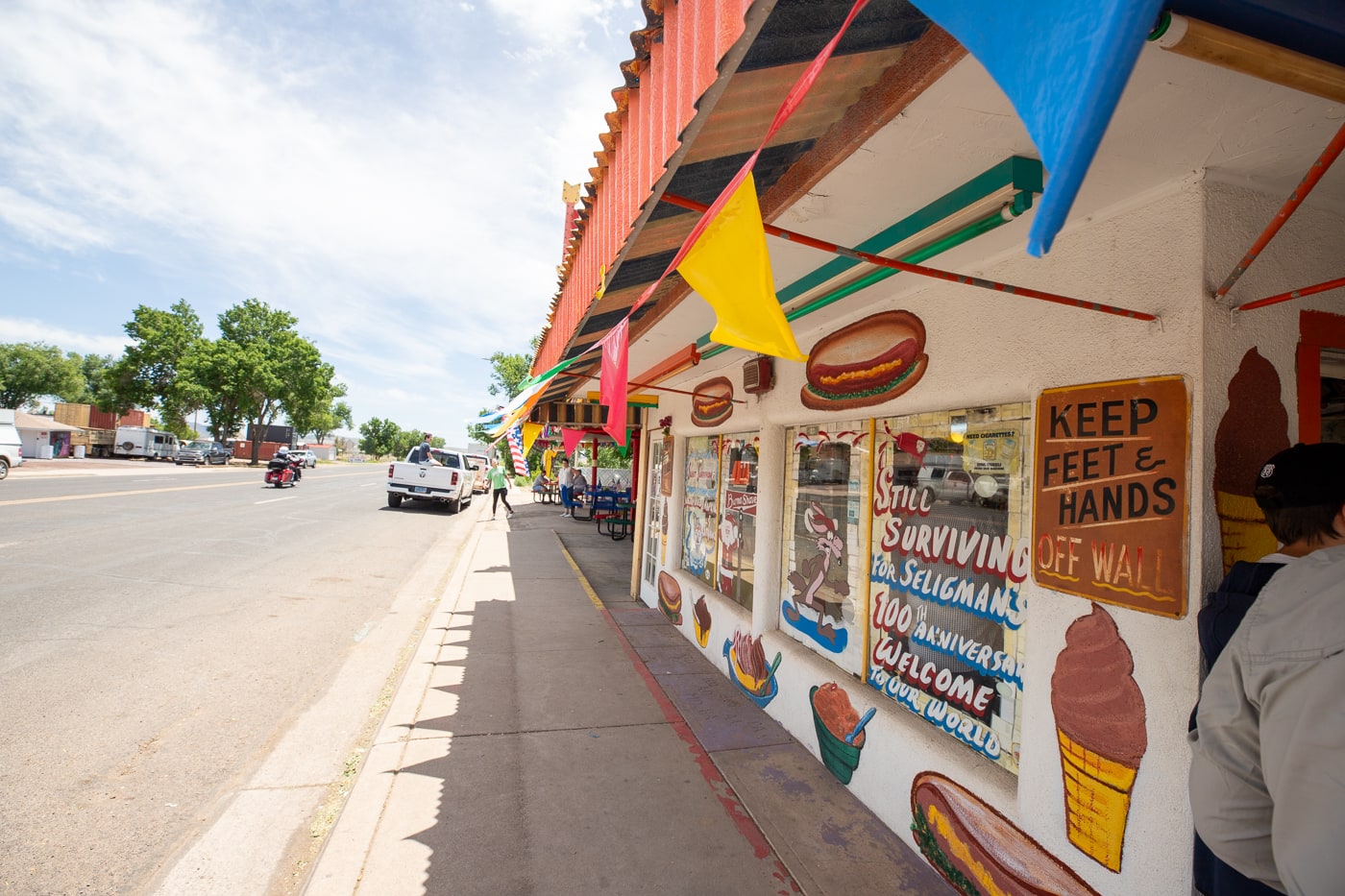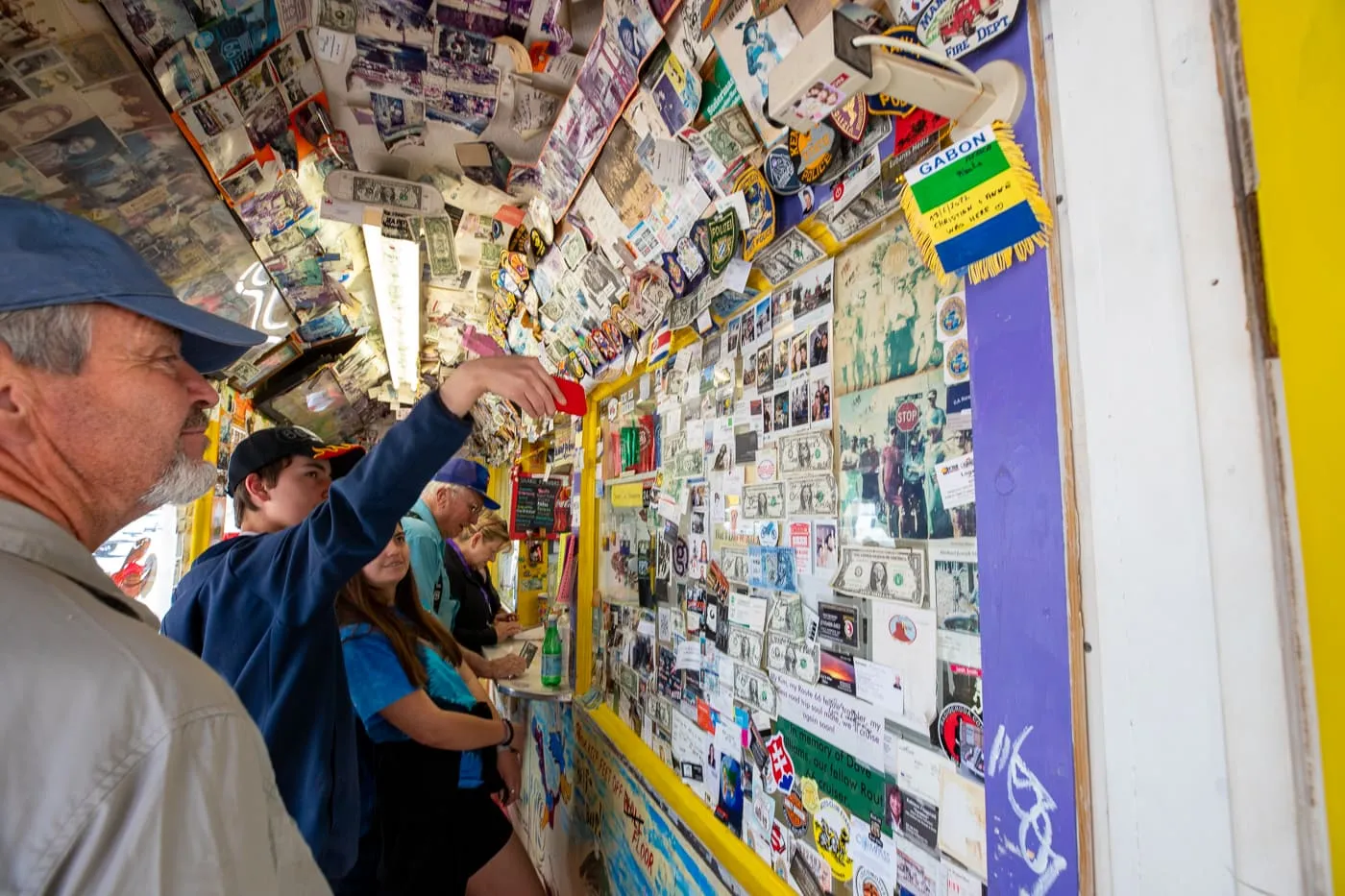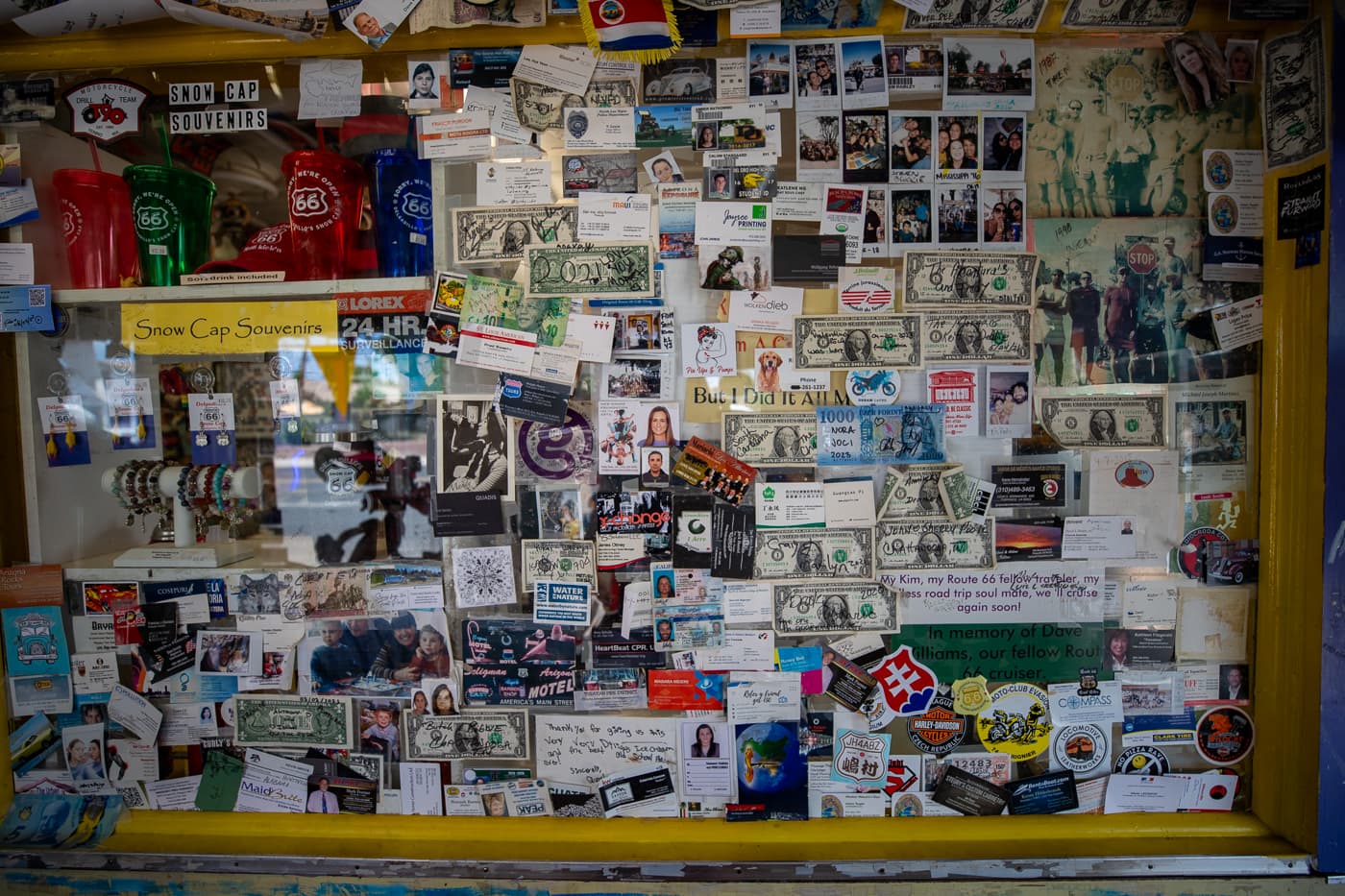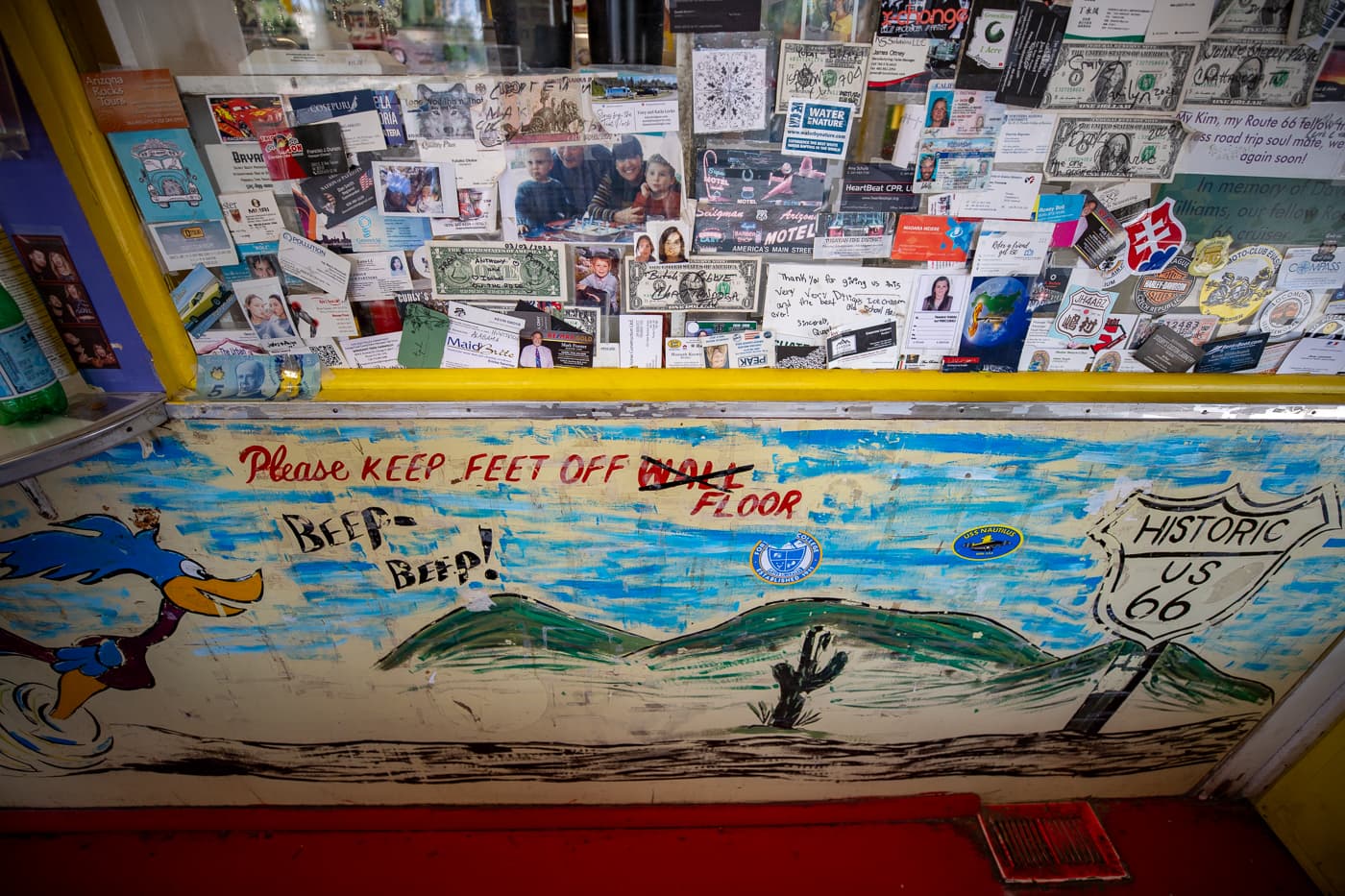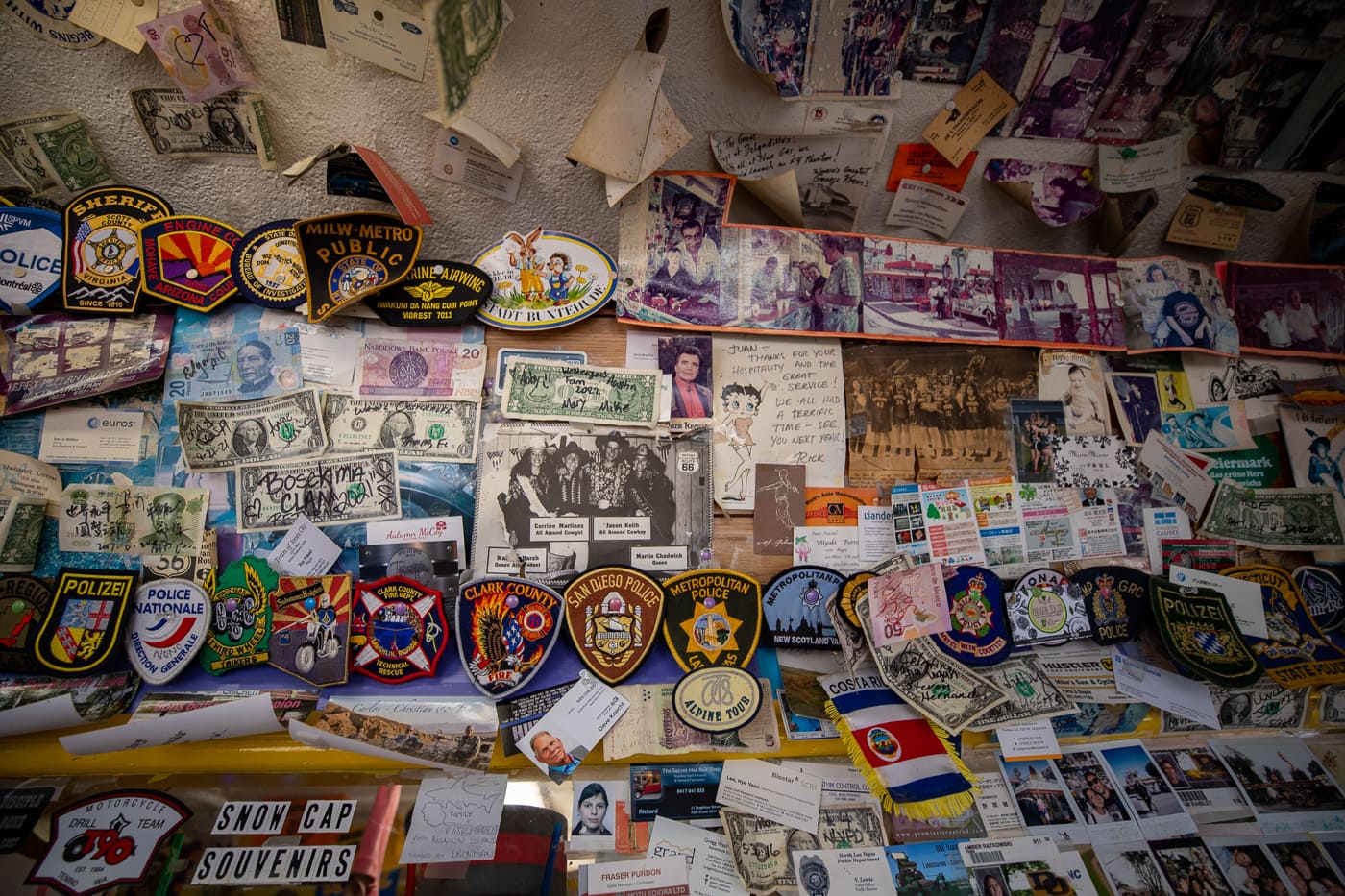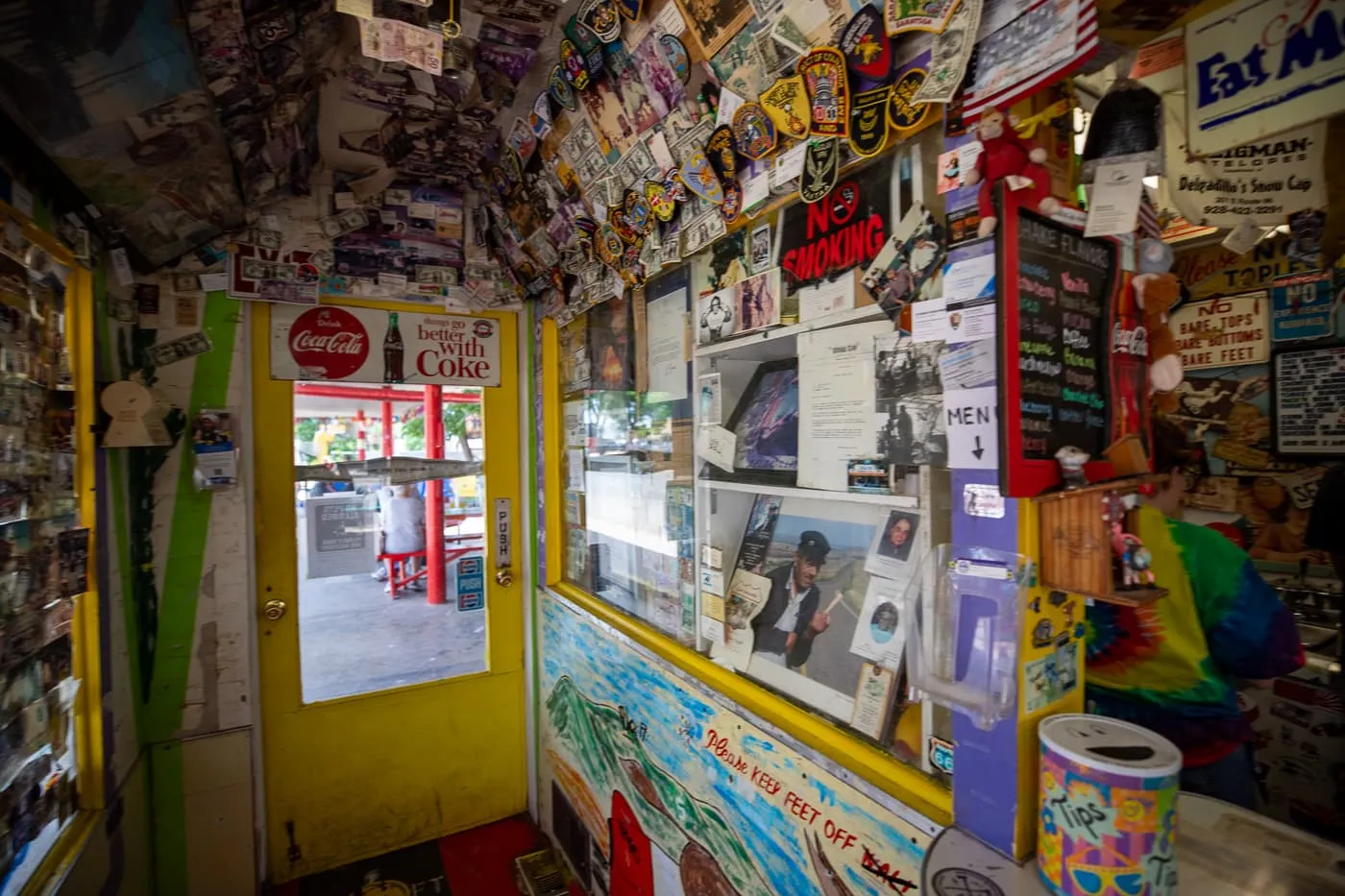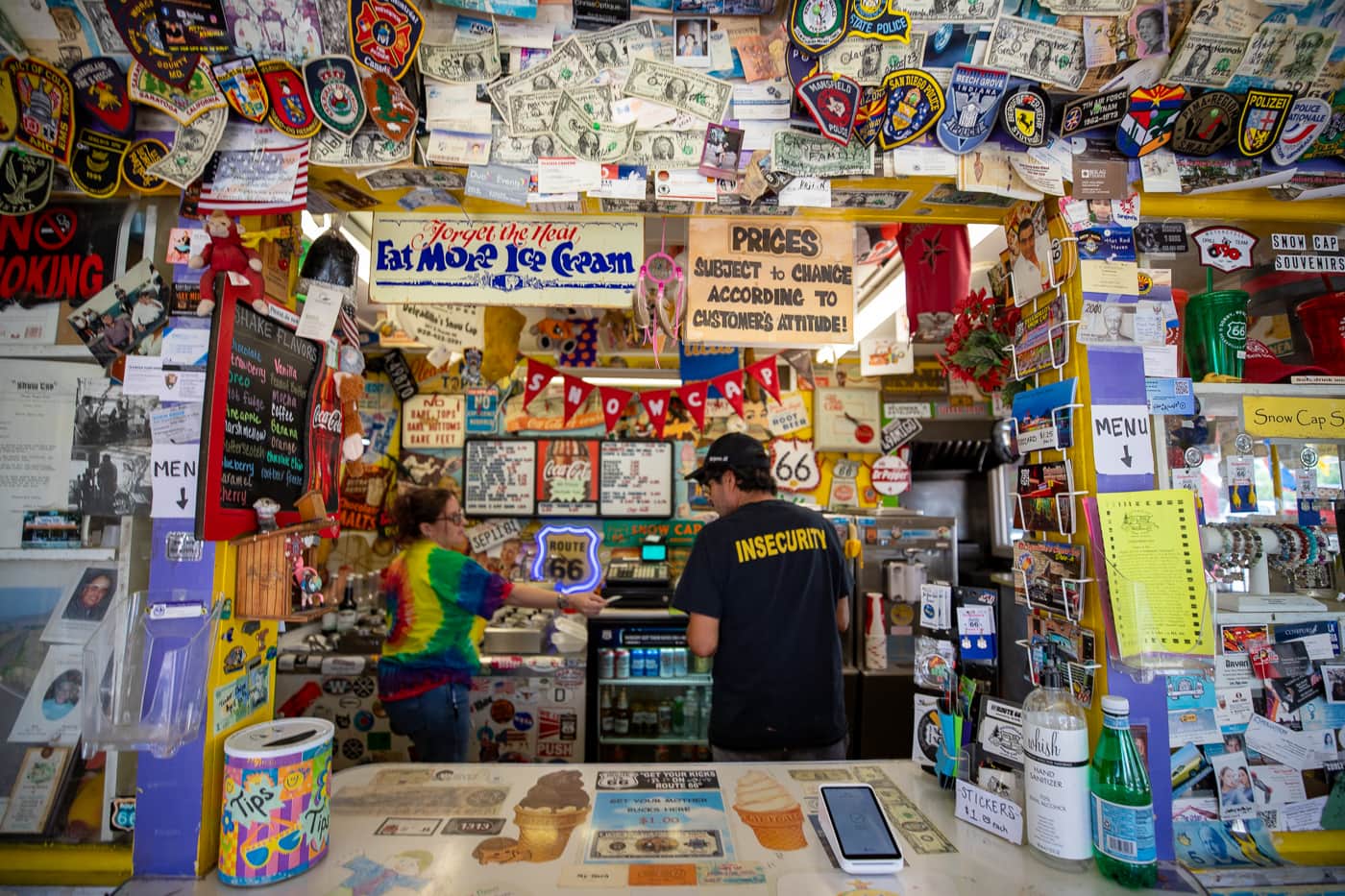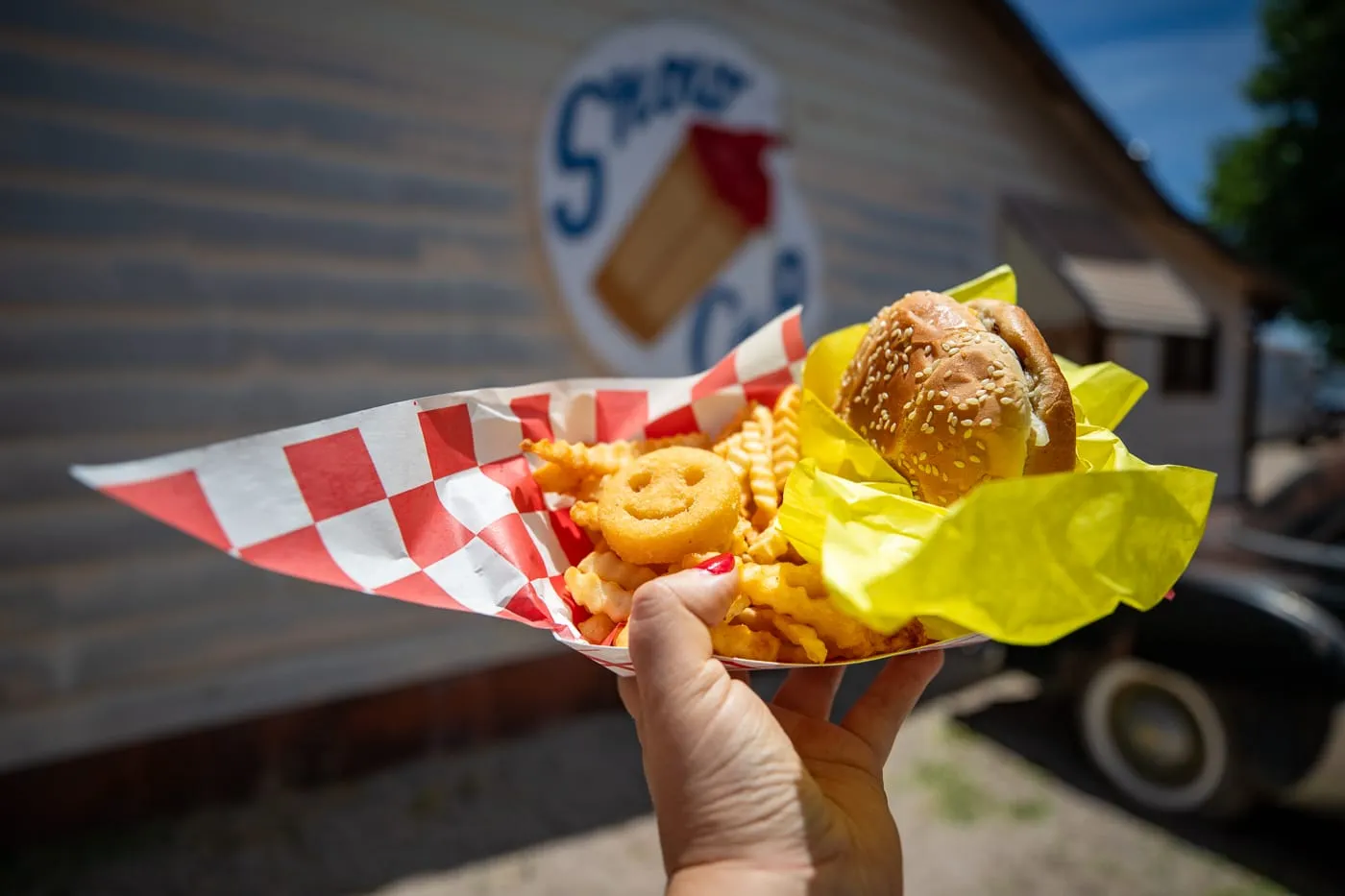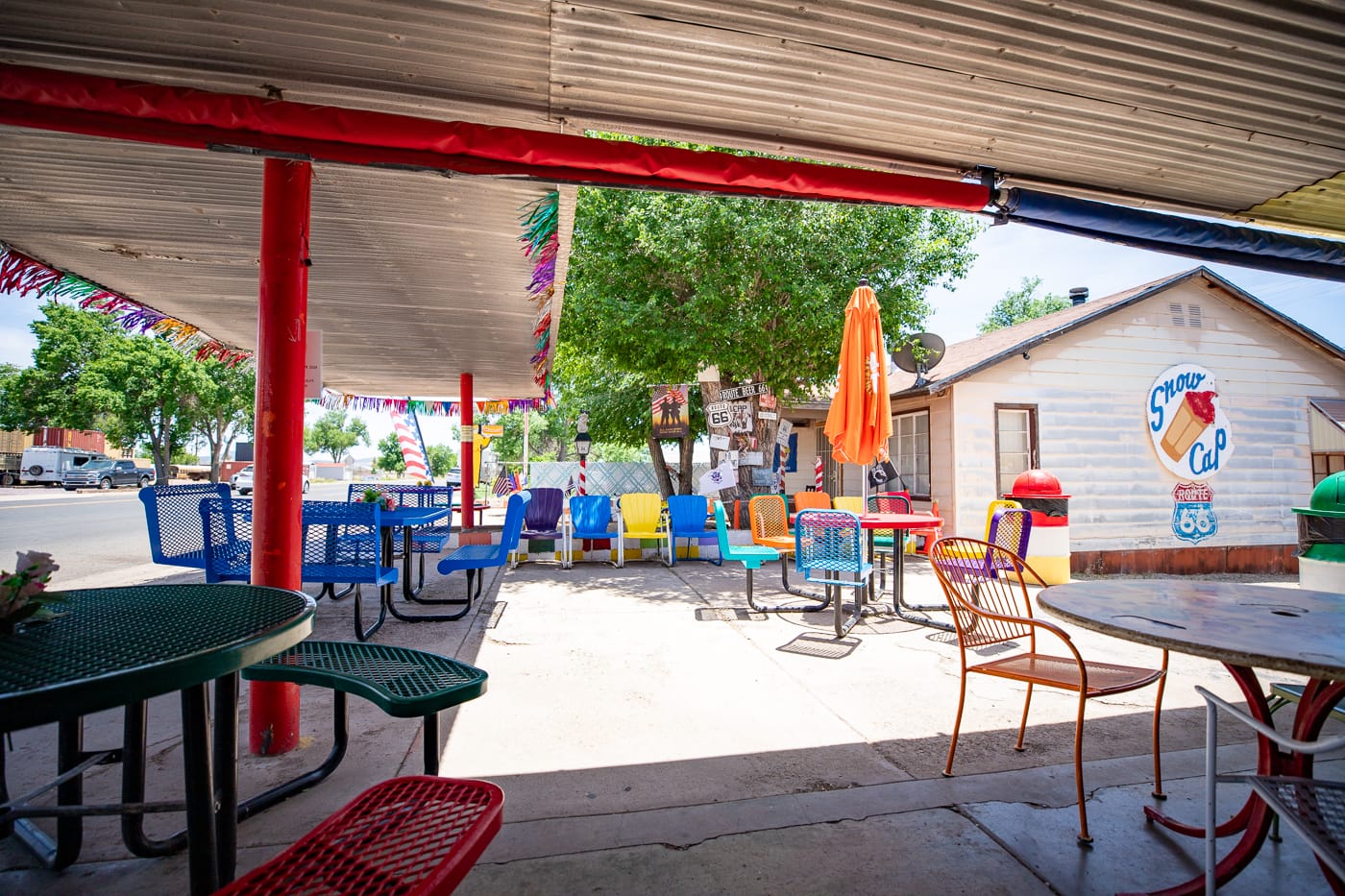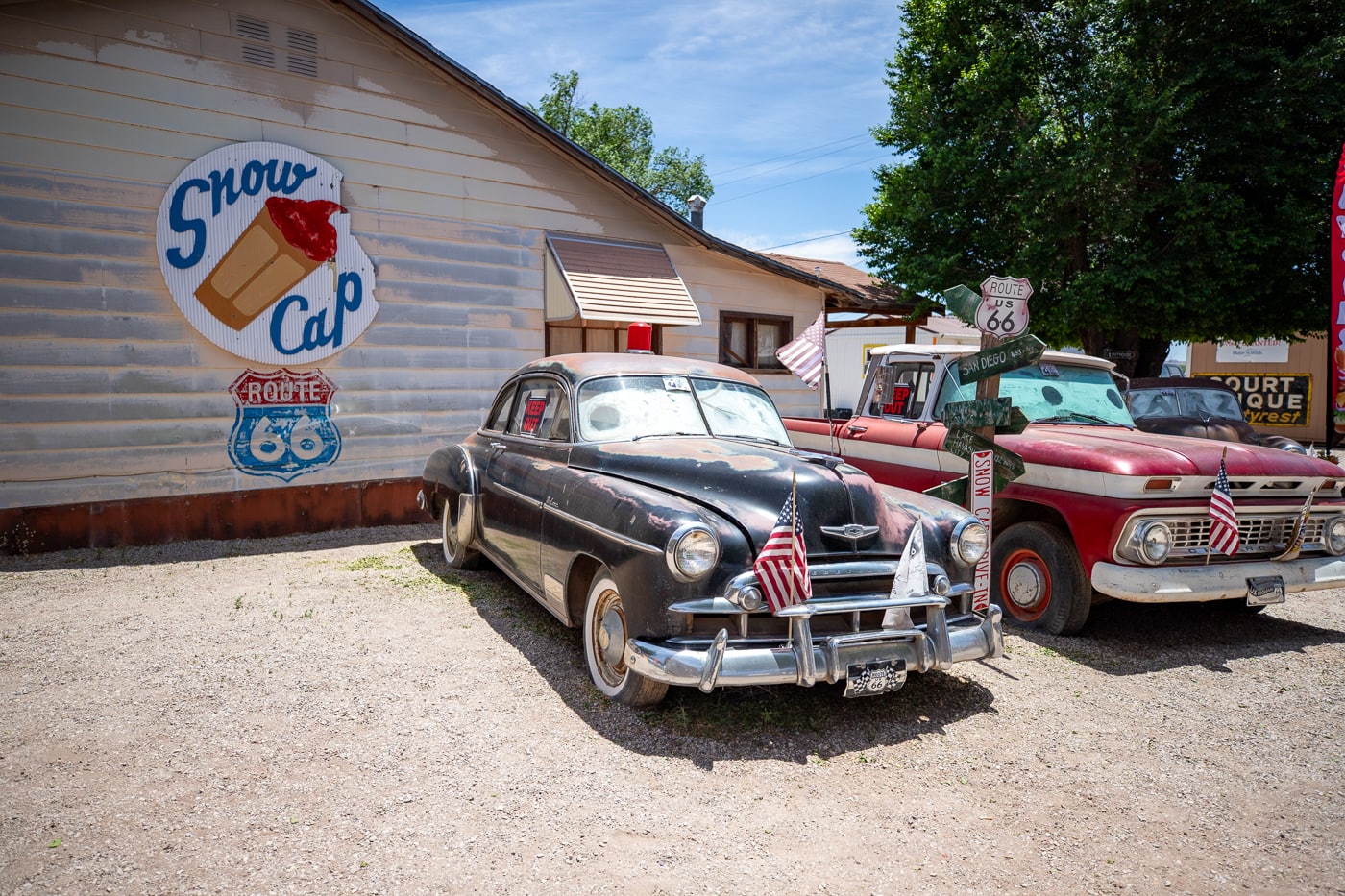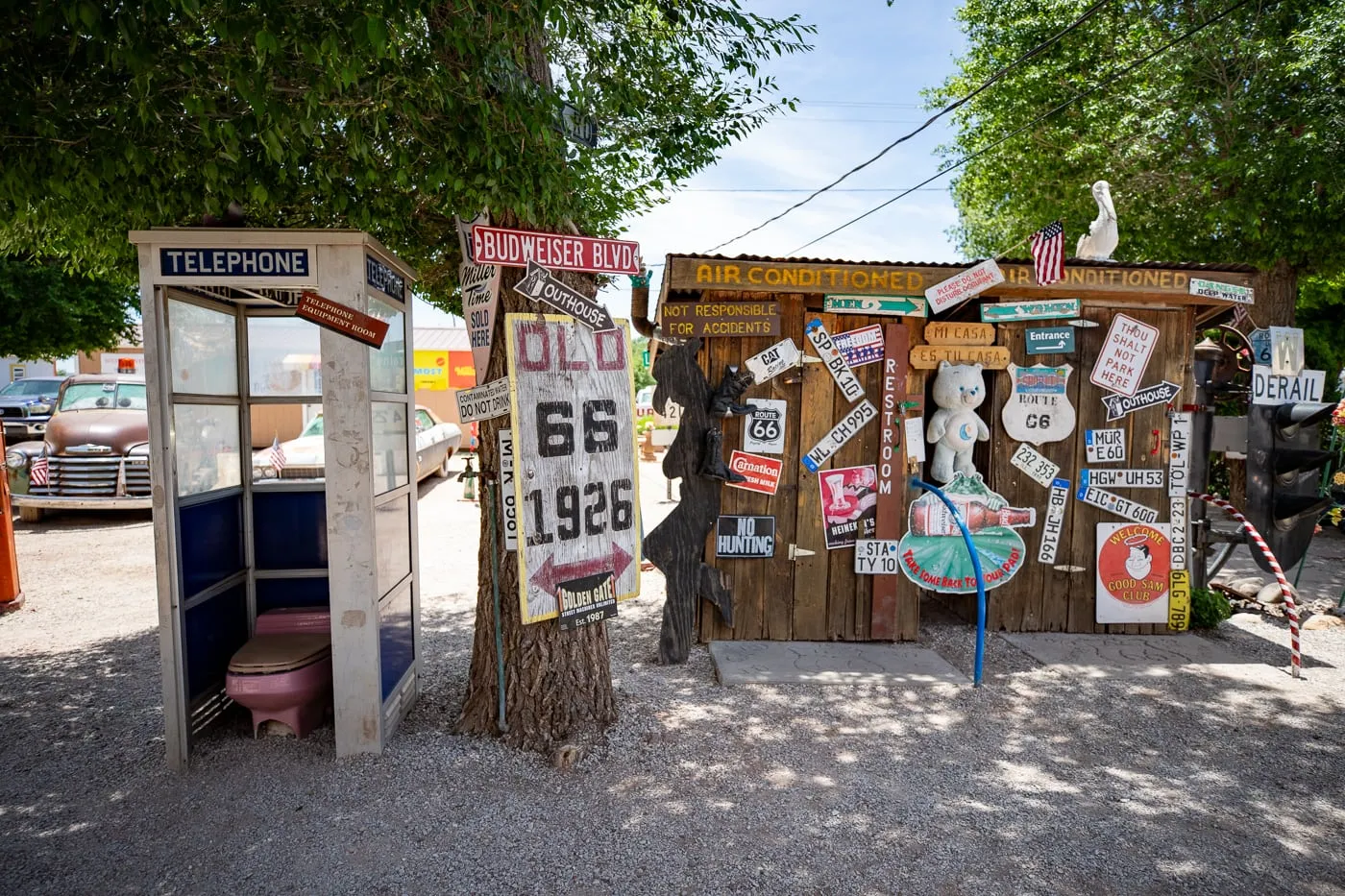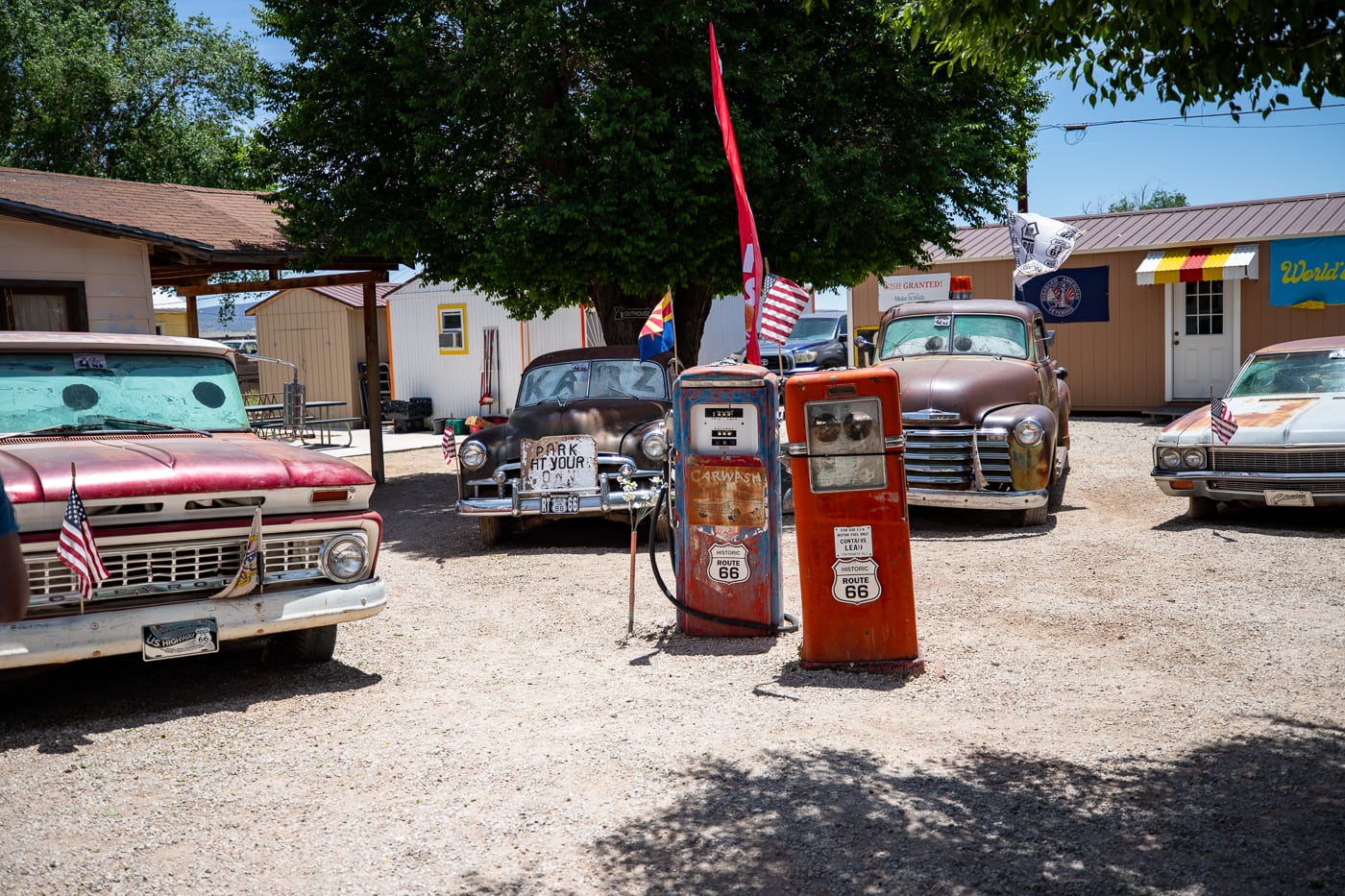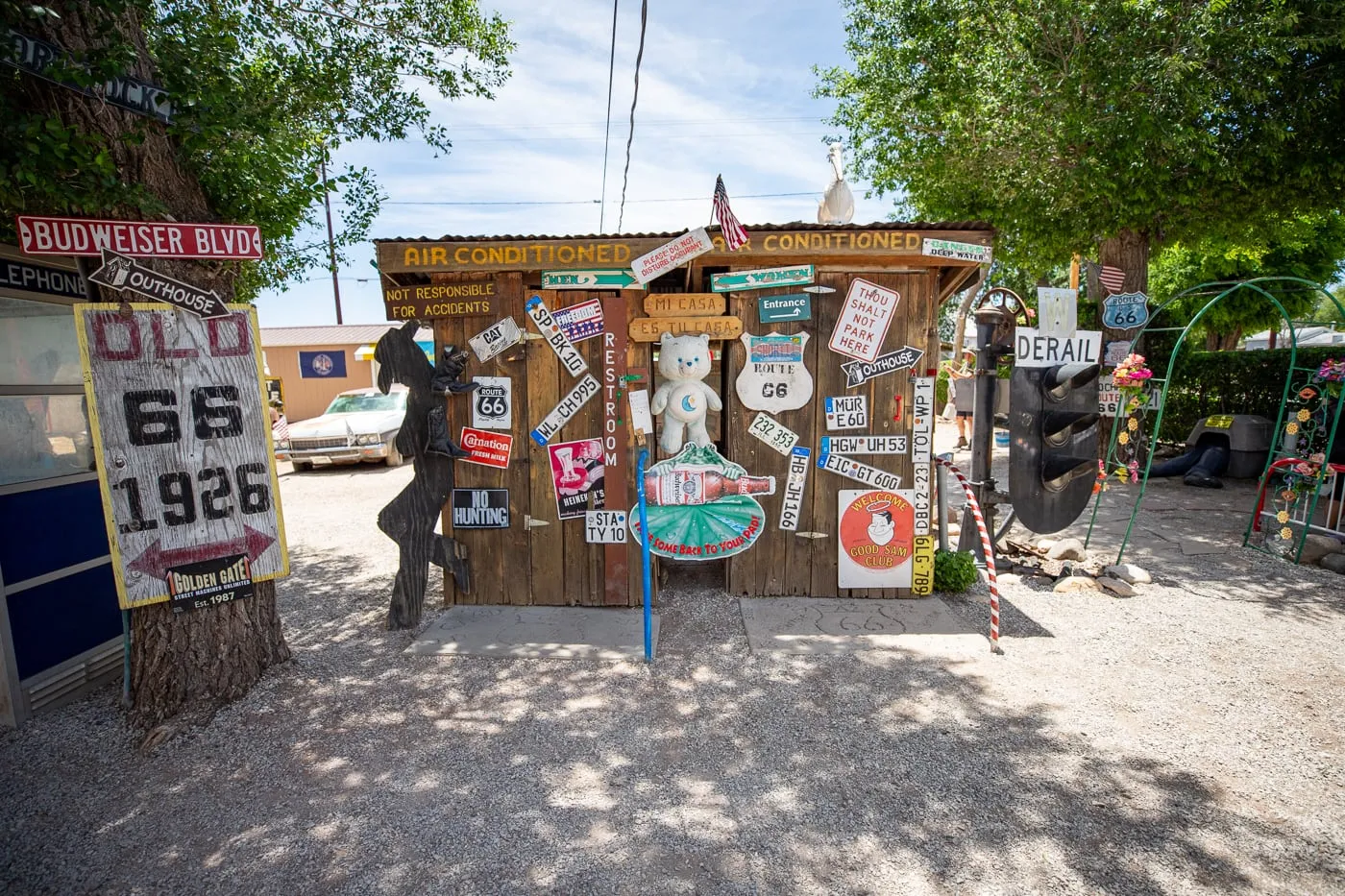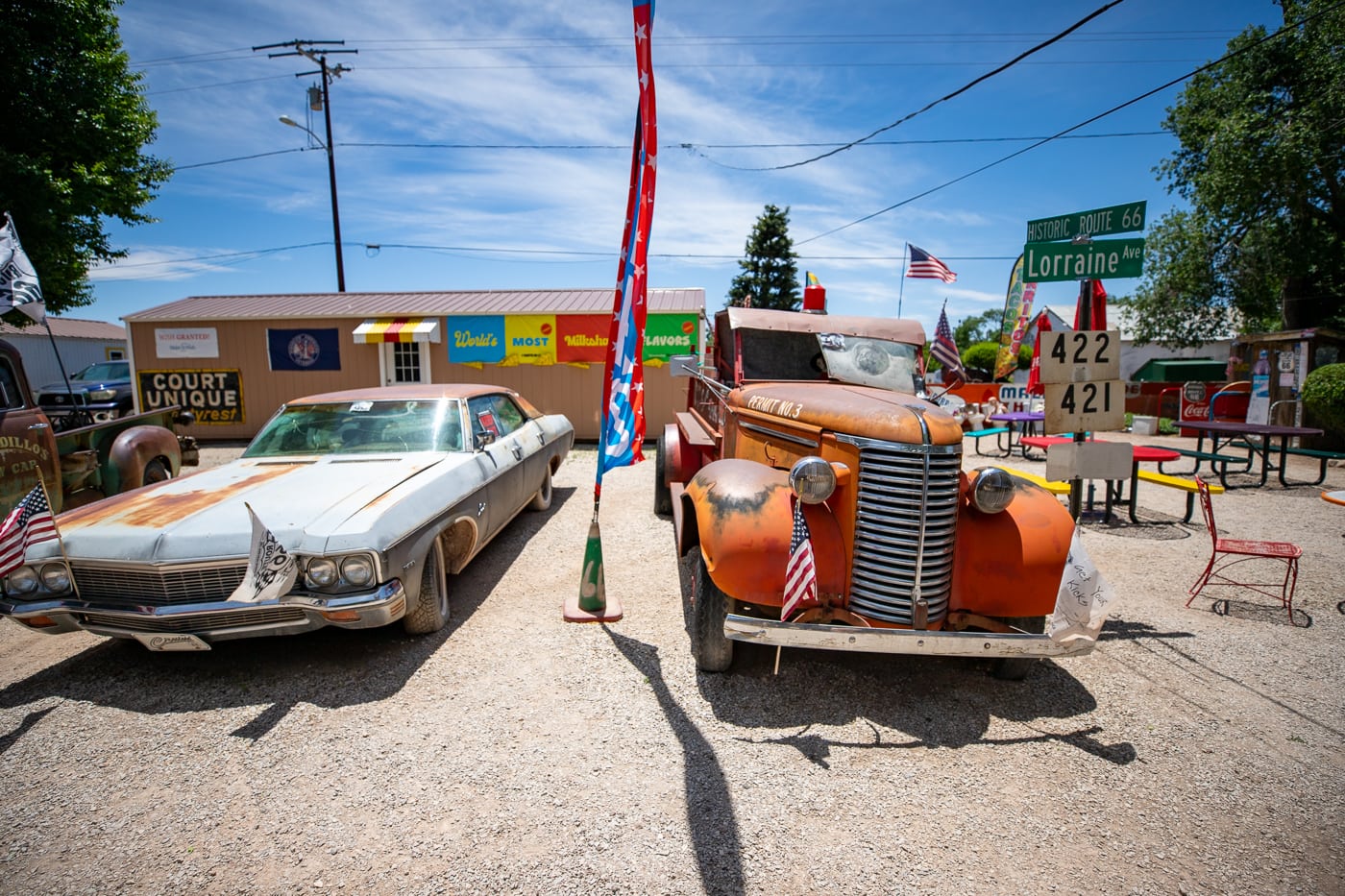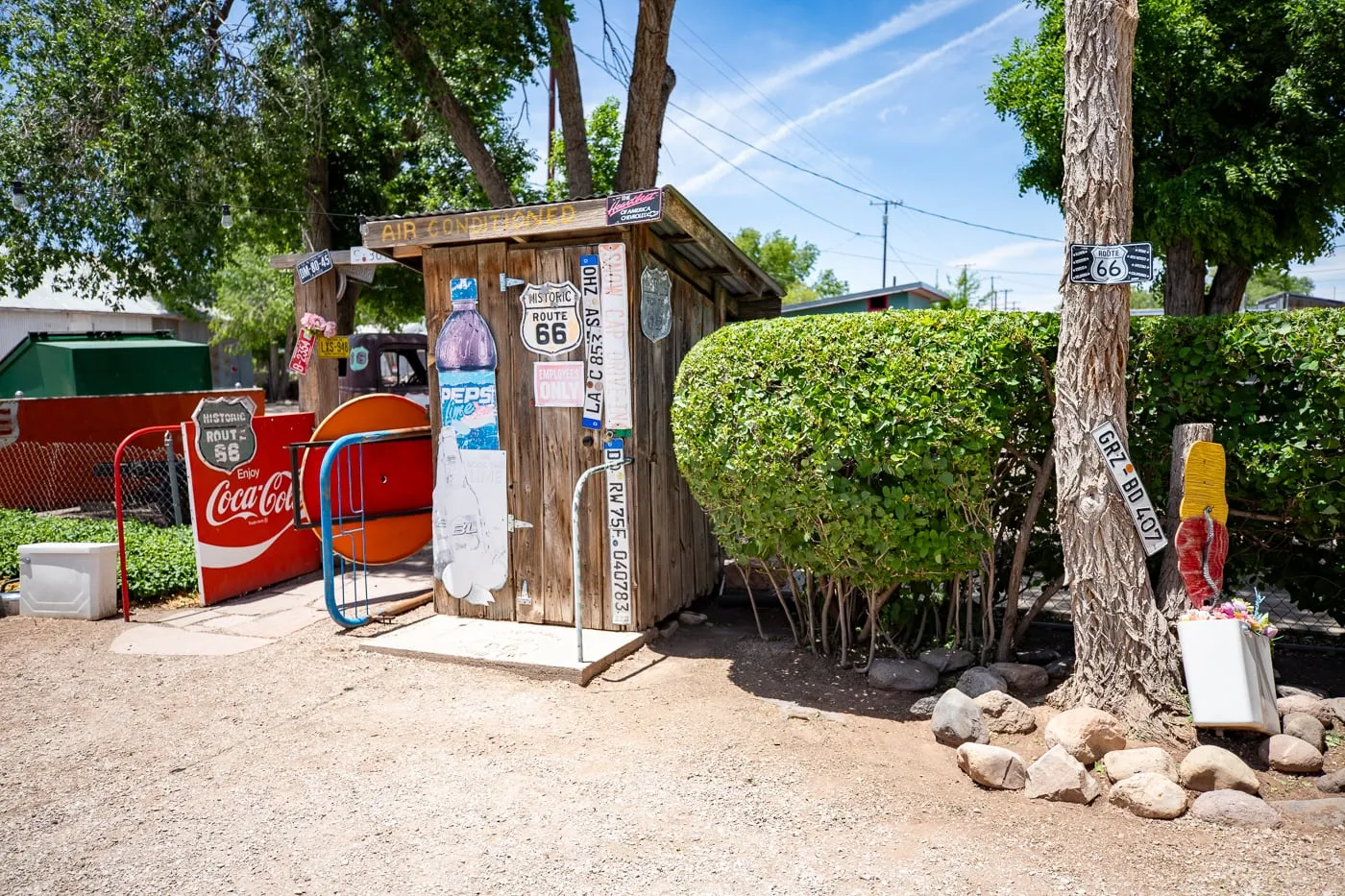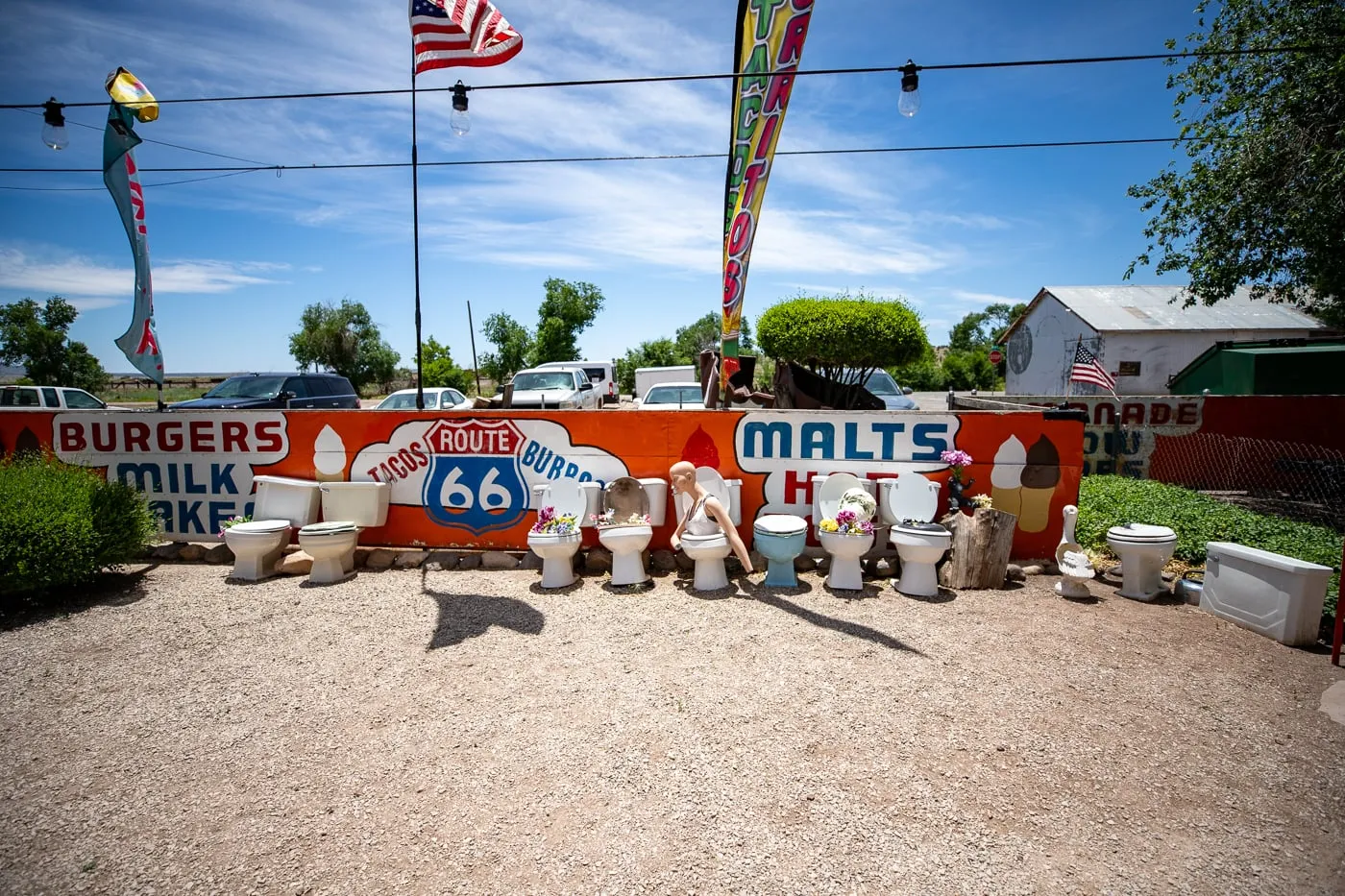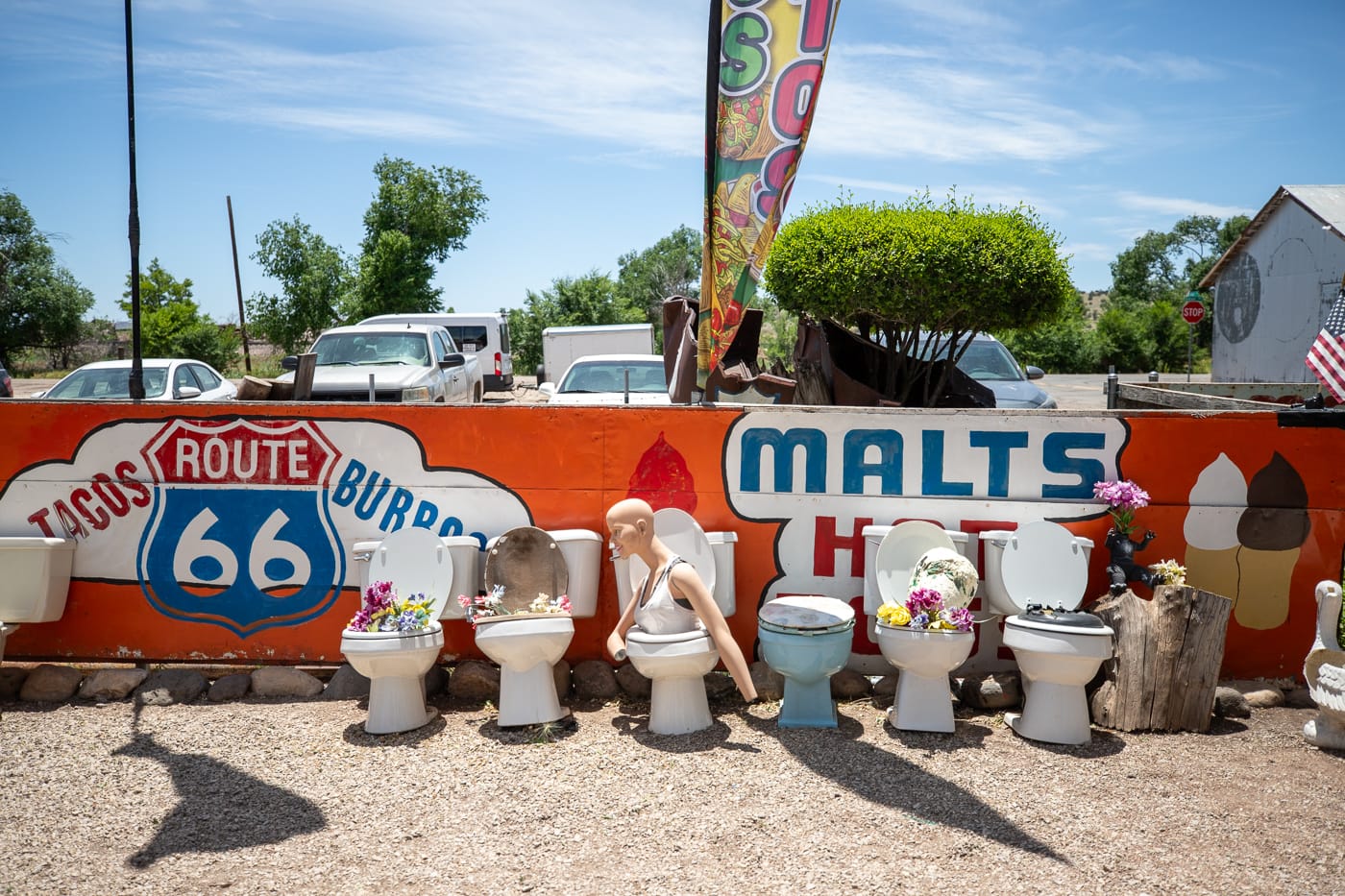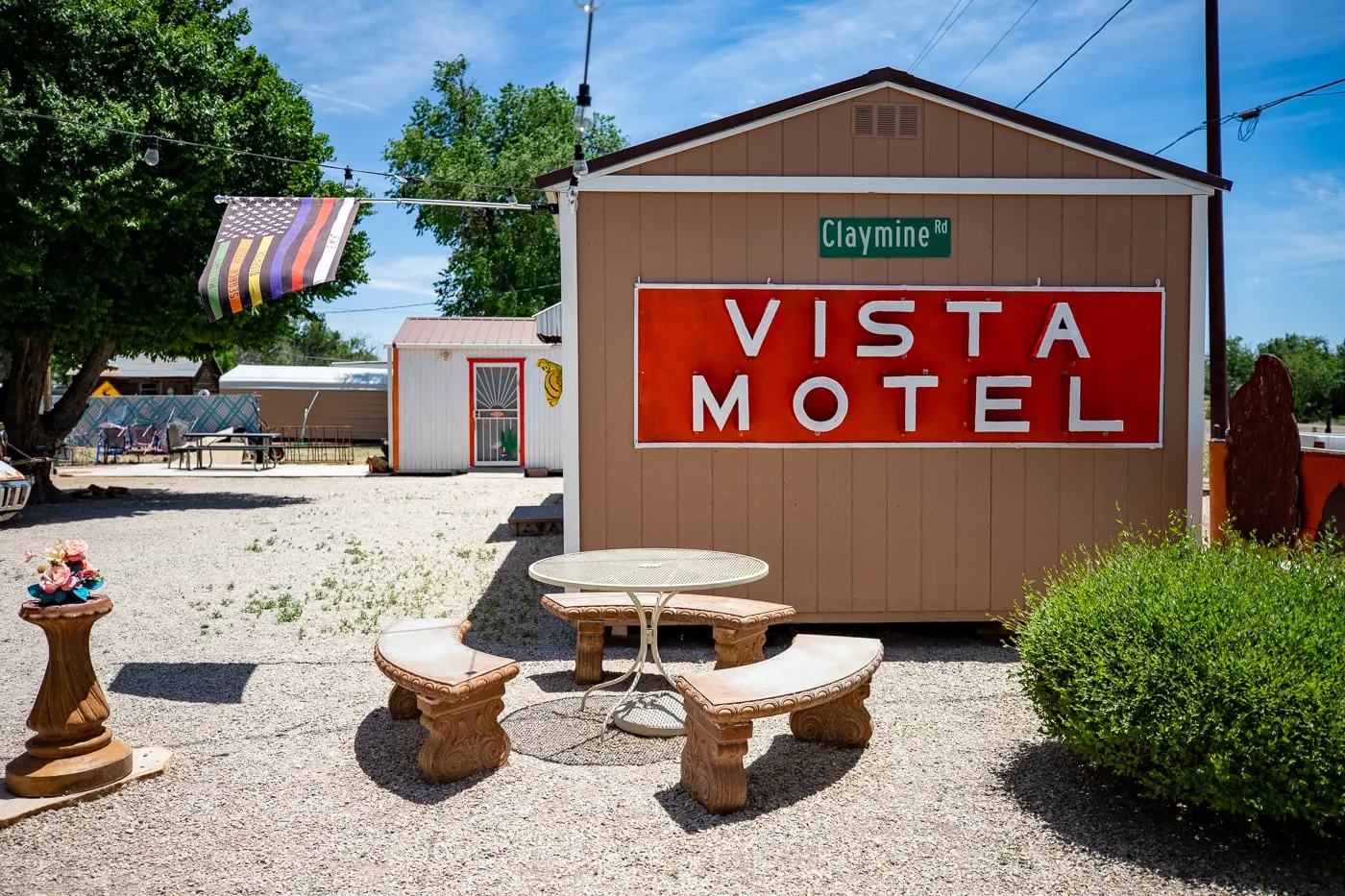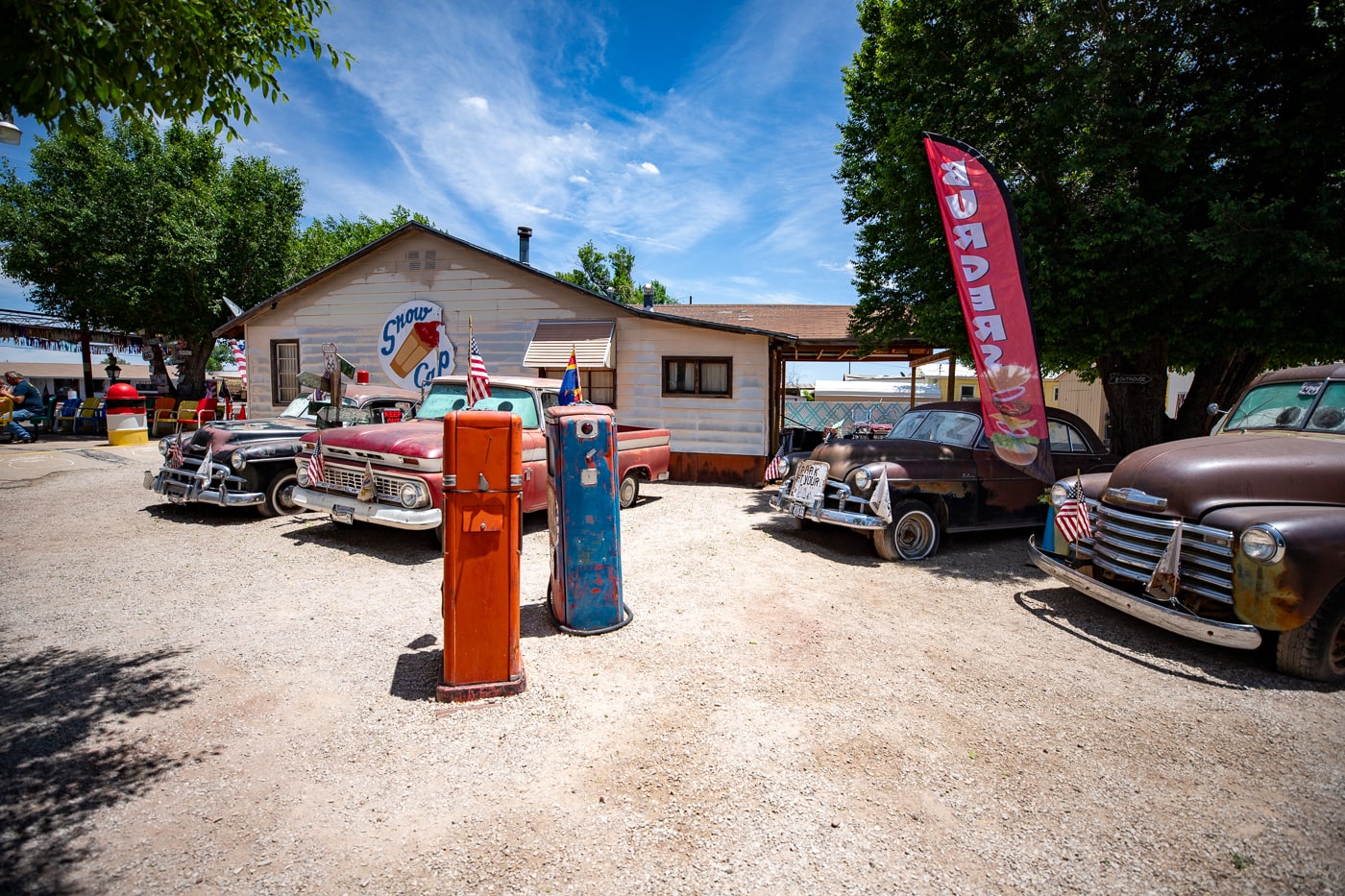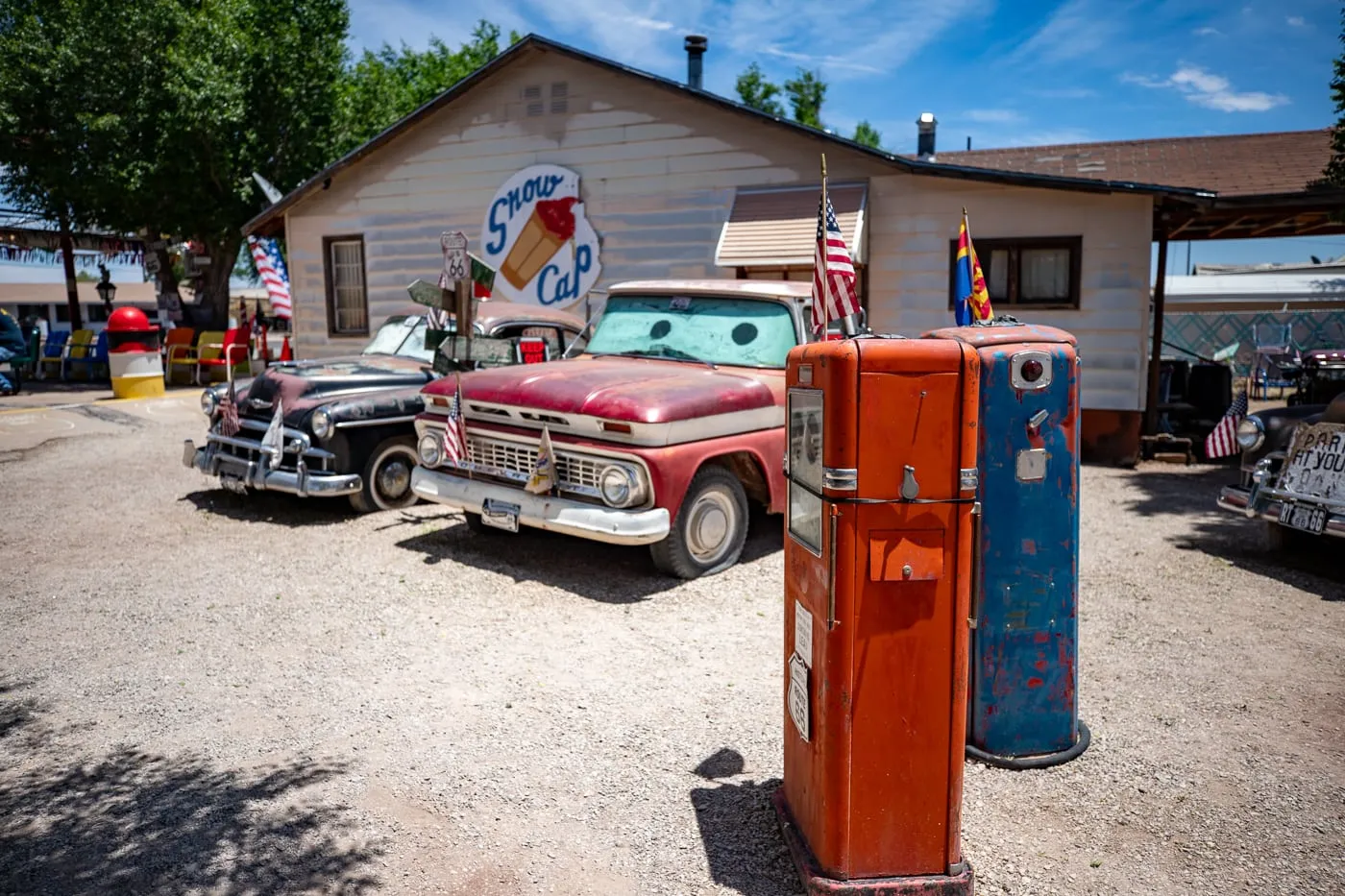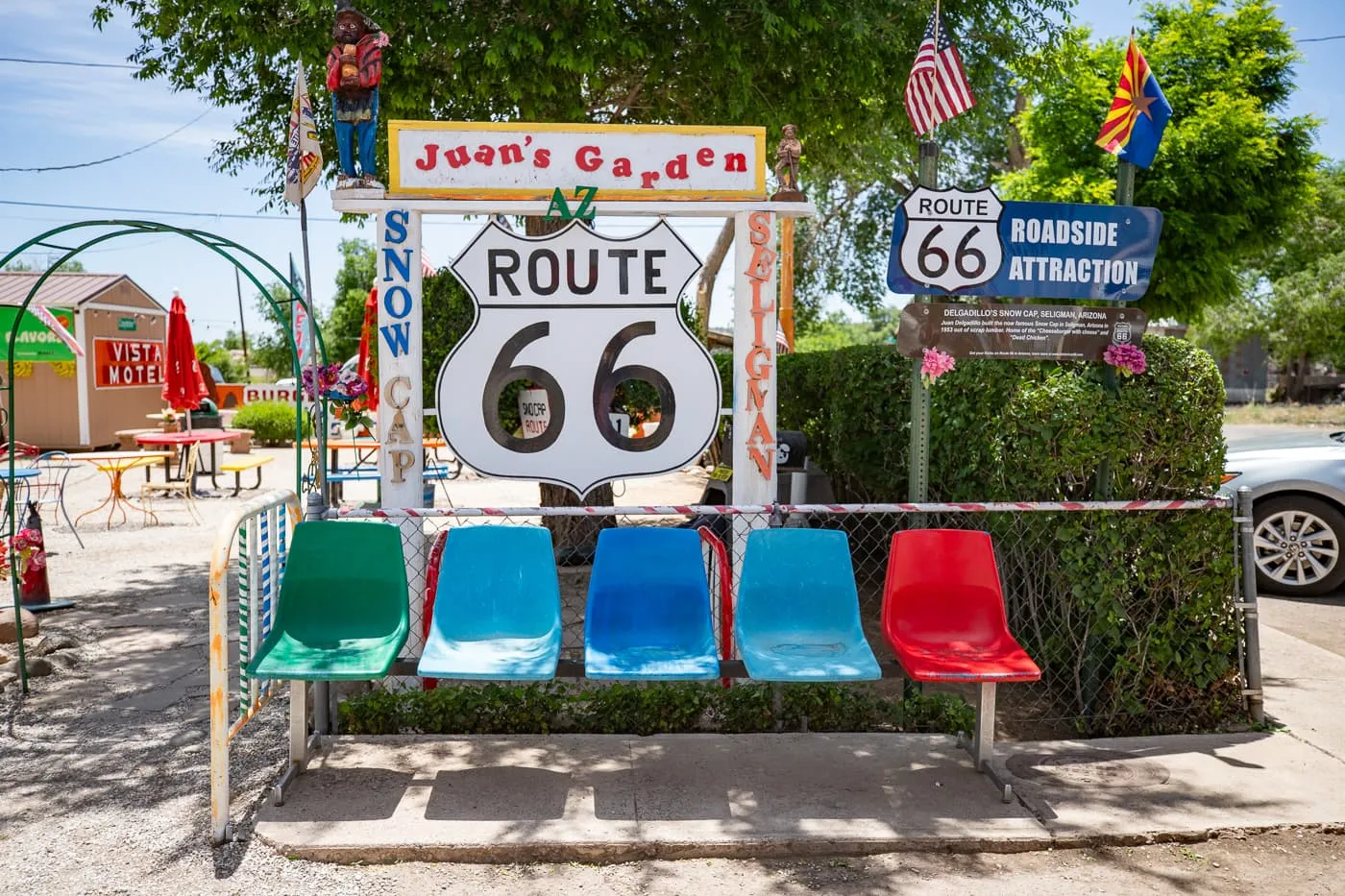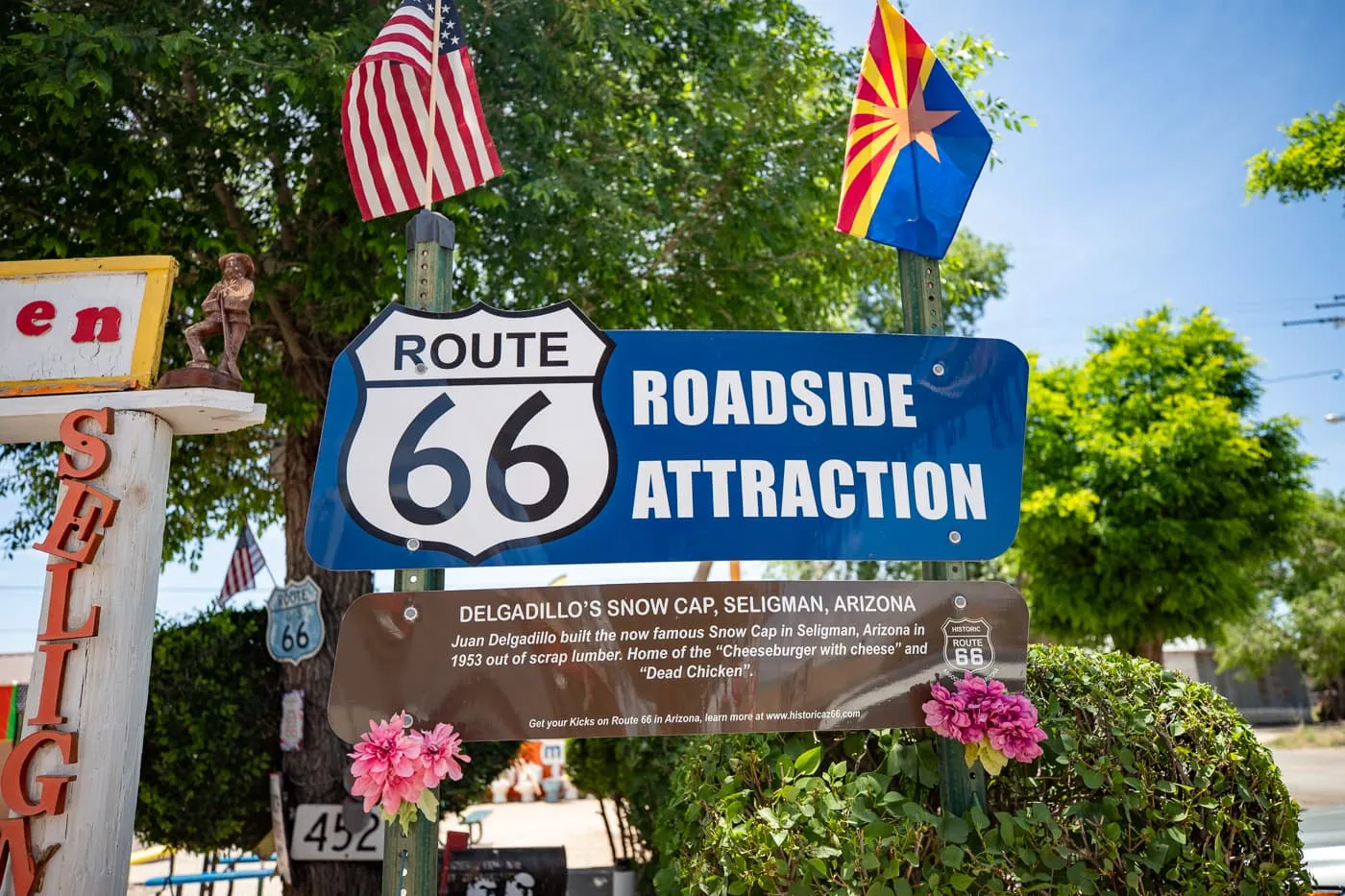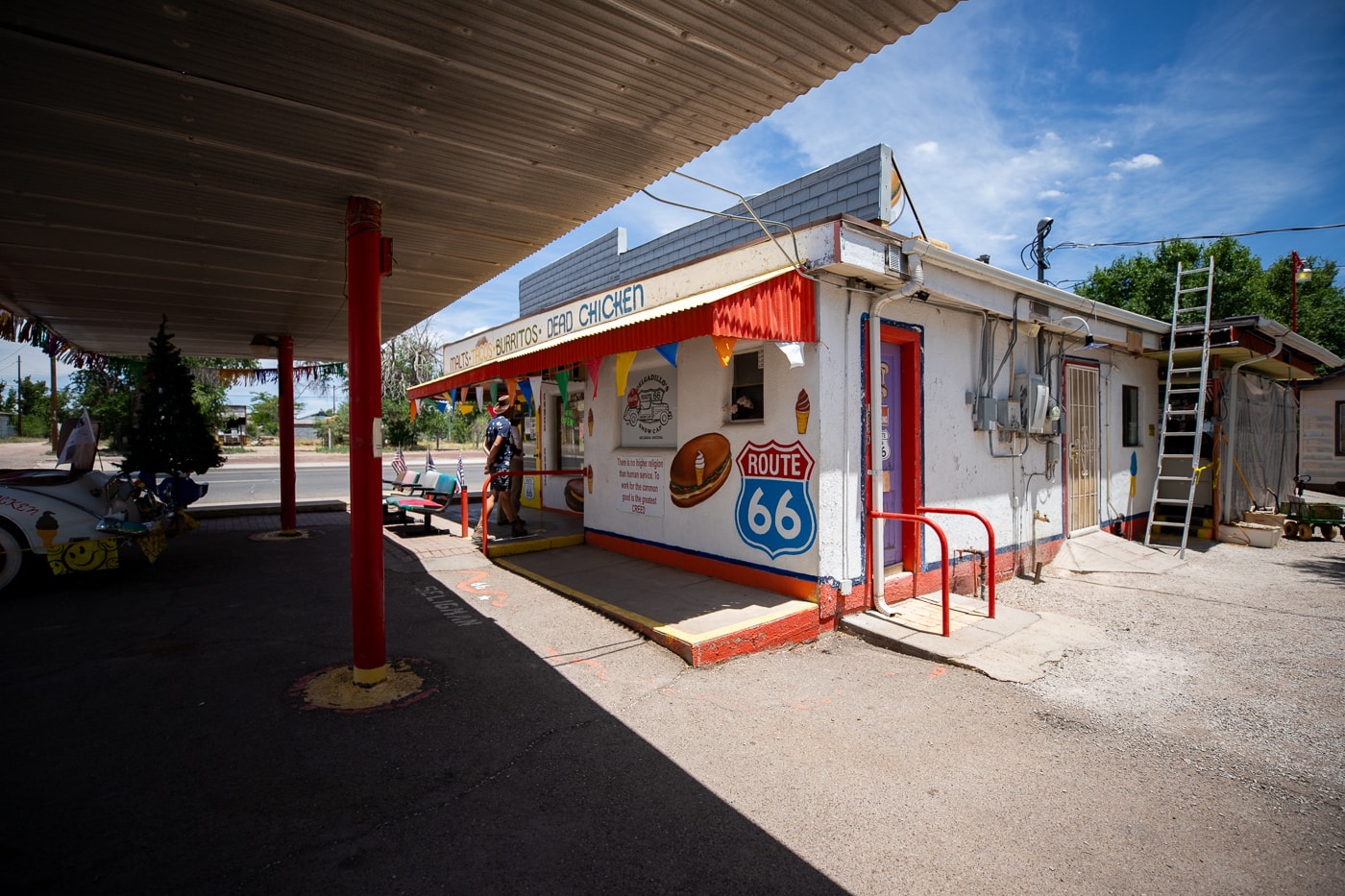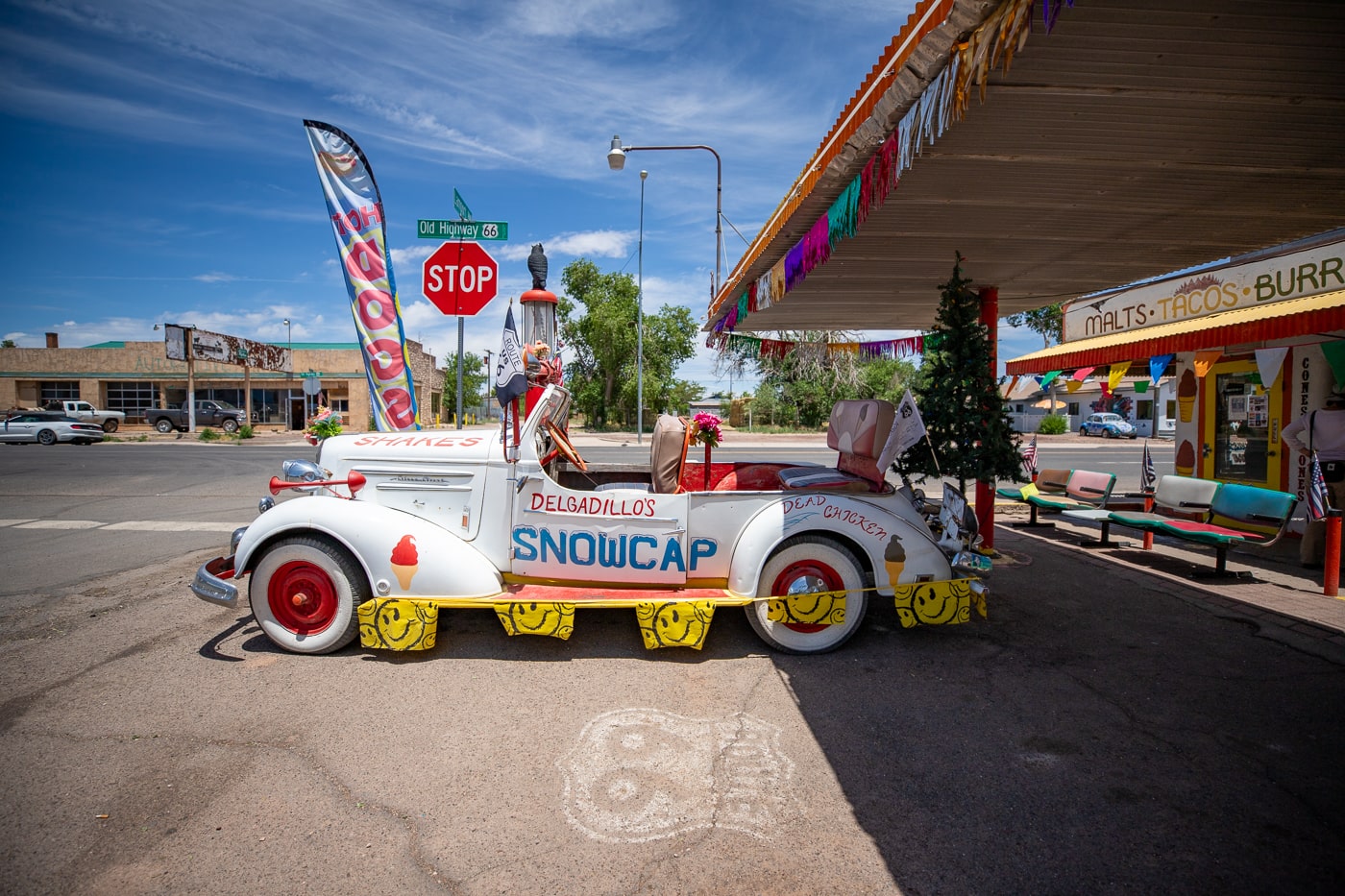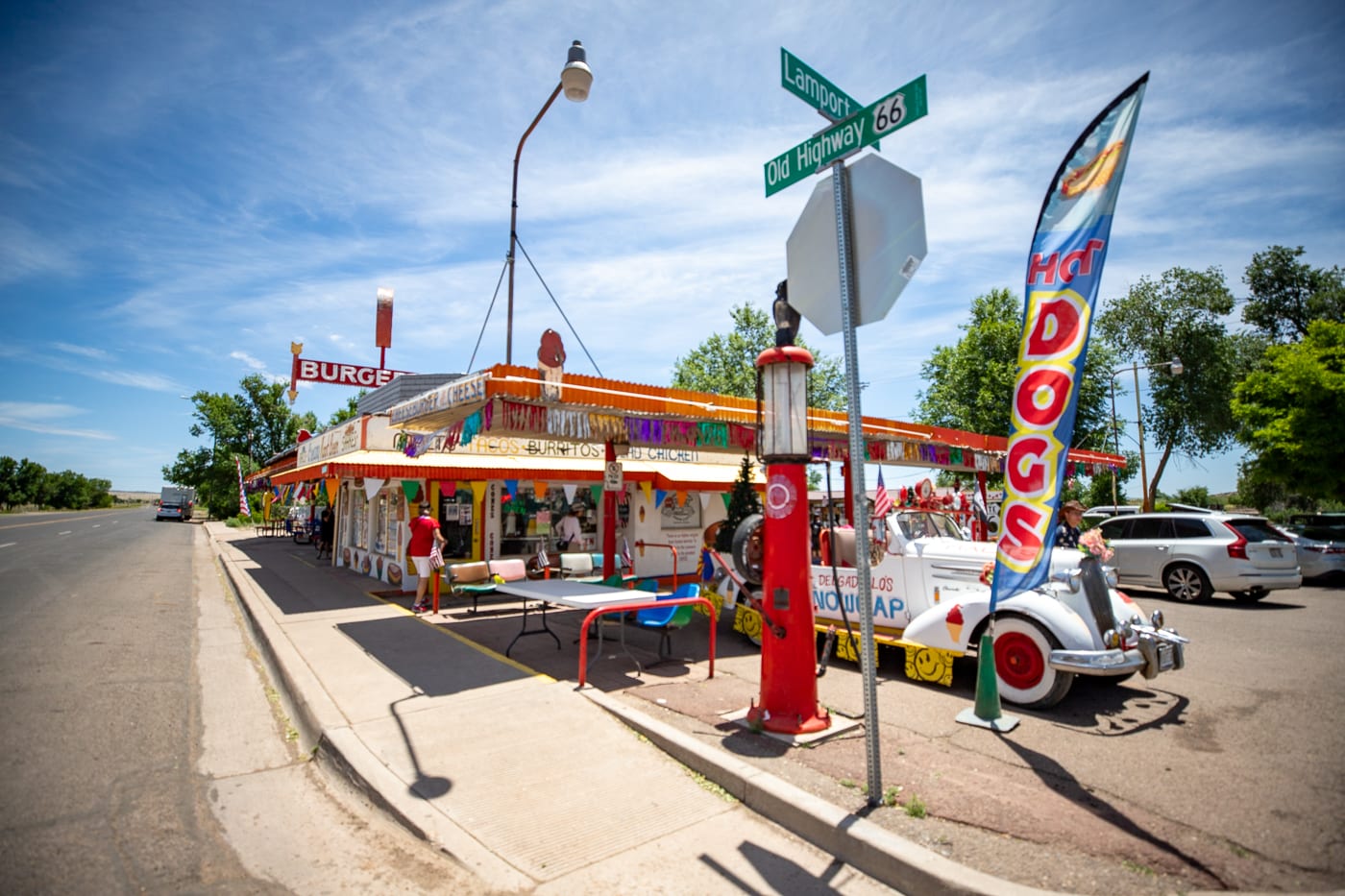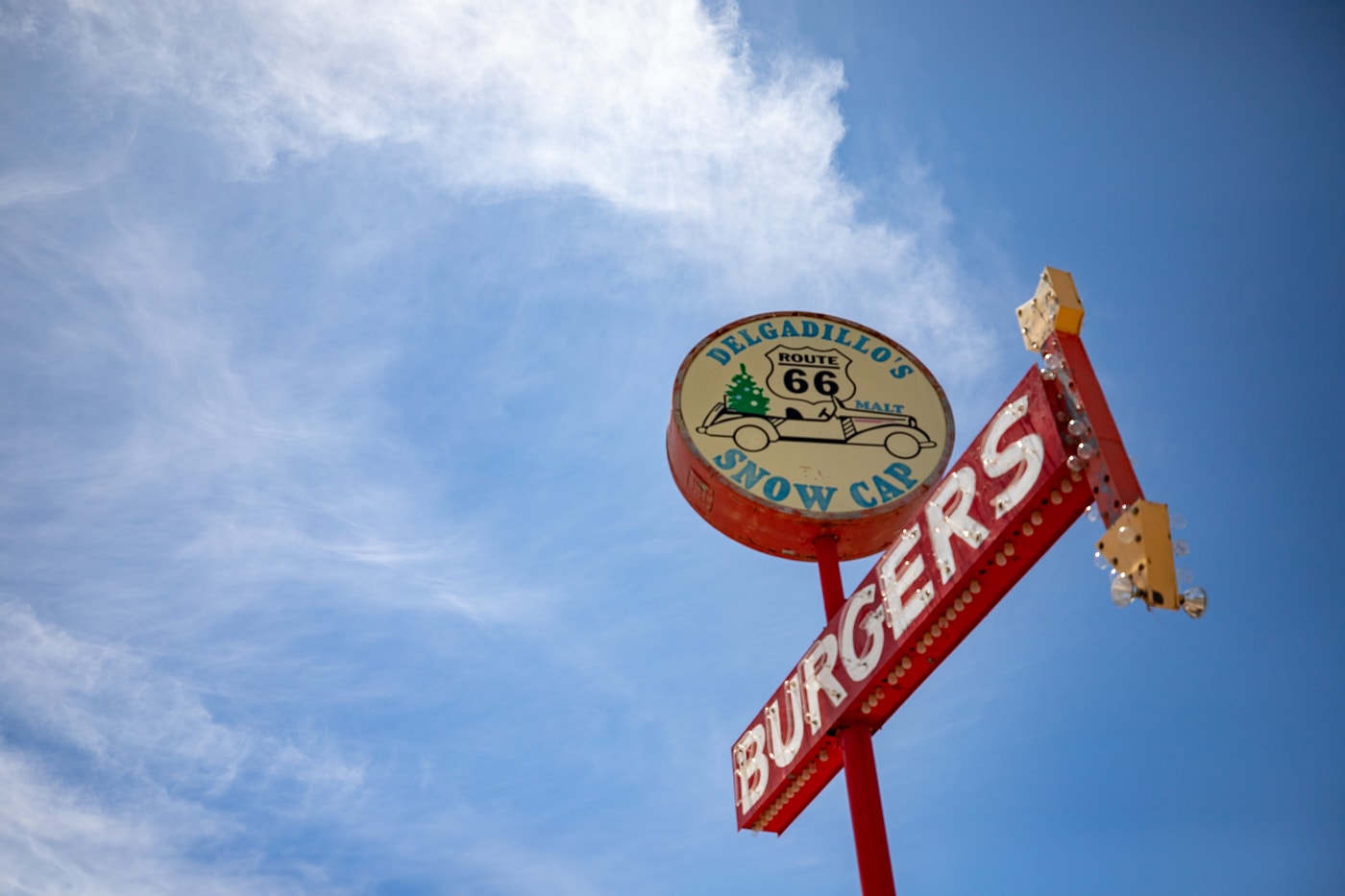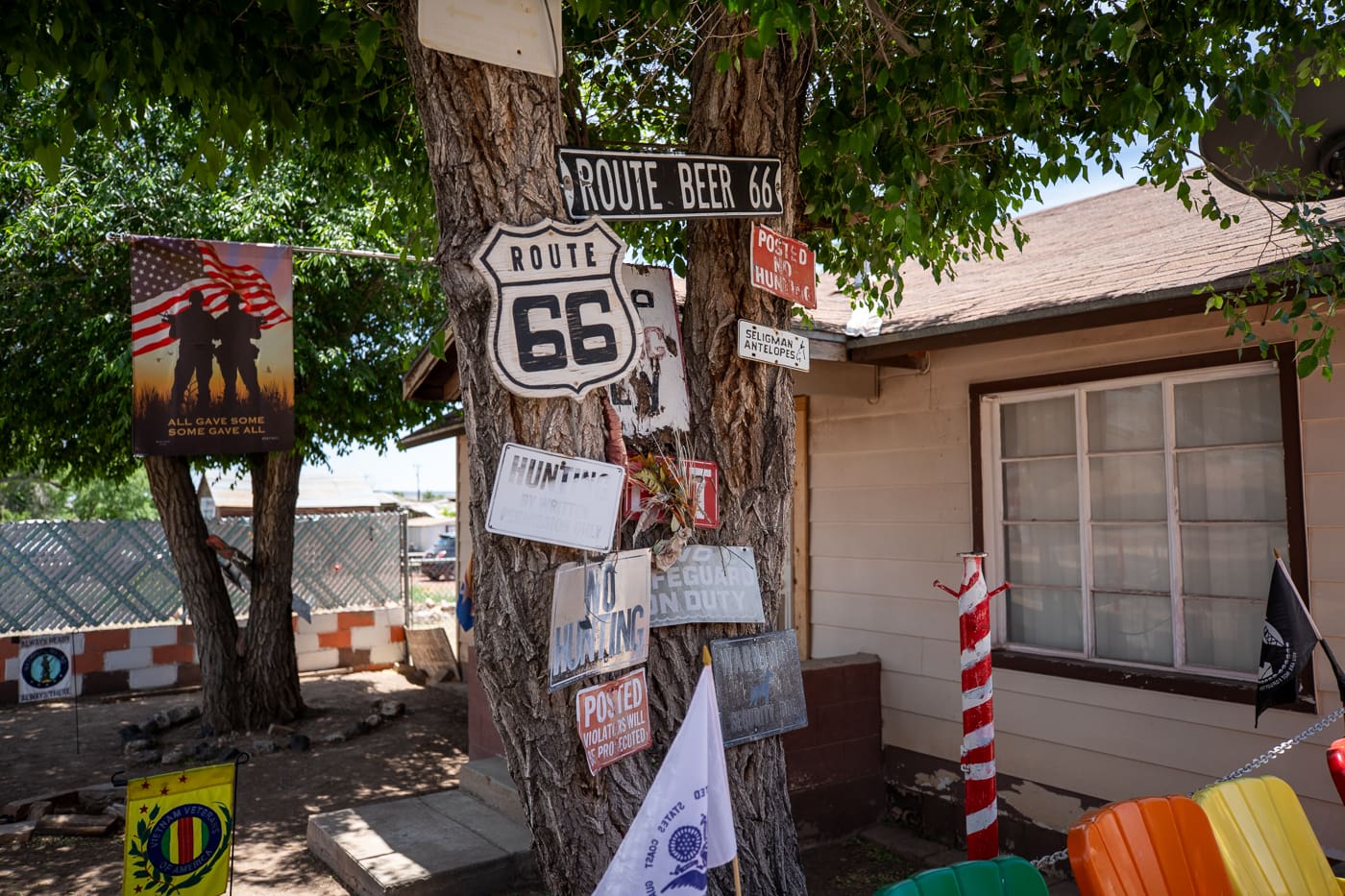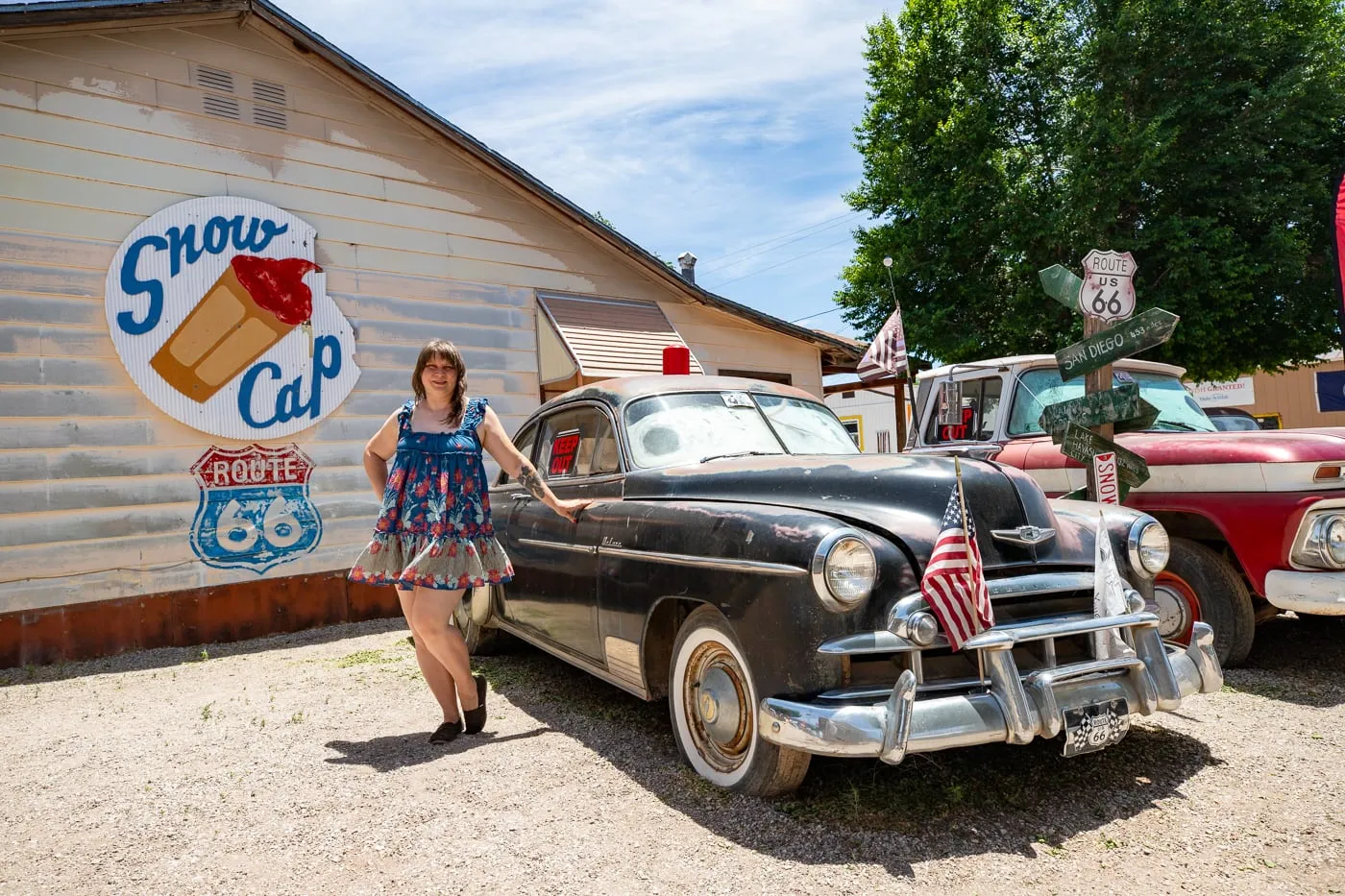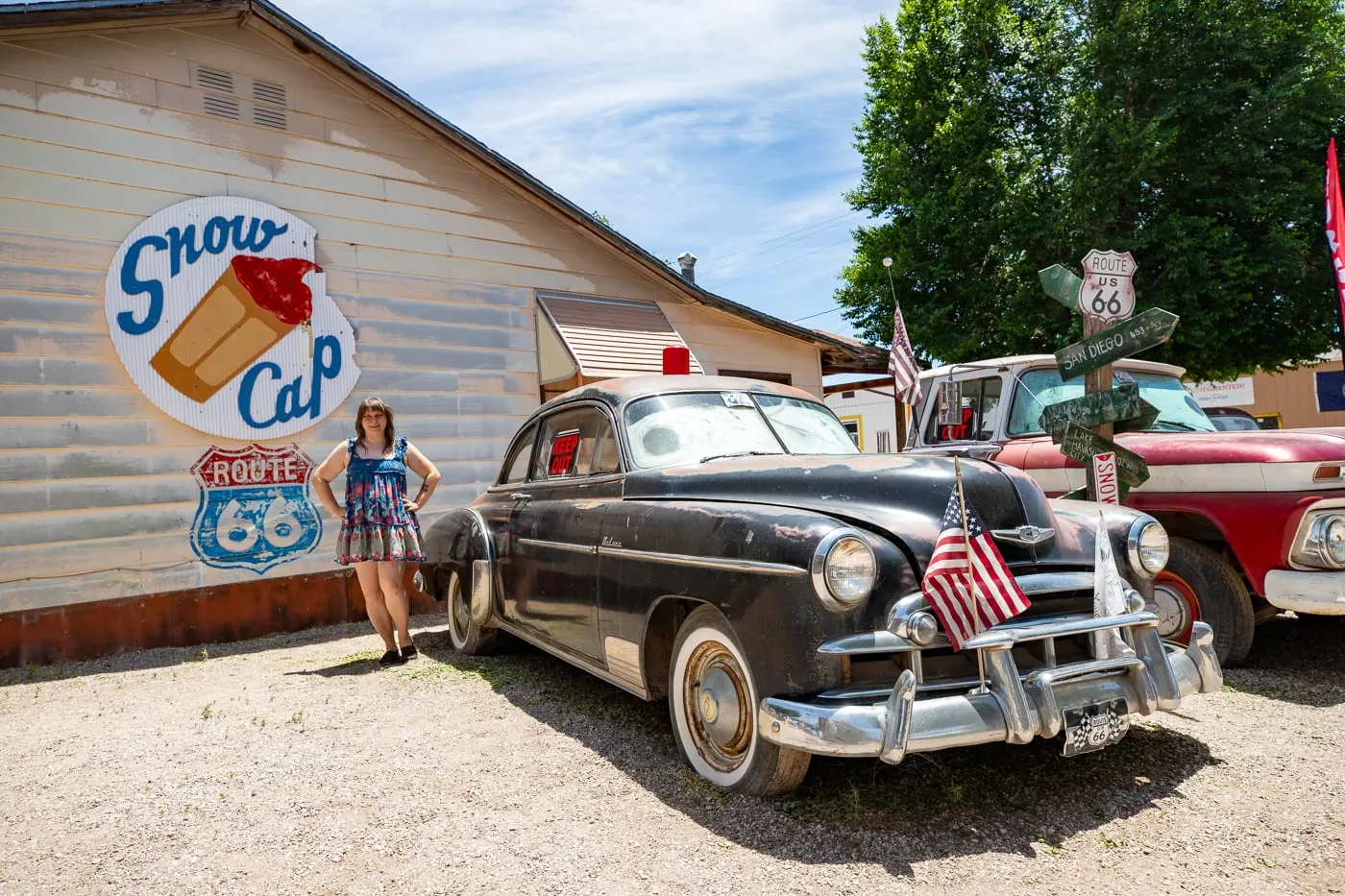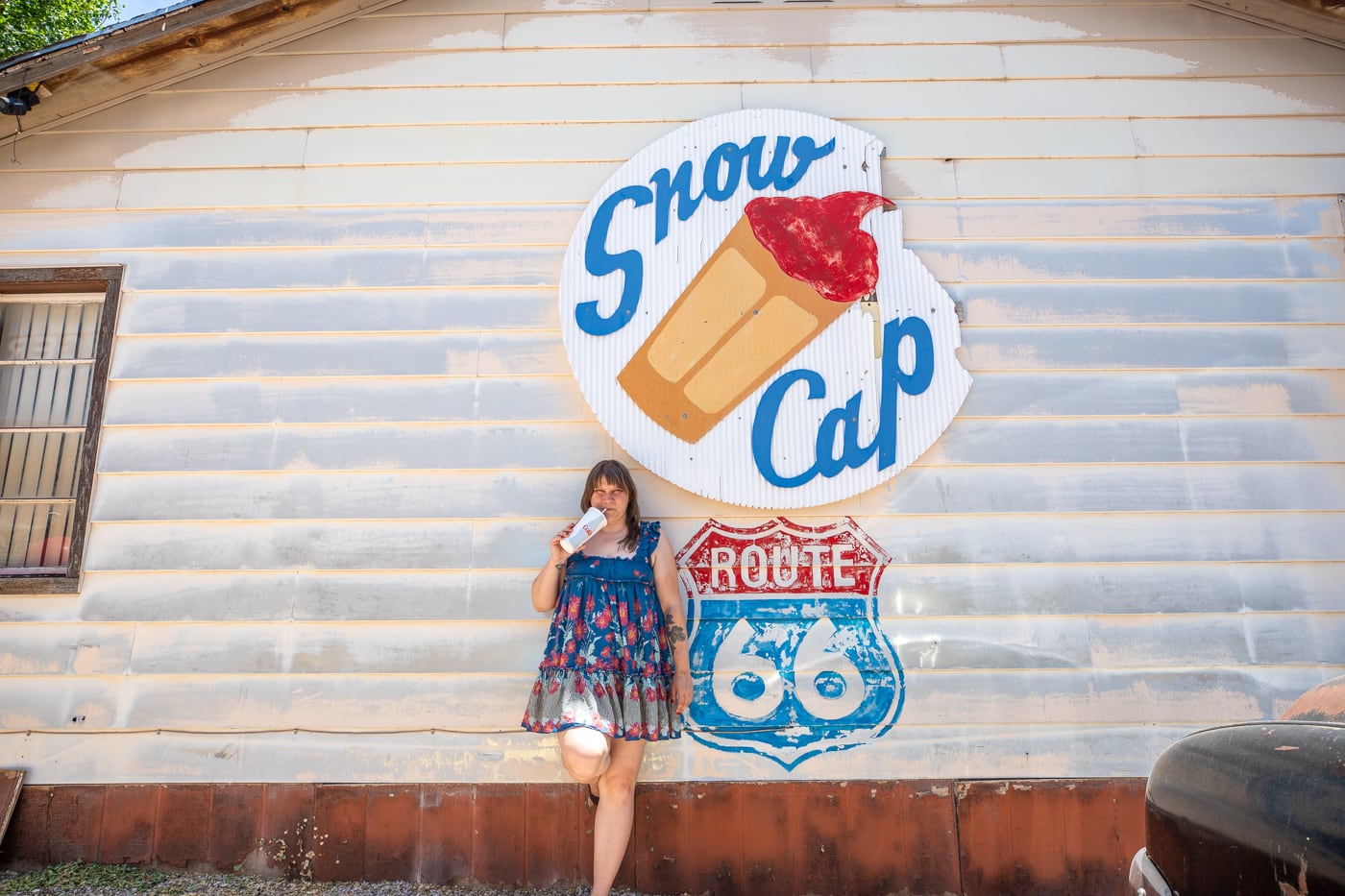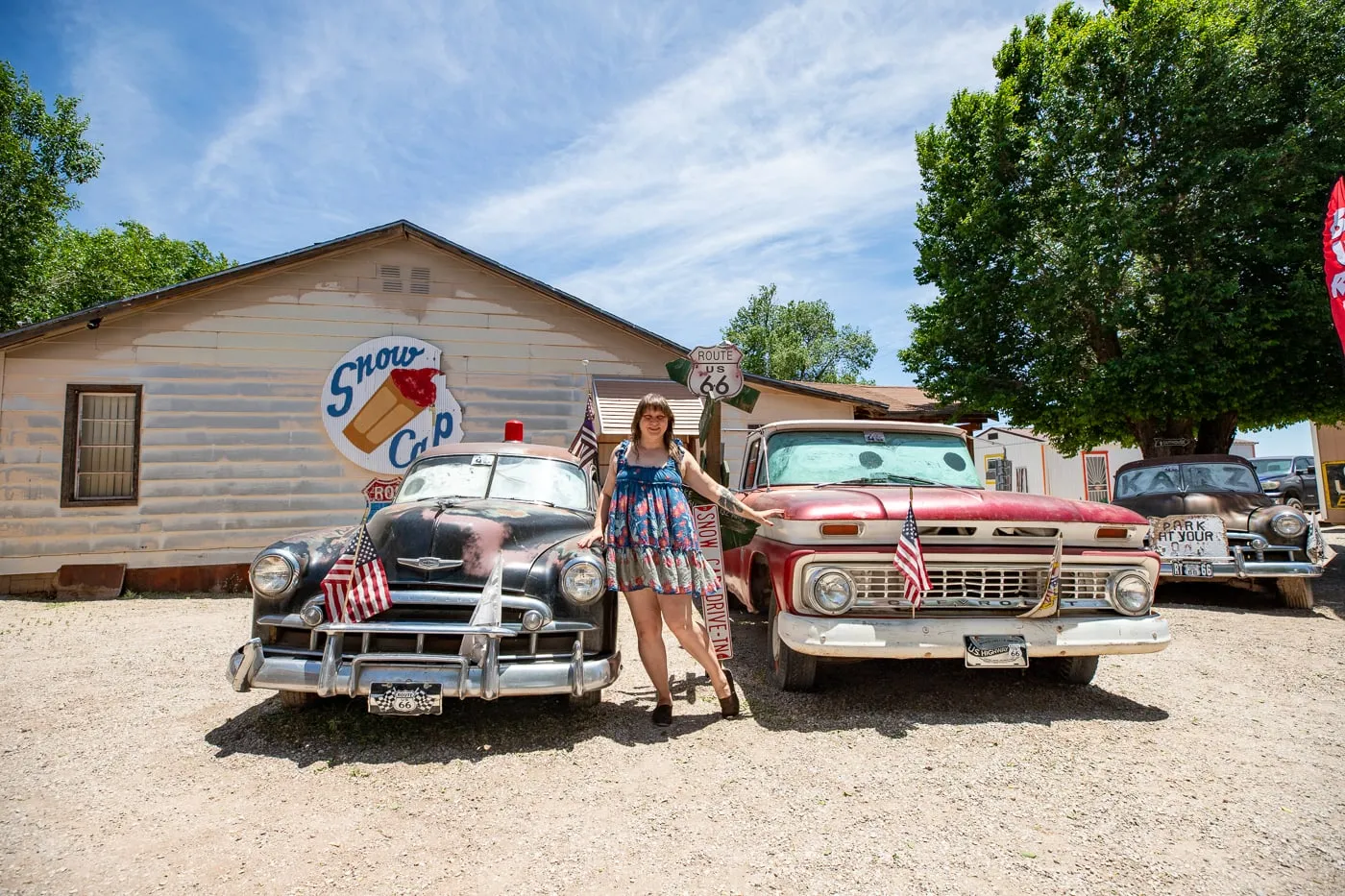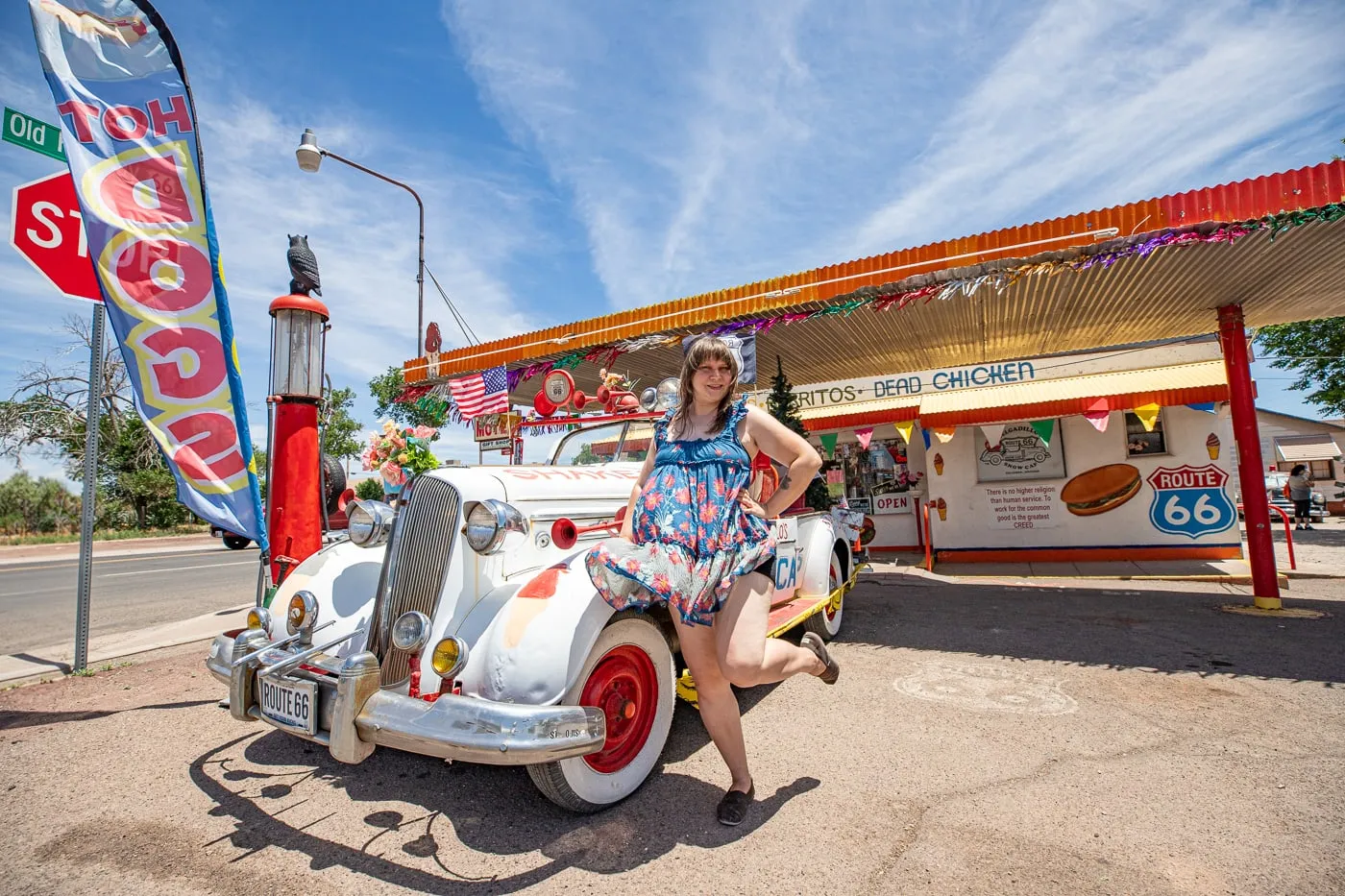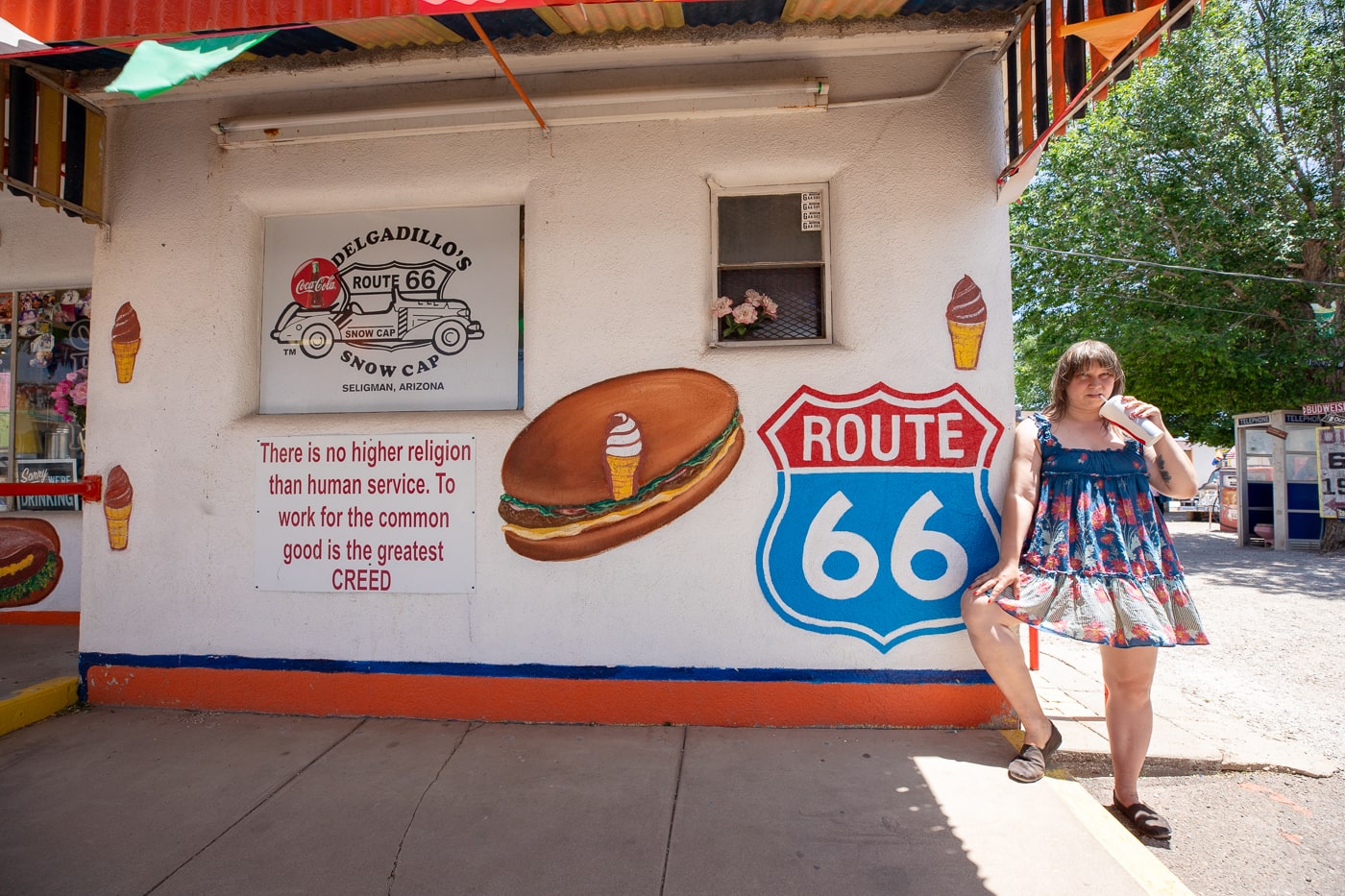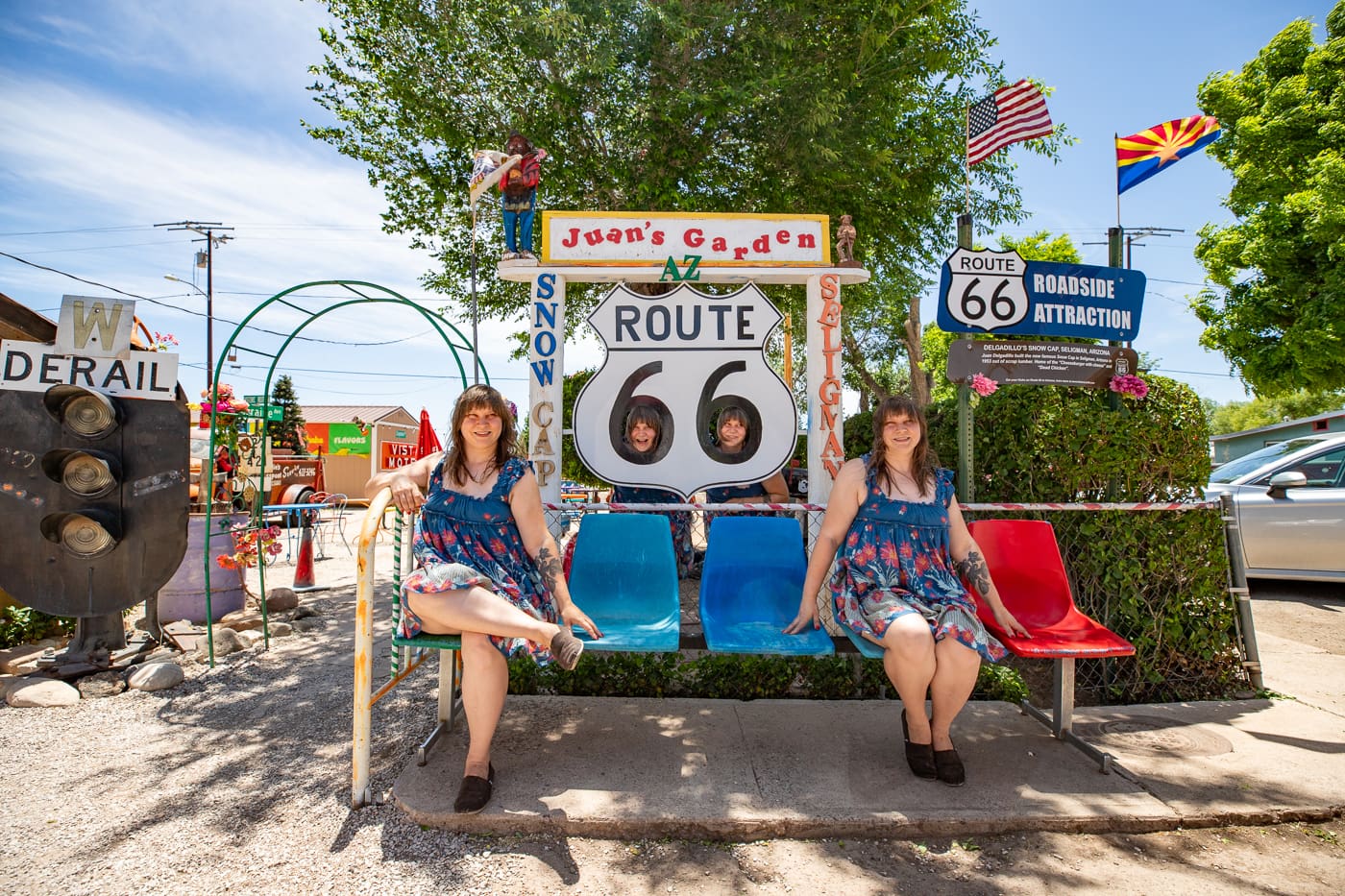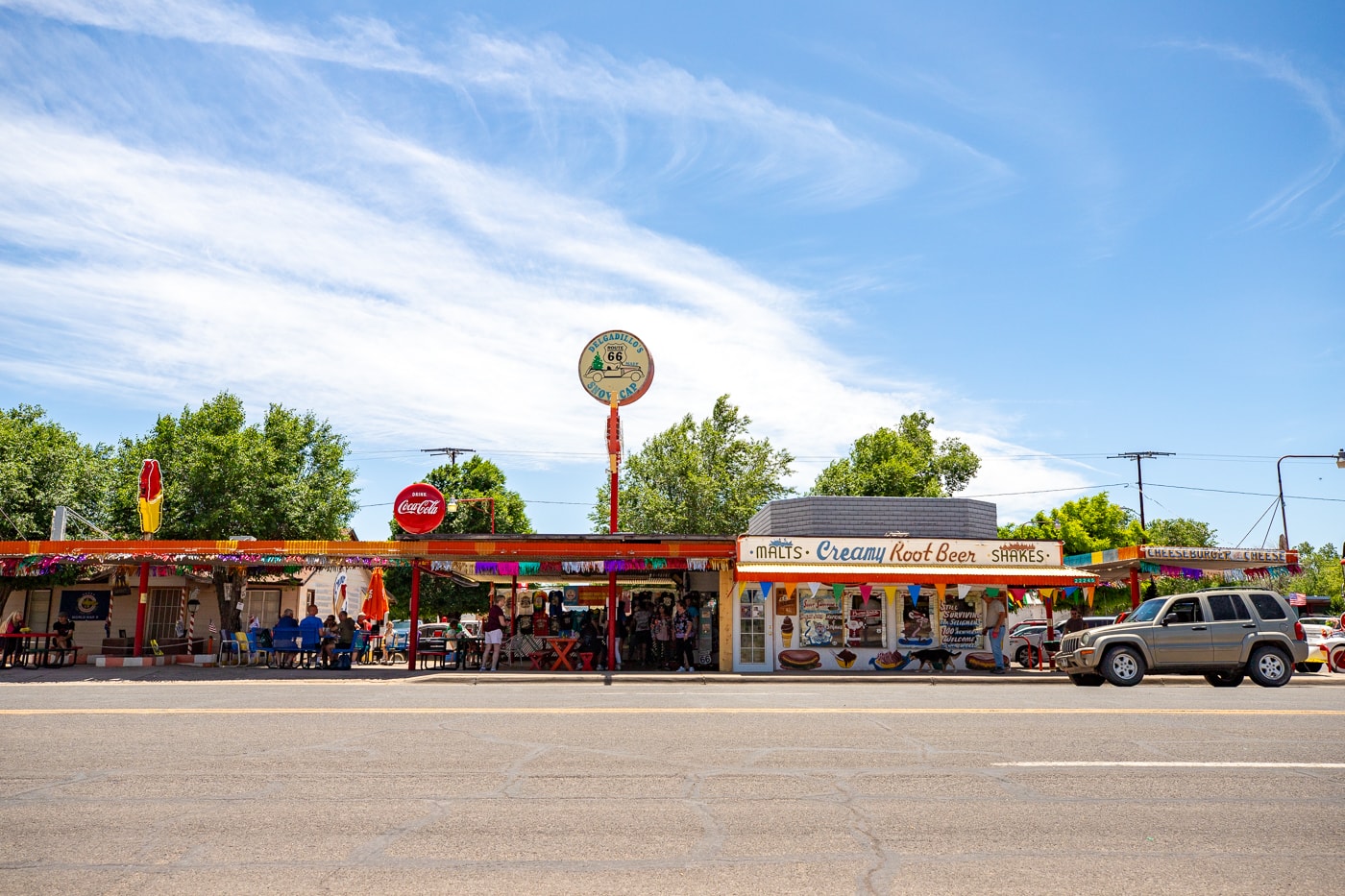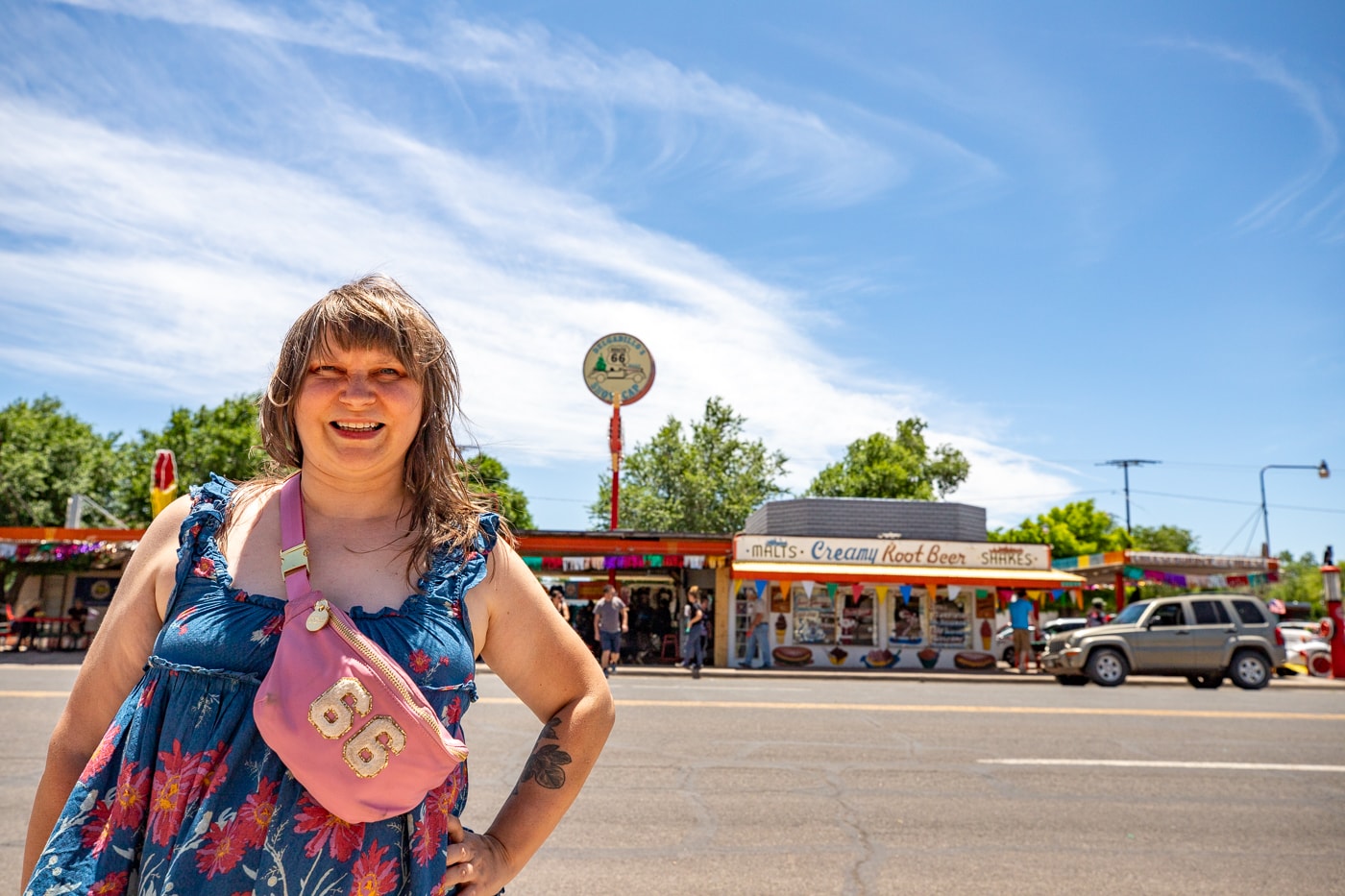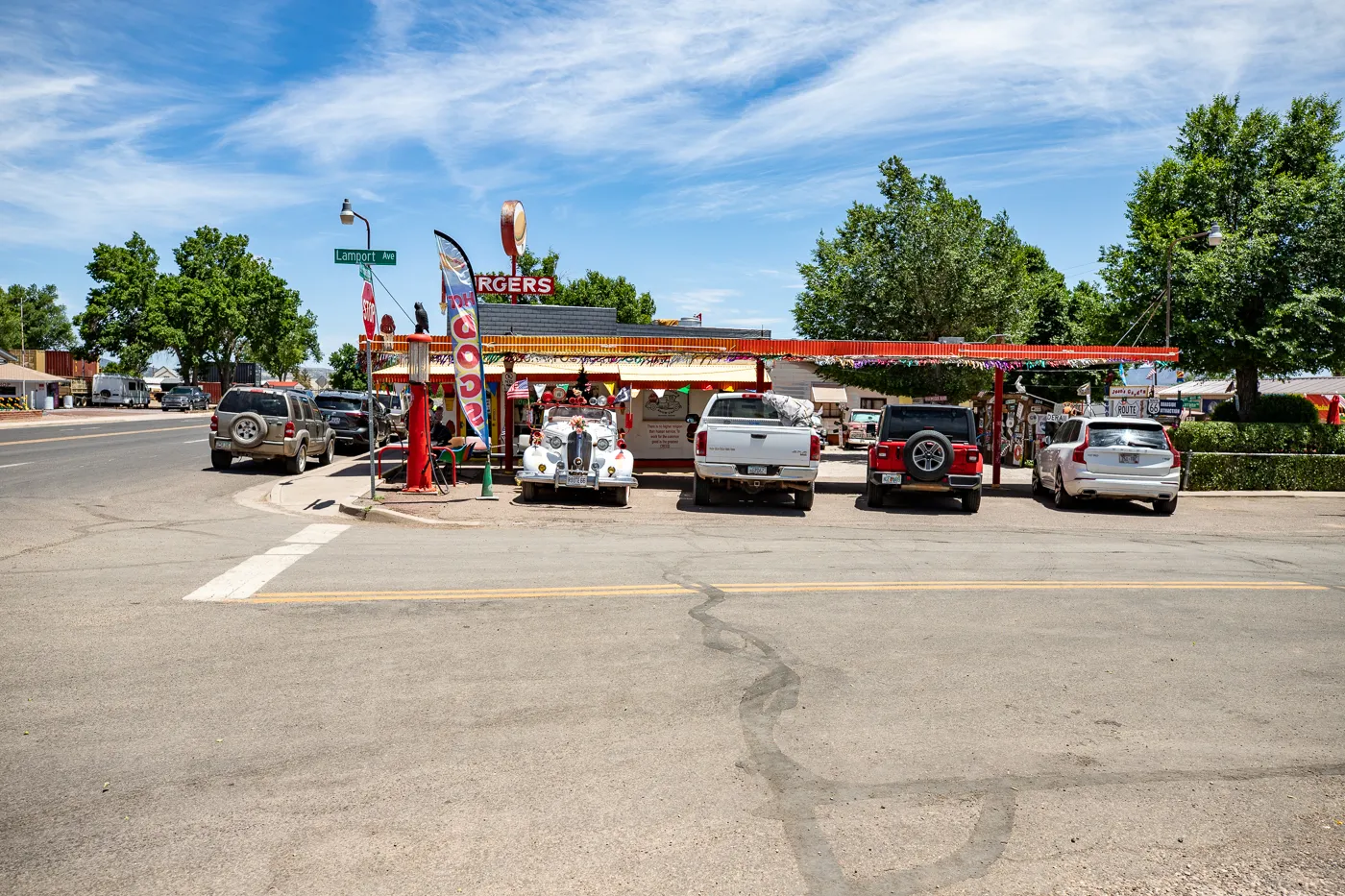 Delgadillo's Snow Cap on Route 66
Address: 301 AZ-66, Seligman, AZ 86337
Cost: Free to See, Food Costs Vary
Hours: 10am-6pm Monday-Saturday, 10am-5pm Sunday
Visit the restaurant's official Facebook page for up-to-date information.
Pin this Arizona Route 66 restaurant to save for your road trip itinerary: