Traveling Route 66 in New Mexico? Stay in style. This vintage motel has been expertly renovated to retain all the vintage charm you'd crave with the modern amenities you need. Spend the night at the historic El Vado Motel in Albuquerque, New Mexico.
El Vado Court opened its doors to travelers in 1937, just one year after Route 66 was born, making it one of the first hotels in New Mexico to cater to those traveling on The Mother Road.
The Albuquerque motel was owned and built by Daniel Murphy, who had previously managed the Franciscan Hotel downtown. Capitalizing on the influx of tourists, he named the hotel "El Vado," meaning Ford in Spanish, after its location proximate to the old ford that crossed the Rio Grande.
The single-story El Vado Court Motel featured 32 units, covered carports, a front office, and on-site gas pumps. A now-iconic neon sign featuring a Native American figure in a headdress lit up the road, beckoning travelers to pull in. It soon became known as one of the best motels on Route 66, and, in 1993, was added to the National Register of Historic Places.
As the years went on and as traffic was diverted away from the once iconic Route 66 motel, El Vado suffered. Ownership changed hands multiple times and it seemingly closed its doors for the last time in 2005.
It was then that a new owner purchased the property with the intention of bulldozing it to the ground to build brand new luxury townhouses. Neither Route 66 aficionados nor the city of Albuquerque were happy with that plan. So they fought to save it from demolition. In 2006 the motel was designated a City Landmark by the Albuquerque City Council, a move that was able to give the landmark a level of protection. And in 2010, after a legal battle, the city was able to gain control of the property and purchase the motel and an adjacent site for more than $2 million.
In 2018, after extensive renovations that brought it back to its former glory, El Vado Motel opened its door to travelers once again.
The restored Route 66 motel retains the historic charm that drew travelers to it in the first place. The adobe-style property is a beautiful example of the Spanish Pueblo Revival style, and is characterized by stuccoed walls, buttresses, stepped massing, curvilinear parapets, and thick vigas. And, of course, there are vibrant blue doors typical of the local architecture.
As part of the $18 million renovation, the motel was reimagined from its original motor-court configuration to a multi-use property. The inner parking lot was removed in favor of a landscaped courtyard and wading pool, perfect for relaxing at on hot summer days. You can also find a convenient tap room, gift shops, and small "food pods" that house a variety of local food vendors.
But a motel is a motel after all, so great detail has also gone into the 22 guest rooms where visitors spend their night. Inside each room you will find Southwest meets mid-century furniture and decor, memory foam beds, cotton linens, eco-friendly toiletries, coffee stations, and large flat-screen TVs.
Whether you're driving Route 66 through New Mexico or vacationing in Albuquerque, El Vado Motel is the perfect spot to spend the night. Just look for the neon sign that still shines brightly out front, calling weary travelers to pull over and stay awhile.
More photos of El Vado Motel in Albuquerque, New Mexico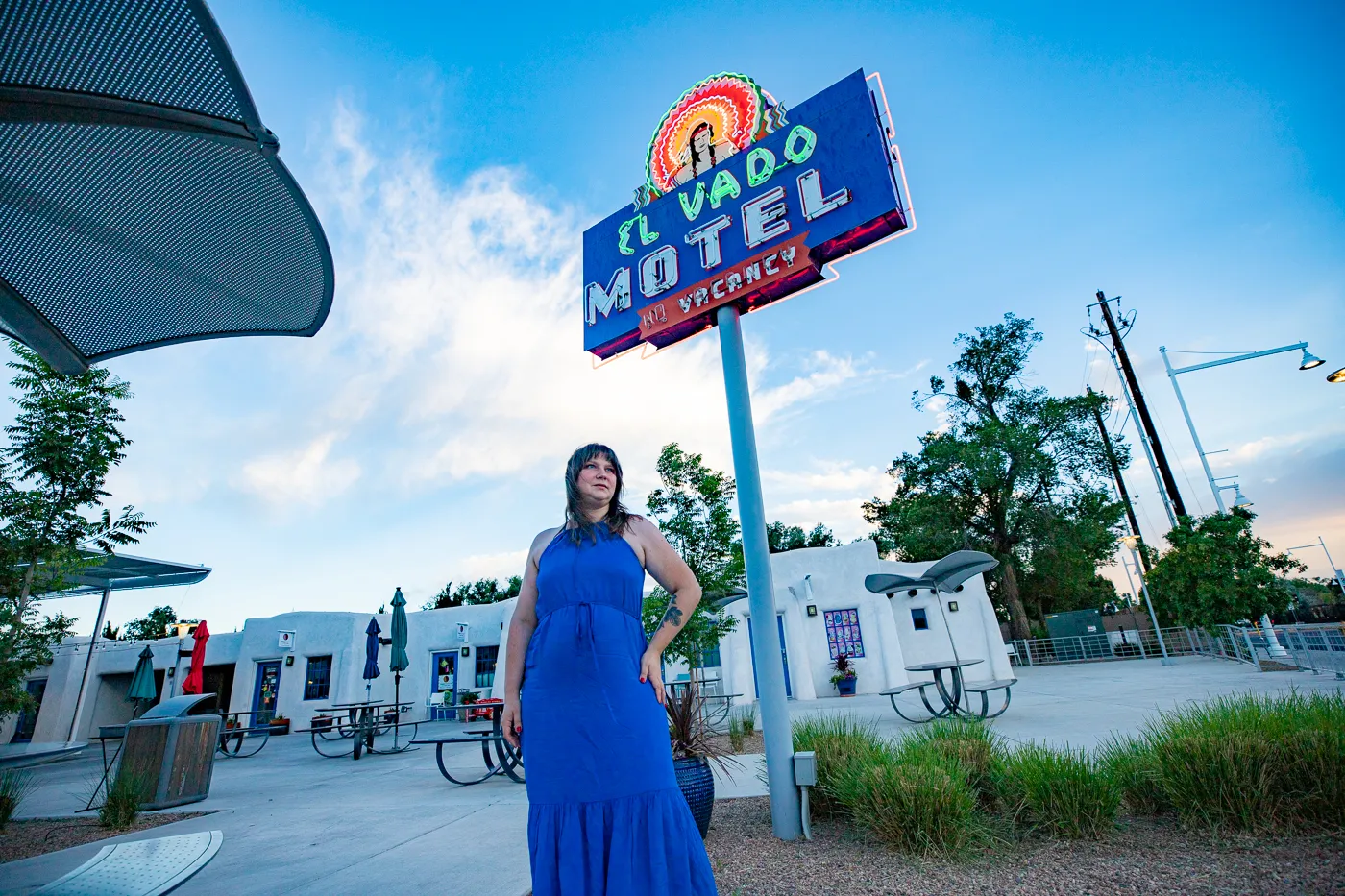 El Vado Motel is conveniently located on Route 66 in Albuquerque, New Mexico. It's only a few blocks away from the Old Town center and the Zoo, Botanic Garden, Tingley Beach, and Aquarium at ABQ BioPark. While in town visit some of the other classic Route 66 attractions in Albuquerque: Dog House, Owl Cafe, and 66 Diner. Or check out the Breaking Bad tour is you're a fan of the show!
El Vado Motel
Address: 2500 Central Ave SW, Albuquerque, NM 87104
Pin this New Mexico Route 66 motel to save for your road trip itinerary: