Route 66 is so packed with breathtaking sites you may start to hear America The Beautiful humming through your head as you drive. But, if you're driving a particular stretch of road near Albuquerque, I assure you, the music is not coming from inside your mind, it's coming from the road. Drive the Route 66 Musical Highway in Tijeras, New Mexico to hear America The Beautiful played with your tires…while you still can!
What is the Route 66 Musical Highway in Tijeras, New Mexico?
The Route 66 Musical Highway is a stretch of road, just outside Albuquerque, that plays a song, in this case America the Beautiful, when your tires drive over the specially constructed rumble strips.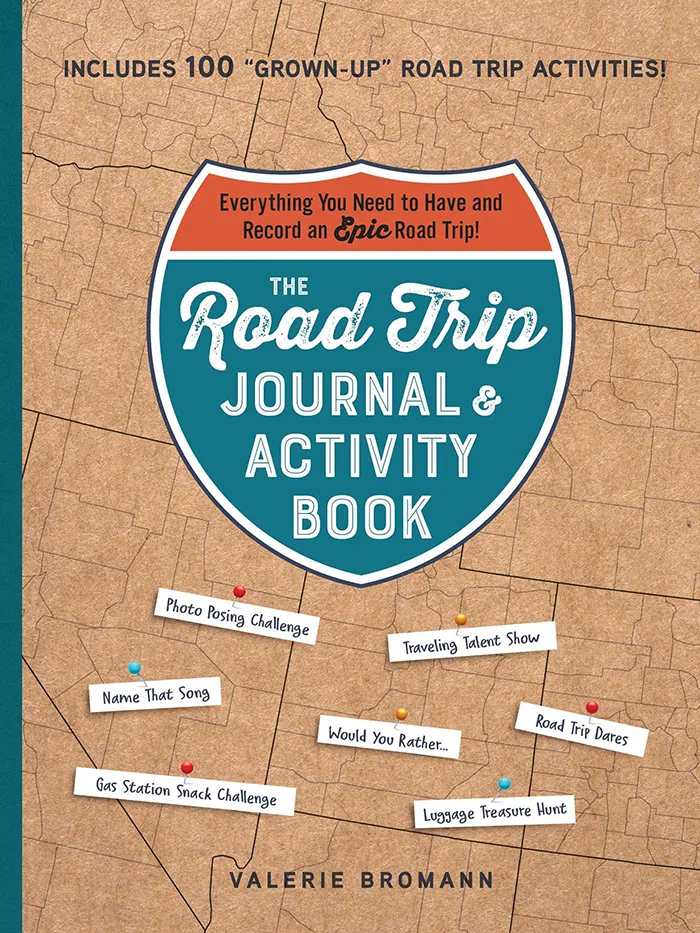 The Road Trip Journal & Activity Book
Everything You Need to Have and Record an Epic Road Trip!
Enjoy fun games and challenges to pass the time on your next road trip and have a keepsake to look back on for years to come with this entertaining must-have for your next vacation.
Work on the Musical Highway was completed in October 2014. It was funded by The National Geographic Society in cooperation with the New Mexico Department of Transportation. Located in Tijeras, New Mexico, between Miles 4 and 5 on New Mexico 333, the attraction not only encouraged visitors to visit this small town it encouraged them to drive the speed limit while doing so.
In order for the song to play correctly you need to drive with your right side car's tires right against the white line in the road and the vehicle needs to be going at exactly 45 miles per hour.
Sadly, this tourist attraction is no longer maintained. Most of the road has been paved over and all of the signage pointing the way has been taken down. Still, a small section of the song remains. So keep your eyes, and ears, open to find the tune!
Note to GPS users: you can find "Musical Highway, U.S. Route 66, Albuquerque, NM" as a landmark on Google Maps. It will take you to approximately the correct spot, but possibly the wrong side of the road. Make sure you are traveling eastbound.
How Do Musical Highways Work?
Musical Highways work using specially-designed rumble strips that cause vibrations and audio signals when your tires come in contact with them. They are usually used as a safety feature that alerts the driver that they are veering into danger. You've probably encountered rumble strips if you've ever accidentally drifted into the shoulder of a highway. The loud rumble reminds you to pay attention and move your car back into your lane.
Musical highways use that technology in a little more of a melodic way. By placing steel bars at specific distances on the road the vibrations made when driving over them can produce a song audible to the driver and anyone nearby.
It's a fun bit of engineering that requires precision. Even a slight variation in placement can throw the melody and tone off and the drivers have to drive at a specific speed (in this case 45 miles per hour) to hear it correctly. Even then, the song will sound different to different drivers depending on the size and weight of the car.
Are There Other Musical Highways?
While the Musical Highway in Tijeras, New Mexico is the only Musical Highway on Route 66, it isn't the only one in existence. There have been multiple musical highways, singing roads, and melody roads across the world, including ones in China, Denmark, France, Hungary, Indonesia, Japan, Netherlands, South Korea, and United Arab Emirates. Find a comprehensive list here.
There are also two other musical highways in the United States:
War Eagle Road at Auburn University in Alabama: Created in October 2019 by Tim Arnold, an alumnus of the College of Engineering, this musical road plays the first seven notes of the Auburn Tigers fight song, "War Eagle," when driven over at 35 miles per hour.
The Civic Musical Road in Lancaster, California: Installed on September 5, 2008, the Civic Musical Road used grooves cut into the asphalt to play the finale of the William Tell overture. It was paved over shortly after due to noise complaints but was then relocated a couple miles away. It is called the Civic Musical Road because it appears in commercials for the Honda Civic.
Route 66 Musical Highway
Address: 310 U.S. Rt. 66, Albuquerque, NM 87123
Cost: Free to See (and Hear!)
Hours: Available 24/7
Pin this New Mexico Route 66 roadside attraction to save for your road trip itinerary: