You won't find these Cadillacs cruising down the street but you will find them on one of the most famous streets in America. It's one of the most recognizable roadside attractions on Route 66: Cadillac Ranch in Amarillo, Texas.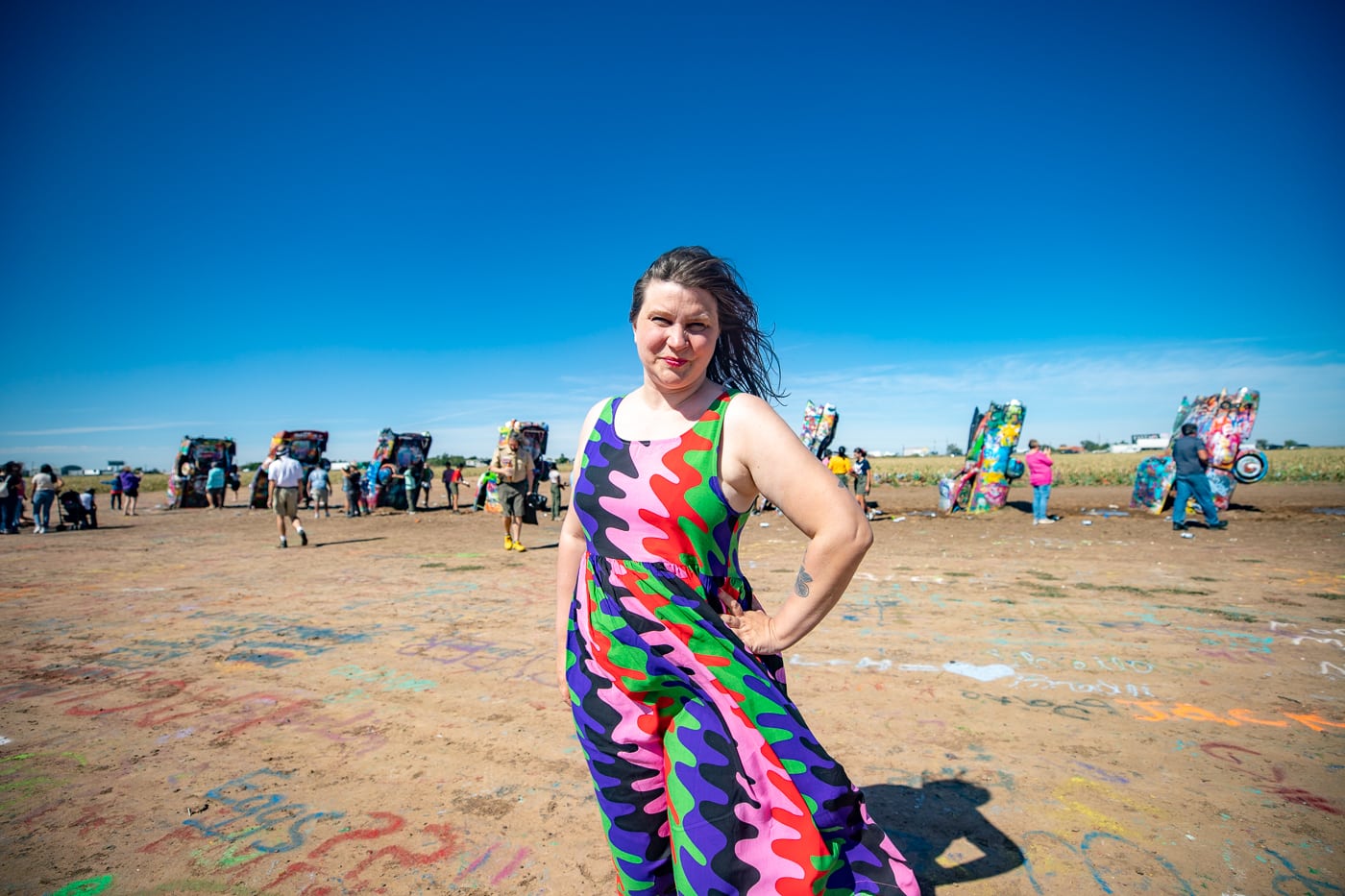 Cadillac Ranch is an art installation consisting of ten Cadillac cars, all half buried, nose down in the dirt, slanted and standing in a row. Each one is a different model, spanning from a 1949 Club Sedan to a 1963 Sedan de Ville.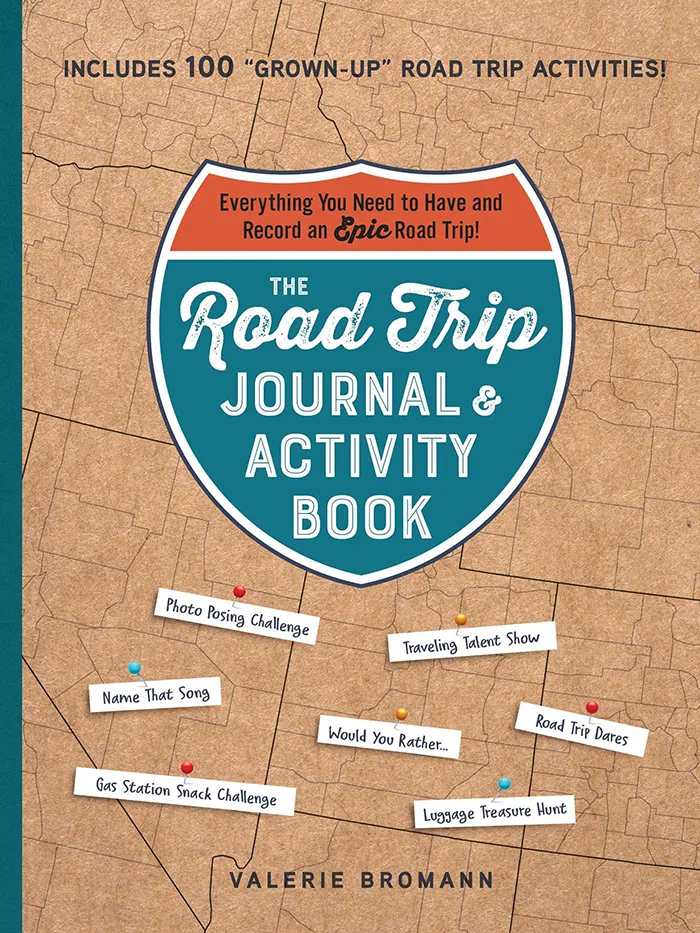 The Road Trip Journal & Activity Book
Everything You Need to Have and Record an Epic Road Trip!
Enjoy fun games and challenges to pass the time on your next road trip and have a keepsake to look back on for years to come with this entertaining must-have for your next vacation.
The Texas roadside attraction is located on historic Route 66 (and modern day I-40) and has been attracting visitors since 1974. Though it didn't always live in the location you can find it today. It used to be located two miles east but, as Amarillo grew and property became prime, it was dug up and replanted in 1997.
The artwork was the work of The Ant Farm, a San Francisco media-based collective founded by Chip Lord (1944) and Doug Michels (1943 – 2003). Sponsored by Texas millionaire Stanley Marsh 3, the cars were meant to both perplex locals and serve as tribute to the evolution of the Cadillac tailfin.
It's hard to believe the cars in this Cadillac graveyard ever had a standard factory-issue paint job. They now sport a thick coat of an ever changing colorful explosion of spray paint. Visitors are encouraged to bring a can and add their own touches to the cars. Just, be respectful and don't leave your empty cans behind. And if you didn't bring your own spray paint, you're in luck: a trailer at the entrance sells cans to visitors alongside souvenirs.
In September 2019, an arsonist set fire to the oldest of the cars, setting the roadside attraction ablaze but, luckily, not doing any structural damage to the vintage Cadillac.
This is one Texas Route 66 roadside attraction that you AUTO check out! But be aware: while fun to visit, this was one of the most crowded roadside attractions I've ever seen! There was even an entire girl scout troupe there! Look to visit on off days and hours (Saturday afternoon is not the best time) or, for a similar experience, visit nearby Ozymandias on the Plain (created by the same people) or the not-as-famous VW Slug Bug Ranch in Conway, Texas.
And, if you're worked up an appetite while spray painting these cars, head to Amarillo's famous The Big Texan Steak Ranch or continue your journey on Route 66 to try an ugly crust pie at the Midpoint Cafe.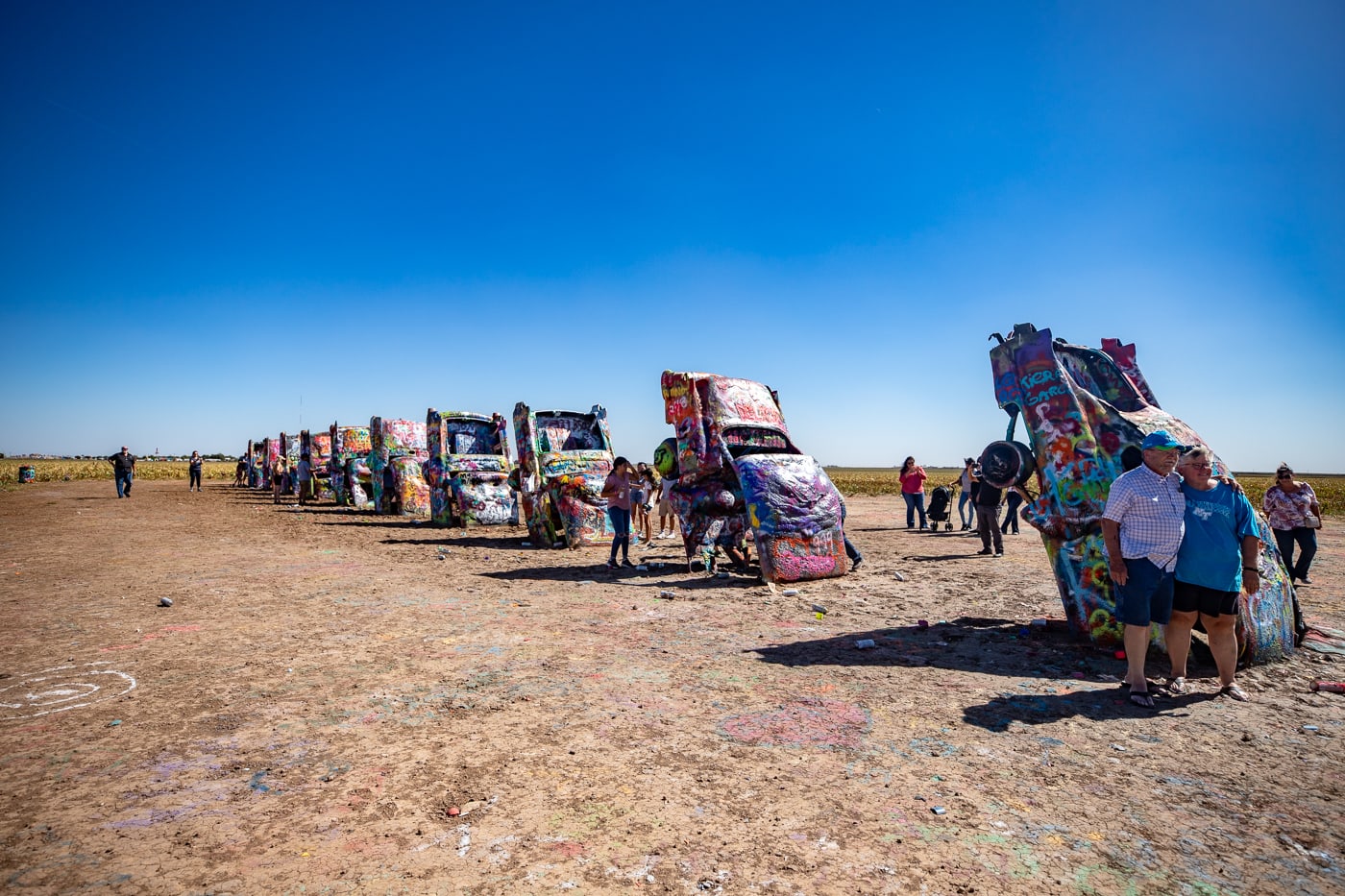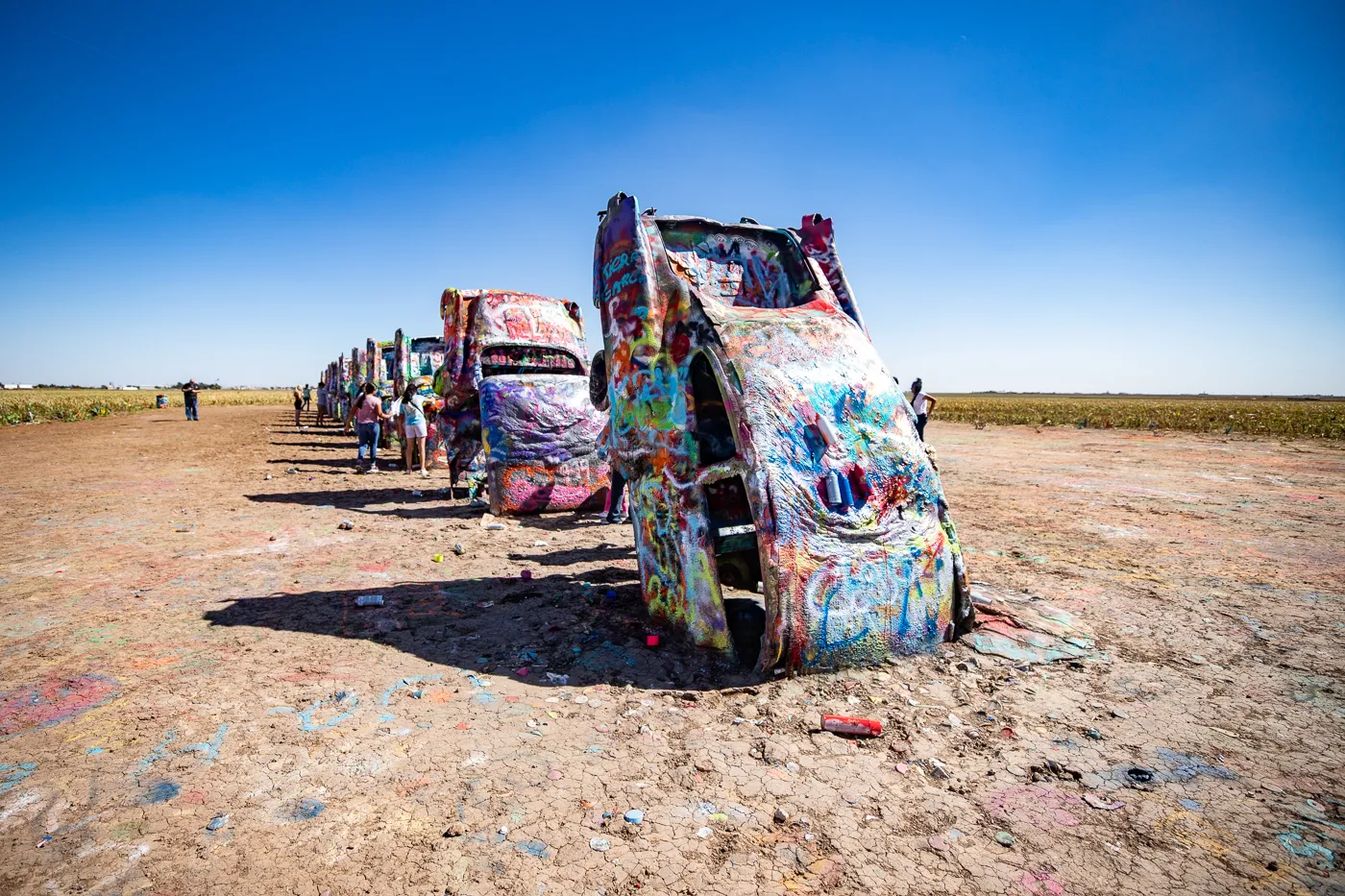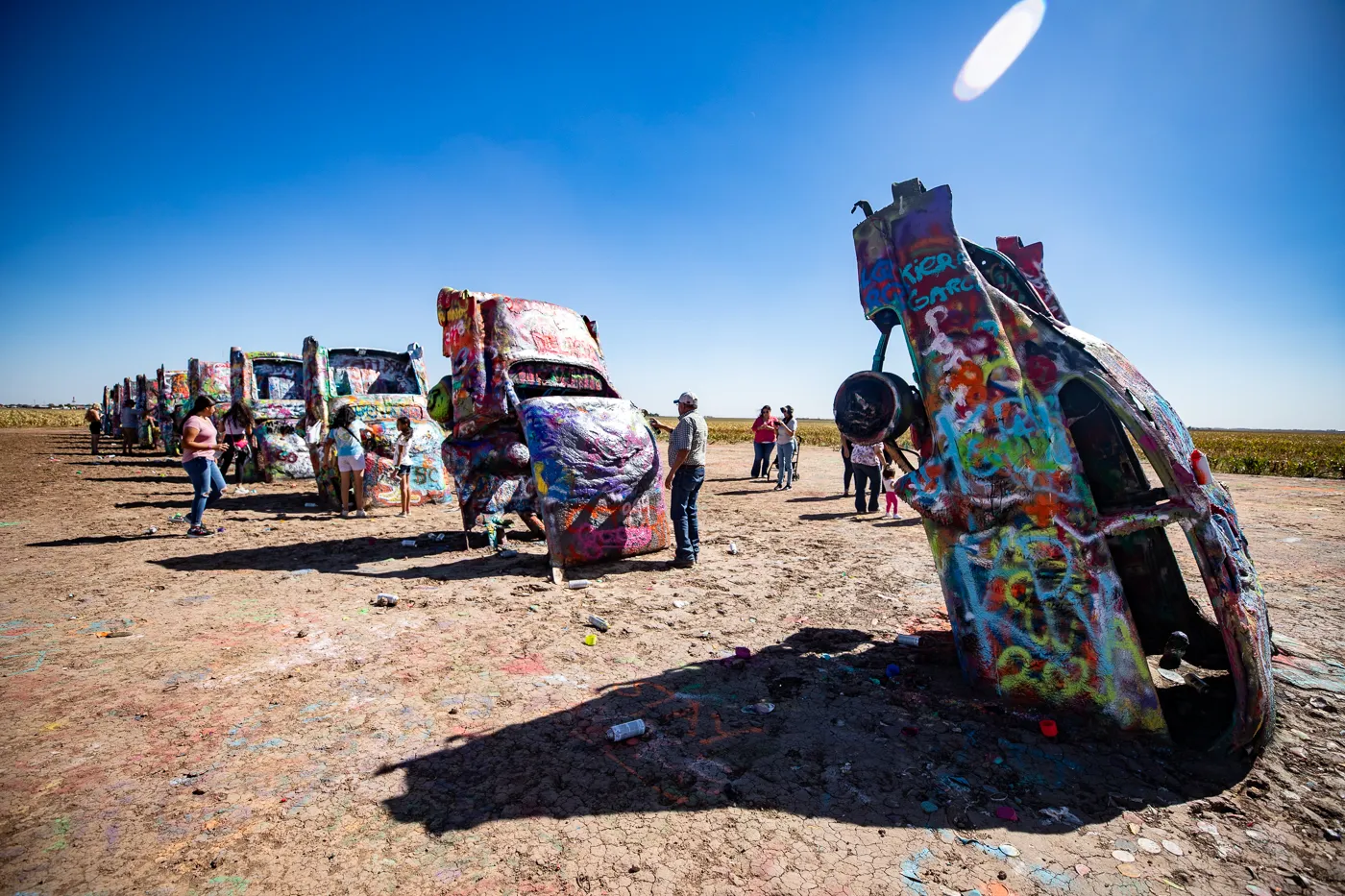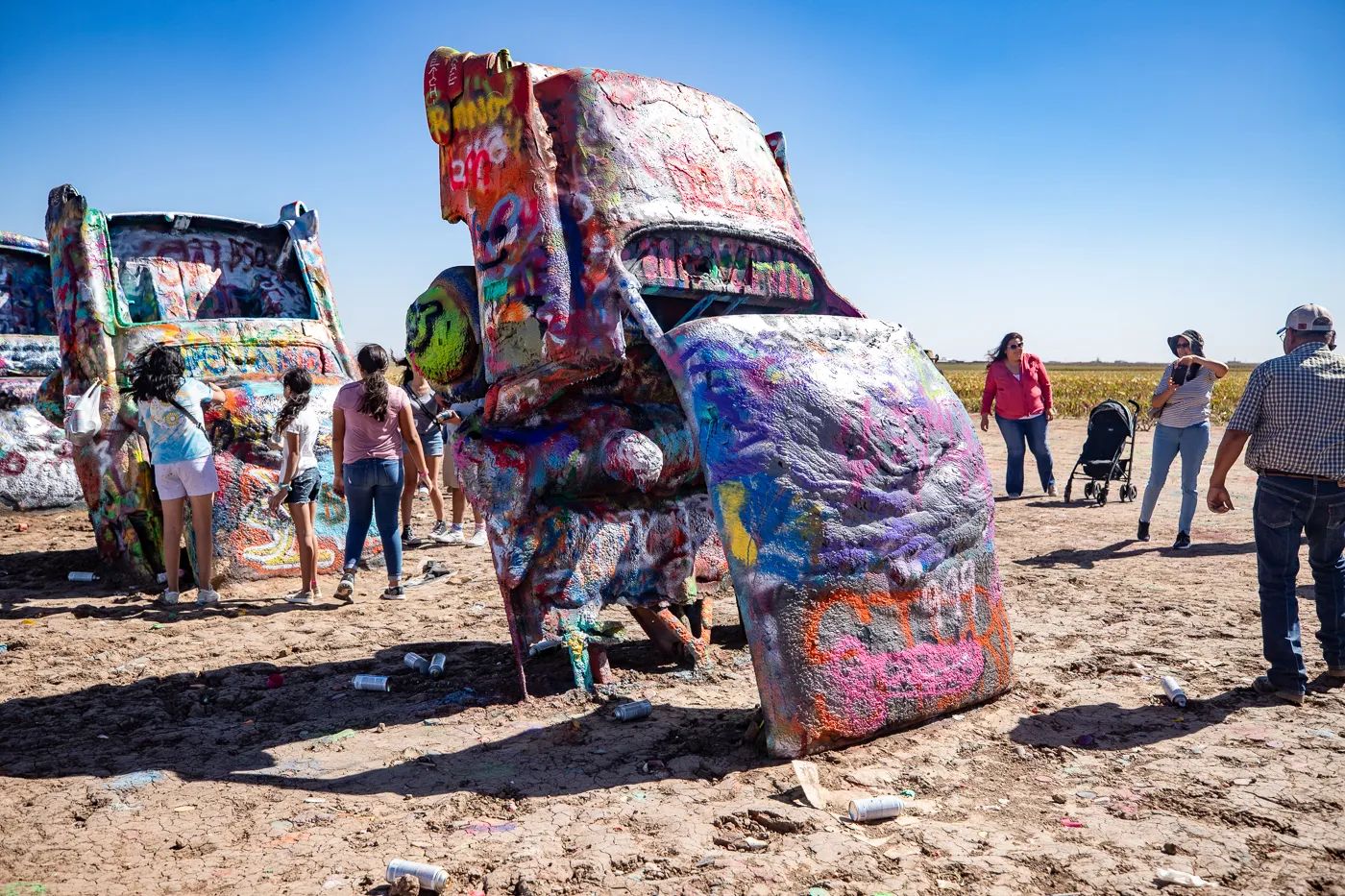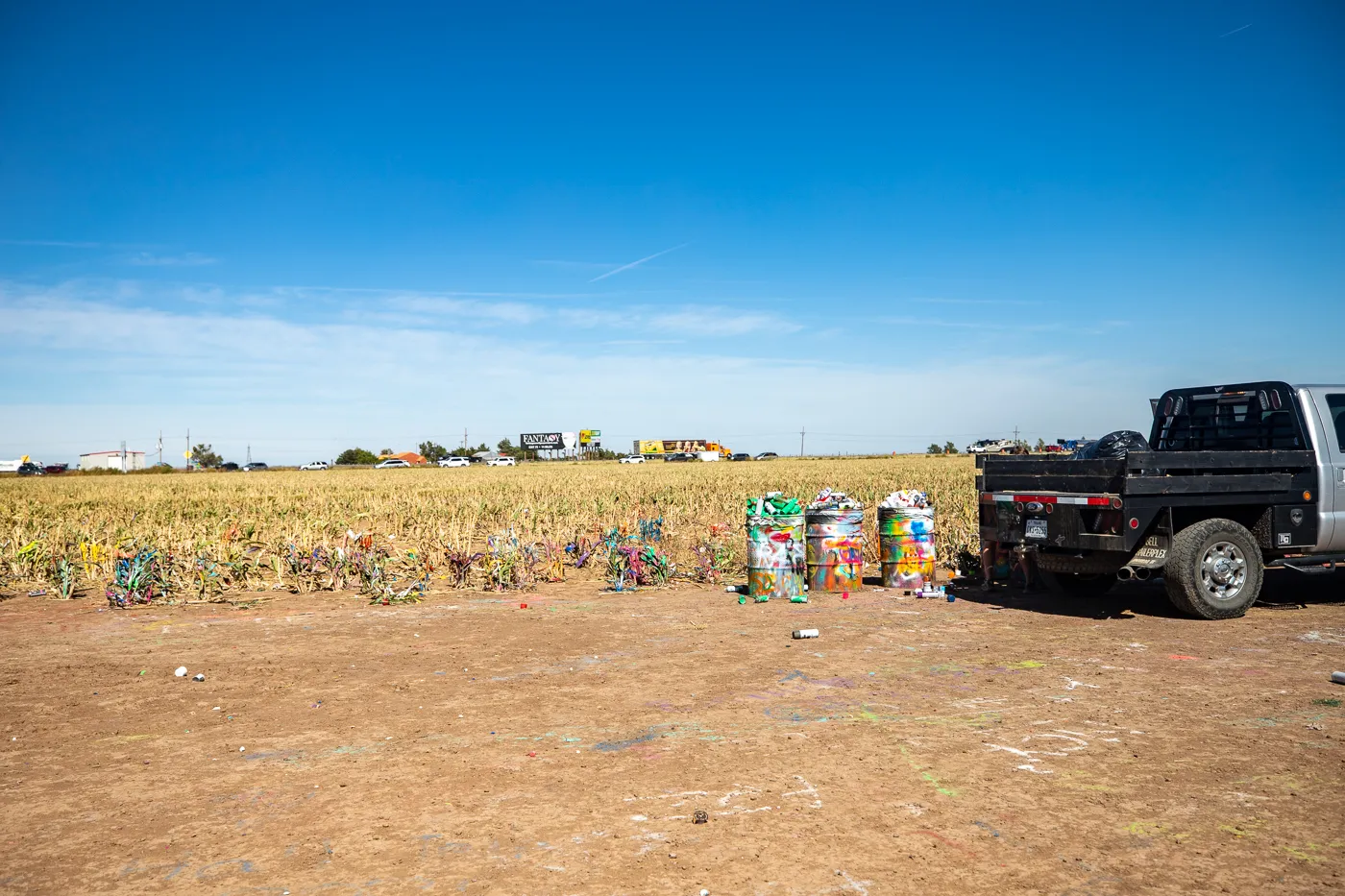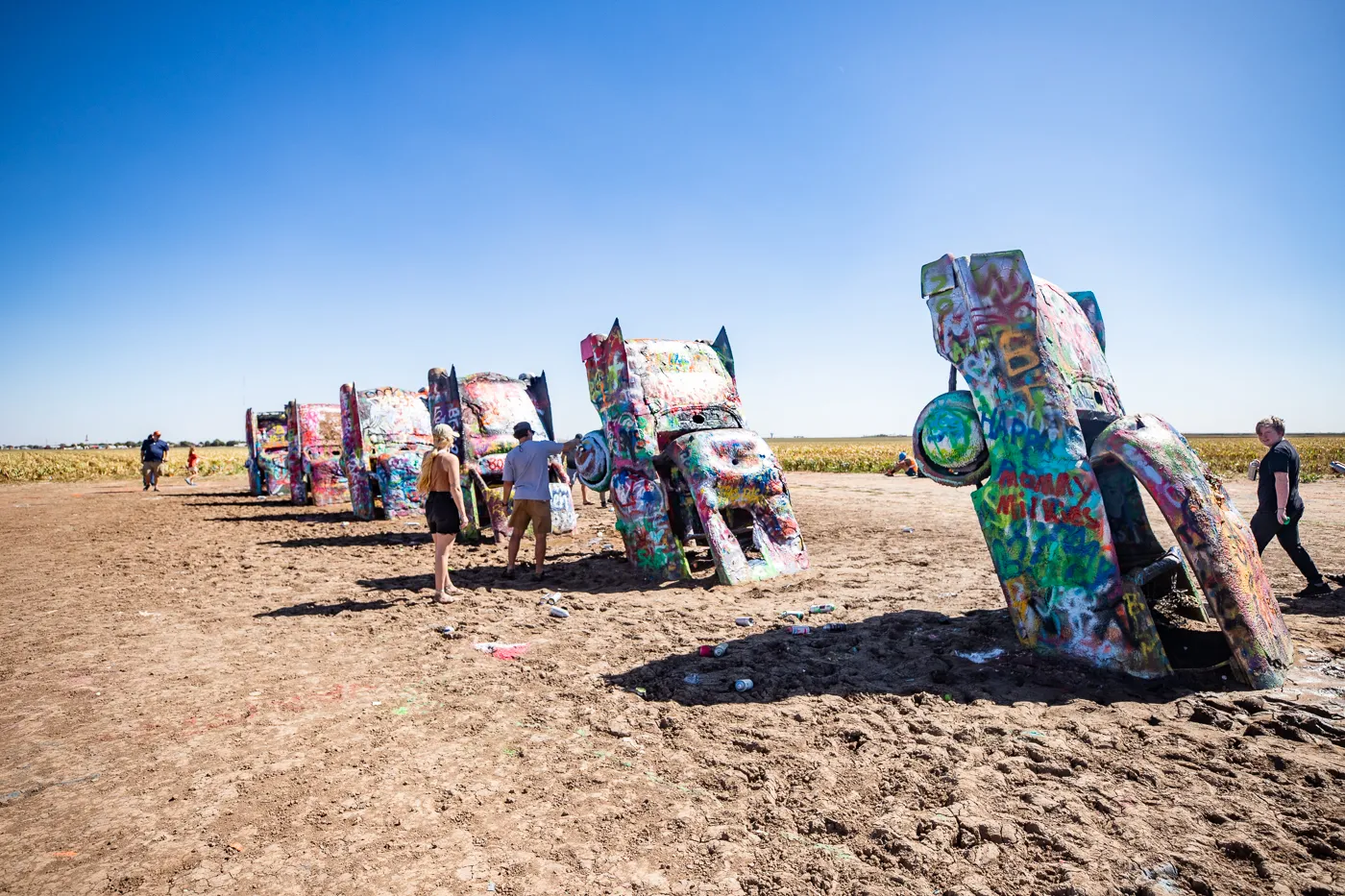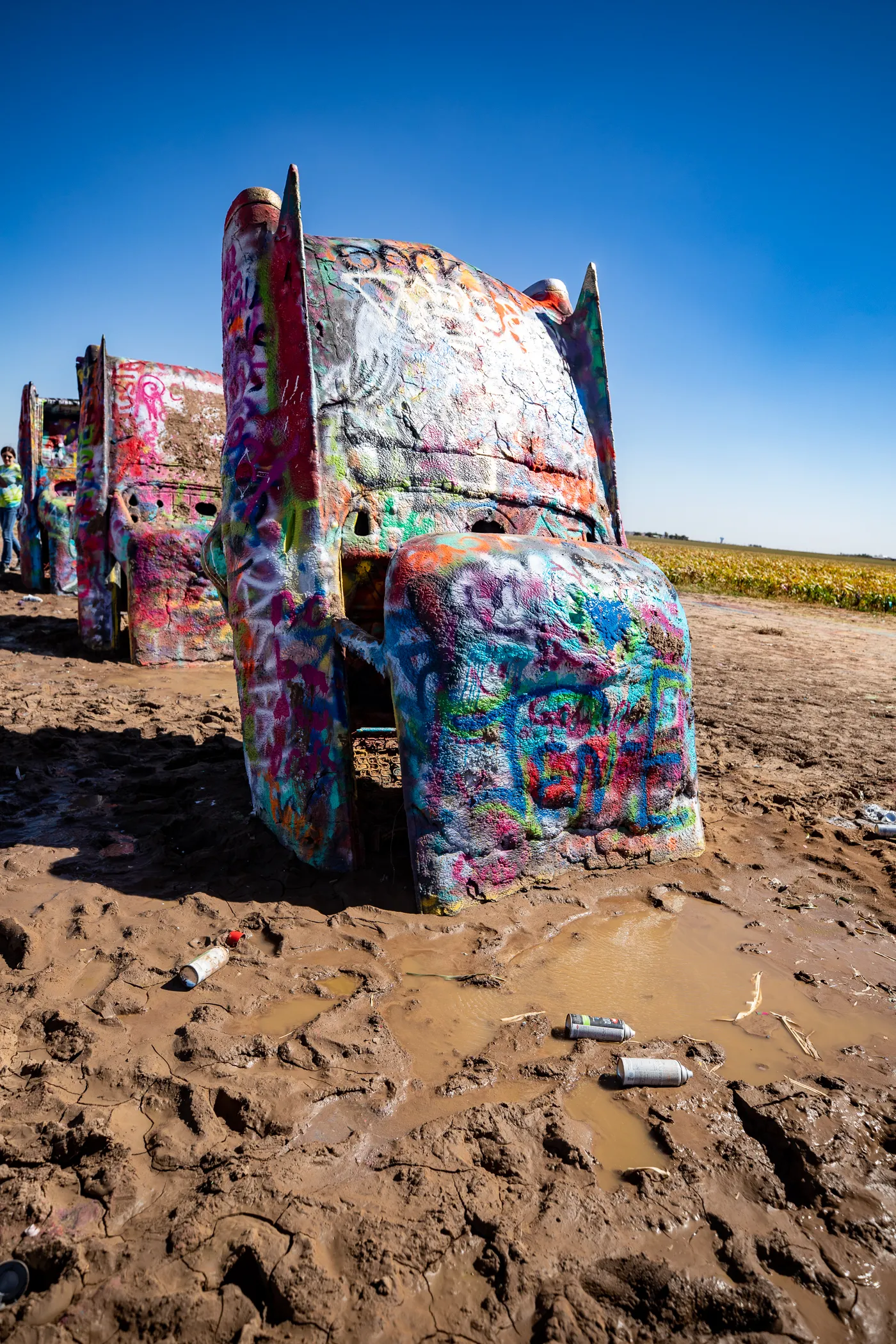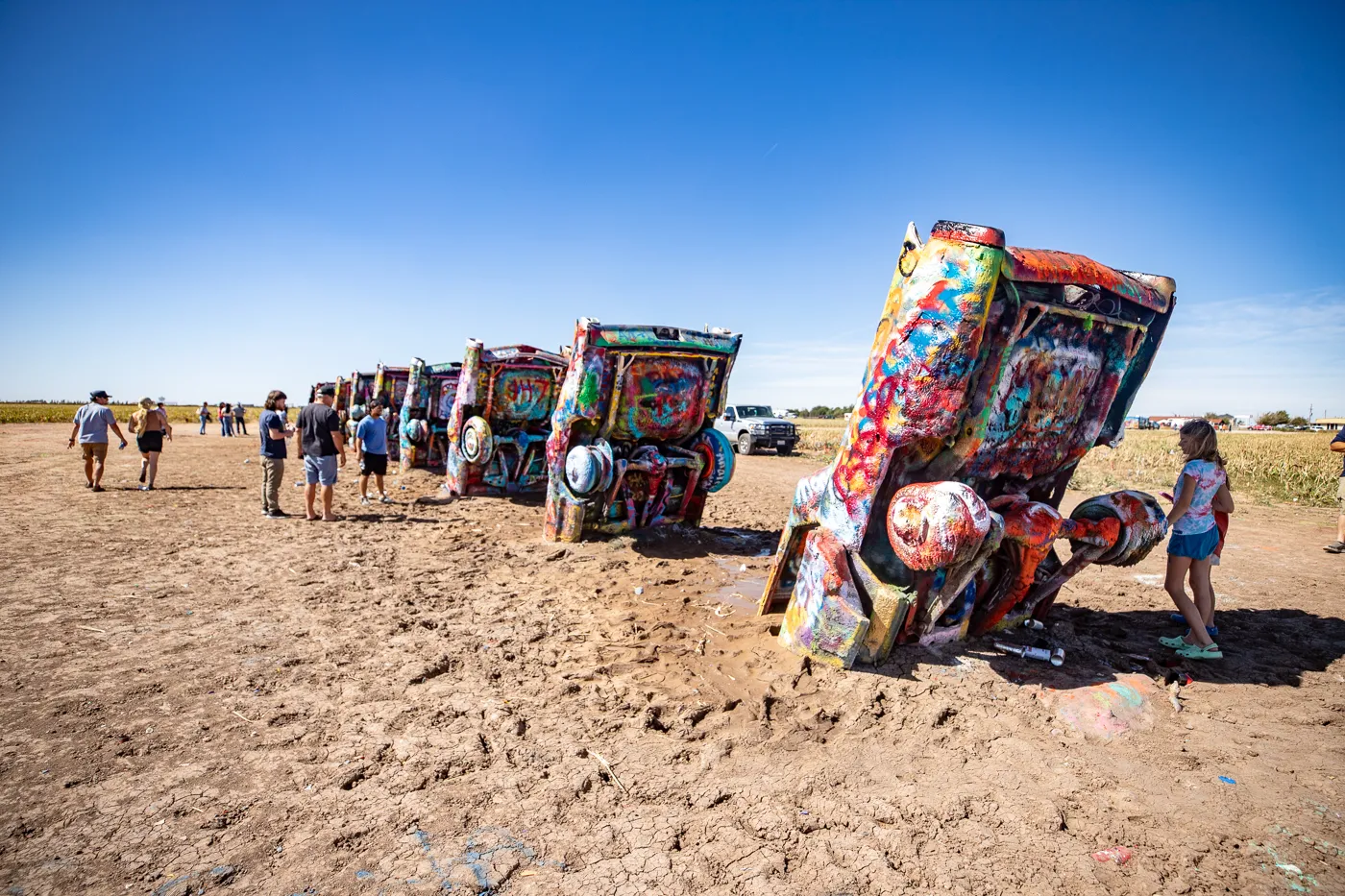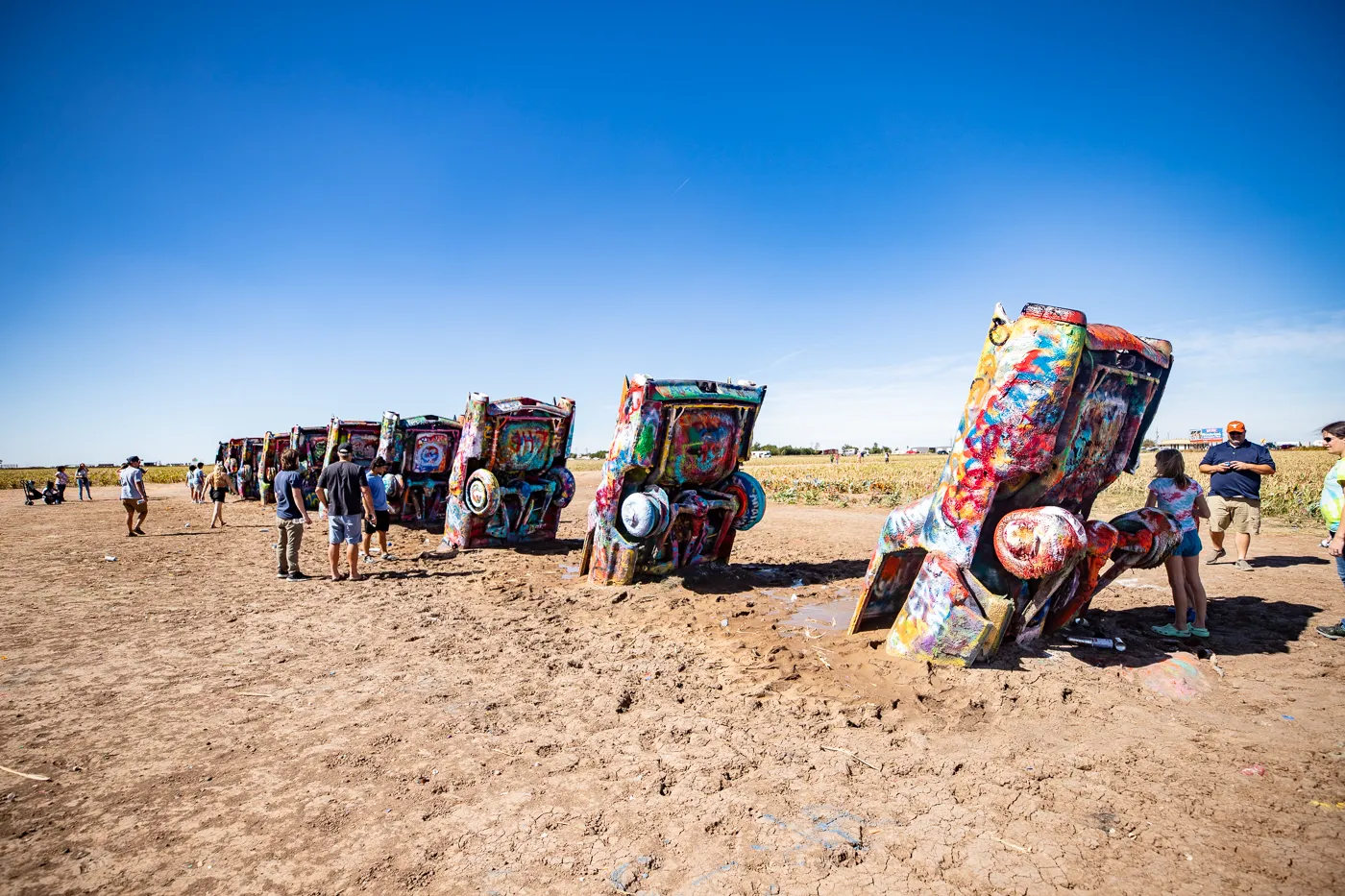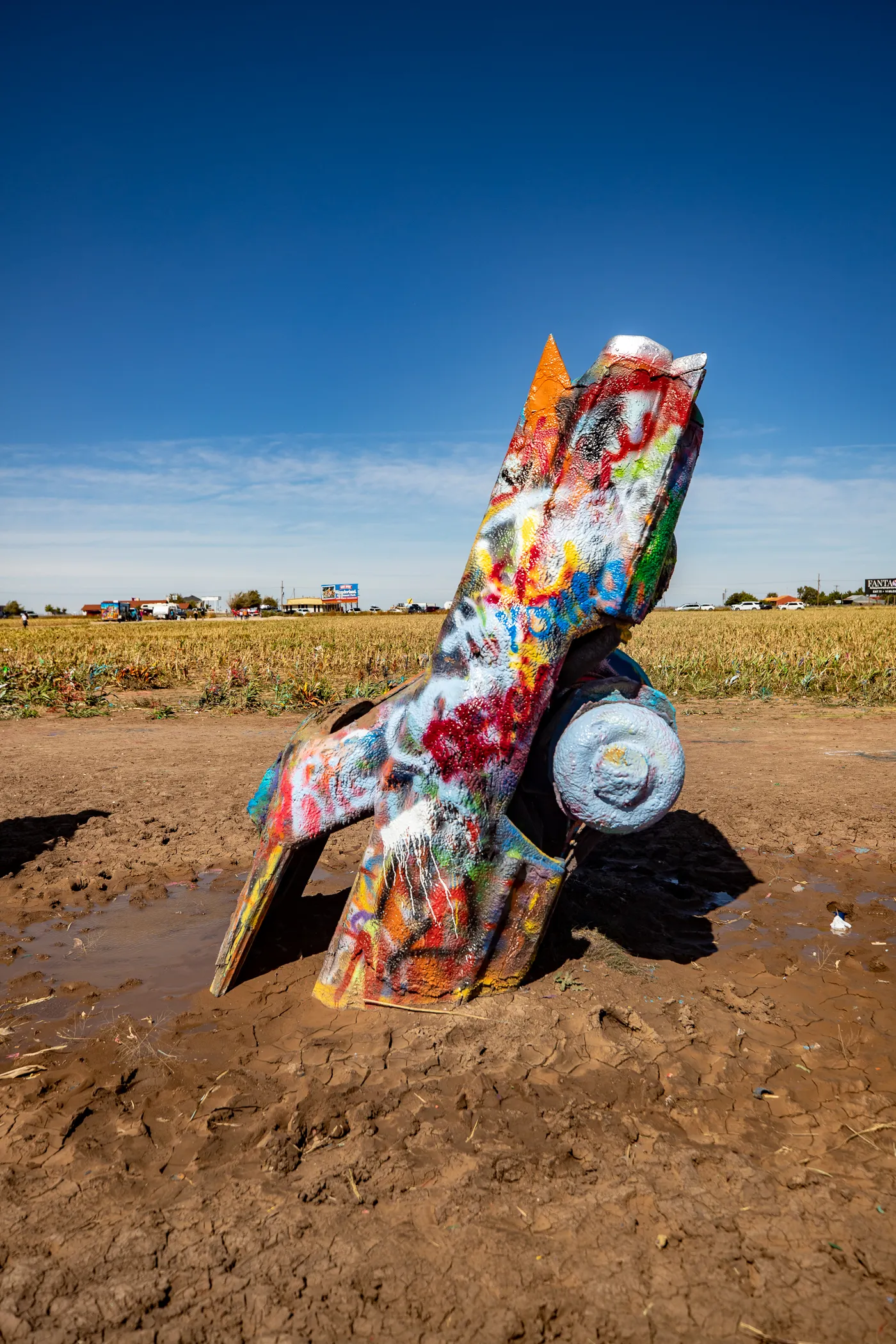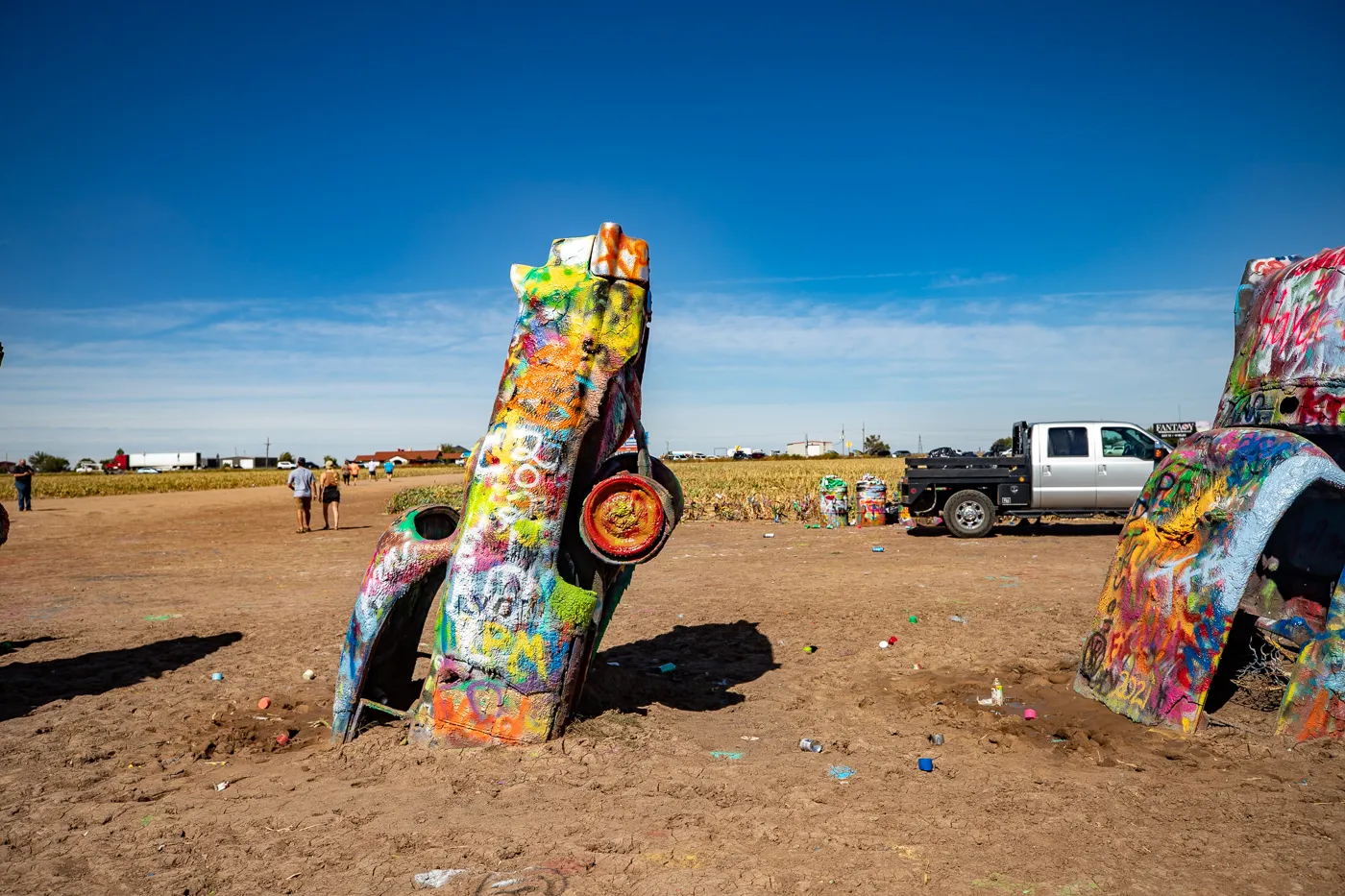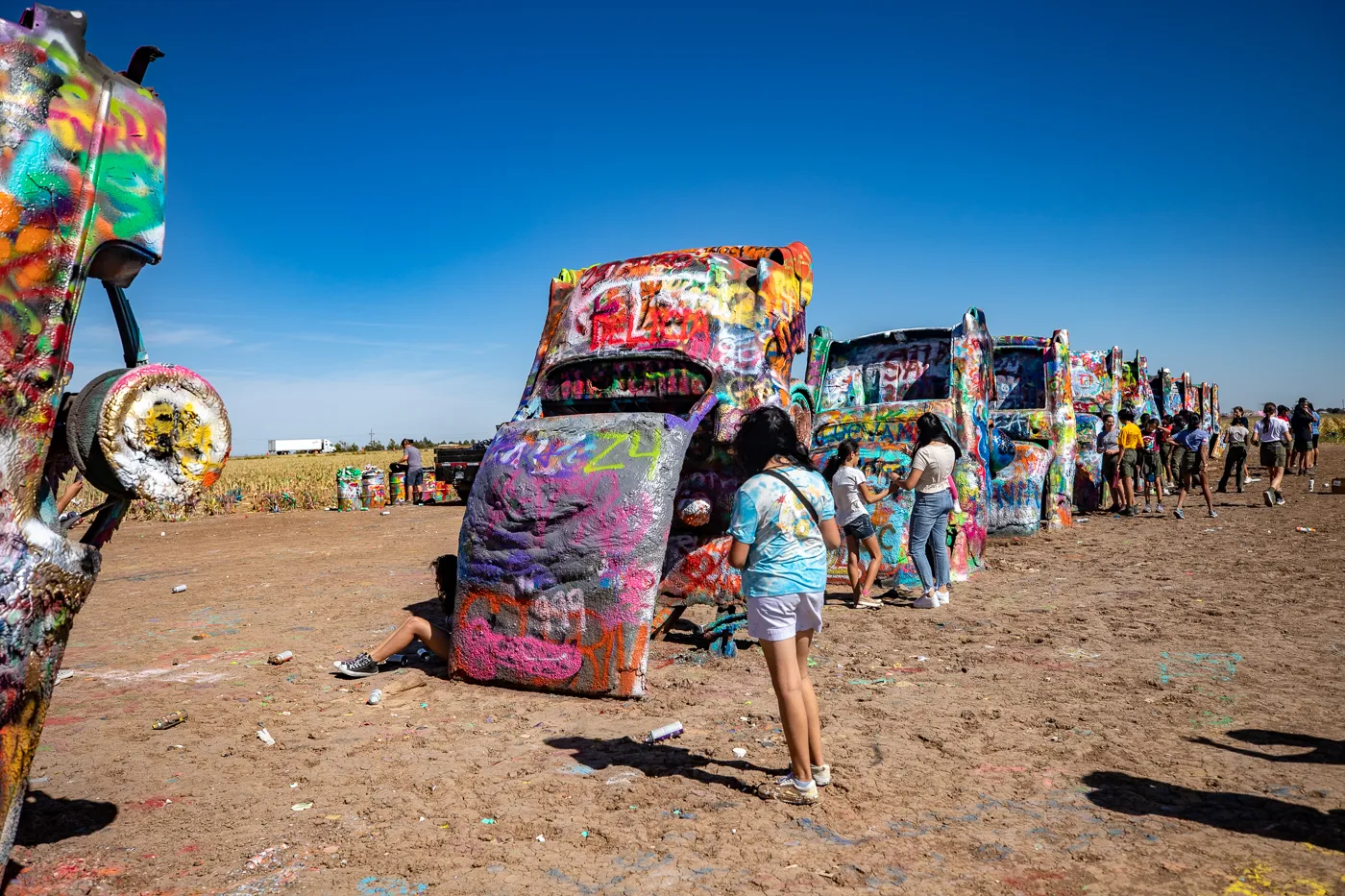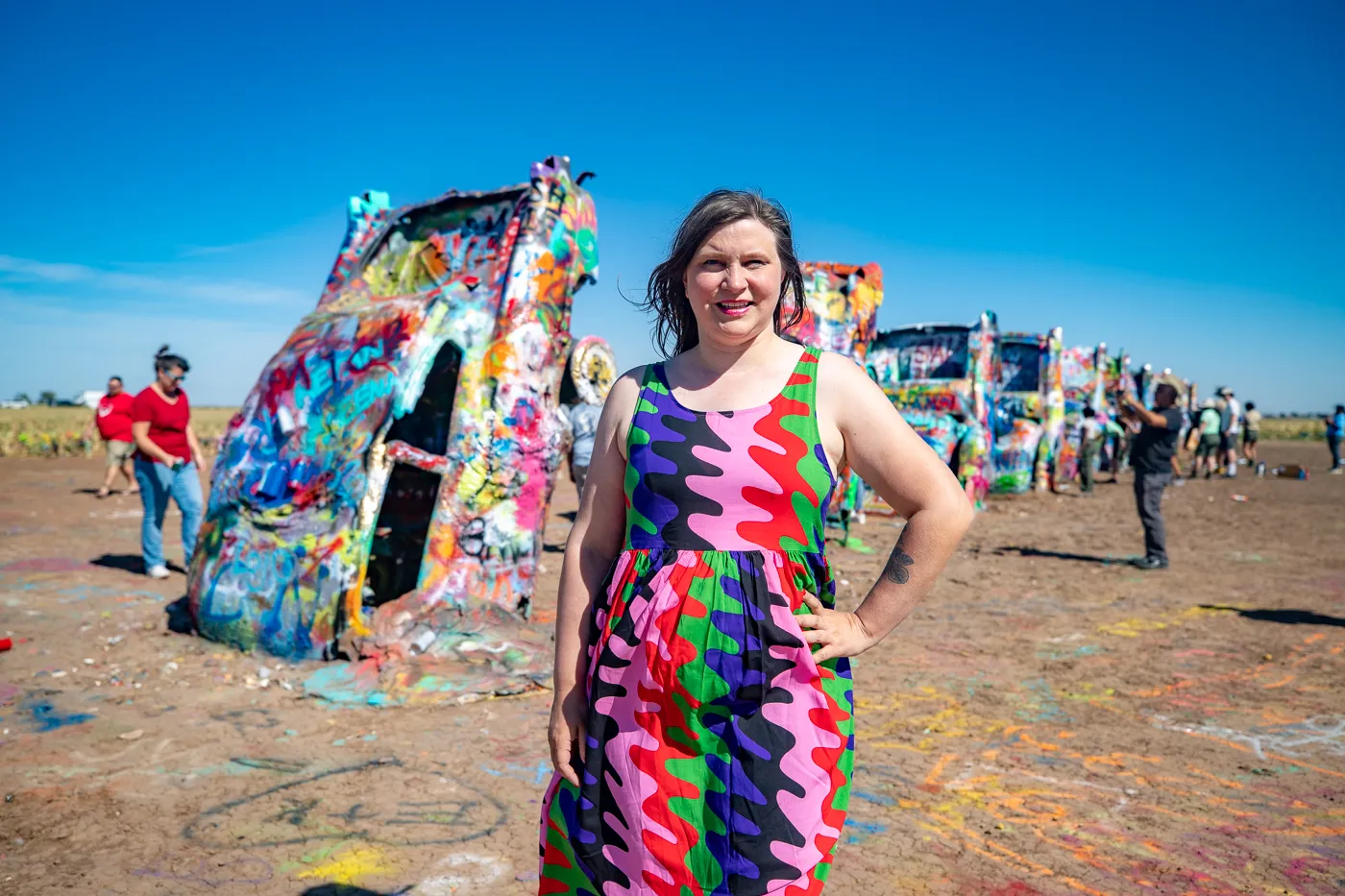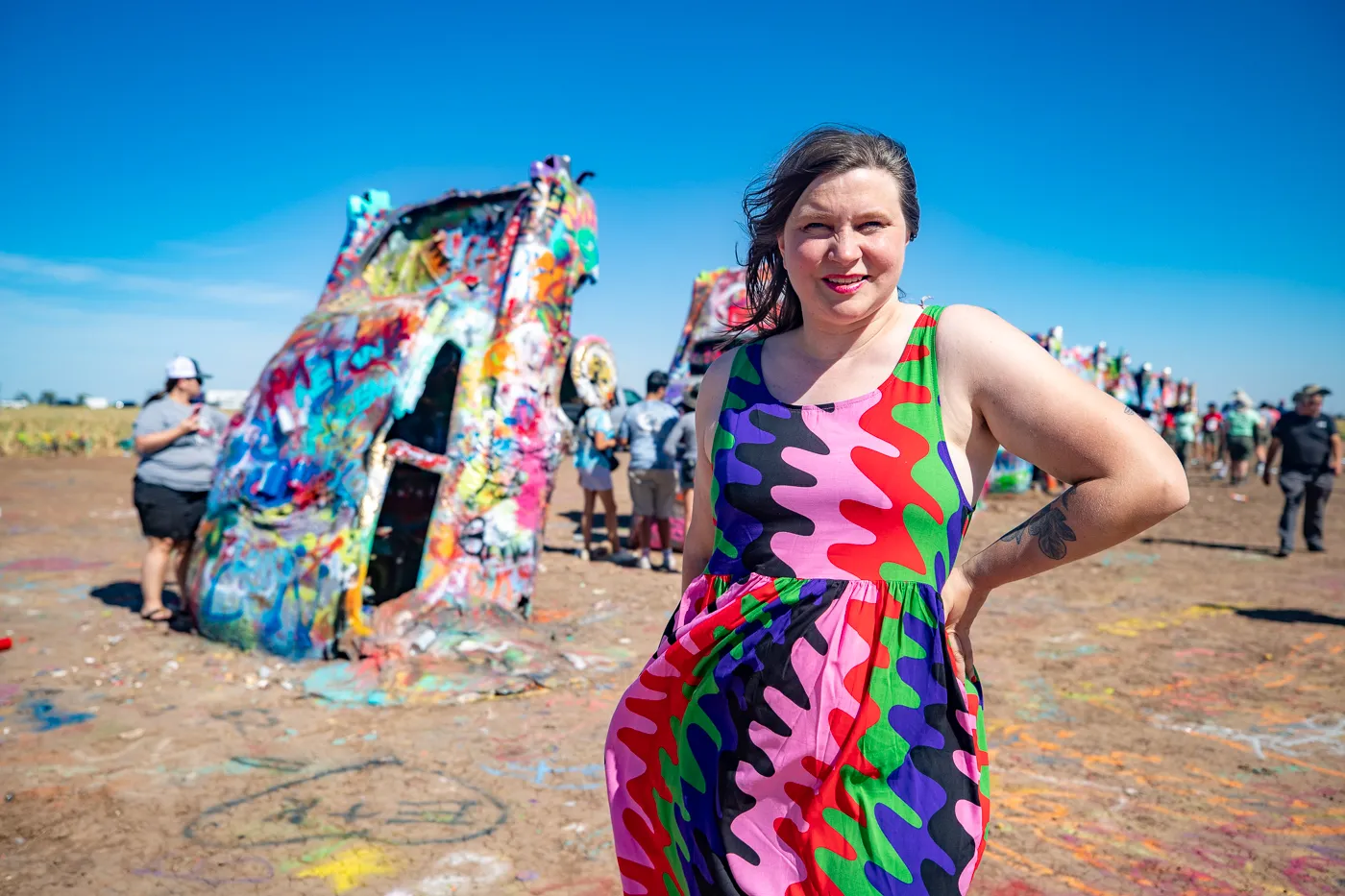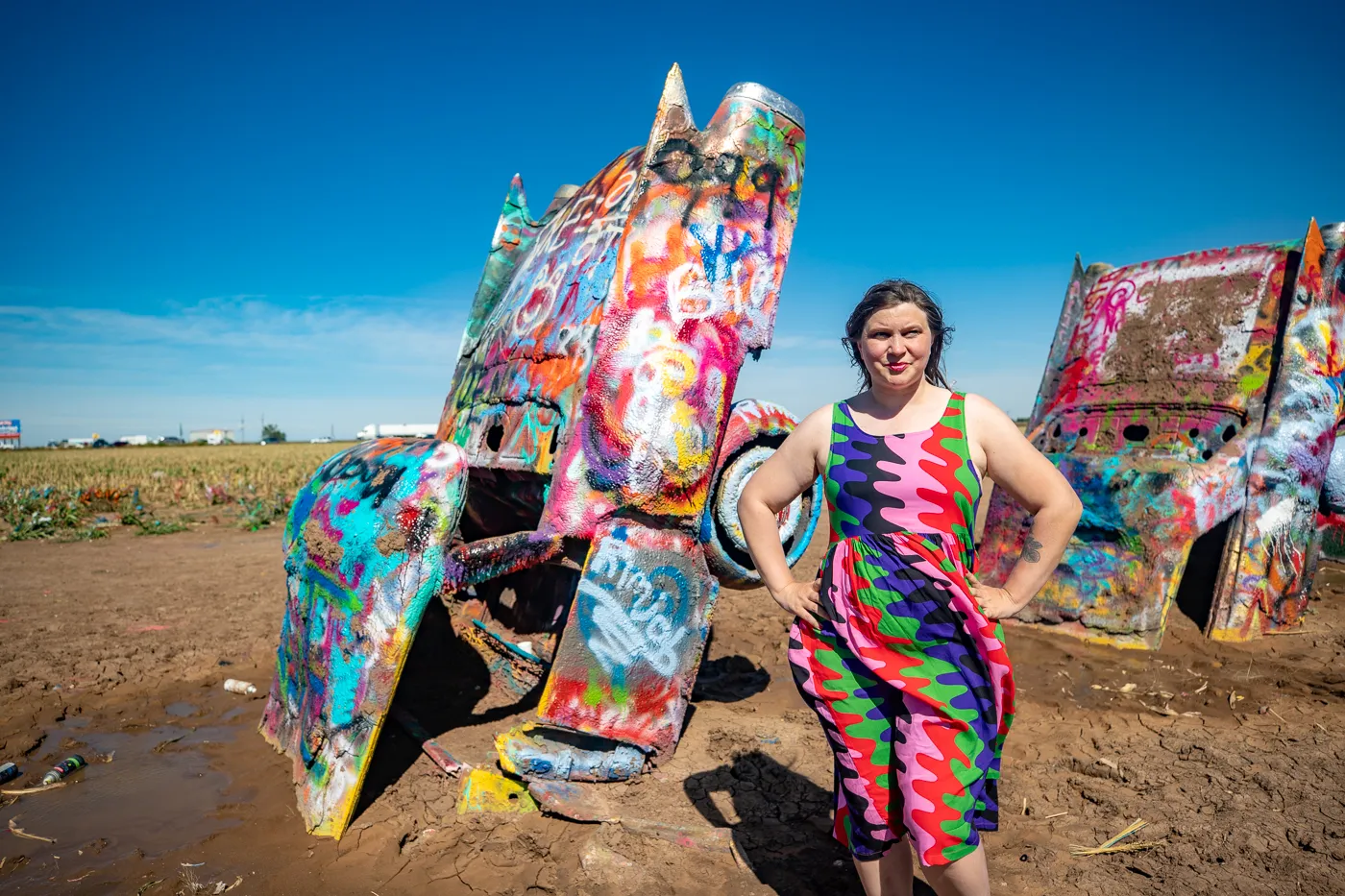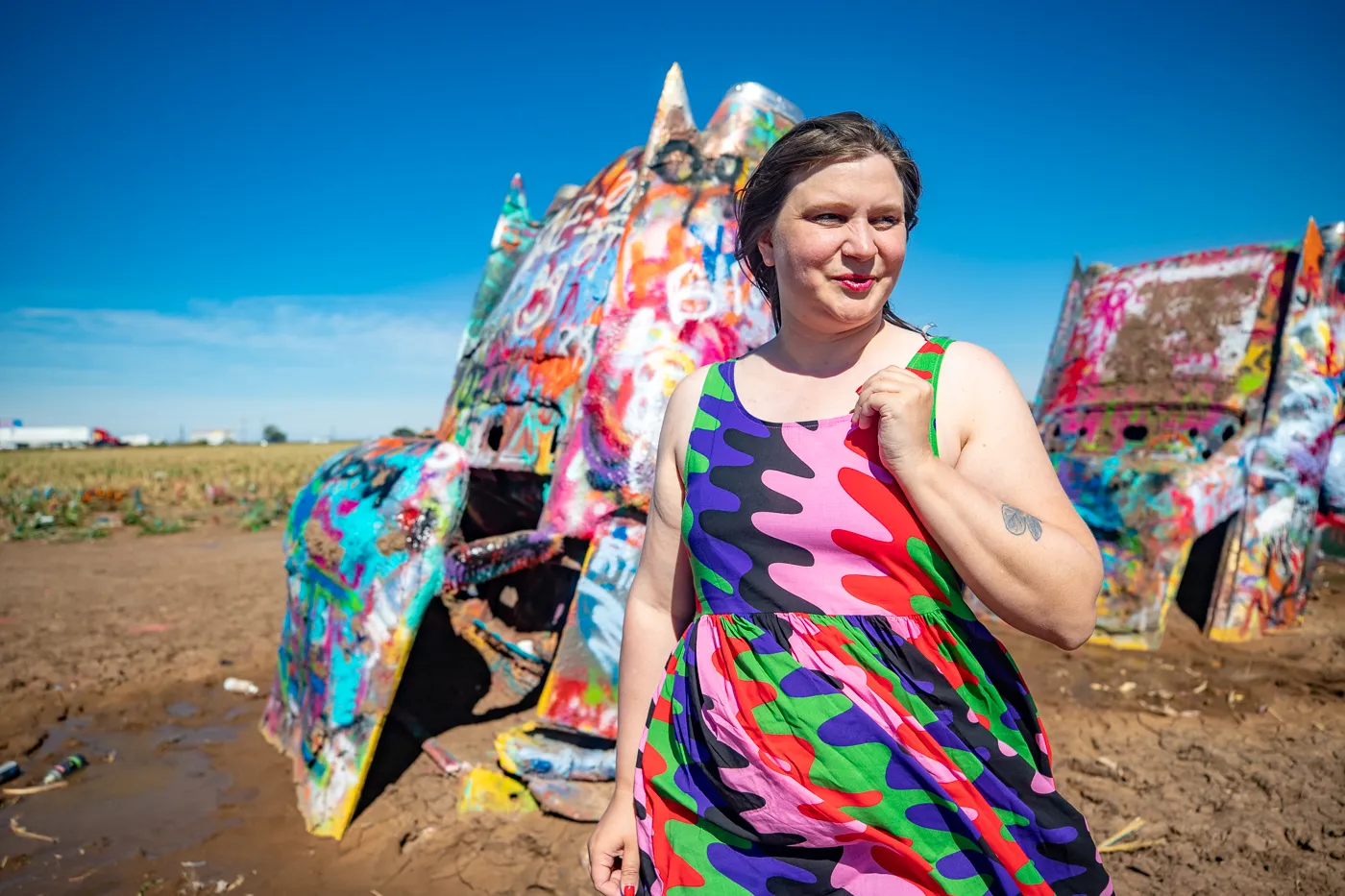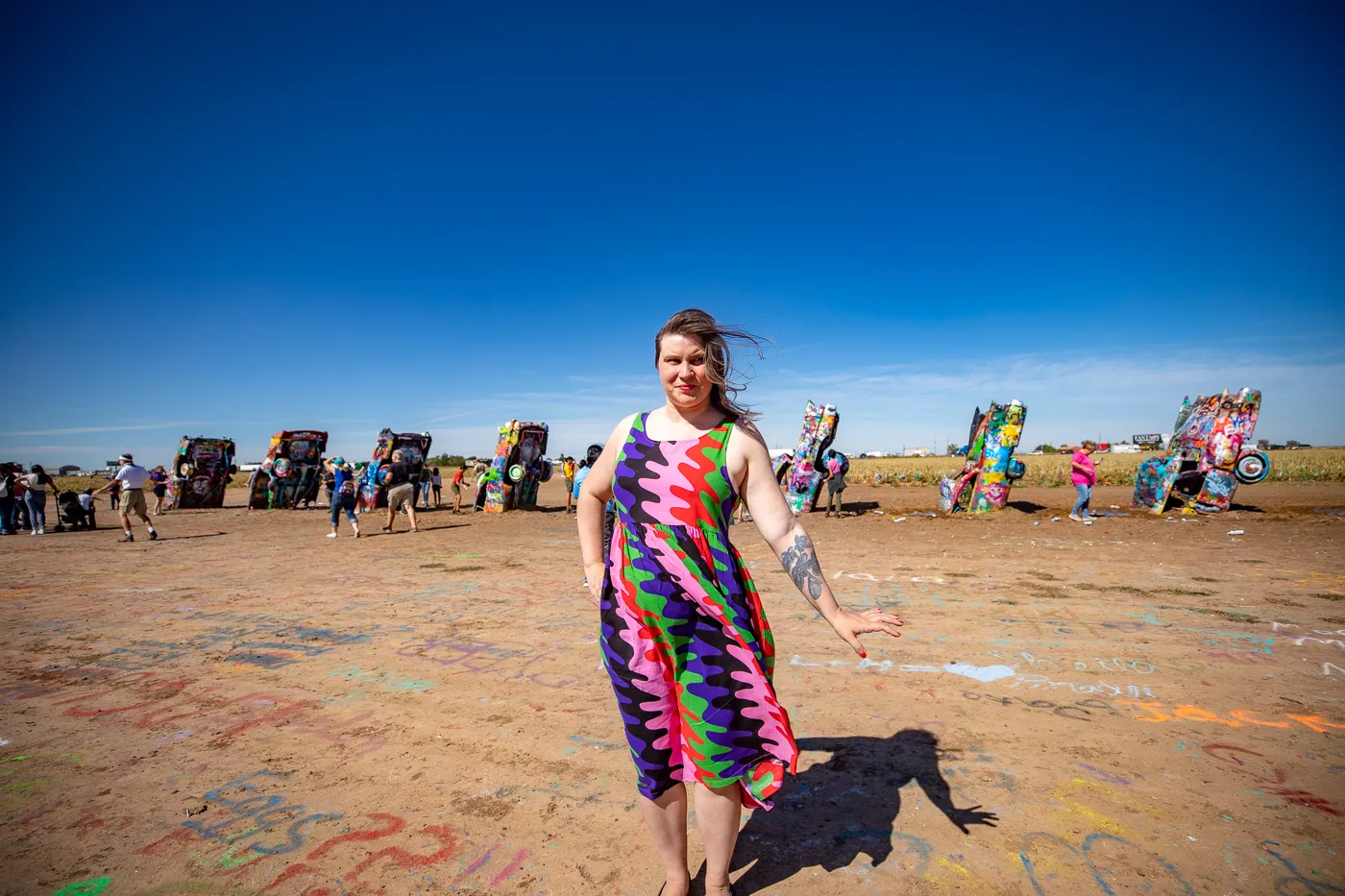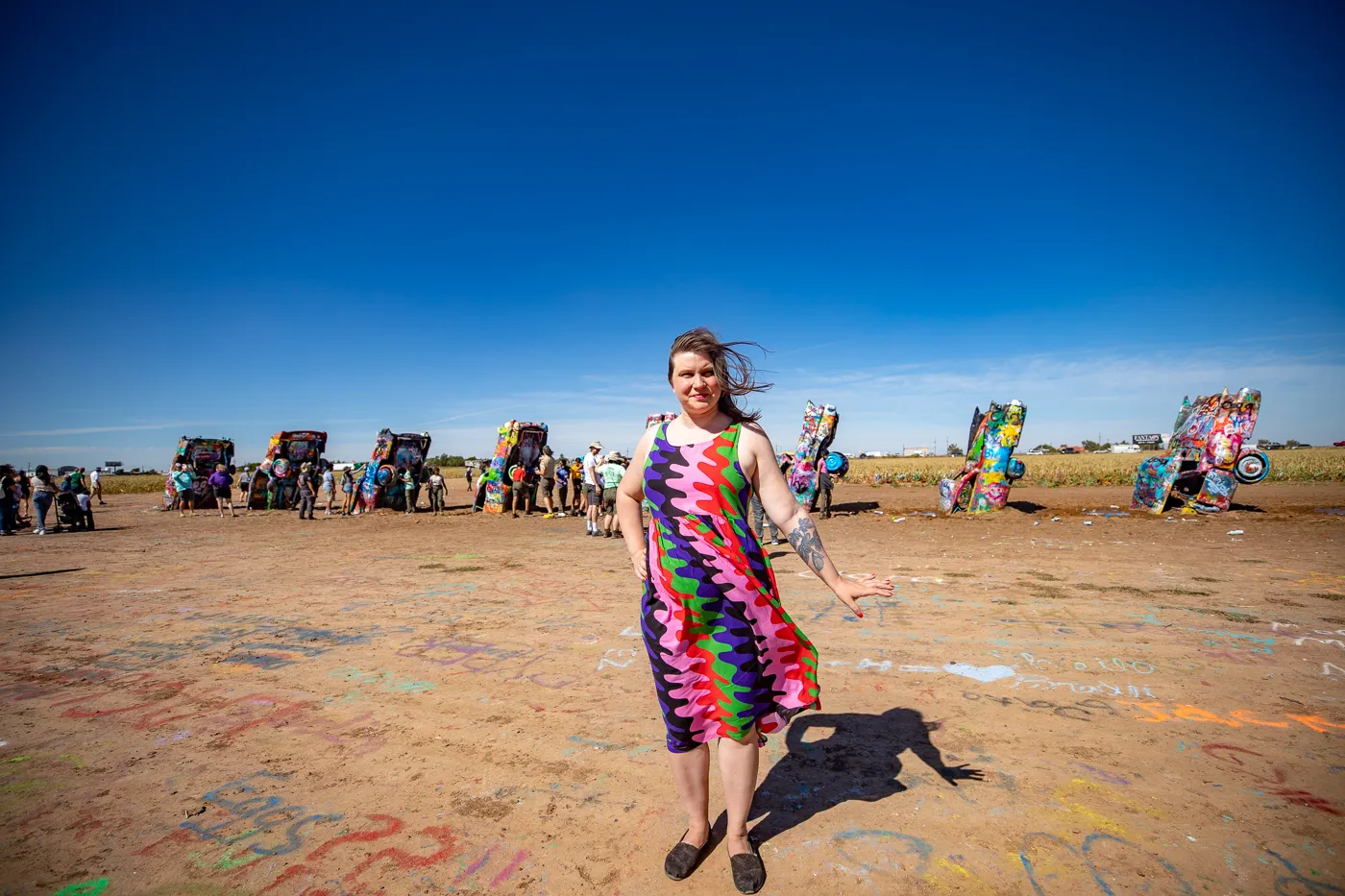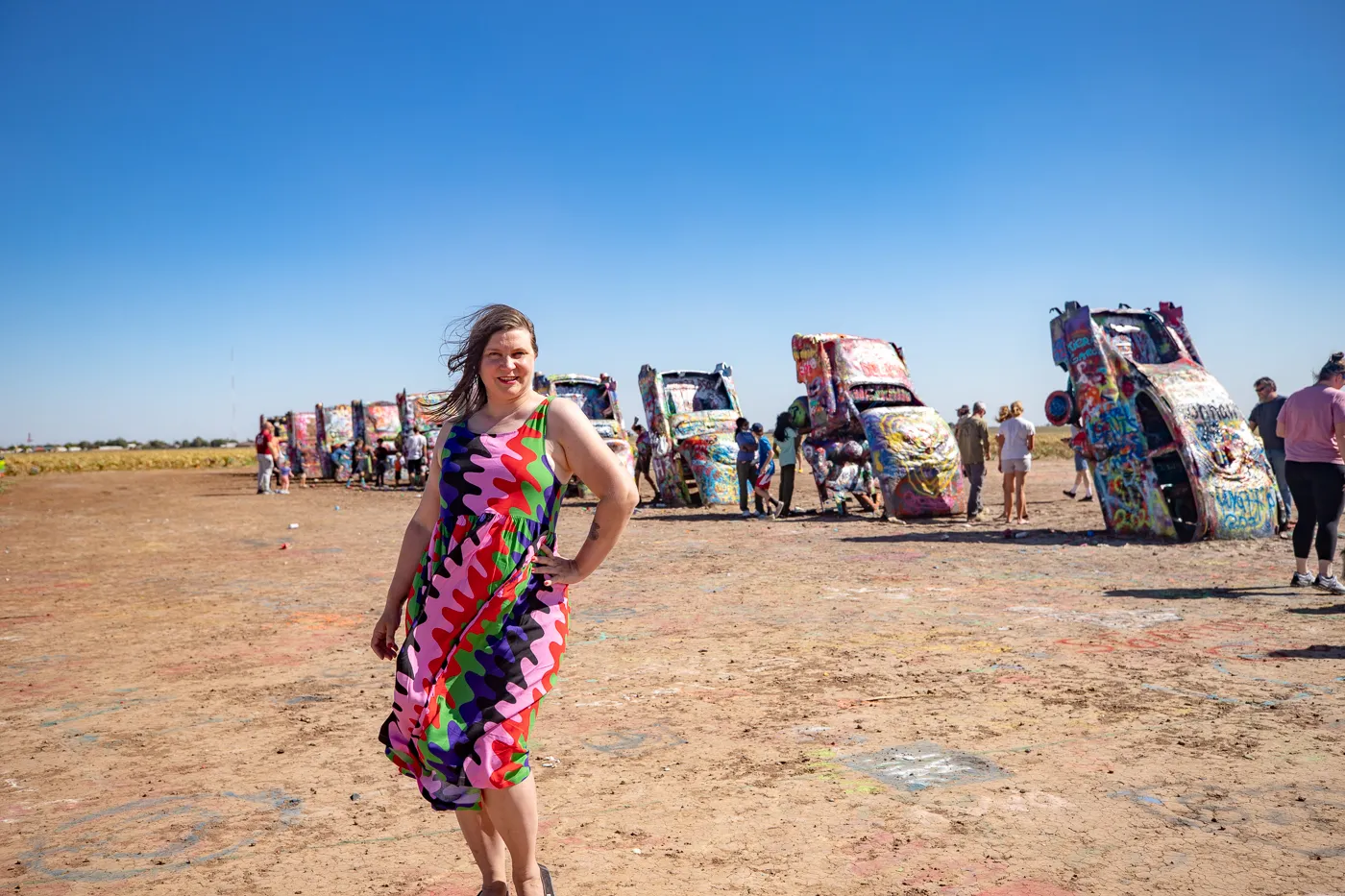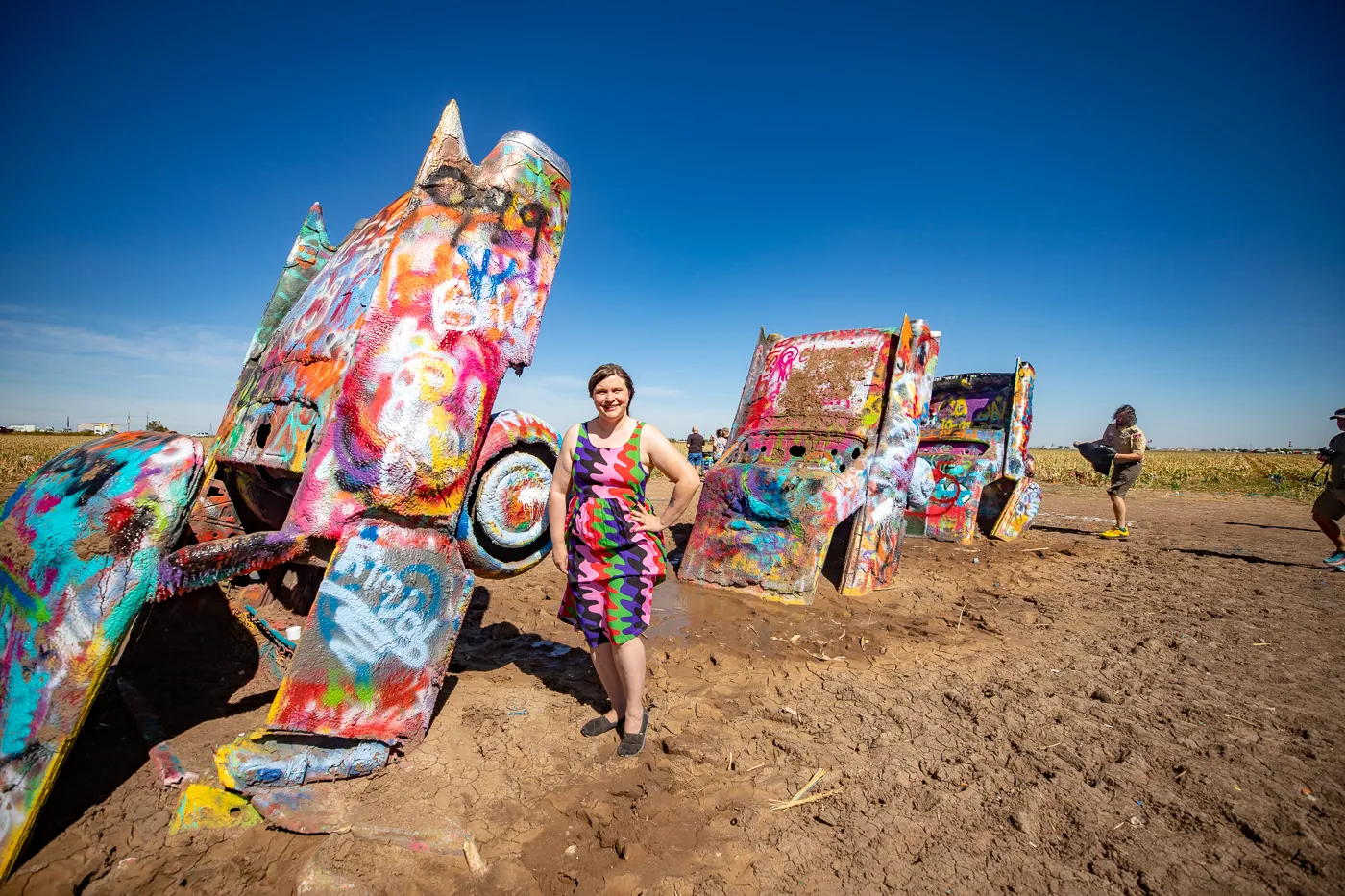 ---
Cadillac Ranch
Address: 13651 I-40 Frontage Rd, Amarillo, TX 79124
Cost: Free to See
Hours: Always Visible
---
Pin this Texas roadside attraction: