Hungry in Holbrook? Butterfield Stage Co Steak House in Holbrook, Arizona won't disappoint.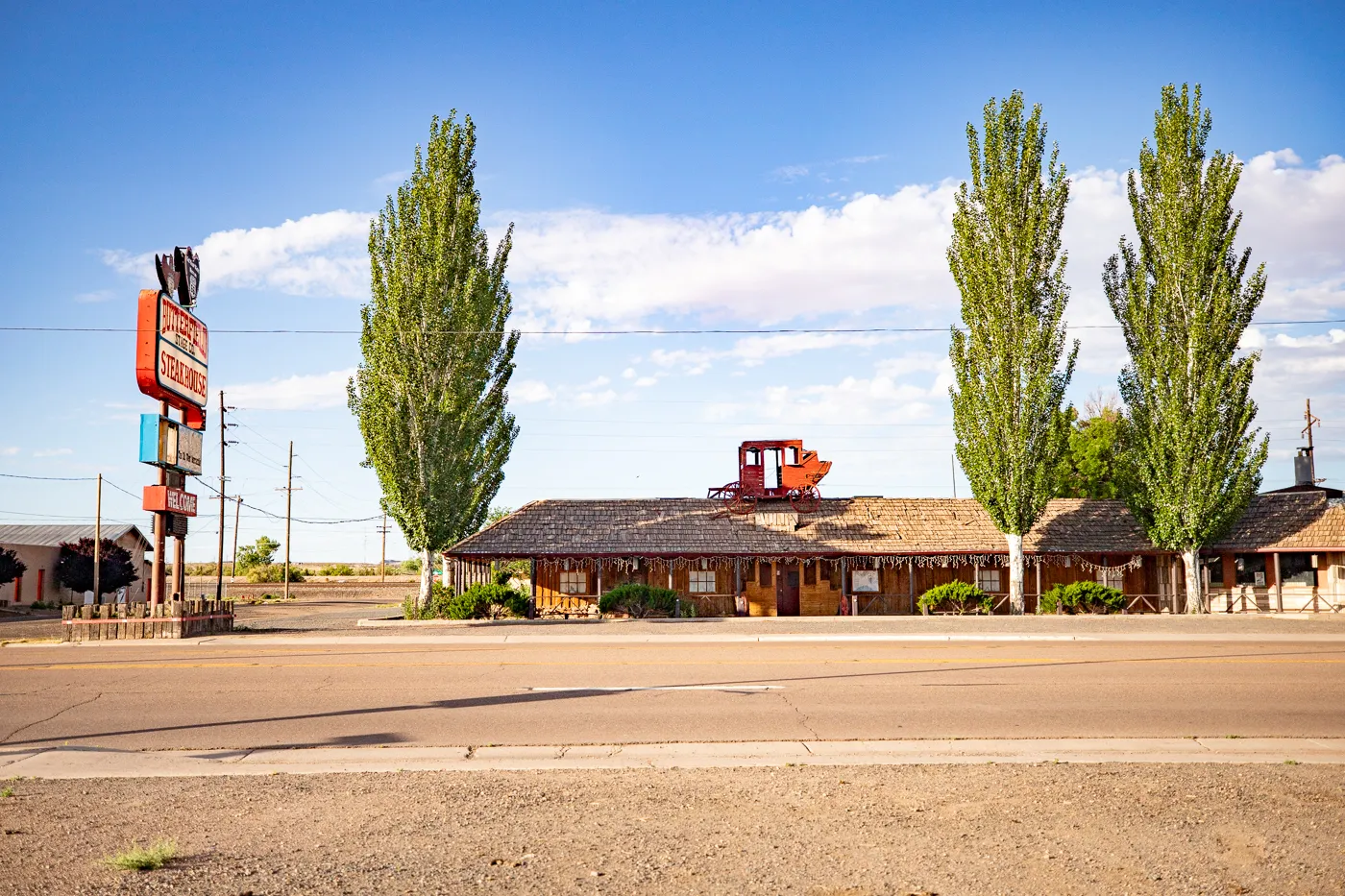 Butterfield Stage Co Steak House has been serving quality beef to locals and road trippers since the 1970s. It occupies a building that was previously home to the 1927 Motaurant Coffee Shop. But it definitely brought its own western flair.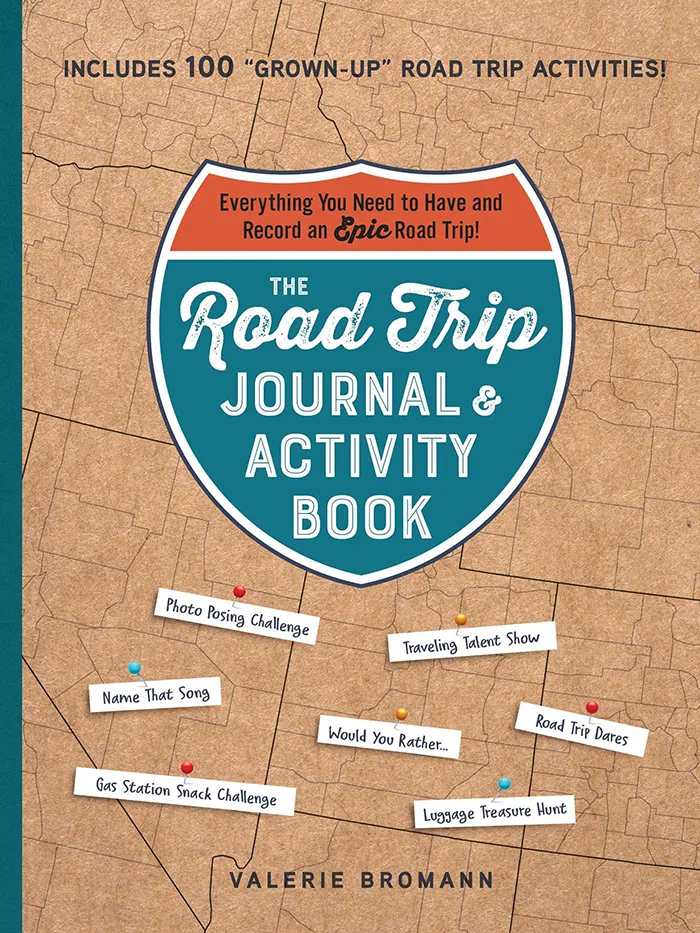 The Road Trip Journal & Activity Book
Everything You Need to Have and Record an Epic Road Trip!
Enjoy fun games and challenges to pass the time on your next road trip and have a keepsake to look back on for years to come with this entertaining must-have for your next vacation.
The name Butterfield Stage Co comes from the Butterfield Overland Mail (or Overland Mail Company, a stagecoach service that operated in the United States from 1858 to 1861. It carried passengers and U.S. Mail from Memphis, Tennessee to St. Louis, Missouri to San Francisco, California.
And you can see this inspiration not just in name, but in atmosphere. Outside a red stagecoach tops the roof and stepping inside is like stepping into a Wild West saloon, where dark wood booths dotted with old-fashioned decor and imagery surround you.
The menu has everything you'd expect from a steakhouse: porterhouse, T-Bone, New York, and Prime Rib served with a side of vegetables and a choice of potato (baked, mashed, or fries).
If steak isn't your jam, the menu has a small selection of other options, like ribs, teriyaki chicken breast, and spaghetti. There's also a kids menu with options like hamburger and chicken nuggets.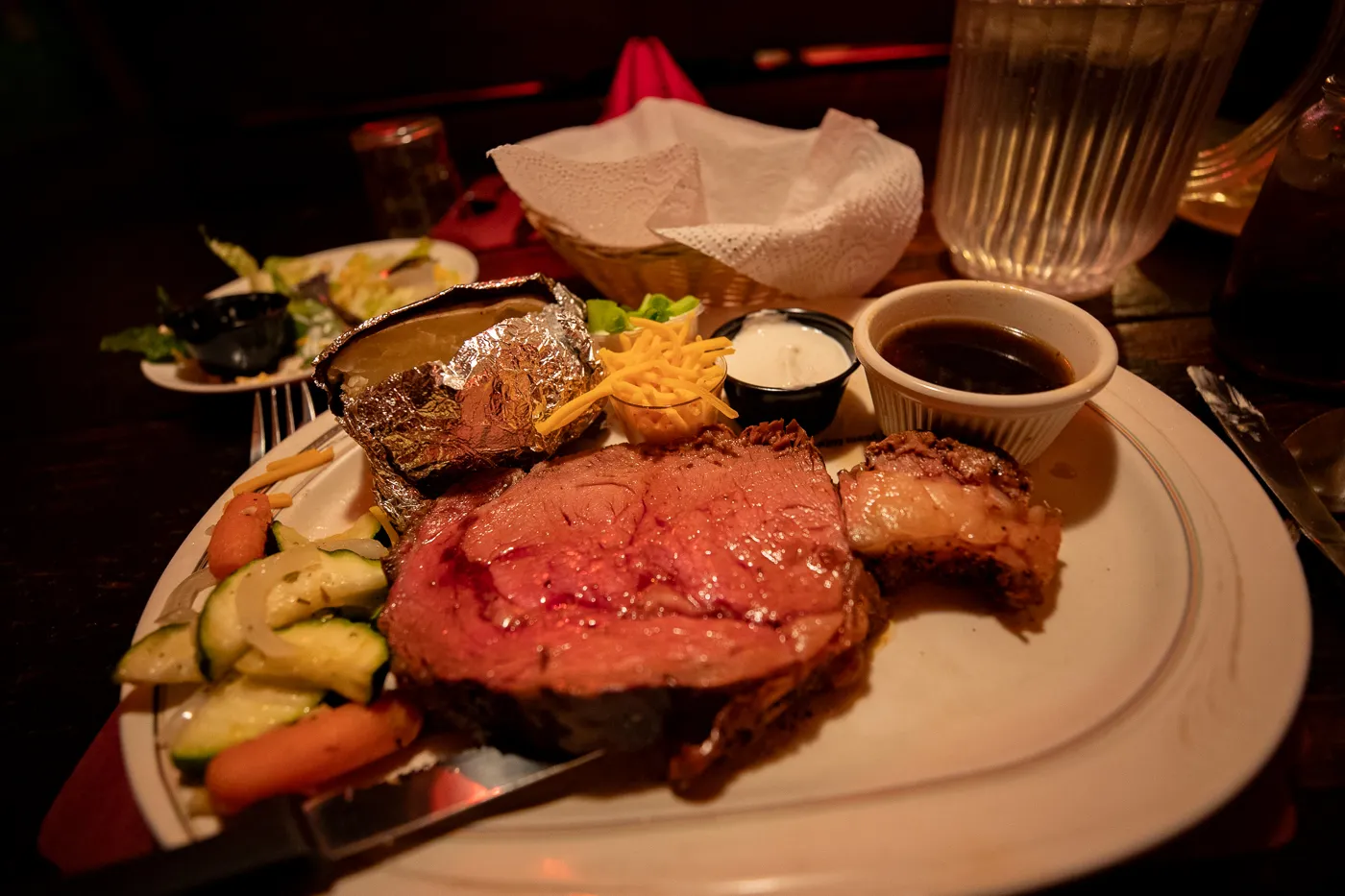 Butterfield Stage Co Steak House in Holbrook, Arizona makes a great option for dinner if you are passing through on a Route 66 road trip, need a good dinner after spending the day exploring the Petrified Forest, or are spending the night next door at Wigwam Motel,
After your meal be sure to head across the street to check out Butterfield Stage Co's world's largest map of Route 66, which surrounds an overflow parking lot that was once the Chief Motel before it burned down in the 1970s.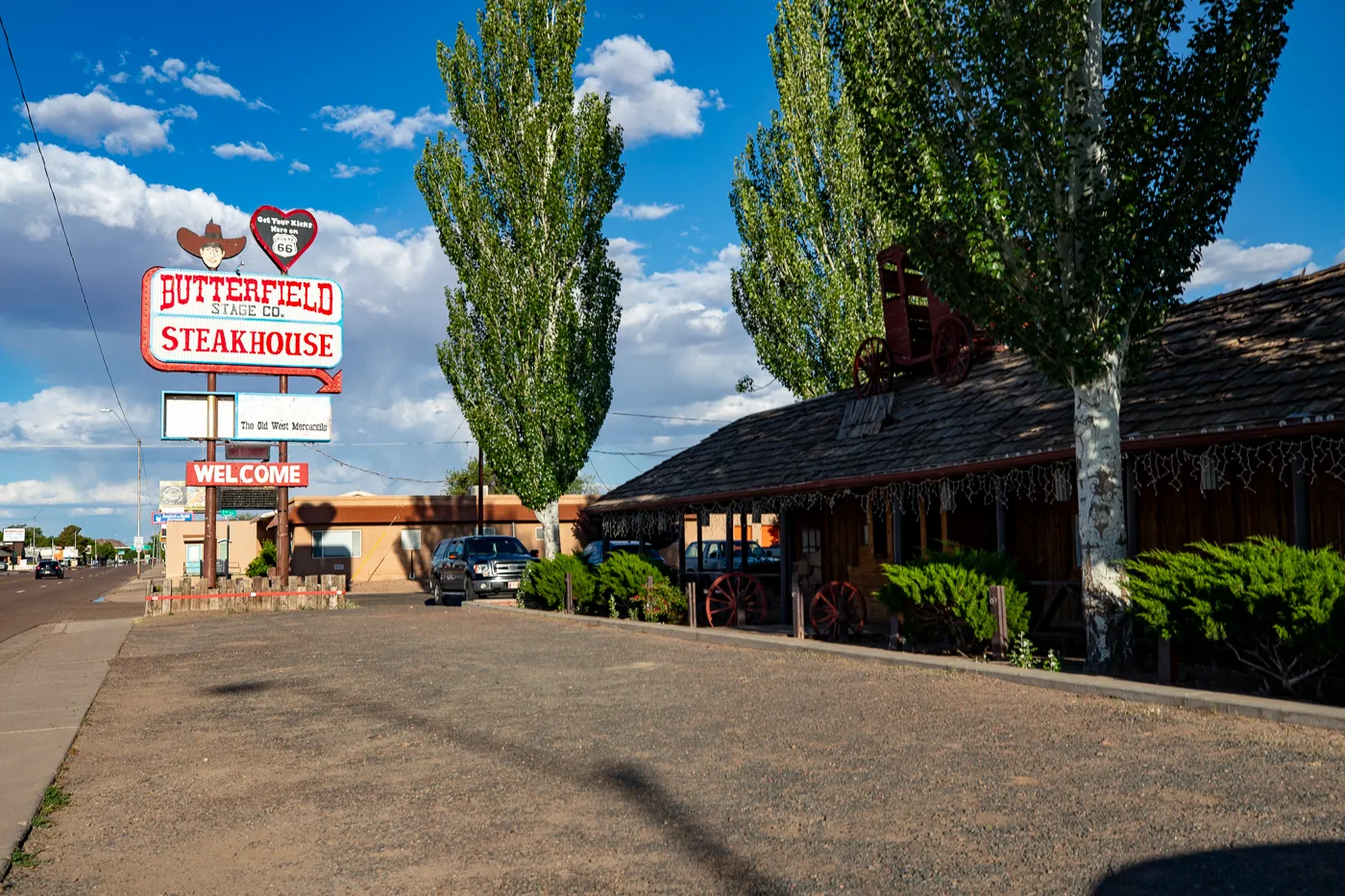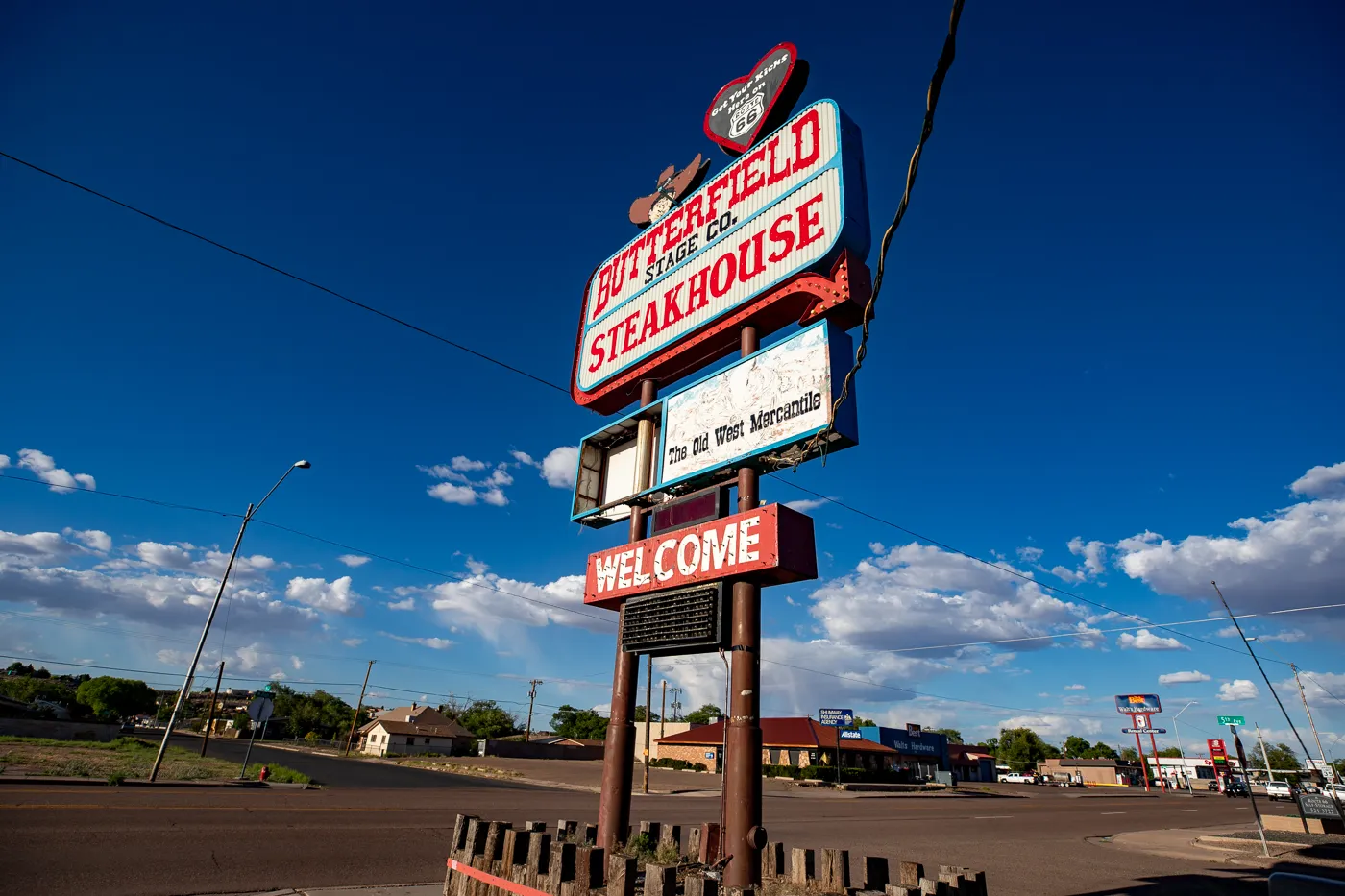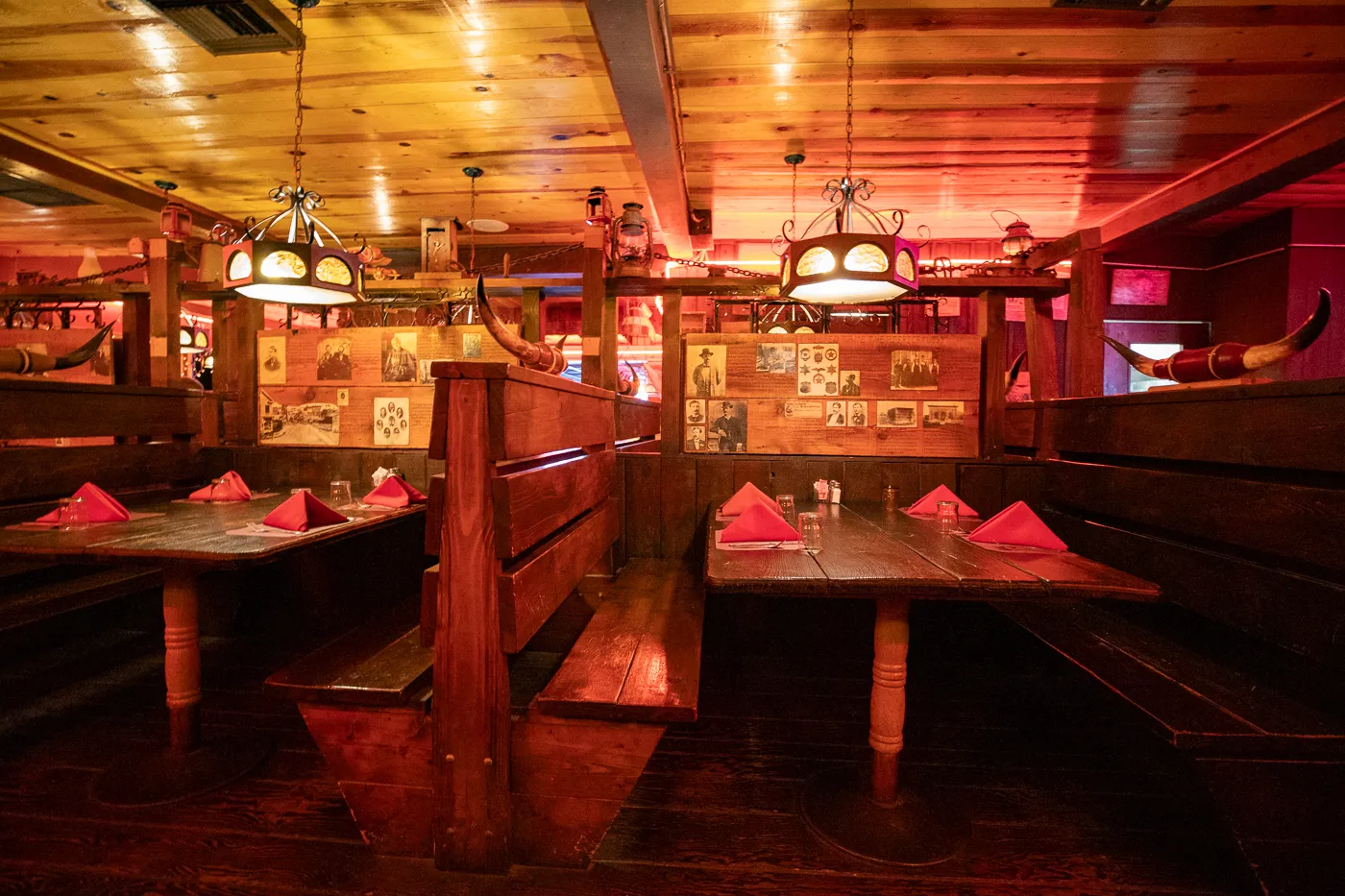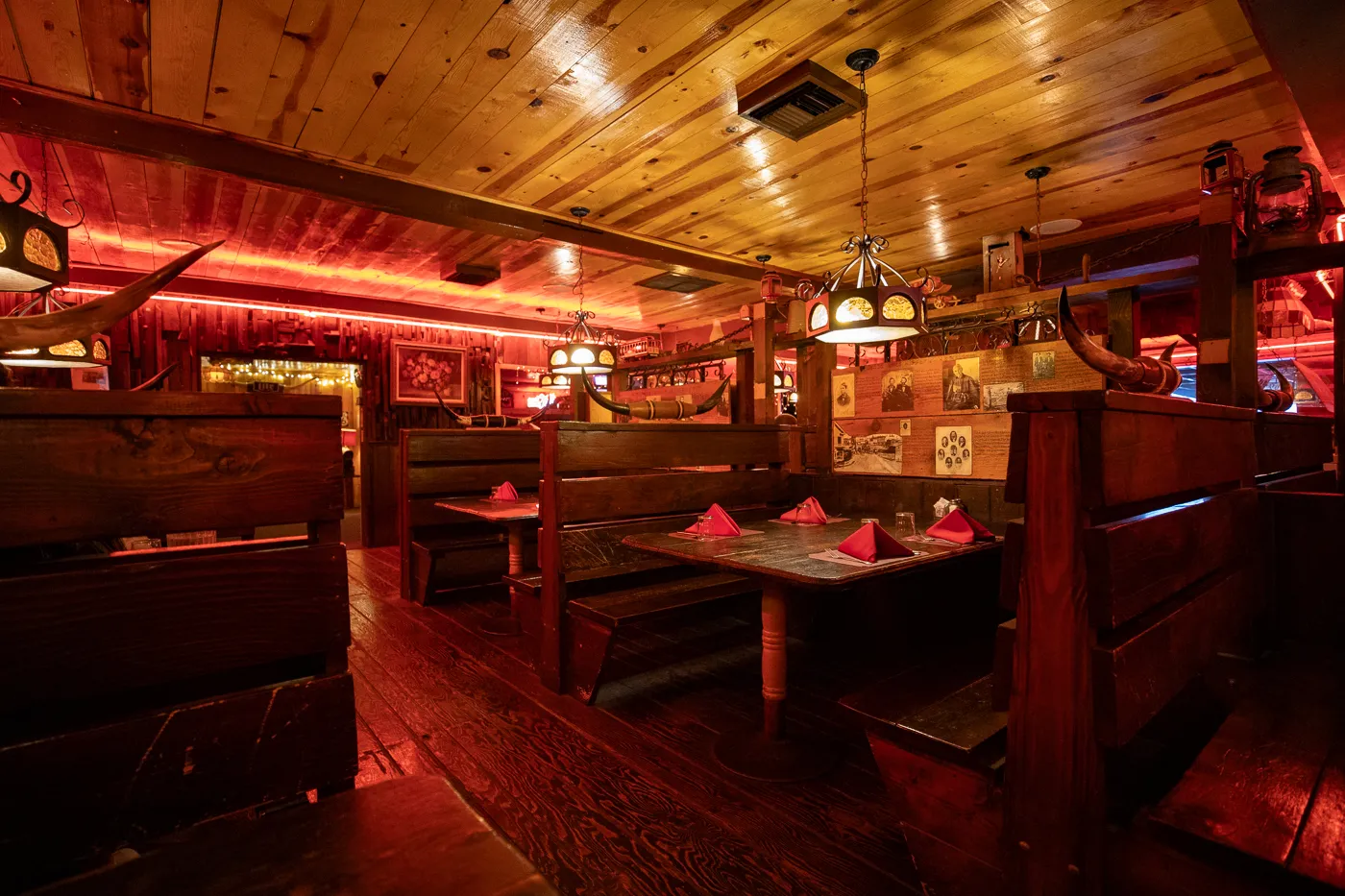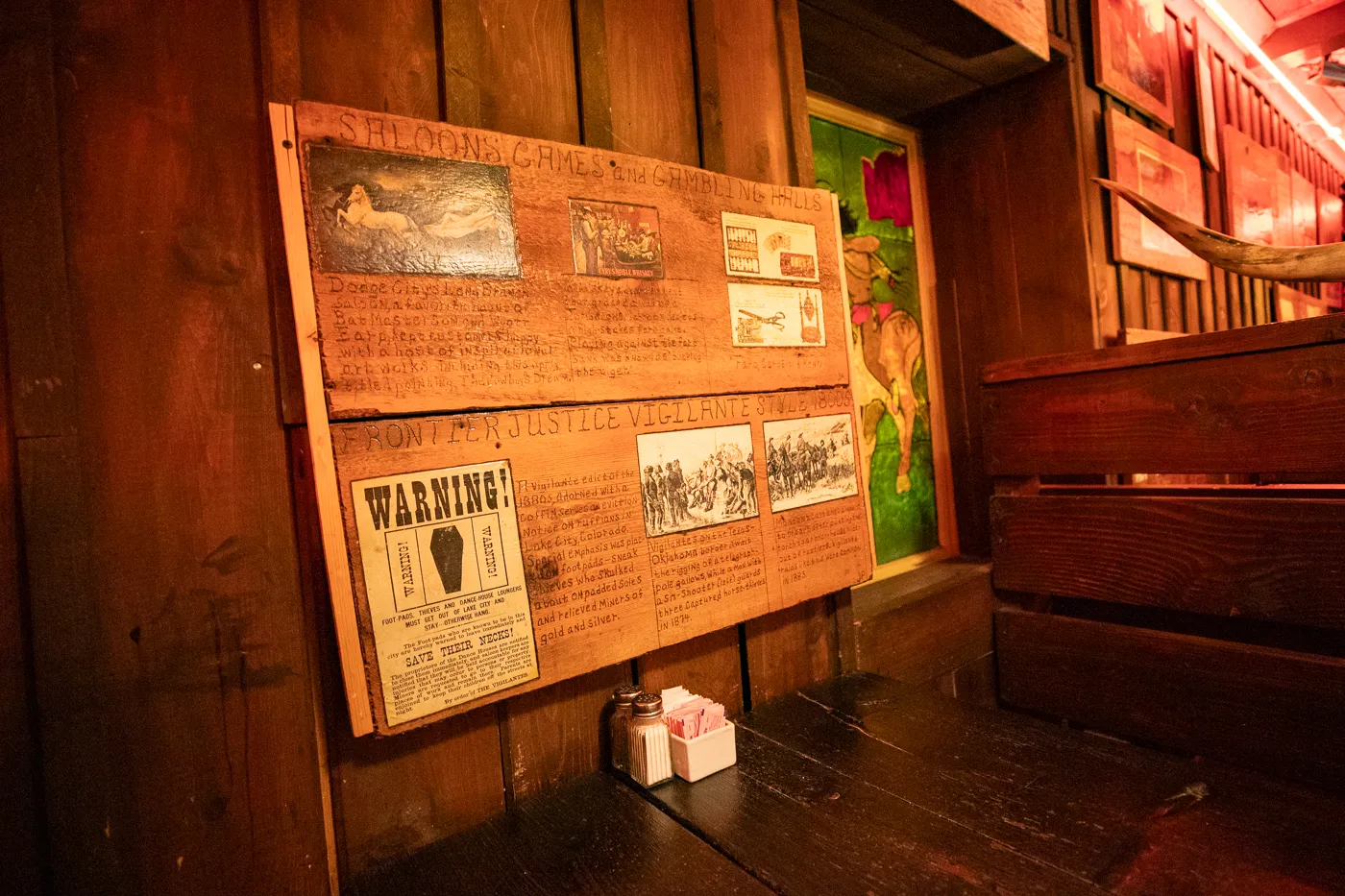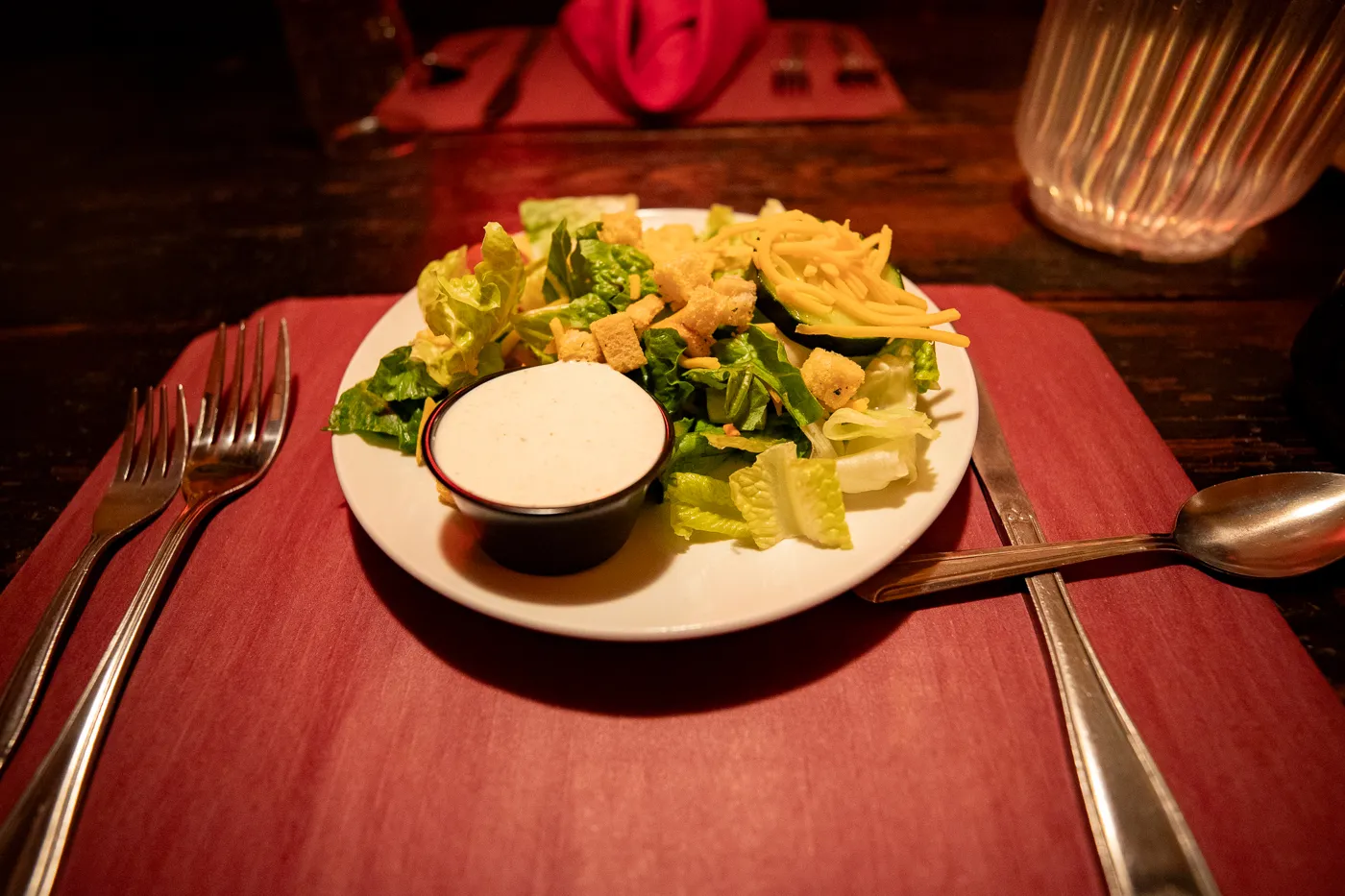 From the menu:
We Welcome You
A Brief History
In this era of almost instant transportation, people everywhere look back nostalgically and with deep interest to the days when hardy, courageous men made tracks across the awesome stretches of wilderness known as "The Wild West".
In the dry arid desert of the Southwest, where physical existence depends on reaching the next well or watering hole, the audacity of the men who wheeled coaches across the desert and mountains, in a supreme example of the West's reckless courage, established the epic of the Butterfield Stage line.
The Butterfield Overland Co. opened its mail route from St. Louis to San Francisco in 1858. Being the only overland route through Indian territory, John Butterfield's Stage line soon became popular amongst missionaries and pioneers, thus compelling to modify its cargo to include passengers.
The staff at our Steakhouse is an international line of people commencing from the proprietor down; so don't be surprised if you are greeted and assisted in your own language. We still strive to extend our Famous Western Hospitality to you.
Thank you for accepting our hospitality, Your business is very appreciated by all of us at the Butterfield.
Butterfield Stage Co Steak House
Address: 609 W Hopi Dr, Holbrook, AZ 86025
Hours: 4pm-9pm daily (hours subject to change, call ahead)
Pin this Arizona Route 66 Restaurant to save for your road trip itinerary: