Usually if you're headed to the dog house, you've done something wrong. But if you're headed to this dog house, you're probably just hungry. The Dog House Drive In in Albuquerque, New Mexico is known for its fun neon sign, tasty chili cheese dogs, Route 66 location, and television cameos.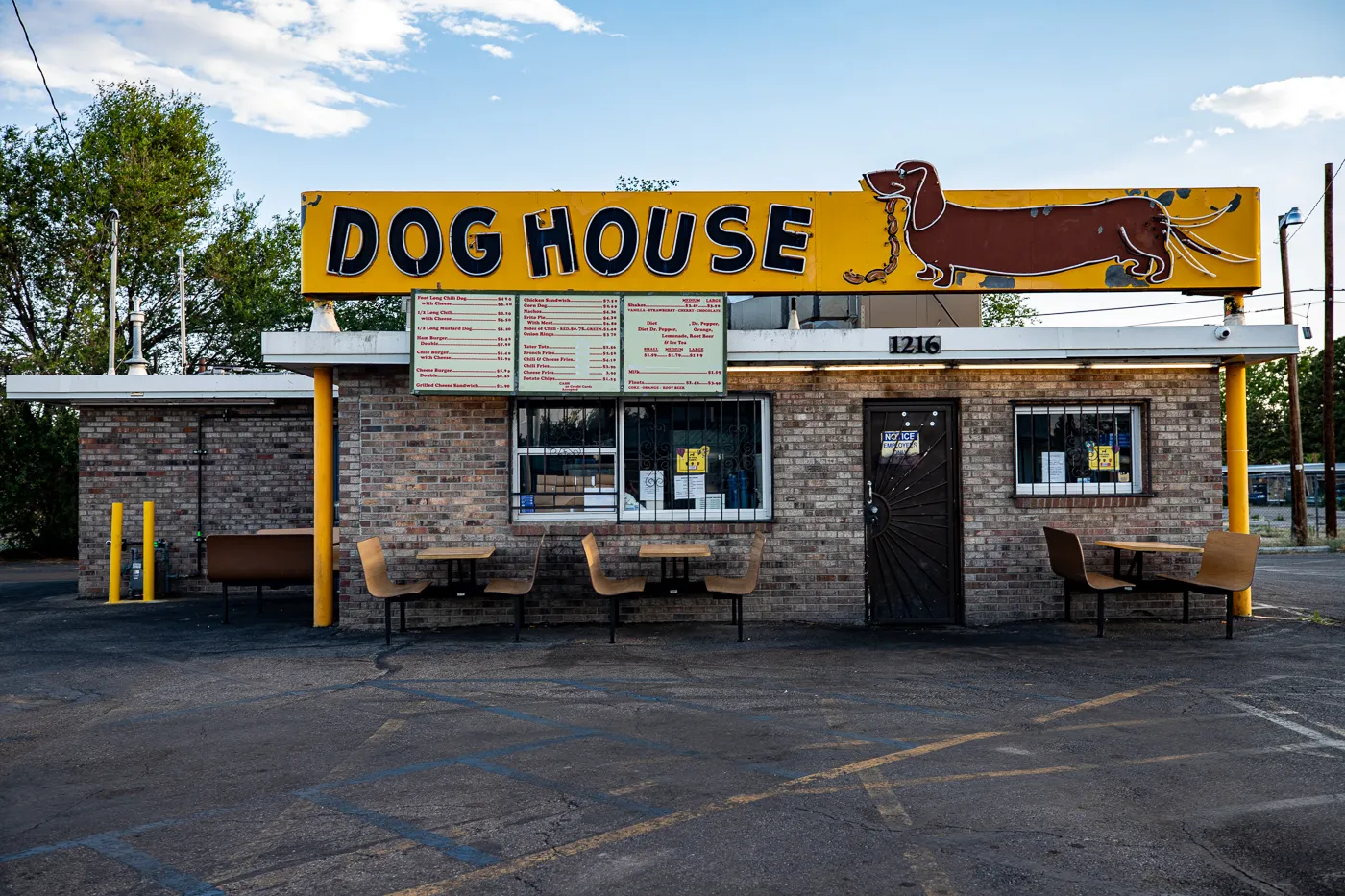 Opened in 1948 by the Frank Mead family, the Albuquerque Dog House was originally located at 10th and Central. In 1967 Jimmy Hartley took over the restaurant and eventually moved it two blocks west to its current spot on Route 66 (now Central Avenue) in 1969.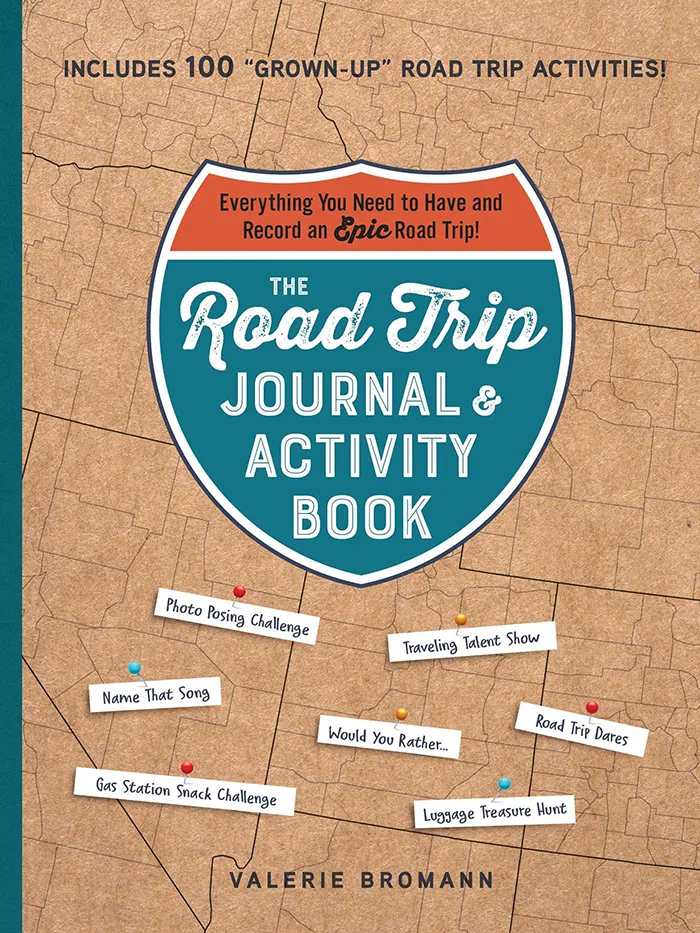 The Road Trip Journal & Activity Book
Everything You Need to Have and Record an Epic Road Trip!
Enjoy fun games and challenges to pass the time on your next road trip and have a keepsake to look back on for years to come with this entertaining must-have for your next vacation.
While Route 66 enthusiasts have been flocking to The Dog House for decades, today the drive-in equally attracts fans of the TV shows Breaking Bad and Better Call Saul. The restaurant served as a backdrop to the story several times throughout both series when you would see characters like Jesse Pinkman, Jimmy McGill, and Kim Wexler eating (or selling meth, peddling mobile phones, buying guns…) there. It's even one of the stops on the Breaking Bad RV tour that takes you to all the filming locations around the city.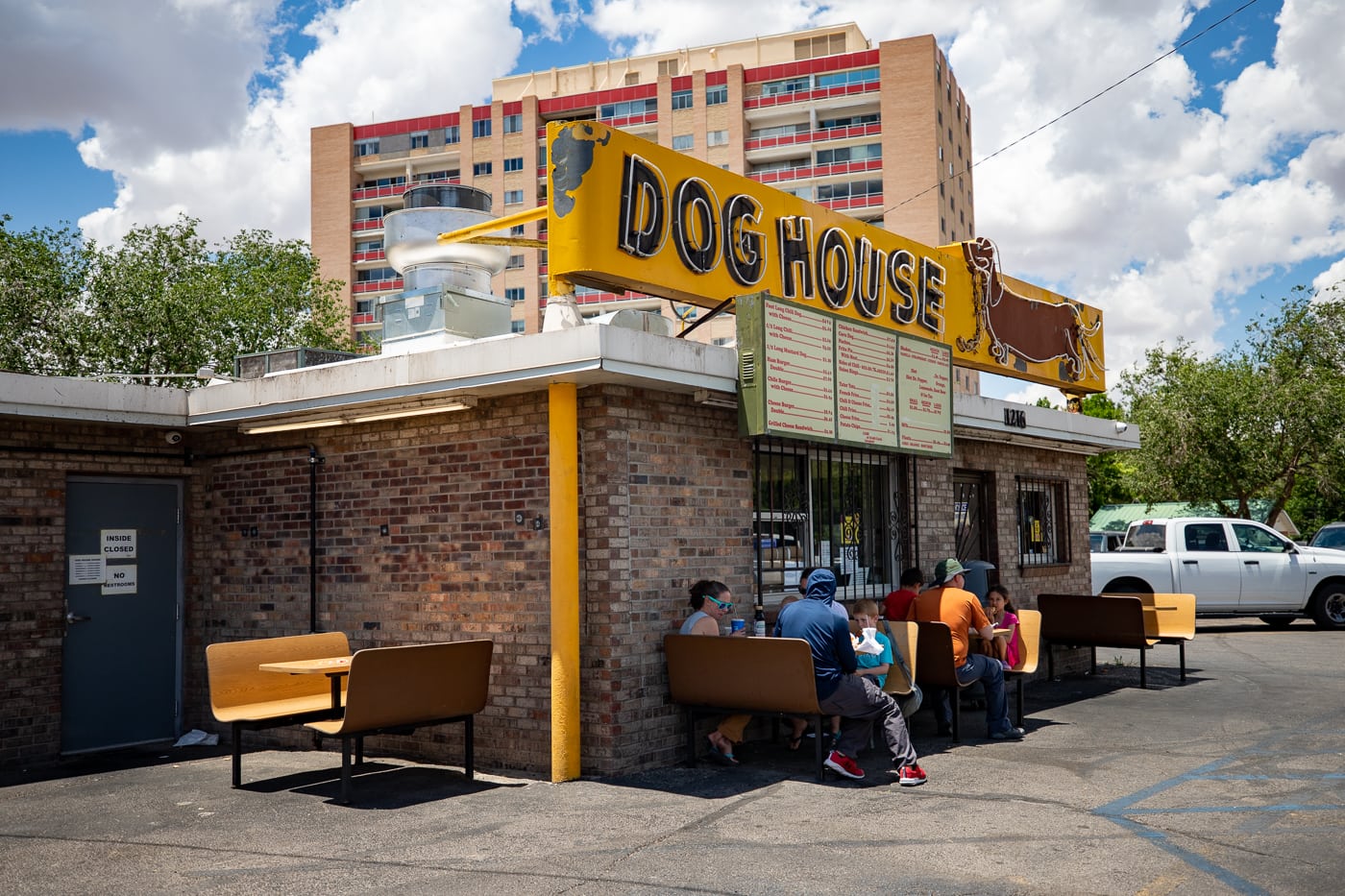 But even if you see it on a tour, make time in your schedule to come for lunch or dinner and the perfect road trip meal.
The first thing that might catch your eye about the Dog House Drive In is the big neon sign that tops the building's exterior. While it is fun to see during the day, at night the sign lights up to say DOG HOUSE and features a dachshund doggy consuming a string of sausages. The best part? This sign is animated. The lights fluctuate, making the wiener dog's tail wag up and the sausages look like a never-ending feast.
But while the sign might draw you in, the food is what will have you come back again and again. The menu is small but has everything you would expect to order. Namely, hamburgers, hot dogs, and frito pie with sides of fries or tater tots and sodas and milkshakes to wash it all down.
Their signature specialty is the footlong chili dog (with or without cheese and/or onion) smothered in a thick, slightly spicy, chili. Be careful unwrapping this dog in your car, it's messy.
And you will probably be eating your meal in your car. The small restaurant does have a small dining space, with a couple of tables and barstools, but after the Covid-19 pandemic it has been closed. There are also a couple of picnic tables out front, but with the amount of people stopping by, don't bet on nabbing one. (Unlike the scenes in Breaking Bad, there are no big tables set up in the parking lot.) But the car-hop style ordering is still going strong.
When I stopped by on a Thursday afternoon the parking lot was crowded but my order was taken swiftly and the food (a chili cheese dog, fries, and a chocolate milkshake) came shortly after.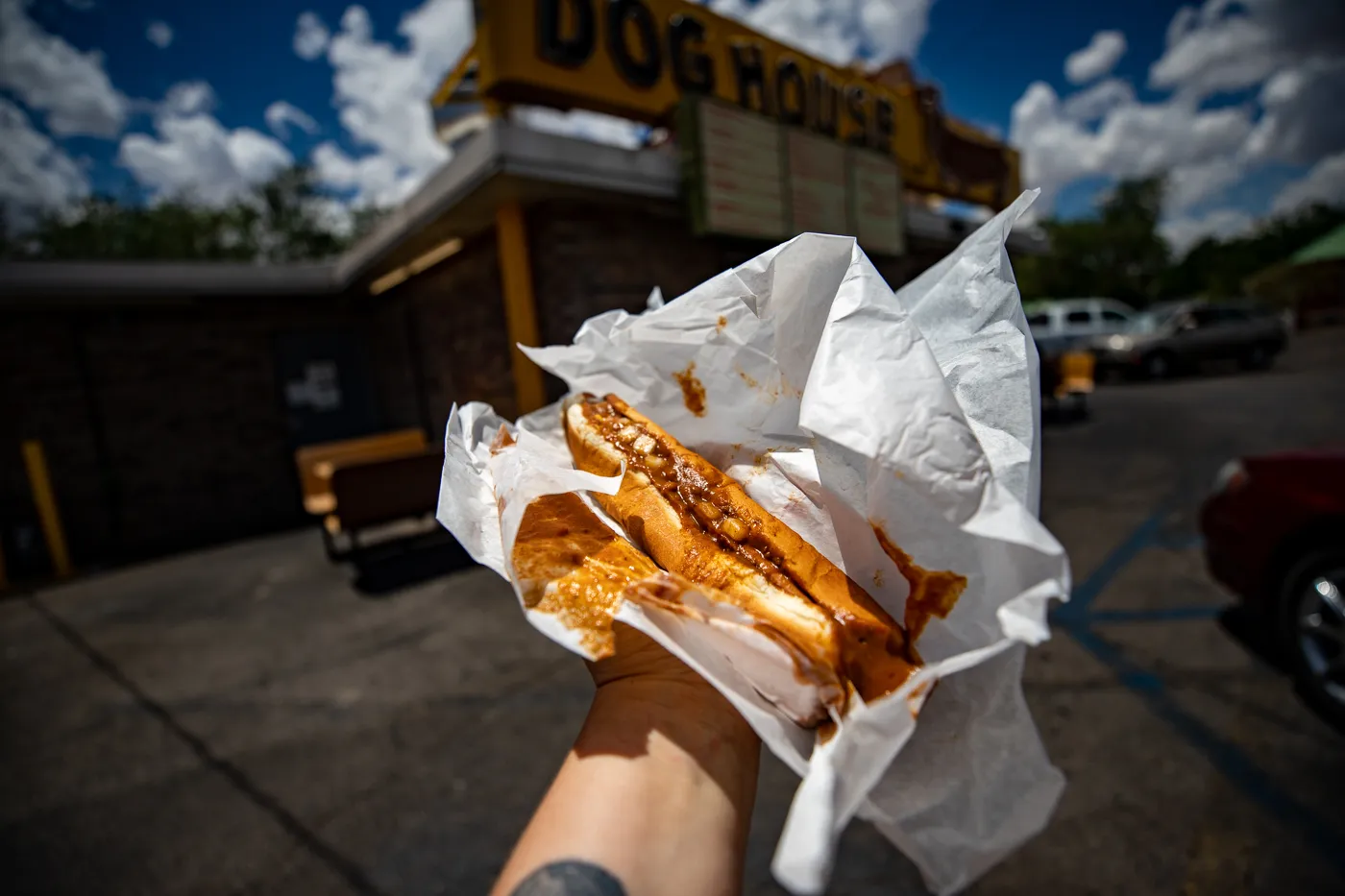 If you love your meal at the Dog House you're not alone. The drive-in has accolades as long as the foot-long dog. It was named best hot dog in New Mexico by Food and Wine and People Magazine, one of the 50 best drive-in restaurants by The Daily Meal, and 10 most interesting chile dishes in Albuquerque by 10Best.
If you're road tripping Route 66, a Breaking Bad super fan, or just hungry for a hot dog, make sure you add the Dog House Drive In in Albuquerque, New Mexico to your travel itinerary… or else you might just get yourself in the dog house with your travel companions.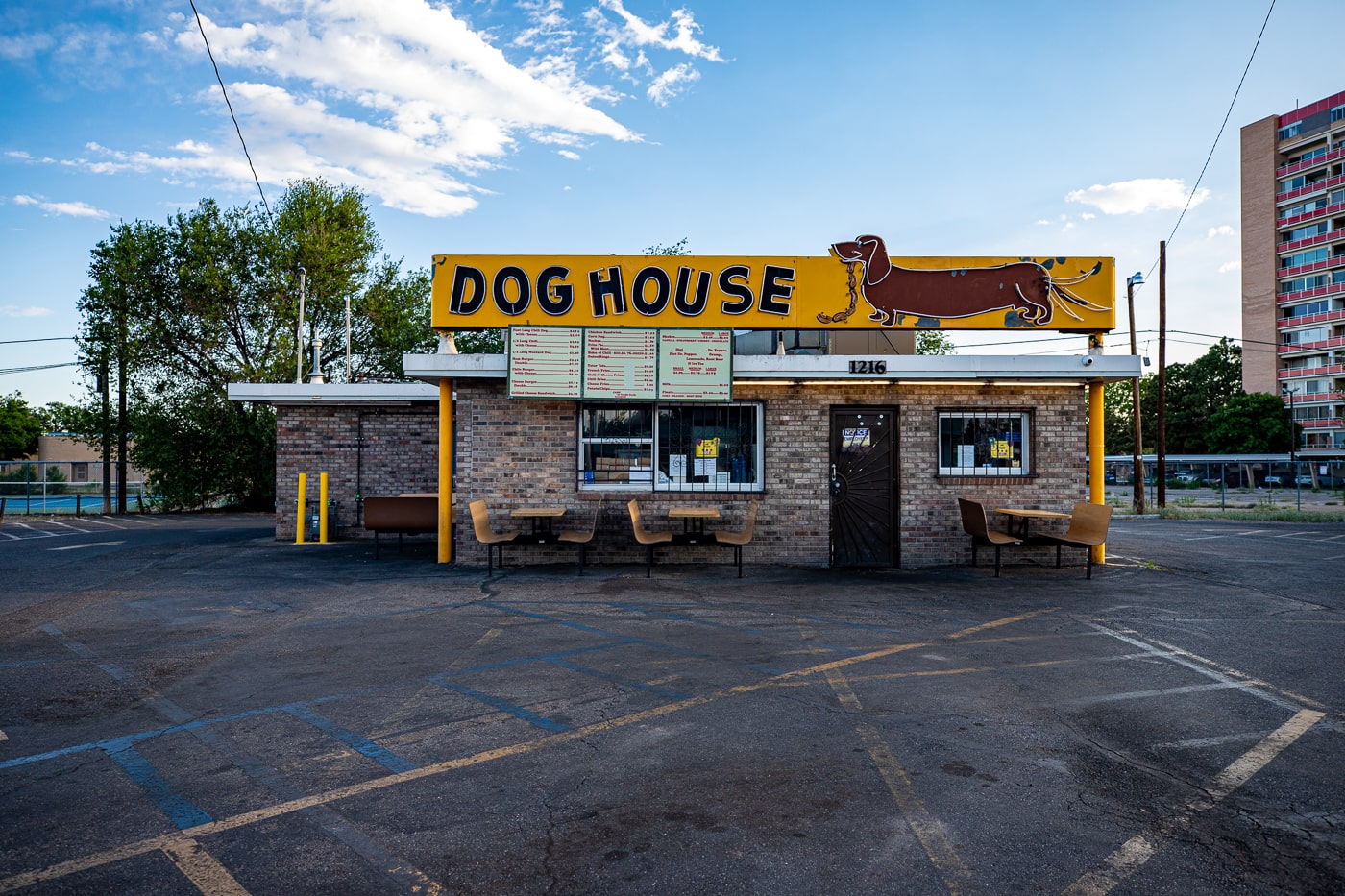 Want more roadside attractions and dining options? While in town visit some of the other classic Route 66 attractions in Albuquerque: Owl Cafe, 66 Diner, and the American International Rattlesnake Museum. Fan of Breaking Bad and Better Call Saul? Be sure to take the Breaking Bad RV Tour and stop at the Breaking Bad Museum and Gift Shop!
Spending the night in Albuquerque? Be sure to book a room at this Route 66 classic, El Vado Motel.
Dog House Drive In
Address: 1216 Central Ave NW, Albuquerque, NM 87102
Cost: Free to See, Food Costs Vary
Hours: 10:30 AM–9 PM Monday-Saturday, Closed Sunday (subject to change, check ahead)
Pin this New Mexico Route 66 restaurant to save for your road trip itinerary: