Known for its iconic neon sign and great Mexican food, the Copper Cart in Seligman, Arizona was once one of the most popular Route 66 restaurants in town. You can no longer get food at this establishment, but you can still come inside. The building is now home to the Route 66 Motoporium.
The Copper Cart restaurant opened in Seligman in 1952. It was a popular spot to stop for Mexican food, steaks, and more. It might just be best known for being the restaurant that hosted Angel Delgadillo's meeting that led to the formation of the Historic Route 66 Association of Arizona.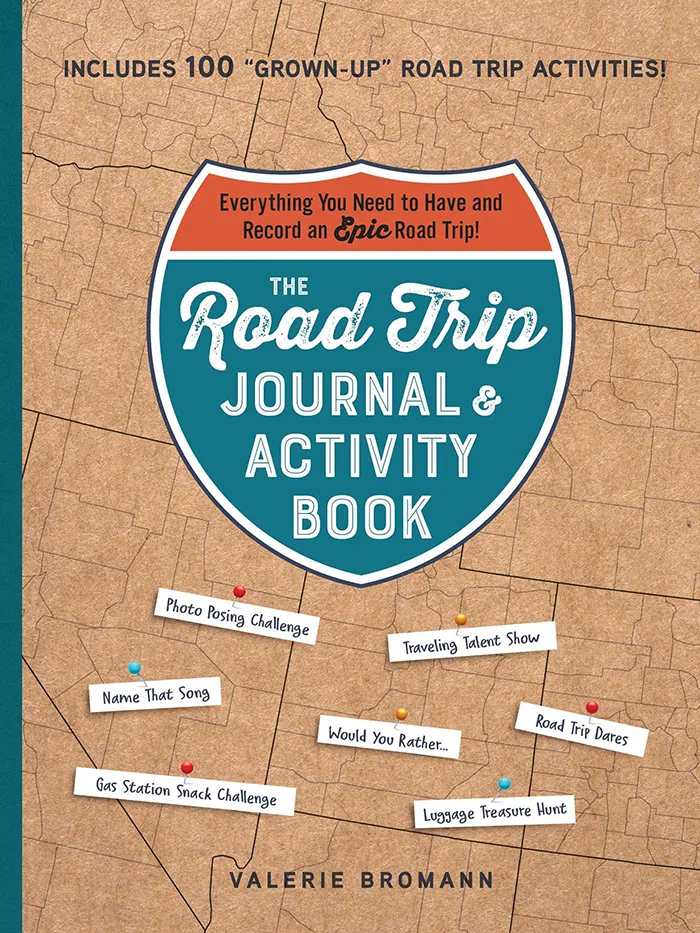 The Road Trip Journal & Activity Book
Everything You Need to Have and Record an Epic Road Trip!
Enjoy fun games and challenges to pass the time on your next road trip and have a keepsake to look back on for years to come with this entertaining must-have for your next vacation.
After more than 60 years, and a few different owners, the restaurant eventually closed for good. In 2015 the Route 66 Motoporium moved into the building, which is included on the National Regiter of Historic Places. The Motoporium is a gift shop and classic car museum with vintage motorcycles and other vehicles on display.
Step inside to check out the motorcycles, vehicles, vintage signs, and other Route 66 memorabilia. Be sure to pick up a road trip souvenir! And explore outside to find a variety of full-sized vintage cars, including a fun VW bus covered in stickers and signatures.
On the side of the building is another fun thing to see in Seligman: a Route 66 mural complete with two authentic motorcycles jutting out of the concrete. It makes a fun photo op to commemorate your Route 66 road trip in Seligman!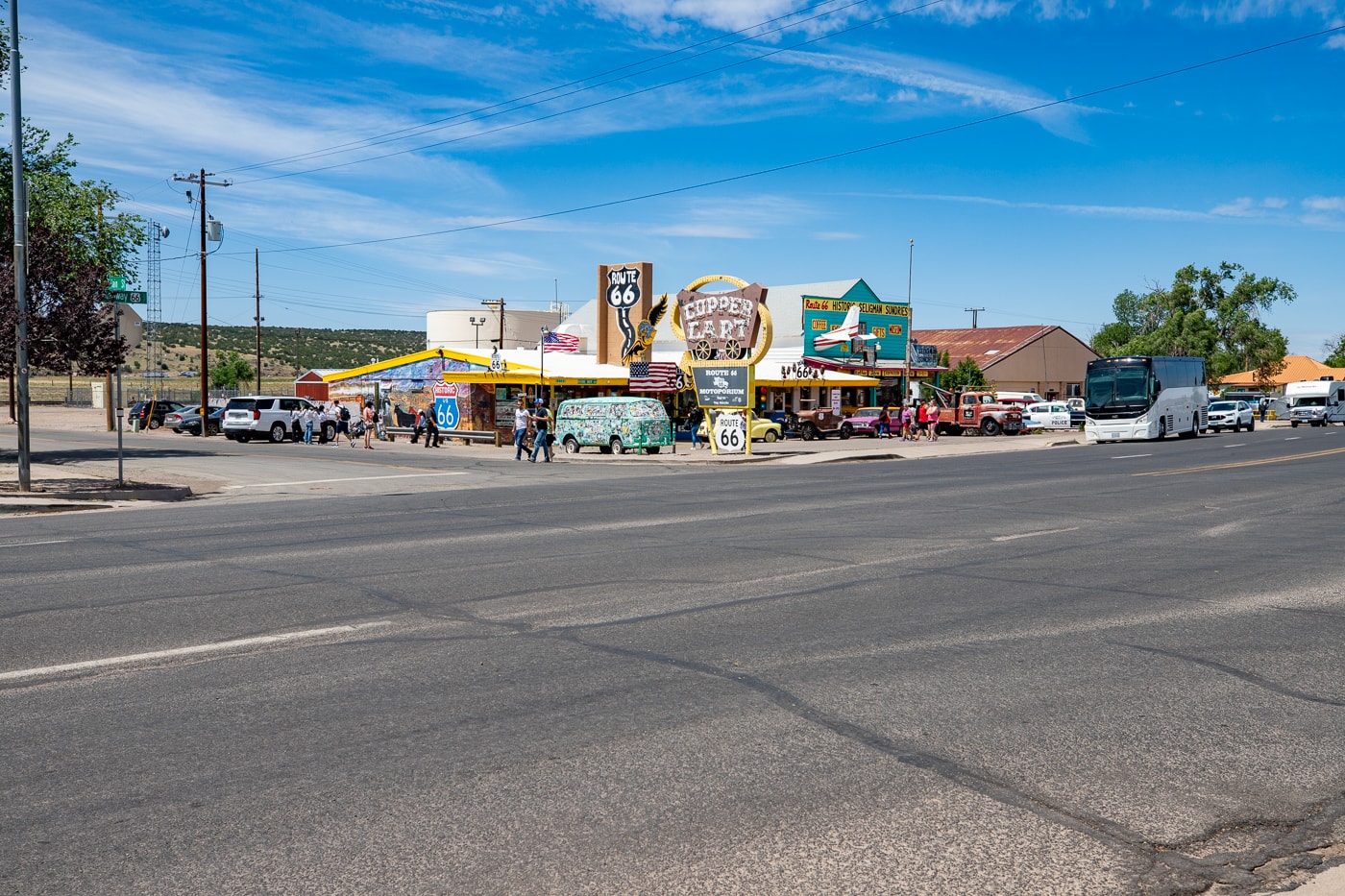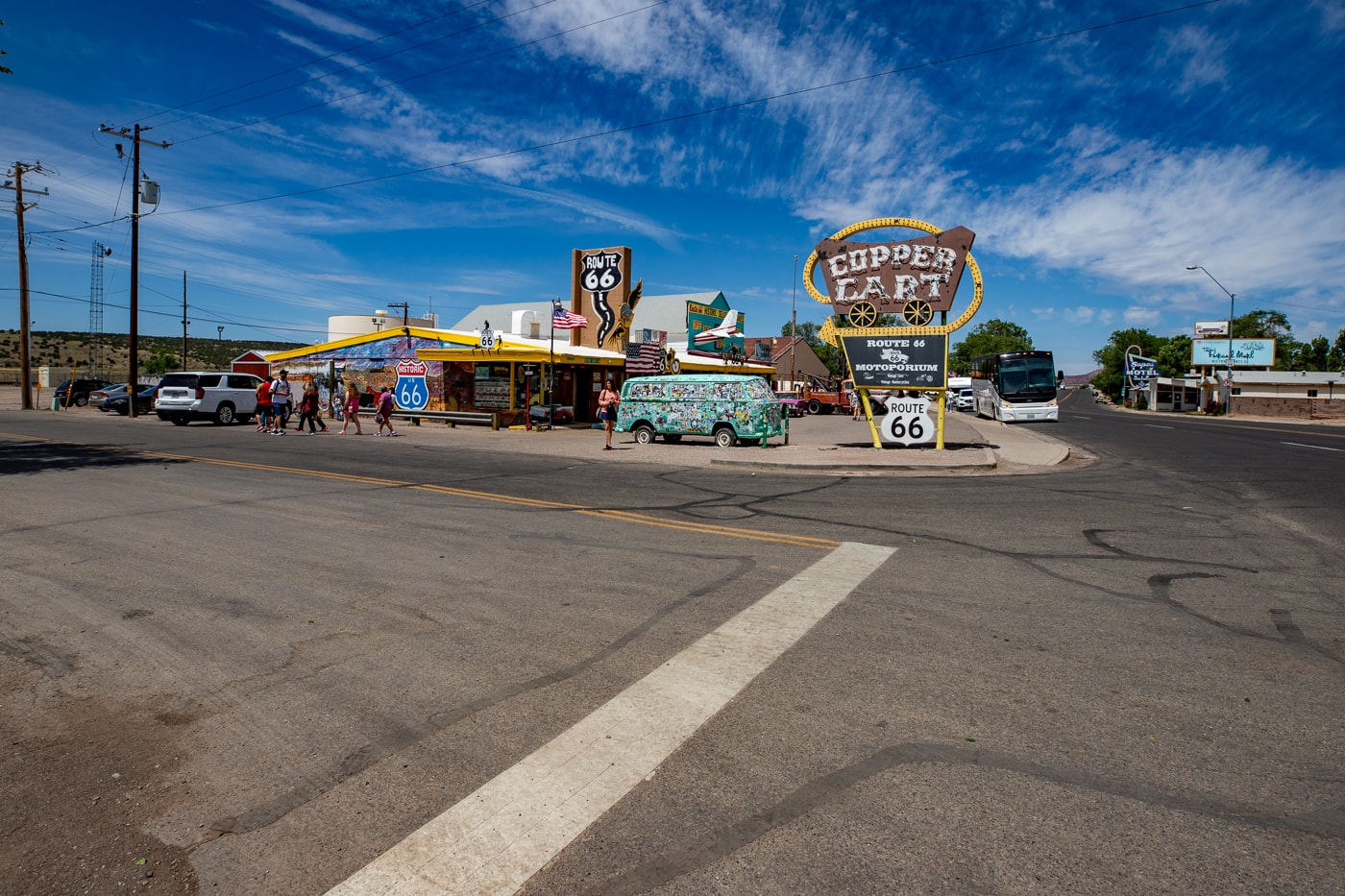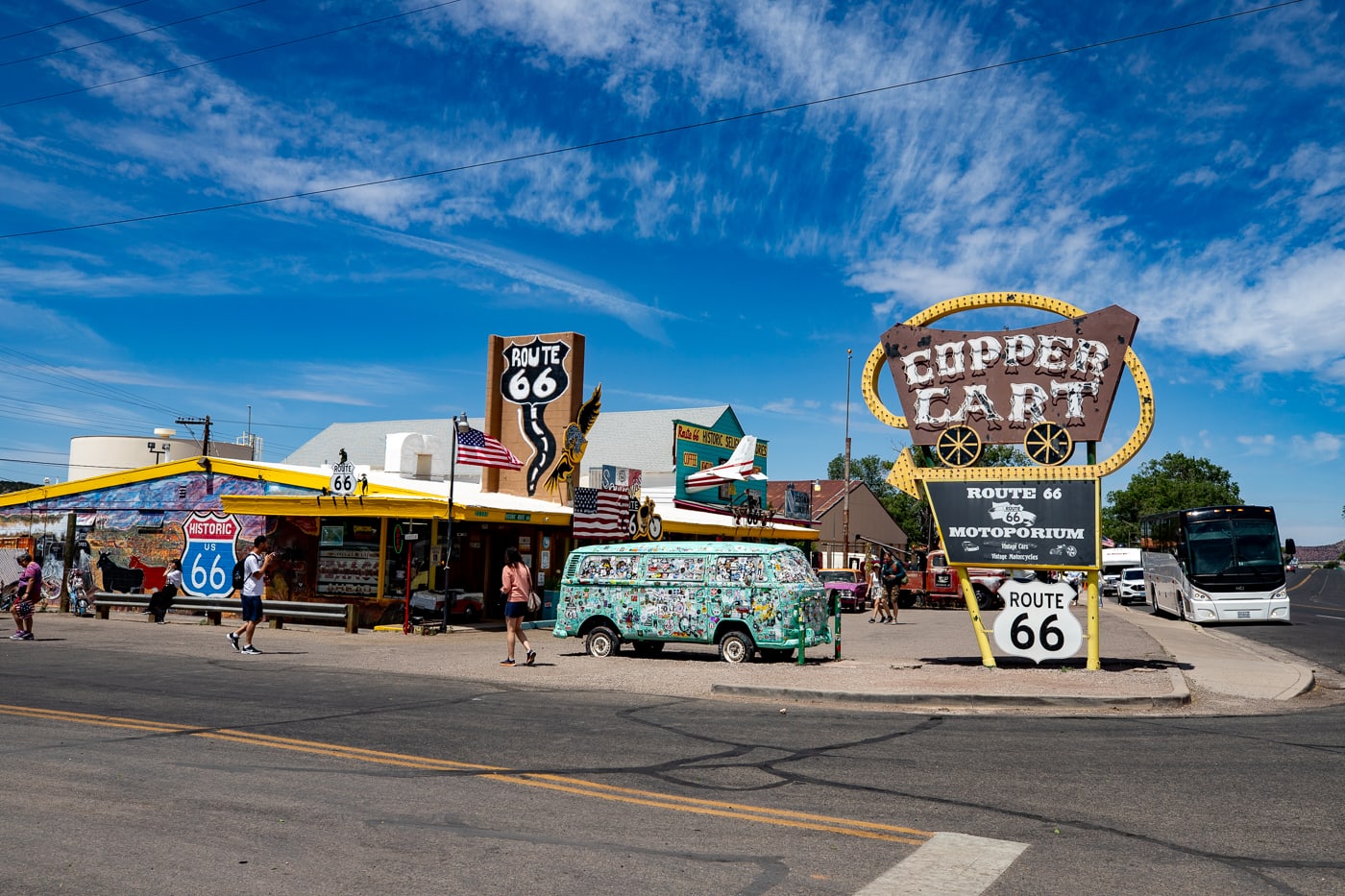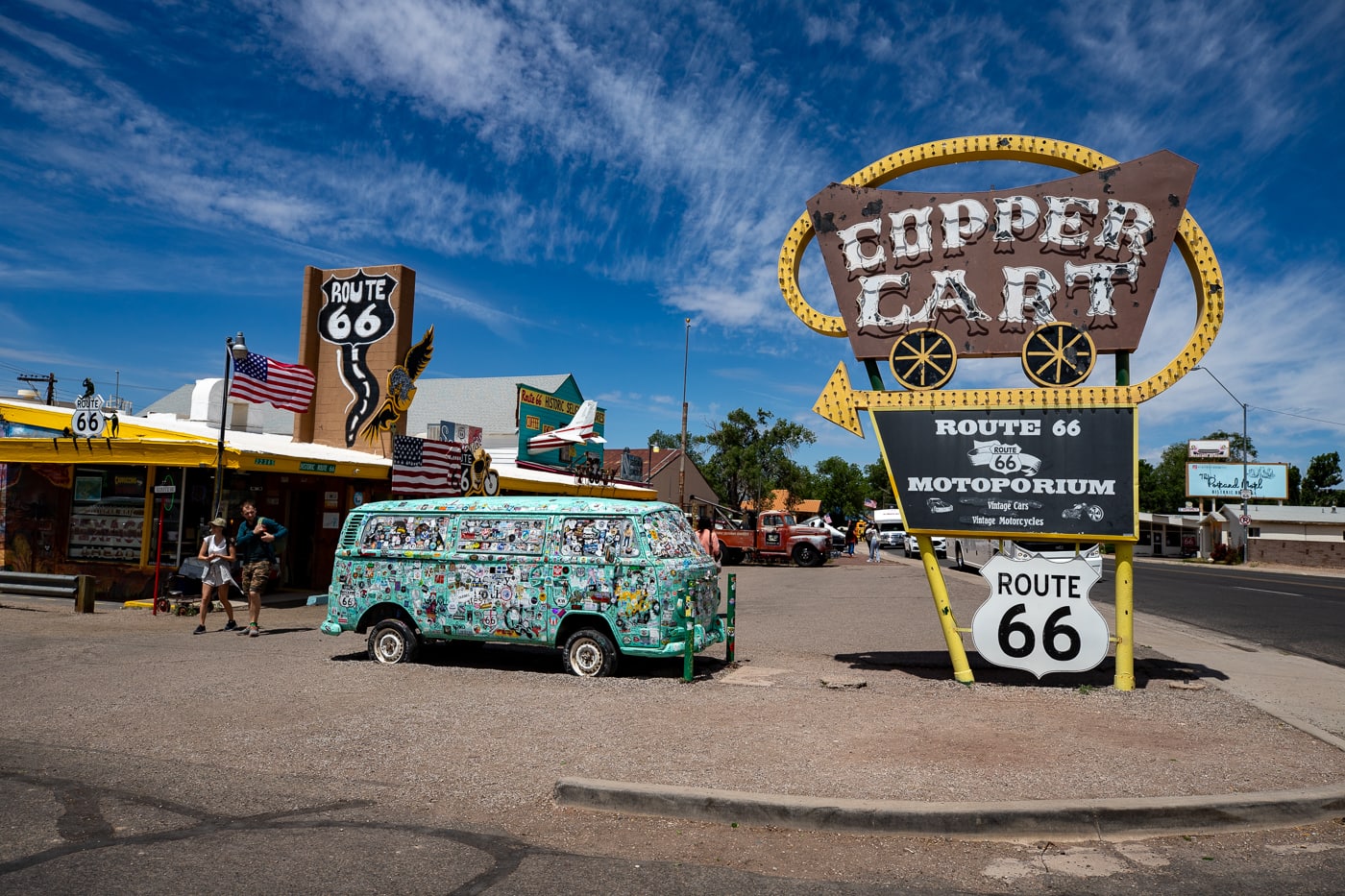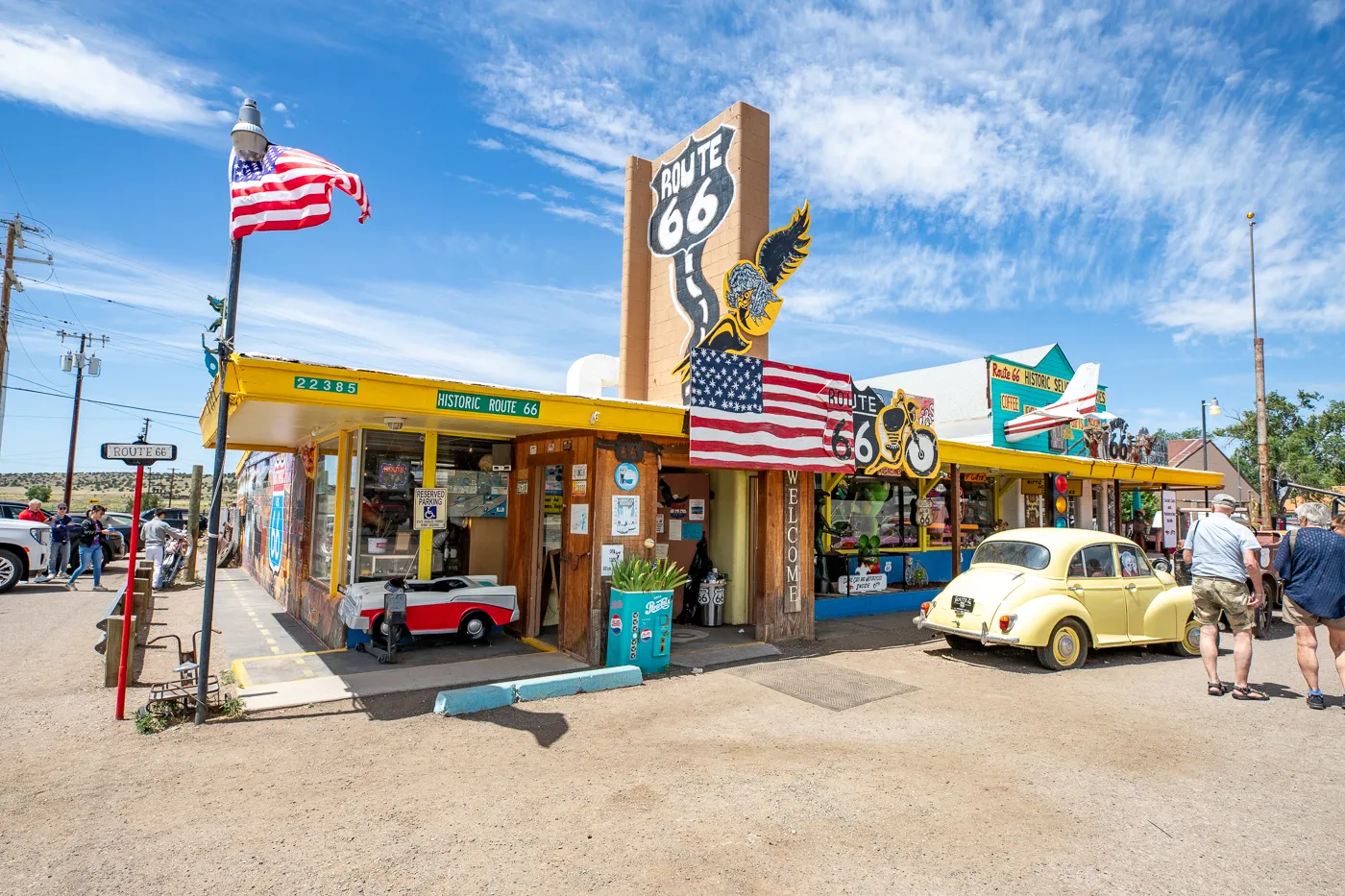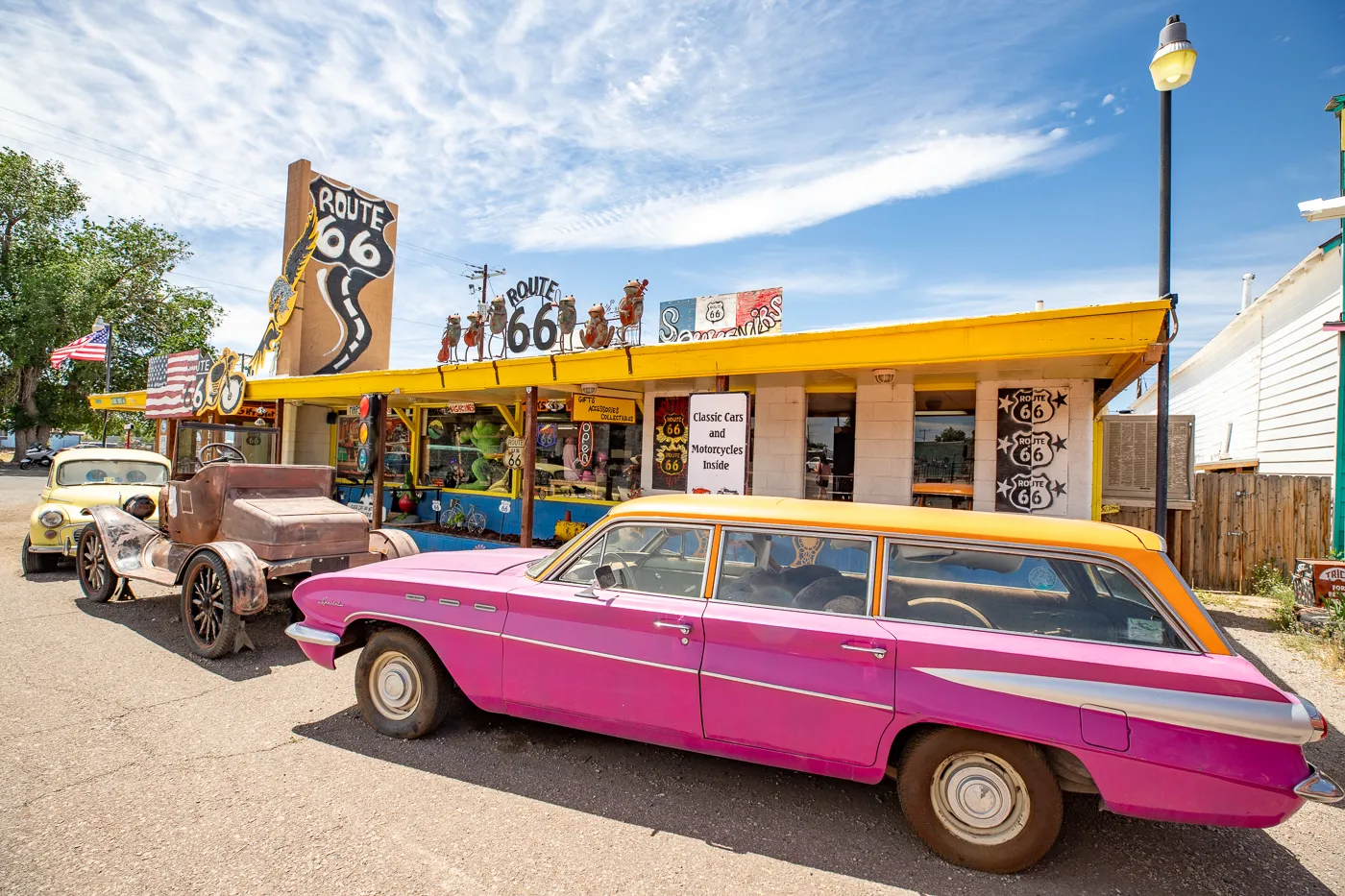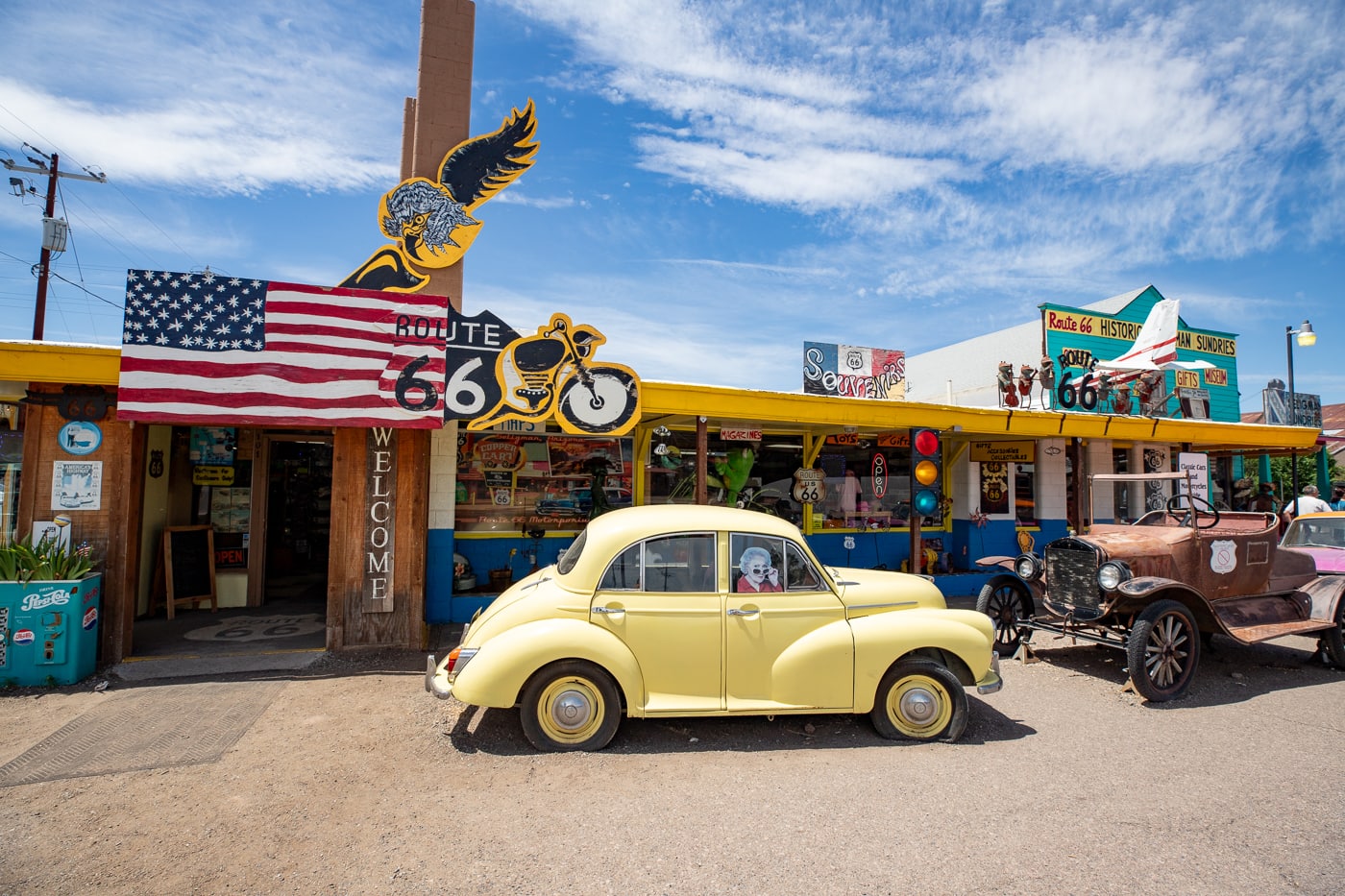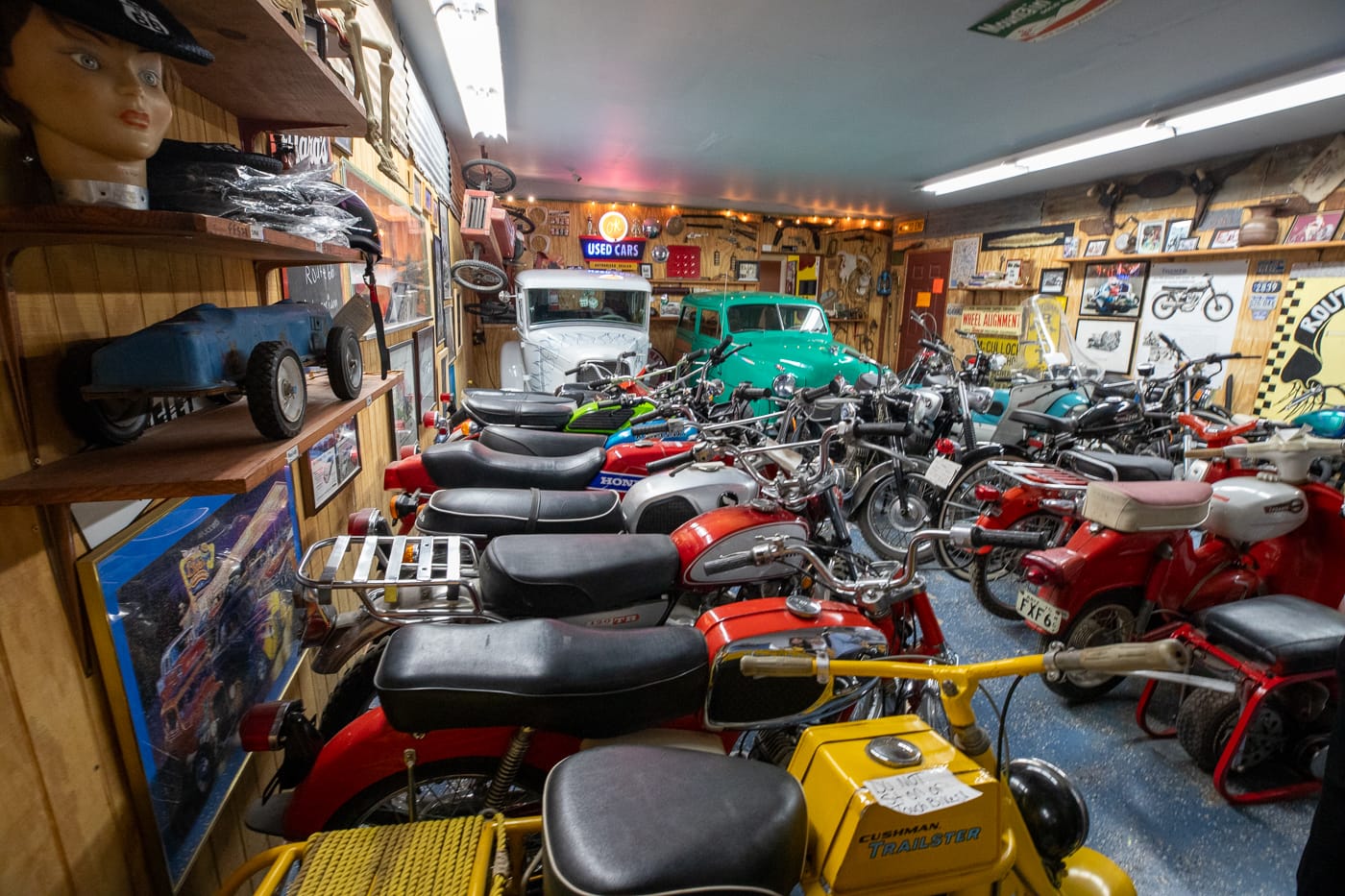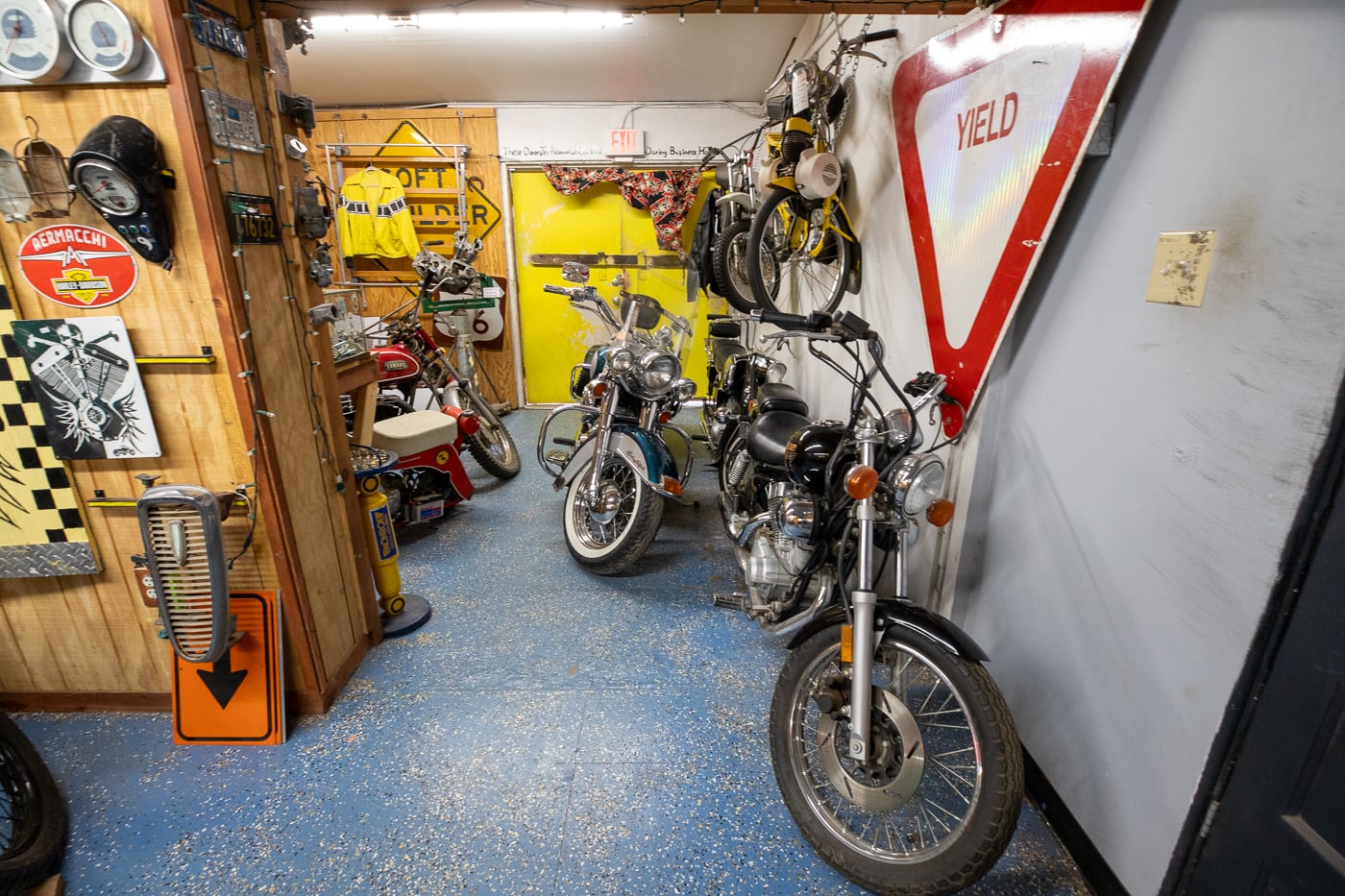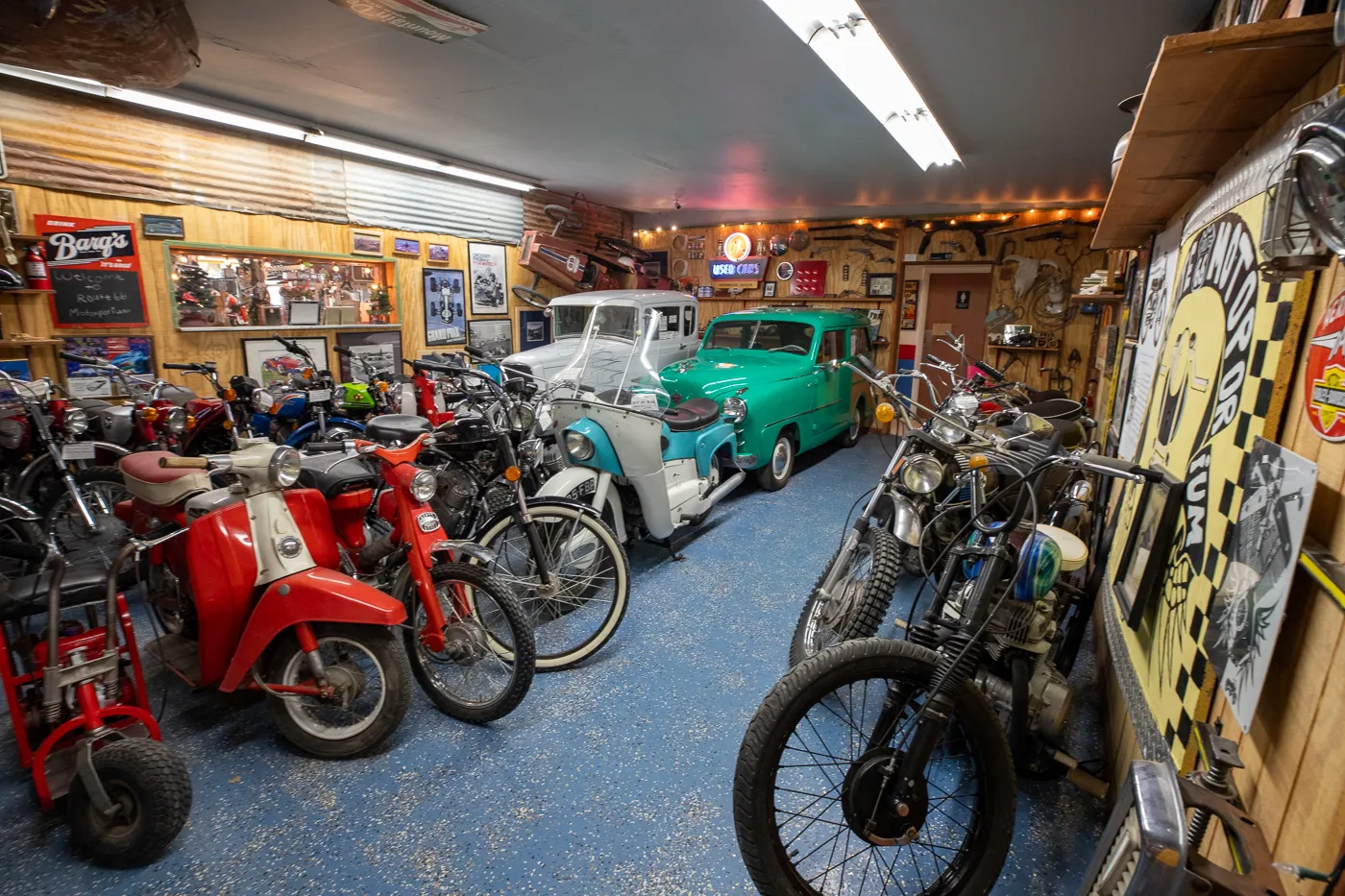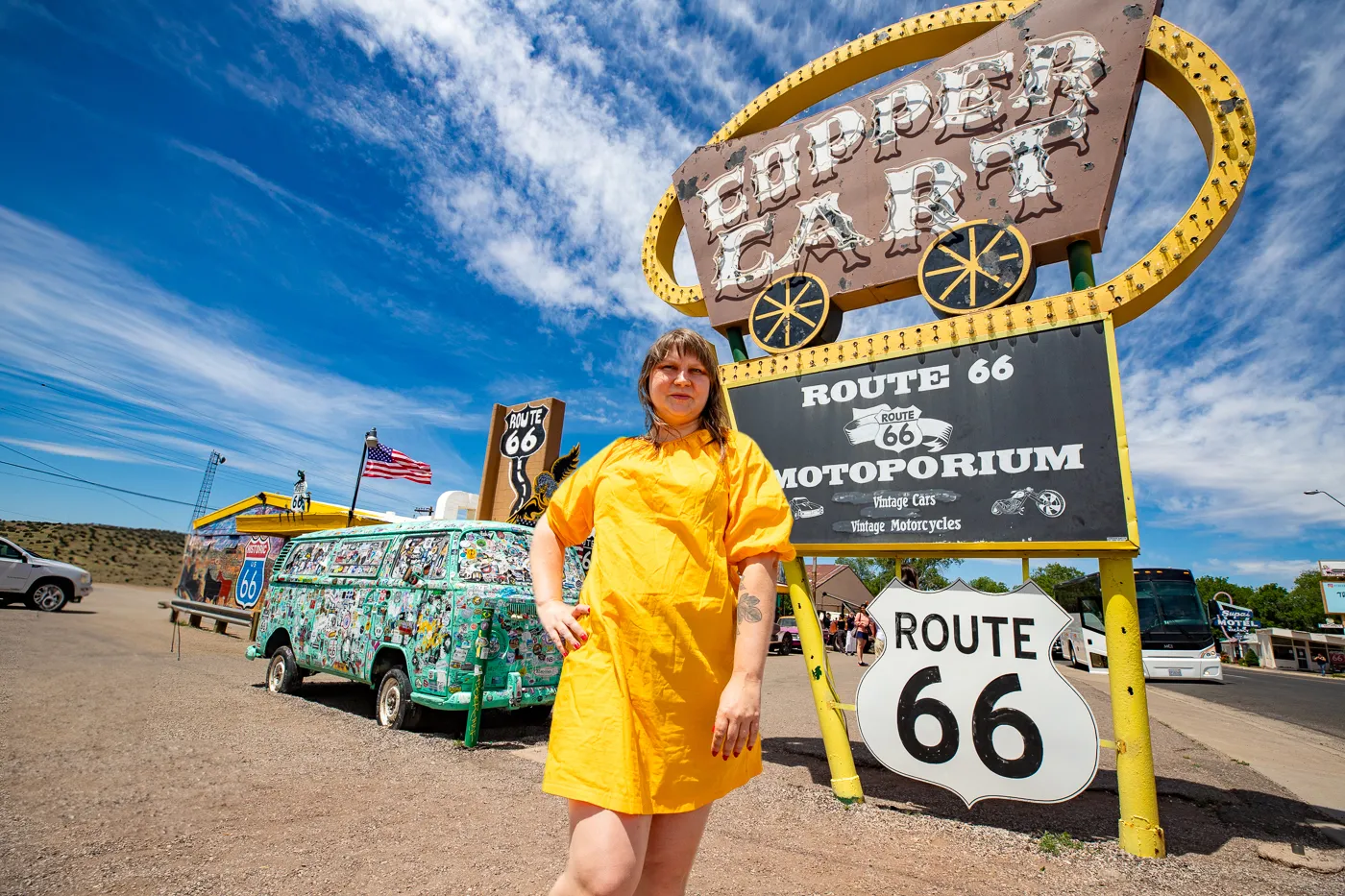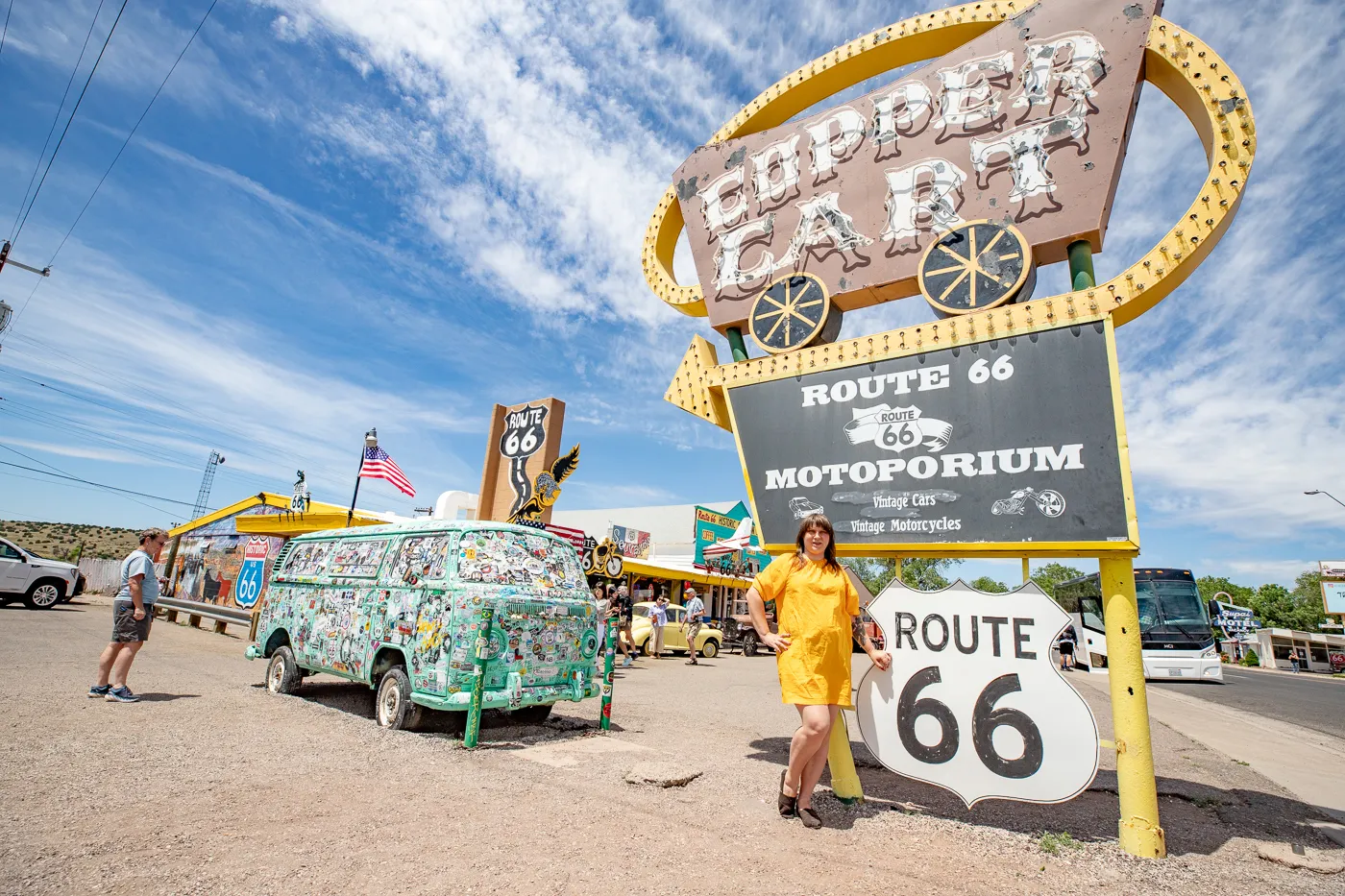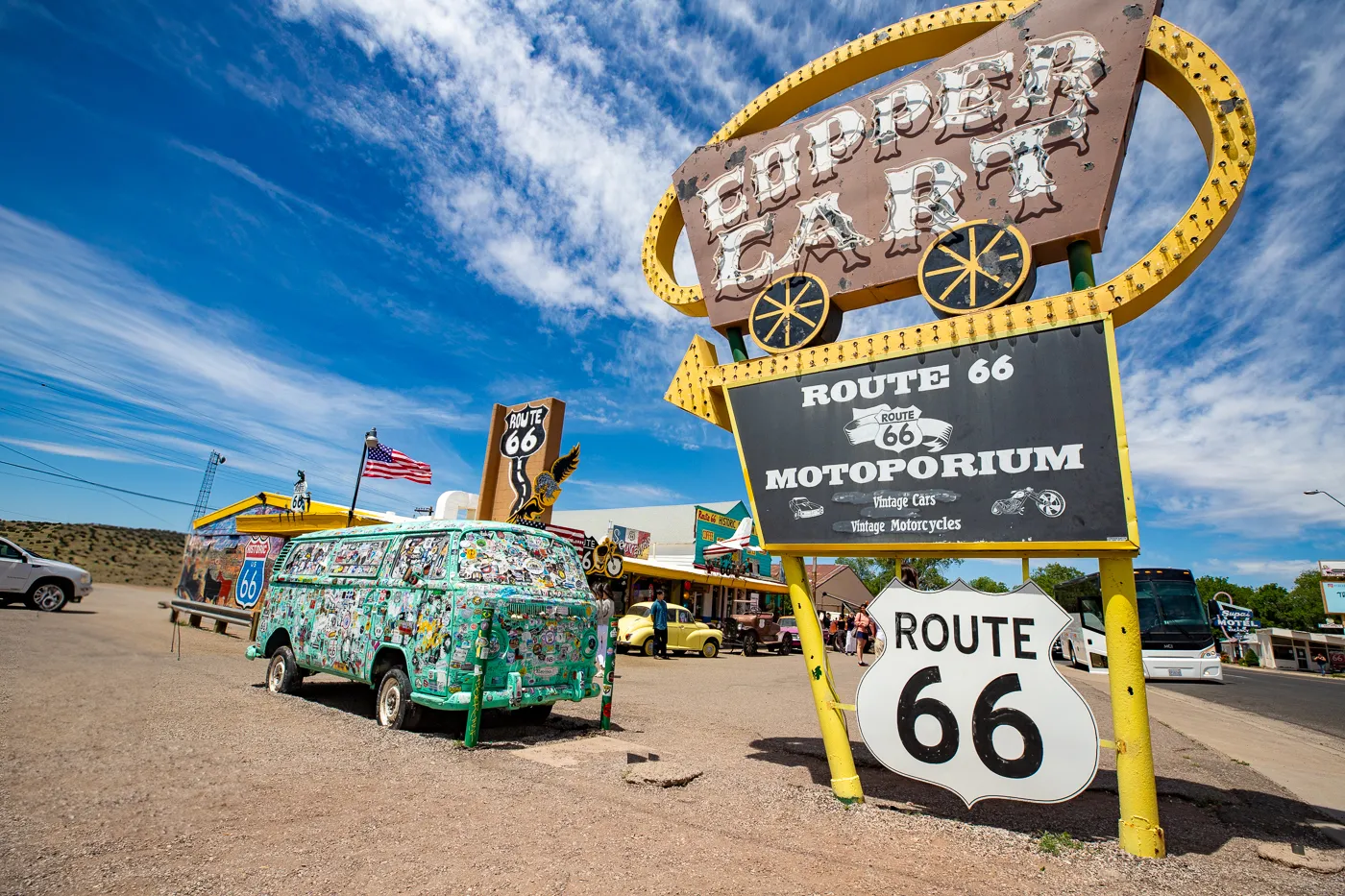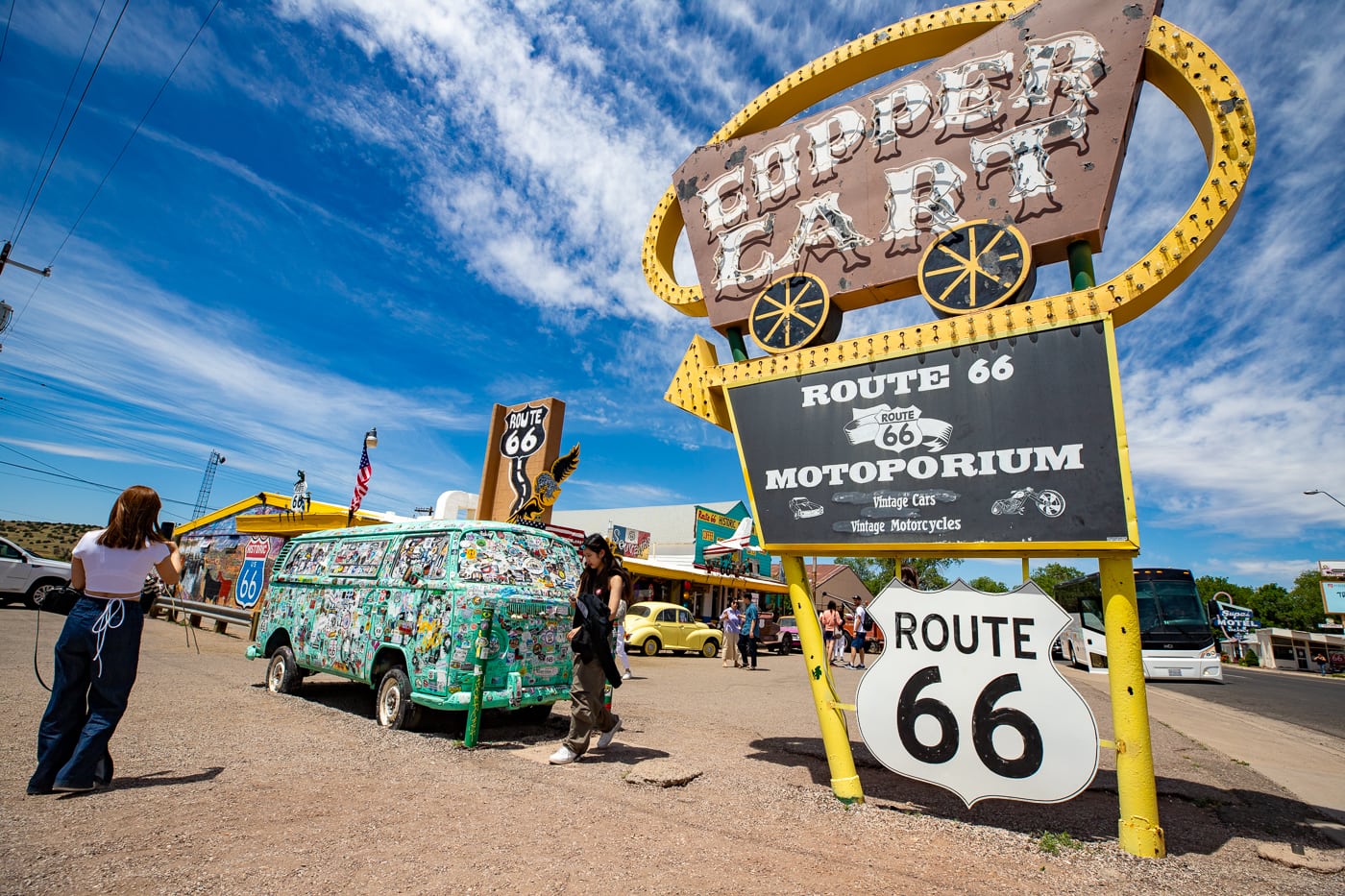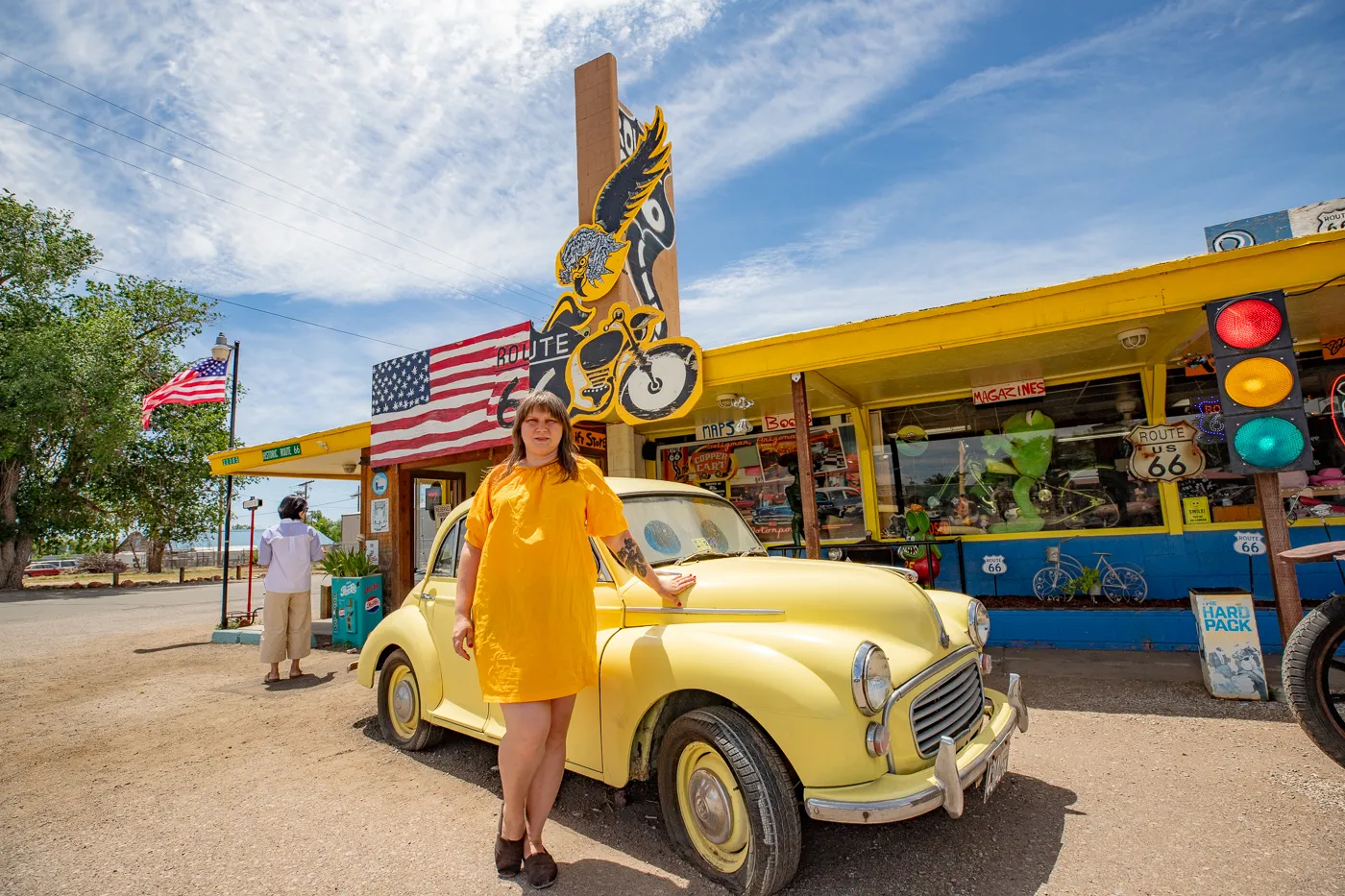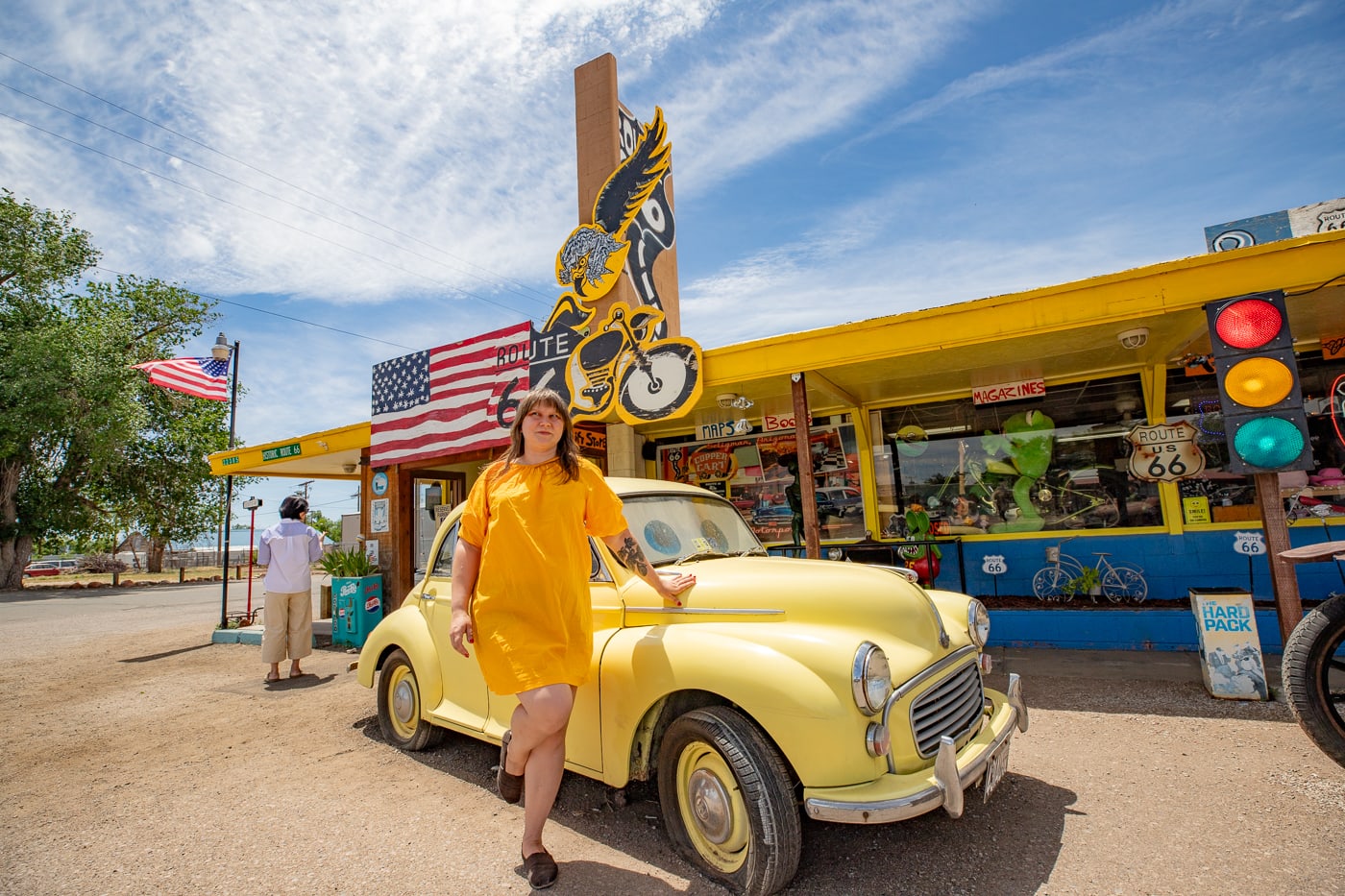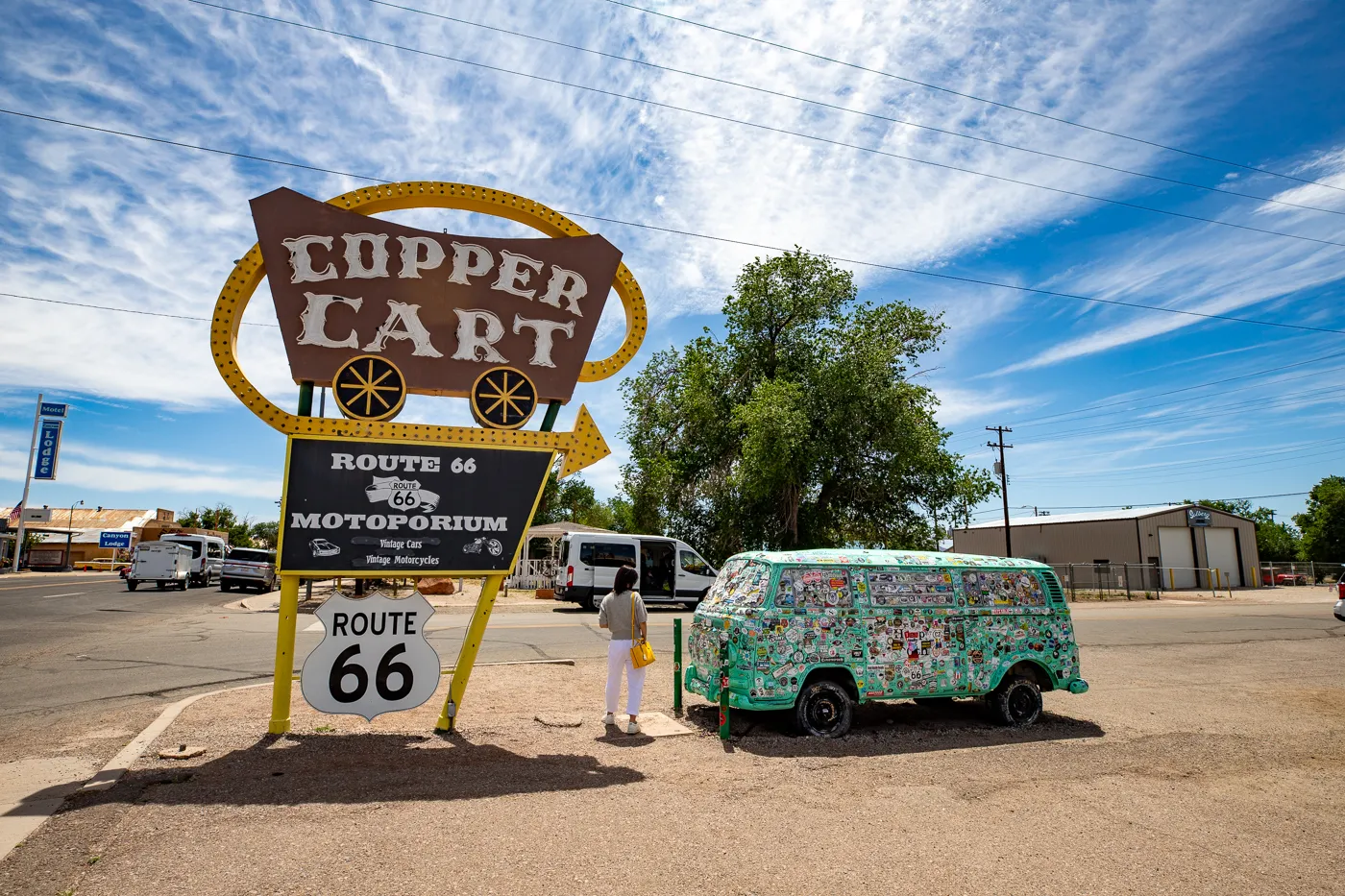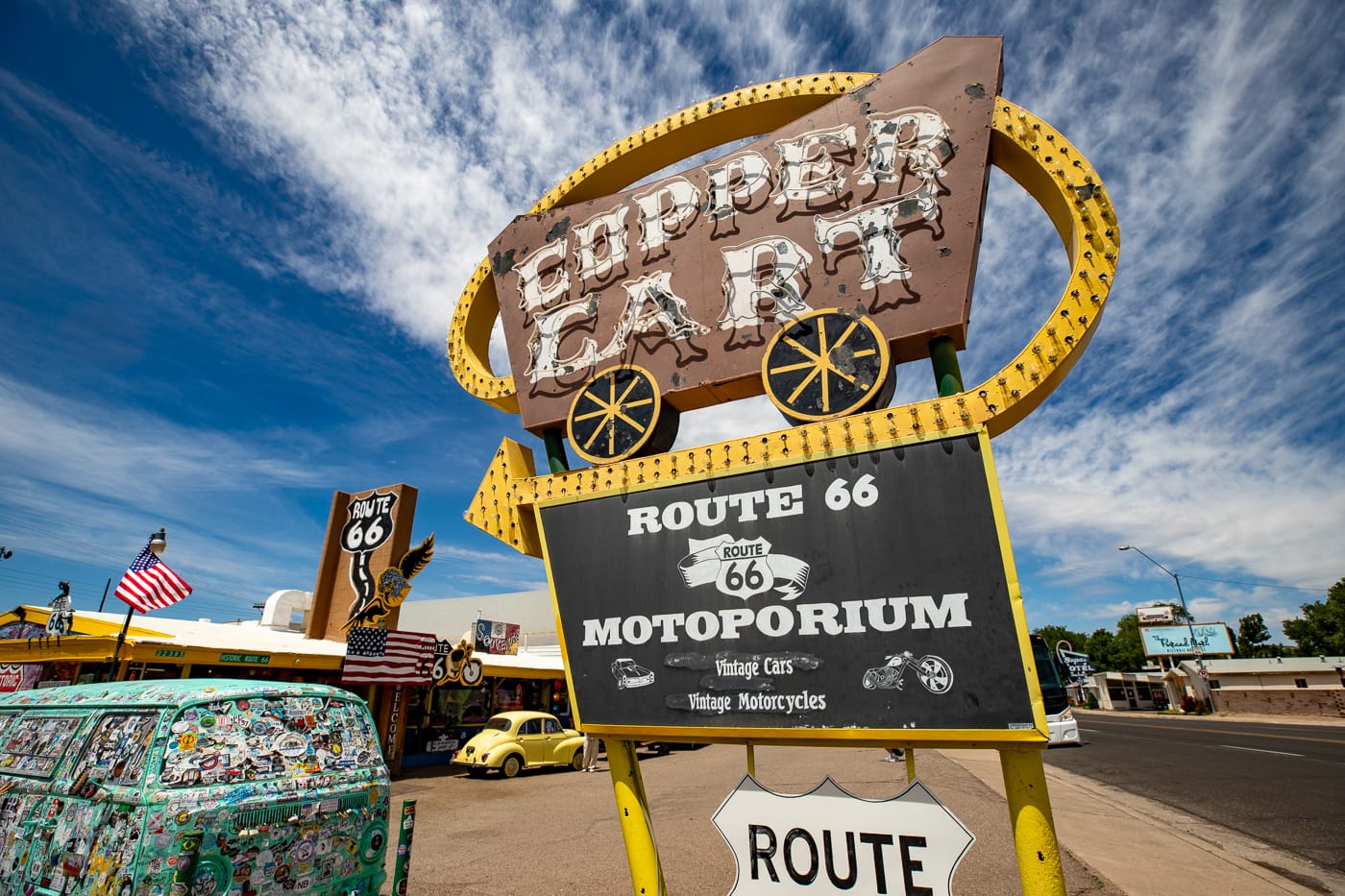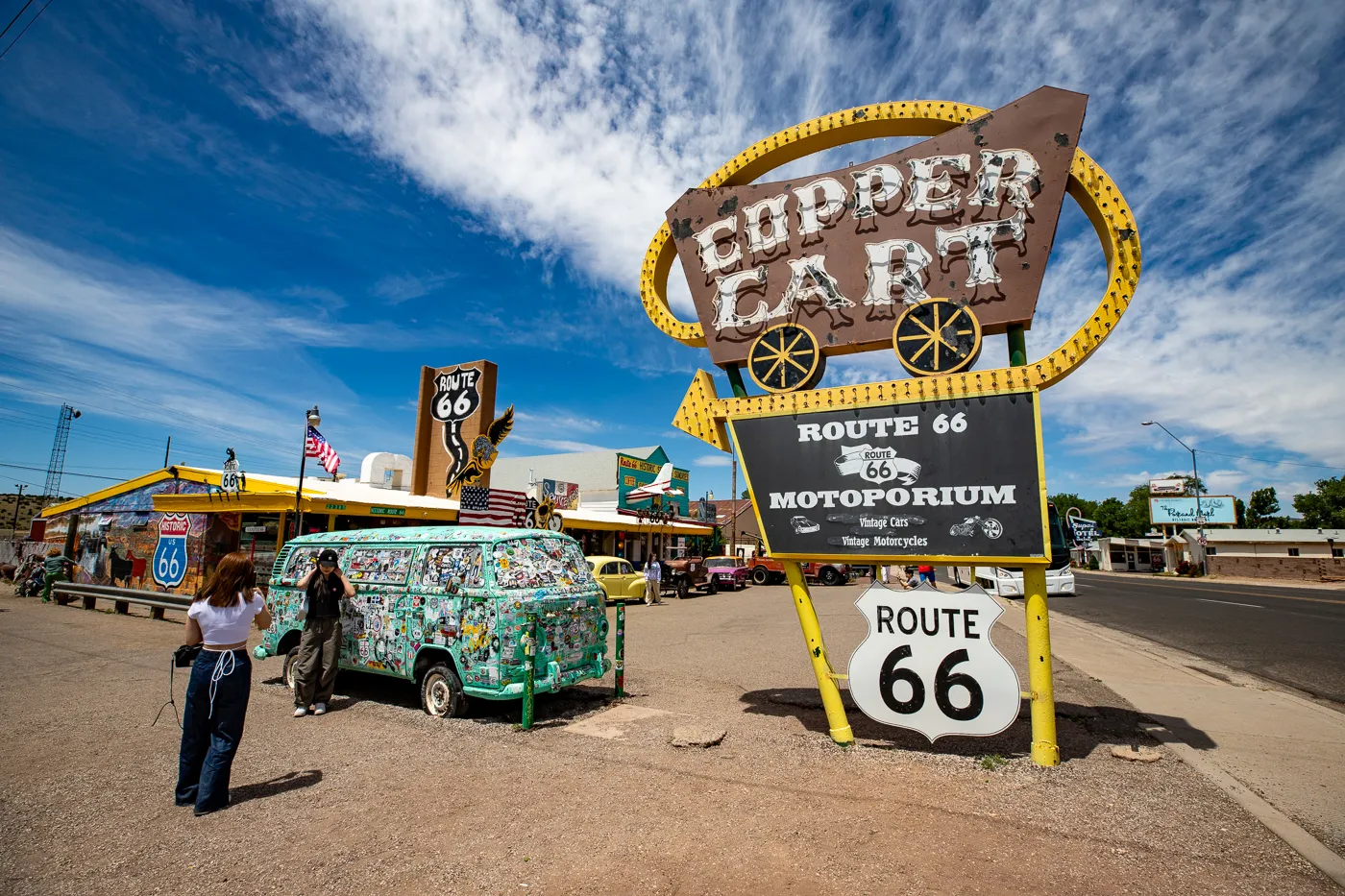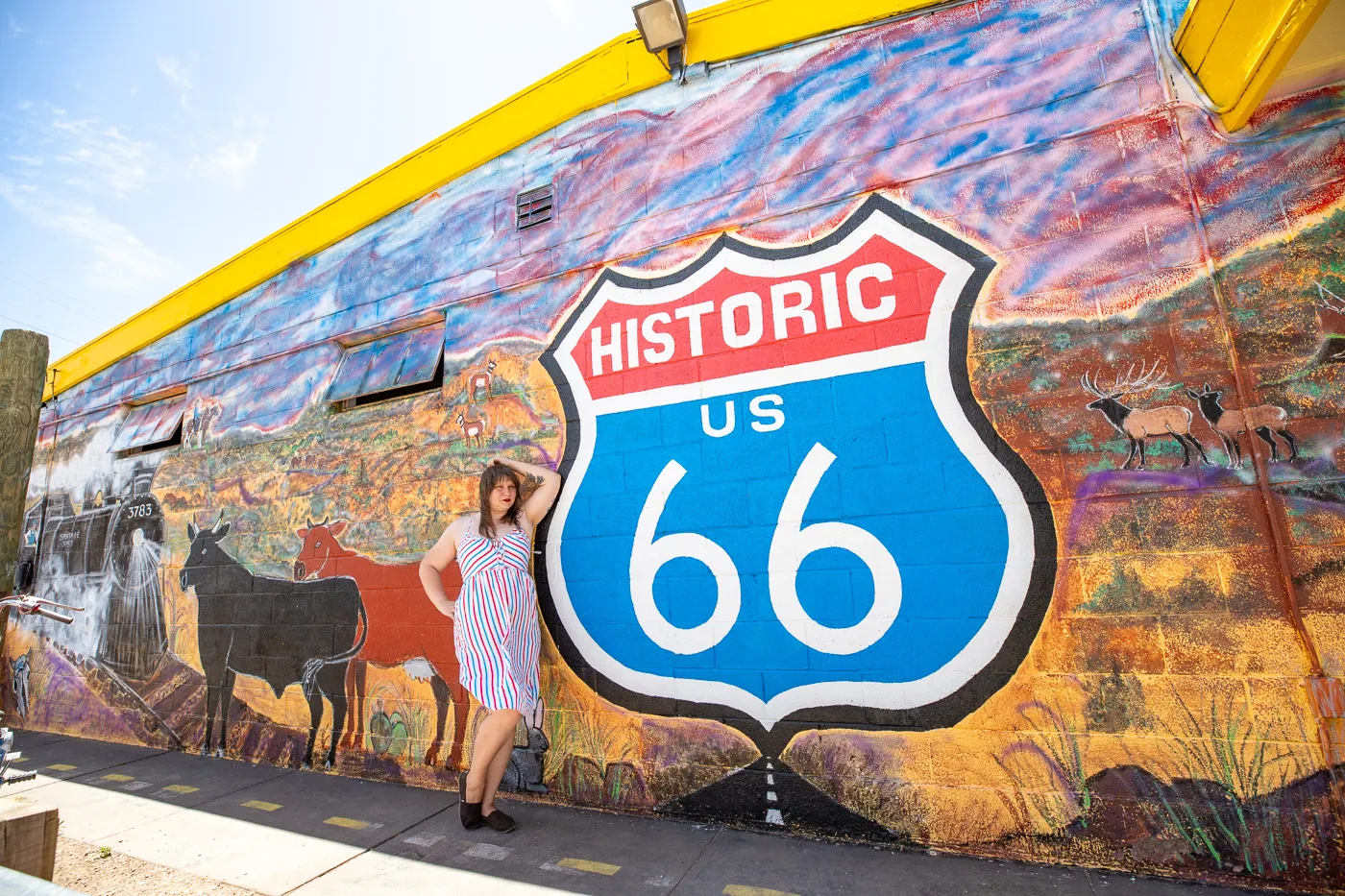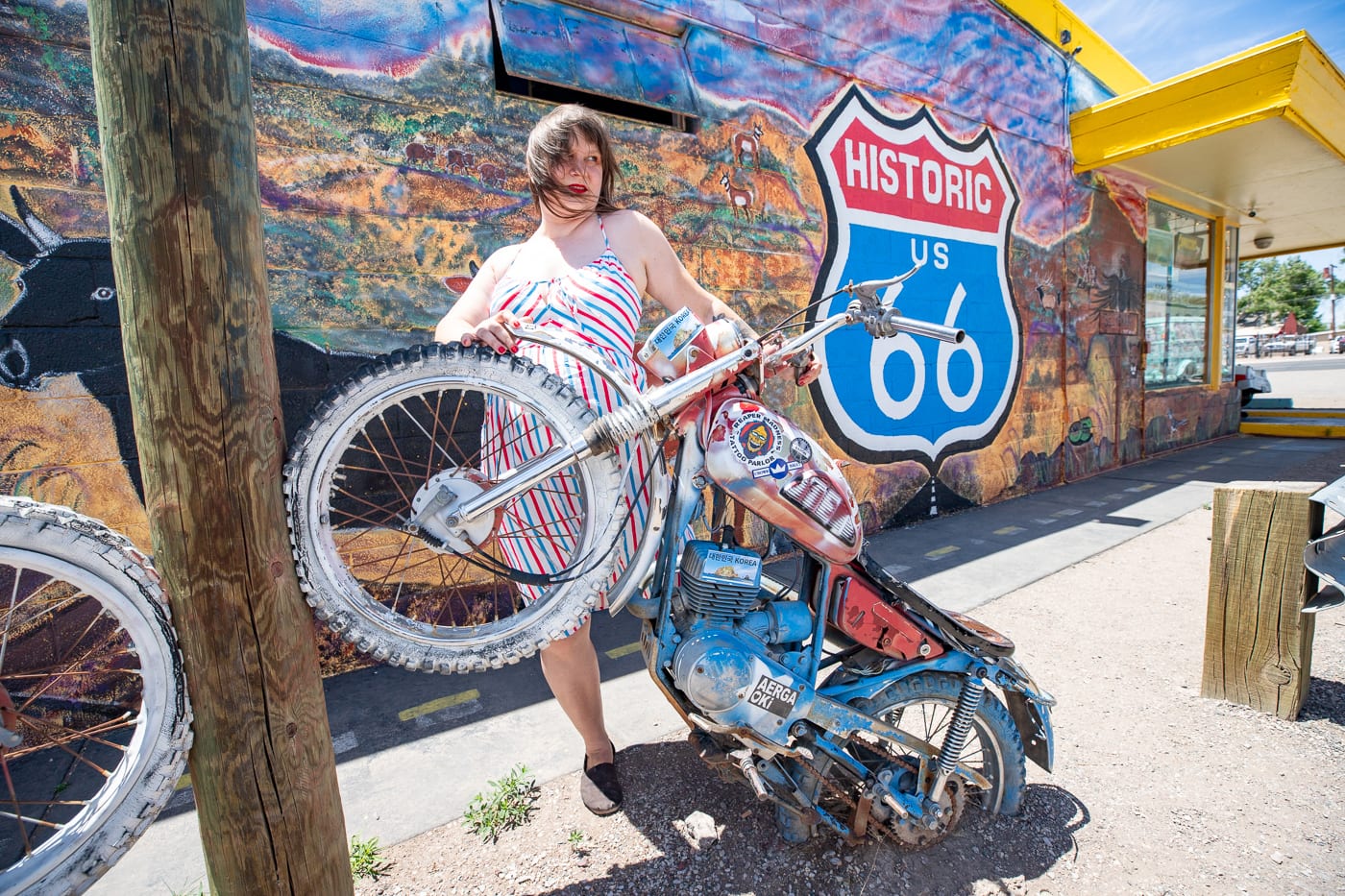 Traveling Route 66 in Seligman, Arizona? Here are some other must-see Arizona Route 66 attractions in town: Delgadillo's Snow Cap Drive-In, Angel and Vilma's Route 66 Shop, the Seligman Grocery Mural, Rusty Bolt, and Roadkill Cafe.
Copper Cart and Route 66 Motoporium
Address: 114 Historic Rte 66, Seligman, AZ 86337
Hours: 8am-6pm, Daily (Signs, Mural, and Outside Cars always Visible)
Cost: Free to See
Pin this Arizona Route 66 roadside attraction to save for your road trip itinerary: