If you're taking a Route 66 road trip and looking for the best motels in Tucumcari, New Mexico, there are plenty to choose from.
Tucumcari is one of the most popular stops on Route 66 and the motels there definitely set this tourist destination over the top with their vintage charm and bright neon lights that shine over the Mother Road. It's no wonder that many travelers decided to spend the night in Tucumcari before traveling East to Amarillo or West to Albuquerque. Its slogan, after all, is "Tucumcari Tonite!"
But with so many options it might be tough to choose the perfect place to spend that night. Of course, there's no wrong answer, but here are some of my favorite motels in Tucumcari, NM.
All of these motels are close to the best Route 66 sights in Tucumcari: the Route 66 monument, the Route 66 museum, the big La Cita sombrero, Tee Pee Curios, Del's Restaurant, and more. And many of them are tourist destinations in themselves. So even if you don't spend the night in a particular hotel, you'll definitely want to stop to take some photos of the famous buildings and signs.
While I truly recommend staying in one of the famous historic motels on Route 66, I've added some not-so historic chains too, just in case that's more your speed.
So whether you choose Motel Safari or Motel 6, you're sure to get a good night's sleep to fuel you up for your journey ahead. Where will you stay in "Tucumcari Tonite?"
Booking a full Route 66 road trip? Be sure to check out our comprehensive list of all the best hotels and motels on Route 66!
The Best Route 66 Motels in Tucumcari, New Mexico
These are my top two picks for where to stay in Tucumcari, New Mexico: Blue Swallow Motel and Motel Safari. They both offer everything you want in a modern night's stay: comfy beds, high-speed WiFi, flat screen TVs, and plush linens all while maintaining the charm of Route 66's heyday.
I've spent the night in both and really believe that you can't go wrong with either! Choose Blue Swallow if you want pure history and a more vintage feel. Choose Motel Safari if you are looking for something a little more updated (or if you're planning to come in and out a lot, the parking lot is a lot easier to maneuver).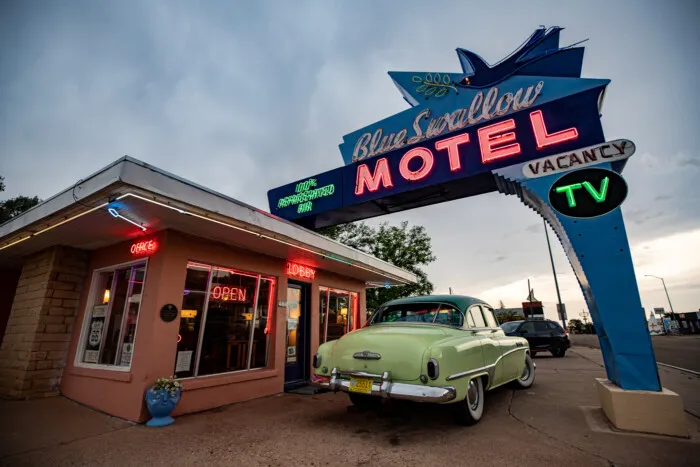 Blue Swallow Motel
815 E Rte 66 Blvd
Route 66 is famous for the bright neon signs that light up the way. And perhaps no neon sign on The Mother Road is more recognizable than the one at the Blue Swallow Motel in Tucumcari, New Mexico.
This historic motel in Tucumcari has been greeting road trippers since 1939. It has all the vintage charm and friendly hospitality you could ask for in a Route 66 motel.
Motel Safari
722 E Rte 66 Blvd
Motel Safari is a classic 1959 Route 66 motor inn. Look for its historic camel sign, mid-century modern decor, custom furniture, memorabilia, murals, and vintage billboard ads. The hotel also features modern amenities like flat screen TVs, free wi-fi, and "the best beds on the Mother Road."
This Tucumcari NM motel features the best of both worlds, with its renovated Googie architecture and modern conveniences.
More Motels in Tucumcari, New Mexico
Of course, if you're looking for something different or if both of those are booked up, here are some more Route 66 motels in Tucumcari. Each of these hotels have been around for decades and some show show that age more than others.
Roadrunner Lodge Motel
1023 E Rte 66 Blvd
For a blast from the past, Roadrunner Lodge Motel is a restored 1960s Route 66 hotel with mid-century style and modern comforts.
Historic Route 66 Motel
1620 E Rte 66 Blvd
This mid-century modern hotel opened in 1963 and provide comfortable overnight accommodations at a reasonable rate. With pet friendly rooms, this motel is perfect for those traveling with their four-legged friends or anyone wanting "the best bang for buck on the Mother Road."
Palomino Motel
1215 E Rte 66 Blvd
Palomino Motel is marked by a distinctive neon sign. While this motel might be a bit more dated than its counterparts down the road, it's a good choice for those on a budget.
Chain Motels in Tucumcari, New Mexico
A big part of traveling Route 66 is staying at some of the classic motels that line the roadside, beckoning travelers with their bight neon lights. Staying in the historic motels is a huge piece of the experience.
Of course, sometimes that just doesn't work out. Maybe all the motels you want to stay at have lit up their "No Vacancy" signs. Maybe you need an accessible room that just isn't available in a vintage property. Maybe you have reward points you want to use. Or maybe it's the last night of your trip and all you want is to soak in a heated pool and crash in a king-sized bed.
Whatever your reason, you can always choose to stay at one of the many national chain motels in Tucumcari, New Mexico. None of them are located on Route 66 itself, but they are all a short detour away. With options for every budget, you're sure to find a room that fits your needs. Here are some of the chains to choose from in town.
Super 8 by Wyndham
4001 East Tucumcari Boulevard
Super 8 by Wyndham Tucumcari is a 2-star property with air-conditioned rooms, and cable TV. Free breakfasts are included each morning!
Motel 6
2900 E Tucumcari Blvd
A short drive from all the sights of Route 66, this Motel 6 has air-conditioned rooms with cable TV, laundry facilities, and a seasonal outdoor pool.
Best Western Discovery Inn
200 East Estrella Avenue
Best Western Discovery Inn is a solid chose for hotels in Tucumcari NM. Located close to Route 66, the rooms have flat-screen cable TVs, coffee makers, hair dryers, and free WiFi. The property also has a 24-hour fitness center, seasonal outdoor pool, and a business center. Daily hot breakfast is included!
Quality Inn
3716 East Tucumcari Boulevard
Enjoy a good night's sleep in a room that has a coffee maker, hair dryer, and cable TV. Relax in the outdoor pool and enjoy the exercise room and playground.
La Quinta by Wyndham
2516 South Adams Street
La Quinta by Wyndham Tucumcari is a 3-star hotel near Route 66. The hotel features family rooms and free continental breakfasts. Enjoy an indoor pool, fitness center, and hot tub at the end of a busy day of traveling.
Fairfield Inn & Suites by Marriott
1901 South Mountain Road
Fairfield Inn & Suites by Marriott Tucumcari is a 3-star property with free WiFi, a grill, and a fitness center. Breakfast is available in the morning, including à la carte, American and vegetarian options.
Pin this post of the Best Motels in Tucumcari, New Mexico on Route 66 to save for your road trip itinerary!