Need a good night's sleep to get over that hump on your road trip? Just look for the camel. Motel Safari in Tucumcari, New Mexico is an iconic Route 66 motel that has been offering some of the best beds on the Mother Road for over 60 years.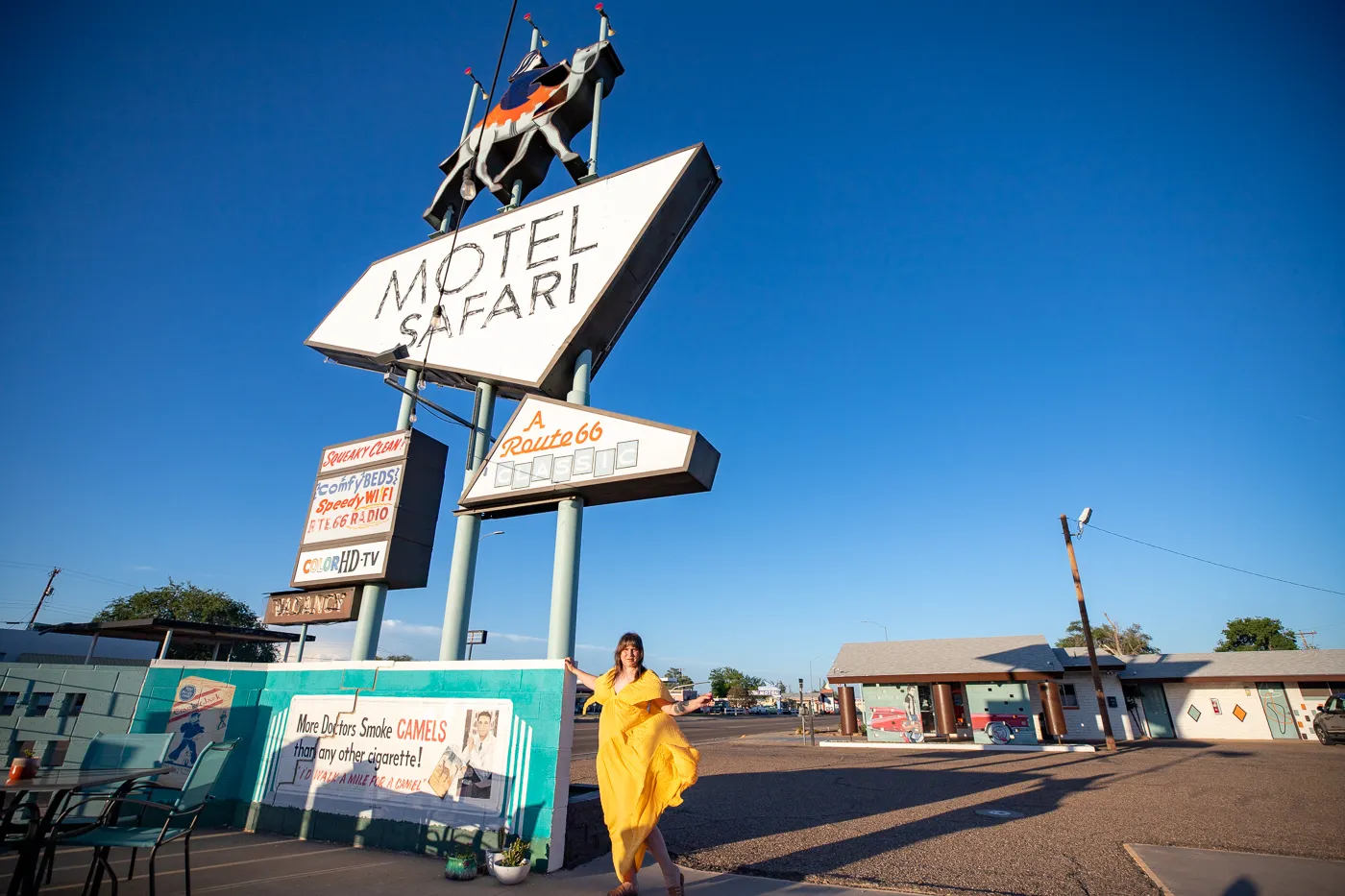 The Route 66 motel opened in 1959. Originally it operated as a Best Western Crown Motel and the famous sign was topped with a crown. Just a few years later the crown came down and the camel we all know and love was erected in its place. The animal pays homage to the 1857 Edward Fitzgerald Beale Camel Expedition, which took camels from San Antonio, Texas, to Los Angeles to survey a military wagon road from New Mexico to California.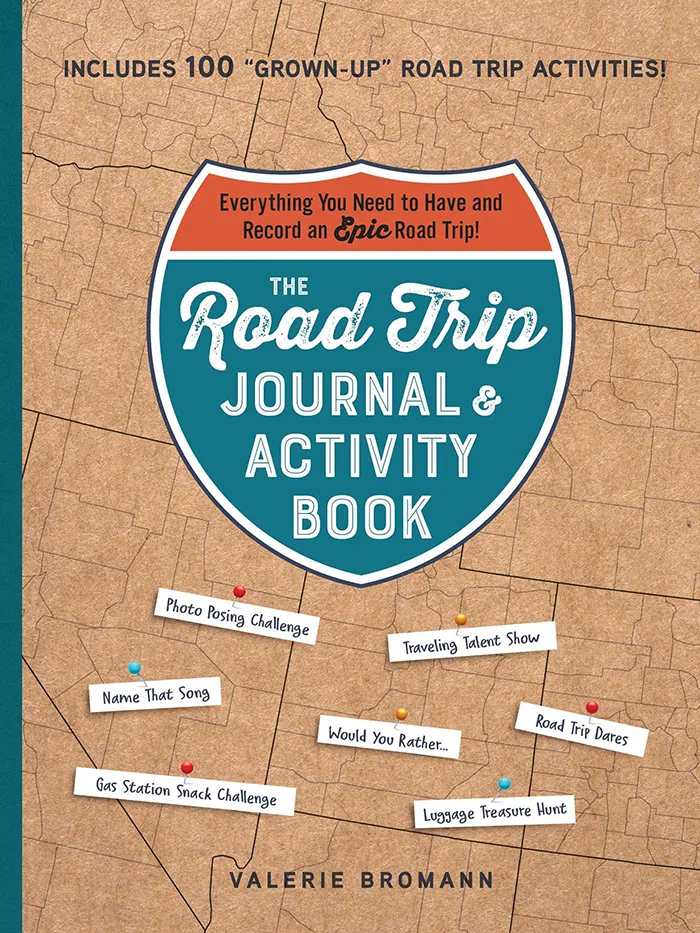 The Road Trip Journal & Activity Book
Everything You Need to Have and Record an Epic Road Trip!
Enjoy fun games and challenges to pass the time on your next road trip and have a keepsake to look back on for years to come with this entertaining must-have for your next vacation.
Motel Safari was designed and built by Chicago developer Chester Dohrer. The motel was modeled in the popular-at-the-time Googie design style. Also known as "Doo Wop" or "Populuxe" the futuristic style takes influence from the Atomic Age, Space Age, and car culture that captivated the nation at the time.
The retro style is characterized by geometric shapes, upswept roofs, curvilinear forms, and space-age icons like boomerangs, flying saucers, diagrammatic atoms, and parabolas that show up in neon signs and architectural elements. The design was hyper present in many roadside motels, gas stations, and diners from the 1940s up through the 70s.
While many of those classic examples were destroyed, having fallen out of style and, for many, into disrepair, some still remain. And Motel Safari is a prime specimen of that futuristic Googie of yesteryear.
While the motor court was originally owned and operated by the Dohrers it eventually changed hands to Ronald and Arlene Frey who grew with the motel until they retired. Ownership fluctuated many more times through the years until Richard and Gail Talley purchased the property in 2007 with a mission to renovate and restore the then poorly neglected property. Today it is operated and owned by Larry Smith, a Route 66 enthusiast who relocated to Tucumcari to preserve and carry on the legacy of the famous motel.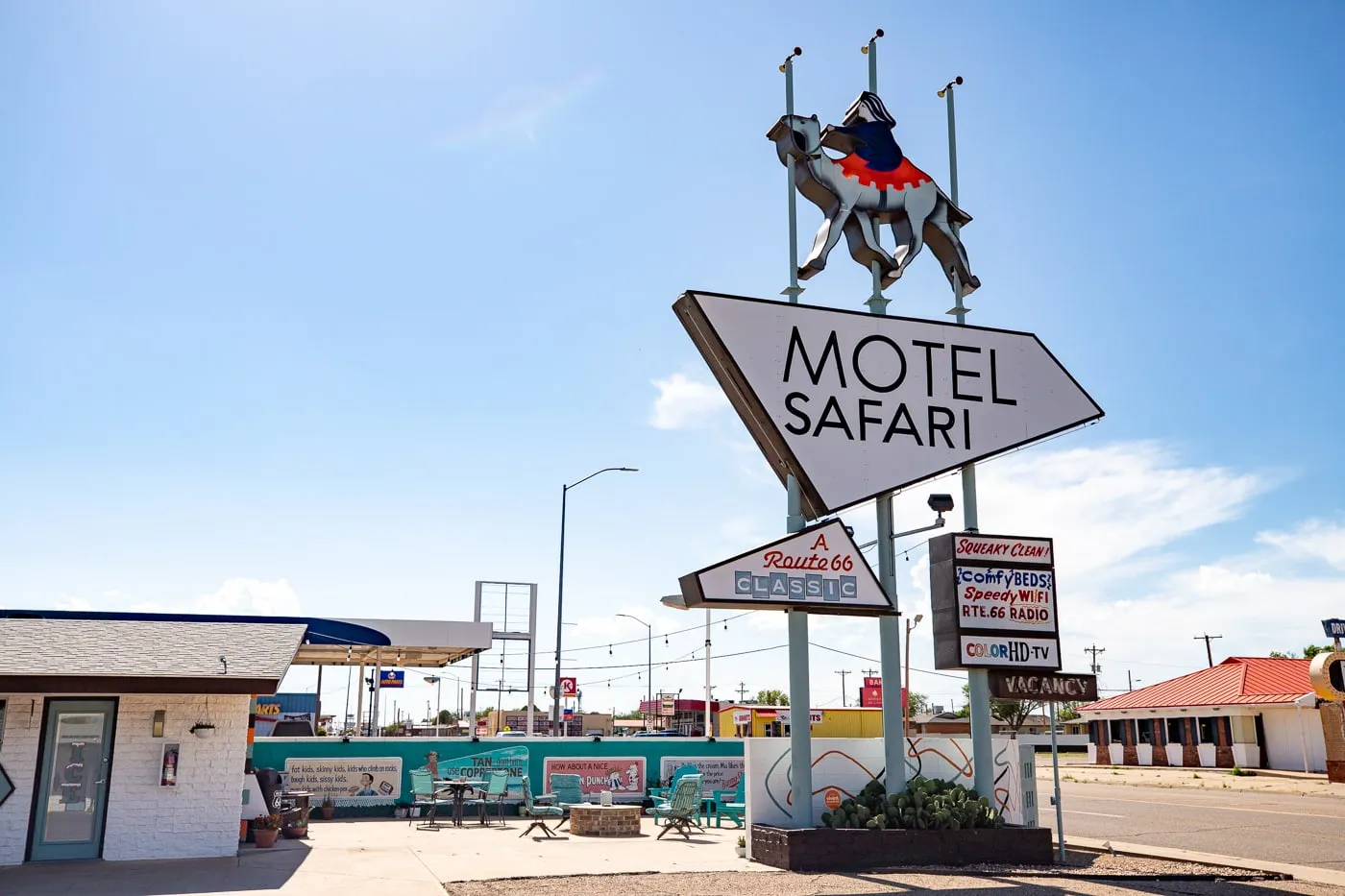 Motel Safari is probably best recognized for its Googie sign that towers above the property. The stacked geometric shapes declare that the motel is "Squeaky Clean!" and has "Comfy Beds," "Color HD TV," and "Speedy WiFi." Though, I suspect some of those phrases might not be original to 1959. The sign is topped off with an iconic camel that beckons travelers to pull into the parking lot for a good night's sleep.
Other retro design elements include counter stacked brick grids, colorful cinder block walls with protruding pieces, and perforated metal cylinders that allow light through.
This Tucumcari motel is a classic motor hotel with drive-up parking. Park right outside your door to easily unpack your trunk and get in and out to explore the other sites in Tucumcari (don't miss the Route 66 monument, the Route 66 museum, the classic neon sign at Blue Swallow Motel, Tee Pee Curios, the big La Cita sombrero, and dinner at Del's Restaurant).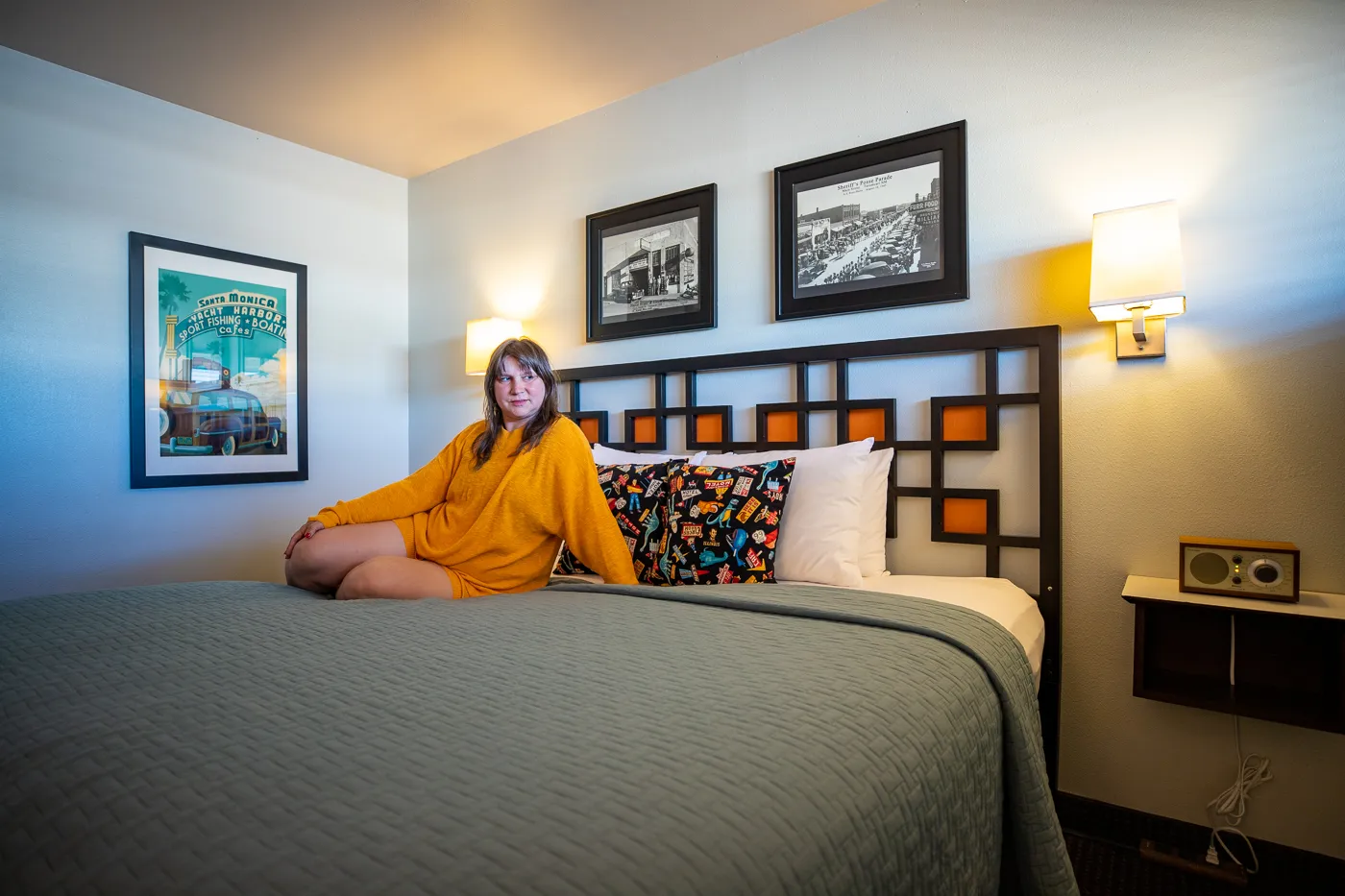 But this Route 66 motel doesn't live all in the past. It was renovated in 2017 and features all the modern amenities you'd find in one of those big chain hotels. Inside of each room you'll find Sealy Posturepedic pillowtop mattresses, hypo-allergenic down pillows, luxury Egyptian cotton linens, premium bath amenities, 32″ flat panel HDTVs, KEURIG coffee makers, and speedy WiFi. You'll also find mid-century modern furniture, postcard prints of Tucamcari's past, Route 66 artwork, and fun themed pillows that feature some of the best roadside attractions on Route 66.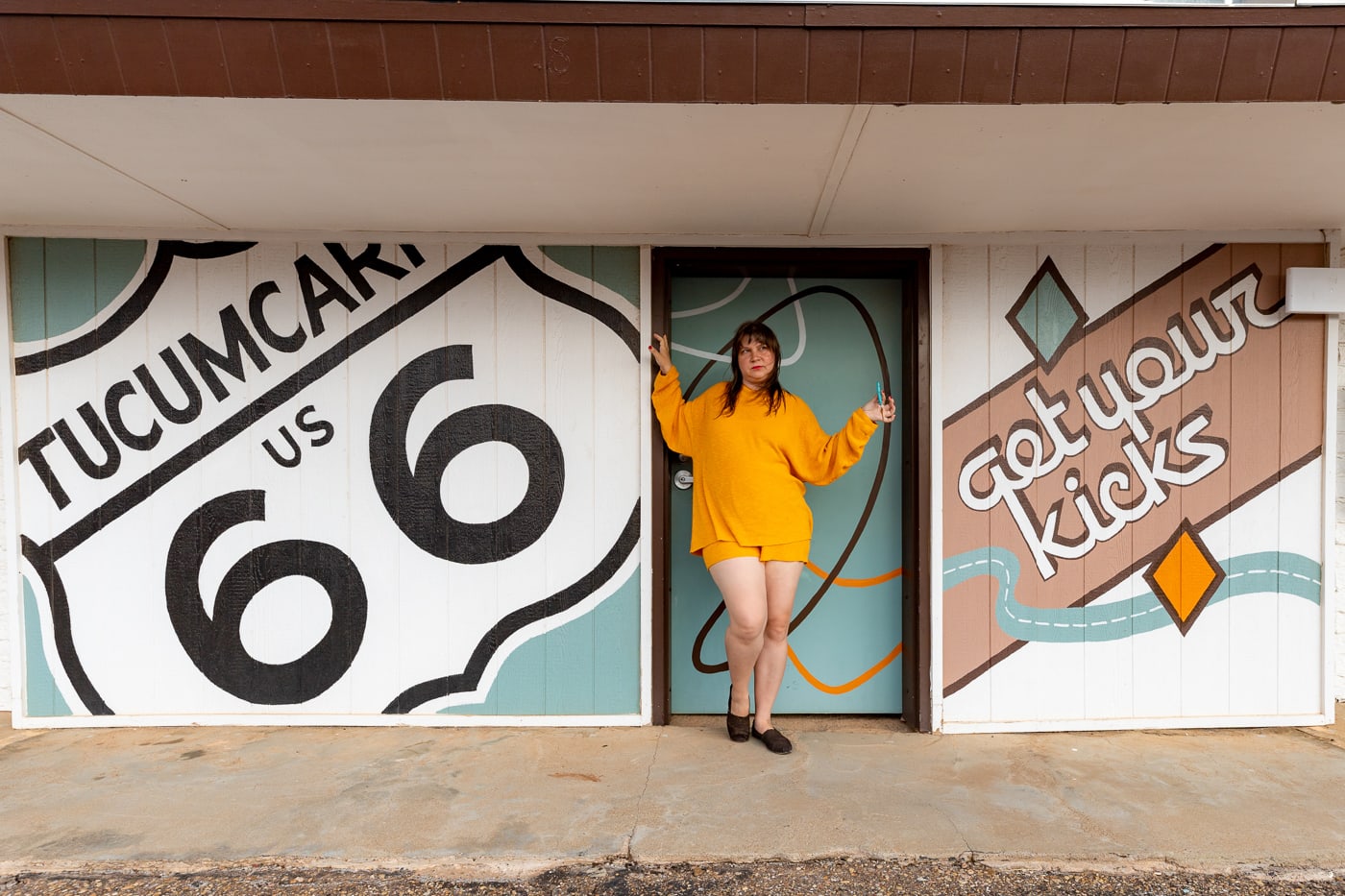 Much of the motel's facade is embellished with murals done by local artists. You'll find an Elvis Pink Cadillac mural, a Get Your Kicks on Route 66 mural, a 1950s Santa Fe Trailways tour bus mural that invites you to visit Tucumcari Tonite, and many homages to the fun Burma Shave signs you see on the Route 66 roadside.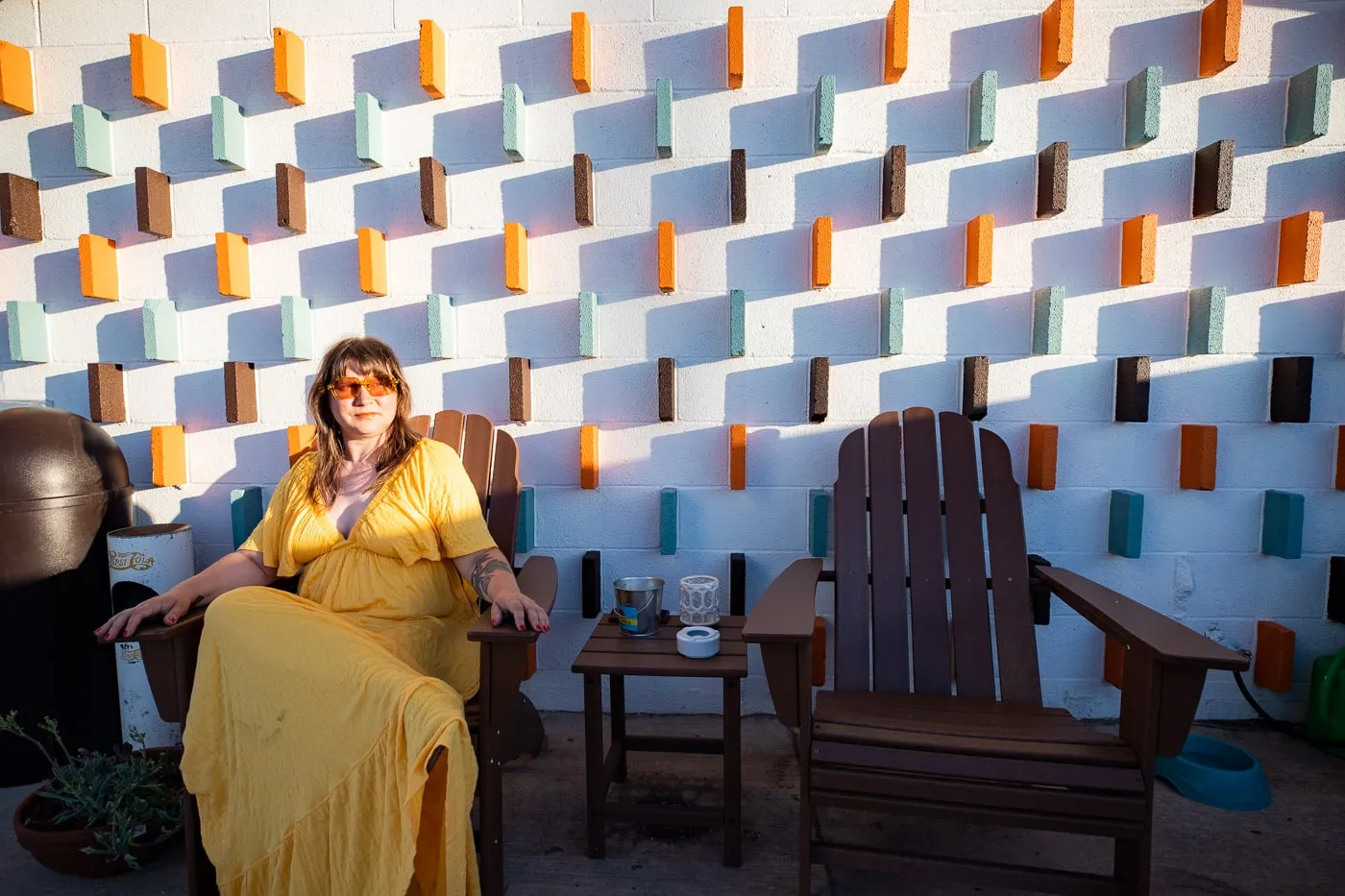 The Tucumcari motel also has plenty of spaces to hang out outside and get to know your traveling neighbors. An updated courtyard features a fire pit and plenty of seating, patio tables and chairs sit outside the rooms, and a guest services room has an ice machine, microwave, community fridge, and laundry facilities.
If you're visiting "Tucumcari Tonite" spend the night in this retro modern motel. Book a stay at Motel Safari, it's one of the best motels on Route 66.
More photos of Motel Safari in Tucumcari, New Mexico: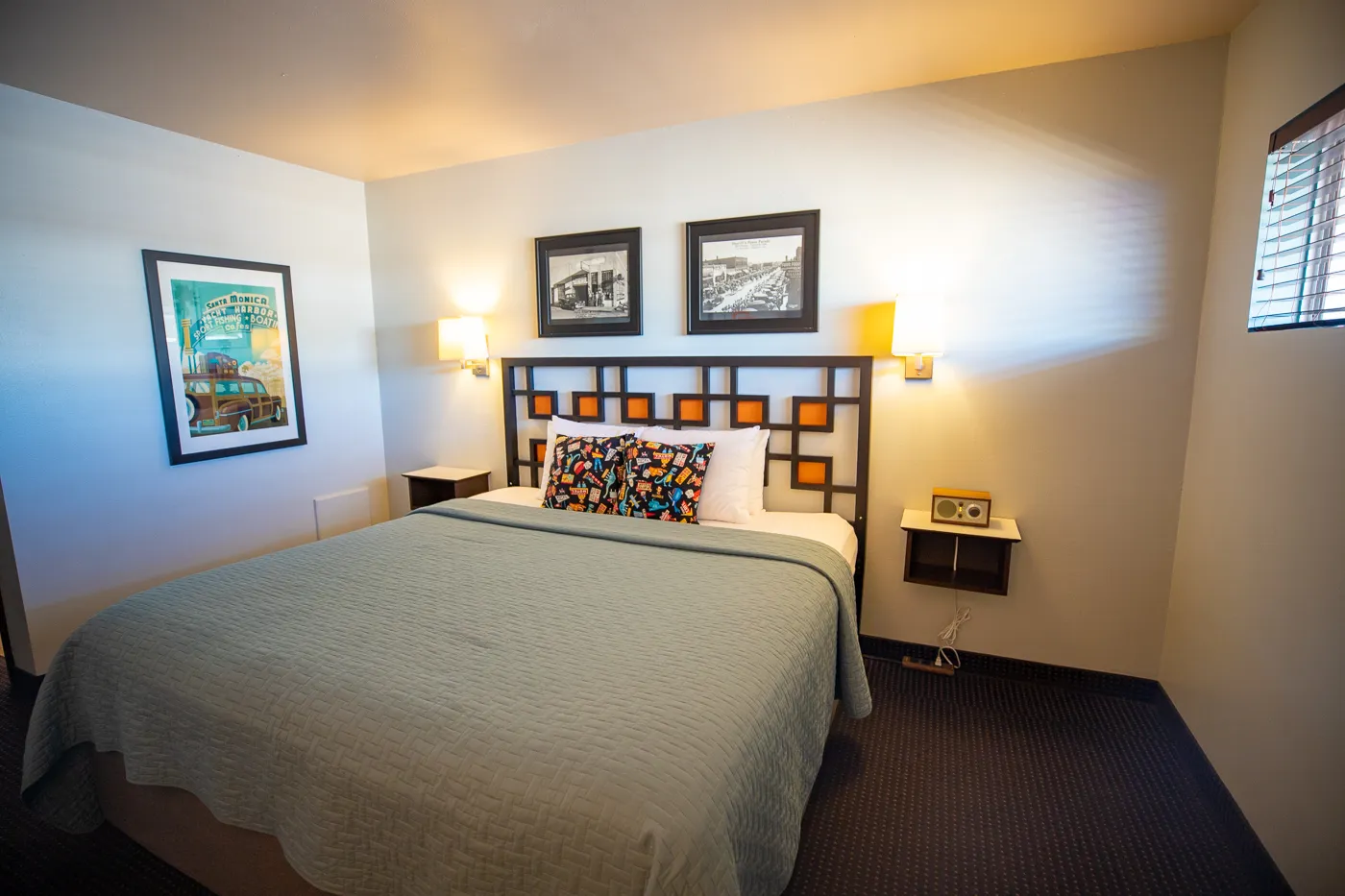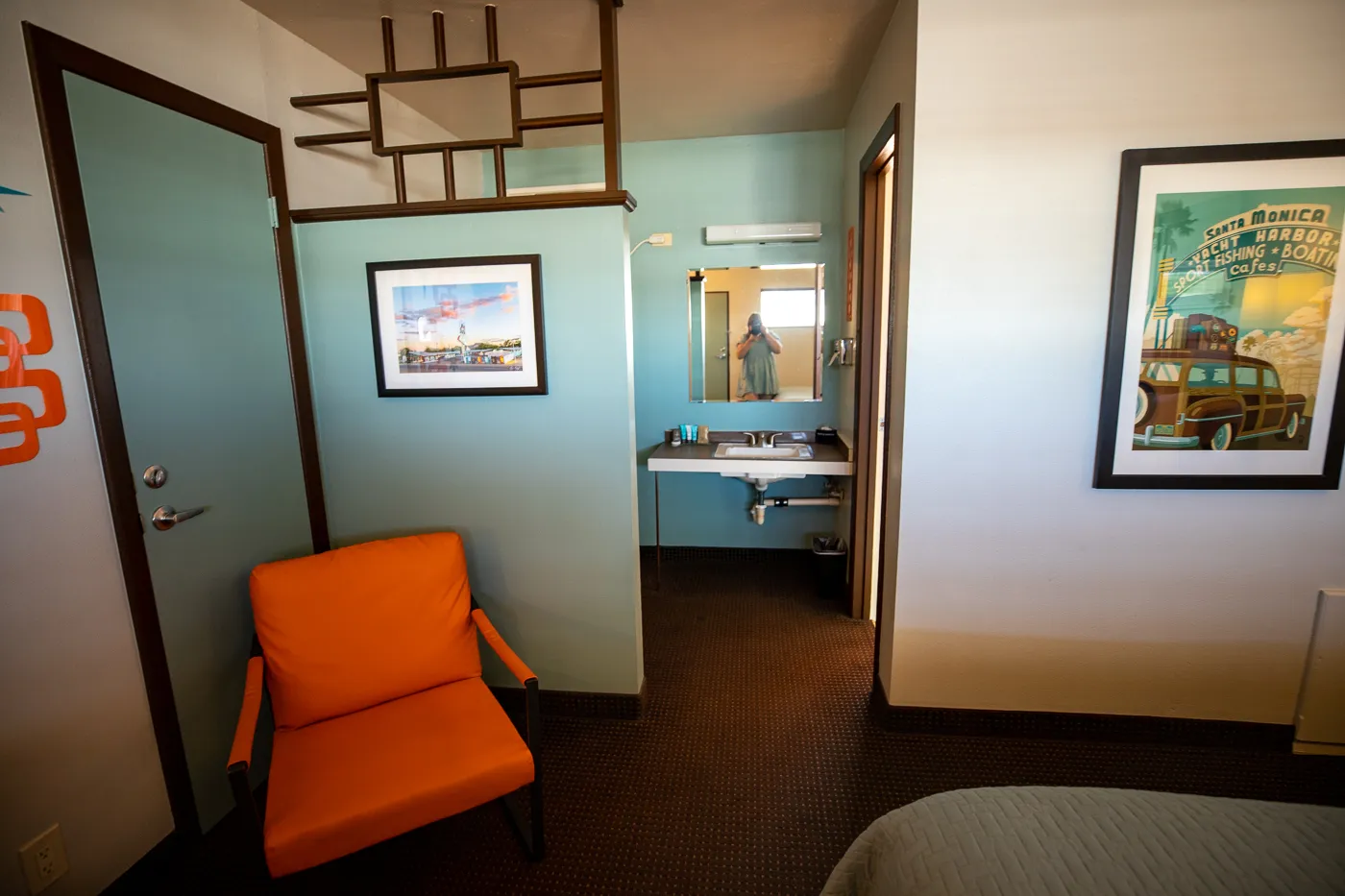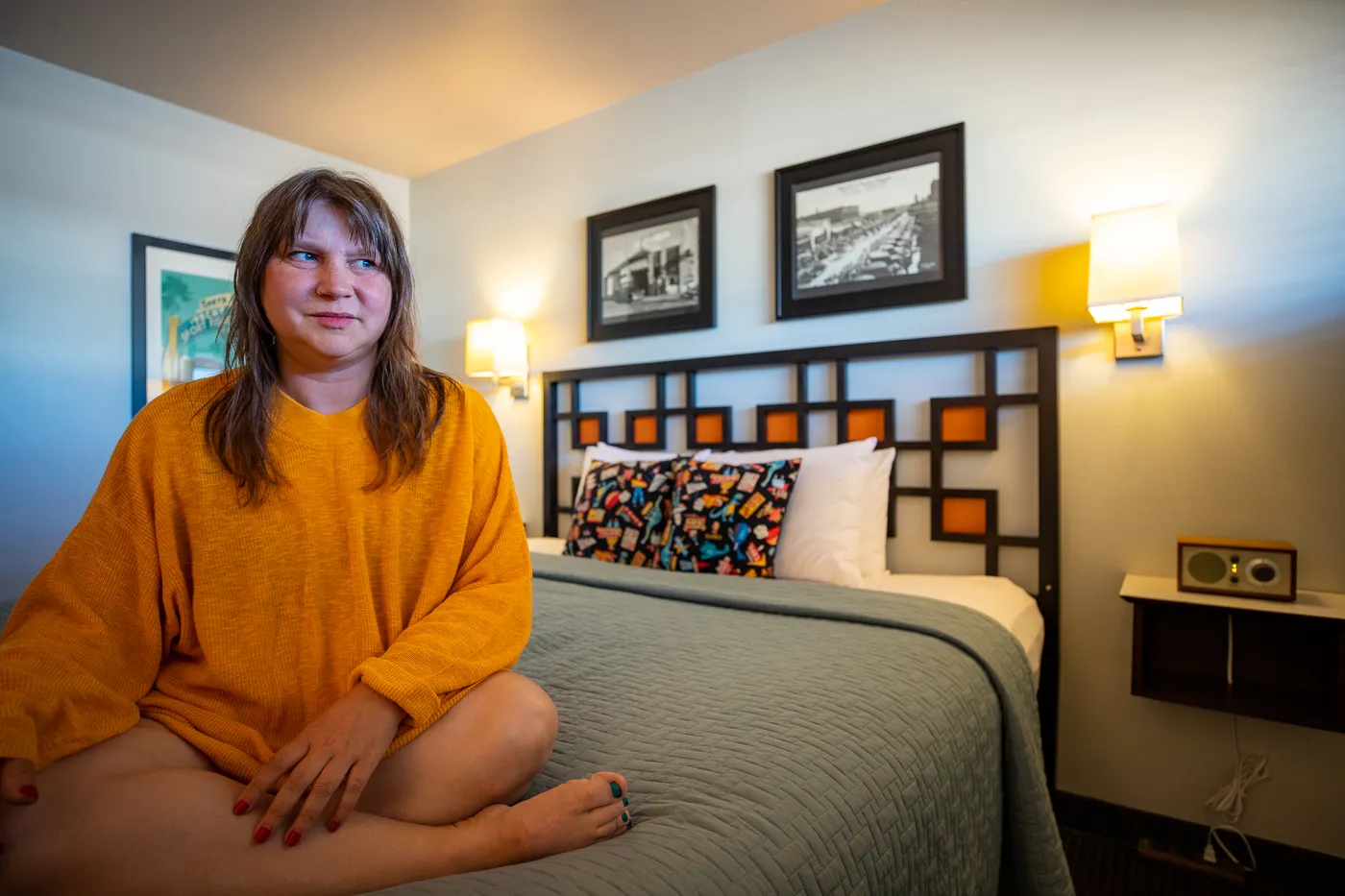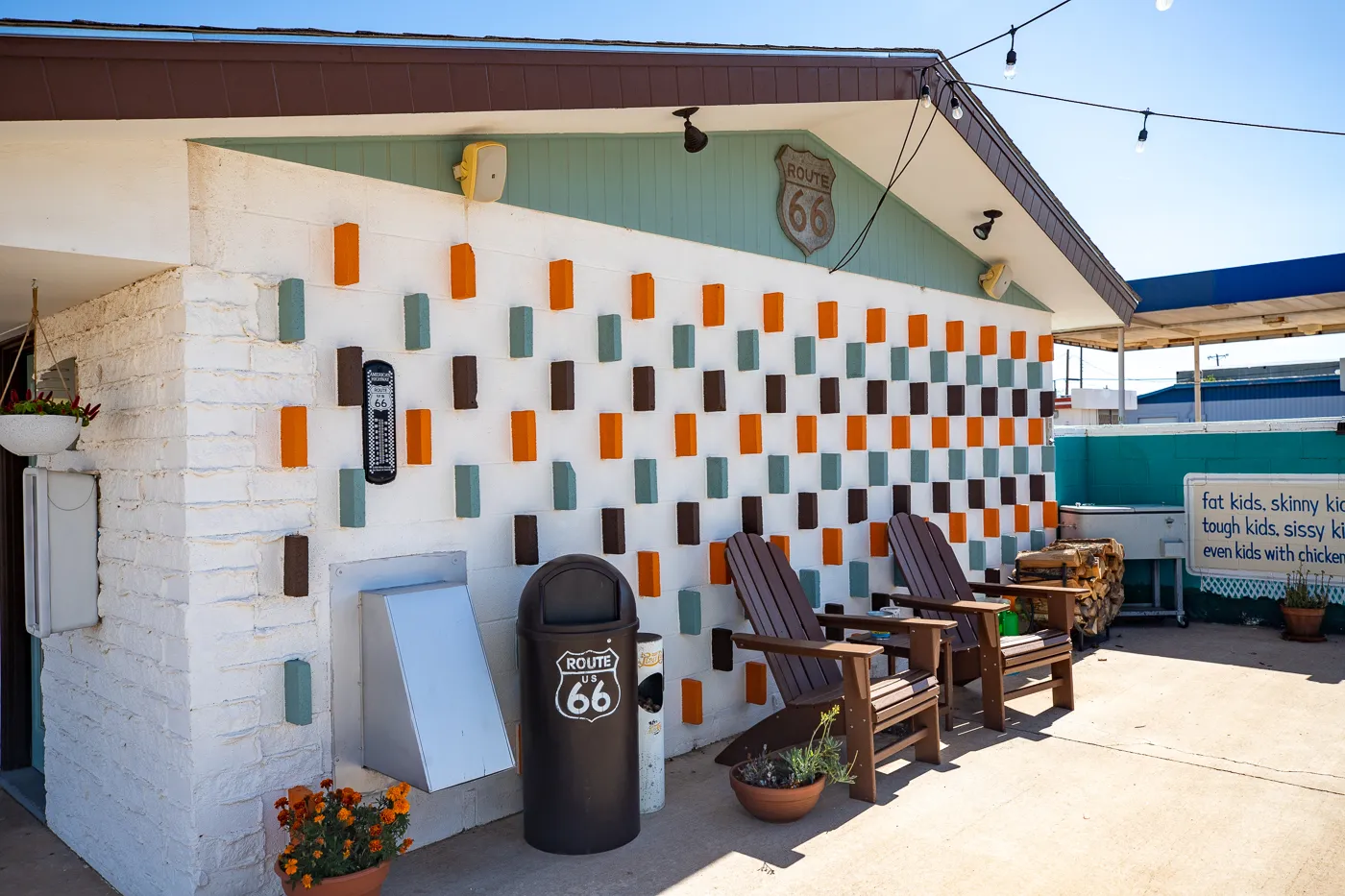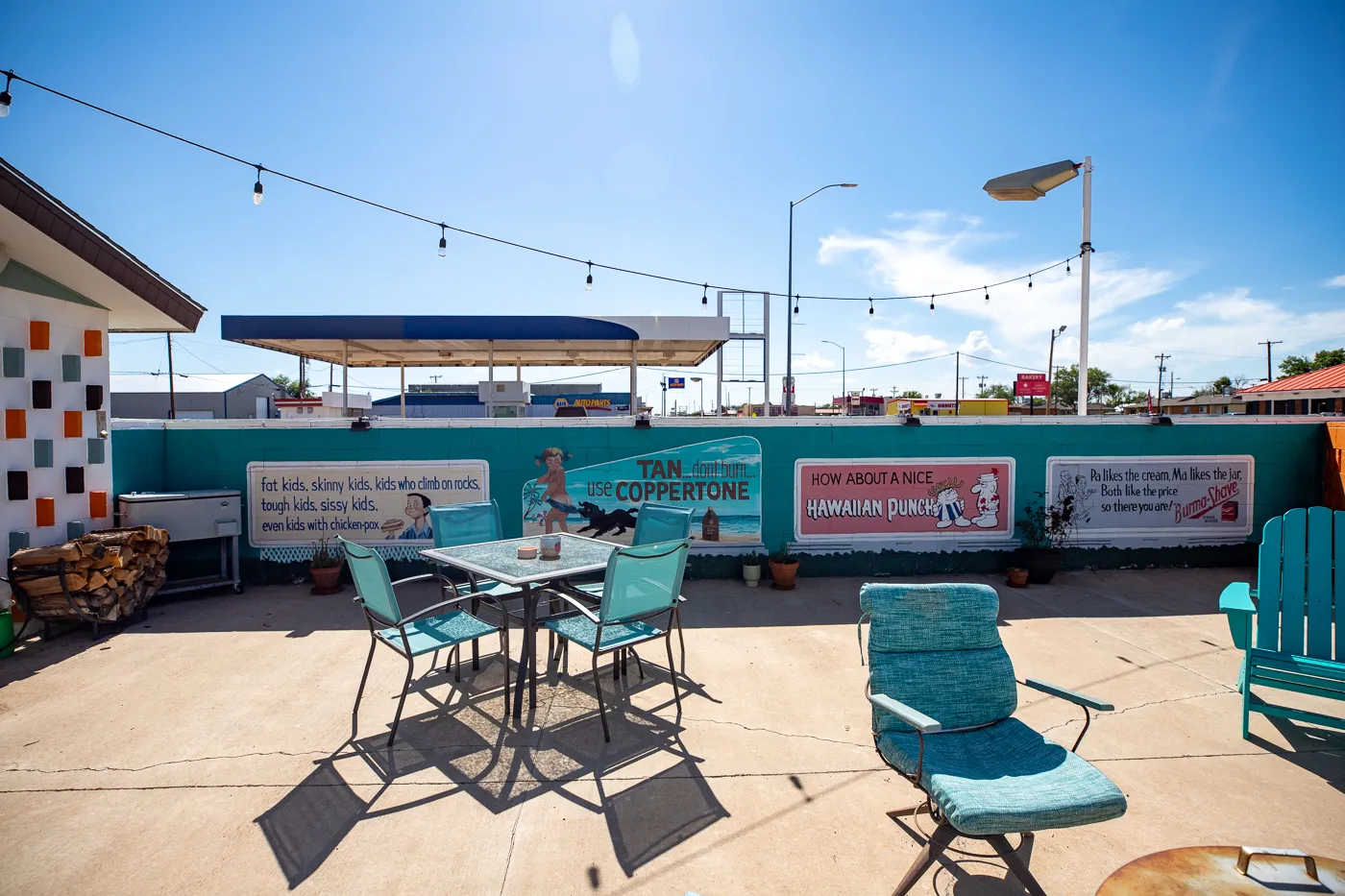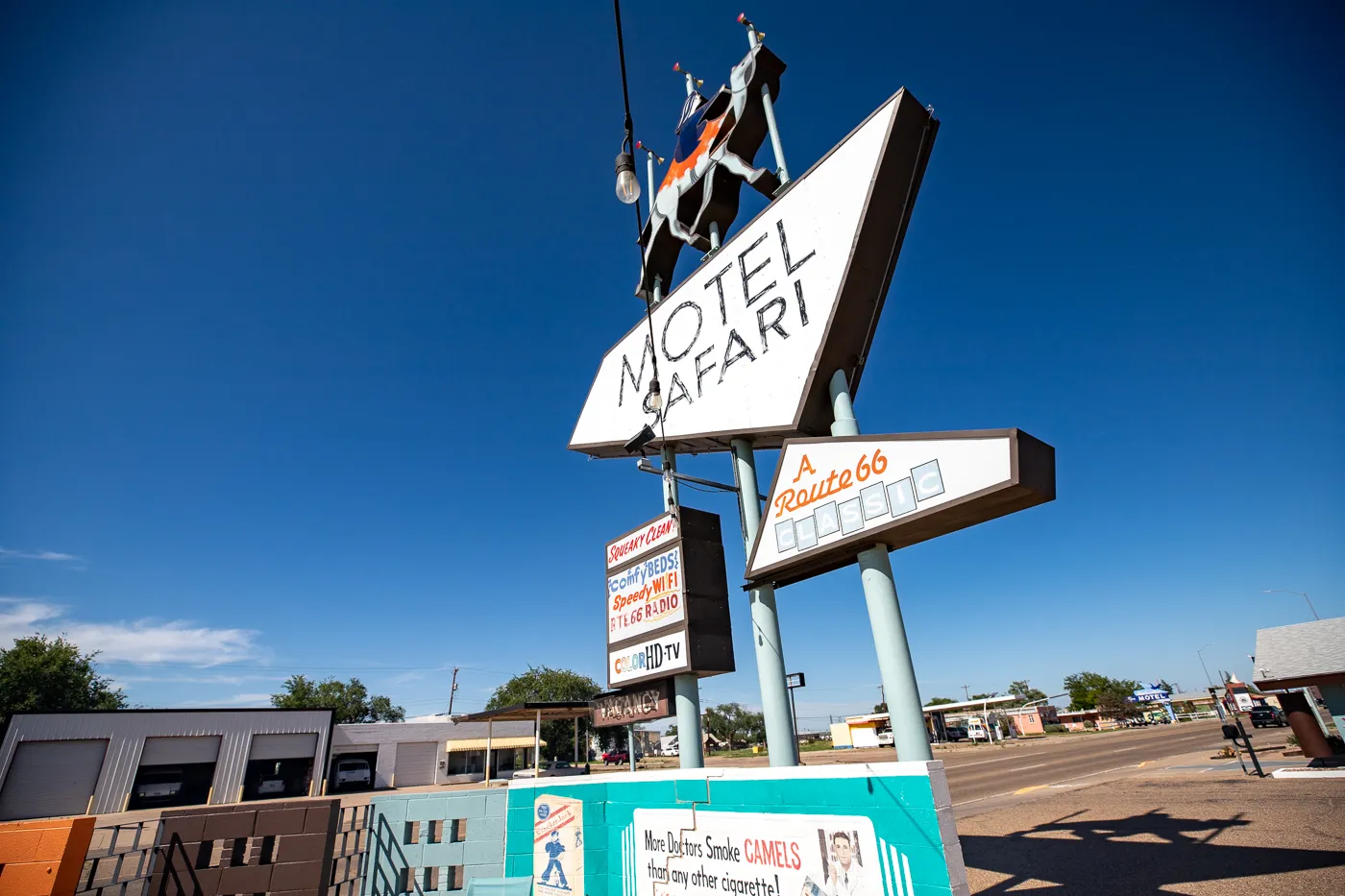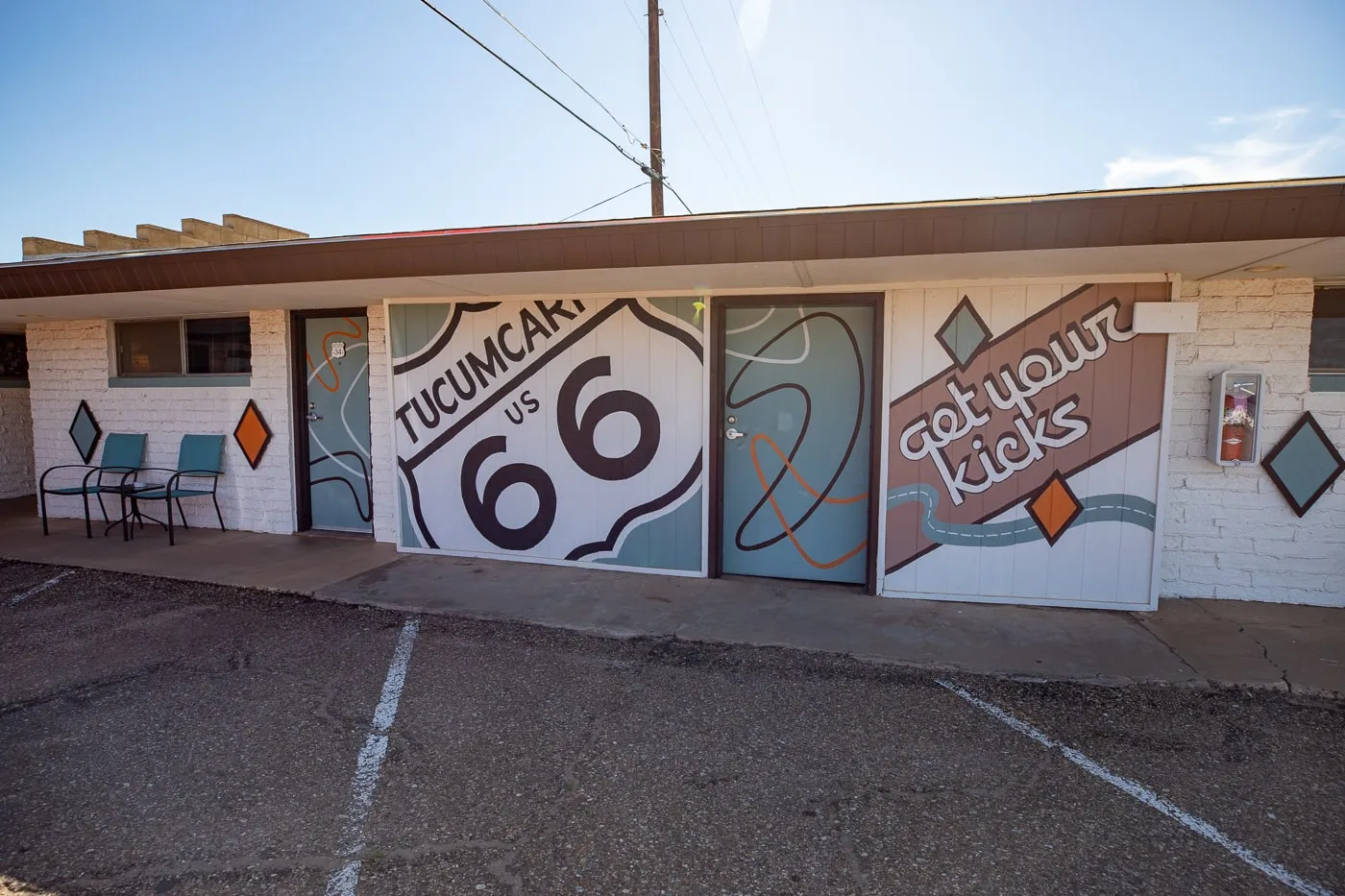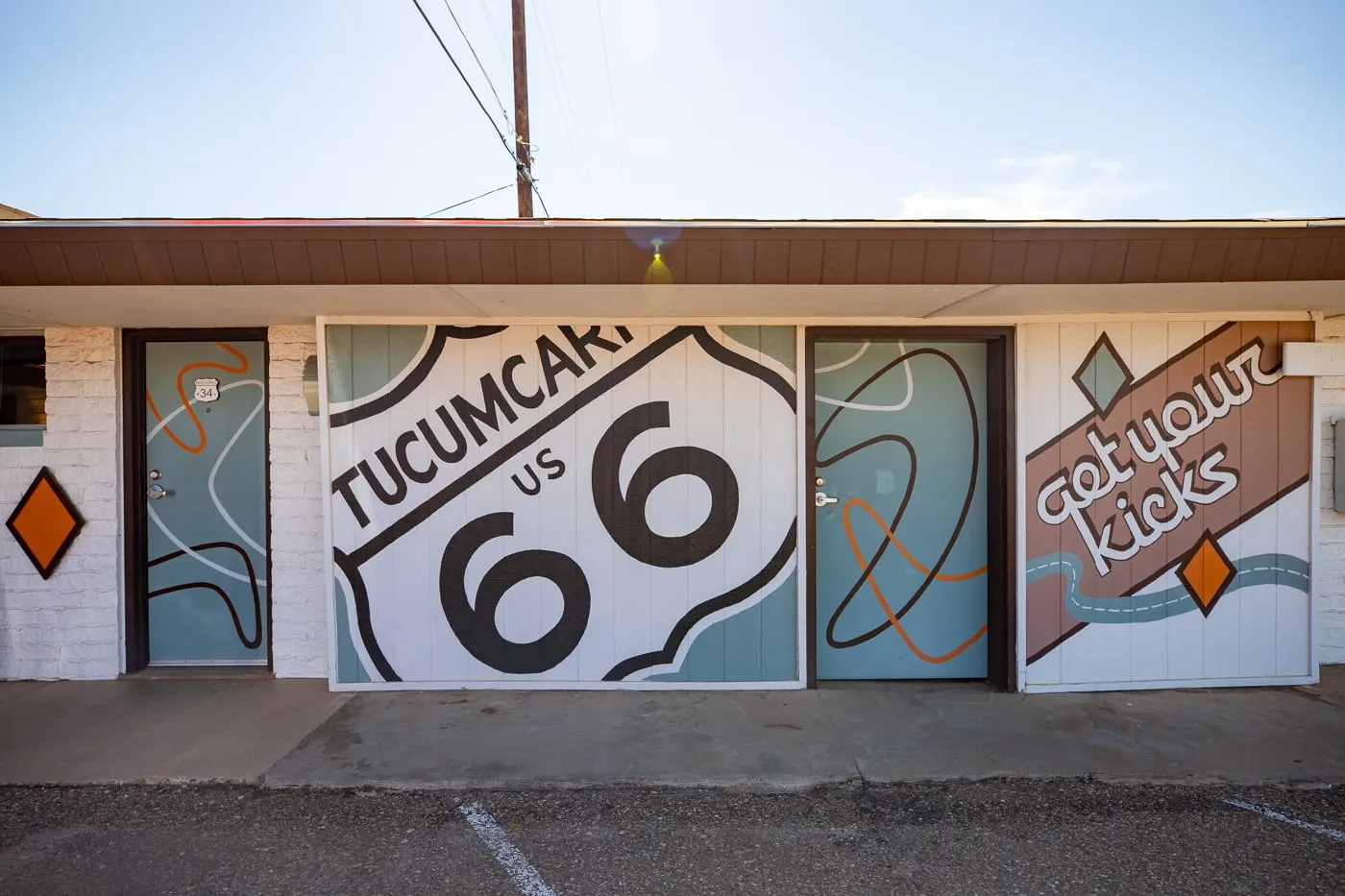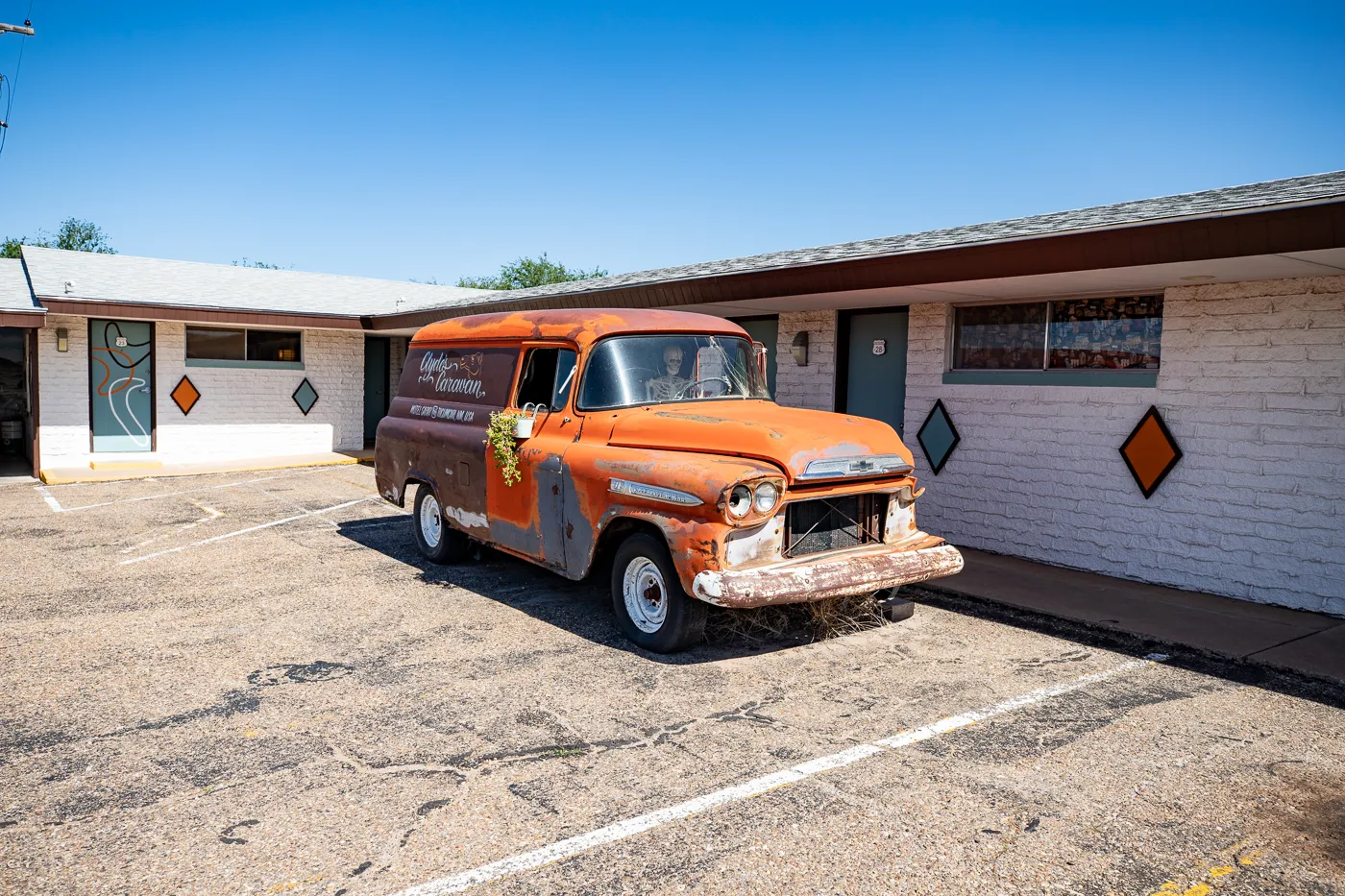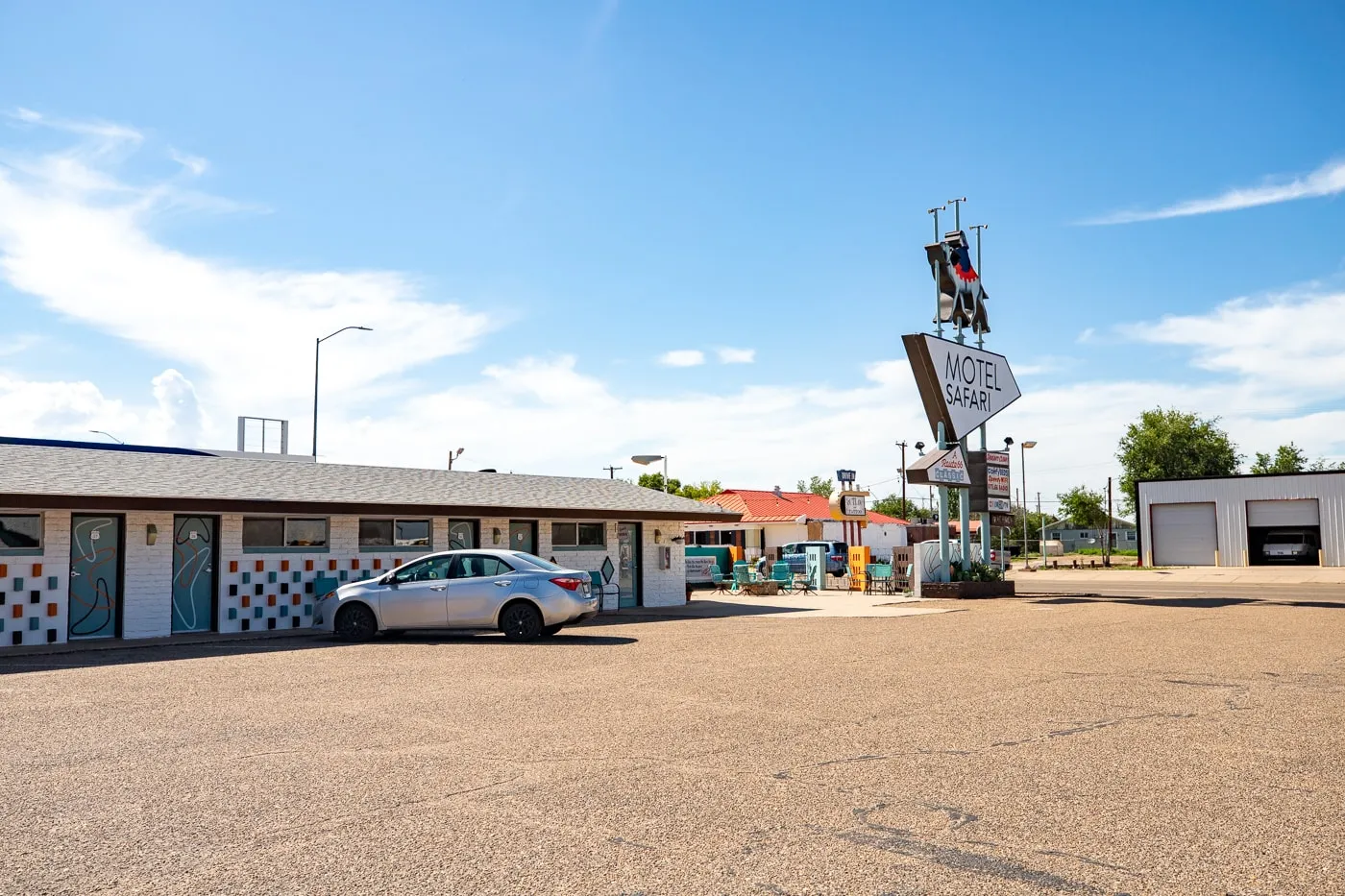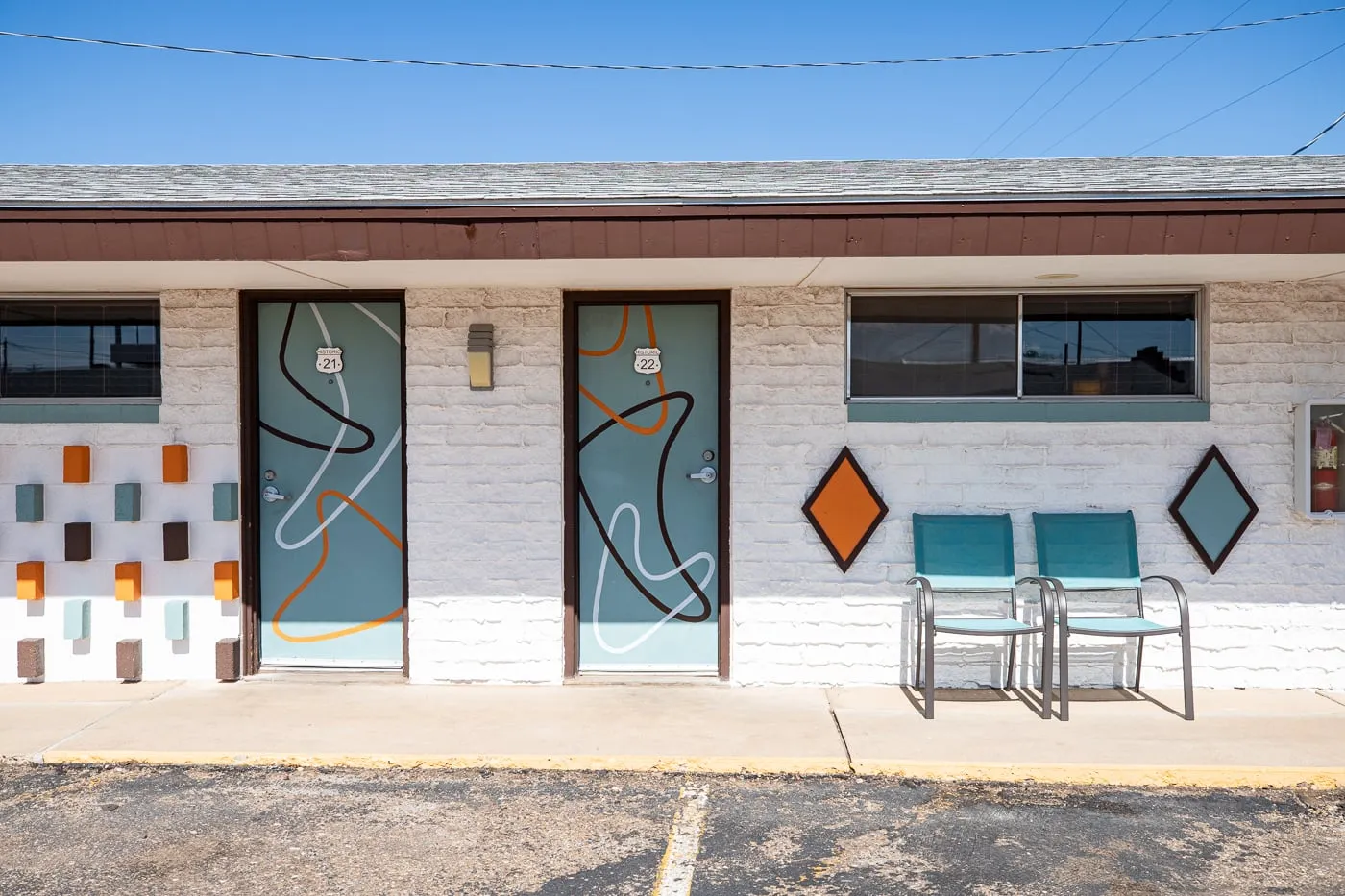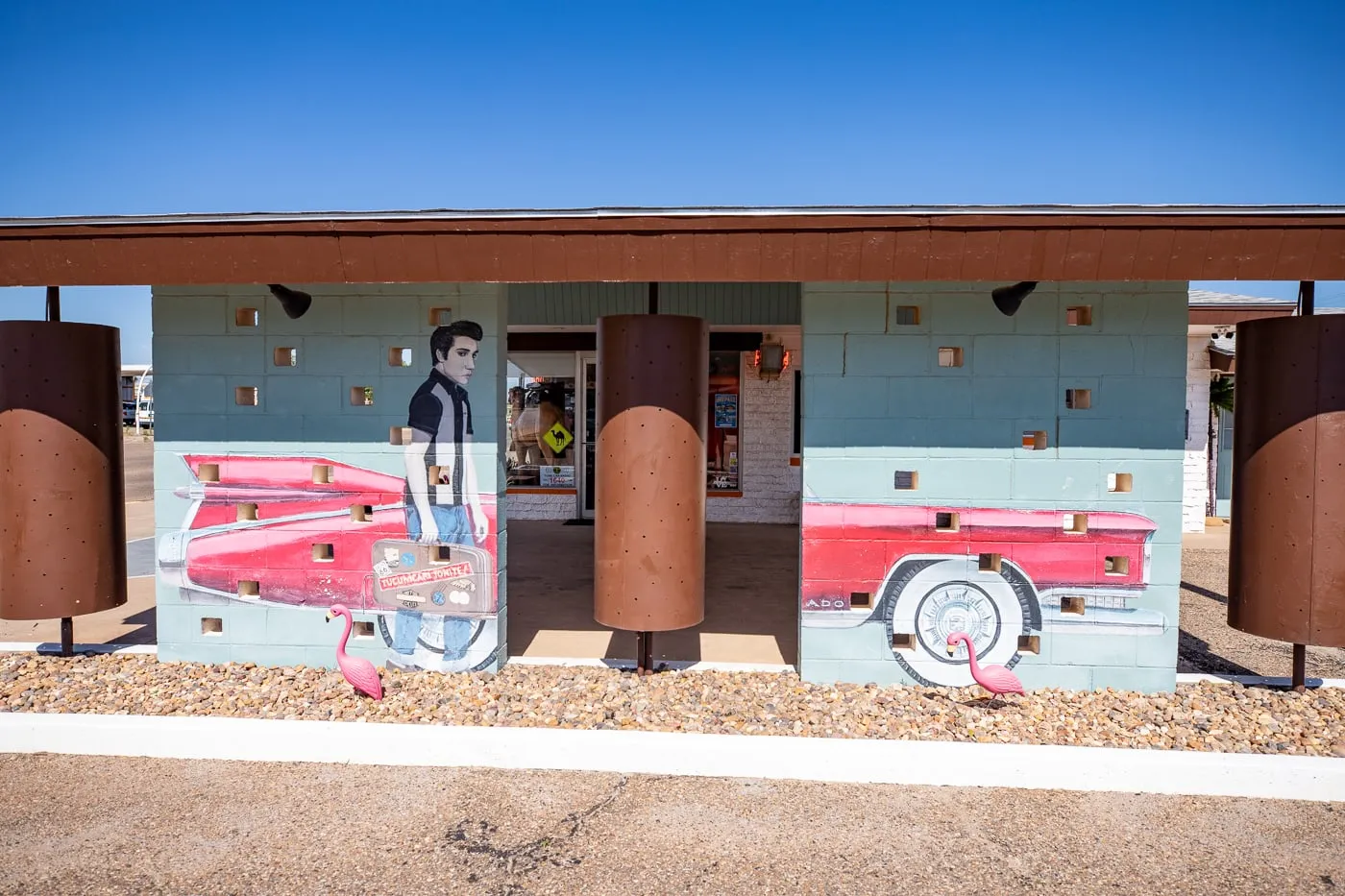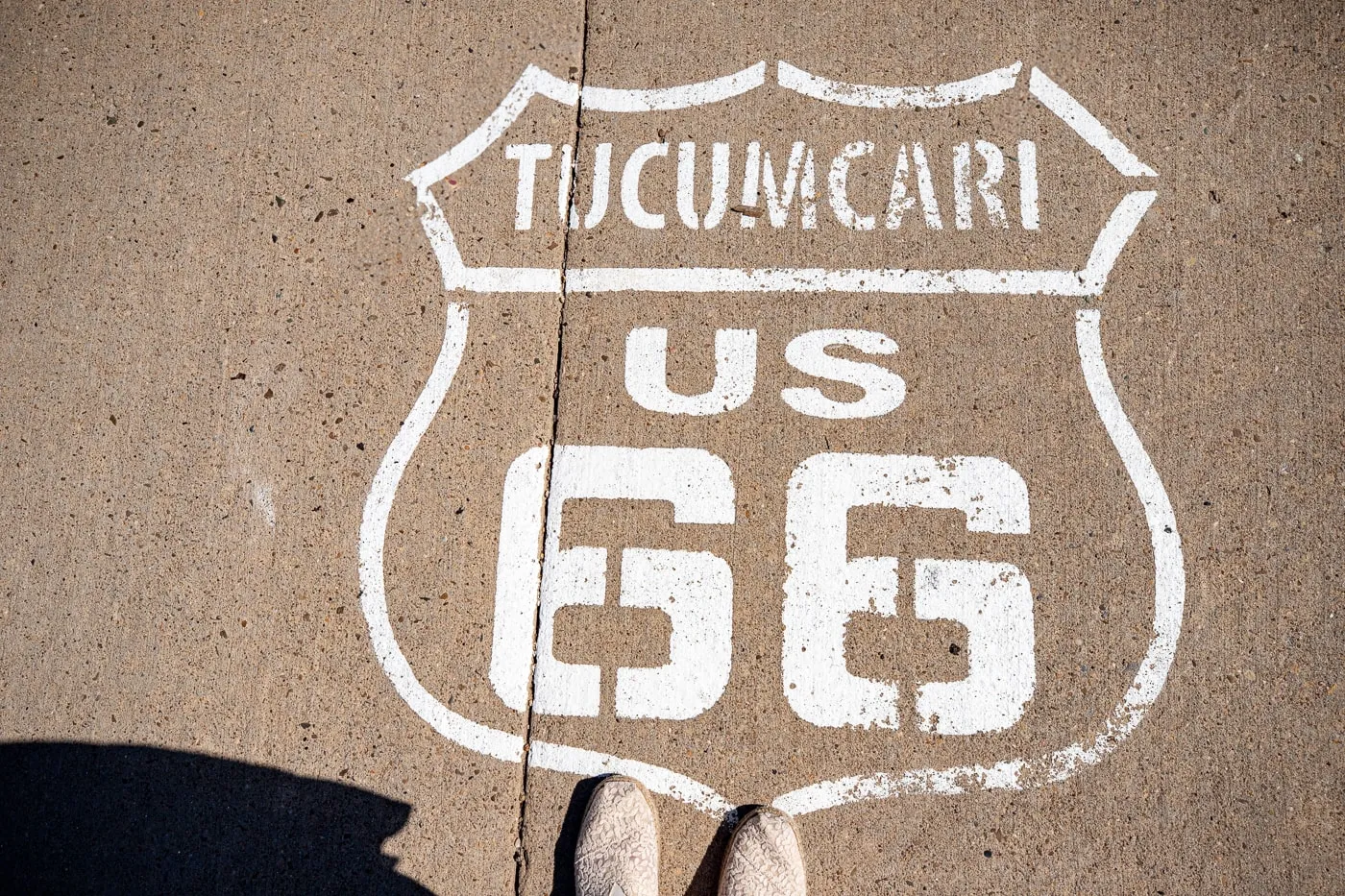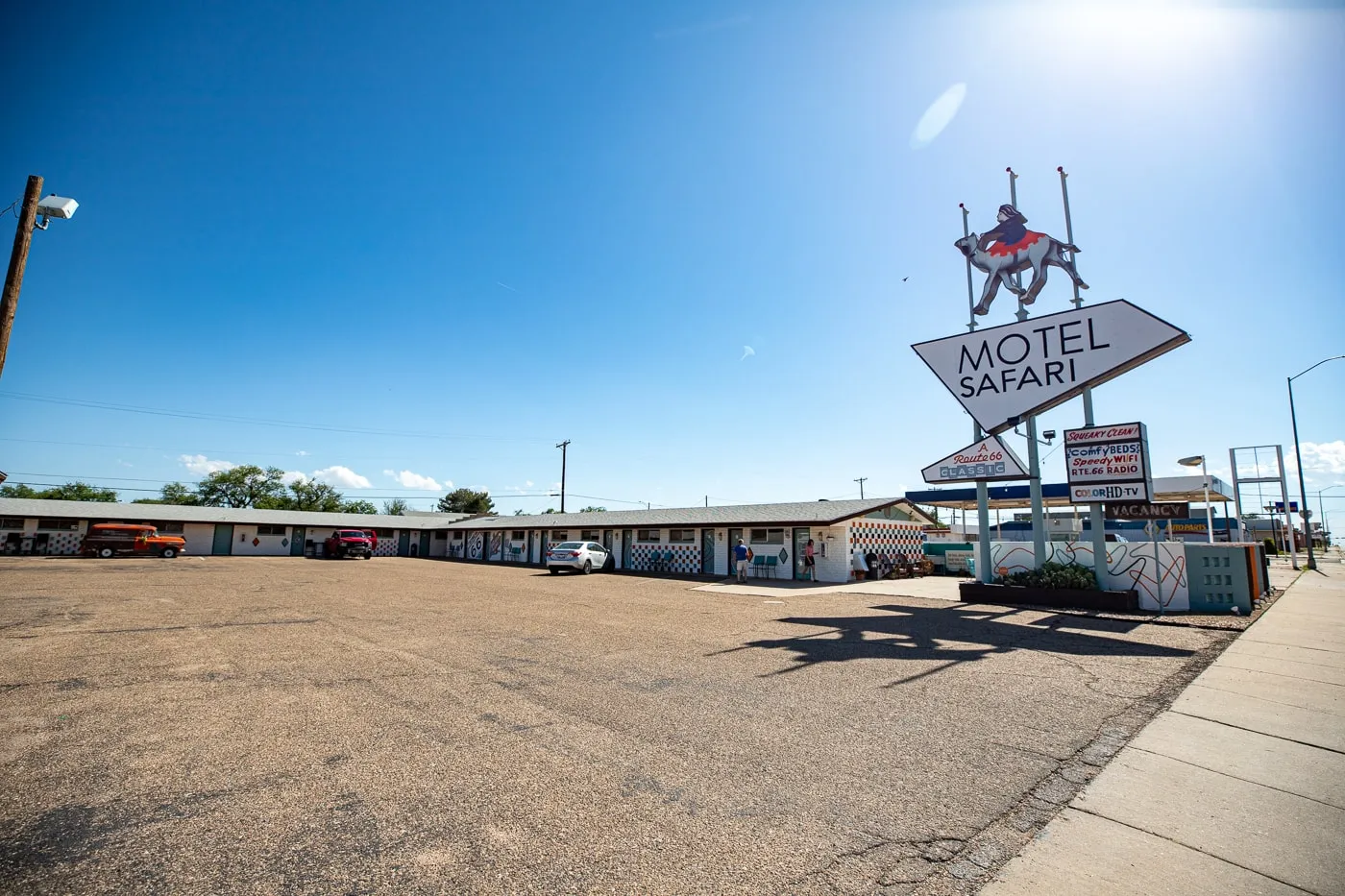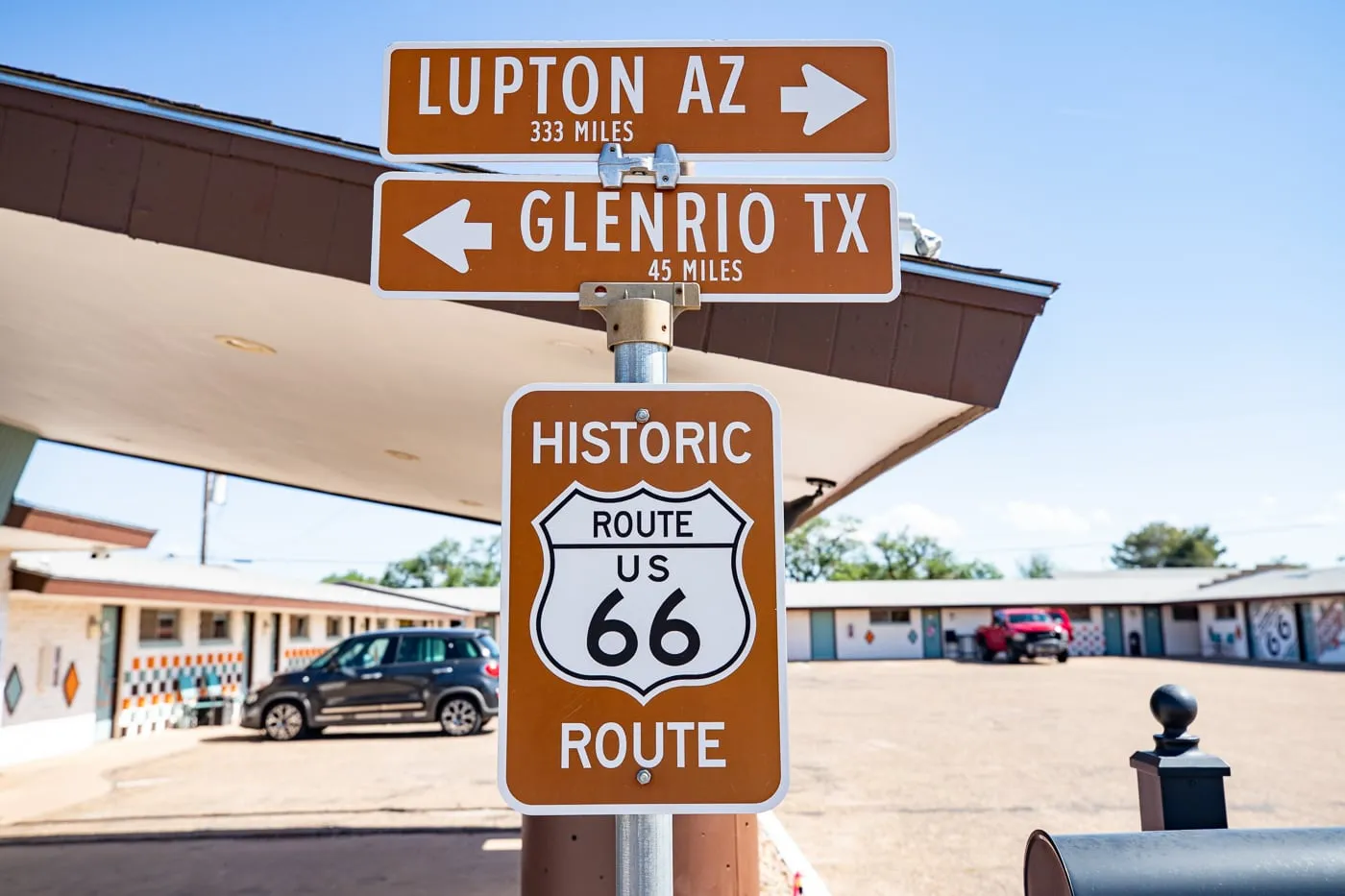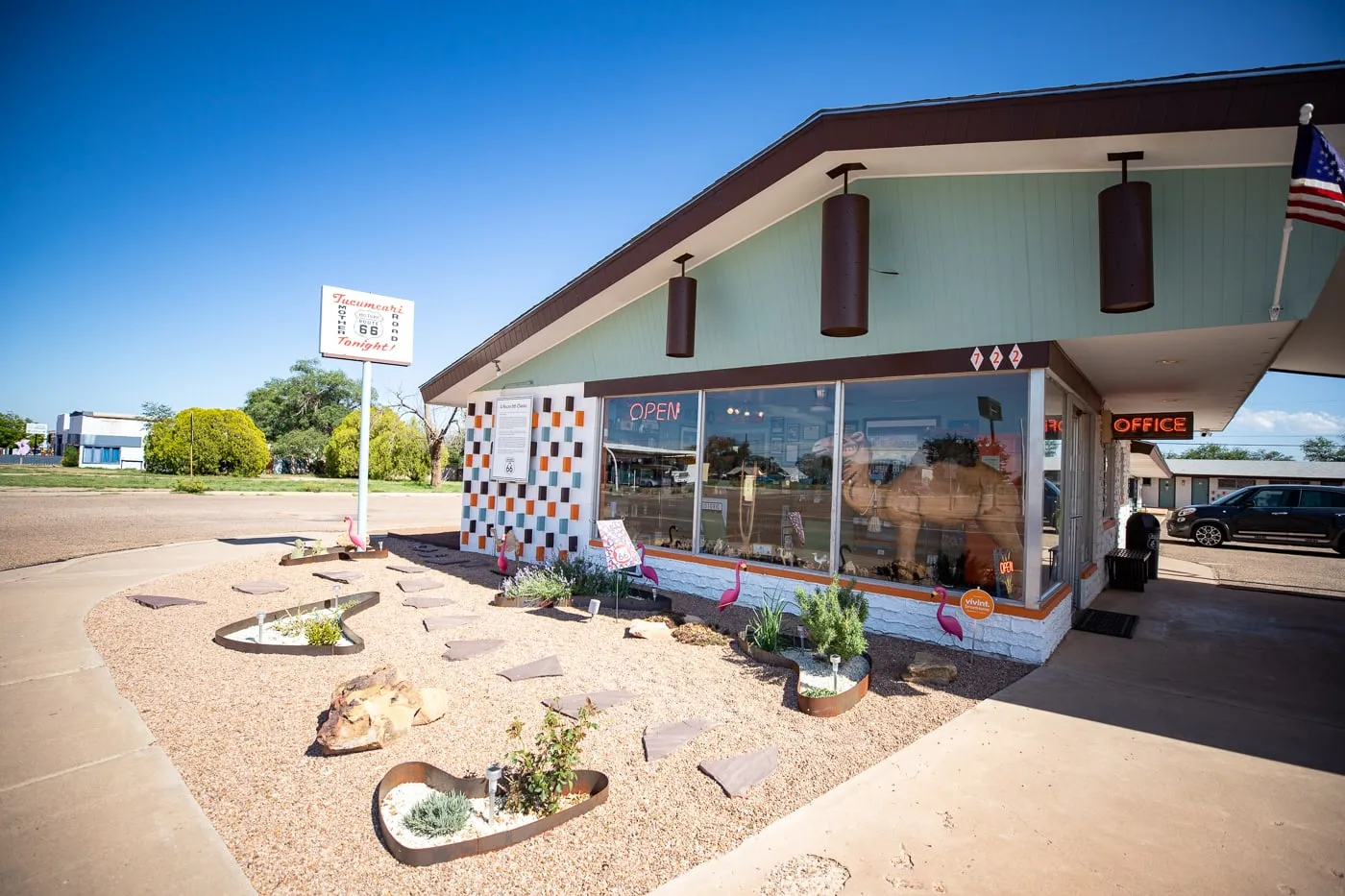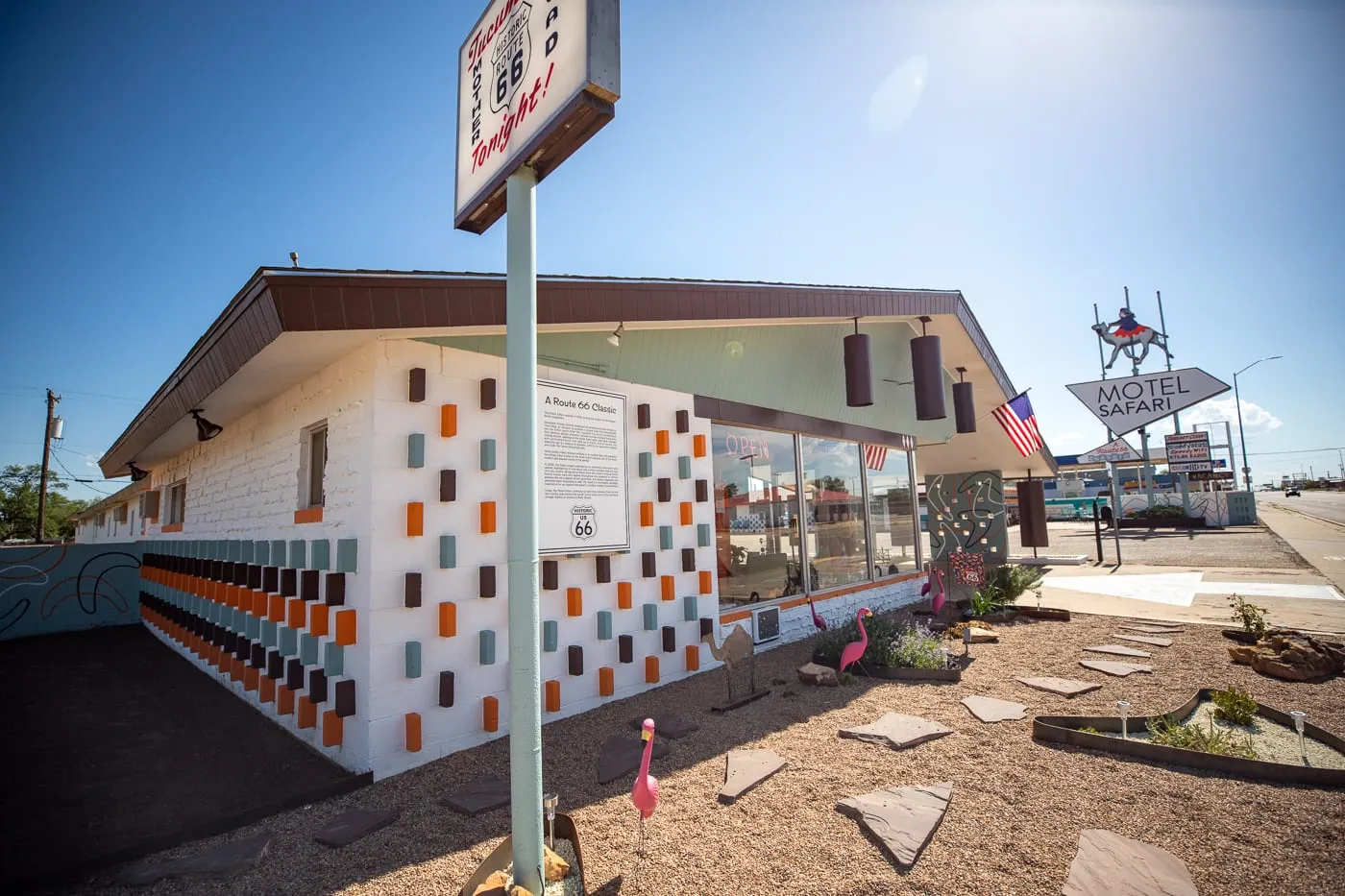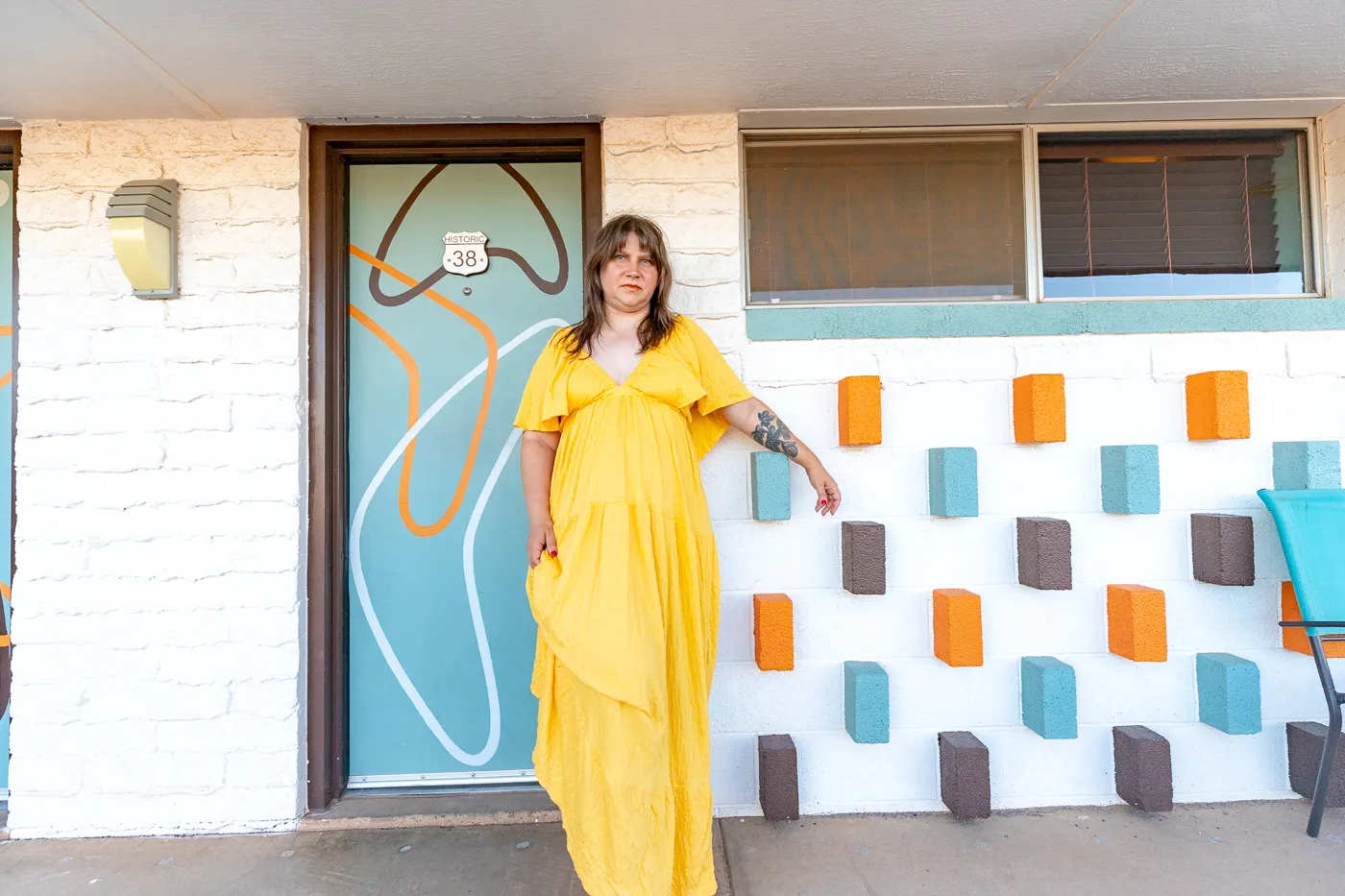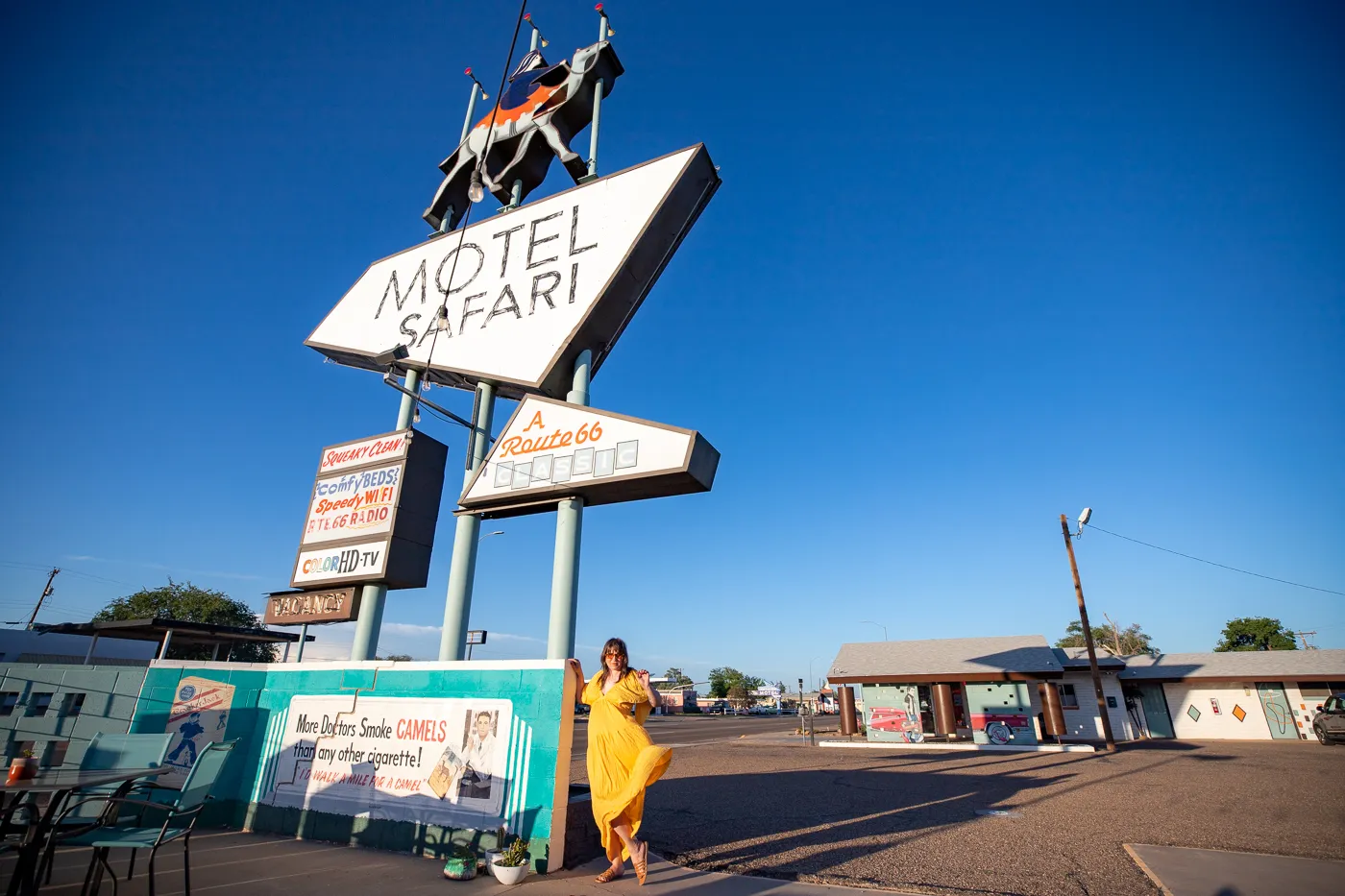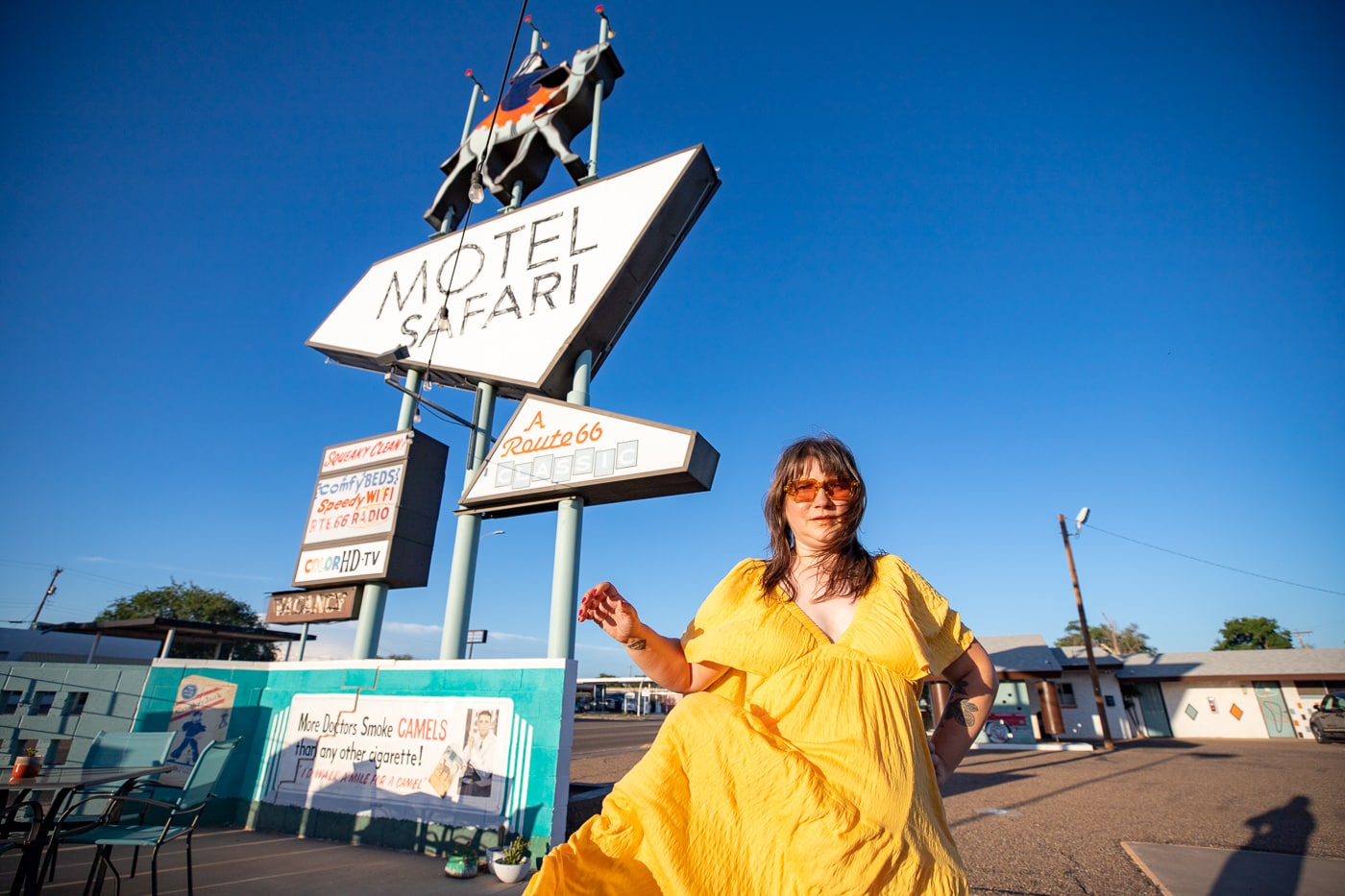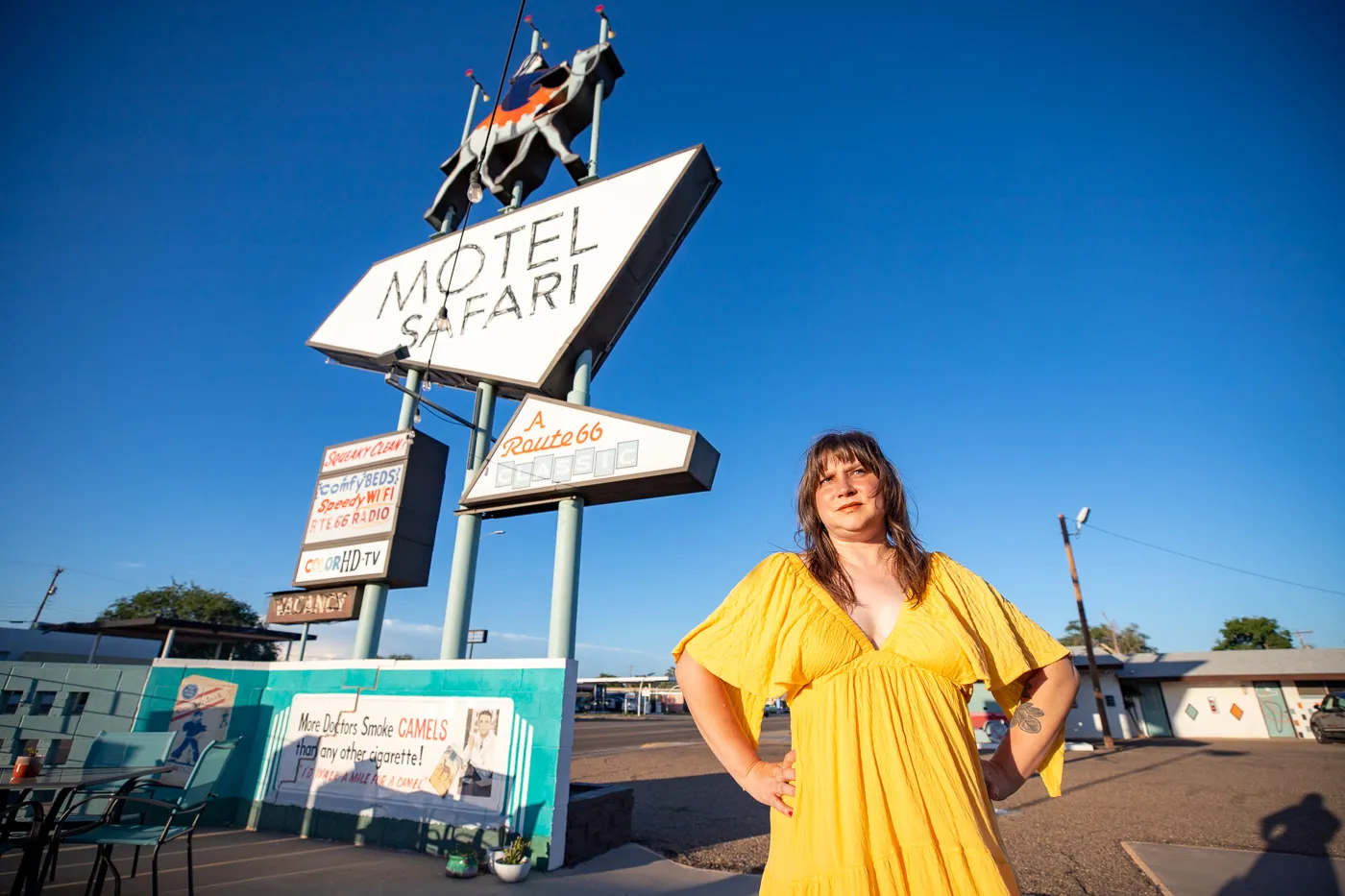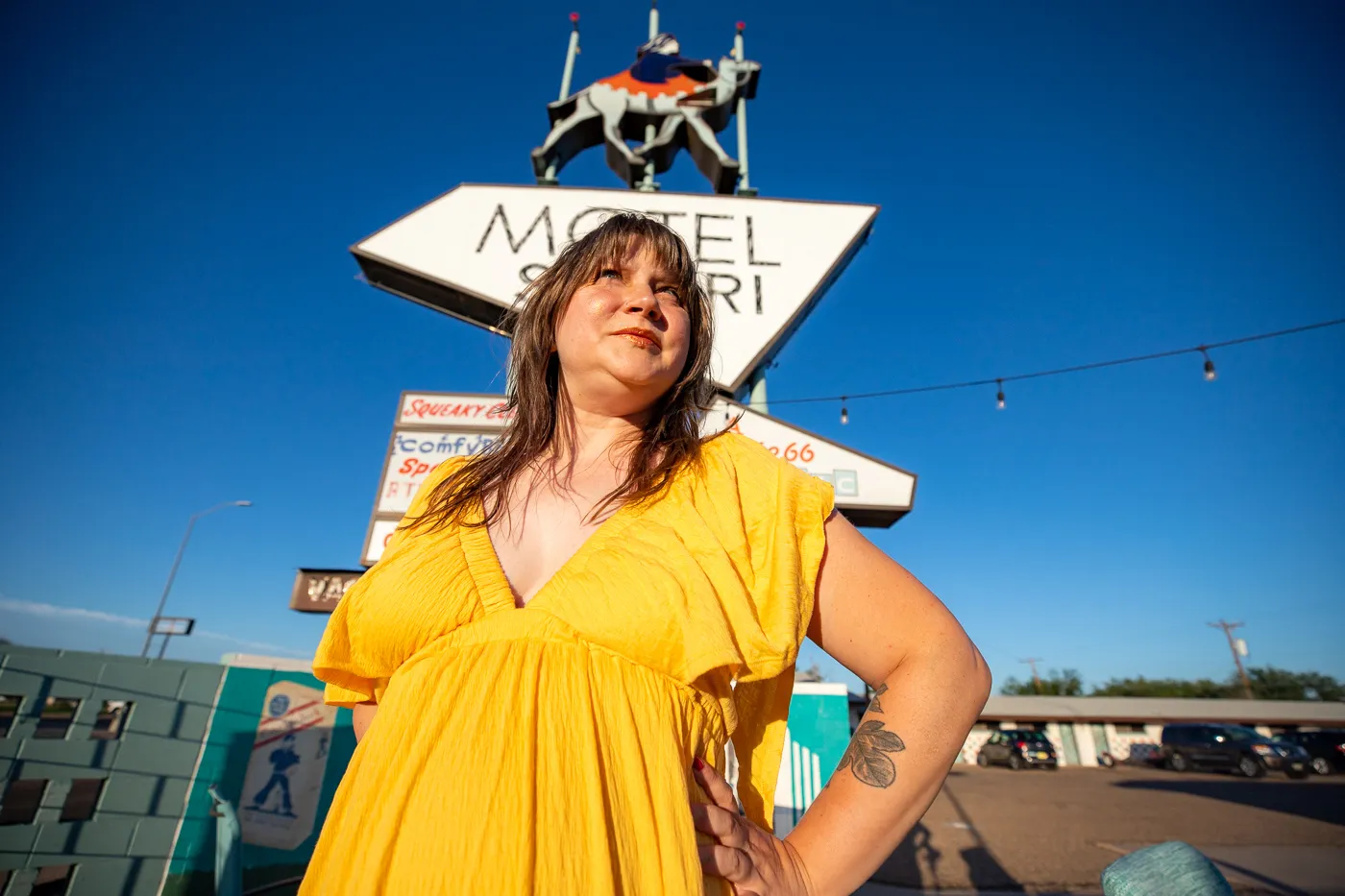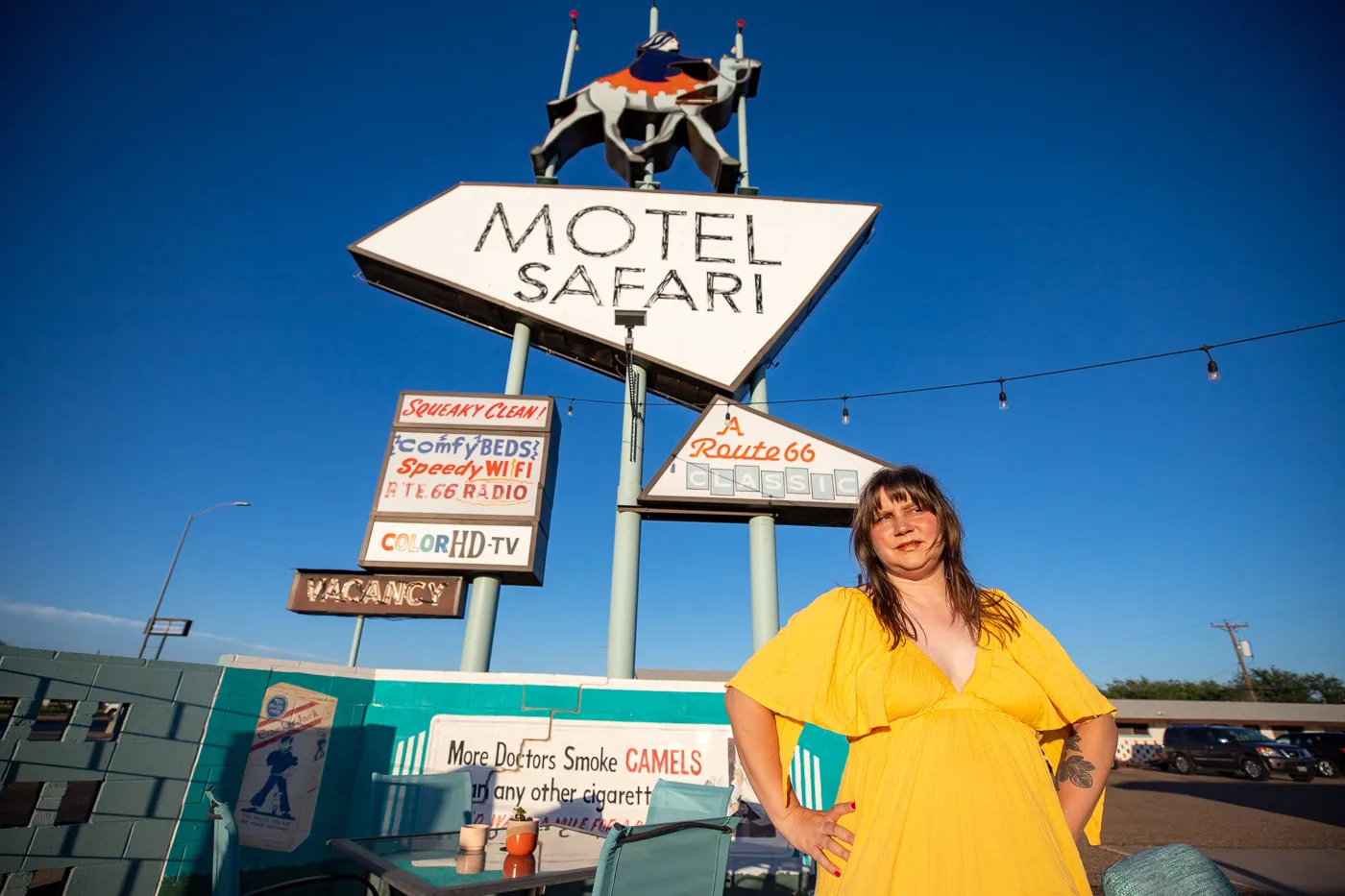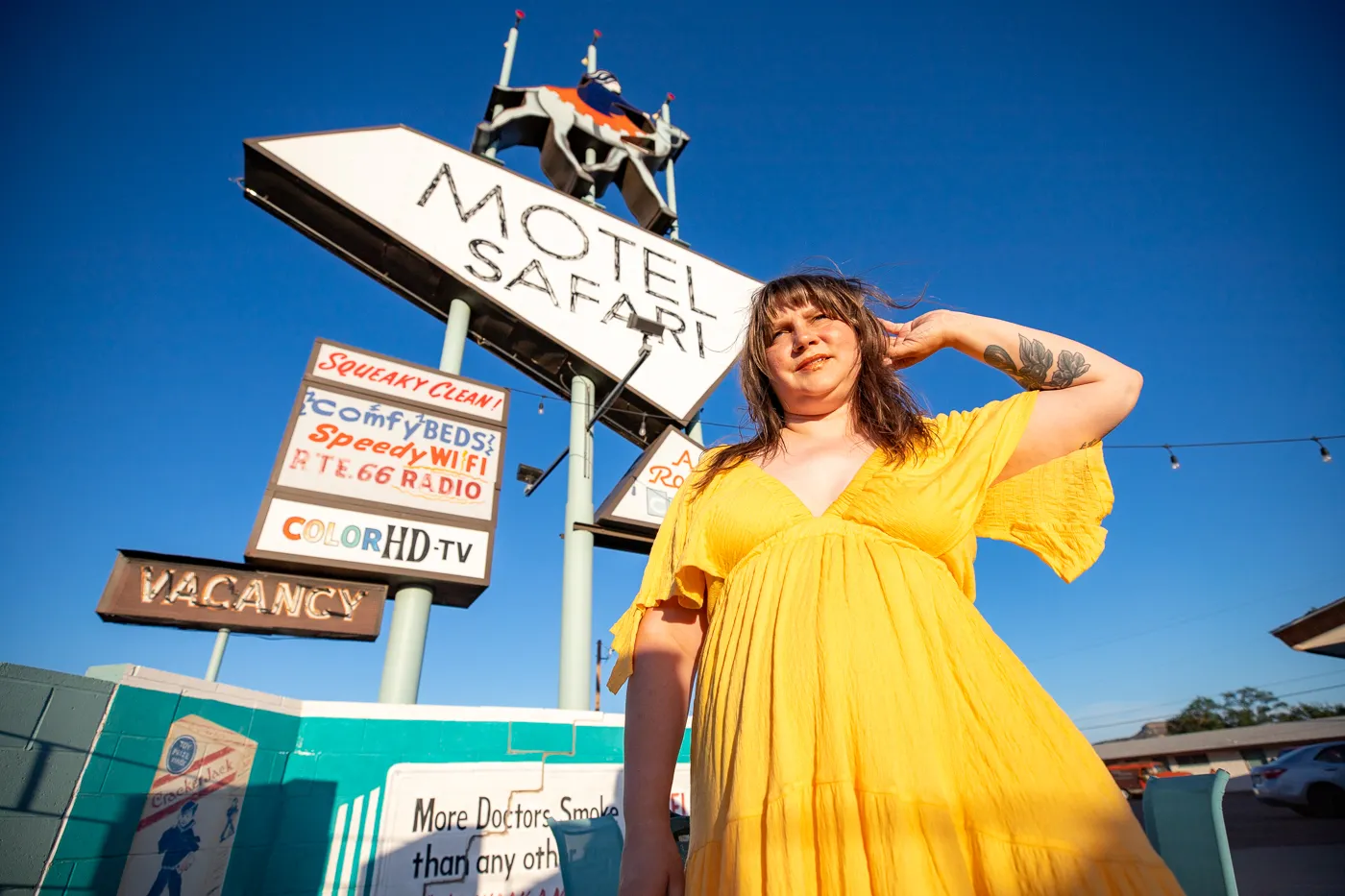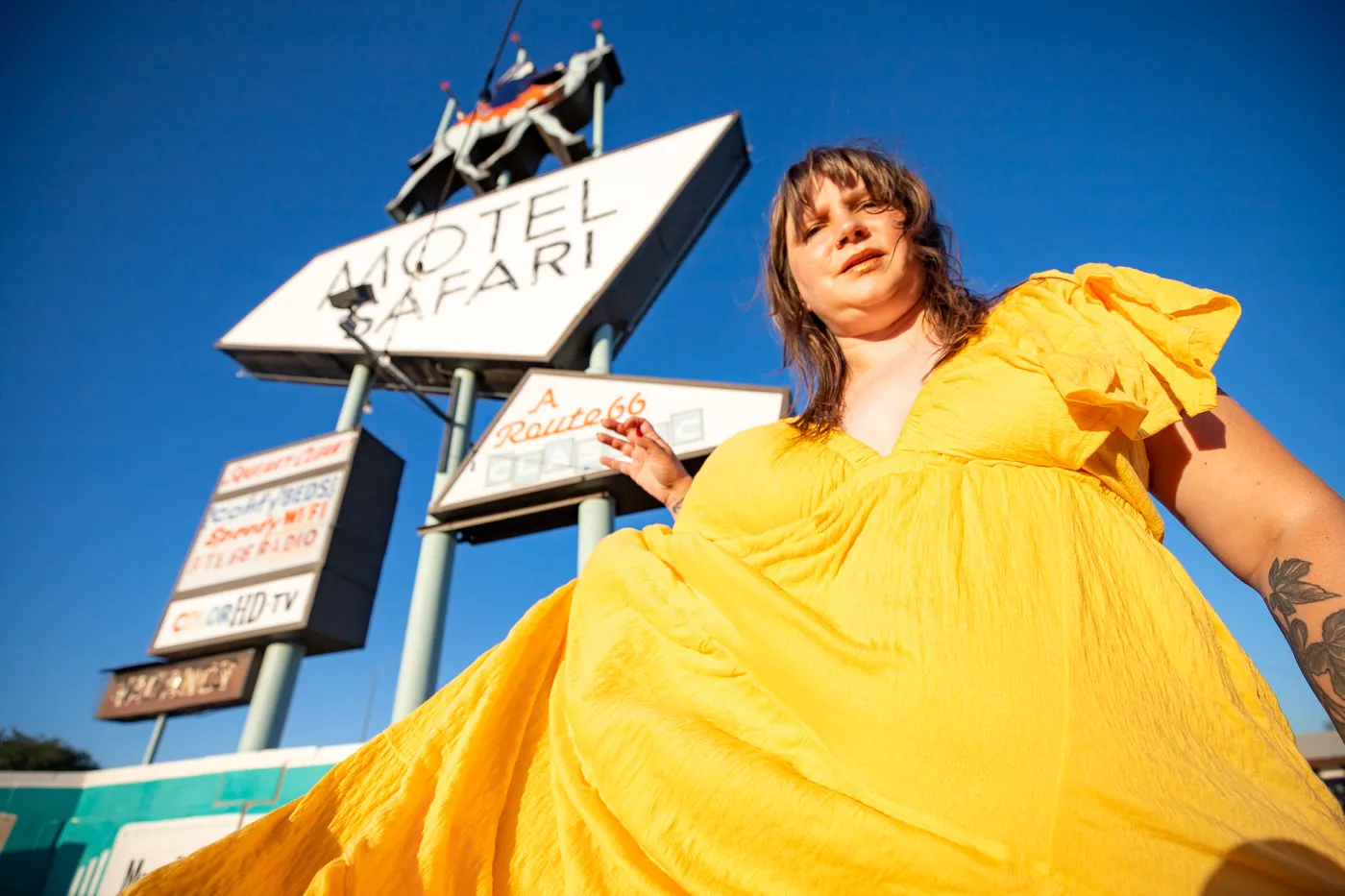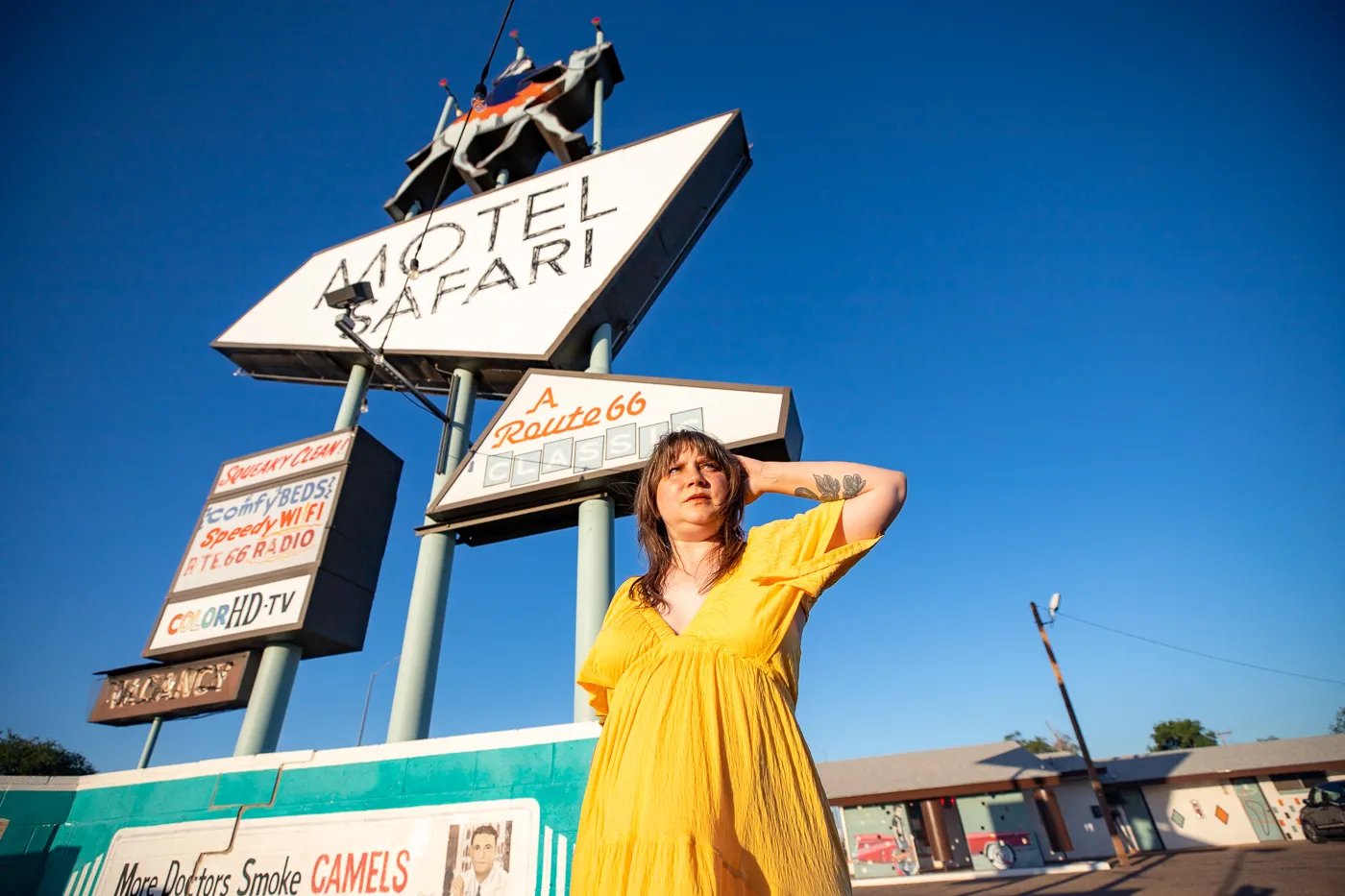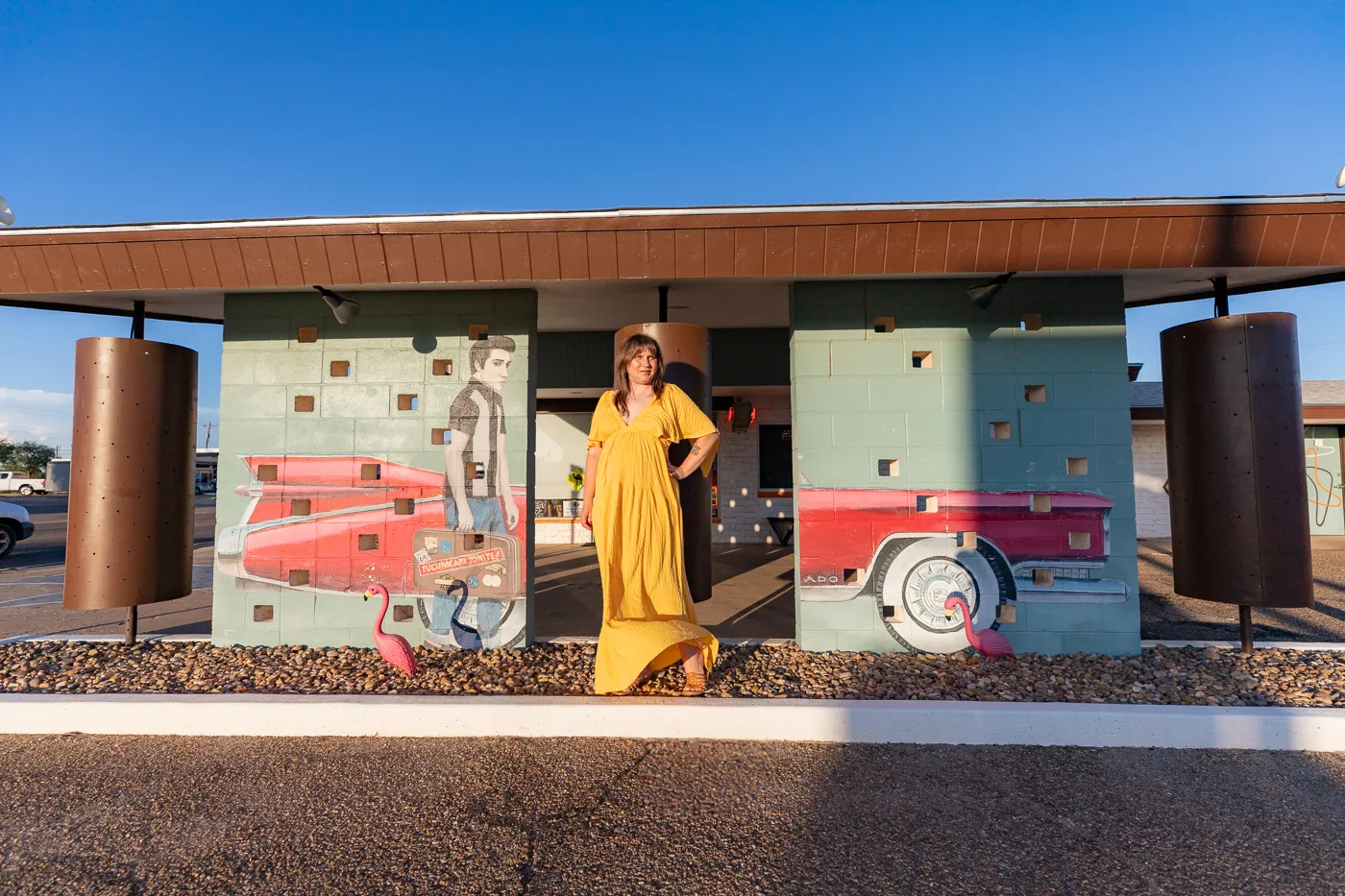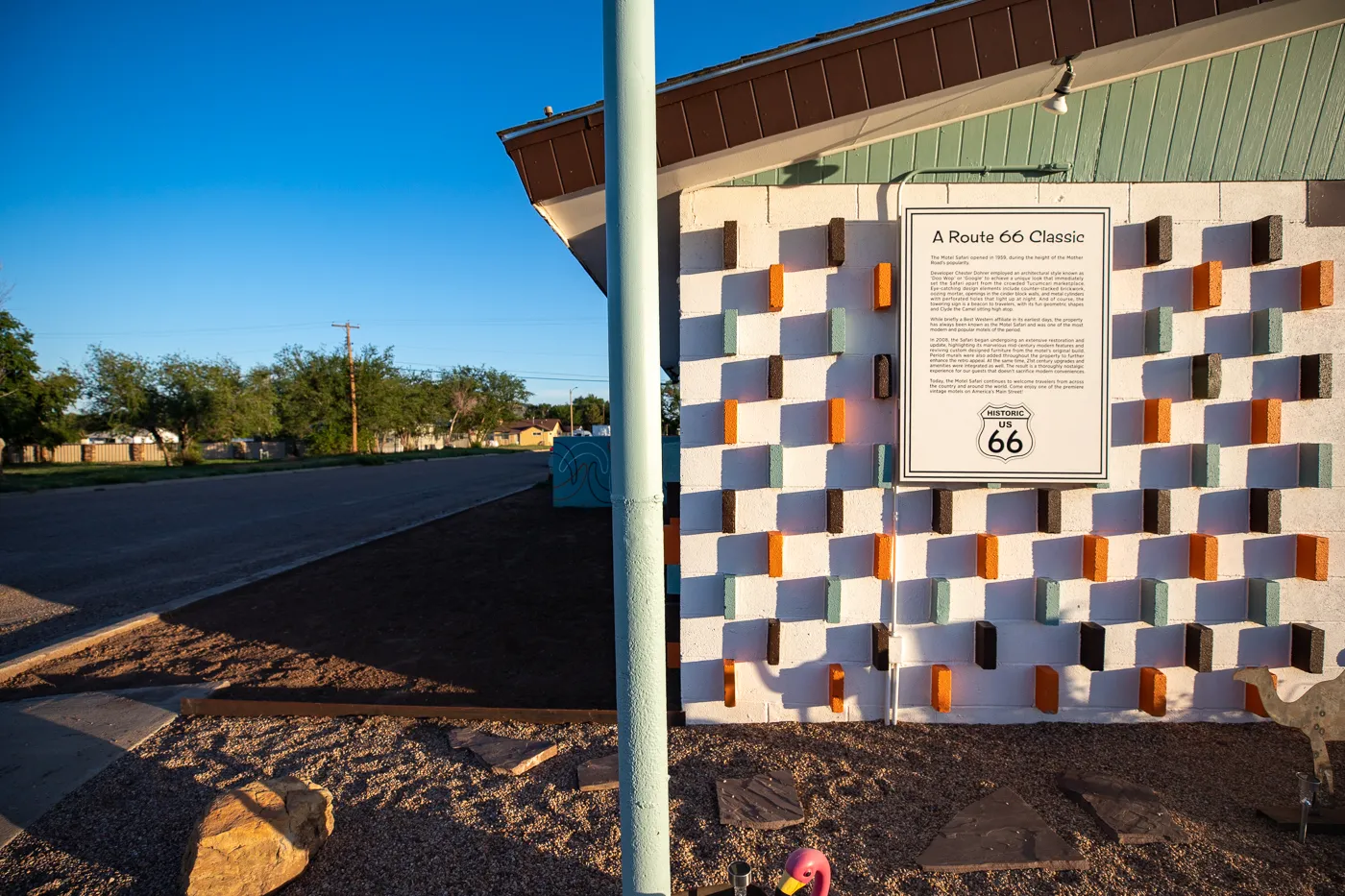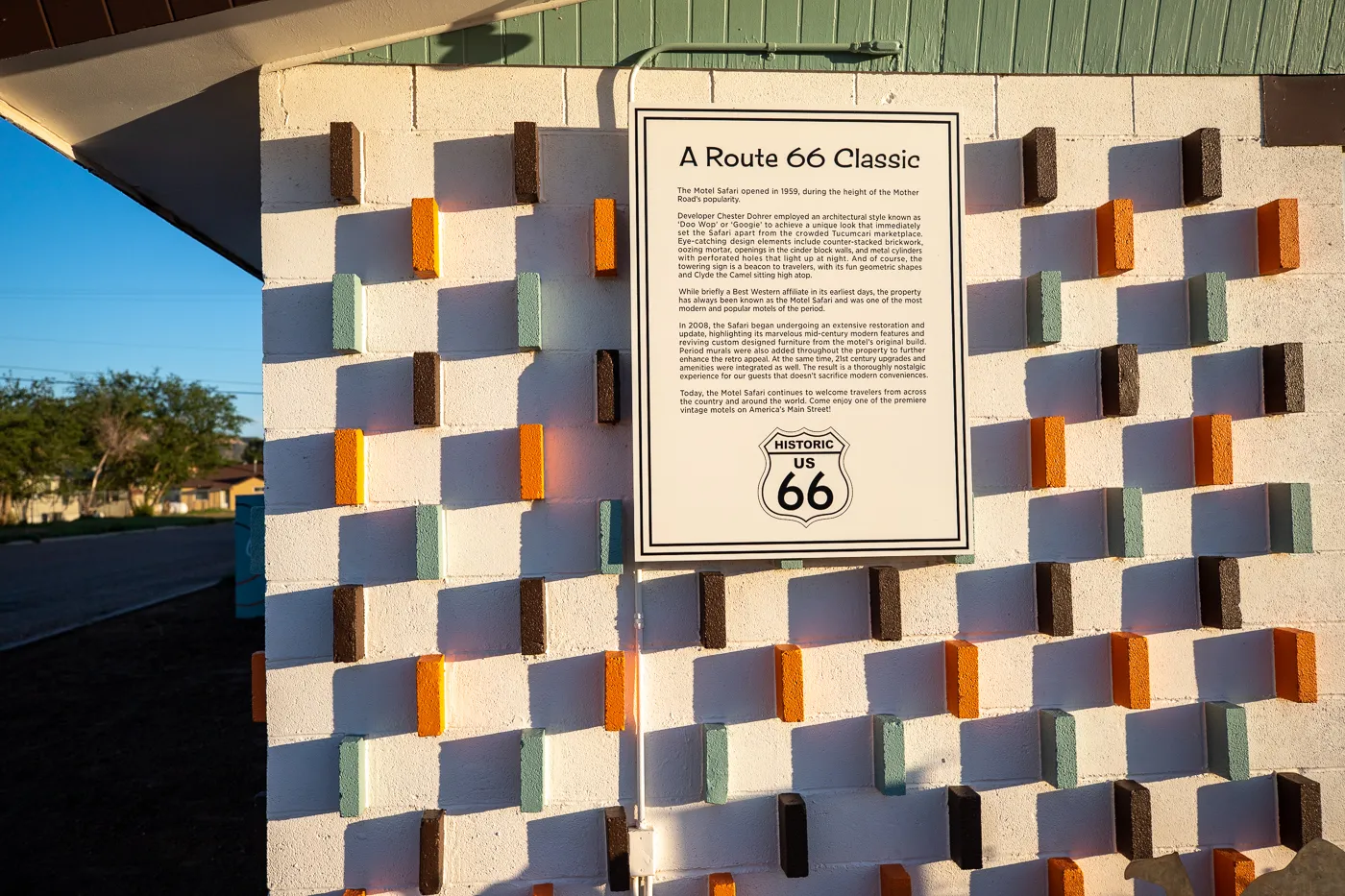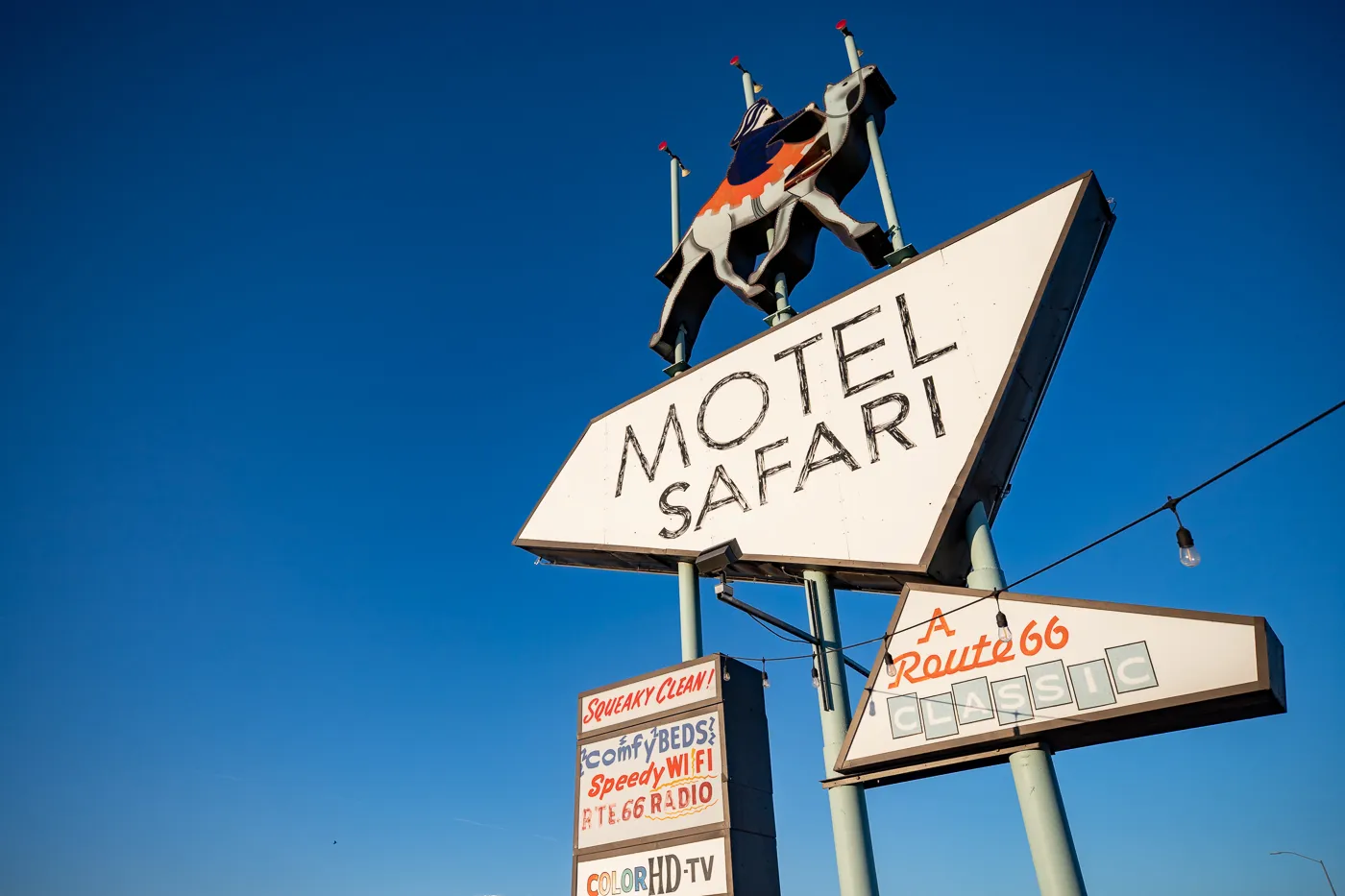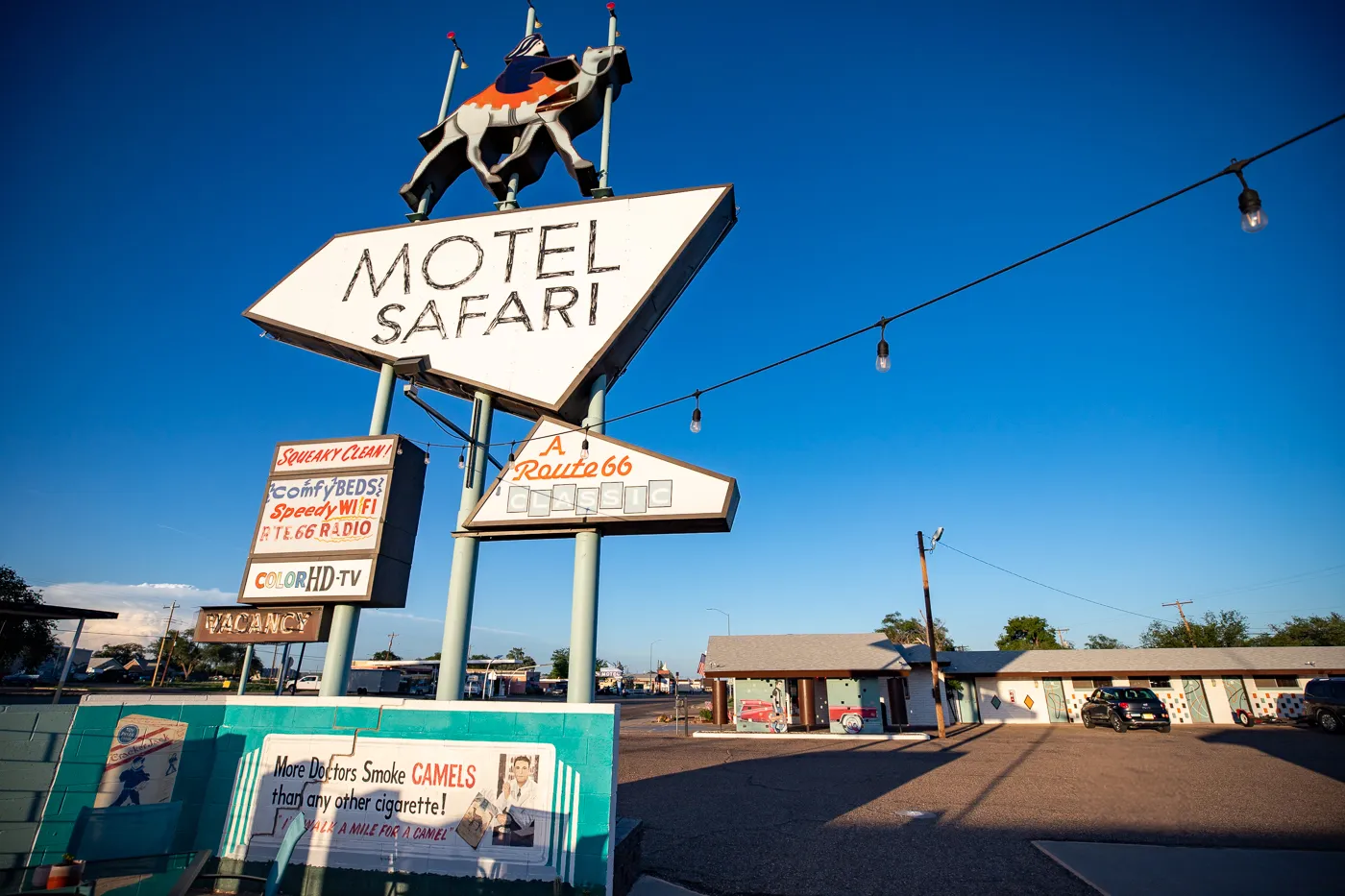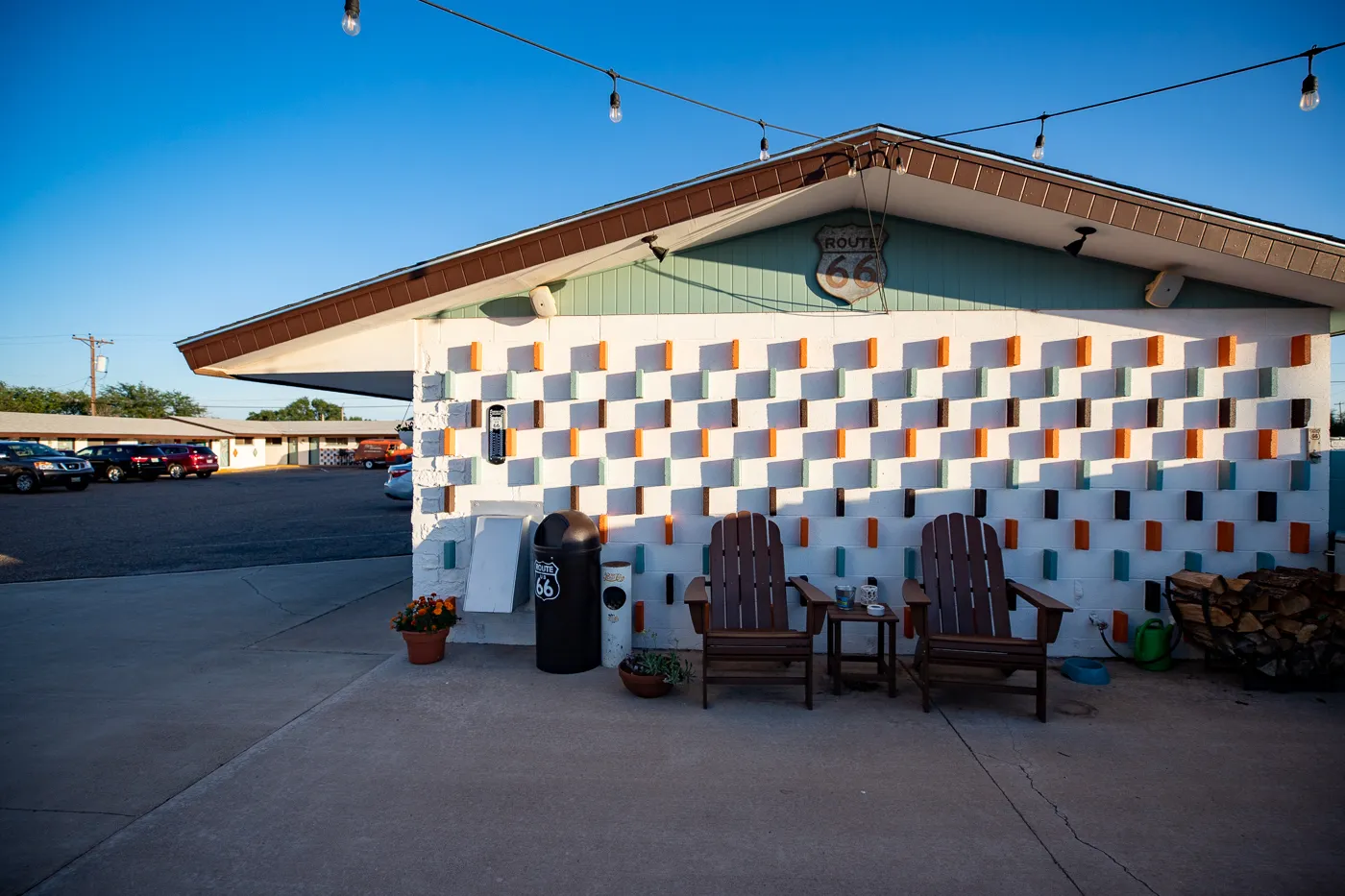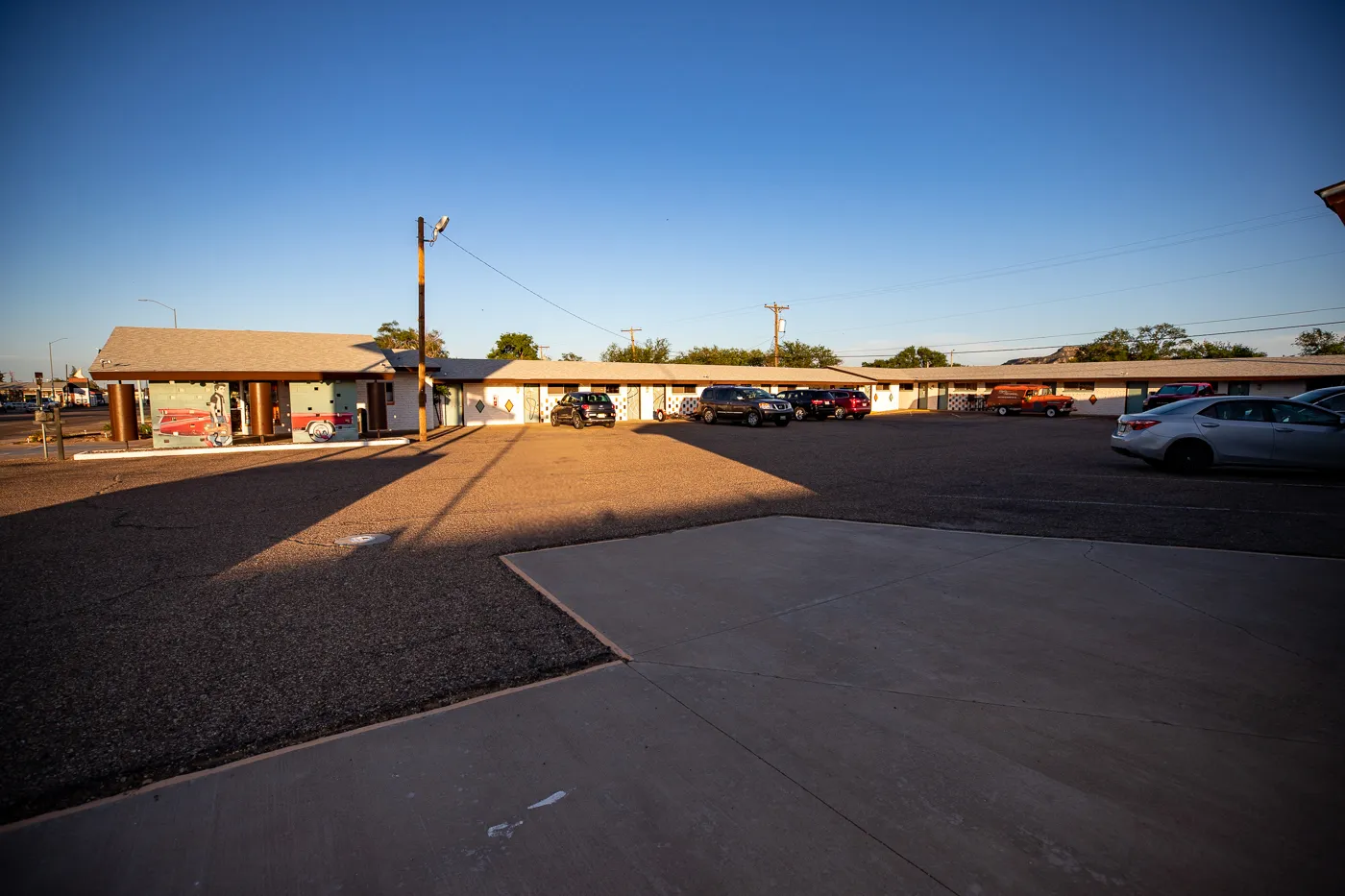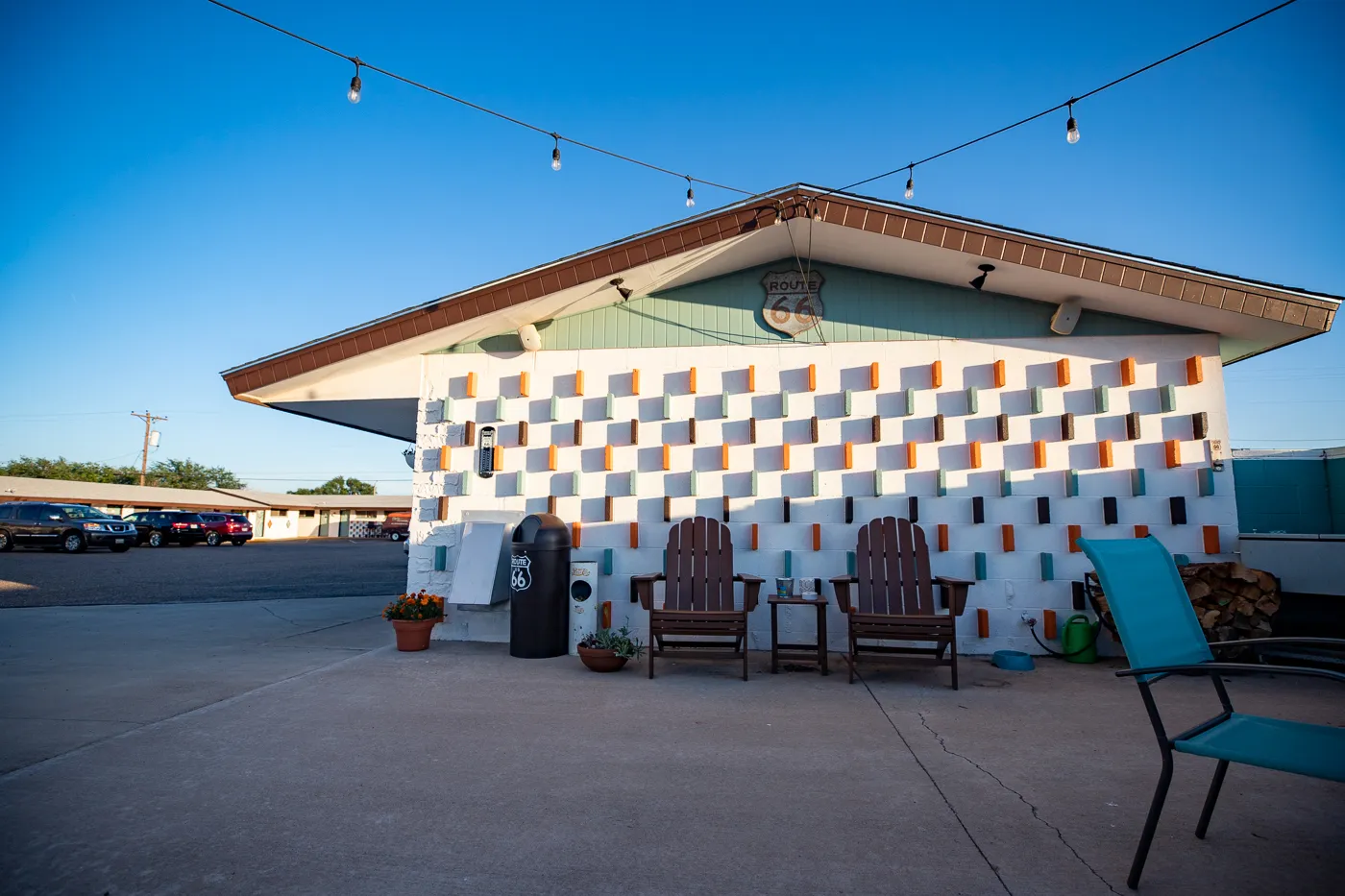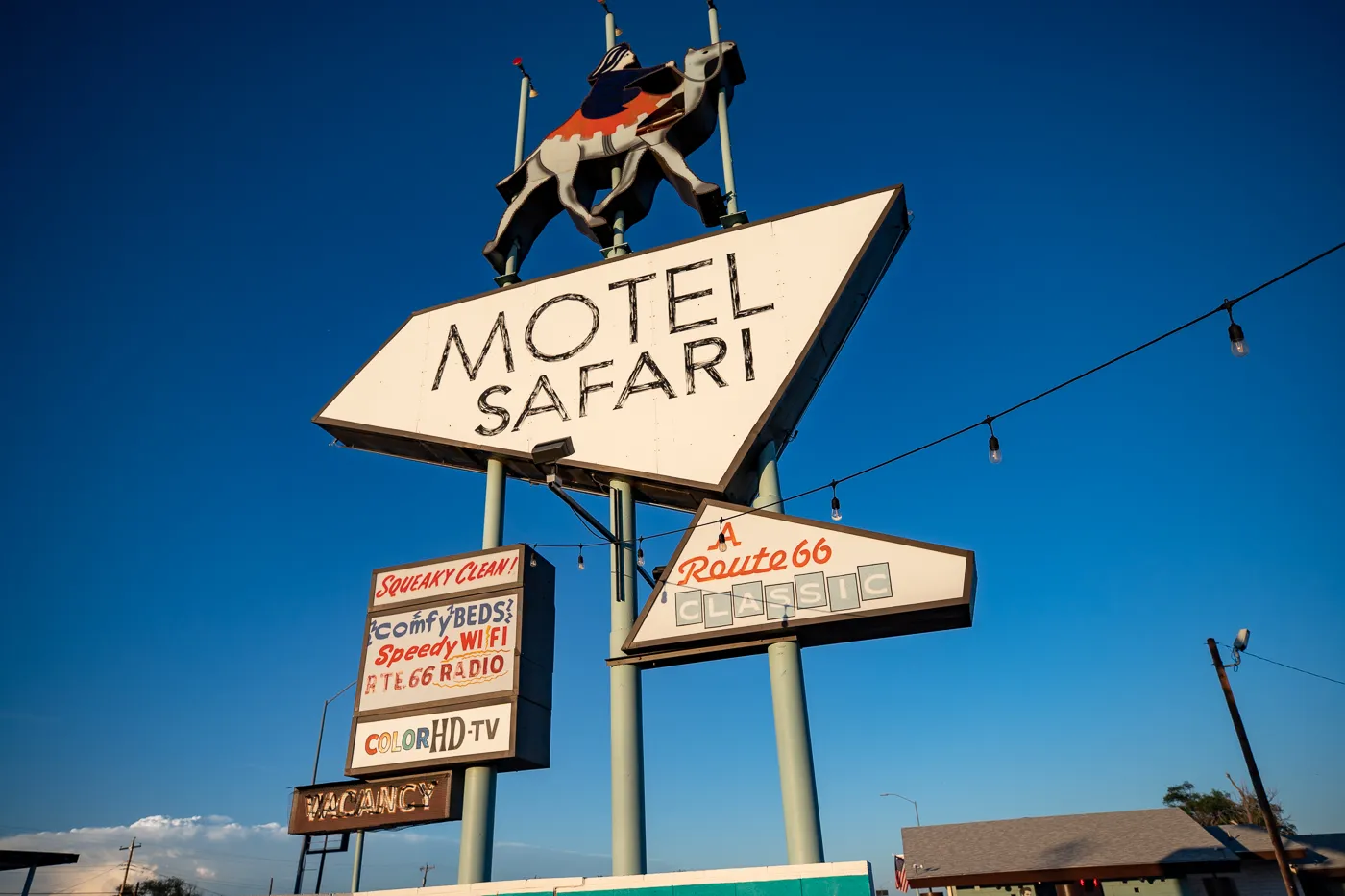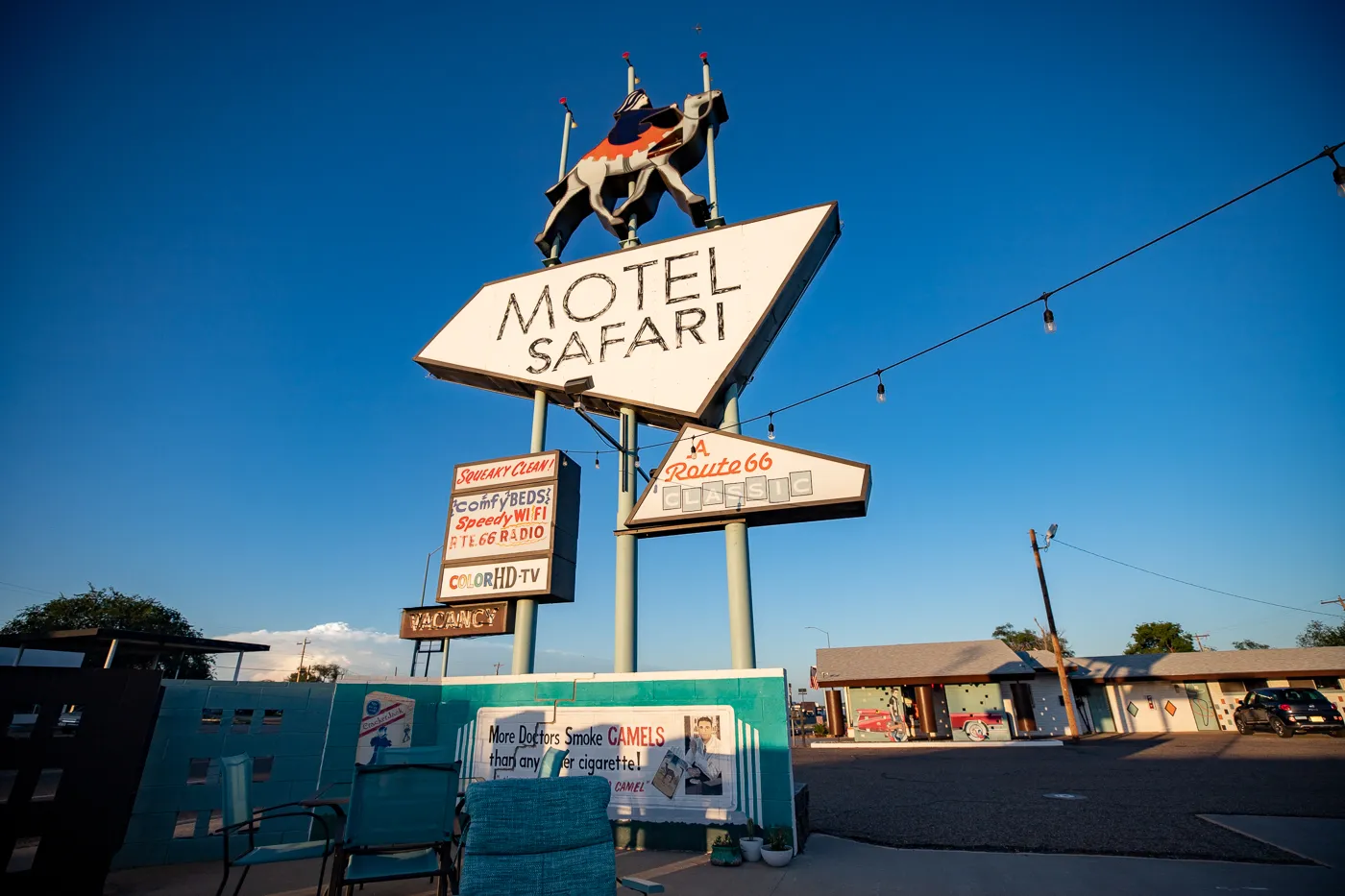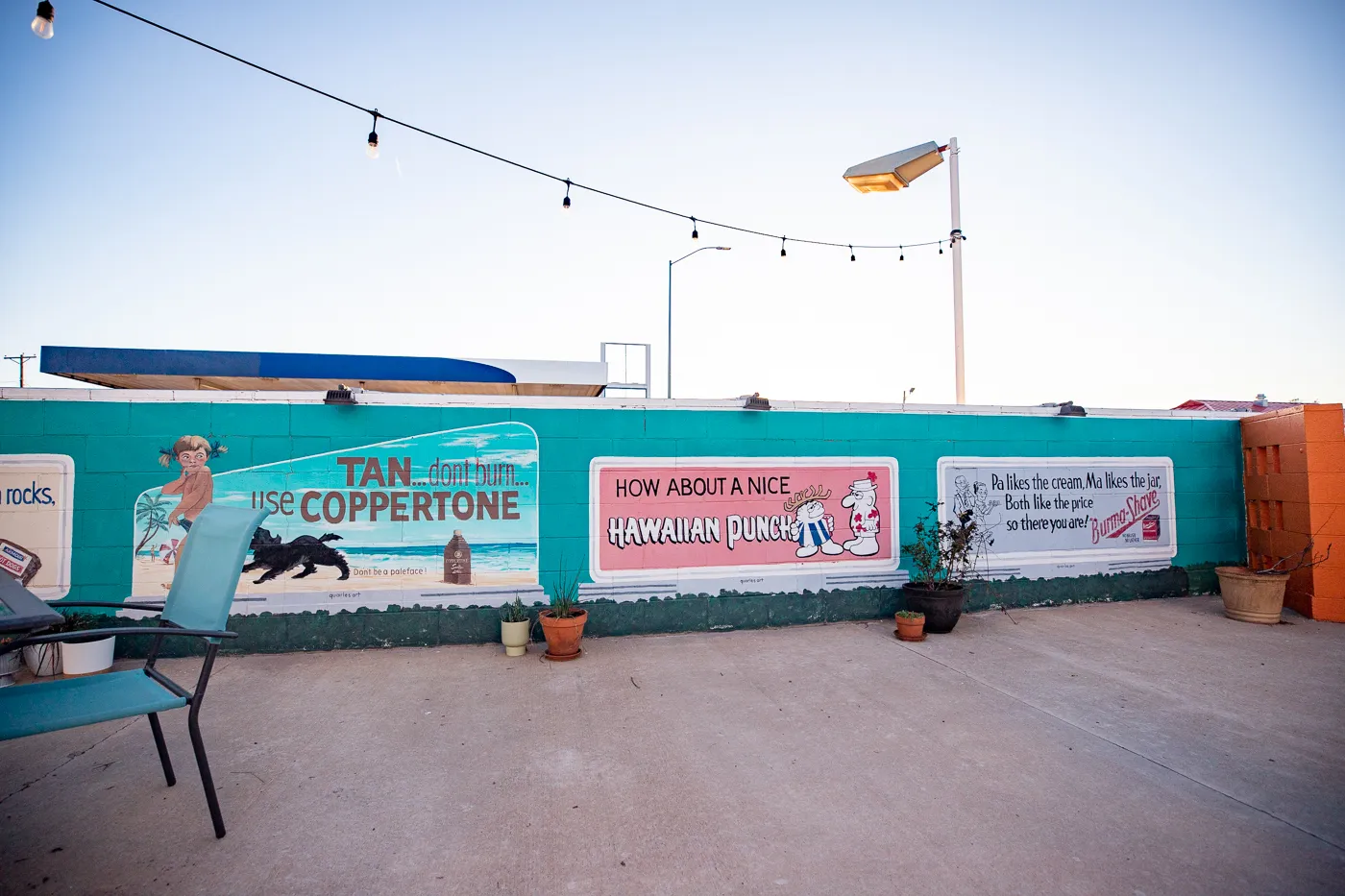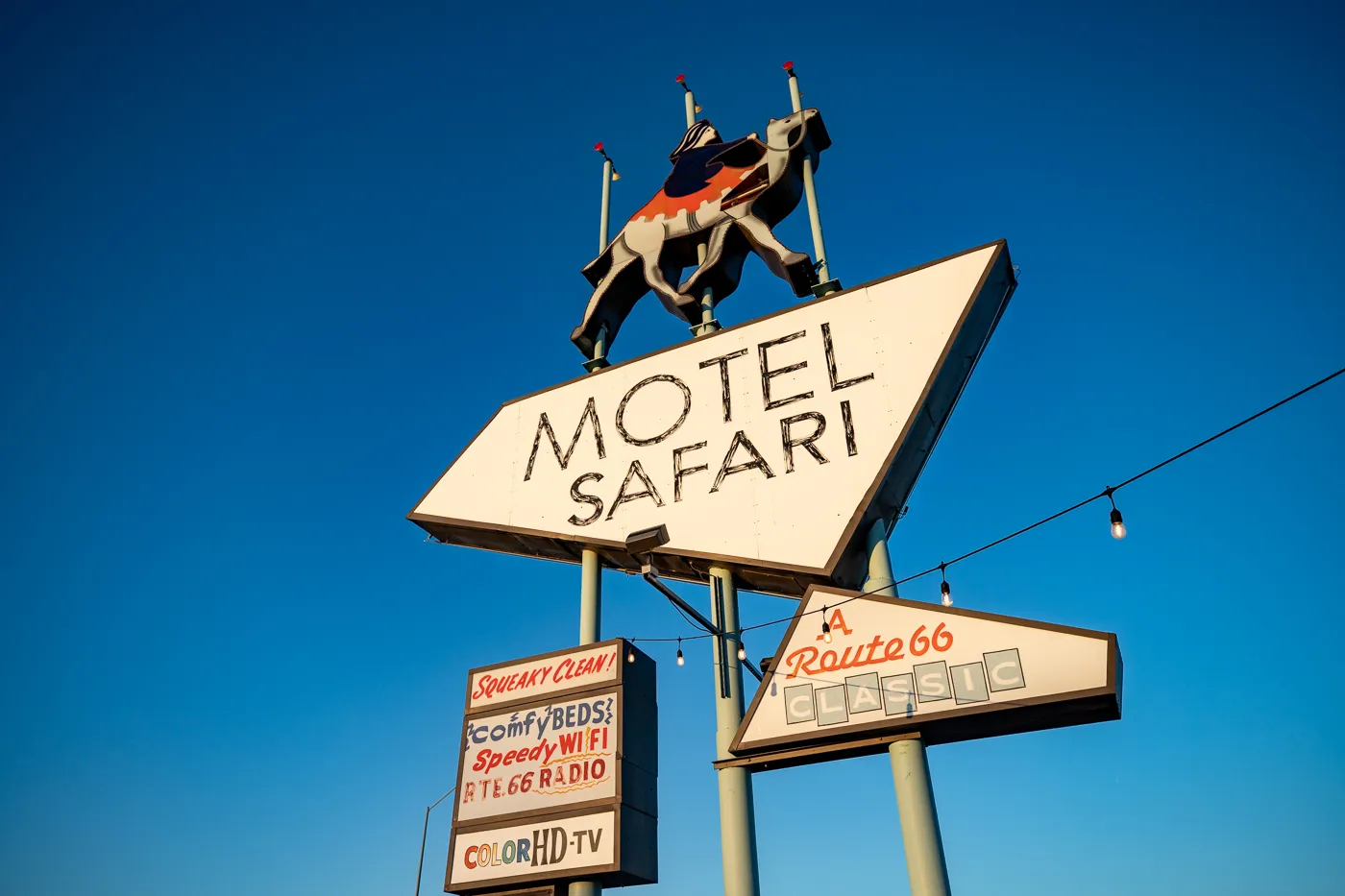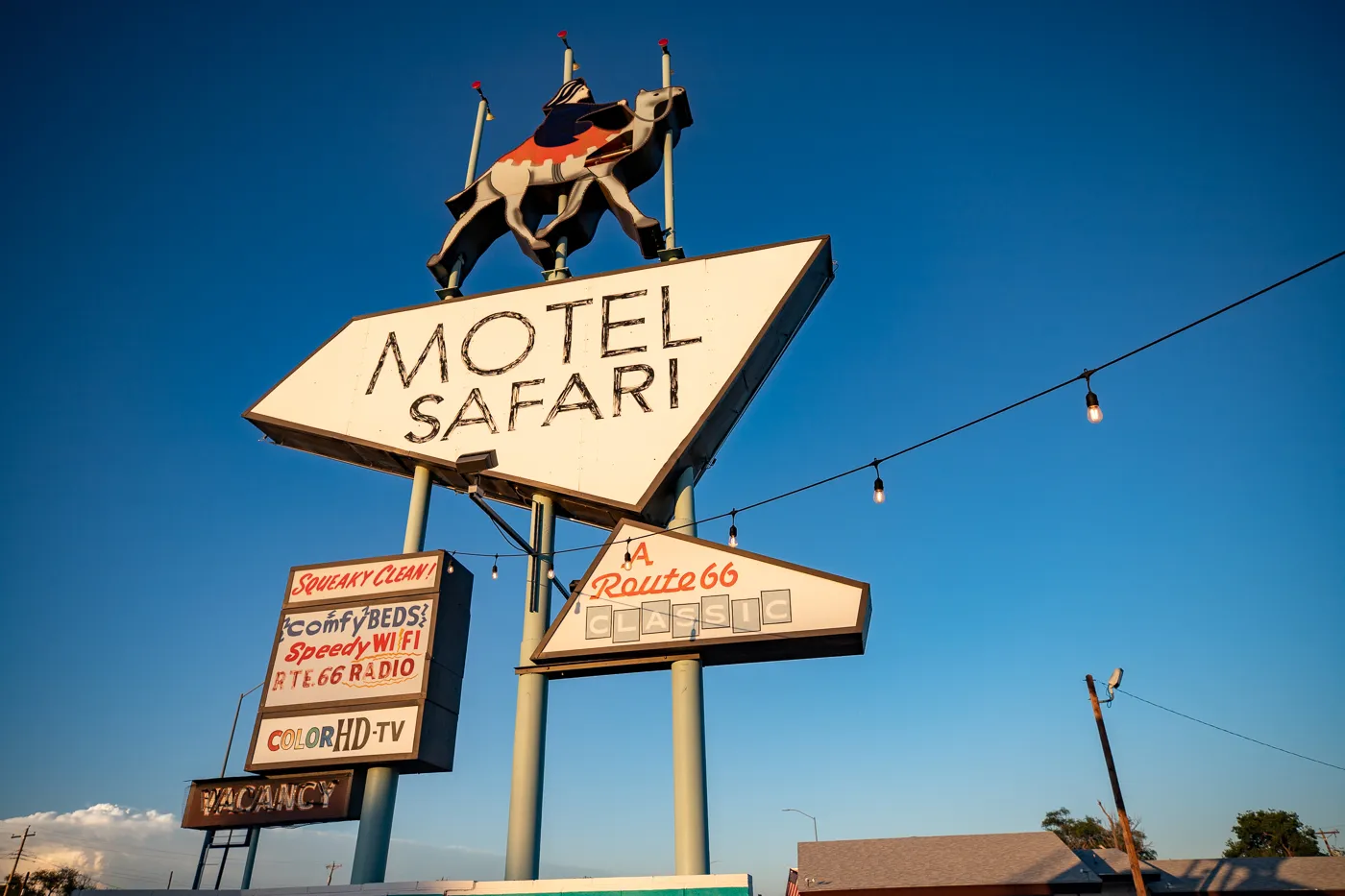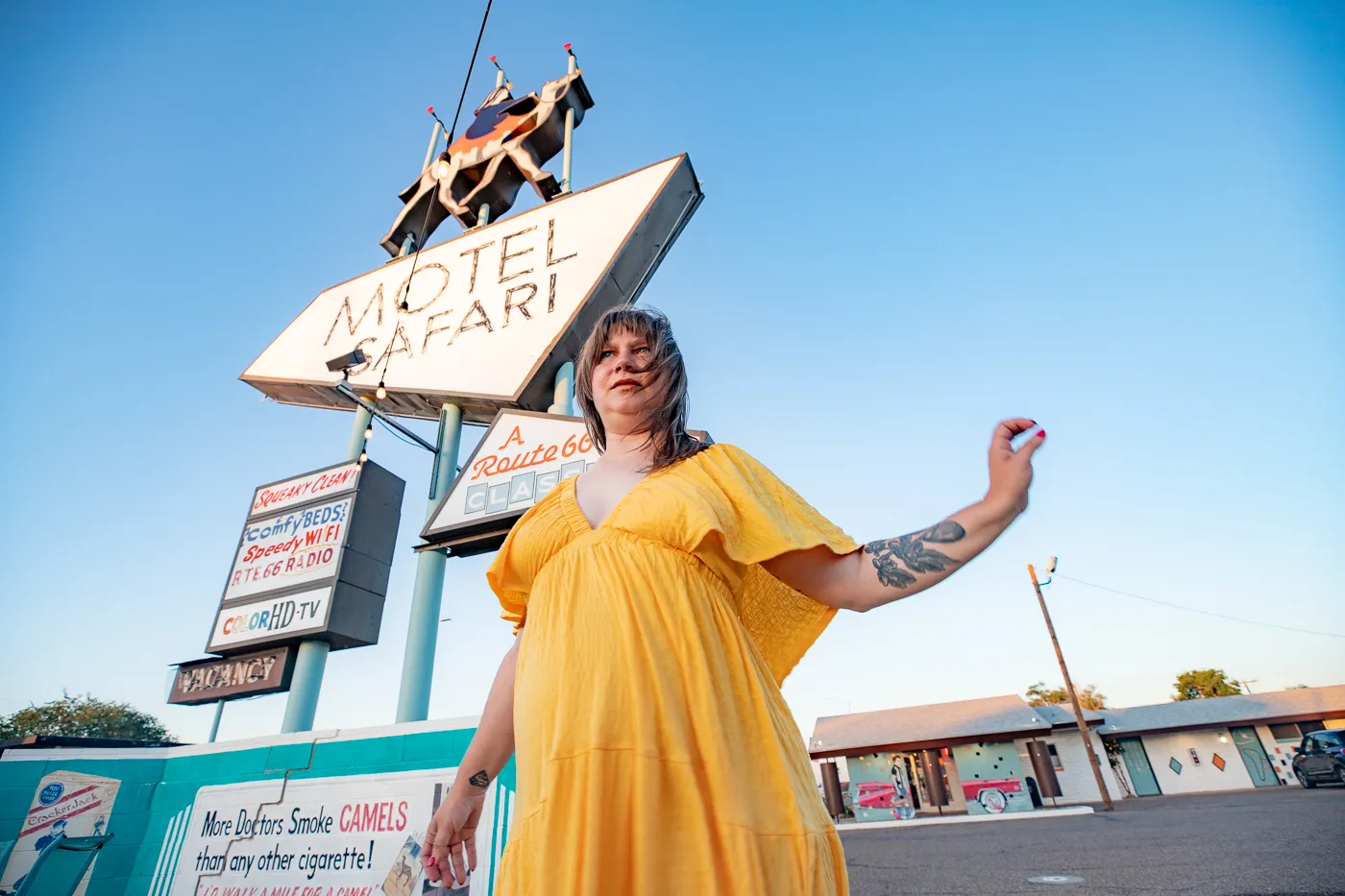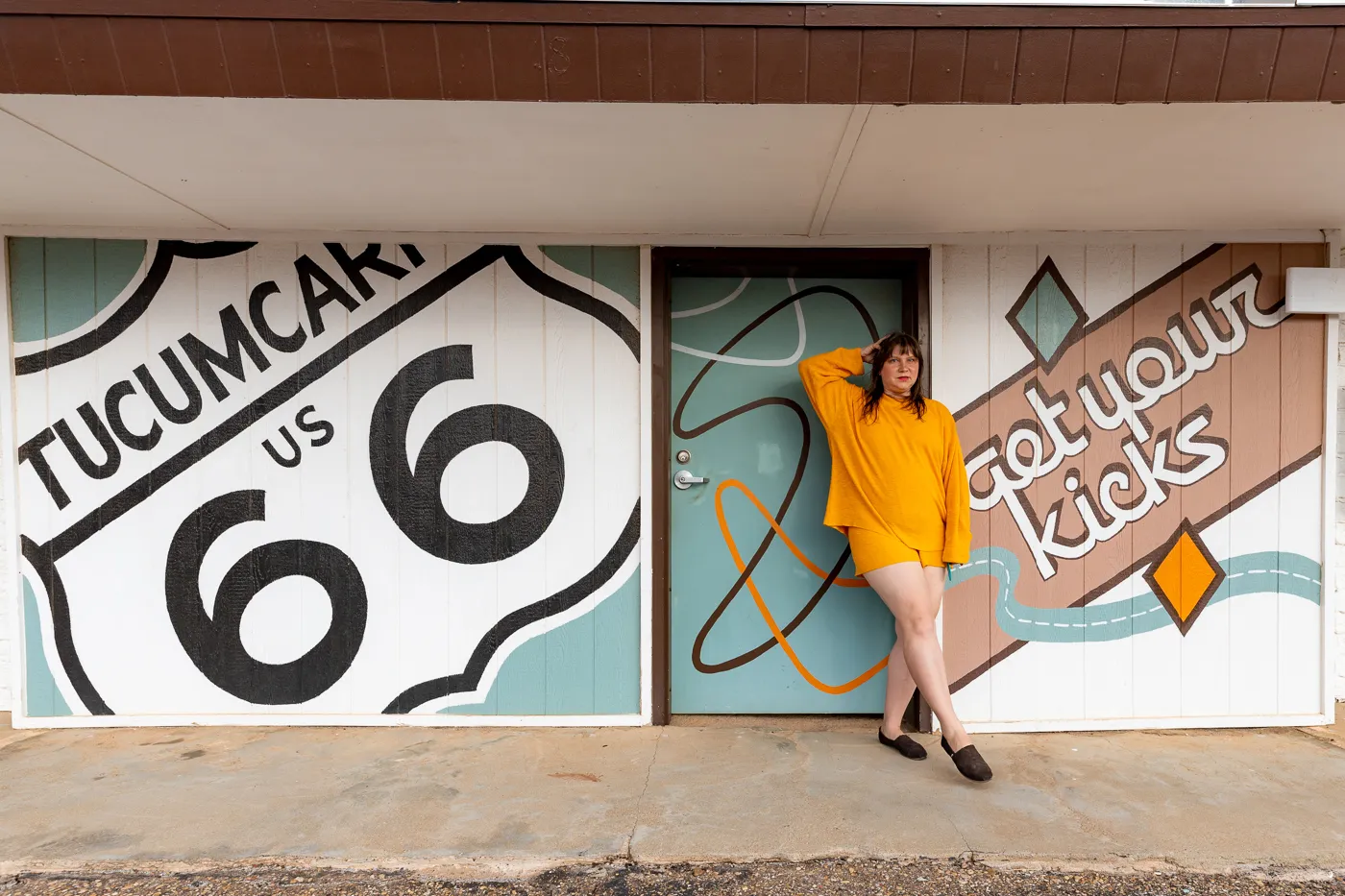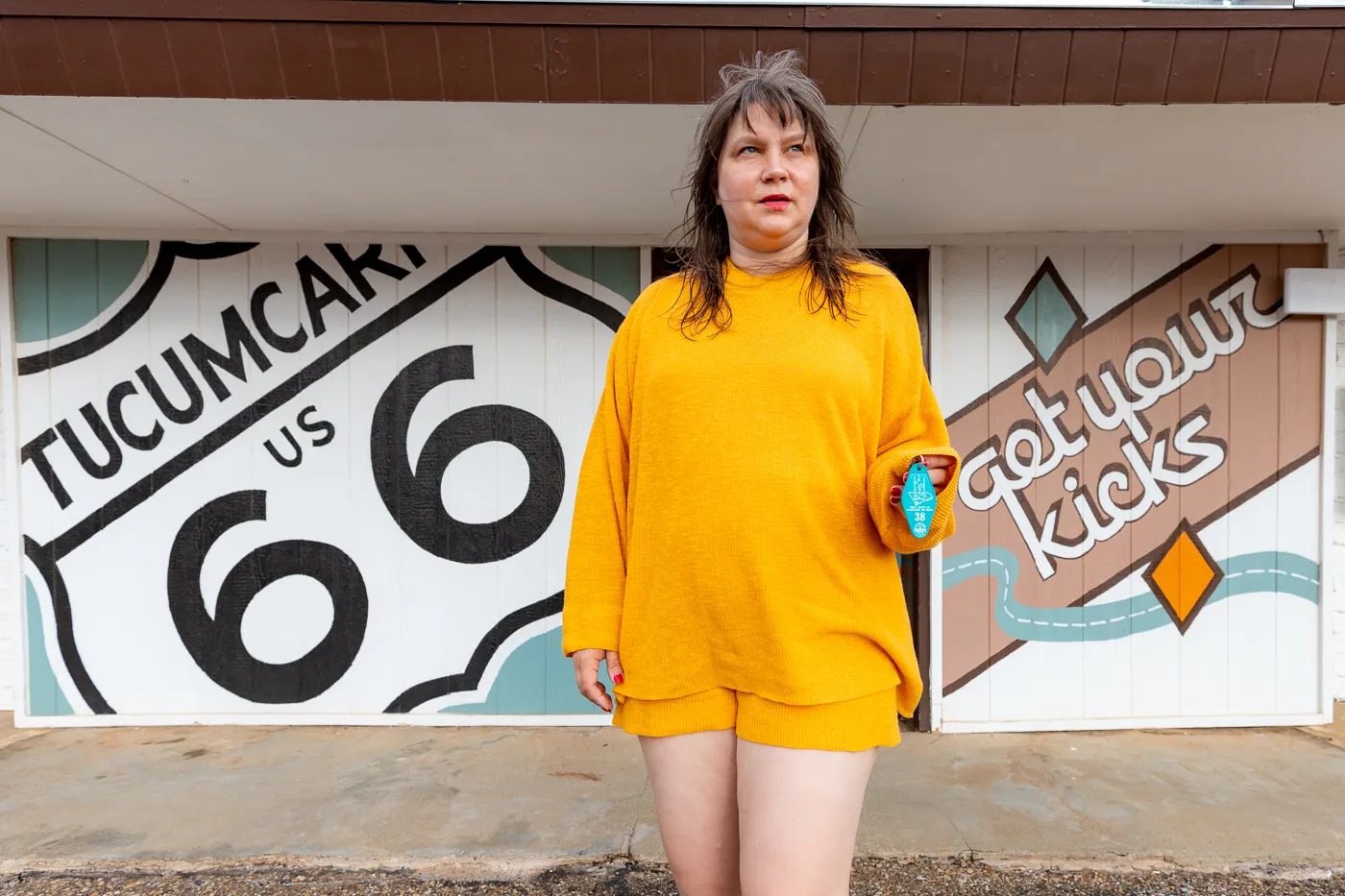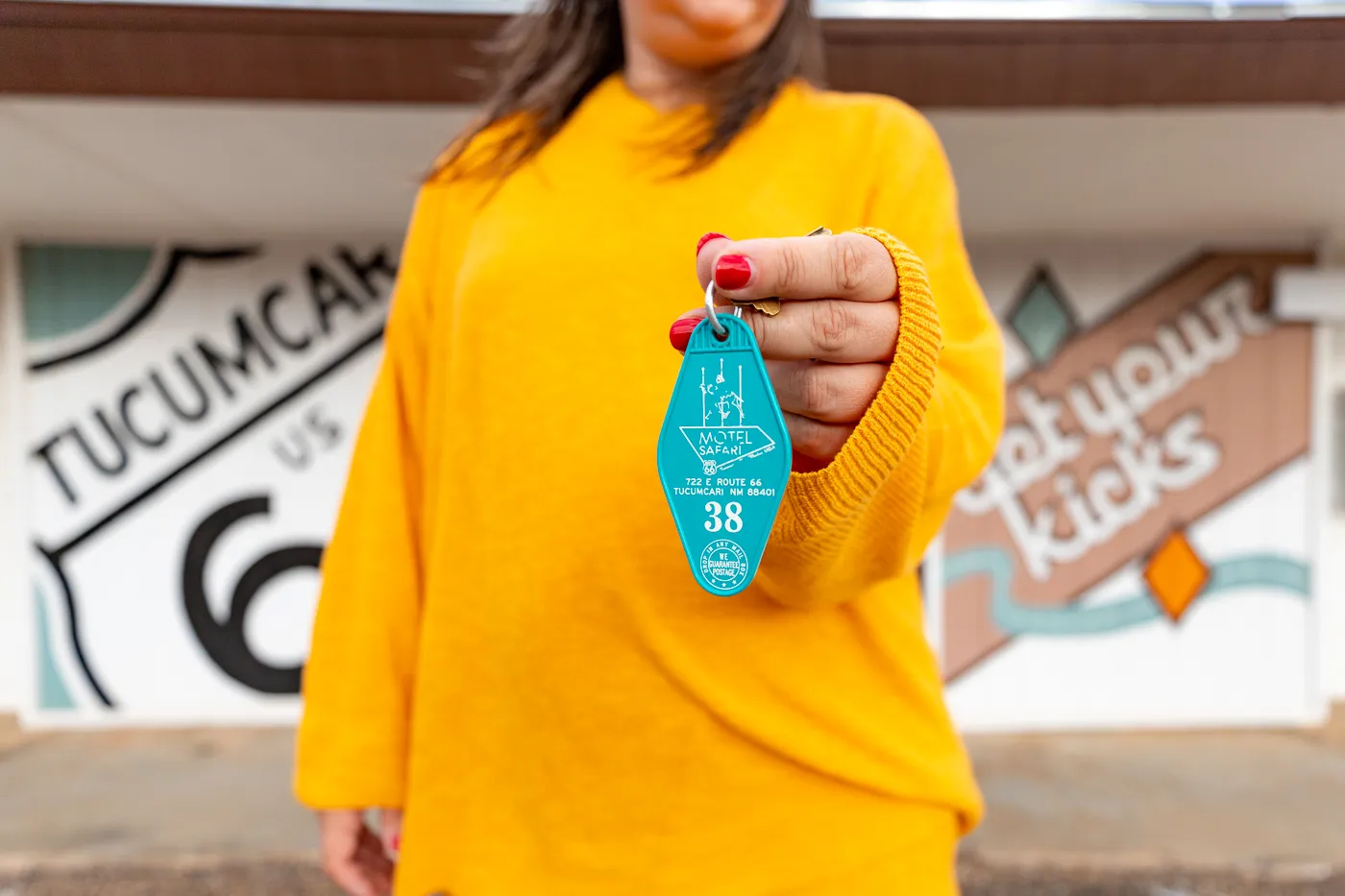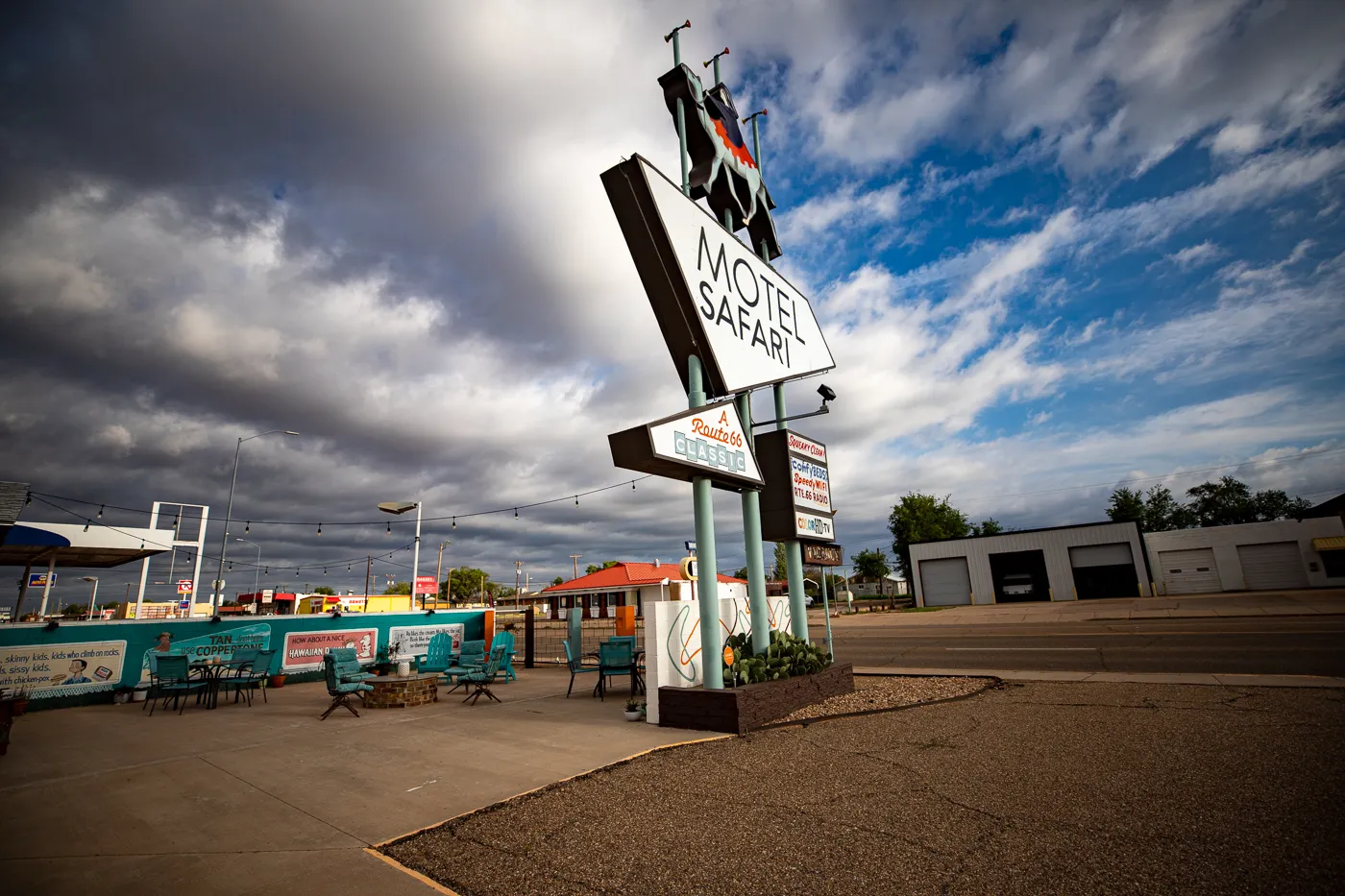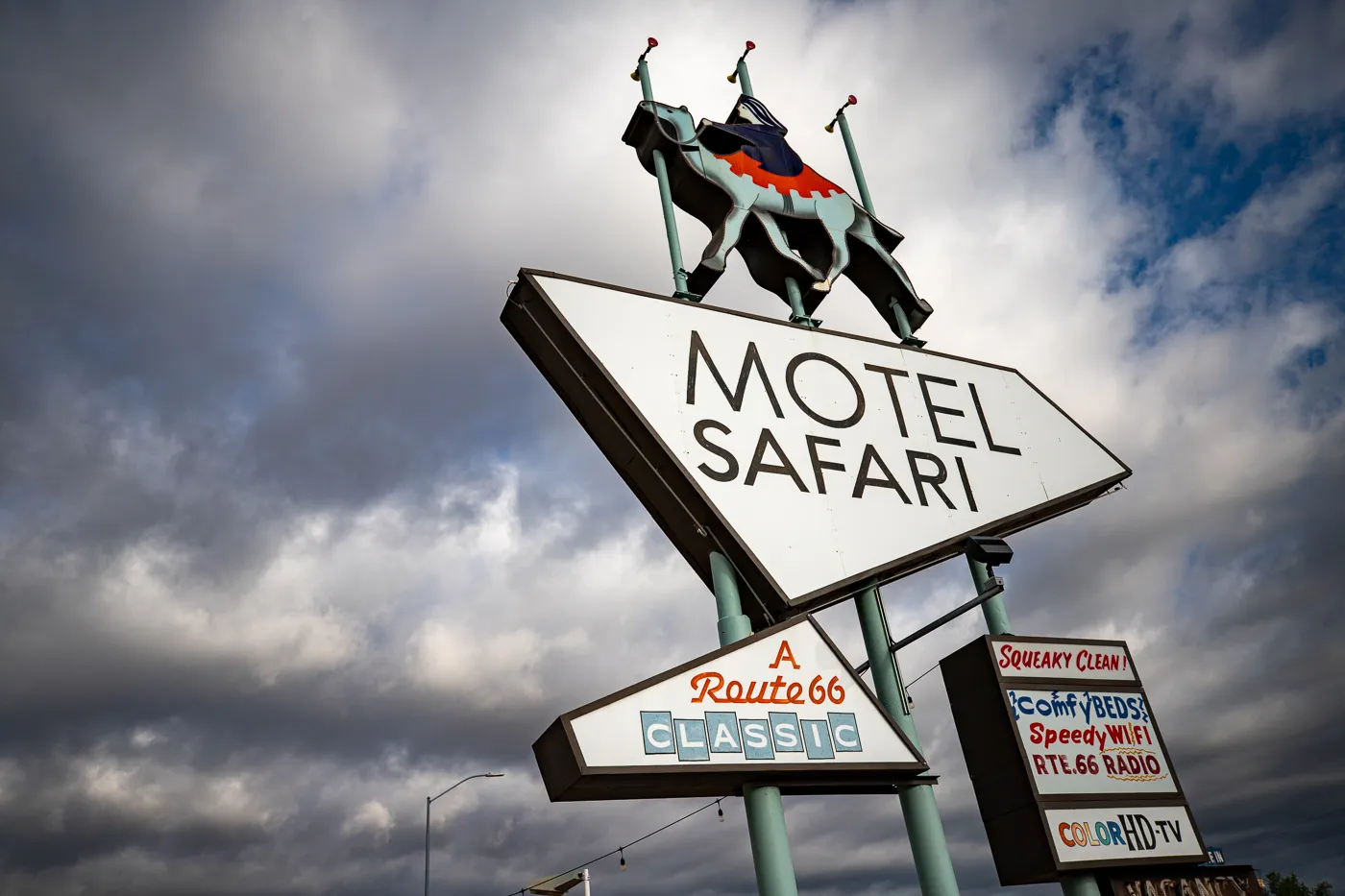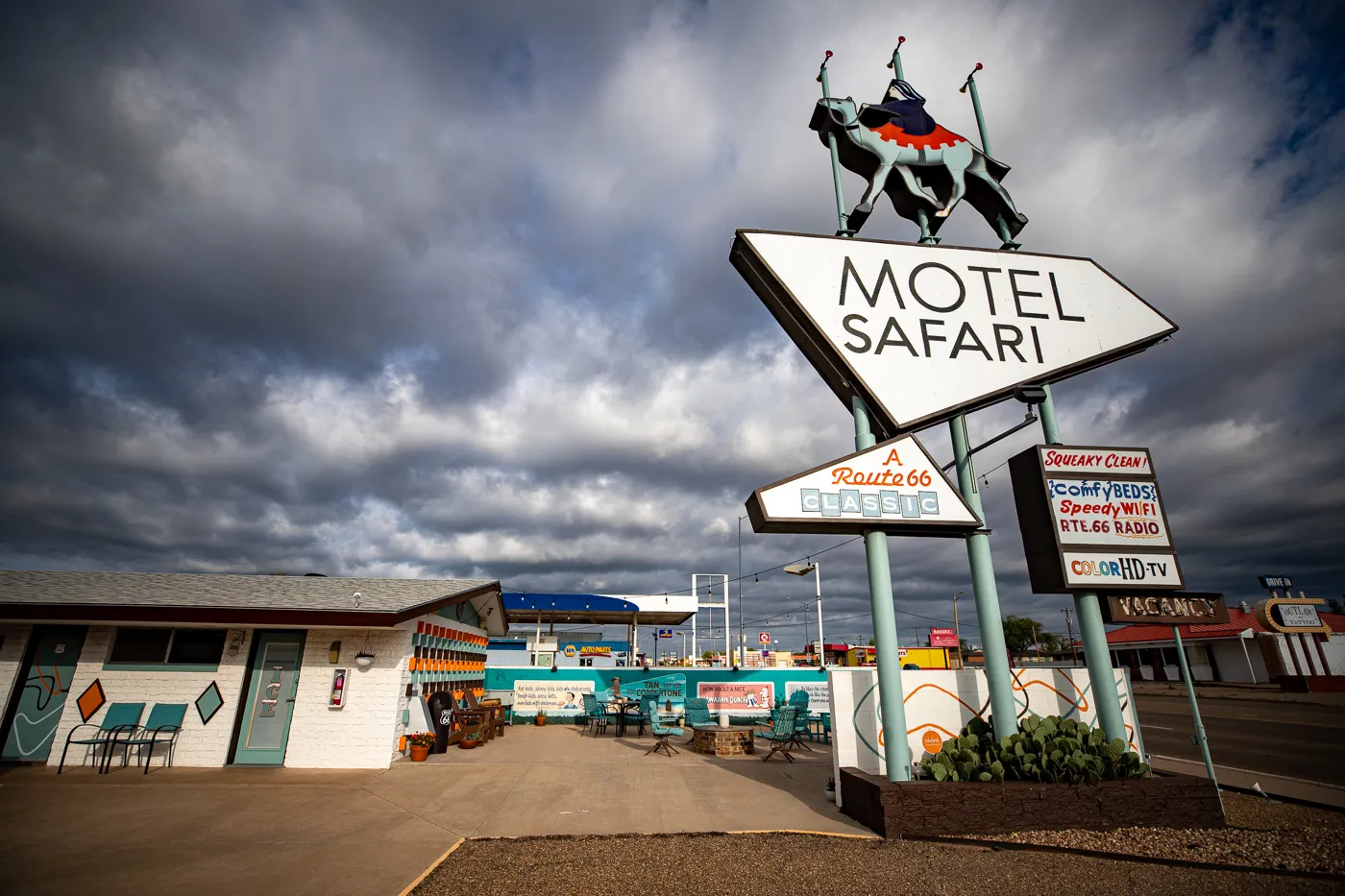 Motel Safari
Address: 722 E Rte 66 Blvd, Tucumcari, NM 88401
Please note that all of the rooms are non smoking and pets are not allowed. Tucumcari is on Mountain Time, so if you're traveling west, the time will go back one hour. Visit the motel's official website to find up-to-date pricing and information and to book your room.
Pin this Route 66 motel to save for your road trip itinerary: