"Howdy, Folks!" This roadside attraction might just be the most recognizable man in Texas, which is saying a lot considering he only makes a brief appearance each year. Big Tex in Dallas, Texas is an icon and ambassador who has been delighting visitors to the State Fair of Texas since 1952.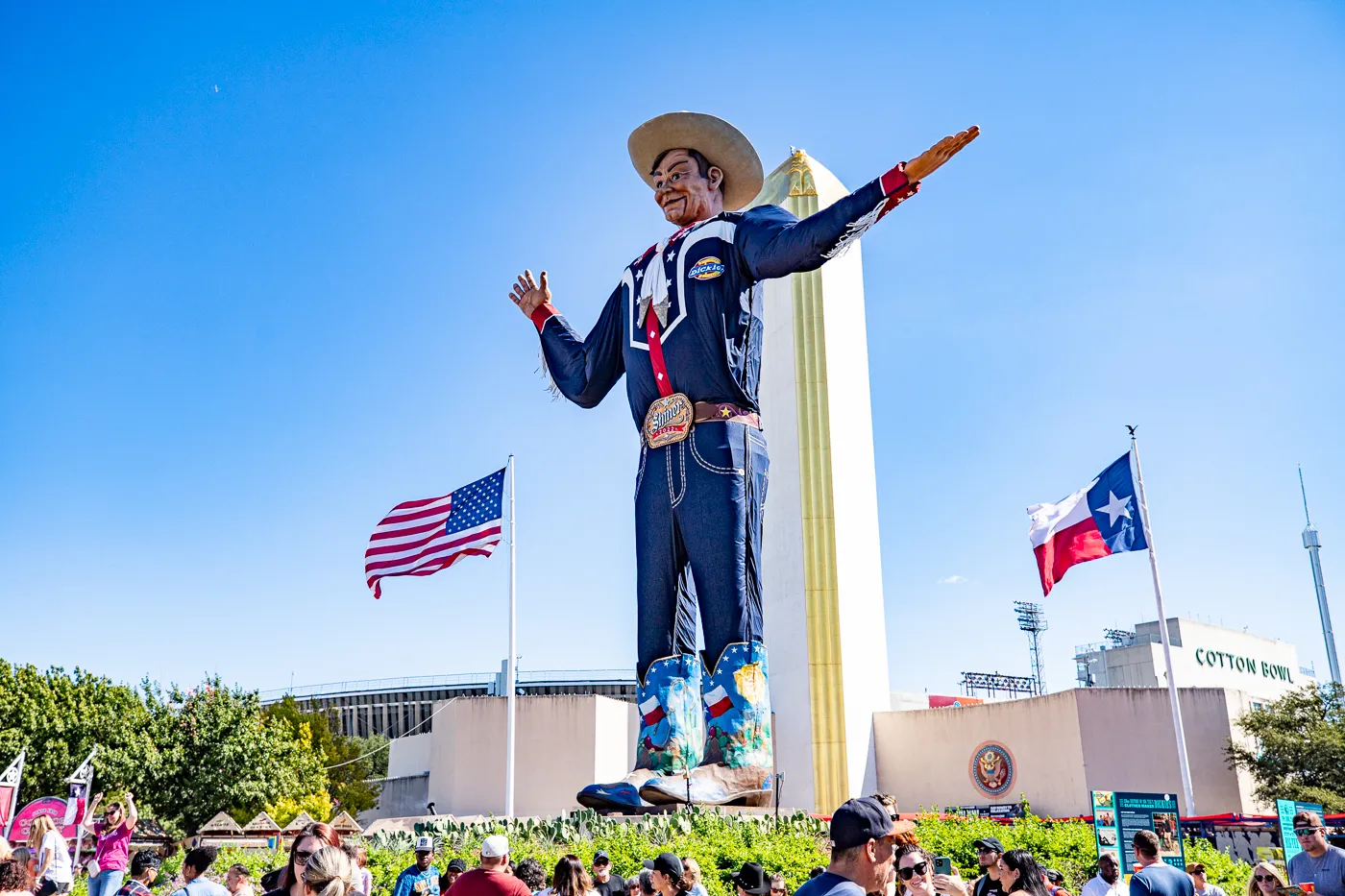 Big Tex is a giant cowboy who towers over fair goers each year at the State Fair of Texas. He comes out of storage to act as the centerpiece of the fair each year and is taken down shortly after the last corny dog is served. But that's no quick pit stop: the Texas State Fair is the longest in the USA, running for 24 days in September and October.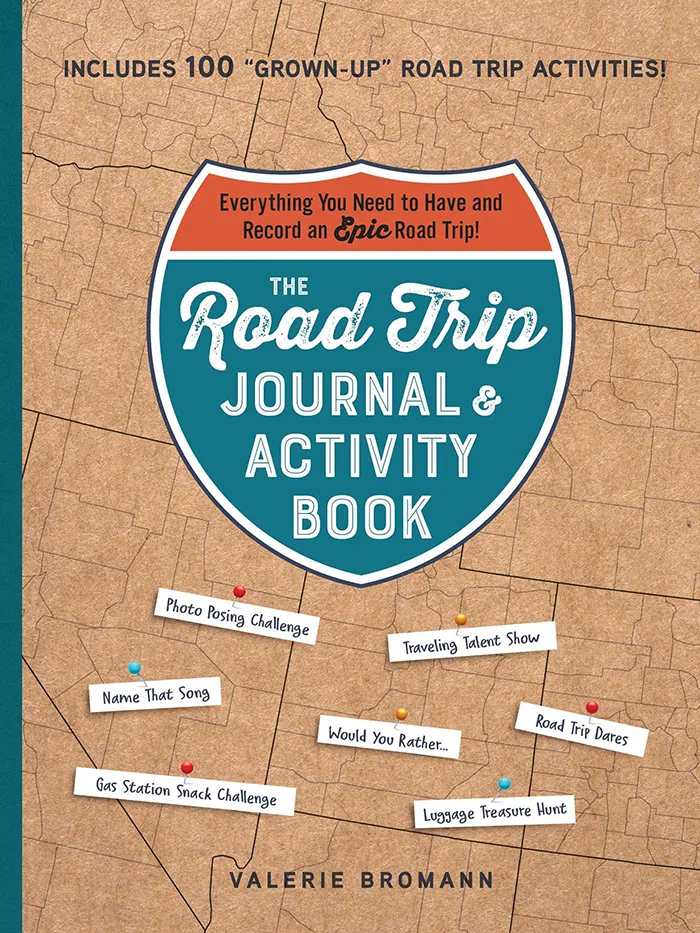 The Road Trip Journal & Activity Book
Everything You Need to Have and Record an Epic Road Trip!
Enjoy fun games and challenges to pass the time on your next road trip and have a keepsake to look back on for years to come with this entertaining must-have for your next vacation.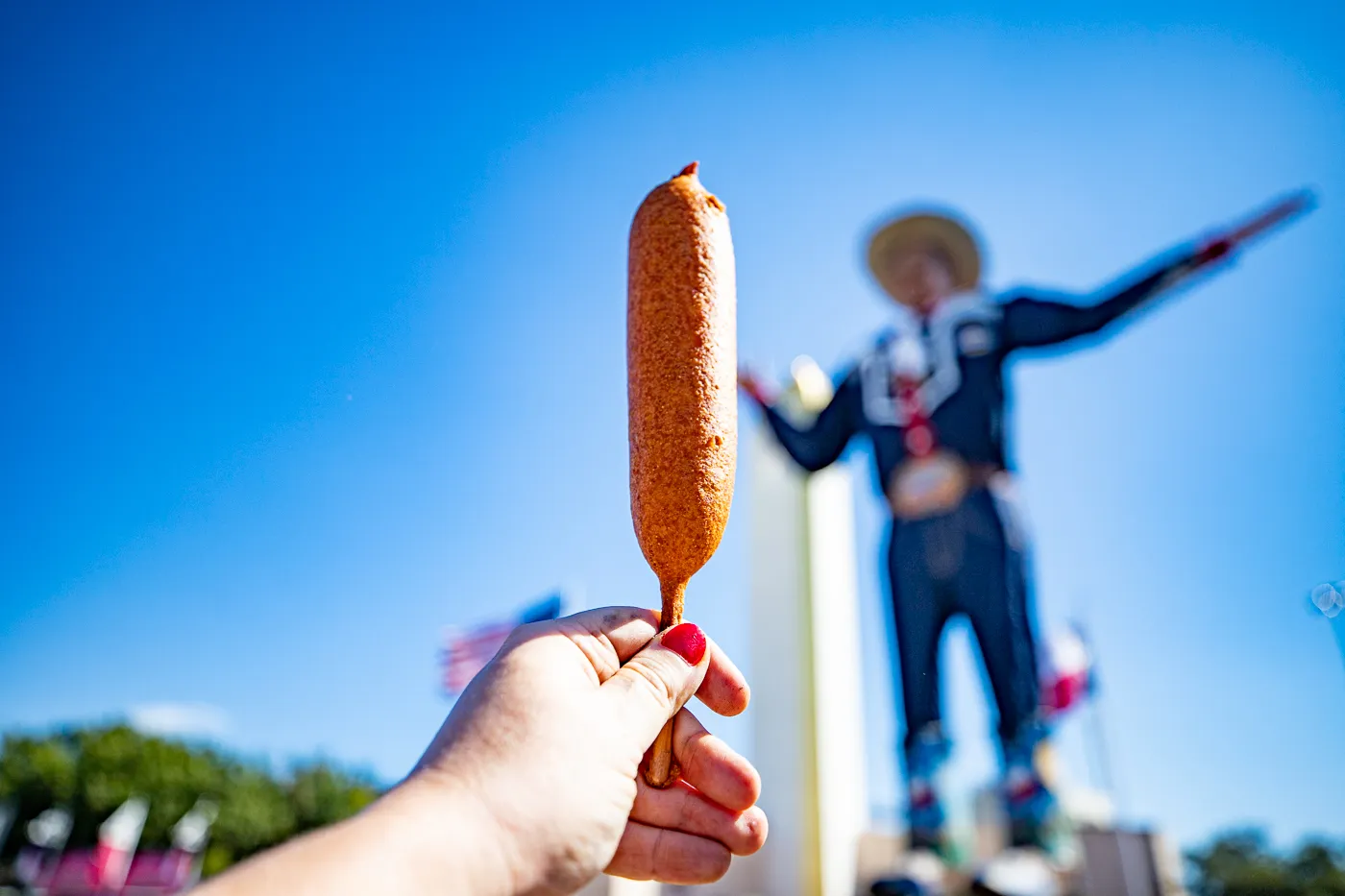 So while this world's largest cowboy might be a seasonal roadside attraction, only showing his face for less than one month each year, with around 2.5 million visitors, he is also one of the most popular.
The Big Tex roadside attraction that stands today is an impressive 55 feet tall. He made his debut on September 26, 2013. But he is far from the first Big Tex to stand in that prime State Fair spot.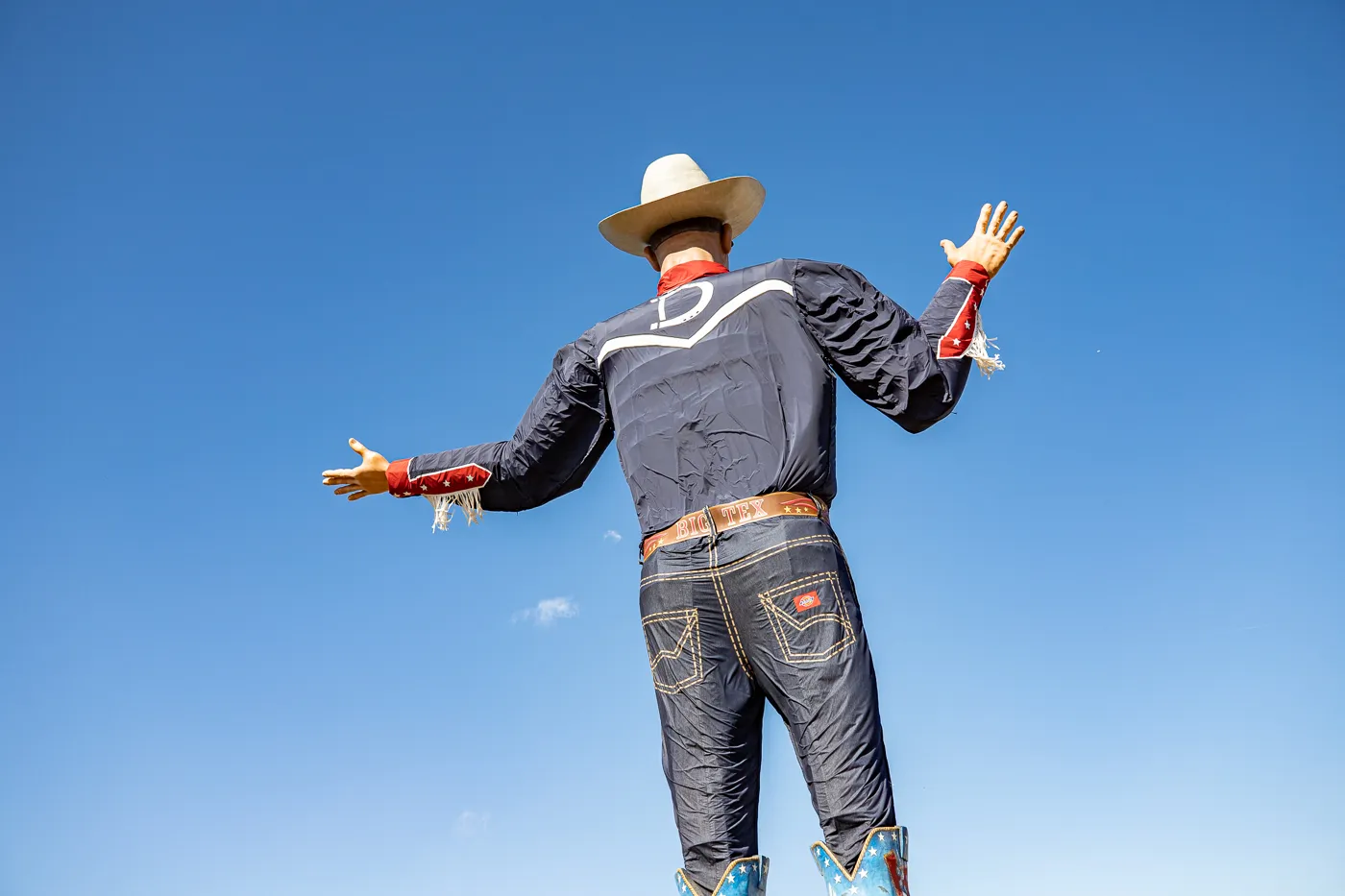 The original Big Tex was actually a repurposed Santa Claus. The 49-foot tall Santa was erected in Kerens, Texas in 1949. Dubbed the "World's Largest Santa Claus," he was retired and put up for sale just two years later. In 1951, State fair president R. L. Thornton, purchased Mr. Claus and had artist Jack Bridges help trade in the red and white Santa hat for a cowboy hat.
The Santa turned cowboy made his debut at the 1952 Texas State Fair. Dressed in denim and plaid, Big Tex immediately became a big hit. That year he silently greeted fairgoers who swarmed below him, but, in 1953, a voice was added to officially greet them. A recipromotor and a 75-watt speaker system were buried in his head, and his jaw was set to swing to give the illusion that he was actually saying hello.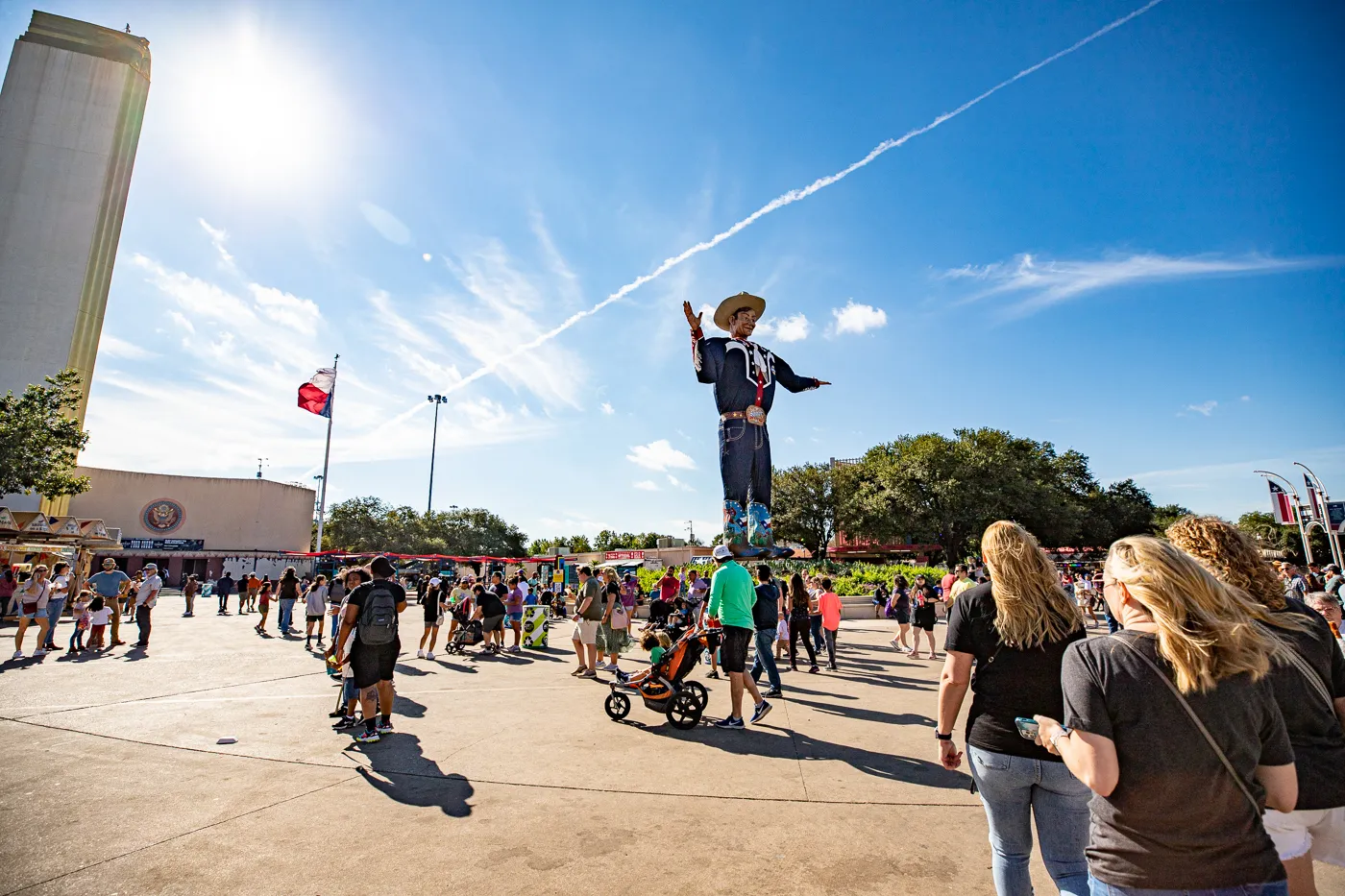 Through the decades that followed, this Texas roadside attraction was given several makeovers of varying degrees: a change of clothes, a full facelife, animated features, and everything in between.
In 2012, the State Fair of Texas celebrated Big Tex's 60th birthday. But what was a joyous occasion soon took a dark turn. On October 19, 2012, tragedy struck. An electrical fire sparked on Tex's right boot and quickly spread upwards. Shocked fair goers watched as the beloved icon went up in flames.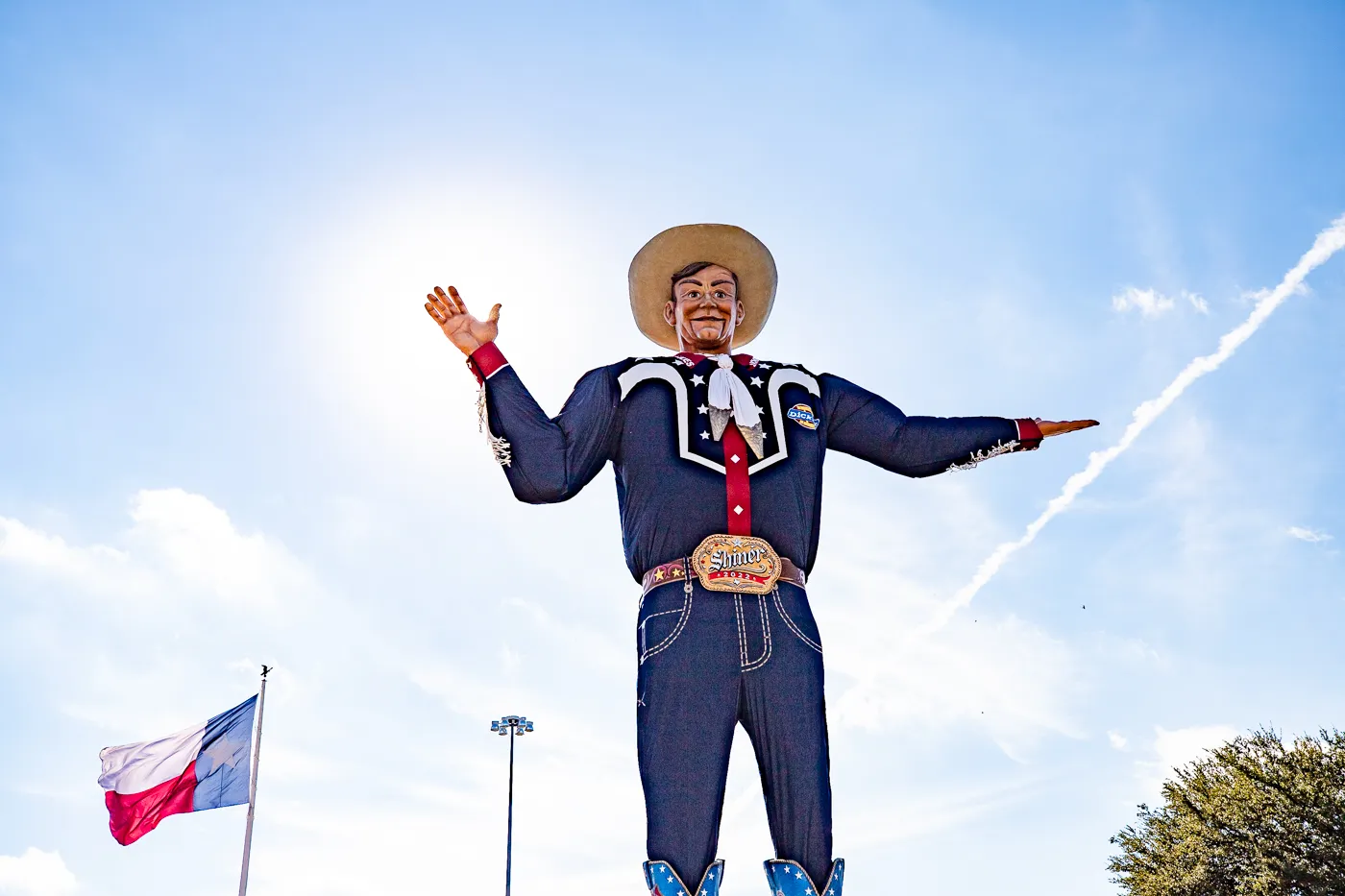 In 2013 the new Big Tex was unveiled. The 55 foot tall cowboy weighs 25,000 pounds. He regularly gets dressed in new outfits fabricated by the Williamson-Dickie Manufacturing Company. He greets fairgoers with a familiar "Howdy, folks!" and gives announcements throughout the days.
A visit to the State Fair of Texas is a bucket list experience. Try one of the many, many, fried foods available (be sure to look for the winners of the Big Tex Awards), take a ride on the ferris wheel, stay a concert, check out the livestock and pig races, and, of course, say howdy to the world's tallest cowboy, Big Tex.
More photos of Big Tex at the State Fair of Texas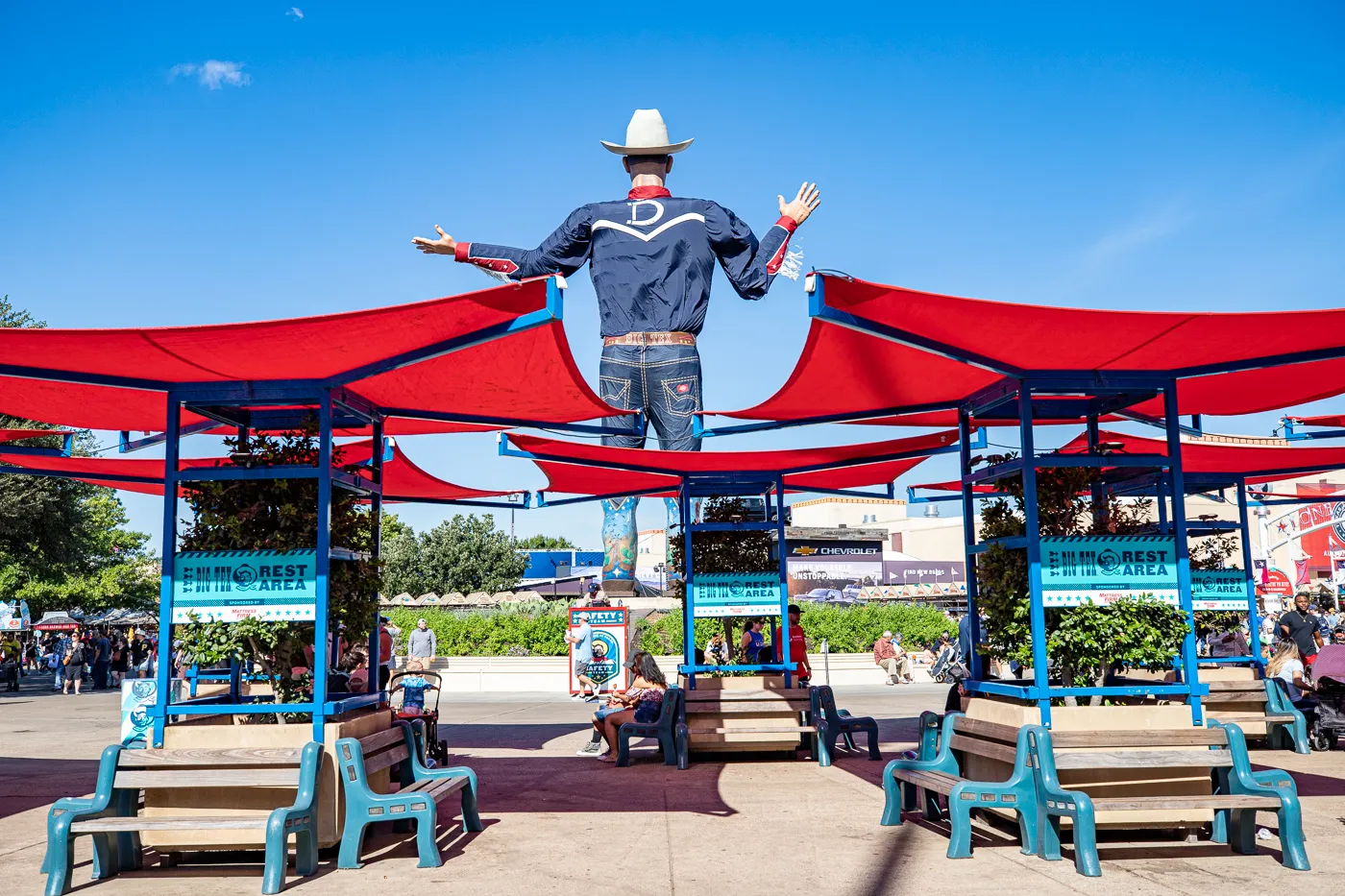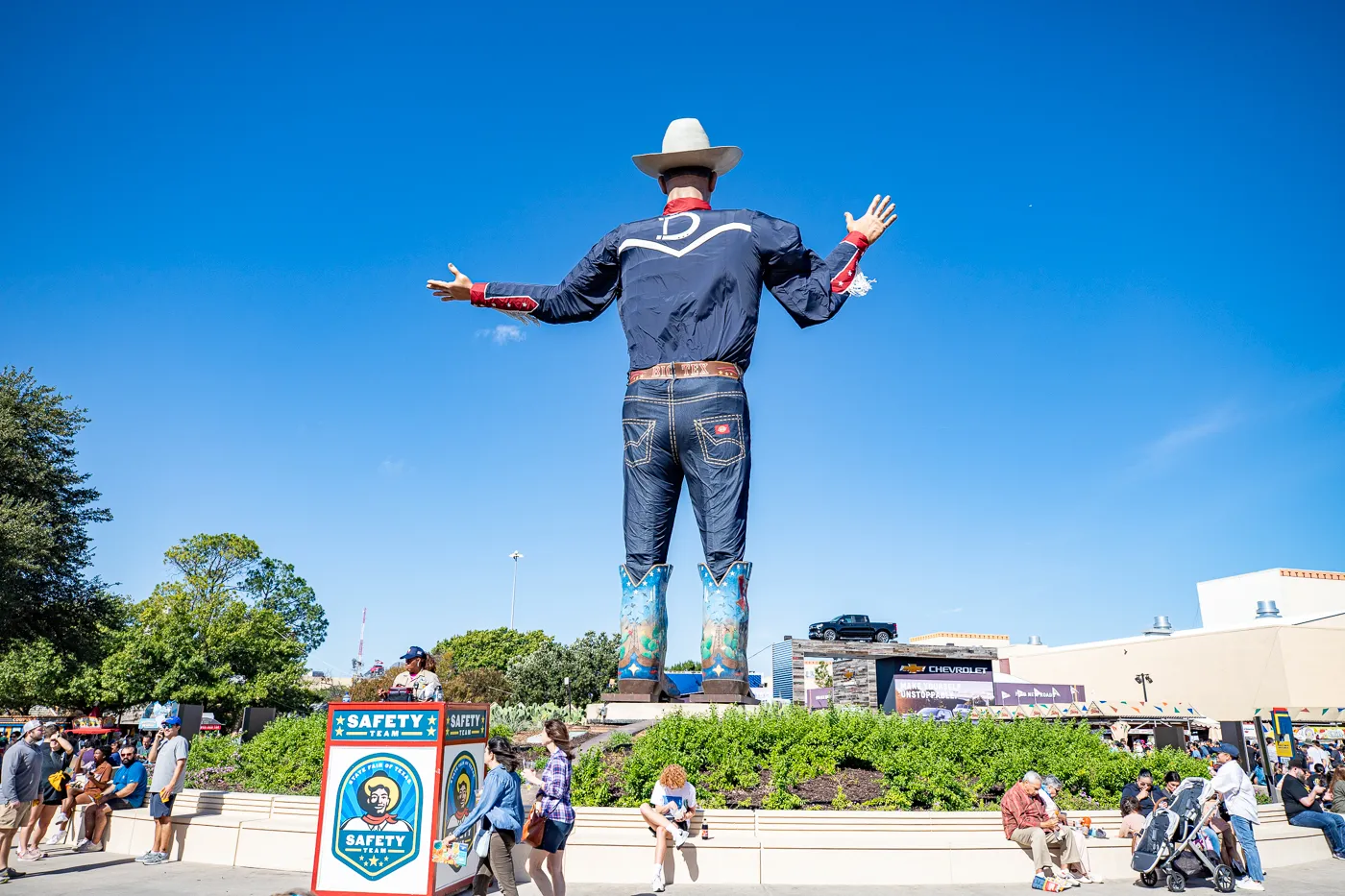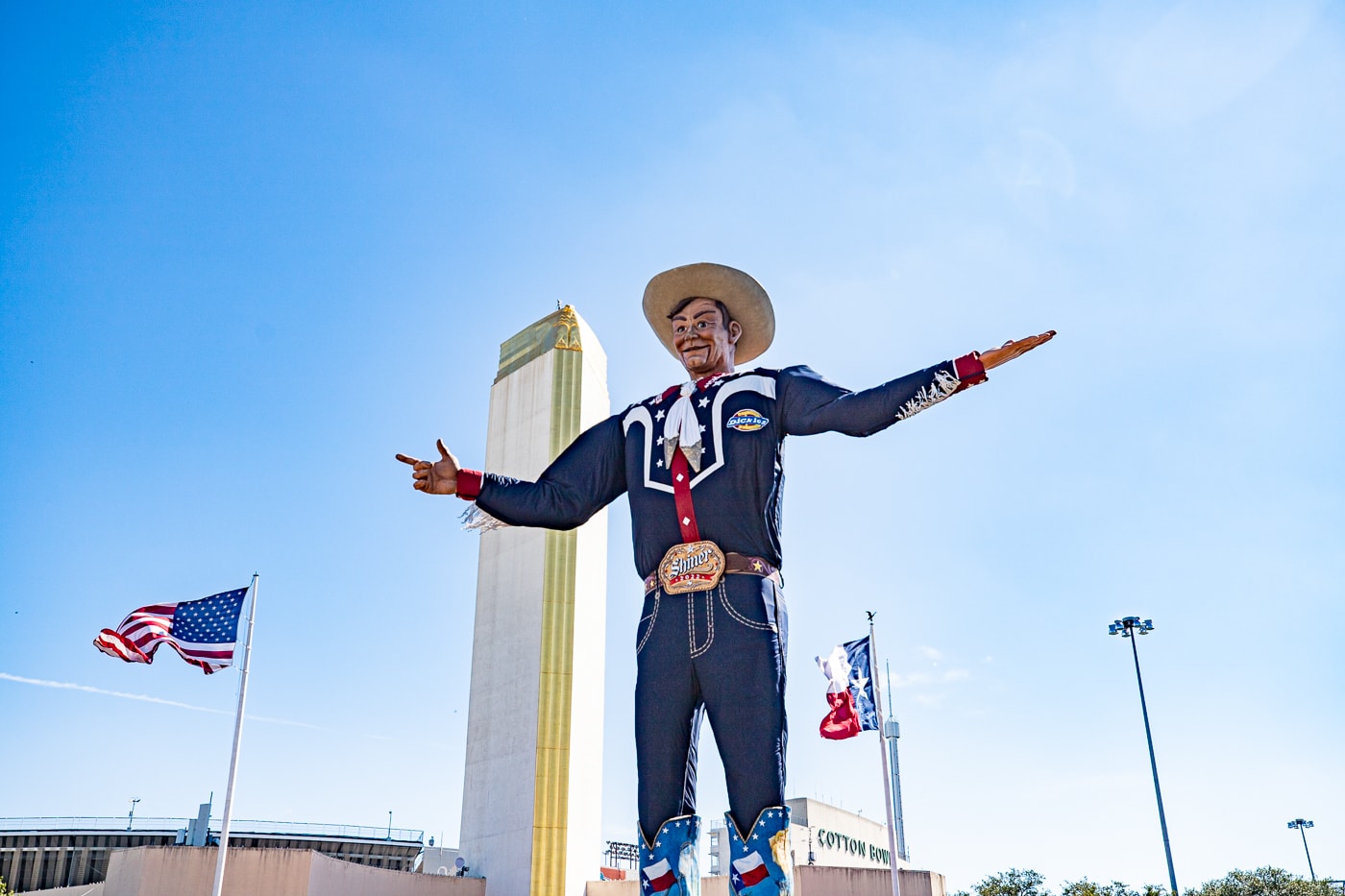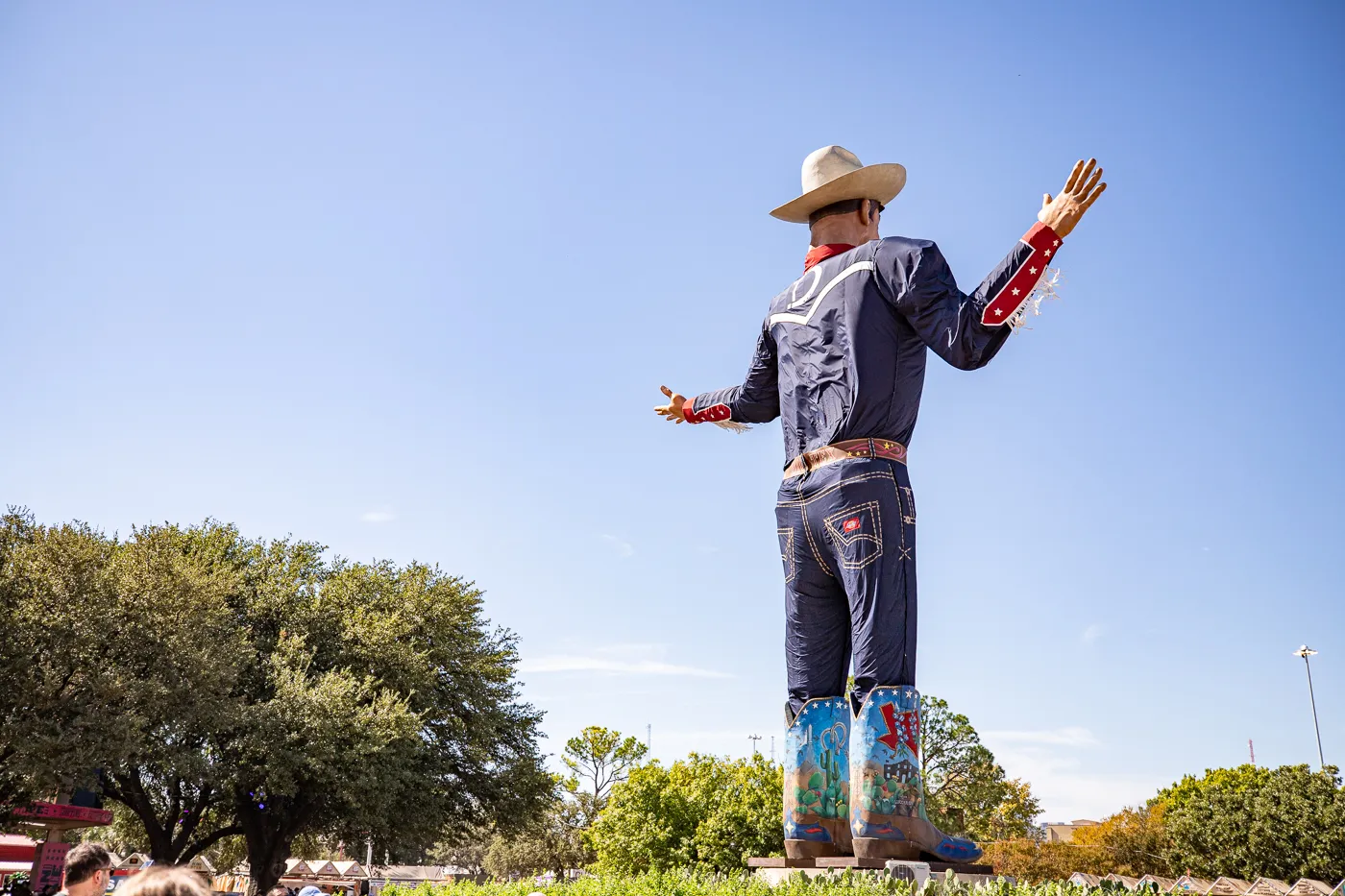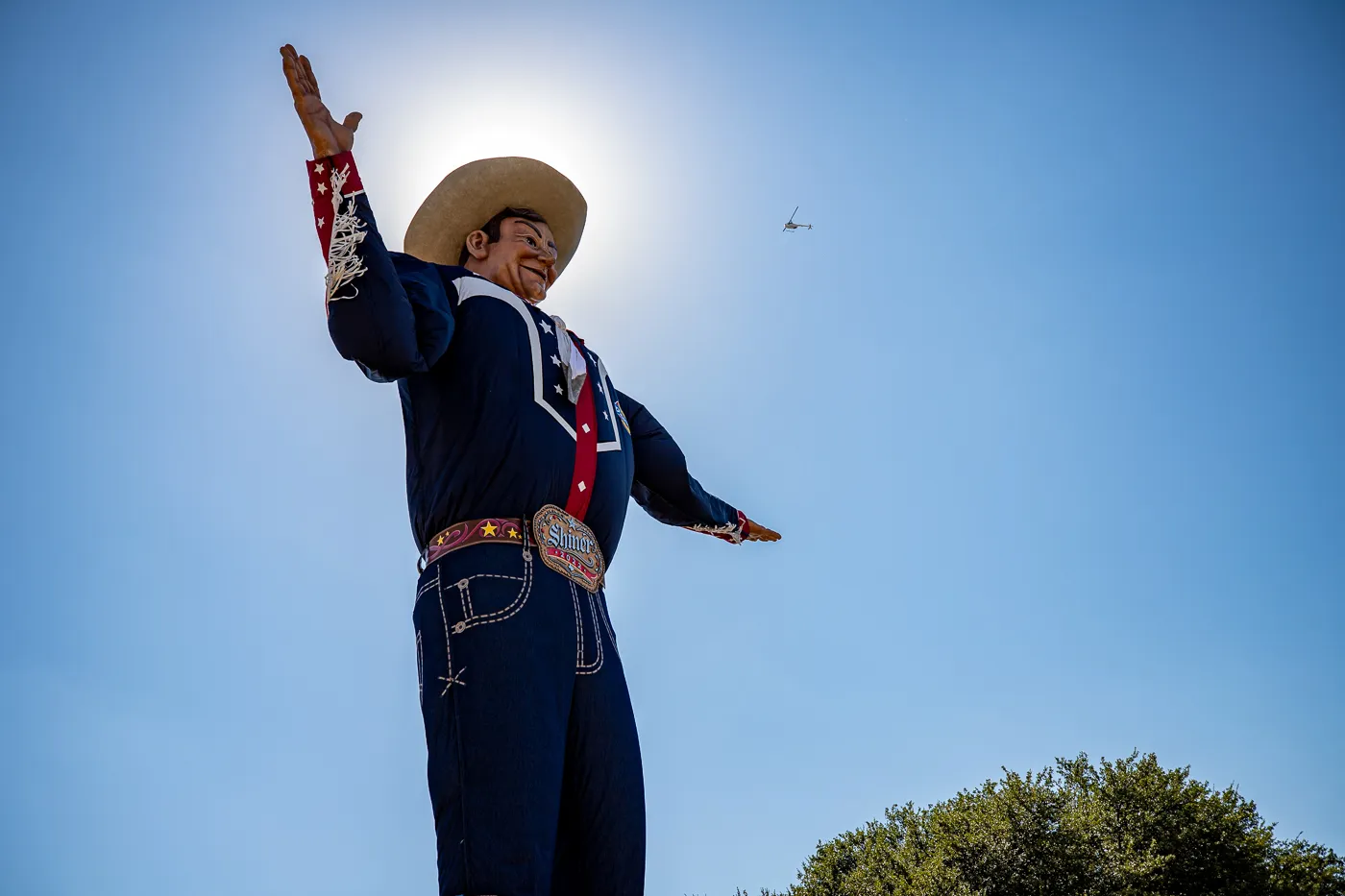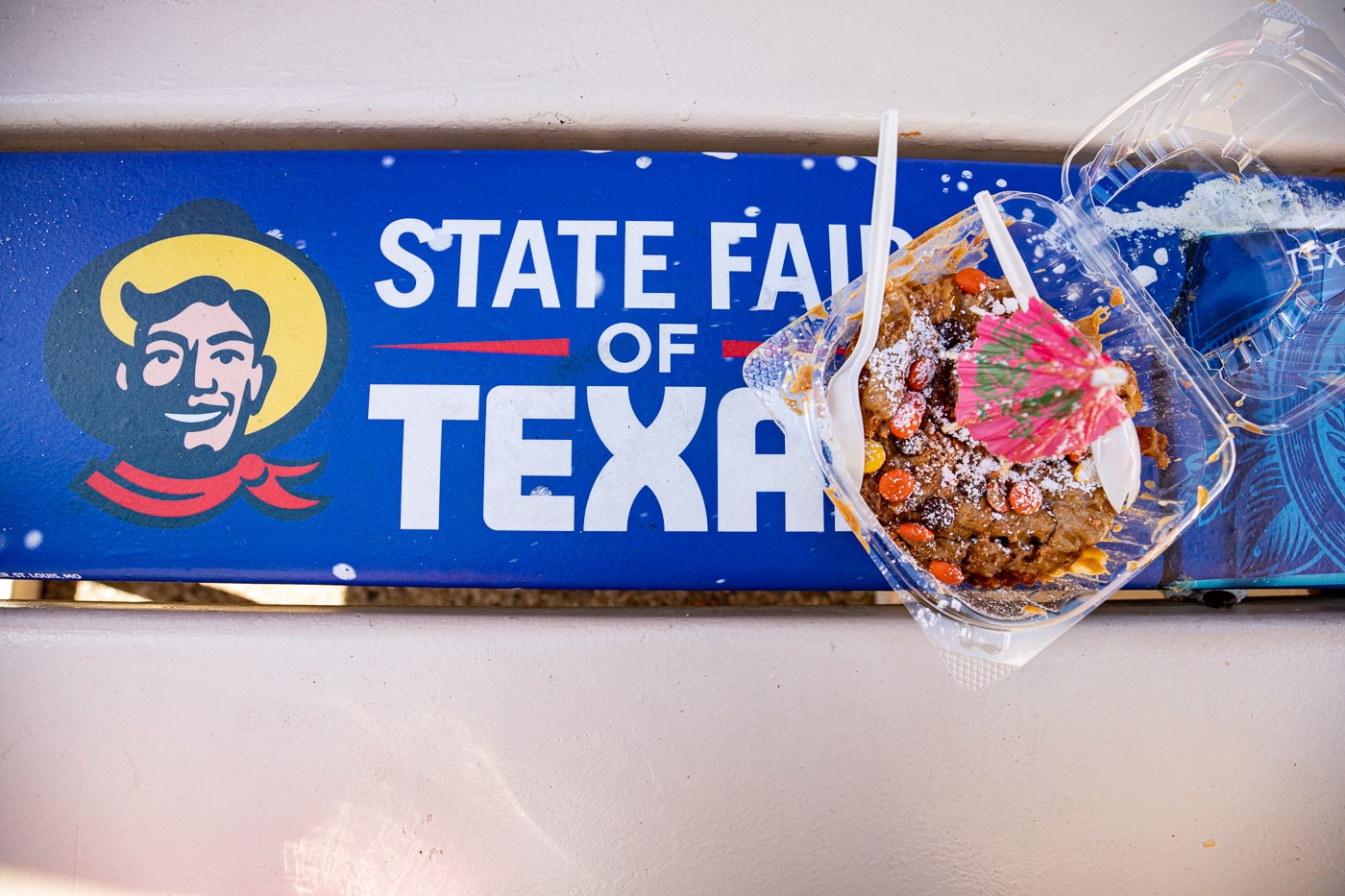 Big Tex Around the Texas State Fair
Big Tex is a major symbol of the fair, and you can find his likeness across the park. Find his face on souvenir cups and garbage cans, find Big Texes roaming the grounds, and find photo ops in his likeness everywhere you turn. Here are just a few of the places you'll see his face around the fairgrounds.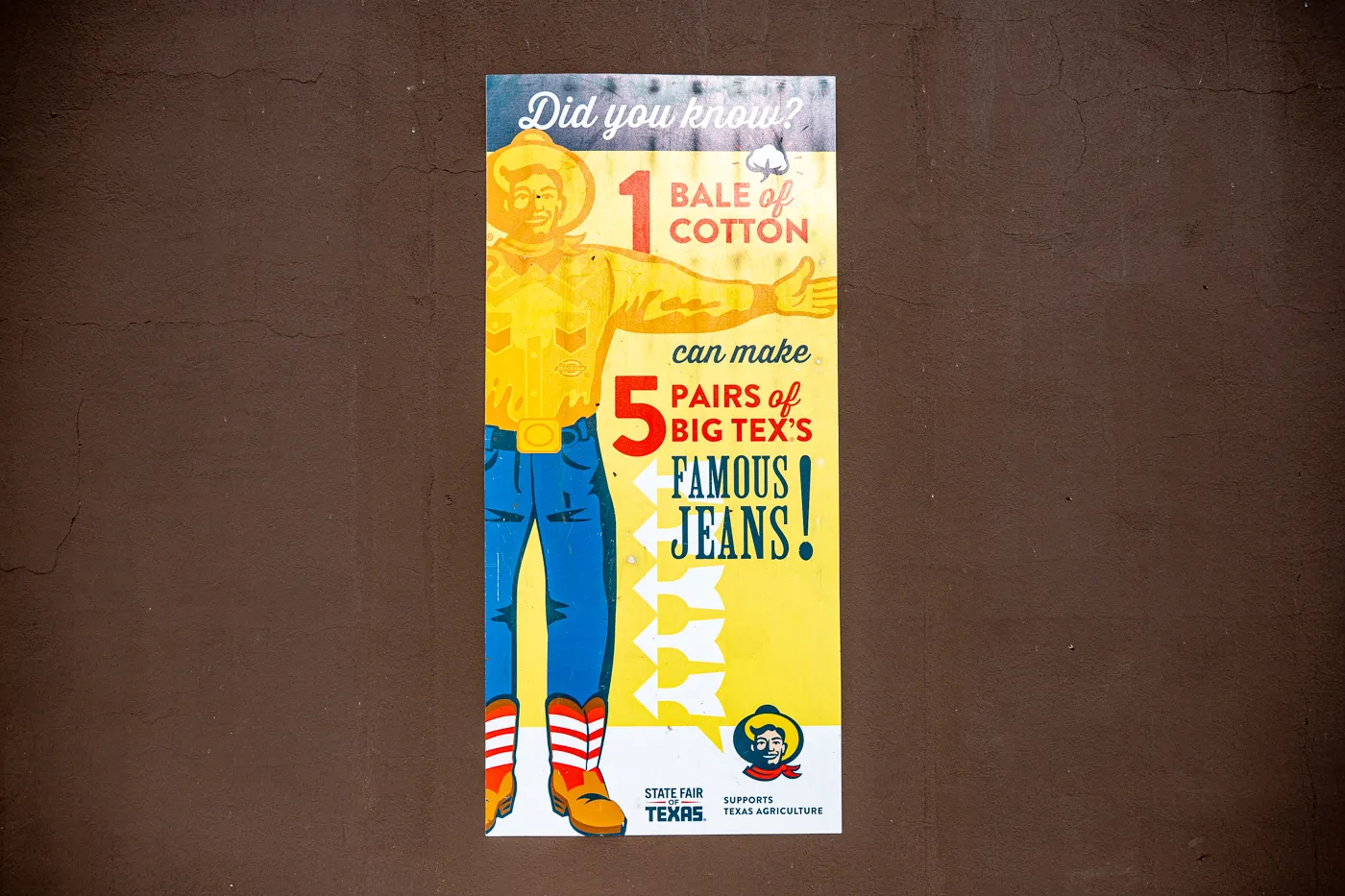 Informational Signs
Find informational signs around the fairgrounds that give you fun facts about the world's tallest cowboy roadside attraction.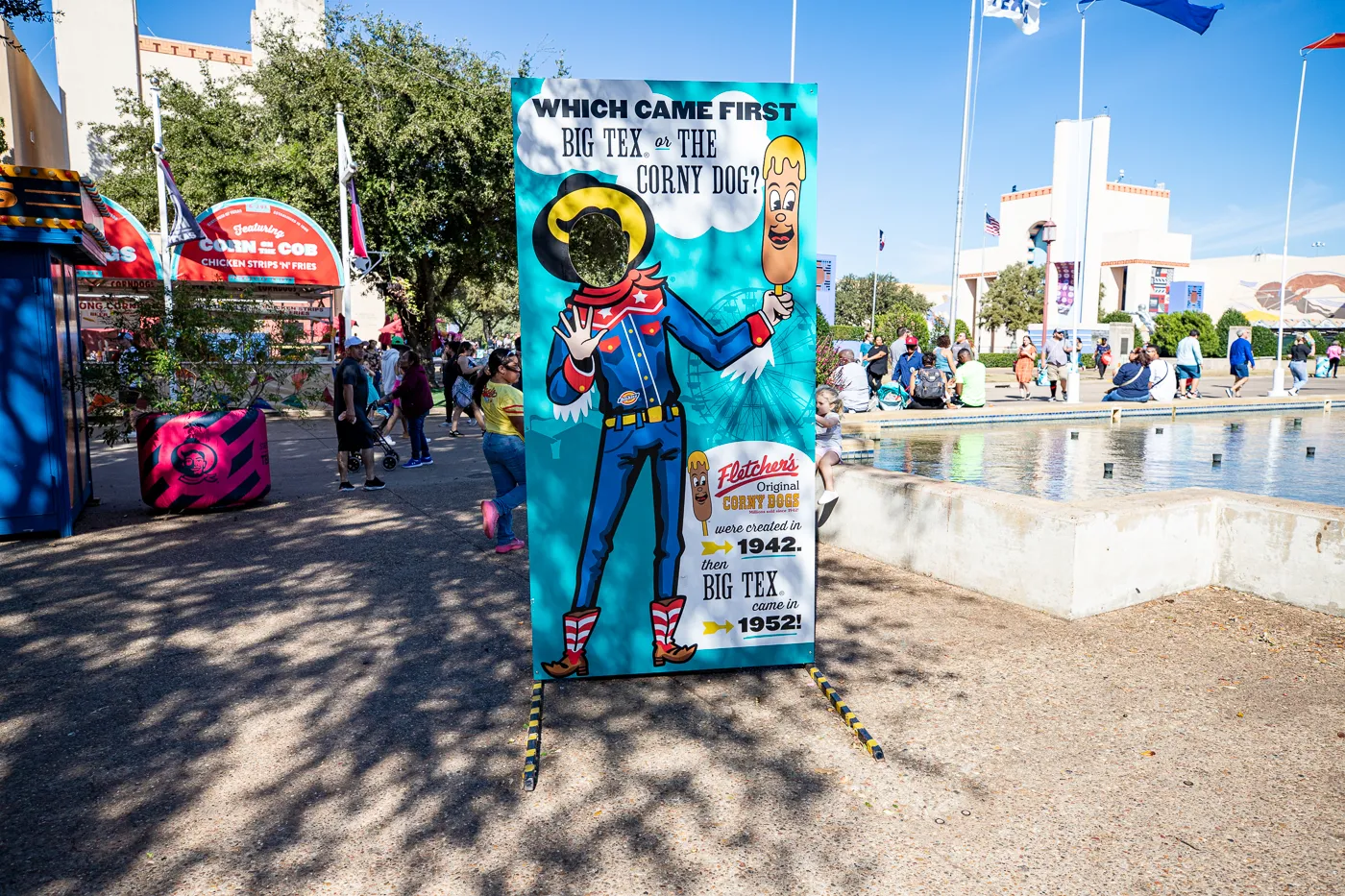 Photo Ops
There are plenty of places around the State Fair of Texas to take your picture with Big Tex! Or, at least, a lookalike. Find smaller scale cutouts or head in hole photo ops throughout the park!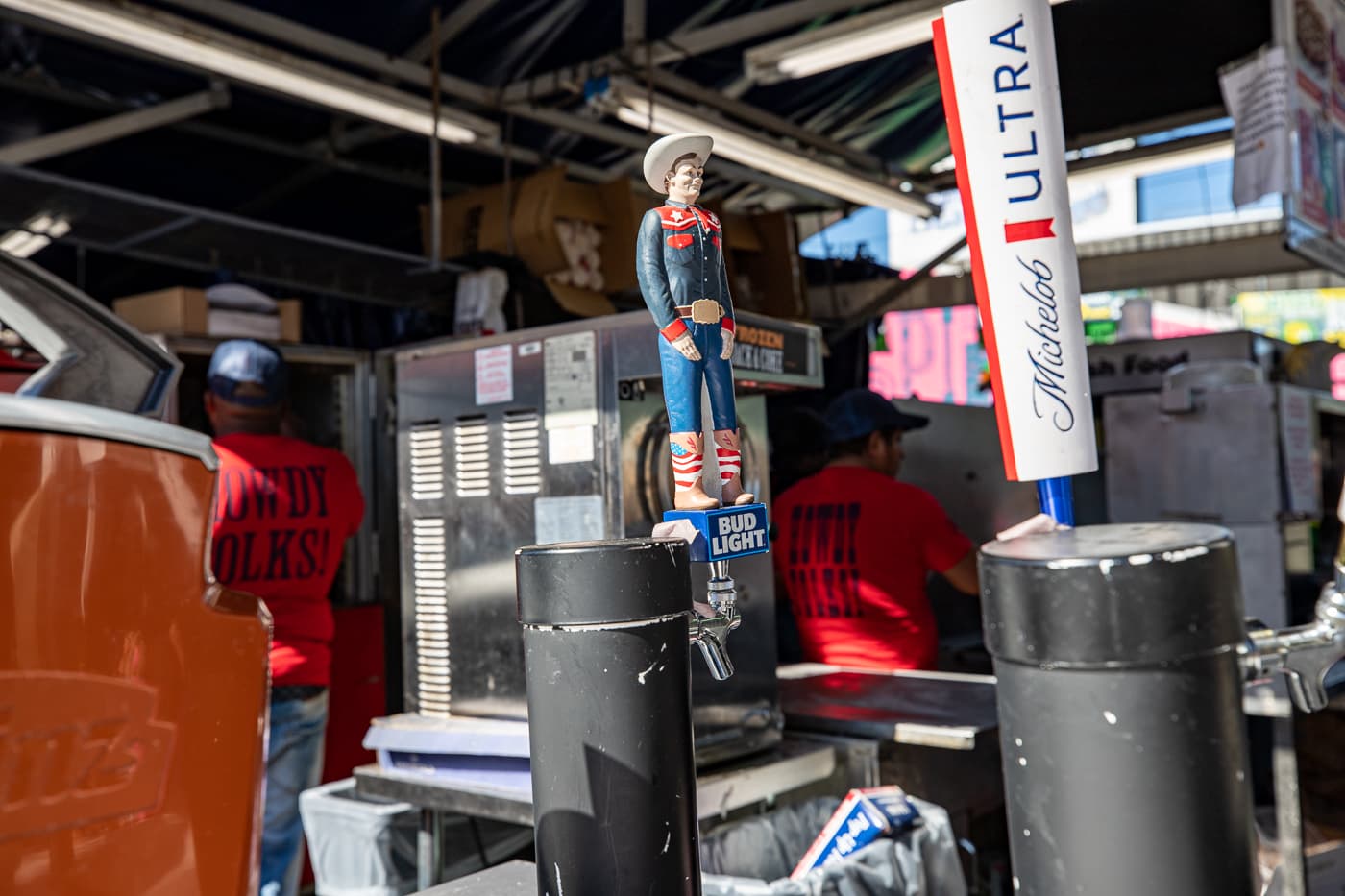 Big Tex Beer Tap Handle
This giant cowboy is so popular, you can even find him used as a special beer tap handle wherever they serve beer at the Texas State Fair!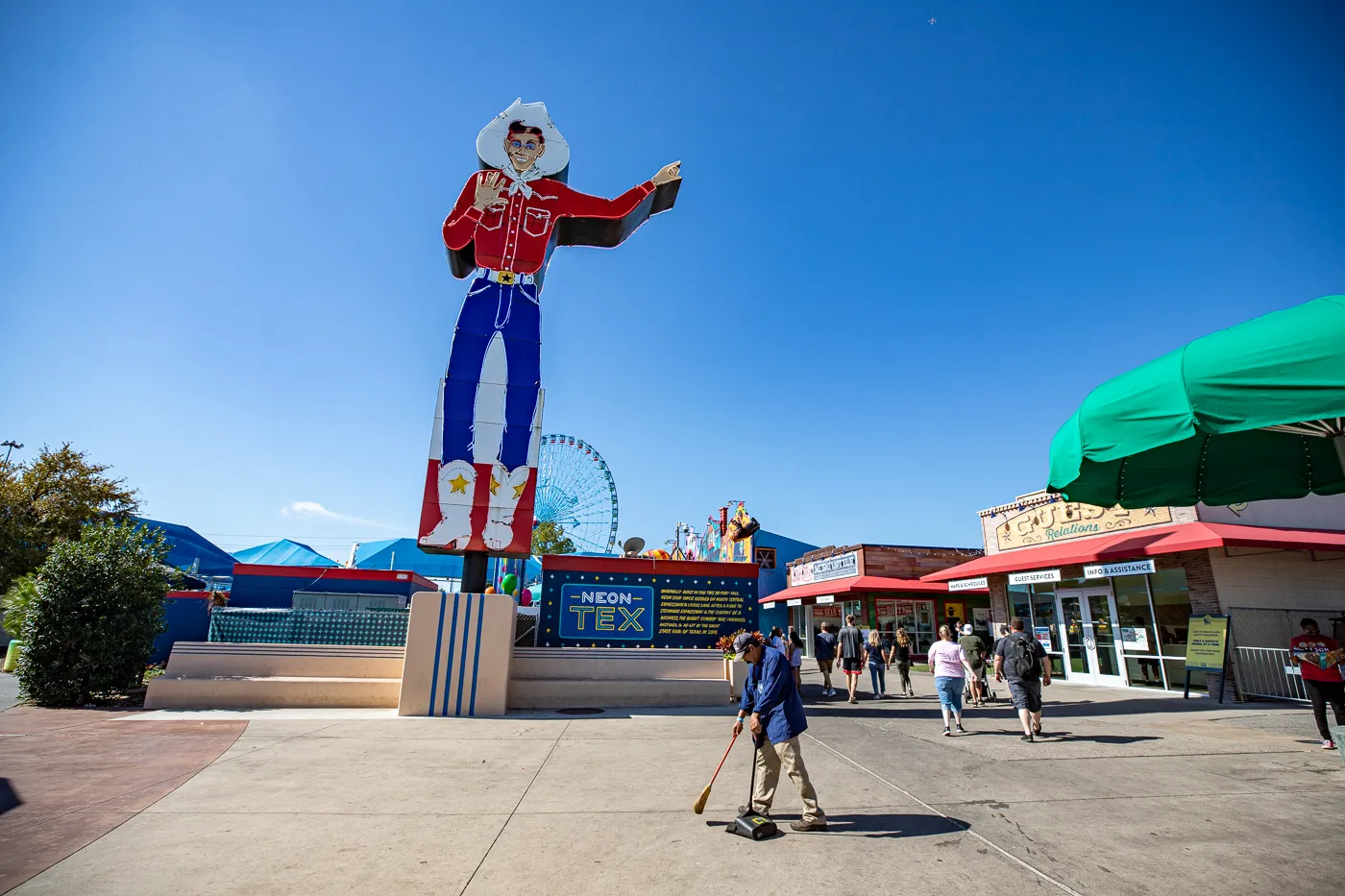 Neon Tex
This 38-foot tall neon Big Tex Sign used to be displayed outside Centennial's Liquor, Beer and Wine. The fair purchased it in 2015 and he's been on display on the grounds since 2016.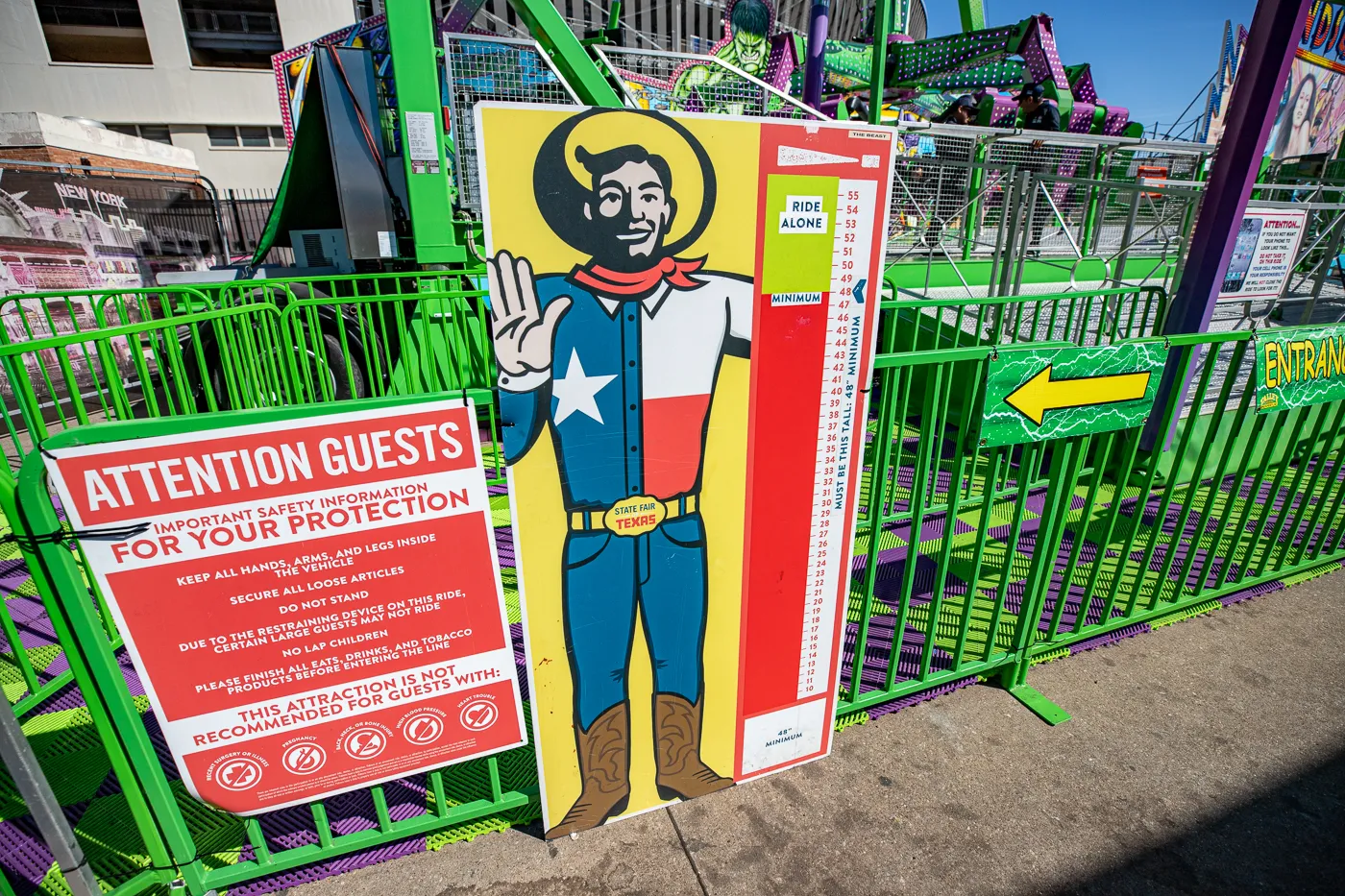 Ride Height Signs
The big cowboy's familiar face is printed on ride height signs at many State Fair of Texas carnival rides, where he makes sure riders are tall enough to safely enjoy the rides.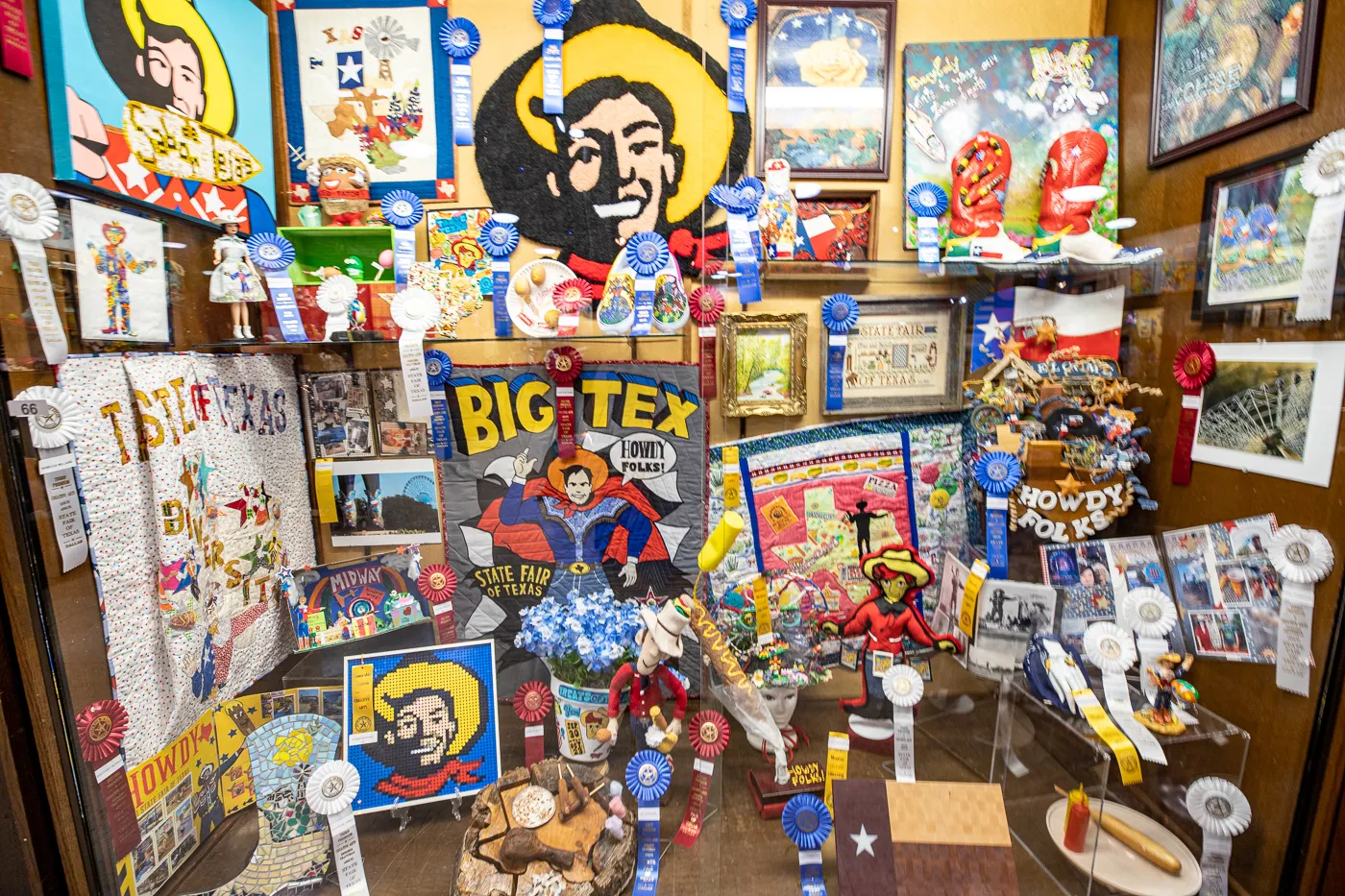 Craft Displays
The Creative Arts pavilion features Arts & Crafts, Cooking, and a BBQ & Chili Challenge. Look for special Big Tex themed crafts!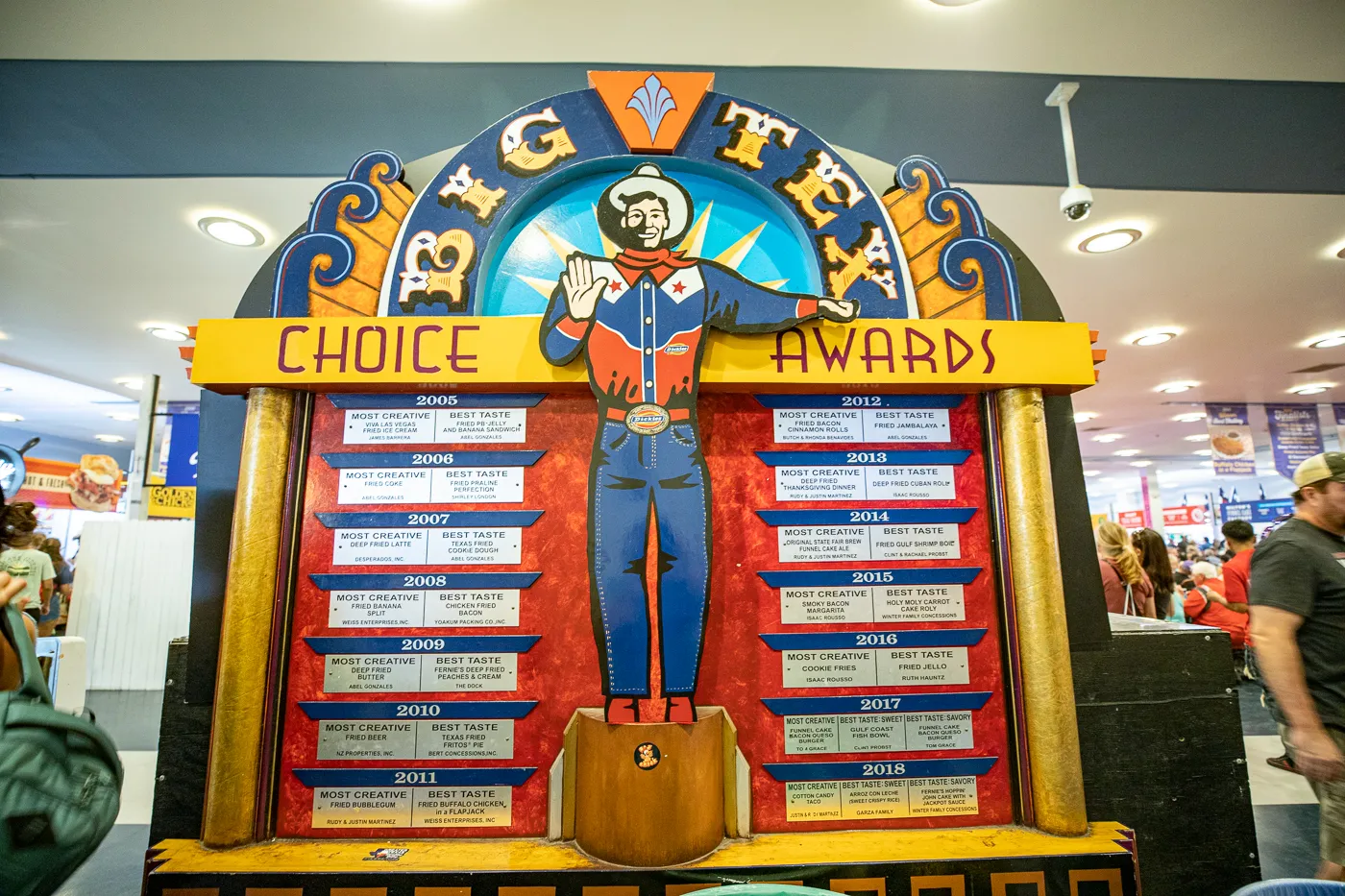 Big Tex Choice Awards
The Big Tex Choice Awards honor the best of the best fair foods each year. Honors are awarded for Best Taste, Savory; Best Taste, Sweet; and Most Creative.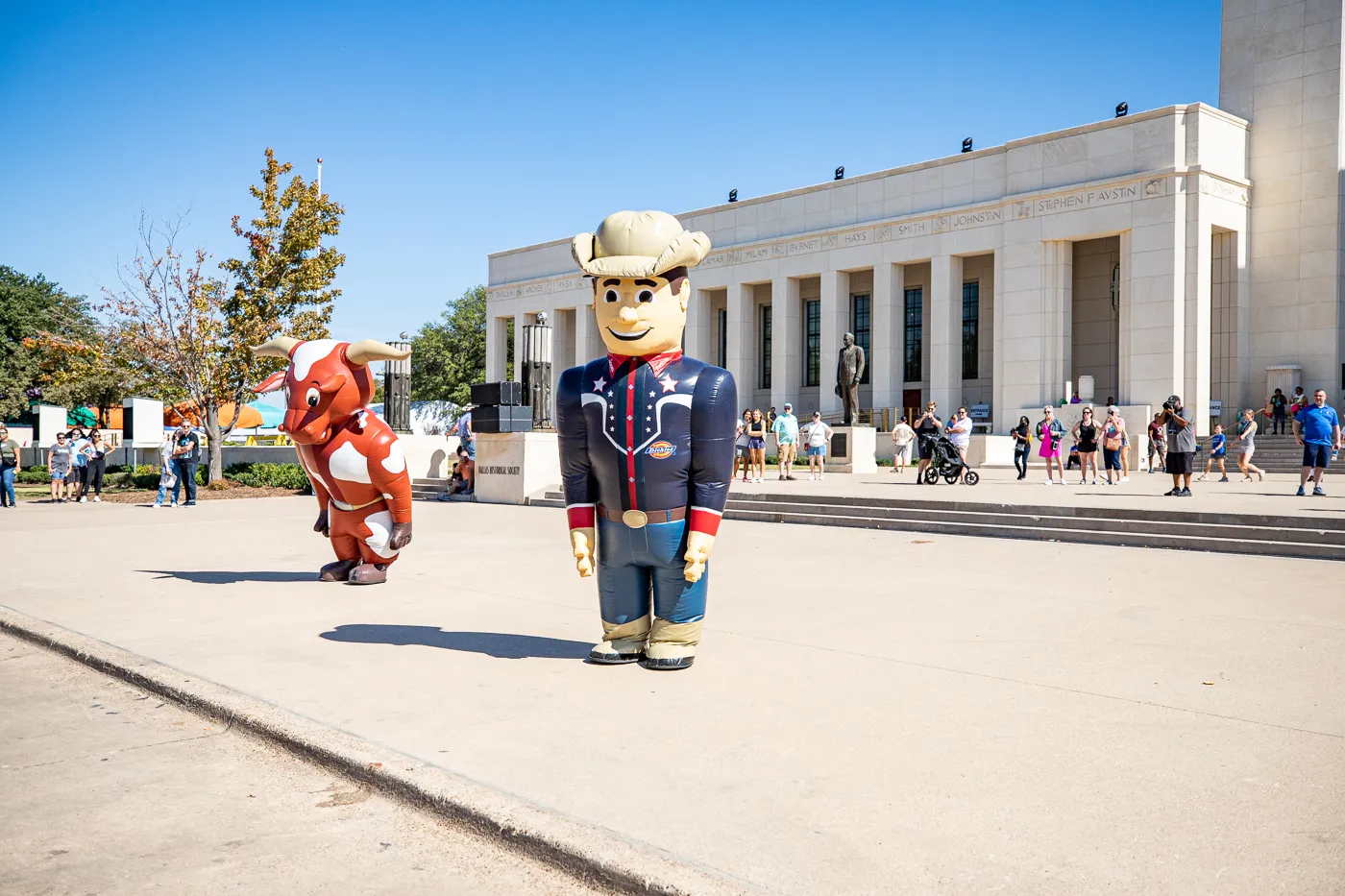 Big Tex Mascots
Look for a real-life Big Tex, like this dancing cowboy, around the fair!
Big Tex FAQ
What is a Big Tex?
Big Tex is the world's tallest cowboy. This roadside attraction is prominently displayed each year at the State Fair of Texas. He serves as a mascot and advertising icon for the annual event.
Where is Big Tex at the State Fair?
Find him at Big Tex Circle at Fair Park during the yearly state fair. His exact address is 921 Martin Luther King Jr Blvd, Dallas, TX, but he can only be seen during the event.
What does Big Tex say at the State Fair?
His signature phrase is "Howdy, Folks!" which he says to greet visitors to the Texas State Fair. But the giant cowboy also will give additional announcements throughout the day.
What happened to Big Tex?
On October 19, 2012, the last weekend of that year's State Fair of Texas, an electrical fire broke out and Big Tex burned down.
Was Big Tex rebuilt?
Yes! The beloved symbol of the Texas Fair was rebuilt bigger and better the next year and made his debut on September 26, 2013.
Where did Big Tex originate?
Before being a cowboy, this roadside attraction was a Santa Claus statue! The 49-foot tall World's Largest Santa Claus was erected in Kerens, Texas in 1949. In 1951 it was sold to the fair and reimagined as a giant cowboy.
Who voiced Big Tex?
The voice of Big Tex has been played by only a handful of men since his inception: WRR FM 101.1 disc jockey Al Jones (3 years); Radio announcer Jim Lowe (39 years); Dan Alexander (2 years); Sonny Ray Stolz (1 year); Bill Bragg (11 years), and Bob Boykin (7 years). Currently the voice actor is being kept anonymous.
Does Big Tex get taken down?
He does! Big Tex is only erected for the length of the annual state fair. He goes up a few days before and is taken down a few days after. Part of his charm is that you can only visit him for that small window each year!
What are the dates for the State Fair of Texas 2023?
In 2022 the state fair ran from September 30 through October 23. 2023 dates have not been announced yet.
Where is the Texas State Fair 2023?
Just like every year, the State Fair of Texas is held at Fair Park in Dallas, Texas. 1300 Robert B Cullum Boulevard; Dallas, TX. Parking and rideshare addresses are different so plan ahead.
Which is the biggest State Fair in USA?
Is the Texas State Fair worth it?
Yes! The State Fair of Texas is a bucket list experience. Come see Big Tex, eat lots of fried foods, catch a concert, and ride carnival rides, like the giant ferris wheel!
When should I take photos of Big Tex?
If you want that perfect photo with Big Tex plan to find him in the afternoon. In the morning through noon the sun will be coming up behind him making this giant cowboy very backlit.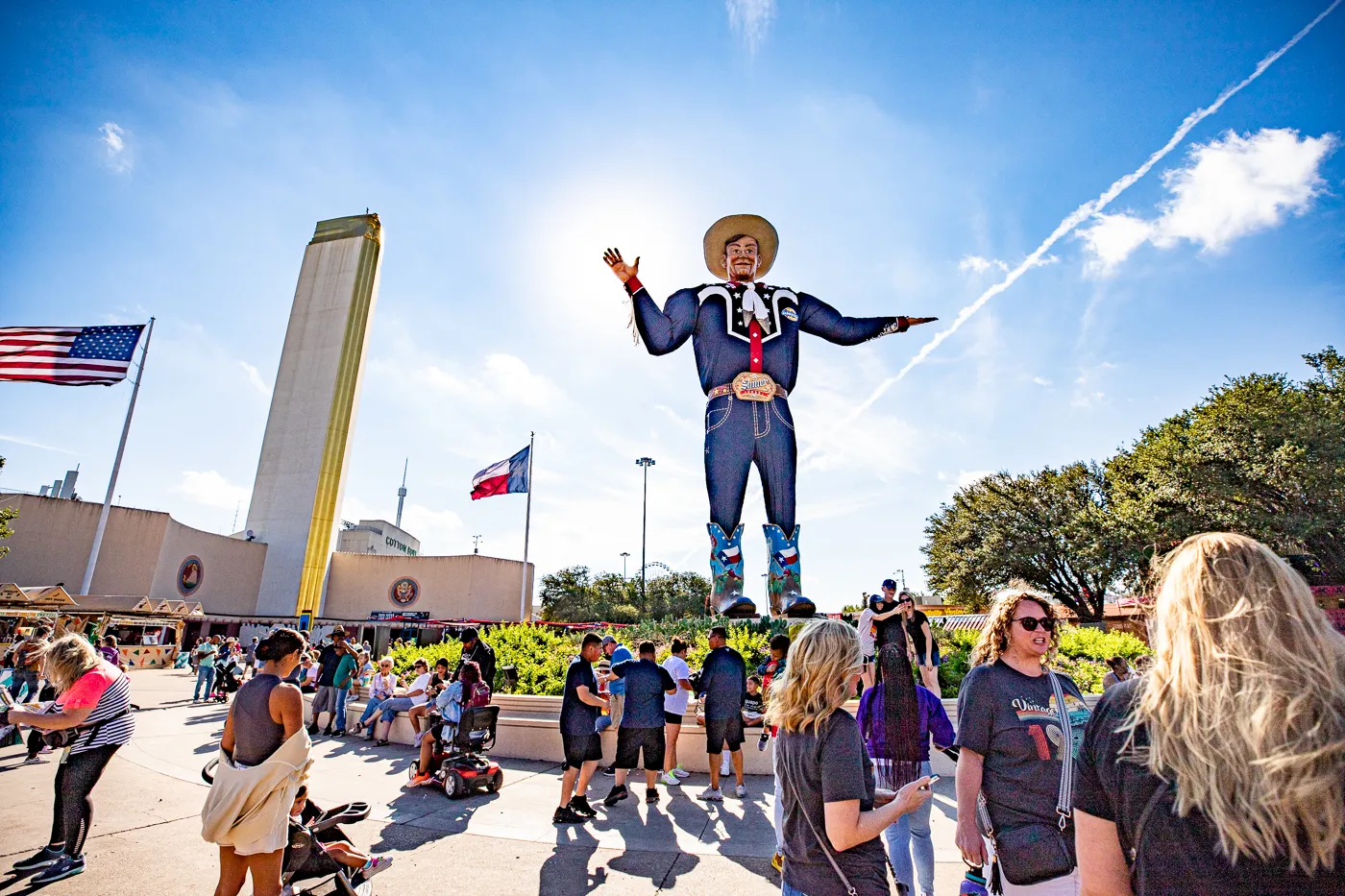 Big Tex at the State Fair of Texas
Address: Fair Park, 3921 Martin Luther King Jr Blvd, Dallas, TX 75210
Cost and Hours: Visit the Texas State Fair website for this year's dates, hours, and admission costs.
Pin this Texas roadside attraction to save it for later: