When you think about monuments dedicated to our revered United State's presidents what do you think of? The Washington Monument? The Lincoln Memorial? Mount Rushmore? Well, how about a giant peanut and a slice of watermelon? For every stoic bronze rendering of a commander in chief, there are dozens of weird presidential monuments & roadside attractions scattered across the country.
There are slightly off facsimiles, heads of states with giant heads, towering models (like the world's tallest Abraham Lincoln who is, sadly, no longer accessible to the public), and wax museums galore.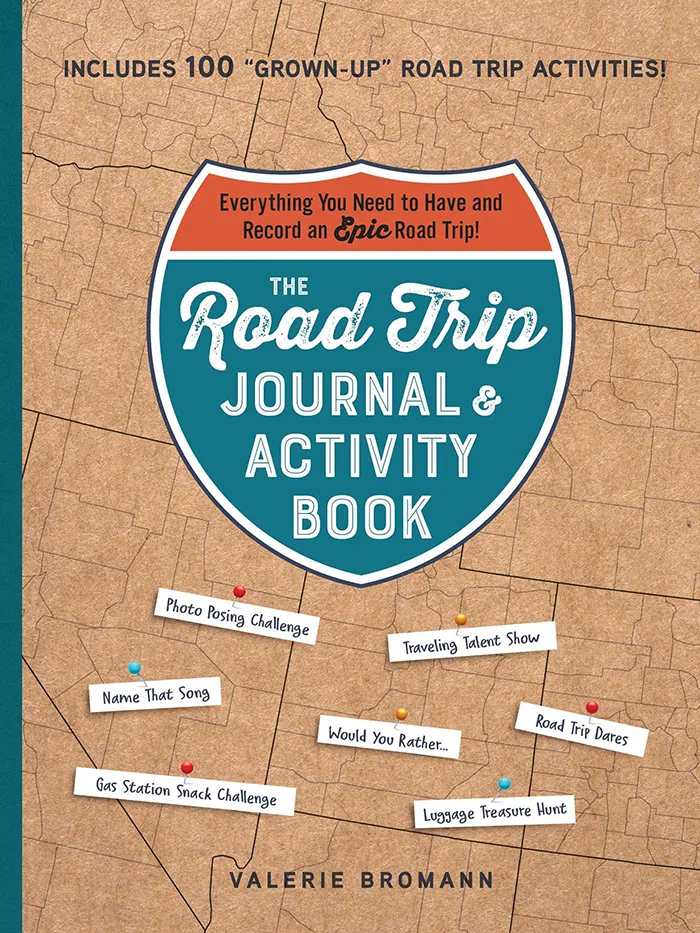 The Road Trip Journal & Activity Book
Everything You Need to Have and Record an Epic Road Trip!
Enjoy fun games and challenges to pass the time on your next road trip and have a keepsake to look back on for years to come with this entertaining must-have for your next vacation.
If you're tired of presidential monuments that are a little too prestigious, check out these weird monuments to our United States presidents and the presidency.
10 Weird Presidential Monuments & Roadside Attractions
1. Lincoln Watermelon Monument in Lincoln, Illinois
On August 27, 1853 the first sale of lots in the new town of Lincoln, Illinois were made. A pre-presidential Abraham Lincoln, in whose honor the town had been named, was present and was asked to officially christen the town. He chose a watermelon from a nearby pile, cut into it with his pocketknife, and then bumped it on a pile of lumber. He squeezed the juice into a tin cup, gave a brief speech, and christened the town.
In celebration of that fateful day, the town constructed this big watermelon monument in the shape of a slice of the juicy pink melon. It sits there today, next to the town's train station, honoring our 16th president. There are many Abraham Lincoln roadside attractions and monuments throughout the US, but this is definitely the weirdest.
Lincoln Station, 101 N Chicago St, Lincoln, IL 62656 (View on Map)
2. Jimmy Carter Peanut of Plains Statue in Plains, Georgia
Jimmy Carter, the 39th president of the United States, was known for his big smile and his peanut farm. A thirteen-foot tall toothy peanut was constructed in 1976 to celebrate Carter's political visit to Evansville, Indiana. Afterwards, the Jimmy Carter Peanut of Plains Statue moved to Plains, Georgia: Carter's hometown. Today the giant peanut-shaped presidential monument and Georgia roadside attraction can be found at Davis E-Z Shop, not-too-far from the president's boyhood home.
148 GA-45, Plains, GA 31780 (View on Map)
3. City of Presidents in Rapid City, South Dakota
Rapid City is an often overlooked stopping point on the way to Mount Rushmore. Sure, you can stop at the dinosaur park or Storybook Island, but most people passed right on through. In the late 90s a life-sized bronze statue of Abraham Lincoln was erected in a Rapid City hotel lobby, and people started to take notice. Sparked by inspiration, the city then decided to run with it and has since installed 44 life-sized bronze president sculptures. The South Dakota roadside attractions feature one bronze statue for each of the 45 former US presidents (Grover Cleveland served two non-consecutive terms, but did not get two statues). For a fun selfie spot if you want to pose with George W. Bush and his dog, wave back at Barack Obama, or pretend to listen to Franklin D. Roosevelt's "day which will live in infamy" speech.
631 SD-79, Rapid City, SD 57701 (View on Map)
4. Presidents Park in Williamsburg, Virginia
The ten-acre Presidents Park in Williamsburg was once a cool Virginia roadside attraction and a treasure trove of silly giant president heads, with 42 18 to 20-foot, 18,000 pound busts of every United States president from George Washington to George W. Bush. In 2010, the park closed and all the big heads were transported to artist Howard Hankins's private property. The property is closed to the public, but can be visited on a photo tour held sporadically throughout the year.
1430100040, Williamsburg, VA 23188 (View on Map)
5. Monument to Jack, the First Presidential Pardon Turkey in Hartford, Connecticut
Not all presidential sculptures are of the presidents themselves. Along the Connecticut River at Riverside Park in Hartford, Connecticut is a tribute to a bird: Jack the Turkey. There are many sculptures along the Lincoln Financial Sculpture Walk, but none will gobble for your attention as much as this 2008 giant turkey by artist Philip Grausman. Jack was the first turkey pardoned by a president, Abraham Lincoln in 1863. The tradition was picked up by presidents throughout the years and in, in 1989, George Bush formally put the "Presidential Pardon" into the books with each successive president doing the same. this monument serves as a tribute to that first pardoned turkey in 1863, and all the others that came after.
Riverside Park, 20 Leibert Rd, Hartford, CT 06120 (View on Map)
6. JFK Toilet Bowl Memorial in Torrance, California
The John F. Kennedy Memorial Stone at the corner of Sartori Ave. and Cabrillo in Torrance, California might have gotten away with being just one of many memorial plaques devoted to former presidents around the country. But this particular plaque and its unfortunate shape have come to be known by some as the "JFK Toilet Bowl Memorial." With a compressed oval fountain at the base, flanked in the back by an engraved slab and eternal flame, the California roadside attraction does lean a little more towards toilet than tribute.
Thomas Keller Memorial Park, Sartori Ave Torrance, CA 90501 (View on Map)
7. Presidents Hall of Fame in Clermont, Florida
Building shaped like the White House? Check. Presidential wax figures? Check. White House china replicas? Check. Scale miniature model of the Oval Office? Check. Since 1960 the Presidents Hall of Fame in Clermont, Florida has displayed a wide array of wacky artifacts, wax figures, and replicas of presidencies gone by. Most noted for its impeccably done White House miniatures this is the stop for presidential kitsch.
123 Hwy 27N, Clermont, FL 34711 (View on Map)
8. TOP SECRET – Upside Down White House in Wisconsin Dells, Wisconsin
It might always seem like the White House in Washington D.C. has been flipped upside down, but the one in Wisconsin Dells most defnitely has been flipped upside down…literally! Top Secret Inc. AKA the Upside Down White House one topsy turvy tourist attraction. This Wisconsin Dells attraction features a replica of the house at 1600 Pennsylvania Ave. with a twist. The executive mansion has been turned on its head both inside and out. Not only is the roof on the floor outside but as you wander the "highly classified" halls of the Oval Office and press room you'll find the features and fixtures floating from the ceiling above, along with some other top secret artifacts you'd need to see to believe.
2127 Wisconsin Dells Pkwy, Wisconsin Dells, WI 53965 (View on Map)
9. Obama's Barber Chair in Chicago, Illinois
Relics once used or touched by a former President of the United States are common memorials around the United States. There's a piece of Grover Cleveland's wedding cake on display in Caldwell, New Jersey; Harry Truman's Plow at the Agricultural Hall of Fame in Bonner Springs, Kansas; and a back-scratching post in Lucedale, Mississippi said to have been used by Ronald Reagan. One of the newest additions to this strange collection is a barber chair used by future president Barack Obama when he lived in the Hyde Park neighborhood of Chicago. Hyde Park Hair Salon, where Obama was a regular, has encased the barber chair behind plexiglass and declares itself "the official barbershop of President Obama."
5234 S Blackstone Ave A, Chicago, IL 60615 (View on Map)
10. Cheshire Cheese Monument in Cheshire, Massachusetts
The Cheshire Cheese Monument commemorates a 1,234-pound hunk of cheese that was shipped to President Thomas Jefferson and subsequently displayed at the White House. The Massachusetts town gifted the Cheshire Mammoth Cheese to Jefferson in 1802. It was made by combining milk from every cow in the town using a specially-made cheese press to handle the giant cheese. A cast concrete cheese press was erected in the town to honor the president, the cheese, and Elder John Leland, the pastor whose idea it was to make the giant piece of cheese.
95 School St, Cheshire, MA 01225 (View on Map)
Pin this post to Pinterest to save for later: