In the early 2000s, the TV Land Landmarks campaign placed bronze statues of classic television characters (and the actors who played them) in locations appropriately linked to their TV shows. Spearheaded by the television station TV Land, known for their classic television programming, six bronze monuments to classic TV characters we all know and love, were placed throughout the U.S. Their dedications were often linked to a special televised event, and, sometimes, their placements caused a little controversy.
While Nickelodeon's TVLand has since discontinued the TV Land Landmarks promotion (the final statue was placed in 2007), you can still visit these life-sized busts on your next road trip or vacation and find these statues of fictional characters throughout America.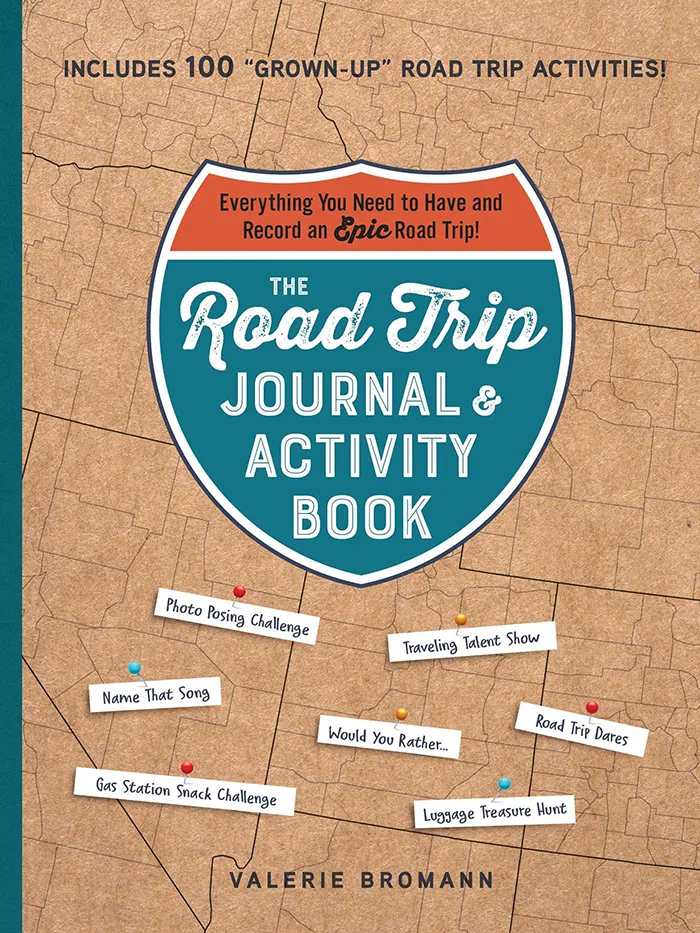 The Road Trip Journal & Activity Book
Everything You Need to Have and Record an Epic Road Trip!
Enjoy fun games and challenges to pass the time on your next road trip and have a keepsake to look back on for years to come with this entertaining must-have for your next vacation.
TV Land Landmarks Statues of Classic Television Characters: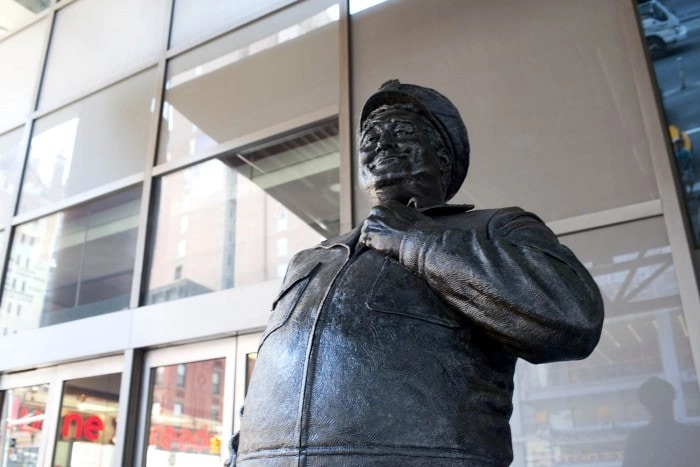 Jackie Gleason as Ralph Kramden on The Honeymooners
19-623 8th Ave, New York, NY 10018
The Honeymooners (1955 – 1956) featured bus-driver Ralph Kramden (Jackie Gleason) who lived in a Brooklyn apartment with his wife Alice (Audrey Meadows). He would often come up with hair-brained get-rich-quick schemes and recruit his wife, best friend and sewer-worker Ed Norton (Art Carney), and Ed's wife Trixie (Joyce Randolph) to help. All involved were usually skeptical, with their skepticism being proved true by the end scene.
As New York's best-known television bus driver it was only fitting that this bronze statue of a fictional character was put up at the Port Authority Bus Terminal. Dedicated in August 2000, this New York roadside attraction was the first of the TV Land statues.
Bob Newhart as Dr. Robert Hartley on The Bob Newhart Show
Navy Pier, 600 E Grand Ave, Chicago, Illinois
In The Bob Newhart Show (1972-1978) Newhart played psychologist Bob Hartley who lived with his wife Emily in a Chicago highrise and tended to crazy patients in his practice.
On July 27, 2004, a bronze Bob Newhart statue was installed at 430 N. Michigan Ave in Chicago. Later that year the Illinois roadside attraction was moved to a new location at Navy Pier where visitors can sit on the bronze couch and have their own session with the psychologist.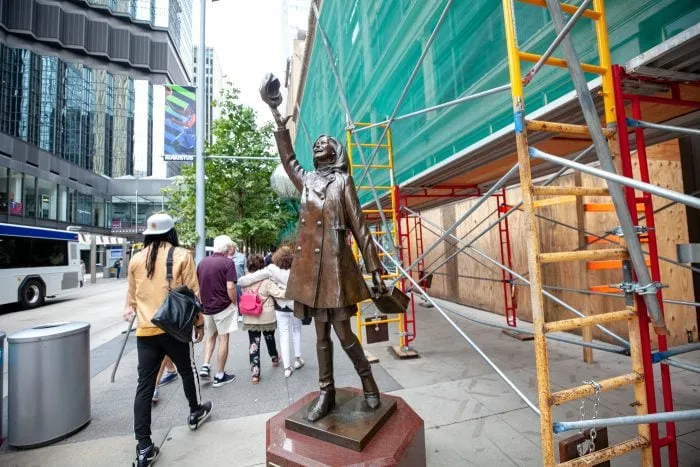 Mary Tyler Moore as Mary Richards on The Mary Tyler Moore Show
700 Nicollet Mall, Minneapolis, Minnesota
The Mary Tyler Moore Show is an American sitcom that aired on CBS from 1970 to 1977 (and in reruns later as on of the TV Land classic shows). The program starred Mary Tyler Moore as Mary Richards, a thirty-something woman who moves to Minneapolis after a breakup and finds herself as an associate producer of the evening news at local station WJM-TV.
The final shot of the opening credits shows a freeze frame of Mary tossing her hat into the air. This iconic pose from one of the most classic TV show characters was commemorated in 2002 when this Minnesota roadside attraction was erected on the same downtown Minneapolis corner at Nicollet Mall where the scene was filmed
Elizabeth Montgomery as Samantha Stephens on Bewitched
Lappin Park, 235 Essex St., Salem, Massachusetts
On June 15, 2005, a statue depicting actress Elizabeth Montgomery as witch Samantha Stephens from the TV show Bewitched (1964-1972) was dedicated in Lappin Park in Salem, Massachusetts. The nine-foot-tall, 3,000 pound bronze statue depicts the character riding side saddle on a broom, flying past a crescent moon.
Bewitched statue controversy: Bewitched followed Samantha and her non-warlock husband, as they tried to live a normal life in spite of her magical ways. Though the show was set in Westport, Connecticut, four episodes were filmed on location in Salem. These episodes were known as the Salem Saga, and so the city seemed a natural choice to house the statue. But this did not come without controversy as many residents of Salem felt the new Massachusetts roadside attraction was disrespectful to those who were persecuted during the Salem witch trials.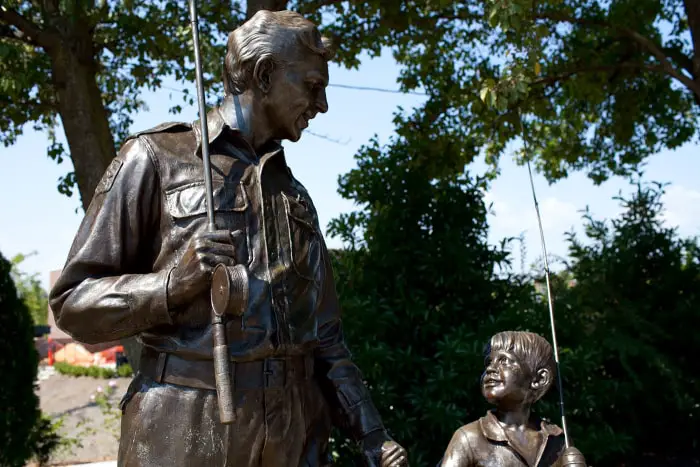 Andy Griffith as Sheriff Andy Taylor and Ron Howard as Opie Taylor on The Andy Griffith Show
Pullen Park, 408 Ashe Ave., Raleigh, North Carolina
Andy Griffith Playhouse, 218 Rockford St., Mount Airy North Carolina
In The Andy Griffith Show (1960-1968) Andy Griffith plays widower Andy Taylor who serves as sheriff of a small town named Mayberry.
In 2003 TV Land erected this statue, "Goin' Fishin'," depicting a fishing scene from the show's opening credits, in Raleigh, North Carolina. Citizens of Mount Airy, the real town that inspired fictional Mayberry, along with Andy Griffith himself, objected to the placement of the North Carolina roadside attraction in the state's capital, the TV station created a second version that is now on display in front of Andy Griffith Playhouse in Mount Airy.
Elvis Presley in Aloha from Hawaii
Neal Blaisdell Center Arena, 777 Ward Ave., Honolulu, Oahu, Hawaii
TV Land's Elvis Presley statue broke away from their typical television classic character statues and switched focus to another famous telvision event. On January 14, 1973, Elvis presented the "World's First Satellite TV Concert" called Aloha from Hawaii Via Satellite.
The concert was held at the Honolulu International Center (HIC) — now called the Neal S. Blaisdell Center, and that is where you will find this TV land statue. The Hawaii roadside attraction was dedicated on July 26, 2007, coinciding with "Elvis Month" on the station.
Other classic television character statues (non TV Land Statues)
Though the TV Land statues are probably the most well-known, and well-crafted, the classic television station wasn't the only ones to erect television character statues in America. Other cities, and fans, have taken matters into their own hands to create effigies to TV characters.
Henry Winkler as Arthur "Fonzie" Fonzarelli in Happy Days (AKA the "Bronze Fonz")
Milwaukee Riverwalk, Milwaukee
Milwaukee's Henry Winkler statue is better known to most as the "Bronze Fonz." It depicts Henry Winkler as Arthur "Fonzie" Fonzarelli just as he often appeared in the TV show Happy Days (1974-1984): wearing a leather jacket and jeans and giving two-thumbs up, as if to say "ayyyy."
The statue is also most often mistaken as a TV Land Landmark statue. But the Bronze Fonz was actually commissioned by Visit Milwaukee, the city's tourism board, after TV Land changed its marketing strategy, abandoned the statue-sculpting program, and ditched their plans to honor Fonzie in bronze.
Visit Milwaukee raised $85,000, commission the statue from artist Gerald P. Sawyer, and installed it on the Milwaukee Riverwalk in downtown Milwaukee, Wisconsin. It was unveiled on August 18, 2008, with many cast members from Happy Days in attendance.
Lucille Ball as Lucy Ricardo in I Love Lucy
Lucille Ball was an American actress and comedian, best known for her role on I Love Lucy (1951-1957) where she played always-scheming Lucy Ricardo. She has the honor of having not one, not two, but three statues devoted just to her…though not all of them are as "lovely" as the others.
Scary Lucy
Lucille Ball Memorial Park, 21 Boulevard Ave, Jamestown (Celoron), New York
In 2009 Lucille Ball's hometown of Celoron, New York, unveiled a statue by artist Dave Poulin in the comedian's honor. But resident's were skeptical of its not-so-accurate looks and weird expression, dubbing the off-statue "Scary Lucy."
Lovely Lucy
After Scary Lucy went viral, garnering press and laughs from around the world, a new statue was commissioned to replace the scary counterpart. Sculptor Carolyn Palmer was chosen and, on August 6, 2016 (Ball's 105th birthday), the new statue was unveiled. (Don't worry, they kept the original too, so you can visit both.)
Lucy on a Bench
100 N. Palm Canyon Dr., Palm Springs, California
There is yet another I Love Lucy statue, this one a California roadside attraction is Palm Springs. This statue depicts Lucille Ball sitting on a bench in front of a Coffee Bean.
James Garner as Bret Maverick in Maverick
Downtown, Norman, Oklahoma
Actor James Garner played Bret Maverick in the TV Western, Maverick (1957-1962). In 2006 his home town of Norman, Oklahoma unveiled a 10-foot tall statue in his likeness.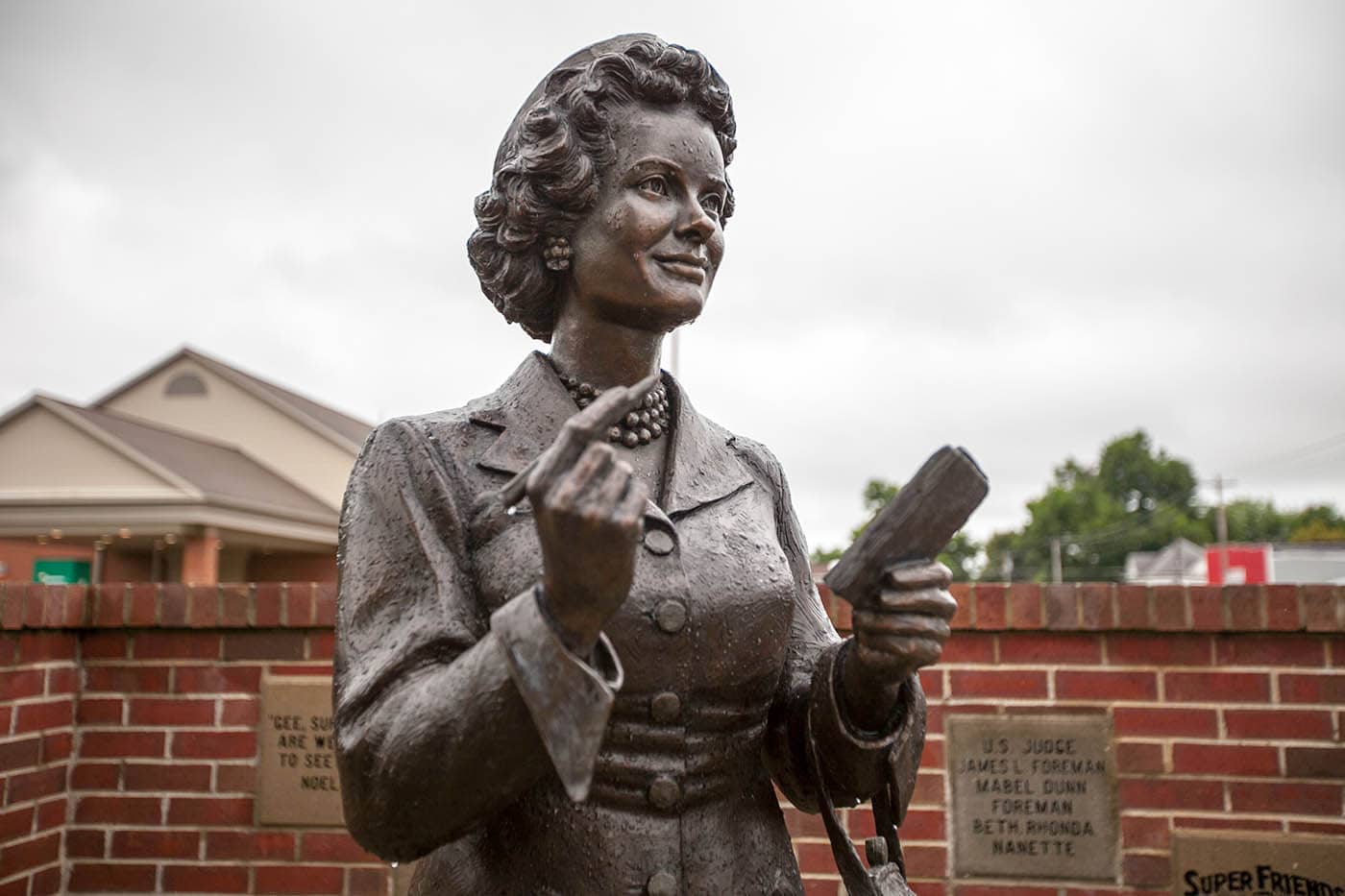 Noel Neill as Lois Lane Statue in Adventures of Superman
While Metropolis, Illinois might be known for its giant Superman statue, there's another statue down the block devoted to one of the stars of the franchise and TV series: Noel Neill.
Neill played Lois Lane, Daily Planet reporter and Clark Kent/Superman love interest in Adventures of Superman (1952-1958). The Superman Lois Lane Statue (also known as the Noel Neill statue) began construction at a groundbreaking ceremony during the 2009 Superman Celebration and was unveiled in 2010 with Neill (at age 89) on site.
Pin this post on TV Land Classic TV Character Statues to save for later: