At the Port Authority Bus Terminal in New York City, you'll find a bronze monument to one of New York's most famous TV bus drivers. The Ralph Kramden statue of Jackie Gleason from the Honeymooners can be found at the southwest corner of the terminal, near the 40th Street and 8th Avenue entrance, and has become a tourist attraction for busy commuters and tourists alike.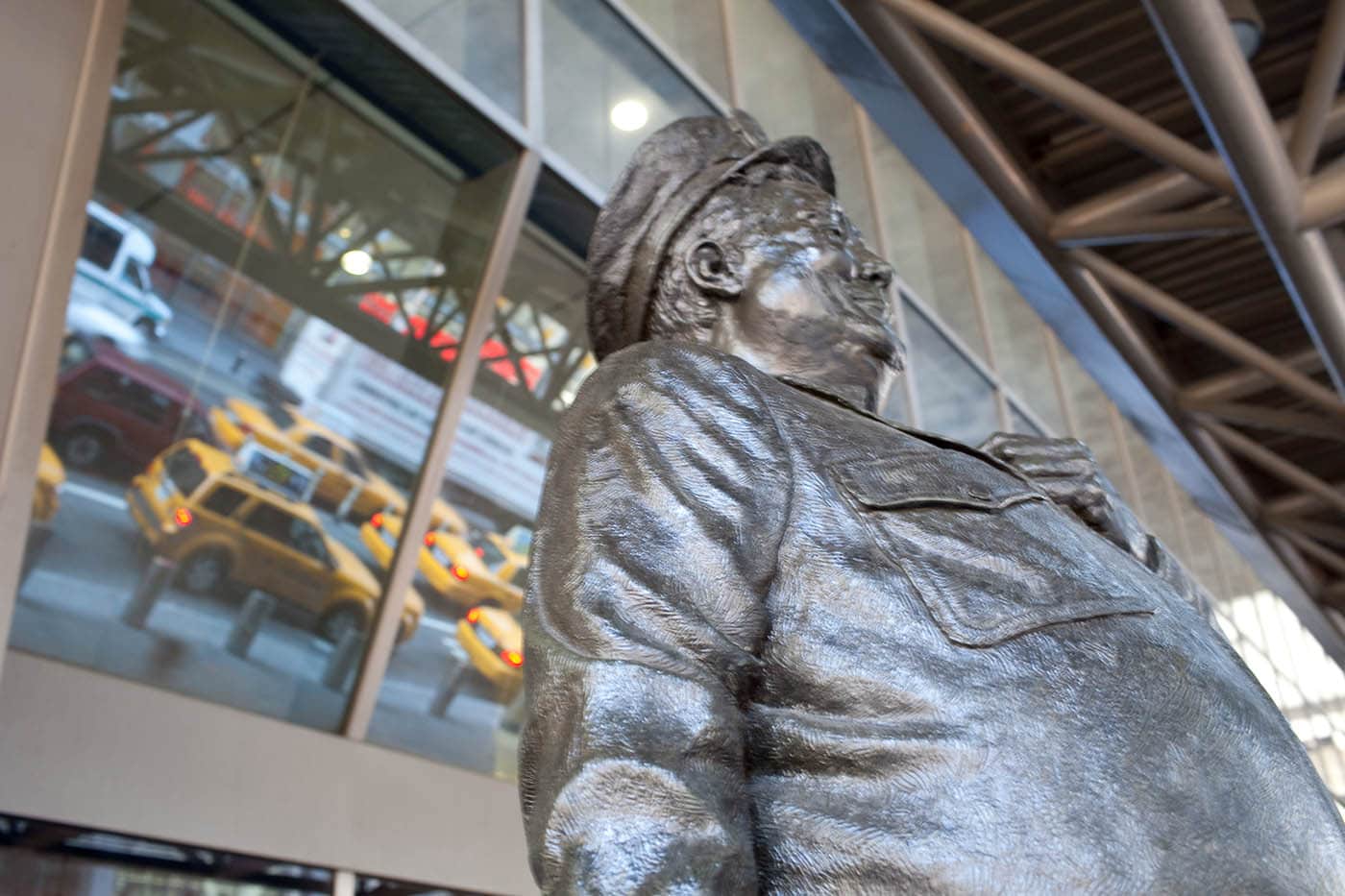 The eight-foot-tall bronze statue of Ralph Kramden depicts the fictional New York City bus driver from the 1950s television comedy, The Honeymooners. The show ran for just one season of 39 episodes from 1955 to 1956 (with glimpses in pre and post sketches Gleason's variety shows) but it has remained a classic black and white TV series that still airs in syndication today.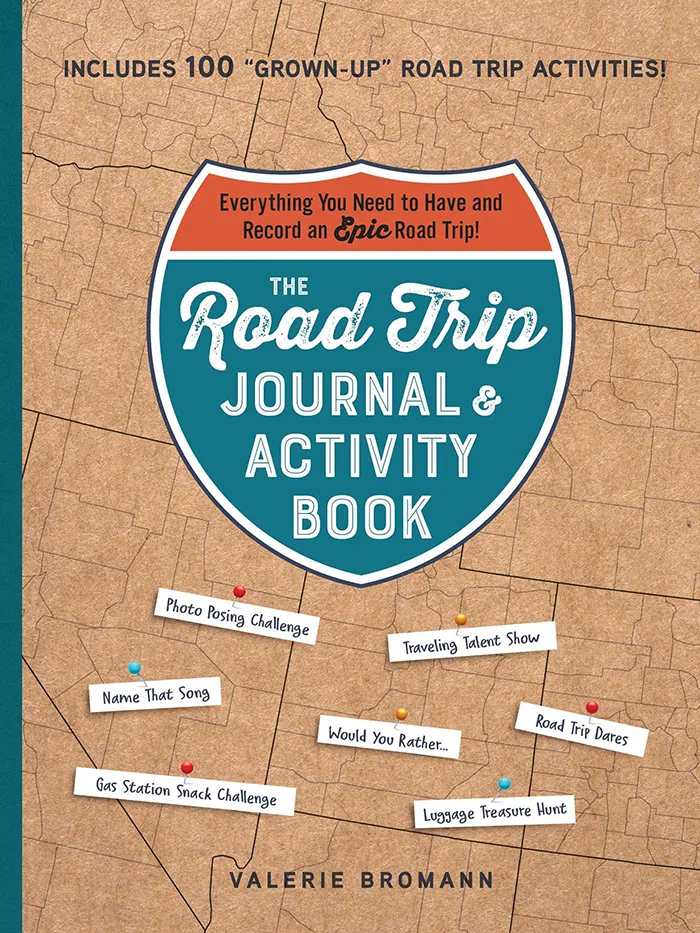 The Road Trip Journal & Activity Book
Everything You Need to Have and Record an Epic Road Trip!
Enjoy fun games and challenges to pass the time on your next road trip and have a keepsake to look back on for years to come with this entertaining must-have for your next vacation.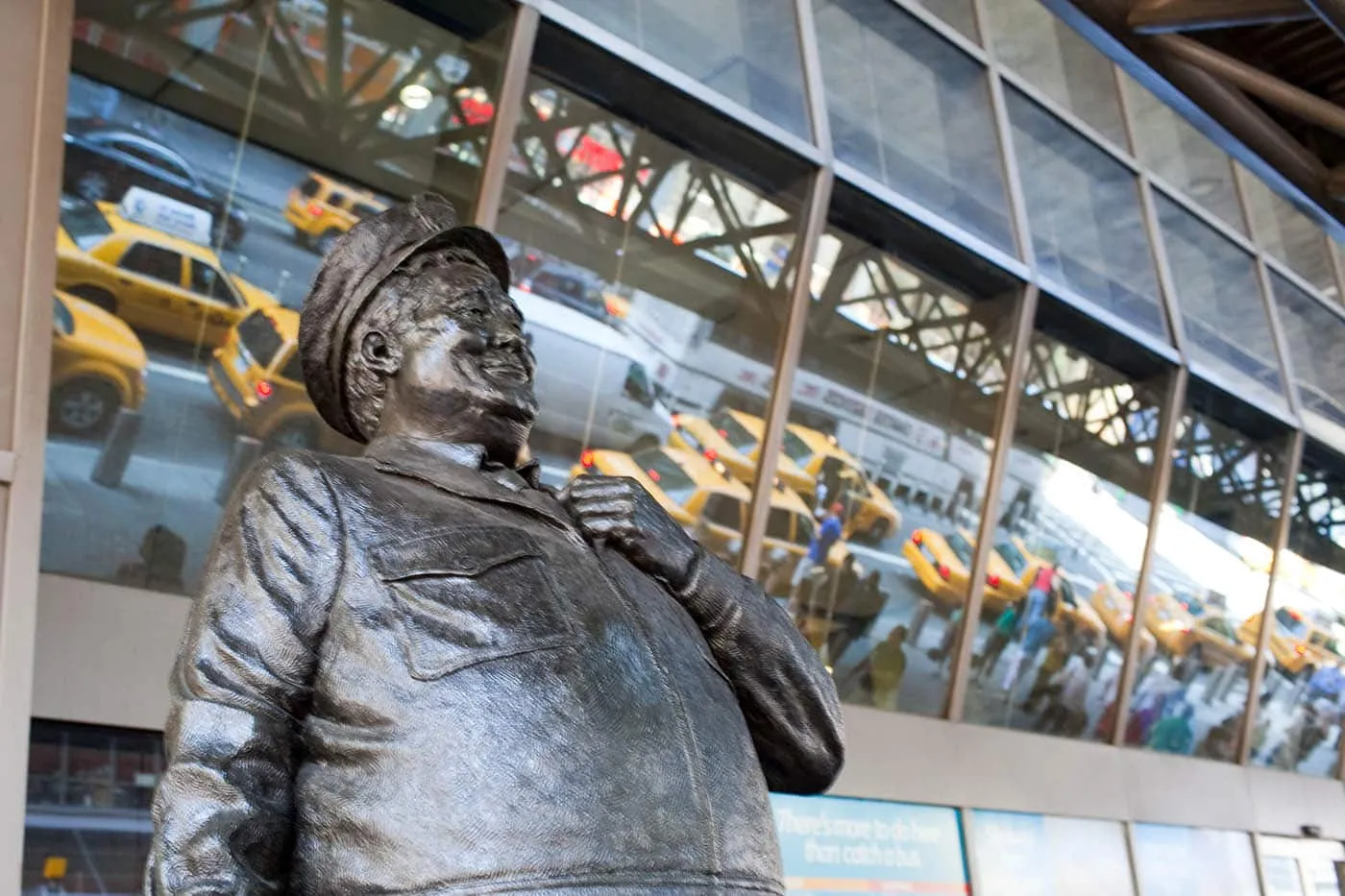 In the Honeymooners, bus-driver Kramden (Jackie Gleason) lived in a Brooklyn apartment with his wife Alice (Audrey Meadows). He would often come up with hair-brained get-rich-quick schemes and recruit his wife, best friend and sewer-worker Ed Norton (Art Carney), and Ed's wife Trixie (Joyce Randolph) to help. All involved were usually skeptical, with their skepticism being proved true by the end scene.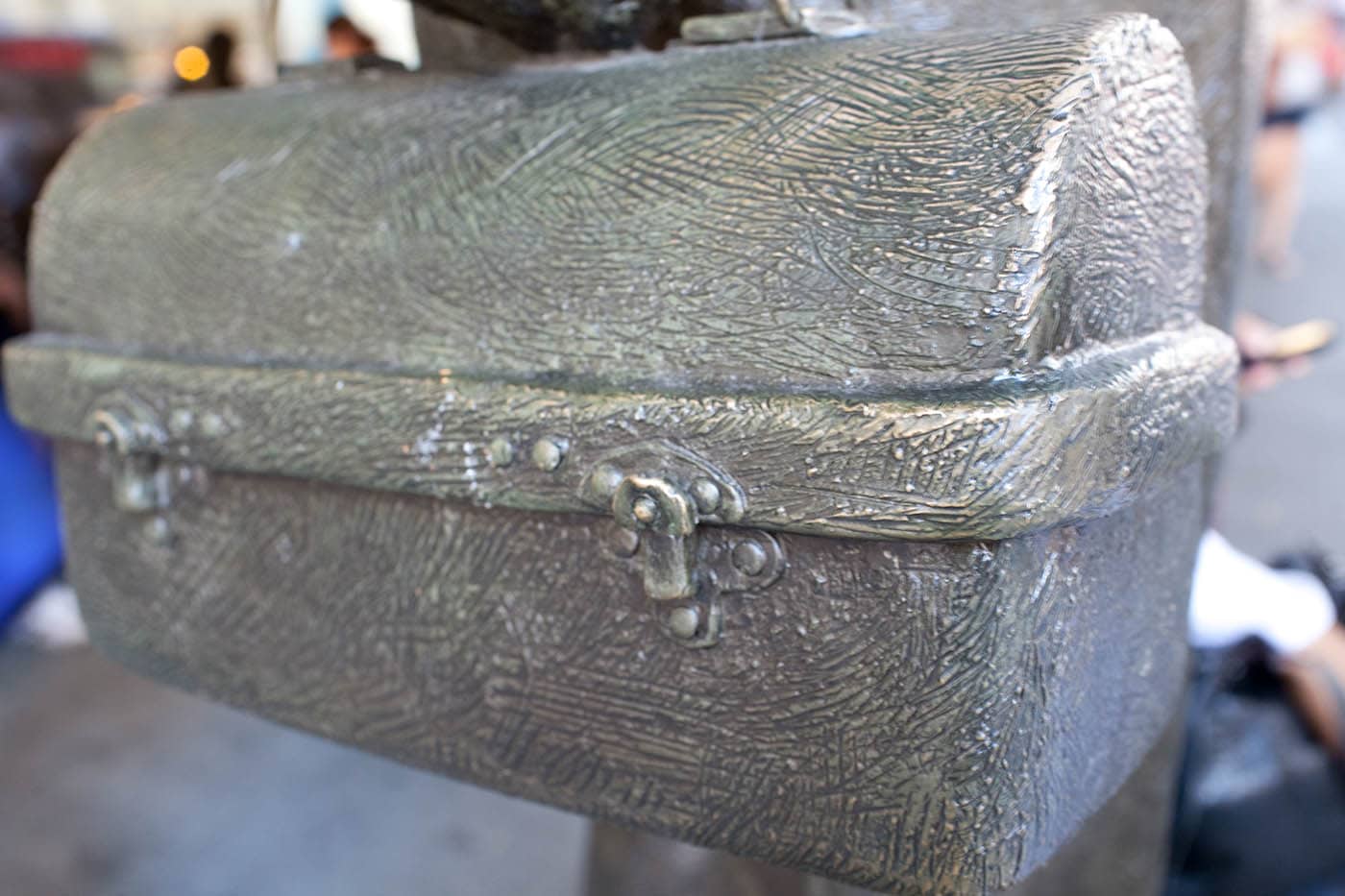 The statue was designed by Robert Du Grenier and created by sculptor Larry Nowla and features Jackie Gleason dressed in his bus driver's uniform and carrying his lunch pail on his way to or from work. A plaque on the base of the statue says:
Jackie Gleason as Ralph Kramden
Bus Driver – Raccoon Lodge Treasurer – Dreamer
Presented by the People of TV Land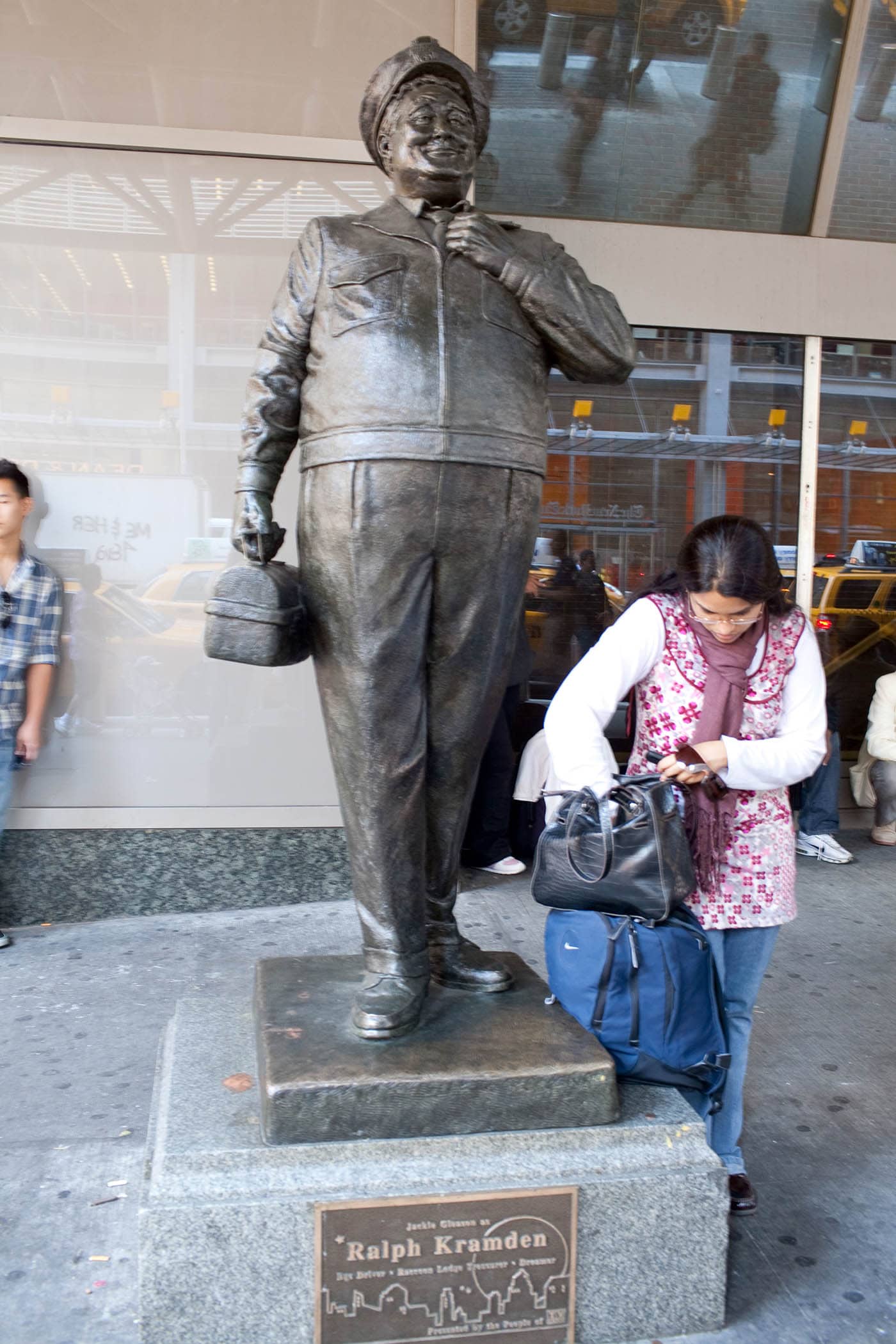 Dedicated in August 2000, this New York roadside attraction was the first of several sculptures of characters and actors from classic television series that the cable television station TV Land has commissioned since the early 2000s and dubbed "TV Land Landmarks." It was funded in cooperation with Gleason's estate and the Port Authority.
Other classic TV character statues from TV Land include:
Mary Tyler Moore as Mary Richards from The Mary Tyler Moore Show (Minneapolis, Minnesota)
Bob Newhart as Dr. Robert Hartley from The Bob Newhart Show (Navy Pier, Chicago)
Andy Griffith as Sheriff Andy Taylor and Ron Howard as Opie Taylor from The Andy Griffith Show (Raleigh, North Carolina/Mount Airy, North Carolina)
Elizabeth Montgomery as Samantha Stephens from Bewitched (Lappin Park, Salem, Massachusetts)
Elvis Presley from Aloha from Hawaii (Neal Blaisdell Center Arena, Honolulu)
Henry Winkler as Arthur "Fonzie" Fonzarelli from Happy Days – AKA the "Bronze Fonz" (Milwaukee Riverwalk, Milwaukee)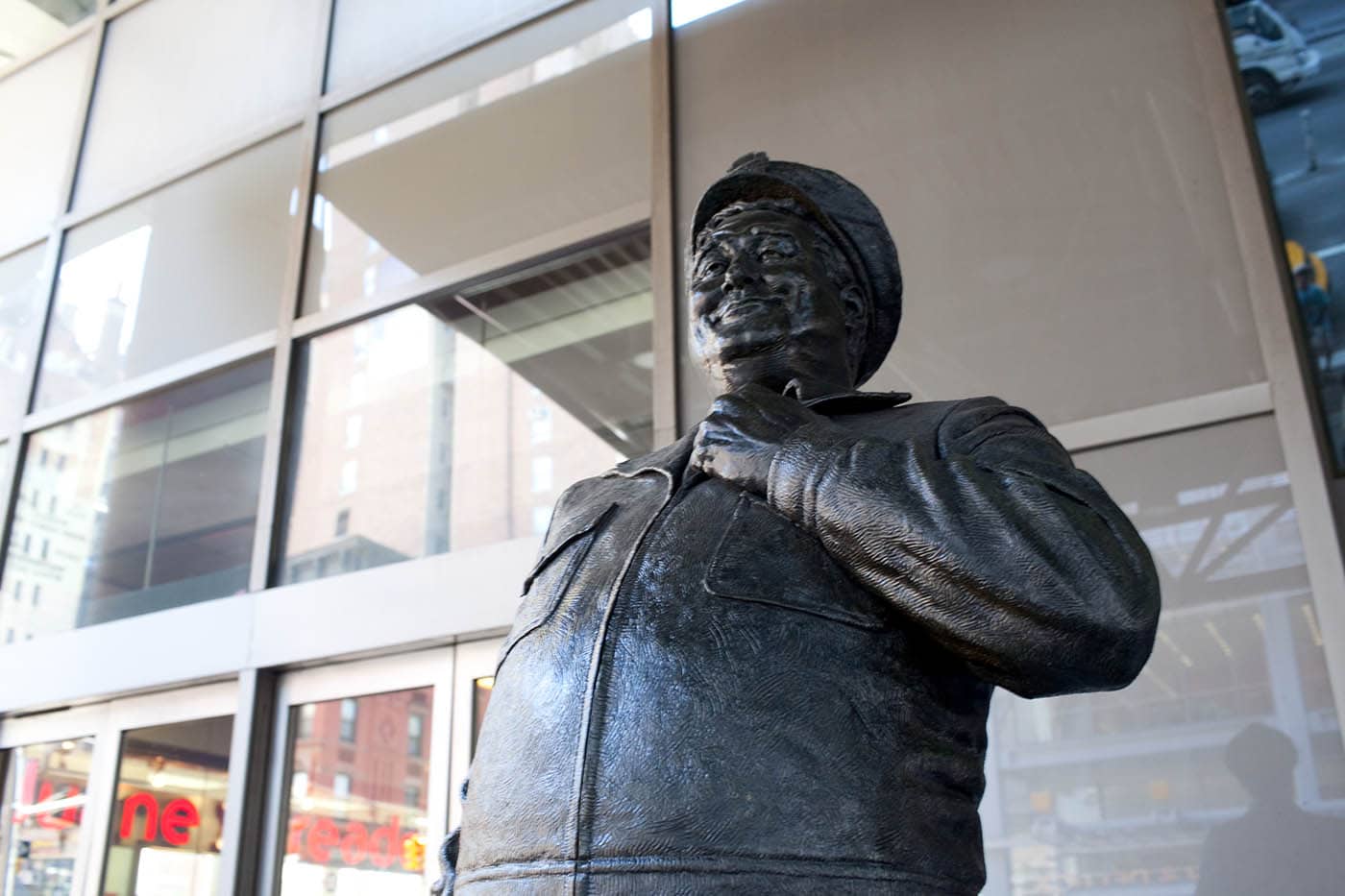 ---
Ralph Kramden Statue
Address: Port Authority Bus Terminal, 19-623 8th Ave, New York, NY 10018
Hours: Always Visible
Cost: Free to See
---
Pin this New York roadside attraction: