Any road trip you take will always have a beginning, middle, and end. And that includes a journey on the Mother Road. So where does Route 66 start and end?
Traditionally, if you are driving west, Route 66 begins in Chicago, Illinois and ends in Los Angeles, California (Santa Monica). Of course, if you are driving east, Route 66 begins in Los Angeles and ends in Chicago.
Whichever way you choose to drive, it's a rite of passage (and quintessential Instagram photo opp) to stop at the iconic signs that mark the Route 66 start and end points.
Where does Route 66 start and end?
What is Route 66?
Route 66 was established in 1926, and, for many years, served as the premiere drive for anyone taking a western bound migration, especially during the Dust Bowl in the 1930s. Running from Chicago to Los Angeles the road spanned 2,448 through Illinois, Missouri, Kansas, Oklahoma, Texas, New Mexico, Arizona, and California.
The road was decommissioned in 1985 after being replaced by the Interstate Highway System, but parts of the route are still drivable today and many original (and new) must see attractions, motels, and diners remain operating across the country.
Where does Route 66 begin?
Route 66 begins in Chicago, Illinois, downtown, at the intersection of Adams Street and Michigan Avenue. Look for the historic Route 66 Begin sign…actually look for three signs!
One Route 66 Begin Sign is high up on a stop light post on the northwest corner of Adams and Michigan, across from the Art Institute of Chicago; one is mid block on the other side of the street in front of a Panda Express (this is probably the one you'll see most in photos); and another with a more artistic take in a small park at the corner of Adams and Wabash.
If you're driving east from California, you'll find a Route 66 End sign in Chicago at the corner of Jackson and Michigan. This was actually the original Route 66 start when the road was formed in 1926. Later, the starting point moved to Jackson Drive and Lake Shore Drive and then, in 1955, when Jackson became a one-way-street, it moved again to its current position.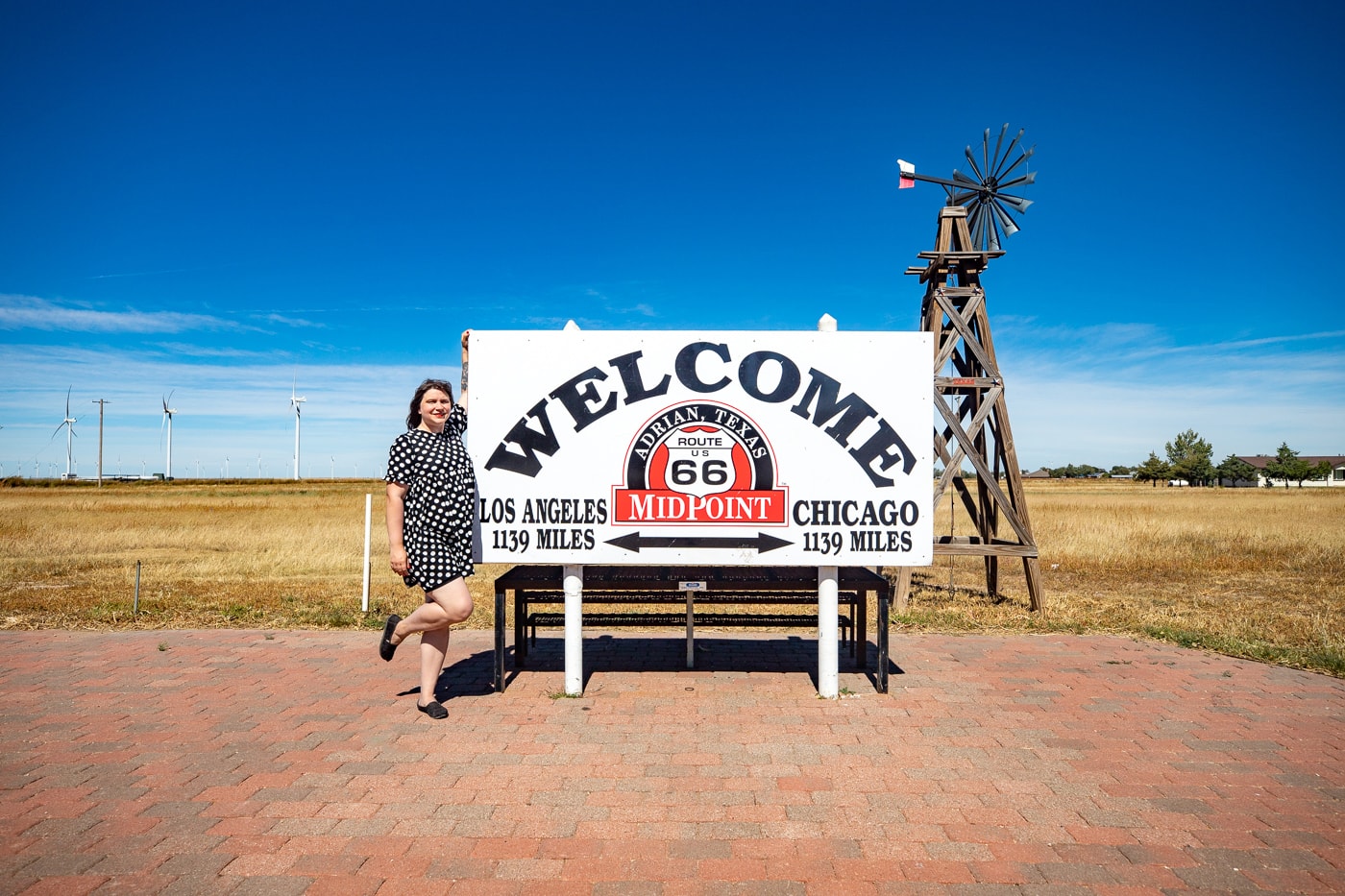 Where is the Route 66 midpoint?
You'll find the midpoint of Route 66 in Adrian, Texas. The area is marked with a welcome sign that declares there are 1,139 miles to Chicago and 1,139 miles to Los Angeles.
After taking selfies at the Route 66 Midpoint sign, pop across the street and go to the Route 66 Midpoint Cafe. Pull over for breakfast pancakes, a sandwich, or a hamburger. And don't leave without topping off your meal with a homemade slice of ugly crust pie.
Where is the end of Route 66?
Route 66 ends in Santa Monica in California. The route officially ends on the corner of Olympic Boulevard and Lincoln Boulevard, where you'll find a standard brown Route 66 end sign (and a begin sign for those traveling westward). But, with tight traffic, it is not the ideal spot.
Most road trippers head to the Santa Monica Pier to see the Santa Monica Route 66 end sign. While this end of trail sign isn't the official end point, the photo-friendly sign makes it the popular unofficial end for travelers driving the length of Route 66.
Originally, Route 66 ended in downtown Los Angeles at 7th and Broadway Avenue, but was extended to Santa Monica in 1935.
How long is Route 66 in miles?
If you're trying to figure out how long is Route 66, you might get a little confused. Different numbers are published in different places.
Originally, Route 66 covered about 2,448 miles (3,940 km). But do to rerouting and the eventual decommissioning of the Main Street of America, that number has fluctuated throughout the years. The Adrian midpoint sign suggest that Route 66 is 2,278 miles long.
Plan your Route 66 road trip.
Pin this post to save for later: