How much do you love ice cream? Enough to eat a giant cone? How about enough to eat AT a giant cone? The Twistee Treat franchise offers fast food and ice cream delights in giant ice cream shaped buildings across the US.
About the Twistee Treat Franchise
In 1983, Twistee Treat was founded in North Fort Myers, Florida. The chain was known for their dipped soft served ice cream cones as well as the larger than life novelty architecture of it's locations.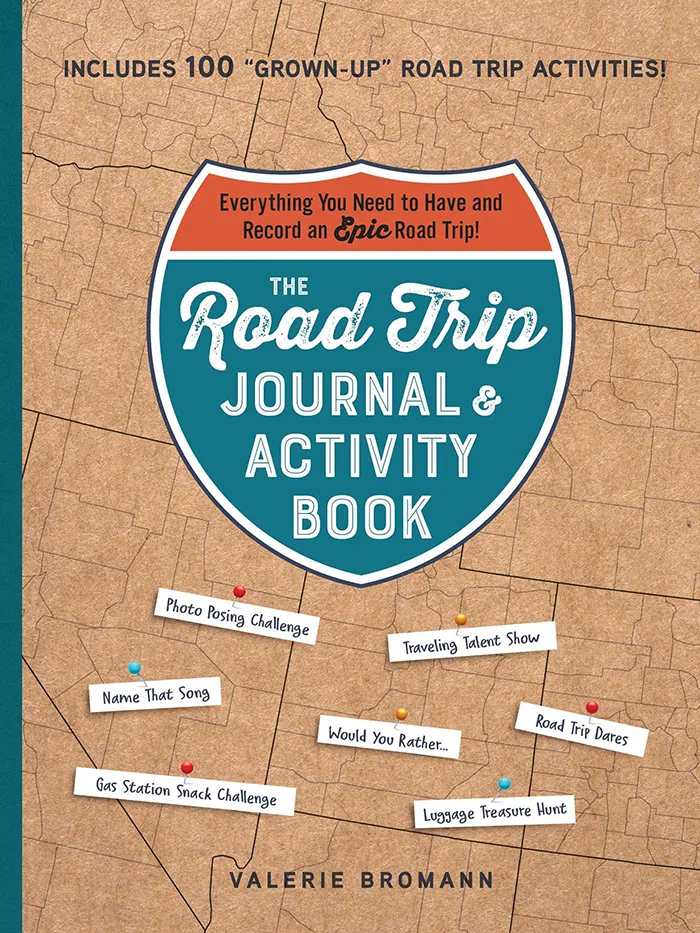 The Road Trip Journal & Activity Book
Everything You Need to Have and Record an Epic Road Trip!
Enjoy fun games and challenges to pass the time on your next road trip and have a keepsake to look back on for years to come with this entertaining must-have for your next vacation.
The company originally opened 23 locations throughout Florida but went into bankruptcy in the early 90s. When the franchise was revived in 1996 and operations moved to Orlando, Florida, 35 locations held strong throughout Florida and Missouri.
When both of those original and subsequent companies ceased operations, individual franchisees gained the rights to their store's name and building to continue to operate.
In 2010 a new company, Twistee Treat USA, acquired the rights to the company and began building new stores using old buildings purchased from the old franchisees. They also designed new building (some with light up swirls) to roll out around the country.
Twistee Treat Ice Cream Shaped Building
Known as mimetic architecture (or novelty architecture or programmatic architecture), each Twistee Treat store is a 25 foot tall fiberglass building shaped like a giant waffle cone topped with a swirl of vanilla soft serve. Some are finished off with a dip of chocolate sauce and sprinkles and others have a bright red cherry on top. They feature a walk-up window where you can order a hot dog or twirl to eat outside and many are attached to bigger building with indoor seating.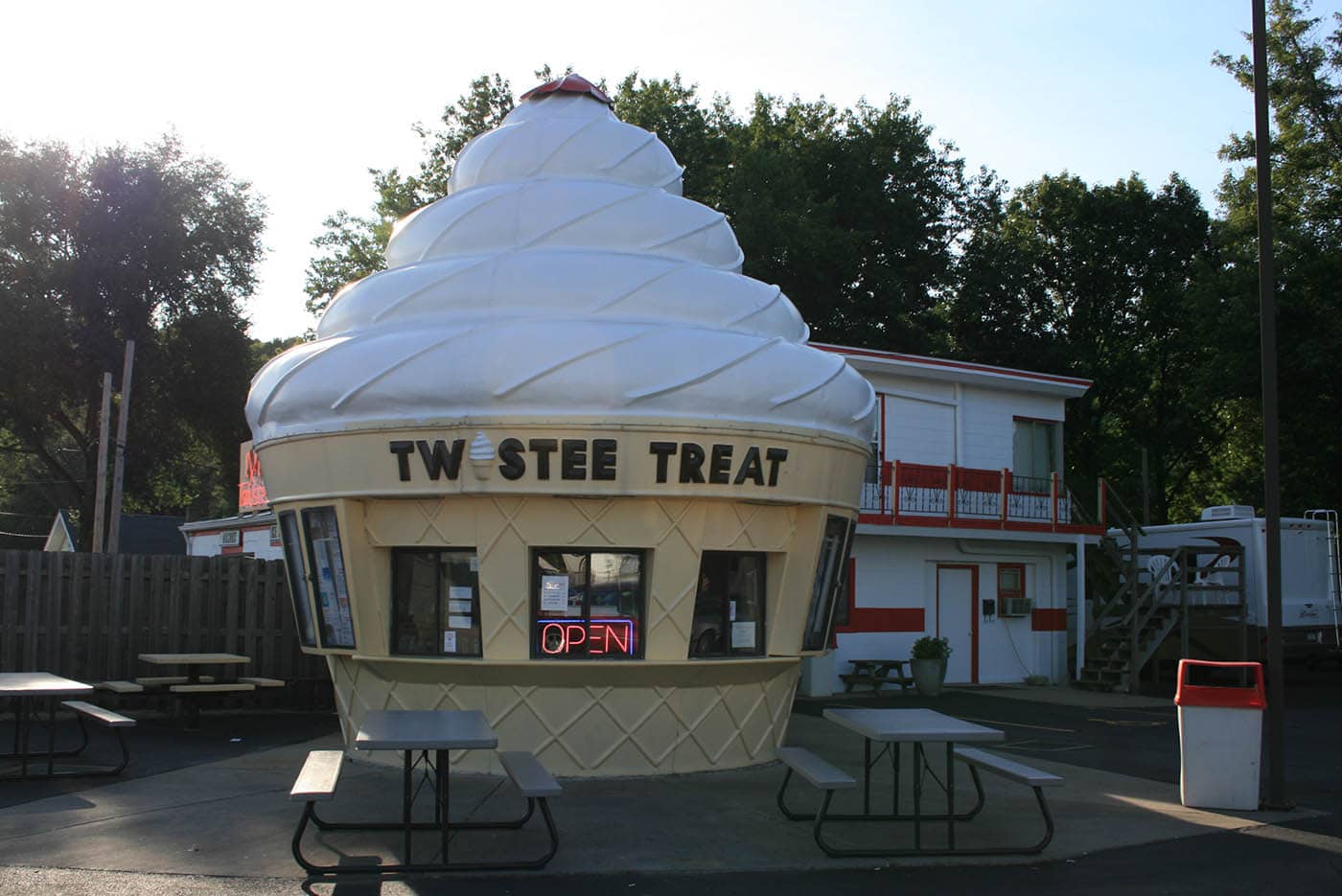 Twistee Treat Locations
Currently there are about 35 official locations in Florida (including Clermont, Tampa, Kissimmee, and Tarpon Springs) and Texas, with more on the way.
All new stores are owned and operated by Twistee Treat USA, but there are some rogue locations that still operate around the US from either original franchise owners or individuals who bought one of the pre-fab buildings.
M&M's Twistee Treat in East Peoria, Illinois (pictured), is one such business. Mike Davis opened the ice cream stop in 1983, selling out of a vacant Dairy Queen. In 1992, after Twistee Treat had gone bankrupt, Mike and his wife Mary found a used Twistee Treat building in Cape Coral, Florida that was for sale.
They bought it for $25,000 and trucked it back in 19 pieces to East Peoria, where it still stands and operates today, selling their own menu of hamburgers, chicken strips, catfish baskets, ice cream cones, sundaes, slushies, and shakes.
There's also another non-corporate Twistee Treat location in Illinois at the Pink Elephant Antique Mall in Livingston.
Twistee Treat Menu
The owner-owned Twistee Treat locations will set their own menus (though all sell ice cream). The official corporate Twistee Treat menu over 25 flavors of soft serve ranging from your standard chocolate, vanilla, and strawberry, to premium flavors like amaretto, blue raspberry, and piña colada .
Ice cream can be ordered in a cup or in cones (sugar, cake, waffle, or fancy waffle cones topped with chocolate, sprinkles, or nuts). They also serve sundaes, ice cream sandwiches, shakes, and slushies.
In addition to ice cream, Twistee Treat sells a limited fast food menu of all-beef ballpark hot dogs.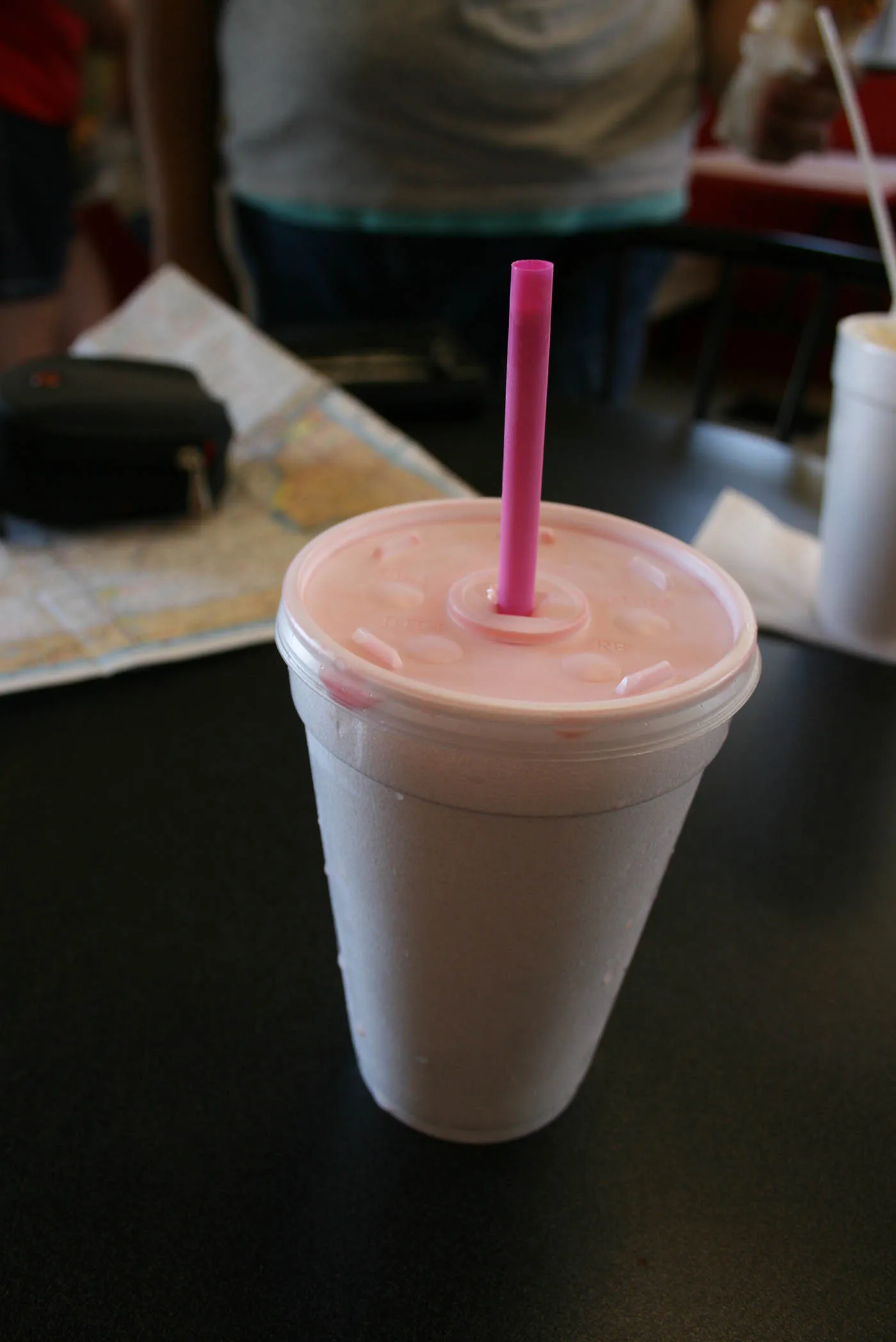 ---
Twistee Treat Ice Cream Shaped Building
East Peoria location: M&M Twistee Treat, 1207 E Washington St, East Peoria, IL 61611 (Check out the big rooster nearby)
Cost: Free to see, food costs vary
Hours: hours vary by location
---
Pin this roadside attraction: