If you love roadside attractions, you'll certainly think that this is a good road trip stop. Probably, better than good. Glenn Goode's Big People in Gainesville, Texas showcases not one, not two, but six roadside attractions in one.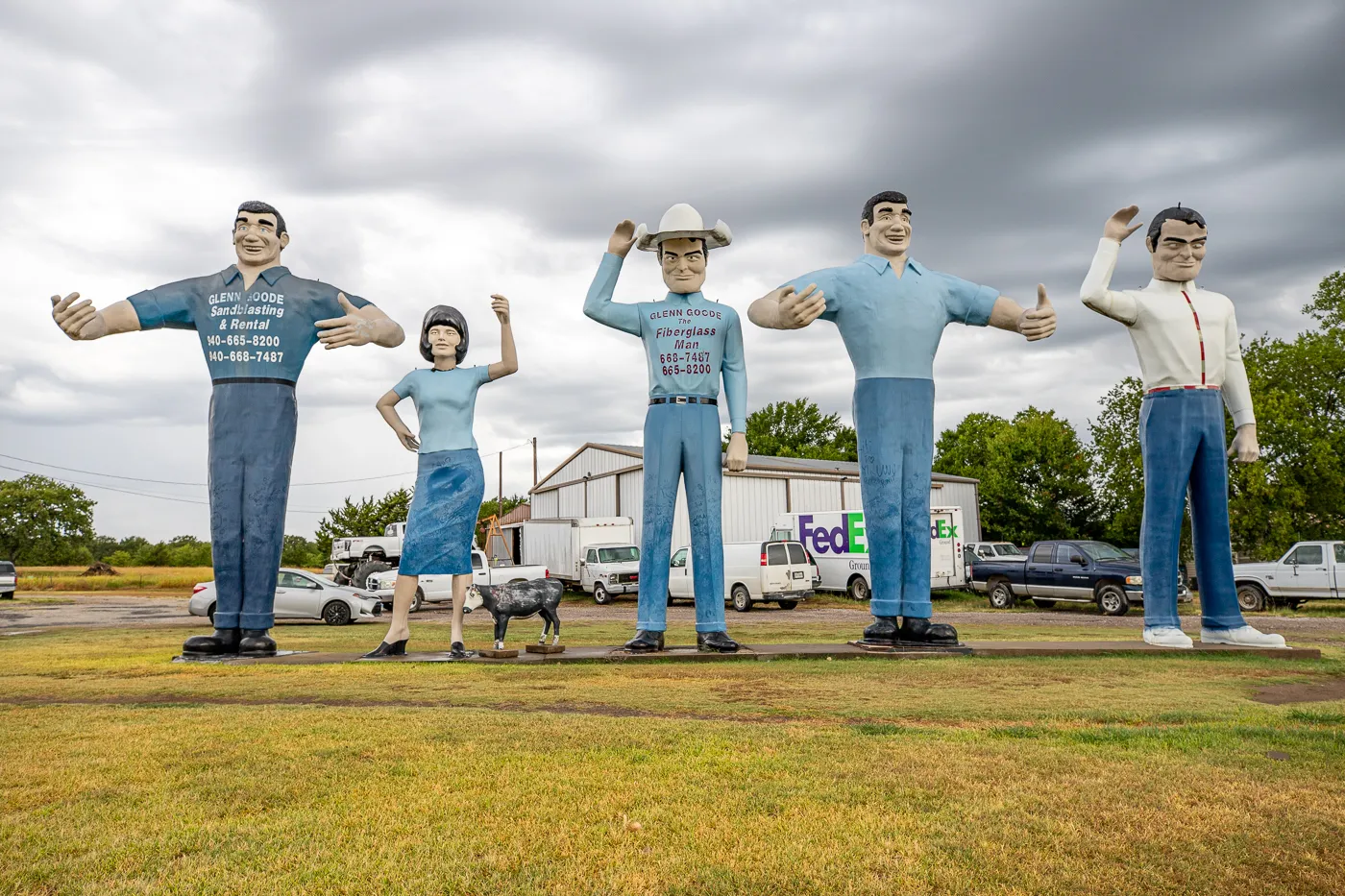 This gigantic collection is the work of Glen Goode, who assembled the giants in front of his sandblasting business. Since 1971 he acquired, repaired, and recasted giants from around the county.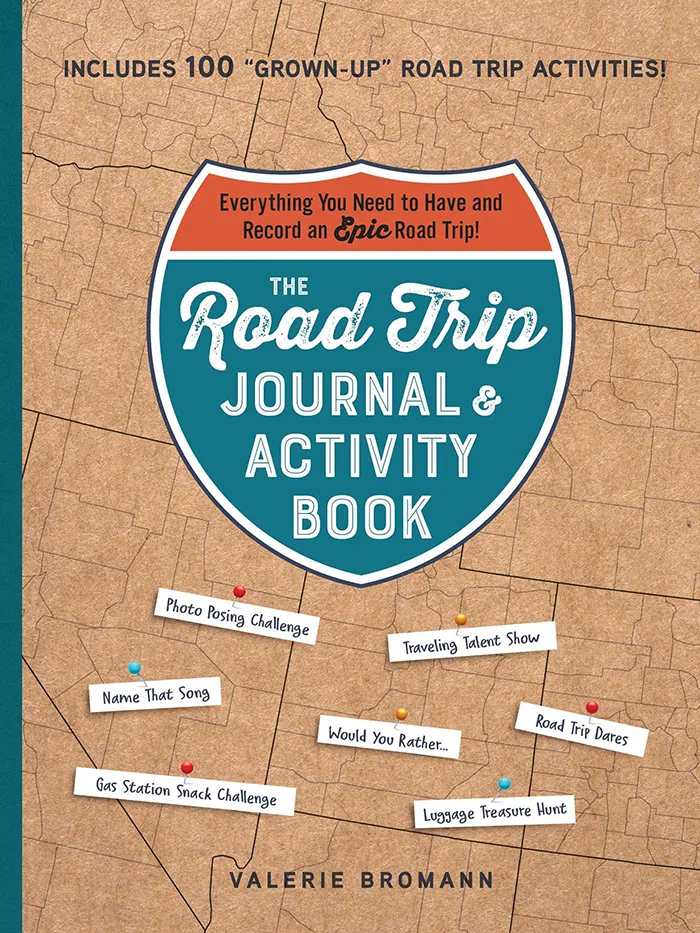 The Road Trip Journal & Activity Book
Everything You Need to Have and Record an Epic Road Trip!
Enjoy fun games and challenges to pass the time on your next road trip and have a keepsake to look back on for years to come with this entertaining must-have for your next vacation.
What resulted from years of work was an impressive collection of six unique pieces that were remodeled and pieced together from different sources and molds. This menagerie of fiberglass giants includes two muffler men, two Big Johns, a Uniroyal Gal, and a little fiberglass cow.
Glenn Goode passed away in 2015 but his colossi of Big People lives on in his memory. Here are the statues to look for at Glenn Goode's Big People in Gainesville, Texas.
Watch the Glenn Goode's Big People Video
Glenn Goode's Big People in Gainesville, Texas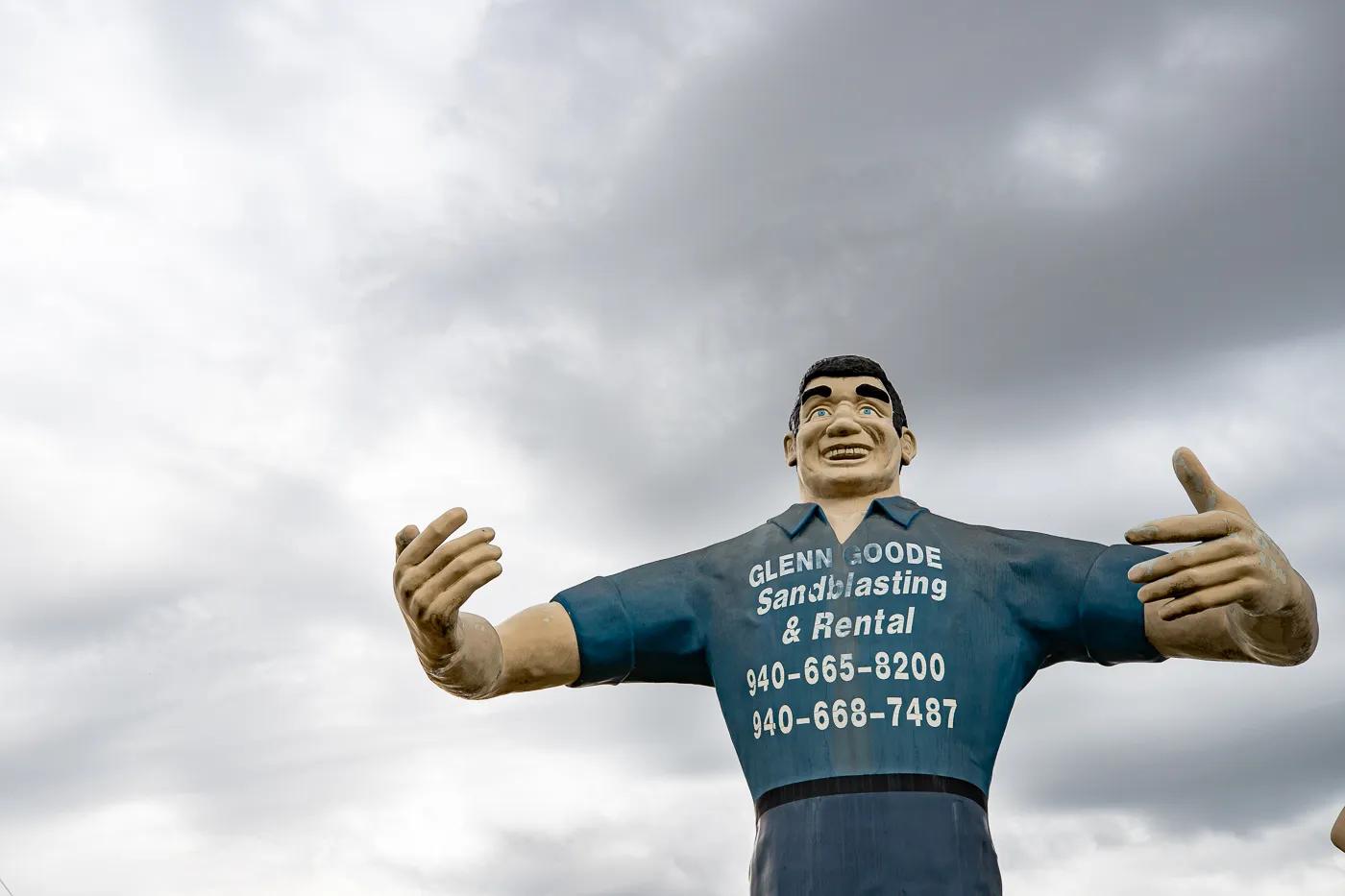 Big John Number 1
This 28-foot tall Big John started his life as a grocery clerk. "Big Johns" are large, broad-chested fiberglass men who stood with their legs together and their bulking arms carrying overflowing backs of groceries. They were meant as mascots for the midwestern Big John chain of grocery stores. While these roadside attractions traditionally "wore" red checkered shirts, blue jeans, and an apron, this one has been repainted the wear a blue shirt advertising Glen Goode's Sandblasting and rental. He also lost his grocery bags somewhere along the way.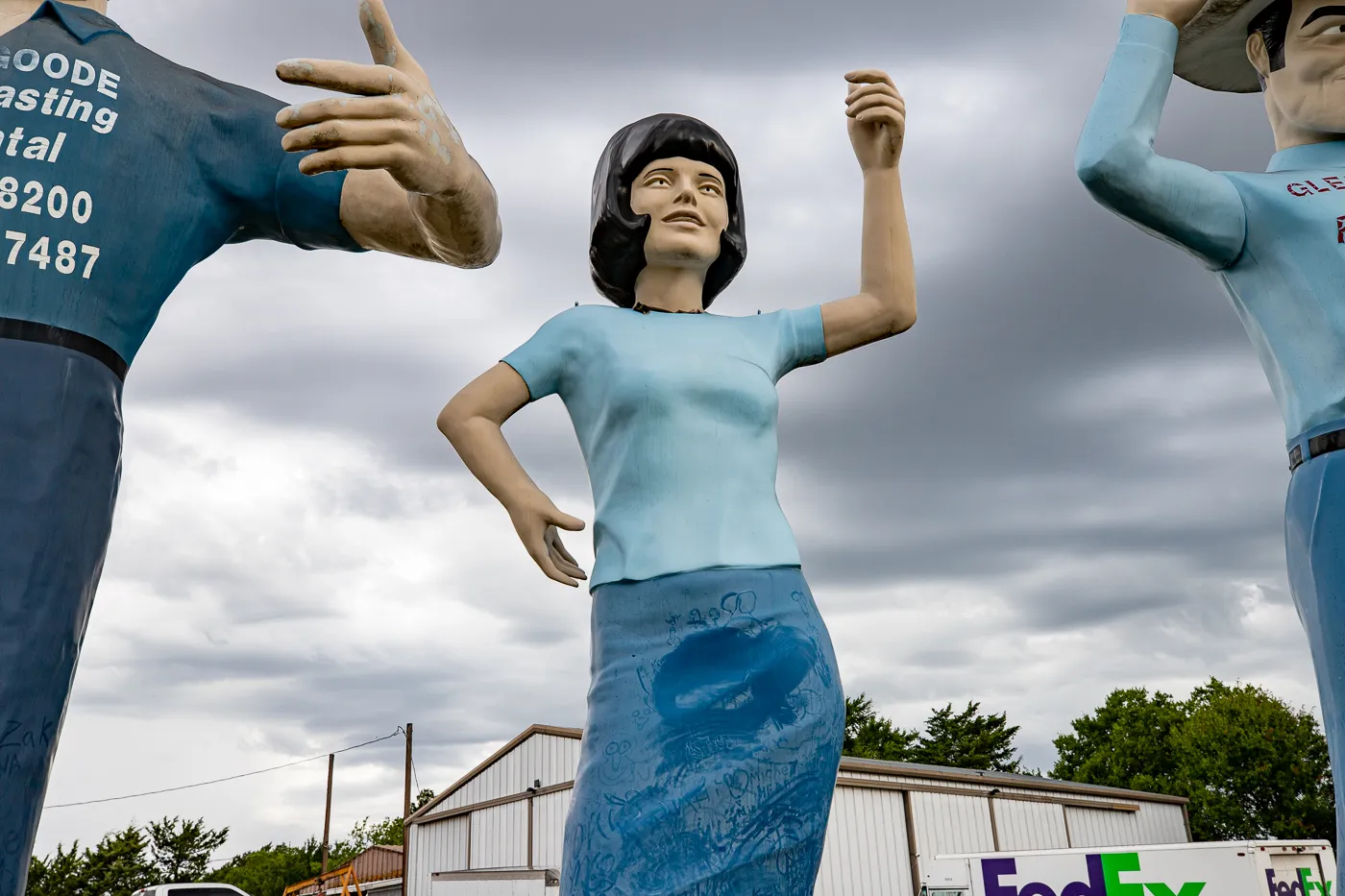 Uniroyal Gal
At 17-feet tall this lady is quite a tall lady. Even if she looks diminutive in comparison to the brood of bulky men beside her. Uniroyal Gals were made by International Fiberglass in the 1960s. They were meant to promote Uniroyal tires and bare an uncanny resemblance to Jackie Kennedy. This Uniroyal Gal came from a Wichita Falls car dealership where she once wore a red bikini. Now she is more modestly dressed in a long blue skirt.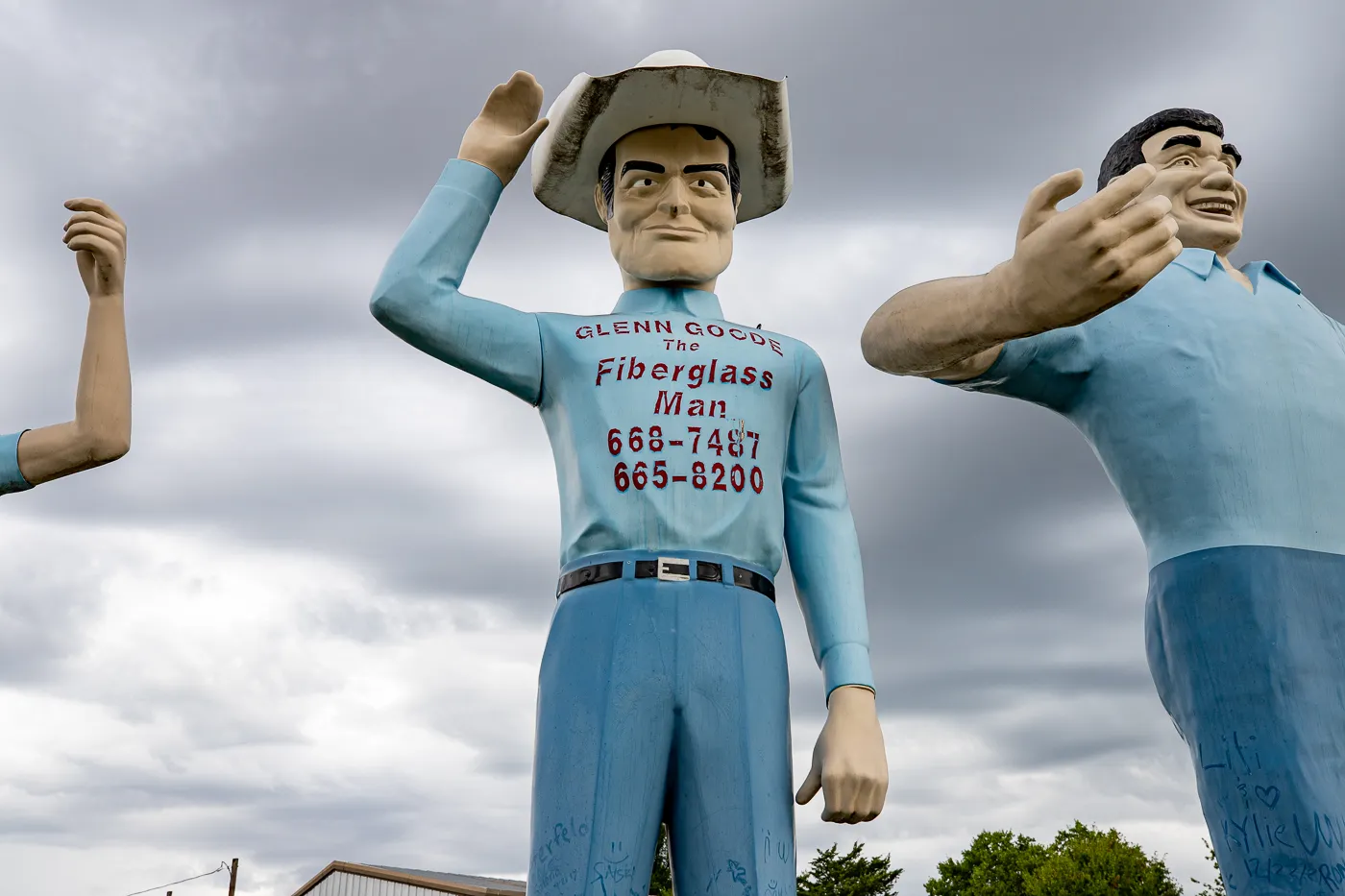 Cowboy Muffler Man
This 22-foot tall cowboy style muffler man stands tall with his right arm bent upwards and left arm straight down. On his head he dons a distinctive giant stetson hat.
Muffler men roadside attractions are fiberglass giants who stand anywhere from 14 to 25 feet tall. Each has a similar design and was built between 1963 and 1972 by International Fiberglass in Venice, California. With signature stances, these big men stood outside of muffler shops and other businesses to call attention from the road.
Goode acquired this muffler man in 1971 from a go-cart track in Garland, Texas.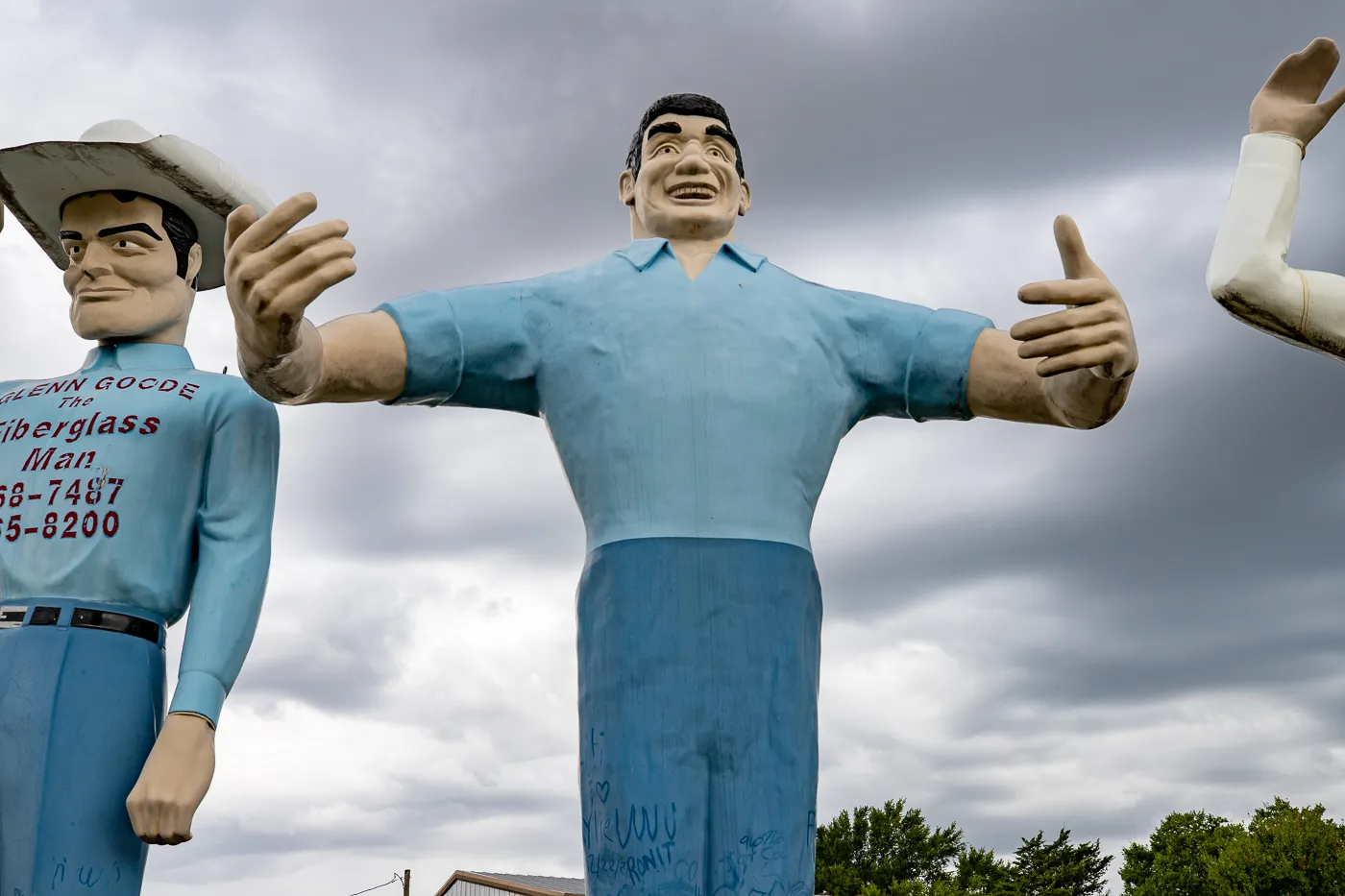 Big John Number 2
The fourth giant in this impressive lineup is another Big John. This one is painted to wear a lighter blue shirt, sans advertising.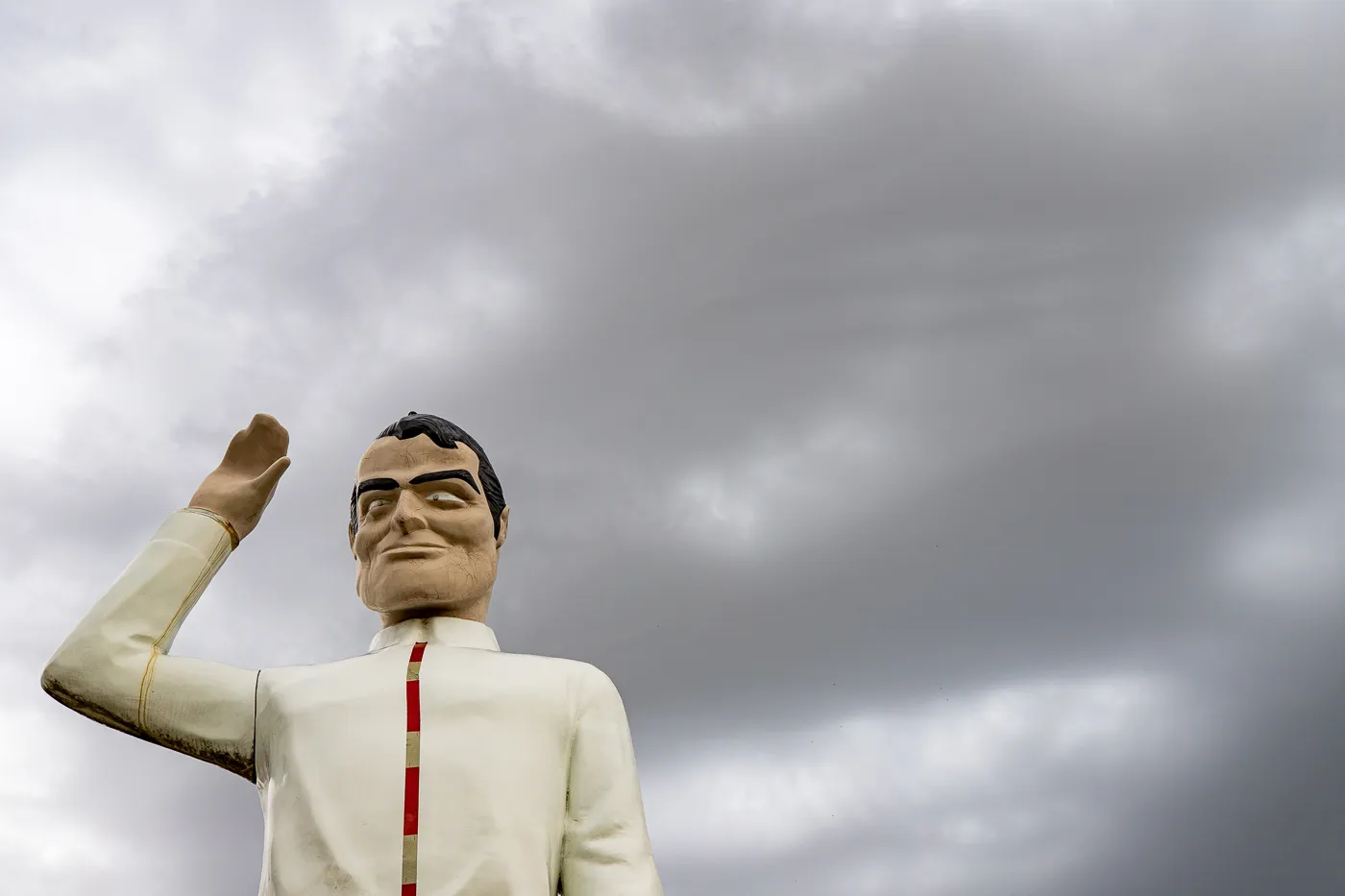 Hatless Cowboy Muffler Man
The final giant in this row is another cowboy muffler man, though, without a hat, he might not look so much like a cowboy.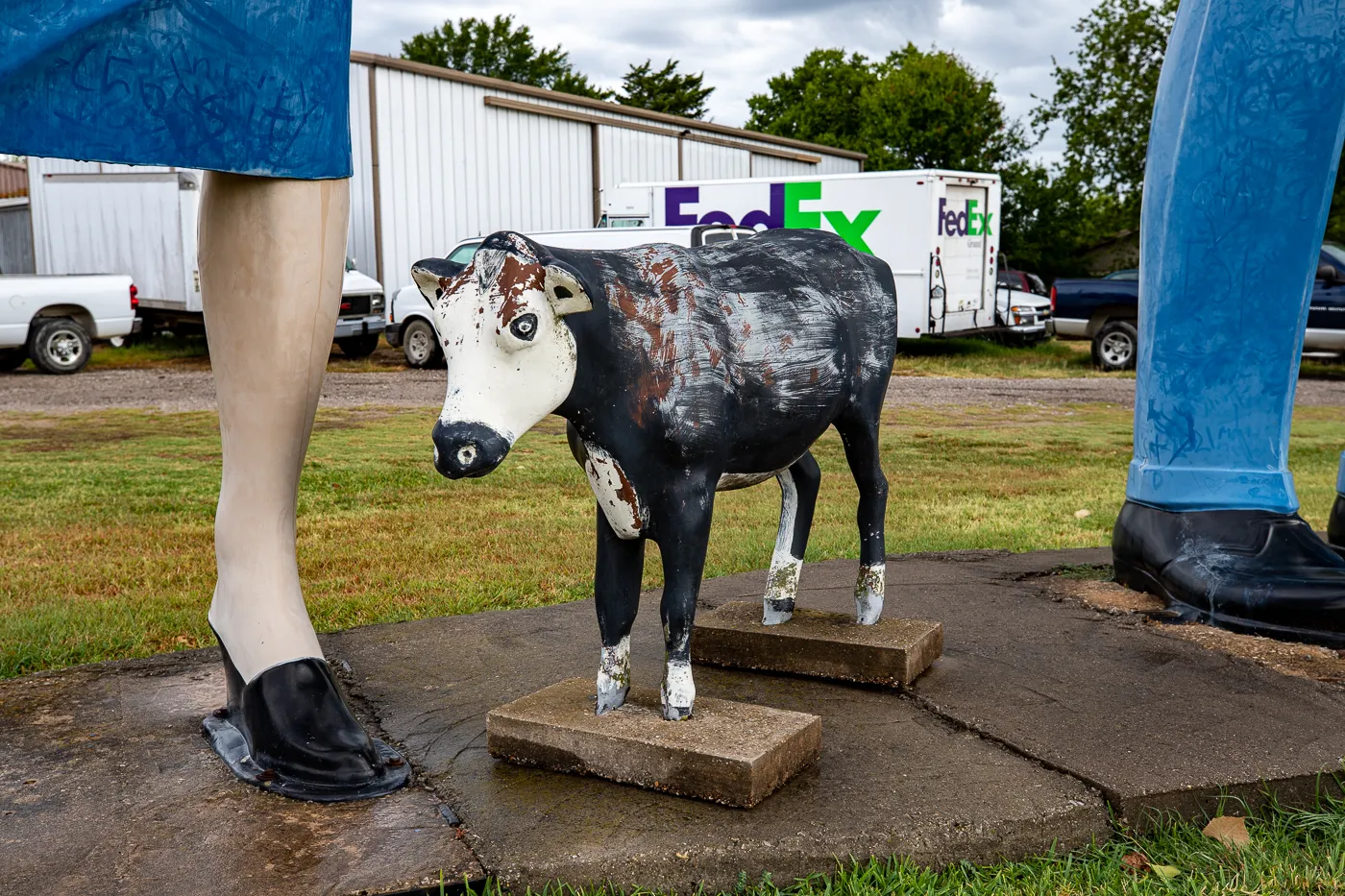 Fiberglass Cow
Rounding out the collection of fiberglass giants is a lot so giant cow. The little fiberglass cow stands between the Uniroyal Gal and the cowboy muffler man.
More Photos of Glenn Goode's Big People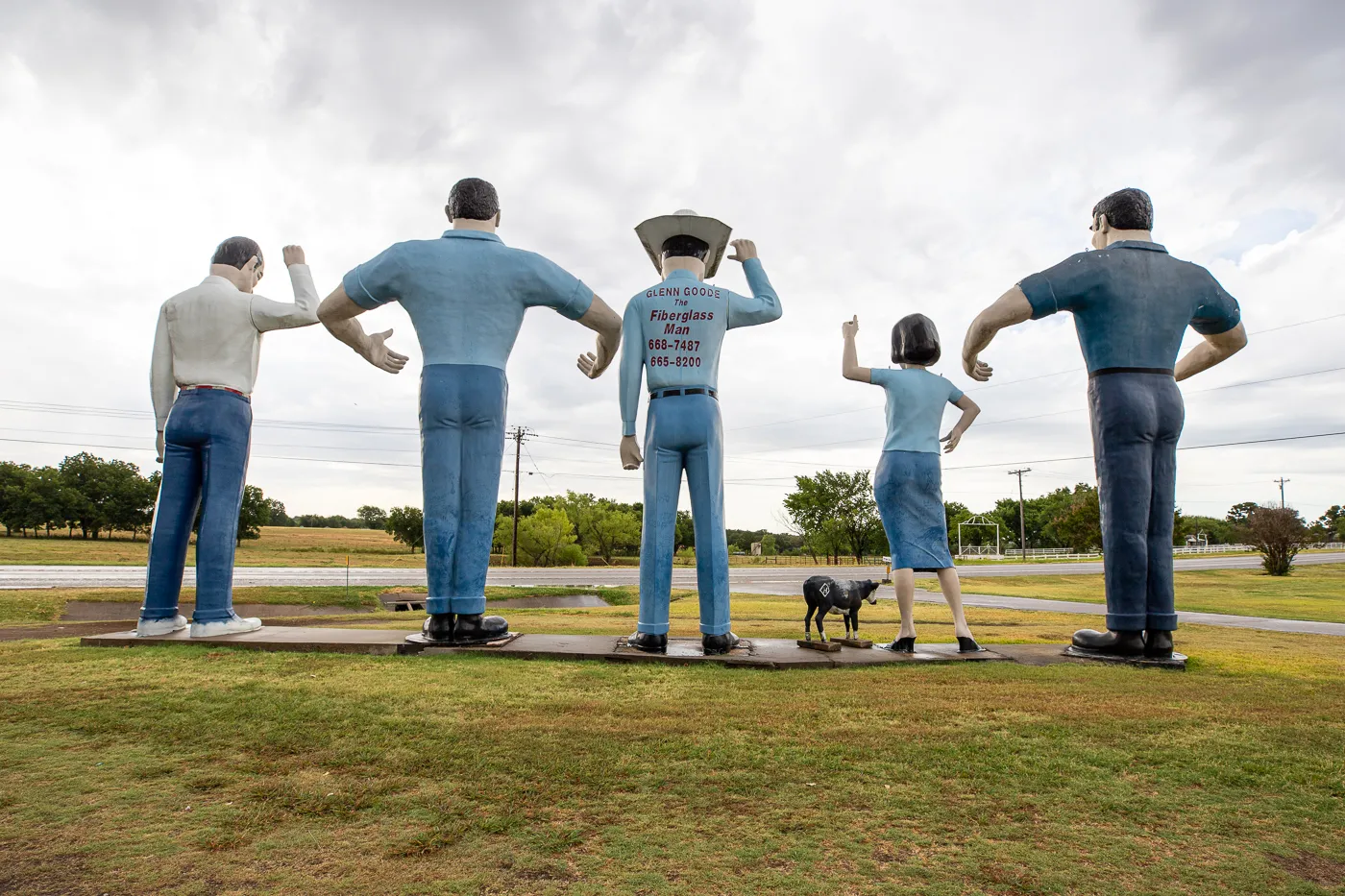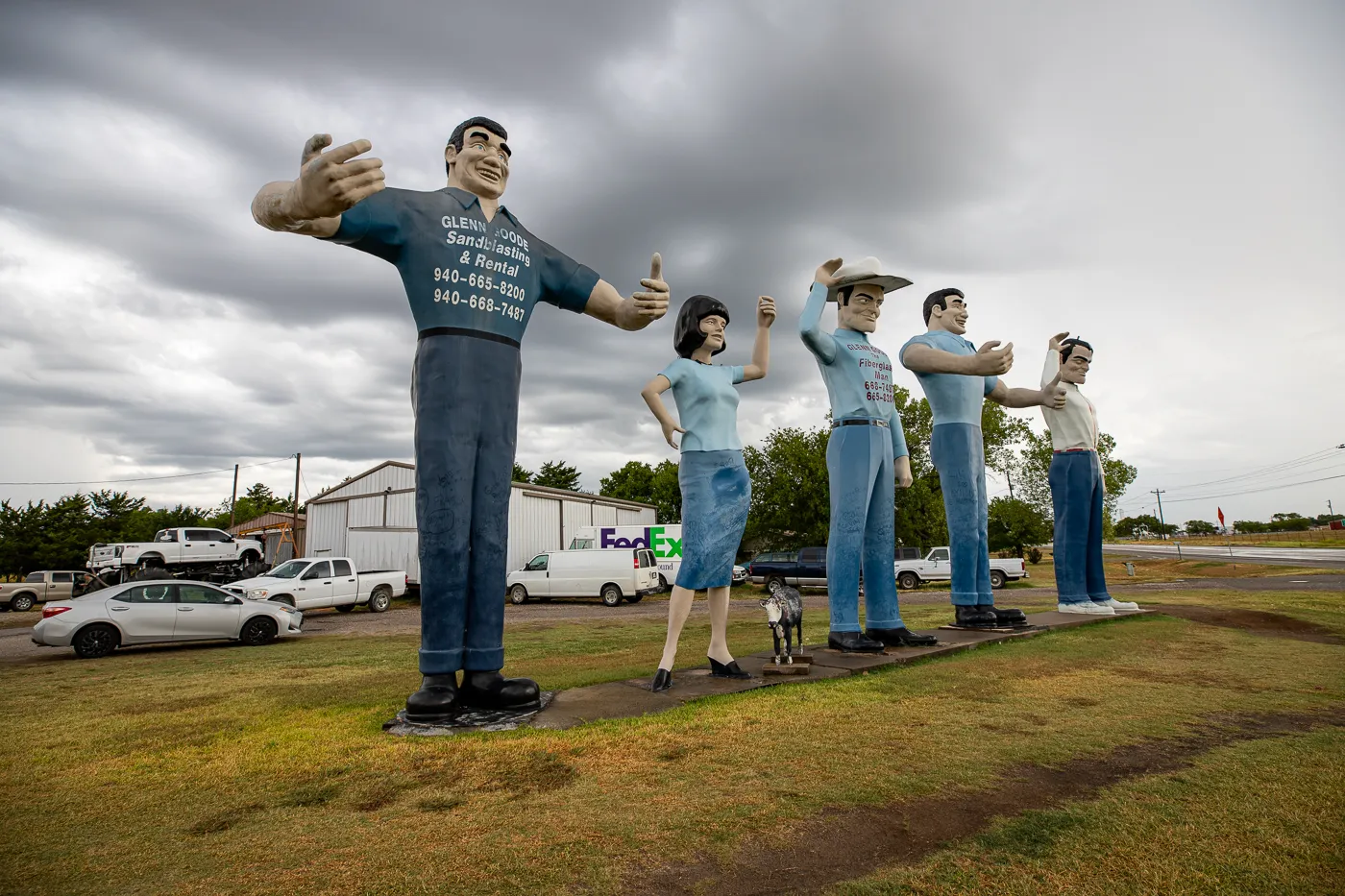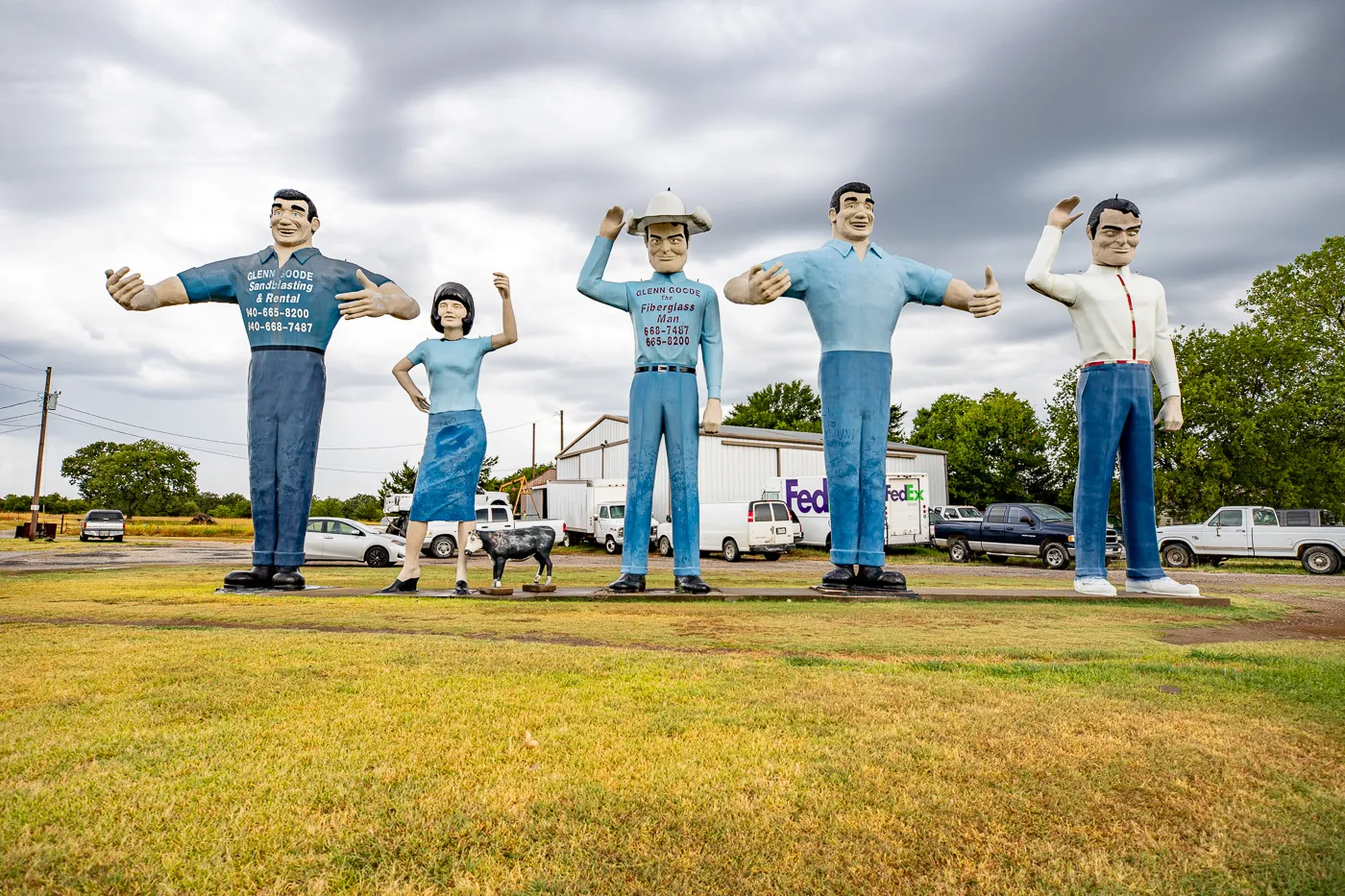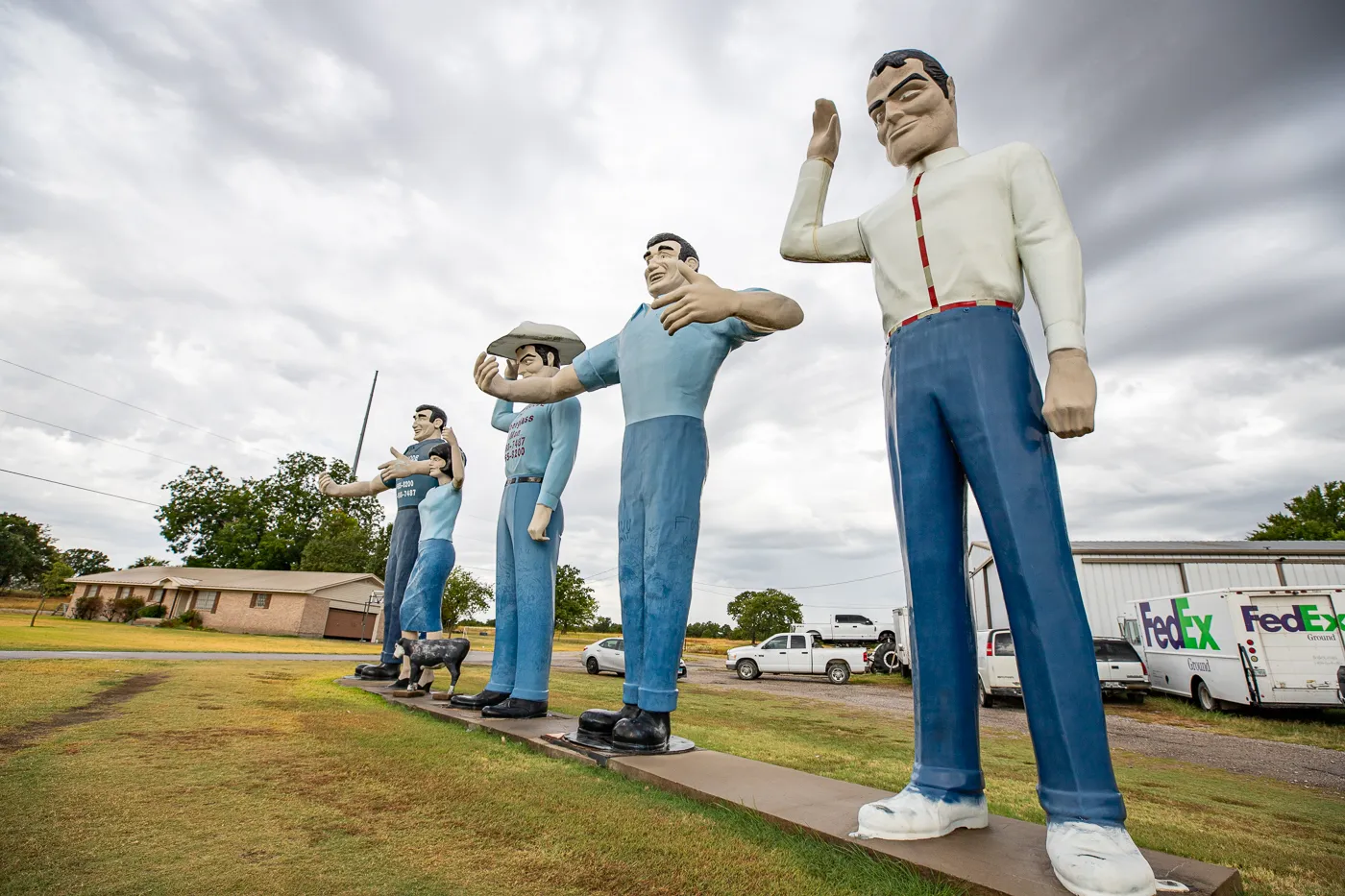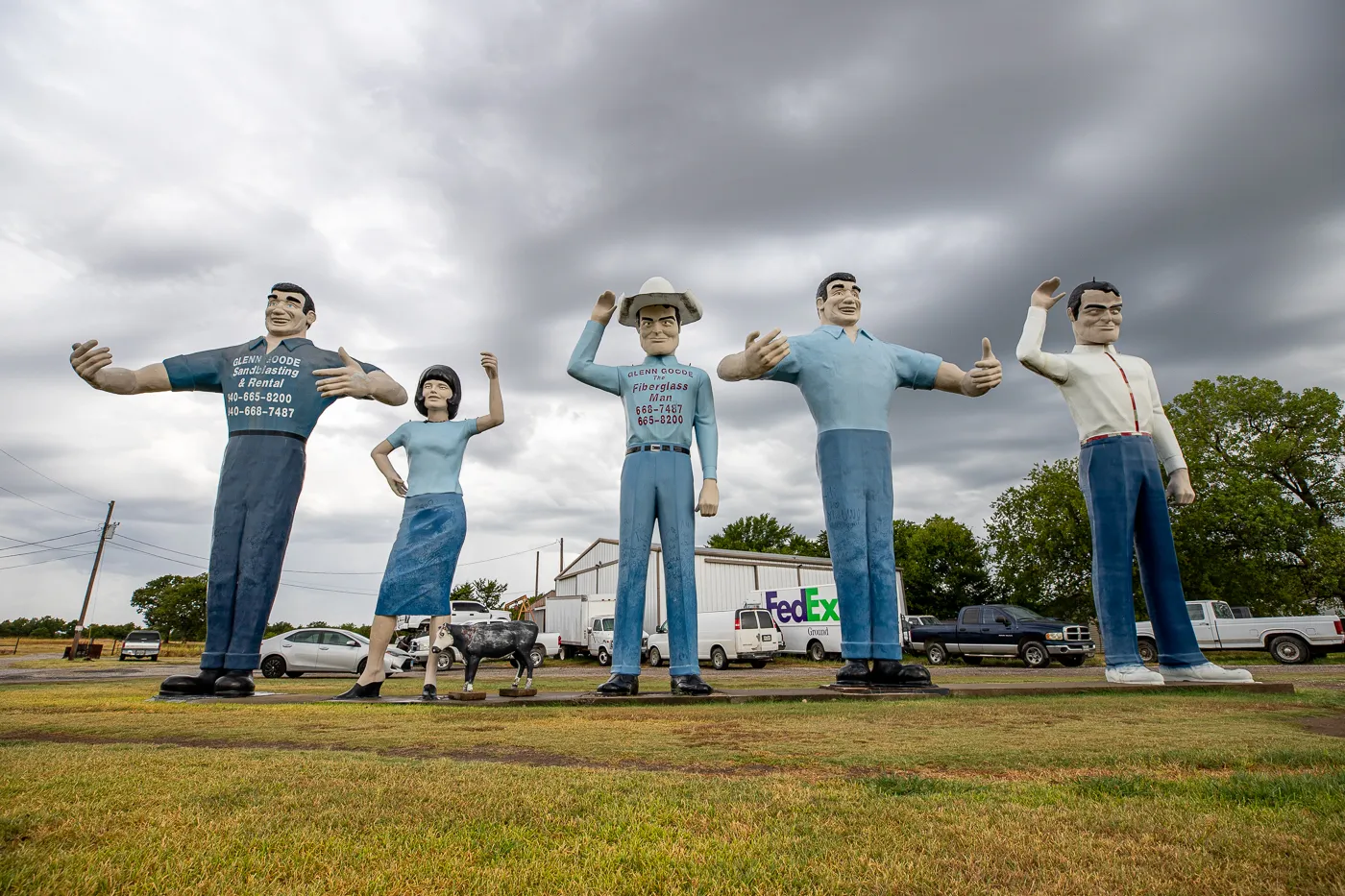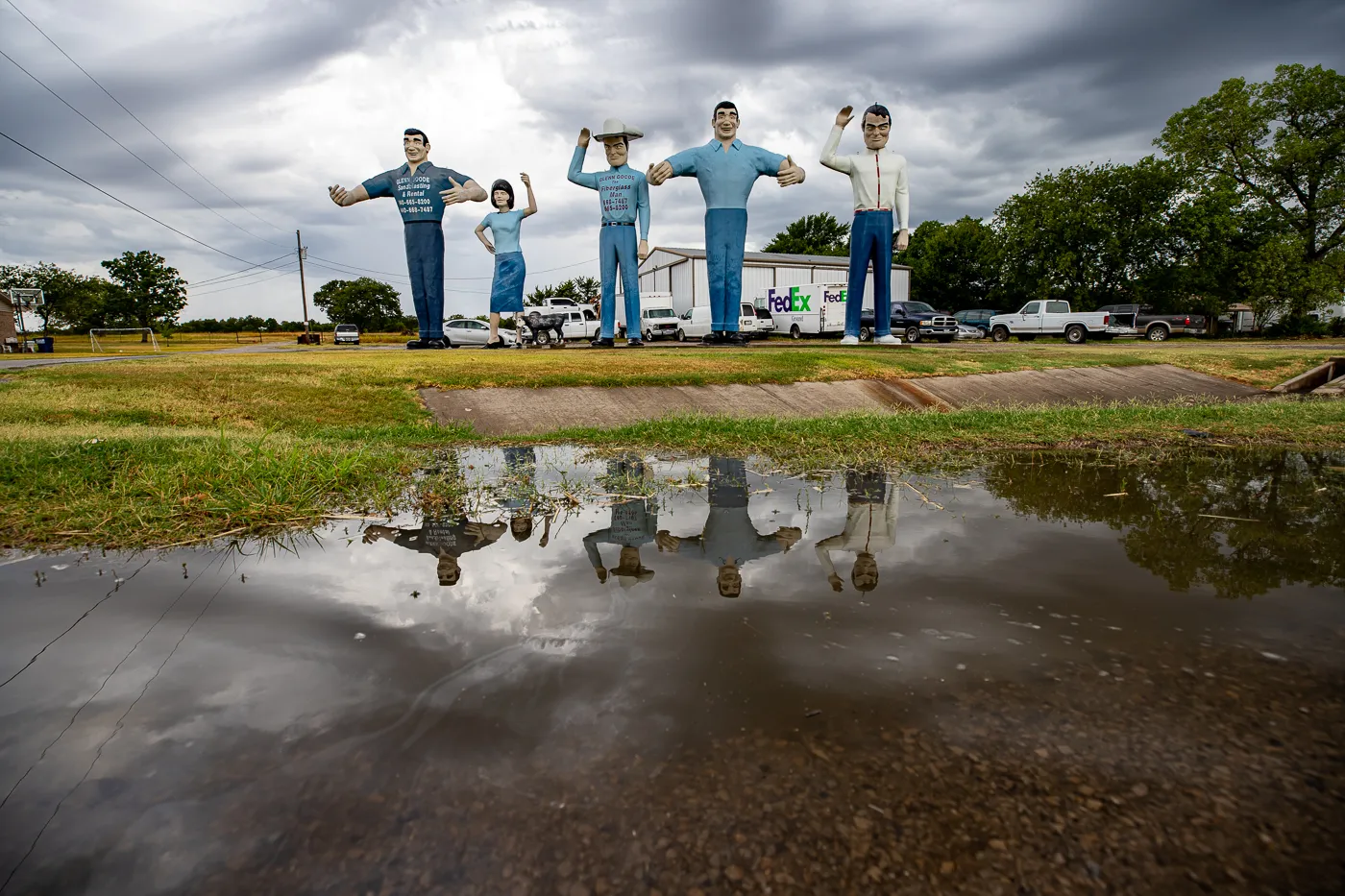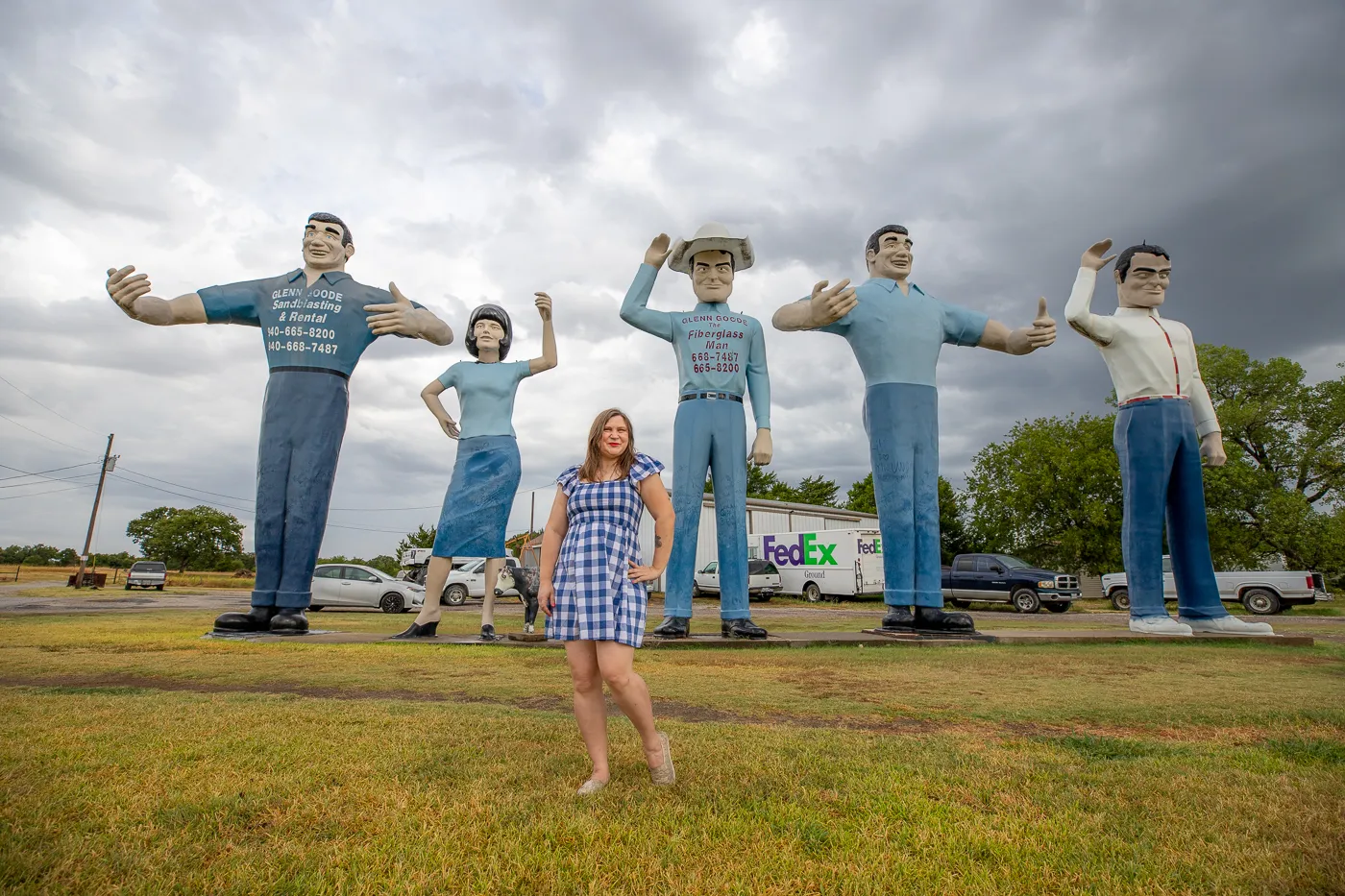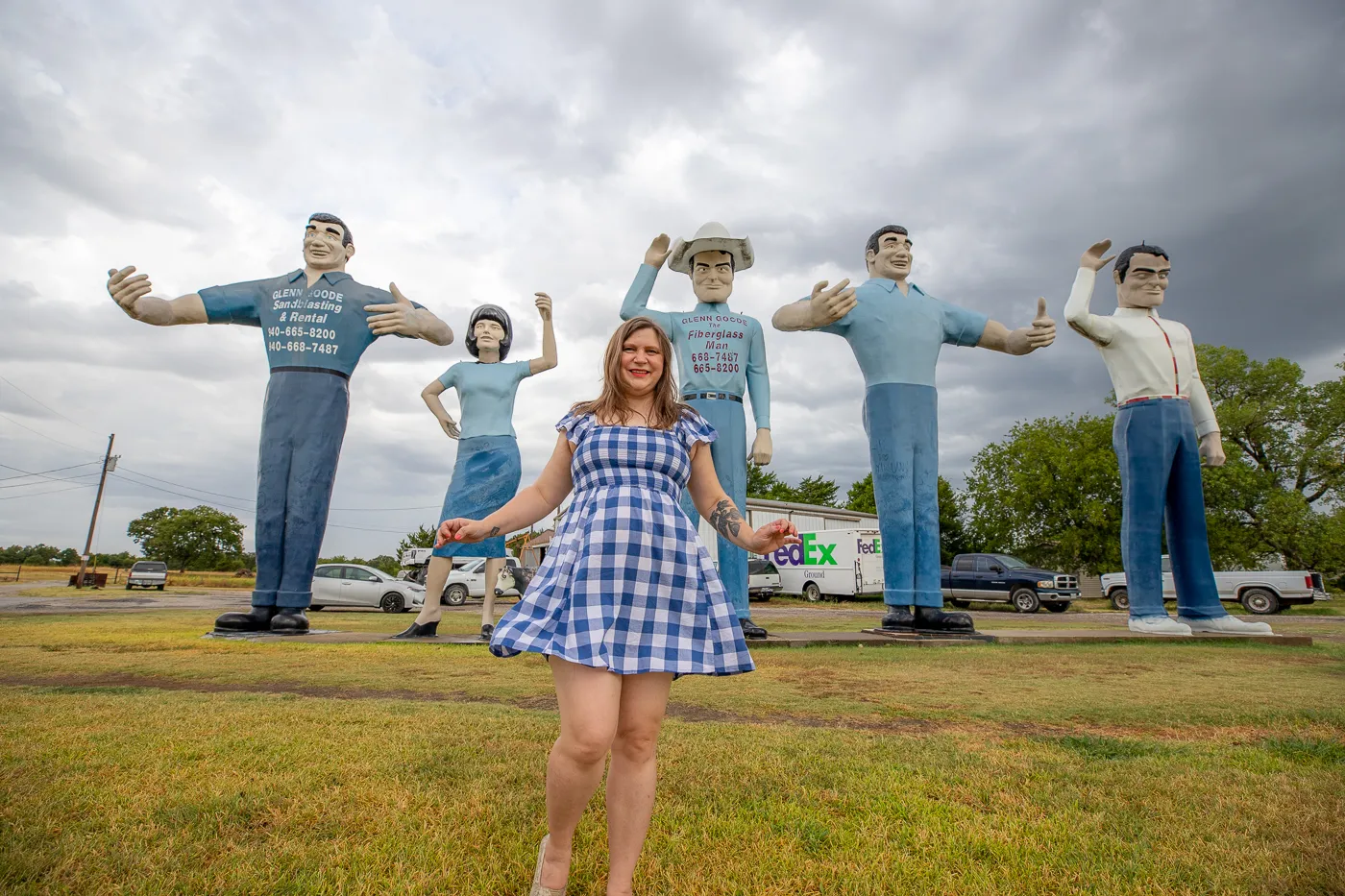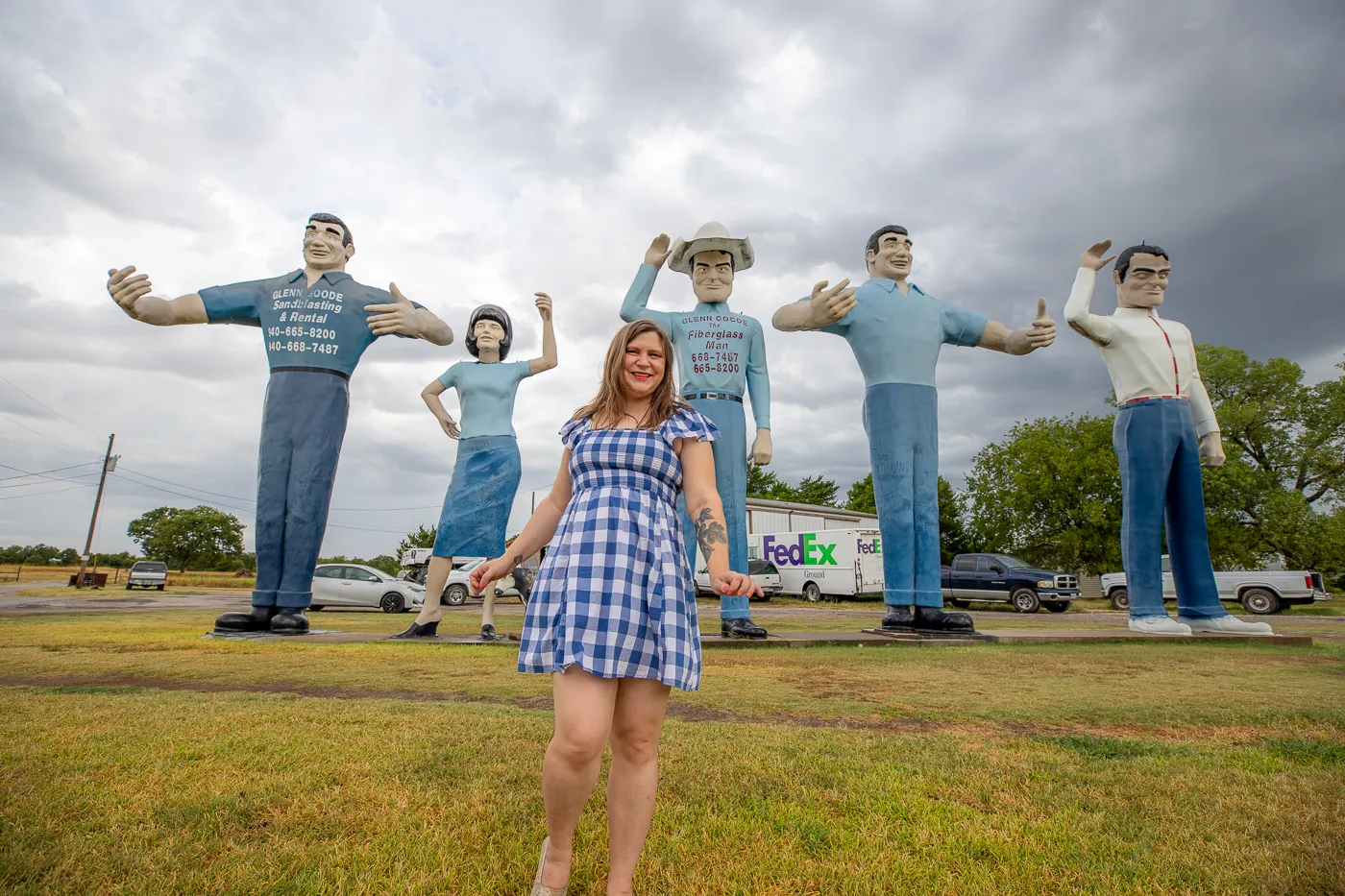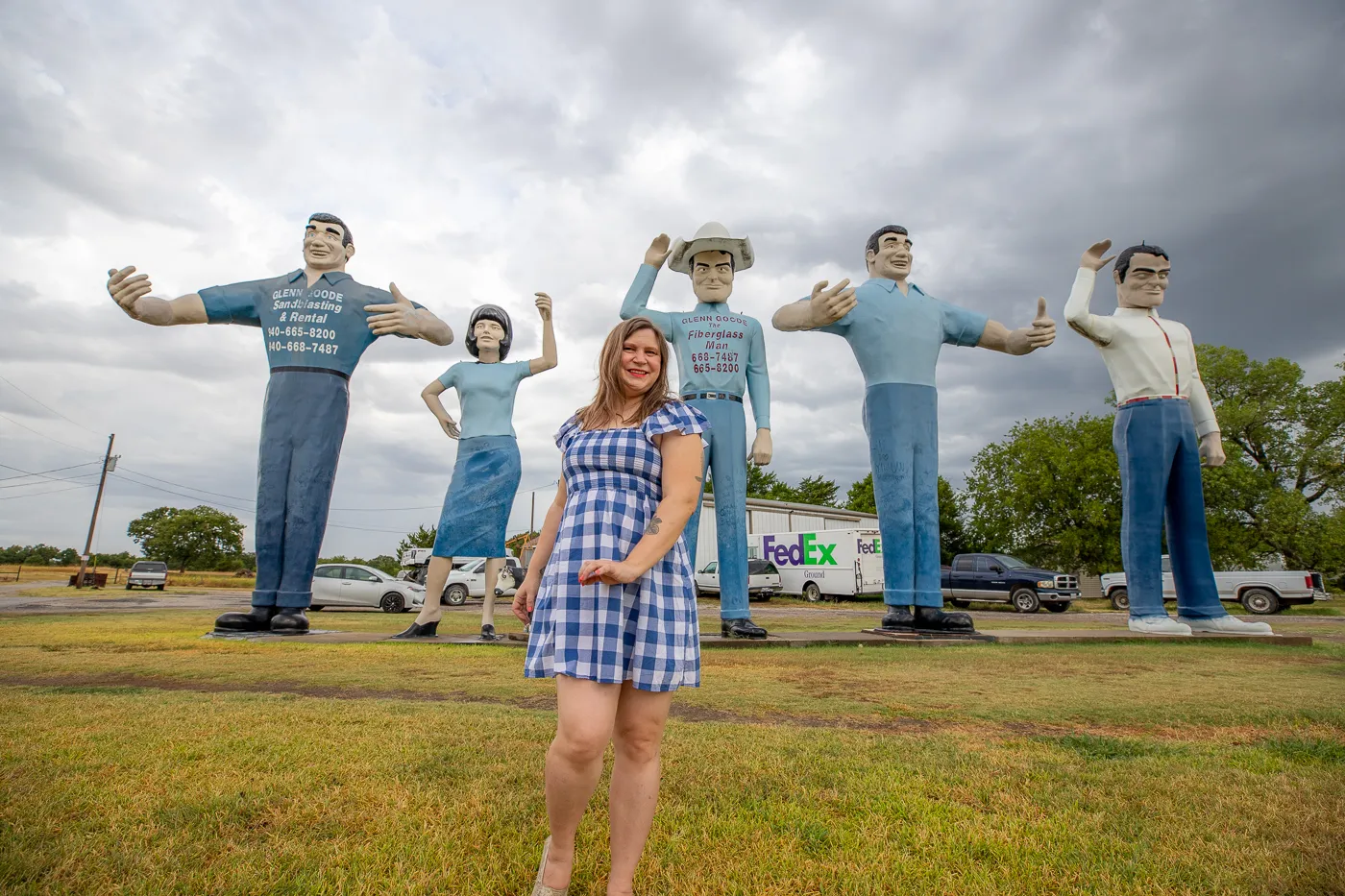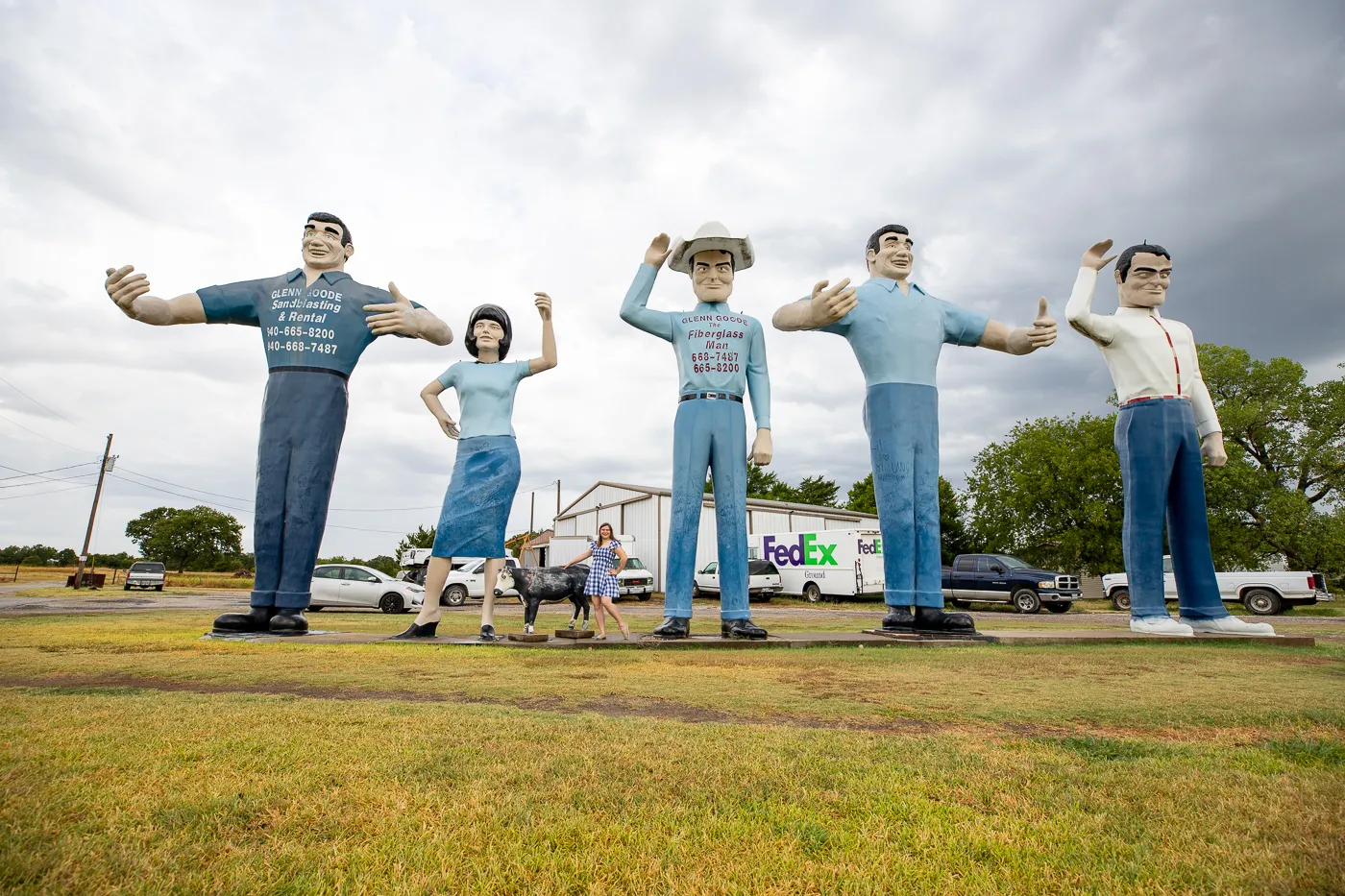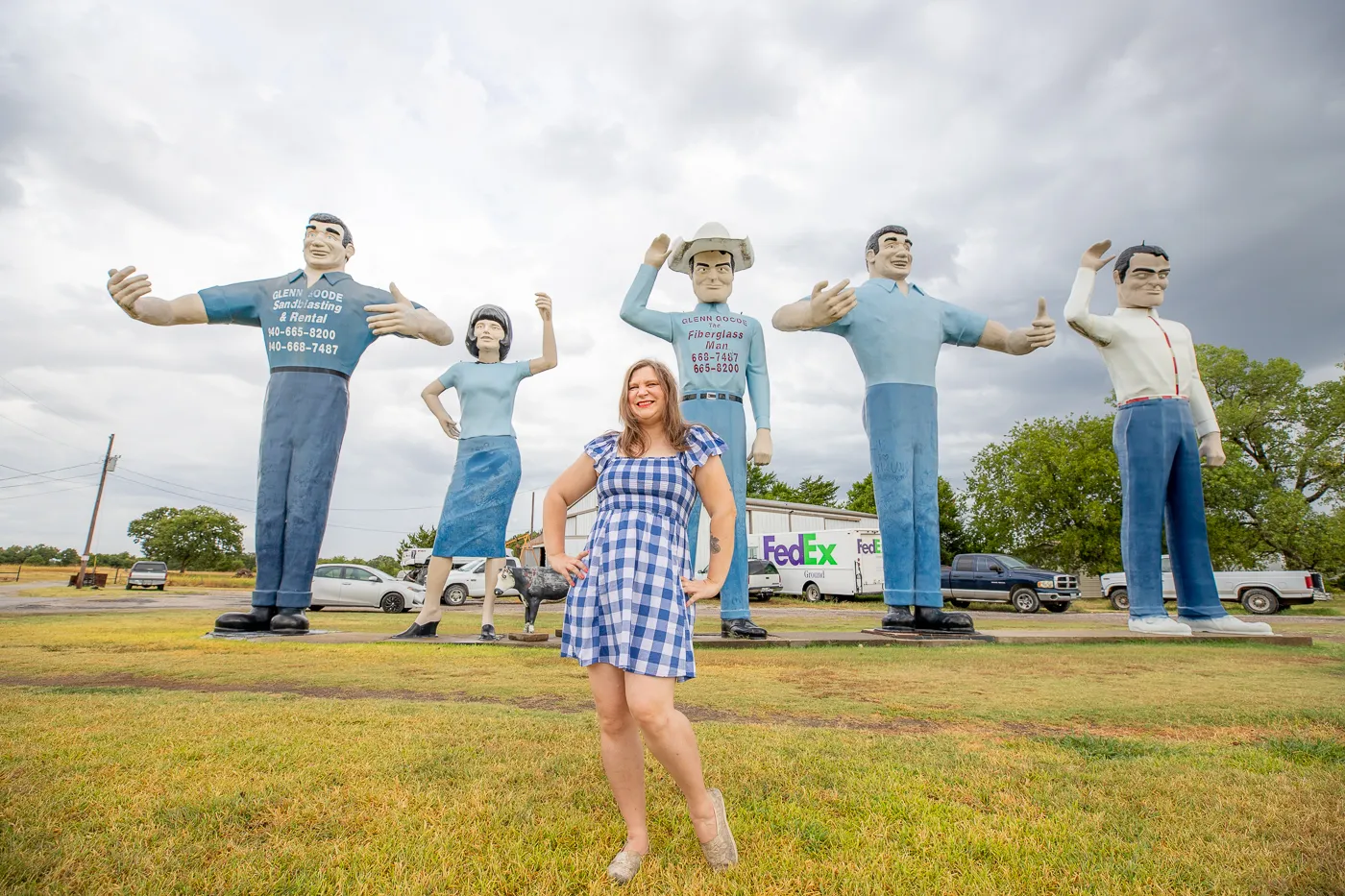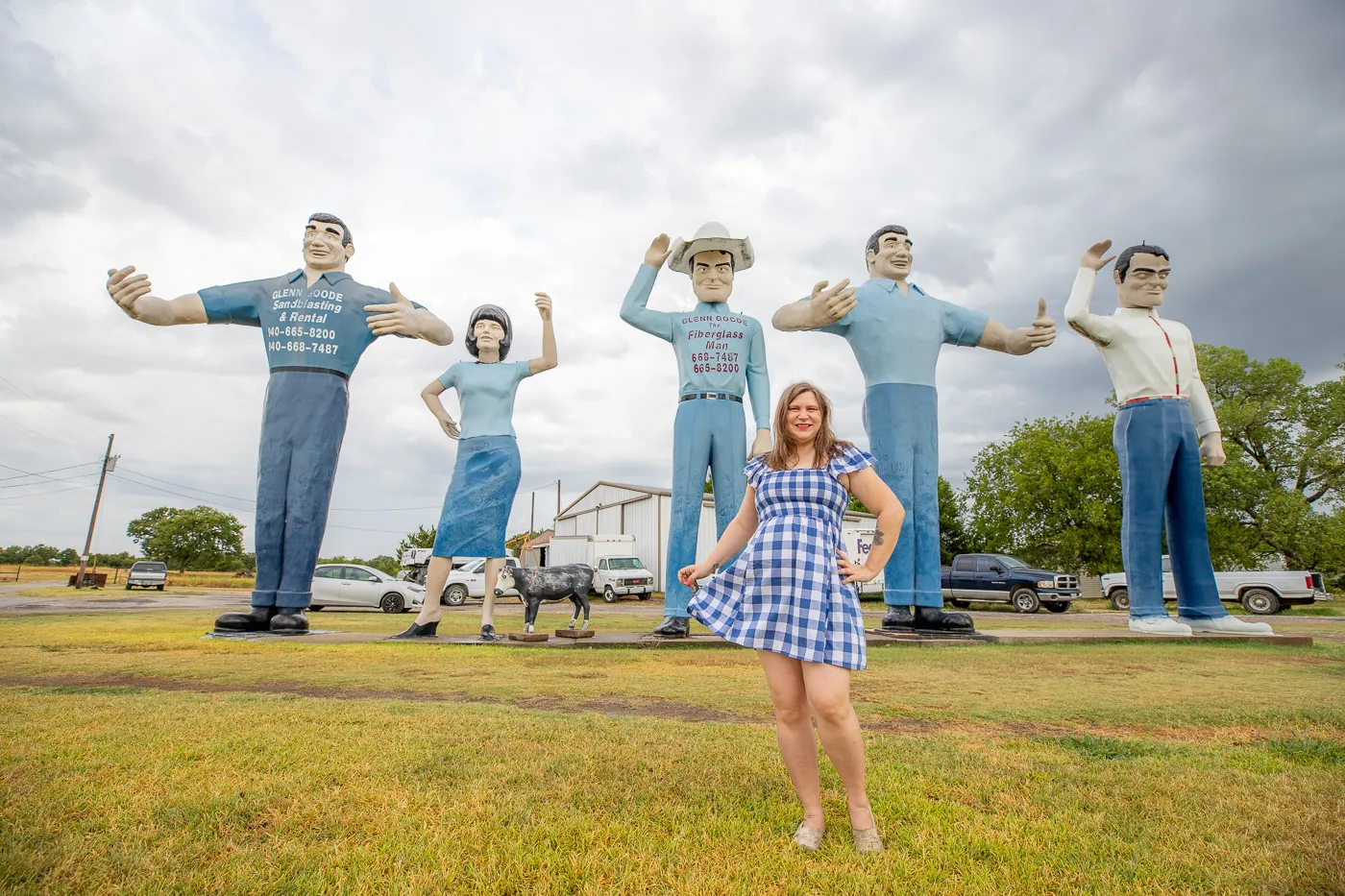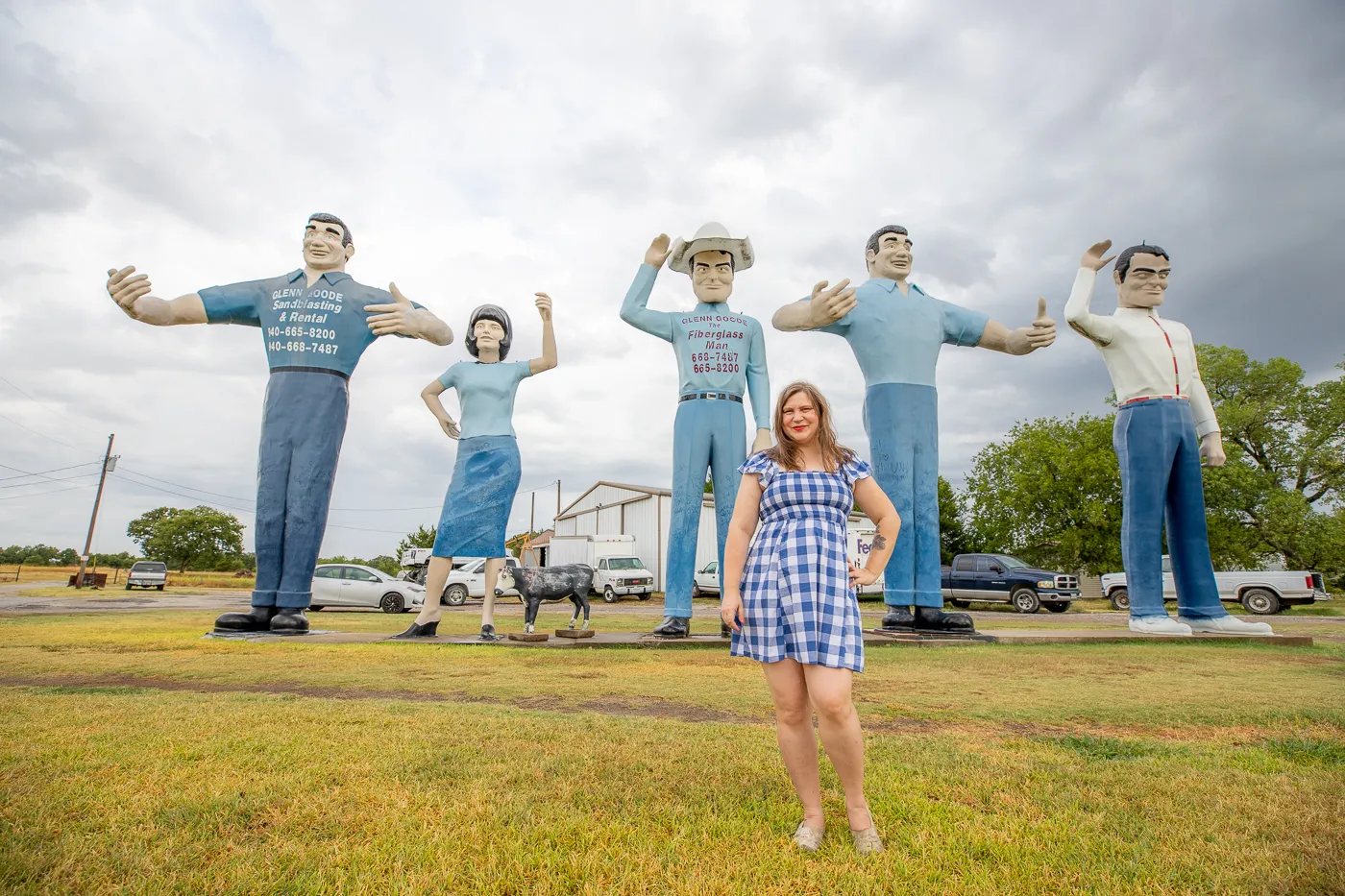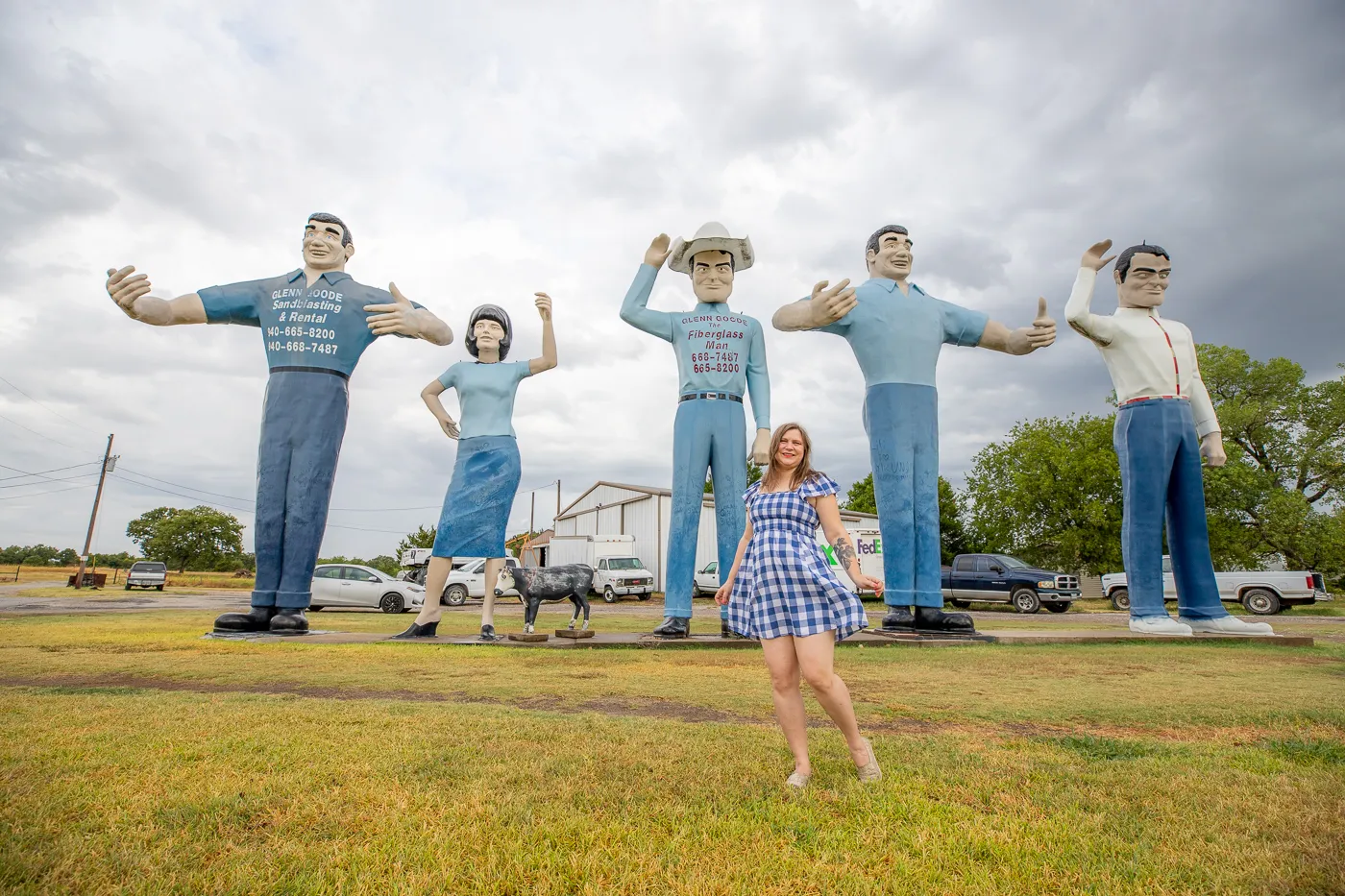 If you're taking a day trip from Dallas, Texas and looking for more Texas roadside attraction on I-35, also make room in your itinerary for the big pink pig smoker, Atomic Candy muffler man heads, The Chairy Orchard, the big spurs, and the big Horse Chess Piece.
Glenn Goode's Big People in Gainesville, Texas
Address: 1719 FM371, Gainesville, TX
Cost: Free to See
Hours: Always Visible
Pin this Texas RoadSide Attraction