We were nearing the end of our day-long Chicago road trip. We'd spent all morning visiting the Mr. Bendo Muffler Man, the Leaning Tower of Niles, the Golden Pyramid House, among other Chicago roadside attractions. It was getting dark, but there was still time for our penultimate stop: the giant hot dog topped with fries at Henry's Drive-In in Cicero, Illinois.
Henry's Drive-In is a Route 66 institution, having served fast-food fare to hungry travelers (and locals) since the 1950s. It was opened then by a man whose name, surprise surprise, was Henry.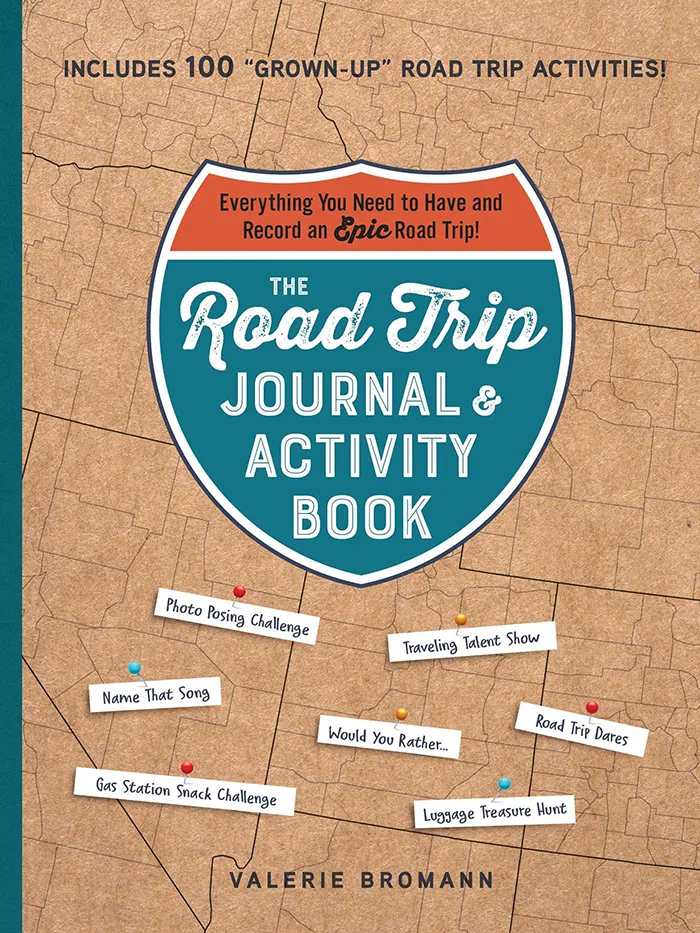 The Road Trip Journal & Activity Book
Everything You Need to Have and Record an Epic Road Trip!
Enjoy fun games and challenges to pass the time on your next road trip and have a keepsake to look back on for years to come with this entertaining must-have for your next vacation.
The drive-in's menu is what you'd expect from a Chicago-area hot dog stand: Italian beef sandwiches, Italian sausage sandwiches, combo Italian beef Italian sausage sandwiches, Tom-Tom tamales on a bun topped with chili. But, of course, the star menu item is a Chicago-style hot dog wrapped up with fries.
Chicago-style hot dogs are often referred to as being topped with a "salad," and that's not entirely wrong. All-beef Vienna Beef dogs on a poppy seed bun topped with yellow mustard, chopped white onions, bright green sweet pickle relish, a dill pickle spear, tomato, pickled sport peppers and a dash of celery salt. The giant hot dog outside is closer to what some people call the "original Chicago hot dog," or a "Depression Dog," a hot dog topped with onion, relish, mustard, sport pepper, and fries (which were usually wrapped up in wax paper with the hot dog).
It was dark when we got to Henry's Hot Dogs, our last stop before visiting the famed Spindle (now, sadly torn down), and so didn't get any great photos of the sign: a neon arrow declaring Henry's as "It's a meal in itself!" topped with that giant hot dog and fries. Nor did we stop for food.
So, hopefully, this Route 66 restaurant that's been standing for 70 years will still be standing for many more so I can stop once again at this Illinois roadside attraction when I someday drive the Mother Road.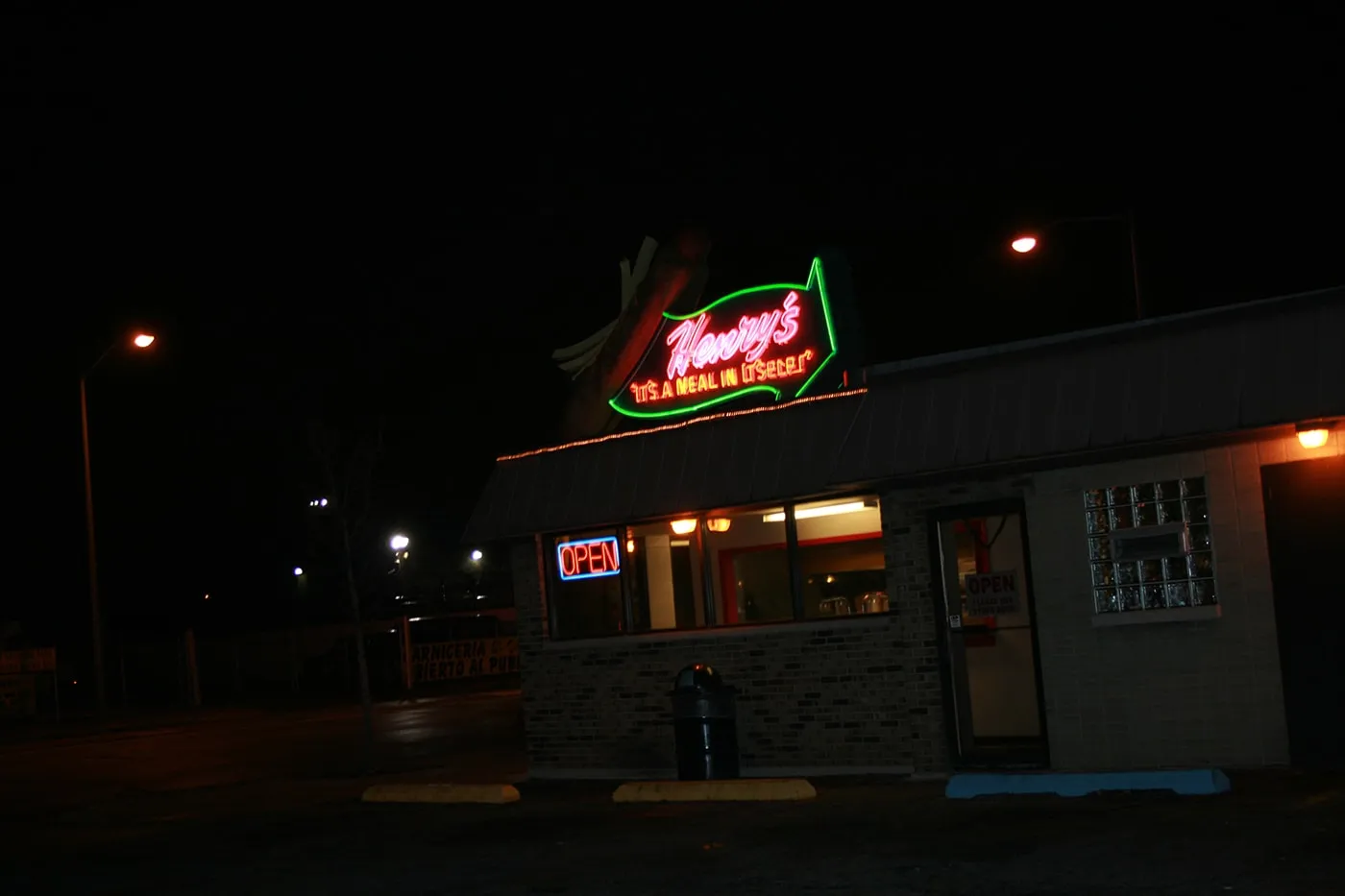 Update: Henry's Hot Dogs: October 2021
I did indeed stop again on a Route 66 road trip. It was my first stop on a trip that took me from Chicago, Illinois to the Route 66 midpoint in Adrian, Texas. I stopped to take new, better, photos of the giant hot dog and grab some lunch. My hunger that afternoon didn't quite match up to the size of this roadside attraction. So I opted for just an Italian beef sandwich, wet, of course, and an RC cola.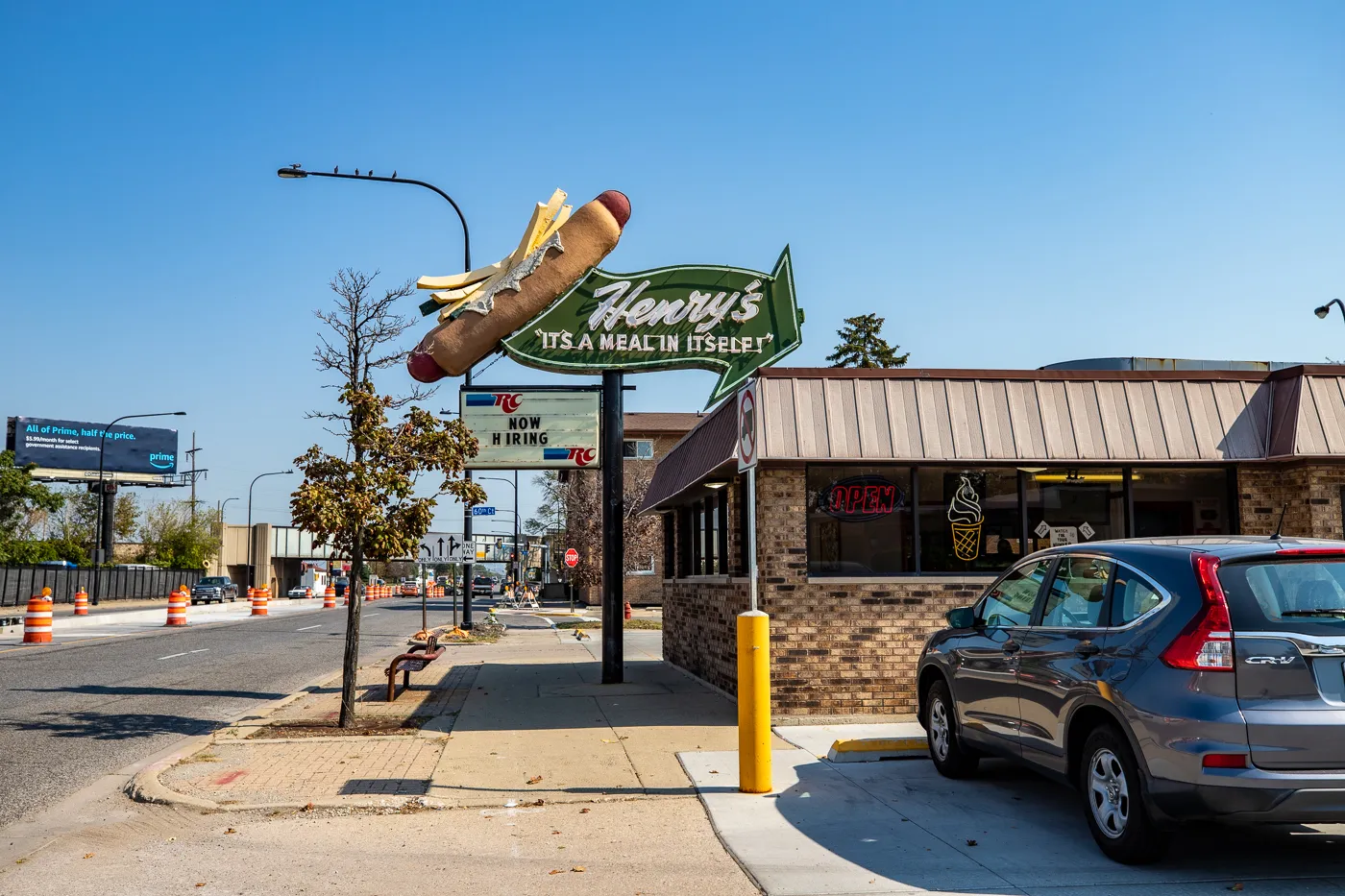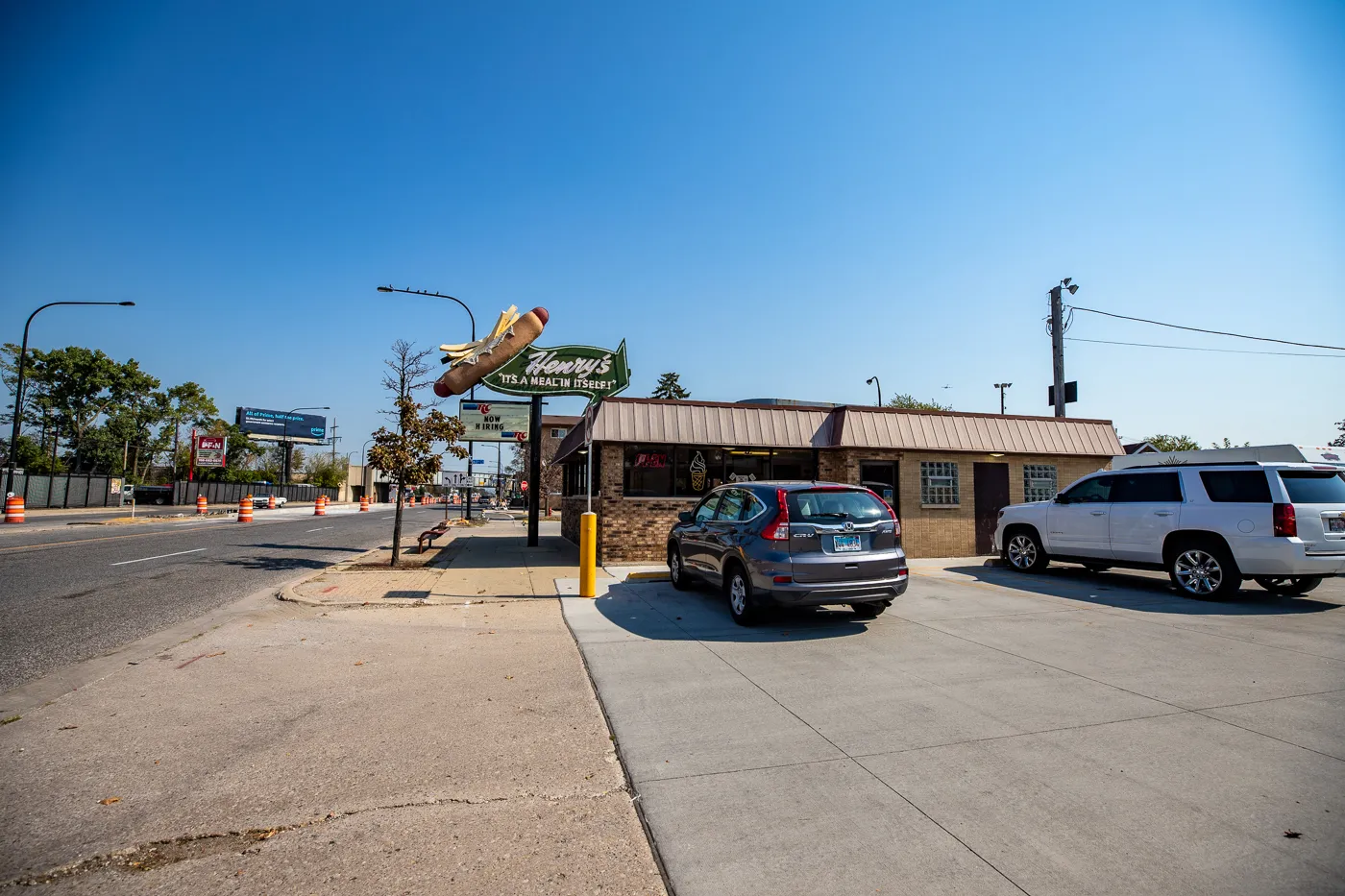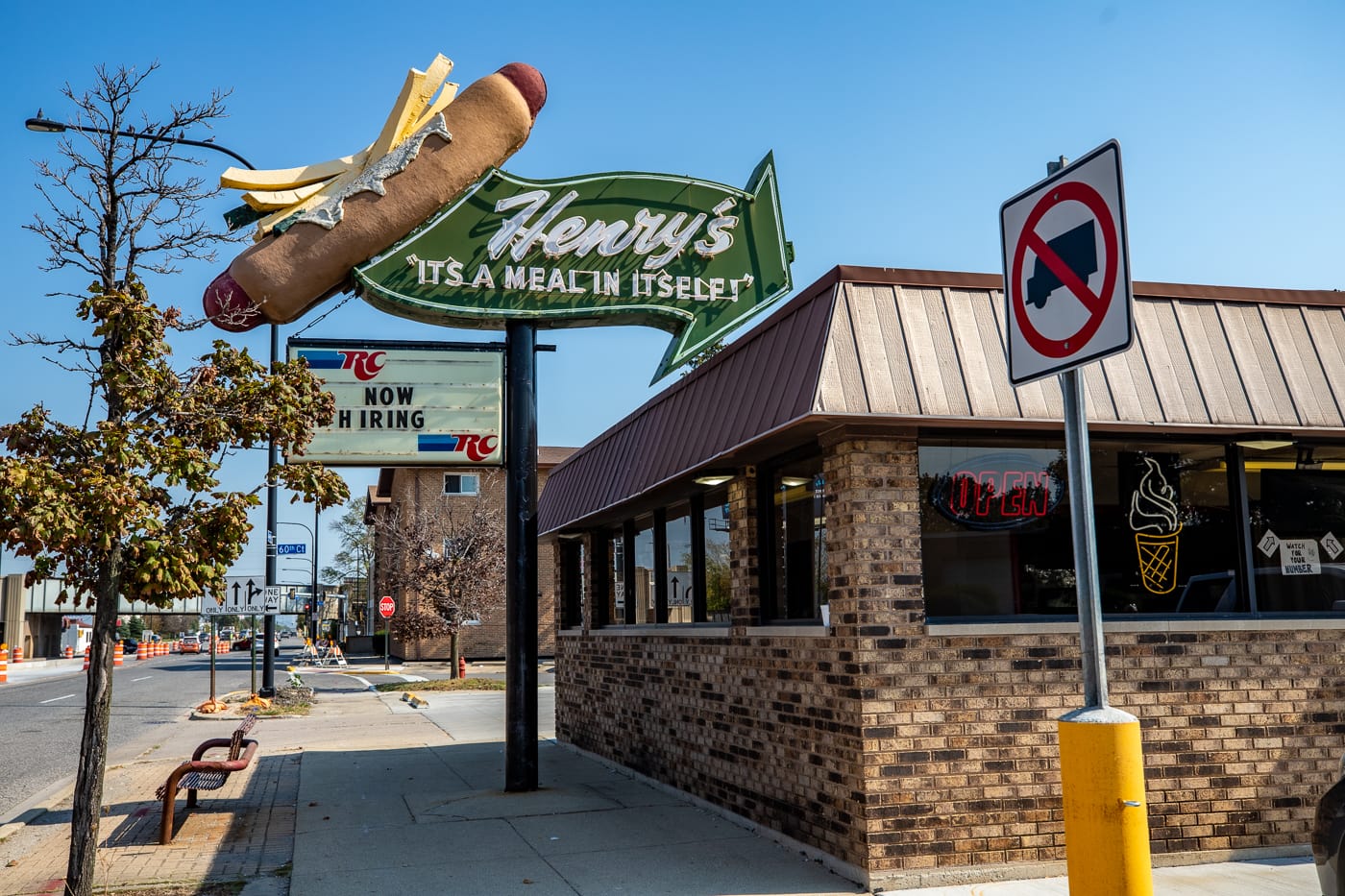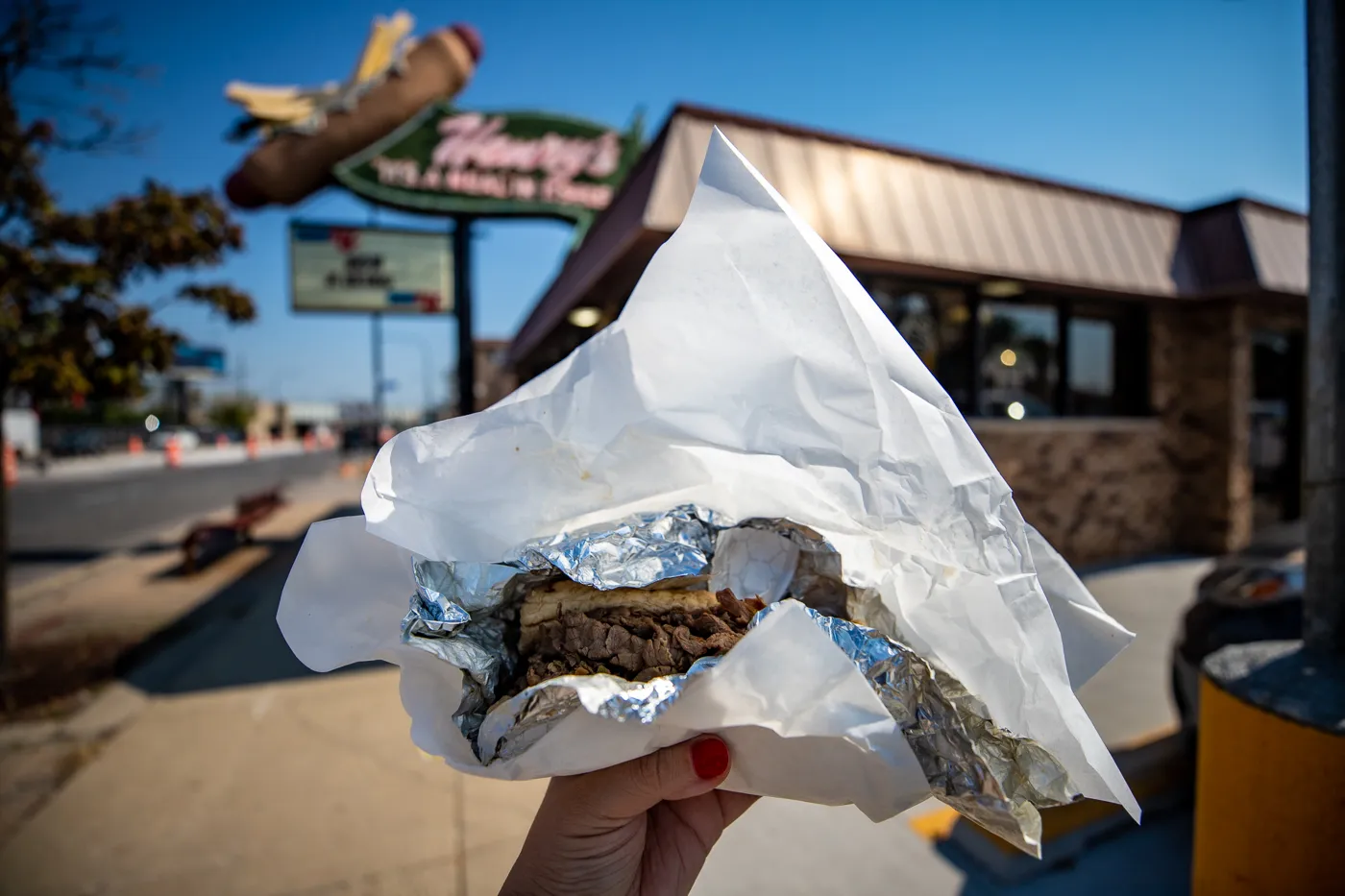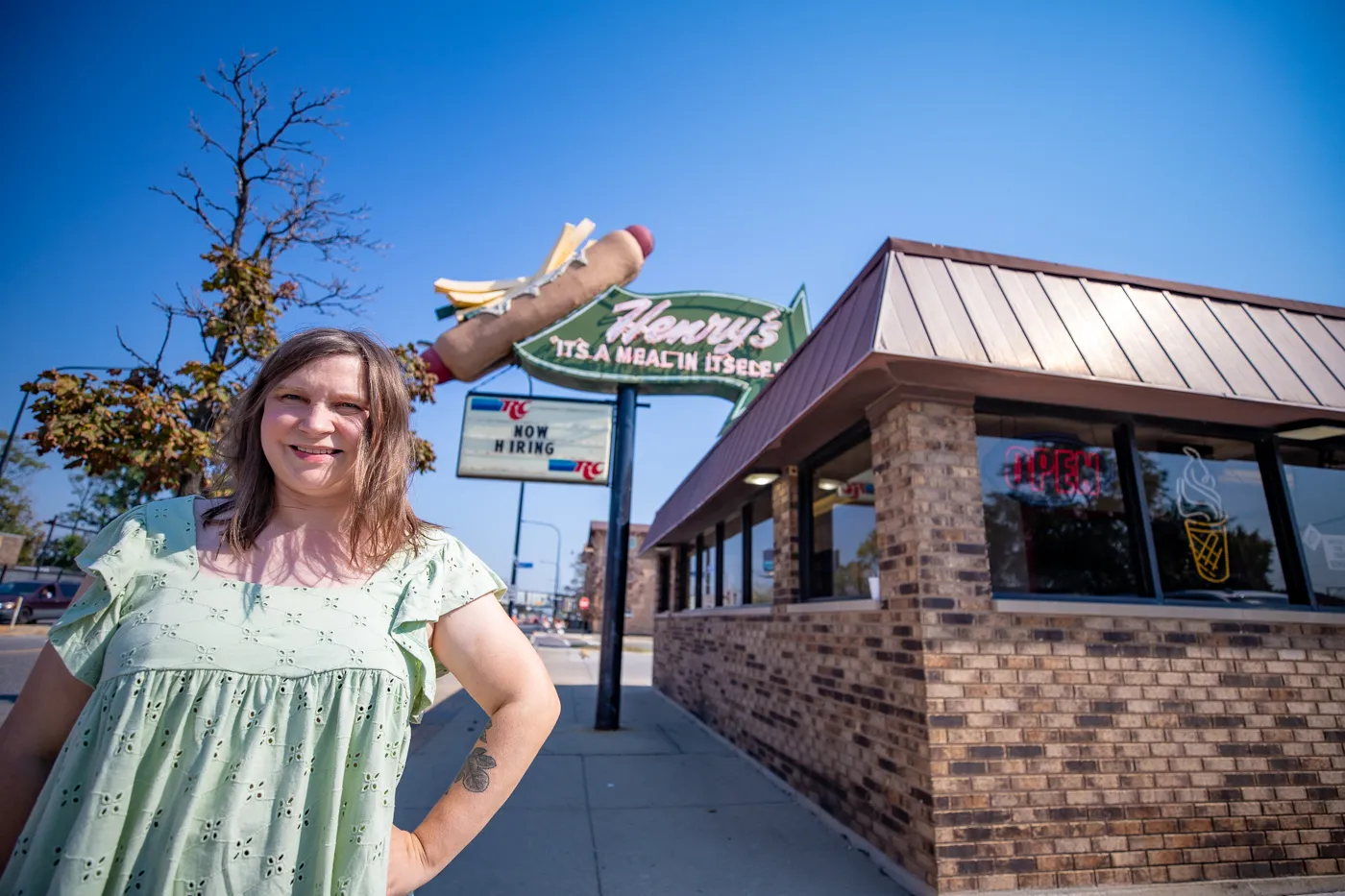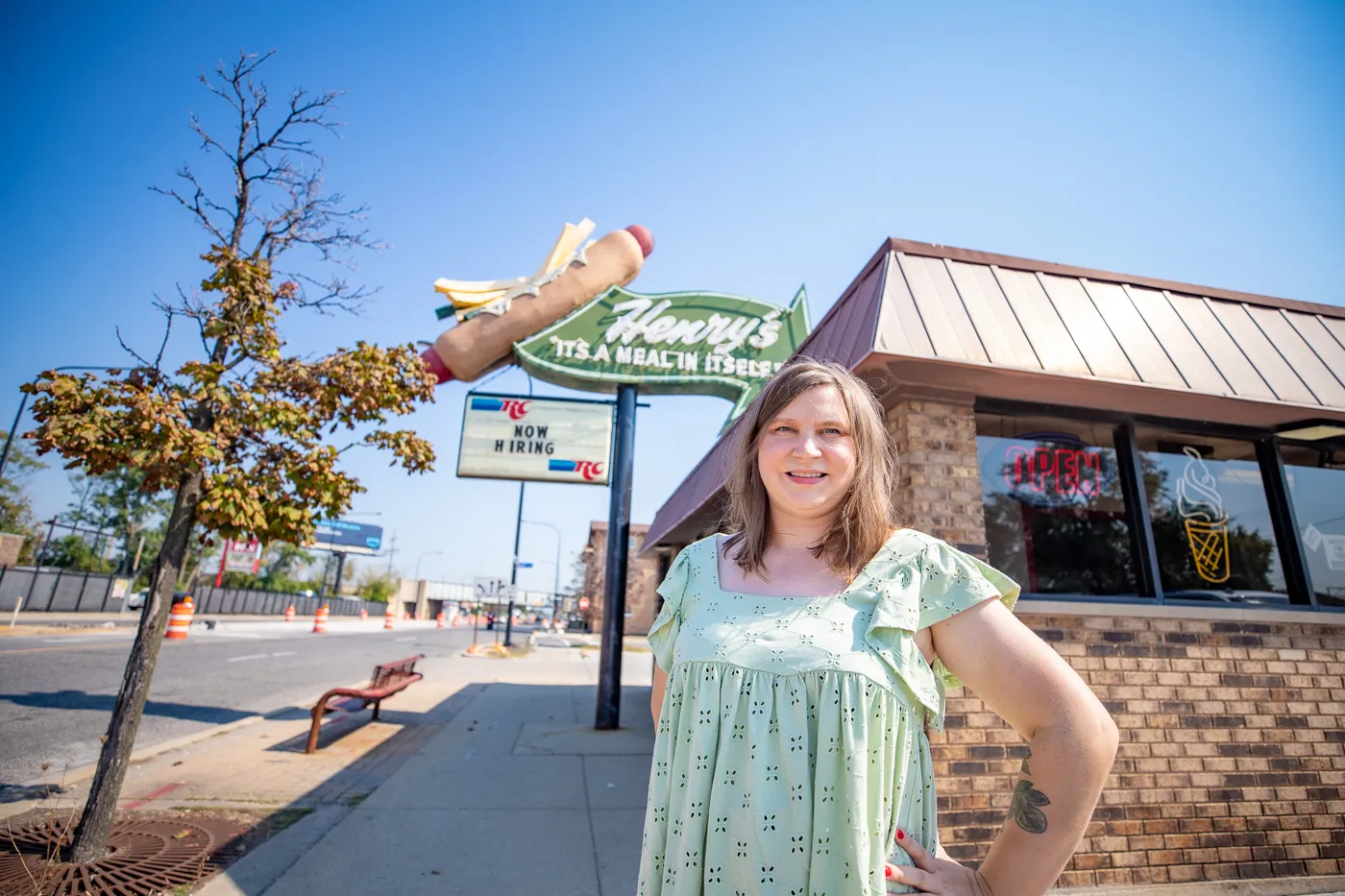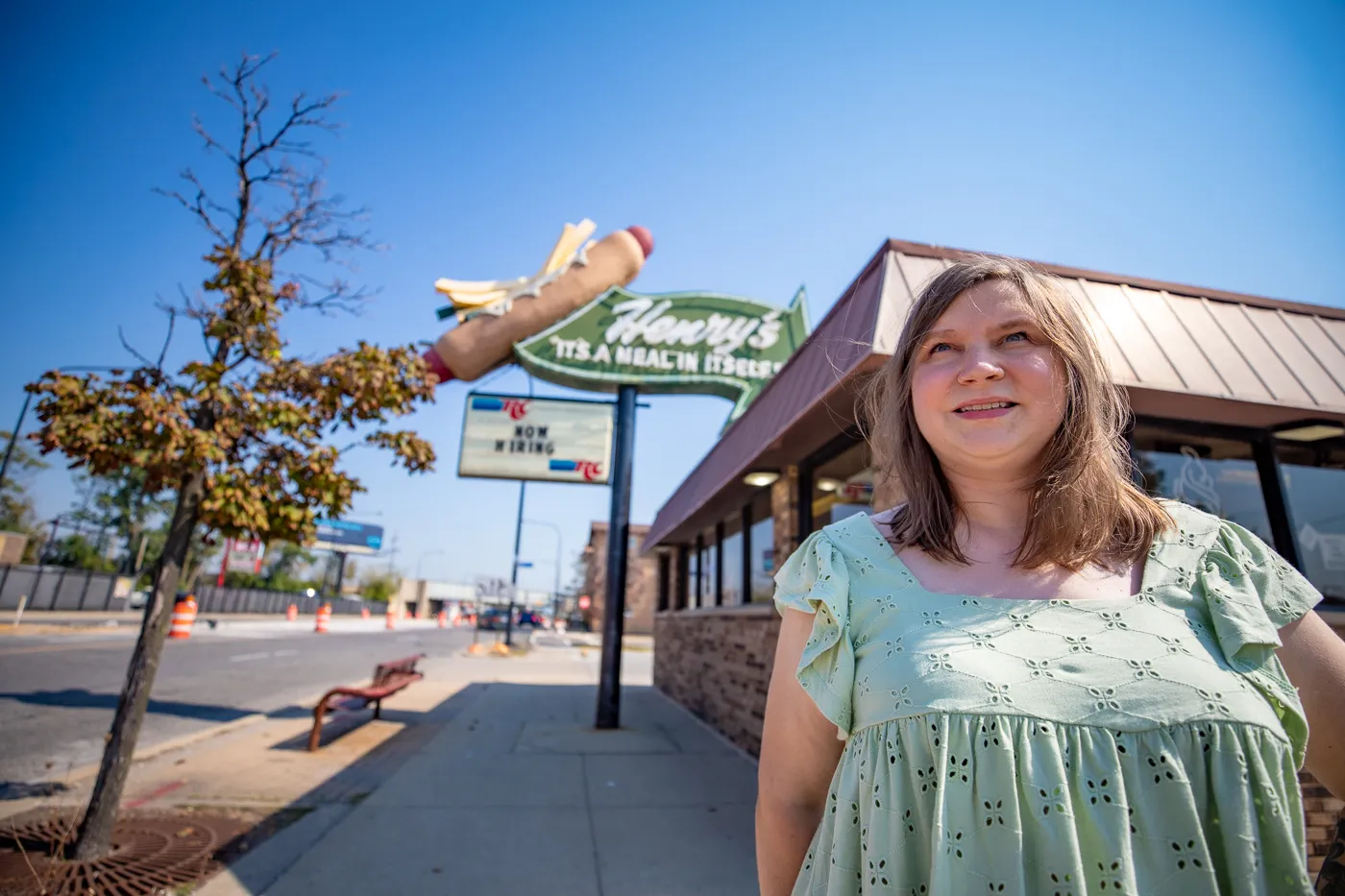 ---
Giant Hot Dog Topped with Fries at Henry's Drive-In
Address: 6031 W. Ogden Ave., Cicero, IL
Hours: Monday – Saturday 10am – 9pm, Sunday 11am – 8pm (Hot dog is always visible)
Cost: Free to see, a meal is pretty cheap
Phone: 708-656-9344
Visit their Facebook page
Pin this Illinois roadside attraction and restaurant: