Planning a Route 66 road trip and not quite sure what to wear or what to bring? We've put together a Route 66 packing list to make it easy for you.
Your Route 66 road trip will take you through 8 different states (Illinois, Missouri, Kansas, Oklahoma, Texas, New Mexico, Arizona, and California) and you'll be spending at least a full week (though probably several) in your car. You'll be driving through multiple terrains, multiple areas, and multiple climates. That can make packing daunting! Plus, with plenty of trunk space it can be easy to overpack or be completely disorganized.
If you're looking for a comprehensive list of everything to pack for a road trip, start at our Ultimate Road Trip Packing List. But keep reading for a specific packing list for Route 66, what to consider, what to wear, and how to pack that trunk.
Route 66 Packing List
Packing Considerations
When deciding what to pack for a Route 66 road trip, there are several things you'll want to take into consideration. You don't want to start packing only to realize you have too much, too little stuff, or stuff that doesn't work for you. Here are some packing considerations to think about before you start stuffing your car.
How big is your car?
The bigger your car, the more stuff you can bring. A compact car like a Nissan Versa will have less space than a Chevrolet Suburban. So take that into account when planning what to pack for a Route 66 road trip. But even with a larger car, remember that you don't necessarily need to go overboard.
Who is traveling?
In the same vain – the more people traveling, the more luggage needs to be accommodated and the more space for packing is taking up with bodies. Additionally, traveling children will require lots of extras, like strollers and toys.
Are you flying first?
If you don't live in Chicago or Los Angeles (or any of the eight states on the Mother Road), chances are, you might be flying in and renting a car. Even then, if you are planning a one way trip you might be considering renting a car and flying back home. Keep in mind that if a flight is part of your journey, whatever you bring will have to fit in your carry on or checked luggage.
What time of year are you going?
The time of your you travel will also dictate much of your Route 66 packing list. Arizona and New Mexico are hot in the summer and have pretty temperate winters, but, come December, Illinois will be cold and snowy. Make sure you have car accessories and a wardrobe that work for every state and climate.
Where are you staying?
If you're staying in Route 66 hotels and motels, you don't have to think too much about extras. But, if camping is part of your plan, you'll need to make room for tents, sleeping bags, and items to make s'mores.
What to Wear on a Route 66 Road Trip
When it comes to what to wear on a road trip, there are no hard and fast rules. But there are some things you might want to think about before deciding on what you're going to wear on a Route 66 road trip and before you start packing up your clothes.
Be Comfortable
The number one rule for dressing for road trips is to BE COMFORTABLE. You'll be spending hours on end in the car so the last thing you want to wear is constricting jeans or too small high heels. Cool, loose layers are the way to go!
Be Cute
OK, so dressing cute isn't exactly a requirement. But, you'll probably be making lots of stops at iconic roadside attractions, neon signs, museums, and other tourist attractions. So, if your Instagram photos are important to you, plan to dress for the aesthetic.
Bring Layers
If you're driving the entire length of Route 66 you might experience many different climates throughout the course of your trip. And even if it's hot for the entire trip, be sure to bring layers for cold restaurants and museums.
Protect Your Eyes
Sunglasses are a must wear item for a Route 66 road trip. You'll want to protect your eyes in the bright afternoon and darken the road on those times that you're driving directly into the sun.
Pack For The Seasons
Depending on the time of year you are traveling, your packing list might look drastically different. In winter prepare for parts of the route to be cold and even snowy. In summer prepare for most of the route to be hot. And any time of year as you travel you might reach entirely different climates in a single week.
Pack for Your Activities
Everyone has different priorities for where to stop on their Route 66 road trip. I love roadside attractions and always wear cute clothes to match. If you love national parks be sure to pack your hiking boots. And if
What to Add to Your Route 66 Packing List
There are so many things you could add to your Route 66 packing list. Where to start? Check out our general guide to what to pack for a road trip and some more specific guidelines below.
Route 66 Guidebook
Be sure to pack a Route 66 guidebook for your trip. Guidebooks are great for both planning your road trip (to find the best attractions, hotels, restaurants and more) and while on the road to look up what is next and find more information about where you are. Here are some of the best Route 66 guidebooks to bring along:
A Camera
Sure, your phone probably takes great photos. But, if you want to take your travel photography up a level (or want to keep your phone free for other tasks like music and GPS), a DSLR or mirrorless road trip camera is a great investment. Browse our list of the best road trip cameras or check out some of these highlights:
Sunglasses
Protect your eyes, make seeing the road easier, and look cool in photographs. Sunglasses are a must item to pack for a Route 66 road trip. Go for a pair of polarized sunglasses for maximized UV protection.
The Road Trip Journal & Activity Book
Enjoy fun games and challenges to pass the time on your next road trip and have a keepsake to look back on for years to come with this entertaining must-have for your next vacation. The Road Trip Journal & Activity Book features fun and engaging journal prompts. plus 100 activities and games to play in the car, at your hotel, or at stops along your route.
Route 66 Travel Journal
Bring a travel journal along on your road trip to record your thoughts, keep an itinerary, doodle, or make notes. Buy one with a fun themed cover to keep as a souvenir!
Day Pack
It's always a good idea to pack a day pack. Bring a small empty backpack that you can use to throw a few things in when heading out on a day hike, going to the hotel pool, or to transport things between your car and your room.
Cash
It's always a good idea to keep some cash on hand. While most places take credit cards now there are some places on Route 66 where you'll need to pay with paper. You'll always want to have cash for tolls (if you veer onto the highway), tips, and emergencies.
Paper Map
Just in case, it is always a good idea to bring a paper map or road atlas along for the long drive. Sure, your phone has a GPS, but sometimes technology or wifi signals fail.
Postcard Stamps
If you're planning to send a lot of postcards from the road, don't forget to stock up on postcard stamps before you leave! That way you'll never have to scramble to find them after buying your souvenirs.
Rain Jacket
You never know when the weather is going to change and it is always good to be prepared for rain. Umbrellas can be bulky to pack and hard to carry so a light rain jacket is preferred to pack in case of rain.
Car Organizers
If you're taking a long road trip like Route 66 it is a good idea to invest in some car organizers. Driving in an unorganized car is not fun and car organizer allow you to take some of the clutter that will most definitely amass and get it out of your way. Here are some different types of car organizers to consider:
Power Strip
If you're bringing a lot of electronics, or are traveling in a bigger group, it is a good idea to pack a power strip. While nice hotel rooms usually have a lot of outlets to choose from smaller roadside motels don't always. Bringing your own power strip allows you to charge more things at the same time.
Water Bottle
Adding a water bottle to your Route 66 packing list is a must. Don't waste money on gas station bottles of water and instead bring a reusable one and fill up on the go. Make sure you get one that fits in your car's cup holder!
Clothes, Shoes, Toiletries, and Everything Else
Packing for Route 66 is, for the most part, no different than packing for any other road trip. Check out our Ultimate Road Trip Packing List for more of the travel essentials and other ideas of what to pack for your Route 66 road trip.
How to Pack for a Route 66 Road Trip
Now that you know WHAT to pack, how about HOW to pack it? Whenever packing for a road trip, you'll want to keep in mind what you are bringing, how much space you have, and how much you're going to be taking things in and out of the car. Here are some helpful items that will make packing easier!
Choose Your Luggage
There are many different options when it comes to choosing road trip luggage: hard sided suitcases, soft sided suitcases, duffel bags, backpacks. There is no right or wrong type to pack. I do recommend that instead of bringing one giant suitcase to try to split your items up between smaller suitcases for different parts of the trip. That will make it easier to transport items between your car and your hotel room. Need help picking out luggage for your Route 66 road trip? Check out our list of the best road trip luggage for car travel.
Use Packing Cubes
Packing cubes are a traveler's best friend. They help organize your suitcase and help you save space. Use packing cubes to divide up your clothes by type or day and you'll never have to search your luggage for a lone sock or stray underwear again.
Use a Hanging Toiletry Bag
Packing all your toiletries into a hanging toiletry bag provides storage, helps you organize them all in one place, and makes them easily accessible when you hang the bag from the hotel shower.
Bring a Laundry Bag
When taking any long road trip it is essential to keep your clean clothes separate from your dirty clothes. Bringing a laundry bag to store your used clothes is a smart idea. You won't have to sniff test underwear to figure out which pairs in your luggage are clean and which are dirty and it will lighten the load in the suitcase you're lugging between your car and your motel.
Plan Your Route 66 Road Trip
Pin this Route 66 Packing List to save for later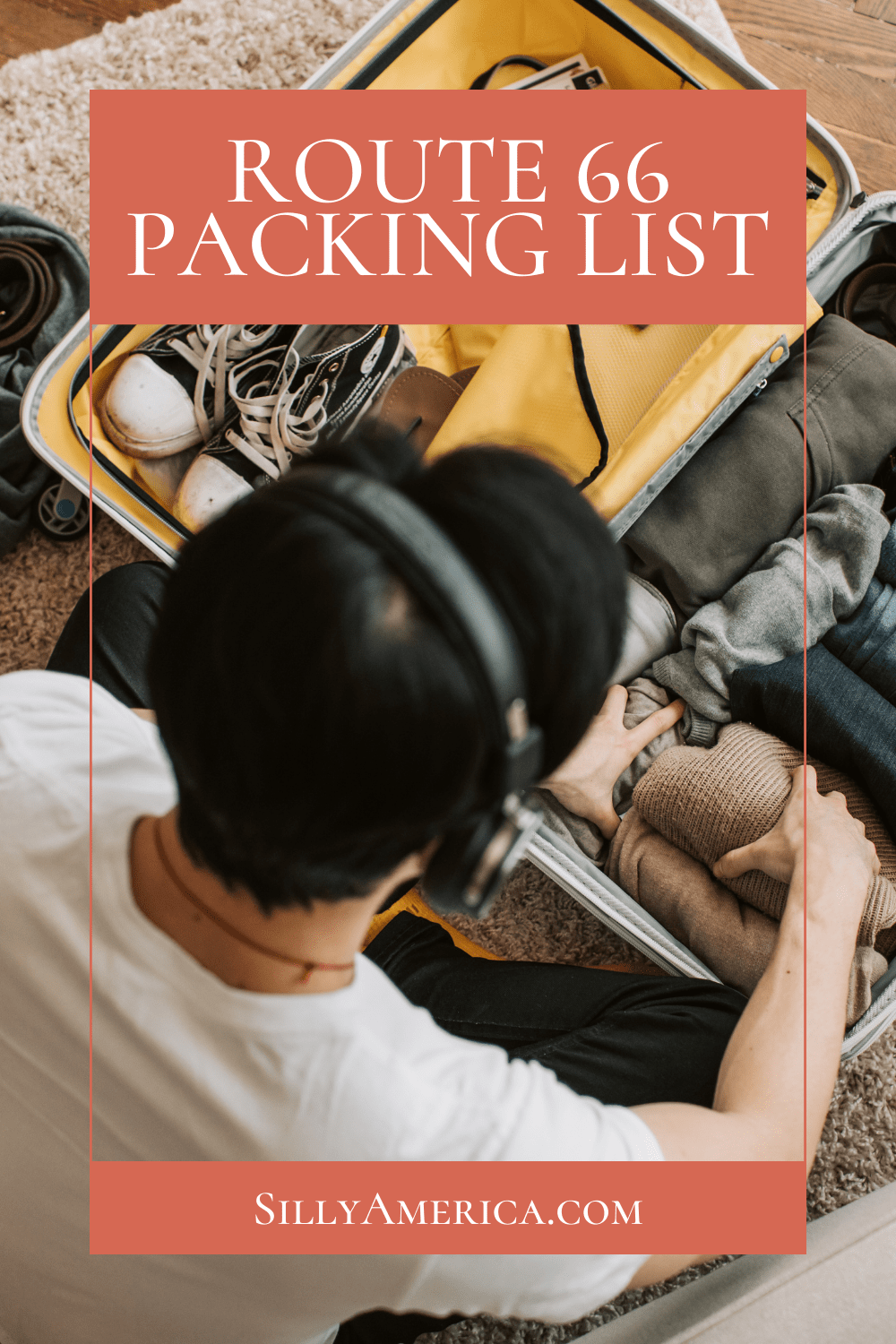 Photo by Vlada Karpovich from Pexels