Let's do lunch! They say that breakfast is the most important meal of the day, but lunch is often the favorite meal of the day. A good lunch will give you the fuel you need to keep going on your day's journey and keep you satisfied as you trek on. It also, often, gives you the chance to try something new and local. So what are some good road trip lunch ideas?
A good road trip lunch is hearty enough to keep you full until dinner (and, we all know that sometimes on the road that dinner often comes later than we expect), but light enough to not make you want to take a nap in the backseat (especially if you're the one driving).
Try to choose something light and protein rich, like a nice big salad topped with grilled chicken. But, since you're traveling, we'll forgive you if you just can't pass up that giant plate of chicken fried steak or triple decker bacon cheeseburger with loaded fries. You can take that power nap before finishing out your day.
At the end of the day (or, I suppose, the middle), there is no wrong option for what to eat for a road trip lunch. Whether you're on a tight timeframe and want grab and go fast food in the car, want to try out a local delicacy at a diner or restaurant, or prefer to save money and time by packing make ahead lunches in the cooler, the best road trip lunch is the one you're eating today.
So what are your options? Read on for some of our favorite road trip lunch ideas.
Road Trip Lunch Ideas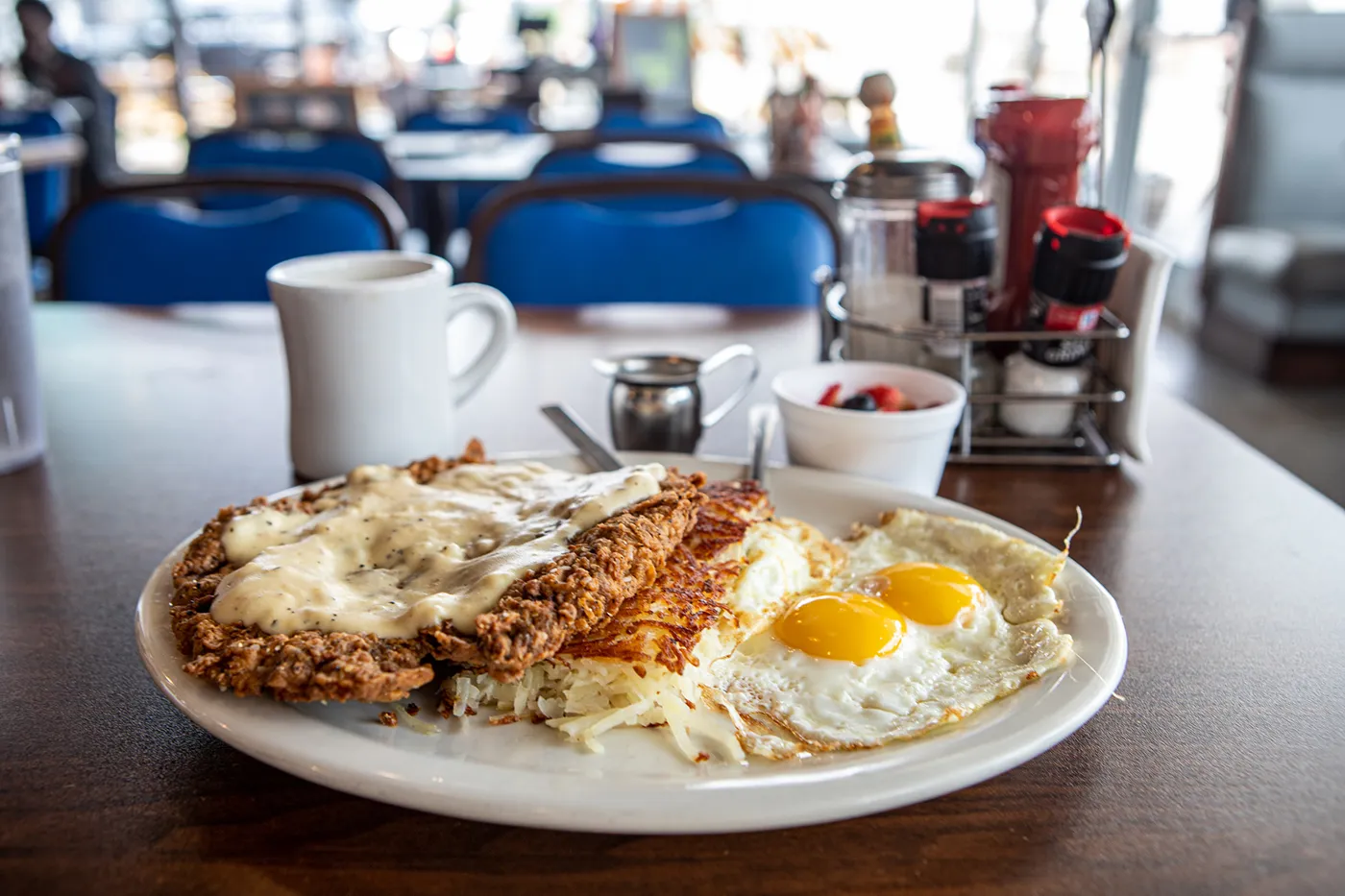 Local Diner Lunch
Local diners are a popular stop for road trip lunches. With expansive menus that offer a variety of options, they can't be beat. Cowboy cheeseburgers dripping with pepper jack cheese and barbecue sauce and topped with crispy bacon, and crunchy onion rings. Stacked club sandwiches with turkey, bacon, mayo, tomato, and lettuce on a toasted white bread. Spaghetti topped with red sauce and a meatball that is bigger than your head. And breakfast served all day favorites like omelettes, pancakes, and my favorite: chicken fried steak. With filling meals and a local ambiance, diner make the perfect place to stop for lunch on the road. Try to opt for light, protein friendly meals that will keep you going through the days. And as tasty as those open-face, gravy-drenched sandwiches look, go easy on the heavy carbs that will weigh you down in the car. But, who are we kidding, go ahead and order that deep fried Monte Cristo covered in powdered sugar. You're on vacation.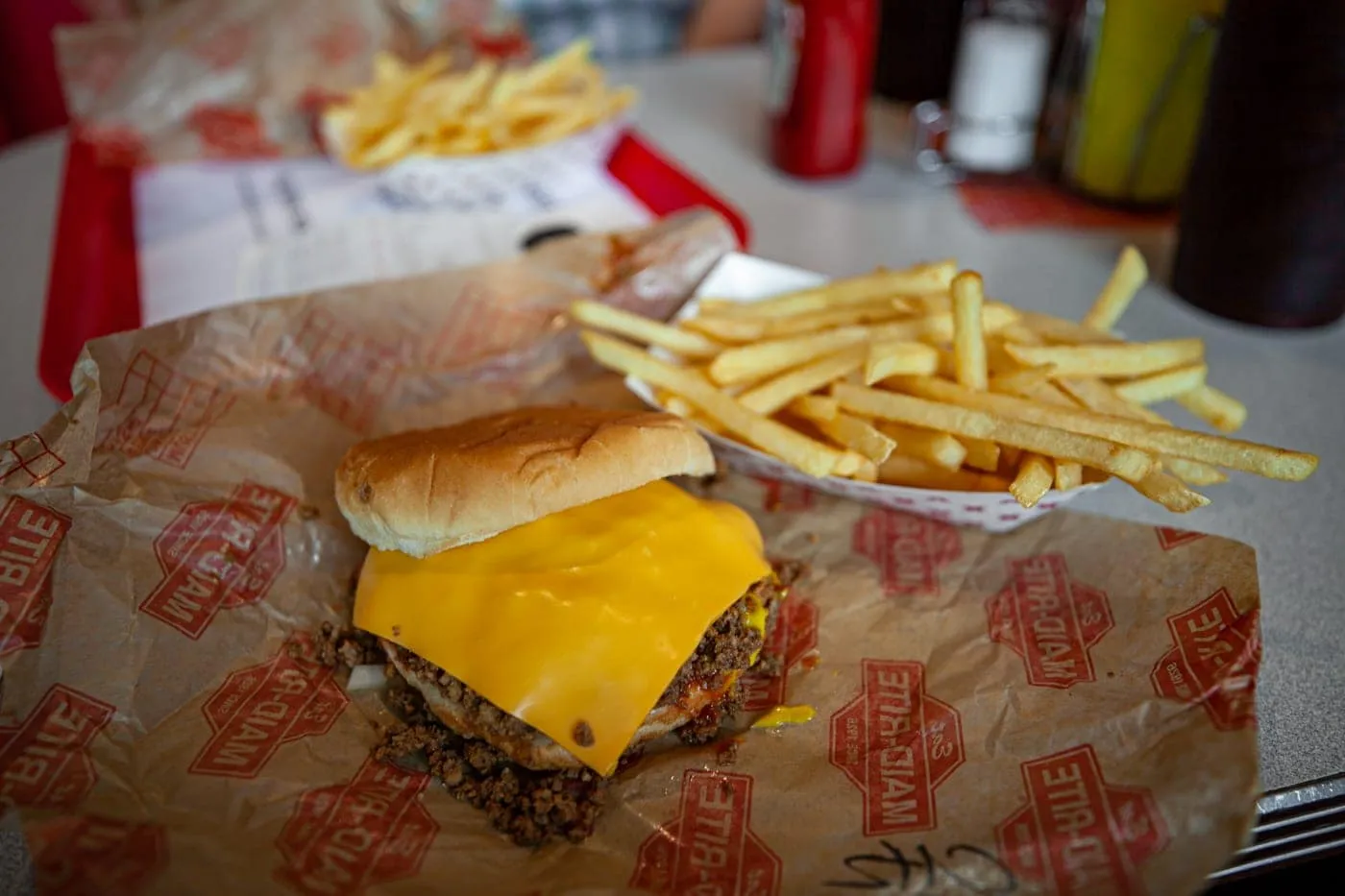 Fast Food Lunch
The most convenient meals to have on a road trip are those you can eat without ever leaving your car. That's why drive-throughs are a popular choice when choosing a road trip lunch. Get a char-grilled cheeseburger with fries, a fried chicken sandwich, or a hard-shell taco meal with extra sour cream. Drive through lunches from a fast food restaurant are convenient, cheap, and delicious. Just be sure to grab some extra napkins (and maybe even a dipping sauce holder) to keep your steering wheel ketchup free. There are often plenty of fast food restaurants to choose from and lunch is the perfect time to choose a regional chain you might not see back home. Even if you opt not to eat in your car and instead go inside, it's still an extremely quick and easy meal.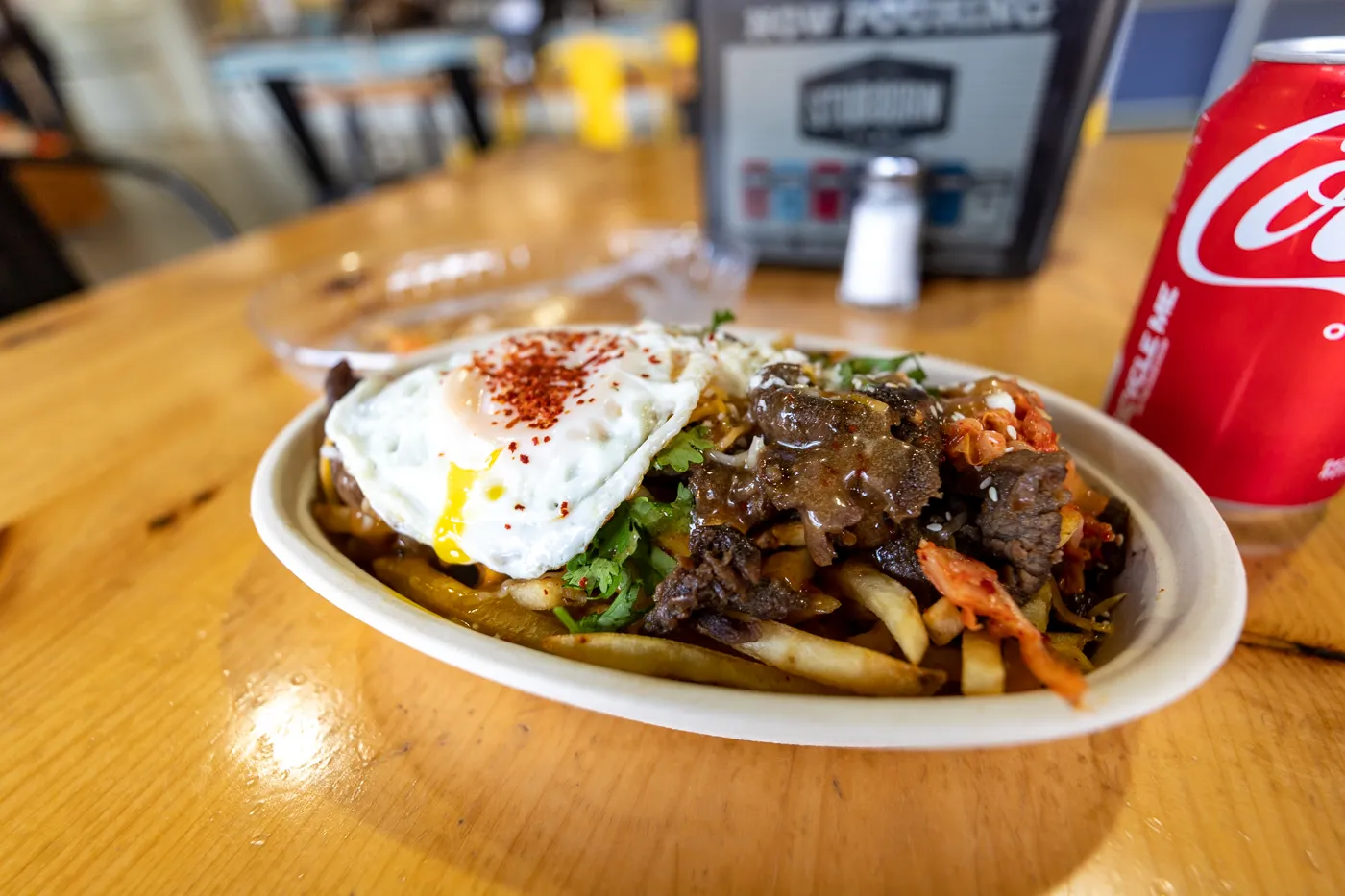 Fast Casual Lunch
If you want something slightly more elevated than your typical McDonald's McNuggets or Burger King Whopper, but still fast and casual, look for fast casual options. Think Chipotle, where there are fresh-made ingredients and no drive through. Good options for a fast casual road trip lunch would be an upscale food court where there are plenty of local restaurants serving up a small menu, a barbecue restaurant pulling pork before your eyes, or a food truck pumping out the best Korean tacos in the city.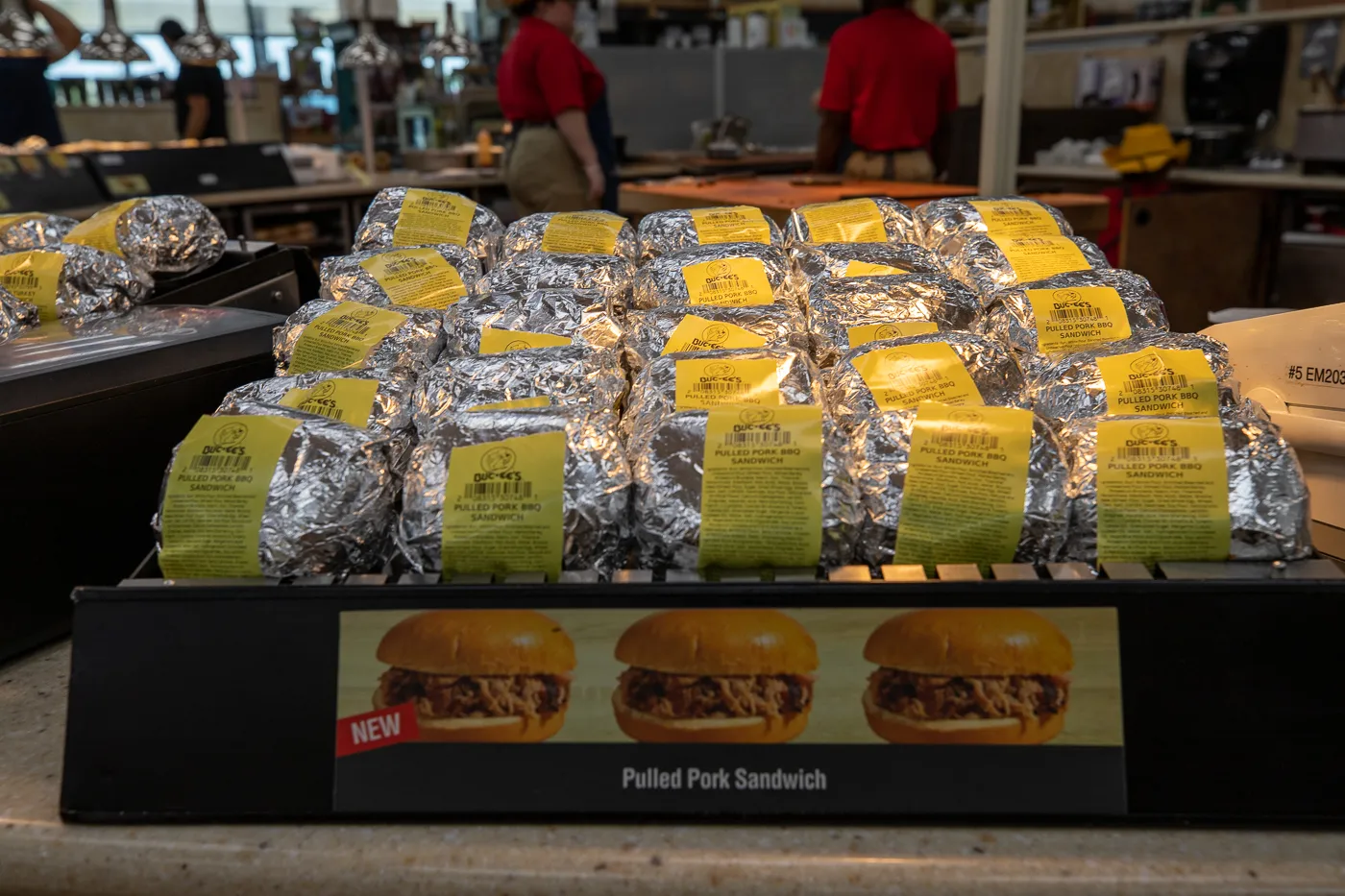 Gas Station Lunch
Gas station food gets a bad rap. But it is not all roller grill hot dogs, heat lamp taquitos, and questionable pizza slices. I mean, if you're into that kind of thing it does make a quick and easy road trip lunch (you're probably already stopping for gas after all), but gas station meals have come a long way, and you can often find something better. Across the country you can find small gas stations that serve a unique offering, like pan-fried noodles, fried chicken, tacos, and barbecue brisket. And some larger chains, like Buc-ee's and Wawa, offer delicious offerings like pulled pork sandwiches and chipotle chicken paninis.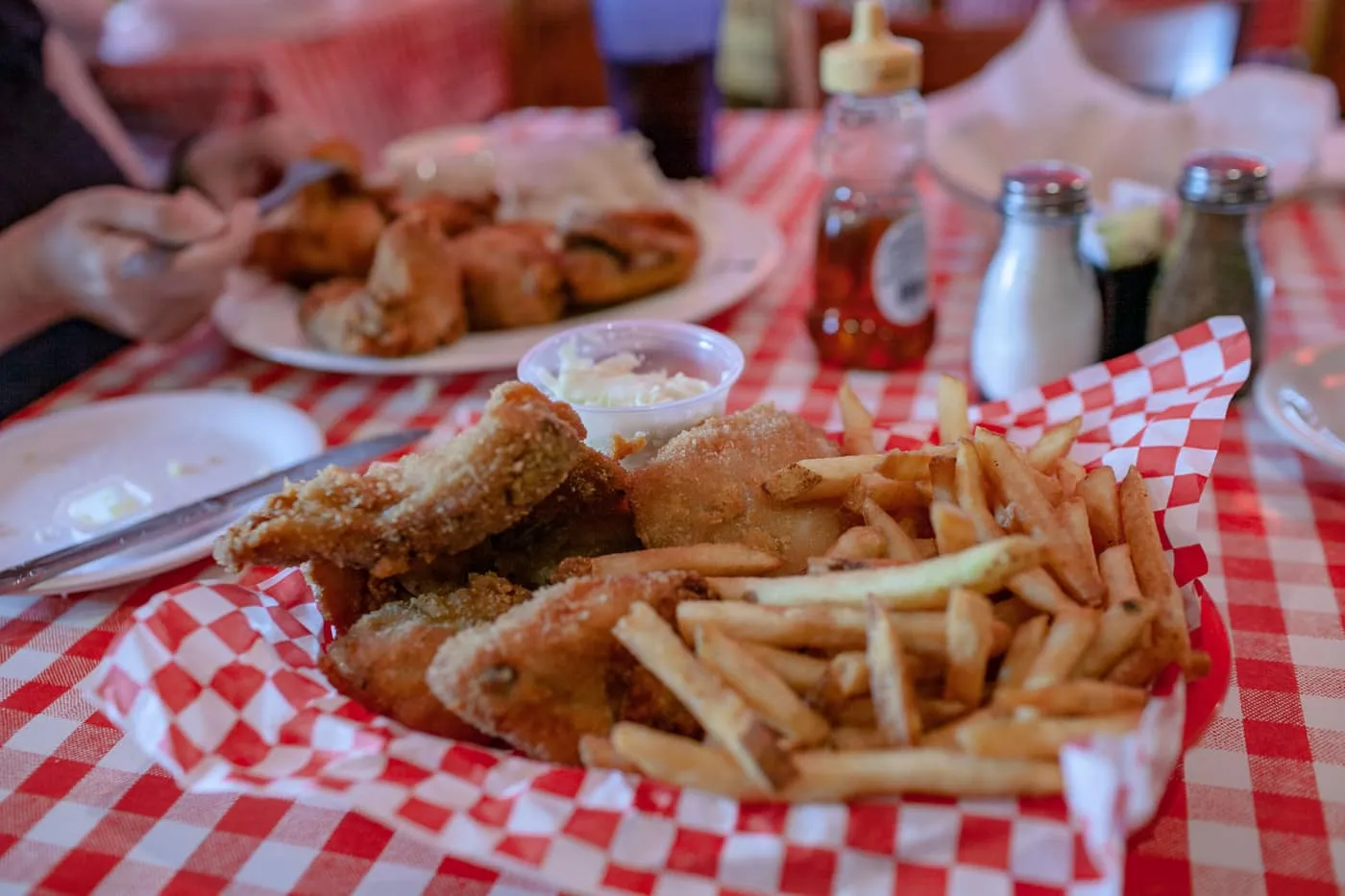 Restaurant Lunch
A restaurant lunch here is really just a code word for "literally anywhere you can site down and enjoy a meal." There are no shortage of options on where you can stop for a sit down meal on a road trip. You can go to a favorite restaurant chain like Applebee's, Chili's, or TGI Fridays. You can go to a casual restaurant that gets good ratings on Yelp. You can go to a sports bar and get Nashville hot buffalo wings and a beer (if you're not driving). You can try out a more upscale restaurant that maybe has a lunch special or two. You can go and get barbecue, Korean barbecue, or Thai food. There really is no limit to where you can get lunch on a road trip and what you can order for lunch on a road trip.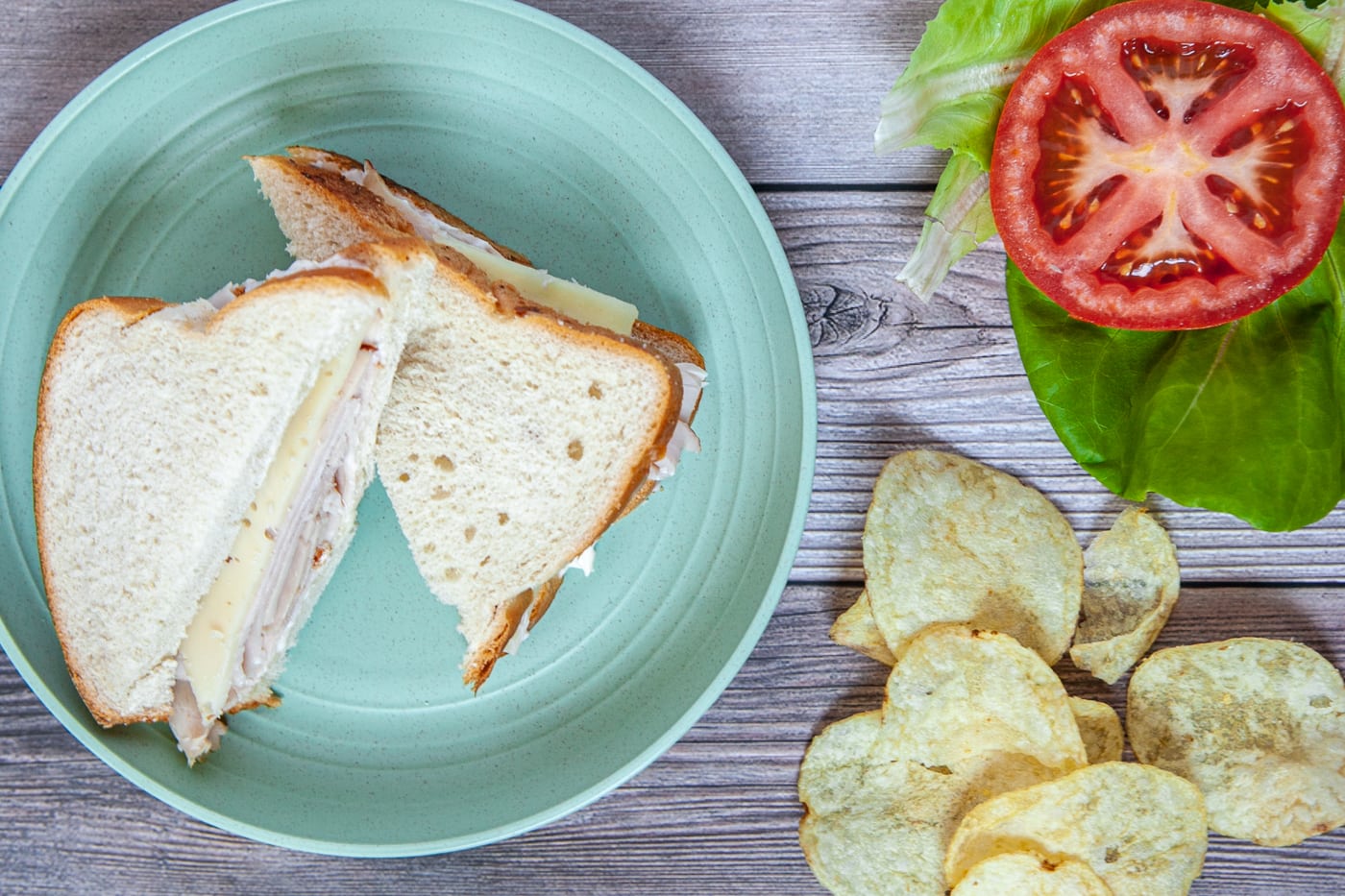 Picnic Lunch
Have your lunch with a view by packing a picnic and eating outside. Many travel centers, rest areas, and scenic overlooks have picnic areas where you can enjoy an outdoor lunch. Pack you own meal (see our favorite recipes below) or pick up a sandwich or other to go order at a local deli or grocery store. Picnic lunches are a great way to enjoy a more casual lunch in a new setting.
Road Trip Lunch Recipes
If you're trying to save money or time on the road, packing your own road trip lunch is a must. You can pack travel-friendly lunch items, like sandwiches or noodle salads, or travel friendly freezer meals that can easily be stored in a cooler and heated up in a public microwave (you can usually find one at your hotel or at some truck stops and gas stations). You never know when or if you'll find a way to heat up a meal on the road, so we try to stick with tried and true cooler meals that you can eat anywhere, anytime. Here are some of our favorite road trip lunch recipes and other grab and go foods to keep your cooler.
Our Favorite Road Trip Lunch Recipes
More Road Trip Lunch Ideas
Rotisserie Chicken
Hard Boiled Eggs
Cold Fried Chicken
Charcuterie and Snack Boards
Flavored Tuna Pouches
Road Trip Cold Peanut Noodles Recipe
Here's one of my favorite quick and easy recipes for a road trip lunch: cold peanut noodles with shredded chicken or tofu. Cold noodle salads are a great alternative to sandwiches, pack well in an airtight container, and can provide a quick and easy lunch in the car for the entire length of your trip.
Print
Road Trip Cold Peanut Noodles Recipe
---
Author:

Total Time:

30 Minutes

Yield:

4

–

6

Servings

1

x
Description
These peanut noodles make a tasty road trip lunch on the go. Served cold they can be packed in your cooler and taken out when you're ready to eat. Add some shredded rotisserie chicken or crispy baked tofu to round out the protein in this picnic lunch!
---
Salad Ingredients
8 ounces Chinese egg noodles
5 ounces shredded carrots
1 English cucumber, grated or diced
Half of a small red cabbage, finely chopped
⅔ cup chopped fresh cilantro
½ cup thinly-sliced green onions
¼ cup chopped peanuts
Shredded rotisserie chicken or crispy baked tofu(optional)
Sesame Peanut Sauce Ingredients
¼ cup natural peanut butter
¼ cup freshly-squeezed lime juice
2 tablespoons soy sauce
2 tablespoons rice vinegar
1 tablespoon honey or maple syrup
1 tablespoon toasted sesame oil
½ teaspoon garlic powder
½ teaspoon ground ginger
½ teaspoon black pepper
½ teaspoon crushed red pepper flakes
---
Instructions
Cook the noodles according to package instructions to an al dente consistency. Drain, then rinse with cold water in a colander until the noodles are chilled.
Meanwhile, make the sesame peanut sauce. Whisk all ingredients together in a bowl until combined. Add extra soy sauce to taste, if needed. Add up to two tablespoons of water if the mixture seems too thick to drizzle.
Add noodles, carrots, cucumber, cabbage, cilantro, green onions, chicken or tofu, chopped peanuts, and sesame peanut sauce to a large mixing bowl. Toss until evenly combined.
Serve cold. For road trips, transfer to a sealed container and keep in cooler. Keep refrigerated  for up to 3 days.
Prep Time:

25 Minutes

Cook Time:

5 Minutes
Recipe Card powered by
Pin these road trip lunch ideas to save for later