There's live music. There's livestock. There's the one and only Big Tex. But what really draws in millions of visitors to the State Fair of Texas each year is the food. The glorious, over-the-top, indulgent, deep-fried, Texas State Fair food.
When I moved to Dallas in 2022 I didn't even realize I was going to live only a mile and a half from one of the biggest and best state fairs in America. But as soon as I found that out, I started making a plan. Obviously, I wanted to see Big Tex (the oversized cowboy symbol of the fair who greets visitors with a boisterous "Howdy, folks!"). This is a roadside attractions blog after all. But right after him on the list of things to be excited about was the food. The glorious, over-the-top, indulgent, deep-fried, Texas State Fair food.
I went to the state fair's website and tried to make a comprehensive spreadsheet of all the food you could get. I found a list of the Big Tex Choice Award winners (awards given each year to the best new foods). I found a list of new foods. But I couldn't find a list of all the foods at the State Fair of Texas.
It wasn't until the day I actually got there, and experienced the experience for myself, that I realized why. There is a lot of food. A lot a lot of food. There is more food than any one person could probably get through in the entire course of the fair. There are the award winners from this year and from many years past. There are fair favorites, like corny dogs, deep fried Oreos, and turkey legs. There is just row after road of food.
In the end I made a spreadsheet of about 60 things to eat at the fair, narrowed it down to 15 must-haves, and ate five things. Hey, don't come at me, I was there by myself and those five things set me back almost $100. Because all of this food actually costs money. And, while totally worth a one-a-year splurge, it can all be kind of expensive.
All the food at the State Fair of Texas can only be bought by purchasing tickets. And those tickets are $1 each. And then the food items vary greatly, but there are few under 10 tickets and many upwards of 30. So all that deep fried goodness adds up quickly. Of course, you are actually allowed to bring your own food. But what is the fun in that?
If you're planning your trip to the State Fair of Texas, keep these links handy to plan your menu:
Be sure to show up with a basic game plan of your must-eat foods, your wallet, and an empty stomach.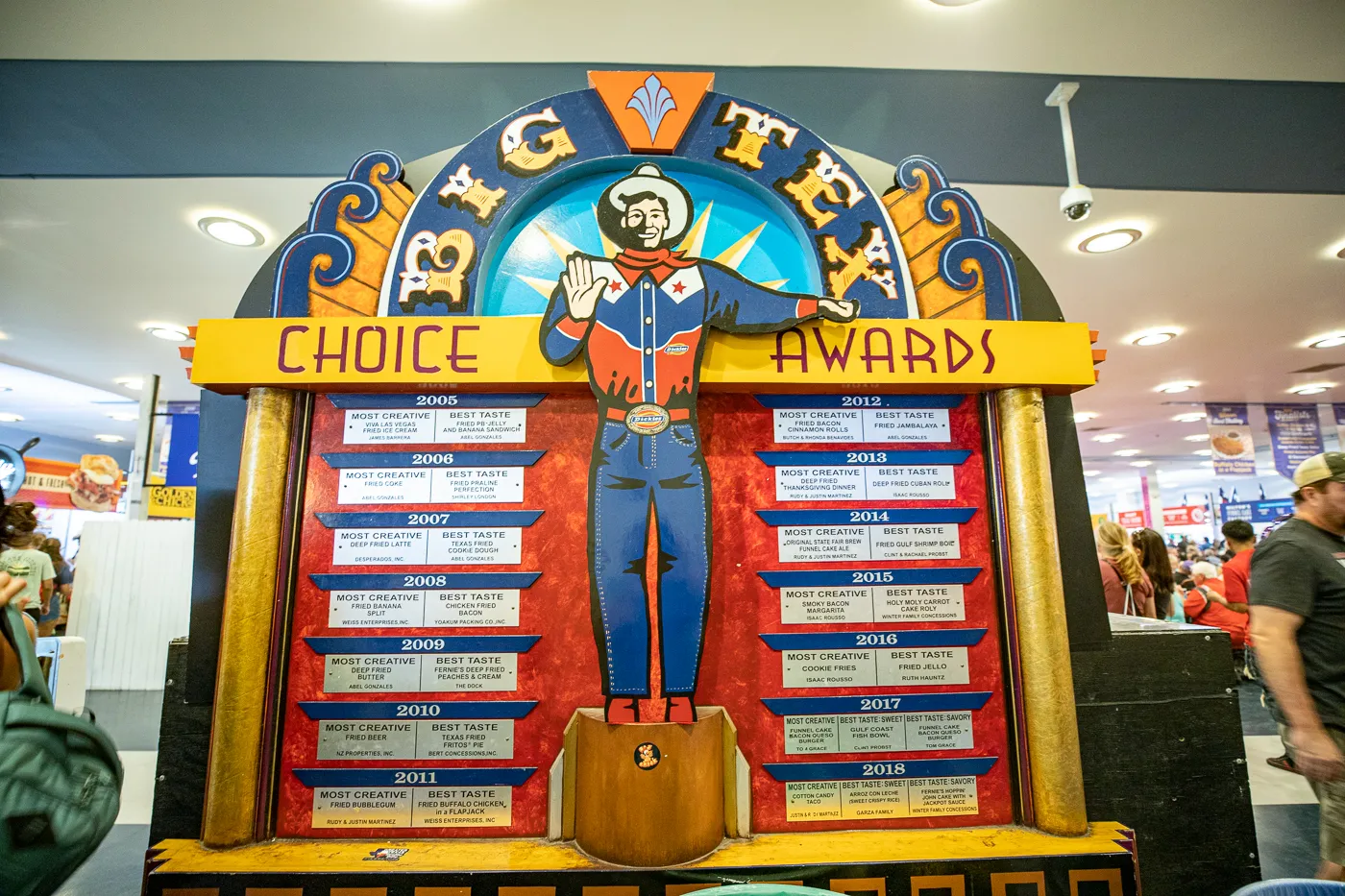 Big Tex Choice Awards – The Best Food at The State Fair of Texas
The crème de la crème of Texas State Fair Food are the annual winners of the Big Tex Choice Awards. And some of those winners have extra crème!
Established in 2005, the Big Tex Choice Awards honors the best new creations to be introduced at that year's fair. All the semi-finalists are usually over-the-top concoctions and, more often than not fried. Deep fried. In the beginning, two distinctions were awarded each year: Best Taste and Most Creative. In 2017 the awards were split to three: Best Taste, Savory; Best Taste, Sweet; and Most Creative.
The exclusive honorees have included everything from Fried Cokes, Lattes, Beer, and Bubblegum to a Cotton Candy Taco, a Funnel Cake Bacon Queso Burger, and a Smoky Bacon Margarita.
2009's winner stands out as a simplistic dish that epitomizes the ridiculous gluttonous nature of Texas State Fair Foods: Deep Fried Butter.
Savvy fair goers know to keep an ear on the news each summer when winners are announced and to add them to the top of their list of must-try foods.
In 2022 the winners were:
Best Taste, Savory: Fried Charcuterie Board
Best Taste, Sweet: Peanut Butter Paradise
Most Creative: Cha-Cha-Chata
I tried them all, so see below to find out more about these dishes! And check the Big Tex Awards webpage to see current and past winners and semi-finalists. And if you're worried that you missed out, have no fear, many of the vendors still sell their popular winners from years past!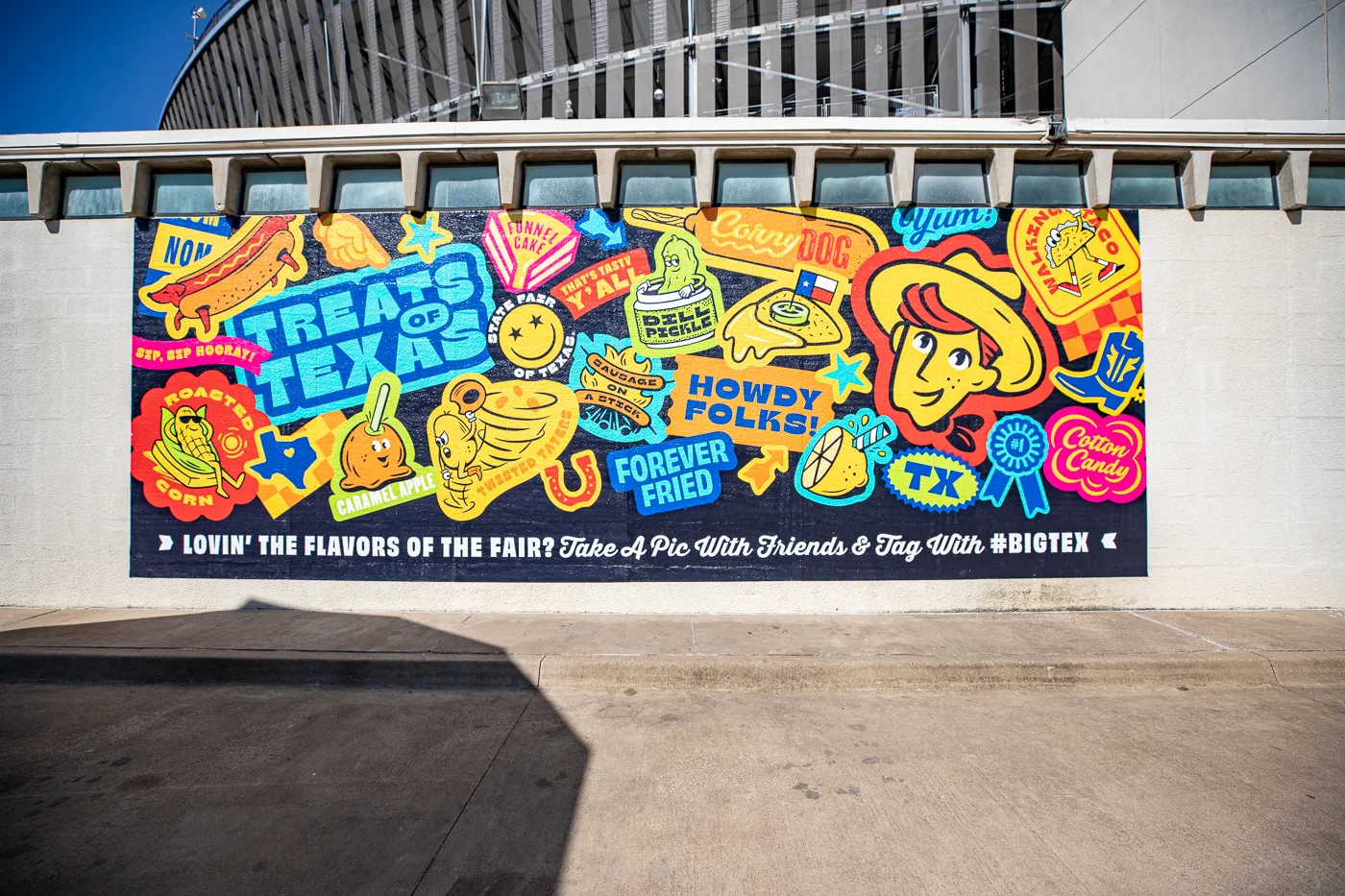 What I Ate at the State Fair of Texas (2022)
In 2022 I went to the State Fair of Texas alone. It was fun and I had an amazing day. But if you're serious about trying all the best Texas State Fair food, I'd recommend going with at least one friend. There are so many dishes to choose from and they are all rich and can be pricey. Going with someone else allows you to stretch your dollars and stomachs by splitting all the dishes so you can try more things!
With a limited budget (I say limited but I spent over $100 on the day!) and only one stomach, I only managed to try five things. But I did go for all three of the year's Big Tex Choice Awards winners, one state fair standard, and one other dish that sounded too good to pass up.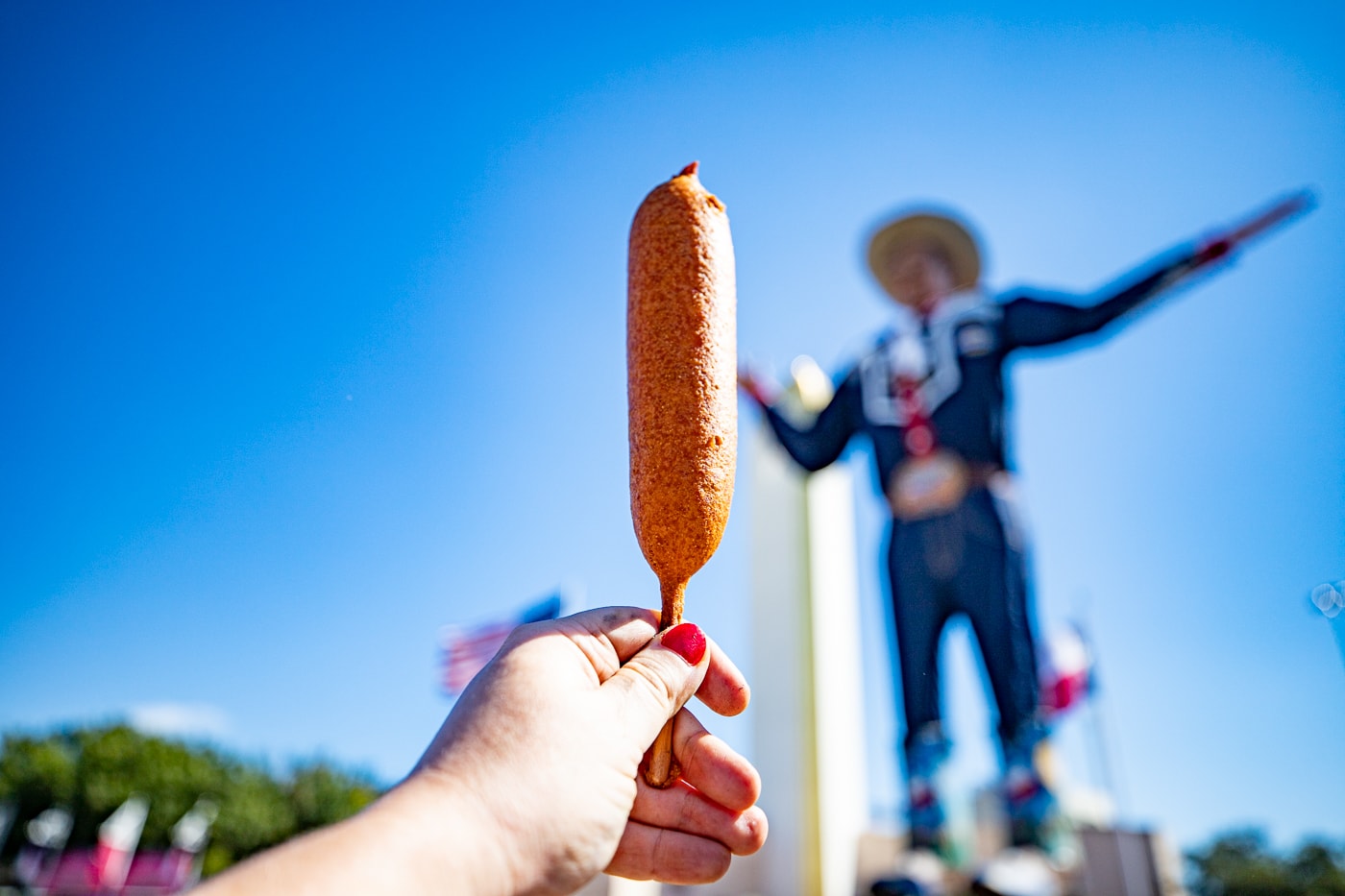 Fletcher's Corny Dog
Fletcher's Corny Dogs are a state fair staple and one of the most popular things to eat at the State Fair of Texas! 583,000 were sold at the fair in 2022 alone! There are several stands selling them around the fairgrounds, including one right in the center of it all, next to Big Tex. That location can get crowded, but, even though there was a large crowd around, I was able to walk right up. That location is also convenient for taking the iconic photo of your Fletcher's Corny Dog in front of Big Tex.
Invented in Dallas in 1942, these deep fried corn dogs have a crispy thick batter coating a soft interior and a plump hot dog. It is deep fried fair food at its finest!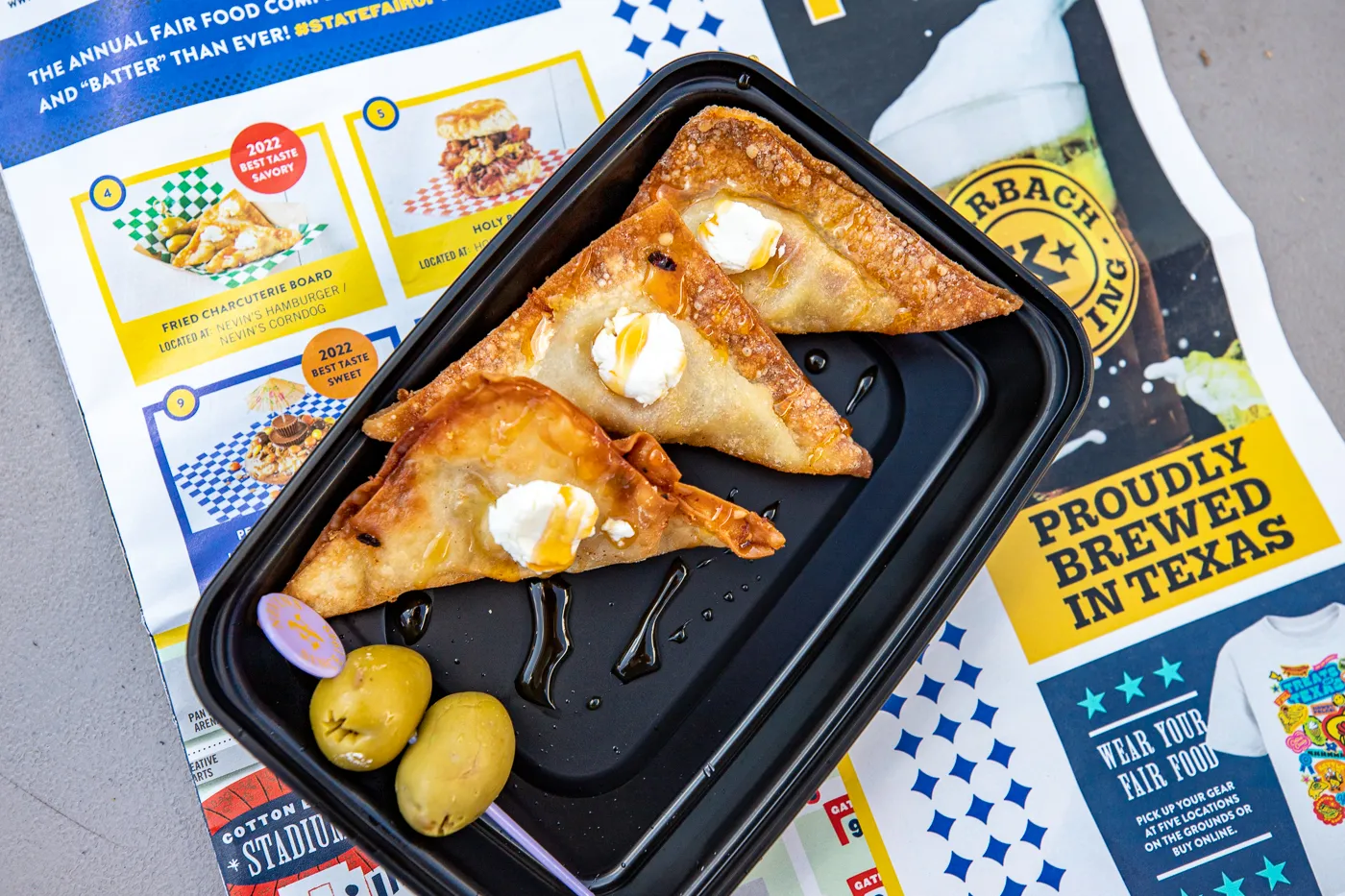 Fried Charcuterie Board
Winner, Best Taste, Savory
Sometimes the best fair food makes a twist on a popular trend. And there is nothing Millennials in 2022 love more than the charcuterie board. So why not fry it?
The Fried Charcuterie Board won the Big Tex Choice Award for Best Taste, Savory in 2022. And it was definitely the best taste I had at the state fair. It took everything you love on a charcuterie board, wrapped it up into the perfect small package, and deep fried it. This morsel was a wonton wrapper stuffed with mozzarella, salami, and green apples tossed with olive oil, balsamic vinegar, and Italian seasonings. The concoction was then deep fried, topped with a dollop of creamy goat cheese and a drizzle of hot honey, and garnished with a couple of olives. Who needs a party when this fried item was a party in my mouth!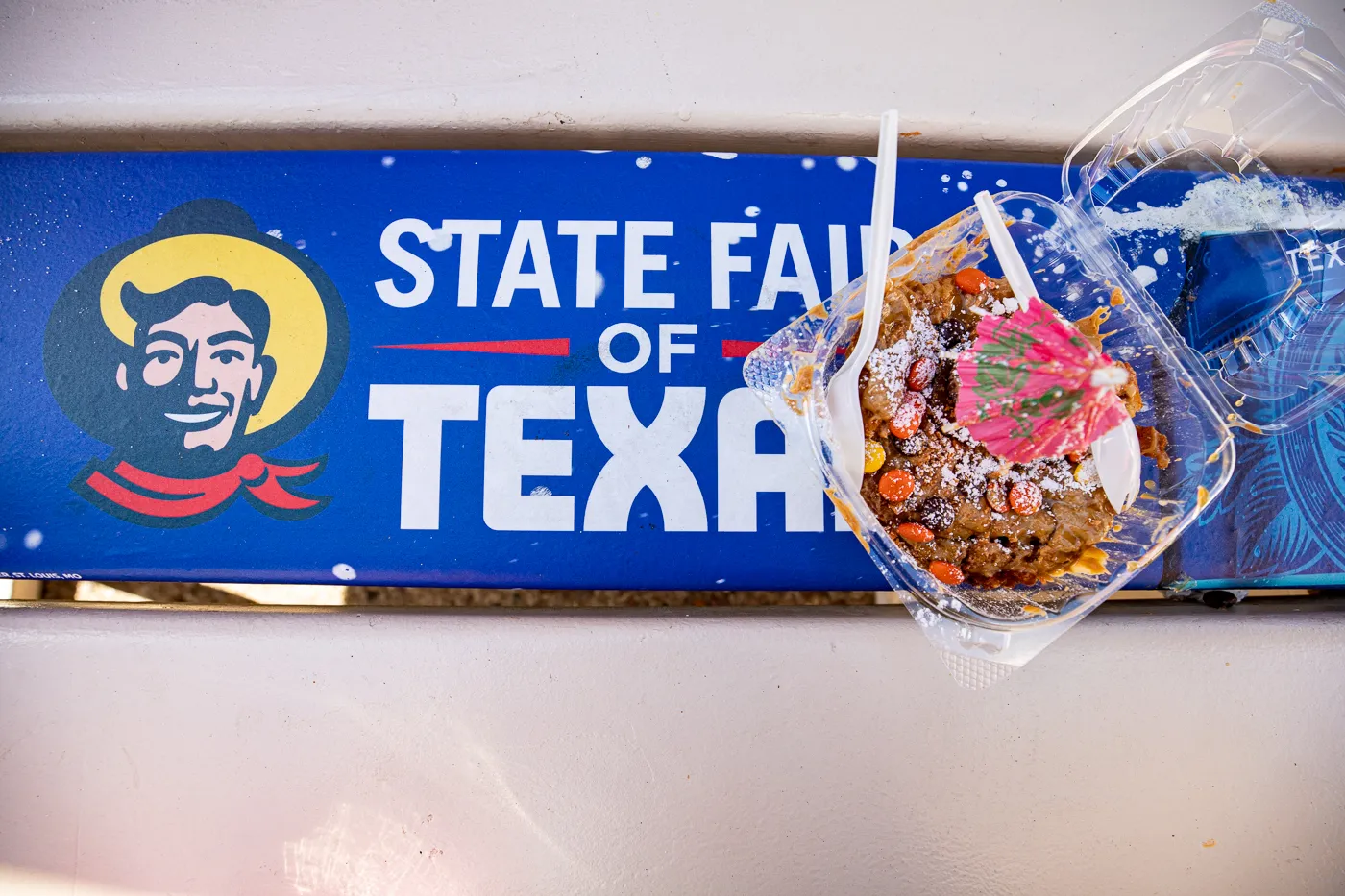 Peanut Butter Paradise
Winner, Best Taste, Sweet
Peanut Butter Paradise won the Best Taste, Sweet division of the Big Tex Choice Awards. And it might just have been the most decadent dessert I've ever eaten. This dish consisted of a deep-fried, caramel-filled honey bun smothered in creamy peanut butter and topped with Reese's Peanut Butter Cups, Reese's Pieces, crushed Butterfingers, powdered sugar, and a cocktail-sized umbrella. If you love peanut butter, this was paradise.
This item had me wishing I was enjoying the fair with friends. It had everything you could ask for from an over-the-top state fair dessert. It had all the textural differences, it was rich, it was ooey, it was gooey, it was chocolaty, it was caramely, it was peanut buttery, it was crisp, it was soft, it was melty. But it was a little much. The first few bites I was in a peanut butter paradise. But then I struggled to eat more than half.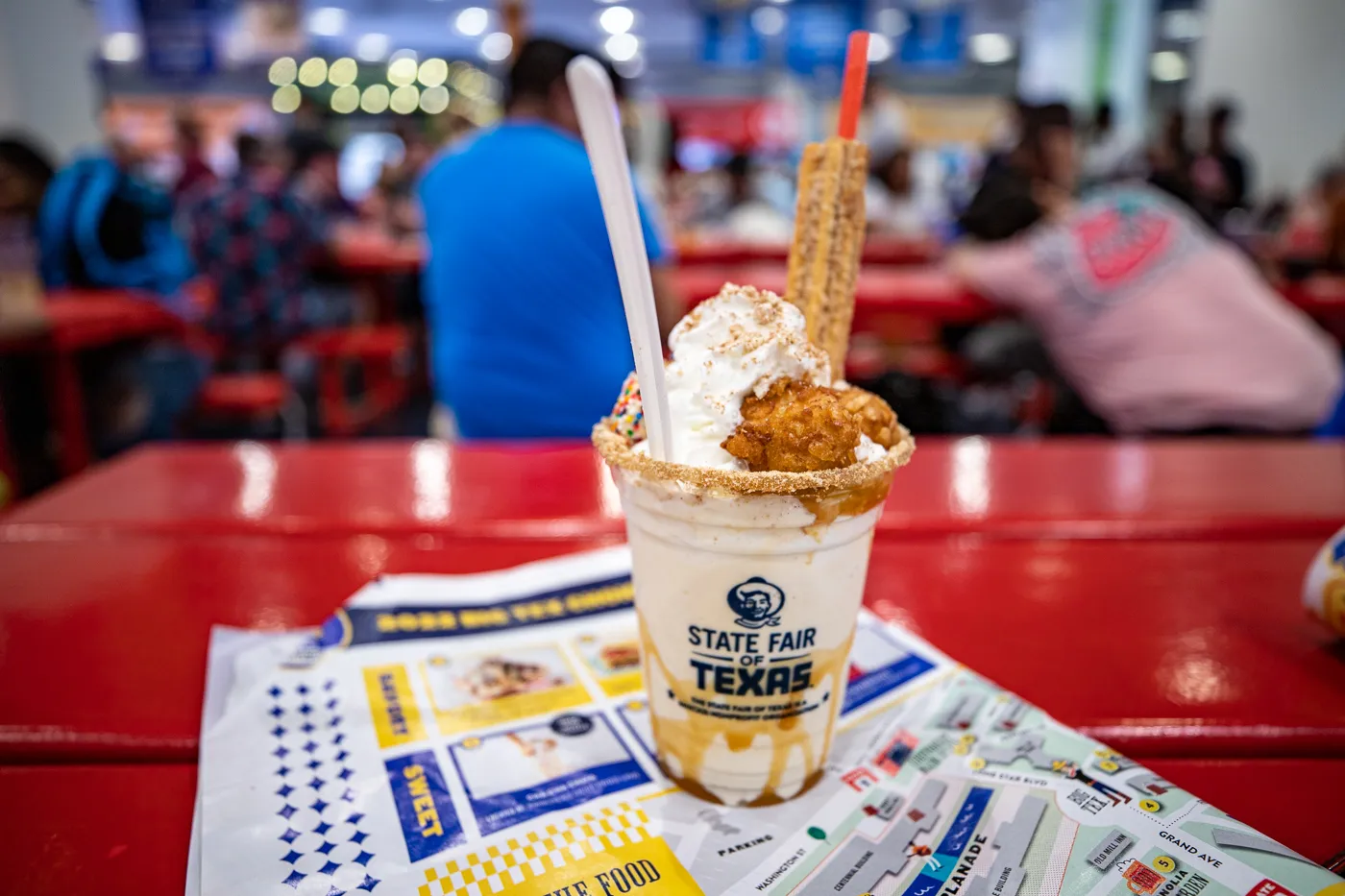 Cha-Cha-Chata
Winner, Most Creative
The Cha-Cha-Chata won the Big Tex Choice award for the most creative dish. And I would have to agree that this was both creative and delicious. Milkshakes and churros are two of my favorite food groups. So combining them into one thick and rich creation had me in heaven.
This creamy milkshake combined two types of milk, vanilla ice cream, and horchata with caramel and cinnamon. If that wasn't enough it was then topped with whipped cream, mini cinnamon cookies, a deep-fried arroz con leche (rice with milk) bite, and a churro. It was like five desserts in one creamy, sweet package. I love everything that went into this dessert separately so combined, it was everything. Also, on a hot day, this cool milkshake was a very refreshing treat.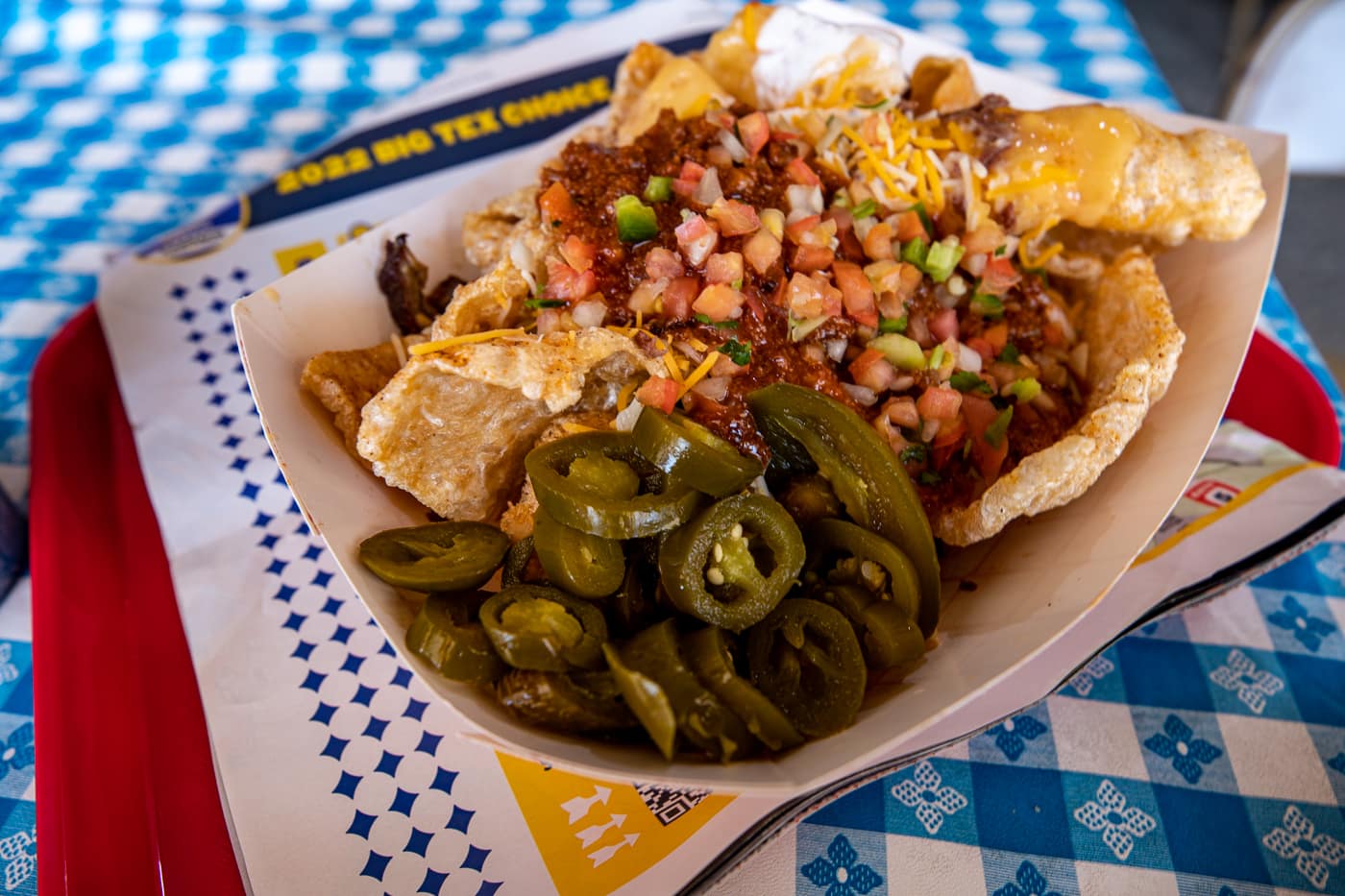 Chicharron Explosion Nachos
Savory Finalist
After making my way through all the Big Tex Choice Award winners, I wanted one more thing before I left. To be honest, the Chicharron Explosion Nachos wasn't my first choice to have as a last bite, but after walking around the entire park twice I still couldn't find a few of the things I wanted to try more. But with a dwindling amount of tickets and not-so-much room left in my stomach, I decided to go for this pork rind monstrosity.
The Chicharron Explosion Nachos replace pretty much everything you love about nachos with meat. Instead of tortilla chips, there were pork rinds. Those were then smothered in smoked beef fajita meat, queso, and more meat in the form of chopped BBQ beef. It was, a lot. I'm not sure I'll recommend this one for the future, and it was definitely something served better among friends.
Texas State Fair Food FAQ
What kind of food is at the Texas State Fair?
You can find all kinds of food at the State Fair of Texas! While state fairs are best known for their fried foods, like corn dogs, funnel cakes, and deep fried bacon, you can find foods of every kind. You can find vegetarian options like a veggie empanada, fruit cups, and corn on the cob, among hundreds, if not thousands, of options.
Can I take food to the Texas State Fair?
You can bring your own food to the State Fair of Texas! While part of the experience for most people is trying all the different food options, if you have dietary restrictions or just want to save your money for rides, you can bring your own food instead.
What foods are at the Texas state fair?
There are too many foods to list! If you're planning your trip to the State Fair of Texas, keep these links handy to plan your menu:
New Food – A list of all the new to the fair foods for the year.
Big Tex Choice Awards – All the best of the best new foods and award winners.
Fair Food Favs Map – A map of where to find everything you want to eat.
How much money should you take to the State Fair of Texas?
You budget is entirely up to you! Tickets cost $1 each and items range from under $10 to upwards of $30! It's easy to spend more than $100 per person just on food (not even counting admission prices or ride and game tickets). If you're on a budget look for the discount days where smaller portions of popular foods are offered for fewer tickets.
Pin this post on Texas State Fair Food to save for later: