It's big, it's blue, and it's an icon of Route 66. The Blue Whale of Catoosa in Oklahoma has been making a splash since the 1970s.
Hugh S. Davis, a retired Tulsa Zoo zoo keeper, built this big blue whale as a gift for his wife Zelta on their 34th wedding anniversary in 1972. It was an appropriate present as she loved collecting whale figurines.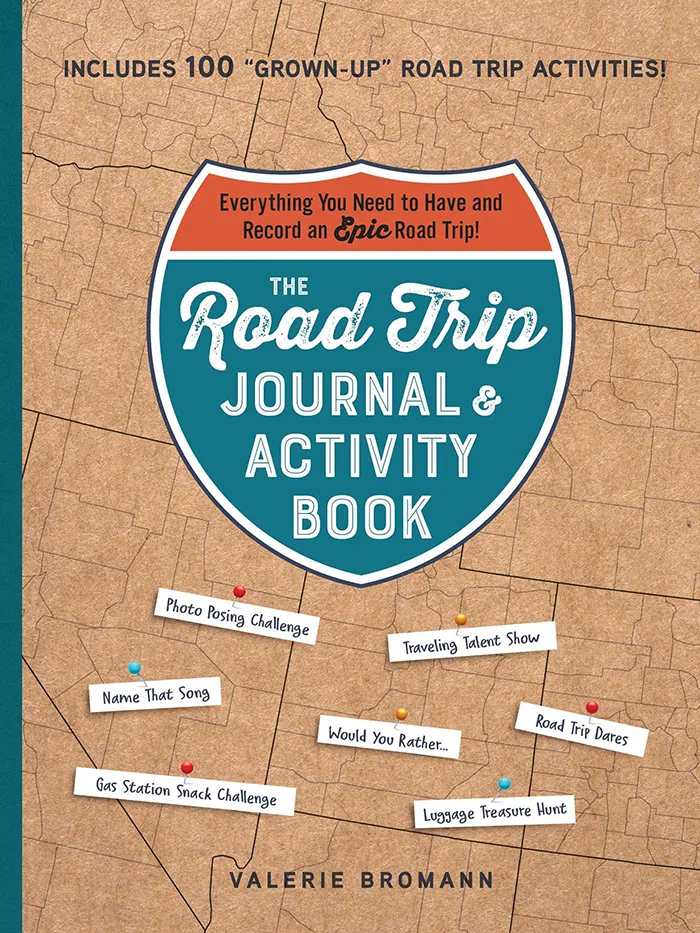 The Road Trip Journal & Activity Book
Everything You Need to Have and Record an Epic Road Trip!
Enjoy fun games and challenges to pass the time on your next road trip and have a keepsake to look back on for years to come with this entertaining must-have for your next vacation.
The giant whale is 20 feet tall and 80 feet long. It was constructed from an iron frame and a lot of concrete. Davis, with the help of his friend Harold Thomas, spent two years constructing the creature bucket of concrete after bucket of concrete.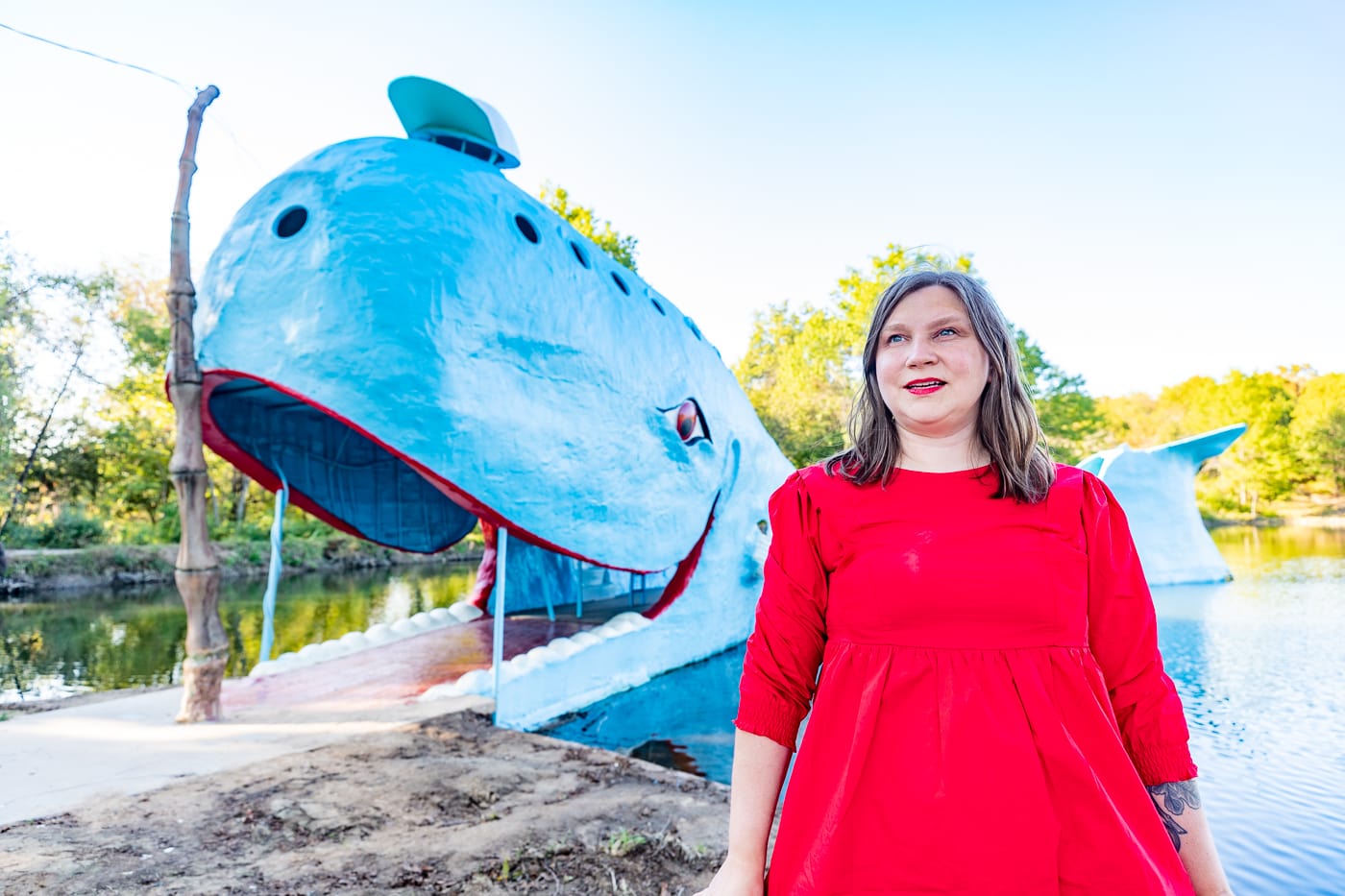 The whale isn't just a giant sculpture, it's a place to play. Inside the mouth and belly is a slide that once allowed visitors to shoot out into the water and on the tip of the tail is an old diving platform. Though neither of those features are still in use, you can climb the steel ladders that are still inside to look out the portholes built into the top.
He constructed the Oklahoma Route 66 roadside attraction on his property and, while the attraction was built for Zelta, its mass appeal couldn't be contained. It quickly became a popular spot for friends and family to picnic and swim, it soon after became a local, national, and even an international celebrity, attracting travelers from around the globe.
Davis and his wife maintained the giant whale roadside attraction throughout the 1970s and 1980s. They opened an attraction called Nature's Acres, which featured the roadside attraction alongside a swimming hole and Animal Reptile Kingdom (A.R.K.) complete with a giant wooden Noah's Ark.
But, as the couple grew older and their health began to decline, they could no longer keep up managing the attraction, and it was closed in 1988. Hugh passed away  in 1990, and Zelta in 2001.
Unfortunately, after the stop was closed and Hugh was gone, the roadside attraction fell into disrepair due to weather damage, age, vandalism, and neglect. The paint peeled, the whale damaged, the surrounding foliage overgrown.
Luckily, the importance of the Catoosa Whale did not go overlooked. Due to efforts by the couple's son Blaine, the Catoosa Chamber of Commerce, the Hampton Inn, and other volunteers, money was raised and the whale was able to swim once more. A group called  Fins of the Blue Whale now work on long term improvements and daughter Dee Dee Belt maintains the big whale and a small onsite concession stand.
On your Route 66 road trip be sure to stop at this Oklahoma roadside attraction. I promise you'll have a WHALE of a time!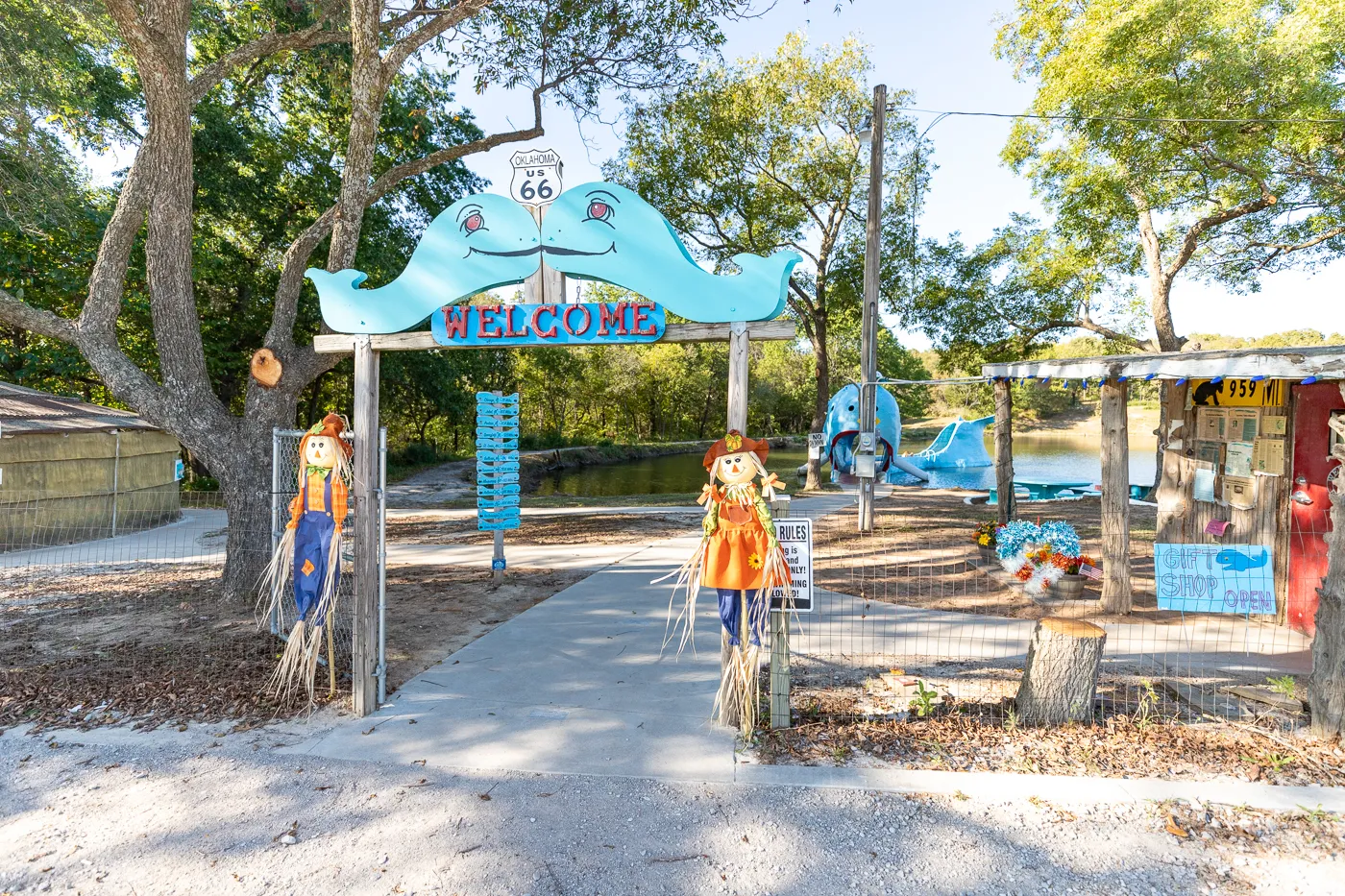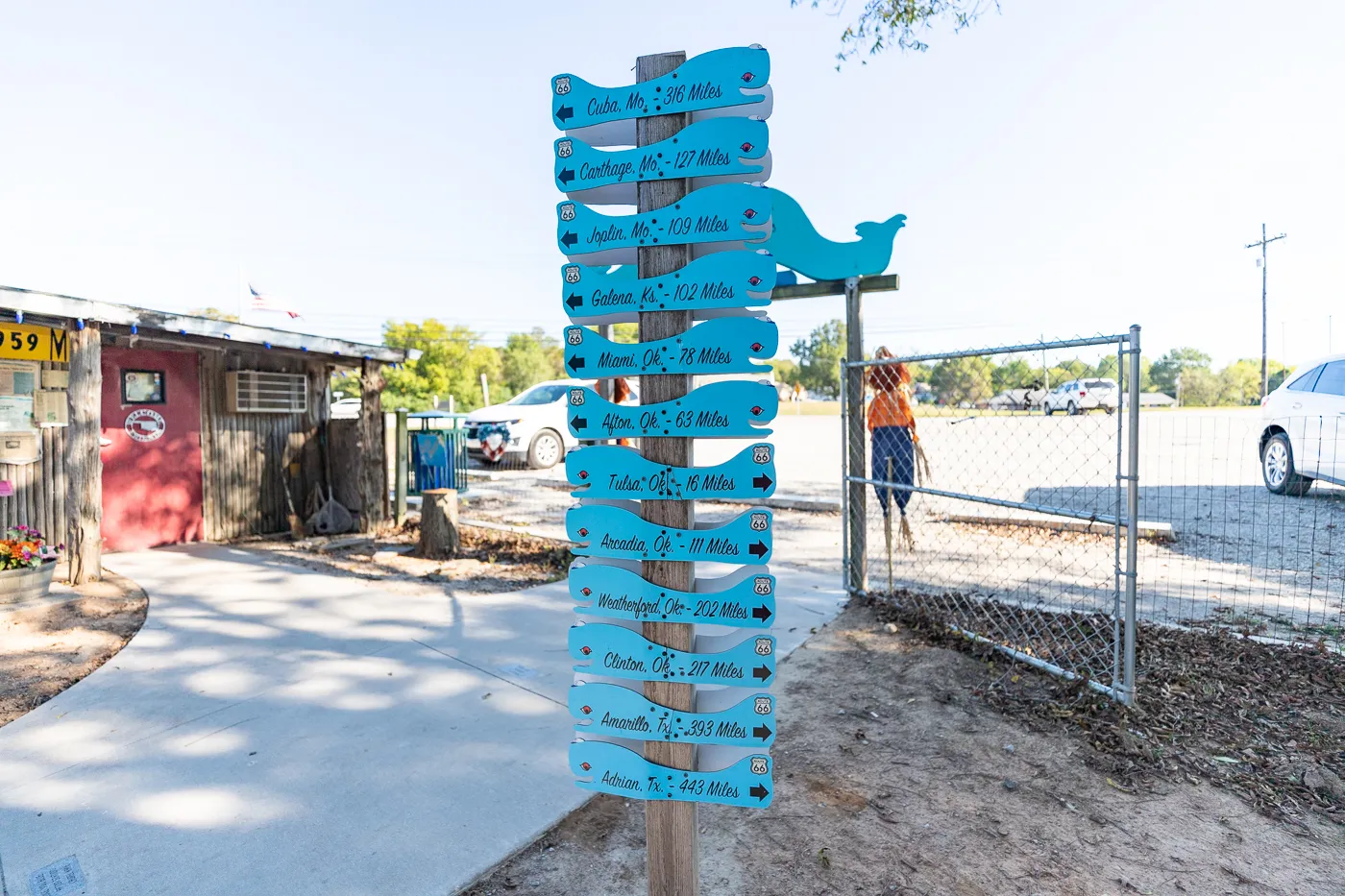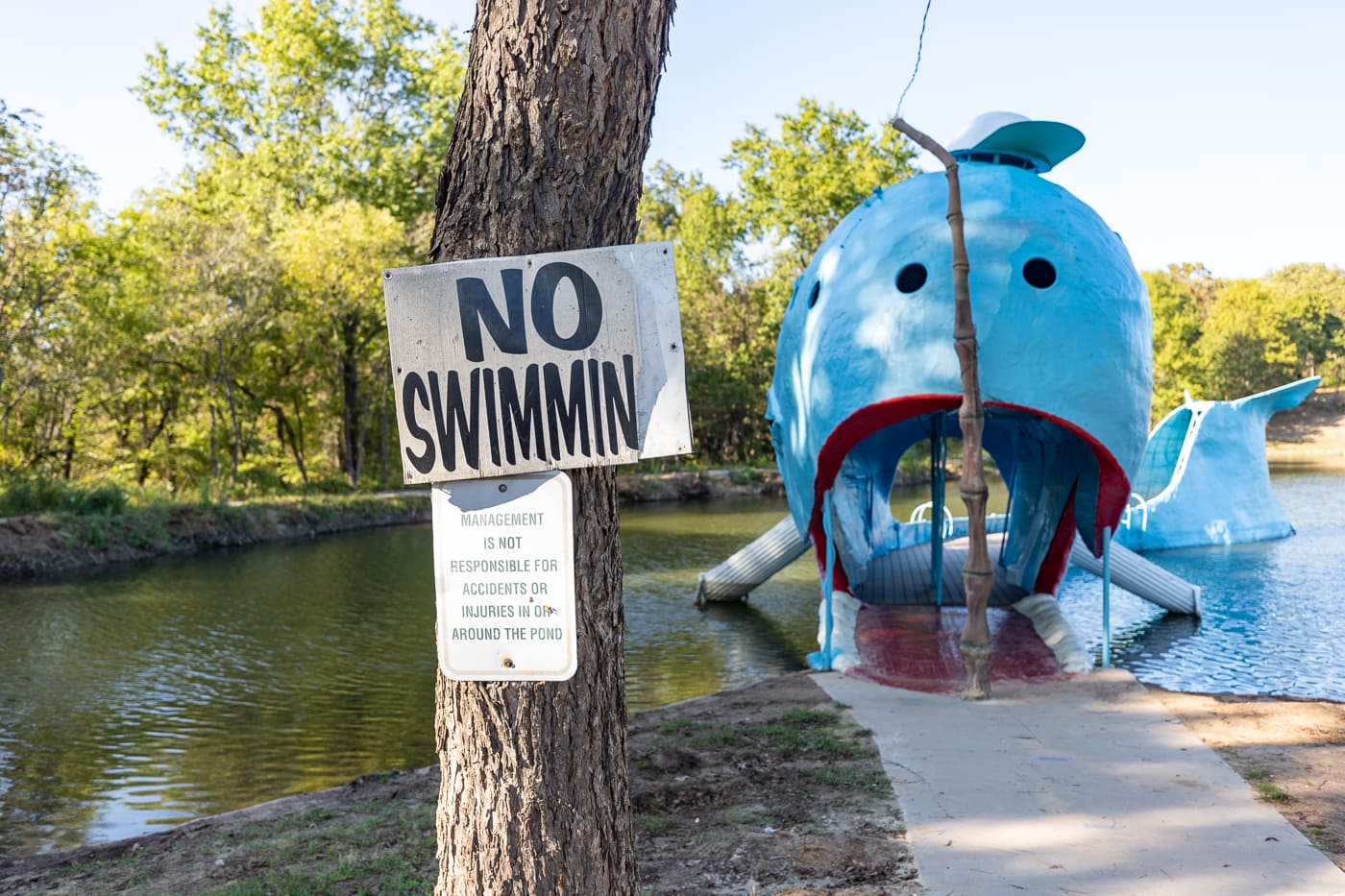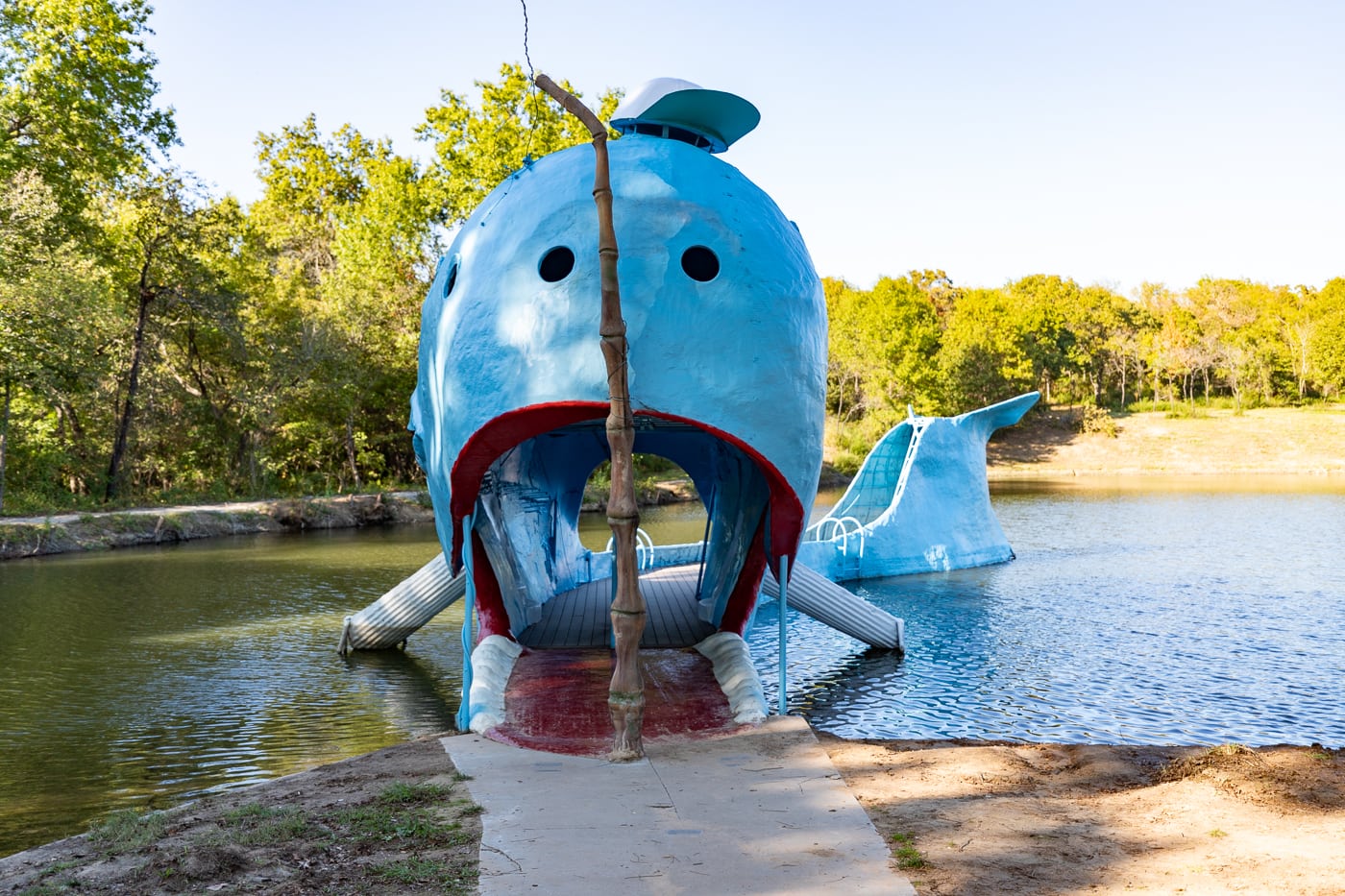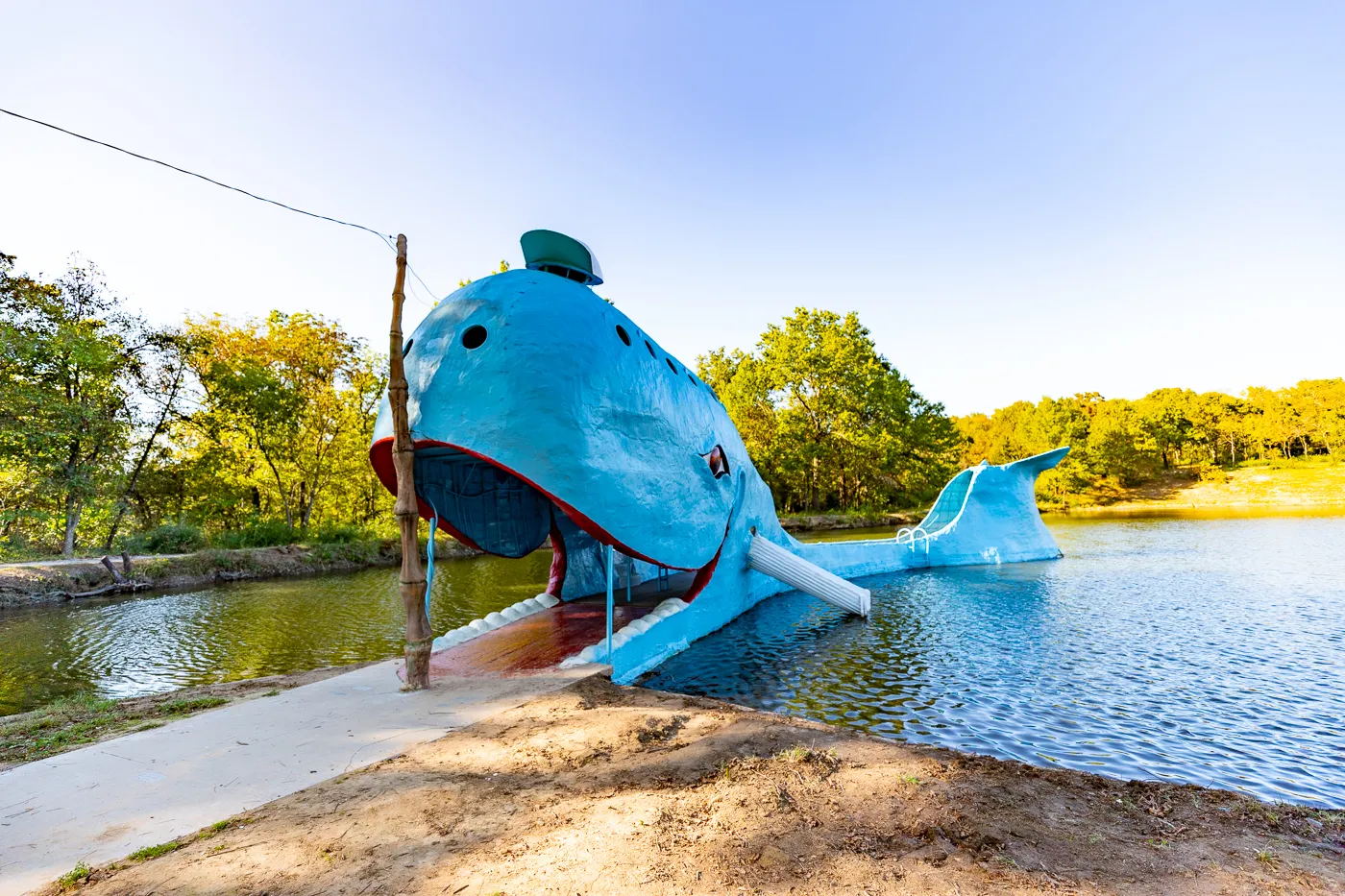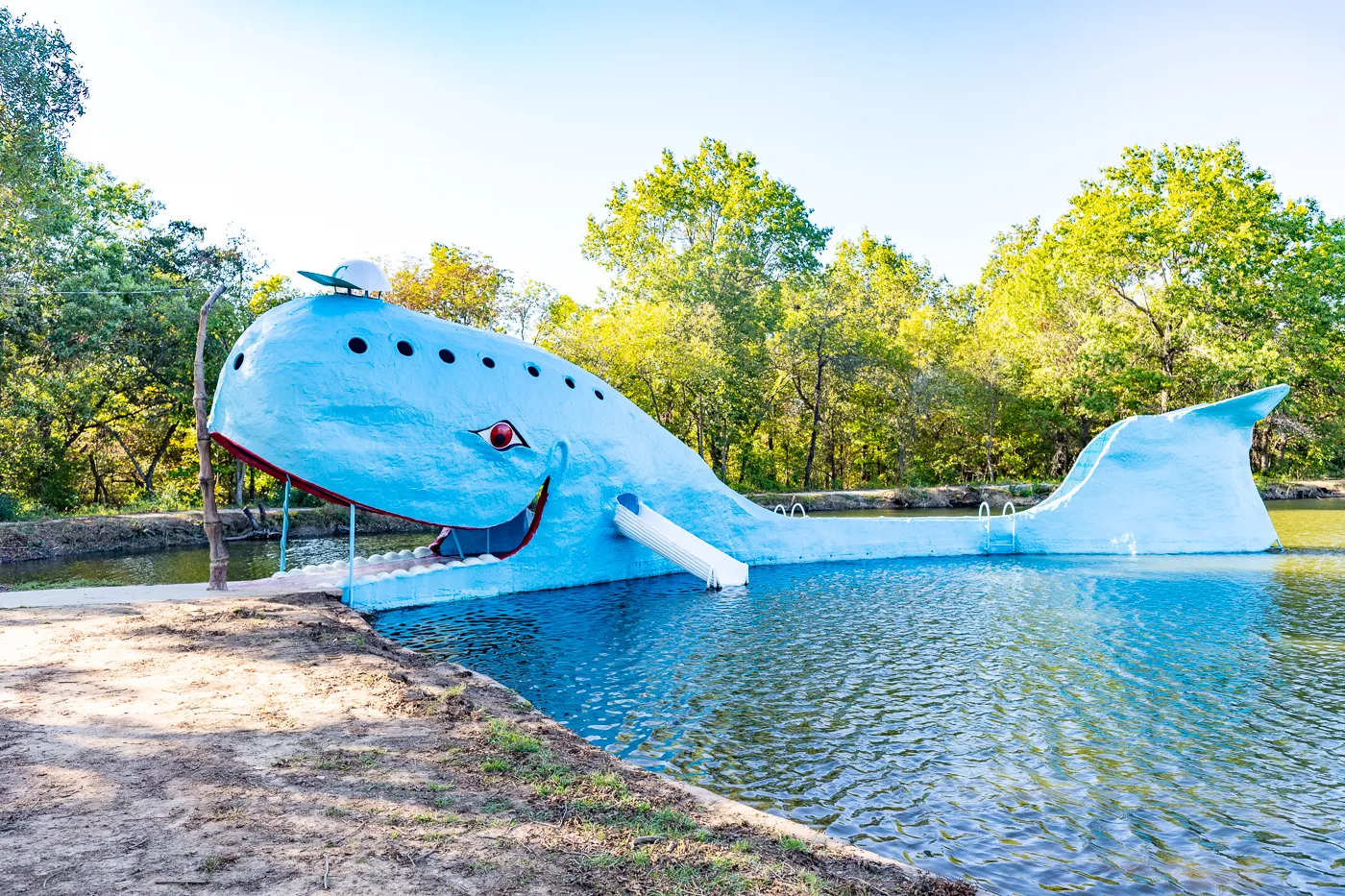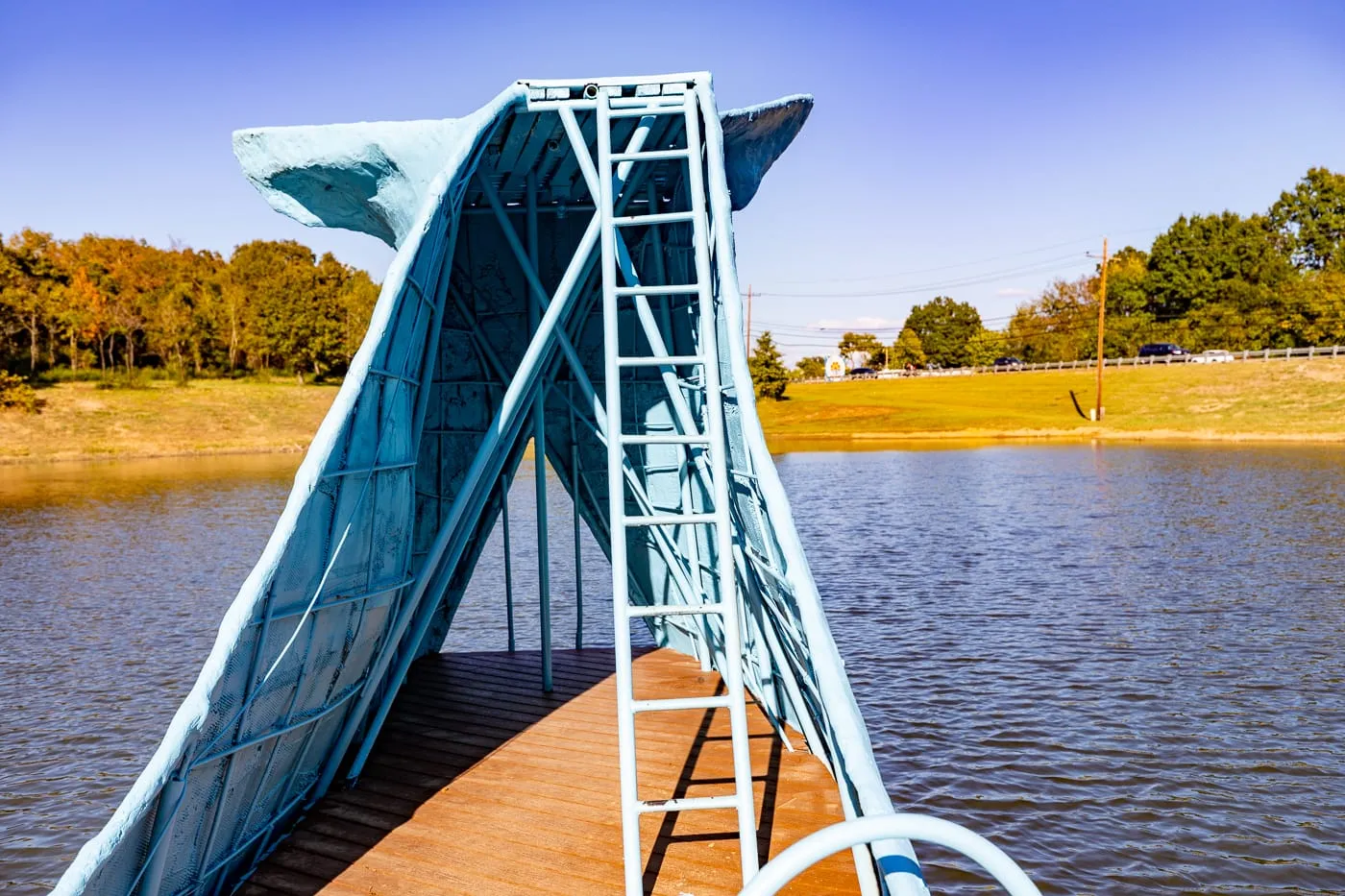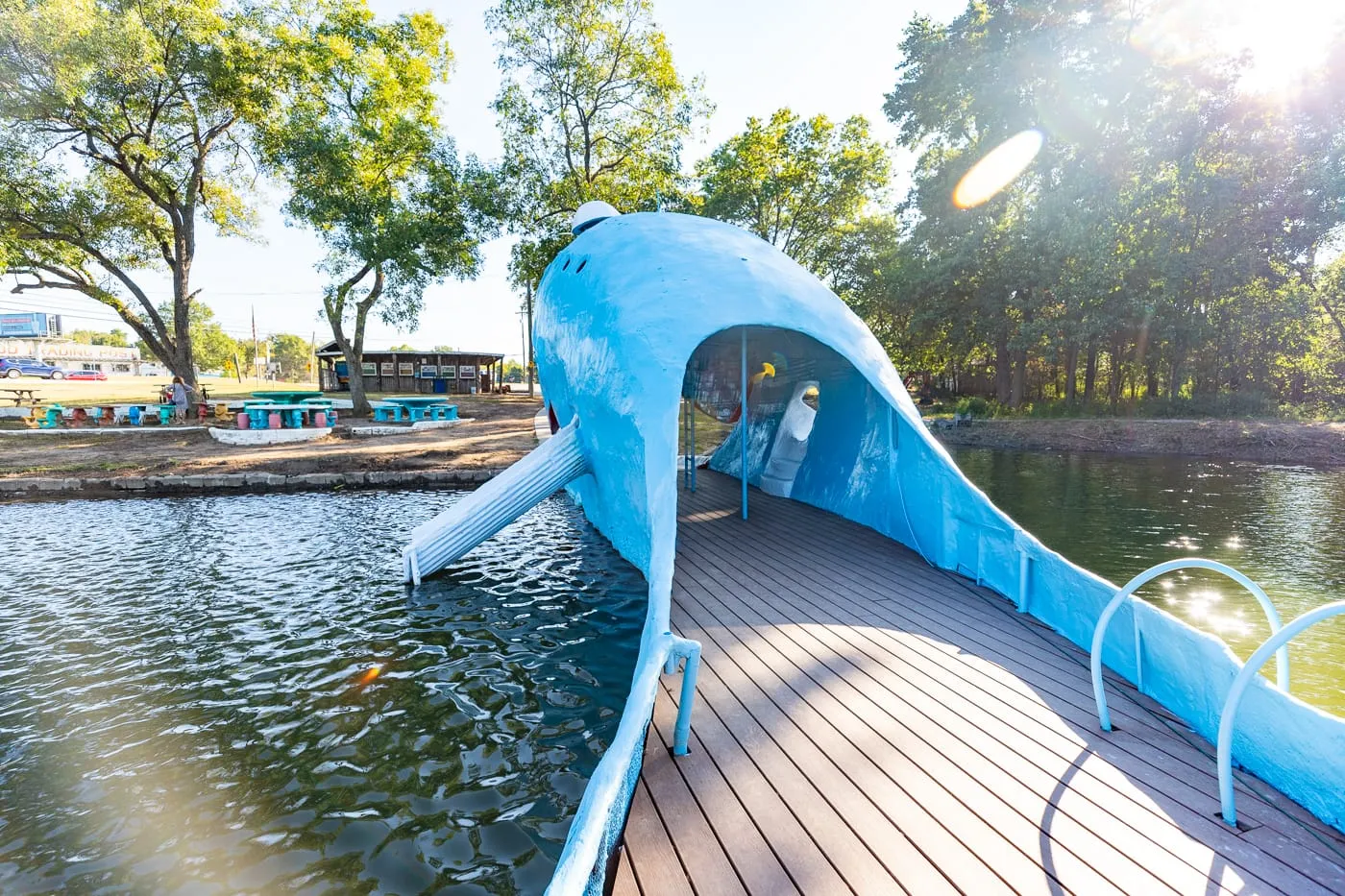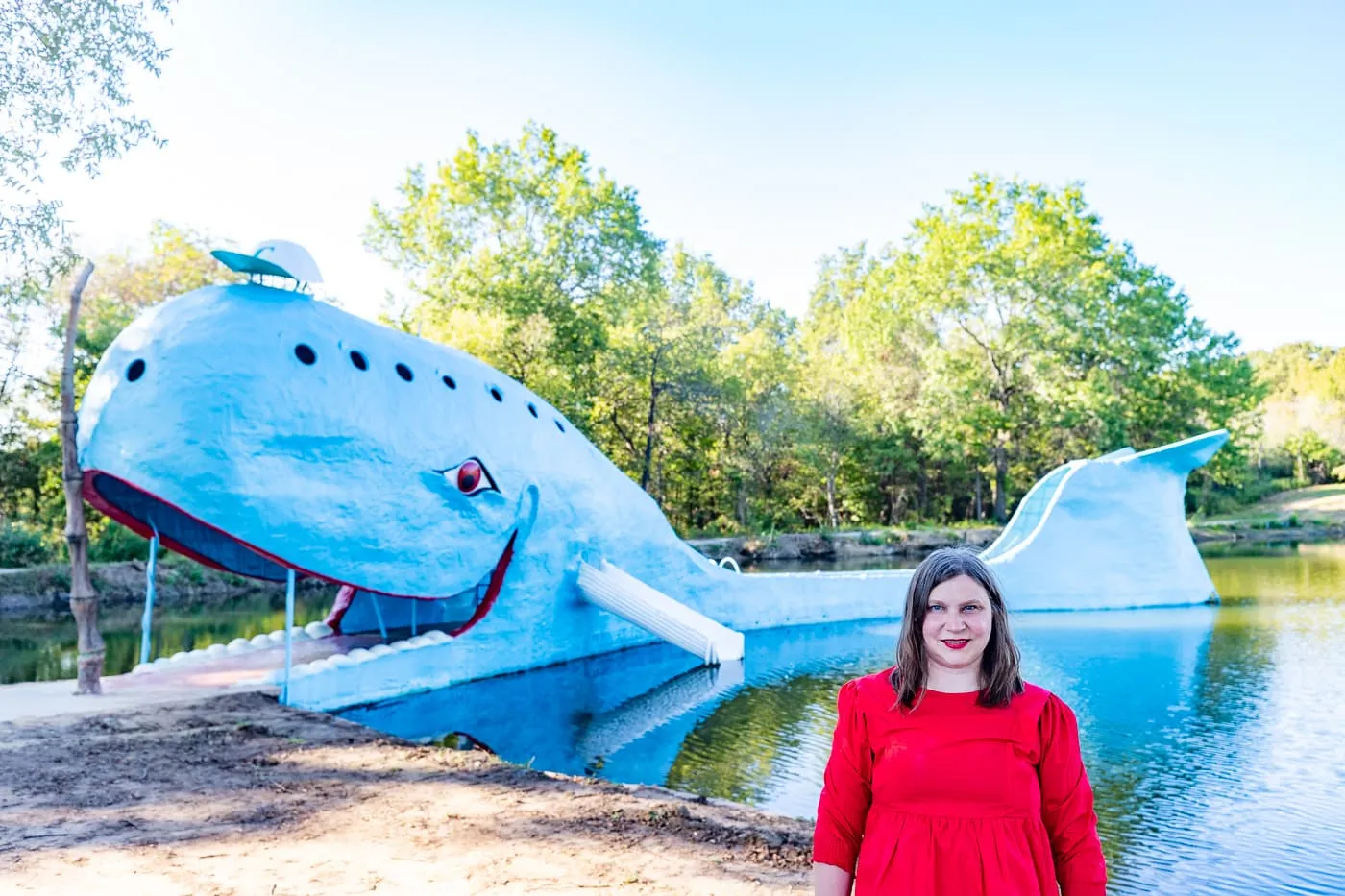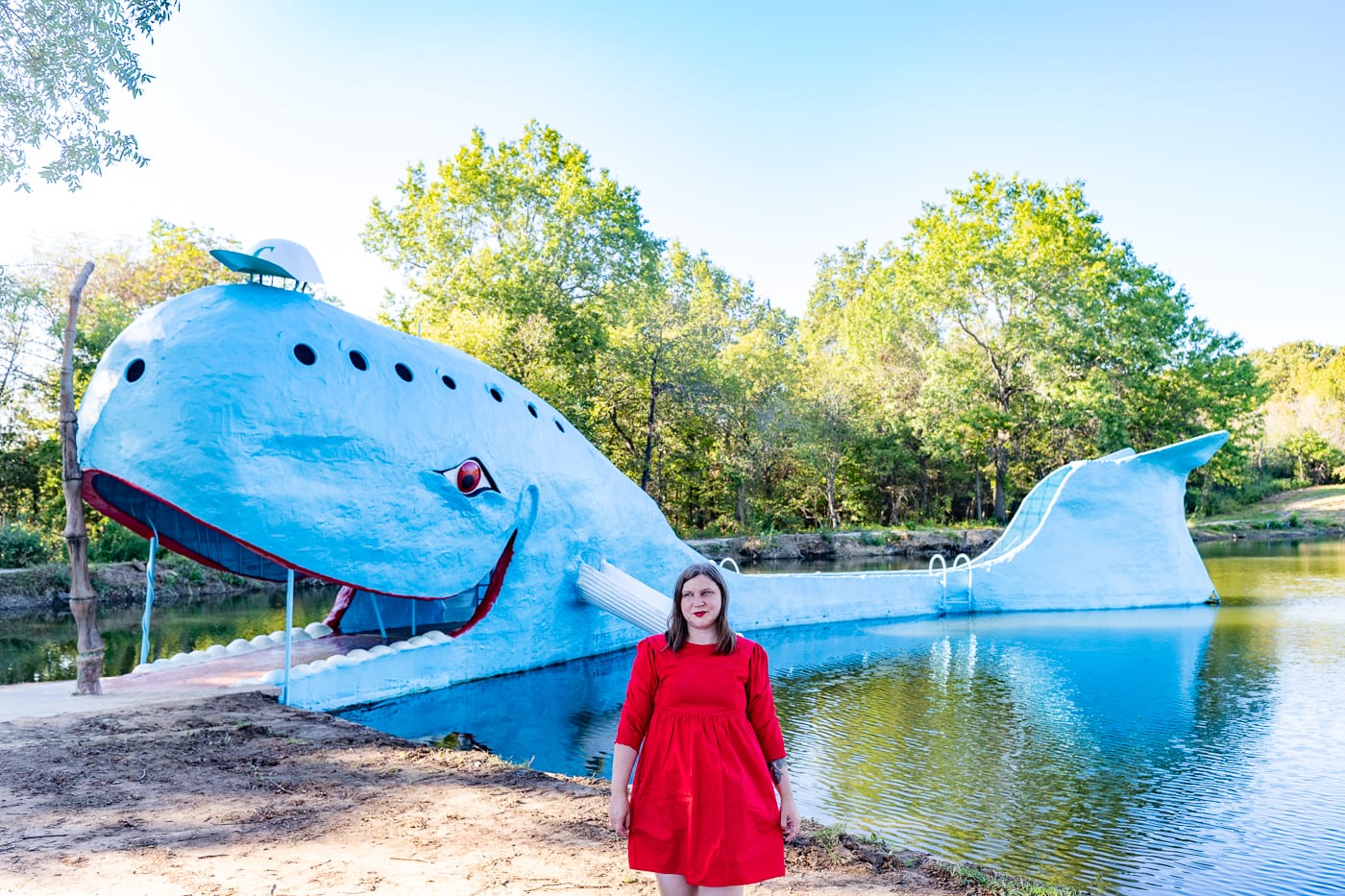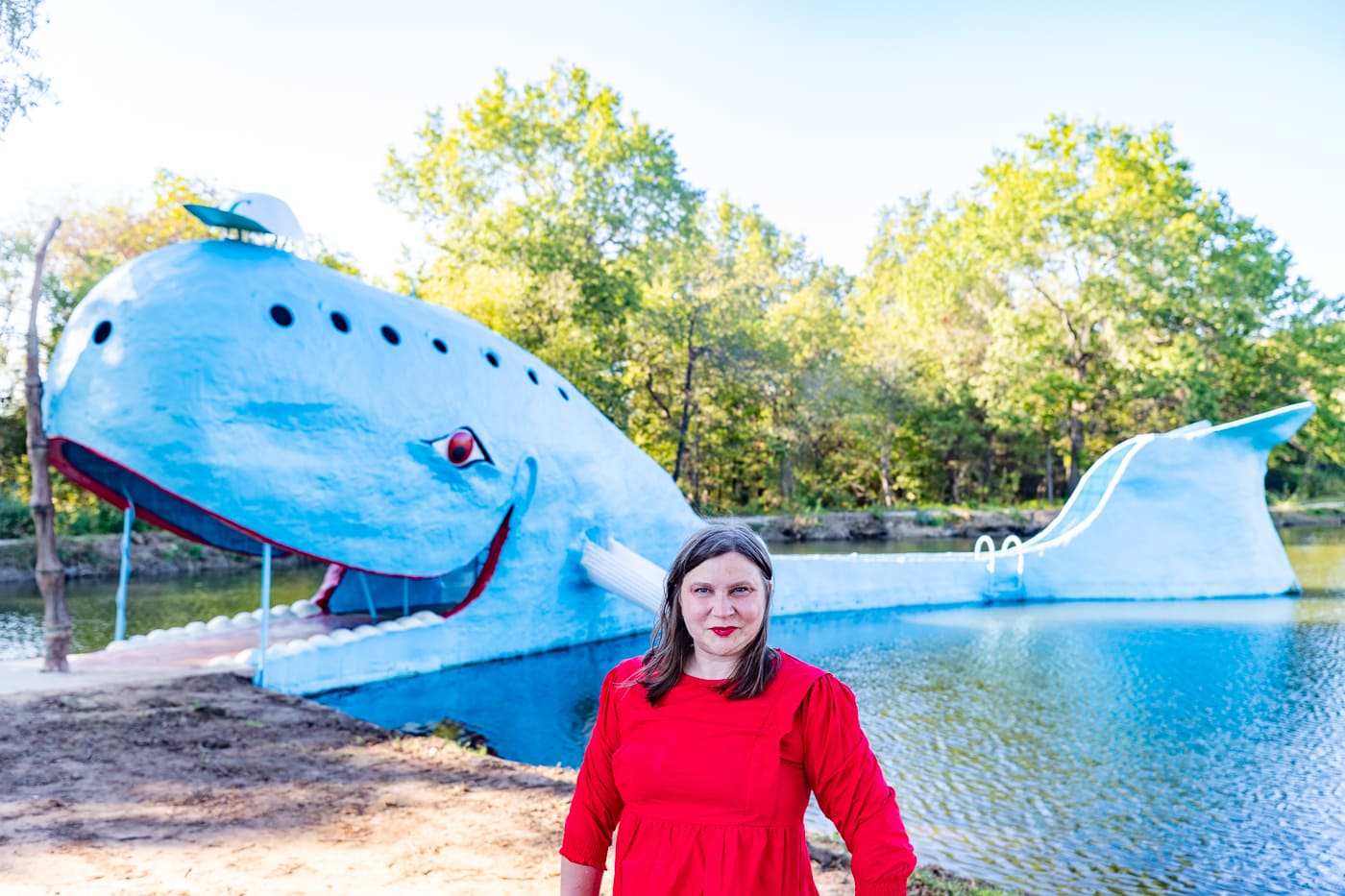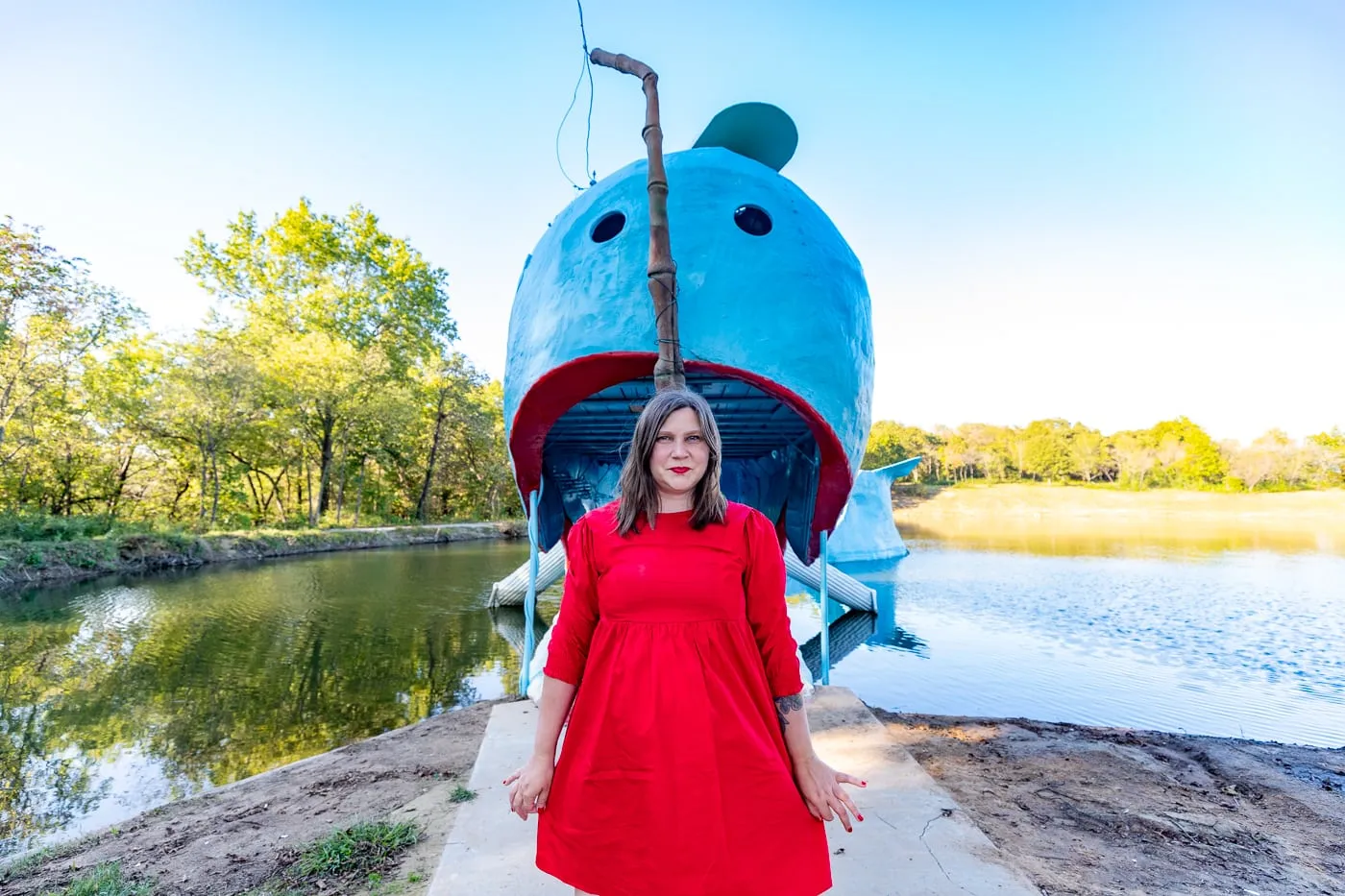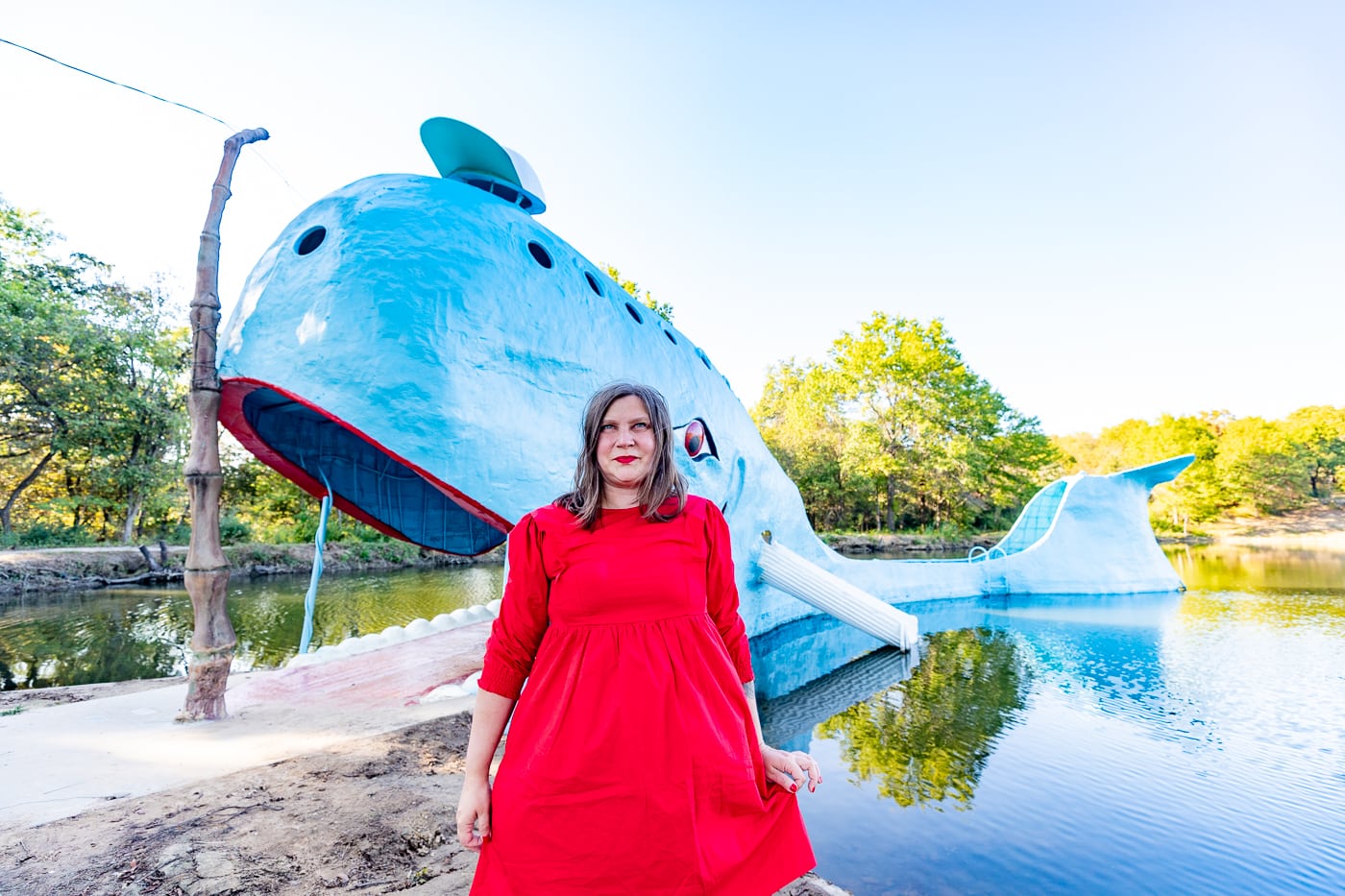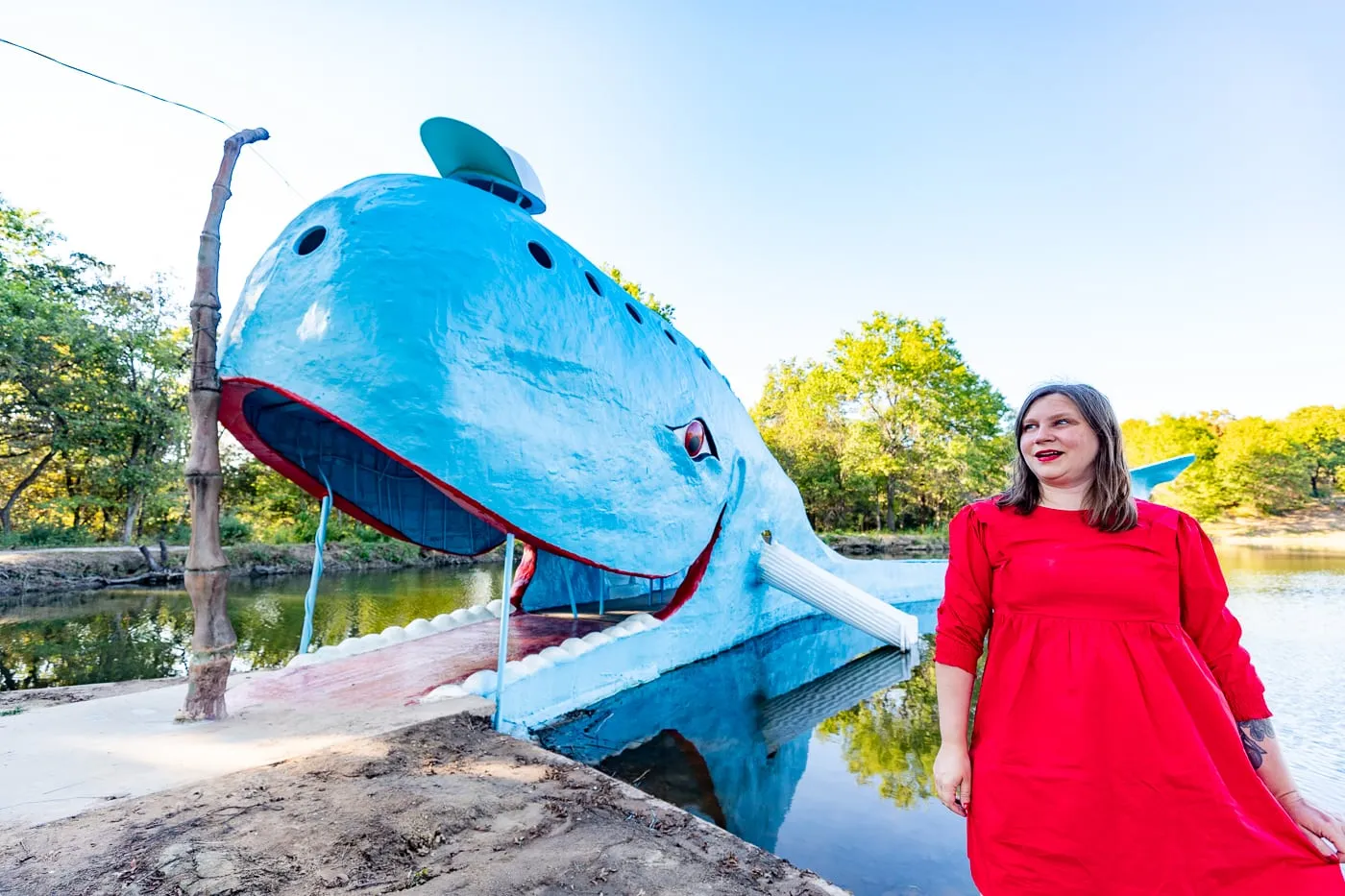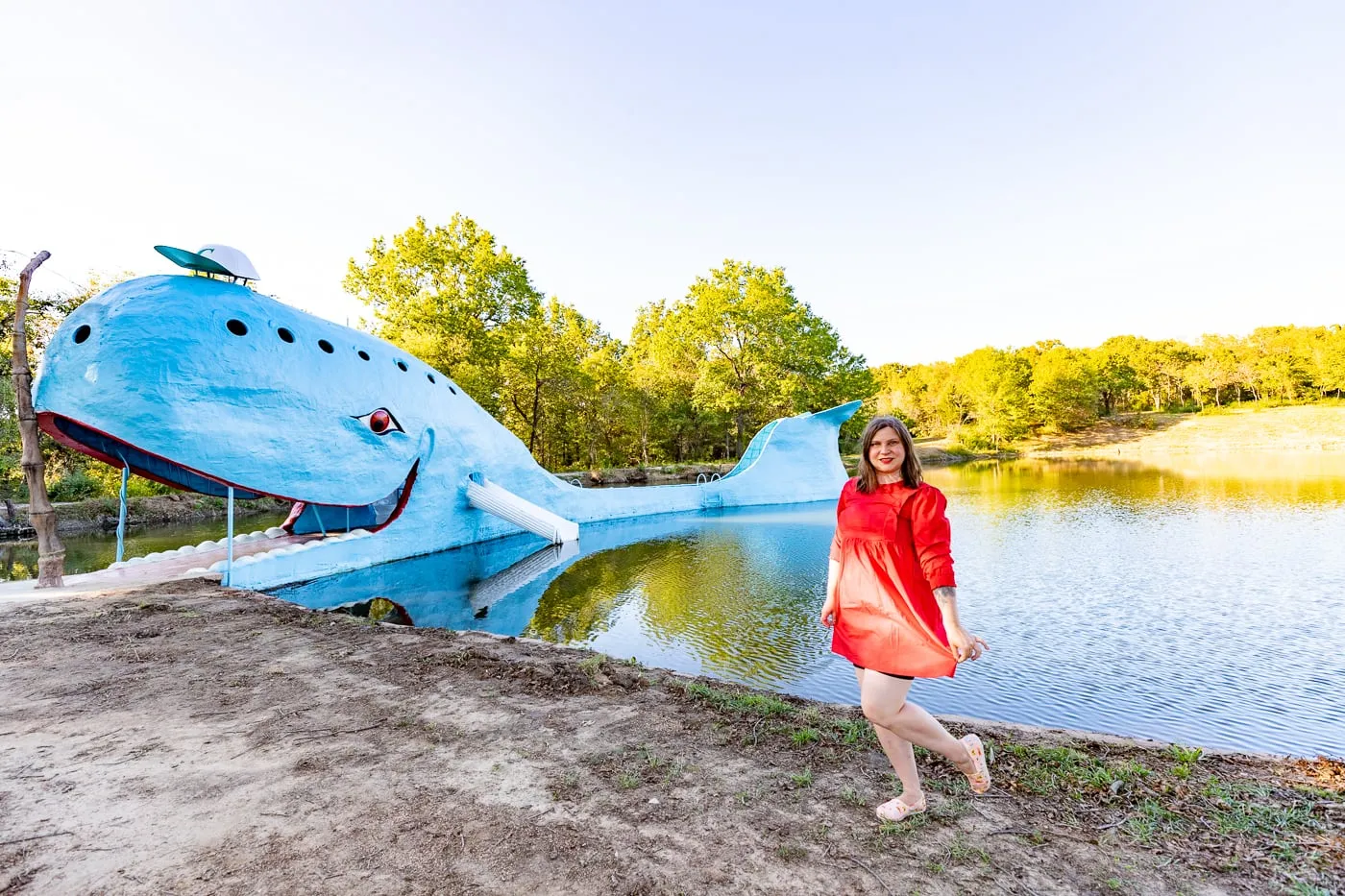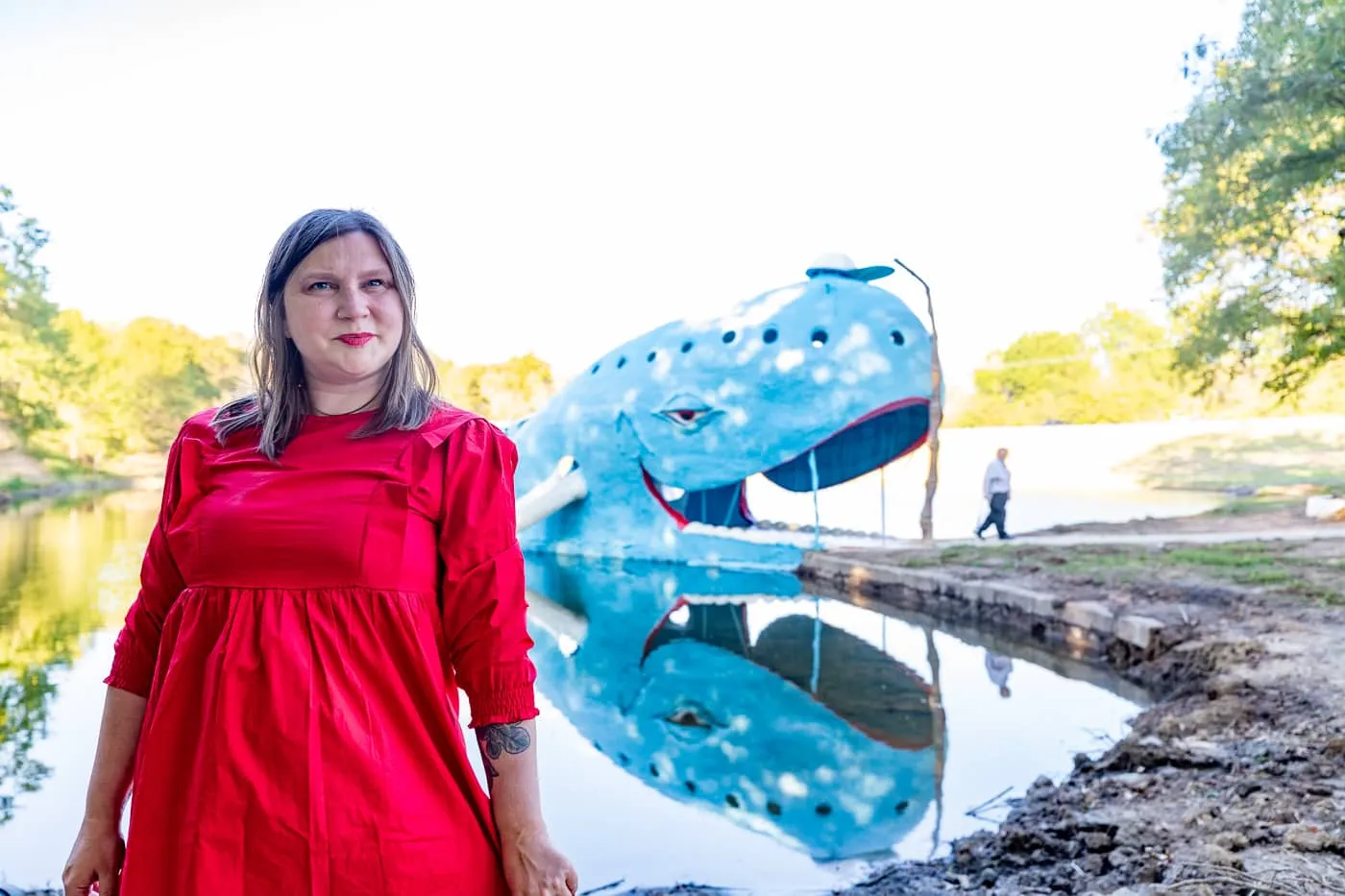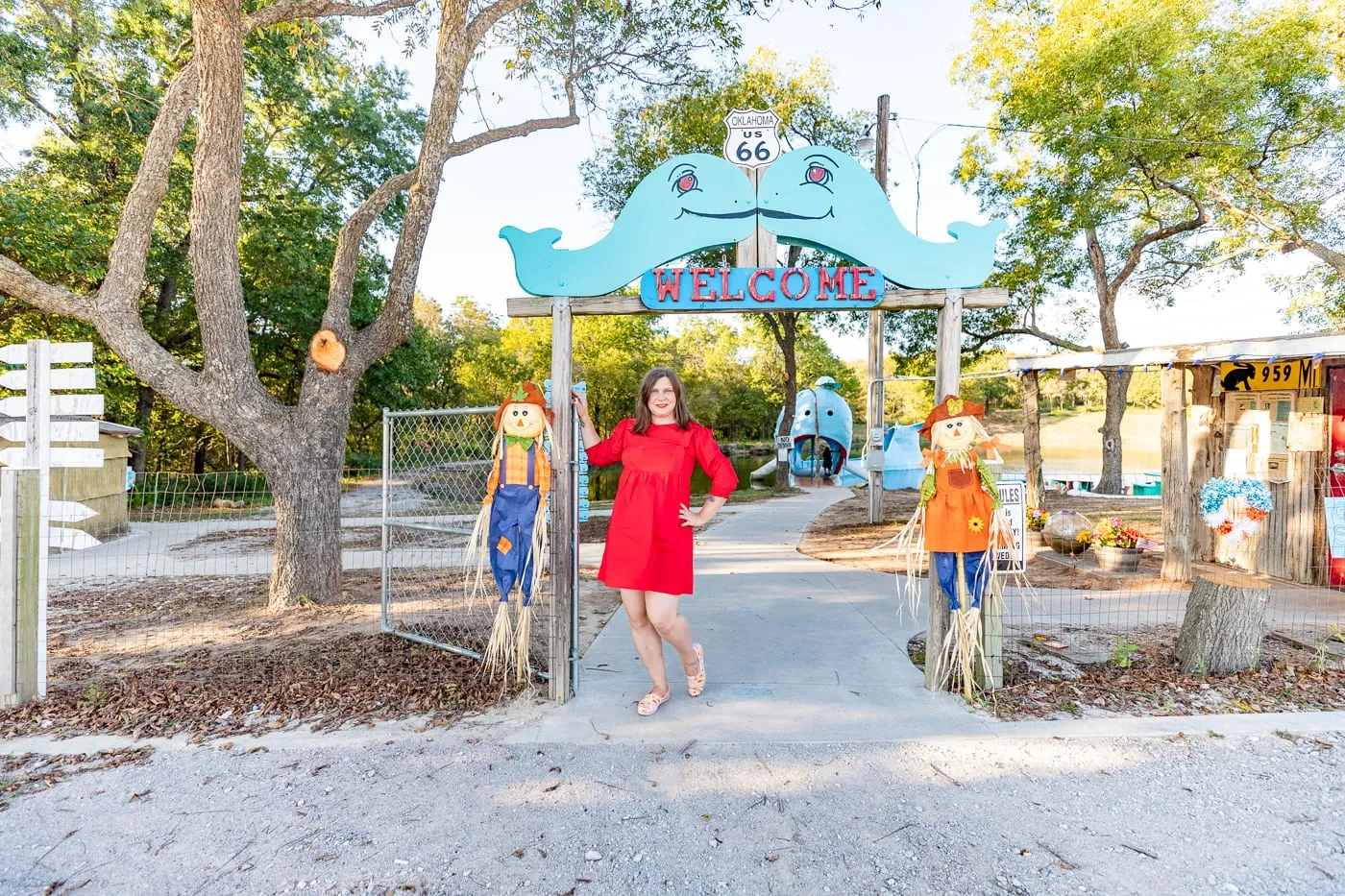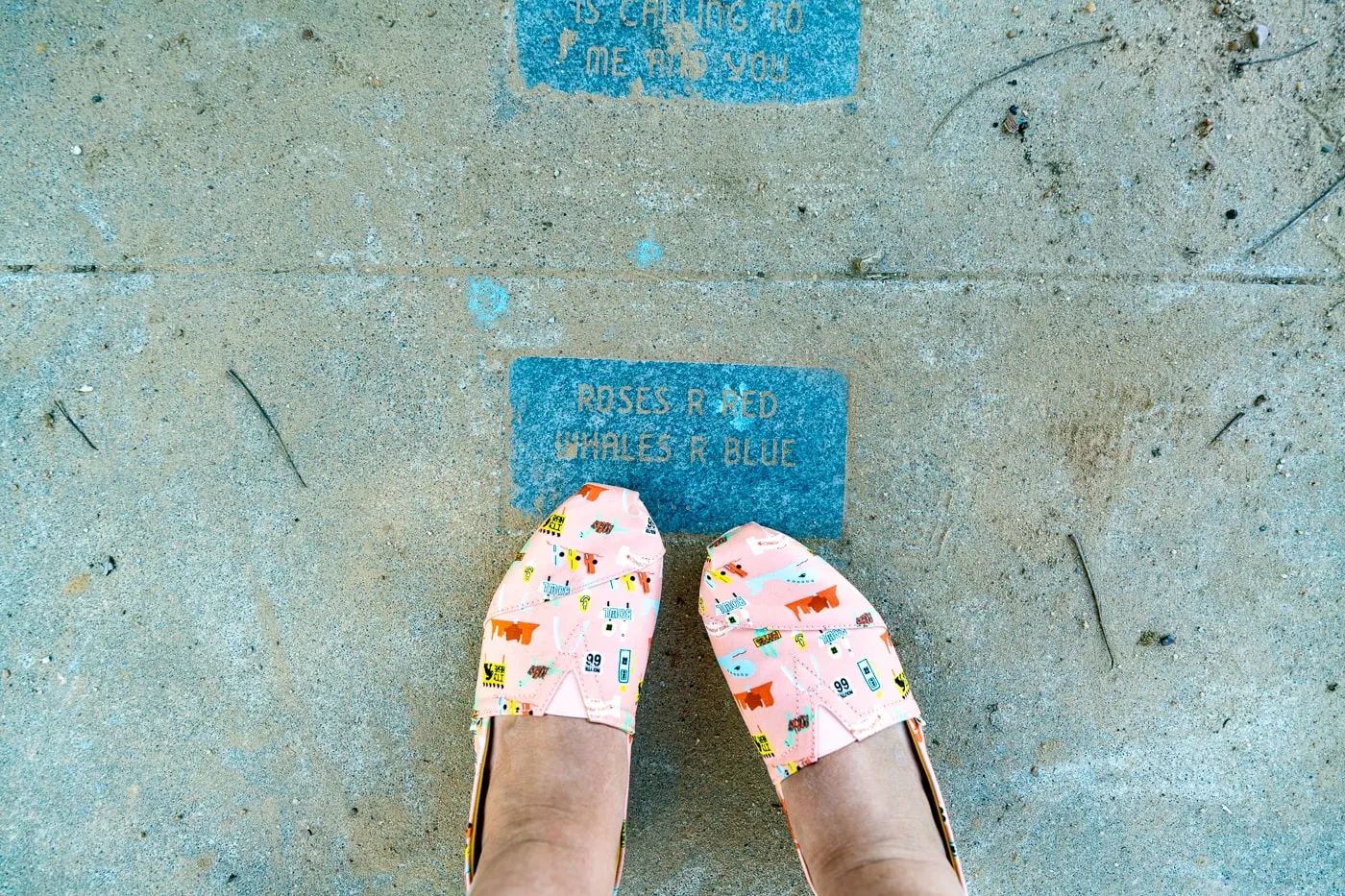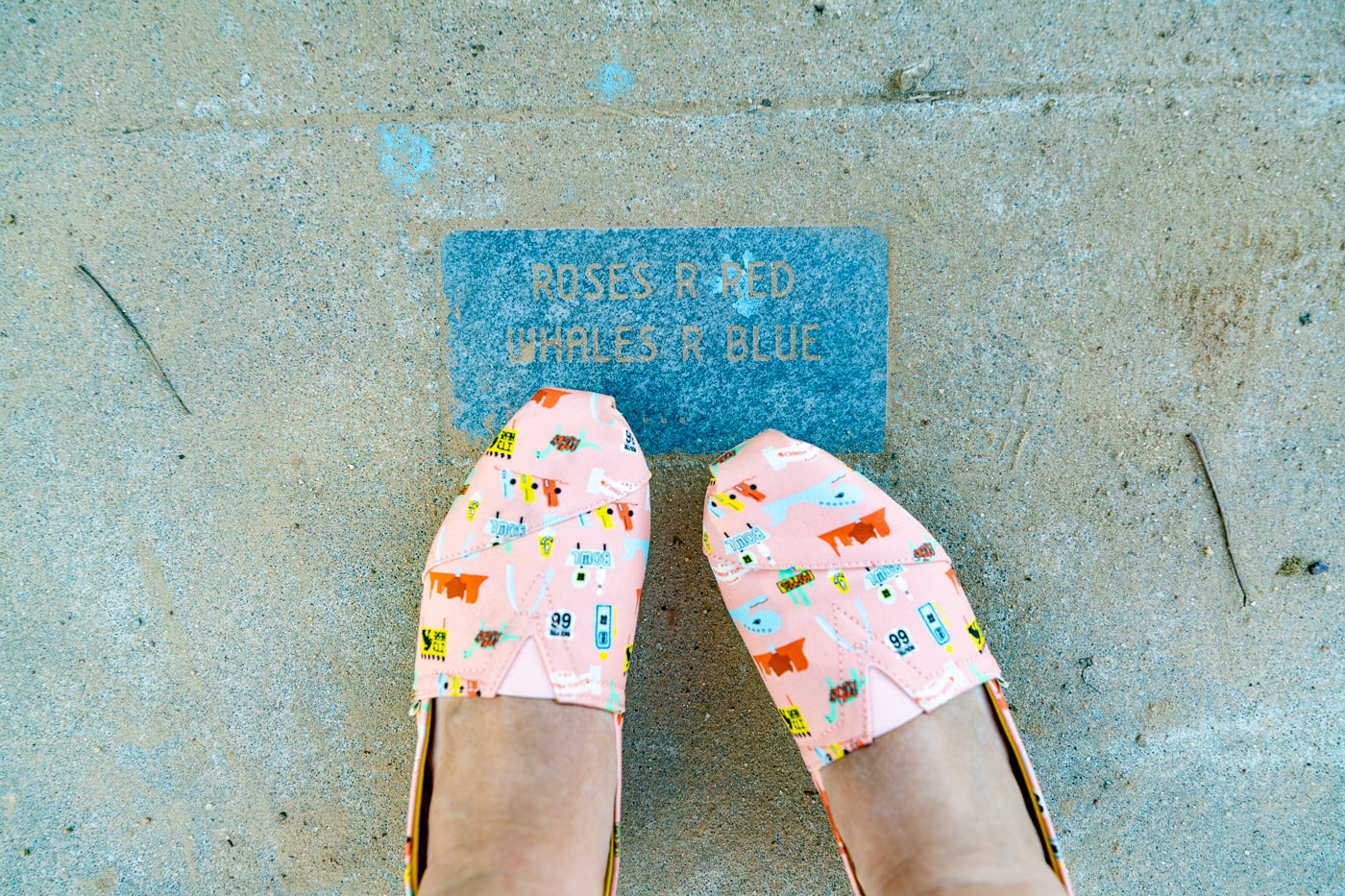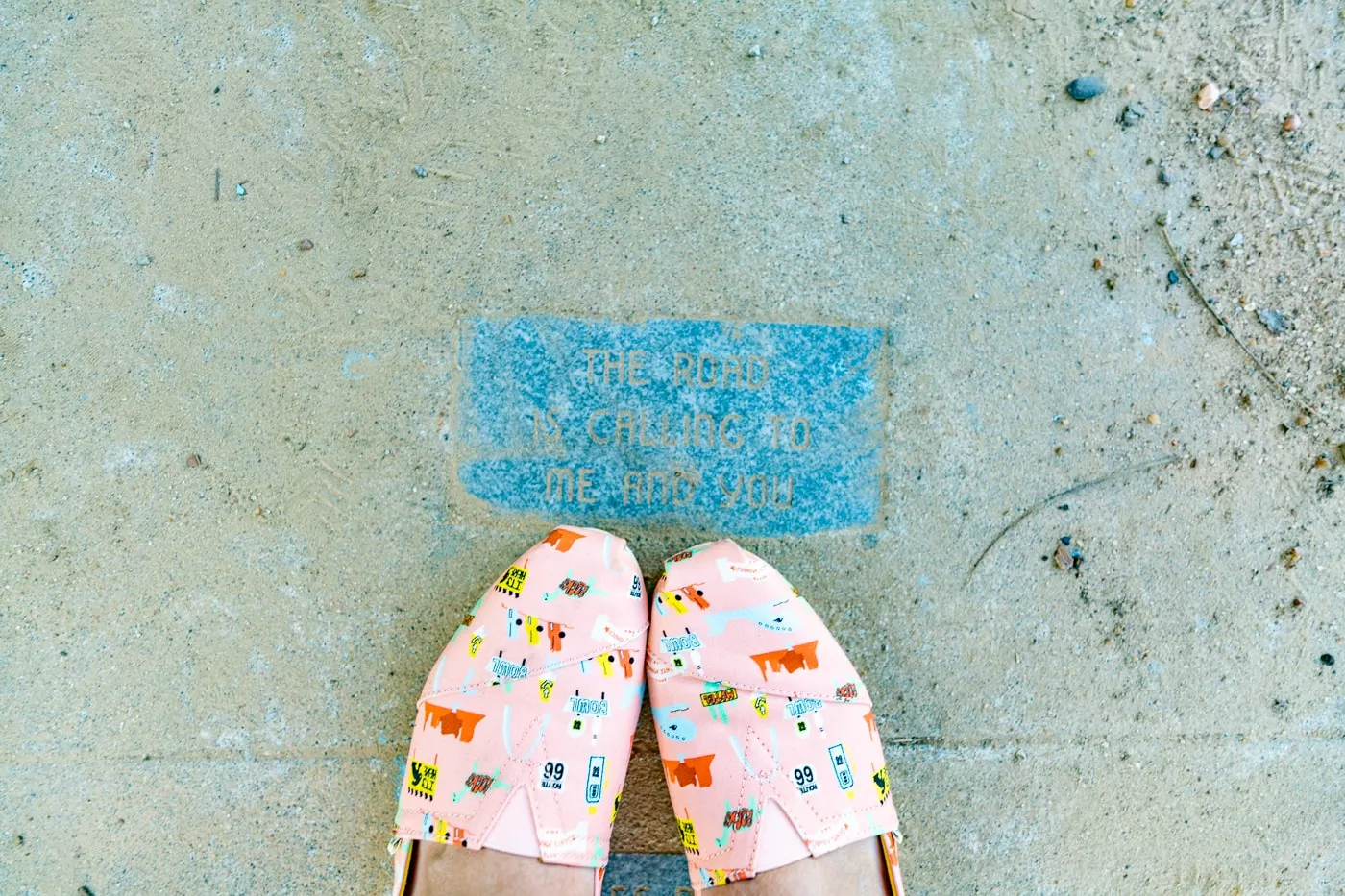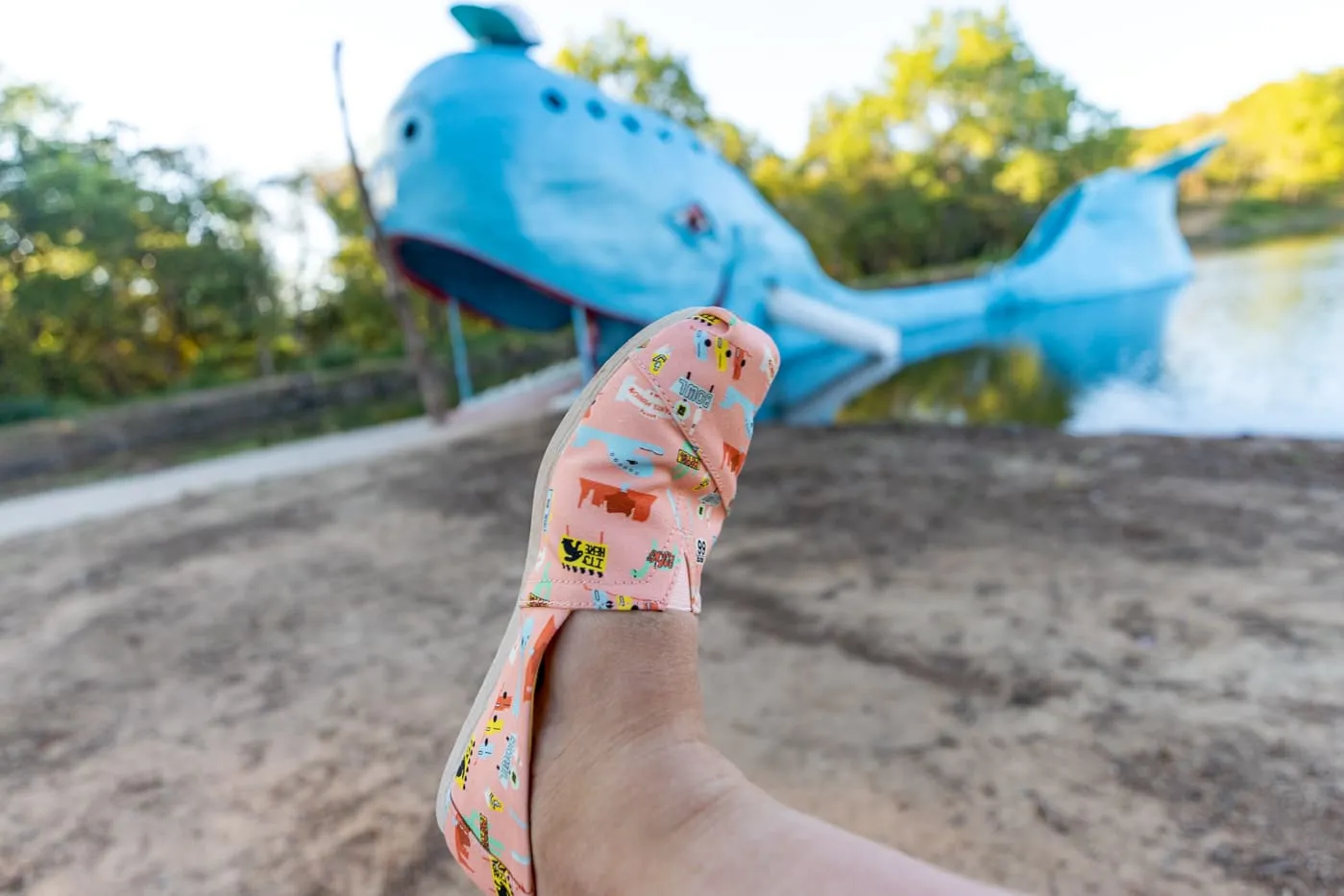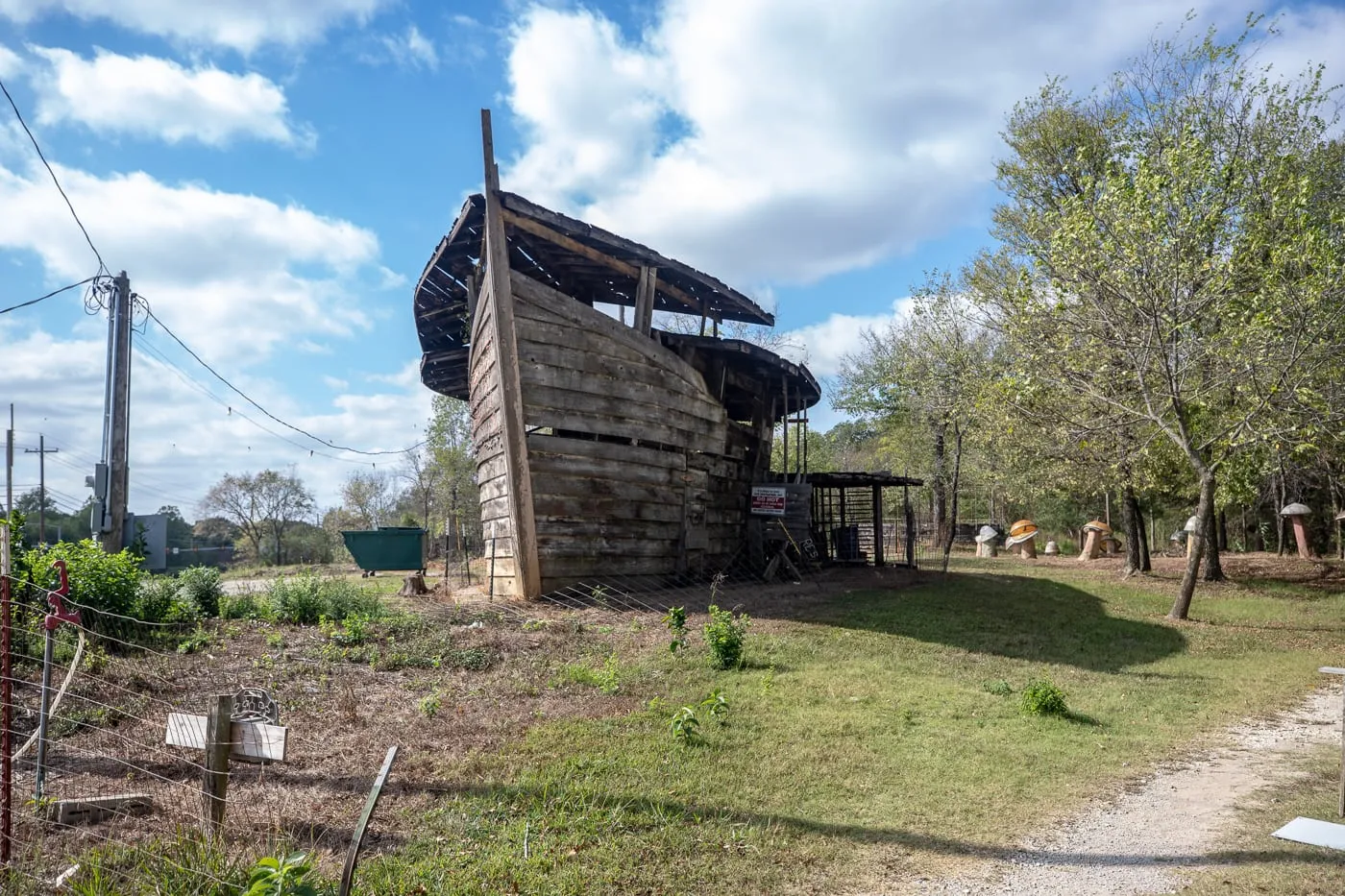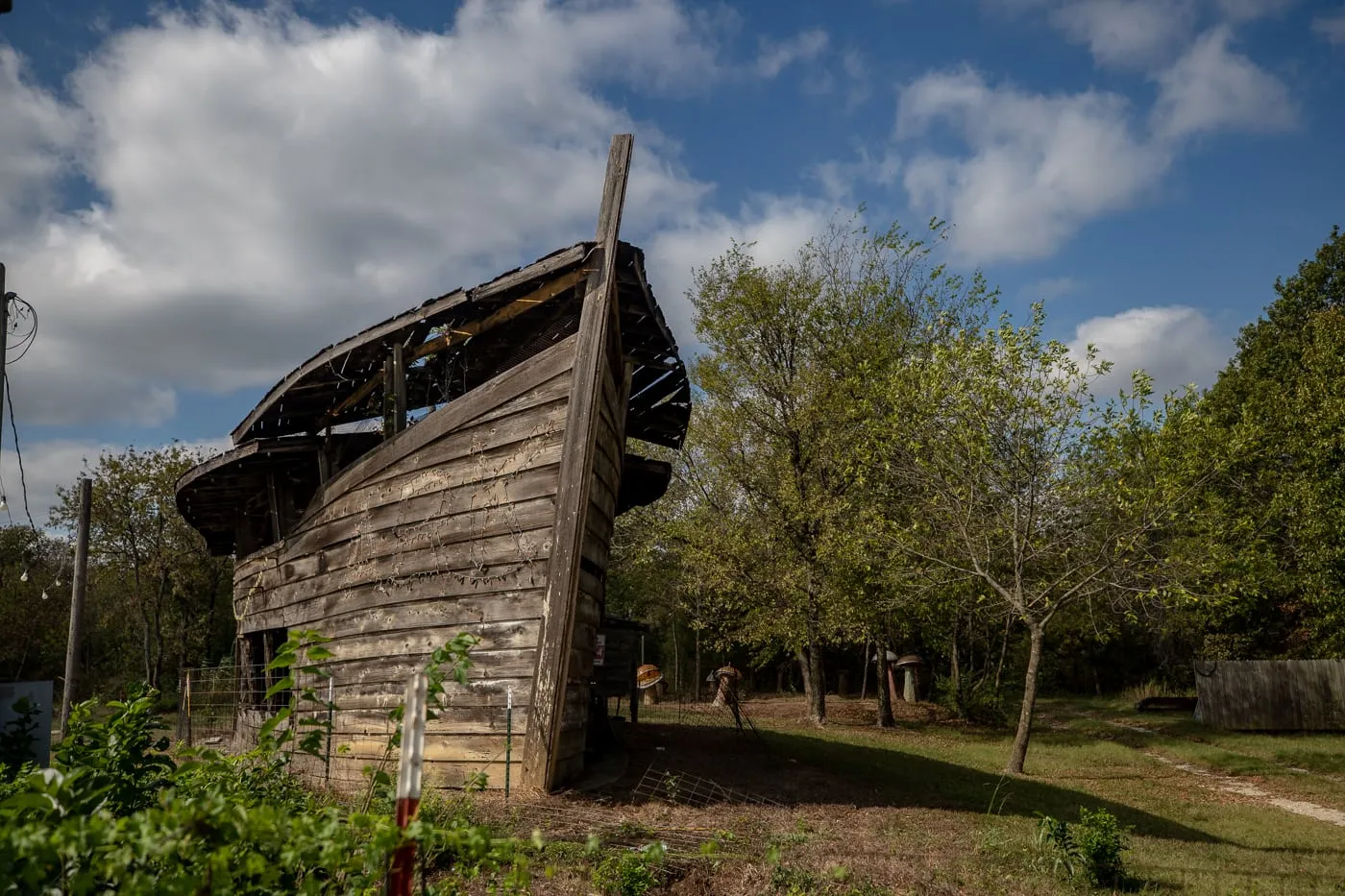 While traveling on Route 66, be sure to also look for these other famous Oklahoma roadside attractions: Ed Galloway's Totem Pole Park, Pops 66 Soda Ranch, Buck Atom's Cosmic Curios on 66, the World's Tallest Gas Pump, and Arcadia Round Barn.
Blue Whale of Catoosa
Address: 2600 U.S. Rte 66, Catoosa, OK 74015
Cost: Free to See
Hours: Daily, 8am-6pm
Pin this Oklahoma Route 66 roadside attraction: