If you have been following our adventures you know how much we here at Silly America love roadside attractions. Our motto is the bigger the better, the weirder the more wonderful. The only thing we love as much as visiting roadside attractions is finding the best quirky hotels to spend the night at on our road trips. Hotel Indigo in Tulsa, Oklahoma fits that bill perfectly with its convenient location and eclectic decor. Plus, you might even get to sleep under a roadside attraction.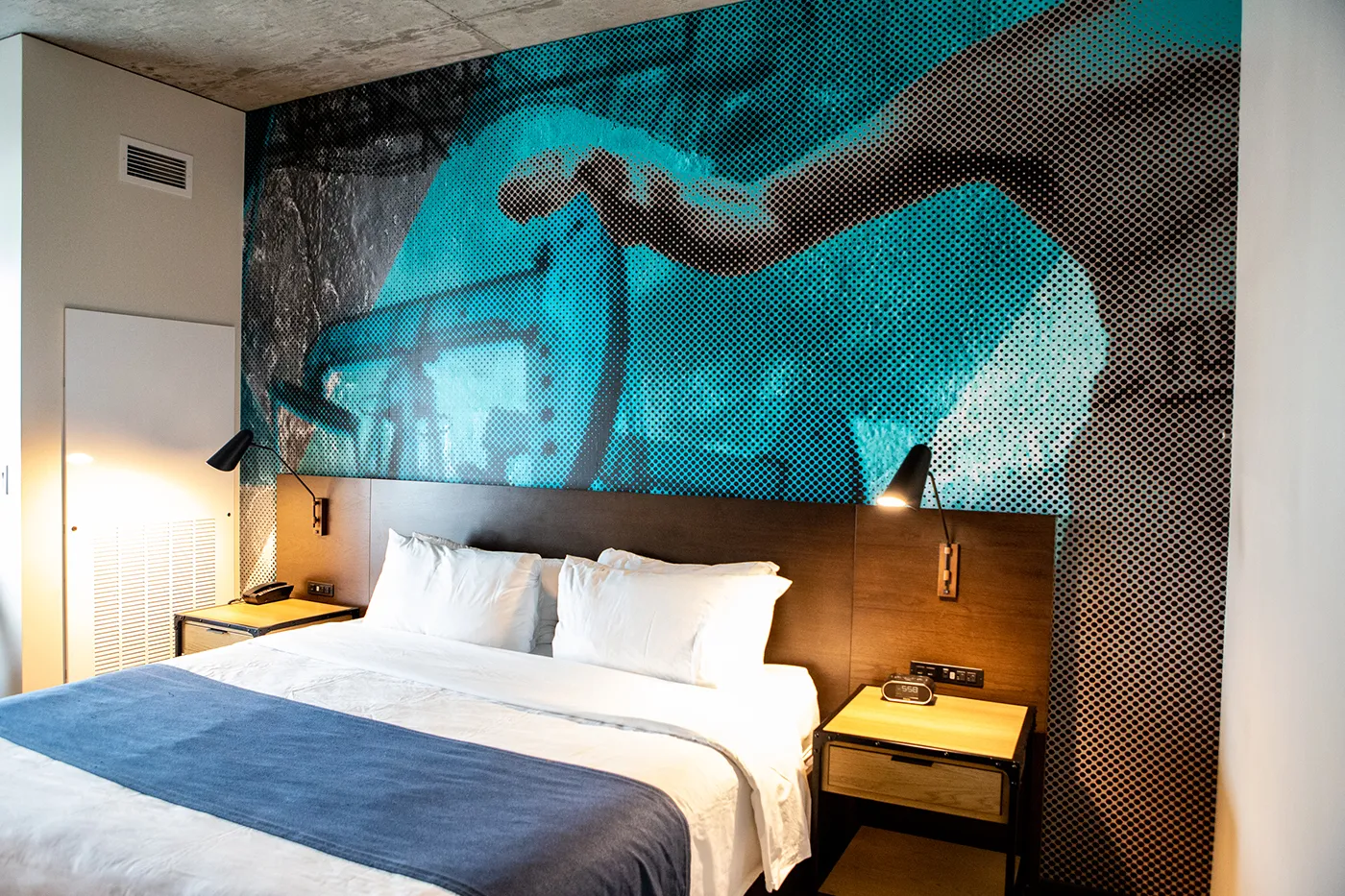 Hotel Indigo is a boutique hotel located on Santa Fe Square in the Blue Dome District of Tulsa, Oklahoma. The Blue Dome District is one of Tulsa's most popular entertainment districts with a wide variety of local restaurants, bars, and venues. The area is anchored by the historic Blue Dome building, a 1924 circular two-story structure known for its unique art deco architecture style and blue domed roof. The attraction initially served Route 66 travelers as a gas station called White Star Service Station. Though it is no longer in service, the impressive building still lies at the heart of this Tulsa district.
The interior of this Tulsa hotel pays homage to the surrounding area with an industrial-inspired modern look. Murals and artwork throughout the hotel are inspired by local attractions and history. I was lucky enough to stay in a hotel room with a mural of the Golden Driller Statue.
The Golden Driller is a popular Tulsa roadside attraction that stands tall outside of the Tulsa Expo Center. The giant statue was first brought to Tulsa (then known as the "oil capital of the world") from a Texas oilfield supplier for a trade show at the Tulsa State Fairgrounds. This 76-foot tall giant was installed permanently in 1966. In 1979 Oklahoma named it their official state monument.
I had a great night's sleep knowing I was protected by this Oklahoma legend watching over me. And with a big comfy bed with lots of fluffy pillows.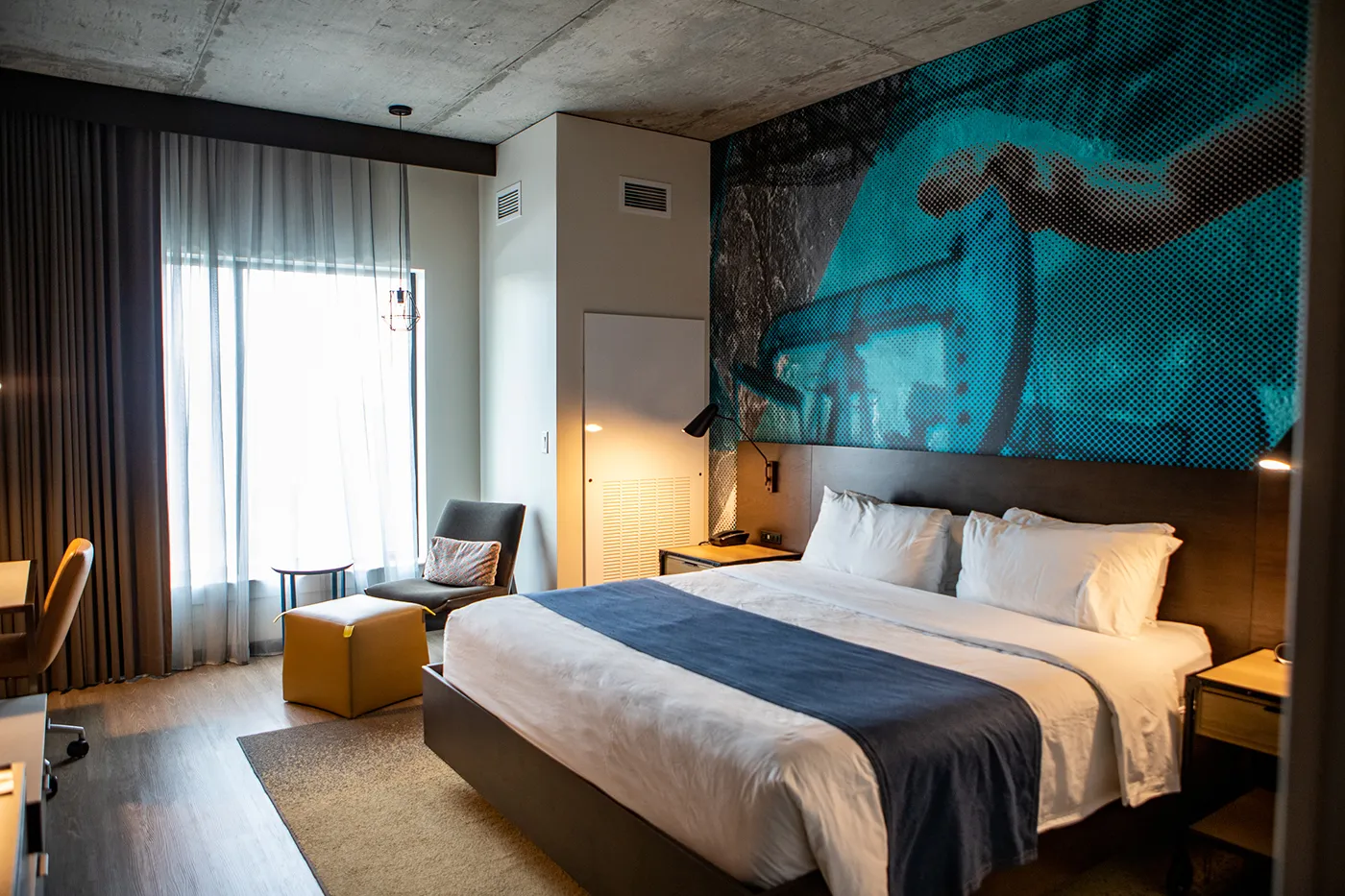 The hotel was super convenient for a nice walk around the city after a long day of driving Route 66 from Oklahoma City to Tulsa. I was able to easily explore the Center of the Universe (a mysterious circle where noises are echoed back louder), Cain's Ballroom, Tulsa Theater, and The Boxyard before heading back to check out the Roof 66 rooftop bar at Hotel Indigo. I had a couple of cocktails and enjoyed the sunset over the city before retiring to bed and a movie on the TV.
The next day I had grabbed breakfast downstairs at Prospect Local Bar and Kitchen and had a short drive to explore some of the best sights on Tulsa Route 66: Buck Atom's Cosmic Curios, the Meadow Gold Sign, Mother Road Market, and the Gathering Place.
Would I stay here again? Absolutely. With all the ammennities I need, a great central location, and a Golden Driller mural to boot, it quickly became my favorite hotels in Tulsa and hotels on Route 66.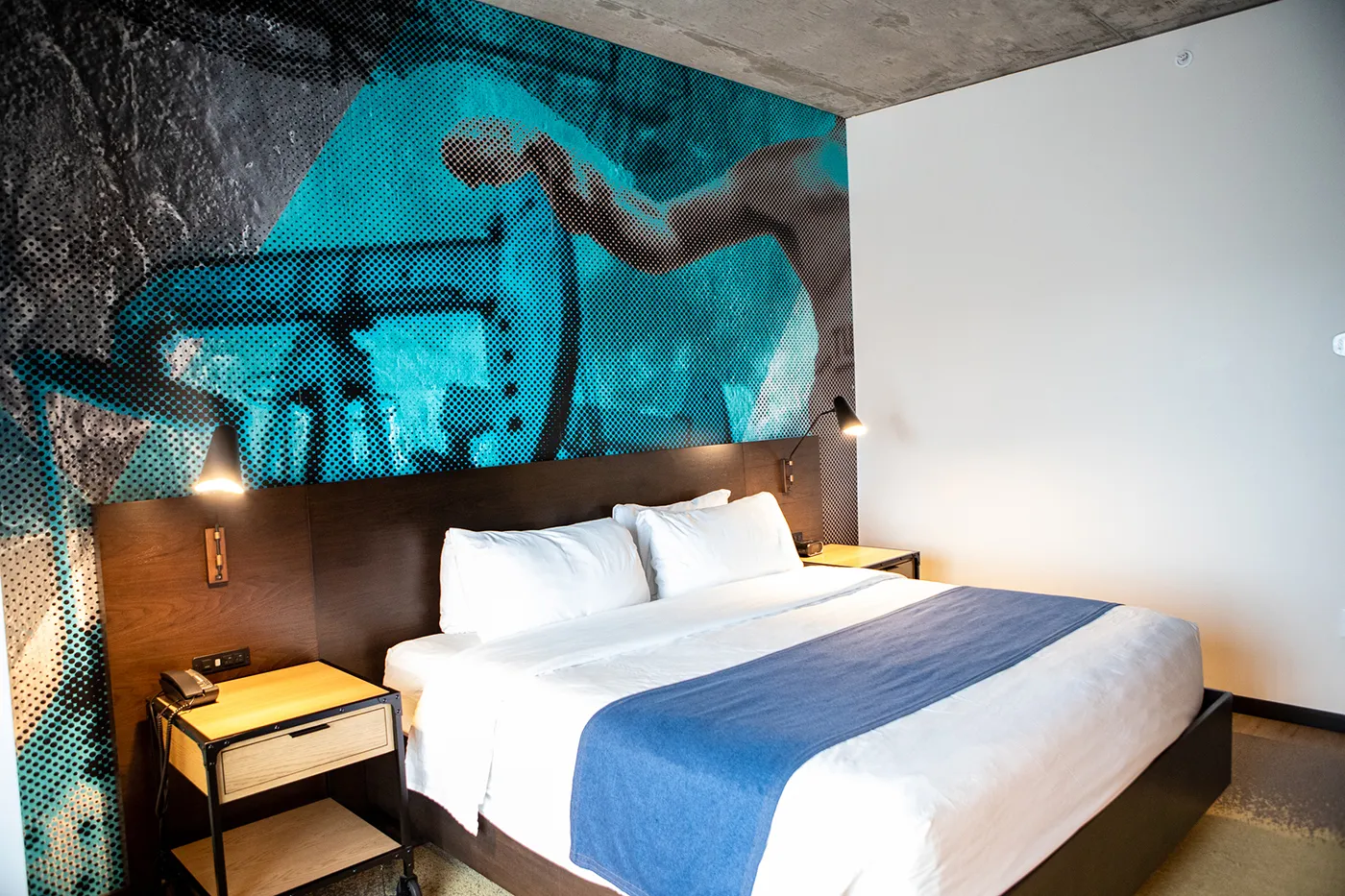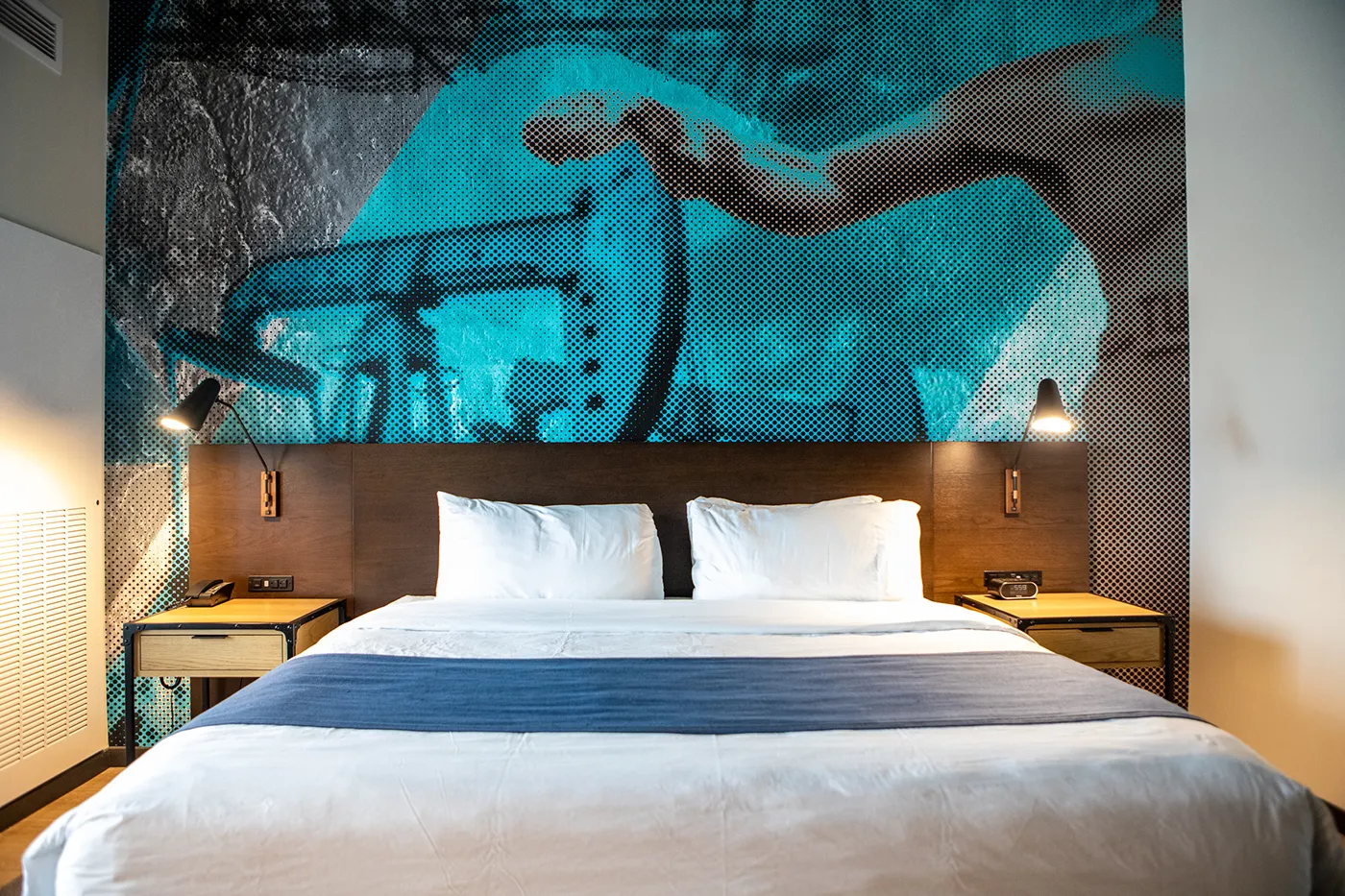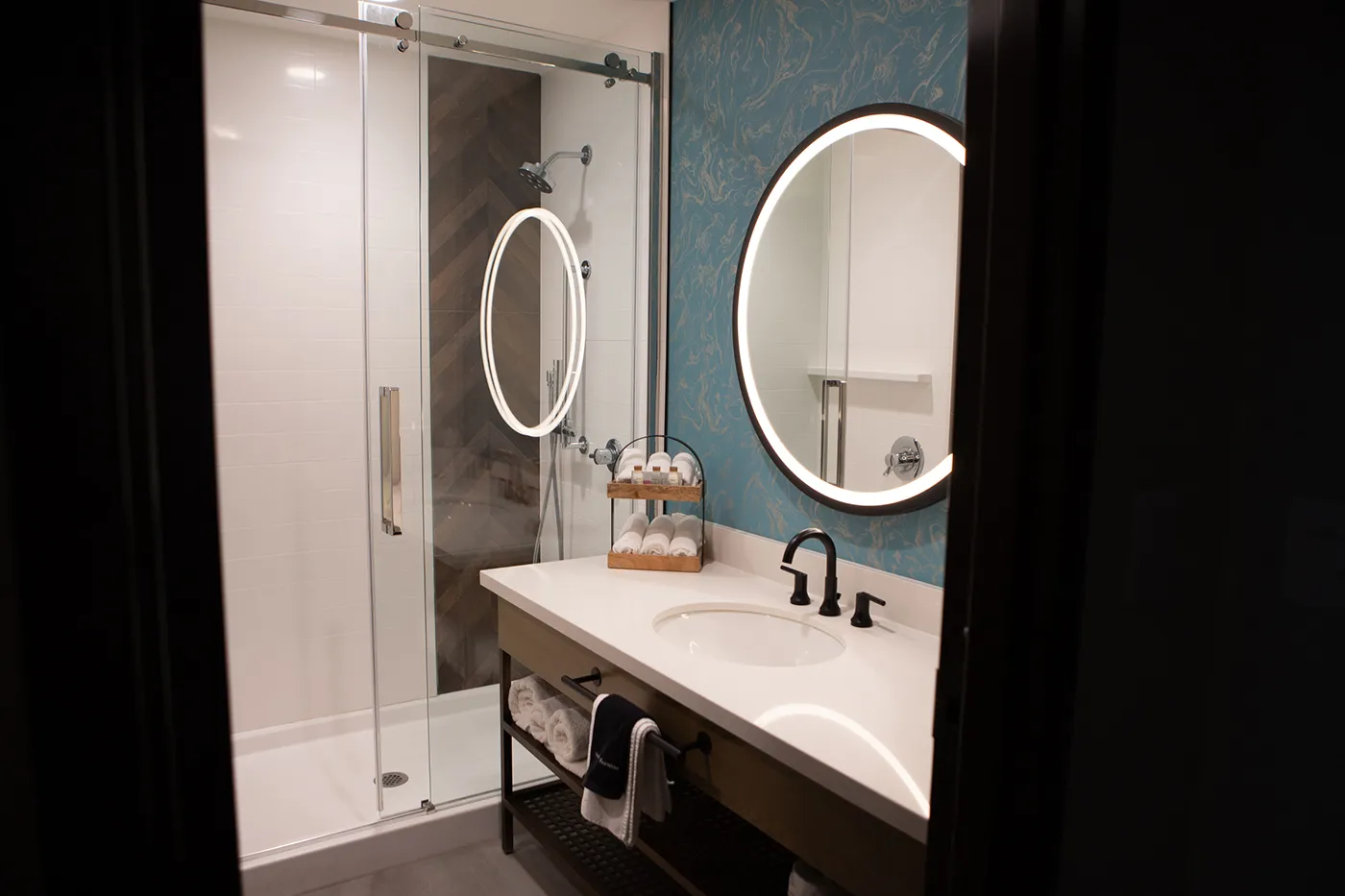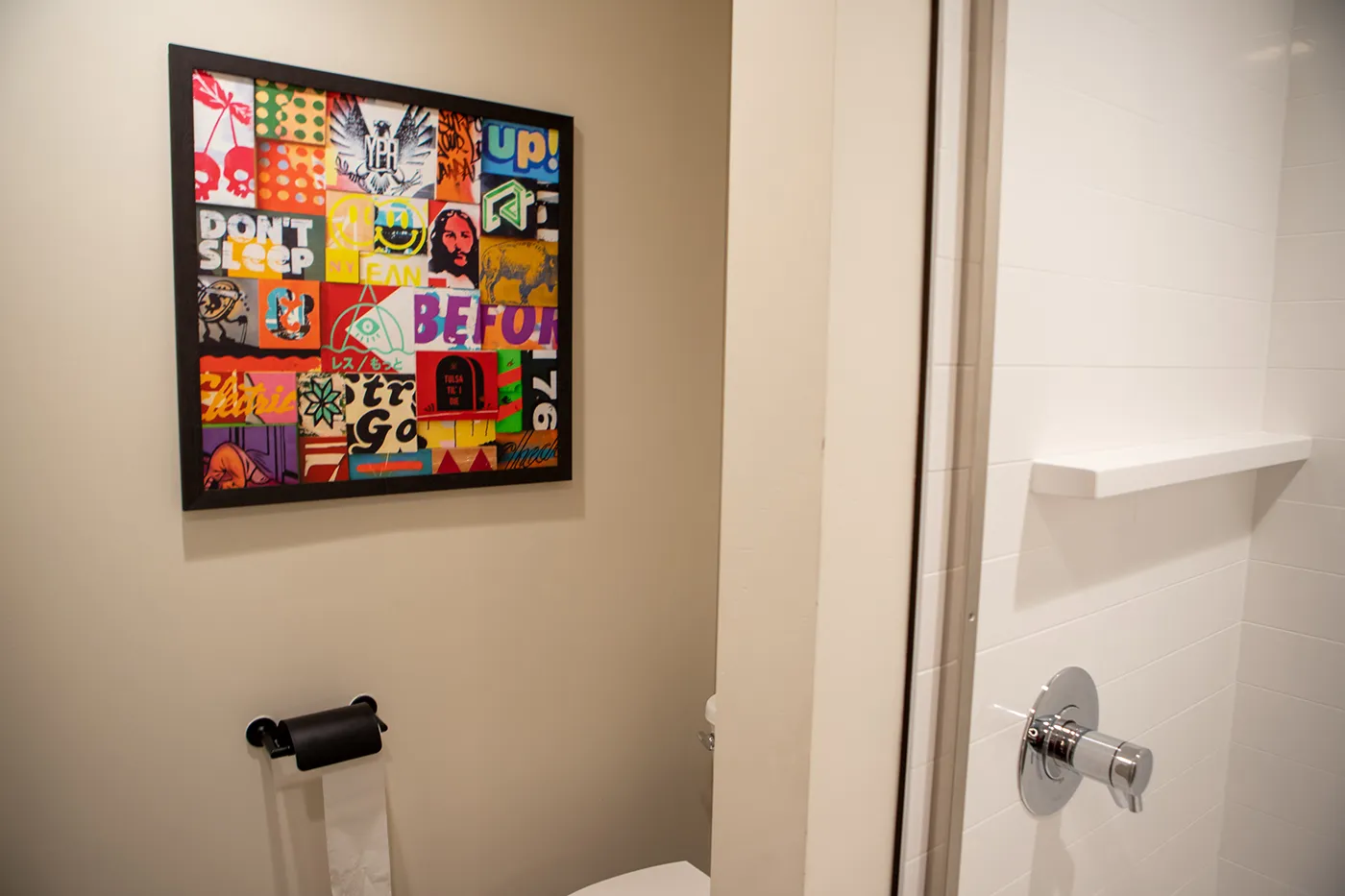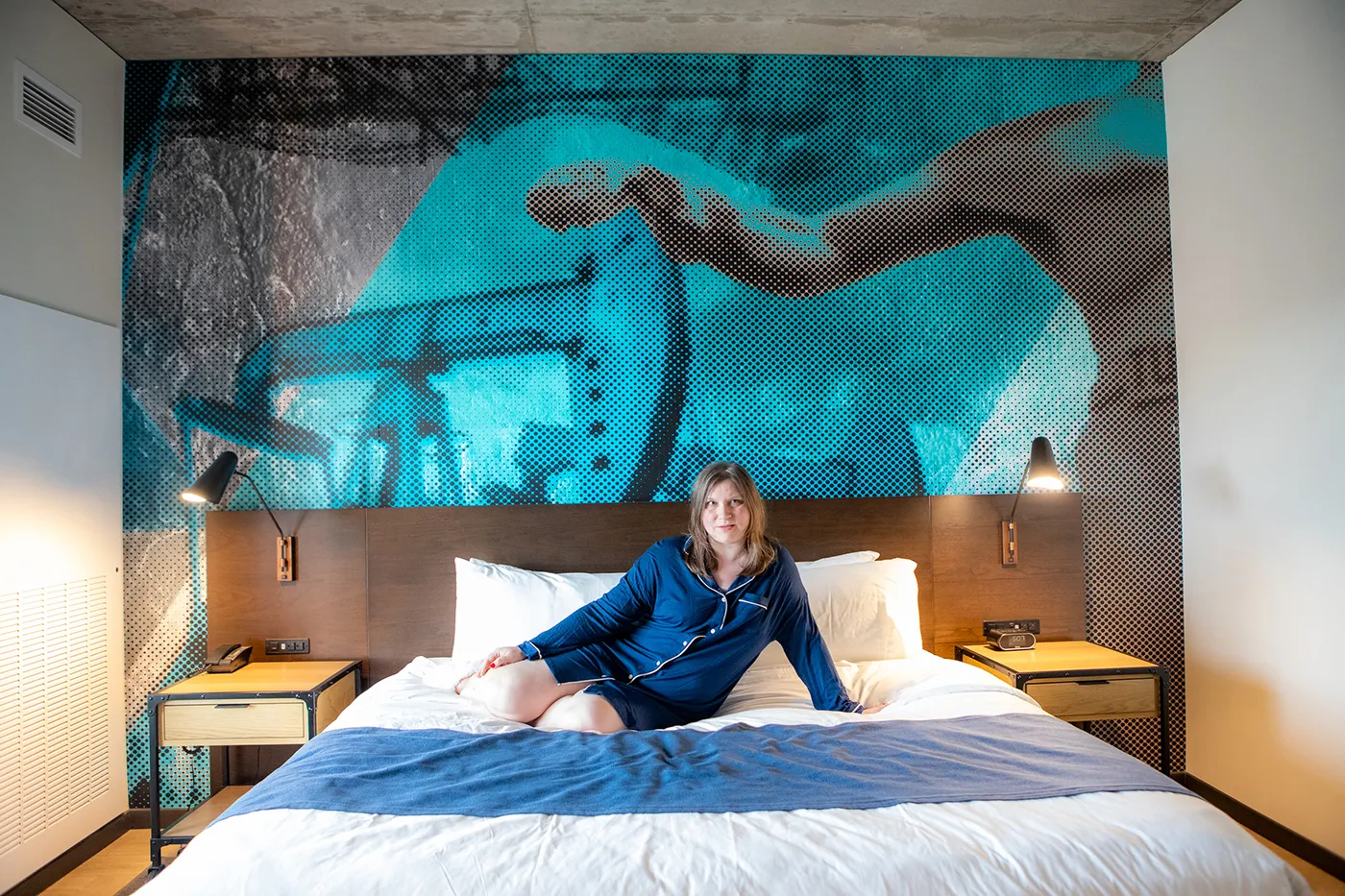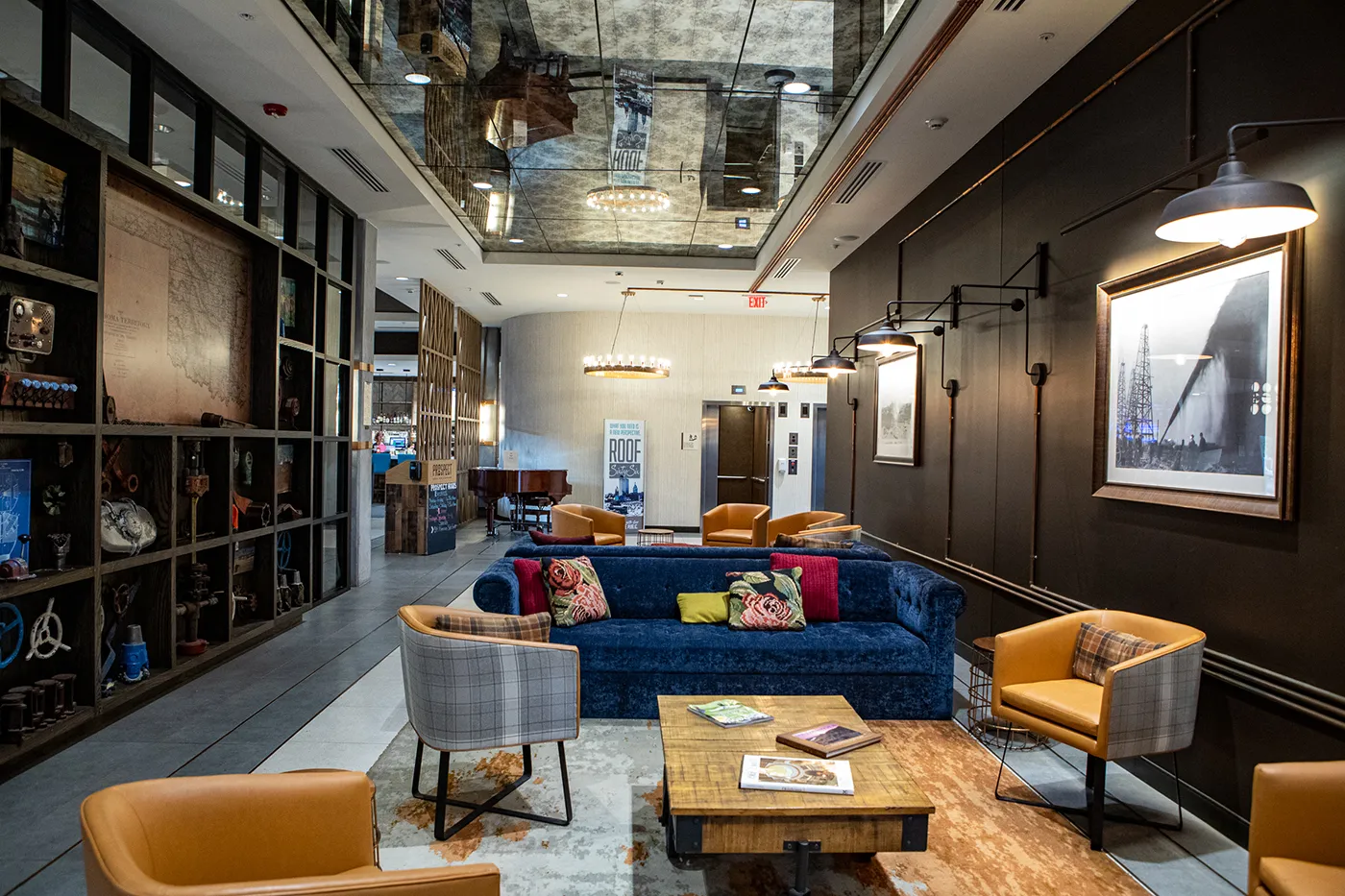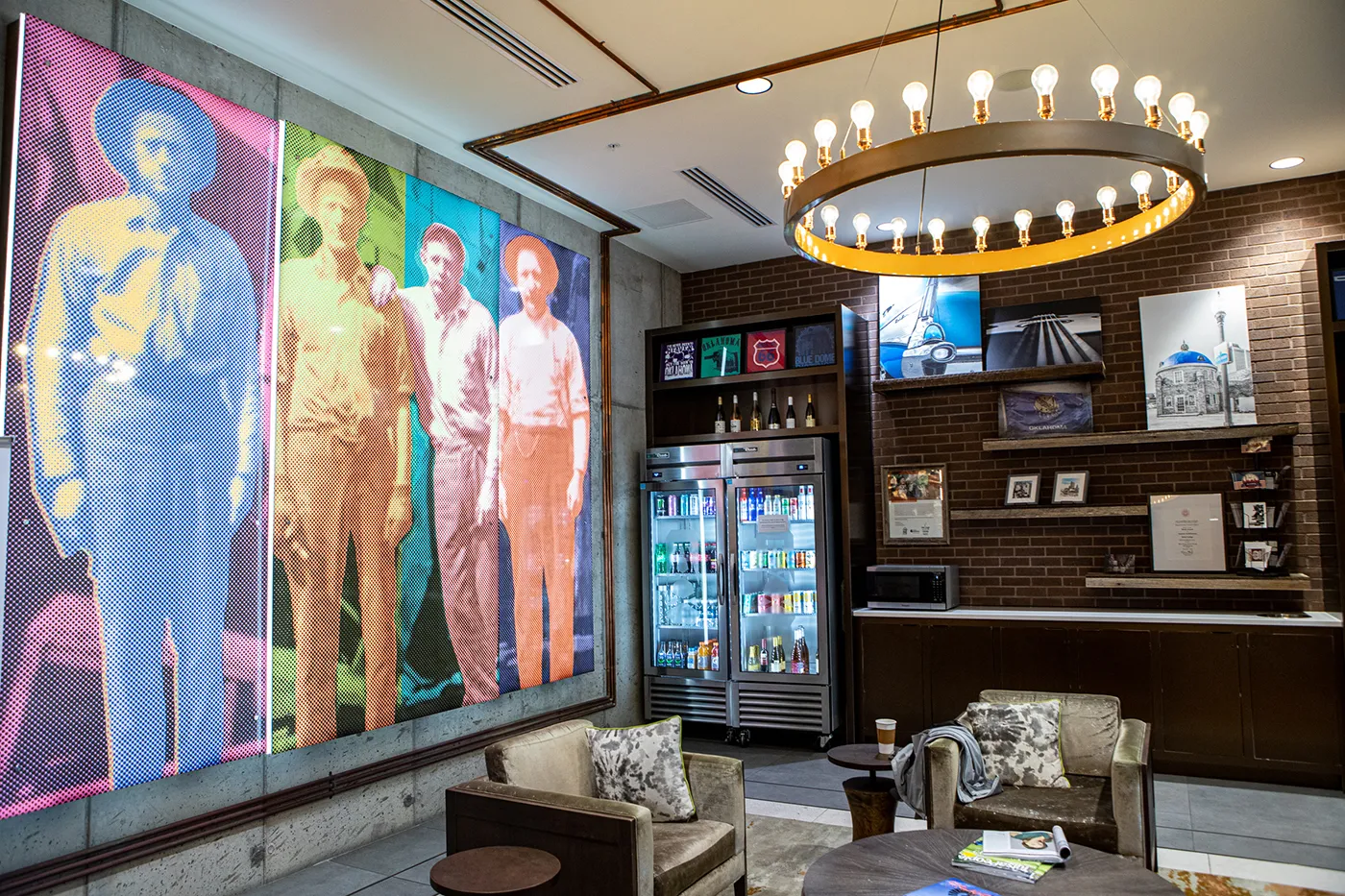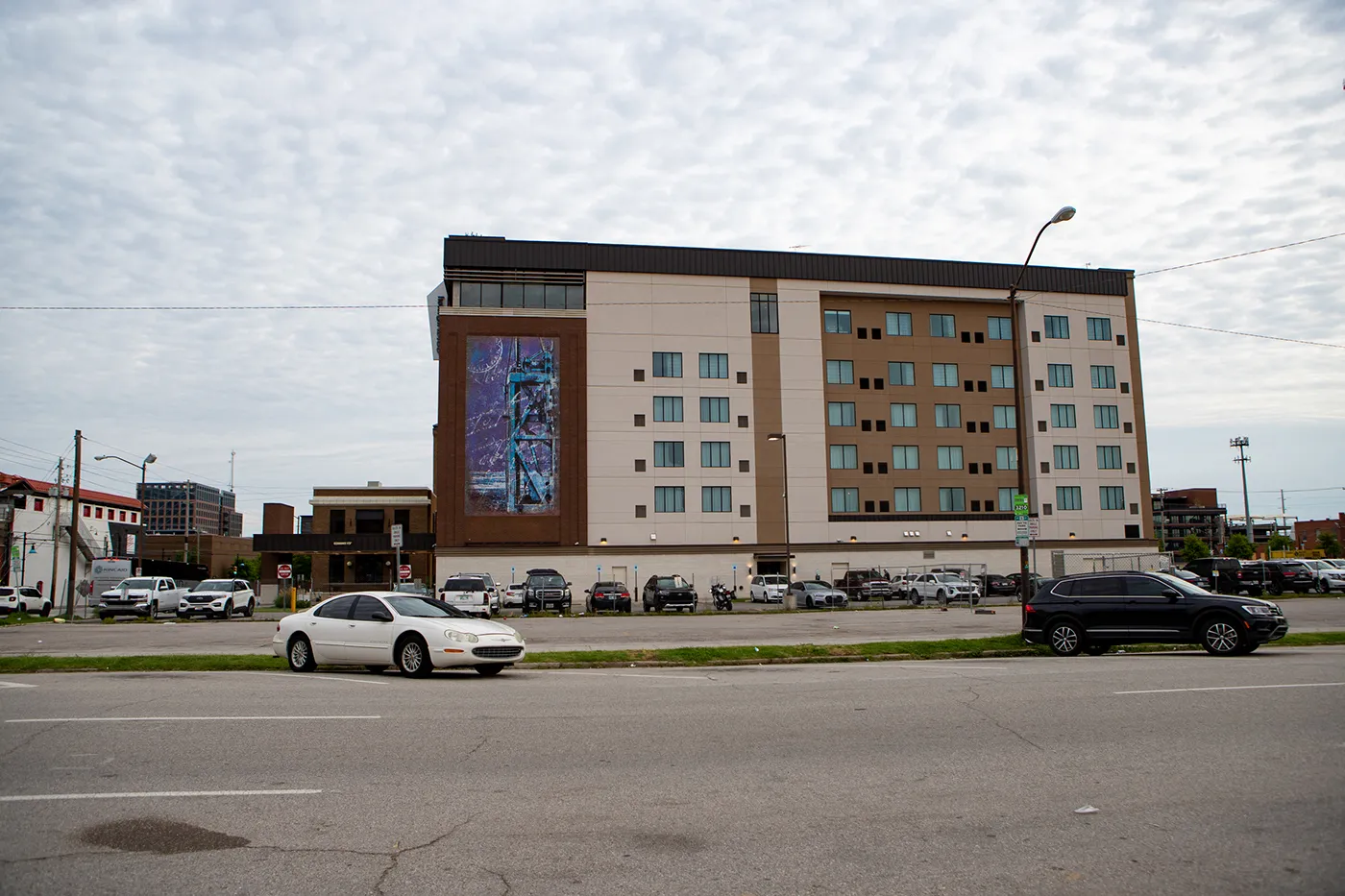 Roof Sixty-Six Rooftop Bar in Tulsa, Oklahoma
On the top floor of Hotel Indigo is Roof Sixty-Six. Taking its name from the most famous road trip route in America, this bar sits six stories about the Blue Dome District and has an indoor outdoor atmosphere and fun drink menu.
It's the perfect spot for a happy hour drink or a nightcap before heading back to your hotel room.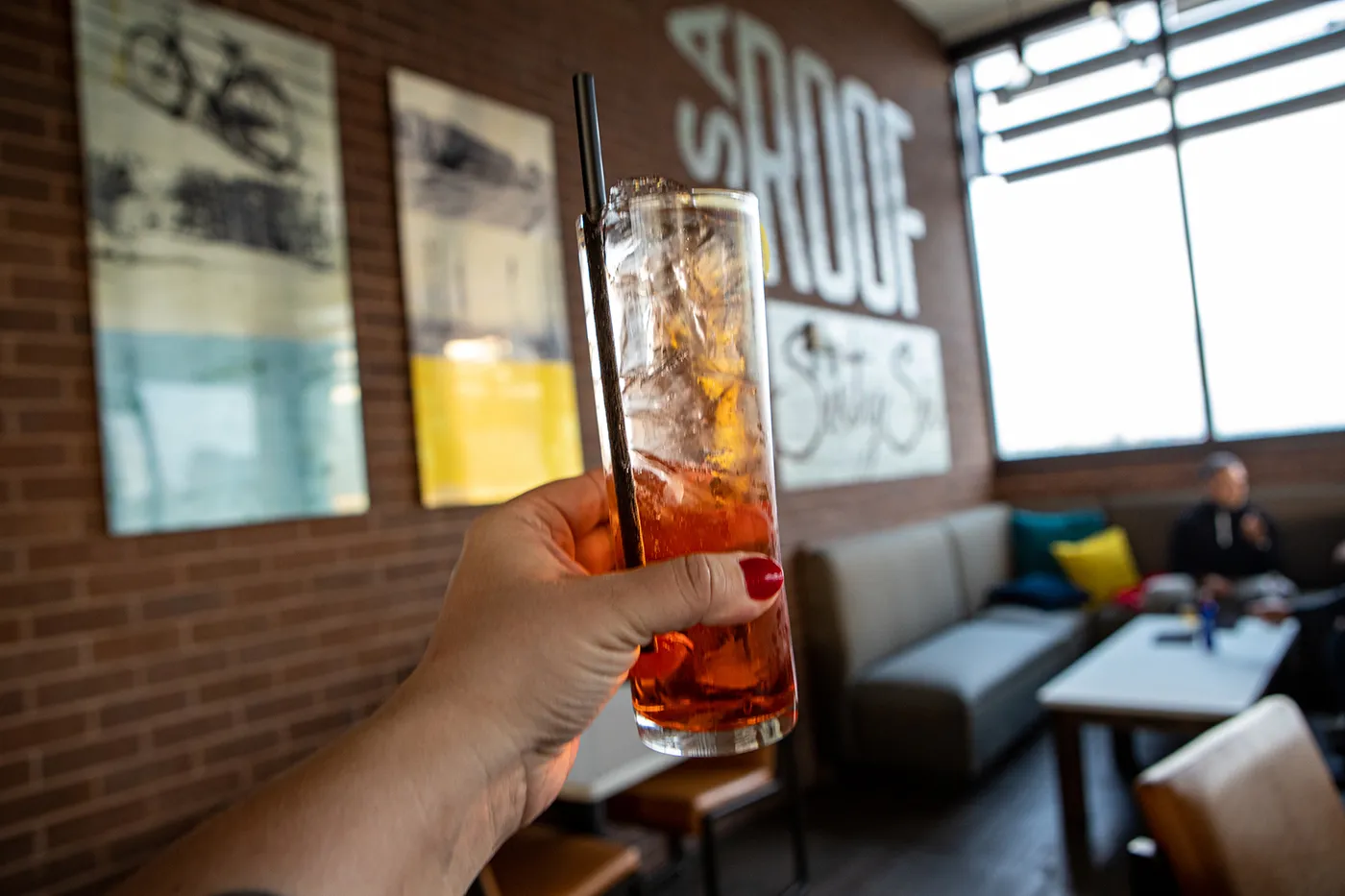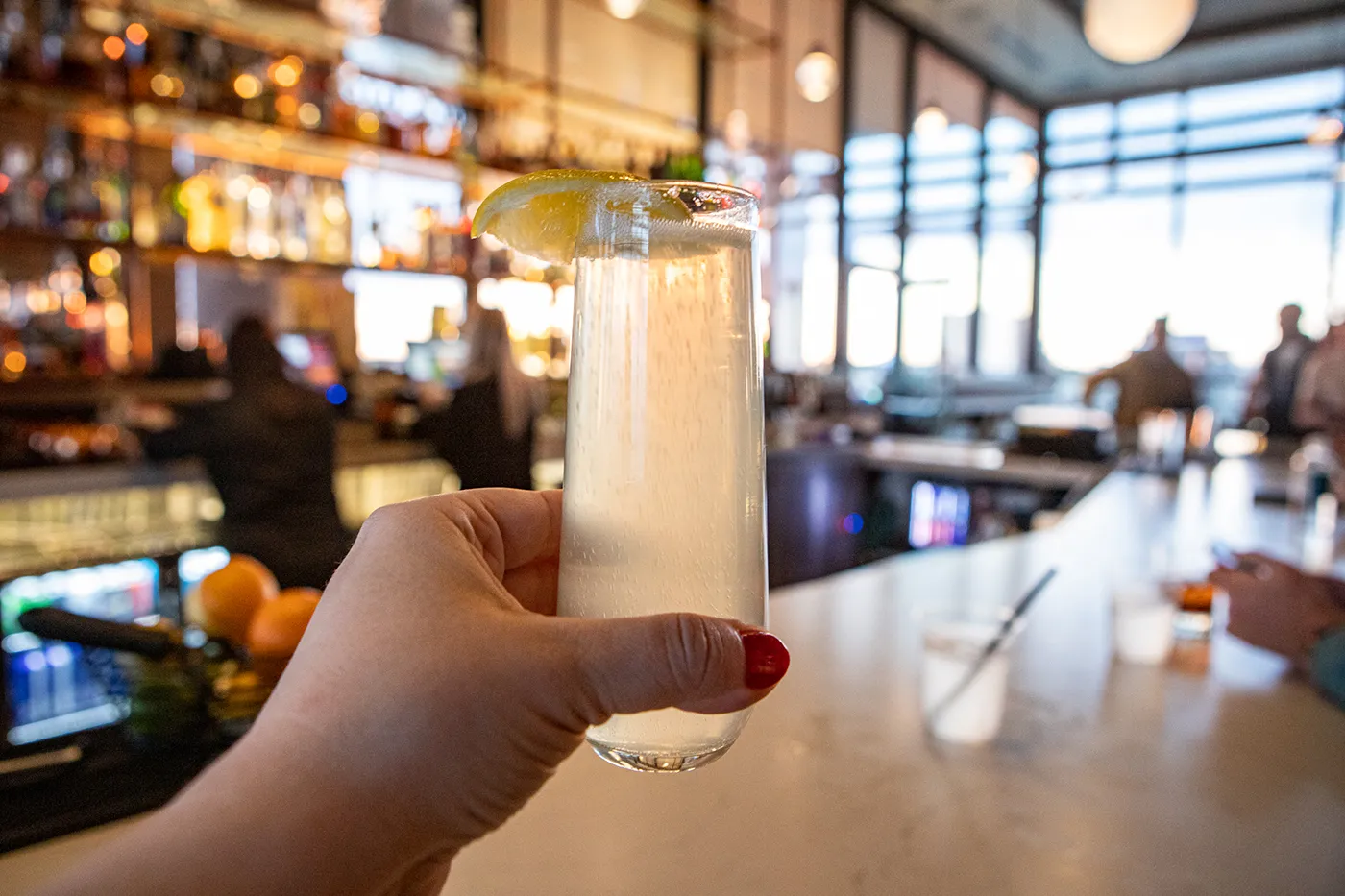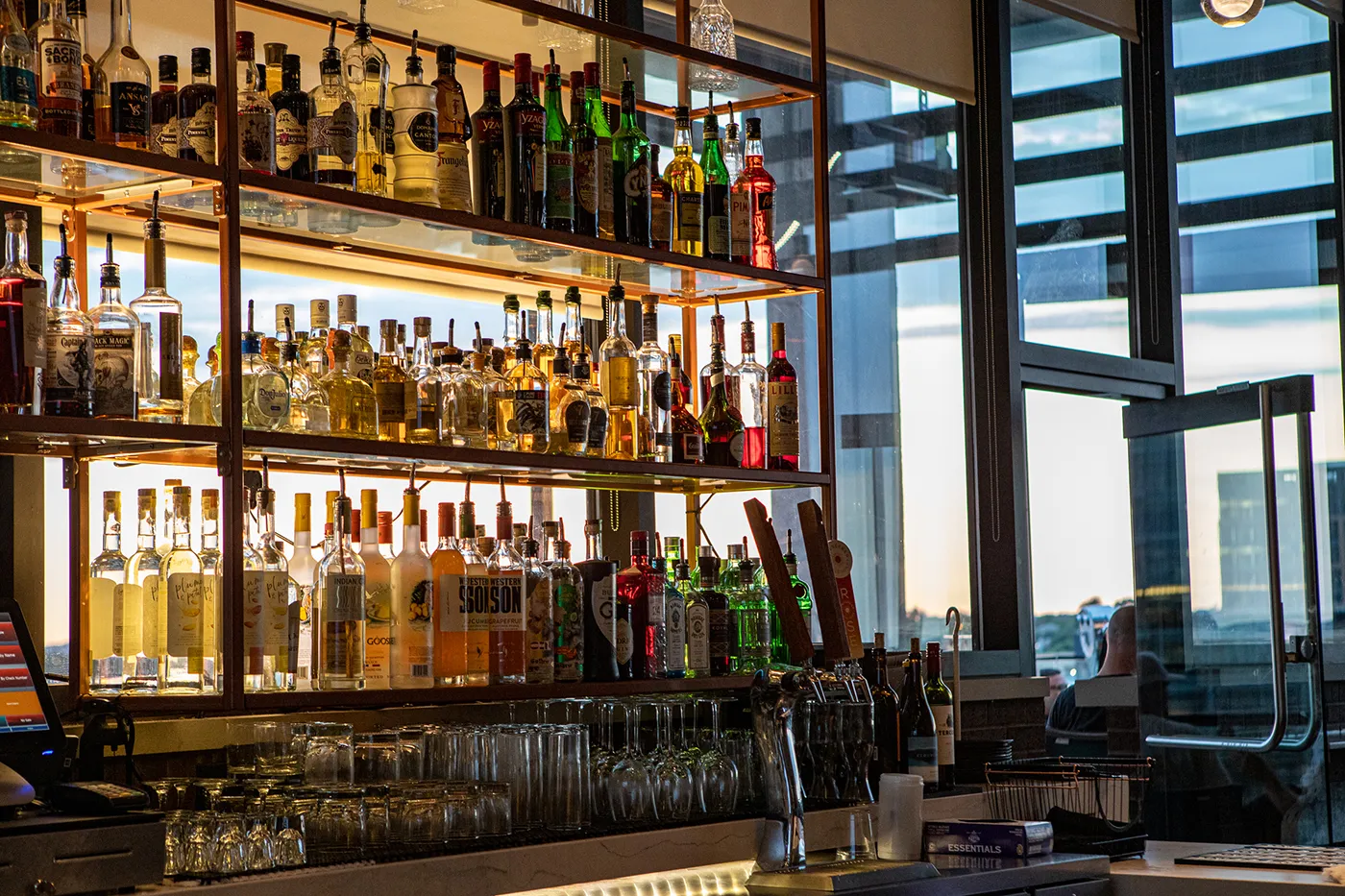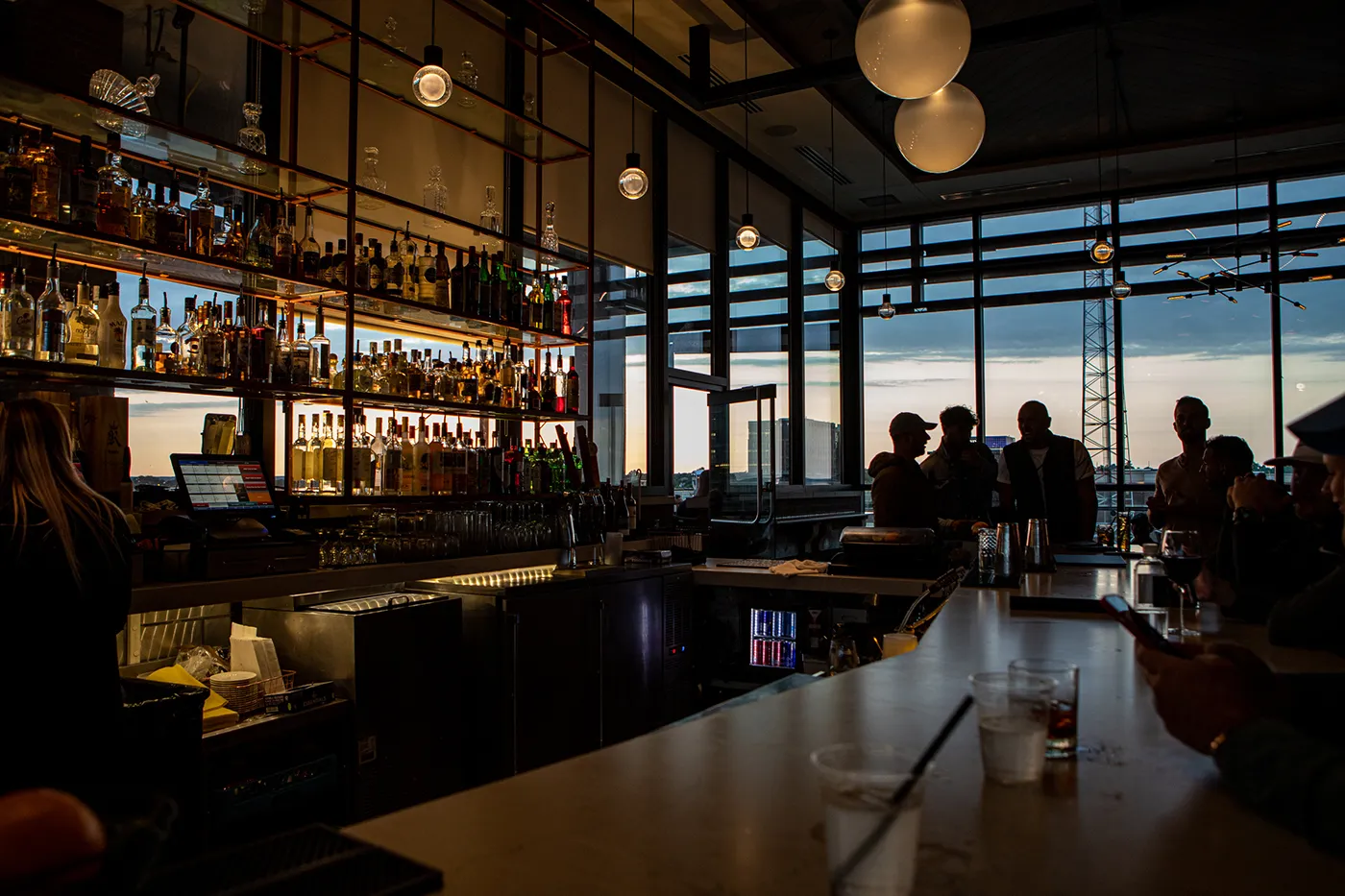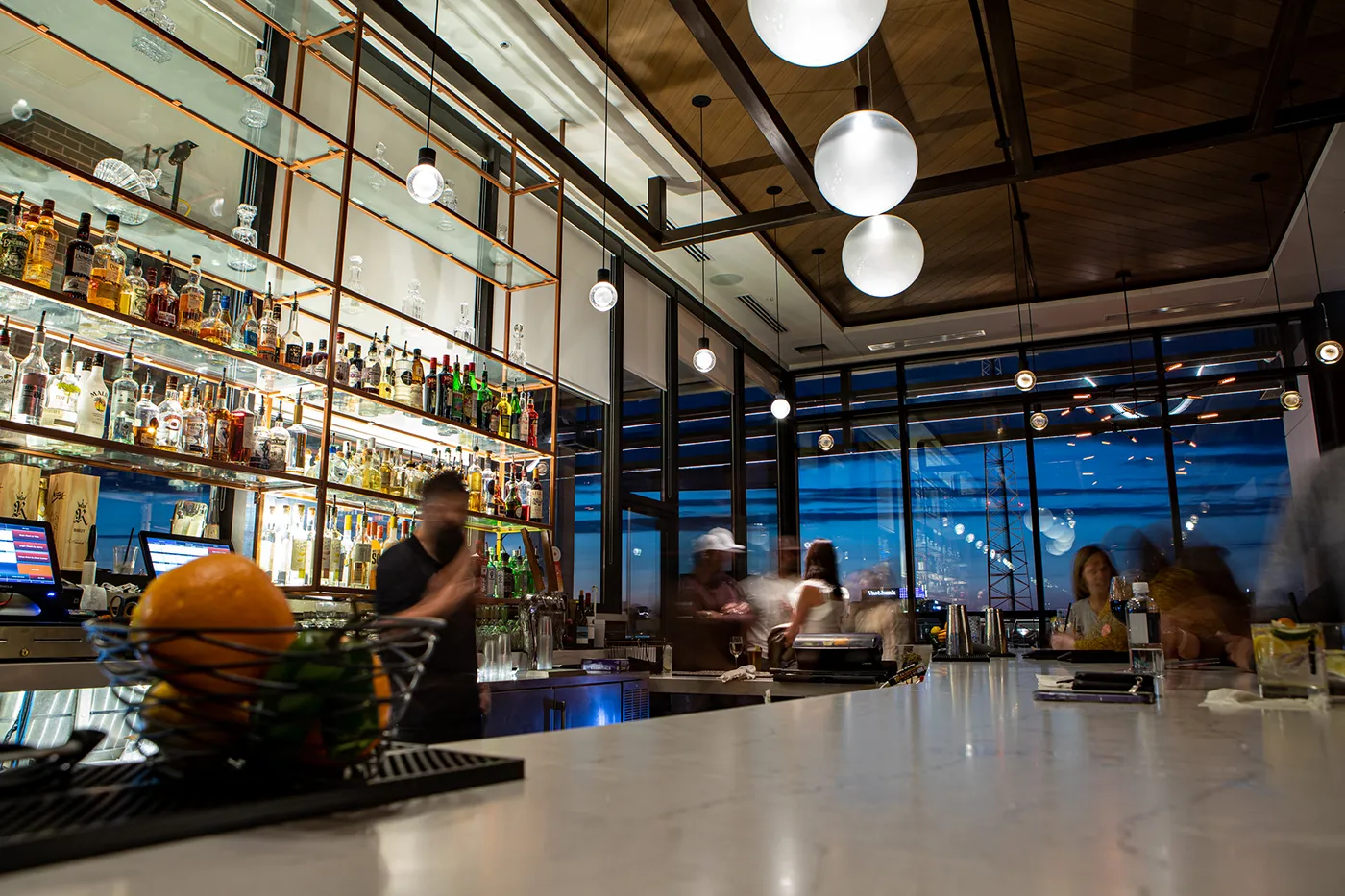 Prospect Local Bar and Kitchen in Tulsa, Oklahoma
Located on the first floor of Hotel indigo in Tulsa, Oklahoma this restaurant serves an elevated American menu full of local ingredients. I stopped in for yummy road trip breakfast before a day of touring Tulsa Route 66. I couldn't resist the sweet cinnamon French toast topped with seasonal fruit compote, toasted local pecan glaze, and honey cheesecake cream.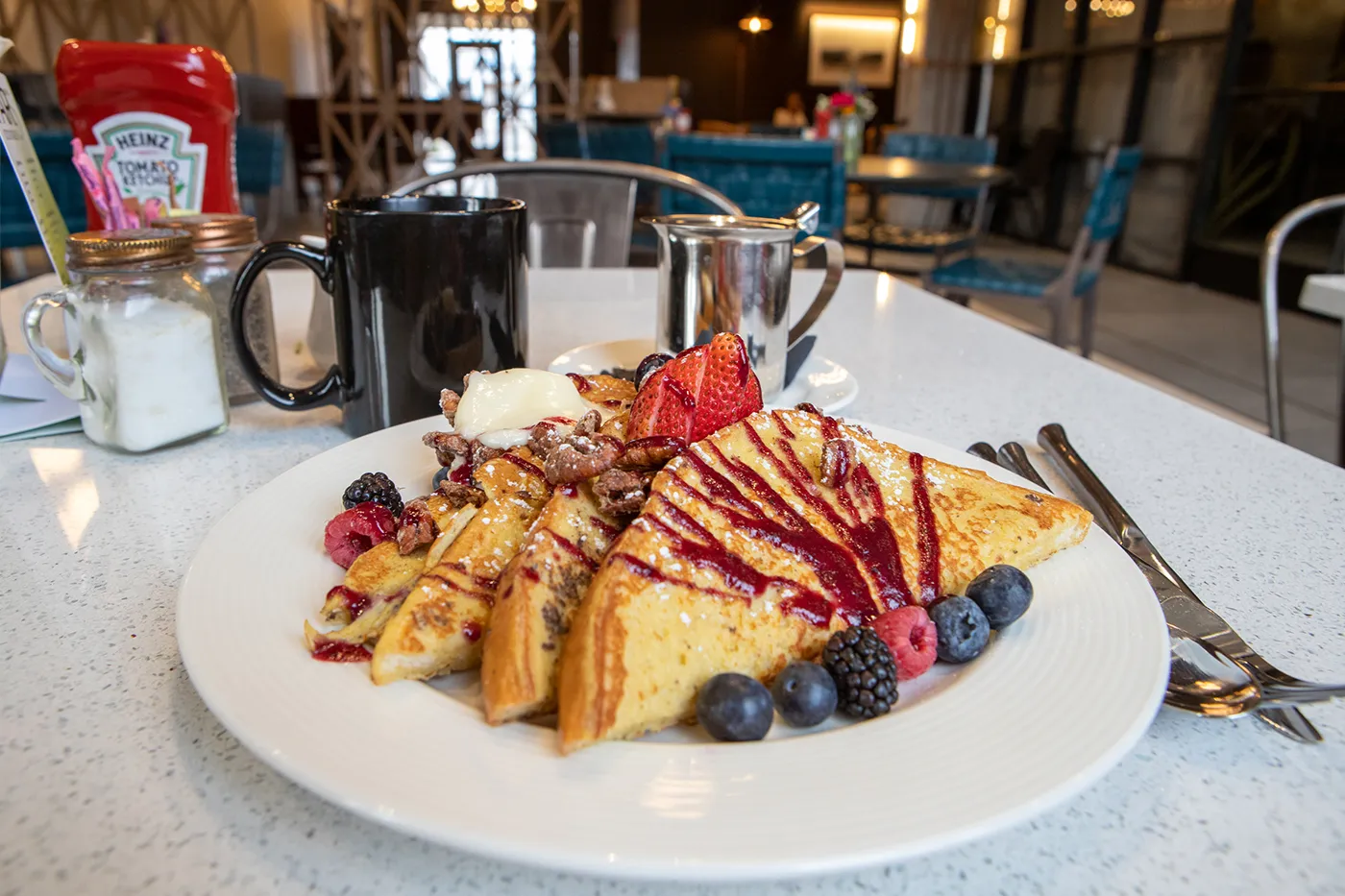 Hotel Indigo in Tulsa, Oklahoma
Address: 121 S Elgin Ave, Tulsa, OK 74120
Pin this Tulsa hotel to save for your next road trip itinerary!