Have you ever watched a movie and wondered where it was filmed? I don't blame you, most movies feature picture-perfect locations that seem too good to be true. And many of those locations aren't exactly where they claim to be. Take for instance the 1993 holiday classic Groundhog Day. The movie takes place in the midst of Groundhog Day festivities in Punxsutawney, Pennsylvania… but it wasn't shot there. All the Groundhog Day filming locations can actually be found in Woodstock, Illinois…and you can still see most of them today!
What is the Groundhog Day movie about?
The movie Groundhog Day follows a bitter weatherman, Phil Connors (played by Bill Murray), covering the Groundhog Day prognostication in Punxsutawney, Pennsylvania. He gets snowed into the town and gets stuck reliving the same day over and over and over again (some estimate that he was trapped living the same day for at least 34 years) until finally he learns to appreciate life and gets everything "right."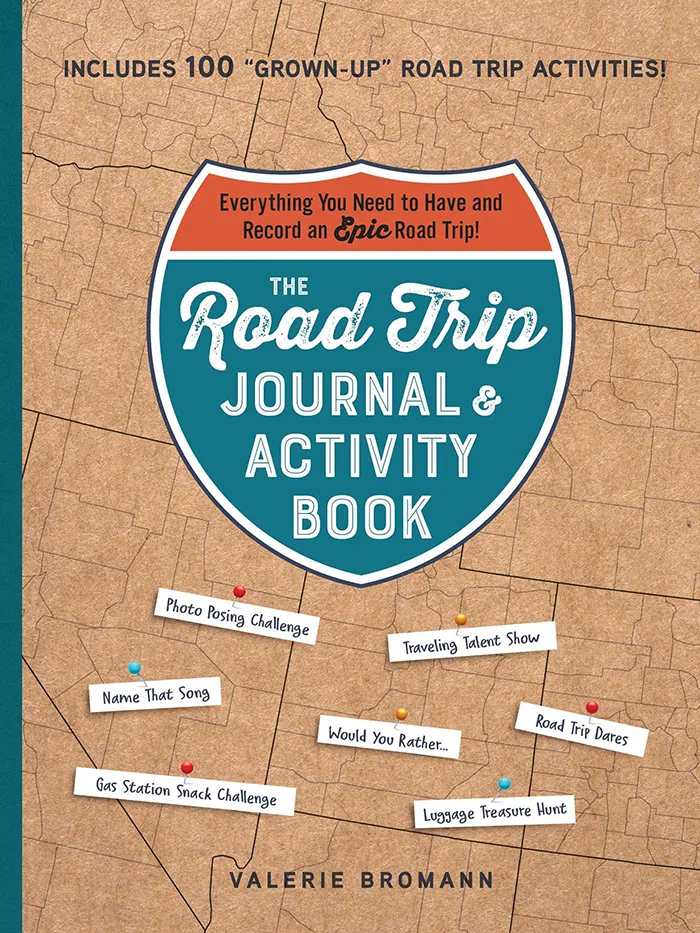 The Road Trip Journal & Activity Book
Everything You Need to Have and Record an Epic Road Trip!
Enjoy fun games and challenges to pass the time on your next road trip and have a keepsake to look back on for years to come with this entertaining must-have for your next vacation.
Watch the trailer here:

And watch the movie on Amazon:
Where was Groundhog Day filmed?
In real life, Punxsutawney, Pennsylvania is known for its annual Groundhog Day celebration and is home to a famous rodent, Punxsutawney Phil, who predicts how many weeks are left of winter based on whether or not he sees his shadow on February 2 each year. While the movie tried to capture the essence of the famed occasion, it was actually shot several states away.
So, where was Groundhog Day filmed? While the movie location for Groundhog Day was Punxsutawney, Pennsylvania, it wasn't filmed there. The movie was actually filmed in Woodstock, Illinois. Though the movie premiered quite some time ago, you can still visit Woodstock and find some familiar Groundhog Day locations: most of the buildings still stand and the town proudly displays plaques highlighting where different scenes were filmed.
Why was Groundhog Day filmed in Woodstock? According to an interview with location manager Bob Hodgins, he had previously filmed some of Planes, Trains and Automobiles there and suggested it as a location. Director Harold Ramis wasn't convinced (Woodstock had a town square while Puxsutawney had a main street), but he eventually came around to the town's small town charm.
Was any of Groundhog Day filmed in Punxsutawney? Nope. But there is an aerial establishing scene shot over Pittsburgh, Pennsylvania. Even the "Welcome to Punxsutawney" sign they drive past at the beginning of the film was put up in Illinois for the movie and taken down after.
Where are the Groundhog Day Filming Locations in Woodstock, Illinois?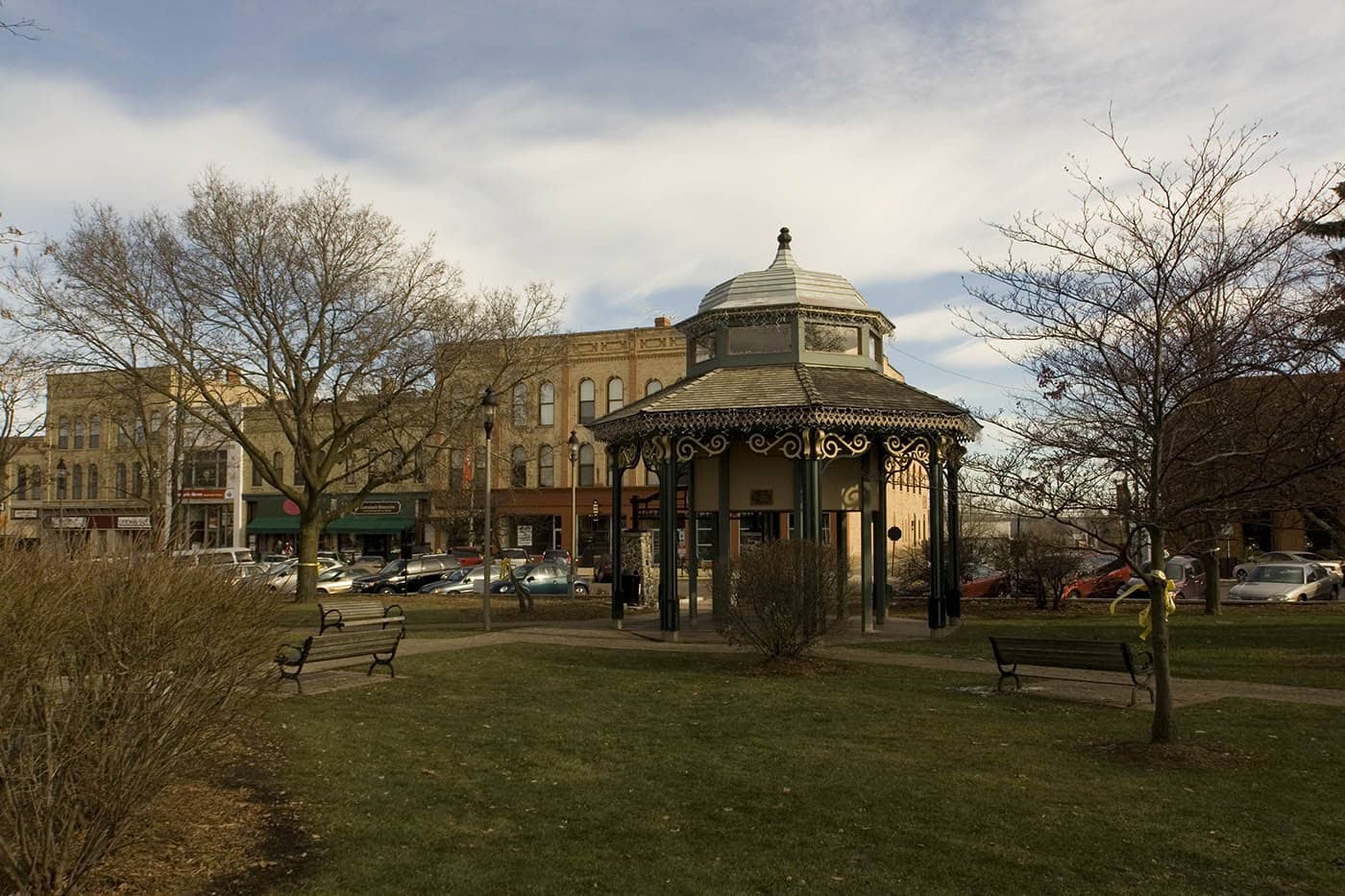 Woodstock Square/Gobbler's Knob
121 W Van Buren St
"Woodstock Square" AKA "Gobbler's Knob", is the scene of the main event: where crowds gathered to see if the world's most famous weatherman, the great prognosticator Punxsutawney Phil, would see his shadow or not (spoiler alert: he sees his shadow, inciting many jeers for the six more weeks of winter to come) in the "Weather Capital of the World."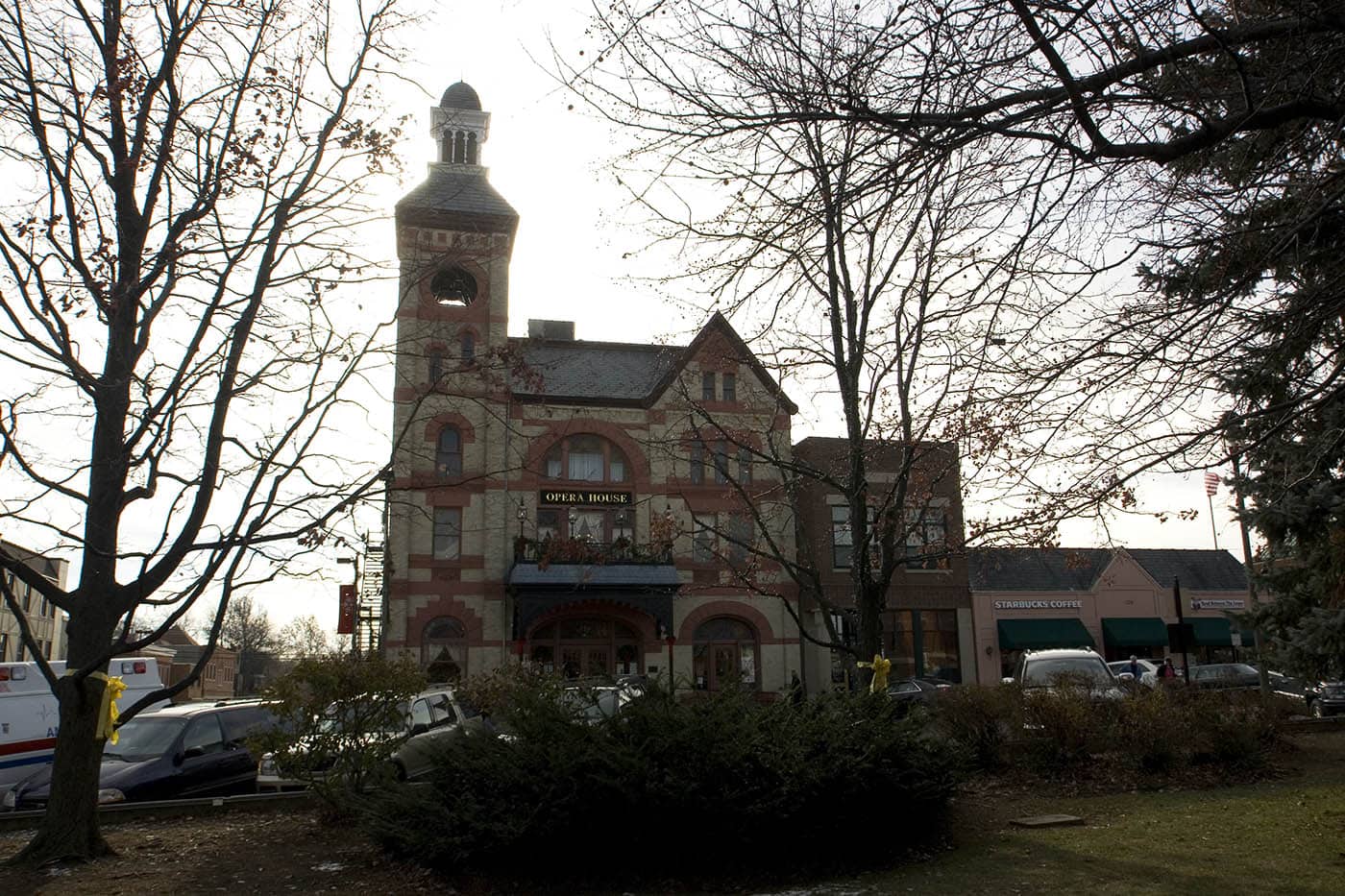 Woodstock Opera House/Pennsylvanian Hotel
121 Van Buren Street
The exterior of the Pennsylvanian Hotel is another Groundhog Day film location you can visit. The "fleabag hotel" where Rita (Andie MacDowell) was dropped off to stay in the film (before sending Phil off to his B&B) and where Phil, on one of the many days, throws himself off, is really the Woodstock Opera House.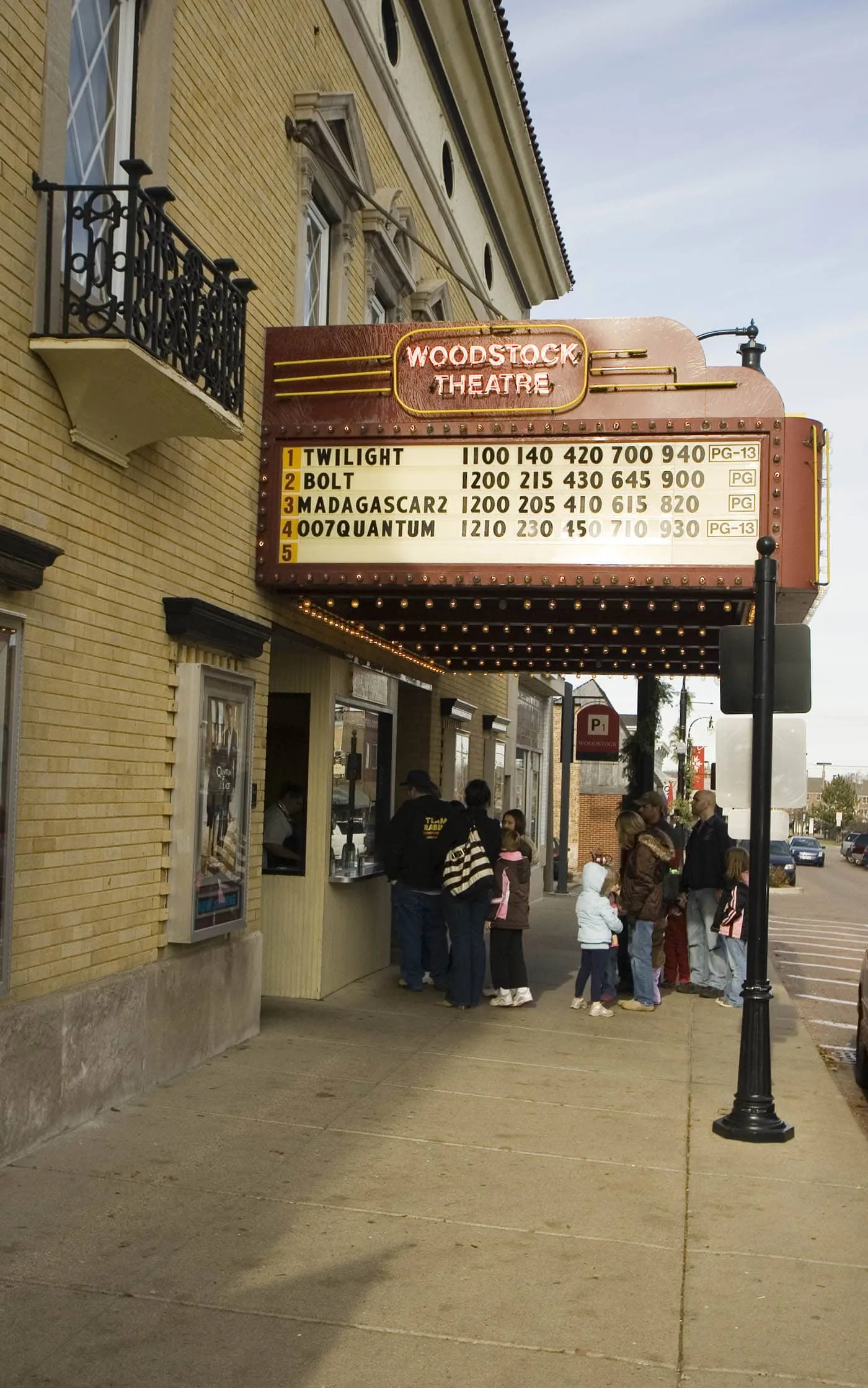 Classic Cinemas Woodstock Theatre/Alpine Theater
209 Main St
In the movie version of Punxsutawney, the characters often pass the Alpine Cinema where Heidi II is playing Saturday and Sunday matinees and Phil, one night, brings a costume-clad date. In real life, this Groundhog Day location is the Woodstock Theatre (which, when I visited, was showing Twilight).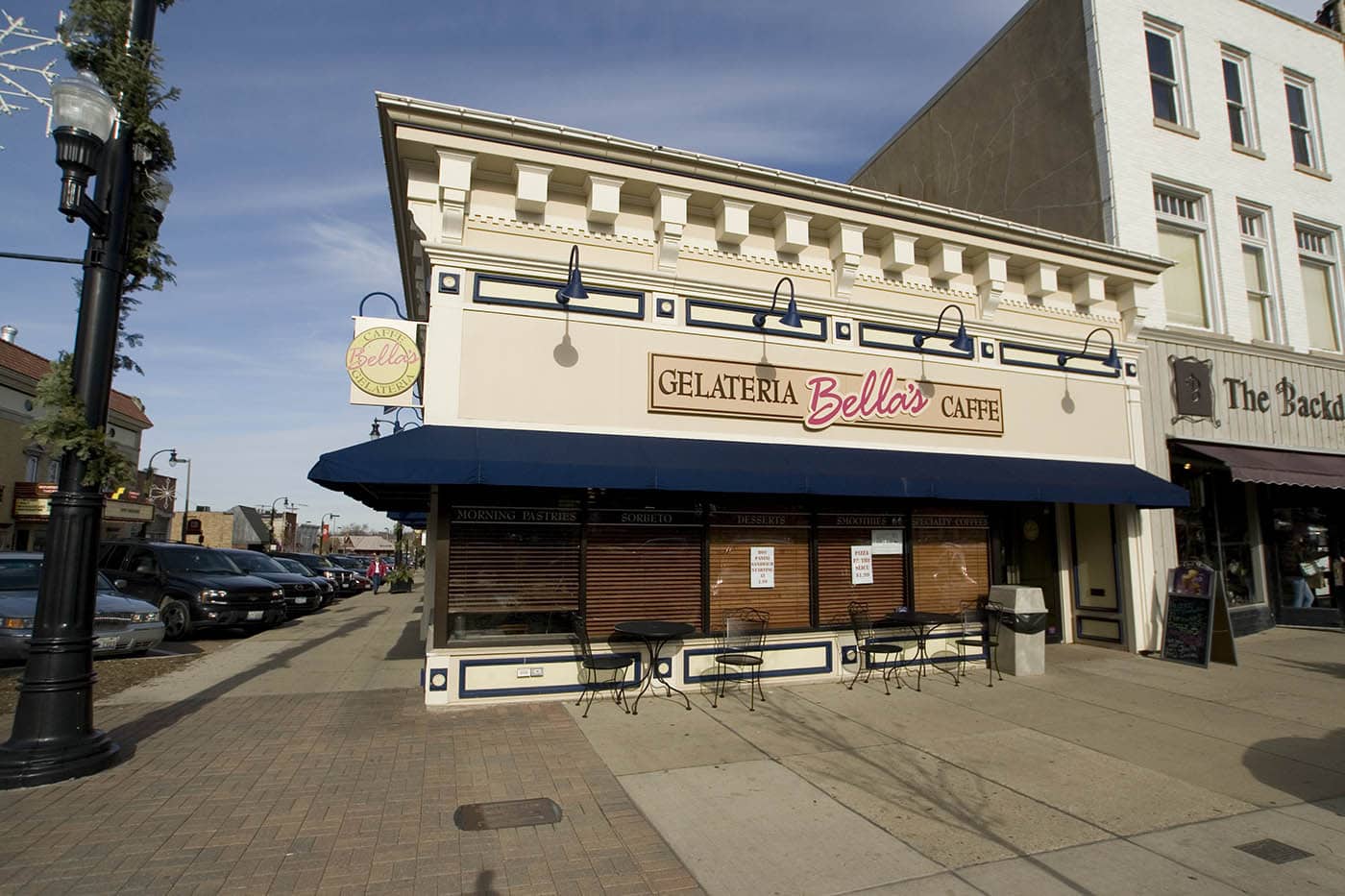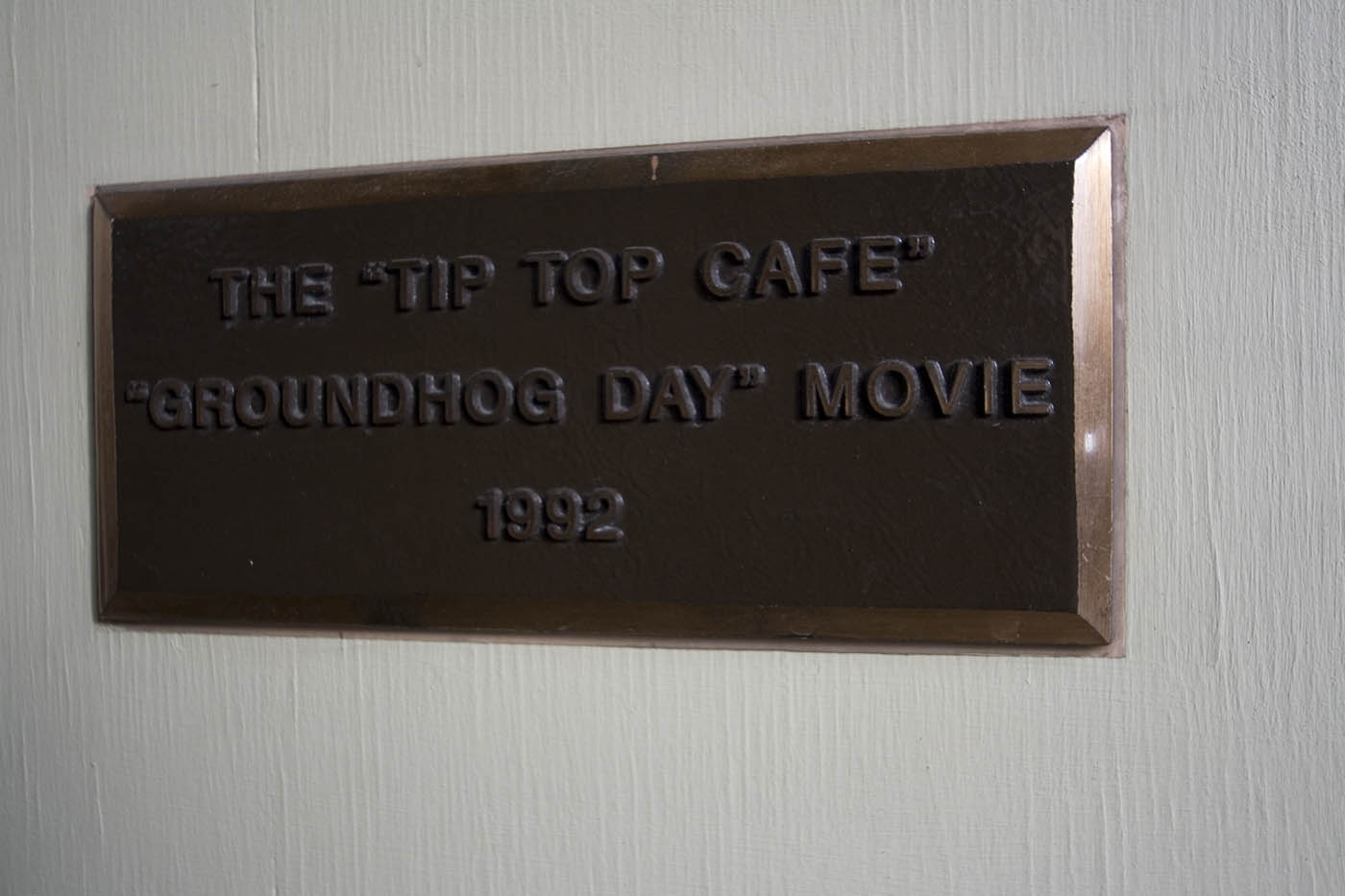 Tip Top Cafe
108 Cass St
Tip Top Cafe was a restaurant frequented in the Groundhog Day movie. It's where Phil first hastily tells Rita there's something off going on. It's where he orders stacks of heavenly sticky buns. And it's where, one day, Phil gains Rita's trust by demonstrating just how much he's come to know about the people in the town.
While the Tip Top Cafe didn't exist at the time of filming, after the movie's success a real-life Tip Top Bistro opened in it's place at 108 Cass Street. That restaurant closed in 2012 and a succession of restaurants, serving everything from chicken to Mexican food to gelato, have opened in its place.
When I visited the location was Bella's Gelateria and Caffe, but today it is Taqueria La Placita Mexican restaurant.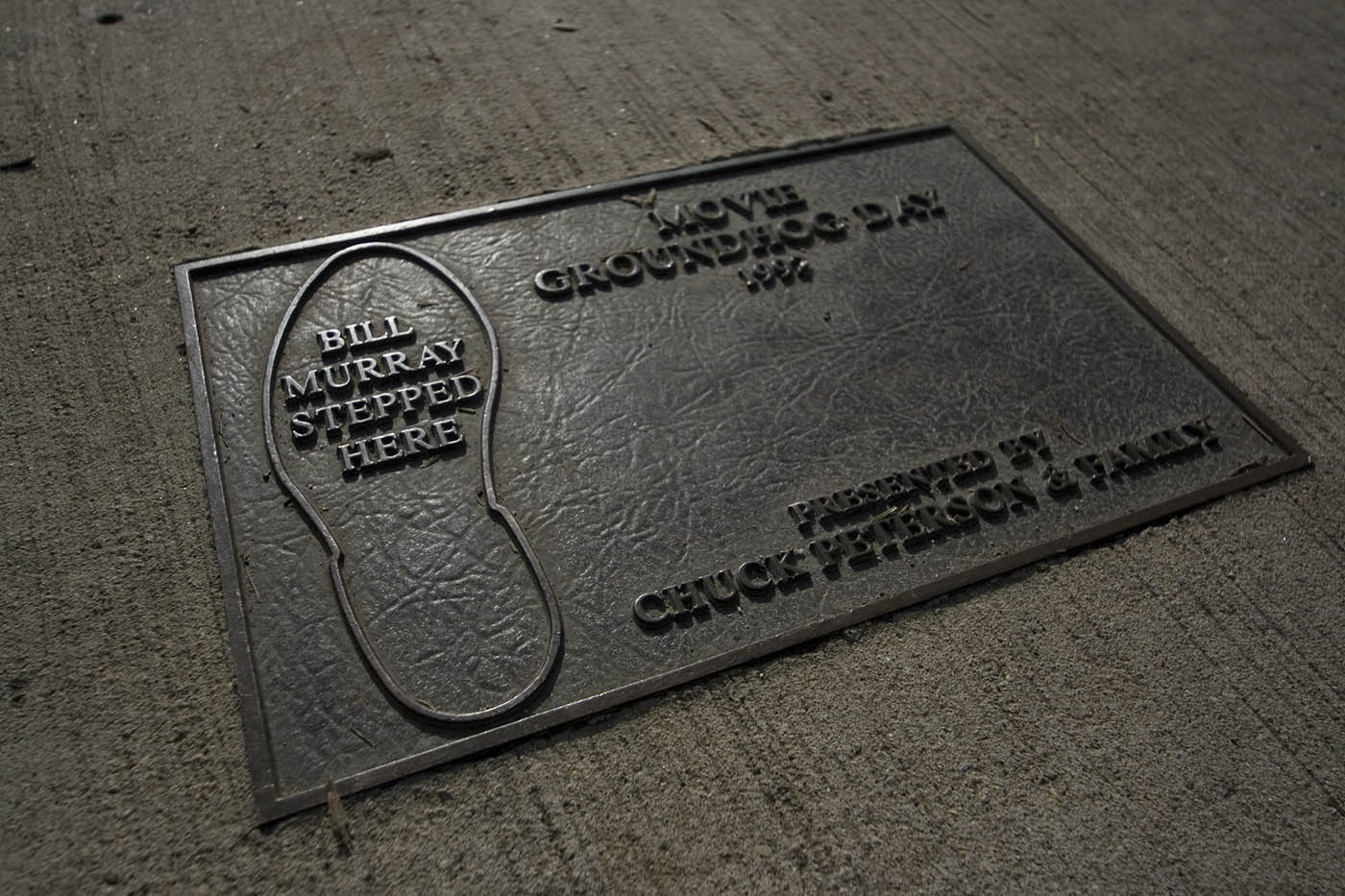 "Bill Murray Stepped Here" Plaque
108 Cass St
"Watch out for that first step. It's a doozy!" In the place where Bill Murray's character stepped off the curb into a puddle of ice each morning you can find a plaque engraved with a footprint and the declaration: Bill Murray Stepped Here.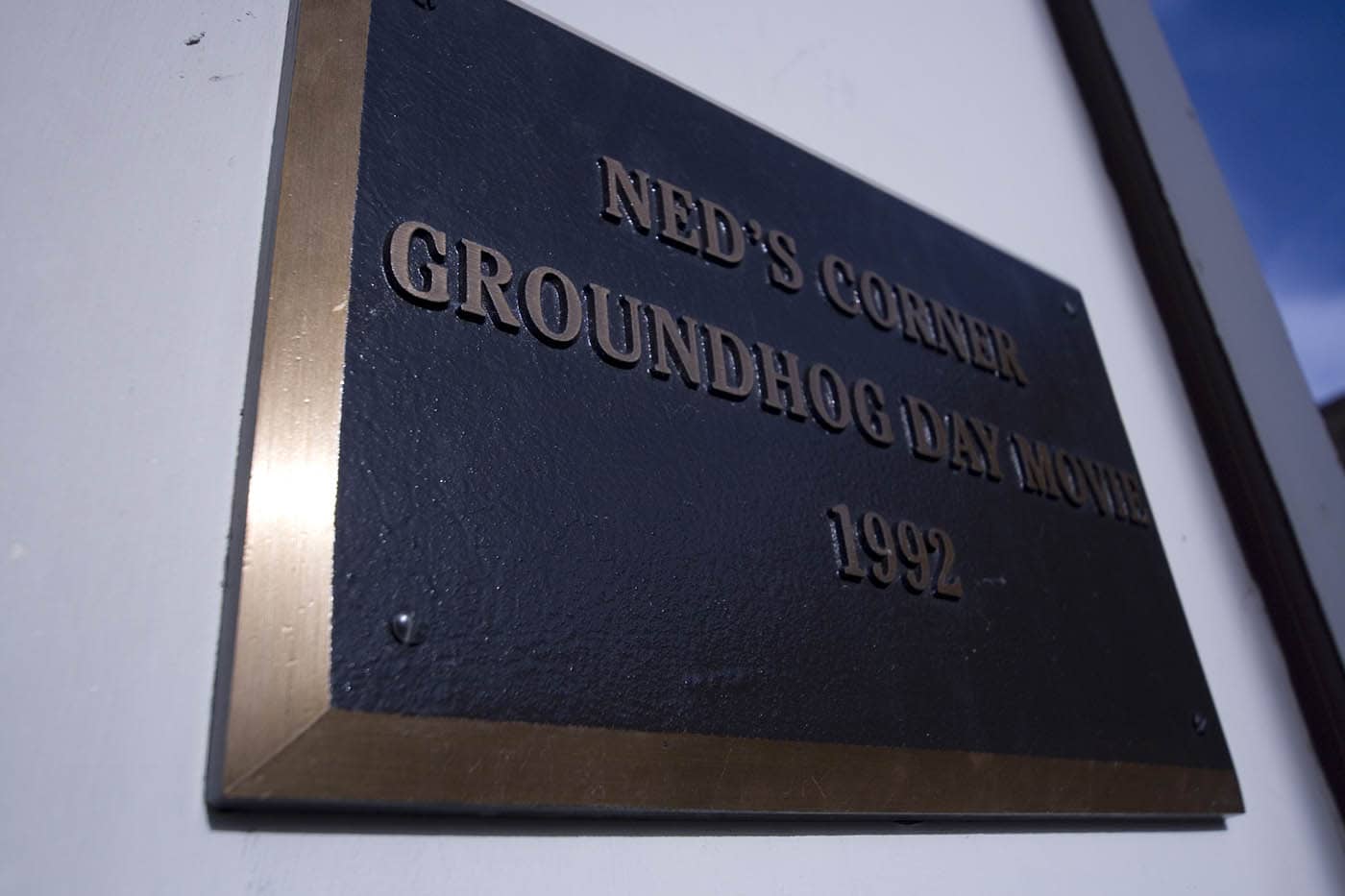 Ned's Corner
100 Cass St
Every morning Ned Ryerson greeted Phil and challenged his memory as to who he was. At that intersection you can find a plaque naming itself "Ned's Corner."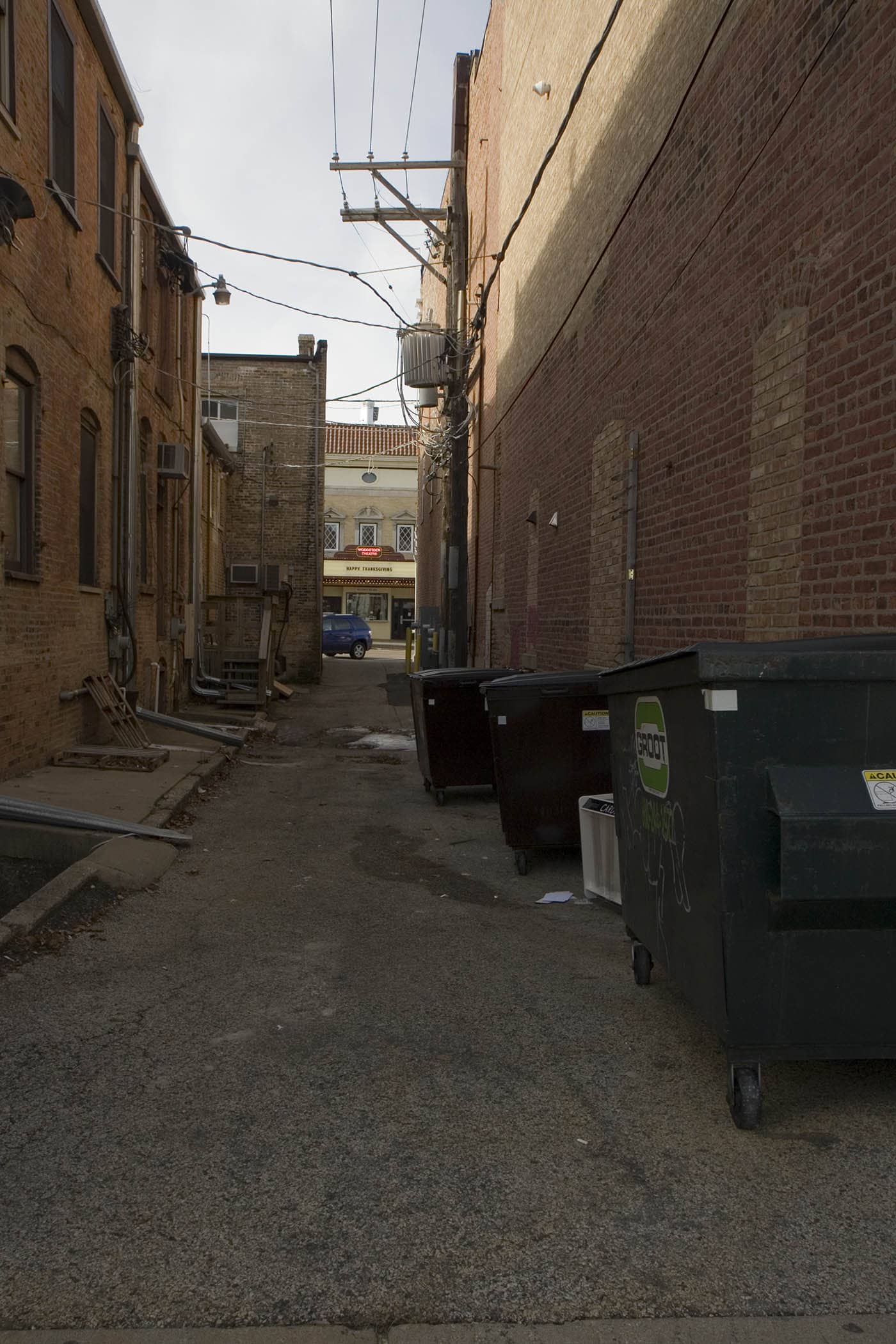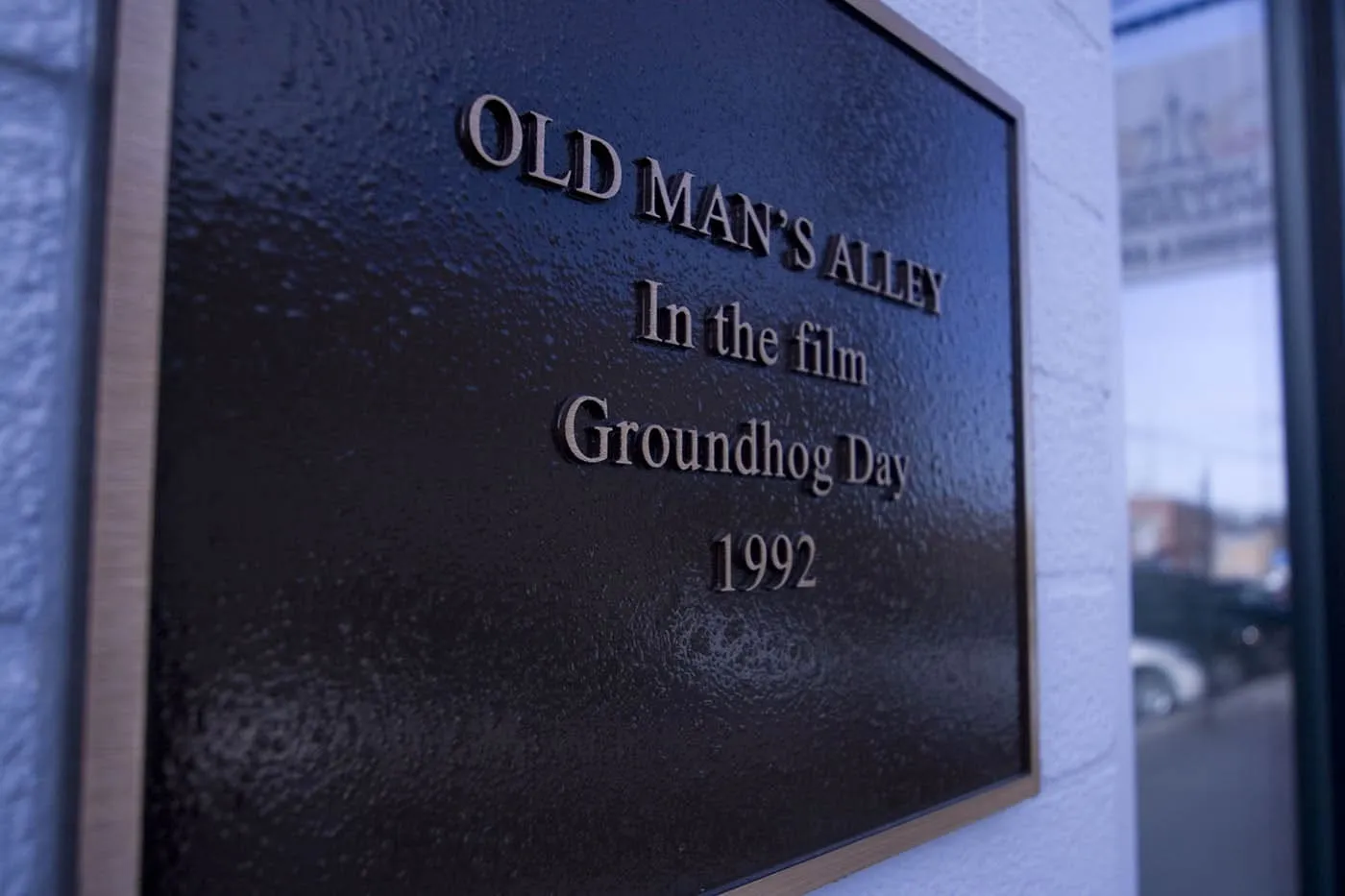 Old Man's Alley
N Benton St & E Judd St
One of the most heartbreaking moments of the film is when Phil finds that the old man he had walked by and dismissed for possibly years dies later that day. He does everything to try to help him, but he can't escape fate. A plaque that declares "Old Man Alley" marks the alley in which Phil finds the old man after he passed.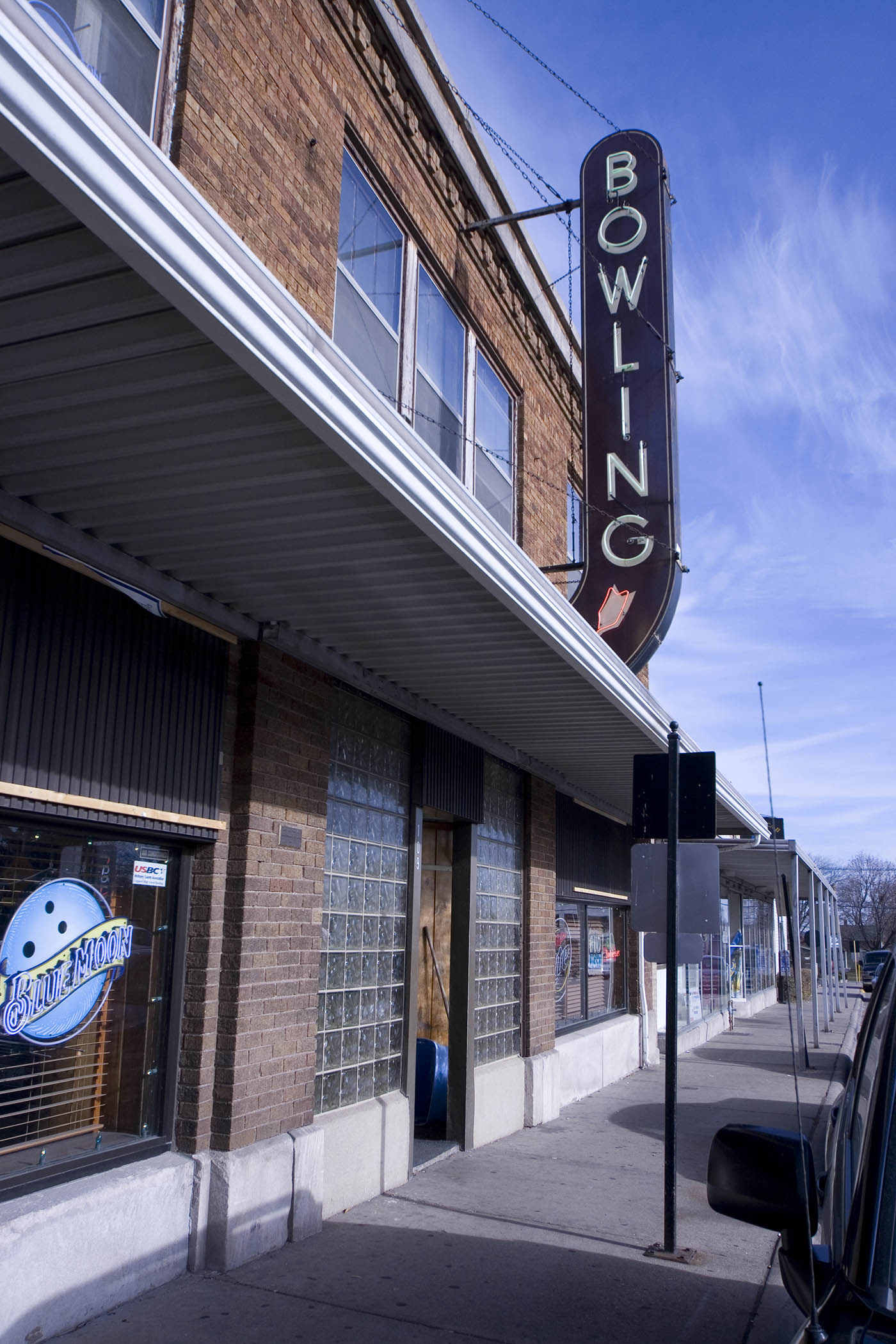 Wayne's Lanes/Bowling Alley
109 E Church St
Early in the film, when Phil is still trying to figure out what is happening, he has a coffee and contemplates his fate with strangers at the bowling alley. The real bowling alley is Wayne's Lanes, another of the Groundhog Day movie filming locations in Woodstock.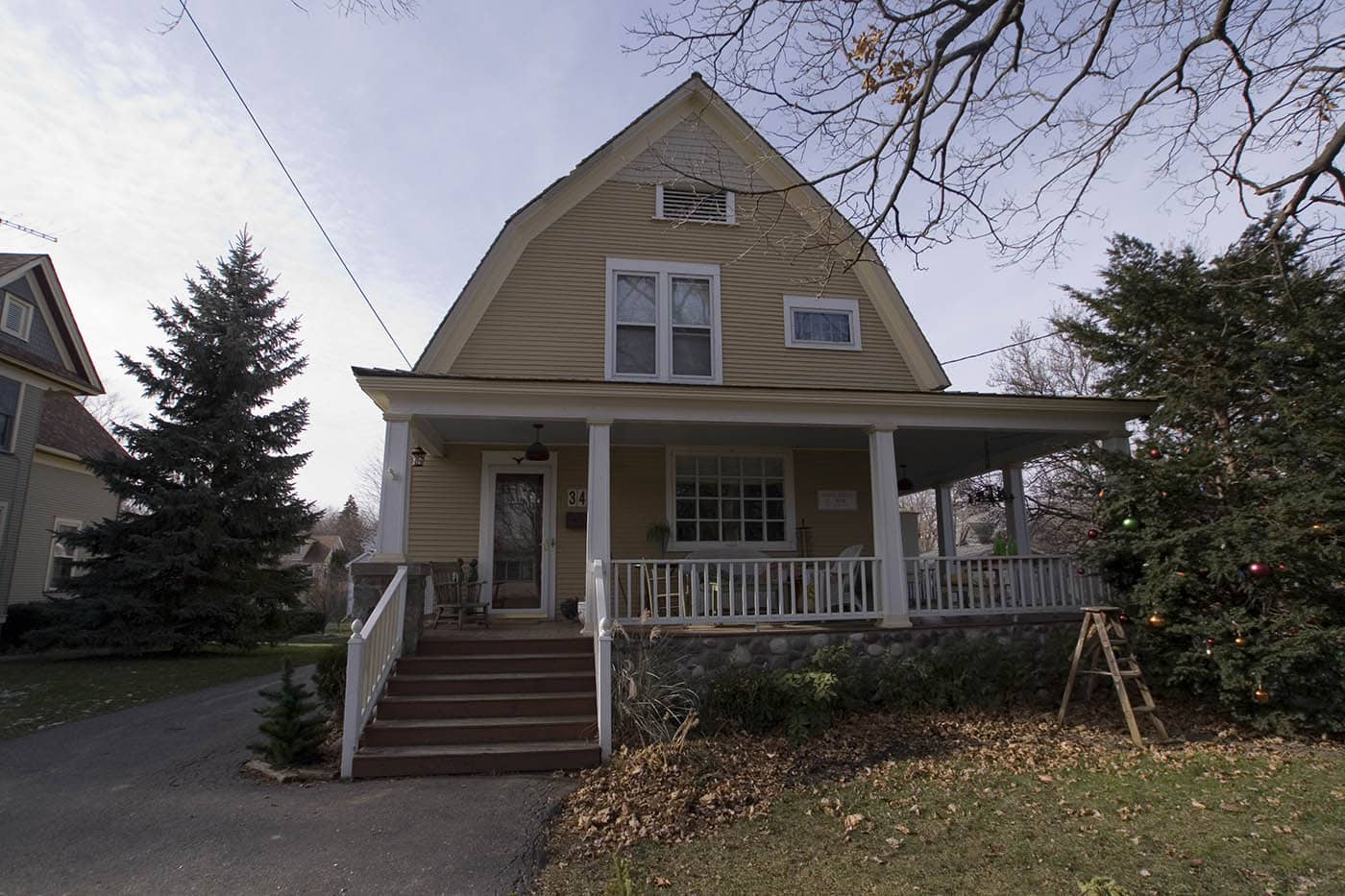 Piano Teacher's House
348 S Madison St
Every day Phil visits the local piano teacher's house to have his first ever piano lesson until he is so good he could captivate a dance hall. The piano teacher's house is a private residence at 348 South Madison.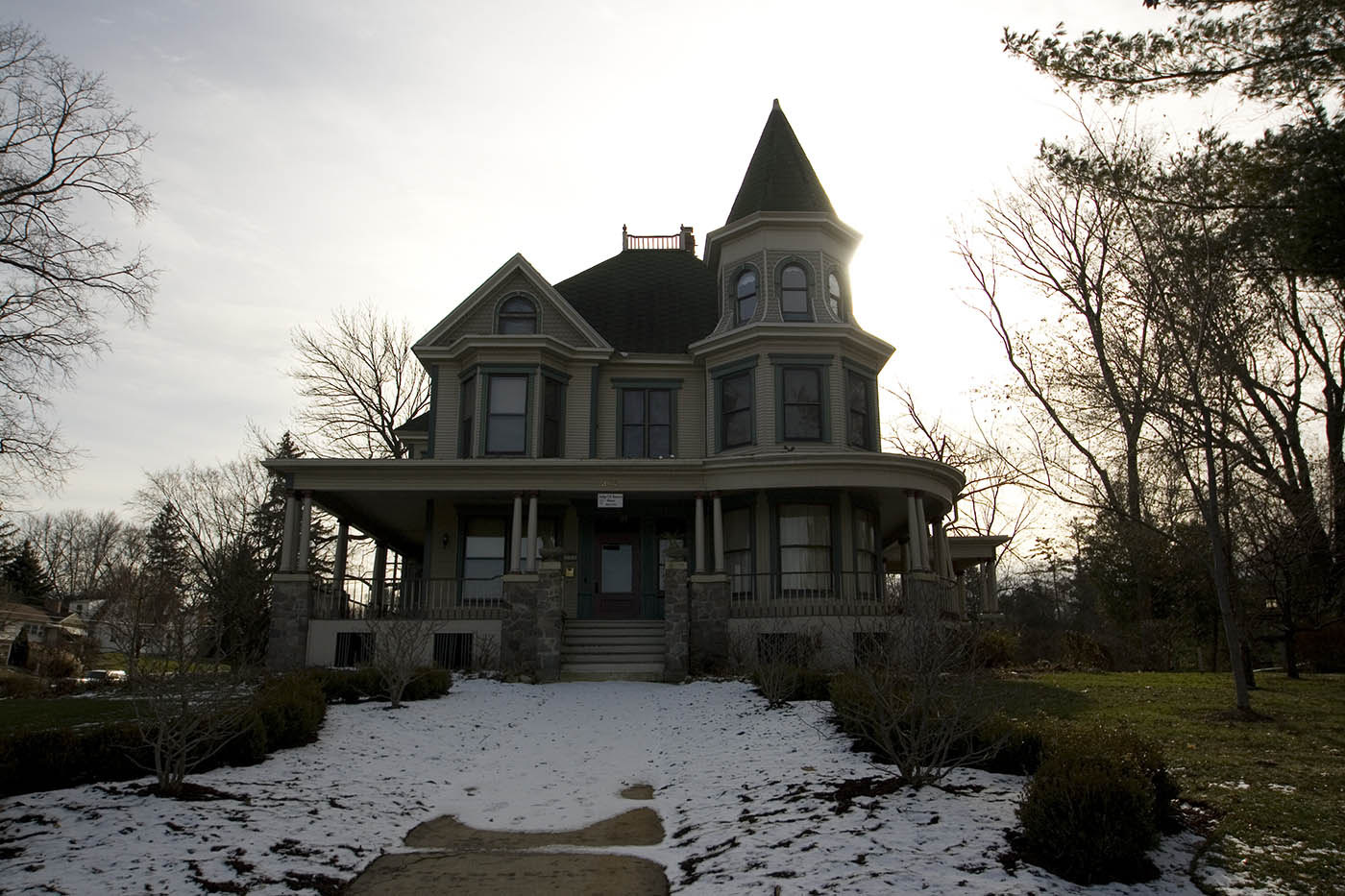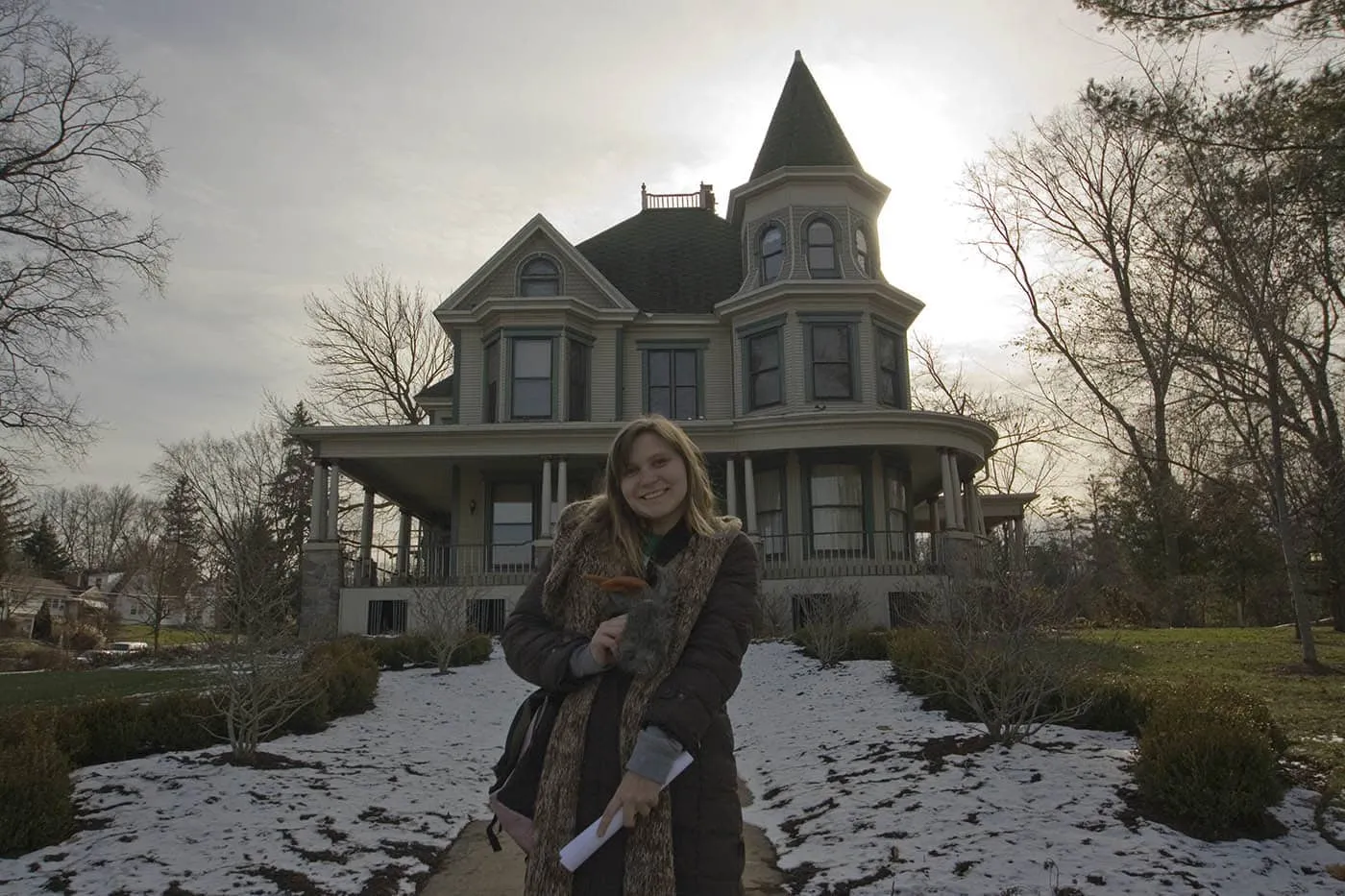 The Cherry Tree Inn Bed & Breakfast/Royal Victorian Manor/Cherry Street Inn
The "Cherry Street Inn," where Bill Murray's character went to bed every night and woke up every morning, on repeat, again, and again, was filmed at the Royal Victorian Manor in Woodstock, Illinois (now The Cherry Tree Inn Bed & Breakfast). Since painted from the white, green, and blue exterior seen in the film, you can stay there for yourself… just hope that you wake up tomorrow and not today.
Other Groundhog Day filming locations:
Gas Depot
131 Washington St
The gas station where Phil tries to call for emergency help.
Old Courthouse Arts Center & Public House of Woodstock
101 North Johnson St
The bar where Rita and Phil get to know each other more over sweet vermouths on the rocks with a twist.
Woodstock Moose Lodge
406 Clay St
Where the 'Groundhog Festival Banquet' at the end of the film is held.
Groundhog Day Mural and Woodstock Willie Statue
225 Main St
Celebrate Groundhog Day in Woodstock, Illinois:
Every February 2 you can celebrate Groundhog Day where Groundhog Day was filmed. The main Woodstock Willie Groundhog Prognostication takes place early in the morning that day (usually around 7am) in the park in the town square, complete with a band and reenactment of the movie's scene. But the entire day and days leading up to it are filled with fun activities for people of all ages too
Other activities include a Groundhog Day Story Time, a Welcoming of the Groundhog ceremony, trivia nights, movie screenings, Breakfast with Willie's Woodland Friends, a walking tour of filming sites, and a Groundhog Day Dinner Dance at the Woodstock Moose (where the bachelor auction and dance scenes were filmed). Get details about this year's event here.
---
Groundhog Day Movie Town
Location: Woodstock, Illinois
Cost: Free to see!
Hours: Always visible!
Date: November 29, 2008
---
Pin this Illinois roadside attraction: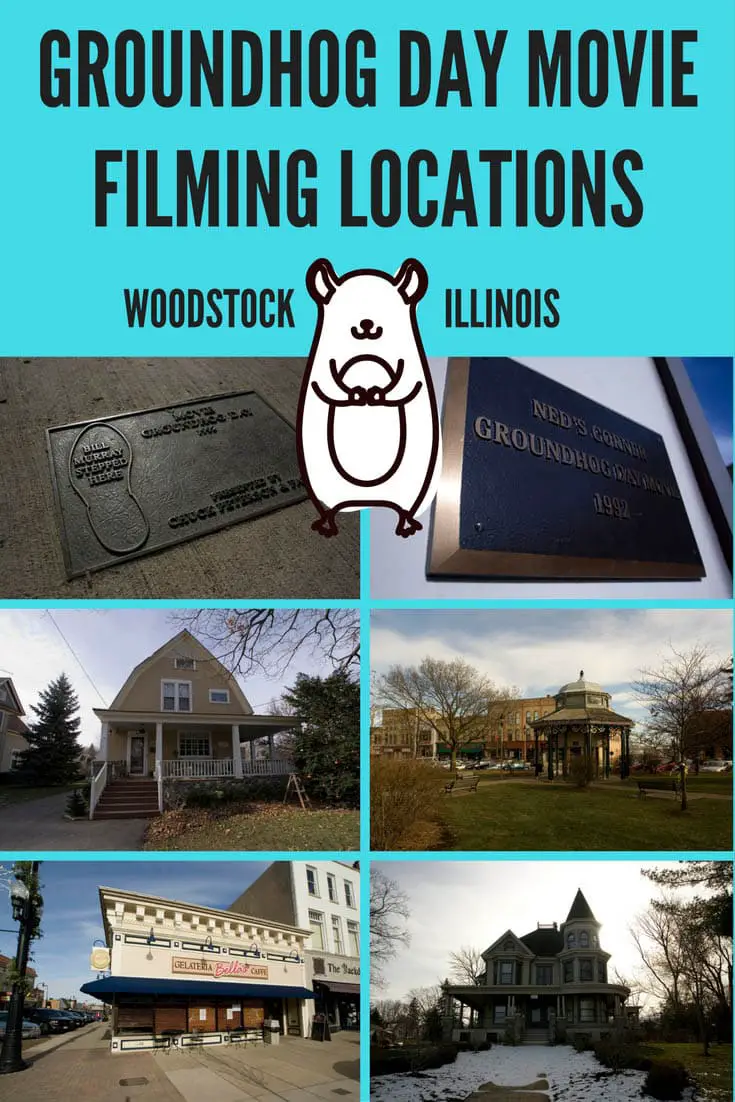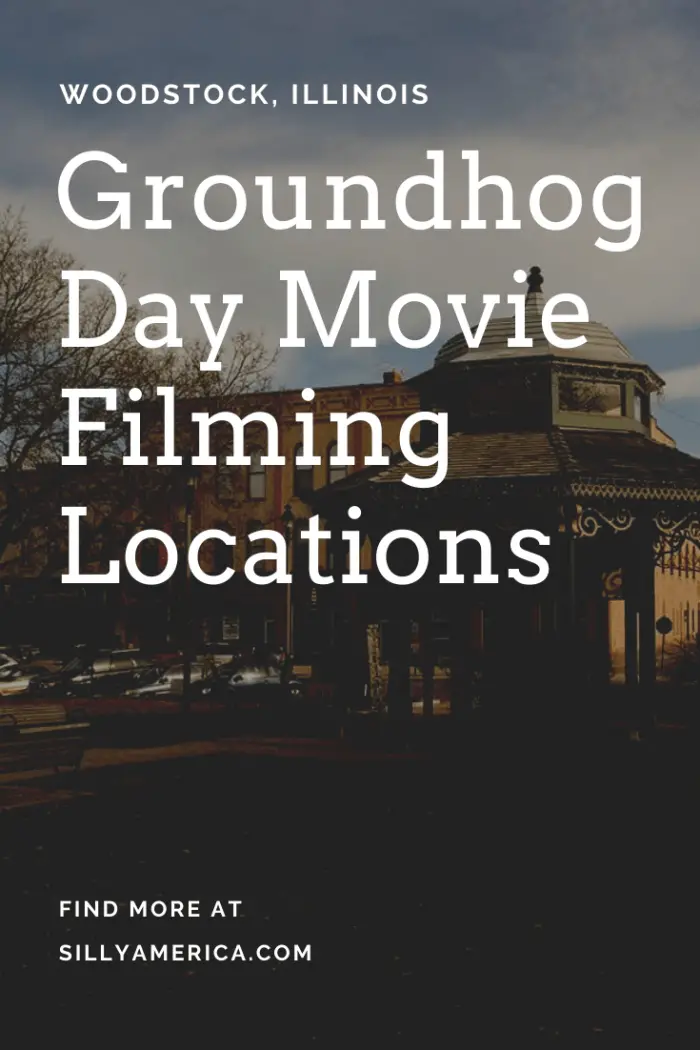 ---
Love checking out movie locations? Be sure to also visit the Christmas Story House in Cleveland, Ohio and the Ferris Bueller's Day Off Garage in Highland Park, Illinois.
If you're visiting the REAL Pennsylvania, be sure to check out the (totally authentic) flying saucer in Mars!