I've never been to Stonehenge. But I have been to several Stonehenge replicas in the US.
Stonehenge, the original Stonehenge, is an ancient monument in Wiltshire, England. Built between 3000 and 1520 BCE, the site features large stacked stones made from sarsen stones (silicified sandstone) and bluestones (a dolomite variation). The key feature of this attraction is its orientation, being built to perfectly align with the sun. No one quite knows exactly who built this monument, or why, but there are many theories, from being a religious site to being built by aliens.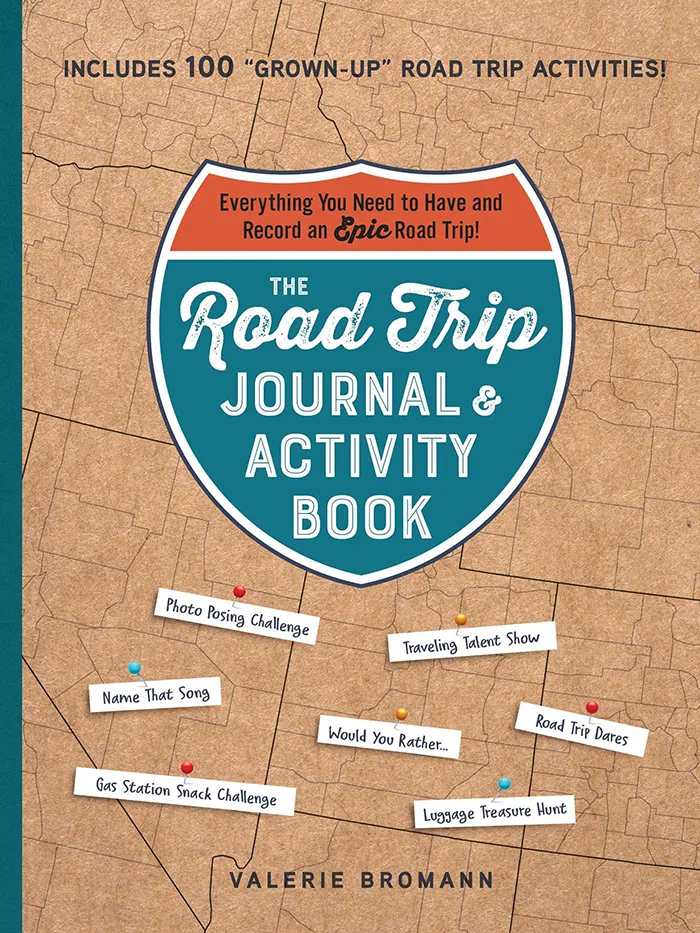 The Road Trip Journal & Activity Book
Everything You Need to Have and Record an Epic Road Trip!
Enjoy fun games and challenges to pass the time on your next road trip and have a keepsake to look back on for years to come with this entertaining must-have for your next vacation.
While no one knows for sure why Stonehenge was built, we have a pretty good idea of why these Stonehenge replicas were built. Some, to study the original landmark. Others, to provide entertainment to road trippers looking for a quirky pitstop.
So if you've never made it to England (or even if you have) have no fear, there are plenty of these quirky reproductions stateside for the silly American traveler…here are some of our favorite Stonehenge look-a-likes!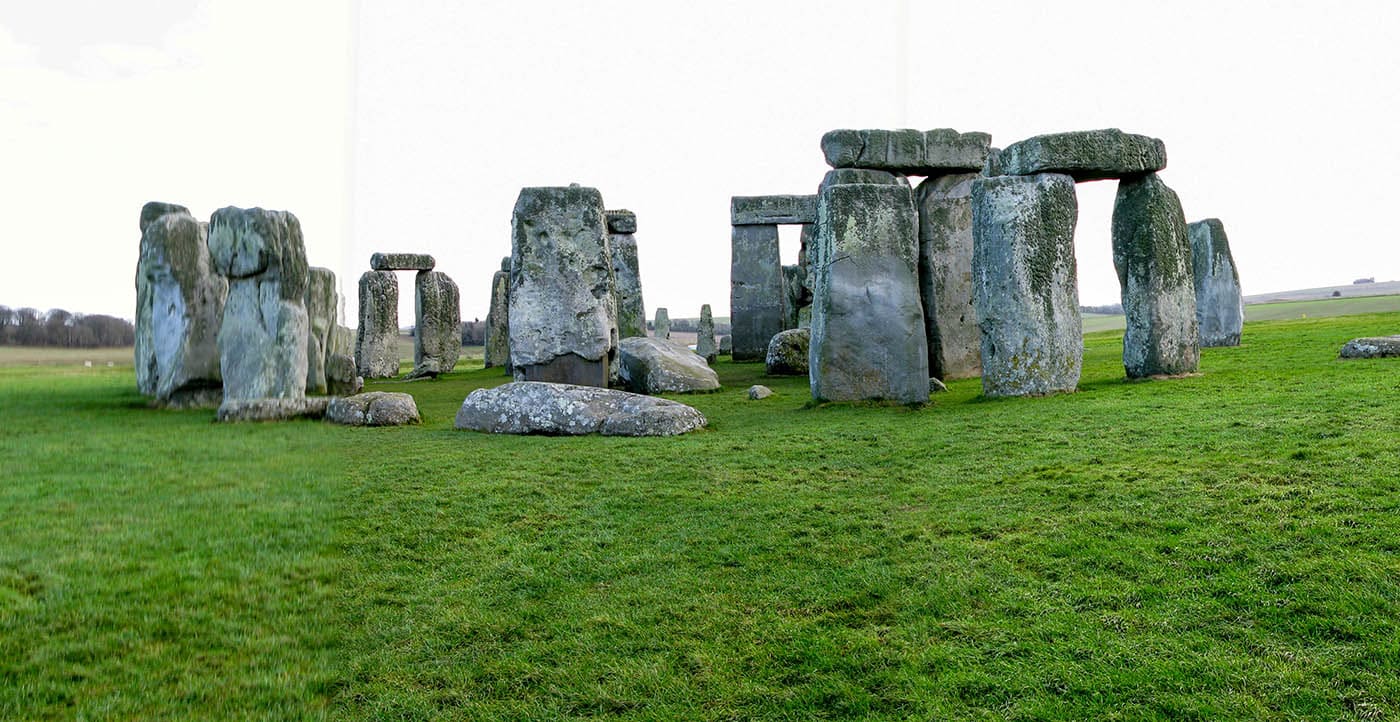 Stonehenge Replicas in the US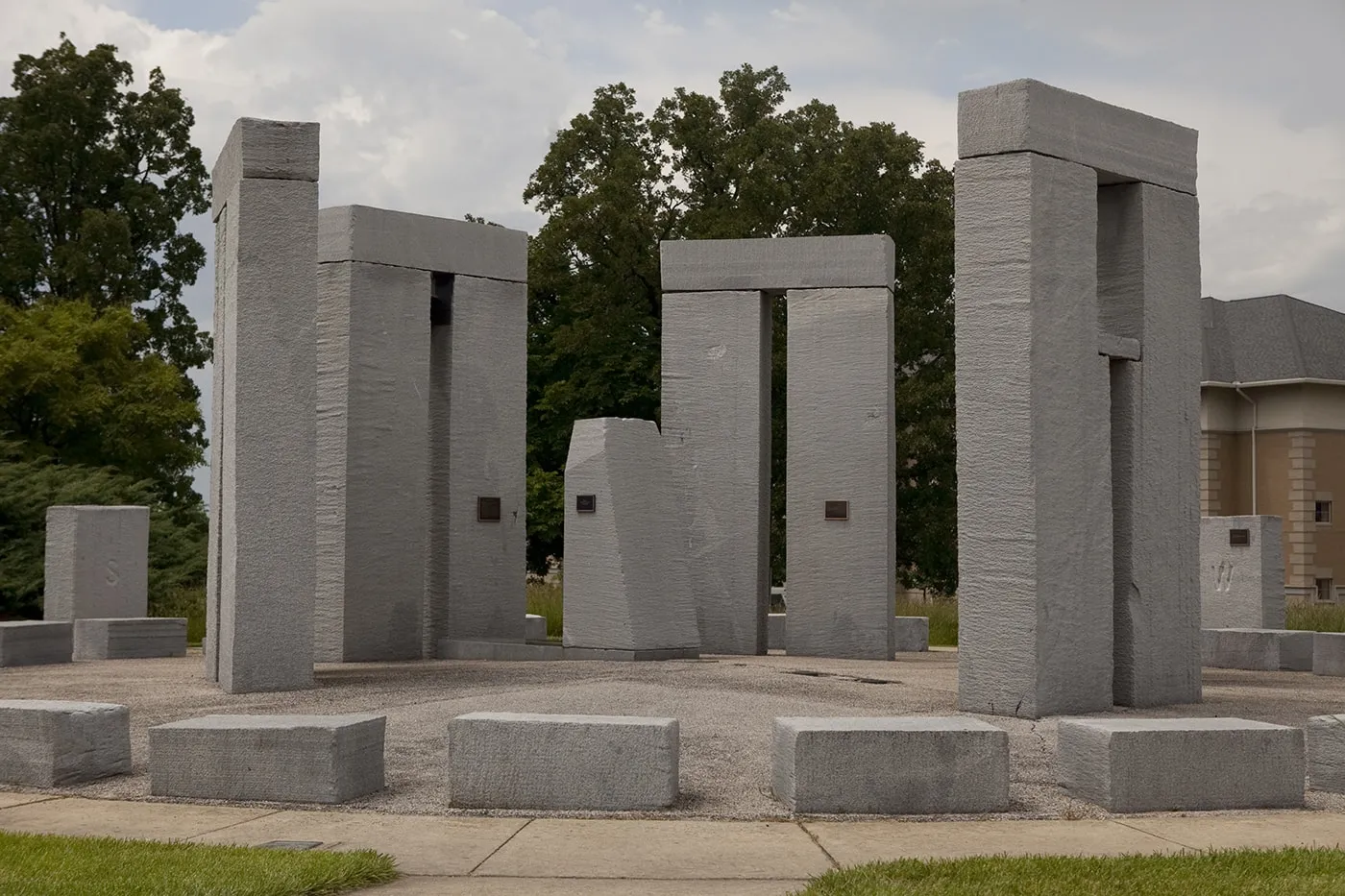 Stonehenge Replica in Rolla, Missouri
Rolla, MO 65409
Find this Stonehenge replica in Rolla, Missouri, at the Missouri University of Science and Technology campus. The recreation is a half size partial replica of the ancient original, and located right on Route 66. Each piece of the Rolla Stonehenge was crafted by high pressure water jet equipment from the University's lab. Work on this partial-recreation of Stonehenge finished in 1984 and was dedicated on June 20 (summer solstice) of that year.
Maryhill Stonehenge in Maryhill, Washington
Stonehenge Dr, Goldendale, WA 98620
Maryhill Stonehenge (or Sam Hill's Stonehenge) was commissioned by entrepreneur Sam Hill and dedicated on July 4, 1918. It was created as a memorial to those who had died in World War I. Made of concrete, the alter stone is set to align with the sunrise on summer solstice.
Subdivision Stonehenge in Athens, Georgia
The Ave, Bogart, GA 30622
This not-built-to-be-accurate version of Stonehenge was originally meant to welcome visitors to a subdivision named Stonehenge. It was eventually moved to its current location, surrounded by themed street names like Heelstone Avenue and Salisbury Plain Drive.
Kentucky Stonehenge in Munfordville, Kentucky
201 Lynn Ave, Munfordville, KY 42765
Kentucky Stonehenge was built by former Munfordville mayor Chester Fryer out of large rocks. Located on his property, it was built to align with the points of a compass and align with the sun come summer solstice. Other rock sculptures are present on the property.
(Private property, but respectful visitors allowed.)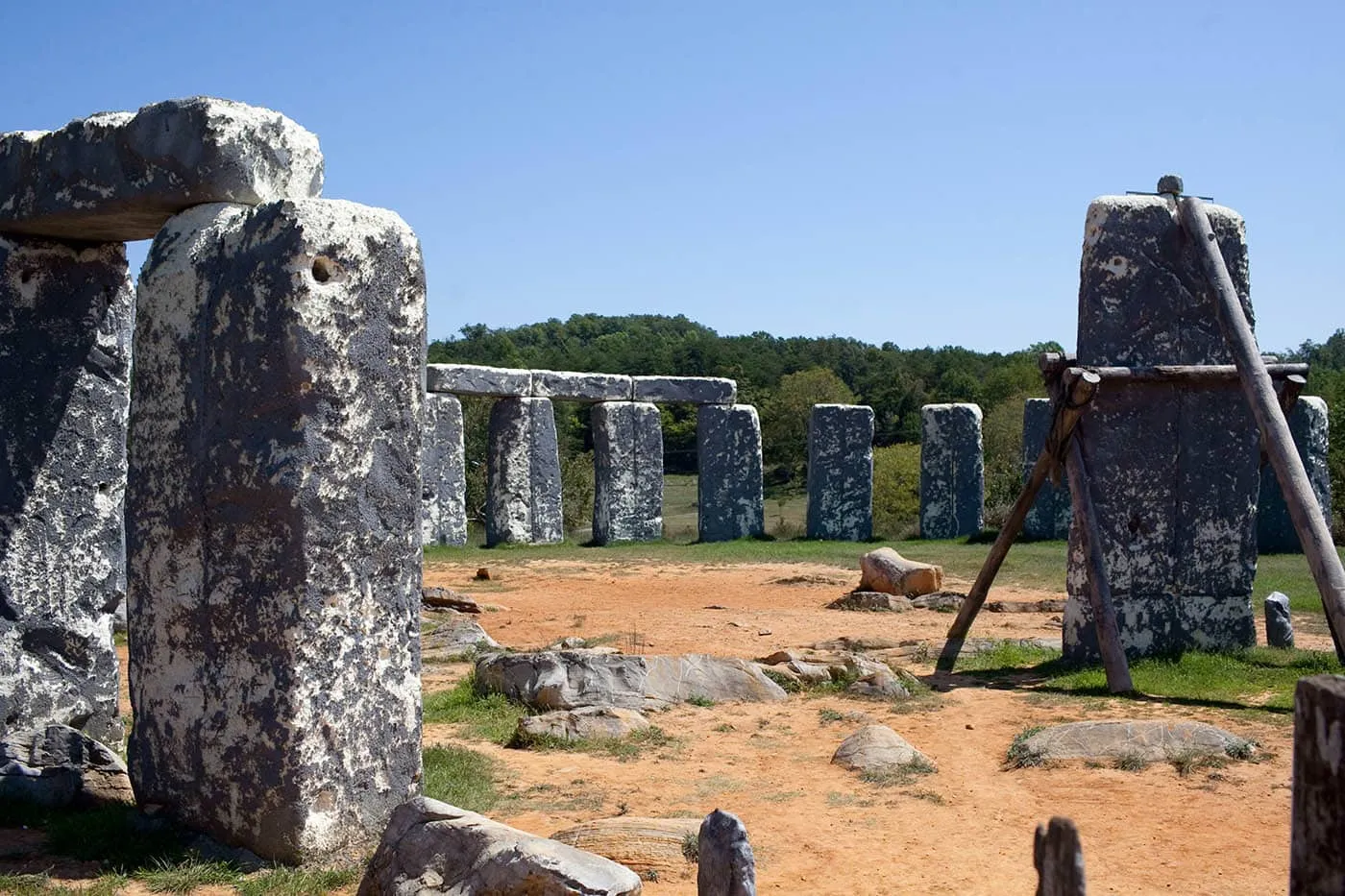 Foamhenge in Centreville, Virginia
This Stonehenge replica is made from, you guessed it, foam. Created by artist and fiberglass sculptor Mark Cline of Enchanted Castle Studio, Foamhege is a full-scale styrofoam replica of the iconic English tourist attraction. In 2004, after only ten days of construction, the roadside attraction opened on April 1: April Fools Day. Originally located in Natural Bridge, Virginia, in 2017 the Virginia roadside attraction was relocated to Centreville, Virginia.
Bamahenge in Elberta, Alabama
Elberta, AL 36530
By the same artist as Foamhenge, Bamahenge is a fiberglass version that is built to be identical in size to its English counterpart, at 21-feet tall and 104-feet wide. It is also positioned to line up with the sun for summer solstice.
Stonehenge II, Ingram, Texas
120 Point Theatre Rd S, Ingram, TX 78025
Stonehenge II is the brainchild of the late Al Shepperd and his friend Doug Hill. Inspired by an extra piece of limestone slab, they built a replica of Stonehenge out of plaster, metal mesh, and steel. The end result was a modern take at 90% wide and 60% tall as the original. After Shepperd's death, the monument was moved to the Hill Country Arts Foundation in Ingram, Texas.
University of Texas of the Permian Basin Stonehenge in Odessa, Texas
Preston Smith Rd, Odessa, TX 79762
This Stonehenge replica on the University of Texas Permian Basin campus was built in 2004 by stonecutters Connie and Brenda Edward. Made of limestone slabs it reaches 19 feet tall and weighs 20 tons.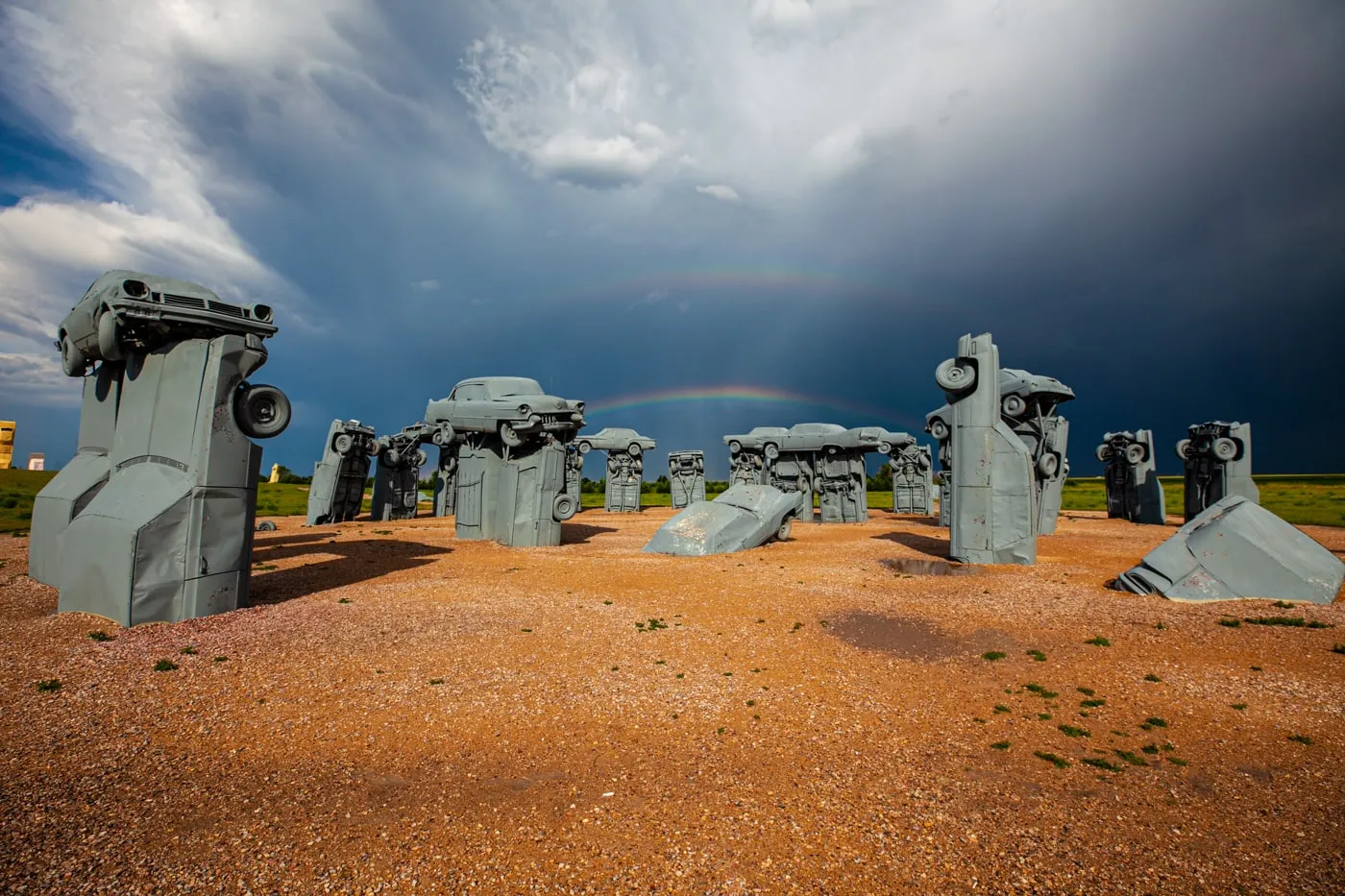 Carhenge in Alliance, Nebraska
2151 Co Rd 59, Alliance, NE 69301
Carhenge in Alliance, Nebraska stands at 96 feet in diameter and is made up of thirty eight gray-painted cars (Stonehenge, by contrast is 330 feet in diameter). Some of the automobiles that make up this tourist attraction are buried trunk-down in five-foot pits, others are soldered on top, creating arches. The heel stone is represented by a 1962 Cadillac. Experimental artist Jim Reinders created the roadside attraction out of old cars in 1987, as a tribute to his late father, Herman Reinders. He was so intrigued by Wiltshire, England's Stonehenge that he wanted to recreate it with a modern, American, twist. And what could be more American than cars?
RyanHenge in Coyote Springs, Nevada
93 US Hwy, Alamo, NV 89001
RyanHenge was created by the CEO of the landfill company next door. He was inspired to create this faux Stonehenge to complement the starry skies of the area that he just didn't get in the heart of Las Vegas. While this roadside attraction isn't quite built the same, the form and function still pay homage to the original in England.
Paulhenge in Versailles, Indiana
Versailles, IN 47042
Erected in the spirit of Stonehenge, this monument features upright slabs with holes built to let the sun to shine through on equinoxes and solstices.
Partial Stonehenge in Cave Spring, Virginia
Chaparral Dr & Londonderry Ln, Cave Spring, VA 24018
A truncated version, with just a couple of 20-foot-tall trilithons. It was built in 1976 and restored in 2016.
Stonehenge of American Fork in American Fork, Utah
538 S 500 E, American Fork, UT 84003
Stonehenge of American Fork in a nursing home facility. True to its moniker, a Stonehenge replica can be found outside the property.
Office Park Stonehenge in Renton, Washington
2001 Lind Ave SW, Renton, WA 98057
Find this replica of Stonehenge in an office park traffic circle. The stones are full size, but there are only half as many as in the original.
Stonehenge Replicas on Private Property
Not all Stonehenge replicas are open to all. A handful of beautifully crafted renditions were erected on private properties and not open to the general public.
Front Yard Stonehenge in Nunica, Michigan (PRIVATE)
Leonard Rd, Nunica, MI
This 13-foot tall replica of Stonehenge is made of styrofoam and stucco. Created by Fred and Pam Levin in 2007, it lives on their private horse farm. On private property, so no trespassing, but can be seen from the road.
Fortine Stonehenge in Fortine, Montana (PRIVATE)
Crystal Lake Rd, Libby, MT
Located on private property on the Crystal Lakes Golf Course. This full-size version was built for a wealthy resident of the the resort.
Circle of Life in Sachem Head, Connecticut (PRIVATE)
Sachem Head, CT
The Circle of Life is a stunning replica located in Sachem's Head, Connecticut. It is made of 700 tons of Blue Pearl Norwegian granite slabs and overlooks Long Island Sound. The sculpture is positioned to chart celestial events.
Not Quite Stonehenge Replicas in America
These weird roadside attractions might have Stonehenge in the name, and might capture the spirit of the English monument, but they aren't quite Stonehenge replicas.
America's Stonehenge in North Salem, New Hampshire
105 Haverhill Rd, Salem, NH 03079
America's Stonehenge doesn't even try to resemble its more famous counterpart, but it does dub itself the "oldest megalithic site in America." Consisting of chambers, stones, and ceremonial meeting places, the 4,000 years old "Stonehenge" is claimed to be the oldest man-made construction in the United States. The site serves as an astronomical calendar that can be used to determine solar and lunar events.
Georgia Guidestones in Elberton, Georgia (Closed)
031 Guidestone Rd NW, Elberton, GA 30635
The Georgia Guidestones were part Stonehenge, part Rosetta Stone, and all mystery. No one knows who the secretive man who had the stones built in 1980 is or why he wanted it built, but that didn't stop visitors from flocking to this popular Georgia roadside attraction. The tablets were engraved with a dedication to "Let these be guidestones to an Age of Reason" along with ten guidelines to re-establishing the planet and society, each written in eight different languages. If that isn't crazy enough, the guidestones also worked as an astronomical calendar, with the day's date illuminated by the sun. Unfortunately, on July 6, 2022, an explosive device exploded at the site, damaging the Georgia Guidestones. Shortly after the entire monument was dismantled.
Truckhenge in Topeka, Kansas
4124 NE Brier Rd, Topeka, KS 66616
England has Stonehenge. Nebraska has Carhenge. And Kansas has Truckhenge. Truckhenge is made up of six antique trucks partially buried in the ground and surrounded by other works of recycled art. The piece was created by Ron Lessman in 2000 in response to county officials who wanted him to clean up his land. He was told to "pick the trucks up," so, in an act of rebellion, he partially elevated them from the ground, creating a Kansas roadside attraction on the way. That said, this roadside attraction doesn't actually mimic Stonehenge in any way.
Ponyhenge in Lincoln, Massachusetts
47 Old Sudbury Rd, Lincoln, MA 01773
This quirky roadside attraction features a menagerie of rocking horses, plastic ponies, and horse toys placed in an empty field. The only thing it really has in common with its namesake is that no one really knows who originated it.
Bunnyhenge in Newport Beach, California
Newport Beach, CA 92660
In a public park, 14 oversized bunnies sit in a circle. Adorable, but not quite aligned with the original.
BoatHenge in Easley, Missouri
11305 Smith Hatchery Rd, Columbia, MO 65203
Boats sticking out of the ground to mimic Stonehenge. On private property, but viewable from Katy Trail.
Canoehenge in Leasburg, Missouri
Bourbon, MO 65441
Aluminum canoes make up this version of the monument, which flank the entrance to Ozark Outdoors Resort.
Rancho Shazam in Larkspur, California
Kentfield, CA 94904
The front yard collection of artist Lee Greenberg features many strange sculptures, including a tin rendering of Stonehenge.
Basshenge in Birchdale, Minnesota
9832-9940, MN-11, Baudette, MN 56623
A slew of bass musical instruments arranged by Joe Guastafeste, principal bassist at the Chicago Symphony.
Lonehenge in Lexington, Virginia
Lazy Acres Ln, Lexington, Virginia 24450
Foamhenge artist payed another April Fool's Day prank when he erected this singular monolith dubbed "Lonehenge."
More Replicas of Stonehenge in America
Pin this post on Stonehenge replicas in the US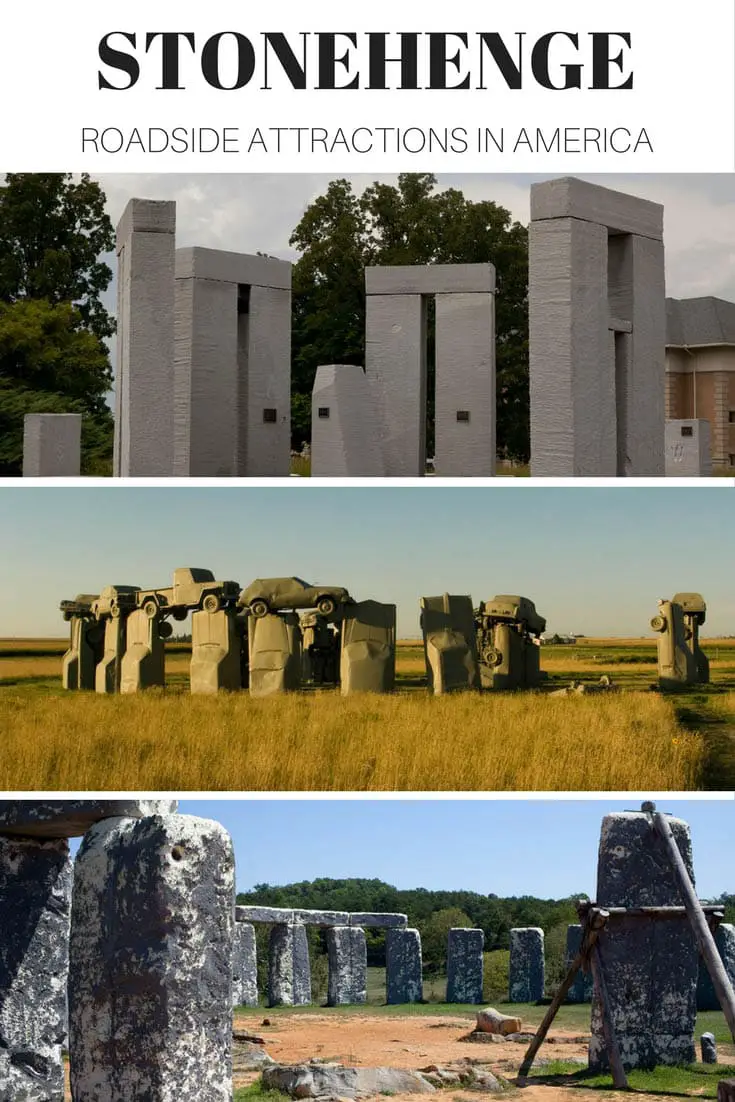 Stonehenge photo by Fernando Montes on Unsplash