Elvis Aaron Presley, known to most simply as Elvis, was a singer, actor, all around entertainer, and the King of Rock and Roll. There are many attractions devoted to The King (and even an Elvis themed hotel room in Missouri), but this bronze Elvis statue in Memphis, Tennessee is a must-see when visiting the city and checking out Beale Street.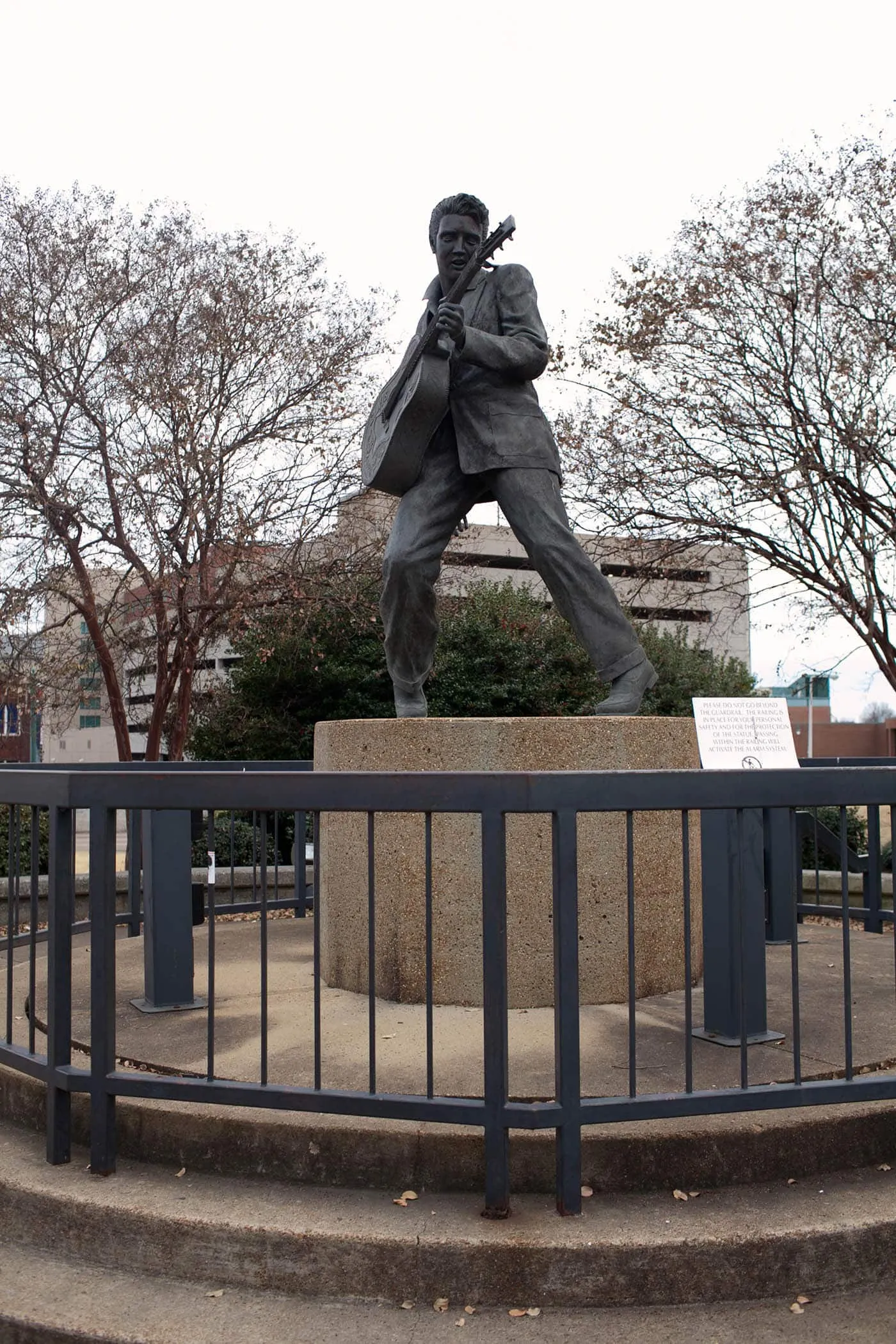 The Elvis Presley statue, as it stands today, is actually the second version of the larger than life bronze idol. The first statue, by artist Eric Parks was unveiled in 1980. It was a fitting tribute as Elvis once lived in Memphis, walked those very streets, and, of course, made music.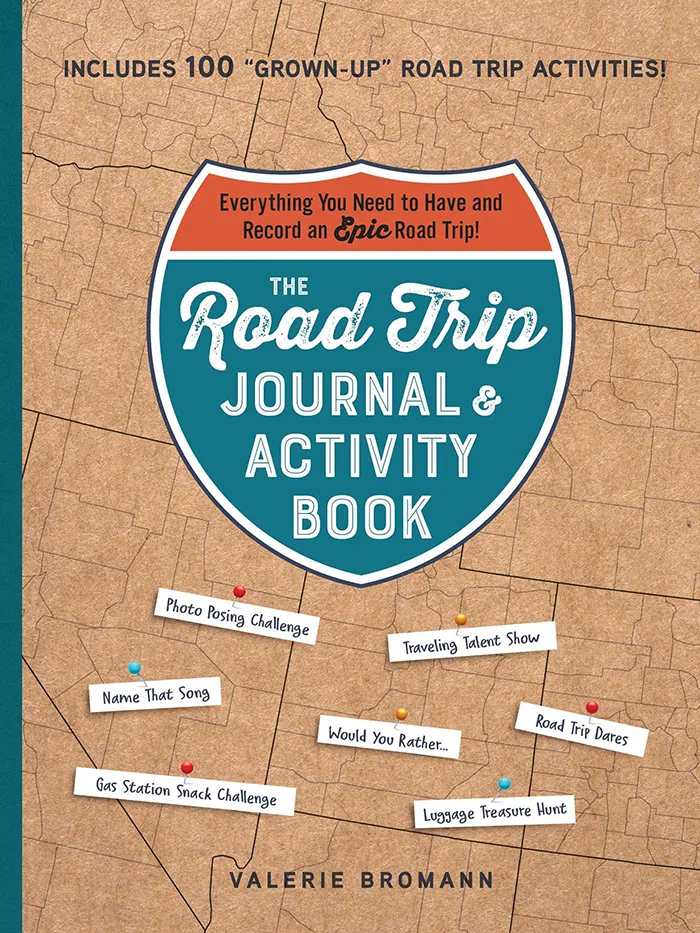 The Road Trip Journal & Activity Book
Everything You Need to Have and Record an Epic Road Trip!
Enjoy fun games and challenges to pass the time on your next road trip and have a keepsake to look back on for years to come with this entertaining must-have for your next vacation.
In 1994, that original Elvis statue was removed from its location on Beale Street and moved to the downtown Memphis Tennessee Welcome Center. By that time, the sculpture had seen better days, having been worn down from the elements and plucked over by intense fans.
After that, Elvis Plaza was left empty for many years until 1997, when the current statue of Elvis Presley, modeled after the singer circa 1955, by sculptor Andrea Lugar took its place. This 9.5-foot statue features a curled lip, a wave of hair, and a guitar poised to make fans of all ages swoon.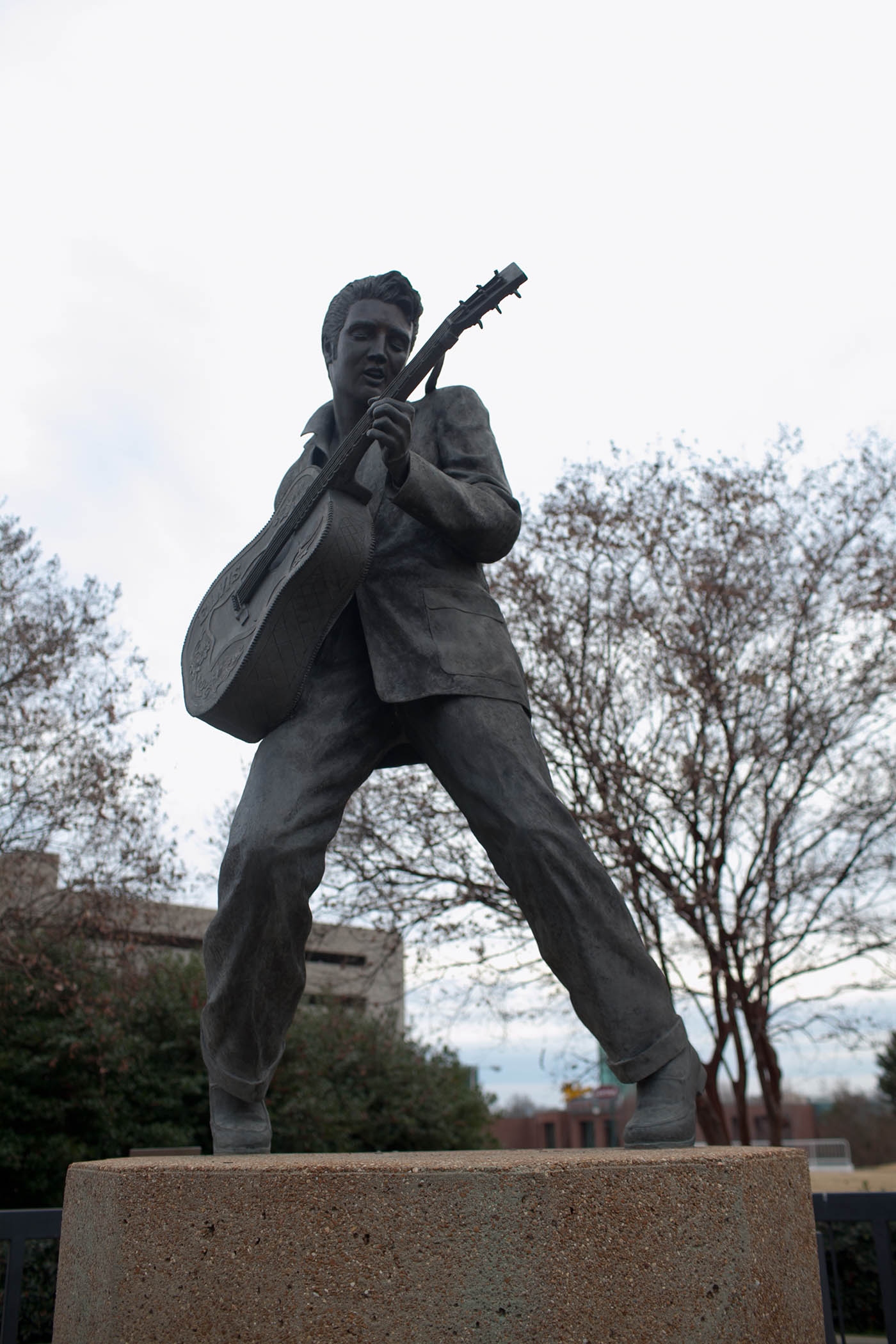 While traveling to Memphis, there are plenty of Elvis tourist attractions to see, all of them fit for a King!
Here are some of the other must-see Elvis attractions in Memphis and Nearby:
Sun Studio
Take a tour of Sun Studio, one of the most famous recording studio in the world, and where Elvis recorded his first song.
Memphis City Tour with Sun Studio Upgrade – $30.00

See top Memphis attractions on this narrated sightseeing tour that takes you along the Mississippi River. Pass Victorian homes, historical statues and cultural landmarks like the Pyramid Arena and the Lorraine Hotel, where Martin Luther King Jr was assassinated. Upgrade to include a tour of legendary Sun Studios, where some of the greatest singers recorded their music – including Elvis Presley, Johnnie Cash, BB King and many more.
Elvis's teenage home at Lauderdale Courts (185 Winchester, #328)
Tour or spend the night at Lauderdale Courts, where Elvis lived with his parents in the late forties to early fifties while he played music, went to school, and started developing his signature style.
Lansky Bros. Clothier to the King
A young pre-King Elvis was a loyrl customer at Lansky Bros. on Beale Street. Mr. Lansky helped craft Elvis's look and style, earning him the title "Clothier to the King."
The Arcade Restaurant
Sit at Elvis's favorite booth, now known as "The Elvis Booth," at The Arcade Restaurant, a restaurant he once frequented. Be sure to order the Fried Peanut Butter N' Banana sandwich!
Memphis Music Hall of Fame
The Memphis Music Hall of Fame pays tribute to some of the greatest musicians of all time who had deep roots in Memphis. Learn about the King of rock 'n' roll and other music greats.
Graceland
Probably the most well-known Elvis attractions in the world is Graceland, a mansion once owned by Elvis Presley himself. No visit to Memphis is complete without a tour of the legendary singer's impressive homestead.

Elvis Presley's Graceland Tour – $53.10

Walk in the footsteps of the King of Rock 'n' Roll at Elvis Presley's home, Graceland Mansion, in Memphis, Tennessee. The full Graceland experience will take you from Elvis' humble beginnings through his rise to superstardom. See how a rock 'n' roll legend lived and relaxed with family and friends. Enjoy video, photos, Elvis' personal mementos, movie memorabilia, stage costumes and much more.
Elvis Presley Graceland VIP Tour – $86.85

In the annals of American pop culture, Elvis Presley is the King, and Graceland is his palace. Spend the day in Graceland including a 3-hour tour which puts VIPs virtually in Elvis' footsteps: Explore Graceland, the top attraction in Memphis, with an audio-guided tour, including a VIP-only exhibit in the mansion. Get front-of-the-line access with the special all-day ticket. Hang out and gawk at his cars in the Automobile Museum and Custom Airplanes (if option selected). Take home a souvenir with you: the Keepsake Backstage Pass. At the end of the day, you'll feel like a king.
---
Elvis Statue in Memphis, Tennessee
Address: 115 Beale St, Memphis, TN 38103
Cost: Free to See
Hours: Always Visible
---
Pin this Tennessee roadside attraction: