There weren't many roadside attractions along our route from Boise, Idaho to Whitehall, Montana. It was about a six and a half hour drive and, other than a stop to check out the Potato AirBNB in Boise, we had nothing planned for the day but to drive. There was one thing, though, that had caught my eye on the way. An attraction much different than, though arguably equally as weird as, the world's largest things I'm used to planning for: Craters of the Moon National Monument & Preserve.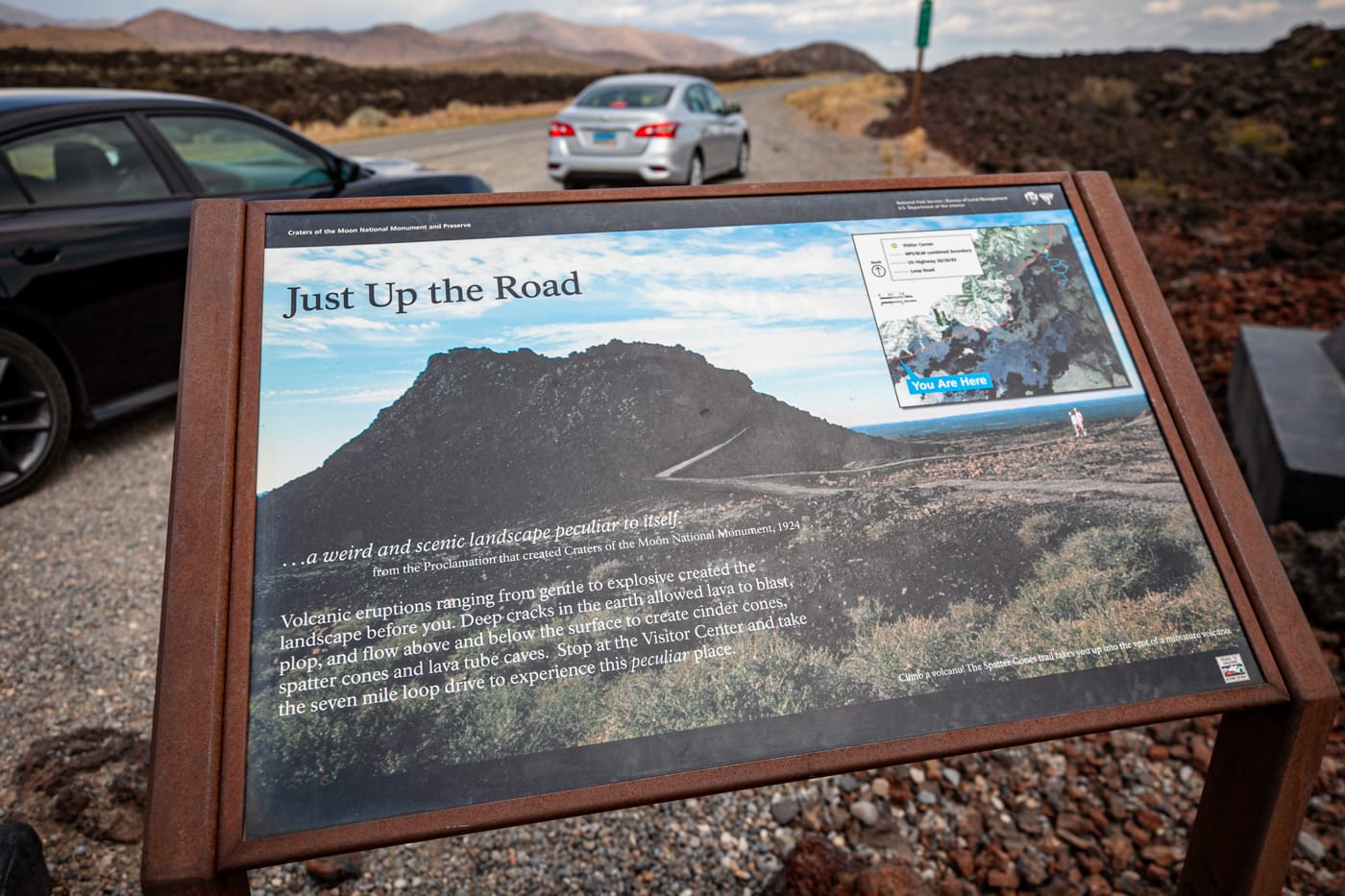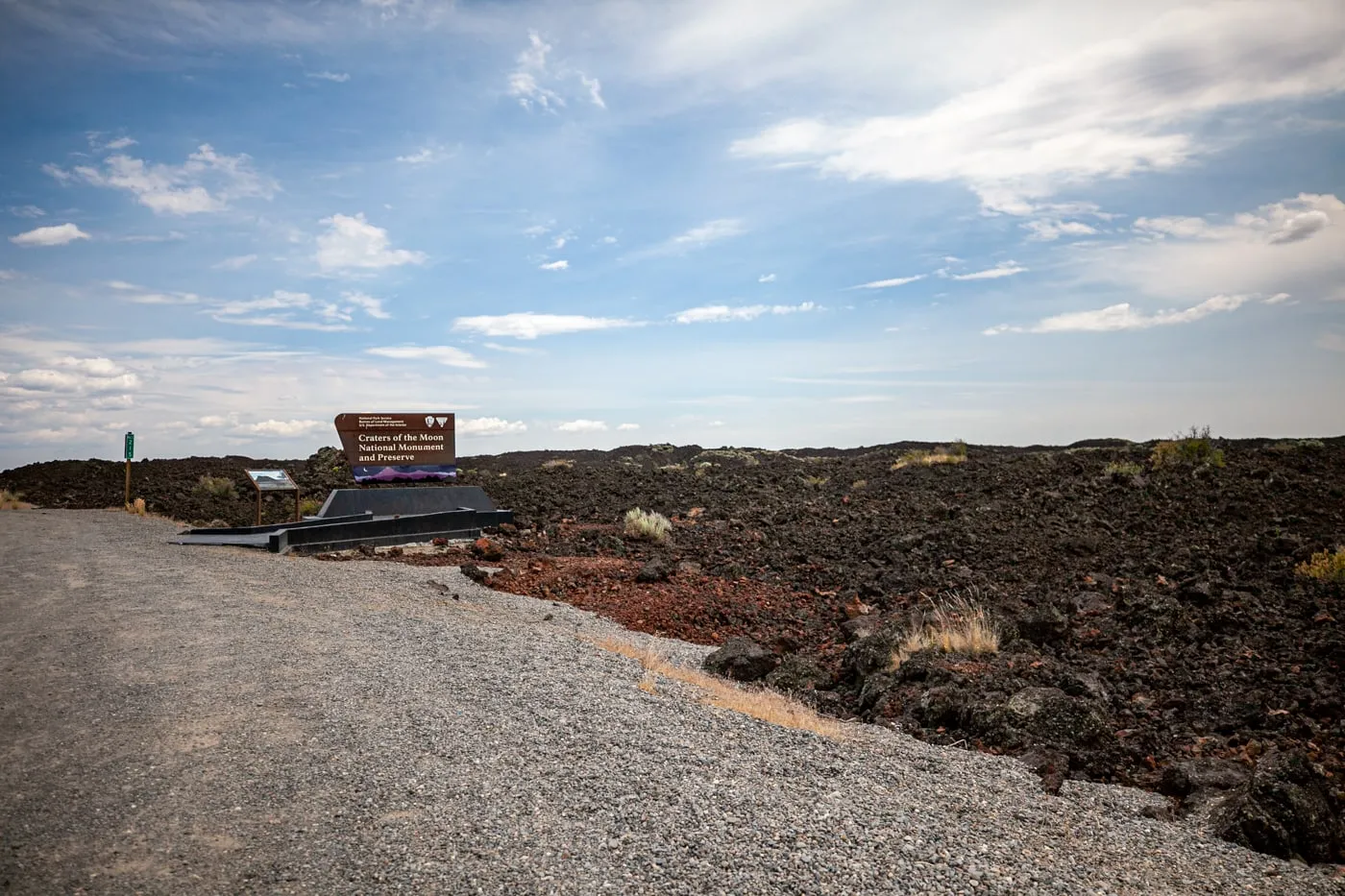 Entering Craters of the Moon feels like entering another world. Miles before reaching the entrance and visitor's center the Idaho landscape changes from an orange-toned lush wonderland to a seemingly desolate blackness. Trees and farmland turn to ash. This newfound dark, rocky, landscape that makes up the park and surrounding areas was formed from multiple lava flows that oozed from the ground's fissures or spewed from vents over time. Each lava flow would either cover a previous lava bed or create a new one.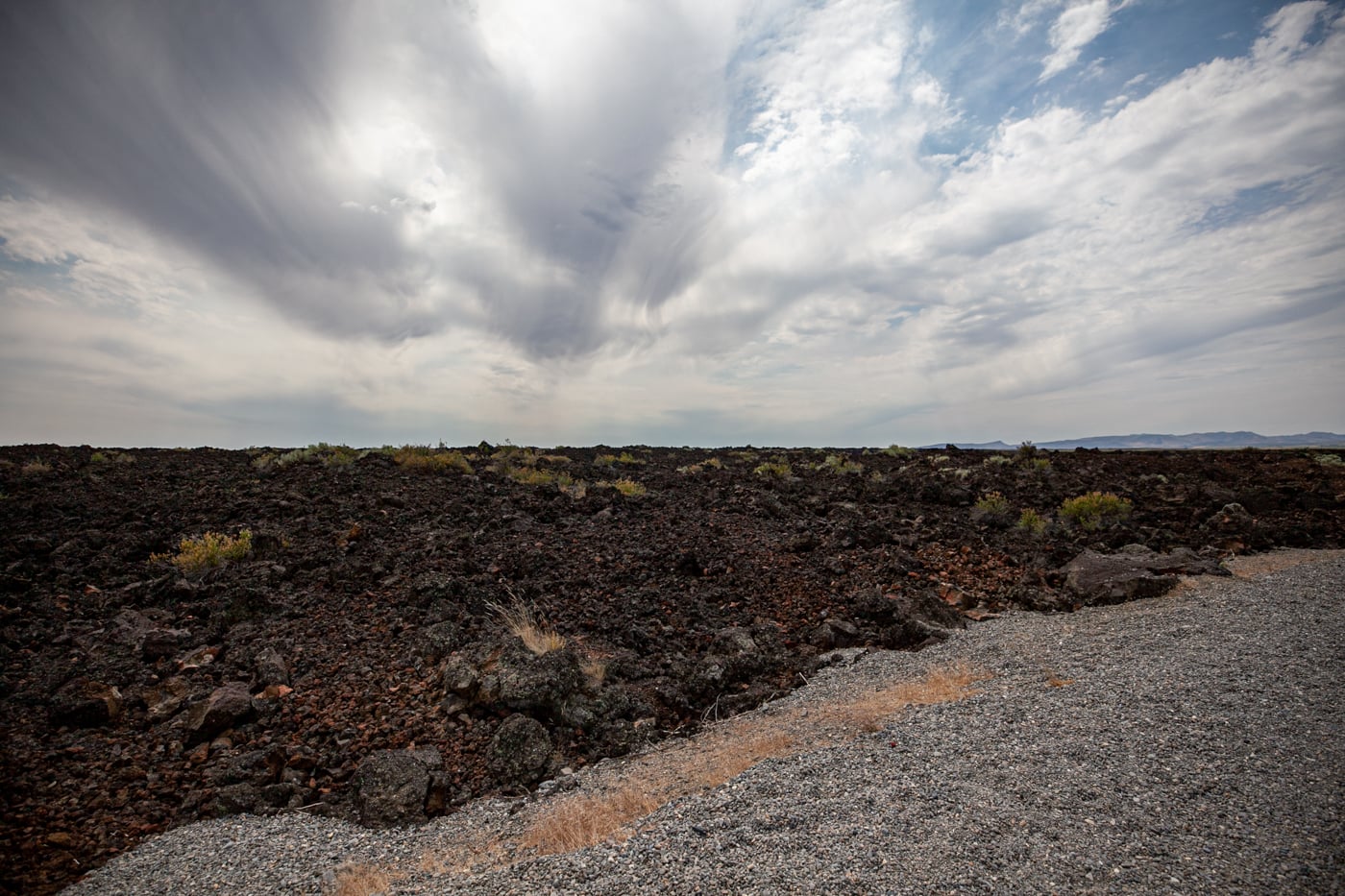 The lava field spans for over 750,000 acres (1,100 square miles) and 53,500 acres are preserved within the monument. Among the bleak backdrop you'll find volcanic rifts, lava rivers, lava tube caves, cinder cones, tree molds, spatter cones, shield volcanoes, and lava beds.
While the Idaho lava formations date back nearly 15 million years, the monument itself was established by President Calvin Coolidge in 1924 to preserve the unique volcanic features.
Given the barren nature of the park, you might think wildlife would be few and far between, but Craters of the Moon is home to a varity of plants and animals, including foxes, bobcats, skunks, mountain lions, nighthawks, owls, bats, and other small desert rodents.
At the heart of Craters of the Moon National Monument & Preserve is a seven-mile loop road with plenty of stops that provide access to trails along the way. Your first stop is the visitor center and gift shop where you can watch educational films, see exhibits, shop, stop for a bathroom break, or grab a soda from the vending machine.
North Crater Flow
The next stop is North Crater Flow, a short .25 mile trail takes you through one of the youngest flows.
Devils Orchard
From there Devils Orchard is a .5-mile walk surrounded by thought-provoking signs that allow you to learn more about what you see around you and a nature-filled scenic view that has continually thrived despite the conditions.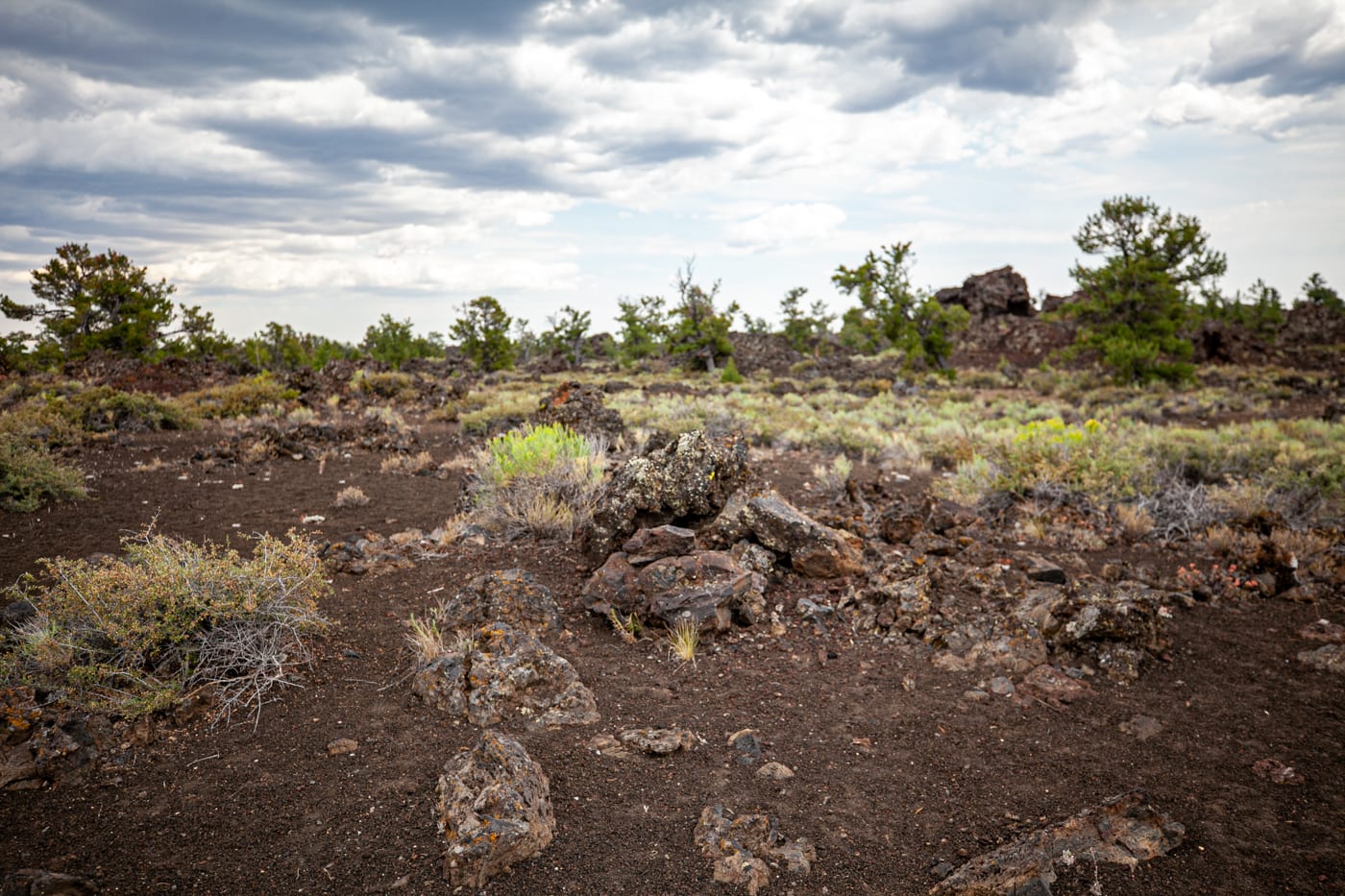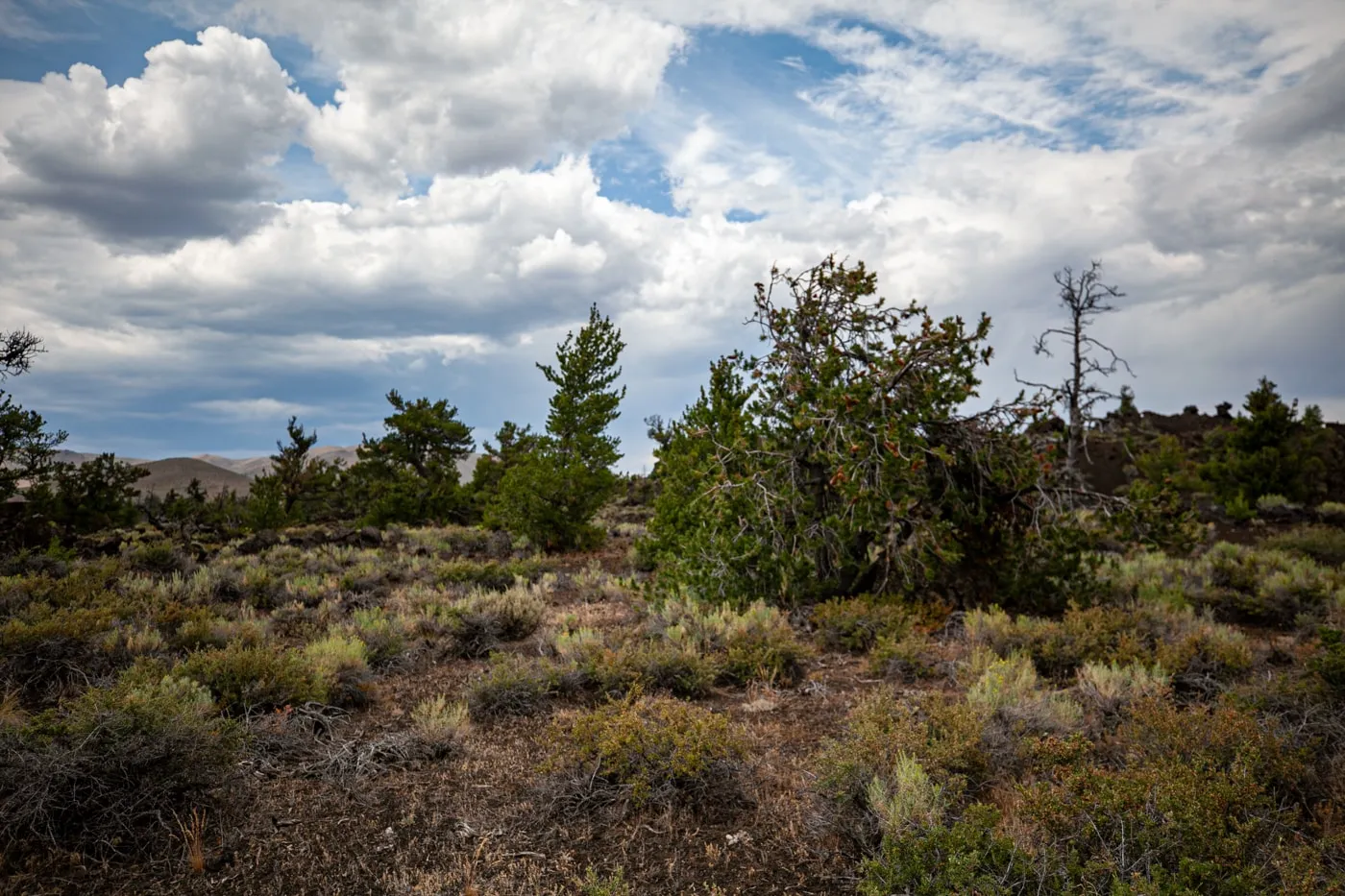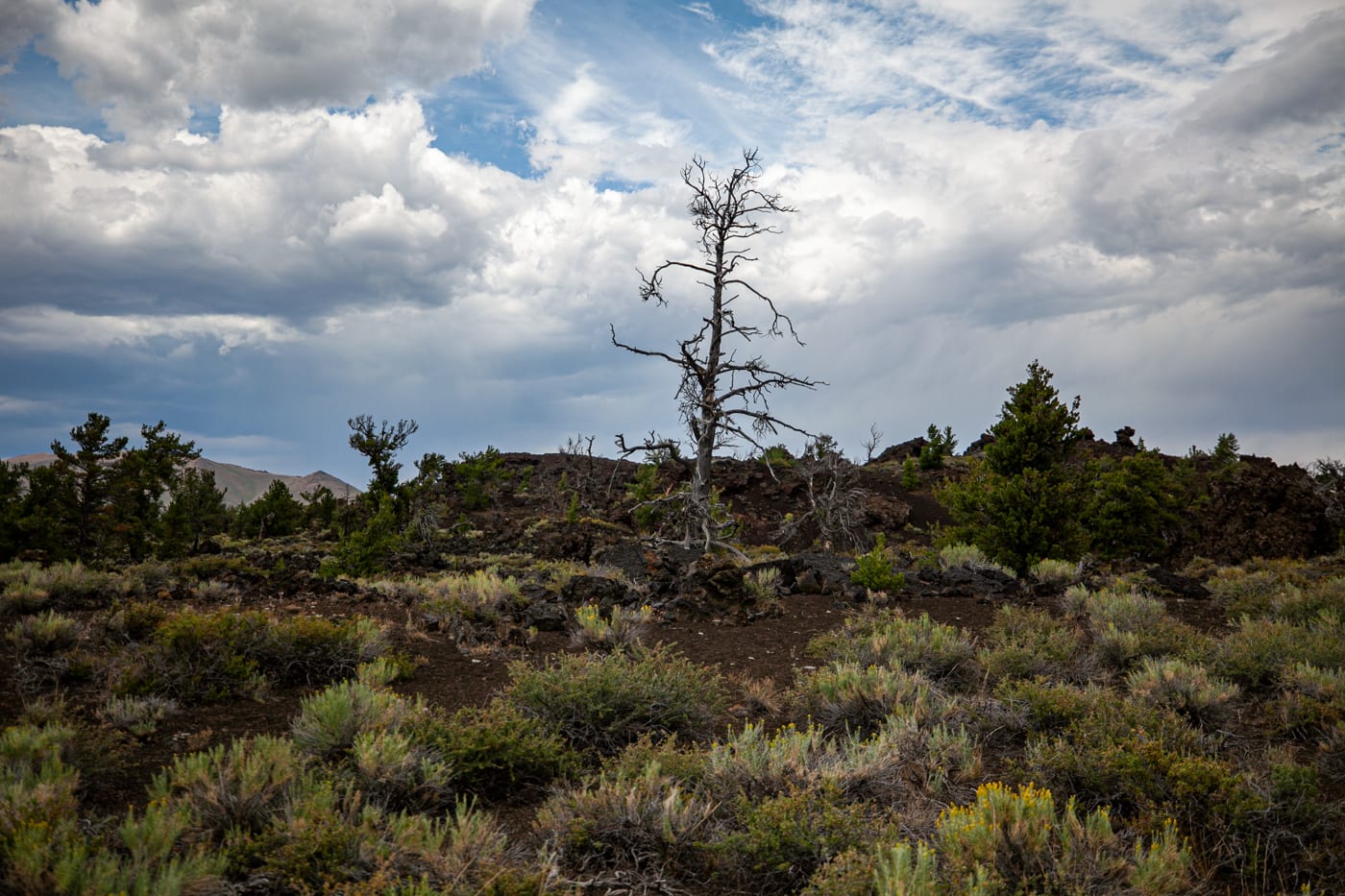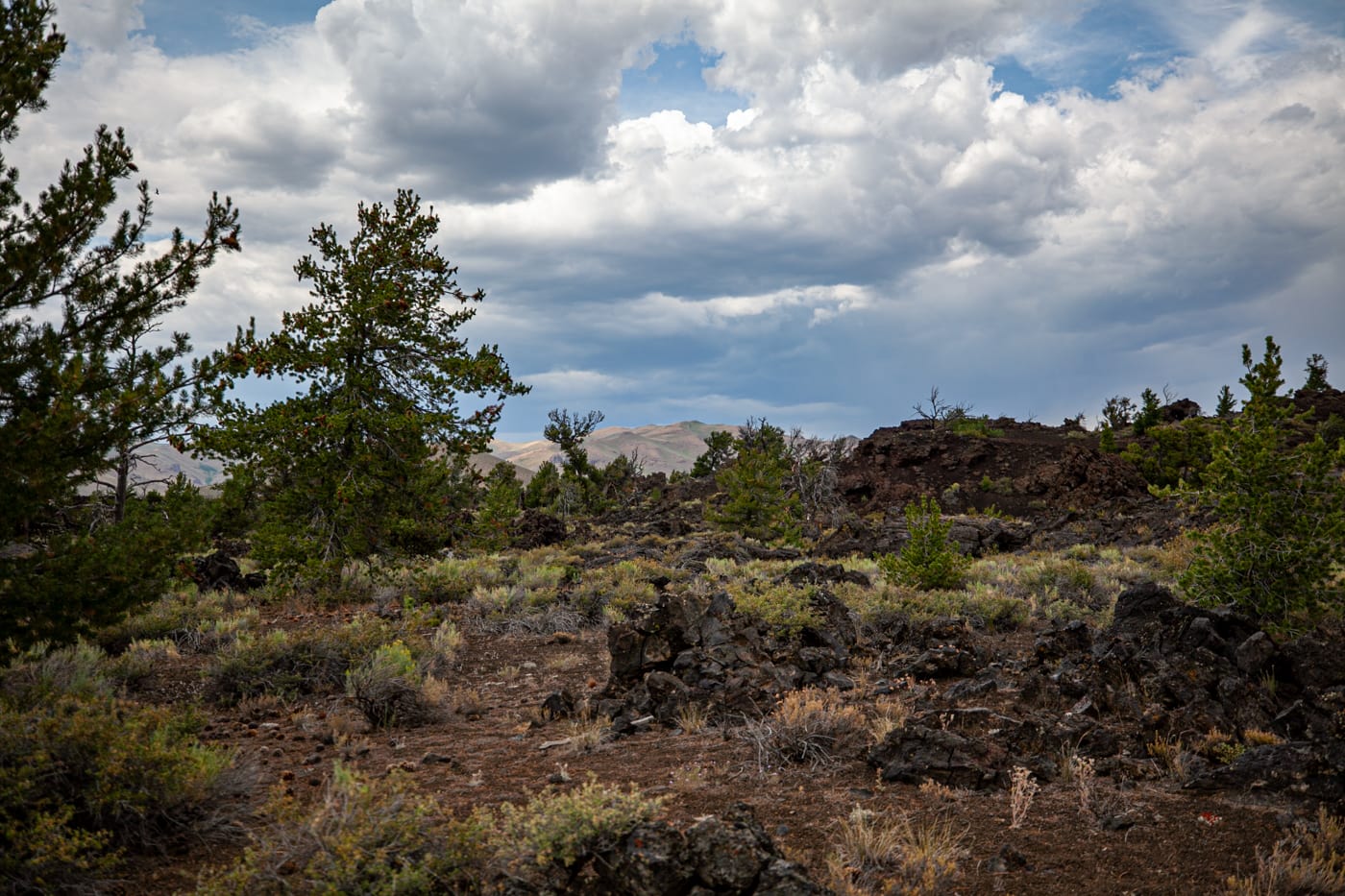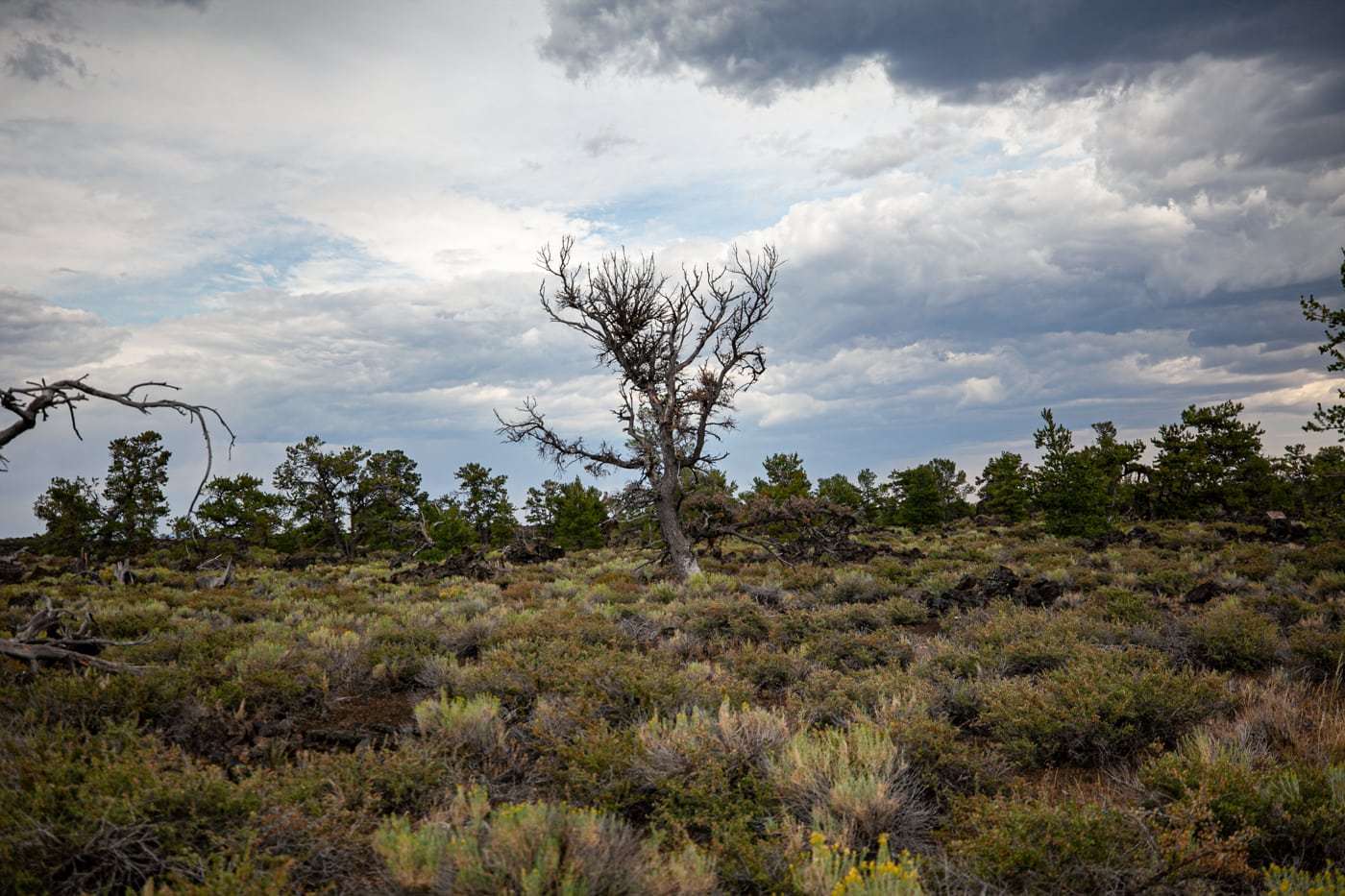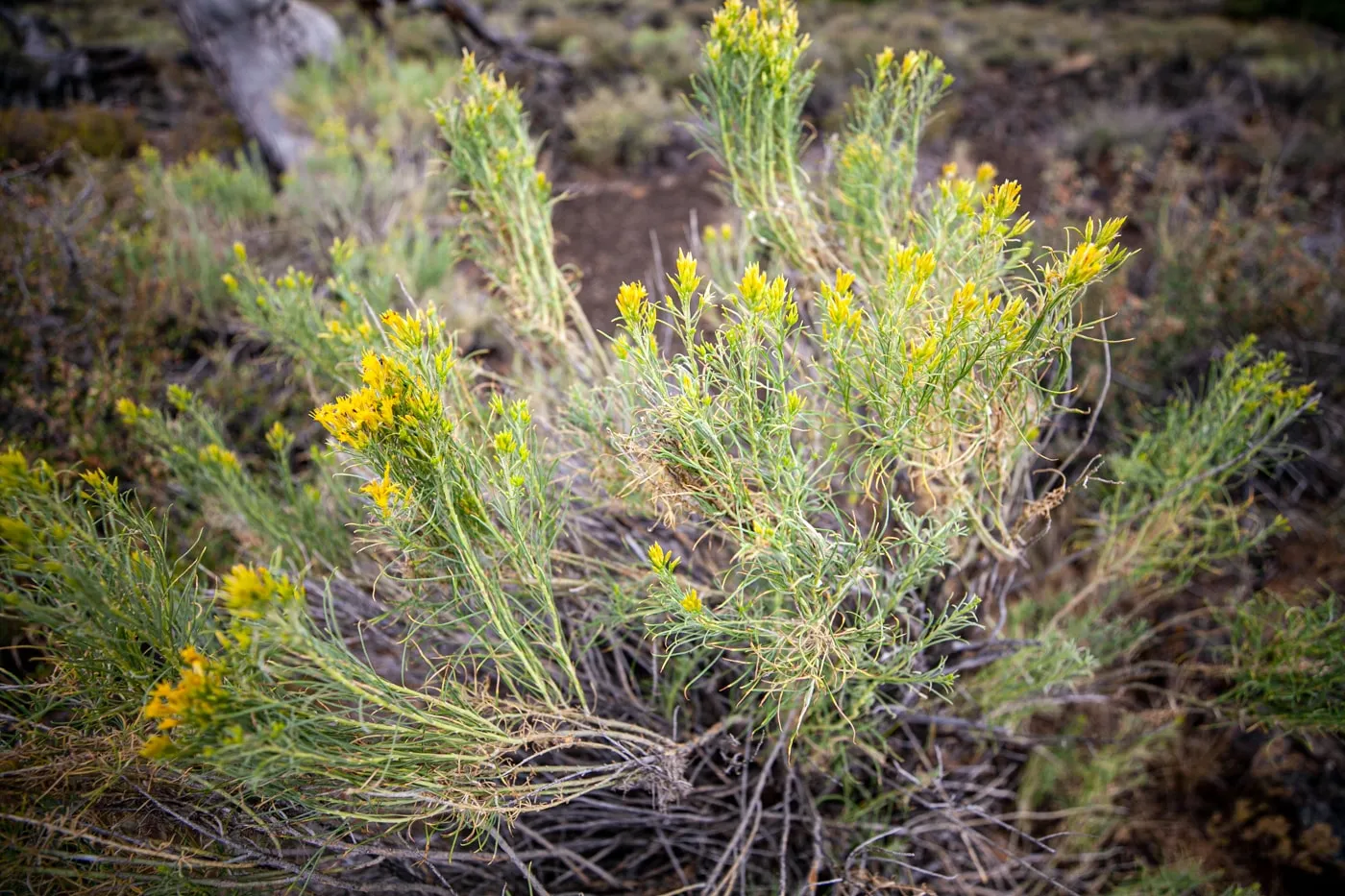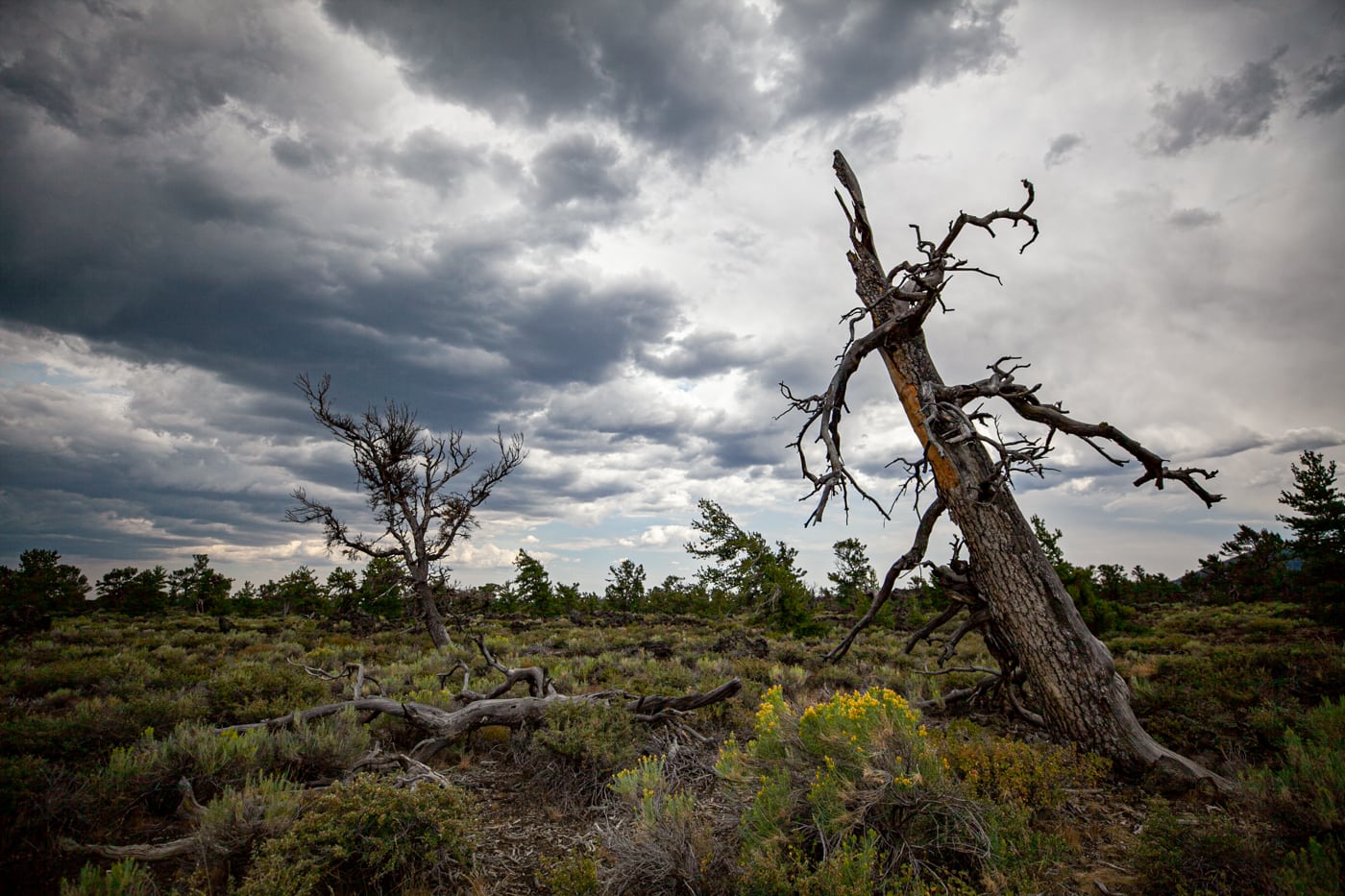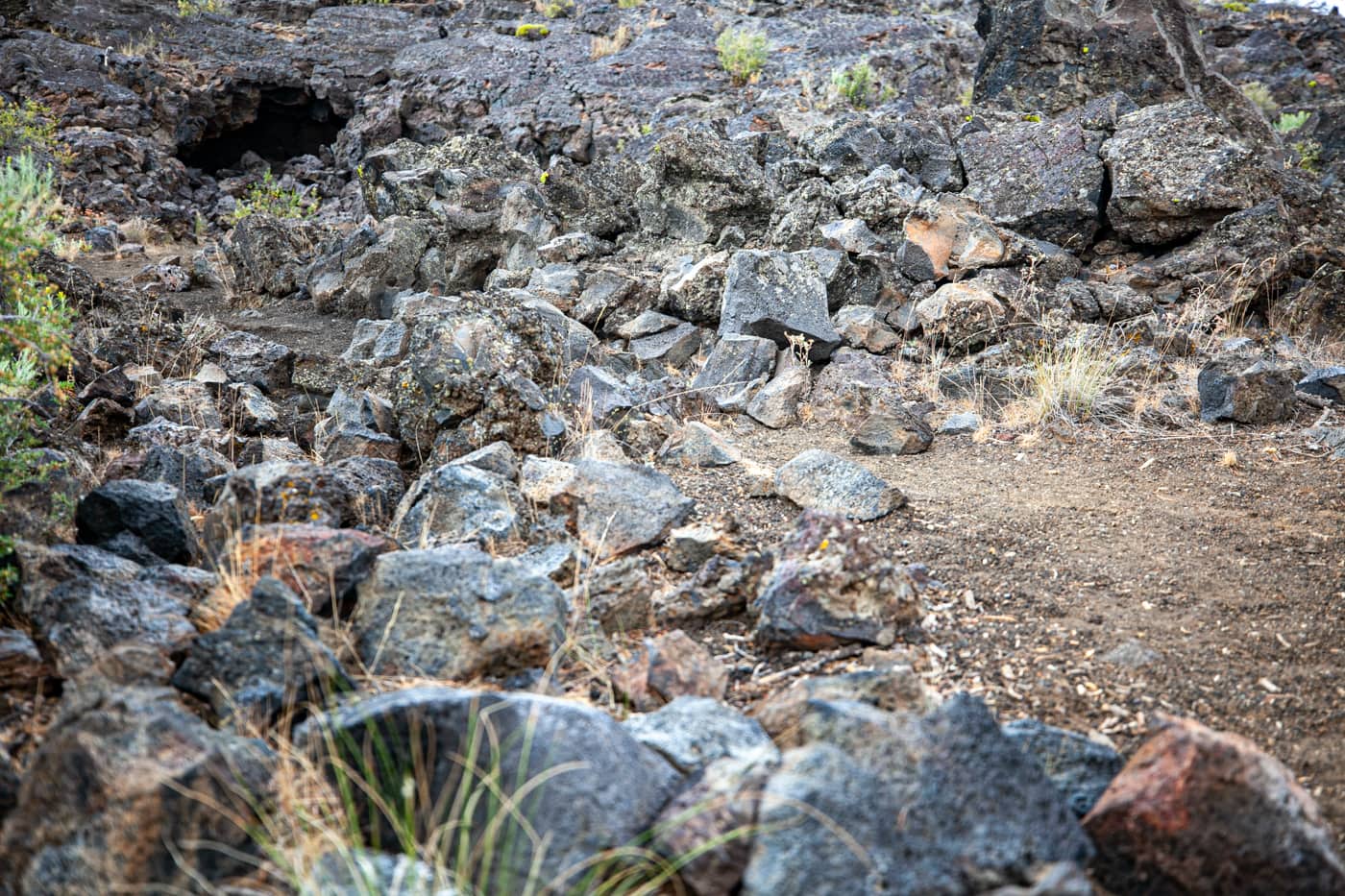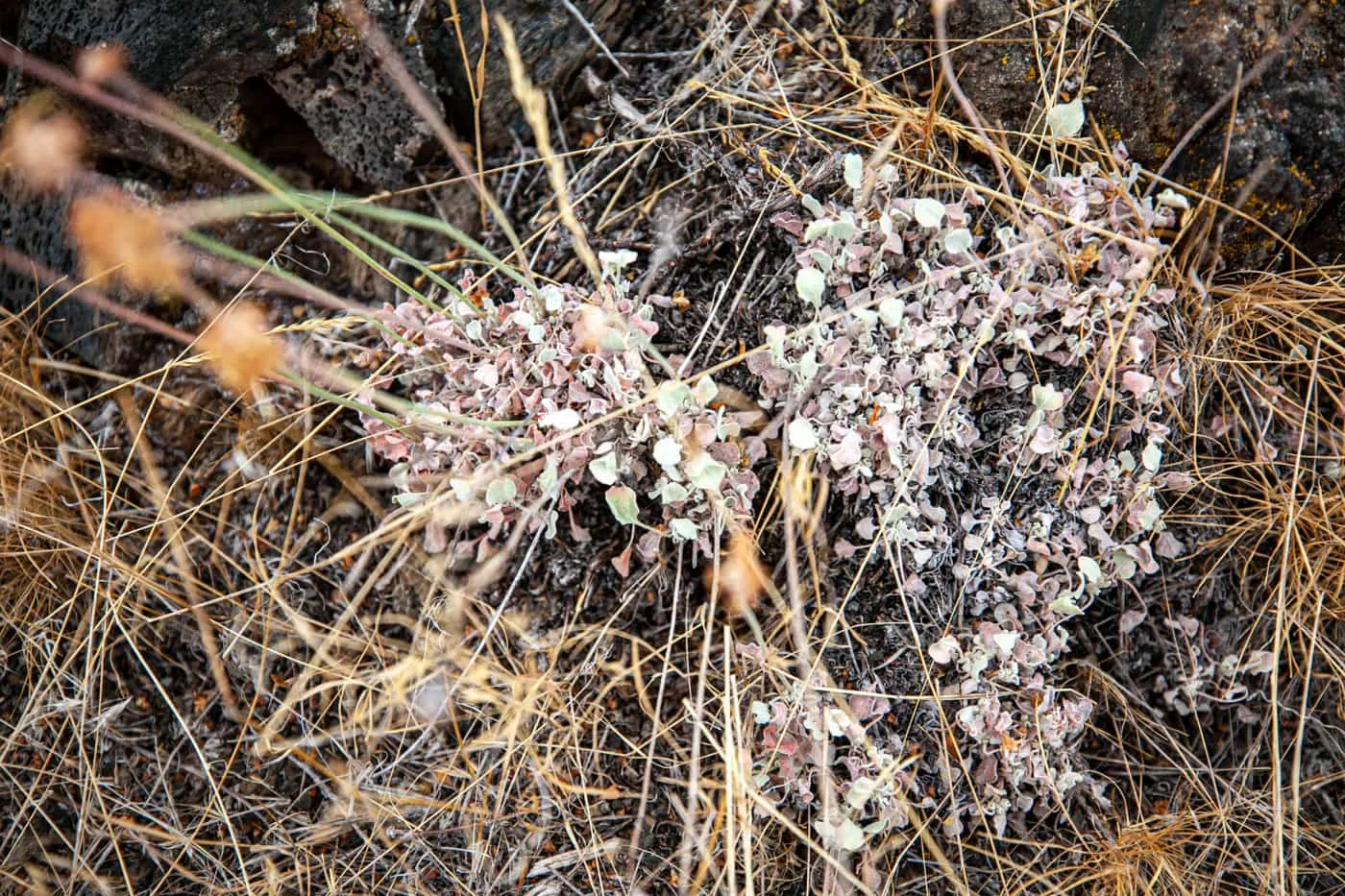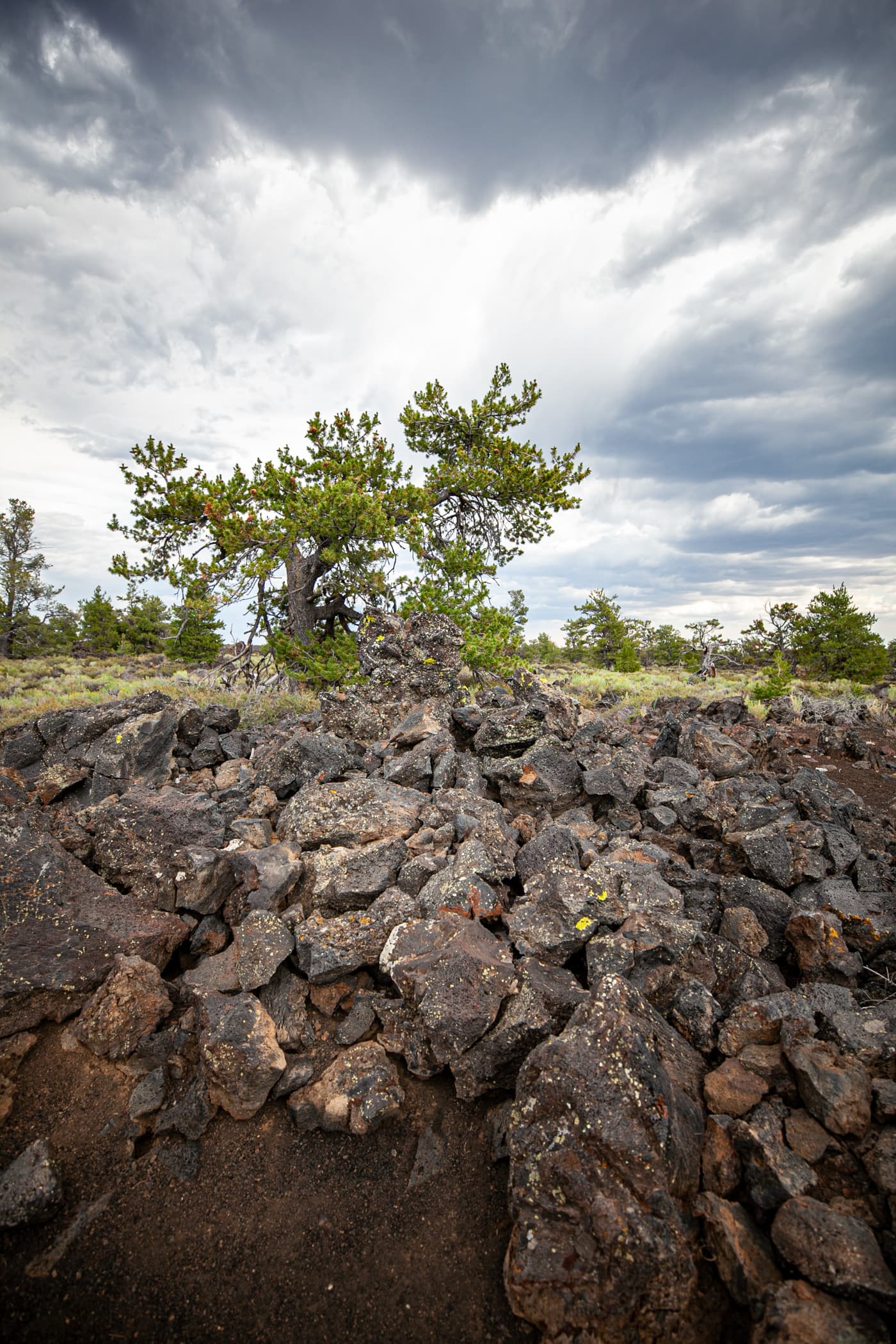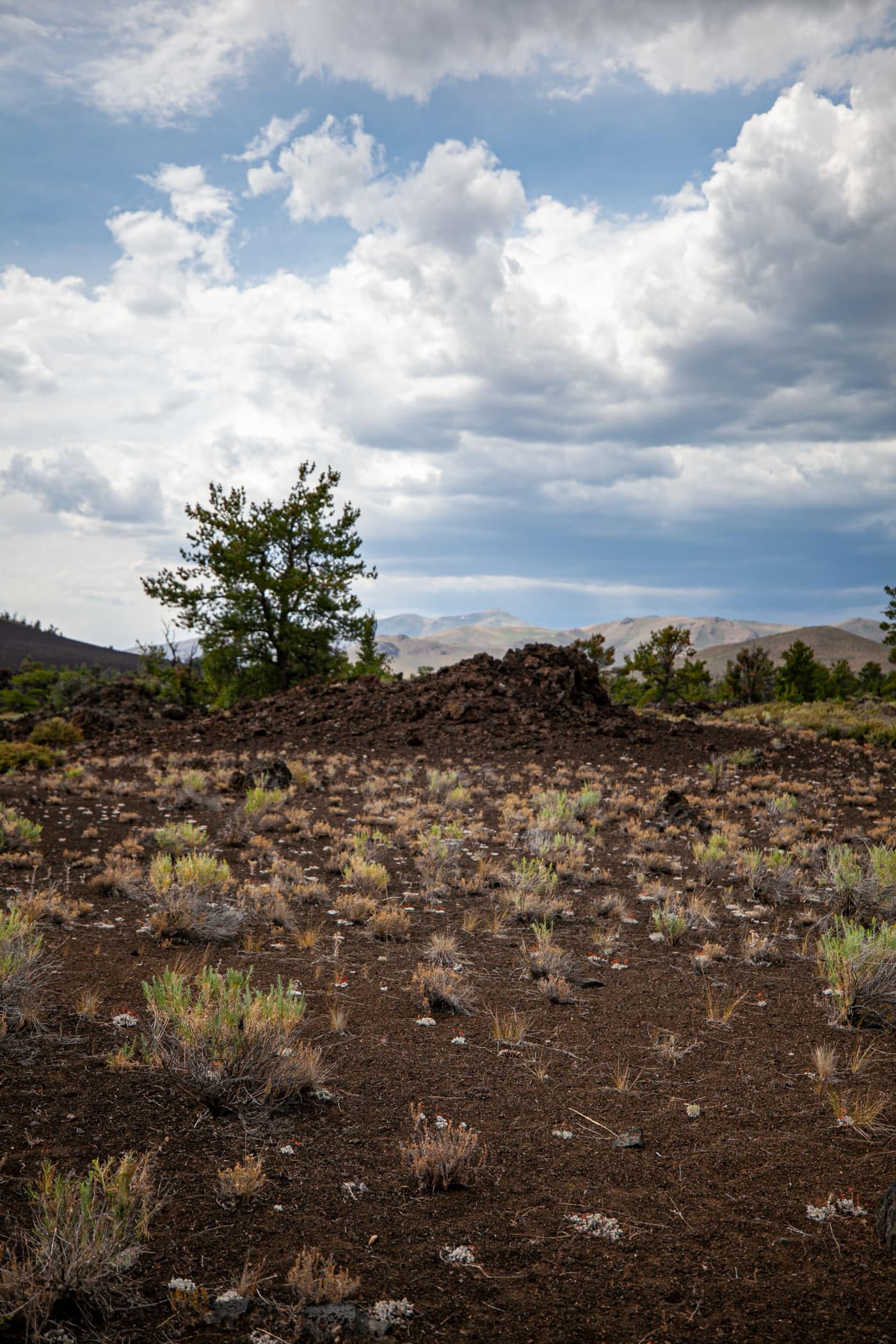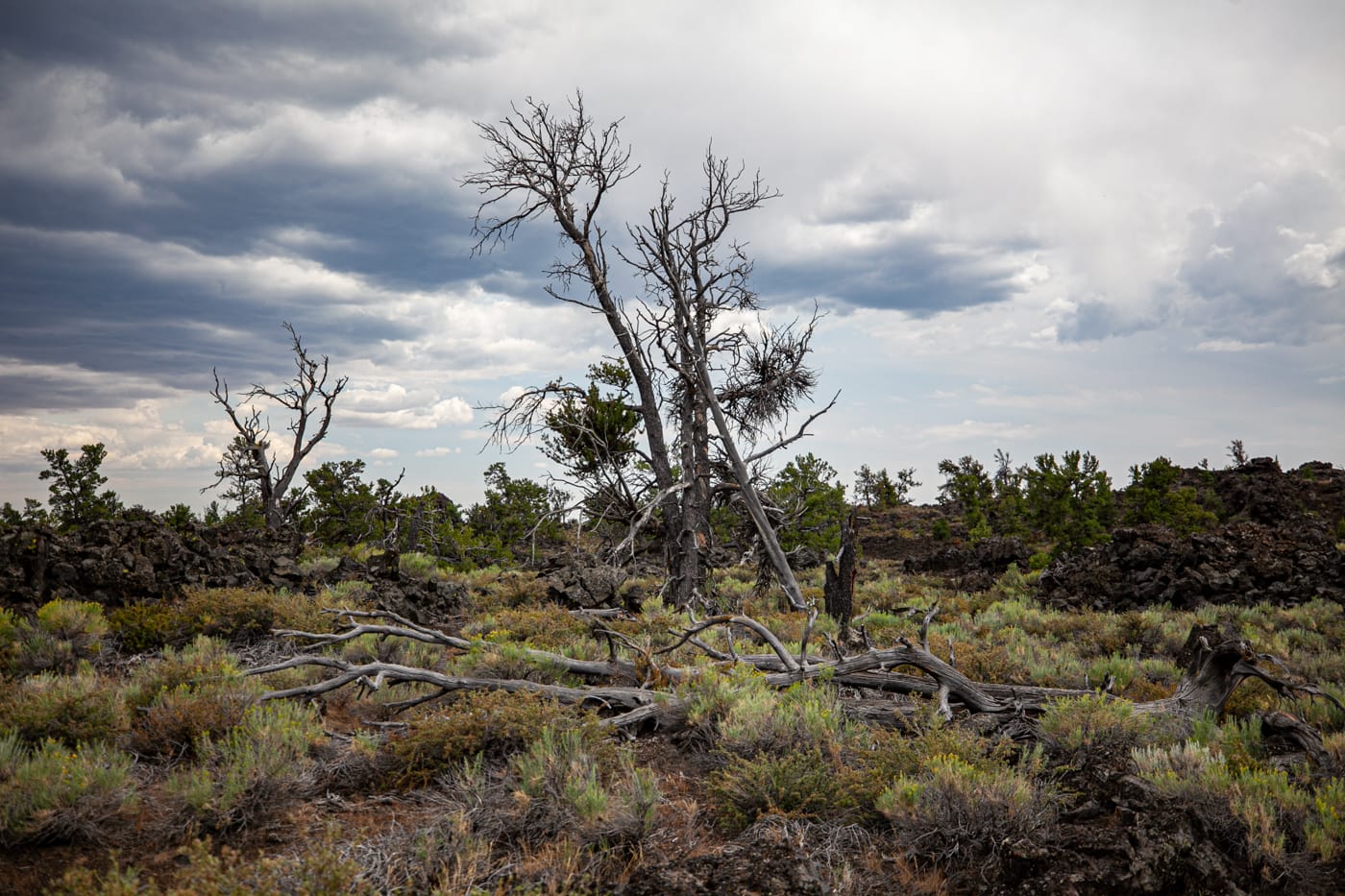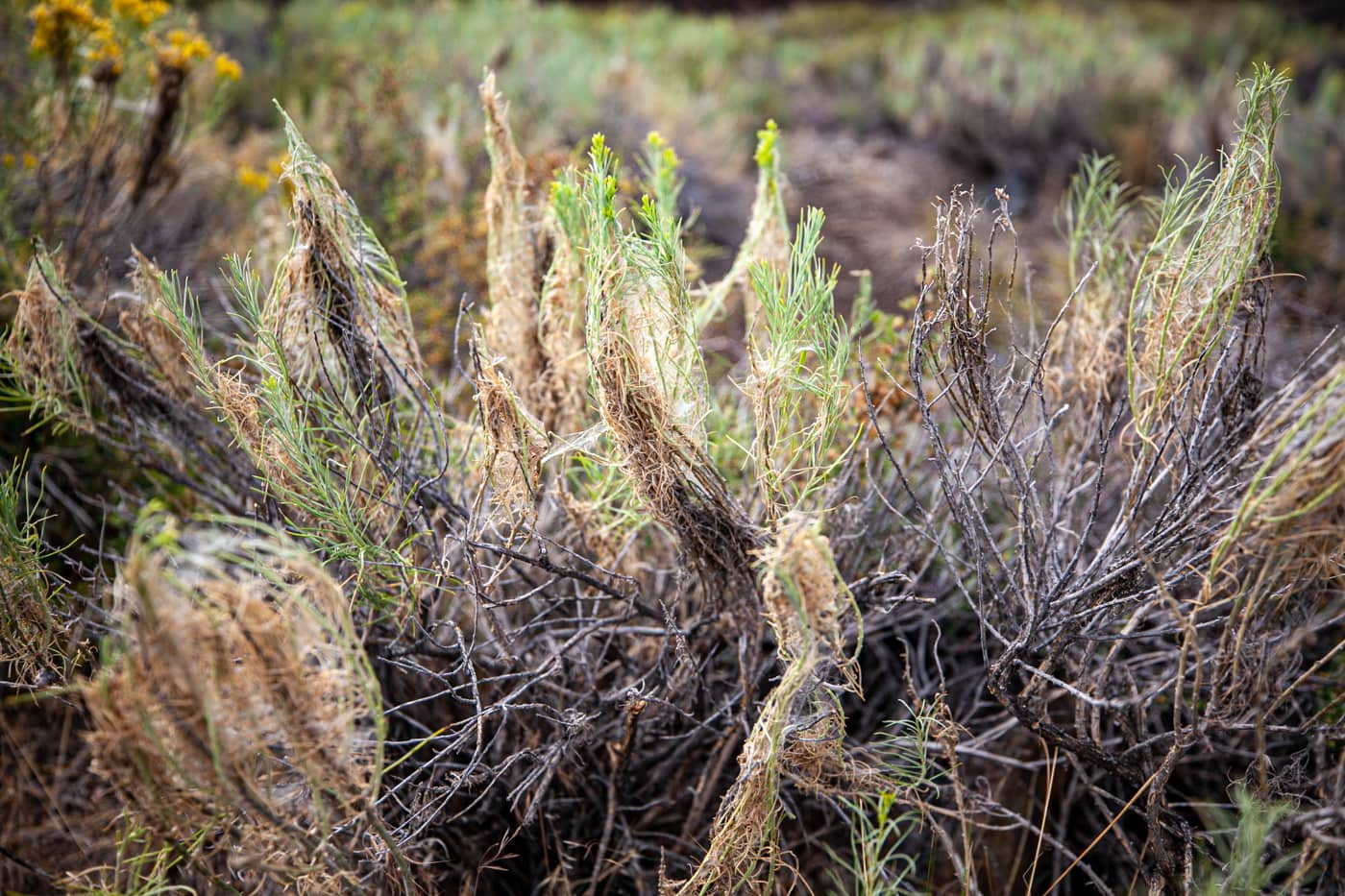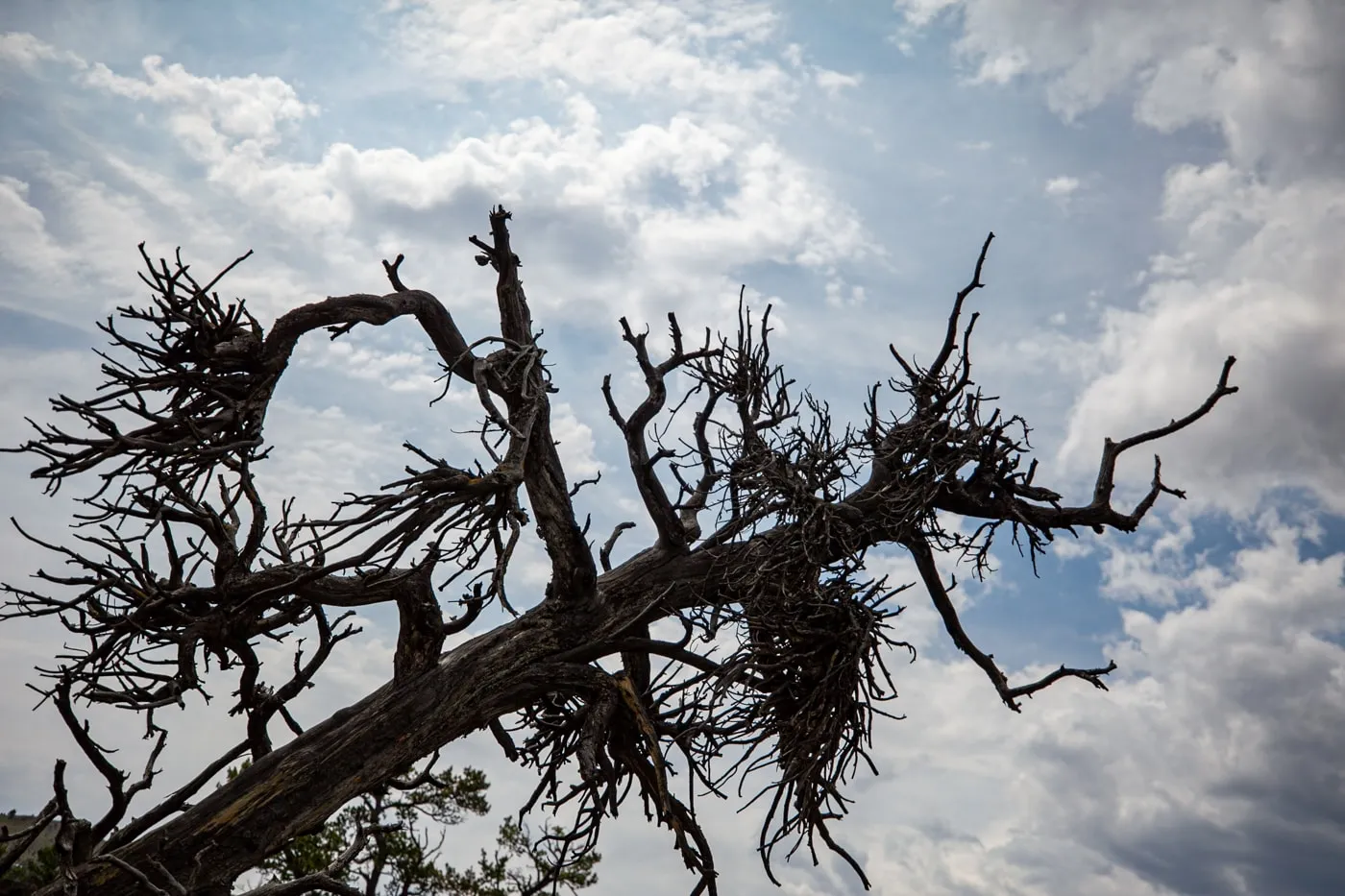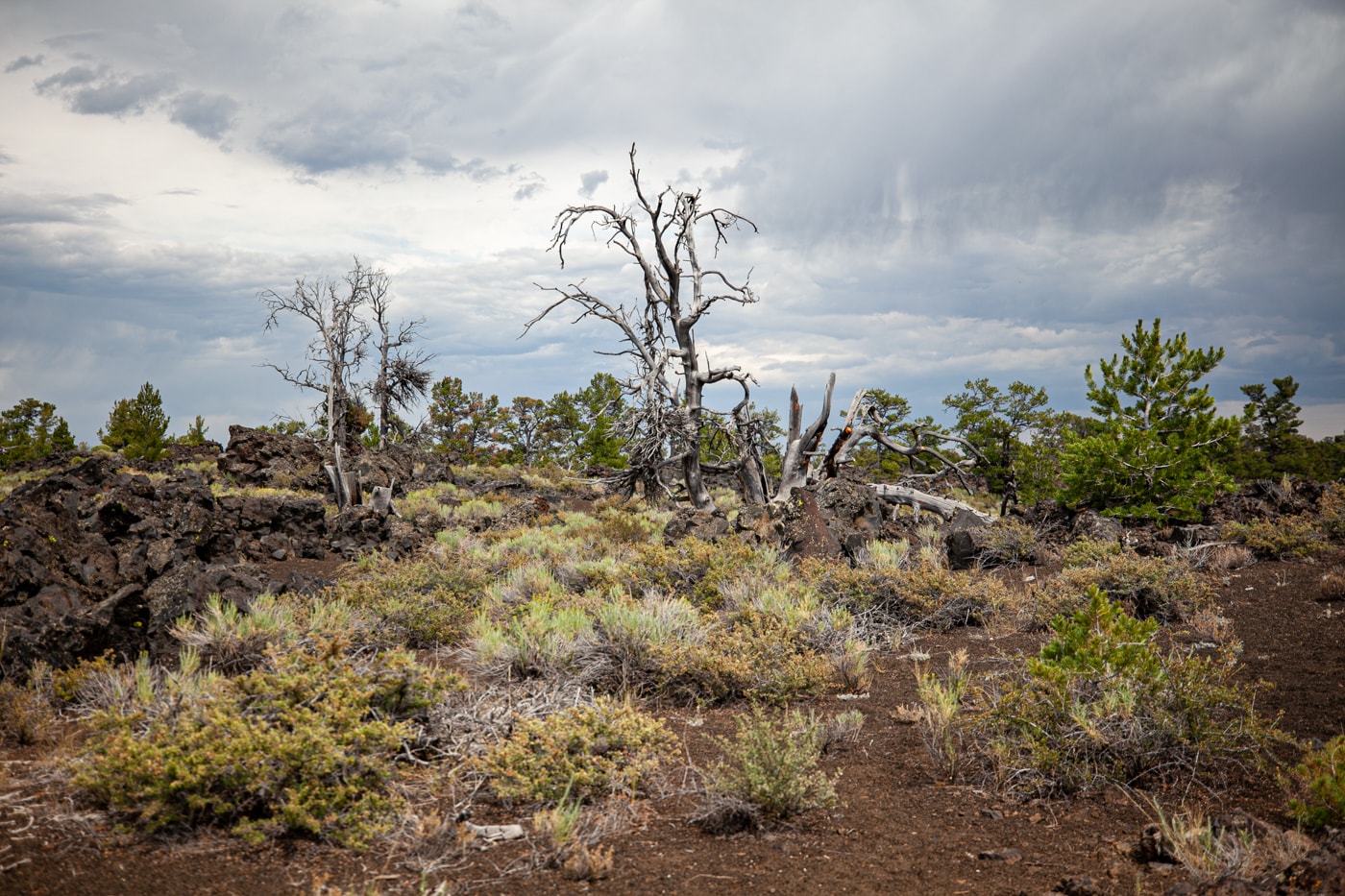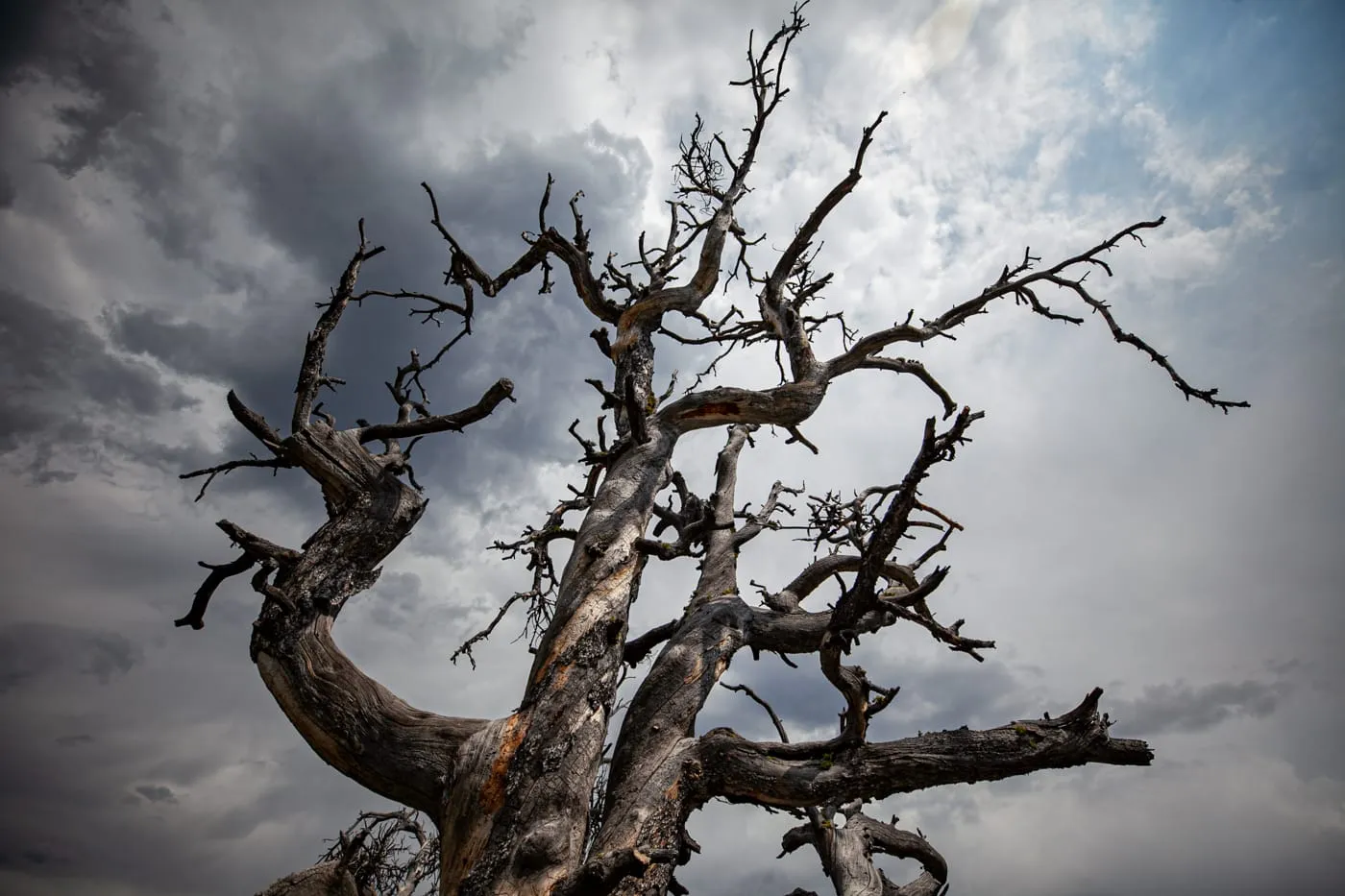 Inferno Cone
Inferno Cone is a steep .5-mile walk uphill on a black cinder cone. It's a tricky walk (my out-of-shape self was out of breath by the time I got to the top) but it's worth it to see the impressive panorama from above.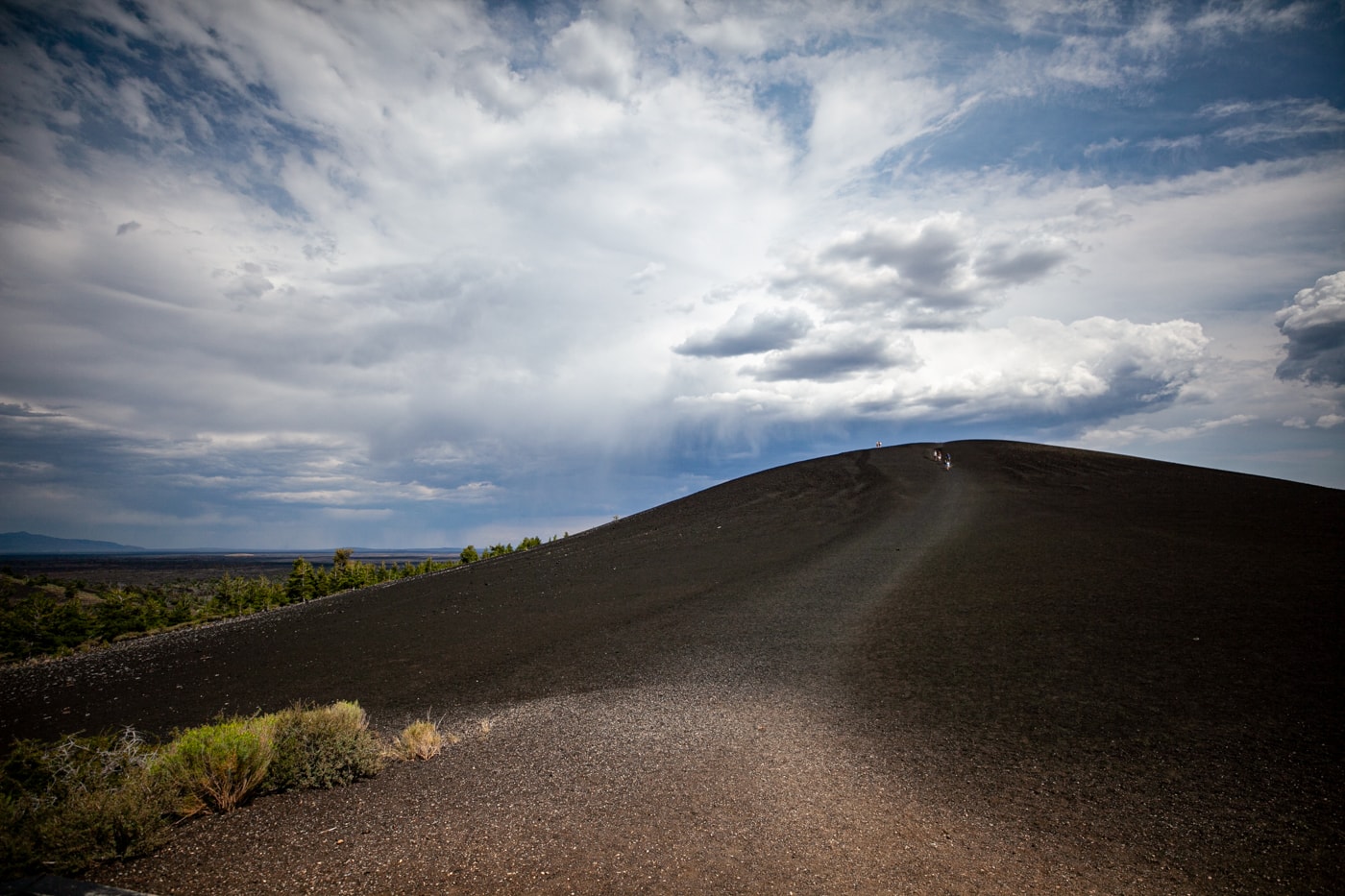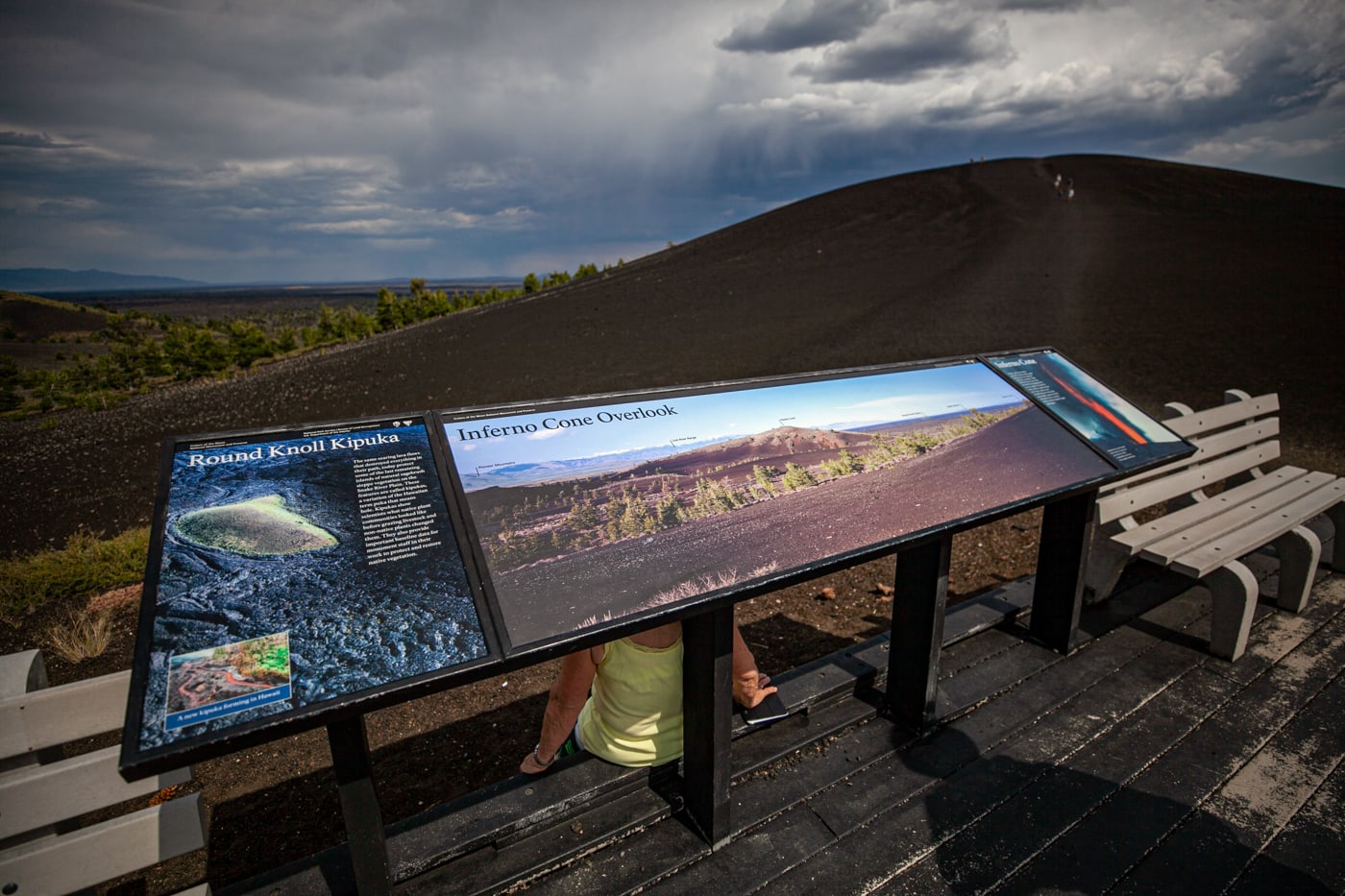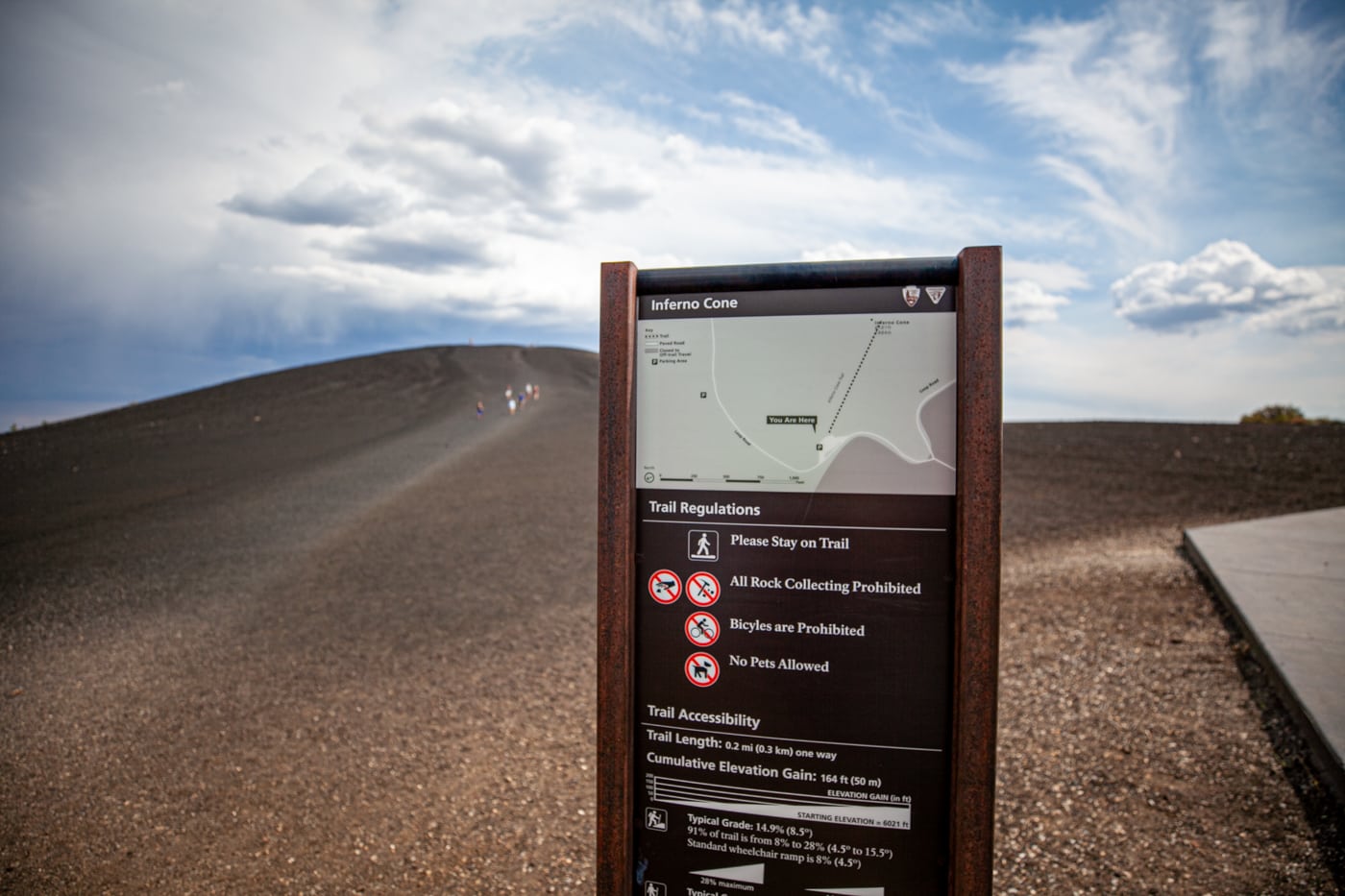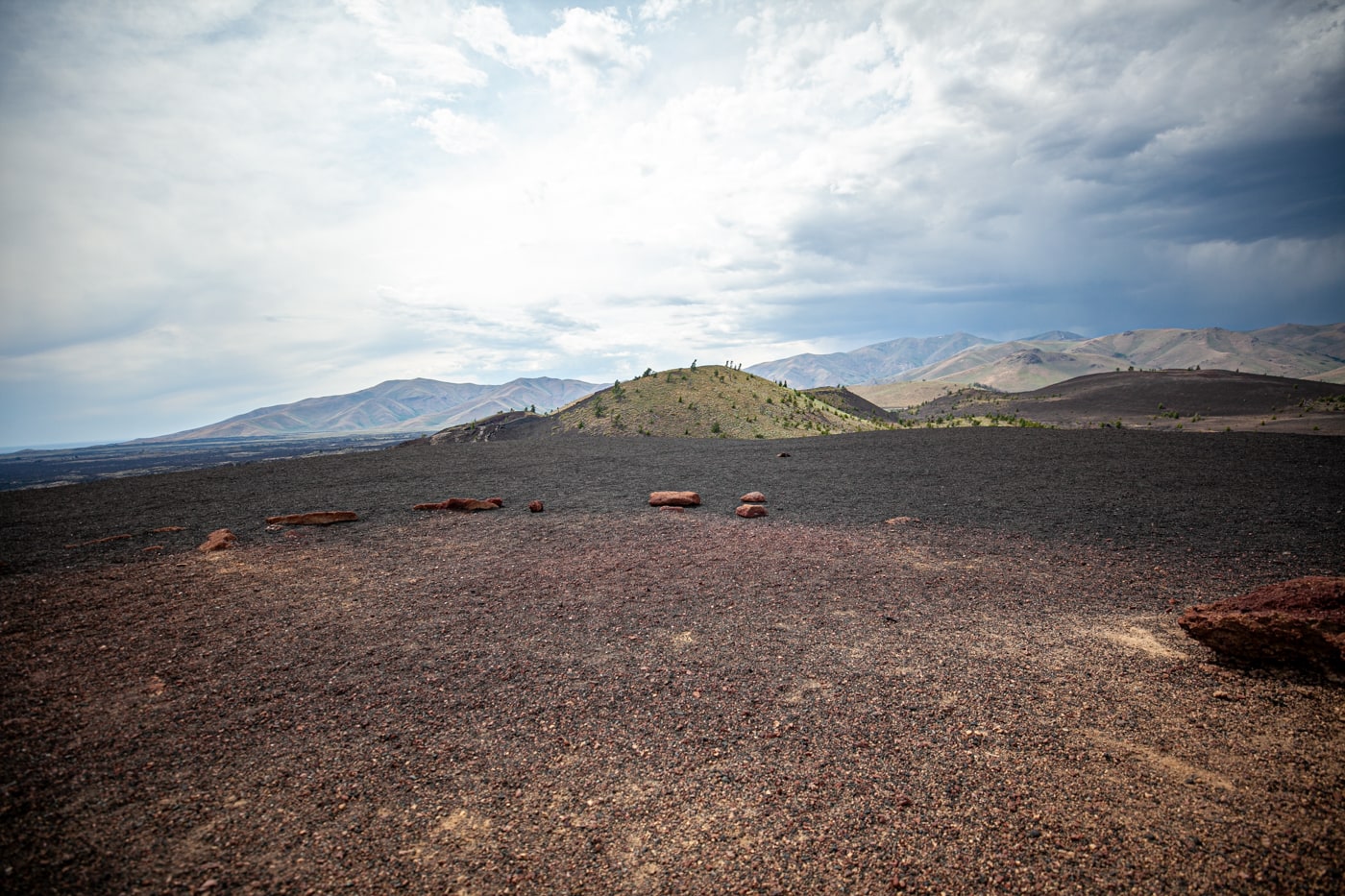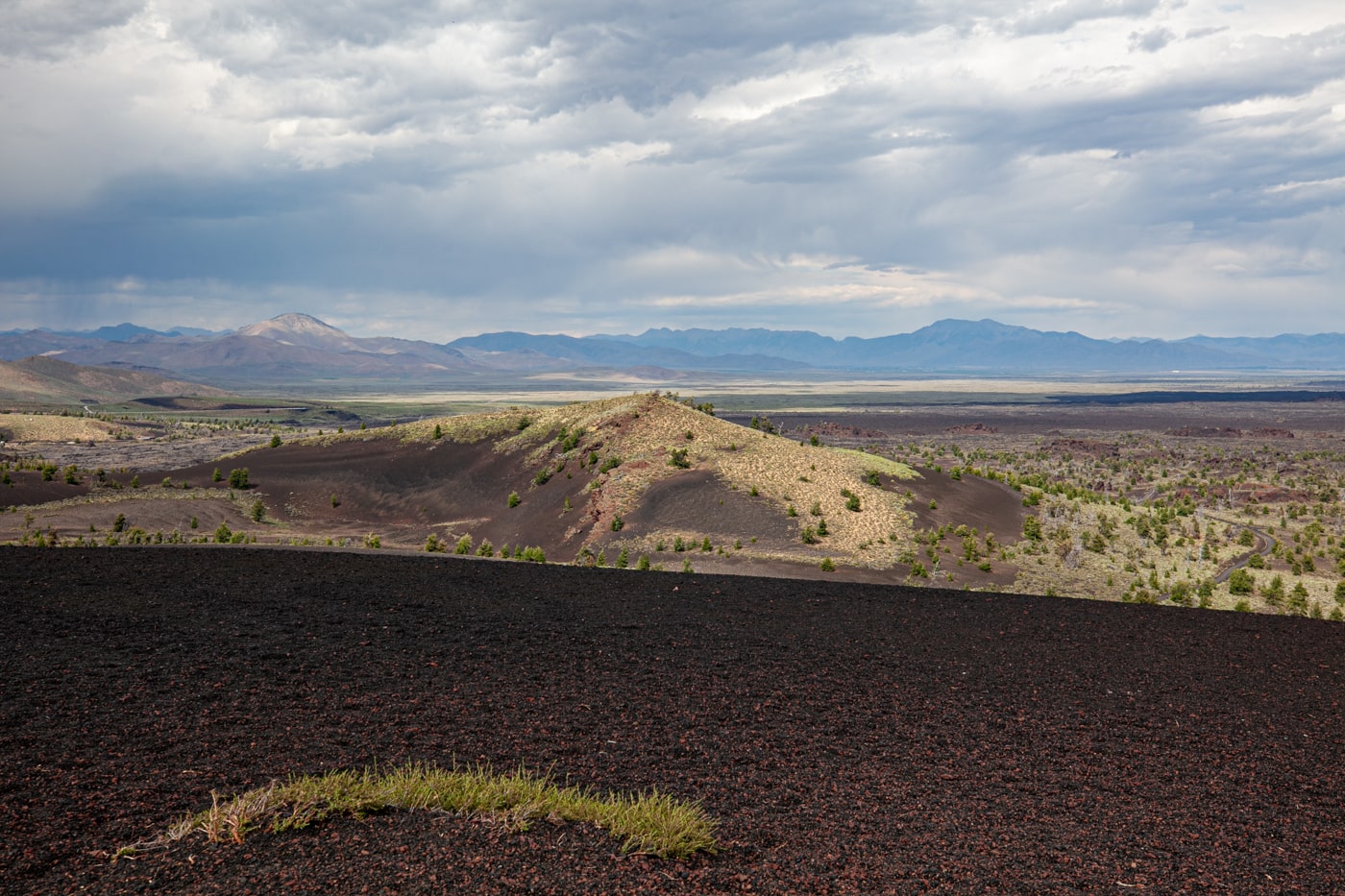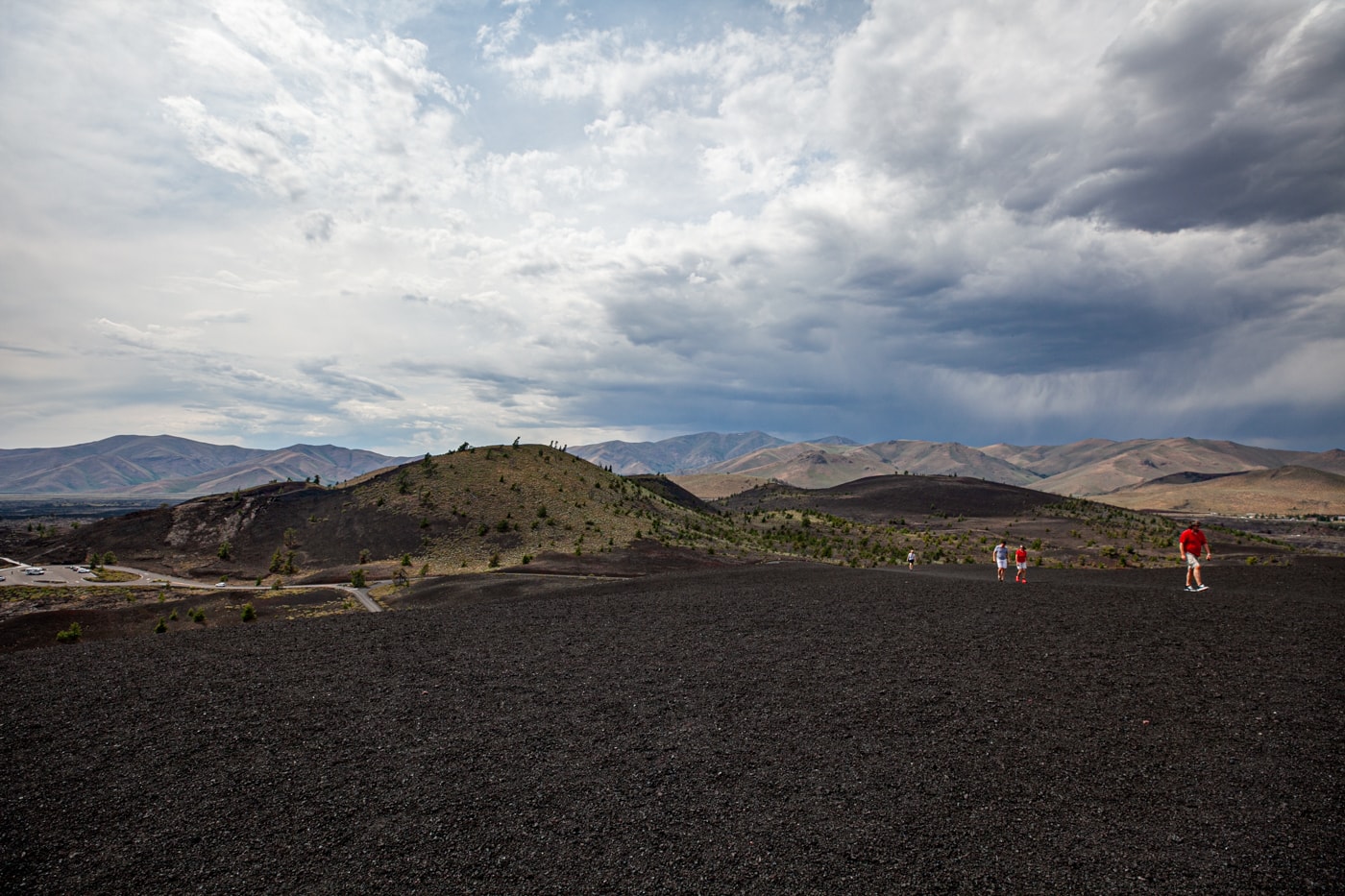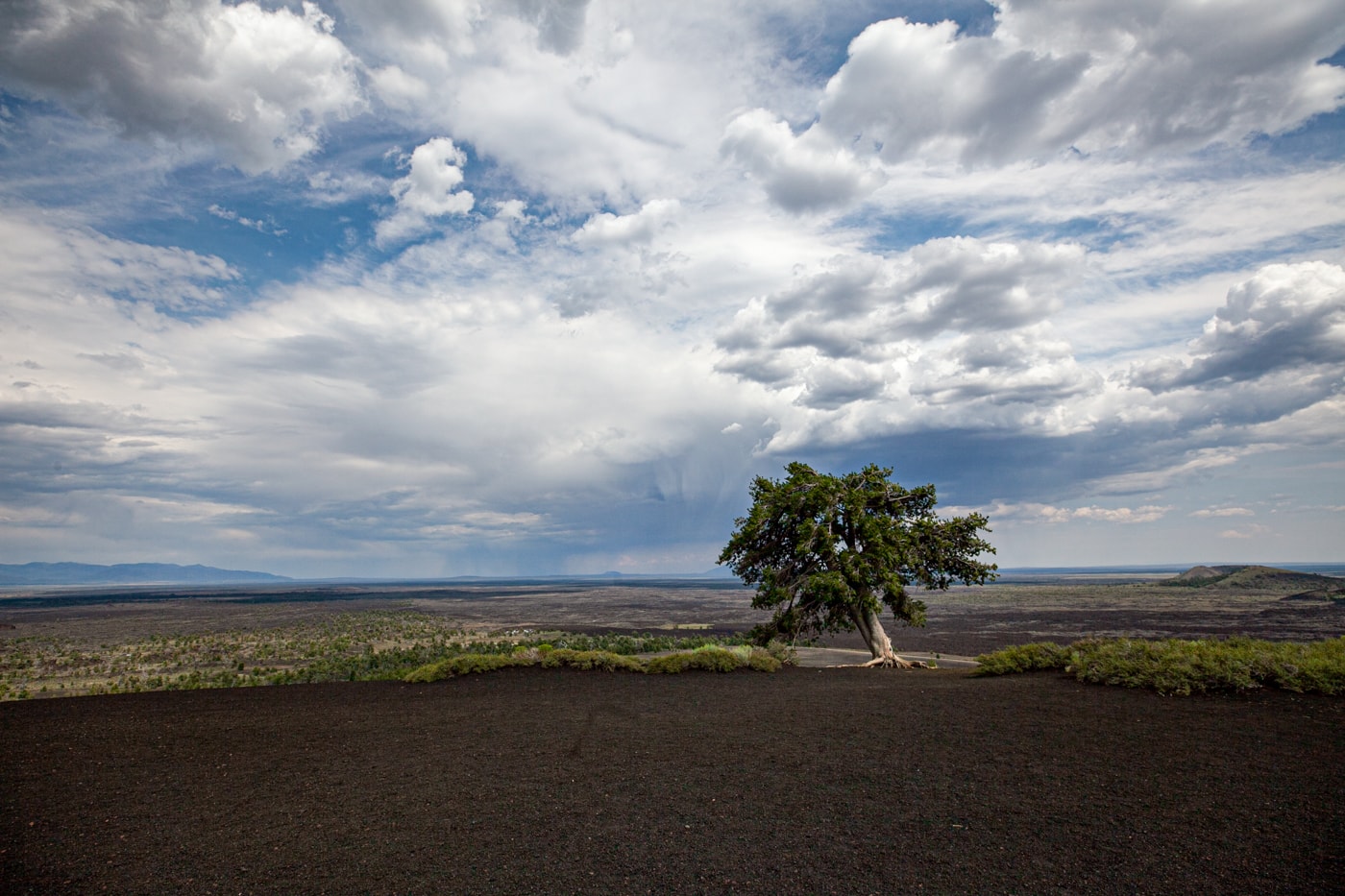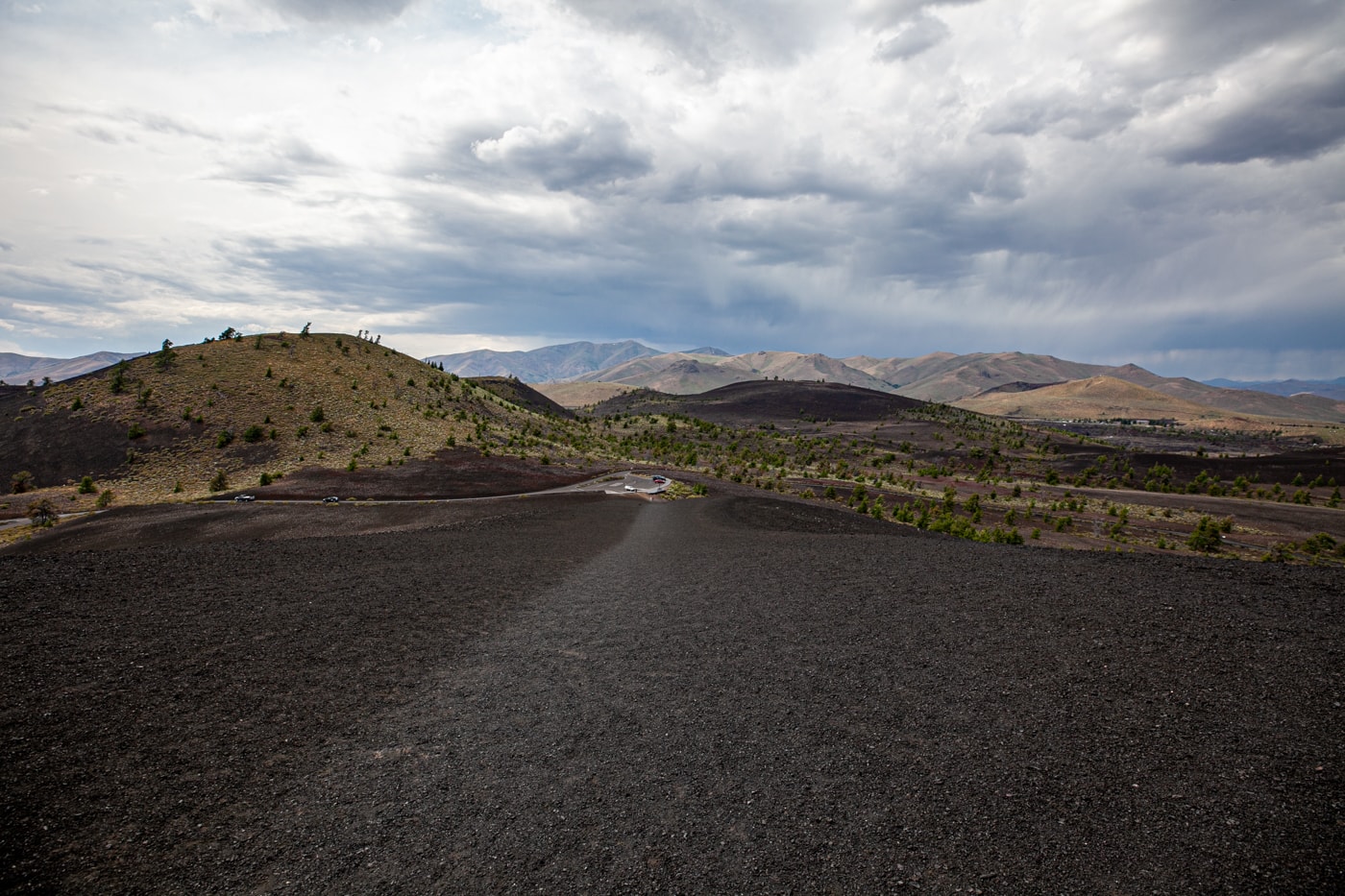 Spatter Cones
The Spatter Cones are next and take you on a very quick walk to see miniature volcanoes up close.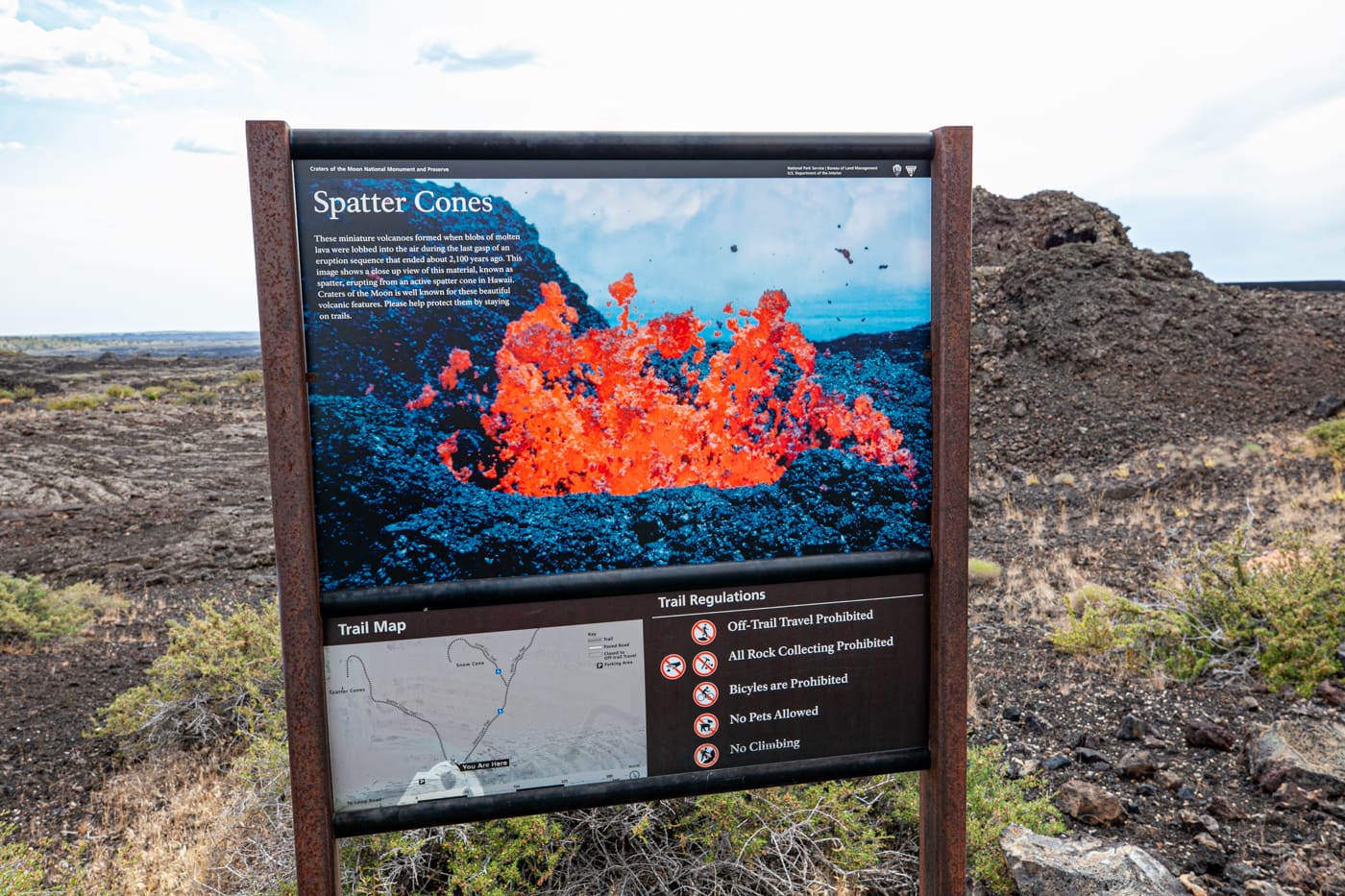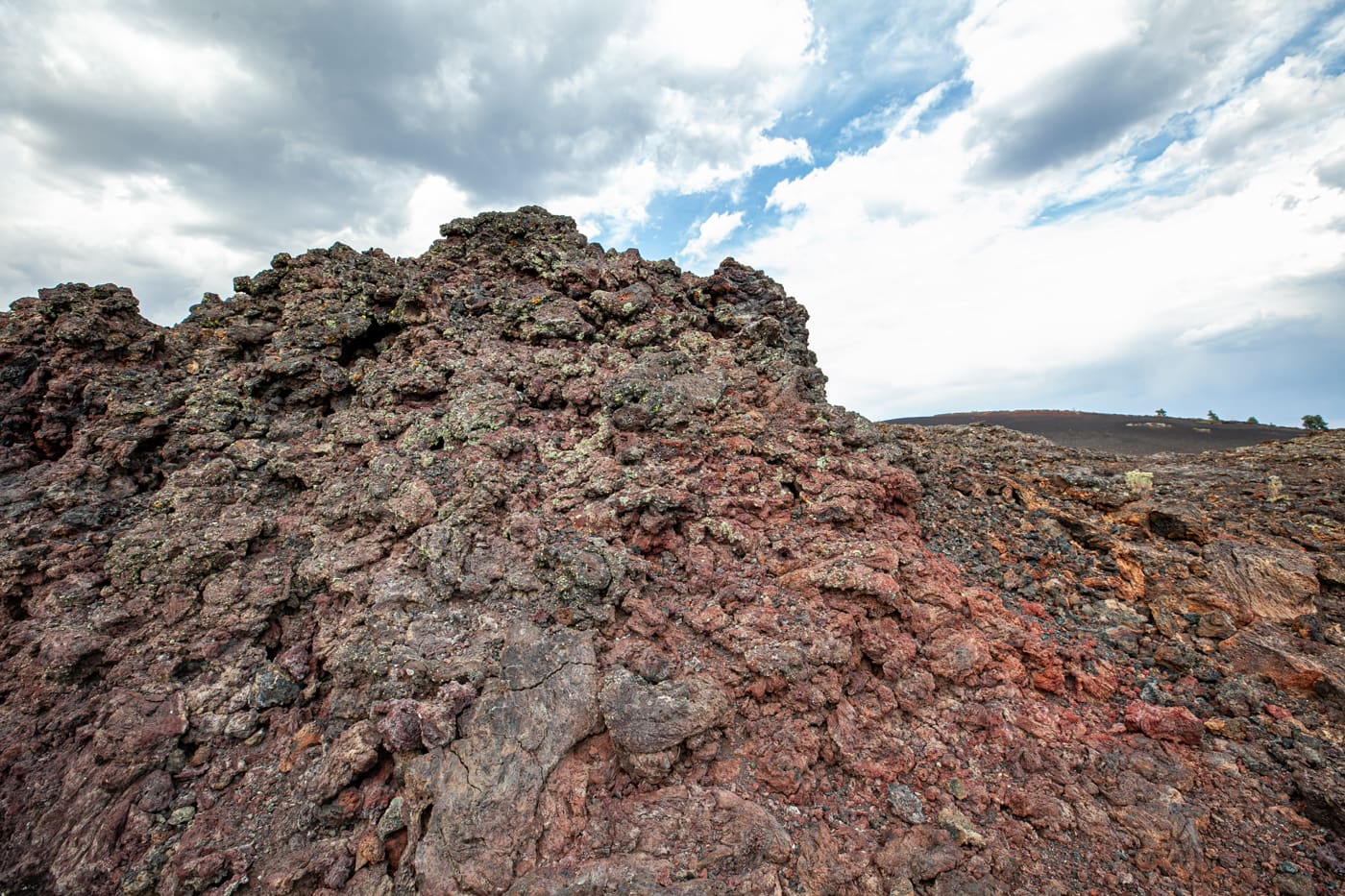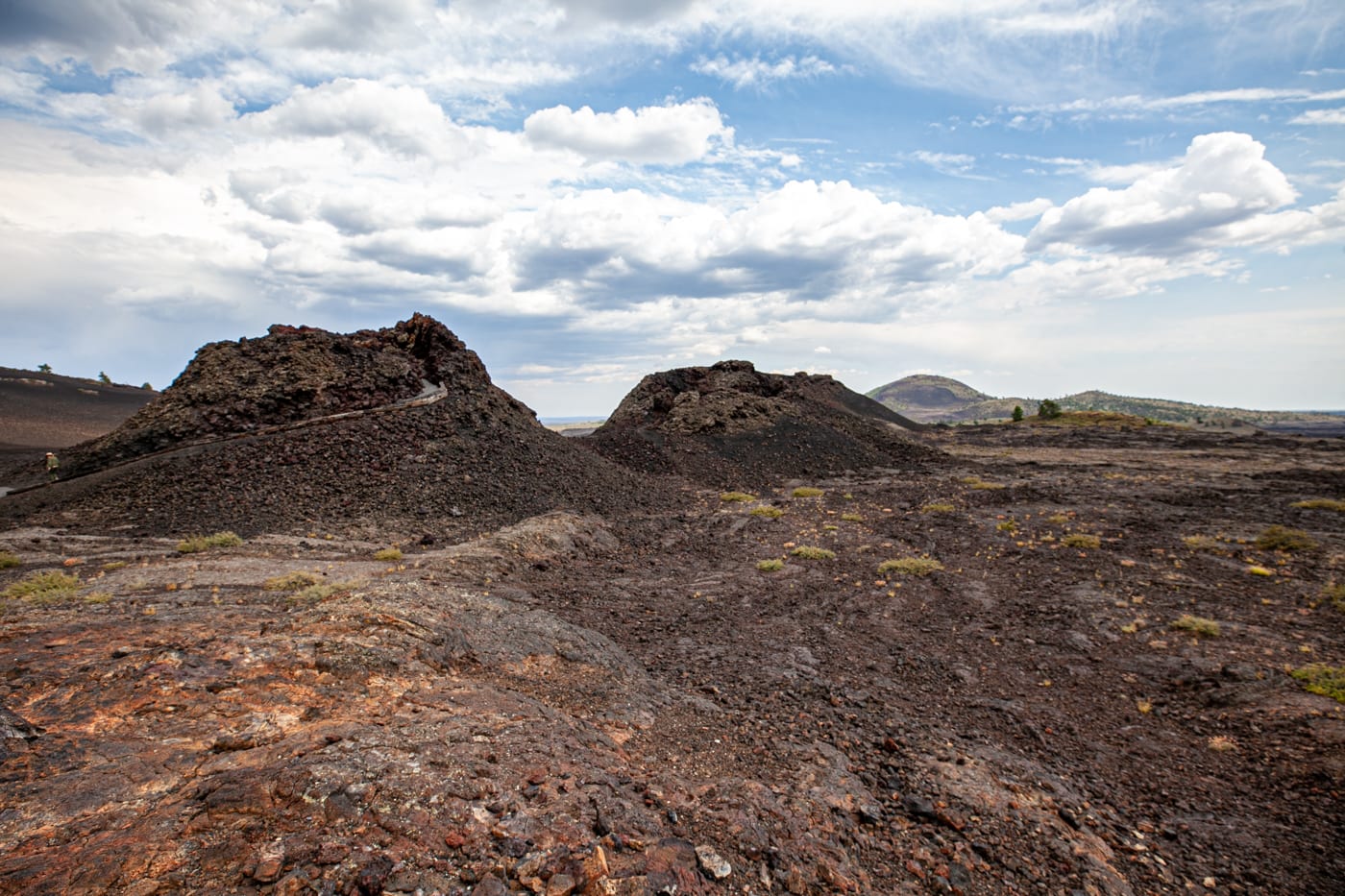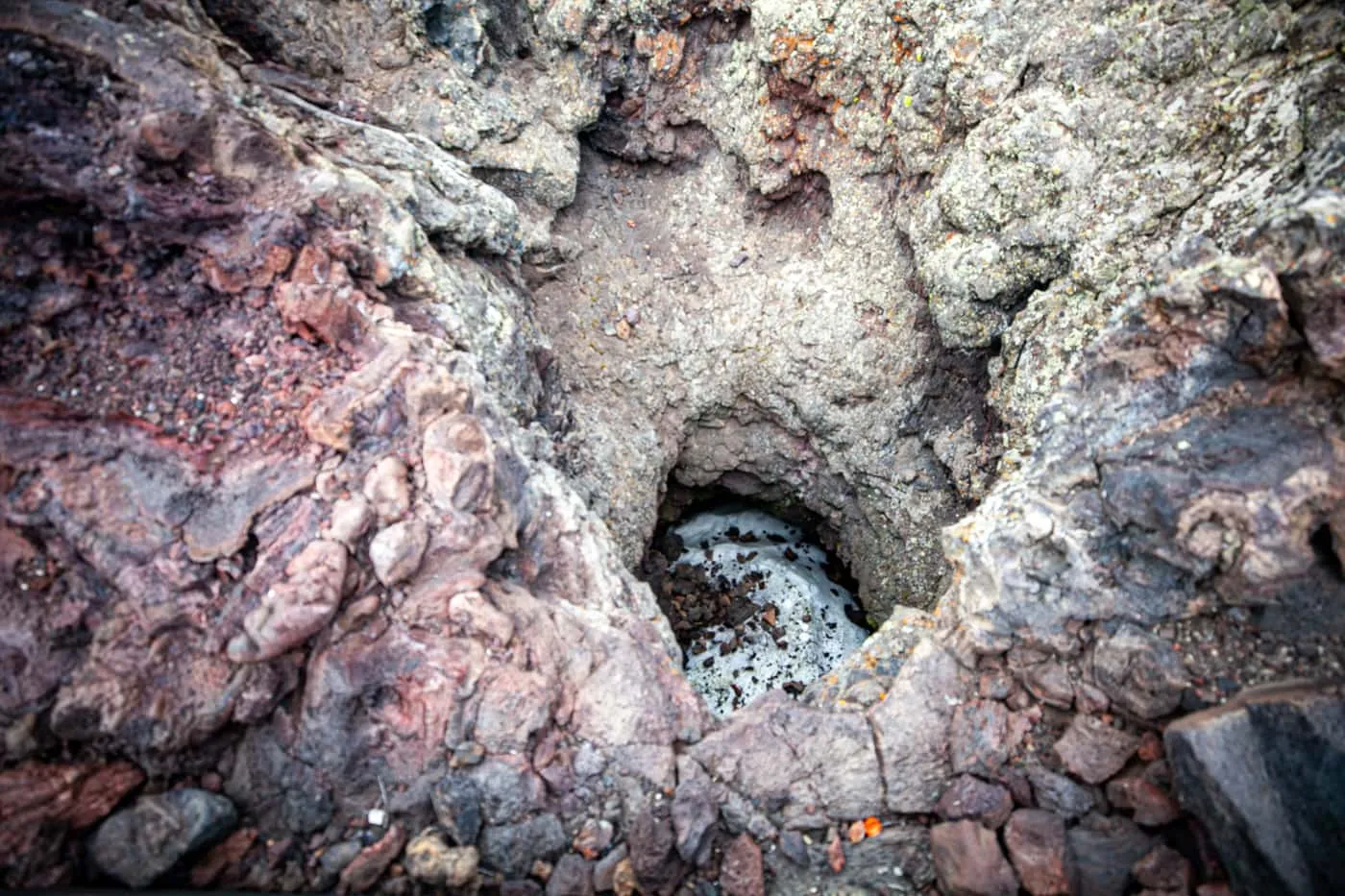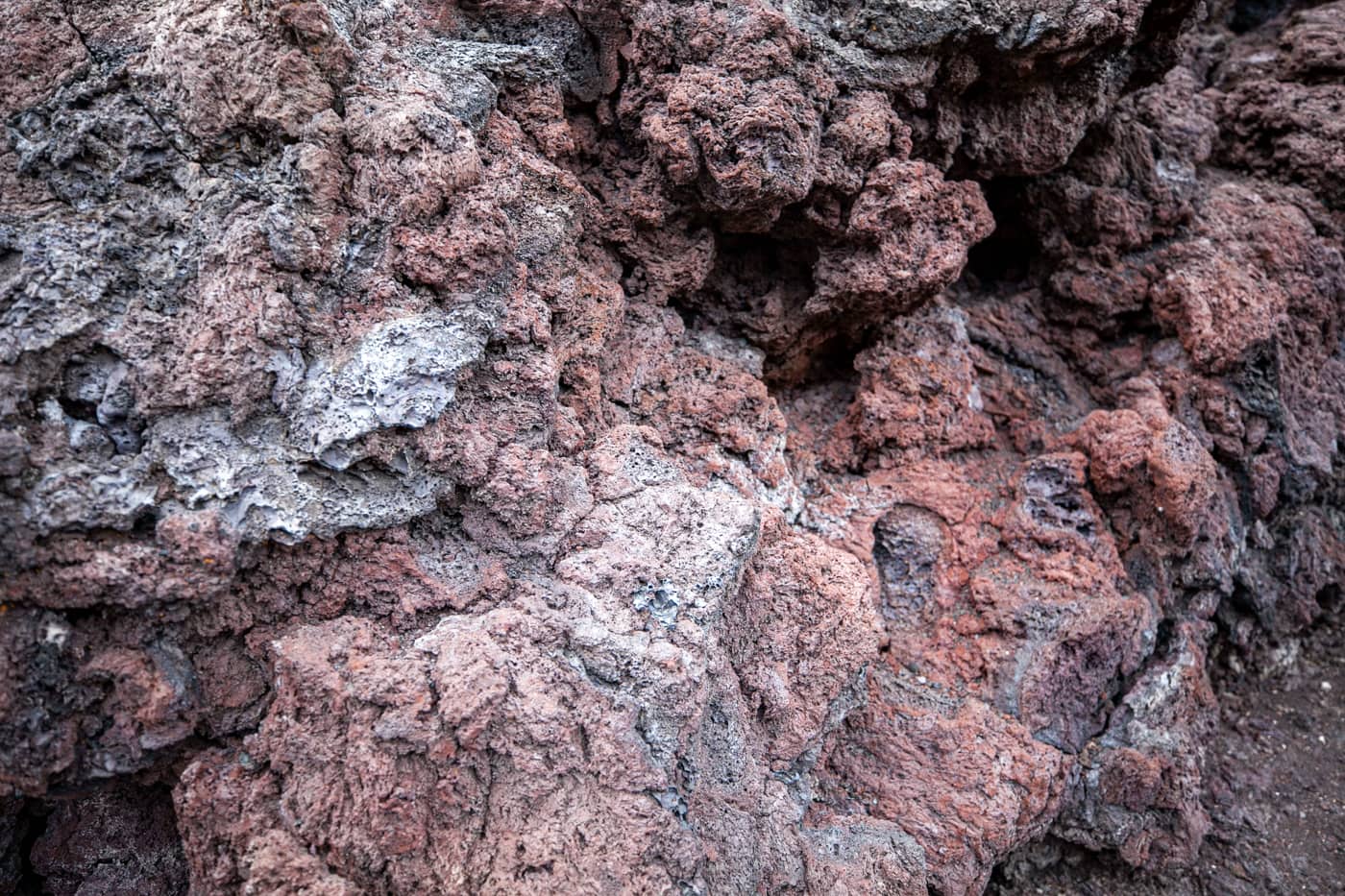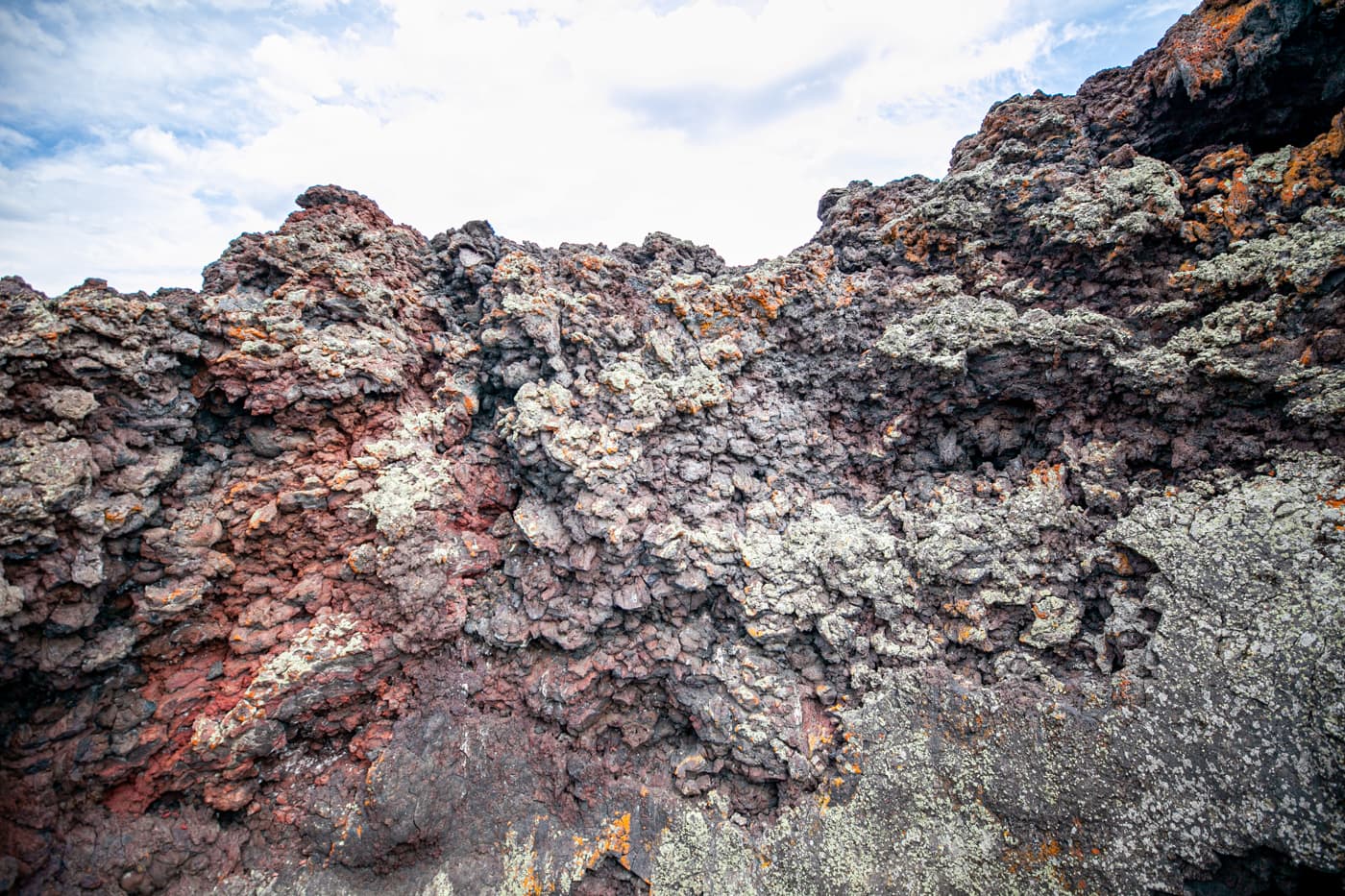 Tree Molds, Broken Top Loop, and The Wilderness Trail
Tree Molds, Broken Top Loop, and The Wilderness Trail are the longest trails to hike, at 2 miles, 1.8 miles, and 4 miles respectiveky. They'll take the most time (and energy) but will take you past lava-charred trees, a cinder cone, and a vast wilderness.
Caves
Finally, there are five caves to explore within Craters of the Moon. Caving will bring you past a rough and rocky landscape with uneven natural lava surfaces, loosely compacted cinders, and loose lava rock. But permits and planning are required to enter any of the caves.
Stop by the visitor's center on your way in and a park ranger can help you plan your visit based on the amount of time you have and level of difficulty. With a long driving day and no hiking boots in our trunk, my road trip companion and I spent a couple of hours at the National Monument and made three stops along the drive: Devils Orchard, Inferno Cone, and the Spatter Cones.
Though Craters of the Moon National Monument & Preserve wasn't the typical roadside attraction in Idaho it was definitely an attraction worth pulling off the road to check out!
---
Craters of the Moon National Monument & Preserve
Address: 1266 Craters Loop Road, Arco, ID 83213
Summer Hours: 8 a.m. to 6 p.m. daily (Memorial Day through the fourth week of September)
Off-Season Hours: 8 a.m. to 4:30 p.m. daily (Closed Thanksgiving, Christmas & New Years Day with early closures, at 1:30 p.m., on the day prior to each of these holidays)
Entrance Fees: $20 per non-commercial passenger vehicle, $15 for motorcycle entry, $10 entry for bicycle or foot traffic, select passes also accepted
Visit the park's website for up-to-date information.
---
Pin this Idaho road trip stop: