Kenefick Park in Omaha, Nebraska features "two of the greatest locomotives ever to power Union Pacific Railroad." There's Centennial No. 6900 (the largest and most powerful diesel-electric locomotive ever built) and Big Boy No. 4023 (the world's largest steam engine train).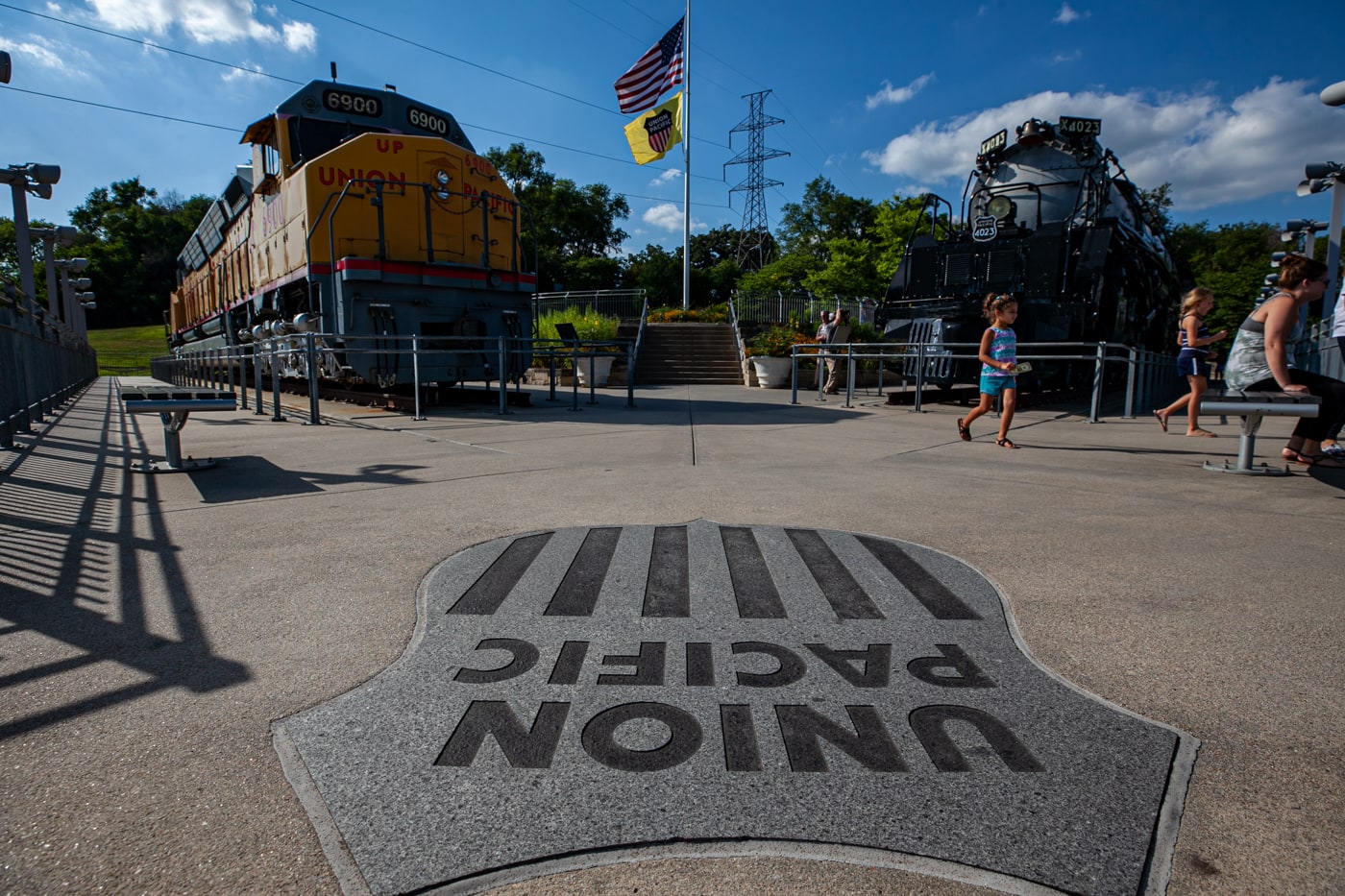 The trains are located at Lauritzen Gardens, Omaha's botanical gardens, and are visible from the highway, on top of the "Welcome to Omaha" sign.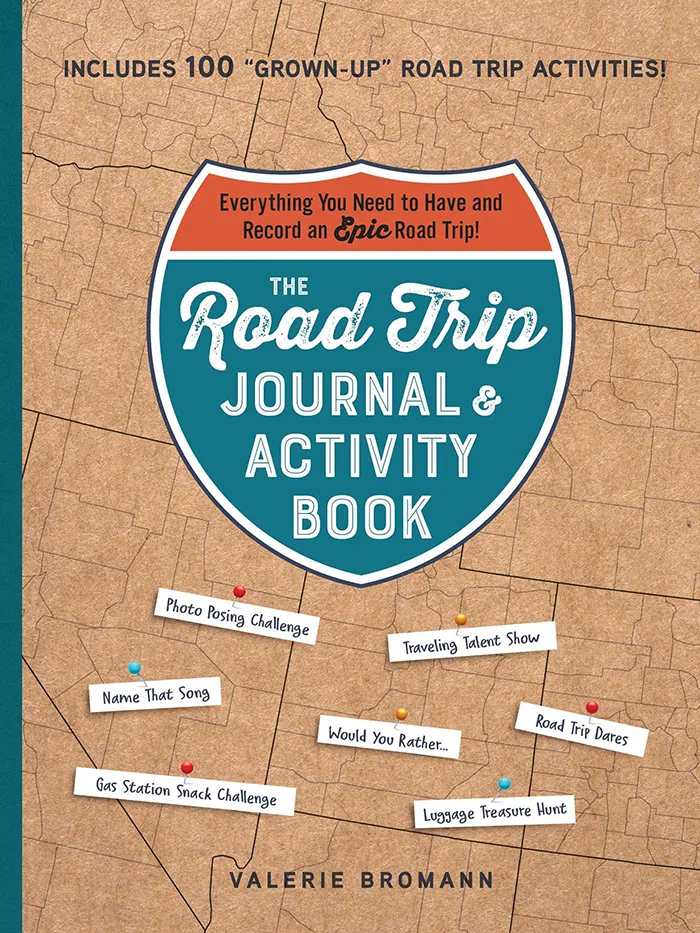 The Road Trip Journal & Activity Book
Everything You Need to Have and Record an Epic Road Trip!
Enjoy fun games and challenges to pass the time on your next road trip and have a keepsake to look back on for years to come with this entertaining must-have for your next vacation.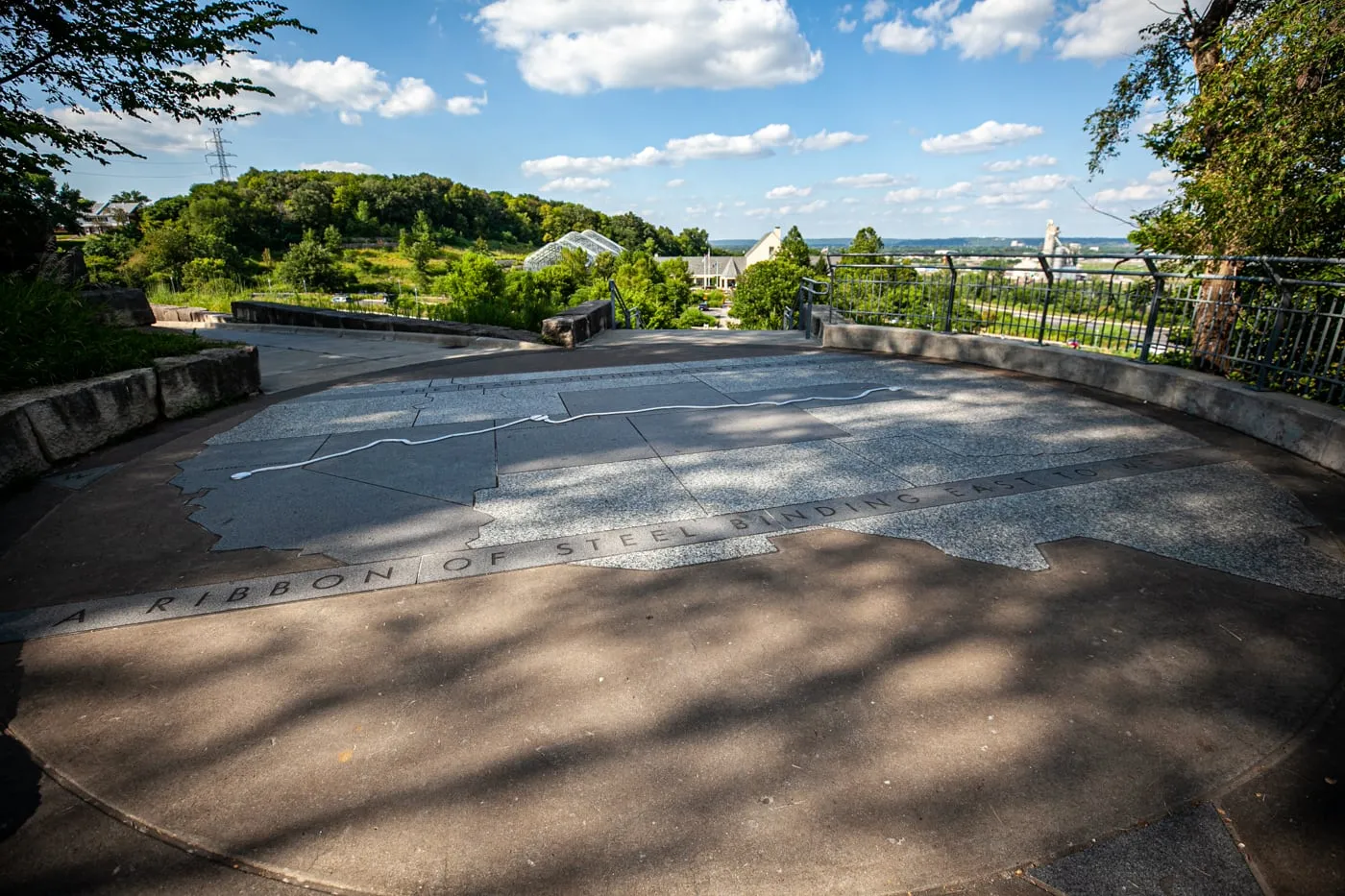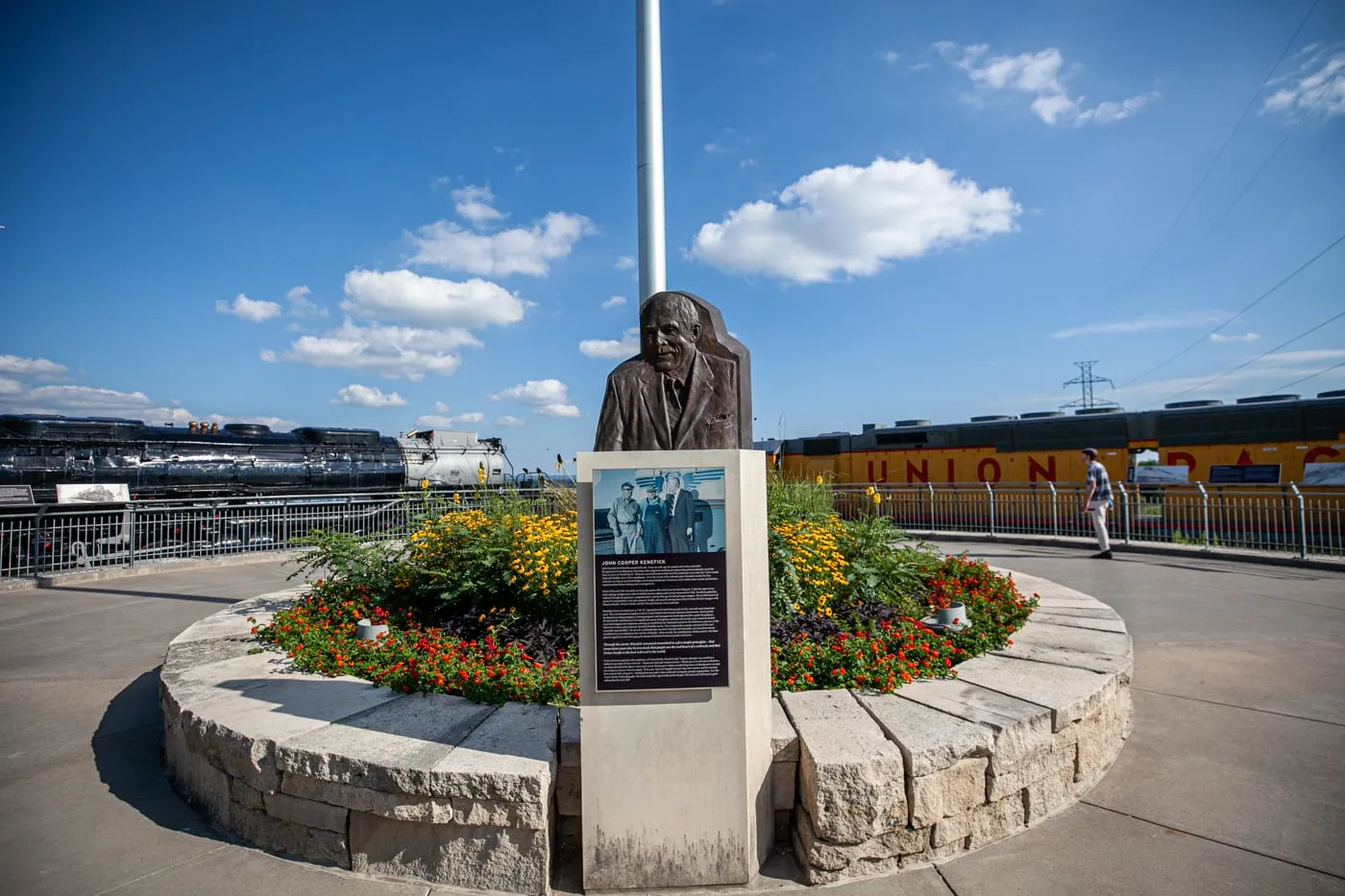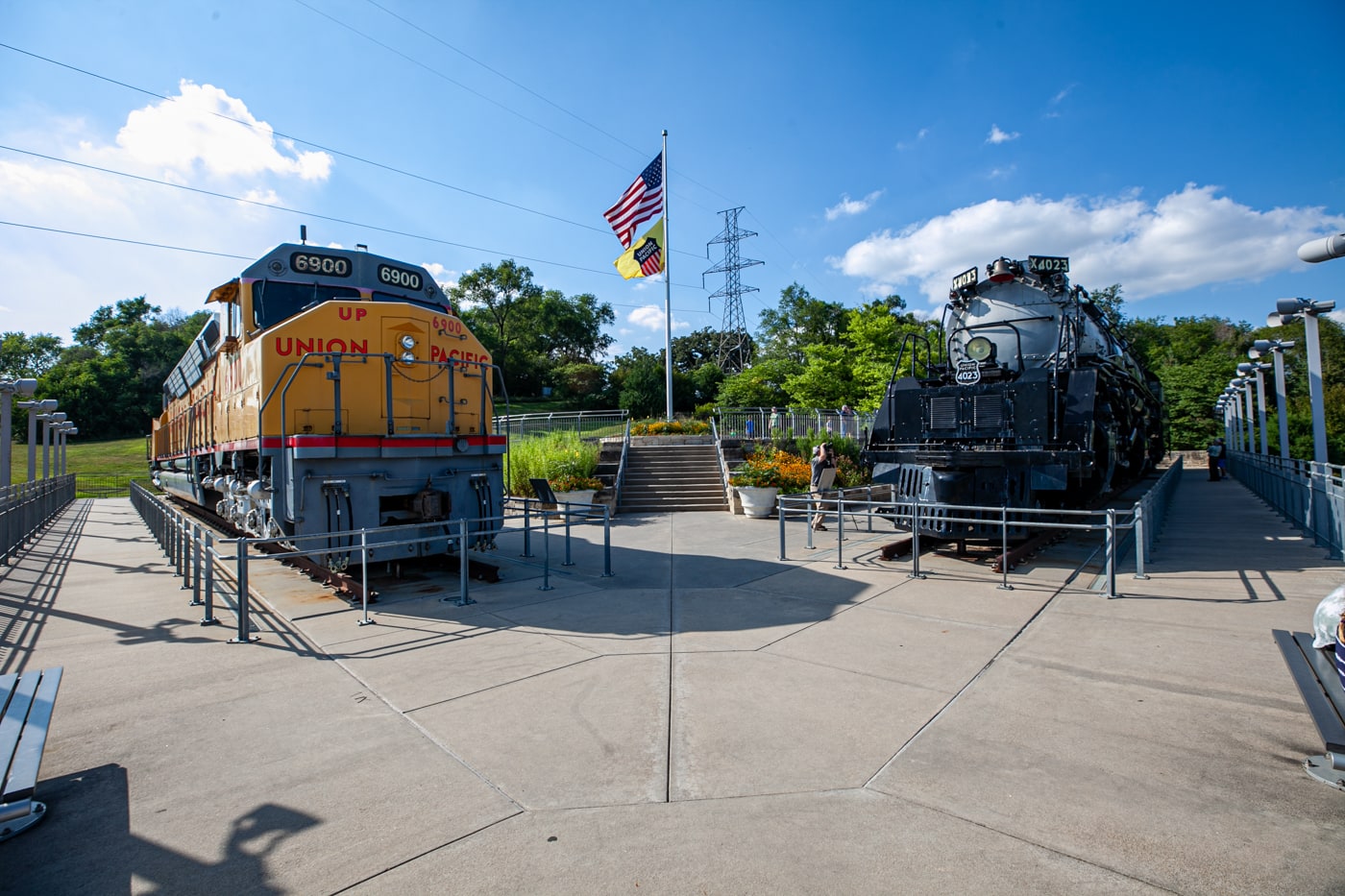 The Centennial
From the sign at the park:
"Locomotive 6900 was one of 47 "DDA-40X" locomotives built by the Electro-Motive Division of General Motors exclusively for Union Pacific and according to Union Pacific specifications. These "Centennial" locomotives were built in 1969 when Union Pacific was celebrating the 100th anniversary of the driving of the Golden Spike to complete the nation's first transcontinental railroad.
"The 6600-horsepower Centennials, designed when the tonnage of freight trains was increasing dramatically, were built to carry heavier loads farther, faster, and with less maintenance. They are the world's largest single-unit diesel locomotives, requiring four axle trucks to distribute their weight within track loading limits. Powered by two diesel engines, Centennials could reach 85 miles per hour on level track. Power was transmitted to the wheels through eight electric traction motors, one for each set of wheels. The Centennials hauled freight throughout the Union Pacific system from 1969 until 1984.
"Locomotive 6900 was the first Centennial produced. It left Omaha on its first run in May 1969, bound for Ogden, Utah, and the celebration of the 100th anniversary of the Golden Spike. It was retired after logging nearly 2 million operating miles. The last operating Centennial, Locomotive 6936, continues to operate as part of Union Pacific's Heritage Fleet."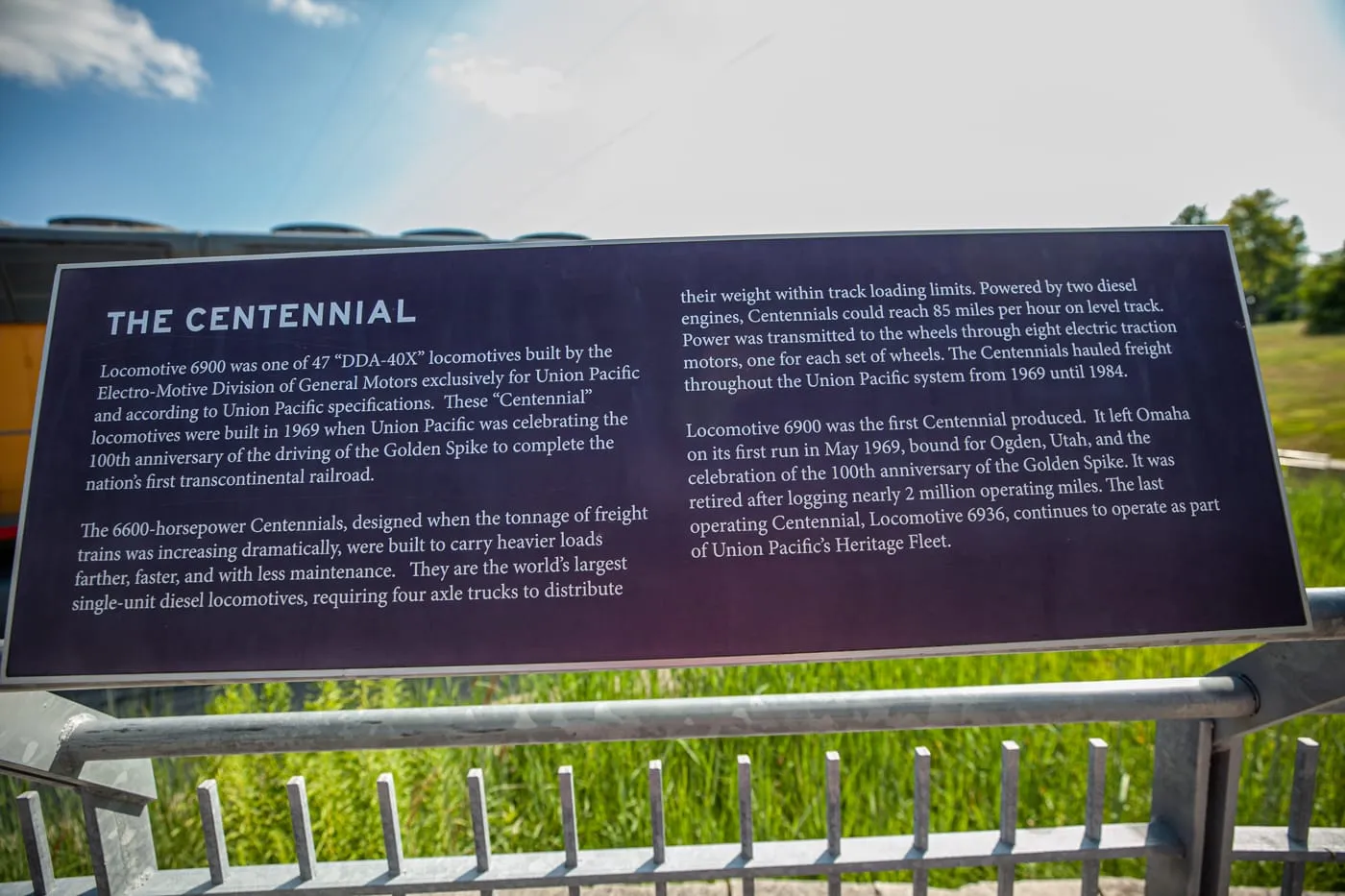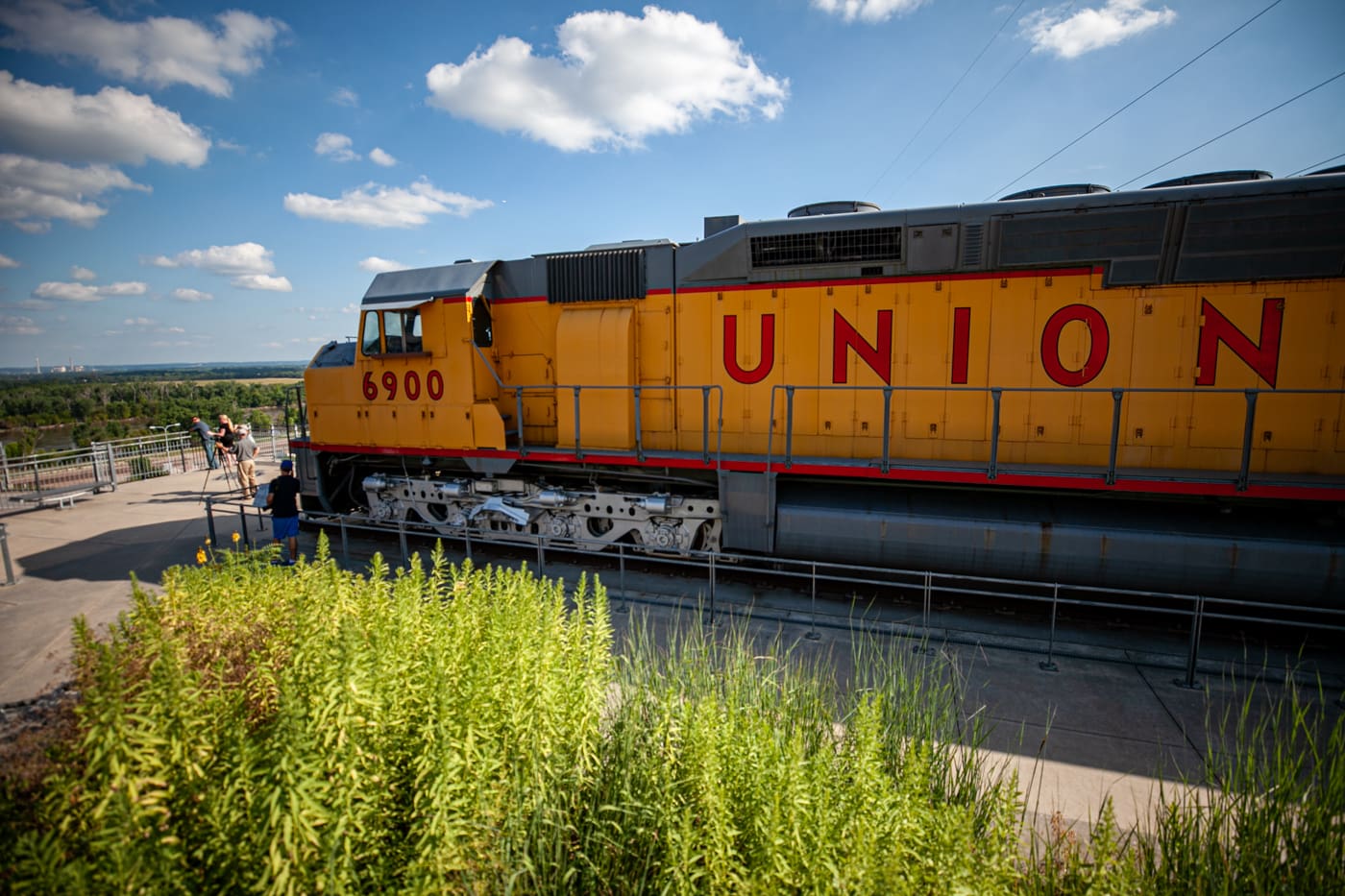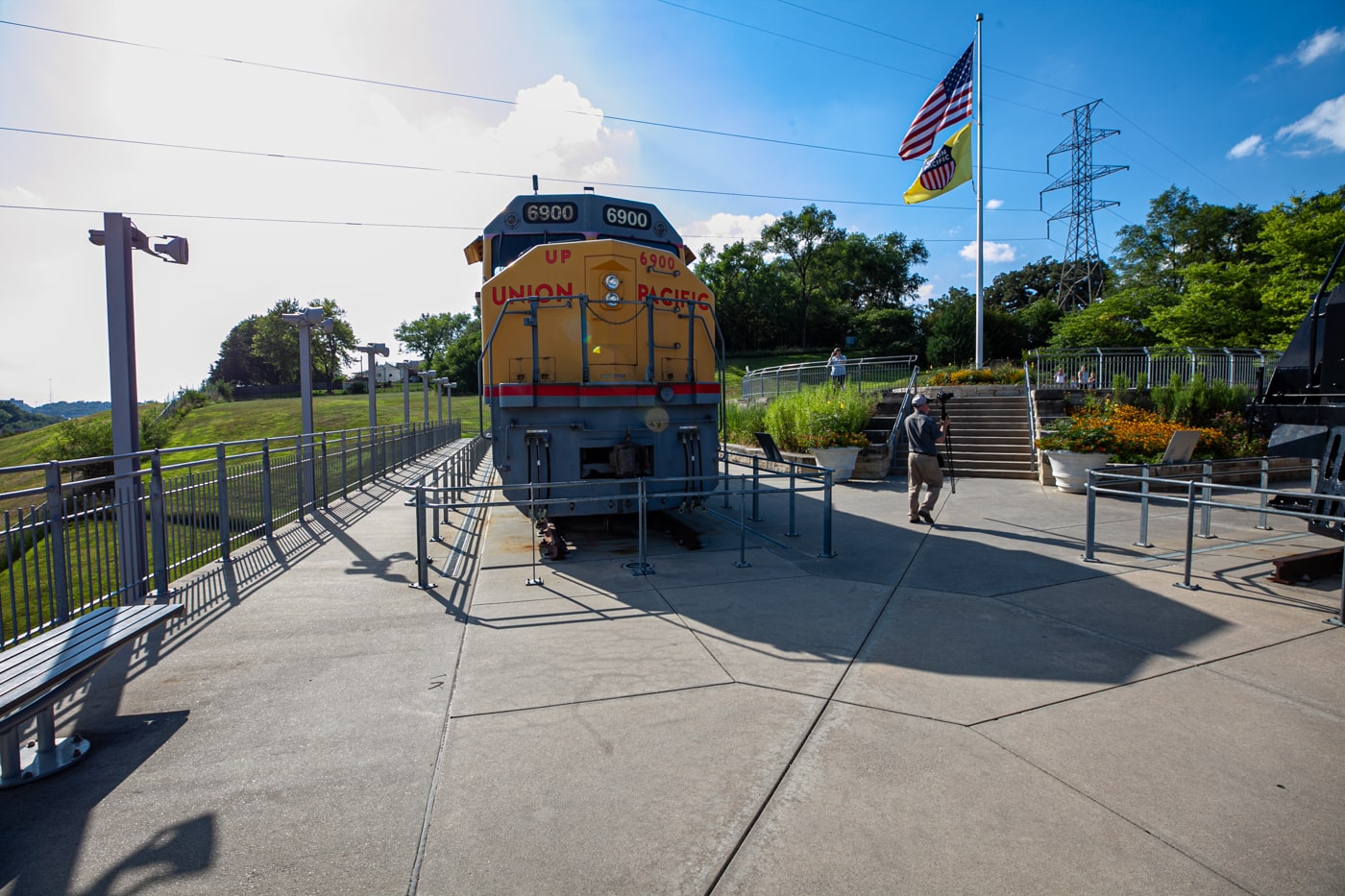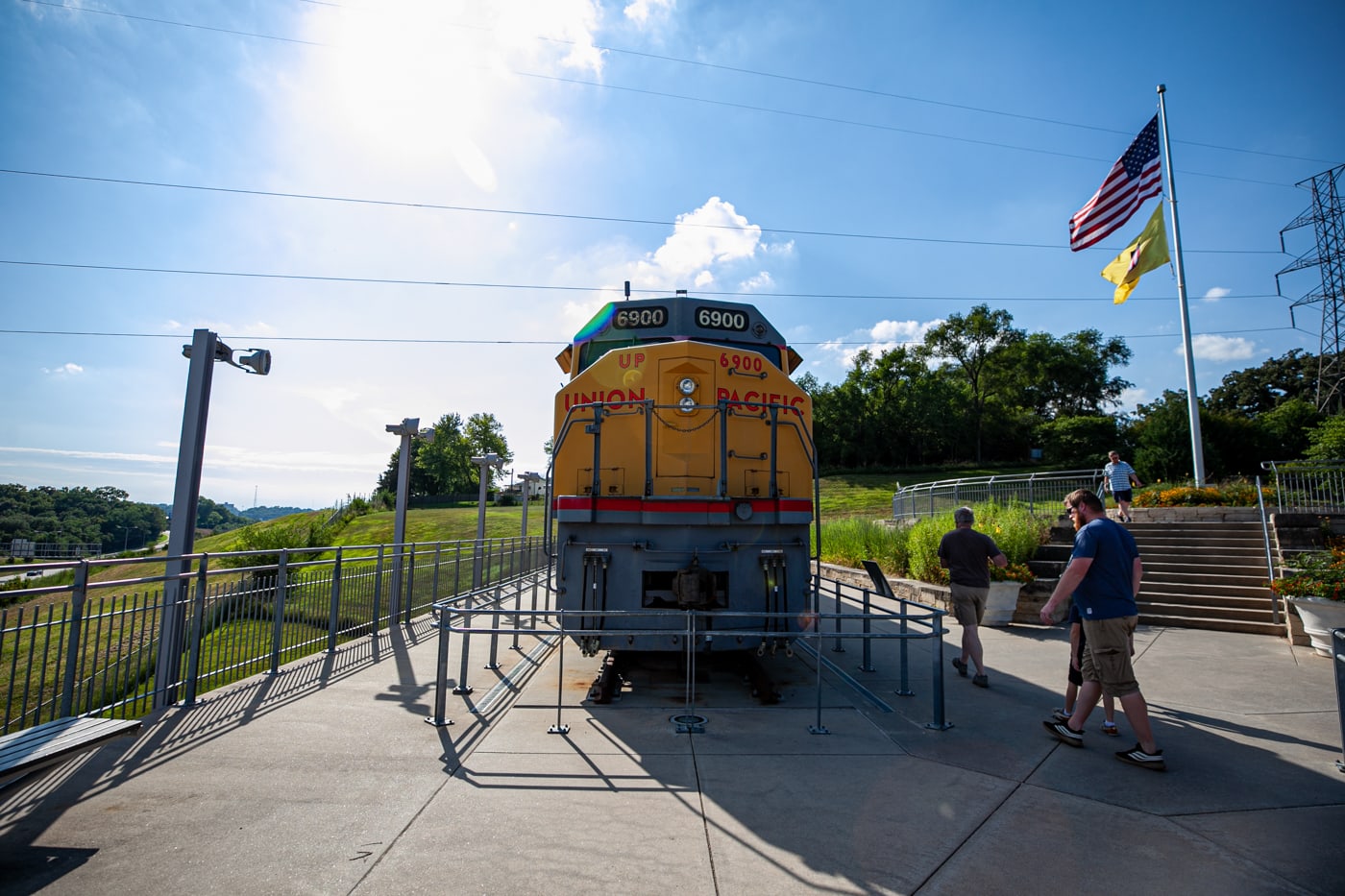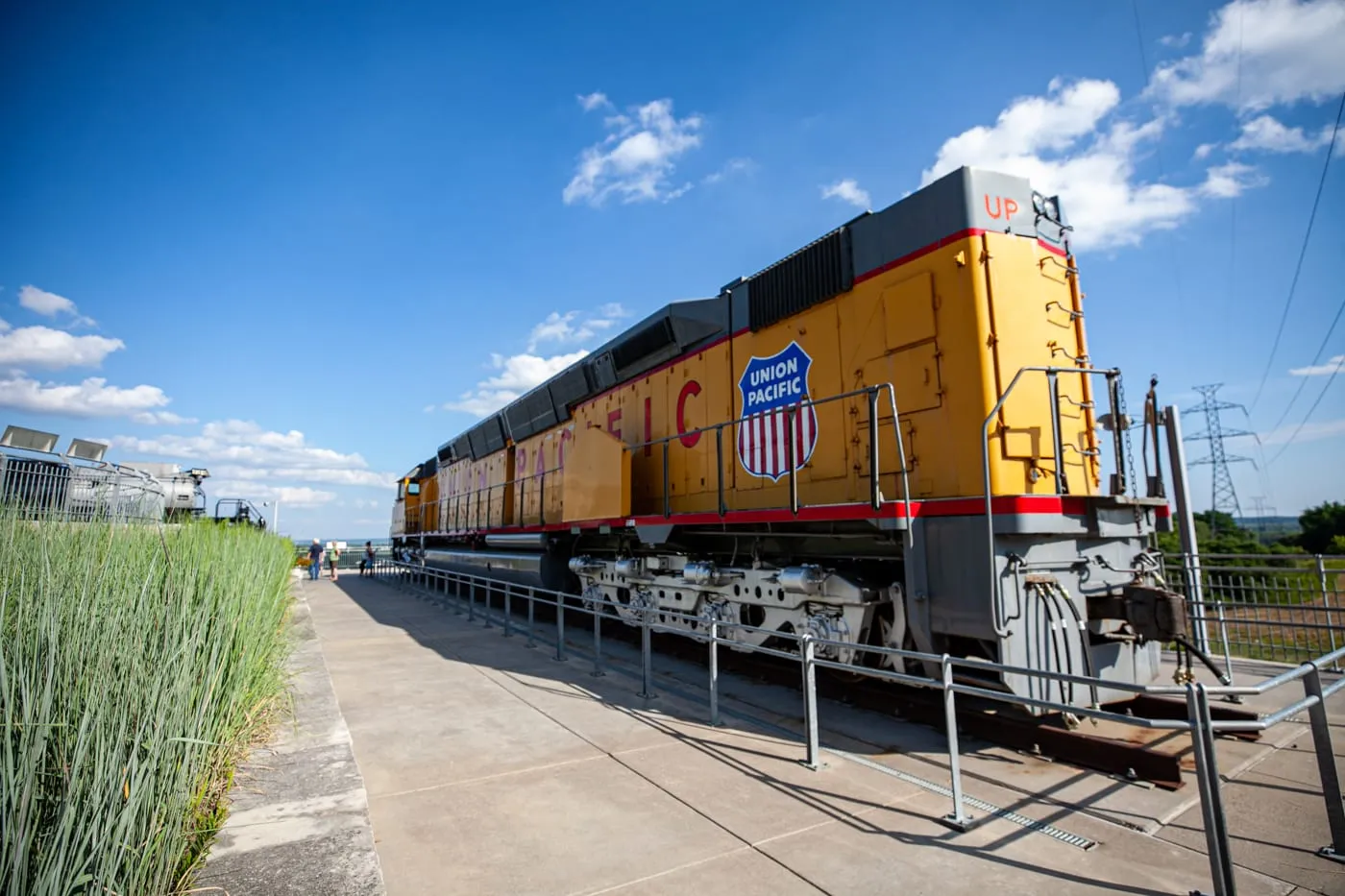 The Big Boy
From the sign at the park:
"Locomotive 4023, built in November of 1944, was one of 25 famous "Big Boy" type articulated locomotives. They were designed in Omaha by Union Pacific's mechanical officer Otto Jabelmann and his engineering team to support the nation's entry into World War II. Built for speed, the coal-burning, stoker-fired Big Boys guaranteed Union Pacific's status as the nation's fastest railroad. They primarily hauled heavy eastbound freight trains between Ogden, Utah, and Green River, Wyoming, over a 1.14 percent grade. Referred to as the 4-8-8-4 for the locomotive's wheel configueration, the Big Boy was lauded in the industry and press as the most powerful, heaviest and longest steam locomotive ever built. Despite a running weight of 1.25 million pounds, the Big Boy had pulling power equal to 7,000 horsepower at its 70 miles per hour design speed.
"American Locomotive Company in Schenectady, New York, built the first 20 Big Boys in 1941. Locomotive 4023 was one of five additional Big Boys built in 1944 under government authority, in preparation for increased rail traffic due to the shift from European to Pacific war operations. After the war, diesel locomotives eventually surpassed the Big Boys. In their final days, they ran between Cheyenne and Laramie over Wyoming's famous Sherman Hill.
"The last run of 4023 was July 20, 1959. Eleven days later, it was put in storage in Cheyenne. Locomotive 4023 was officially retired in July 1962, after logging 829,295 miles, It has been displayed in Omaha since 1975."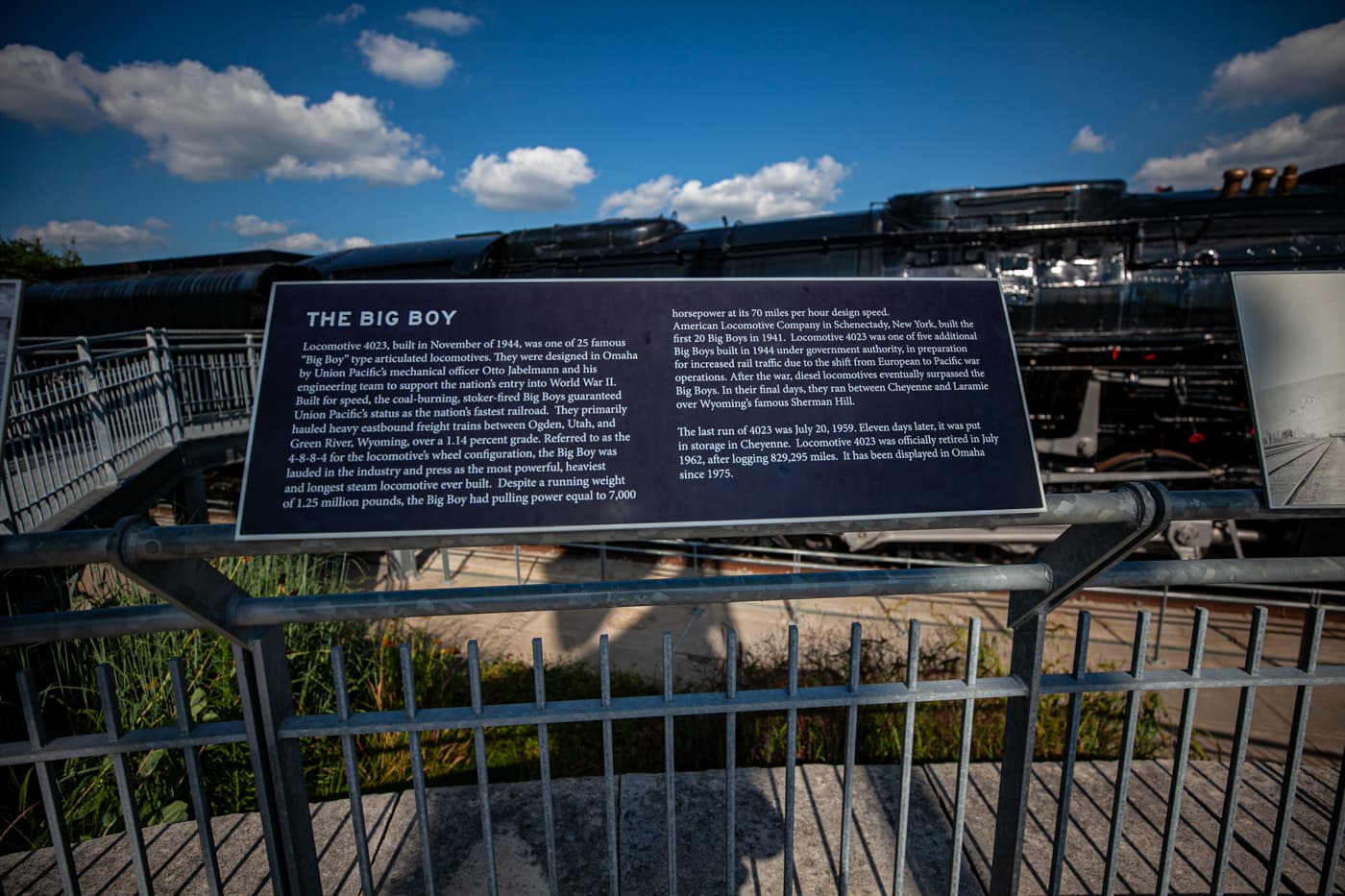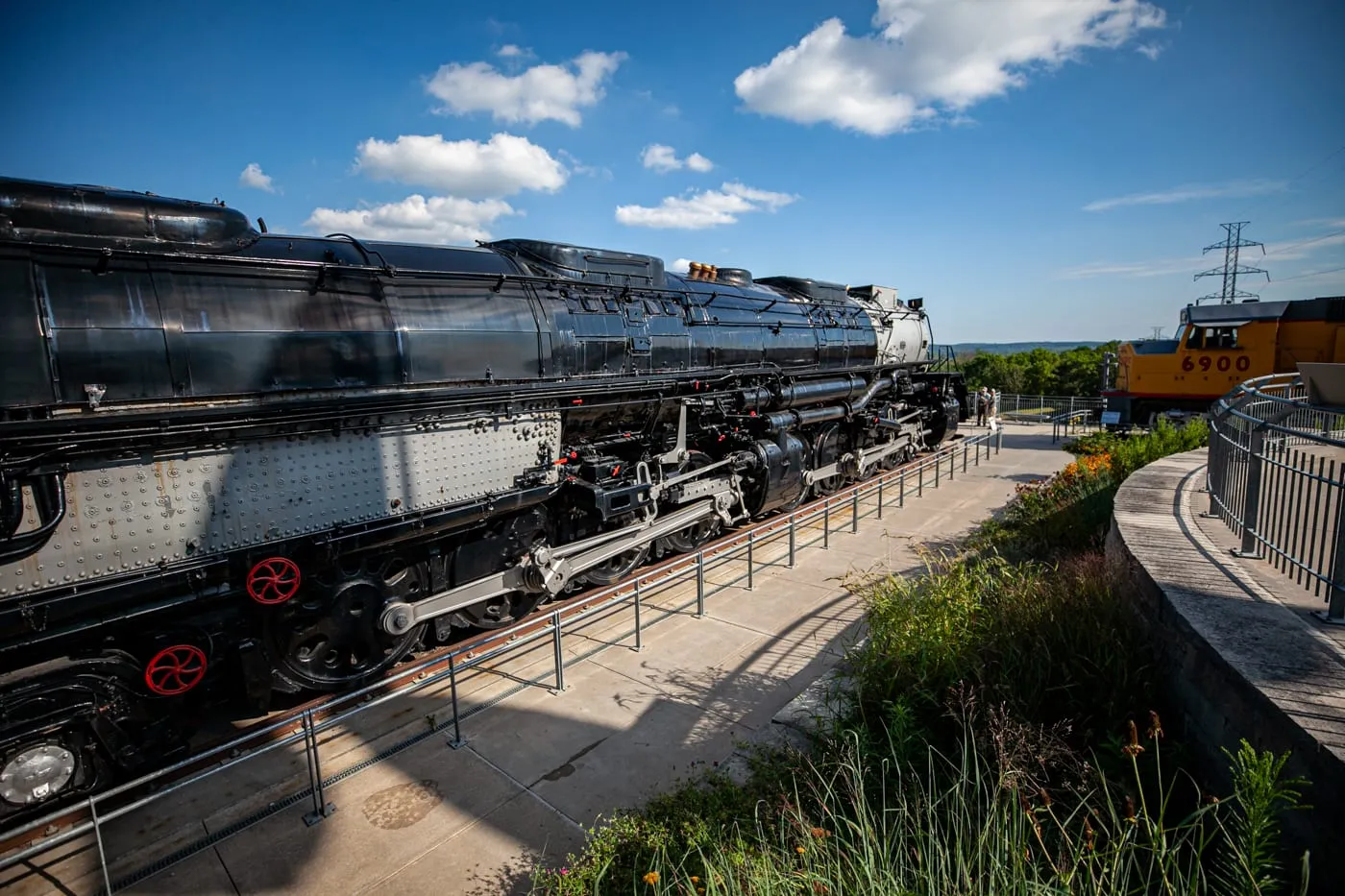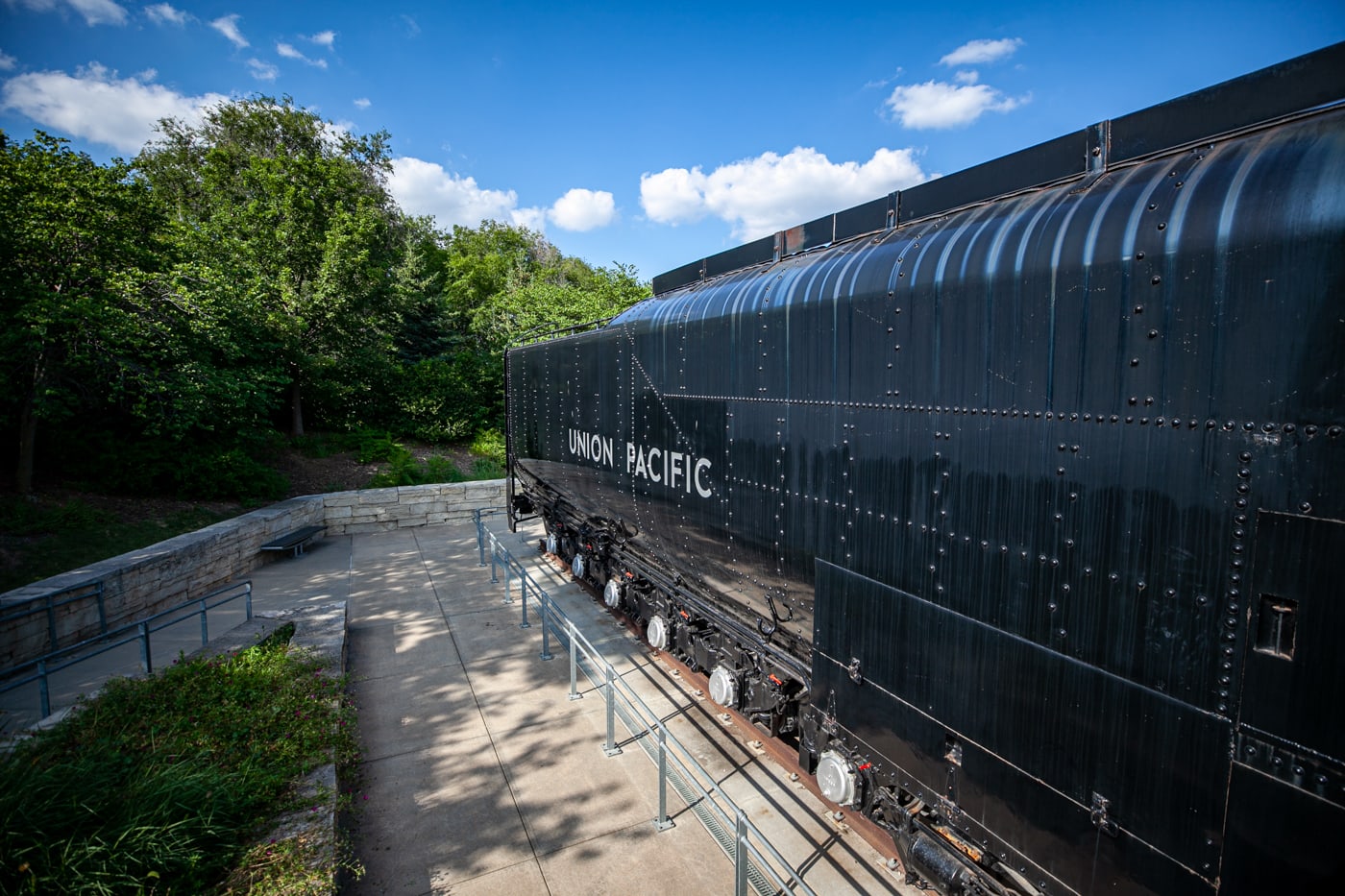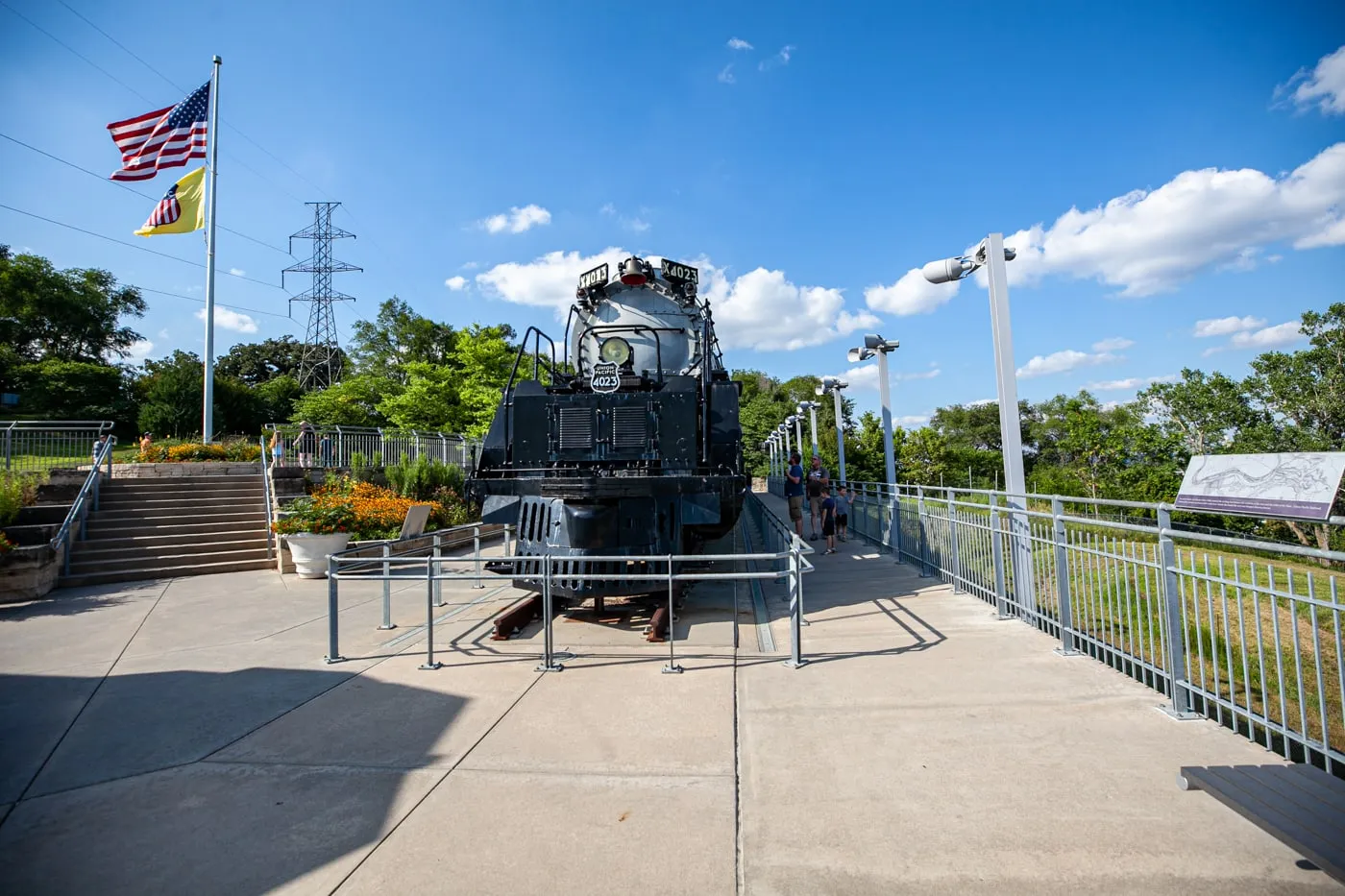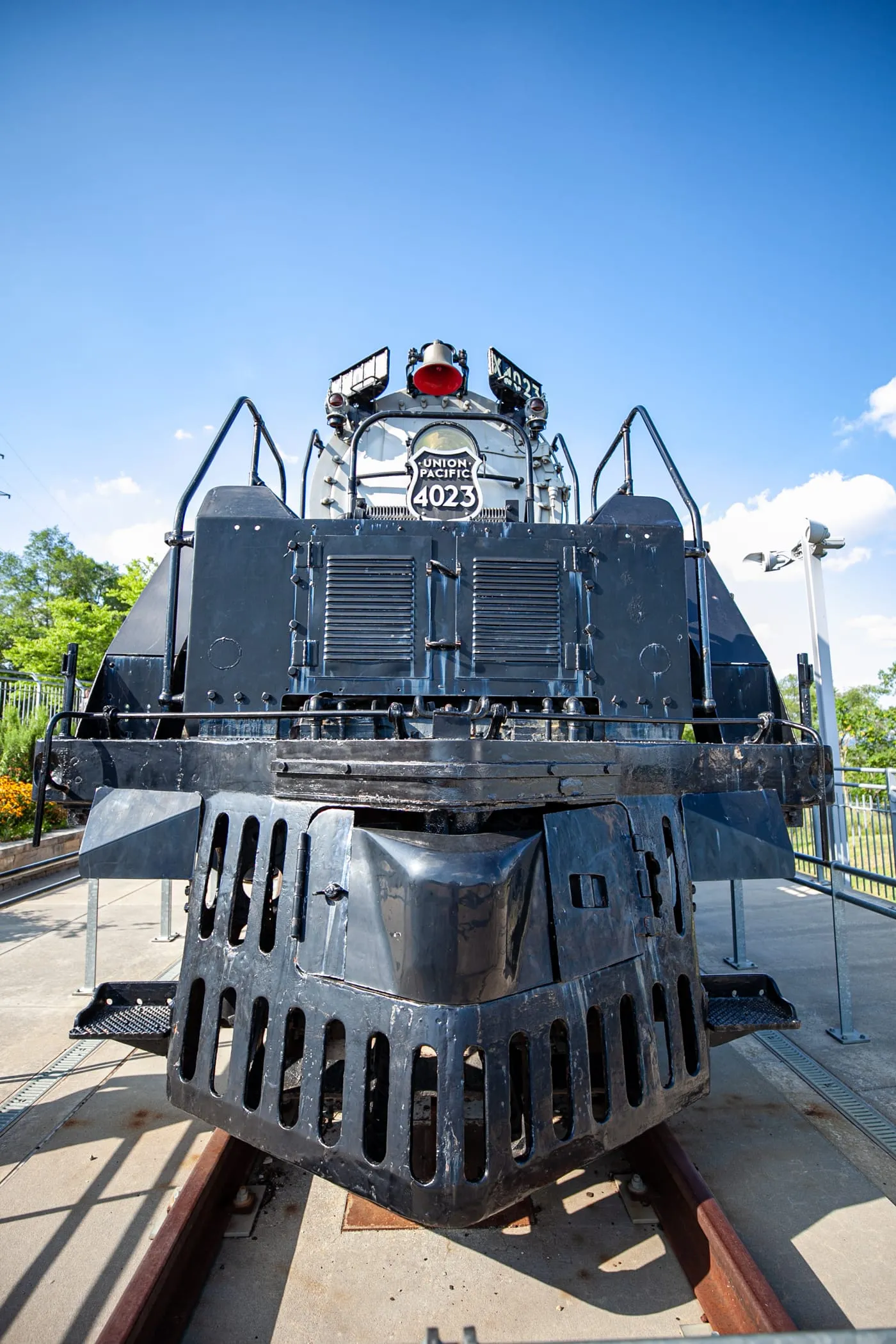 While taking a Nebraska road trip be sure to also check out these Omaha roadside attractions and murals: the Justin Queal Home Run mural, the Fertile Ground Mural, and the Stile di Famiglia Family Style Giant Fork with Spaghetti.
---
Kenefick Park: Centennial No. 6900 and Big Boy No. 4023 Trains
Address: 100 Bancroft St Omaha, NE 68108
Hours: 9am-5pm, Daily
Admission: Free
---
Pin this Omaha roadside attraction: