"Charm of Yesterday, Convenience of Tomorrow." Experience both when you book a room in a classic Route 66 motel that has been attracting travelers, and celebrities, since the 1930s: El Rancho Hotel in Gallup, New Mexico.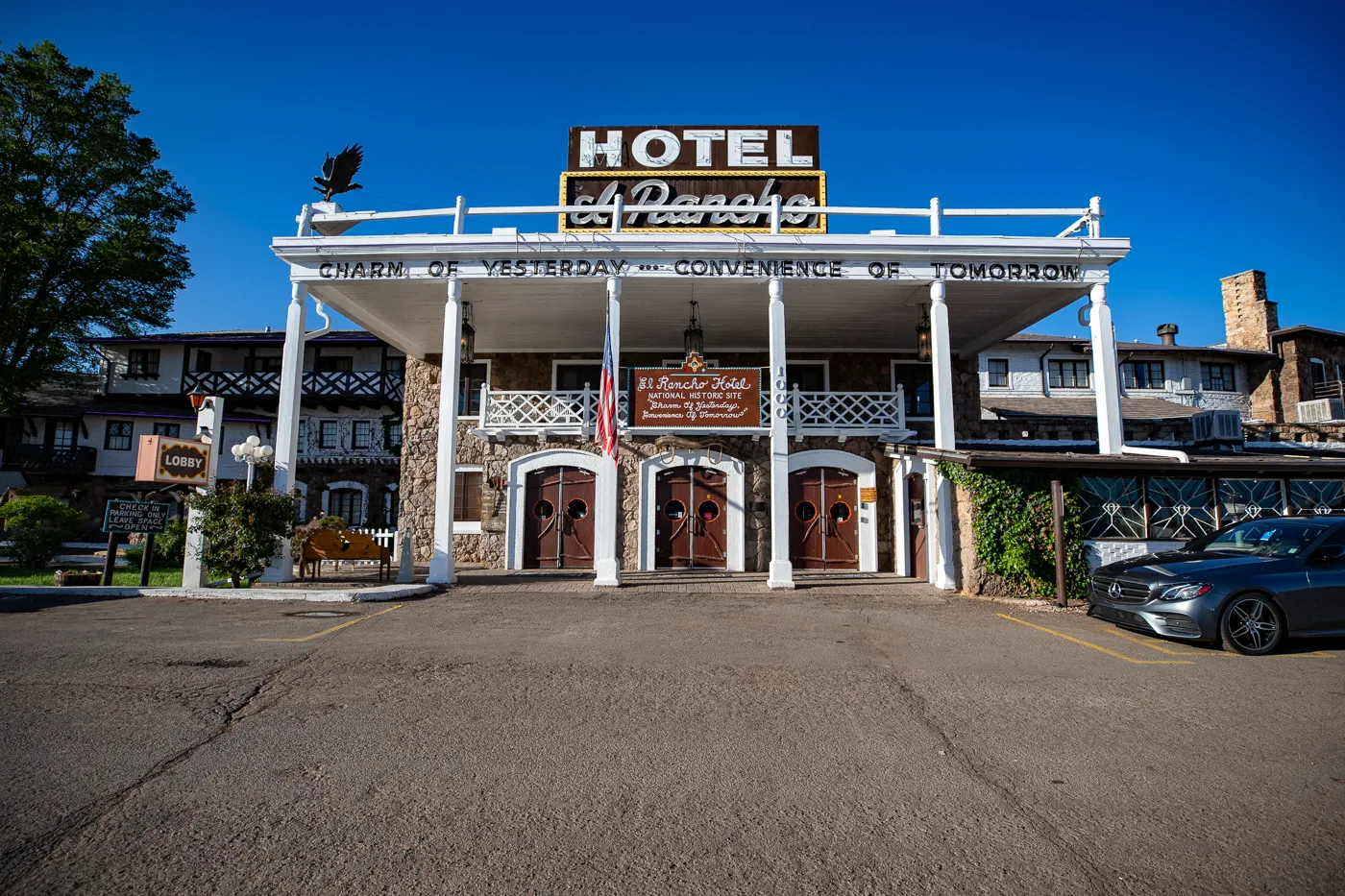 The now historic El Rancho Hotel opened in Gallup, New Mexico in 1936. The hotel was conceived by R.E. Griffith (AKA Griff), who came to Gallup, fell in love with the area, and hired another man, Joe Massaglia, to build it.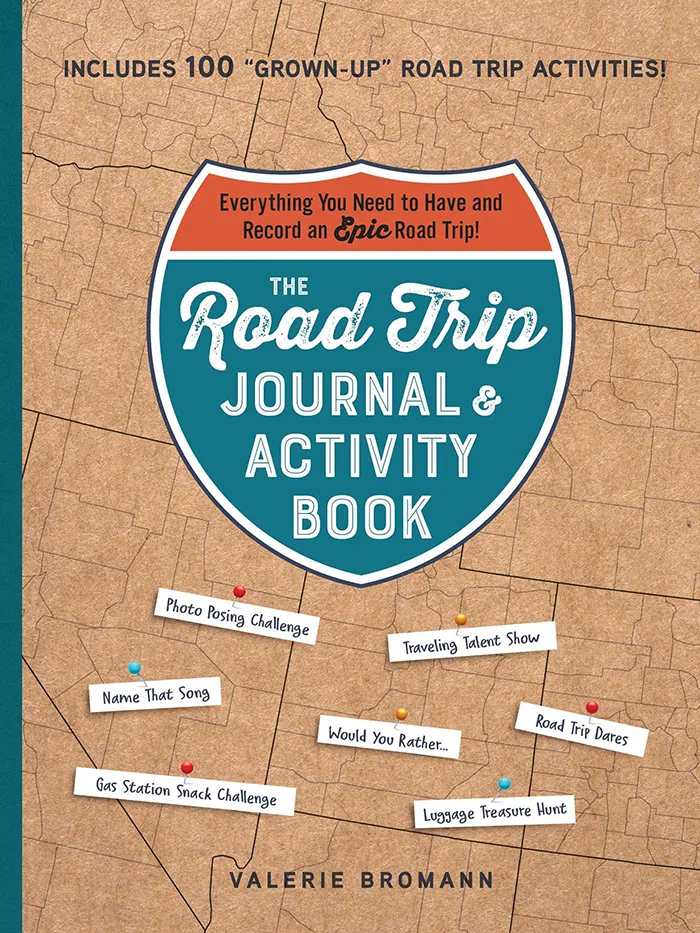 The Road Trip Journal & Activity Book
Everything You Need to Have and Record an Epic Road Trip!
Enjoy fun games and challenges to pass the time on your next road trip and have a keepsake to look back on for years to come with this entertaining must-have for your next vacation.
Griff's brother was movie director D.W. Griffith. Using the connections he made the hotel the basecamp for anyone filming a Western in the area. And many Westerns were filmed in the area at the time.
In the 1940s, 50s, and 60s Gallup became the backdrop to many Hollywood films. And, as they were filming, many of the stars and crew stayed at El Rancho.
Historic El Rancho Hotel attracted a wide menagerie of famous guests who made the hotel their temporary home while filming. Betty Grable, Burt Lancaster, Doris Day, Errol Flynn, Gene Autry, Gregory Peck, Humphrey Bogart, Jack Benny, Jackie Cooper, James Cagney, Jane Fonda, Jeanne Kelly, Jimmy Stewart, Joan Crawford, John Forsyth, John Wayne, Katharine Hepburn, Kirk Douglas, Lucille Ball, Mae West, Marx Brothers, Rita Hayworth, Ronald Reagan, Spencer Tracy, Troy Donahue, W.C. Fields, and William Holden are just a small fraction of the stars who have spent the night.
By 1964, as the luster of the slow-moving, sepia-toned Wild West was being replaced by technicolor and faster highways, the grandeur of El Rancho began to fade.
Gallup was no longer the Western Hollywood it used to be, the stars no longer came out, and El Rancho began to fall into disrepair.
In 1986, Armand Ortega bought the hotel at a bargain price and restored it to its former glory. In 1988 the motel reopened and was listed in the National Register of Historic Places. In 2003 it received a cost share grant from the National Park Service Route 66 Corridor Preservation Program for a new wood shingle roof.
Today the Historic El Rancho Hotel is again one of the most popular hotels on Route 66, now attracting travelers who want to experience a piece of its star-studded past. Those who book a room in this Route 66 hotel get a taste of the past with all the modern conveniences they need.
The hotel latches onto this former celebrity status in its decor. The lobby and second floor balconies are decorated with endless photos of and memorabilia from actors and movies of the past. And every room of the Route 66 hotel is named and themed after one of the stars who stayed there. As you walk in you'll find a laminated biography of your star on your bed, along with a shower curtain printed with their photo.
The standard rooms are small, but have everything you need, like comfy linens, a flat screen TV, a private bathroom, and a bench to store your luggage.
Outside and in, the historic Route 66 hotel evokes a sense of the wild west.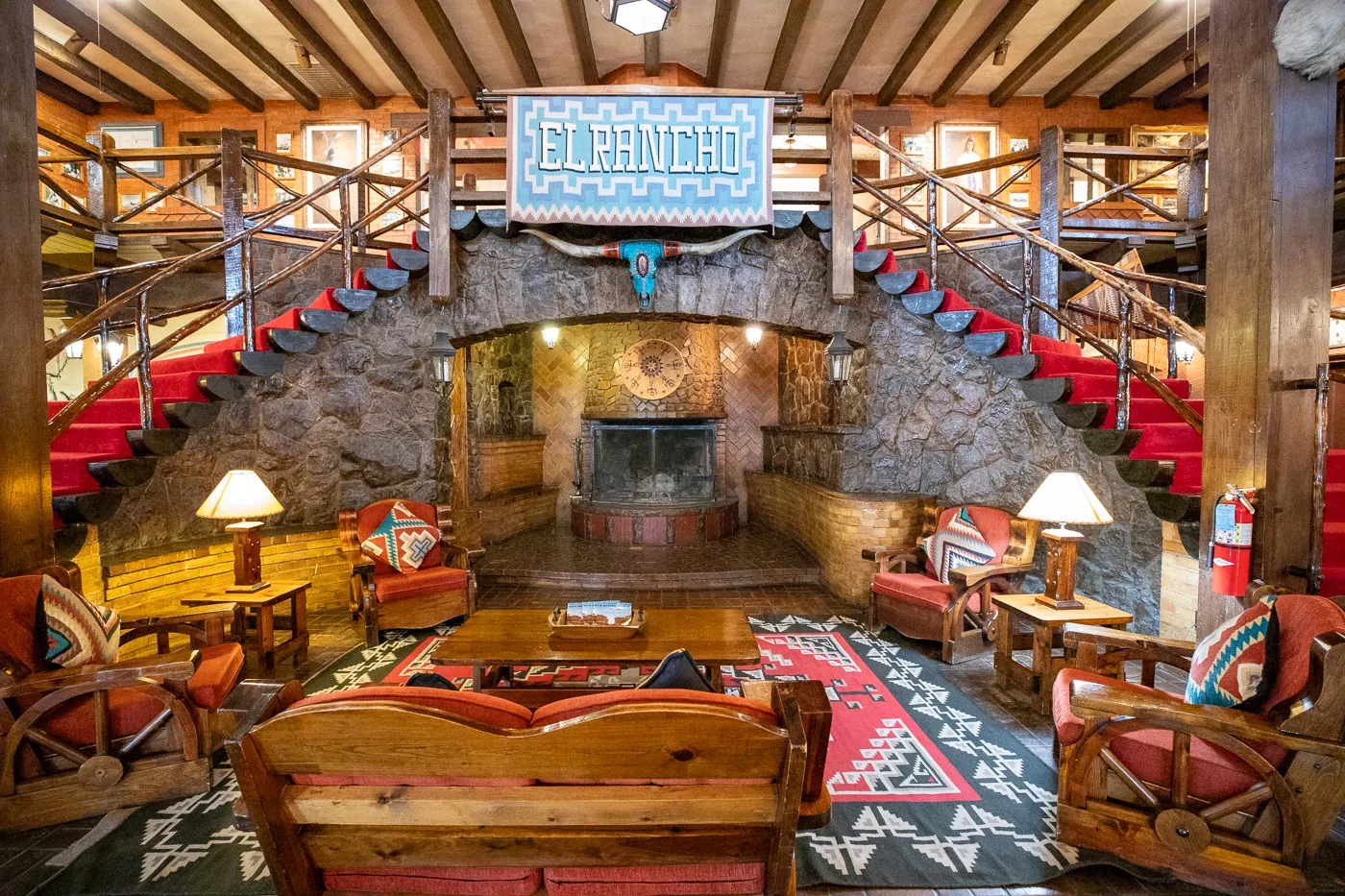 Walking in the front doors you'll be transformed into what might seem like an old-Western movie set. The rustic charm is enhanced with heavy carved wood furniture, Navajo rugs, a wagon wheel chandelier, and deer head trophies. At the centerpiece of the double-level lobby is a fireplace flanked by twin curved staircases.
Inside the lobby you'll also find access to the hotel's restaurant, bar, and gift shop.
The Silver Screen restaurant is open for breakfast, lunch, and dinner and is a worthy stop whether you're spending the night in the hotel or just visiting. Many of the dishes are named after the stars who stayed there. There's an "Elvis" French Toast with peanut butter, bacon, and banana. There are burgers named for John Wayne (with Baja Guacamole and Asadero Cheese), Ronald Regan (with Applewood Smoked Bacon, Cheddar Cheese and a side of Jelly Belly Beans), and Patti Page (with Caramelized Sweet Onions and Swiss Cheese). Or you can get The Rita Moreno (​​Three Corn Tortillas with your Choice of Cheese, Beef or Chicken, Cheddar & Asadero, Shredded Lettuce, Diced Tomatoes and Cilantro Lime Crema).
You can also grab a drink at the 49er Lounge where it is said John Wayne once rode in or a horse and ordered beers for them both.
Off the lobby, the gift shop, Ortega's Indian Store, sells a variety of crafts and jewelry, along with your standard souvenirs like magnets, mugs, and t-shirts to commemorate your stay.
Outside, beneath the giant neon sign that tops the rook is printed the hotel's slogan:"Charm of Yesterday…Convenience of Tomorrow." And you will definitely experience both here when you book a room and spend the night where the stars did at the historic  El Rancho Hotel on your Route 66 road trip.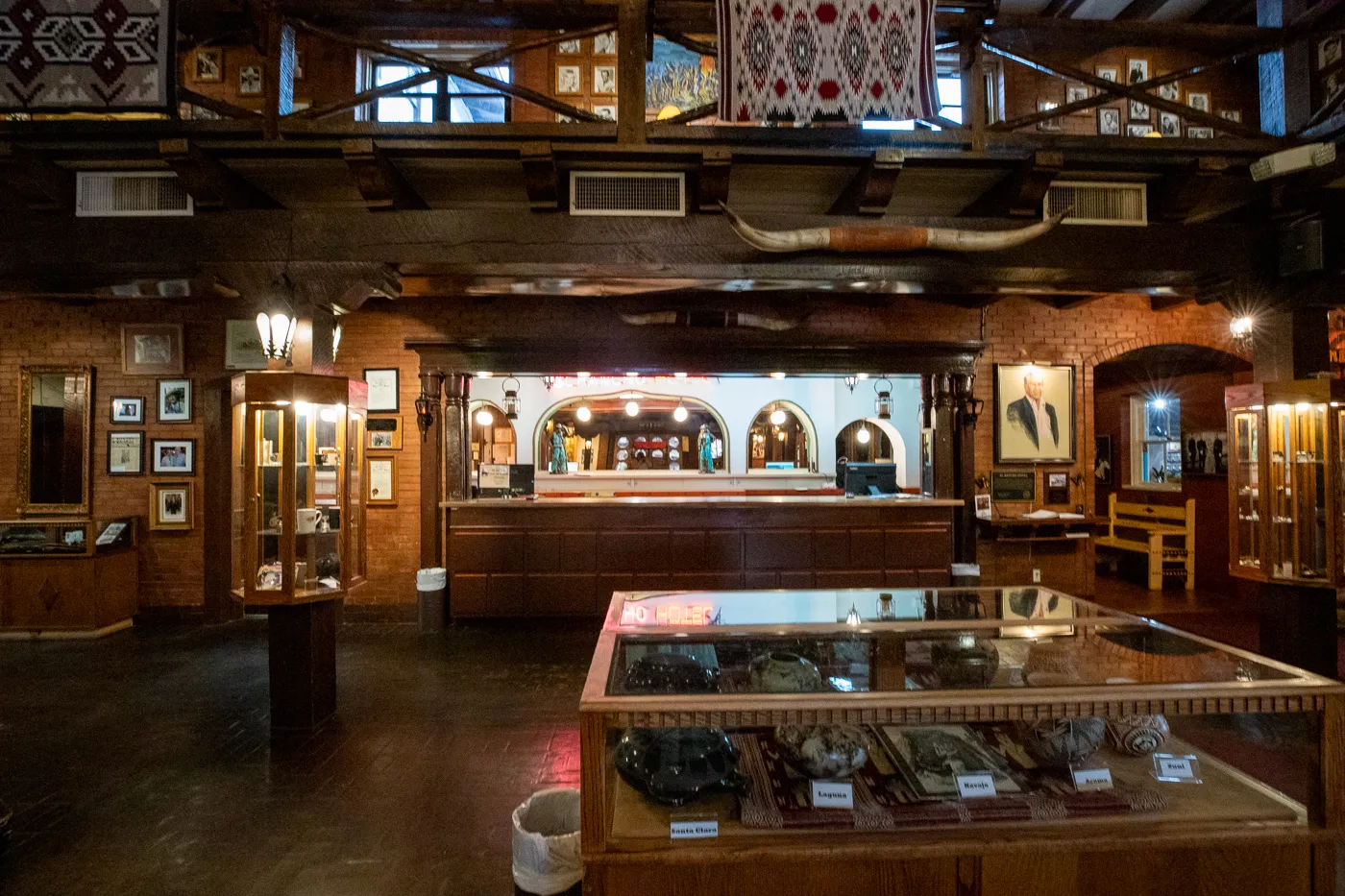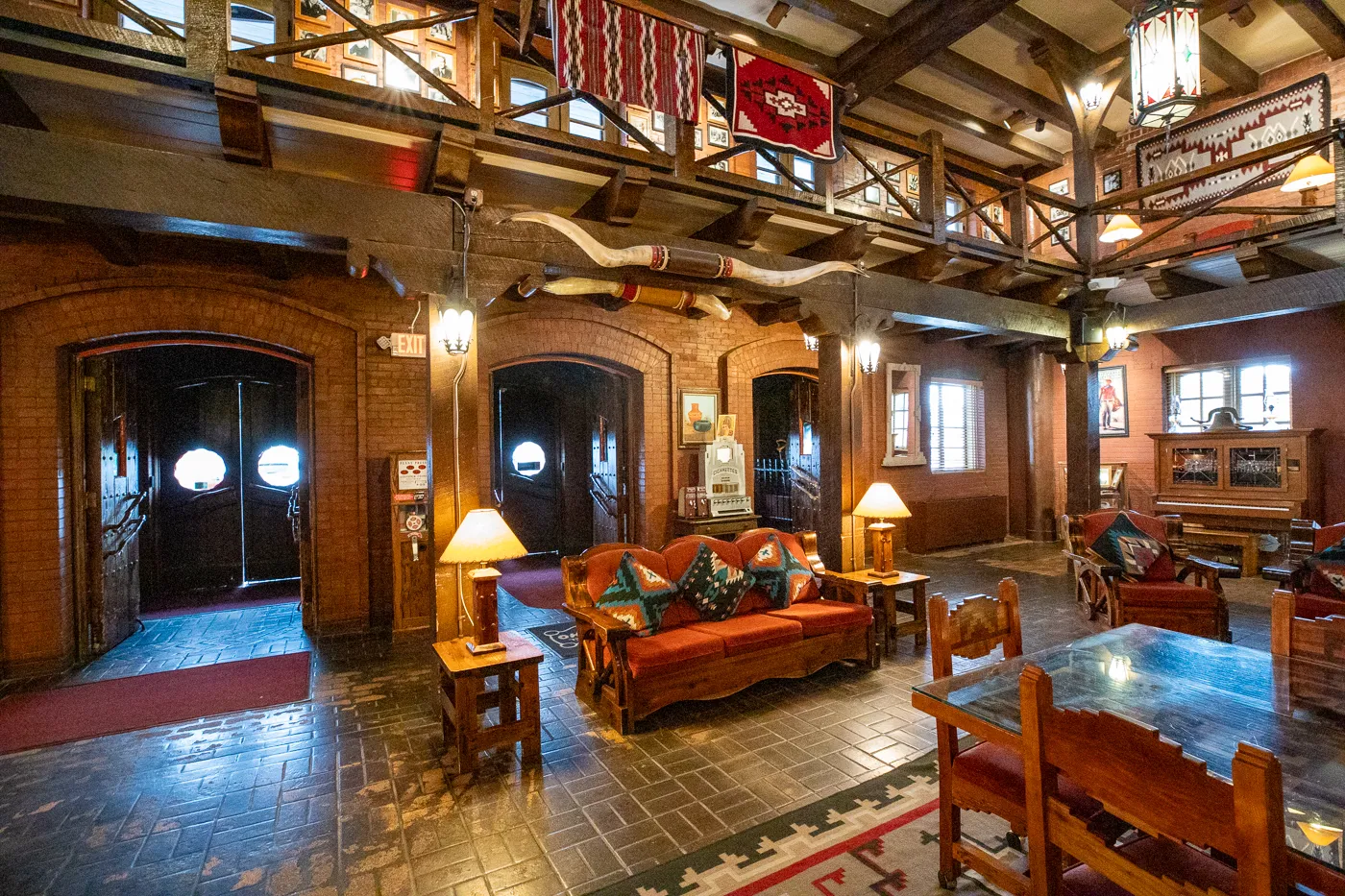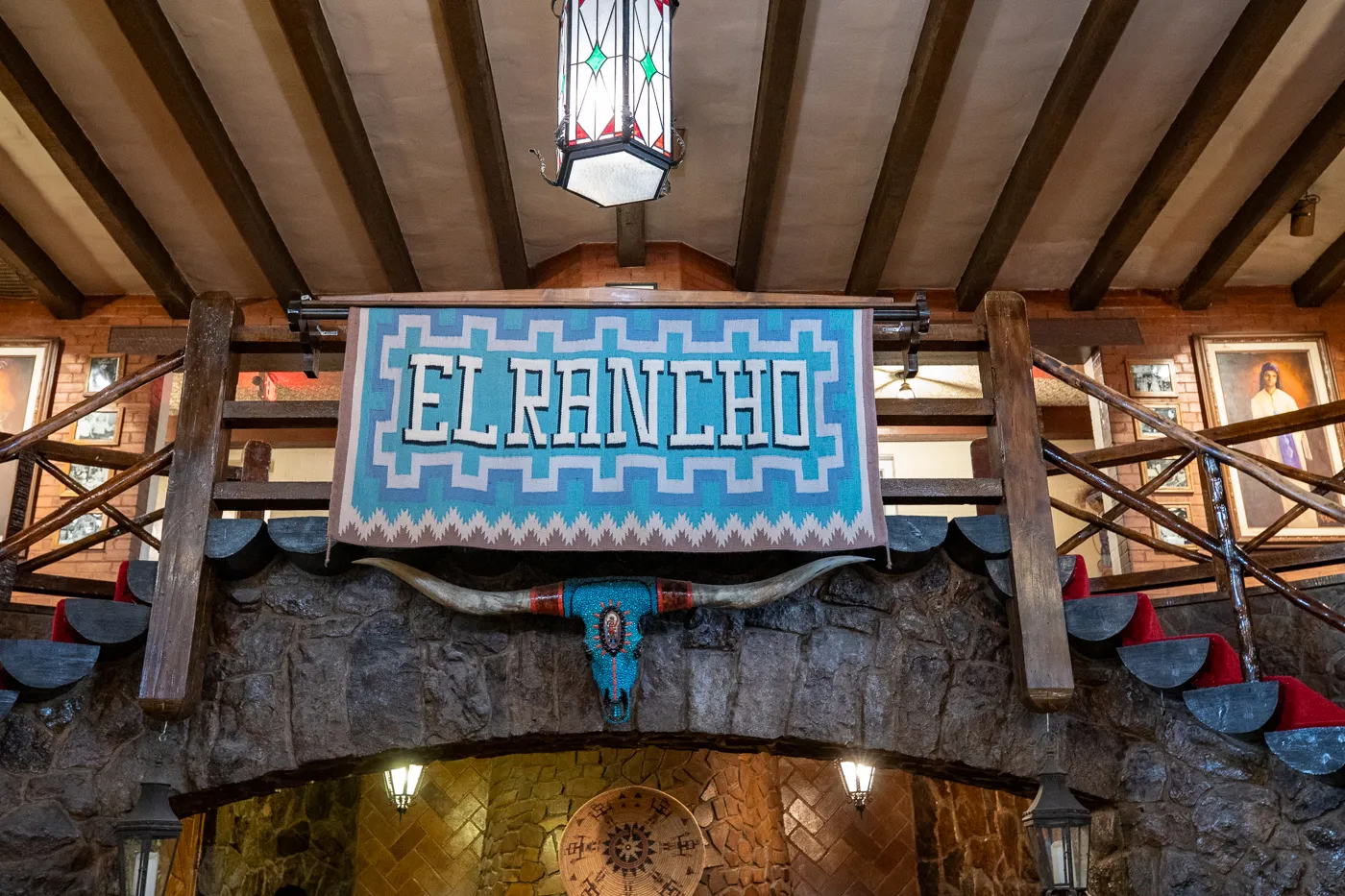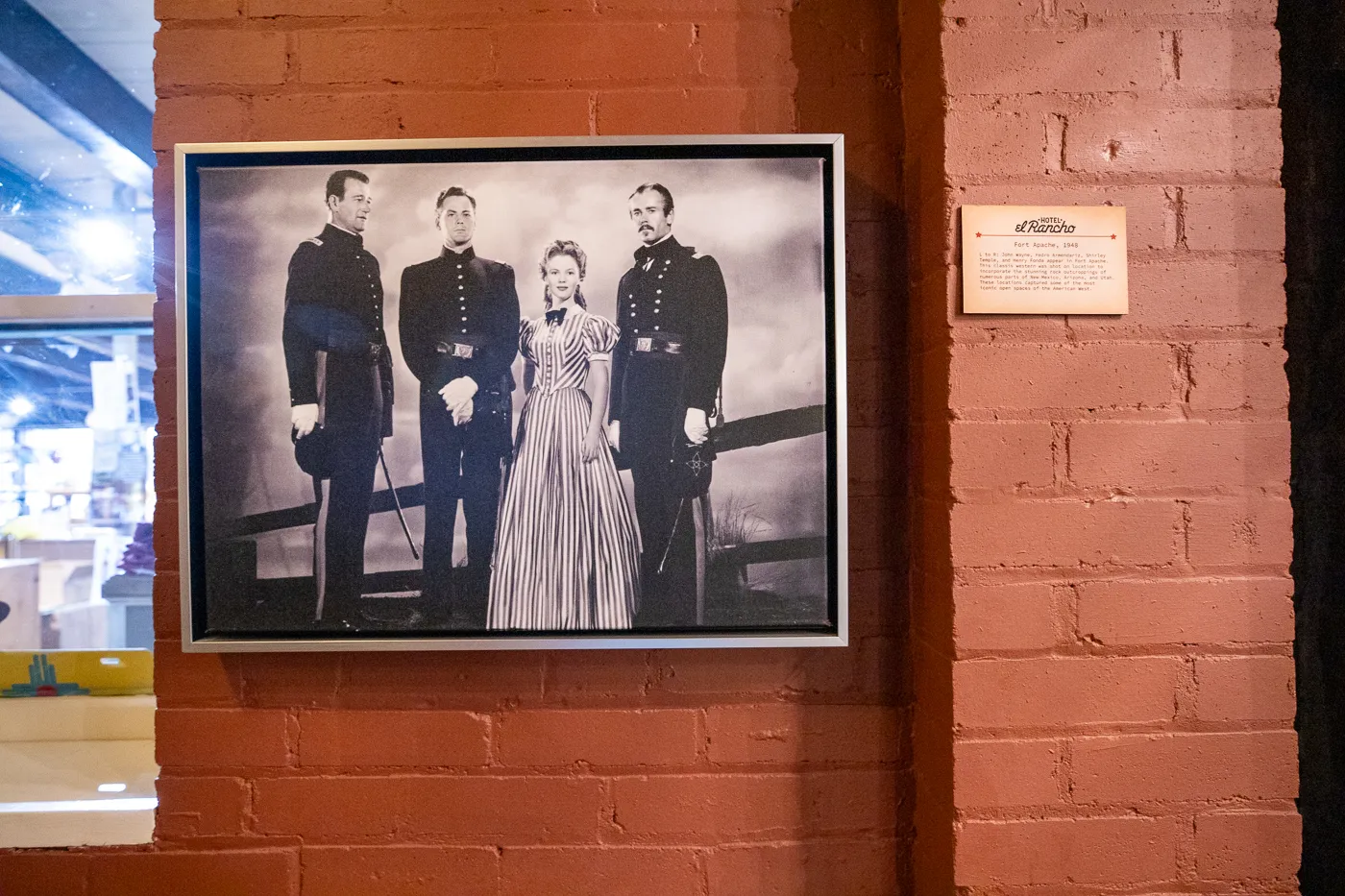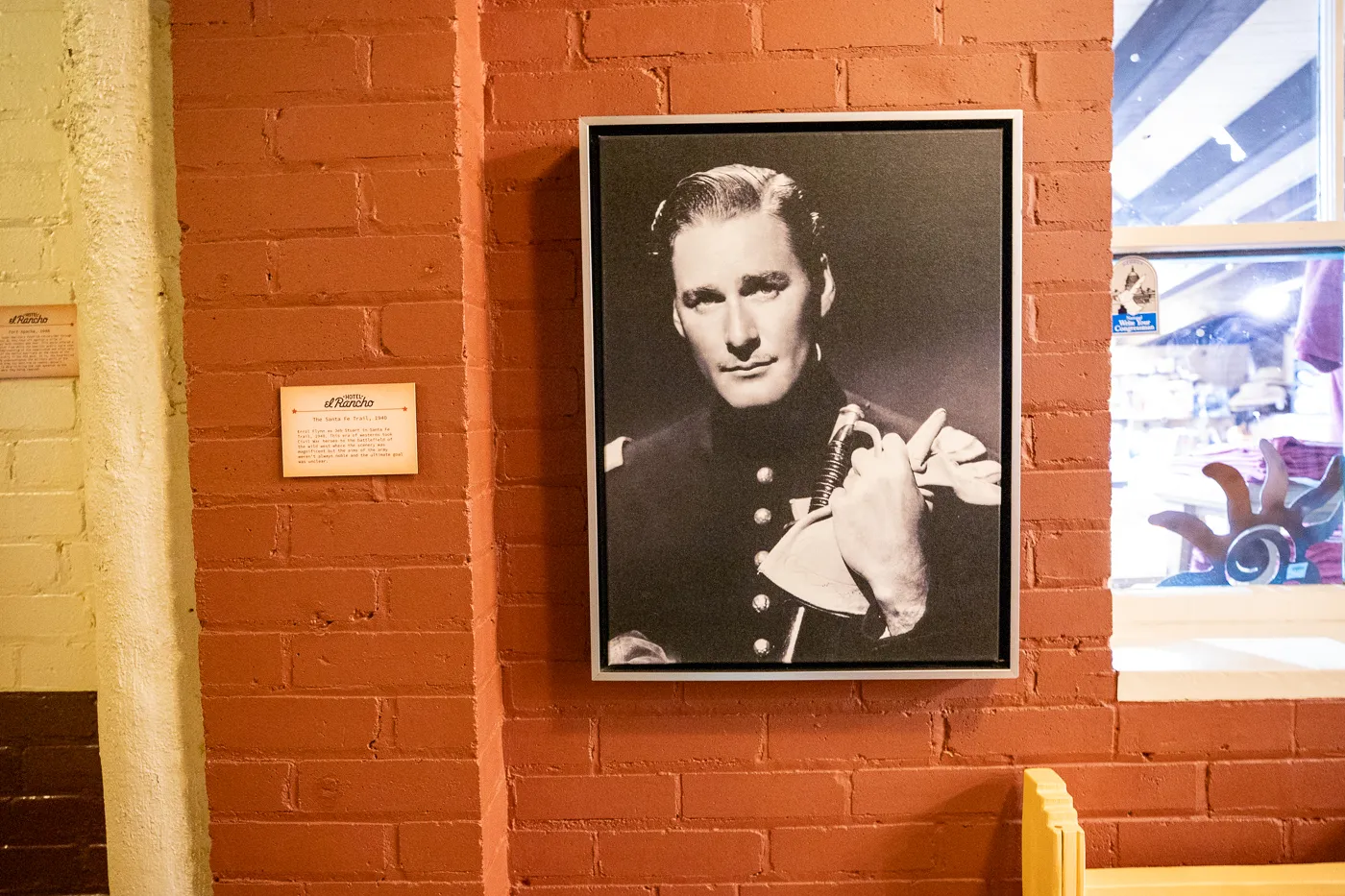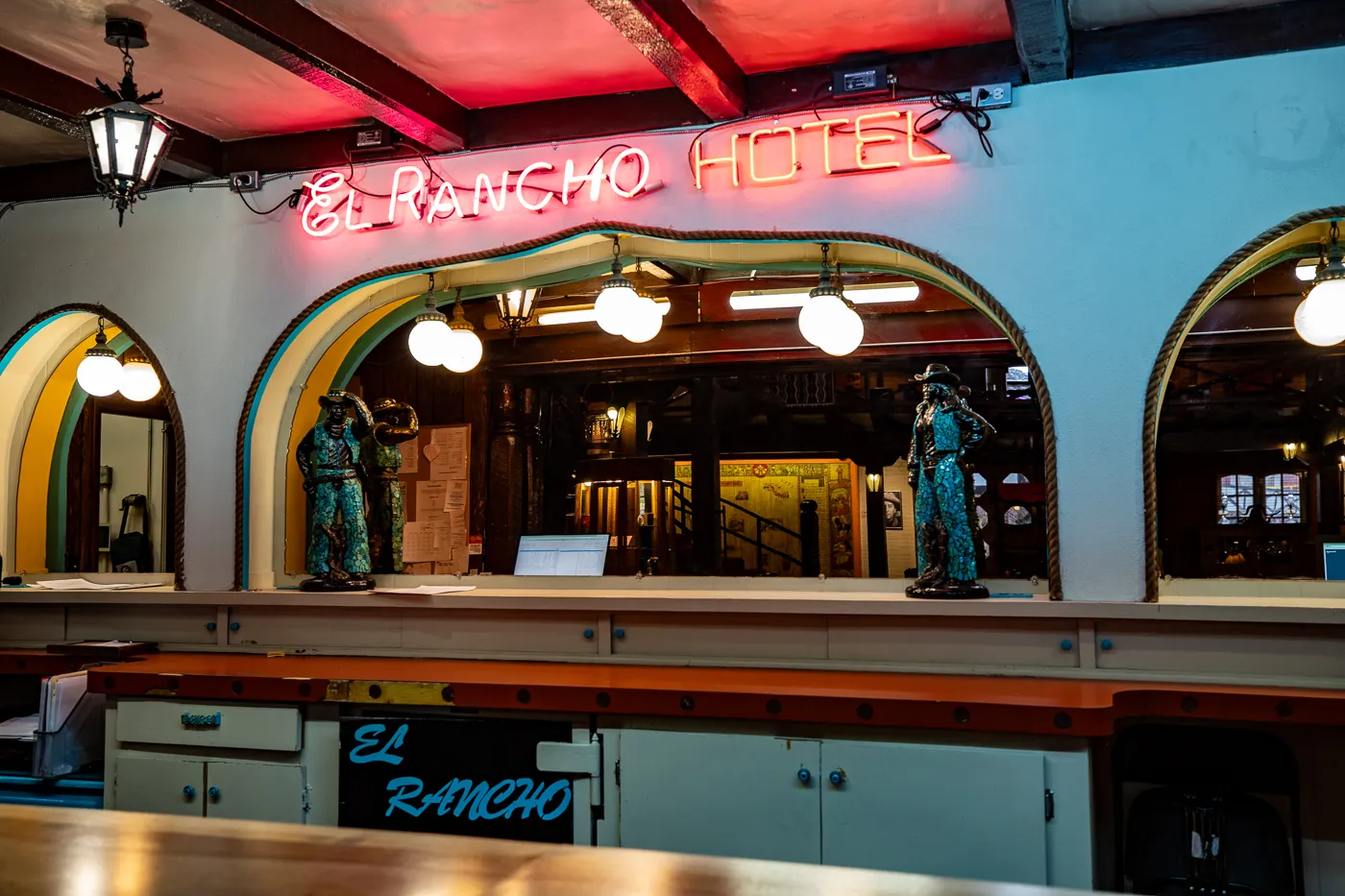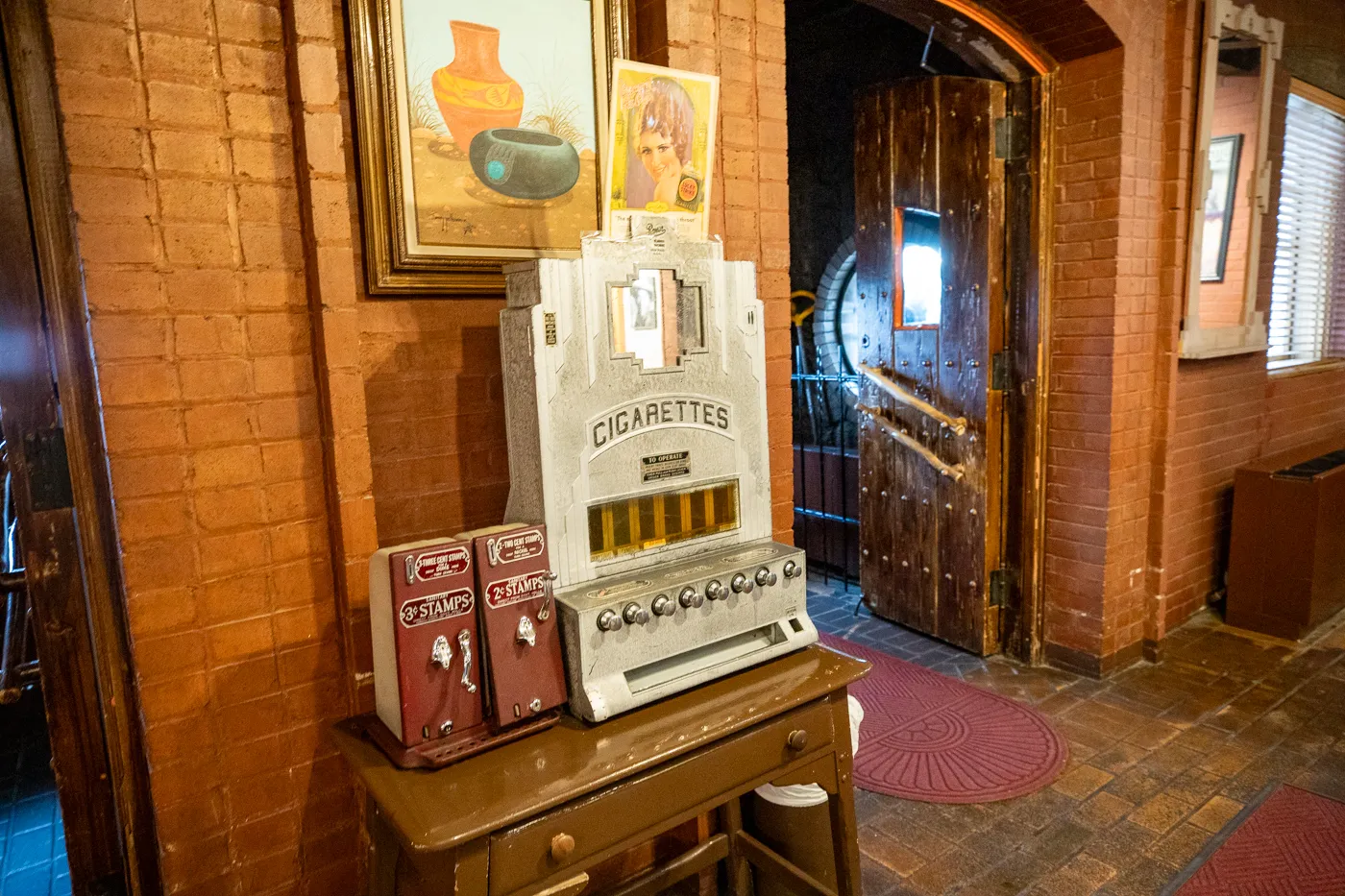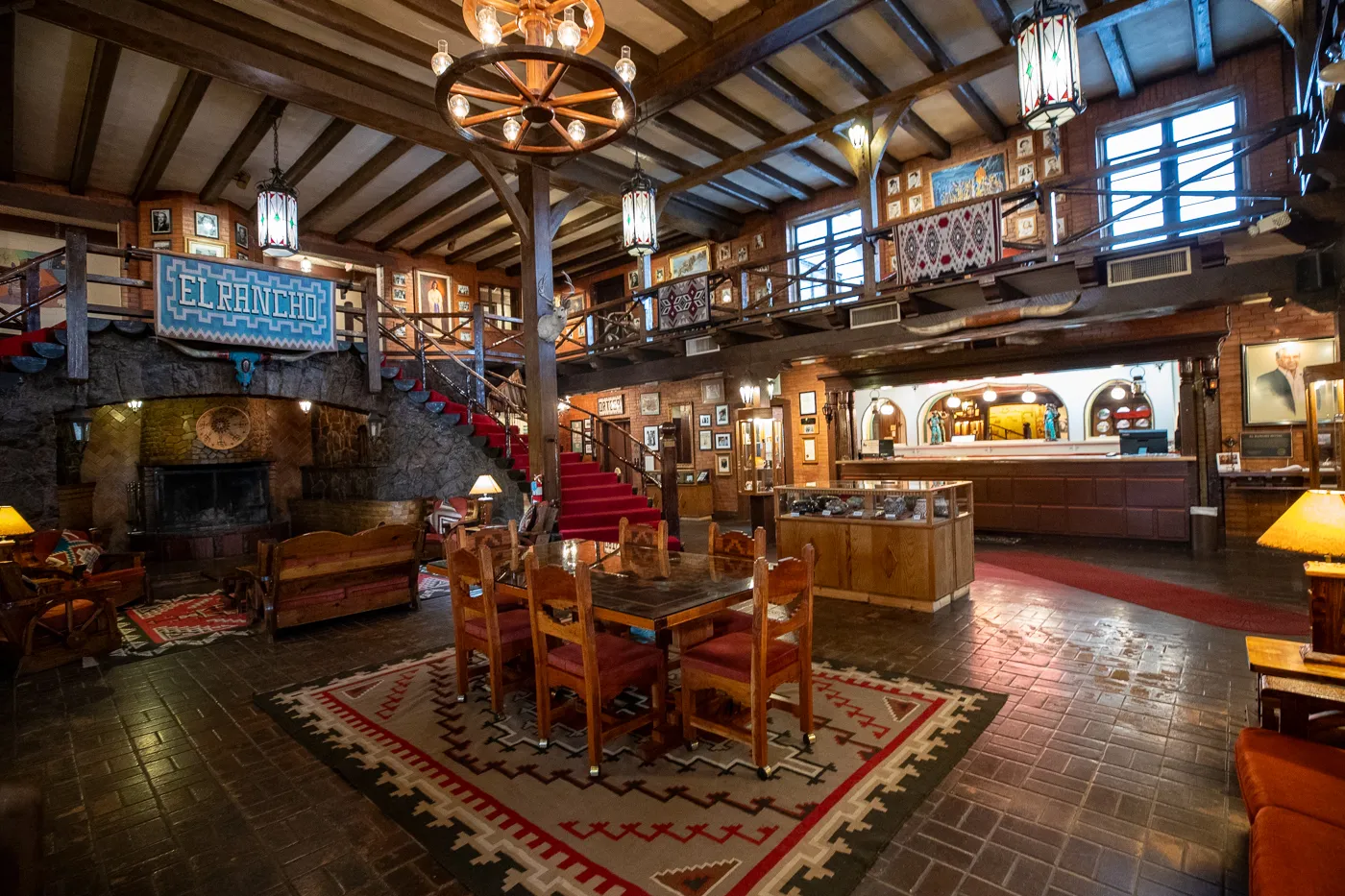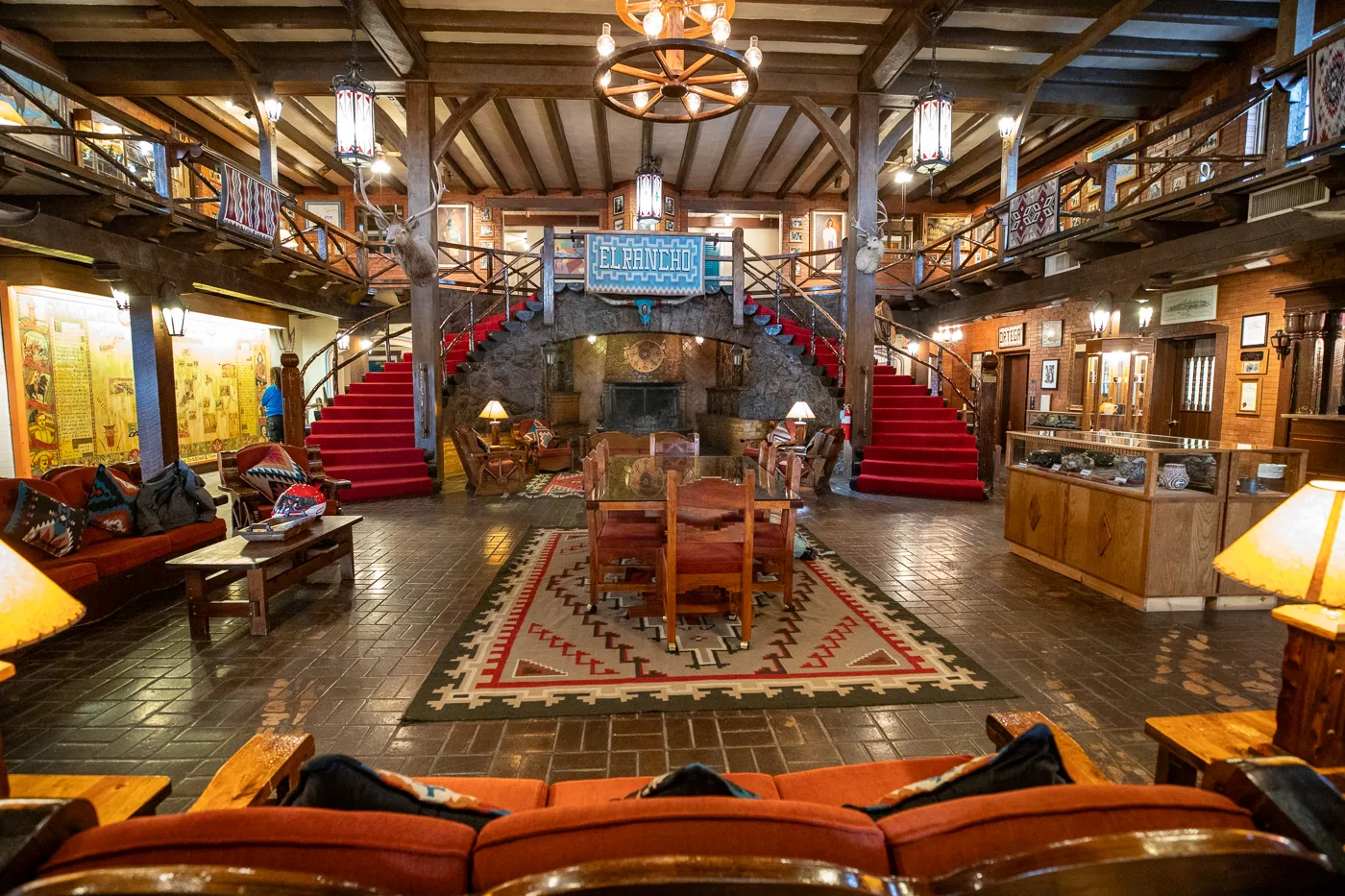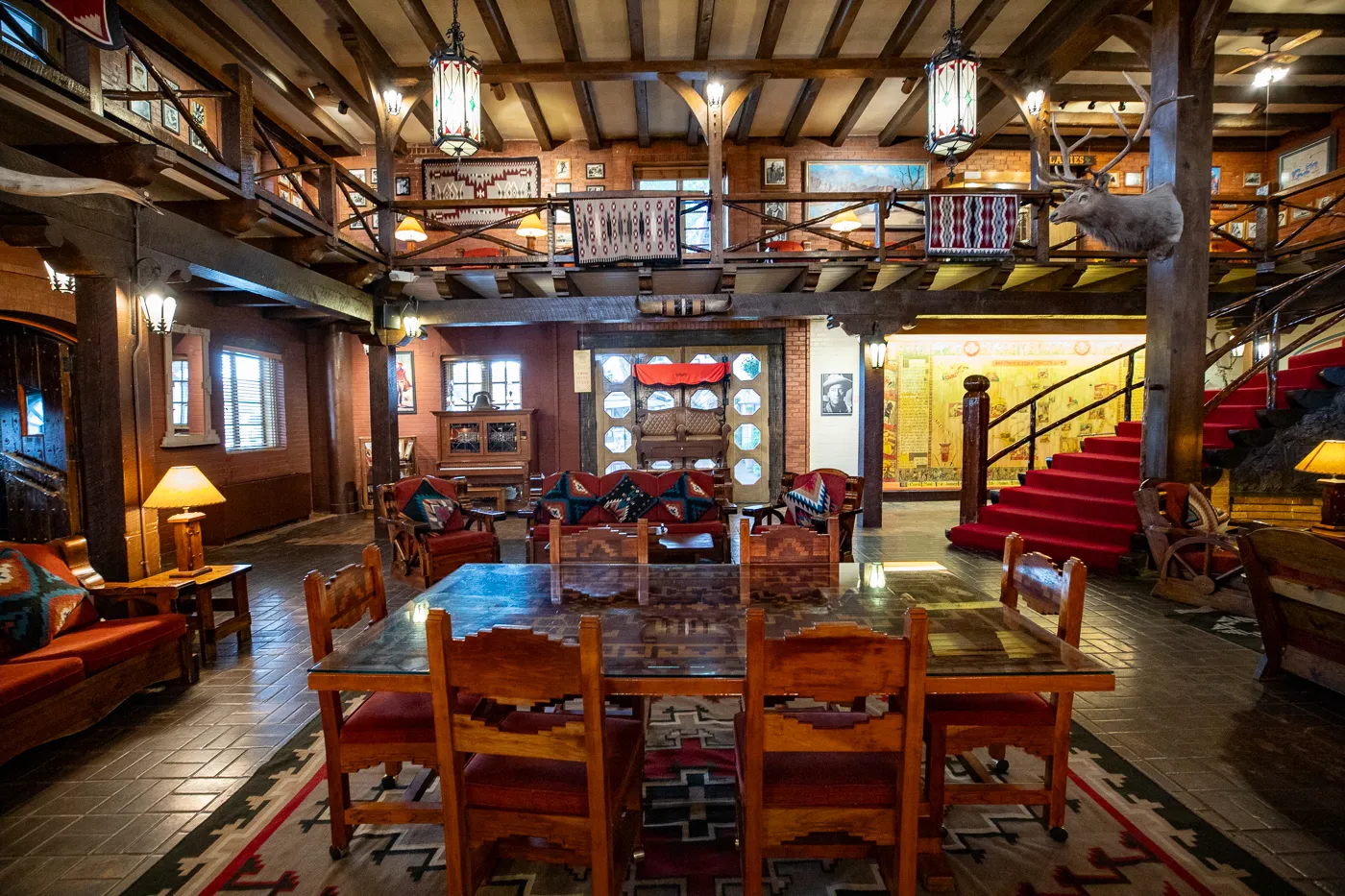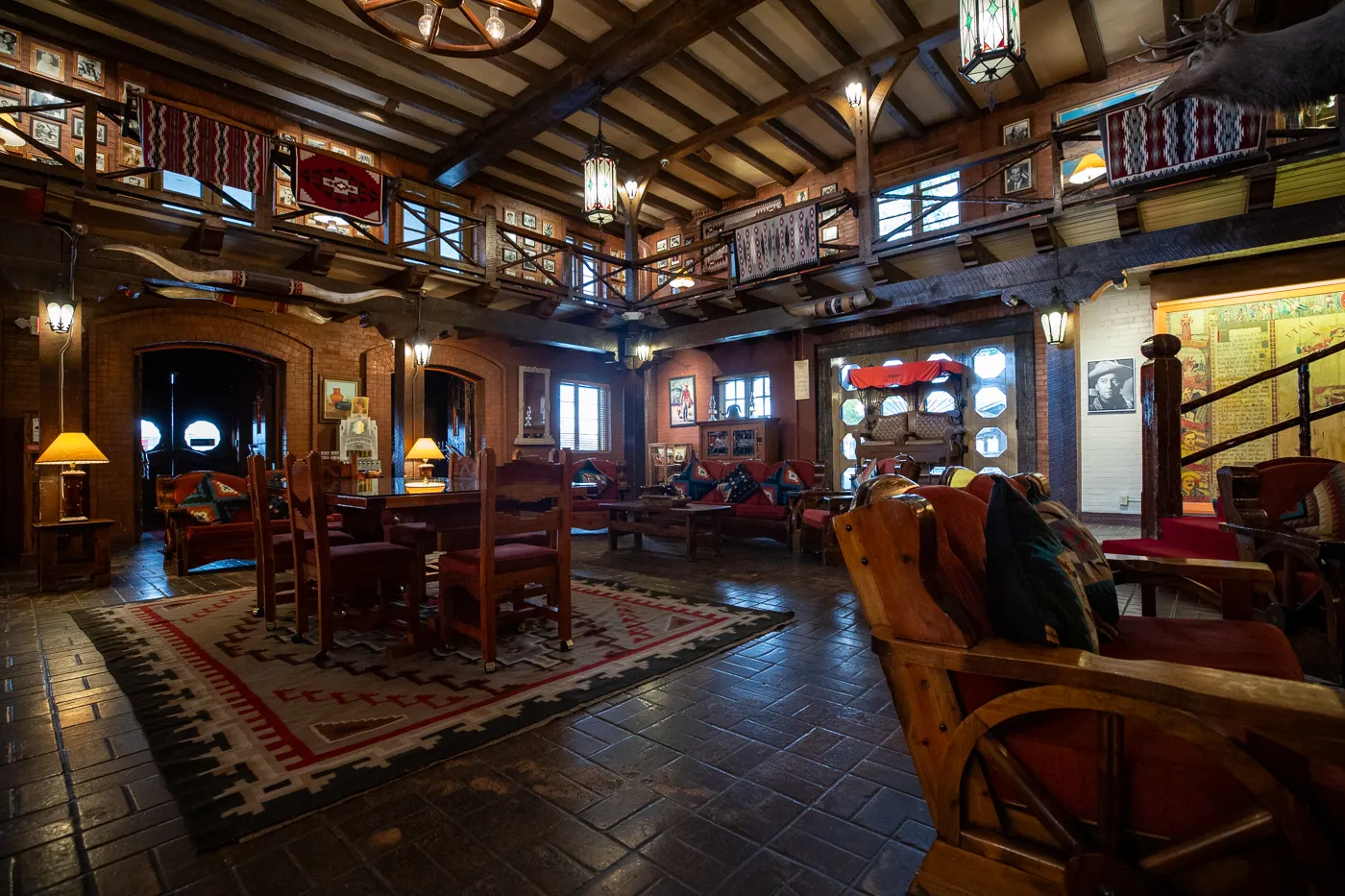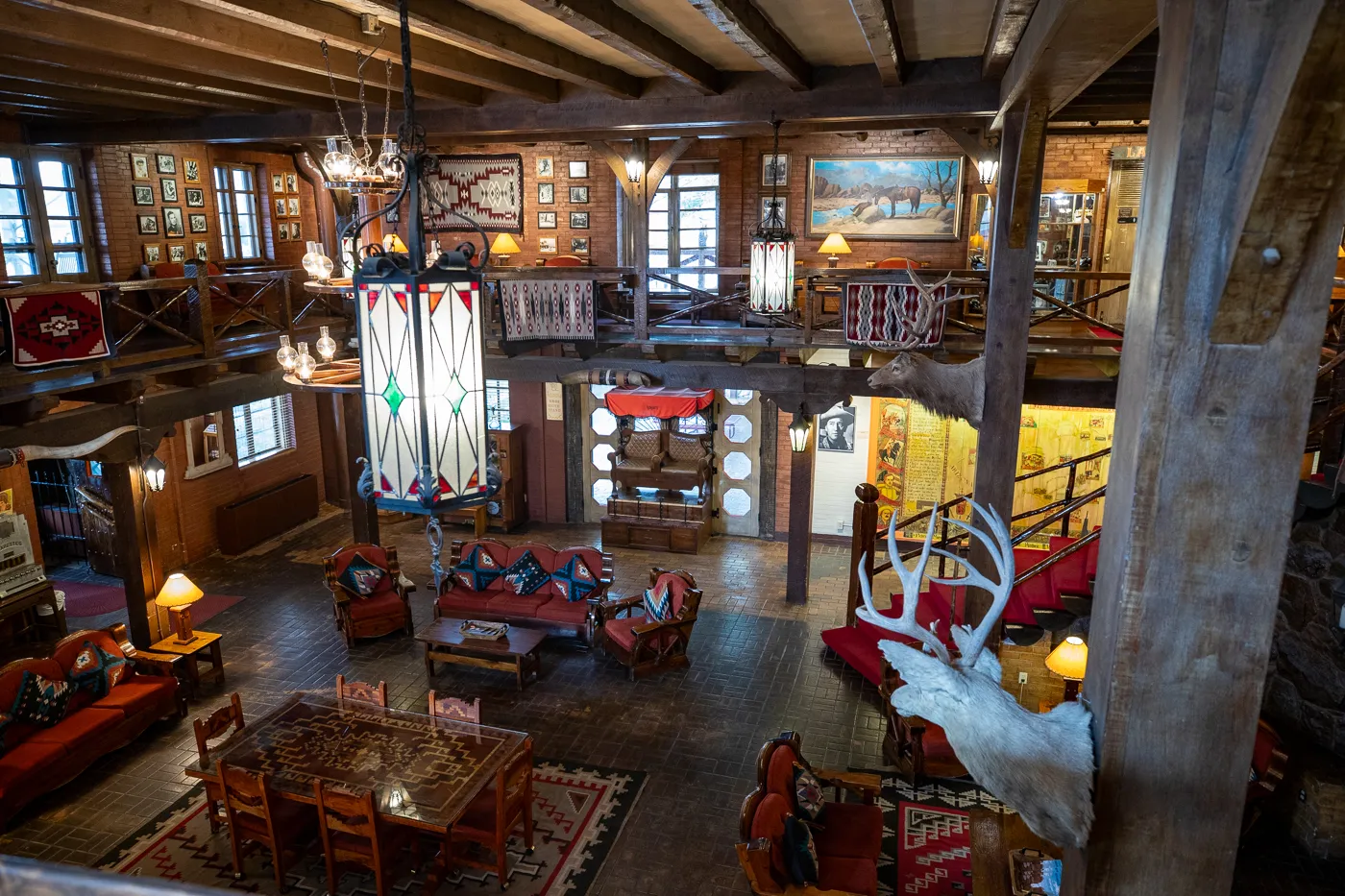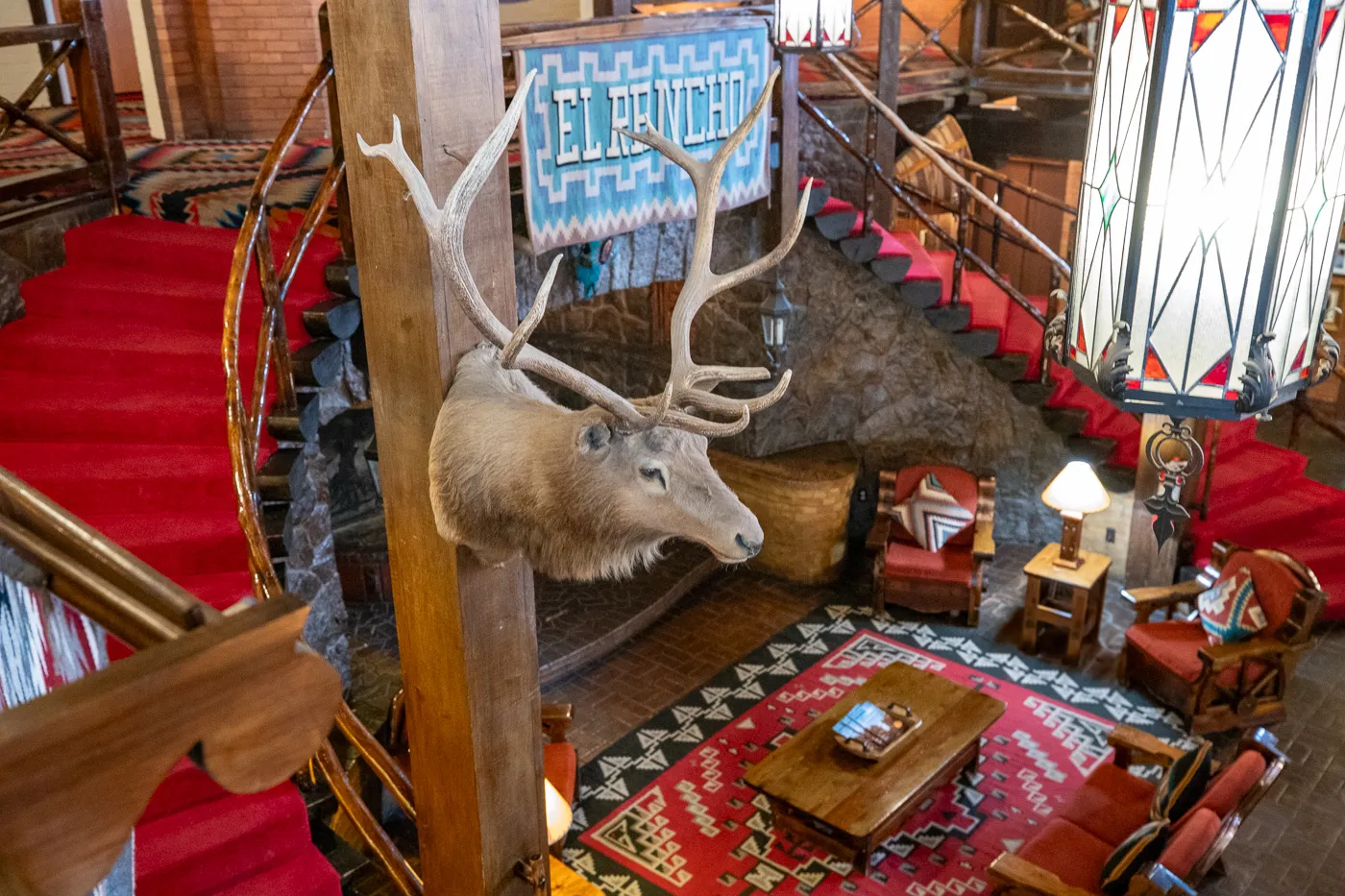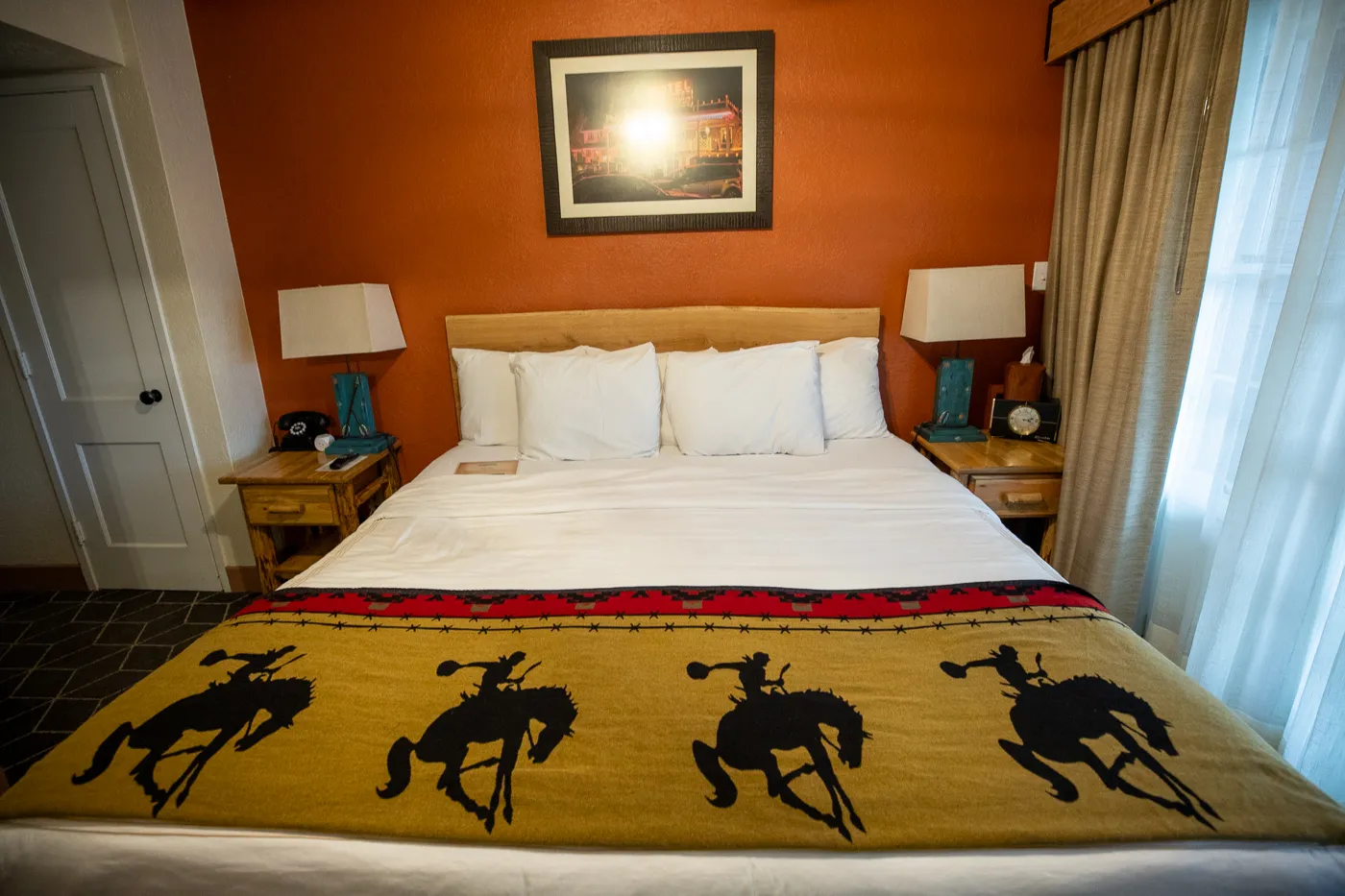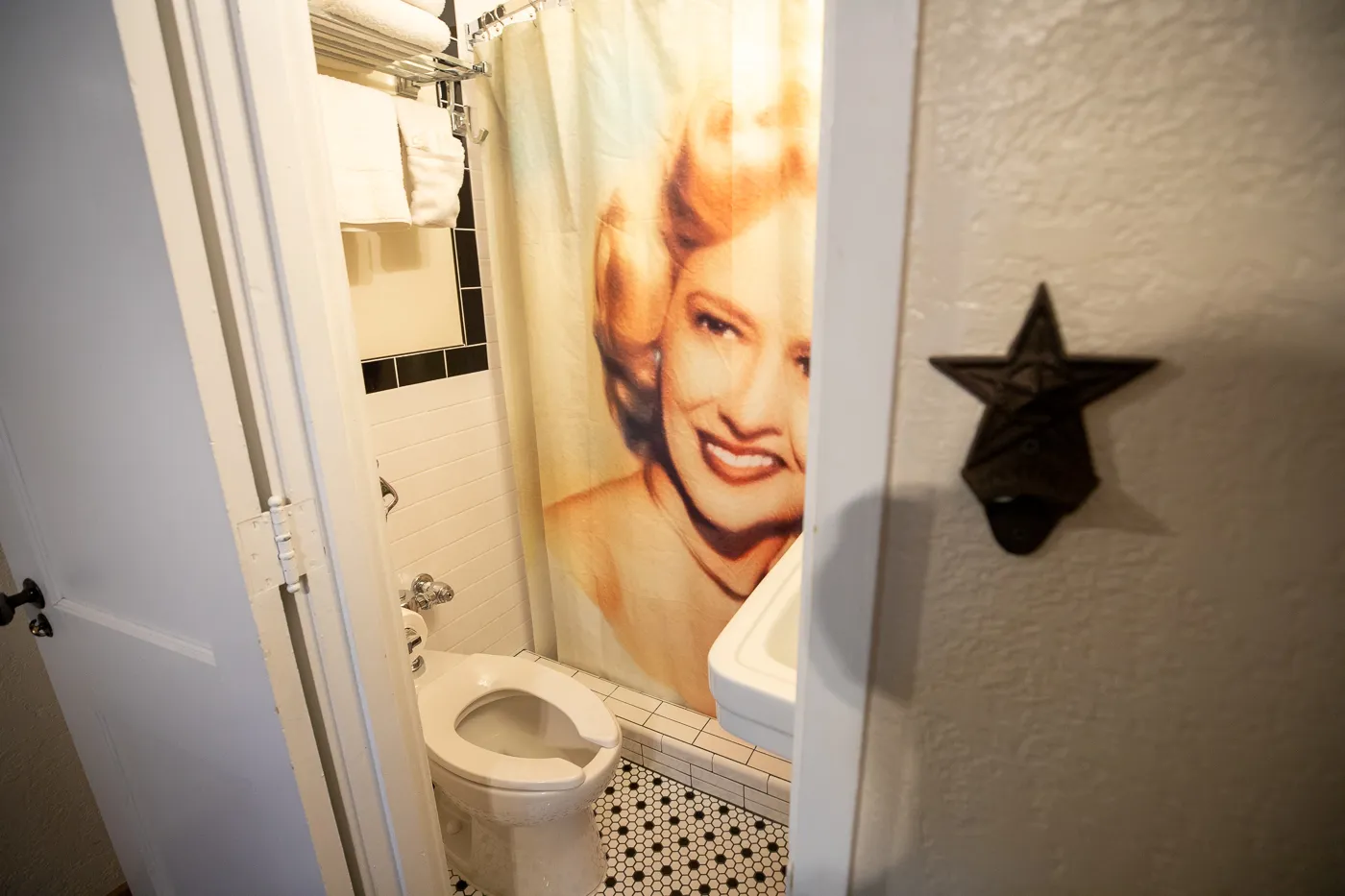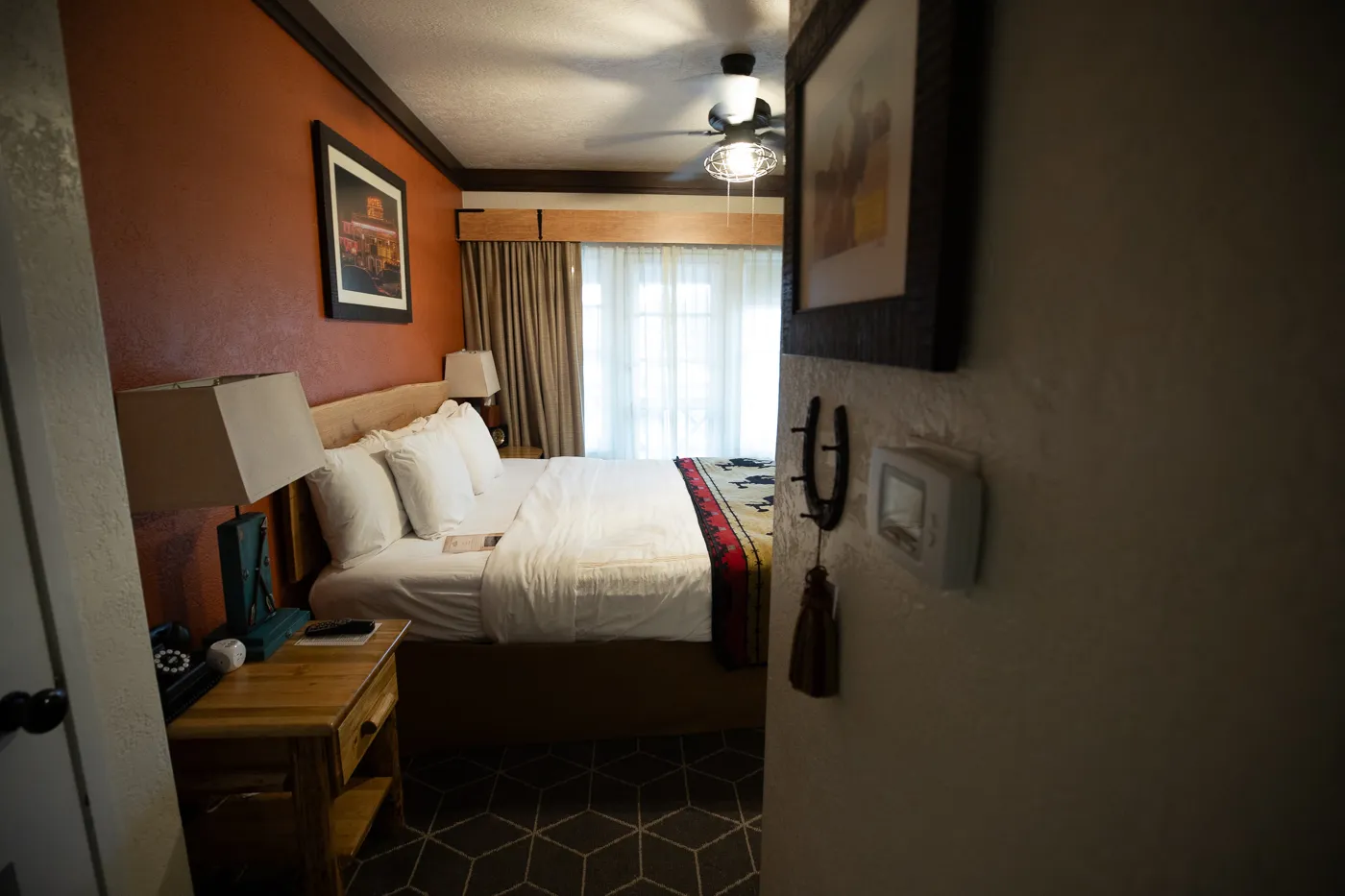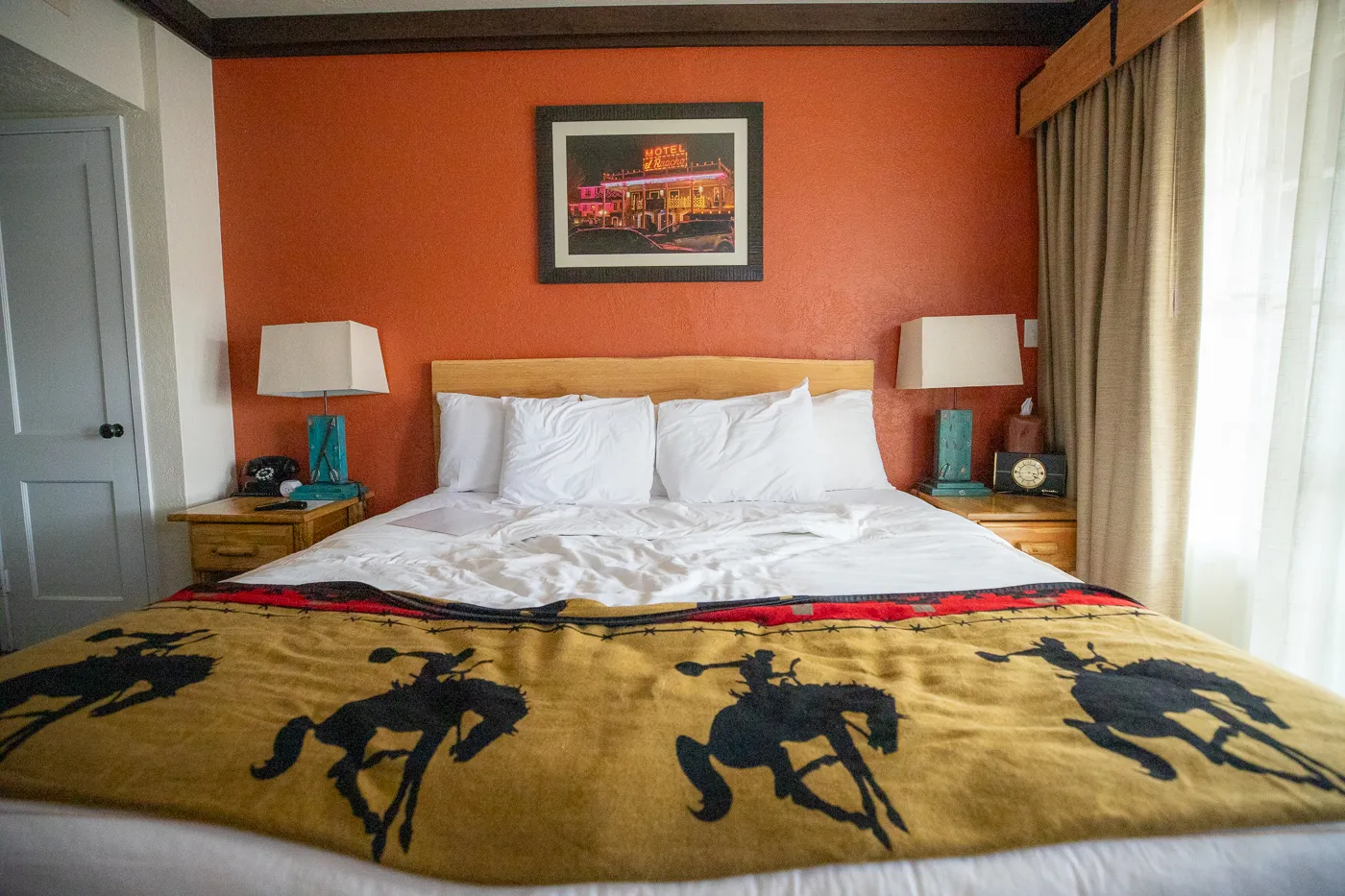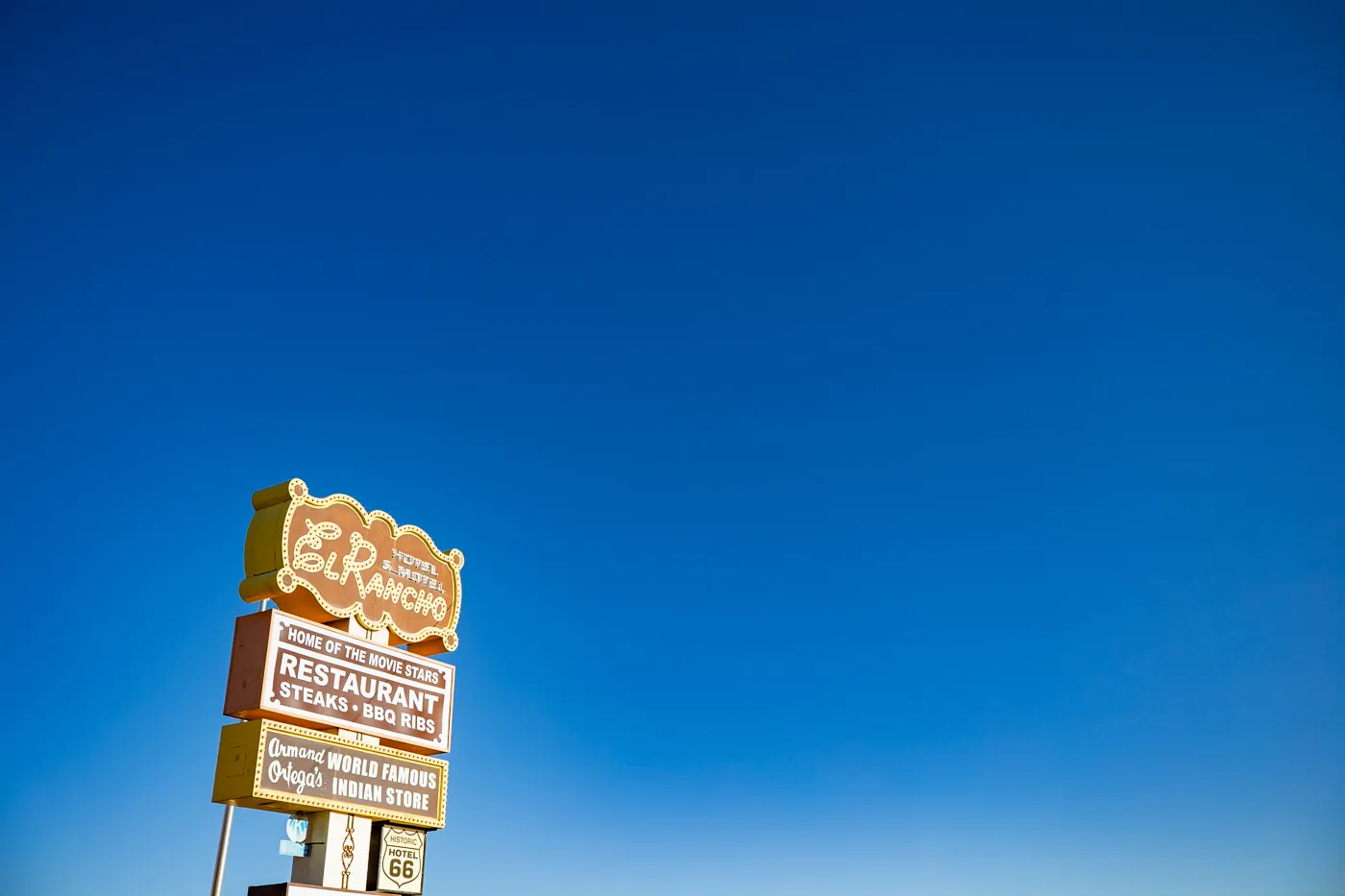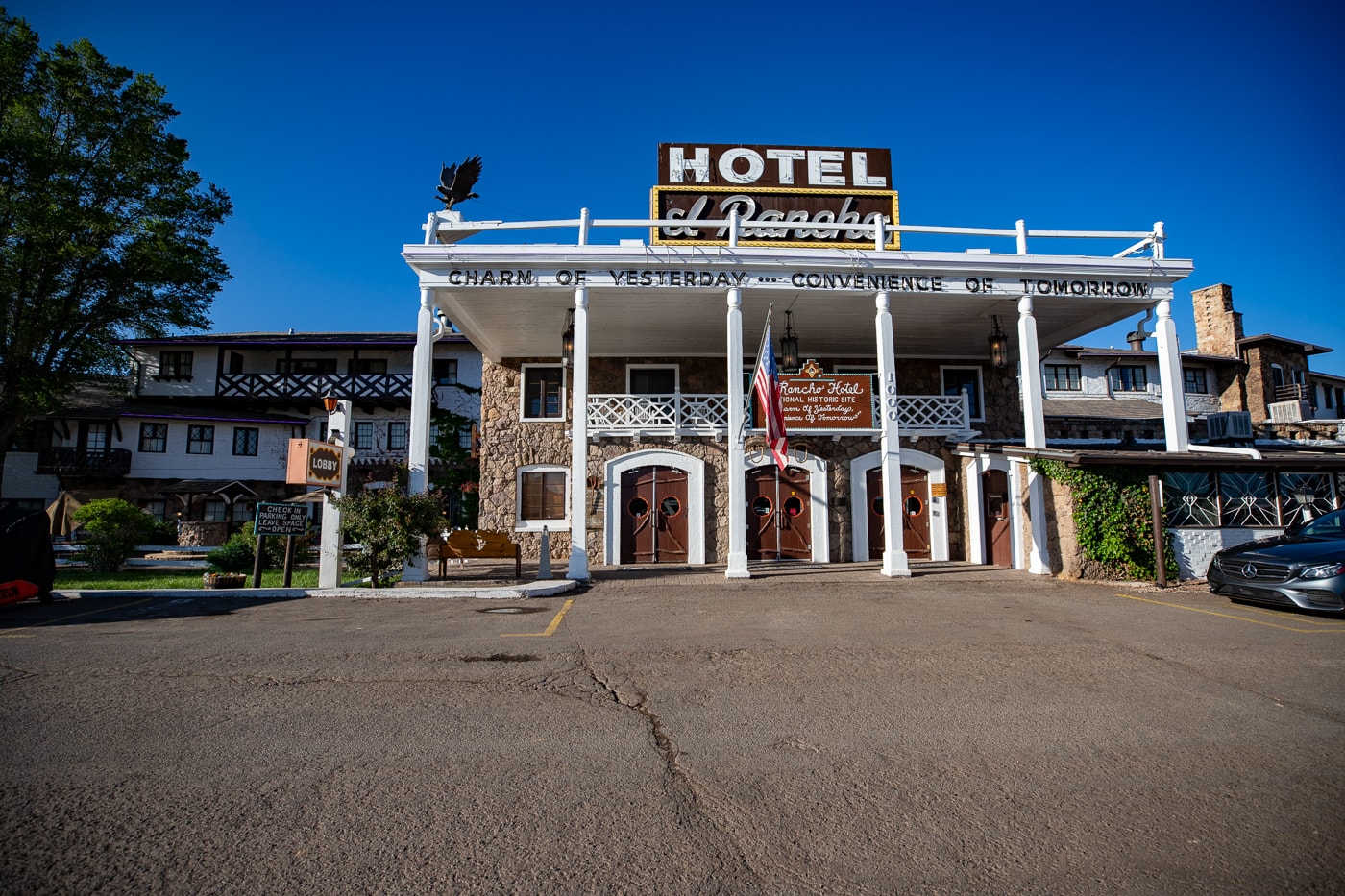 Spending in the night at El Rancho Motel? Here are some of the must-see Gallup, New Mexico attractions to see while in town: the Gallup Cultural Center, Rex Museum, Richardson's Trading Post, the Indian Kachina Statue, and the "Dude Man" muffler man.
Historic El Rancho Hotel
Address: 1000 E Hwy 66, Gallup, NM 87301
Pin this New Mexico Route 66 Hotel to save for your road trip itinerary: