It's Dinosaur Week here at Silly America! We love dinos, especially big green fiberglass ones — yes, dinosaur roadside attractions! Whether they are a life-sized Tyrannosaurus Rex, a homemade Brontosaurus, a real-life dinosaur footprint or fossil, a gas station mascot, or a museum devoted to the giant reptiles, dinosaur roadside attraction abound in the US and beyond!
These tourist attractions are always a site for "saur" eyes! Here are some of our best dinosaur roadside attractions in the US!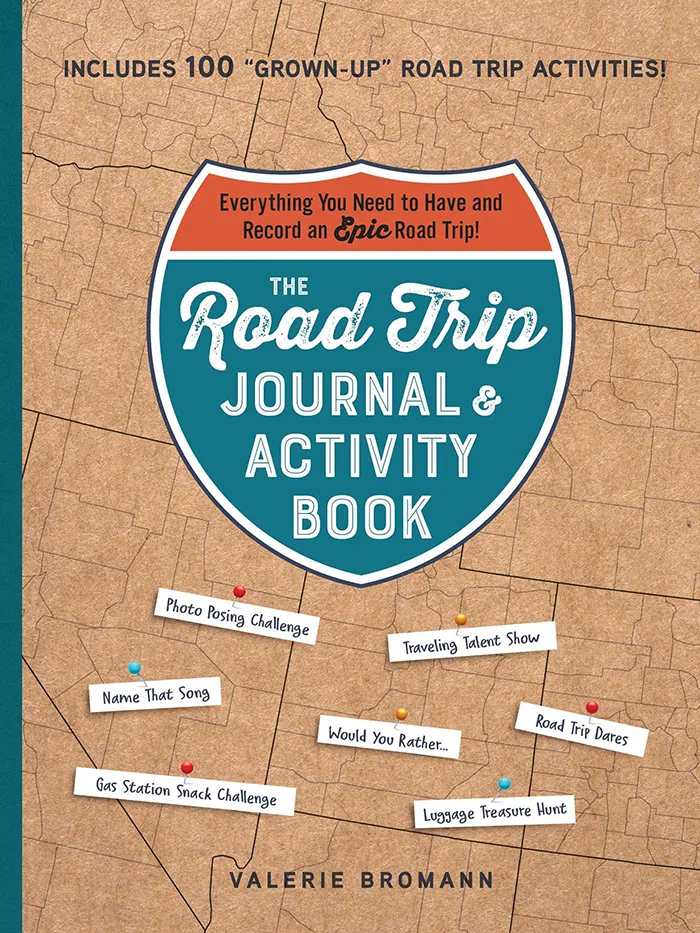 The Road Trip Journal & Activity Book
Everything You Need to Have and Record an Epic Road Trip!
Enjoy fun games and challenges to pass the time on your next road trip and have a keepsake to look back on for years to come with this entertaining must-have for your next vacation.
The Best Dinosaur Roadside Attractions in the US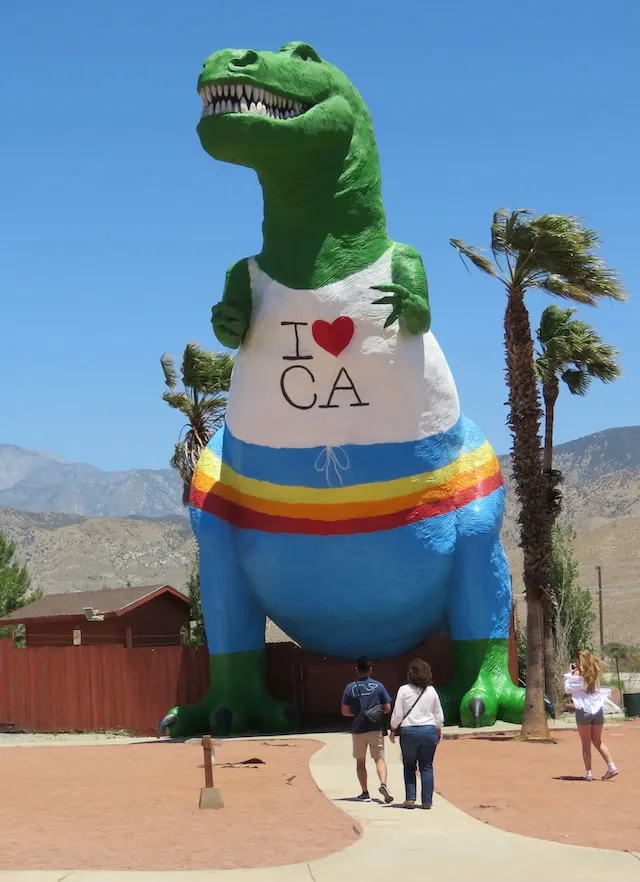 Cabazon Dinosaurs
Cabazon, California
The Cabazon Dinosaurs (formerly Claude Bell's Dinosaurs) feature two giant dinosaurs (a 150-foot-long Brontosaurus and a 65-foot-tall Tyrannosaurus Rex) that are visible from Interstate 10. They were constructed in 1964 to bring in business to the adjacent Wheel Inn. The restaurant has since closed but the giant dinosaurs live on as one of the most popular roadside attractions in California. These big dinos just might be best known for their starring roles in the 1985 film Pee-wee's Big Adventure, so when you stop at the Cabazon Dinosaurs, "tell 'em Large Marge sent ya'!"
Dinosaurs in the Woods
Elberta, Alabama
The work of Mark Cline of Enchanted Castle Studios, these dinosaurs were originally commissioned by billionaire George Barber, along with two other roadside attractions: Bamahenge and Lady in the Bay. Those two along with four of the dinosaurs (a Brontosaurus, a Tyrannosaurus Rex, a Stegosaurus, and a Triceratop) were moved to Barber Marina in 2011.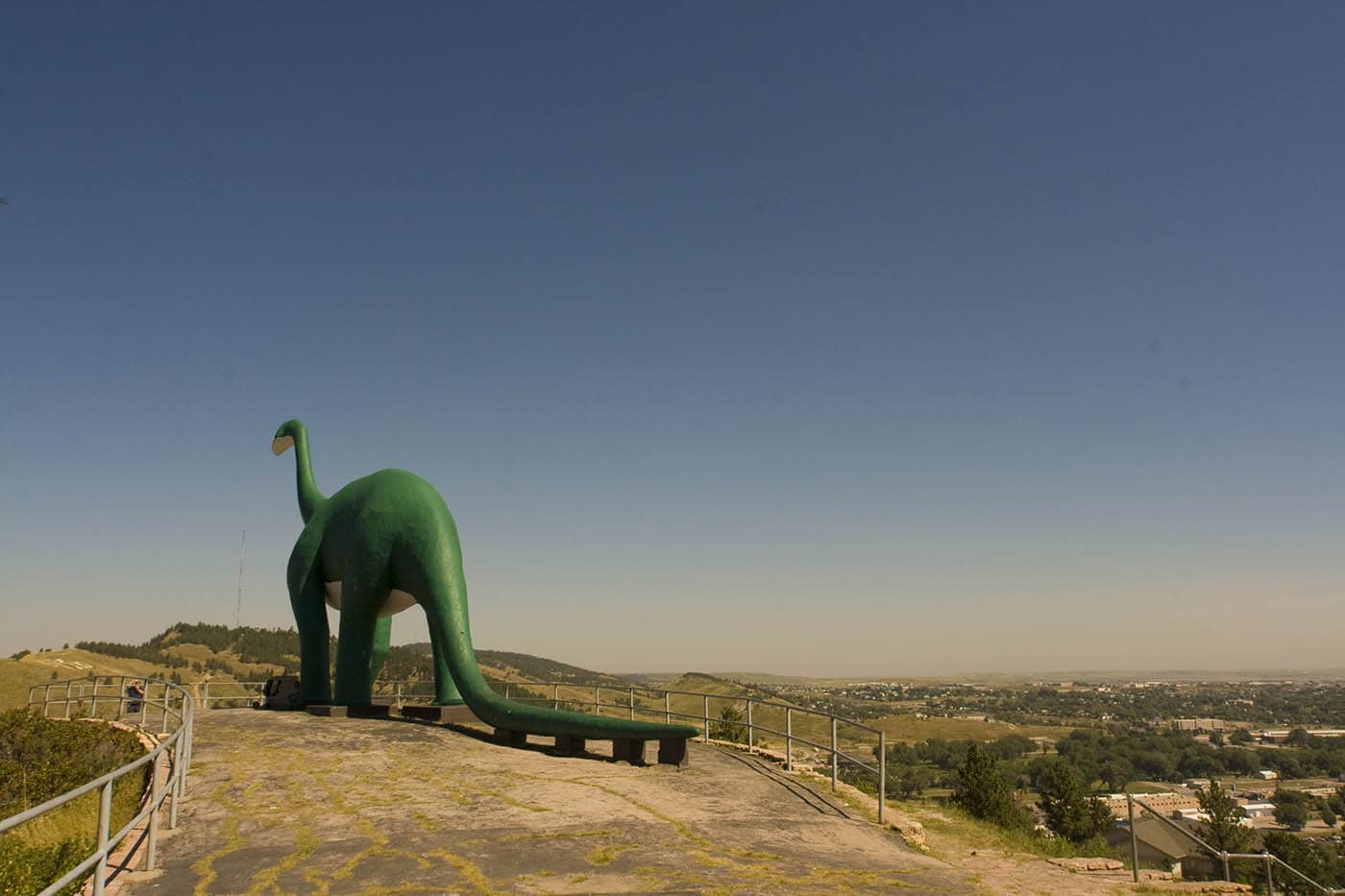 Rapid City Dinosaur Park
Rapid City, South Dakota
The hill-top Rapid City Dinosaur Park is a playground for giant green cartoon-like reptiles. The iron, wire, and concrete-constructed sculptures were designed by Emmet Sullivan and were originally gray in color. In the 1950s they were repainted bright green with white details and not much, besides a little wear and tear from children climbing them, has changed since. Five dinosaurs climb the hill at the South Dakota dinosaur park: a Triceratops, a Stegosaurus, an Apatosaurus (Brontosaurus), a Tyrannosaurus Rex, and an Anatotitan. Two others were added later near the gift shop: a Protoceratops and a Dimetrodon. The Brontosaurus is the largest of the creatures found at the Rapid City SD dinosaur park: at 80-feet long and 28-feet high and stands high above the rest. In fact, it can be seen from anywhere in the town!
Dinah the Pink Dinosaur
Vernal, Utah
Dinah the Pink Dinosaur (also called Dinah the Dinosaur or the Dine-A-Ville Pink Dinosaur) was built in 1958 by George Morrill to advertise his Dine-A-Ville Motel. That business closed in 1999, but the 40-foot-tall, 4,200 pound dino was such a popular icon for Vernal that the town couldn't let it go. The pink dinosaur was moved to a hill on the east side of town to begin its new life as a welcoming figure: she now hold a sign that reads "Vernal—Utah's Dinosaur Land".
Dinosaur Gardens Prehistoric Zoo
Ossineke, Michigan
Dinosaur Gardens Prehistoric Zoo is a 40-acre "zoo" that mixes giant, life-sized dinosaur sculptures with some cavemen and nods to Christ. Opened in the 1930s, not everything here has stood the test of time, but the Jurassic park provides a fun afternoon of dino spotting, guided walking tours, playing mini golf, or treating yourself to some froyo.
The Dinosaur Place at Nature's Art
Oakdale, Connecticut
Visit The Dinosaur Place at Nature's Art and find more than 40 life-sized dinosaurs among a 60-acre outdoor theme park.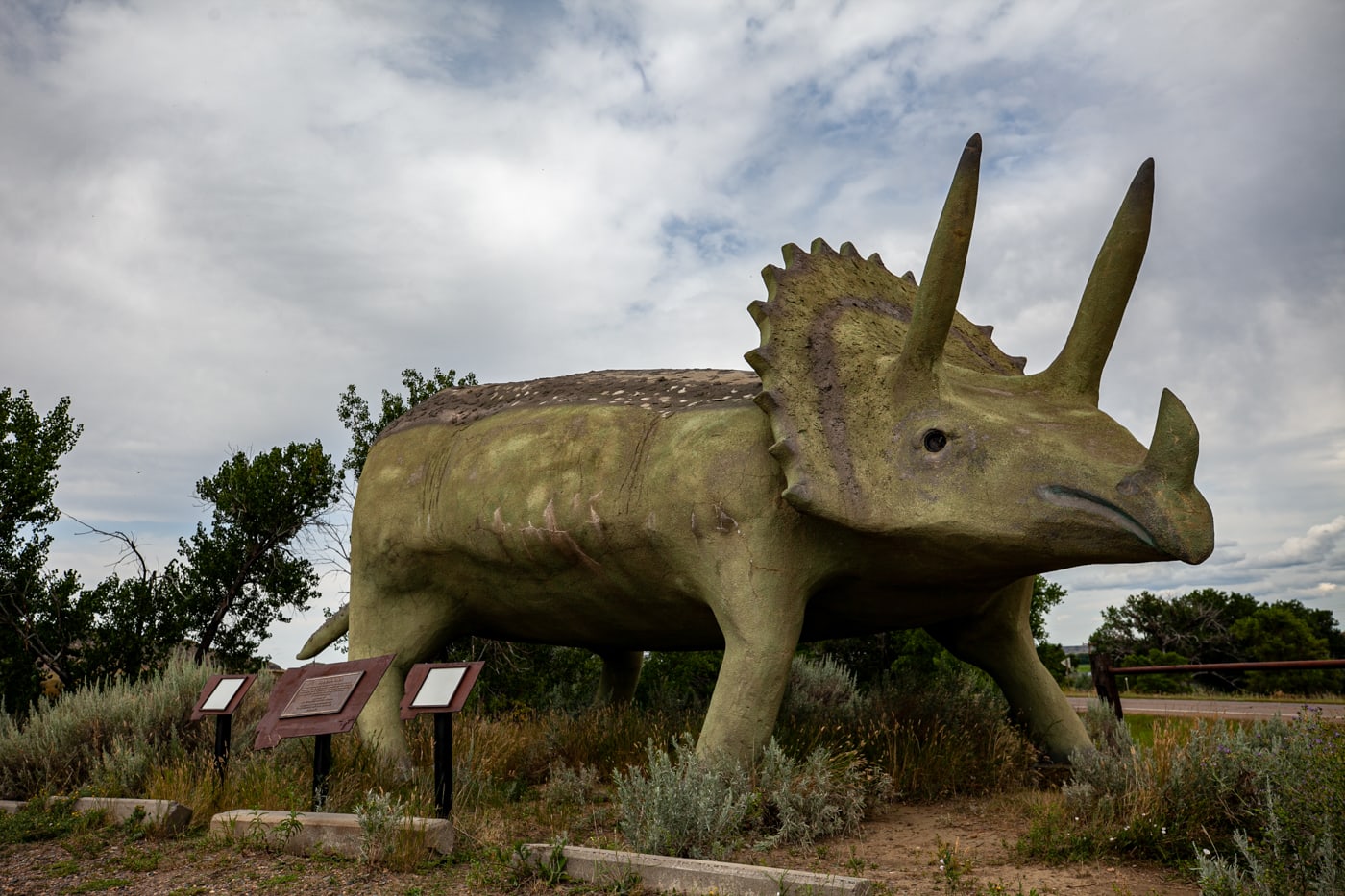 Glendisaurus Triceratops Dinosaur Statue
Glendive, Montana
While dinosaurs lived millions of years ago, you never know when a new one might be discovered. In the 1990s a new dino was spotted in Glendive, Montana: Glendisaurus. The Glendisaurus dinosaur statue is a based on a Triceratops and named for the town it resides in. The big green dinosaur roadside attraction is made of metal and is actually a life-sized representation, standing at around 10 feet tall.
Dinosaur Gas Station
Spring Hill, Florida
Spring Hill's Dinosaur Gas Station was originally a Sinclair gas station in 1964. Known for their dino mascot this fuel stop was built in the shape of a giant dinosaur! The mimetic building is made in the shape of the signature Apatosaurus and stands at 47 feet tall, 30 feet wide, and 110 feet long. In 1977 the business was bought by Harold Hurst and Harold's Auto Center has made it its home ever since.
Spring Hill Pink Dinosaur
Spring Hill, Florida
The Spring Hill Dinosaur (AKA the Foxbower Dinosaur AKA the Pepto-Bismol Pink Dinosaur) is a 22-foot-tall, 58-foot long, cartoonish concrete apatosaurus/stegosaurus hybrid. The giant pink dinosaur was constructed in 1962 by taxidermist Jacob Foxbower for his family's Foxbower Wildlife Museum (later, Dinosaur Wildlife). The business closed in 1998, but the dino lives on as a popular local roadside attraction in Florida.
Prehistoric Gardens
Port Orford, Oregon
Visit this dinosaur park and take a trip back in time. Walk the paths to see 23 prehistoric creatures made from metal, mesh, and concrete. From familiar creatures like the Tyrannosaurus Rex to lesser knowns like the Ichthyosaur, this Jurassic park is worth the detour.
Bud the Bayville Dinosaur
Bayville, New Jersey
Since 1935 a brontosaurus has served as a local landmark on Route 9 in Bayville. Bud the Bayville Dinosaur is a fixture in town and has seen many paint jobs (including one in a light purple with white and red hand prints all over) over the years. His head was recently torn off by a passing truck but he has been fully restored, painted a more realistic dino-color and is back to being a Jurassic roadside attraction.
Wells Dinosaur Haven
Uncasville, Connecticut
Visit Jurassic Park in a Connecticut backyard. Wells Dinosaur Haven features giant dinosaur statues that have been designed and created by Jeff "Fish" Wells since 1981. He was inspired to create these handmade, life-size, creatures by visiting other dinosaur parks. The Tyrannosaurus rex and friends live on his property, but visitors are welcome to come and explore, (just call ahead).
Cimmy The Dinosaur
Boise City, Oklahoma
Cimmy The Dinosaur is a local legend. The 65-foot by 35-foot metal brontosaurus was made to represent a dino that was extracted from the county in the 1930s, he was named "Cimarronasaurus," a name that was eventually shortened to "Cimmy."
Dinosaur Town With Volcano
Granger, Washington
In the 1990s the town of Granger put up their first dinosaur statue and now over 30 cement dinos roam the parks. Why? Because everyone loves dinosaurs, that's why! You can stop on a Washington road trip to find all the dinosaurs in Hisey Park, outside the espresso huts, and around. Also look for the now closed public toilets that were encased in a volcano!
Dinosaur Land
White Post, Virginia
For over 50 years Dinosaur Land in White Post has been entertaining guests with its collection odd dinosaur reproductions. Opened by Joseph Geraci in the 1960s, today the park features more than 50 dino statues that have been created through the years. You'll find a velociraptor, spinosaurus, and a giganotosaurus among the giants in this Jurassic park. Many of the creations have been remade over the years so you can see the evolution of artistic styles in the four Tyrannosaurus Rexes on the property. Mixed in among the dinos at Dinosaur Land are some more other creatures, like a giant purple octopus, a cave man, and King Kong.
Dinosaur Kingdom II
Natural Bridge, Virginia
Dinosaur Kingdom II is not your usual Jurassic roadside park. Step inside and you'll enter a fictional alternate reality of the Civil War in which the Yankee army is defeated by Dinosaurs. Built by Artist Mark Cline (the Virginia artist who has had several pieces pop up on this list of the best Virginia roadside attractions), here you will find dinos attacking Union soldiers, a mad scientist, a variety of monsters, and a statue of general Stonewall Jackson outfitted with a 15-foot-long robotic arm.
Rainbow Rock Shop Dinosaurs
Holbrook, Arizona
Dinosaur roadside attractions abound across Arizona, and especially in Holbrook. But the place to see them is at Rainbow Rock Shop. The shop's owner Adam Luna built 11 dinos out of cement and each is better than the last. Stop here to get your dino fix with these sculptures, a mural, and some bones, and pick up a few rocks while you're there.
Stewart's Petrified Wood
Holbrook, Arizona
Petrified wood (fossilized remains of terrestrial vegetation) abounds in Arizona, so if you want to make your petrified wood shop stand out, you have to do something different. At Stewart's Petrified Wood you'll find some kooky handmade dinosaur creations. Some are animated, others crush bloody mannequins in their jaws, and others are decorated with blinking Christmas lights. It's worth a stop to check them out on a road trip through Arizona.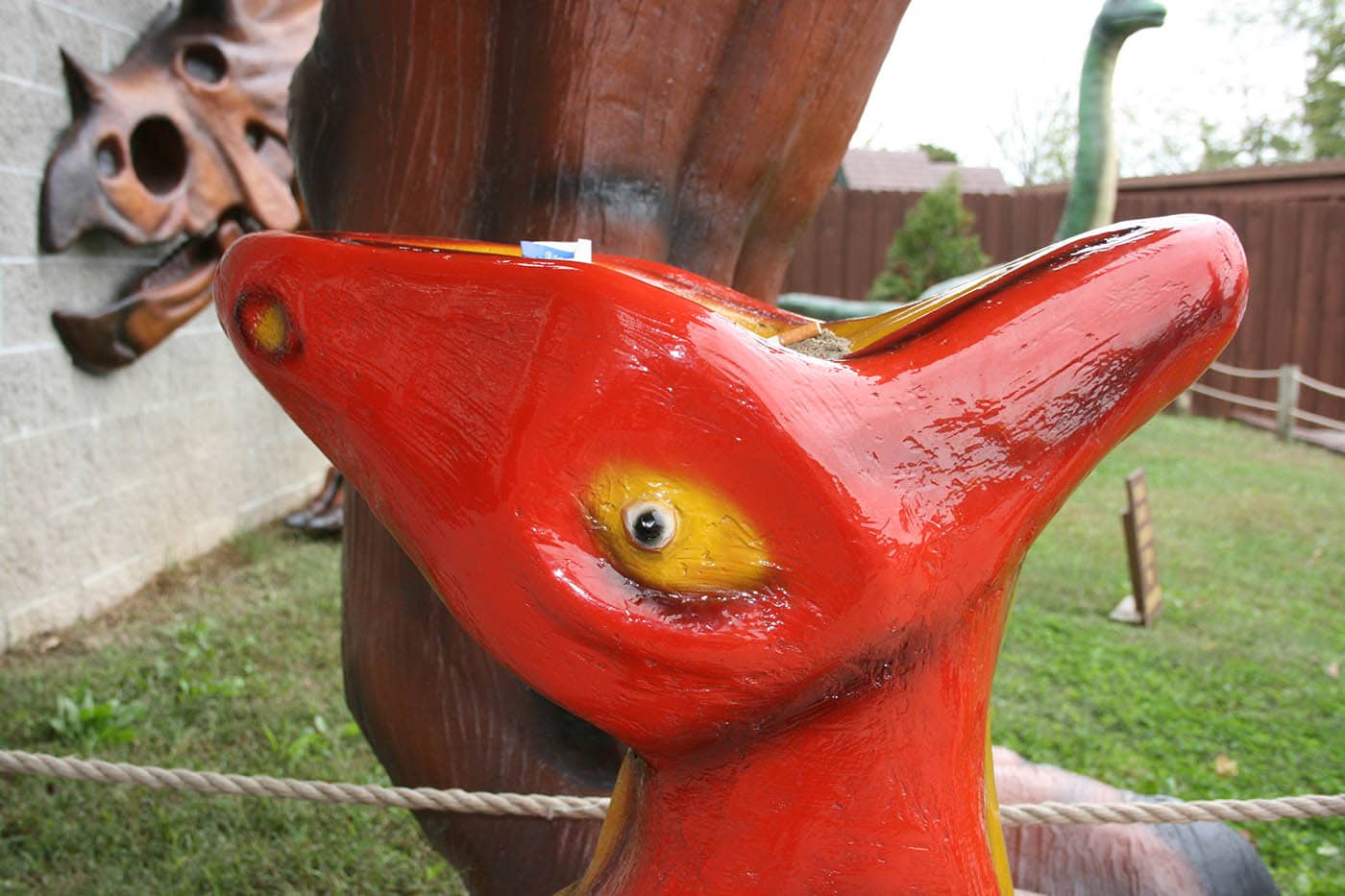 Dinosaur World
Cave City, Kentucky
Dinosaur World in Cave City, Kentucky is a museum and park that features giant dinosaur sculptures and educational centers. You can dig for fossils, pan for minerals, play in a dino-themed playground, and hang out with hundreds of life-sized dinosaurs.
Backyard Terrors Dinosaur Park
Bluff City, Tennessee
Enter Jurassic Park in Tennessee. At Backyard Terrors Dinosaur Park you can take a self-guided tour through a park full of homemade dinosaur replicas. You'll see over 50 over the top sculptures and learn more about these prehistoric creatures.
Nash Dinosaur Tracks
Granby, Massachussets
Walk in the footsteps of prehistoric dinos at Nash Dinosaur Tracks. Founded by the late Carlton S. Nash, and now run by his son Kornell Nash, the museum and gift shop features homemade dinosaur statues, historical photos, and, out into a quarry, real remaining fossils of dinosaur tracks.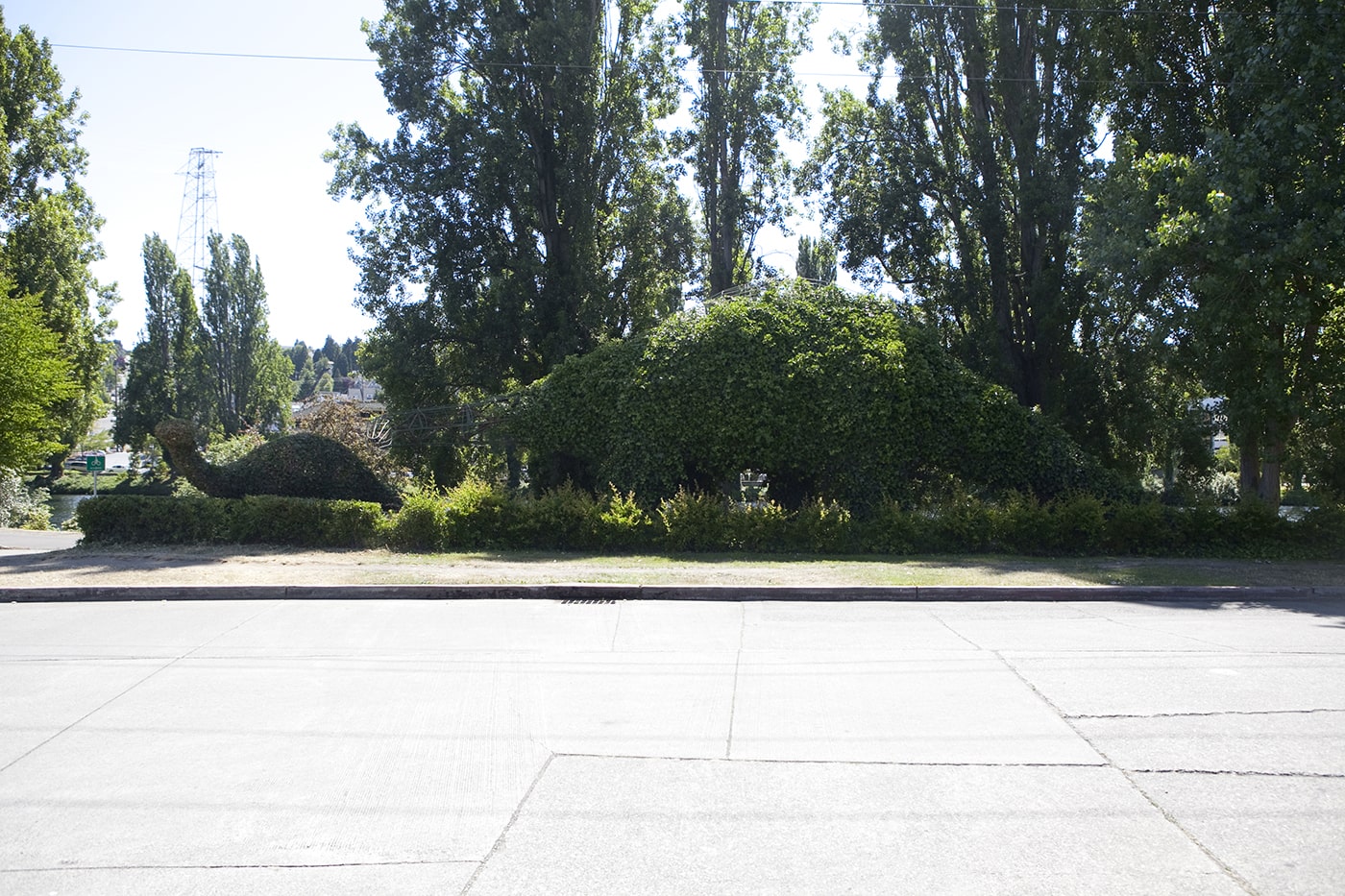 Apatosaurus Dinosaur Topiaries
Seattle, Washington
These ivy-covered dinosaur-shaped hedges (depicting a mother and child reptile) are a site to behold indeed! The mother dino is about 66-feet long, and together, the dinosaur topiaries weigh in at about 5 tons and require about 7,000 ivy plans to cover them completely.
Goony Golf Green Dinosaur
Topeka, Kansas
The bright green Goony Golf Dinosaur has been a favorite Topeka landmark since the 1970s. Visit this dinosaur roadside attraction, and play a round of mini golf while you're there!
Fredosaurus Rex: Mr. Rogers Dinosaur
Pittsburgh, Pennsylvania
This adorable dinosaur in Pittsburgh is dressed up in a signature cardigan to resemble Fred Rogers (AKA Mr. Rogers).
Moab Giants
Moab, Utah
Discover the past with technology of the future. This modern dinosaur park is full of entertaining and educational attractions, including an outdoor trail with over 100 life-sized dinosaurs.
Wall Drug Dinosaur
Wall, South Dakota
At the iconic Wall Drug in South Dakota, find a giant 50-ton, 80-foot-long, concrete dinosaur.
Dinosaur Valley State Park
Glen Rose, Texas
Walk in their tracks of dinosaurs in the bed of the Paluxy River, and see some dino statues while you're there.
Gene Cockrell's Dinosaur
Canadian, Texas
Built by Gene Cockrell on a bluff near his home town, this beloved dinosaur is 50-feet long and 17-feet tall.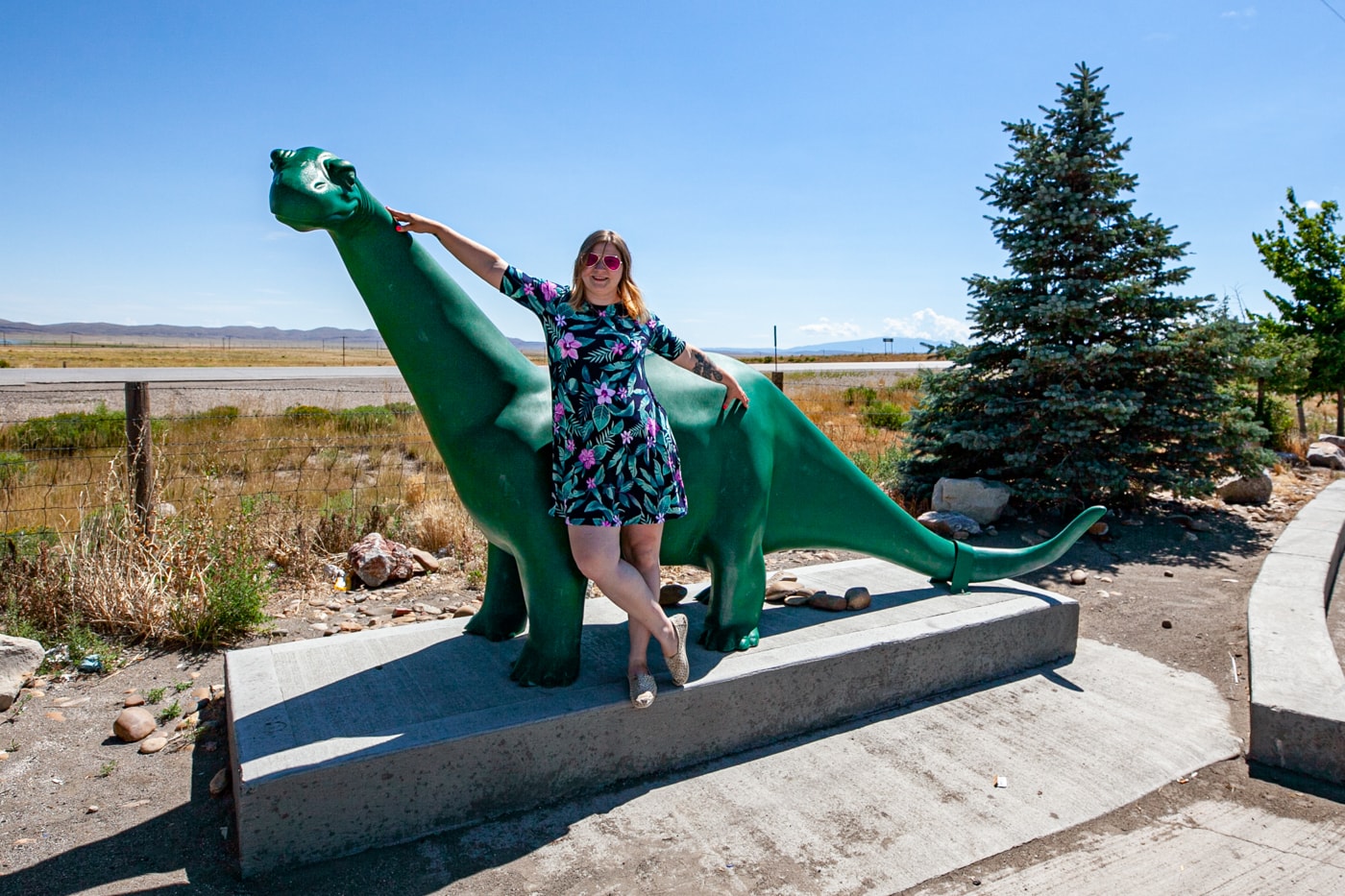 Sinclair Oil Dinosaurs
Sinclair Oil was formed in 1916 by Harry Sinclair and soon became one of the seventh largest oil companies in America. Sinclair is probably best known as the gas station with a dinosaur logo. The logo is so popular the oil company is spoofed in many Pixar movies (like Cars and Toy Story) as a fictional company called Dinoco.
In 1930 Sinclair adopted the now famous Apatosaurus (brontosaurus) "Dino" that still graces the gas station's logo. The idea and advertising came when the company was promoting lubricants refined from crude oil thought to have formed when dinosaurs roamed the earth. Big green fiberglass dinosaurs can be found at many of the Sinclair gas stations throughout the United States. These are some of the ones I've seen: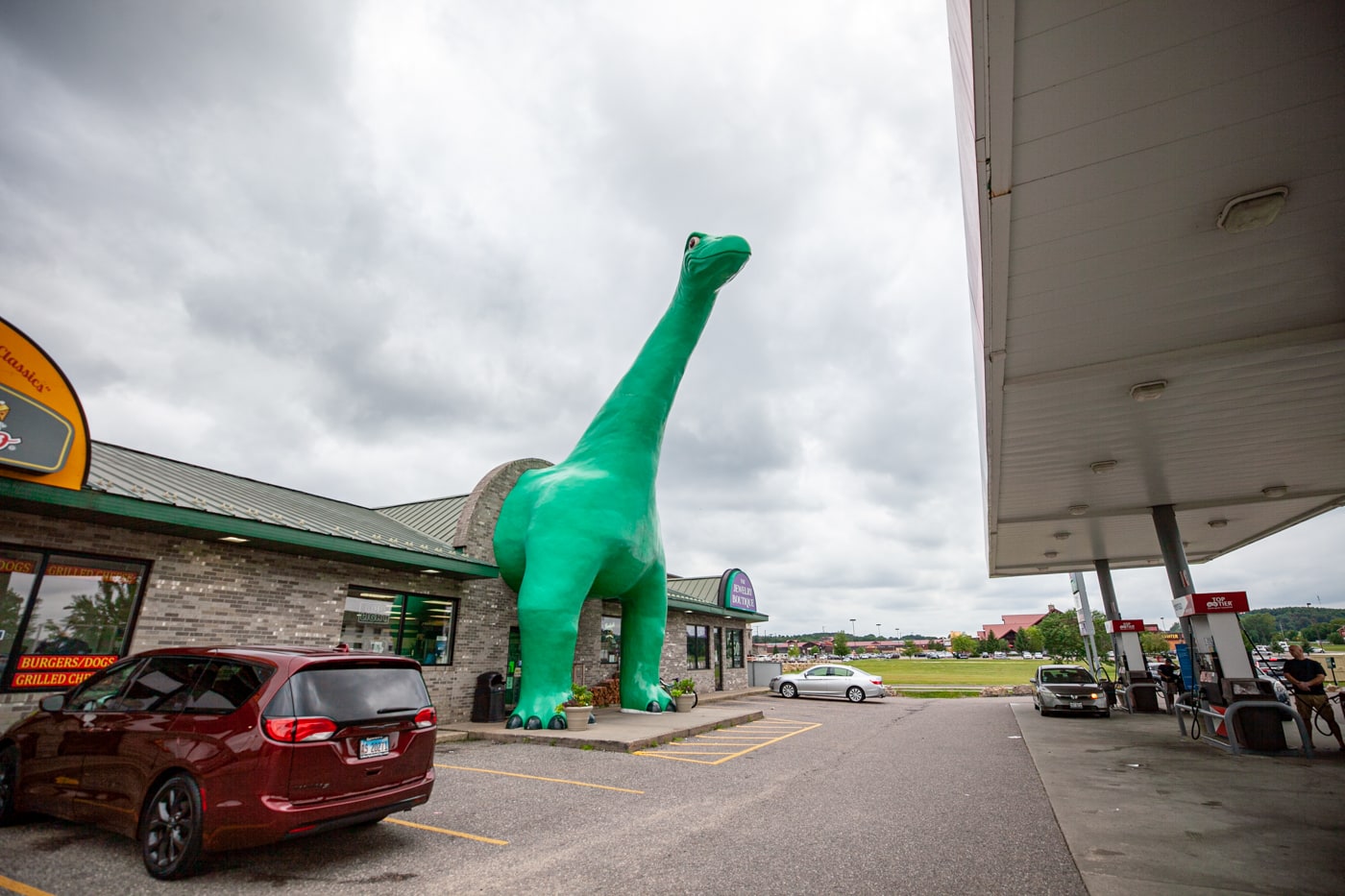 Giant Sinclair Dinosaur
Wisconsin Dells, Wisconsin
Towering above the gas pumps, the Giant Sinclair Dinosaur, perhaps the world's largest Sinclair Dinosaur, protrudes from the convenience store facade. The bright-green cartoon-like brontosaurus stands at at least 40 feet tall and his goofy smile welcomes tourists who are visiting Wisconsin Dells and drivers who just need to fill up their tanks. His legs frame the store's door so you can walk through them when you need to grab a snack.
Dinosaur Roadside Attractions in Canada
Not to be left out, one of the best dinosaur roadside attractions you can find is in Canada: Tyra, the World's Largest Dinosaur!
Tyra, the World's Largest Dinosaur
Drumheller, Alberta, Canada
The world's largest dinosaur in Alberta is one of the best dinosaur roadside attractions you can find! At 82-feet high and 151-feet long, it is over twice the size of any other statue in Canada. You can even climb up the stairs inside to get a landscape view out of her mouth.
More Dinosaur Roadside Attractions
Dinosaur, Horse, Lady Greenhouse Planters in North Pole, Alaska.
McDonald's Dinosaur in Benson, Arizona
Happy Dinosaur Week! We hope you enjoy these dinosaur roadside attractions! Pin this post to save for later: